Thinking of visiting Amsterdam in the Netherlands in June and wondering what to expect?
What is the weather like in Amsterdam in June? How busy is it? Do you need to book everything in advance? Is June a good month for sightseeing? Are there any special events? What to pack?
Below, can find answers to all these questions, as well as our experience-based tips for your visit. We also share the advantages and disadvantages of visiting Amsterdam in June.
Spoiler alert. June is a wonderful month to visit Amsterdam. As summer arrives, June brings a burst of life to the Dutch capital, offering a perfect opportunity to explore the city and its surroundings to the fullest.
Good to know: We live nearby and have been to Amsterdam many times. Recently, we spent a week in Amsterdam at the beginning of June. All the info in this article is based on our first-hand experience and observations on what it's like to visit Amsterdam in early summer. Of course, every visit will be different, but this should give you a good idea of what to expect.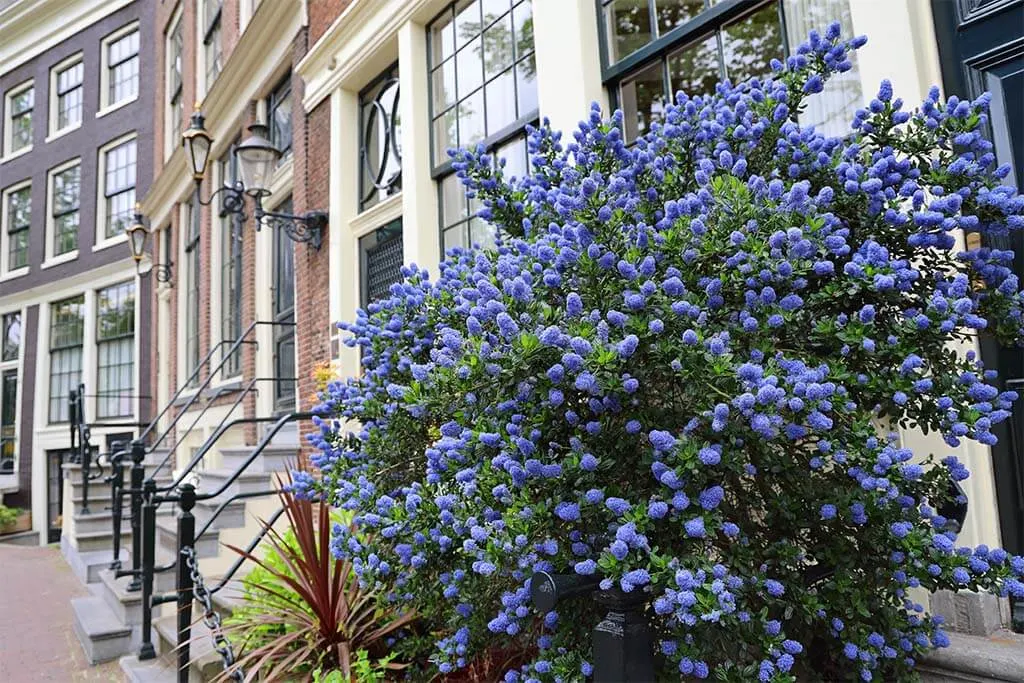 Is June a good month to visit Amsterdam?
Yes, June is a very good month to visit Amsterdam and the Netherlands in general. With warm weather, lots of greenery, sunshine, and incredibly long days, June is one of the best times of the year to visit Amsterdam.
Because most Western European countries start their school holidays later, June also has somewhat fewer crowds than the peak season. That being said, June is still a very high season in Amsterdam, so you will have to plan ahead in order to make the most of your visit.
The main disadvantage of visiting Amsterdam in June are accommodation prices and ticket availability at the main attractions. But with some advance planning and preparation, you can plan the most wonderful vacation to Amsterdam in early summer.
See below for more practical information, what kind of weather to expect, and our top tips for this season.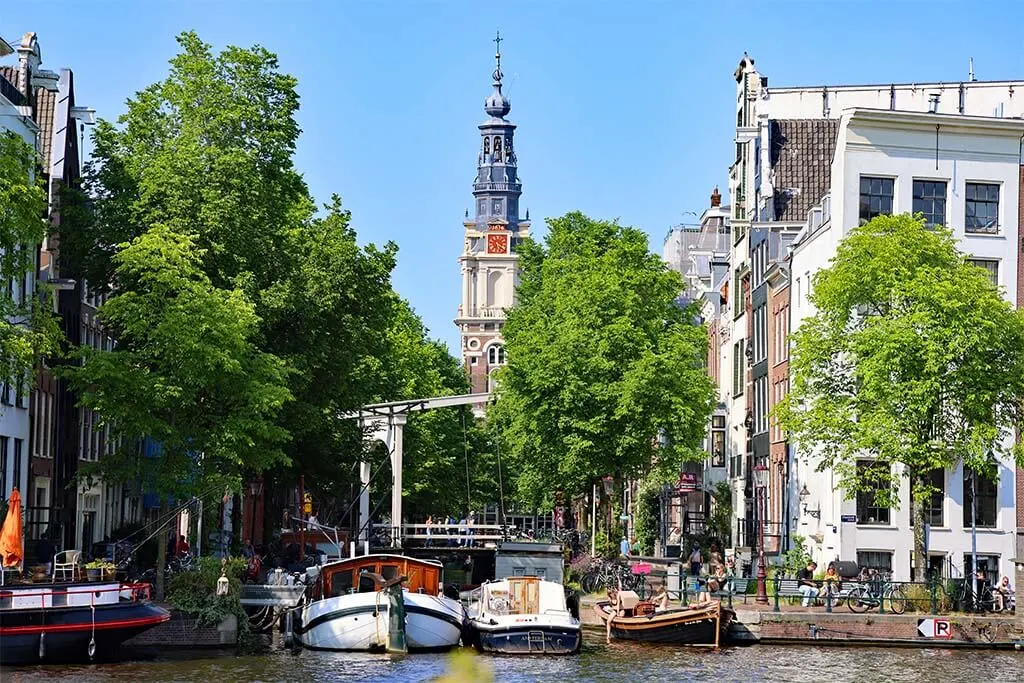 Amsterdam weather in June
Traditionally, June is the start of the summer in the Netherlands when the weather finally starts to get warmer and drier. However – just as pretty much any other season – the weather can be quite different from one year to another.
Sometimes, you can also experience huge differences in temperature over the course of a couple of days.
The average high temperatures in Amsterdam in June are around 20°C (68°F) and lows – around 12°C (54°F). On average, it rains about 7 days in the month of June.
But these averages don't mean much if you happen to visit during a heat wave with temperatures of 30°C (86°C) for several days in a row. Or if you are unlucky and it's 18°C (64°F) and raining.
So use this just as an indication, but know that you have to be prepared for all kinds of weather. But this is really the case in any season and any month.
Also, there is no point in worrying about the weather forecast weeks in advance. It will likely change last-minute anyway. Even if there's rain in the forecast, keep in mind that it might not rain at all, or only shortly. There is always a possibility of strong summer rains in June too. These downpours can be very heavy but they usually don't last longer than a couple of hours.
Below, you can see a picture of the weather forecast for a few random days in June. As you can see, you can really expect a bit of everything. One day, it's hot and sunny and the next day, it's 10 degrees less and rain is on the forecast…
So you really never know what you'll get in terms of weather. Most likely, it will be around 20-25°C (68-77 °F) during the day, and there is always a chance of grey skies and some rain.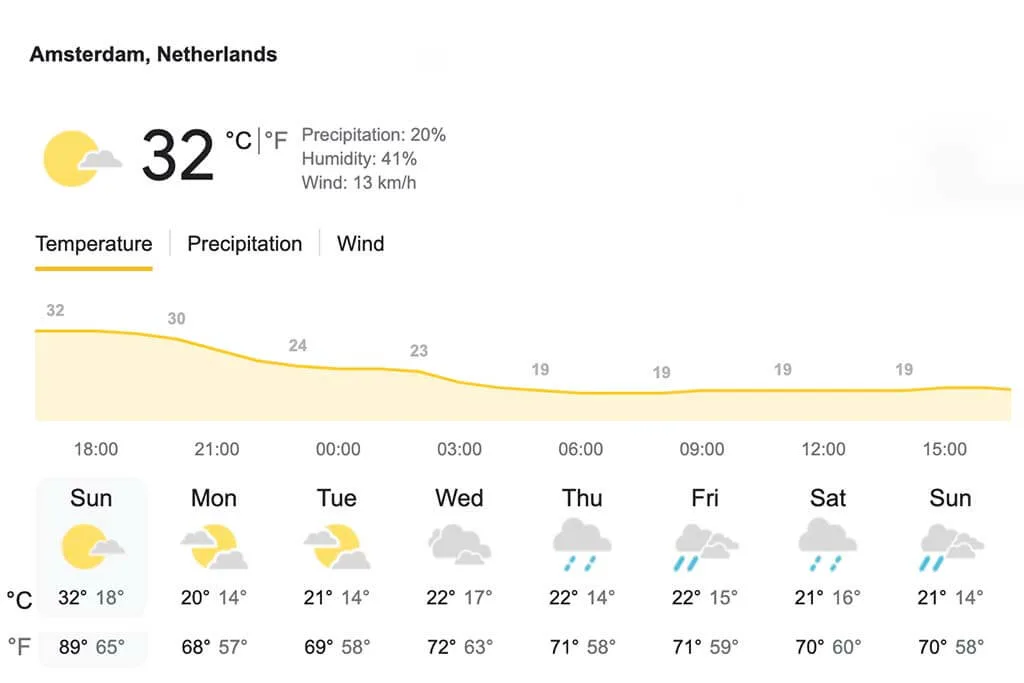 What to wear in Amsterdam in June?
Now that we have established that you really can expect everything in terms of weather in June, I guess it's pretty clear that there is no straightforward answer on what to pack for Amsterdam in June.
Our recent experience: First, let me tell you that we live in Belgium, less than 2 hours drive from Amsterdam, so we are quite used to the weather here, and finding the right combination of layers and clothing is usually not an issue. However, recently, I visited Amsterdam in June with my Italian friend who is used to Italian summers.
The weather forecast showed sunshine and daytime temperatures of 18 – 25°C (64-77°F) during our visit, so my friend packed a couple of light sweaters and a puffer vest (a bit like this). One morning, it was grey and windy and we were on a bike tour. She was so cold that she ended up buying an additional thick sweater and we both laughed that we could have used gloves… Later that same day, I was walking around in a T-shirt and she was comfortable enough in a long-sleeved shirt…
So my best advice is to pack layers of clothing when visiting Amsterdam in June. You should always have a sweater (or two), long pants, and a light rain jacket. I also recommend carrying a lightweight summer scarf with you at all times. It can be a lifesaver!
Yes, you can be lucky enough and you'll be wearing T-shirts and summer dresses all week. But even on the warmest days, it can be chilly in the mornings and in the evenings. Plus, there is often lots of wind in Amsterdam which makes it feel even colder than it is.
In addition, be sure to pack comfortable shoes for your trip. You'll be walking a lot when sightseeing in Amsterdam, so comfy footwear is a must.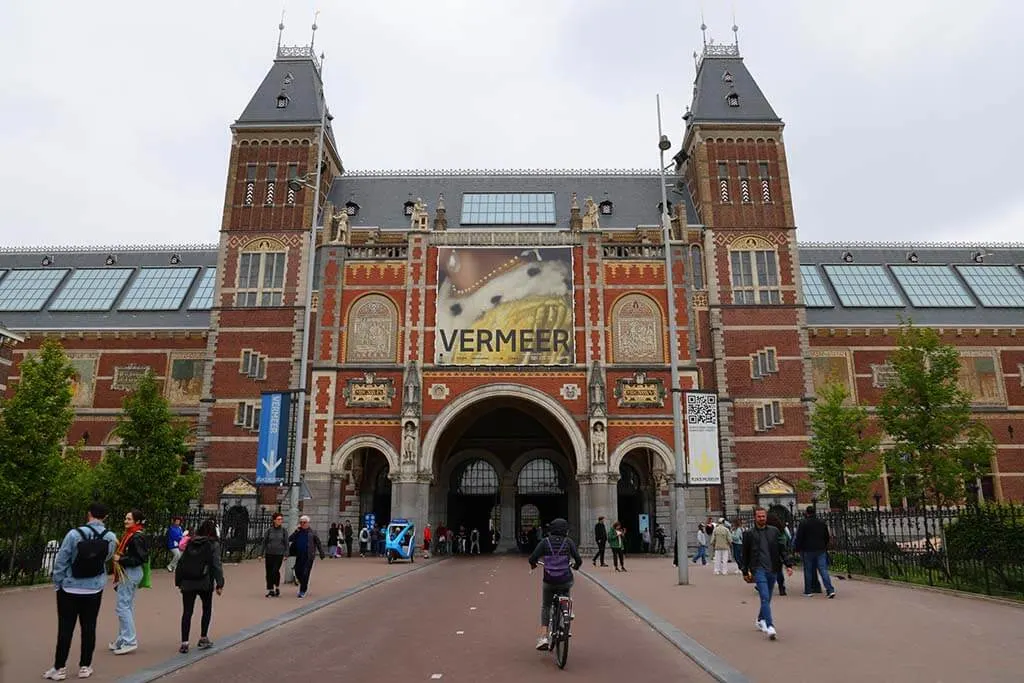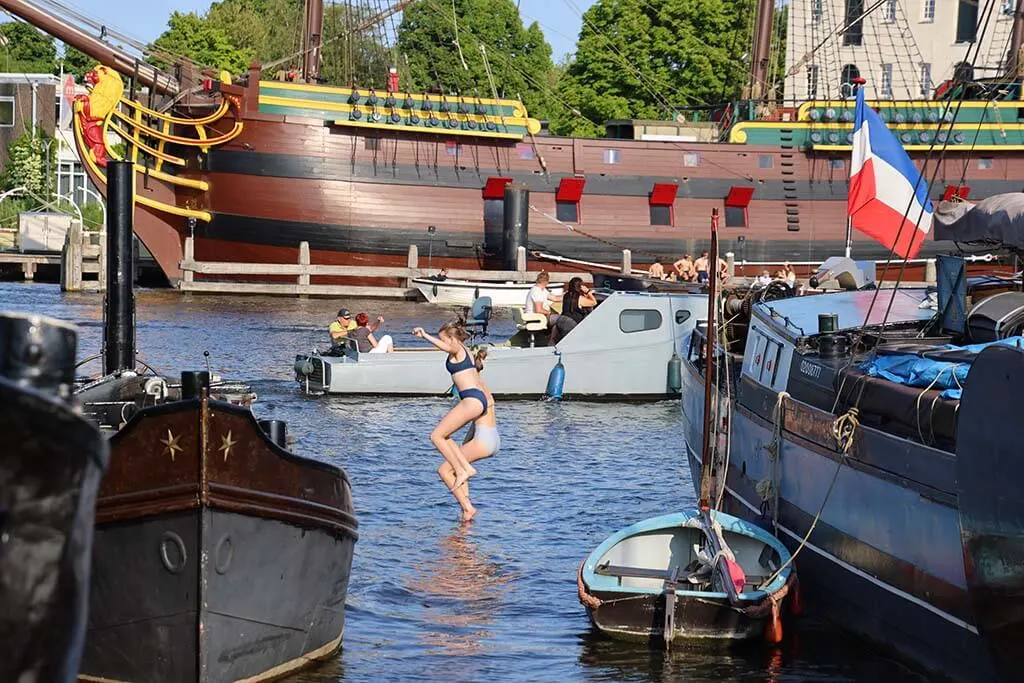 How long are the days in June in Amsterdam?
Depending on where you are traveling from, you may not realize that June has the longest days in this part of the world. In some Nordic regions, it doesn't get dark in June at all. Also in the Netherlands, the days are very long in this season.
Typically, the sun rises around 5.20 AM and sets around 10 PM in Amsterdam in June.
So you have almost 17 hours of daylight. Plus it doesn't get very dark when the sun goes down either. We often go for long evening walks at this time of the year and it's still not completely dark at 11 PM.
Combine long daylight hours and warm temperatures, and you realize why the city really comes to life at this time of the year.
TIP: Take advantage of the long daylight hours and explore Amsterdam to the fullest! Here you can find some itinerary suggestions for your trip: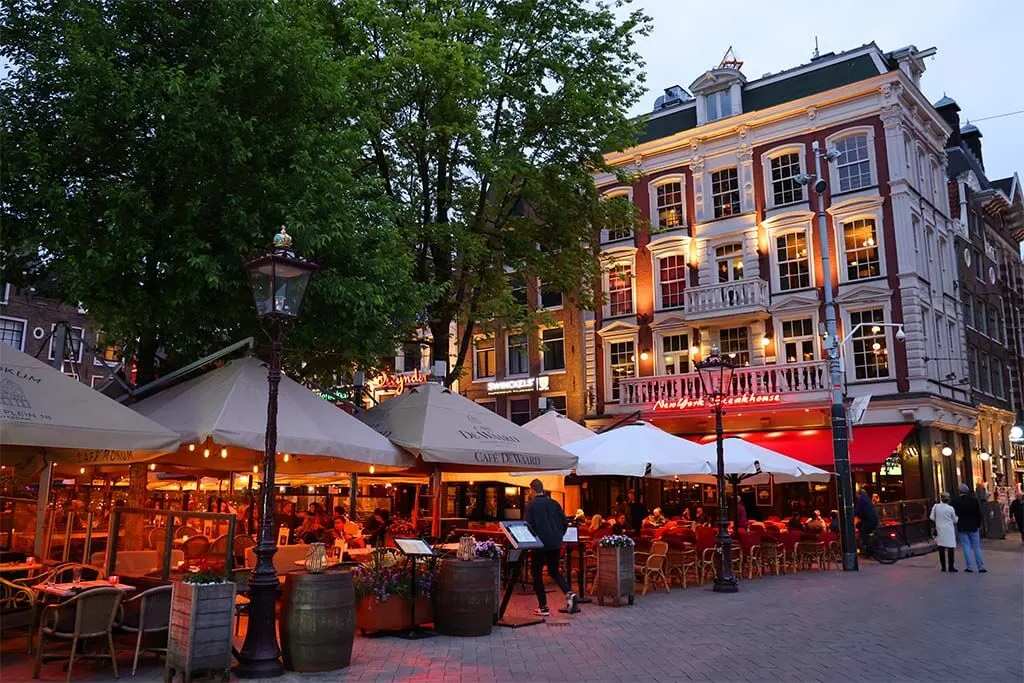 How busy is it?
Amsterdam is one of the most visited cities in Europe, so it's always busy. Plus, the summer months are incomparably busier than in the winter.
That being said, June – and especially the first half of the month – is not crazy busy in Amsterdam. Let's just say, we've seen it much busier during European summer holidays or long weekends in spring. Also, if you turn just a few blocks away from the main tourist routes, it can be very quiet.
I think there are several reasons for this. First, there are no school holidays in the Netherlands or in any of the neighboring countries in June. Second, many people come to Amsterdam for the Dutch tulip season (end of March – beginning of May) so the number of tourists spread out a bit over different periods in the spring and early summer.
Public holidays. Normally, there are no bank holidays in the Netherlands in June. However, depending on the year, Whit Sunday and Whit Monday might fall at the very beginning of June (the next one is on June 8-9, 2025, and after that, June 4-5, 2028). This is a public holiday in the Netherlands and many other European countries. So the weekend around Pentecost can be very busy in Amsterdam.
Also, keep in mind that June is a very popular month when many American tourists travel to Europe. The cruise ship season is also in full swing and some days can be much busier than others, depending on the number of day tourists in town.
So expect it to be busy in Amsterdam in June. Planning and booking ahead is essential too – see below for more information and our experience-based tips.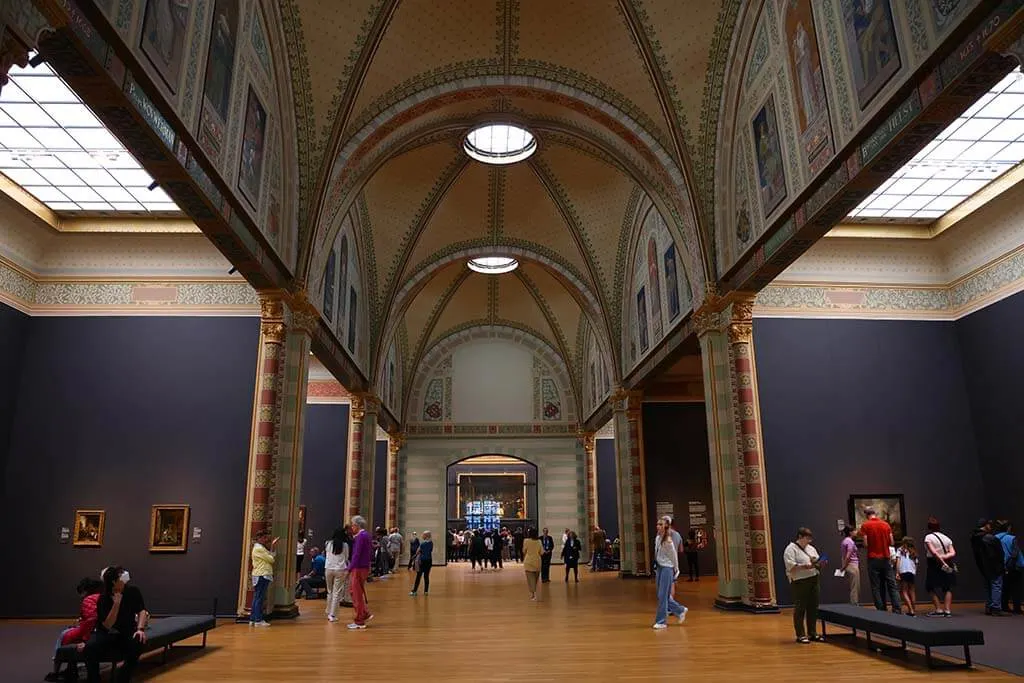 Do you need to plan in advance?
Yes, absolutely! You have to plan – and book – your trip well in advance if visiting Amsterdam in June.
Accommodation prices are already very high in Amsterdam, but if you wait to book until the last minute, you'll pay even more. By booking in advance, you have more choices of affordable options and get better value for your money.
For our recent trip to Amsterdam in June, we booked our hotel in November. When I checked availability a few weeks before the trip, the same rooms were much more expensive. A few days before the trip, there was no availability of standard rooms at our hotel at all, and other comparable hotels were significantly more expensive.
We found that many good restaurants were also completely booked up for dinner in June. If you want to dine at a popular place at a decent time, you should try to reserve a table at least a few days in advance. This is especially the case on weekends, but at some restaurants, also on weekdays.
It's also important to secure tickets for all the attractions that you absolutely want to visit. The most popular museums in Amsterdam work with timed-entry slots and some only sell tickets online.
For example, tickets for the Van Gogh Museum are usually sold out at least 7-10 days in advance at this time of the year. But if you want to be able to choose a time slot that best suits your itinerary, you should try to book at least a month before your visit. Also, Anne Frank House tickets always sell out weeks in advance. They usually release the tickets about 6 weeks upfront and you have to book them as soon as possible.
TIP: If you absolutely want to visit somewhere (or want to be sure that you can visit at a specific time), you definitely should reserve upfront.
Our experience: We booked most of our tickets and tours for Amsterdam via GetYourGuide several months before the trip. They have a very flexible cancelation policy allowing you to amend a booking up to 24 hours before the starting time. Booking in advance, you can also read customer reviews, check where a tour starts, or see if one or the other attraction is closed on a specific day. It makes it easy to plan and adjust your itinerary if needed.
LEARN MORE: Amsterdam Travel Tips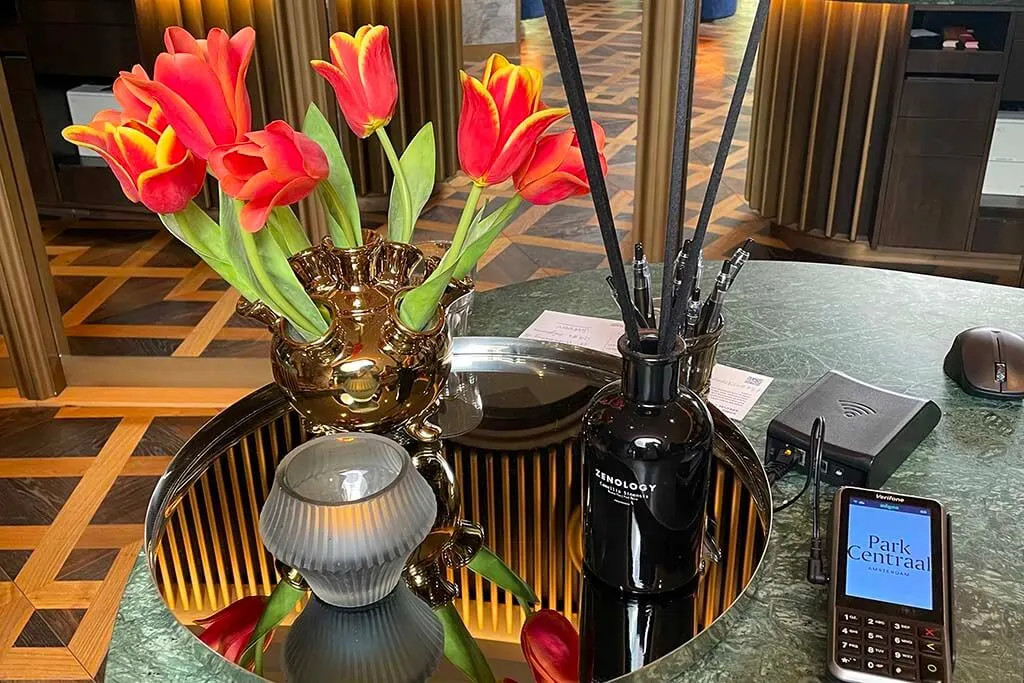 How to avoid the crowds
Despite the fact that Amsterdam gets lots of tourists in June, it's quite easy to avoid the biggest crowds. Here are some top tips based on our experience:
Avoid weekends. If you can, avoid visiting Amsterdam on a weekend (especially Saturday). If you plan a day trip to some of the most popular places like Zaanse Schans, Volendam, and Marken, or Giethoorn, plan it on a weekday when there are fewer local tourists.
Visit the most popular attractions first thing in the morning. Booking the earliest available time slot for the main museums of Amsterdam is the best way to avoid the biggest crowds there. Alternatively, visit a few hours before the closing time and leave the rooms with the main highlights for last. The same counts for canal cruises – they are incomparably quieter in the morning than in the middle of the day.
Get off the beaten path. Visit a park, go to a local market, or take a bike tour of the lesser-known places in or just near the city. We did this 'backstreets and hidden gems' bike tour on a recent visit to Amsterdam in June.
Plan ahead. Some places – like the Van Gogh Museum or Anne Frank House work with timed entry slots and they usually sell out. So it doesn't matter much if you visit here on a weekend or a weekday – it will be just as busy. These places can actually be good choices if you can't avoid weekends because once they reach the maximum capacity, they don't allow extra people inside anyway.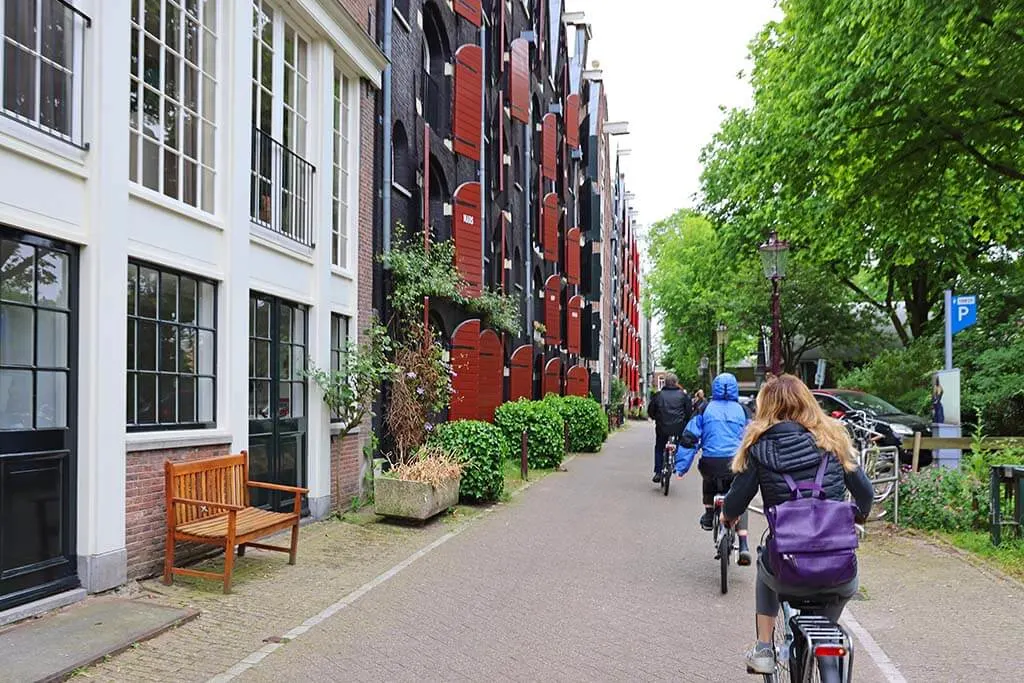 What to see and do in Amsterdam in June
If you are wondering what you can see and do in Amsterdam in June, well, pretty much everything. June is a great month for sightseeing, outdoor activities, bike rides, parks, and countryside tours.
Summer is also a season of celebration in Amsterdam, with various festivals and events taking place throughout the city. The most prominent event in Amsterdam in June is the Holland Festival. This is a premier arts and culture festival that showcases theater, music, dance, as well as visual arts. This festival usually takes place during the entire month of June.
Open Garden Days typically take place on the third weekend of June. It's a unique opportunity to visit various gardens of canal houses in the famous Amsterdam Grachtengordel district. Amsterdam Open Air is an outdoor electronic music festival that typically takes place on the first weekend of June.
These are just a couple of examples. In June, you'll find numerous outdoor activities and events all over Amsterdam, such as open-air concerts, (food) markets, and vibrant street performances, adding to the city's lively atmosphere.
Good to know: There is one thing that you won't see in Amsterdam in June anymore and that's tulips and other spring flowers. The spring flower season in the Netherlands typically lasts from mid-March to early May. By June, all tulip fields are long cut off and the famous Keukenhof Gardens are closed for the season.
Interesting to know: June also marks the start of the herring season in the Netherlands. By June, herring typically reaches its most optimal fat levels. This 'new herring' is very saught-after. To give you an idea of how crazy things can get, recently the first barrel of new herring of the year was auctioned for 159,500 euros. Don't worry though – you can try delicious herring at food stalls and markets all over Amsterdam without having to break the bank.
READ ALSO: Top Places Not to Miss in Amsterdam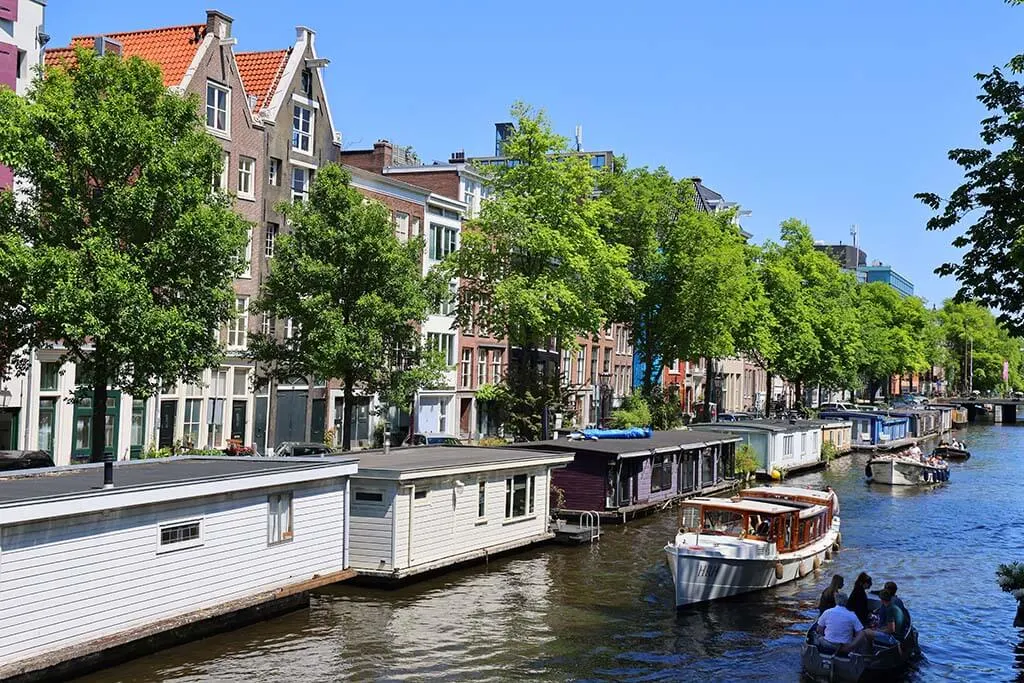 Advantages of visiting in June
There are quite a lot of advantages to visiting Amsterdam in June. Here are some of the main ones:
Long days. With 17 hours of daylight, visiting Amsterdam in June means that you can make the absolute maximum out of your time in the city.
Warm weather. Despite the fact that you can never count on the weather in the Netherlands, June is one of the nicest months to visit weather-wise. It's usually warm but not too hot, and even if it rains, it normally doesn't last long.
No school holidays or public holidays. With the exception of Pentecost weekend which occasionally falls at the beginning of the month, there are no school holidays or public holidays in the Netherlands in June. This means that the city is lively, but the crowds are usually not too crazy. That being said, there are always plenty of tourists and also local visitors, so expect it to be busy. On the weekends – especially if the weather is nice – it can get really crowded.
Greenery and flowers. While it's too late for tulips and other spring flowers, June is a beautiful month with lots of flowers and plants blooming all over the city. The trees are green and the parks are at their nicest.
In addition, many restaurants have outdoor seating available, and everyone is out and about enjoying summer life. Also, the Dutch countryside and smaller towns really come to life in the summer season. June is a wonderful time to be in the Netherlands.
READ ALSO: Best Day Trips from Amsterdam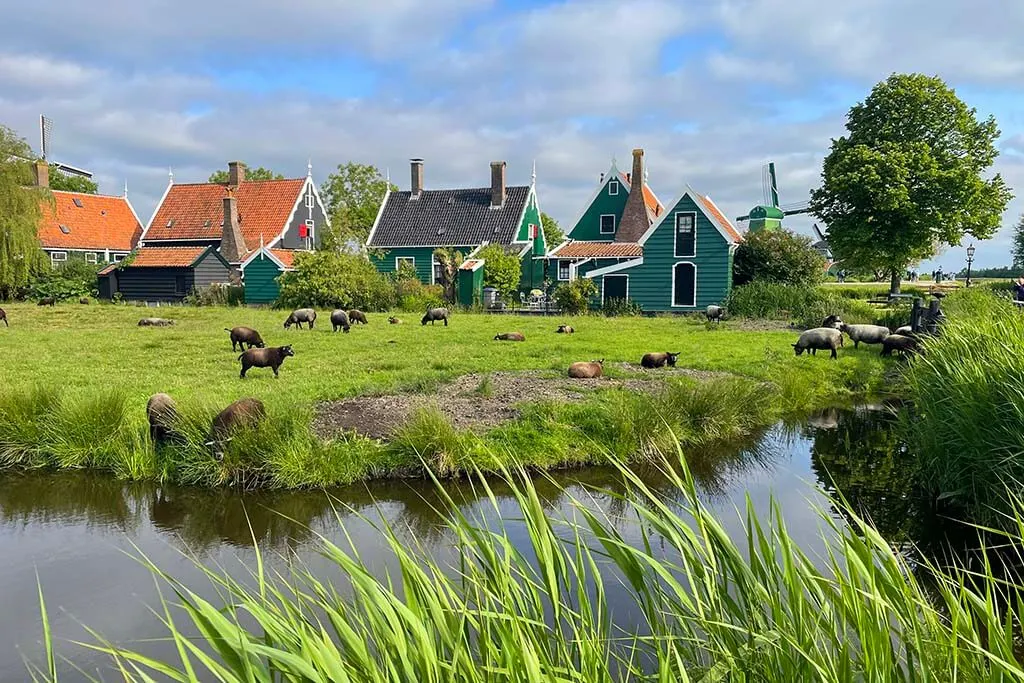 Disadvantages of visiting in June
There are also some disadvantages of visiting Amsterdam in June, but most of them can be minimalized by planning ahead.
Availability. June is a high tourist season, so it is busy in Amsterdam and you have to plan and book everything upfront. The most popular attractions sell out weeks in advance, best-value accommodations are full, and you may not always find a table at the restaurant of your choice.
We also noticed that some popular tours were completely sold out weeks in advance in June. We did this hidden gems bike tour and it was completely booked up 3-4 weeks upfront. Luckily, there are usually plenty of alternatives for any tour that you want to do. This is not the case with some attraction tickets, however. So there, if you don't think about booking ahead, you may not be able to visit at all.
Cost. Since it's a busy season, accommodation prices can be really high in Amsterdam in the summer. The best way to keep your trip affordable is to book your hotel long in advance. The earlier you book, the more affordable quality options you can choose from.
READ READ ALSO: Where to Stay in Amsterdam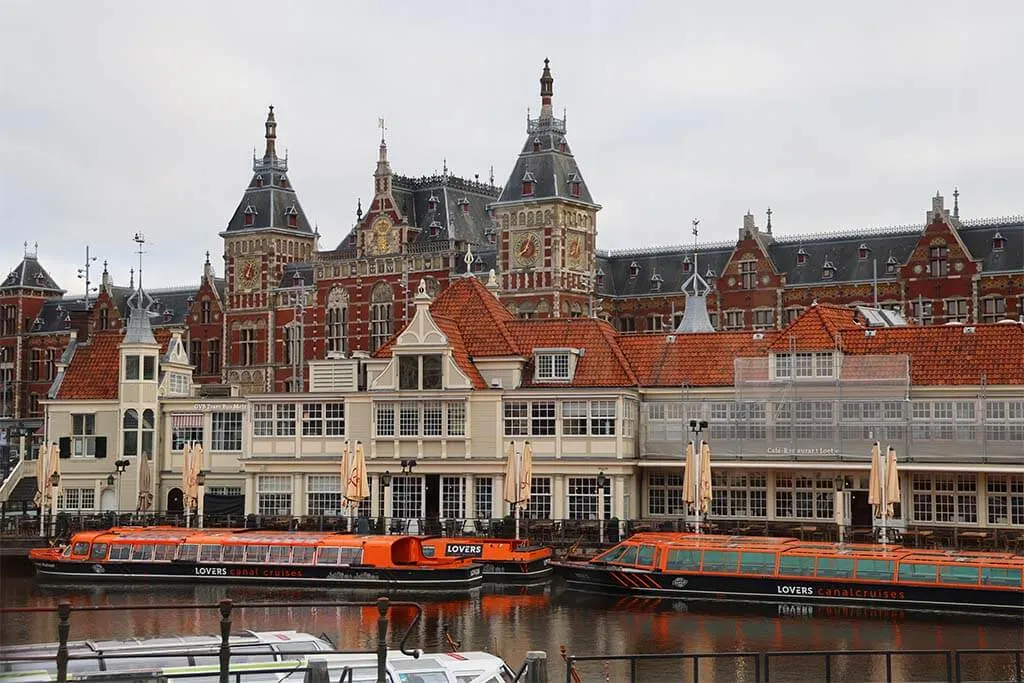 So, this is our guide to visiting Amsterdam in June. I hope that it gives you a better idea of what to expect and helps you plan a perfect visit.
Have a great trip!
More travel inspiration for Amsterdam & beyond:
What to see & do:
Outside the city:
Belgium:
If you found this post helpful, don't forget to bookmark it and share it with your friends. Are you on Pinterest? Pin this image!