Traveling to Belgium and trying to decide where to go might not be an easy task, especially if you have limited time in the country. Most first-time visitors go to Brussels and Bruges, and sometimes also Ghent. But then the question comes, is it worth visiting Antwerp?
We live in Belgium and Antwerpen is our absolute favorite city. So you can already guess my answer to this question: yes, Antwerp is absolutely worth visiting.
And yes, we might be biased, but we are not the only ones. Everyone who visits Antwerp agrees that it's an absolute must-see in Belgium.
With a rich history and culture, a wide variety of sights and attractions, and fantastic shopping and dining options, Antwerp offers the very best of Belgium in one place!
In fact, there is so much to see and do in Antwerp that you could easily fill a few days in the city and never get bored. Plus, accommodations in Antwerp are much more affordable than in most other major cities in this part of Europe, so it's an excellent destination to add to any West-Europe itinerary. But even if you only have a few hours or a day to spare, it's definitely worth a visit!
In this guide, we share some of the main reasons why you absolutely shouldn't miss Antwerp. I really hope that we can inspire you to visit our beautiful city. Find out!
YOU MAY ALSO LIKE TO READ: Best Things To Do in Antwerp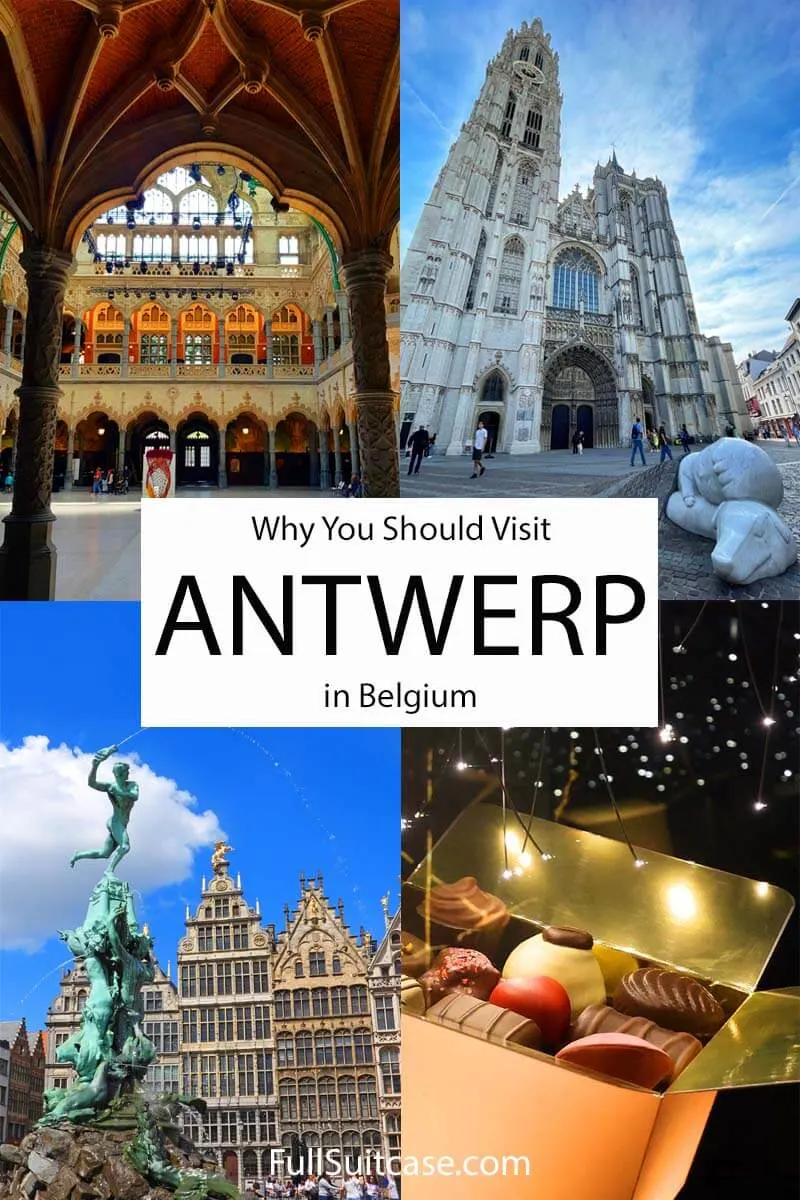 Here are just a few reasons to visit Antwerp:
1. Architecture
Antwerp has some of the most varied and remarkable architecture in Belgium. The mix of styles and designs spanning over many centuries is so unique that it distinguishes Antwerp from any other city in Belgium.
The moment you arrive in the city by train, you find yourself inside one of the most beautiful train stations in the world, Antwerpen Centraal.
In the historic old town, you can see impressive 16th-century Guild Houses, the remarkable Gothic Cathedral, and some of the finest examples of Baroque architecture.
Het Steen Castle by the river is the oldest building in Antwerp and one of the oldest in Belgium.
If you take the time to explore Antwerp more in-depth, you will discover some fine examples of Art Nouveau architecture. The city also has some unique contemporary buildings and modern structures that have already become some of the most recognizable landmarks in the city.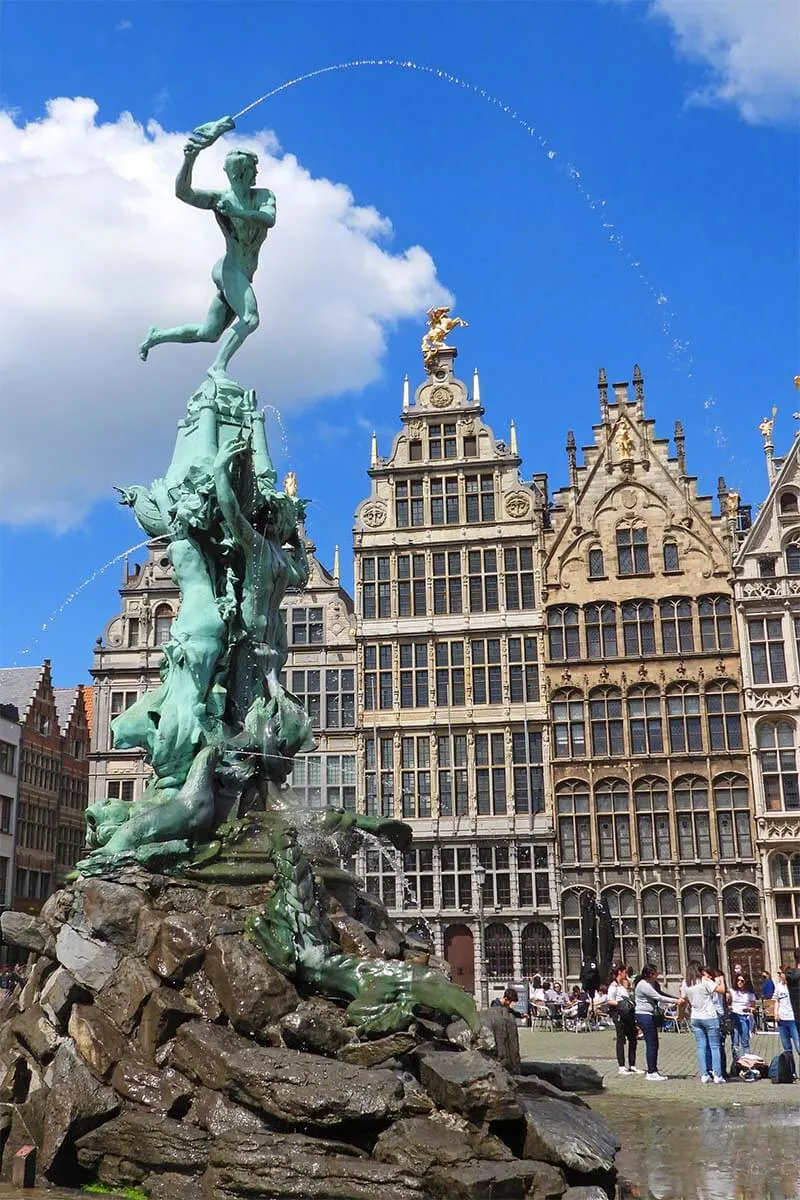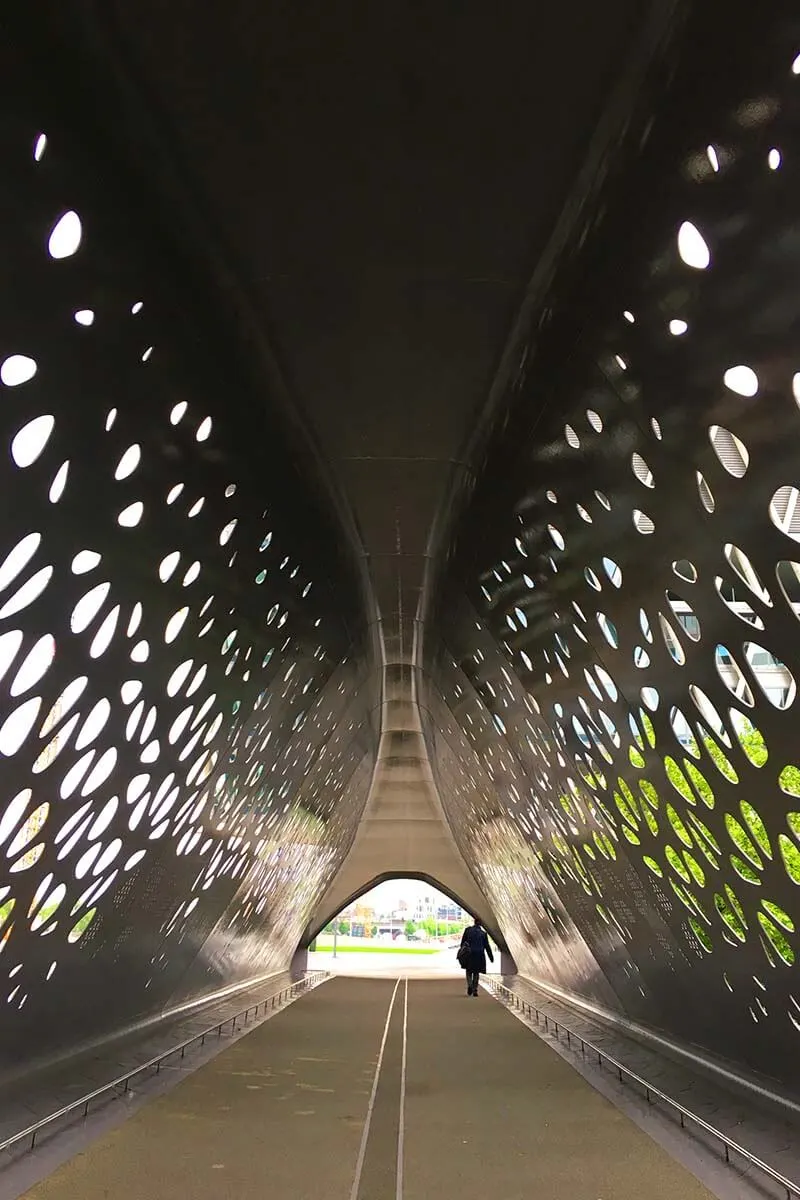 2. History
Antwerp has a very rich history and has always been a prosperous city. Also nowadays, Antwerp is the second-largest port in Europe (after Rotterdam), but let's take a trip back in time…
At the beginning of the 16th century, during the Golden Age, Antwerp was the second-largest city north of the Alps and the main commercial center of Europe. About 40% of all goods traded in the world at that time passed through the harbor of Antwerp.
Antwerp was also the richest city in Europe attracting the most skilled craftsmen, merchants, artists, and intellectuals from all over Europe. As you can imagine, all this had a significant influence on the development of the city.
One of the oldest printing presses in the world was also established here during that period and you can still visit it today. In fact, the Plantin-Moretus printing house is so unique that it was the first museum in the world to be included on the Unesco World Heritage List.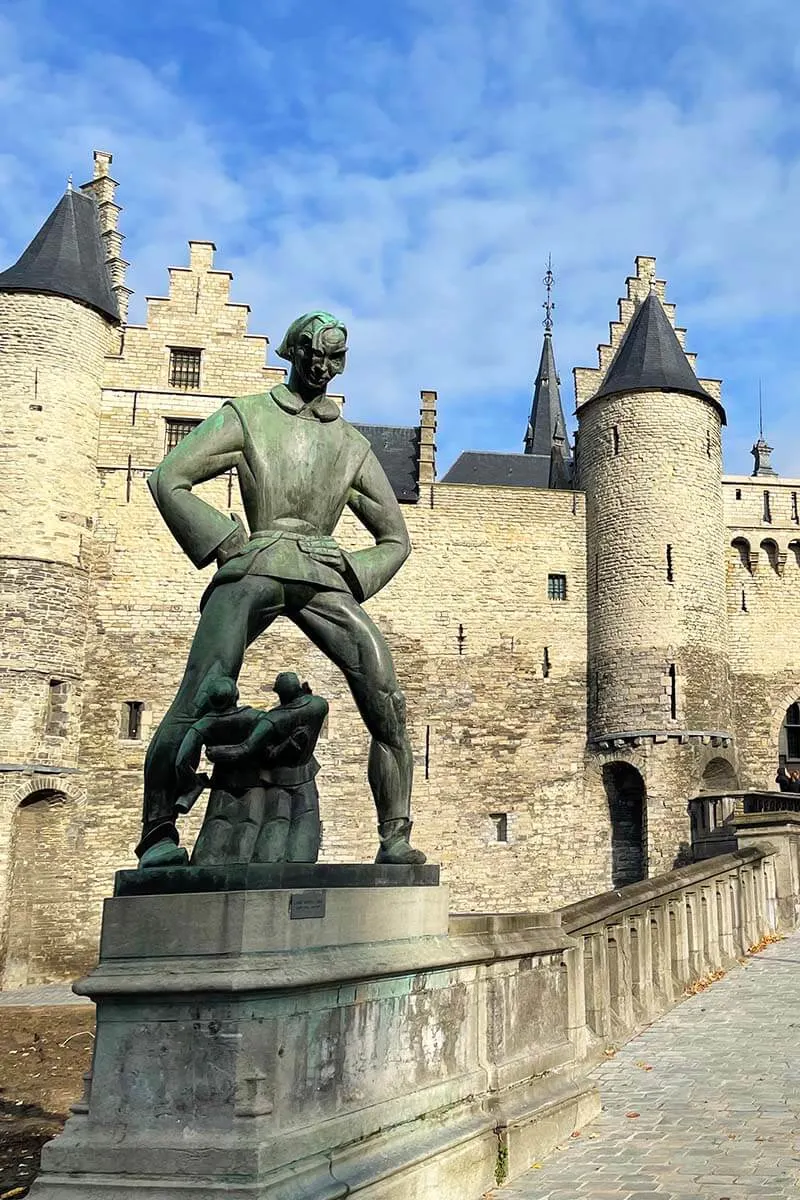 3. Art
With such a rich history, it will come as no surprise that Antwerp has always been the city of arts.
You probably already heard of Peter Paul Rubens, one of the most famous Flemish painters (17th century). He lived and worked in Antwerp, and his house has been turned into a beautiful museum. At the moment of the last update, this museum is being renovated, but you can still see some of the works of Rubens in other museums in the city.
Also nowadays, Antwerp has a lot to offer for art lovers, with a wide range of internationally renowned museums and galleries.
As a minimum, don't miss the Royal Museum of Fine Arts Antwerp (KMSKA). After a decade-long renovation that cost over 100 million euros, this is now one of the most impressive art museums in Belgium. Among others, it features the works of some of Flanders' most famous painters such as Rubens, Van Eyck, and Ensor.
And if you are not into museums, you'll find plenty of street art and interesting art installations all over the city.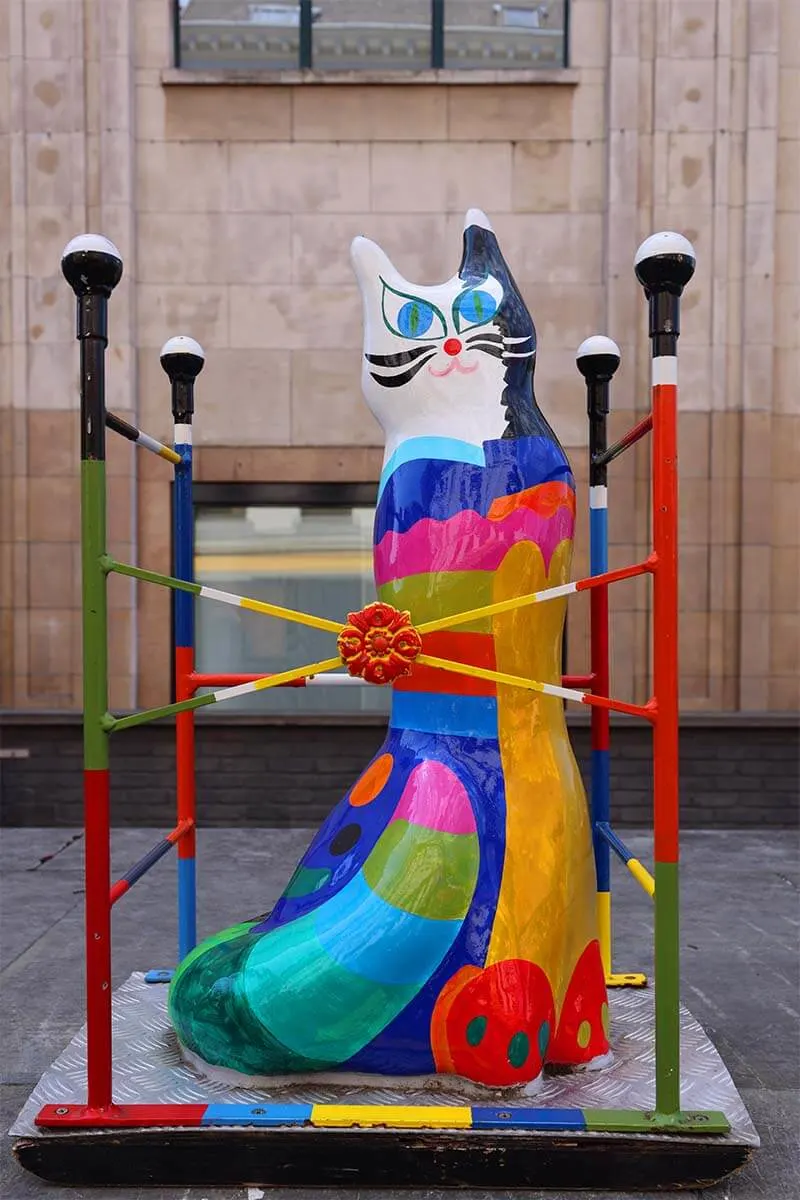 4. Diamonds
Antwerp is the diamond capital of the world and has held this title for centuries. The diamond trade started over 500 years ago and has grown to this day.
Nowadays, there are over 1,500 diamond firms in the city, and about 85% of the world's rough diamonds pass through Antwerp's diamond district.
If you ever dreamt of owning some jewelry with real, quality diamonds, then Antwerp is by far the best place to be. The diamond district has dozens of little diamond shops where you can find jewelry in all styles and price ranges.
Talking about prices, they are usually much better here than anywhere else we have seen, plus, you can usually haggle too ;).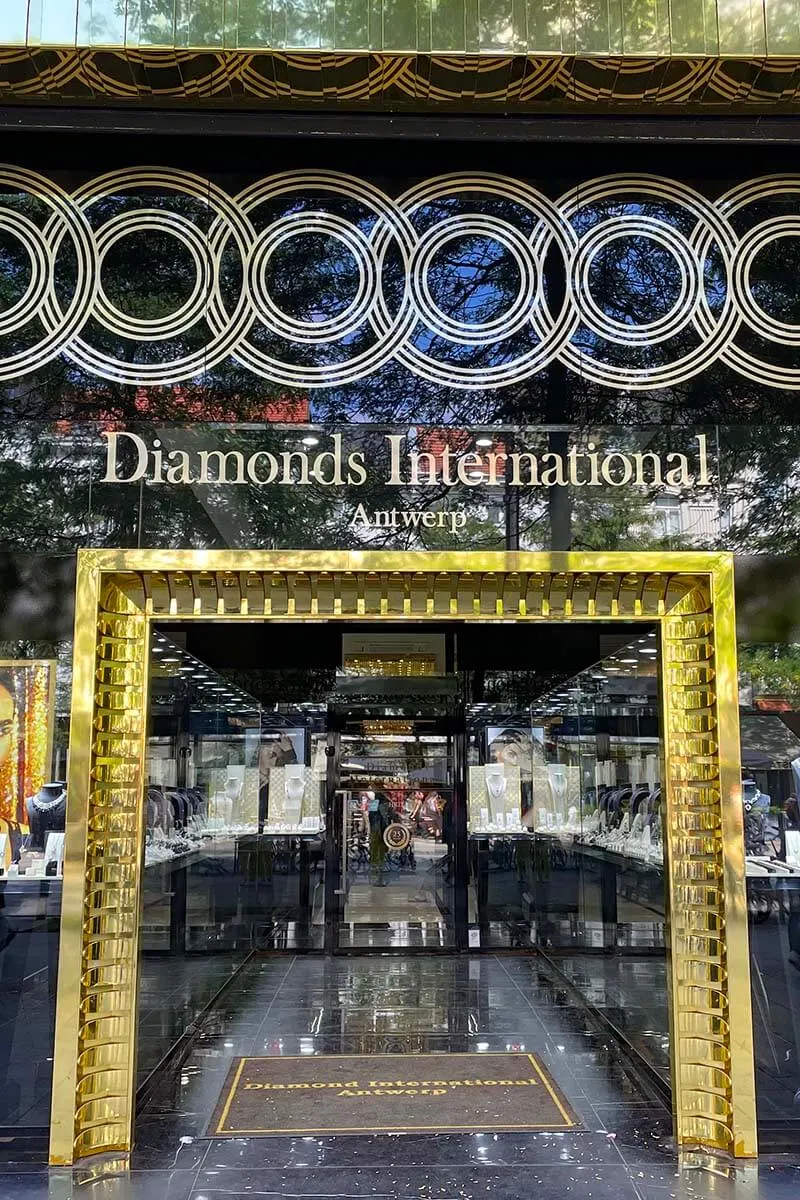 5. Chocolate
No trip to Belgium would be complete without tasting its world-famous chocolate.
While you can find really good chocolate all over the country, there's a particularly good reason why chocolate lovers should visit Antwerp. The largest Belgian chocolate museum in the world – Chocolate Nation – is located in Antwerp.
This interactive museum takes you on a journey through the history of chocolate making, with a special focus on Belgian chocolate and its history. You can see, smell, taste, and completely immerse yourself in the world of chocolate… A visit here is educational, delicious, and fun for all ages!
In addition – of course – you can simply buy Belgian chocolate. Some of the best Belgian chocolate brands are Neuhaus, Leonidas, Godiva, and Pierre Marcolini, and you will find their boutique stores in Antwerp as well. If you are looking for more affordable Belgian chocolate, simply get some Côte d'Or chocolate at any supermarket.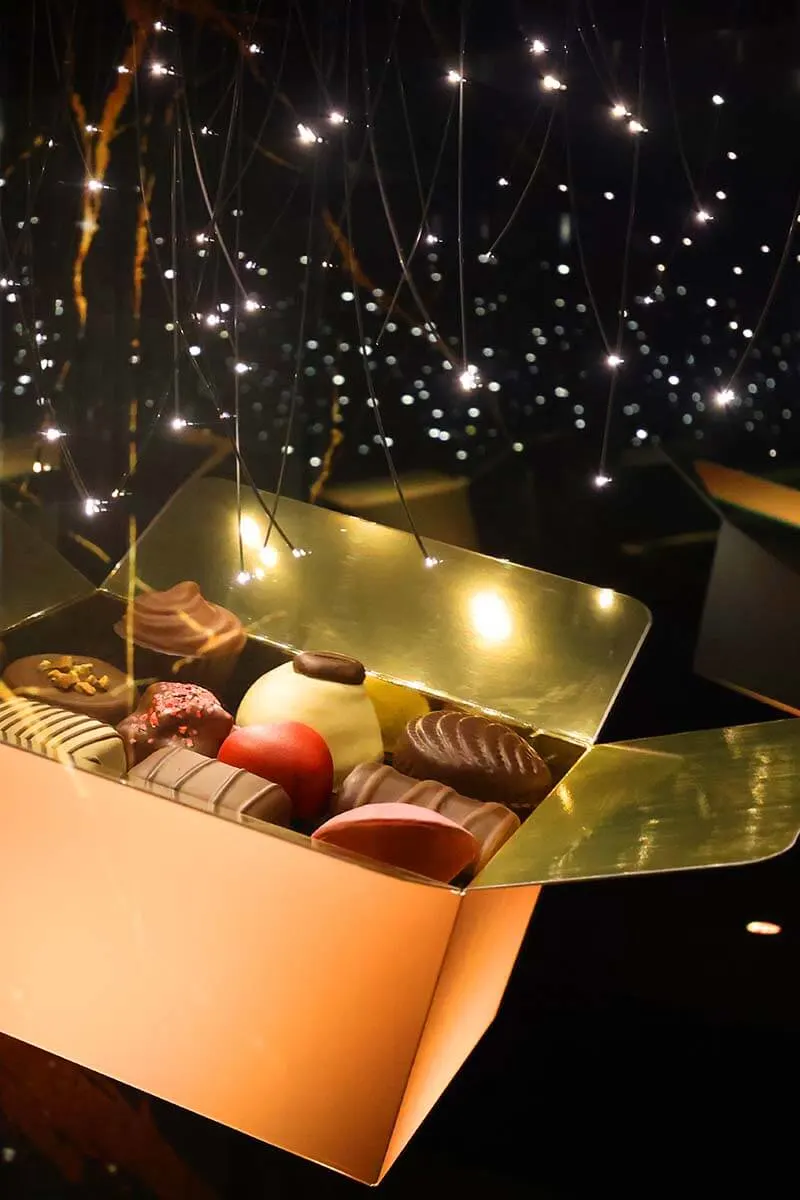 6. Fashion & Shopping
While not as known to the broad audience as Milan, Paris, or London, Antwerp is actually one of the European fashion hotspots.
Antwerp Fashion Academy is one of the world's top fashion schools and its alumni include designers like Dirk Bikkembergs and Dries Van Noten (the Belgian Queen's favorite), to name just a few.
If you are interested in learning more, be sure to visit Antwerp's Fashion District where you will also find MoMu, an internationally well-known Fashion Museum.
In addition, Antwerp is a mecca for shopping! You will find countless options here. From the biggest mainstream brands and department stores to some of the world's most famous designer brands and smaller fashion boutiques by local creators – Antwerp truly has it all!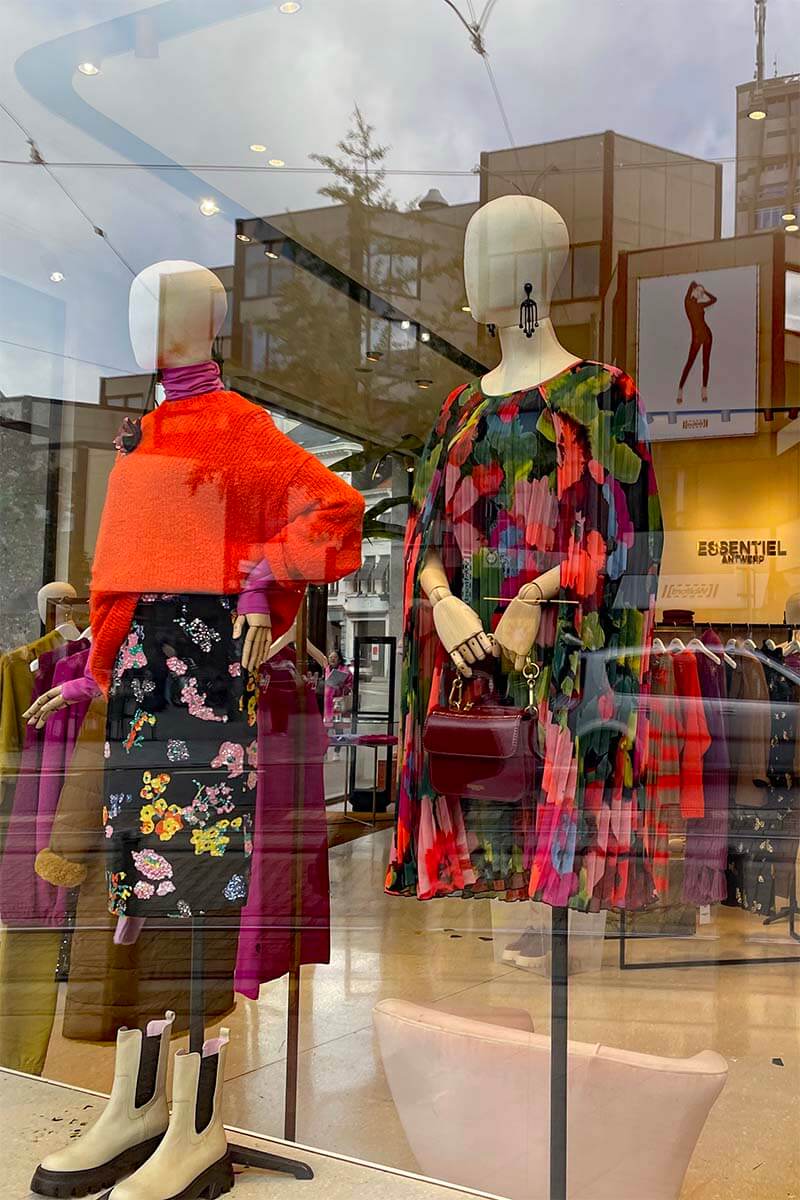 7. Food
The Antwerp food scene is well worth noting too!
With so many nationalities living in the city, you will find all kinds of cuisines represented here. From traditional Belgian or Italian restaurants to South American specialties, Asian fusion or vegan food – there is truly something for all tastes.
If you are looking for a special treat, you will be glad to know that Antwerp is home to some of the best restaurants in Belgium. In fact, the city has over 100 restaurants featured on the Michelin website and over 20 Michelin-star restaurants. Just keep in mind that some of these restaurants are booked up weeks and months in advance, so plan ahead!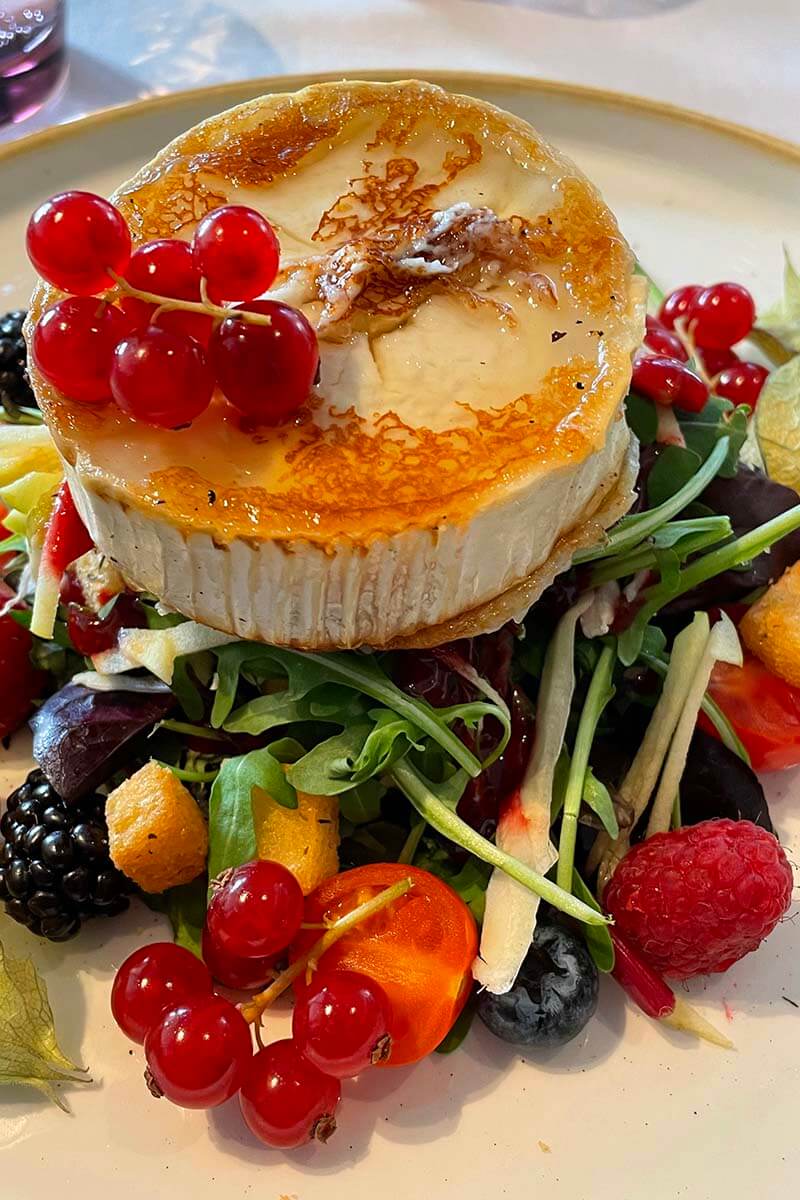 8. Bolleke Beer
In a country with thousands of beers where every region has some local specialties, there is probably no other beer that is so indistinguishable from its home city as Bolleke, known as the taste of Antwerp.
Made by De Koninck Brewery in the heart of the city since 1952, Bolleke is the iconic beer of Antwerp. They say it's "Antwerp in a bottle".
Needless to say, no trip to Antwerp would be complete without tasting this local beer. You will find it on tap and in bottles in cafes all over the city, but if you have some extra time, be sure to also visit the City Brewery.
They offer a self-guided tour where you go through the various stages of the brewery's history and the brewing process, and get to taste some of their iconic freshly-tapped beers straight at the source!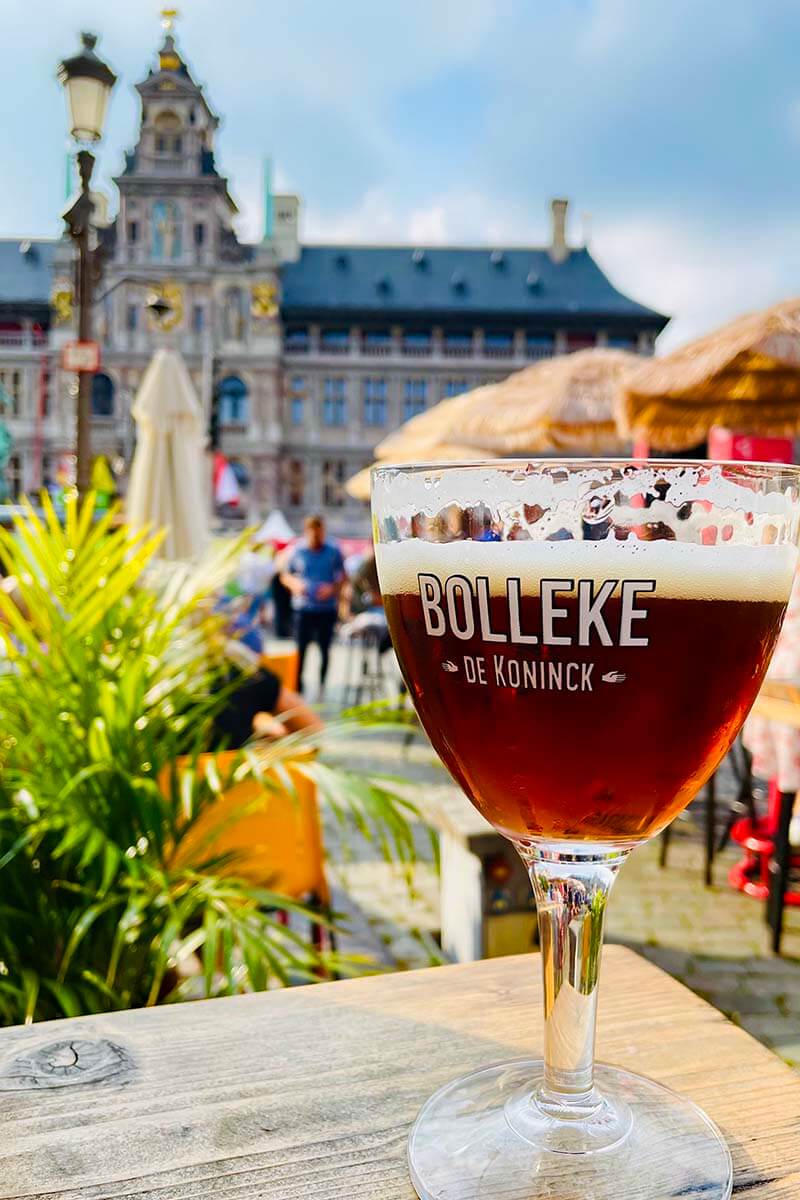 9. The Hands of Antwerp
There is one more thing that makes the city unique and that's its hands. Yes, a hand is the symbol of Antwerp.
The story goes that a little boy called Silvius Brabo bravely cut off the hand of a giant Antigoon who was terrorizing the city and threw it into the river. This is how the name of Antwerpen was born ('hand werpen' = to throw a hand).
You can find the statue of Brabo throwing a hand in front of the City Hall on the Market Square. And if you pay attention, you will find hands all over the city.
There's a large stone hand on the main shopping street, a hand sculpture at the Central Station, there are little hands on the facade of the MAS Museum, etc. In addition, you can buy cookies and chocolates in the shape of Antwerp hands…
If you are looking for some unique souvenirs to take home from Belgium, you will only find these little hands in Antwerp. That's just one more excuse to visit, don't you agree?!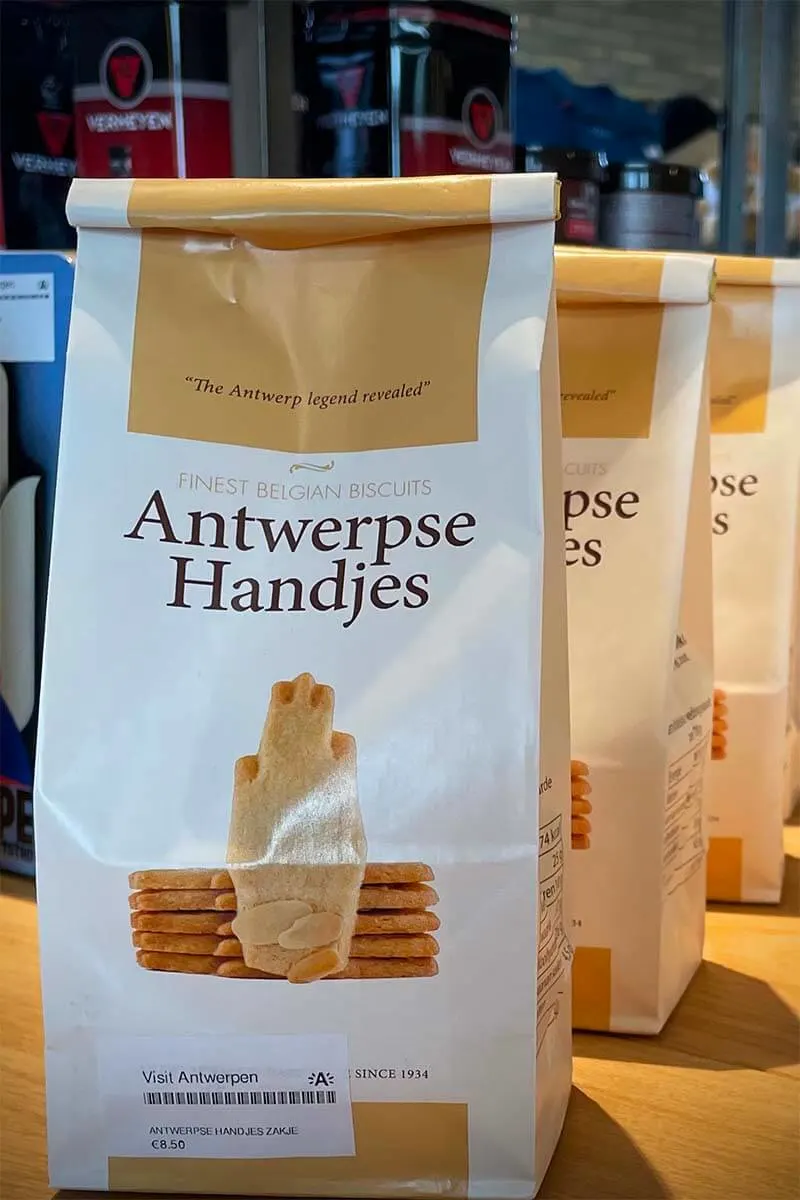 So, these are just a couple of reasons to visit Antwerp. I could easily come up with a dozen or two more… But there is really no better way to find out than by simply coming over and discovering the city yourself!
I sincerely hope that this article inspires you to visit Antwerp and I'm sure that you will love it here, just as much as we do. We take all our guests to Antwerp and many tell us that they like it even more than the other cities.
TIP: Before you go, take a look at our guide to the best things to do in Antwerp, but also some of the hidden gems that will make your visit so much more special. As I said, there is so much to see in the city, and there are countless reasons to visit!
READ ALSO: Where to Stay in Antwerp: Best Areas & Hotels
If you are traveling with a family, be sure to also check out our guide to the best things to do in Antwerp with kids. And if you are looking for some more travel inspiration in the region, here you can find an overview of all our articles about Belgium and The Netherlands.
Have a great trip!
If you found this post helpful, don't forget to bookmark it and share it with your friends. Are you on Pinterest? Pin this image!