Are you visiting Antwerp in Belgium and looking to explore the city deeper, beyond the most popular sights? This guide featuring some of the nicest hidden gems of Antwerp will give you plenty of ideas. Take a look!
Antwerp is the most beautiful and arguably the most interesting city in Belgium. Not many people know it nowadays, but around the 16th century, Antwerp was Europe's richest city and one of the wealthiest and most influential cities in the world. Also today, Antwerp is one of the most culturally diverse and most fascinating cities in Europe, probably best known as the diamond capital of the world.
All this means that there's so much more to Antwerp than might look at first sight! We live near the city and it amazes us that we keep on finding so many 'new' interesting places in Antwerp every time we visit.
Yes, the city is changing a lot and there are indeed many new places opening up all the time. But there are also countless hidden gems and lesser-known sites in Antwerp that have a long history and that most tourists (and even locals like us) never see...
It would be impossible to feature all the secret places in Antwerp, so for this selection, we only chose a few that we think are worth your time the most on your first visit. Also, all the places on this list are really close to the main sights in the city center and can be easily visited without much extra effort.
Good to know: To help you plan your visit and see some of the hidden gems of Antwerp, we created a MAP indicating all the places mentioned in this article. You can find it at the bottom of the article.
No matter if this is your first time in Antwerp, or if you have been to the city many times before, I'm sure that you'll find some inspiration in this guide to some of the best hidden gems of Antwerp.
Some of these places are better known than others and locals might not even consider them as 'hidden', but you won't find most of them in the standard Antwerp city guides. And even if you visit just a few sites from this list, it will make your city trip to Antwerp so much more memorable!
I hope that this guide will show you that there are so many more reasons to visit Antwerp than it looks at first sight. I also hope to inspire you to spend more time in Antwerp, discover the city deeper, and get a bit off the beaten path. And once you look at it through different eyes, you'll definitely want to come back again.
READ ALSO: Top Places to See & Things to Do in Antwerp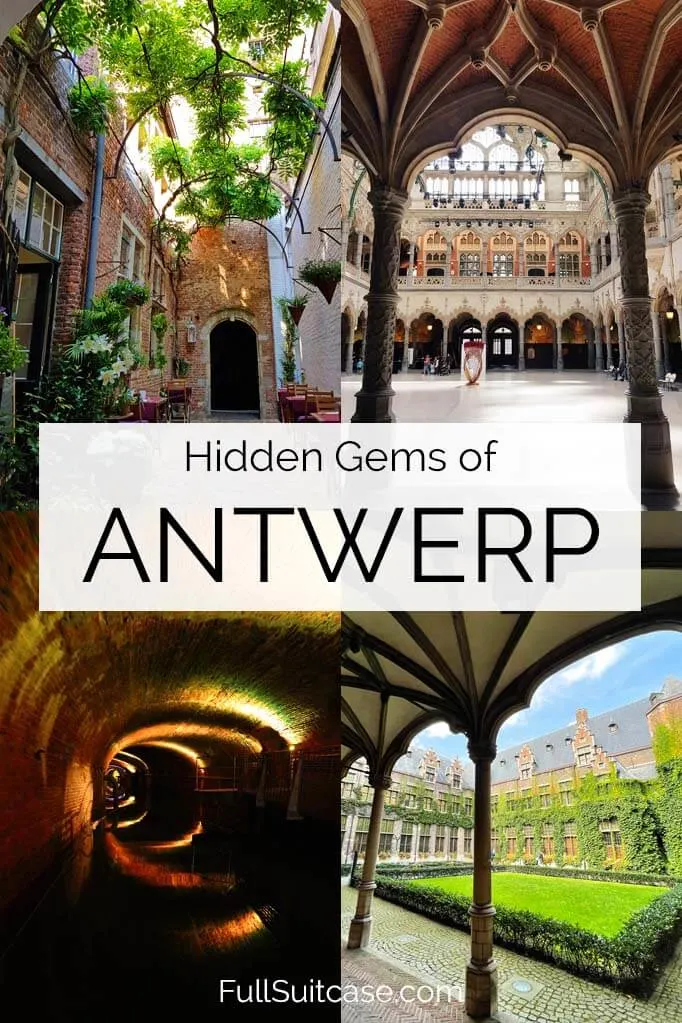 Some of our favorite lesser-known places and hidden gems of Antwerp:
1. Handelsbeurs – New Exchange
Recently reopened after a full restoration, Antwerp Handelsbeurs is one of the most beautiful hidden gems of the city. Built in 1531, during Antwerp's Golden Age, the New Exchange was the first stock exchange building designed specifically for this purpose. It became a model and an inspiration for other stock exchanges all over the world.
However, the original building has suffered from a fire on two different occasions. In the 19th century, it was rebuilt in a beautiful neo-Gothic style and has further served as a stock exchange until 1997. The building was abandoned and stood empty for 20 years, so it's nice to see it reopened and restored to all its glory.
Nowadays, Handelsbeurs hosts all kinds of events, private functions, but also various expositions. There is also a restaurant inside and they are planning to open a luxurious hotel – Marriott Autograph Collection Sapphire House – here soon.
The nice thing about Handelsbeurs is that it's located right in the city center and so you can easily visit it without any advance planning or preparation. It has two different entrances and many navigation apps will send you to the 'main' entrance on Borzestraat. However, normally, you can enter via a small side street of the main shopping street, the Meir.
Thousands of people pass here every day and the building is getting more and more known among the locals. Still, only very few people actually take a moment to step inside and see its magnificent interior. It's well worth a few minutes of your time!
Good to know: The entrance to the main hall is free of charge, the rest depends on what's going on at that moment (expositions, events, etc.). At the moment of the latest update, the Handelsbeurs is only open on the weekends (more info on their website – in Dutch). However, there was a small exposition the last time we visited, and at that time it was open daily. Maybe it depends on the season. In any case, you'll likely pass here anyway, so definitely see if it's open!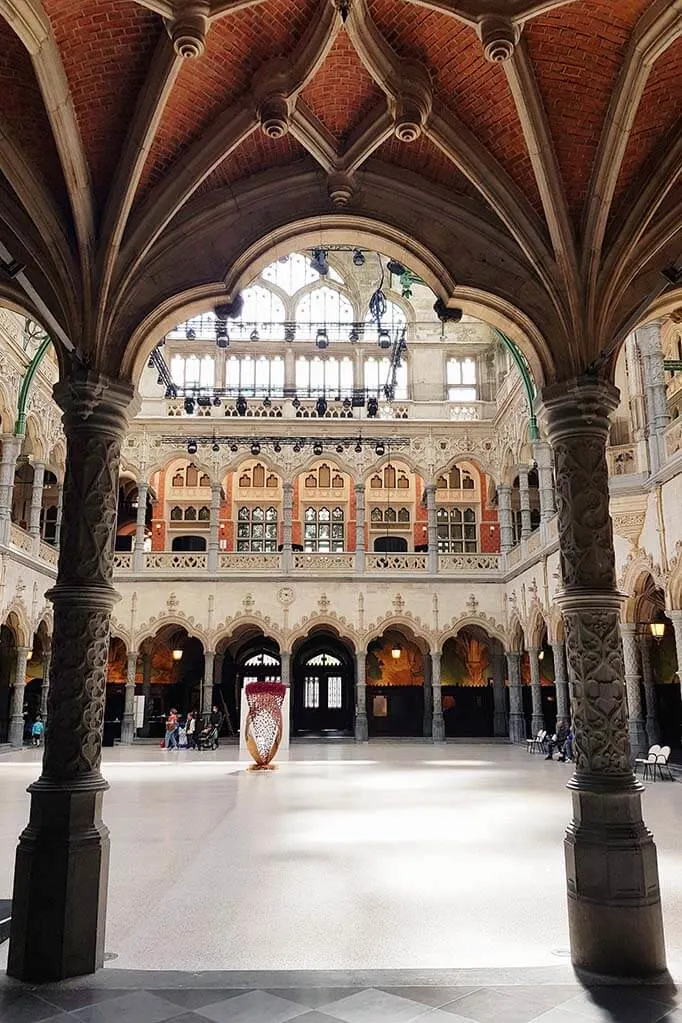 2. De Ruien – Underground Waterways
De Ruien are the former canals and underground waterways of the city of Antwerp. Originally dug out more than a thousand years ago as forts to guard the city, they were used as an inland port and the city's water supply system. Centuries later, the city's canals were converted into sewers, and they have literally disappeared out of sight.
We had been to Antwerp so many times before and never knew that there's a whole underground world hidden right under your feet right in the heart of the old town, where thousands of people pass every day. Despite its incredibly central location, it's a secret place that even not many locals know about.
It is now possible to visit some sections of this underground canal system, with old vaults, bridges, and even street names. You have several options to visit De Ruien – on foot or – water levels permitting – by boat. Walking tours are only available for adults and kids from 10 years old, whereas boat tours are suitable for everyone, including children from 3 years.
We haven't done the walking tour yet, but we really enjoyed the boat tour. The smell of the sewers was a bit disturbing at first, but the kids were so excited about the whole experience that they hardly noticed it. We boarded the boat which took us in the direction of the Scheldt river and back towards the City Hall of Antwerp. It was fun to see the familiar street names under the ground and try to guess where we were.
Good to know: De Ruien entrance can be found on Suikerrui, the street that leads from the main city square Grote Markt to the river. They are open daily except on Mondays, from 10 am to 5 pm (6 pm on the weekends). For more up-to-date information, available tours, starting times, and other practical info, please see their website.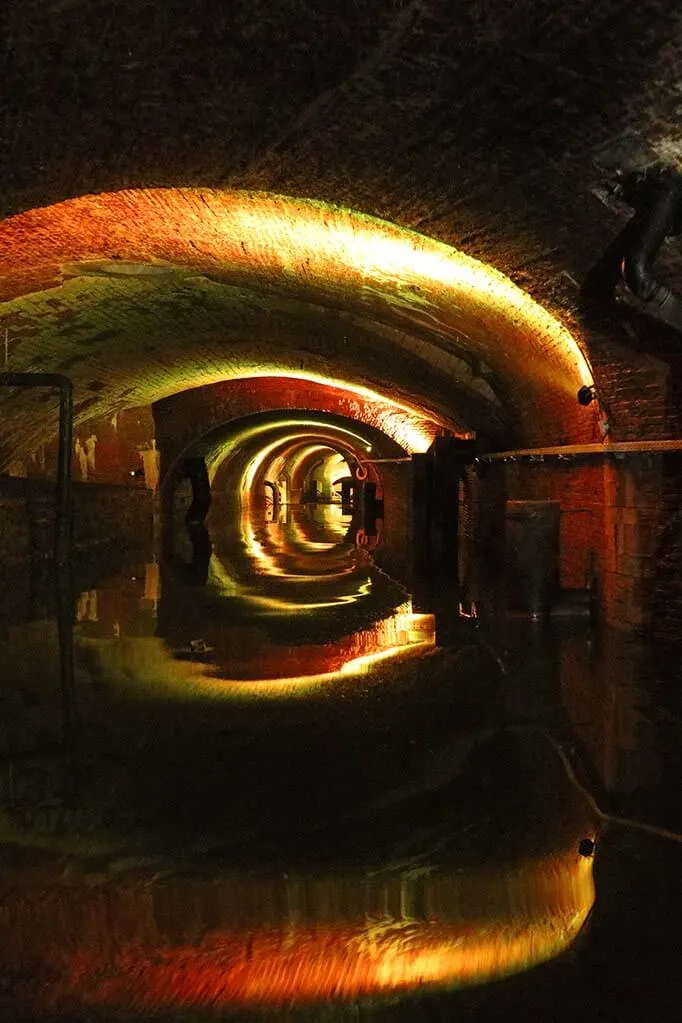 3. Vlaeykensgang
Vlaeykensgang (or Vlaaikensgang) is a tiny passage next to one of the busiest streets in the old town, the Oude Koornmarkt. It's a picturesque little alley that was used by shoemakers in the 16th century.
Everyone in the city knows this picturesque little alley, but despite that, it's always quiet here. Local guides might pass through with an occasional tourist, but often, you're all alone here. There's also not much else to do at Vlaeykensgang than just walk from one side to another and take a few pictures. You won't need more than 2-3 minutes here.
TIP: If you are looking for a really nice place to eat in the city, check out the Sir Anthony Van Dijck Restaurant. It's hidden behind a big wooden door halfway through the Vlaaikensgang. Not only its secret location is impressive, but the interior and the food are extraordinary as well. It's one of our favorite restaurants in Antwerp when we are looking for something a bit more special. I'm not sure if they allow walk-ins, though, so it's always better to reserve in advance. It's not a place where you come in for a quick meal, but an experience in itself.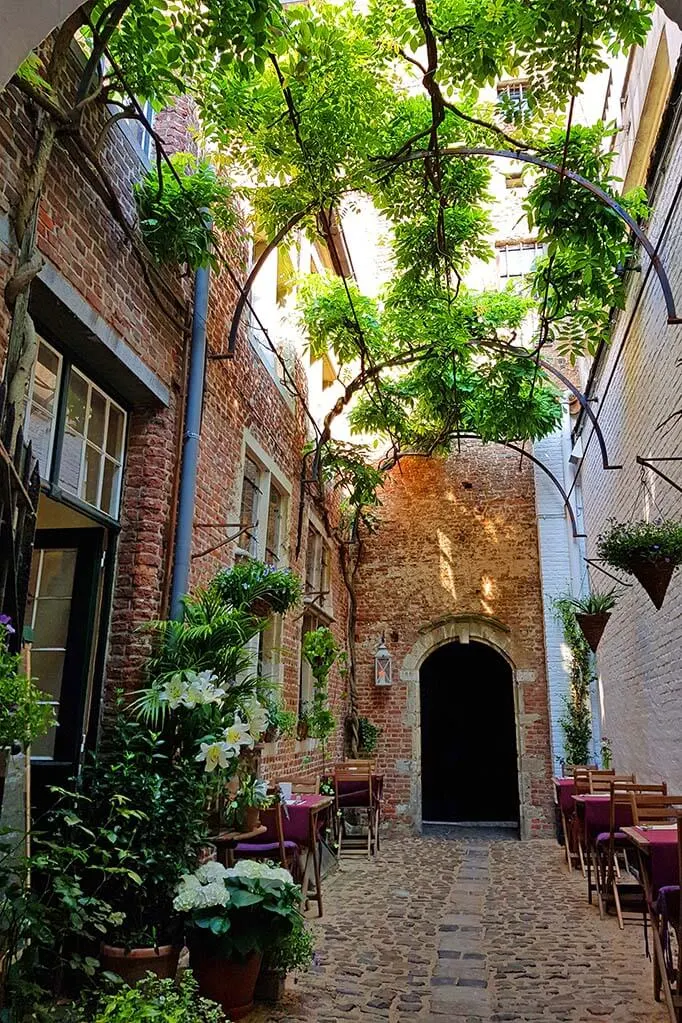 4. Hof Van Liere – Antwerp University
Stadscampus (city campus) of Antwerp University is another hidden gem, a real diamond of the city of Antwerp. The main feature is the beautiful Hof van Liere and the adjacent historic buildings that form a real oasis in the busy city center.
Just as the majority of the most impressive landmarks in Antwerp, Hof van Liere was built during the Golden 16th century. It's a beautiful Brabantine Gothic-style building that was originally home to the former city mayor Aert van Liere. Later, it was home to the Jesuit school and in the 17th century, was expanded. In the 18th century, the buildings served as a military academy and later even as a military hospital.
The University buildings have been beautifully restored at the end of the 20th century and Hof van Liere now serves as a venue for national and international congresses.
I'm not sure if you can visit the buildings inside and whether it's really worth it, but it's absolutely worth seeing the exterior and the gardens of this beautiful building. However, also here, the nicest view is hidden out of sight and you cannot see it from the street. So you can only visit here when the University is open.
Generally, the main entrance gate on Prinsstraat 13 is open during the day. When it's open, you can just enter and take a look around. It's free of charge. There's also a side entrance at Grote Kauwenberg Street, but it's not always open either. In other words, just go there and see if it's open. It's not a far walk from the main sights in the city center and well worth a short detour.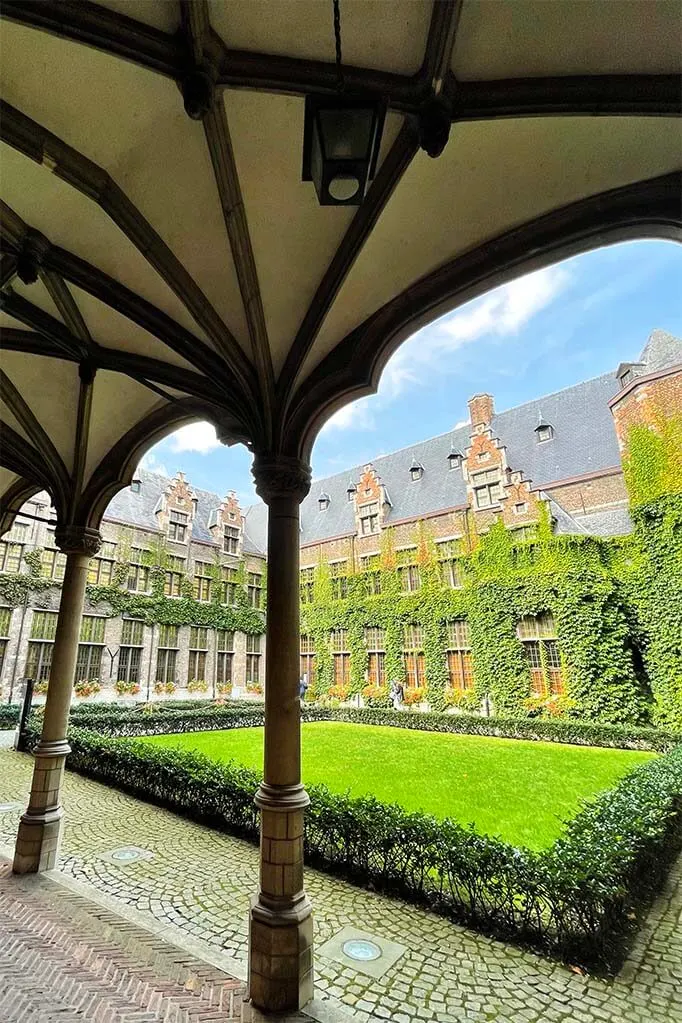 5. Antwerp Botanic Garden
Antwerp Botanic Garden (locally known as Plantentuin or Den Botaniek) is a tiny garden in the city center. It's really small and so well-hidden that we only learned about it recently… After having been to Antwerp hundreds of times… I can't believe it myself.
This is a really nice secret place to visit in Antwerp, with a big variety of plants, some quirky statues, a small pond with a waterfall, and a greenhouse. There is no fee to enter and it's nice to visit in any season. You can spend as little as 5 minutes here or as much as an hour if you want to learn more about all the plants.
Good to know: At the entrance of the park, there's a small restaurant called Het Gebaar. This is a high-end restaurant with a Michelin star and some really good food. If you are looking for a nice place to eat in Antwerp and don't mind a higher price tag, you may want to check it out! This lunch lounge/ restaurant is only open Monday to Friday, from 11 AM to 6 PM. More info on their website.
TIP: The newest high-end luxury hotel in the city – Botanic Sancturay Antwerp – is also located here. It's represented by the Leading Hotels of the World and is one of the nicest hotels in Belgium. This modern hotel is located inside a 15th-century historical monastery complex on the southern side of the botanic garden. The hotel also has several gastronomic restaurants with Michelin-awarded chefs. If you are looking for a very unique place to dine or stay in Antwerp, check it out!
READ ALSO: Where to Stay in Antwerp: Best Areas & Hotels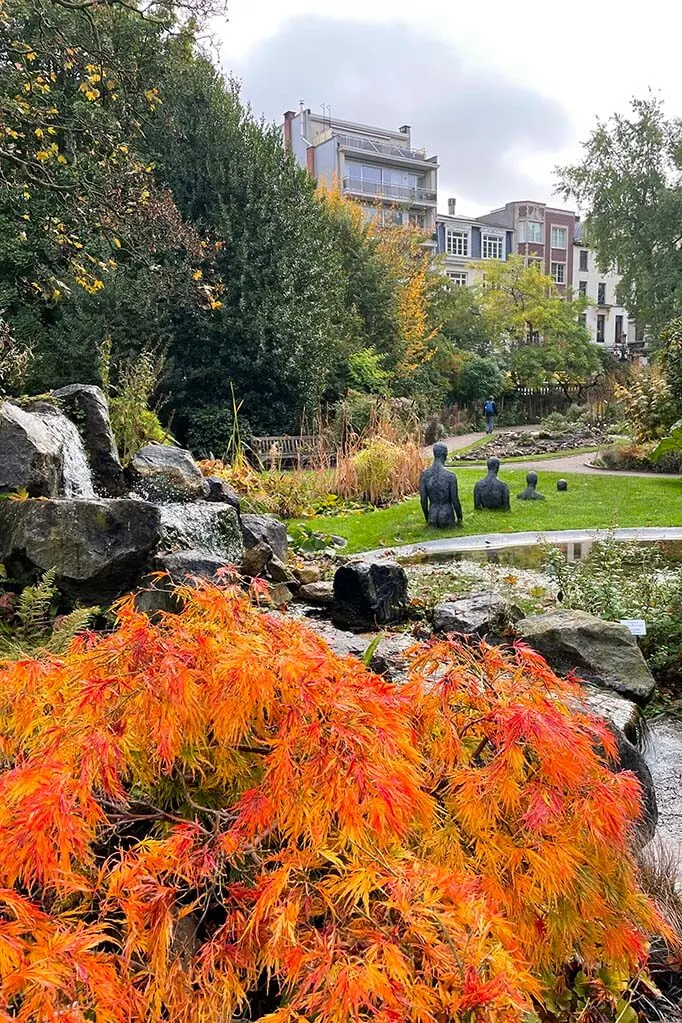 6. Calvary Garden & Lourdes Grotto at St. Paul's Church
Antwerp has several impressive churches that are well worth visiting. You'll often see the Cathedral of Our Lady and the St. Charles Borromeo Church mentioned among the best places to see in Antwerp. However, in addition to the city's most famous landmarks, there is one lesser-known place that we consider a true hidden gem of Antwerp, and that's St. Paul's Church (Sint-Pauluskerk).
Originally built as part of a large Dominican monastery in the 'golden days', this church houses hundreds of precious sculptures and fifty remarkable paintings by Antwerp's most famous masters, such as Rubens and Van Dyck. It also has beautiful Baroque altars, an impressive organ, and some of the most beautiful church furniture you'll ever see.
But the real hidden gem that makes St. Paul's Church even more special is the Calvary Garden with an impressive calvary of 60 life-size figures of the saints. It's located outside, hidden in the corner between an old monastery wall and the southern side of the church, and can only be accessed via a corridor that leads to the church. We stumbled upon this church and its hidden garden by complete coincidence when exploring the city a bit off the beaten path and we were truly awed. We had never seen anything like this before.
You can't see the calvary from the street and also the church is built in such a way that you only see a small part of it. So if you don't know how special it is on the inside, you'll likely just walk by, or not even come to this quieter part of the city center. But now that you know about this beautiful hidden treasure of Antwerp, be sure to check it out!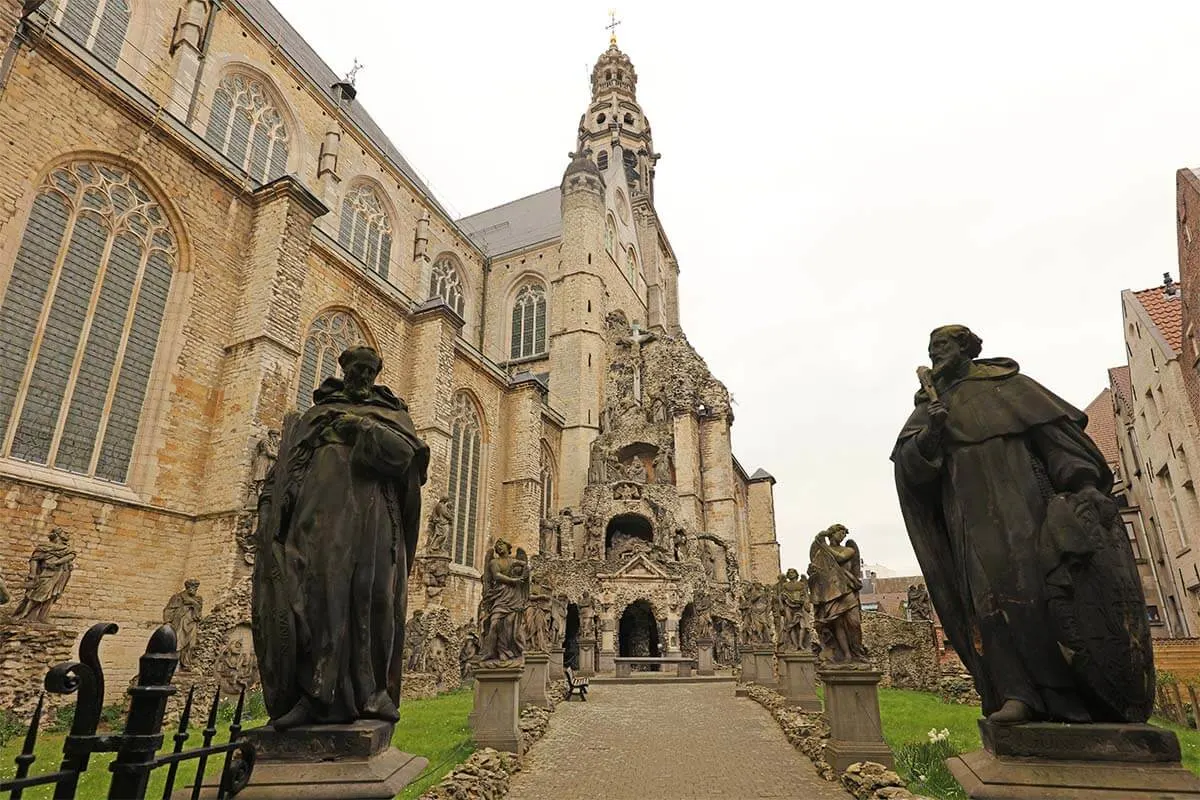 Not widely known, there's one more garden on the other side of the church (entrance via the Sint-Paulusstraat 20-22 or via the church (left to the altar)). Here, you can see the ruins of the old abbey and the Lourdes Grotto, a pilgrimage site.
Good to know: The main entrance to St. Paul's Church can be found on the corner of Veemarkt and Zwartzusterstraat, and the Calvary garden is hidden behind a door to your right before you enter the church itself. The Lourdes garden is located at the altar side and can also be reached via a gate at Sint-Paulus Street. You can visit the church and the gardens free of charge.
St. Paul's Chruch is open from 2 to 5 pm daily between April and October, and on the weekends between November and March. During the Christmas period, it's also usually open every day. Guided tours are available and you can also visit the treasury. More info on their website.
TIP: If visiting with kids, be sure to ask for a photo quest. There are lots of images of dogs that are hidden in the paintings and sculptures inside the church, and it's such a fun way to keep your children busy and interested while you are admiring the art.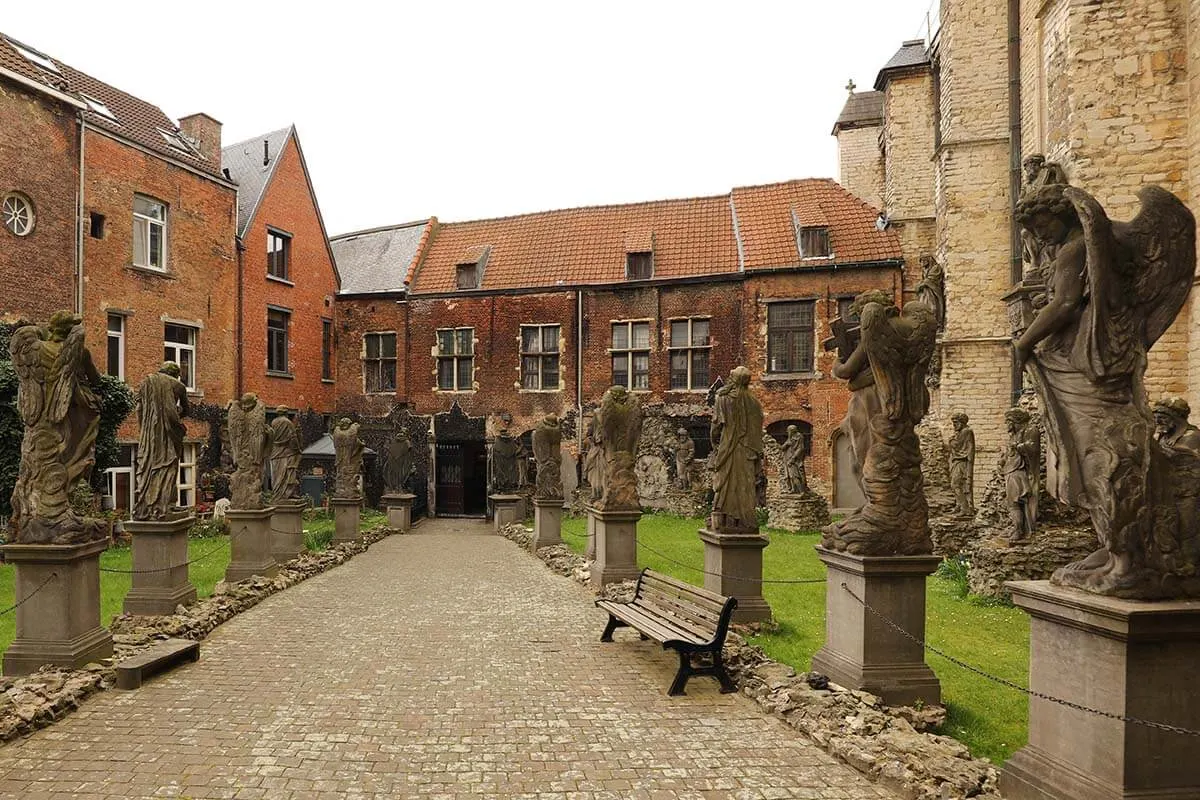 7. St. Anna Tunnel
The Sint Anna tunnel, aka the Underpass, is the pedestrian and bicycle tunnel under the Scheldt river. It connects the left bank (Linkeroever) to the old city center of Antwerp.
It's an old long tunnel built in the 1930s and it has a very nostalgic atmosphere with its wooden escalators and unique interior. Well worth a short visit! You don't even have to walk all the way to the other side of the river – just take the escalators down, walk a small part, and walk back.
But if you have plenty of time and like walking (the tunnel is 572 meters – 0.35 miles long), you can cross the river all the way to the left bank. On the other side, you can enjoy nice views of Antwerp old town and some of the best fries in town. The traditional fritkot is located just across the street from the exit of the tunnel and they have some of the very best Belgian fries around.
TIP: If you visit Antwerp by car, you can leave your car at the parking on the left bank and take this tunnel to the city center.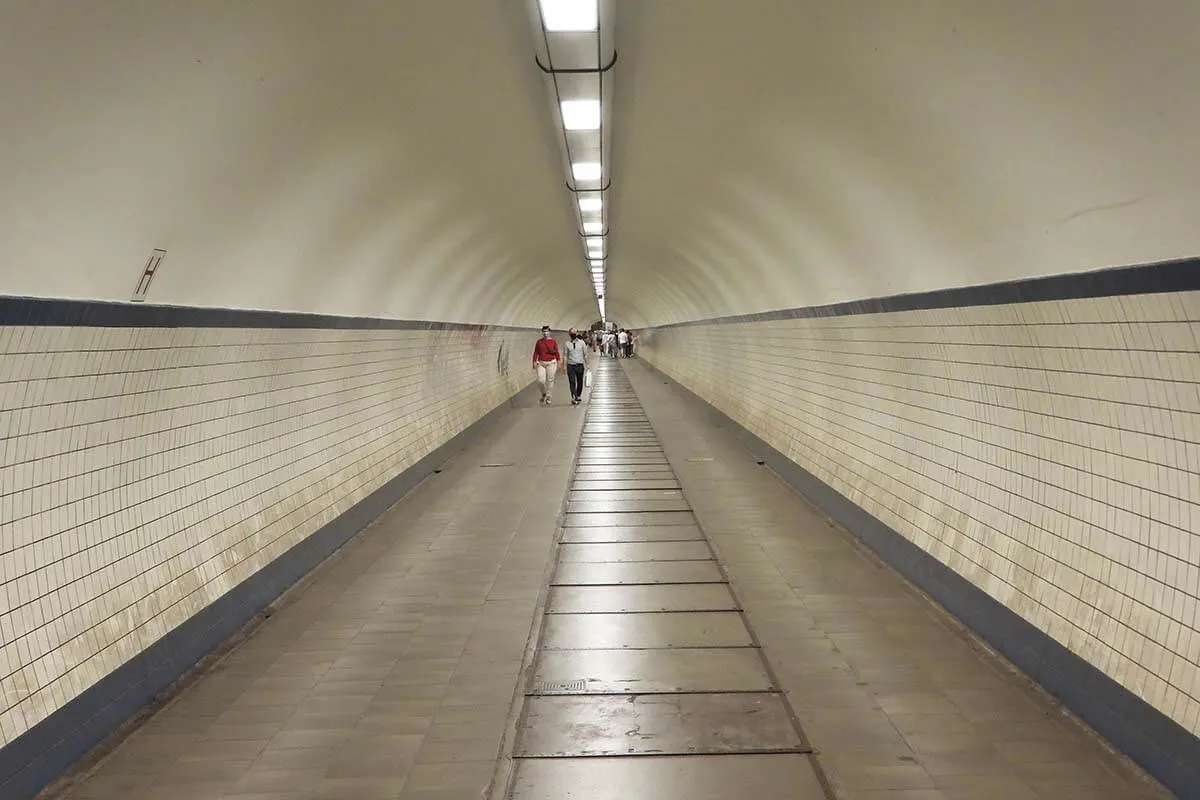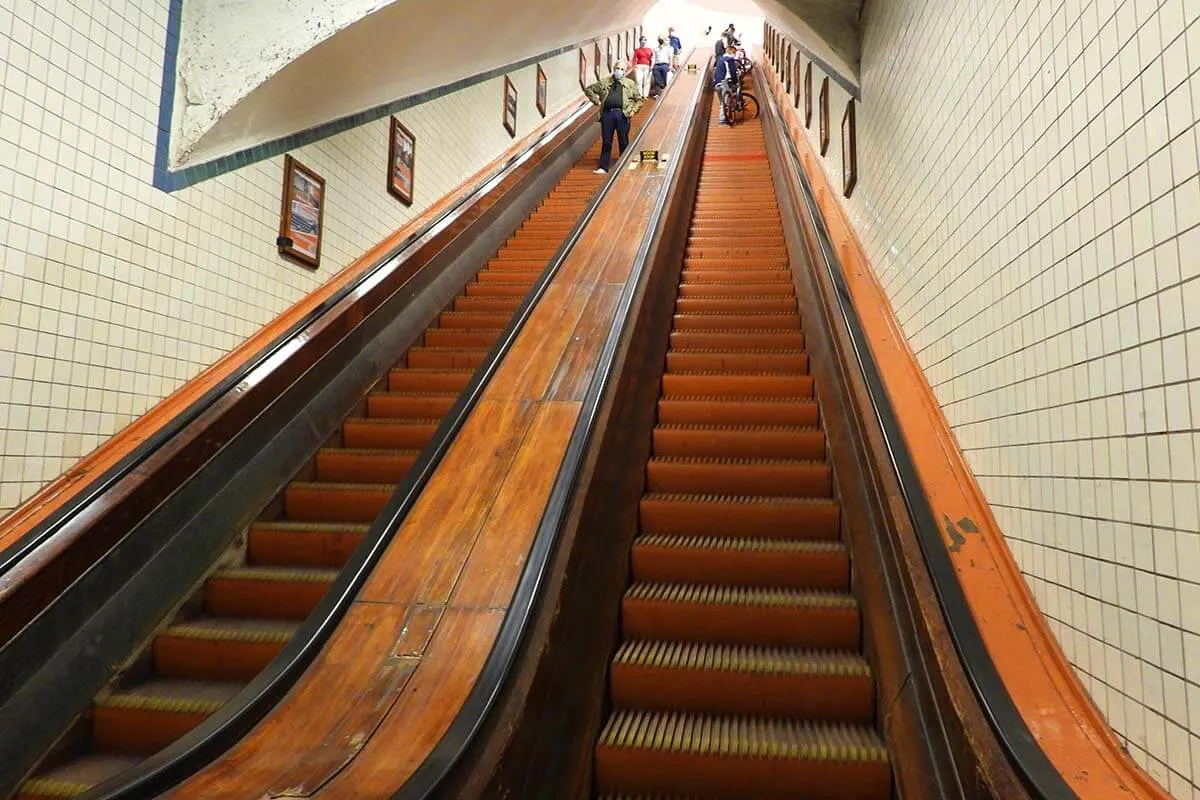 8. Park Bridge
Parkbrug is probably one of the coolest pedestrian and bike bridges in the world (it's definitely one of the most special ones we've ever seen). So if you like unique architecture or if you just want to take some fun pictures, this is a really nice place to check out.
This bridge connects the Eilandje District by the river to Park Spoor Noord and is totally off the beaten path in the city. You won't stumble upon the Parkbrug by coincidence and normally, you won't even come here unless you know about it.
However, it's not that far away from the city center and so you can quite easily visit here if you make a small effort.
TIP: The best way to visit this bridge and to explore more of the lesser-known areas of Antwerp is by bike. You can either rent a bike, or join a bike tour. This is the best bike tour in the city. However, I'm not sure they pass this bridge, but they do come rather close to it and seem to be willing to adjust the itinerary, so you might try asking them to pass this bridge. And otherwise, the bike tour is also a great way to see some other cool places of Antwerp that you might not even know about.
If you are renting a bike, see also our guide to the best off the beaten path bike route in Antwerp.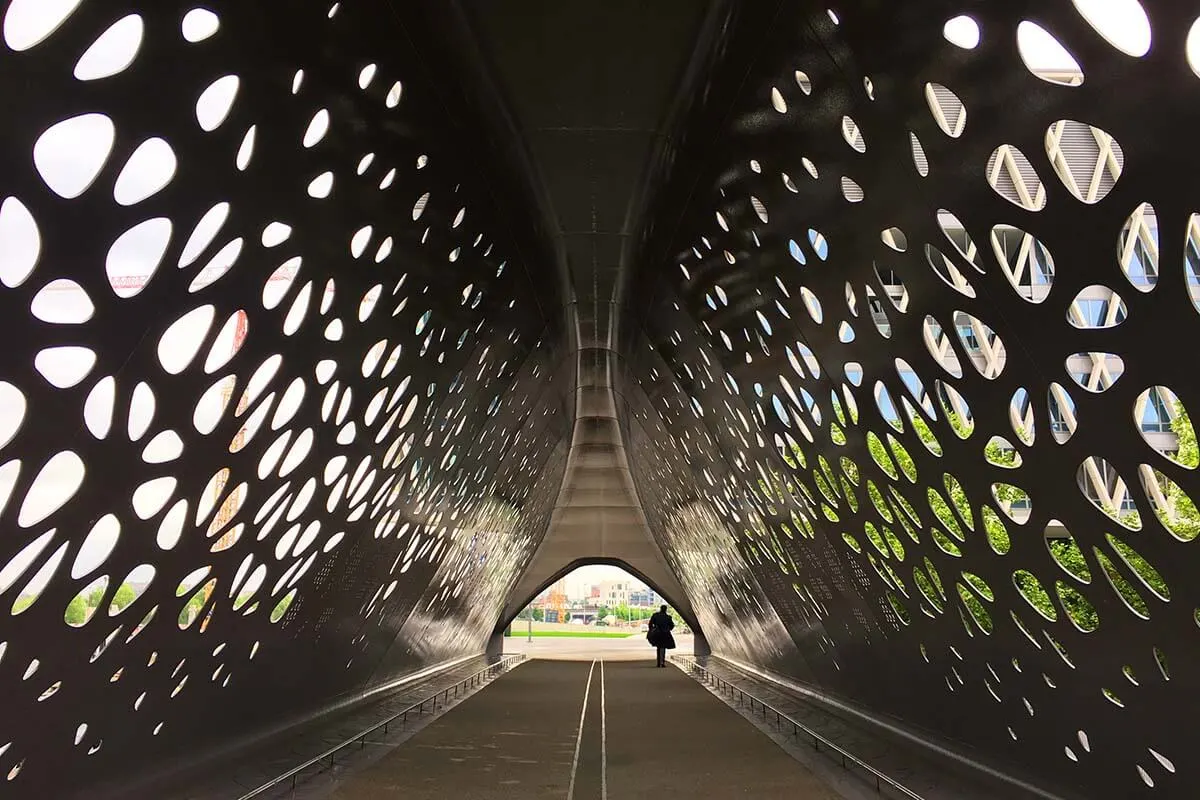 9. Béguinage of Antwerp
When you visit the Low Countries, you'll often come across béguinages (begijnhof in Dutch). There's one in Bruges and also in the center of Amsterdam, to mention just a few. Antwerp also has its own beguinage, Begijnhof Antwerpen.
Beguinages are architectural complexes consisting of small houses and a church, surrounded by walls, and with green space in the middle. They used to be home to lay religious women – beguines – who lived together in a community. These are not nuns, but unmarried or widowed women who live a life dedicated to God, but without retiring from the world completely.
The beguinage of Antwerp dates from the 16th century, but there are no beguines living here anymore – the last one passed away in 1986. Nowadays Antwerp beguinage has a residential function and the tiny houses surrounding the green square are now family homes.
The Antwerp beguinage is quite big with lots of houses, cobbled alleys, a garden and orchard in the inner courtyard, and a small 19th-century St Catherine's Church in the middle. It's a real oasis in the busy city center of Antwerp and one of the most authentic parts of the city that looks pretty much as it did hundreds of years ago. It's a real hidden gem of Antwerp indeed!
There's still a sign at the entrance (in a very old Dutch) saying that male visitors ('man-persons') aren't allowed after 6 pm and that beguines can't have overnight guests without the permission of the head beguine.
Good to know: Entrance is free and everyone is welcome to look around during the daytime hours (8 am – 6 pm). No dogs allowed.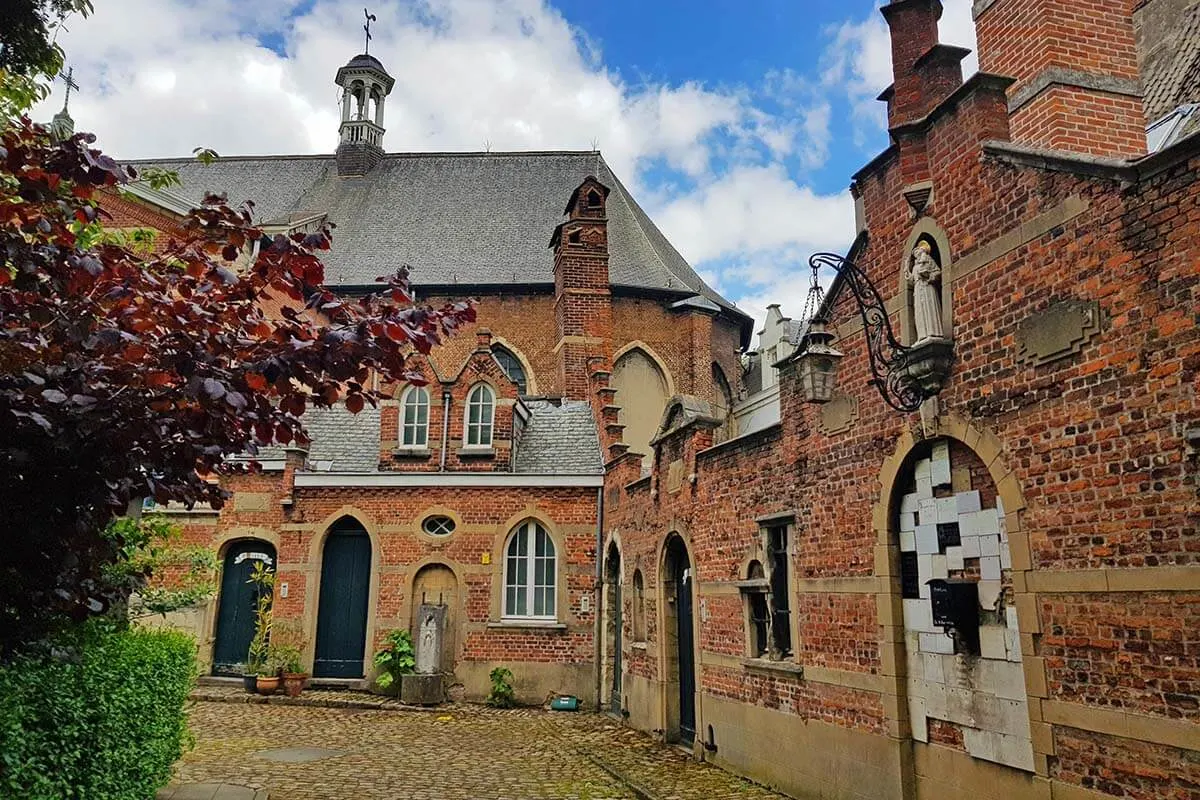 10. Virgin Mary Statues
Antwerp has a very unique bond with Virgin Mary and if you pay attention, you'll see Virgin Mary statues on the corners of buildings all over the city. It is said that there are at least 164 Virgin Mary statues in the old part of the city center alone and they form an important city heritage.
The tradition has been started by Jesuits in the 17th – 18th centuries, and the statues of the Virgin Mary started appearing all over the city. There were even special communities that were in charge of the maintenance of these statues and the associated costs. They would also make sure that the statues were decorated for special occasions and religious events.
Often, these statues were placed on the corner of a building and together with a street lantern, so that they would be visible from two streets at the same time. Nowadays, the city sometimes has to place metal poles under these statues in order to avoid higher vehicles damaging them.
Good to know: You don't really have to go anywhere specifically in order to see the Virgin Mary statues in Antwerp. They are literally all over the old town – just look up once in a while, especially when passing a corner or two streets. One of the places with the most Maria statues is probably the Ossenmarkt, a small town square right next to the Beguinage of Antwerp.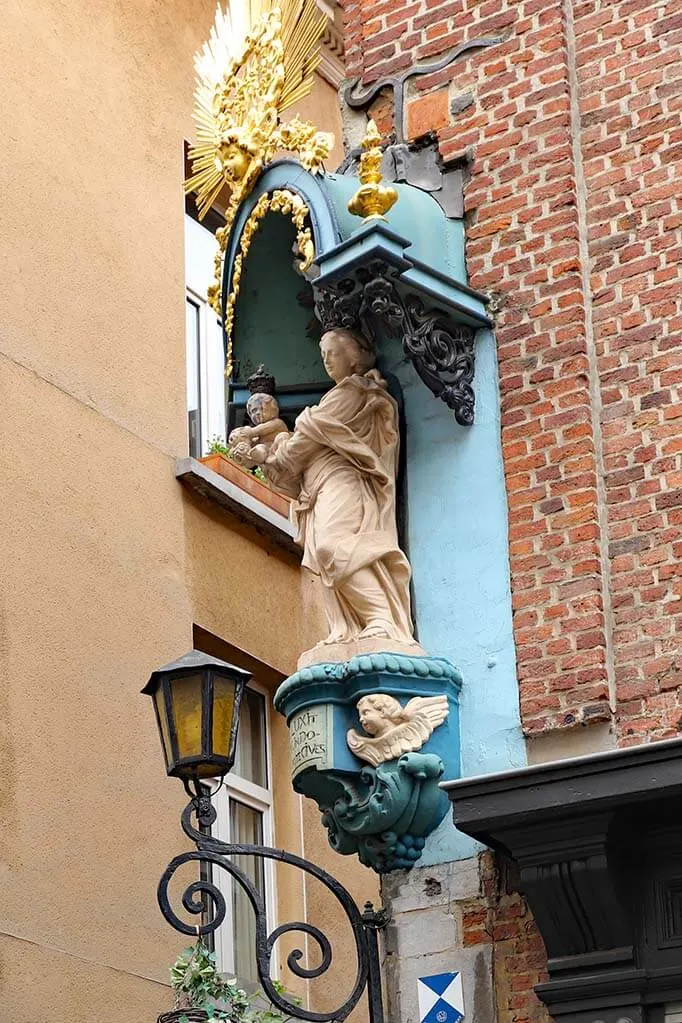 11. Nottebohm Room at Hendrik Conscience Heritage Library
The Nottebohm Room in the Hendrik Conscience Heritage Library is one of the best-kept secrets of Antwerp. This beautiful room is hidden in the oldest part of the library and houses its 150,000 oldest books, 200-year-old Blaeu's celestial and terrestrial globes, and a 19th-century Egyptian Cabinet.
This beautiful library room was created in 1936 and named after the Antwerp patron Oscar Nottebohm (1865-1935) who donated many pieces of art and big sums of money to the city of Antwerp and its various cultural institutions. The library now also features the portrait of Oscar Nottebohm and some of his books.
Good to know: While the library is open to the public, the Nottebohm Room is a bit more difficult to visit. During the biggest part of the year, the library can only be visited with a guided tour or during organized events, such as exhibitions, lectures, or concerts.
Nowadays, they also allow private visits to the library in the summer season, usually from the end of April to mid-September. On the website of the library, you can find more info about visiting the Nottebohm Room. If it's available for your travel dates and you want to go, reserve asap.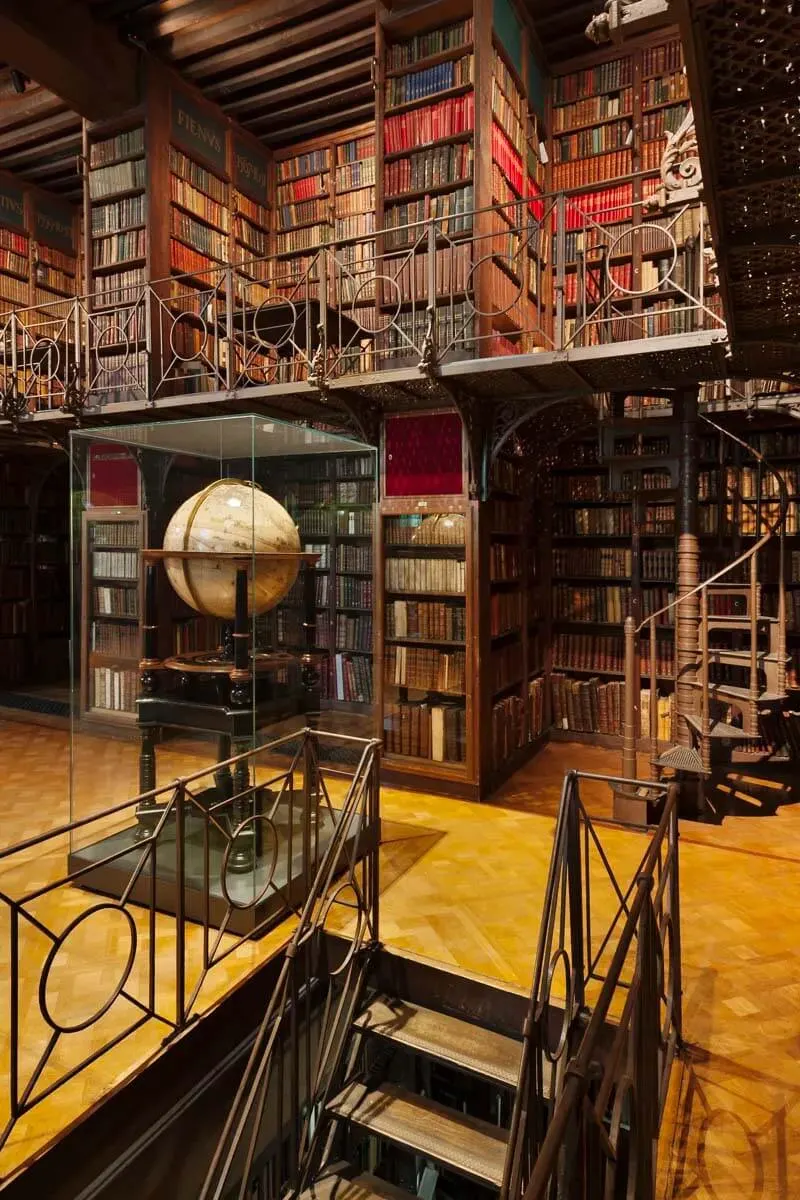 12. Comic Murals of Antwerp & Street Art
Belgium is known for its' comic strips and you can find many comic murals (stripmuren) in Belgian cities. There are also quite a few of these gigantic wall paintings in Antwerp, spread all over the city center.
These comic murals have fixed locations in the city and at the moment, there are about 14 of them in Antwerp. You can find the exact locations and a map of the comic murals on the Stripmuren website. All the information is in Dutch, but they have a map and the info contains all the street names, so you should be able to figure it out.
In addition, Antwerp has lots of beautiful and creative street art. In its nature, street art is temporary and ever-changing, but it's always well worth taking some extra effort to look for it.
There's lots of street art pretty much everywhere you go. Some neighborhoods on the outskirts of the city center have bigger concentrations of street art, especially under bridges, closer to the railway, or on old abandoned buildings. But there are really nice gems to be found all over the city if you just take your time and look for them. This Antwerp street art map can help you out a bit, but keep in mind that these things change all the time.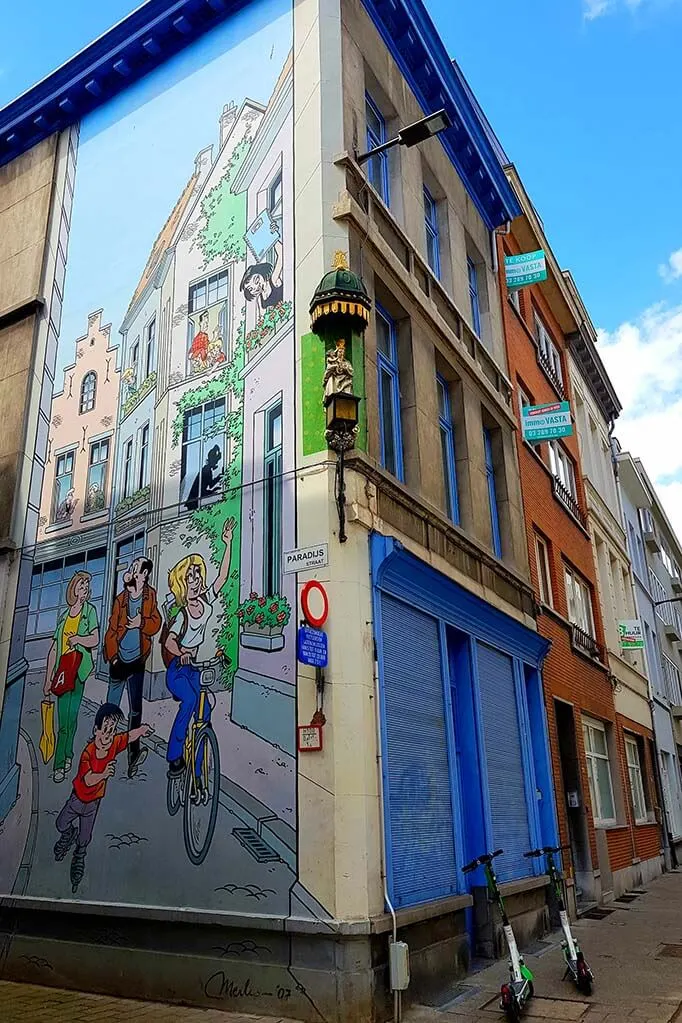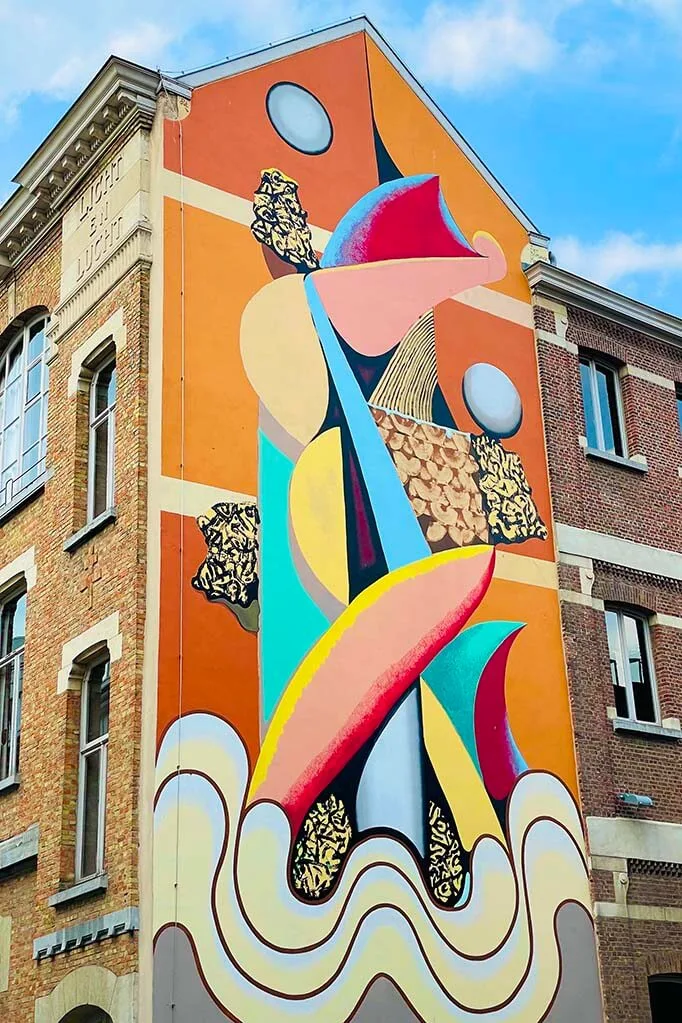 13. DIVA, Museum for Diamonds, Jewellery and Silver
With so many great museums in the city, it's already difficult to choose which ones are worth your time the most. But if you have seen the 'musts' already, or if you are looking for more unique places in Antwerp, then you may also want to check out DIVA, Museum for Diamonds, Jewellery and Silver. It's been opened in 2018 and contains the collections of the former Antwerp Diamond Museum and Sterckshof Silver Museum.
For centuries, Antwerp has been one of the most important diamond cities in the world. And so there's no better place to learn more about diamonds than here, at a place that has been home to jewelers, diamond merchants, and goldsmiths since the 16th century.
It's not your regular museum with 'just' diamond and silver exhibitions. It's a special experience with interactive displays, multimedia, and audio plays, all presented in a very unique setting. It's a fun and entertaining way to learn more about diamonds, the (not always bright side of) diamond trade, different jewelry, etc.
Located in the heart of the historic city center, right next to the City Hall, DIVA has a prime location. However, it's not widely known and definitely one of the lesser-visited museums in the city. I have to admit that we also completely overlooked this museum, despite having passed it so many times… This might have to do with the fact that it's rather recent, but it also has some serious competition from the more famous places such as the nearby Plantin-Moretus Museum, the Rubens House, or the MAS. But as far as the hidden gems are concerned, it's definitely one of the more interesting ones.
Good to know: The museum is open daily except for Wednesdays (and some public holidays), from 10 am to 6 pm. For more information, see their website.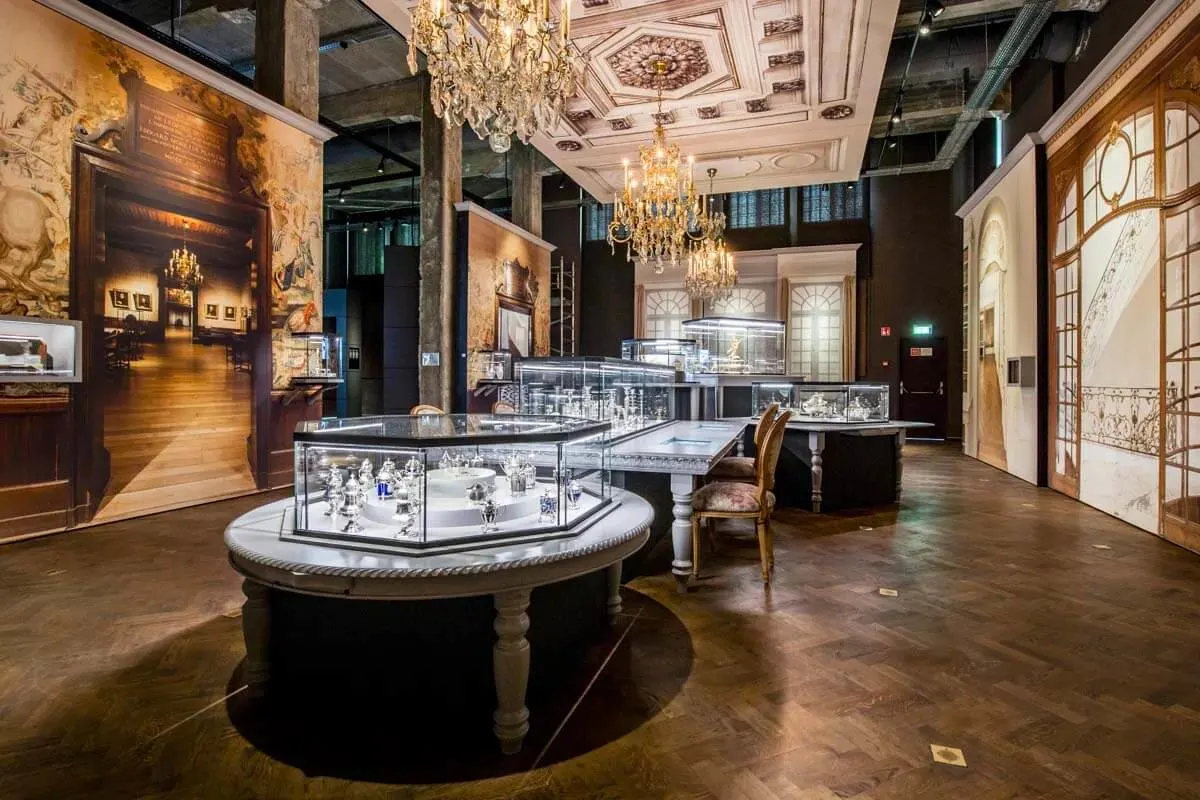 14. Art Nouveau Buildings
Art Nouveau is an ornamental style of art and architecture dating back to the Belle Époque period, at the turn of the 19th – 20th centuries and before WWI (1890 – 1914). The term Art Nouveau was mostly used in Belgium and France, while in English it's called the Modern Style.
Antwerp has some fine examples of Art Nouveau architecture. One of the best neighborhoods to see some of the nicest Art Nouveau-style buildings is Zurenborg, located between the Central Station and Berchem Railway Station to the south.
Check out the buildings of the Cogels-Osylei – one of the best streets for Art Nouveau architecture in the city center. Also the 4 'Four Seasons' buildings – each named after a different season – on the corner of Waterloostraat and Generaal van Merlenstraat are worth a quick look in this neighborhood.
There are many more impressive buildings scattered throughout town. We indicated a few of them on our map below – the 'Het Bootje' (a little boat) building on the corner of Schildersstraat and Plaatsnijdersstraat, or the 'Liberal People's House' (currently Steiner School), on Volkstraat 40.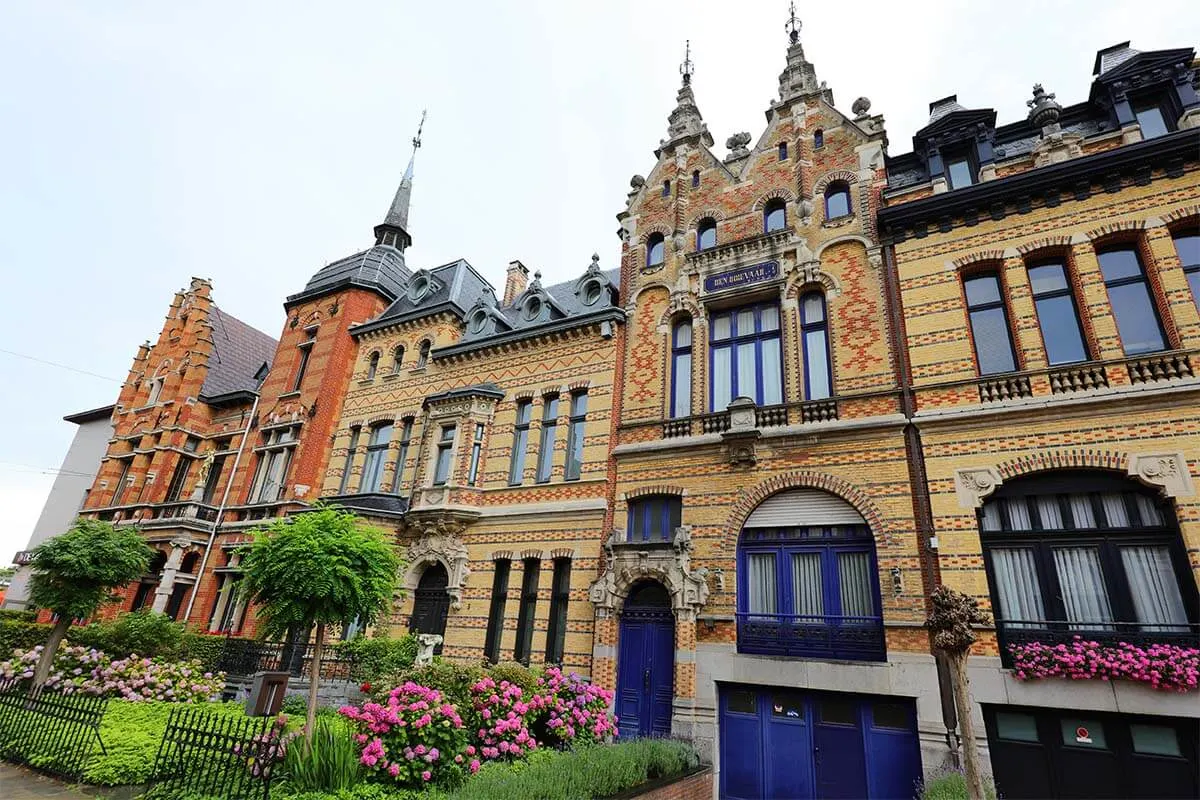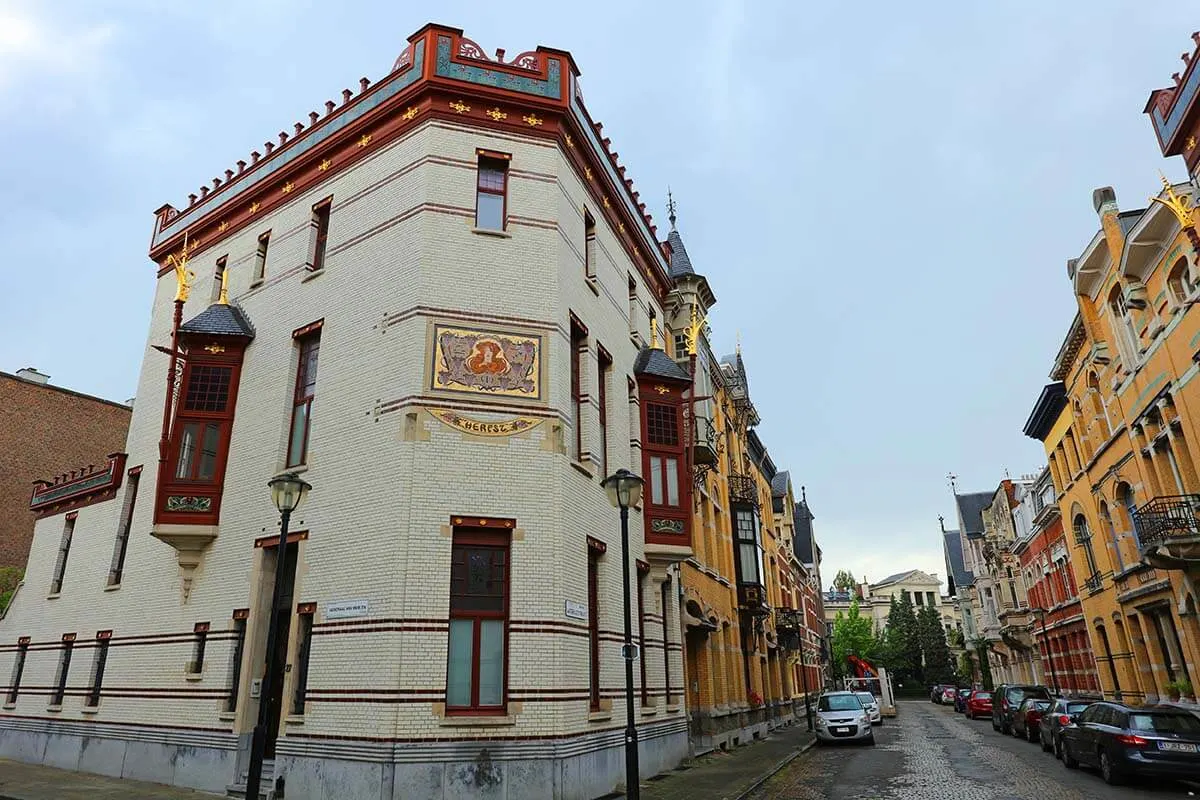 15. Stadsfeestzaal – City Banquet Hall
Antwerp's Stadsfeestzaal (literal translation City Banquet Hall) is a shopping center in the middle of Meir, the most visited shopping street in Belgium. Yet, many tourists just pass by without knowing that there's such a beautiful hall inside and that it's well worth a quick visit.
It's one of those special places that locals just take for granted and don't even stand still by and tourists don't know about. And while not really hidden, it's definitely one of the gems of Antwerp that you won't find in the tourist guides.
Originally built in 1908 in Neoclassical style as a big hall for exhibitions and events, the Stadsfeestzaal suffered from a big fire in 2000. It has recently been restored to all its glory. You can walk around the main hall, take the staircase for a better view from above, and enjoy the stunning interior. And of course, you can also do some shopping here or just enjoy a cup of coffee.
Good to know: Stadsfeestzaal is open every day from 8 am to 8 pm (Fridays to 9 pm), except for some Sundays and Public Holidays. As already mentioned, it's a big shopping center with shops and cafés, so there's always lots going on inside.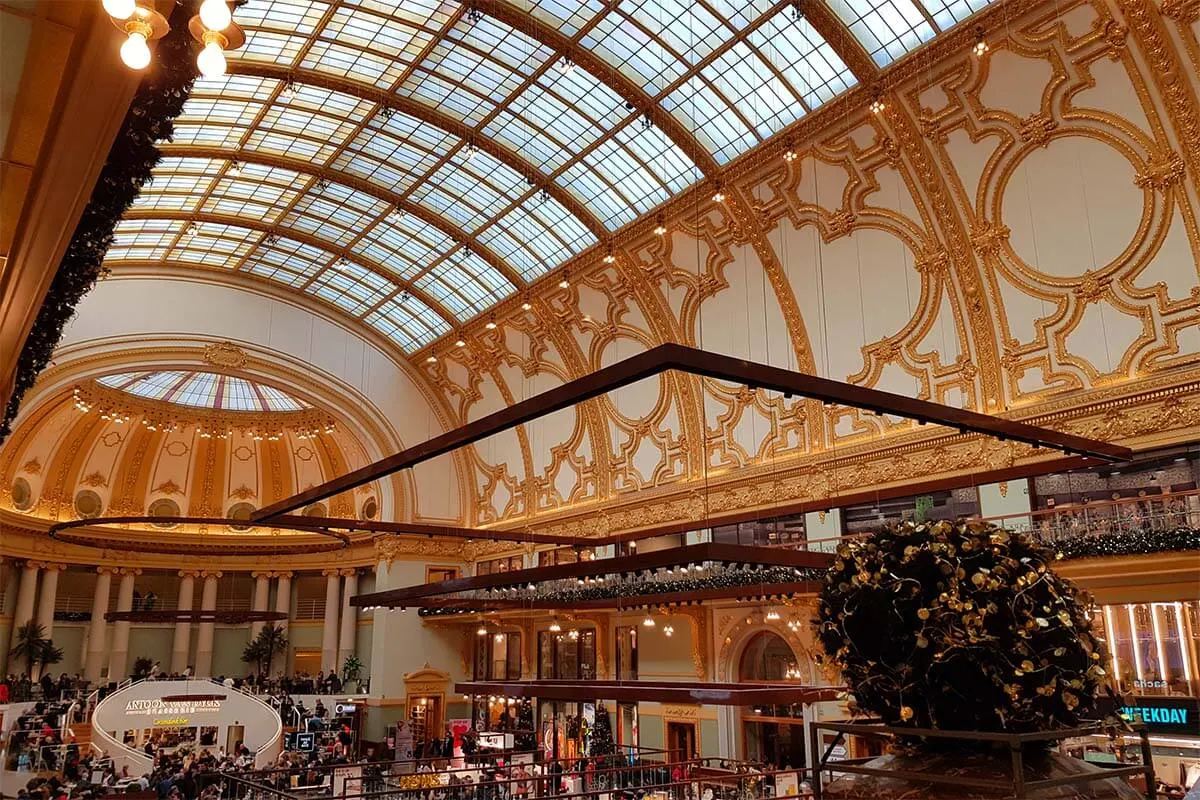 16. St. Anne's Chapel – Imperial Chapel
St. Anne's Chapel or the Imperial Chapel (Sint-Annakapel – Keizerskapel) is a small chapel located on the Keizerstraat, close to the University of Antwerp. Originally built at the beginning of the 16th century in the Brabant Gothic style, it was later refurbished and Baroque elements were added.
It might be small, but it's also one of the most beautiful churches in Antwerp. With its black-and-white tile floors, colorful stained glass windows, and unique starry ceiling, the chapel has a very unique atmosphere. It also has an ornate altar, various sculptures, Baroque furniture, a collection of 16-17th century art treasures, and a very impressive 15-16th century liturgical book – Antiphonary.
St. Anne's Chapel has a long history with various owners. First, it was the guild chapel of the cloth shearers of the Keizerstraat, which gave it its 'folk' name – Keizerskapel. Later, it was the first Catholic Church to celebrate the Mass in Antwerp after all the religious buildings had been closed under French rule. Most recently, in 1989, it was taken over by an art historian and a patron who fully restored it.
Good to know: The chapel can be visited free of charge, although donations are welcome. Unfortunately, I wasn't able to find its opening hours. One day we simply stumbled upon the open door and decided to take a look inside. There's very little information to be found about the chapel or its opening times. But it's located just a short walk from some of the main landmarks in the city center, so not a huge detour – give it a try and see if it's open!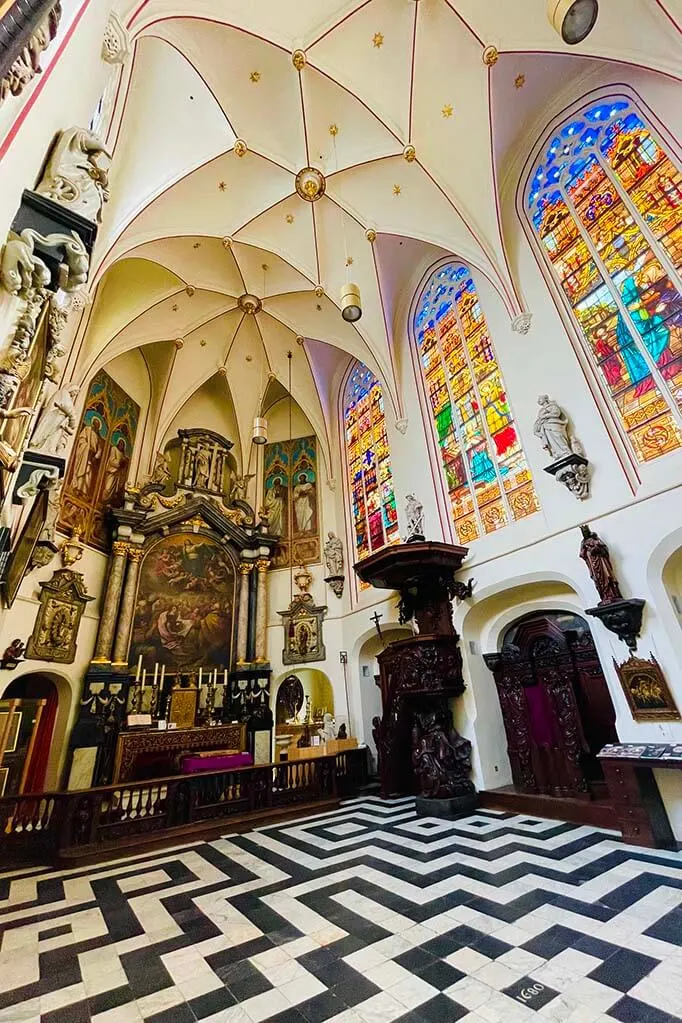 17. Nello & Patrasche Statue
Nello & Patrasche Statue on the Handschoenmarkt is also worth mentioning as one of the more special things to see in Antwerp. Located right in front of the Cathedral, this unique statue is often overlooked by passers-by. And not everyone knows the story behind it.
It's actually a fictional tale, a 19th-century novel 'A Dog of Flanders' that takes place in and near Antwerp. It's a sad story about an orphan boy Nello and his friendship with an abandoned dog Patrasche that he adopts. The Cathedral of Our Lady in Antwerp and Rubens' paintings located inside the cathedral play an important role in the novel, and are the setting of the last sad scene where the boy and his dog die.
The book has somehow become very popular in Japan (much more than it ever was in Flanders) and in 2003, Toyota gifted the city of Antwerp a stone in honor of Nelllo & Patrache. In 2016, the stone has been replaced by the Nello & Patrache sculpture by Studio Tist — Batist Vermeulen.
It's such a beautiful, emotional sculpture that will touch you even if you haven't read the story and maybe even inspire you to read it.
Good to know: As already mentioned, the Nello & Patrasche Statue is located on the small town square right in front of the Cathedral. It's often so busy here that you might have to look twice before you see it, and it's also worth visiting here early in the morning or late in the evening when there are not too many people around and you can better appreciate this powerful artwork.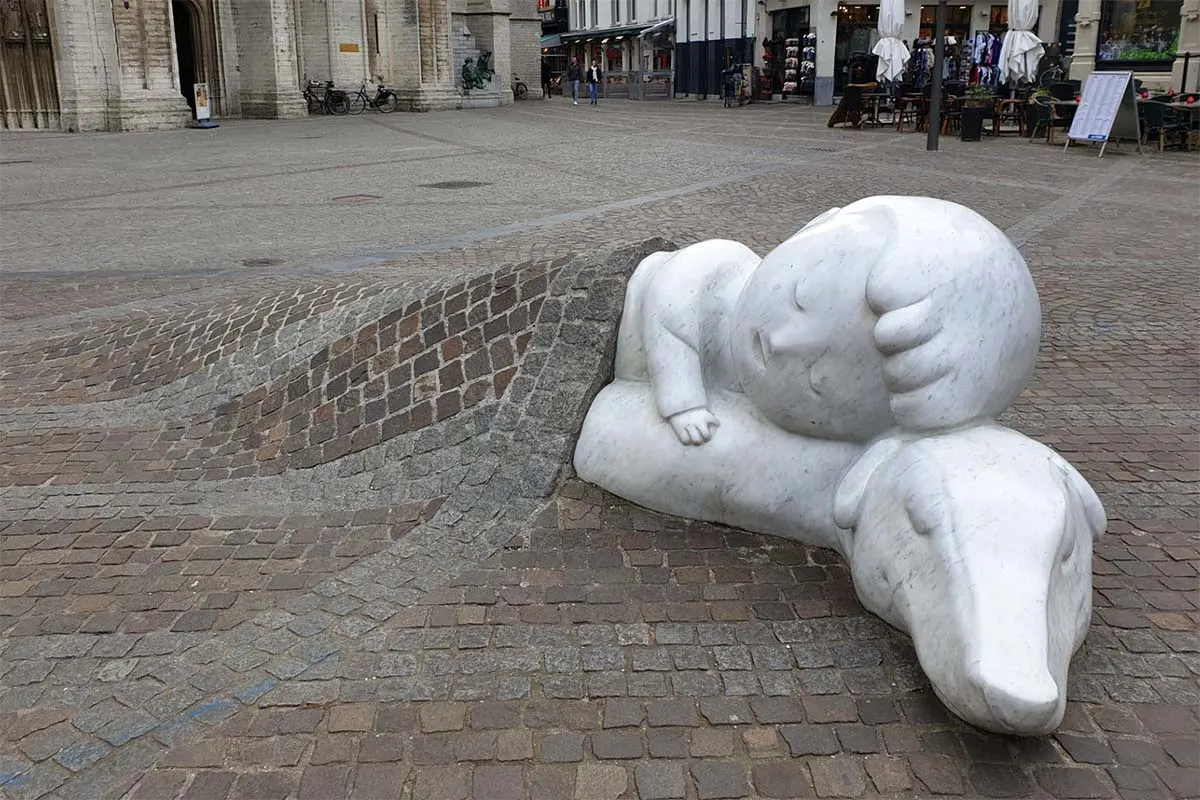 18. MAS: Rooftop, Little Hands & Zilte Restaurant
The MAS museum in Antwerp is one of the best-known architectural landmarks and one of the best museums to visit in town. But in addition to its interesting collections of art and temporary exhibitions, MAS also hides a few lesser-known gems that not everyone knows about.
To start with, the tiny metal hands on the exterior of the building. The hand is the symbol of Antwerp – more info below – and if you look closely at the MAS building, you'll notice that it's full of little hands. Apparently, if you donate at least 1,000 EUR to the museum, you can have one of these little hands placed on the facade in your name (more info here).
Hand, the symbol of Antwerp. According to an old folk legend, Antwerp's city name means 'to throw a hand' (in Dutch Antwerpen = hand werpen). Silvius Brabo, a Roman soldier, is believed to have stood up against the giant Antigoon who demanded a high toll for each ship entering the harbor of Antwerp. The little Brabo fought the giant, cut his hand, and threw it in the river, so saving the city from his tyranny. So the hand is a symbol of Antwerp, and you'll find it all over the city – from the Brabo statue on the main town square or the giant hand on the Meir shopping street, to cookies and chocolates in the shape of a hand.
Another place that is usually overlooked by international visitors is the rooftop terrace of MAS. This is a viewing platform on the roof of the building that offers some great views of Antwerp city center, the Scheldt River, and the wide surroundings. The rooftop can be reached by a series of escalators, plus a staircase, and is free to visit during the opening hours of the museum. They sometimes also organize stargazing nights.
As you take the escalators on the way up to the roof, you'll be impressed by the creative architecture of the building and its unique windows offering the ever-changing 360° views of the city. Also, look out of the life-size captain statues located on the outside terrace of one of the upper floors (not accessible, but visible through the windows).
And finally, hidden out of sight on the top floor of MAS is one of the best (if not the best) restaurants in Antwerp, Zilte. They have obtained 3 Michelin stars – pretty much the highest recognition a restaurant can get. As you can imagine, it's not a place where you just show up for a quick simple meal. But if you are looking for an extraordinary dining experience, see if you can reserve a table at Zilte during your visit. The restaurant is open for lunch and dinner from Monday to Friday.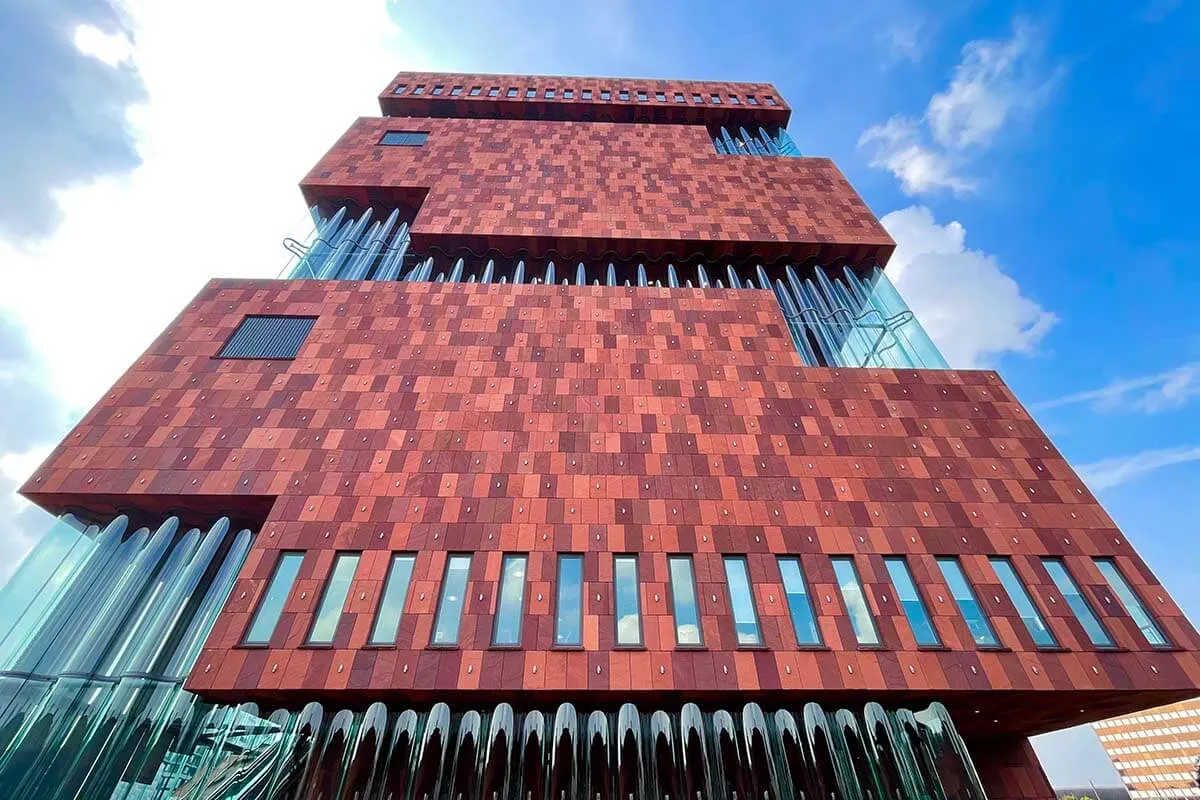 19. Old Port Cranes
Antwerp is a harbor city, the second-largest seaport in Europe. It's also one of the oldest seaports, with mentions of the crane service dating back to 1263!
And while nowadays all the activity takes place further from the city center, there are still some remains of the Old Port of Antwerp that are quite close to the center and easy to visit.
On the banks of the Scheldt River, about halfway between the MAS and the Red Star Line museum, you can find a collection of the Old Port Cranes. These cranes are part of the world's largest collection of historic port cranes and now belong to the MAS Museum. You can see 12 out of 18 cranes standing by the river. The oldest crane here dates from 1907, the youngest from 1963.
Good to know: The Old Port cranes stand in the open air, between the river and a big car parking lot (that's, btw, also a good and cheap place to park a car when visiting Antwerp), and you can see them at any time of day or night. There's no fee to visit. Please refrain from climbing on them and also be careful next to the river!
TIP: Once you are here anyway, you can also see some of the old port buildings and warehouses that now have all kinds of different functions. You'll find restaurants, cafes, and even a 'beach' bar here, and also a big expo center that houses all kinds of interesting events. This is a trendy part of town that is reinventing itself and becoming more and more popular with locals, but it's not very known to visitors yet.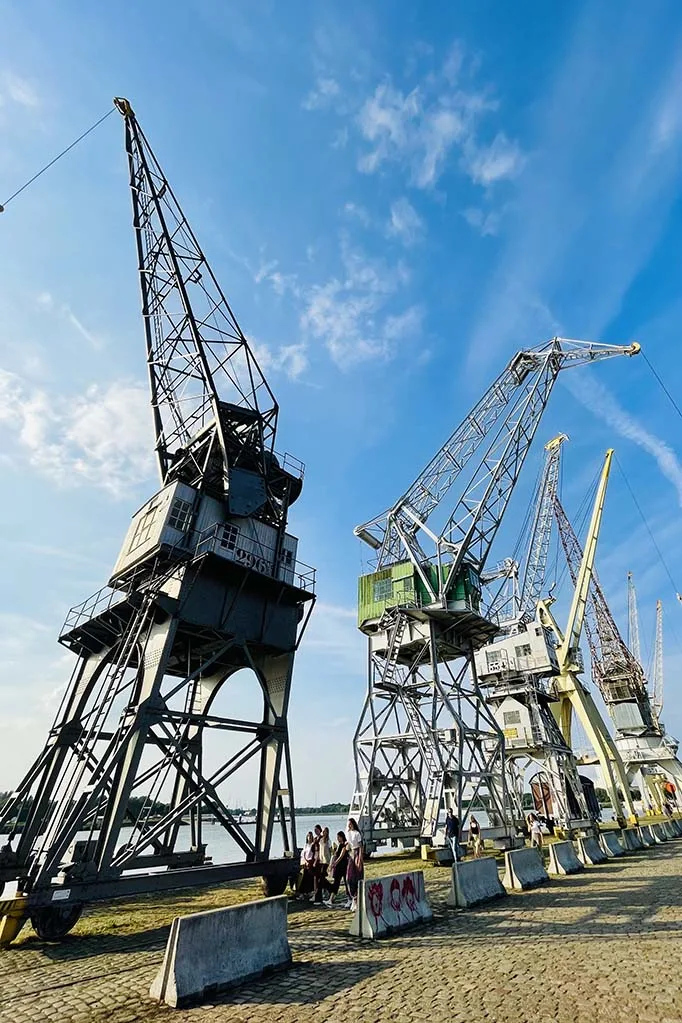 20. Maritime Open-air Museum 'Boeienweide'
The maritime open-air museum 'Buoy Meadow' (Maritiem openluchtmuseum Boeienweide) is not really a museum, but rather a big park with a collection of huge buoys, anchors, cannons, and other maritime objects. There is also a nice playground for kids here, and you have good views of the city skyline on the other side of the river.
If you are fascinated by maritime objects or if you are visiting Antwerp with kids, it's well worth checking out. Also because you can get here via the earlier-mentioned St. Anna Tunnel, that's a special experience in itself. If you are looking for a different place where you can mingle with the locals, escape the bustling city center, and see the lesser-known side of Antwerp, then this might be a nice place to visit.
Good to know: This is a public space – always open and free to visit.
TIP: As already mentioned before, nearby, you can find a local fritkot – Frituur LO – that serves some of the best Belgian fries in Antwerp. You can get some fries here, then find a nice spot and the Maritime Museum, and enjoy the views of the city. When the weather is nice, it's a really great way to experience Antwerp as locals do.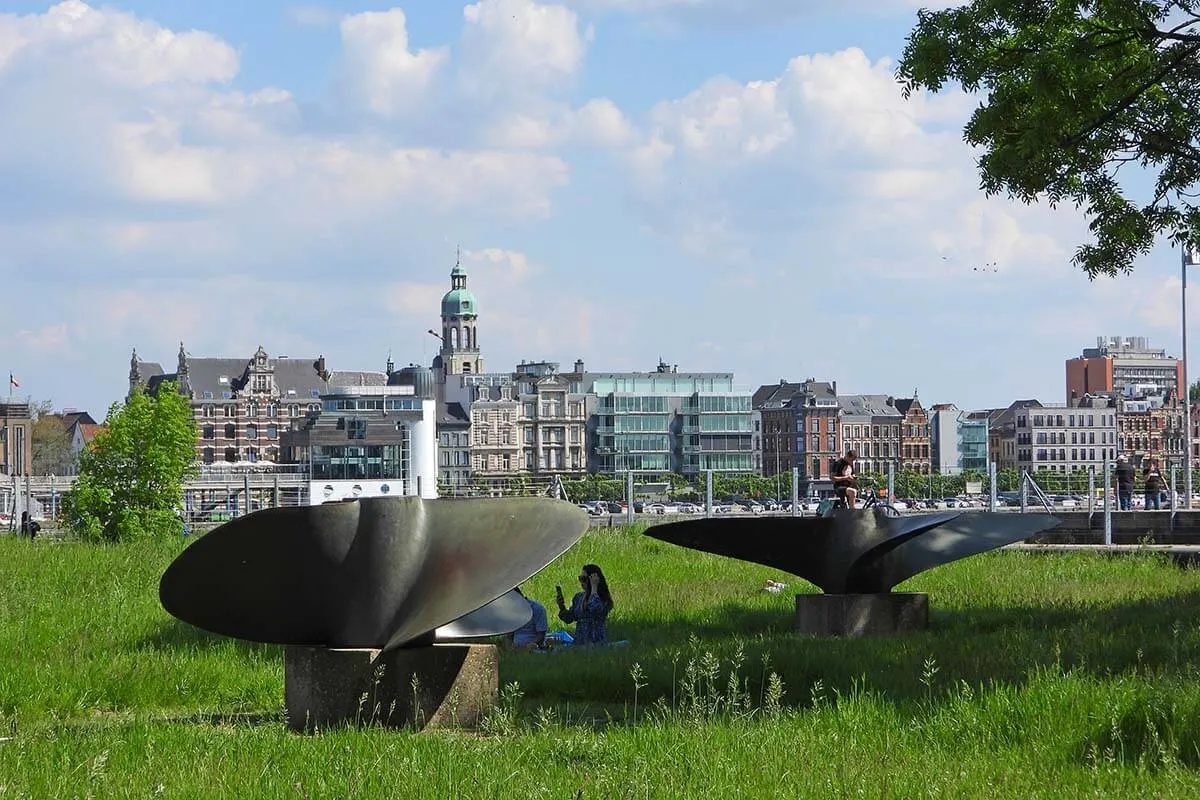 21. St. Anna Beach
St. Anna Beach (Sint Annastrand or Sint-Anneke as locals call it) is Antwerp's city beach. Located on the left bank and outside the city center, it's a place that you would never think to visit unless you know about it. However, it's a really nice area, off the beaten tourist path, and so if you are looking for something different to do in Antwerp, you may want to check it out!
St. Anna Beach is indeed a small sandy beach by the River Scheldt. In summer, when the weather is nice, you'll see lots of families with kids here, but it's more a place to walk around or play in the sand and not to swim. Because of the current and busy ship traffic, it would be too dangerous to go swimming here. Swimming at St. Anna Beach in Antwerp is forbidden. For that, there's a nice communal pool – an open-air swimming pool De Molen, located just next to an old windmill.
You can go biking or skating here as well. And there's also a big city camping nearby too.
This area also boasts lots of cafes and restaurants, playgrounds, and nice recreational areas. Sint-Anneke is a popular place to come for Moules-frites (mussels with fries), and you'll find them in many restaurants.
Good to know: The easiest way to get to the left bank and St. Anna Beach is by taking the city waterbus from Steen Castle in the city center (see the boat schedule and route map here – you need 'Steenplein' stop in the center and 'Sint Anna' stop on the other side of the river). It's just one stop and the boat ride takes 10 minutes. The last time we did this, the boat ticket was just 1 EUR per person, and it was a nice scenic ride in itself, so well worth doing even if just for the ride. From the boat, it's just a short 5-minute walk to the 'beach' and the restaurants.
You can also get to St. Anna Beach on foot from the city center via the earlier-mentioned St. Anna Tunnel under the river, but once you get to the other side, it's still quite a walk of about 20-30 minutes to get to the St. Anna Beach. It's a nice place to visit if you rent a bike in Antwerp.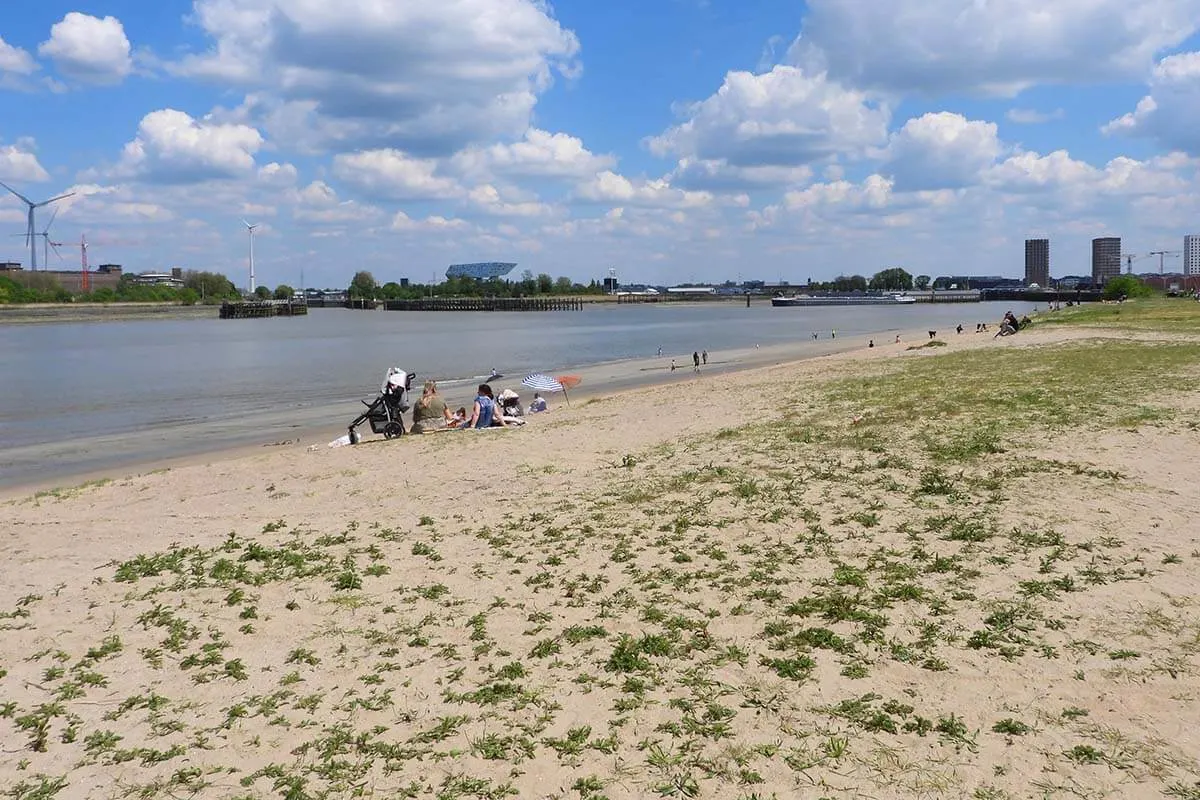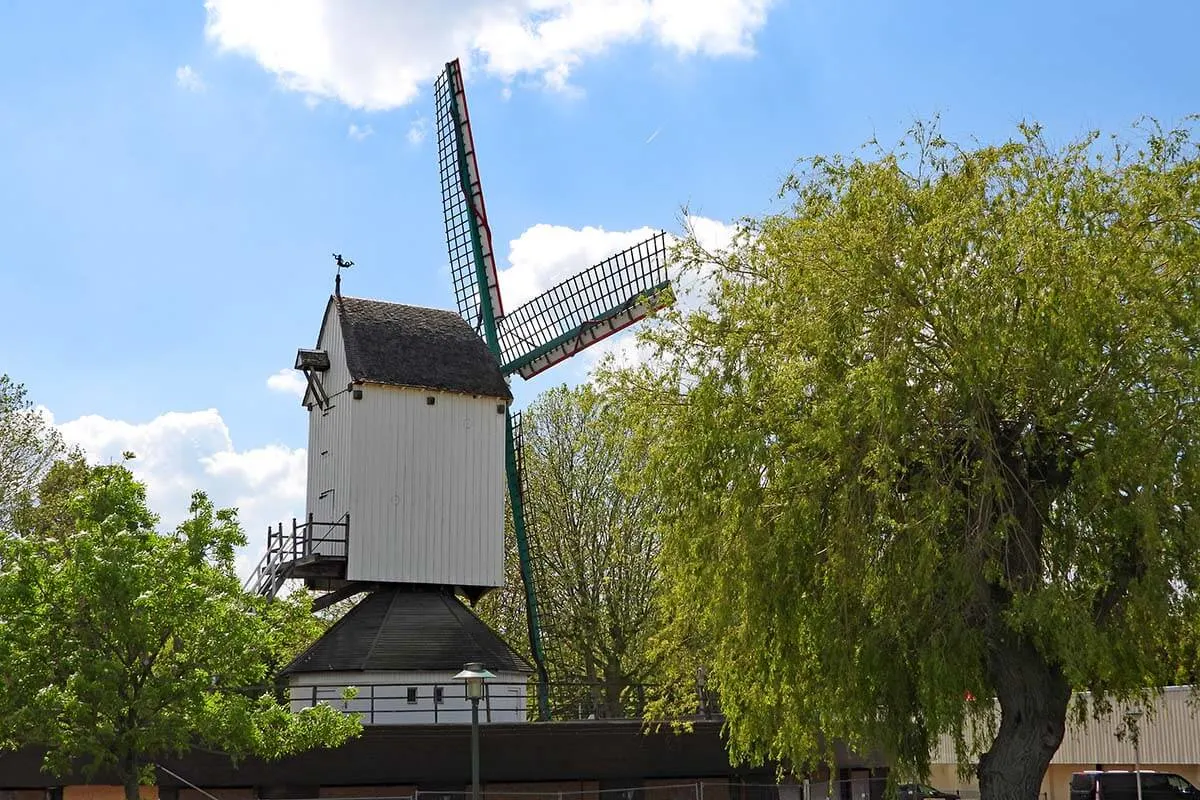 Map of Antwerp Hidden Gems
To help you plan your visit and discover some of the lesser-known places in Antwerp, I created a map indicating all the sights mentioned in this article.
As you can see, many of them are located right in the city center, close to the main attractions. So even if your time in Antwerp is limited, you can easily see at least a few of these places. I'm convinced that this will make your trip so much more memorable and enjoyable!
How to use this map: Use your computer mouse (or fingers) to zoom in or out. Click on the icons to get more information about each place. Click the arrow on the top left corner for the index. Click the star next to the map's title to add it to your Google Maps account. To view the saved map on your smartphone or PC, open Google Maps, click the menu and go to 'Your Places'/'Maps'. If you want to print the map or see it in a bigger window, click on 'View larger map' in the top right corner.
So, here are some of the nicest hidden gems of Antwerp that I think are worth your time the most. Even if you just visit a few of these places, you'll experience a very different side of Antwerp that most tourists never see.
I hope that this list will inspire you to stay in Antwerp a bit longer and discover the many different facets of this fascinating city. It's full of secrets and cool places almost everywhere you go, so this is in no way a complete list, of course. I might also add some more nice places in the future. But this should definitely be enough to keep you busy for a few days.
If you happen to know some other unique and lesser-known places in Antwerp, please leave a reply below and tell us all about them – we can't wait to discover more of the city!
More travel inspiration for visiting Antwerp:
Belgium travel guides:
If you found this post useful, don't forget to bookmark it and share it with your friends. Are you on Pinterest? Pin this image!