Are you thinking of visiting Dinant in the French-speaking part of Belgium and wondering if it's worth it or what there is to see and do in Dinant? This article should answer all your questions about visiting Dinant.
Dinant is one of the most beautiful little towns in Belgium. It's charming, beautifully located, and full of history. It's also very compact and you can easily see pretty much everything that the town has to offer in 3-4 hours.
This makes a perfect day trip from Luxembourg or from Brussels. In fact, there are tours from Brussels that visit Dinant and Luxembourg in a day (see here).
So if you are wondering if Dinant is worth visiting, my answer is yes, absolutely! It's a local's favorite and a great place for those looking to explore Belgium deeper and beyond the most popular tourist cities in Flanders.
Below, you can find our suggestions for the best things to do in Dinant. Take a look!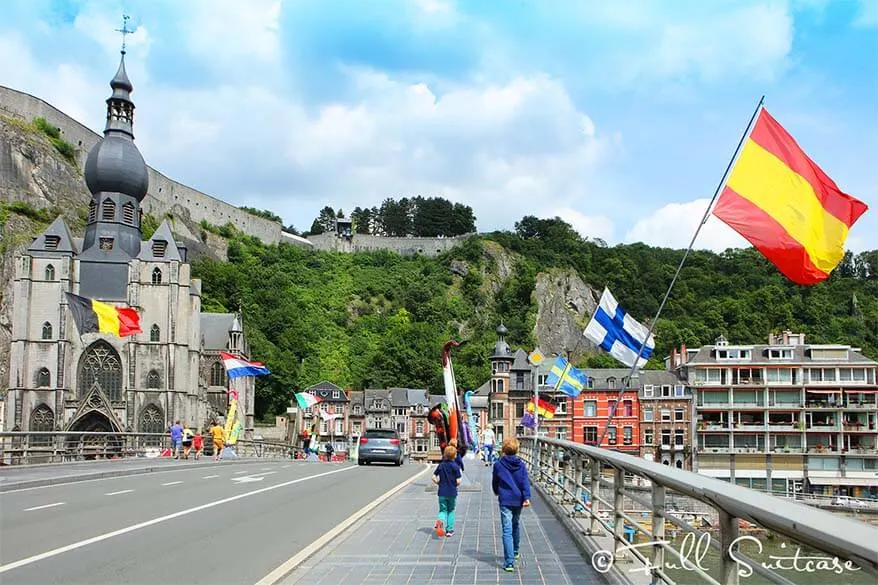 Here are the best places to see and things to do in Dinant:
Citadel of Dinant
We arrived in Dinant in the morning and headed straight to the parking of the Citadel. It's on the hill, outside the city center, it's easily accessible and there is plenty of free parking space available.
There is a military cemetery here, which was the first thing our kids wanted to see. Here you'll also find a playground and an old military plane.
We bought the all-in tickets which included the Citadel visit, a round-trip ticket for a cable car to the city centre and back, and a 45-min boat cruise on the river. It cost 14 EUR for an adult and 10 for a child.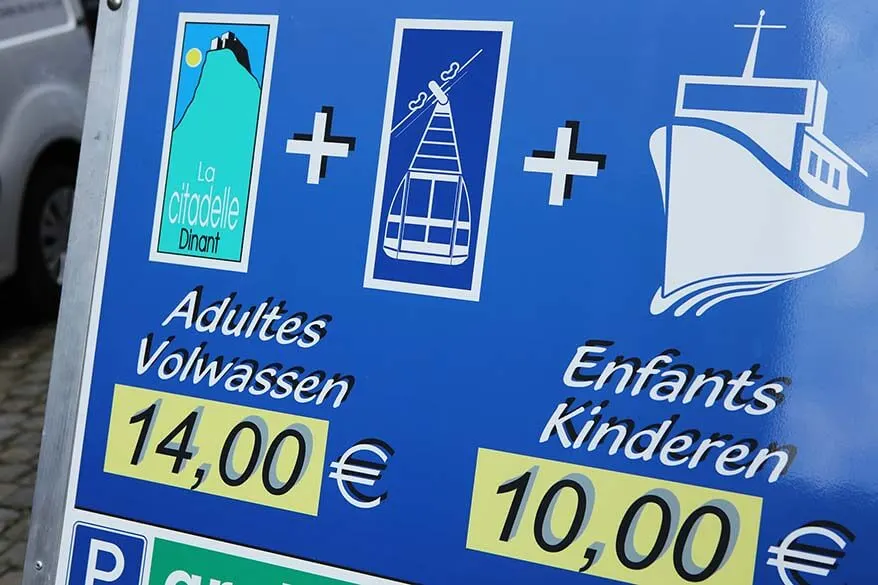 You can only visit a small part of the Citadel privately, so we quickly joined the guided tour which was just leaving when we arrived.
To tell you the truth, we don't really like organized tours and try to avoid them whenever we can, especially when traveling with kids. But we really enjoyed the guided tour of the Citadel of Dinant!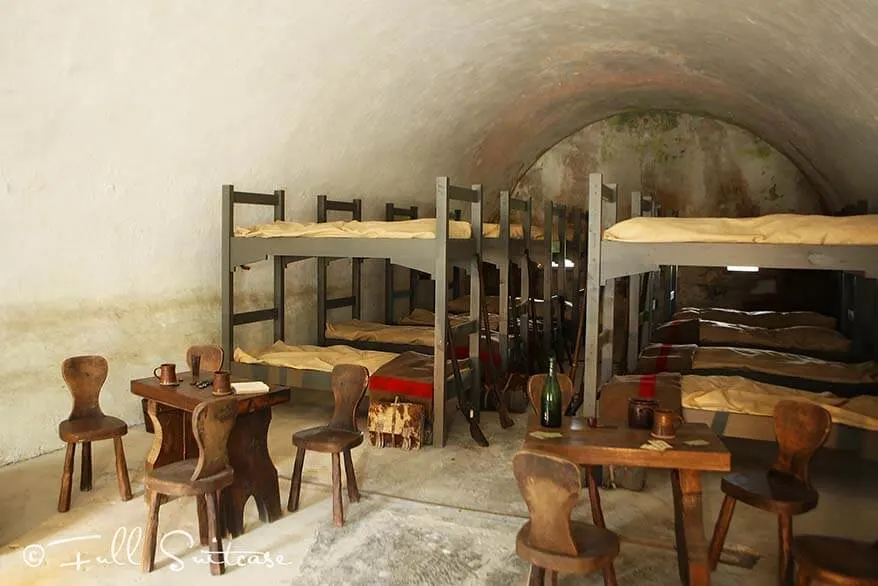 Our tour guide, an older gentleman, was exceptionally good. Not only did he speak perfect French, Dutch and English, he also managed to keep everyone interested and did a great job getting the kids involved too.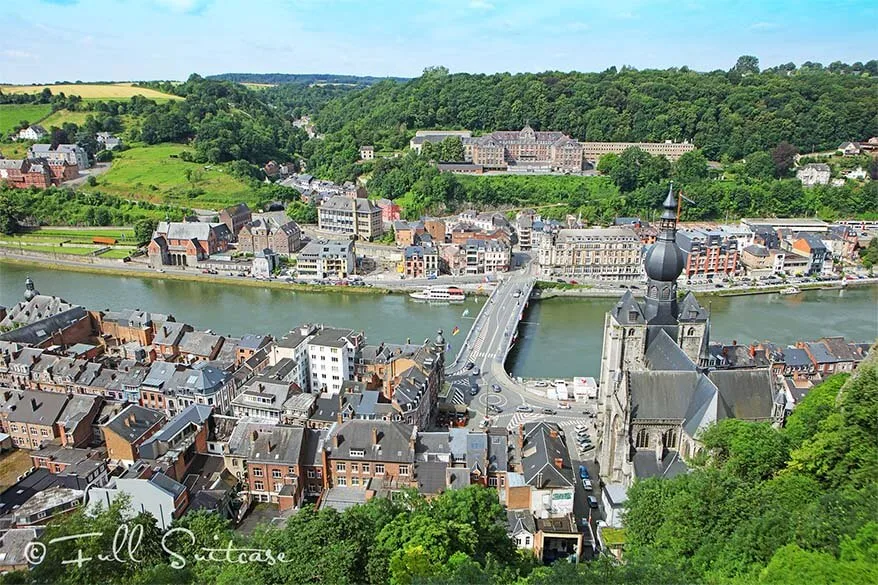 We learned some history of the place, saw the rooms soldiers used to sleep in, the kitchen where they had to cook food for 400 people… The kids loved seeing all those old-fashioned guns and the canons and we were all impressed with the canon 'bullets' – the smallest one weighs 8kg!
Just try to imagine bullets like that flying around the valley at a huge speed…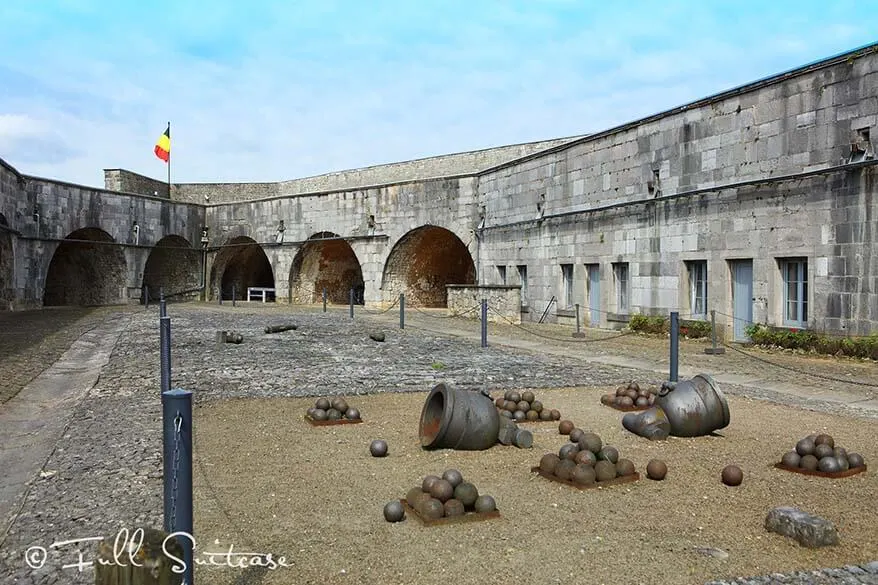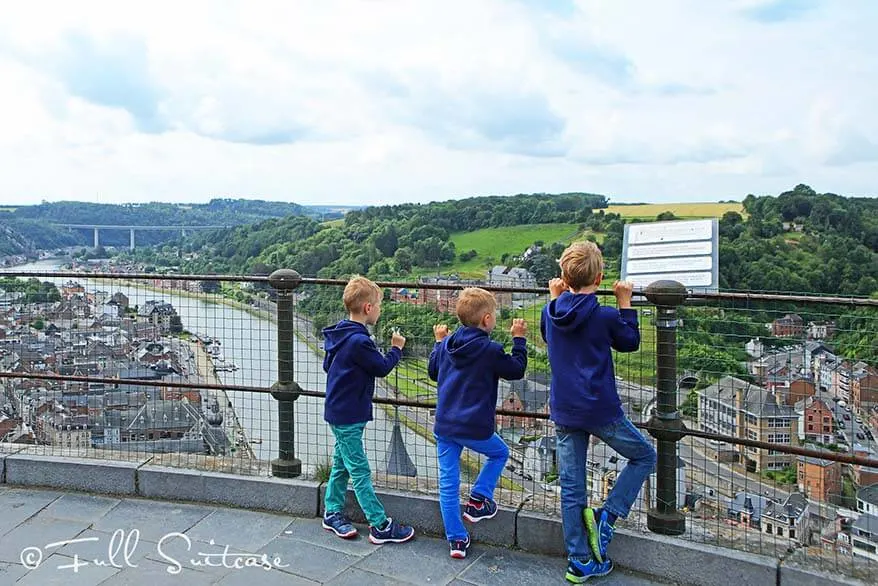 Some expositions were somewhat unsuitable for young children, but ours didn't seem to care much about it, we just tried not to linger by the guillotine longer than necessary..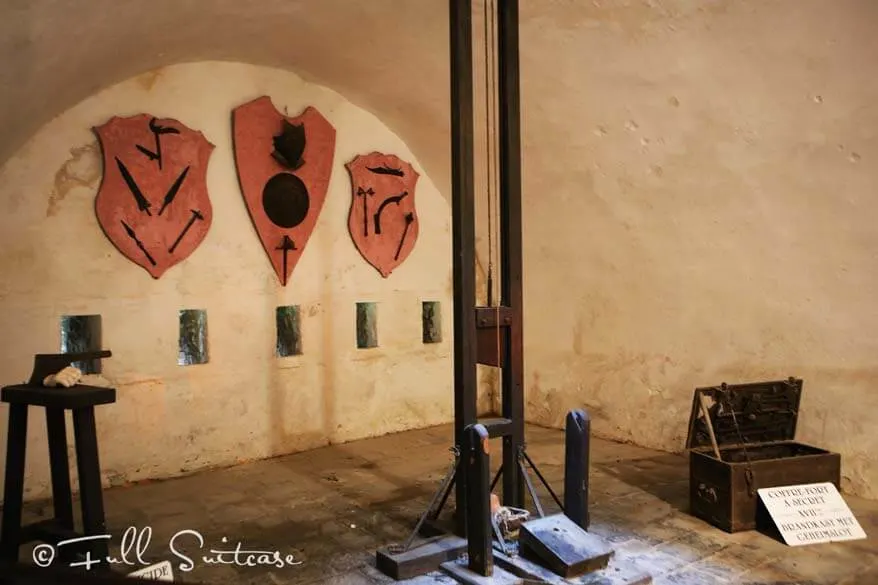 There were two rooms in the Citadel that left the biggest impression on us.
The first one was the room with a replica of WWI trenches. We were walking through the trenches in the dark while we could hear loud explosions and the sound of shooting bullets all around us. Very impressive!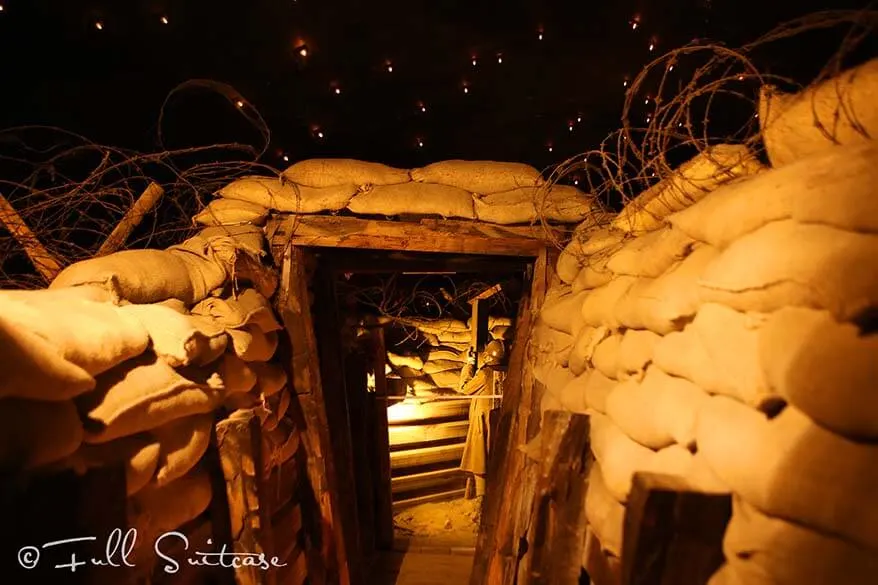 The second was a sloping room, a reconstruction of a bunker that has been hit by a bomb and it's an amazing sensation to walk through it!
A bit of sloping floor you'd think, so what? Lots of paths and floors slope, but I've never experienced something like this! Gripping the walls we shuffled sideways, afraid of losing our balance, stumbling or falling in the water.
I watched the kids laugh when they tried to get out of the room at the same time trying to figure out what was going on with my body. My head was spinning as I finally reached the end of the room and could finally get a gasp of fresh air and feel a stable straight surface under my feet. The whole experience took no longer than 10 – 20 seconds, but I don't think we'll ever forget it!
You can find more practical information for visiting the Dinant Citadel on the official website.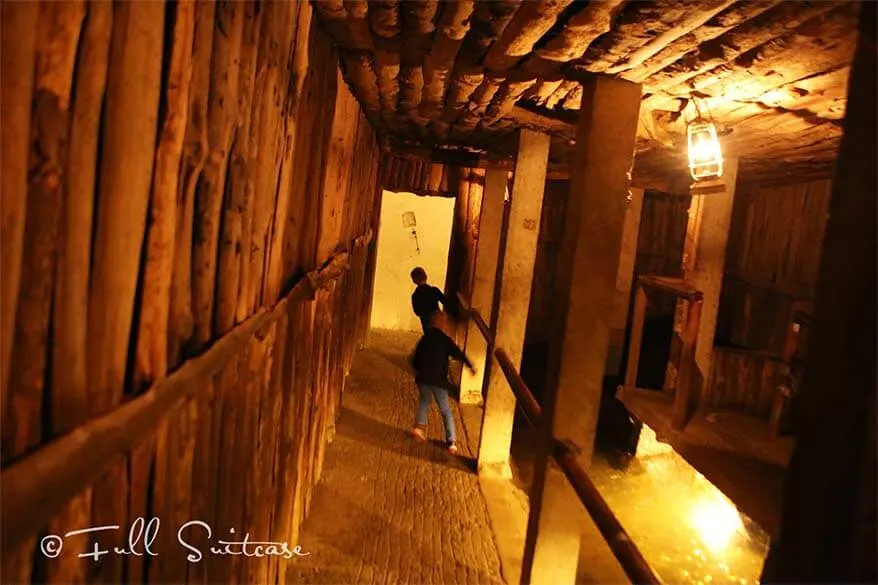 Dinant Cable Car (or the 408-step Staircase)
After our visit to the Citadel, we took a cable car to the town center that's located by the river below.
You can also take the stairs if you are in need of a challenge. We gladly skipped them – all 408 stairs – and used the cable car both ways. It takes less than a minute!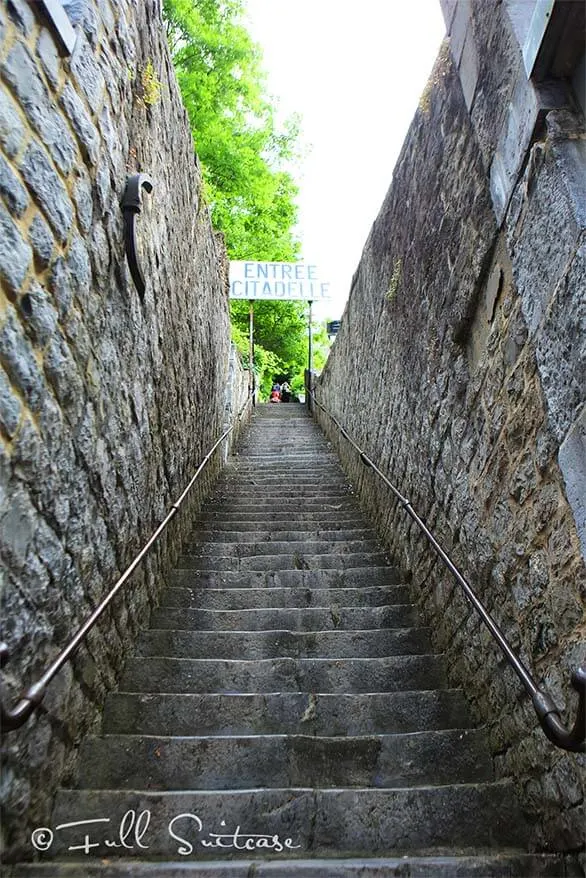 The Cathedral of Dinant
The 13th-century Gothic Collegiate Church of Our Lady is definitely worth a short visit. It's located very close to the cable car entrance and the staircase to the Citadel.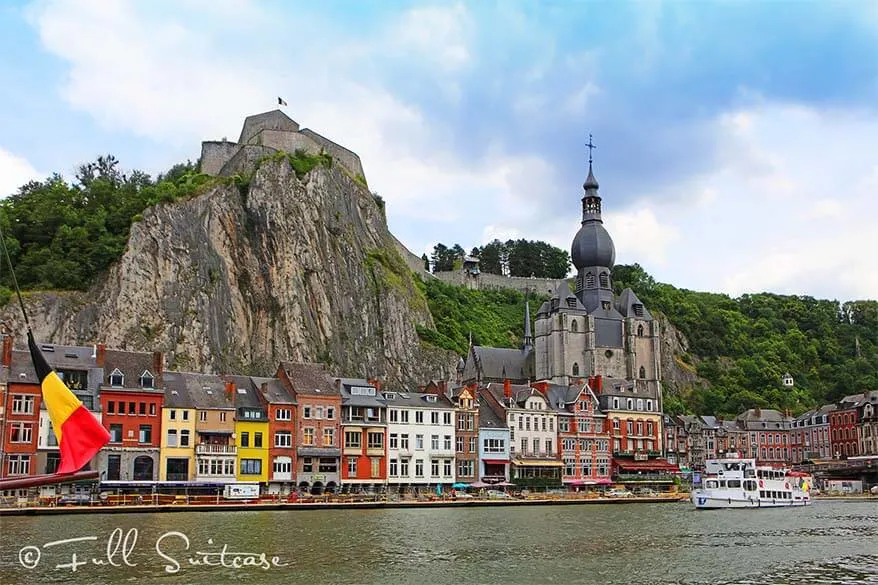 The House of Adolphe Sax, the inventor of the saxophone
In Dinant, you can also visit the house of Adolphe Sax who invented the saxophone.
The house is easy to find on the main street, to the right after you exit the church. The entrance is free of charge, and there is only a very small exposition inside. It won't take you longer than 5 minutes.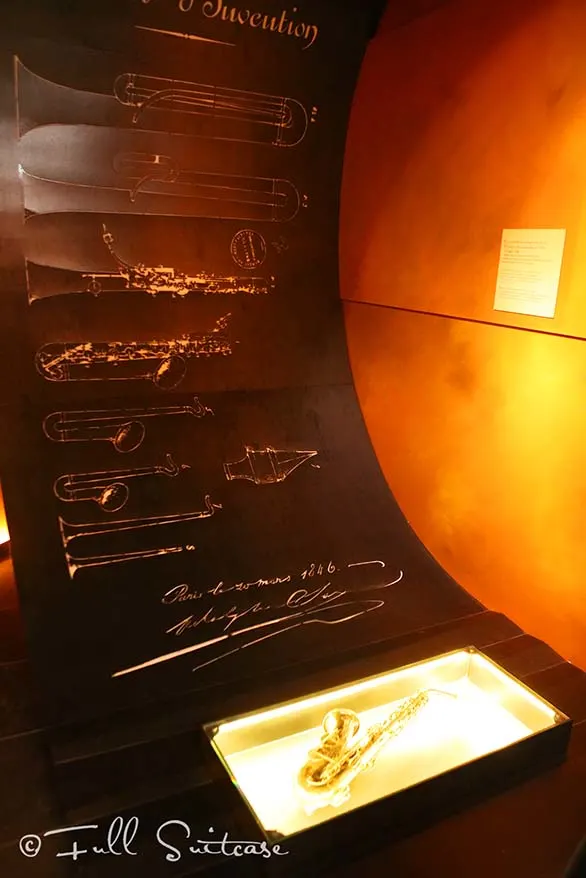 Dinant Bridge of Saxophones
Ok, this bridge is not really a bridge of saxophones. It's actually called Pont Charles de Gaulle, but there are many colorful saxophones on the bridge, so we call it that way.
Our kids loved this bridge with colorful saxophones and flags from different countries. They were running from one saxophone to another reading the country names and looking at their colorful designs. It definitely adds a lot of color to the little town center.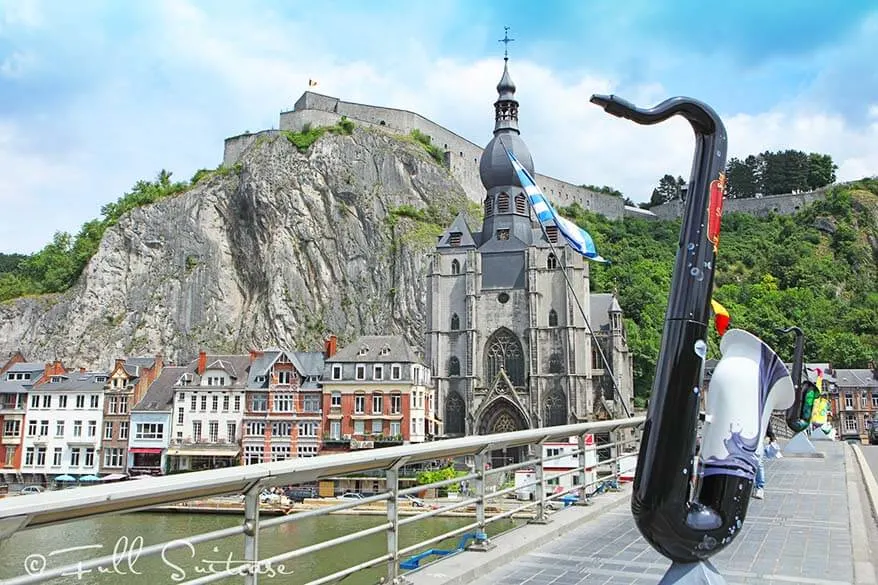 Dinant Boat Cruise on the Meuse River
There are several options when considering a boat trip in Dinant. First and the most popular one is the 45-minute river cruise to Ansereme that is included in the all-in ticket with a visit of the Citadel.
There is another company running river cruises. They have the same tours to Ansereme as well, but they also offer a longer – 2 hour – tour that leaves at 2.30 PM and goes all the way to the castle of Freÿr, another tour of 3 hours and possibilities for private tours as well.
If you like to explore the area from the water individually, you can also rent a small electric boat.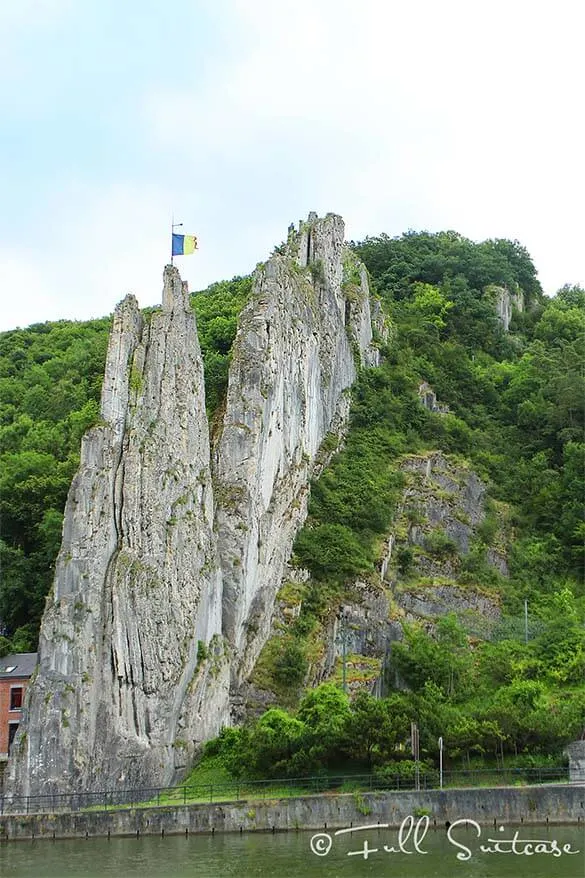 As already said, we opted for the all-in ticket and thus took a 45-min scenic cruise. It's a rather big boat with all amenities and you can easily take a stroller on board.
We sat outside on the roof deck, but the stank of the engines was really bad when going in one direction. I guess it has to do with the wind and there is really no way to avoid it, but it ruined the whole experience for me.
It was nice to see the area around Dinant from the water and the kids liked being on the boat too. Was it not for the smell, it would have been much more enjoyable.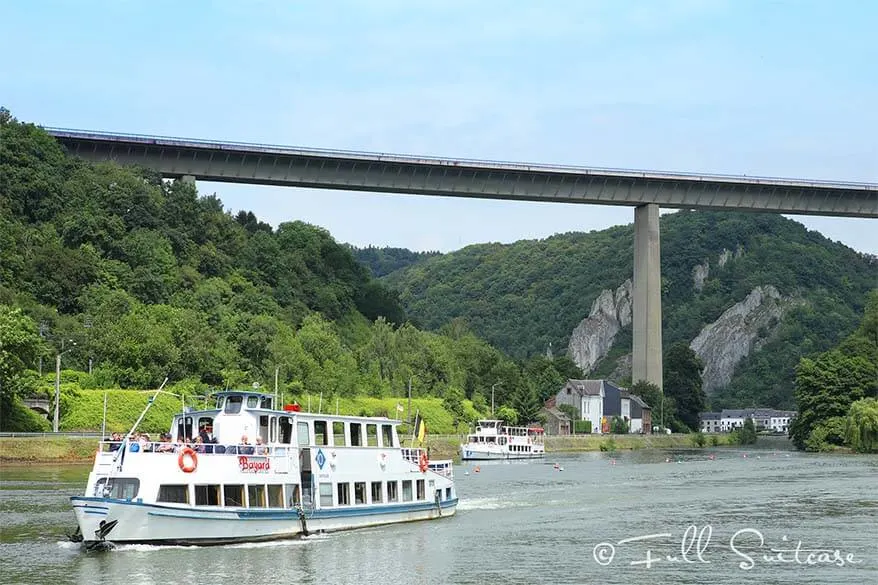 More things to see and do in Dinant
If you are looking for something else to do in Dinant, you could consider visiting the nearby caves of Dinant – Grotte la Merveilleuse.
These stalactites and stalagmites caves are located very close to the town center and can easily be visited on the same day as the rest of Dinant. Ask for some information and a discount voucher at the ticket office of the Citadel of Dinant! You can find practical information and opening times on their website.
We ended our day in Dinant at the playground of the Citadel and headed to Durbuy instead. Durbuy is said to be the smallest city in the world and is also worth a short visit. It looks like it's close by, but it's almost 1 hour drive time from Dinant. It's a nice place to go to for dinner too or to stay for a couple of nights when exploring the Belgian Ardennes.
TIP: If you are in this area, you may also want to visit the beautiful town of Bastogne, mostly known for the Bastogne War Museum.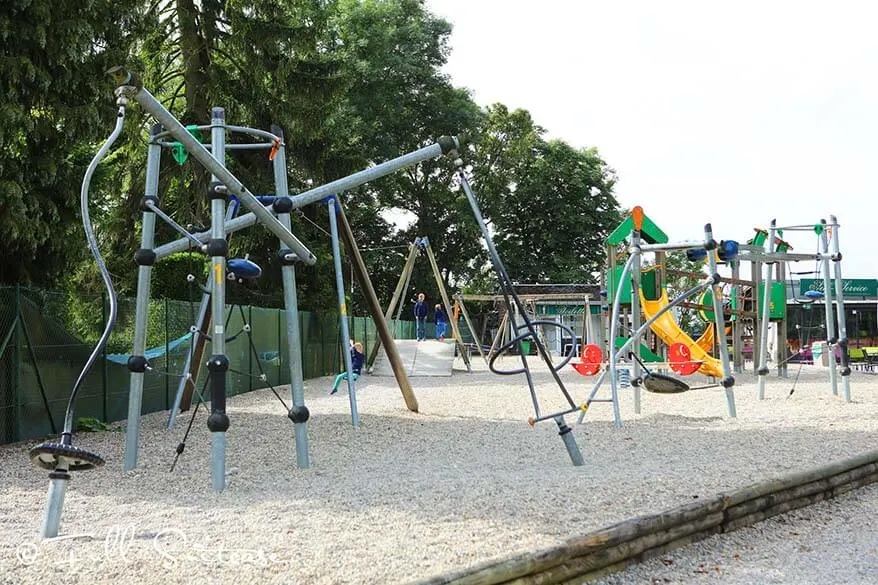 How to get to Dinant
The easiest way to get to Dinant is by car (100km, 1h20) or with an organized tour from Brussels. There is also a direct train from Brussels-Luxembourg train station to Dinant; it runs every hour and takes 1h25.
Where to eat in Dinant
There are many restaurants in the town center of Dinant and two on top of the hill, one at the playground of the Citadel, and one at the parking. We had lunch at an Italian restaurant by the river and it was ok (not great), but really touristic. They all are. If you are looking for good food, you may need to look a bit further away, further from the main tourist route.
Dinant Cake
A visit to Dinant wouldn't be complete without tasting the Couque de Dinant – Cake of Dinant. It's an extremely hard, sweet biscuit that comes in all shapes and forms and can be bought at any bakery in town. Our kids chose a car-shaped cookie each and a week later we were still eating it. It's so hard that it lasts a very long time. Let's just say you get some value for your money.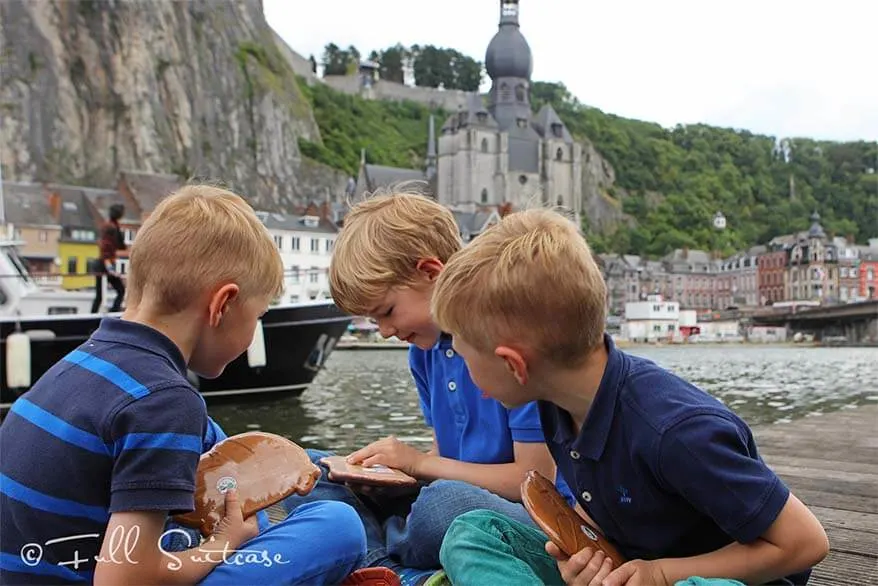 More travel tips for Belgium:
If you found this post helpful, don't forget to bookmark it and share it with your friends. Are you on Pinterest? Pin this image!