Thinking of visiting Bastogne town in Belgium (Bastenaken in Dutch) and wondering what to expect and if it's worth it? In this article, we share our top tips for things to do in Bastogne.
Bastogne is world-famous for the WW2 Battle of the Bulge and its many war sites, museums, and monuments. But it's also simply a really nice town in the Belgian Ardennes known for its smoked ham, cured meats, local specialties, cozy cafés, bars, and taverns. Bastogne also has many shops and they are open every day of the week, including Sunday (this is only the case in very few places in Belgium).
Bastogne is also known for the world's oldest bicycle race, the Liege-Bastogne-Liege that's been held since 1892. This classic cycling race is nicknamed La Doyenne ('The Old Lady').
This article is based on our personal experience visiting Bastogne for a day. This is a no-nonsense guide to Bastogne that focuses on the main landmarks that are truly worth a trip. Furthermore, we also included some additional suggestions (food, drinks, etc.) that will make your visit even more special. Find out!
Good to know: We live in Belgium and recently visited Bastogne as a day trip. Most suggestions in this article are based on our most recent day trip to Bastogne. However, since we know the area quite well, at the bottom of this post we also included some extra tips for where to stay and what to see and do nearby if you have more than a day. Read on!
Here are the very best things to do in Bastogne:
1. Bastogne War Museum & Mardasson Memorial
Considered a turning point in WWII, the Battle of the Bulge (aka the Battle of Bastogne) was one of the most significant battles in the Second World War. No visit to Bastogne would be complete without paying a visit to its main landmark – Mardasson Memorial and the adjacent Bastogne War Museum.
It's here that you can learn about the Siege of Bastogne, the importance of this battle to the end of WWII, and the famous words 'Nuts!' uttered by an American officer in response to the Germans' offer to surrender. And, of course, don't miss the impressive Mardasson Memorial, a star-shaped monument to the American soldiers who were injured or killed near Bastogne.
The museum and the memorial are well worth a visit, even if you come from the other side of the world. If you are interested in history, this place is a must in Belgium!
And because there's so much more to be said about the Battle of Bastogne, the War Museum, and the Mardasson Memorial, we created a detailed guide with more information for your visit. Check it out via the link below!
Good to know: The museum and memorial site is located 2.5km outside of Bastogne town. Count 2-3 hours for a visit.
LEARN MORE: Bastogne War Museum & Mardasson Memorial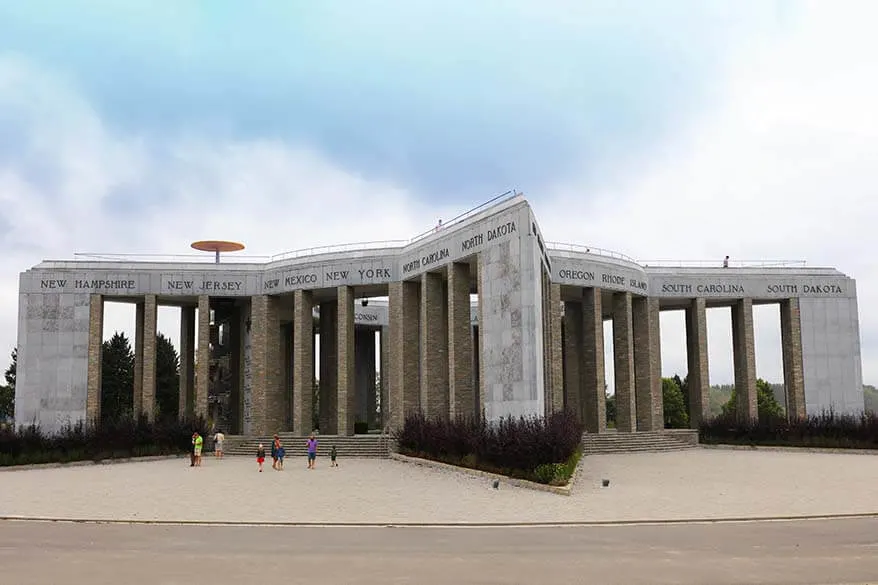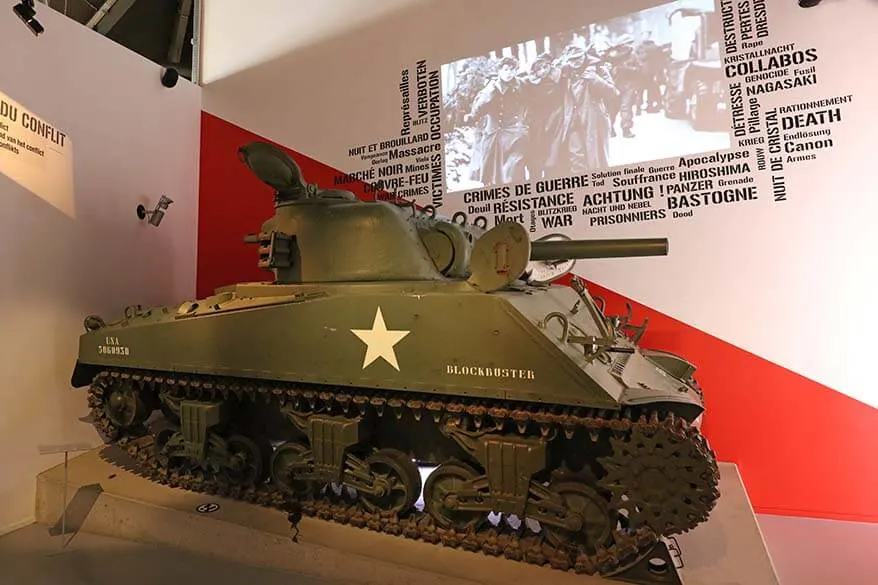 2. Bastogne Barracks
If you just can't get enough of tanks, WW2 military vehicles, weapons, and all kinds of war memorabilia, then you might also enjoy a visit to the Bastogne Barracks.
This museum is located in a military domain and tours (also in English) are run by very knowledgeable guides who have ties with the Belgian military. This is the actual site where the 101st Airborne Division of the U.S. Army ('Screaming Eagles') was stationed during the Second World War. You can even see the room where the famous words 'Nuts!' were spoken after Germany suggested that Americans surrender.
For more information and opening times, please check the official website of the museum.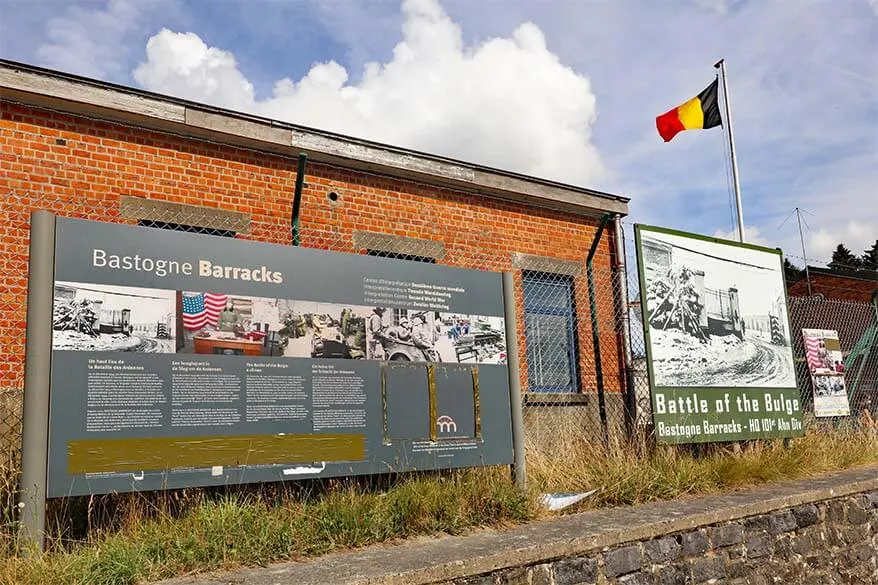 3. St. Peter Church
Bastogne town has more to offer than just its war sights. One of the places that are well worth a quick visit is St. Peter Church (Eglise Saint-Pierre) right in the center of town.
The origins of this beautiful church date to the 12th century. Many elements are a mix of various historical time periods, including Romanesque art and Gothic style. The church has been restored many times, in particular, after the Second World War when Bastogne was heavily bombed.
The exterior of the church is nice to see, but take a minute to also step inside. The ceiling is truly impressive, as is the 18th-century pulpit.
St. Peter's church can be visited free of charge and this only takes 5 minutes of your time. Not to be missed when in Bastogne!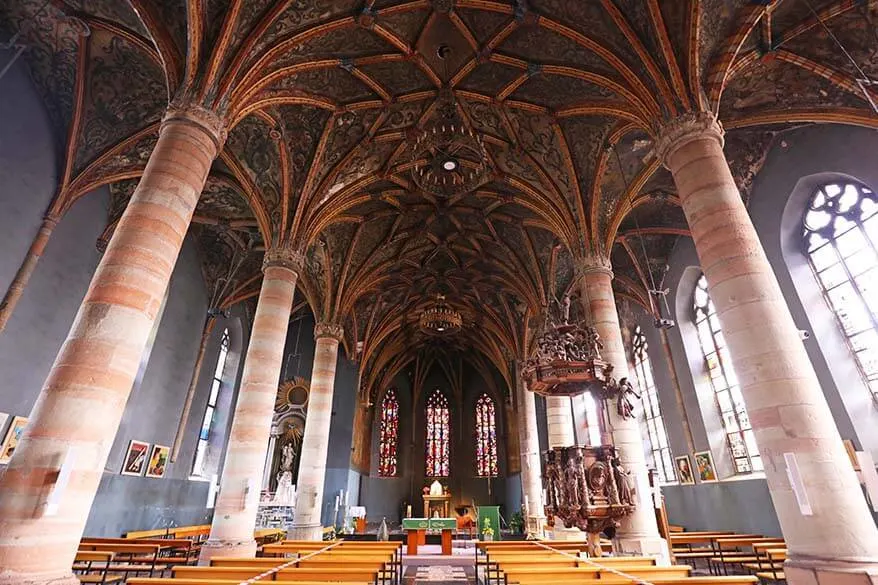 4. The Treves Gate
The Treves Gate (The Gate of Trier – a nearby German city) is one of the last remaining medieval buildings in Bastogne. Built in 1332, this city gate is all that remains of the city walls and fortifications of that time. It has been heavily damaged during WW2 but is now beautifully restored.
The tower can, in principle, be visited inside. Sometimes, there are exhibitions here as well. However, it was closed when we visited Bastogne and so I cannot really comment on whether it's worth going inside.
In any case, it's not something that takes much time, so it's definitely worth checking out when in Bastogne.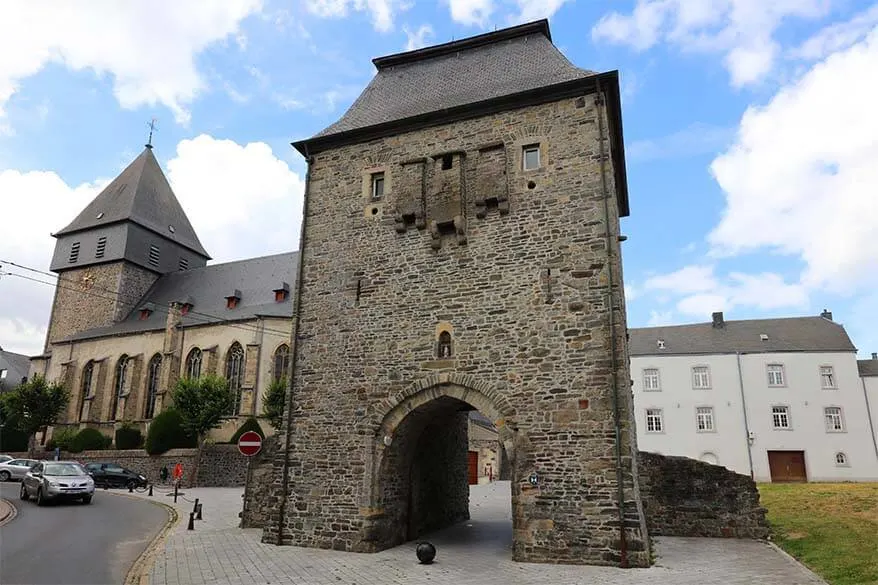 5. Bastogne Town Center
Bastogne town center isn't very big and can easily be explored on foot. The above-mentioned St. Peter Church, as well as the Treves Gate, are both found in the town center. In addition, you'll also find some interesting fountains, traditional buildings, WW2 tanks, and various statues and monuments throughout the town.
The main town square (Place Général Mc Auliffe) is where you'll find Sherman Barracuda. This tank has been hit by the Germans on one of the last days of the Bastogne Siege and has been standing on the town square since 1946. Bastogne's Tourism Office is also located here.
TIP: As you walk the streets of Bastogne, you'll find some informational panels with old pictures and text (in French) telling more about various places in the city. So if you can, start your town visit at the Tourism Office where you can get a map of this city walk and an accompanying guide in English. That way you can explore Bastogne a bit deeper and get to know more about the town and its history.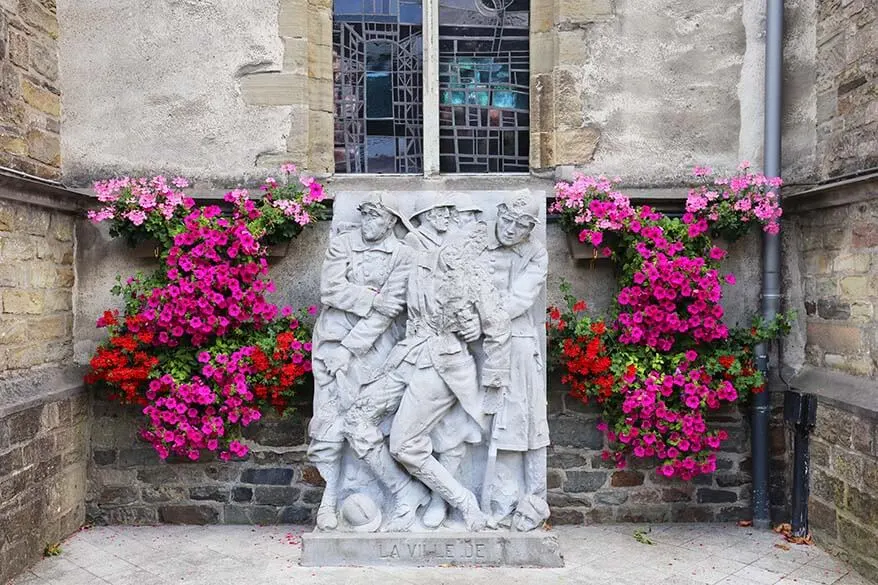 6. 101st Airborne Museum 'The Mess'
One more of the many war sites in Bastogne, the 101st Airborne Museum 'The Mess' is also worth mentioning among the best things to do in Bastogne.
With so many places to see, we ran out of time and didn't get to this museum. But from everything I read, it's well worth it. However, if you only have one day in Bastogne, it's a bit difficult to visit all the three museums mentioned in this article. I think you'll enjoy it more if you only visit one or two. So the choice is yours.
One of the main attractions here is an underground bunker where you can experience a simulation of a bombing raid during WW2. The audiovisual effects are apparently very true-to-life.
Many loving reviews say that this is one of the best war museums in the world, allowing you to better understand and experience the terrifying moments of the war.
For more information and opening times, please check the official website of the museum.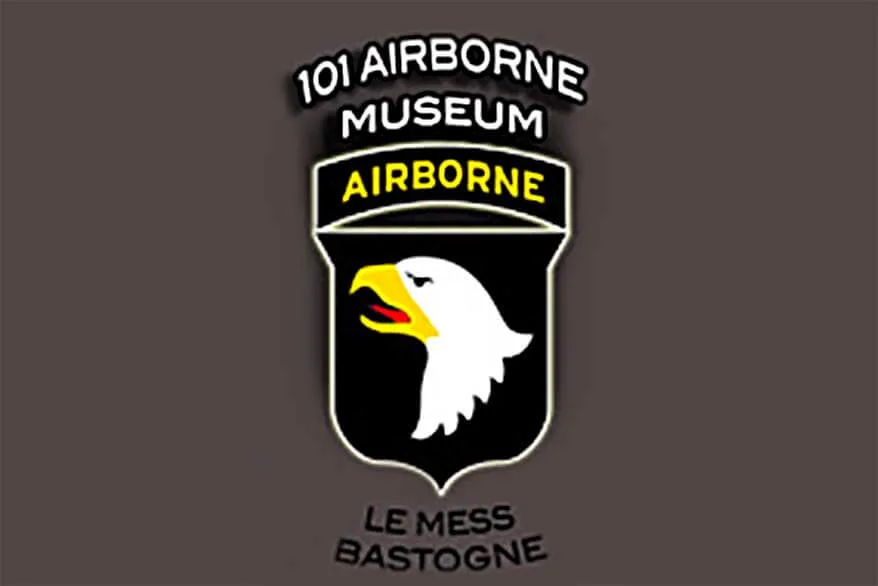 7. Le Musée du Cochon
Le Musée du Cochon ('Pig Museum') is not a museum as its name suggests, but a local butcher shop/ deli.
Inside, you'll find all the typical meats that the Belgian Ardennes region is famous for. Smoked ham, various types of sausages, etc. If you want to taste or to buy some typical cured meat from the Ardennes, this is the place to be.
At the back of the shop, there's a small bar where you can taste some ham and other meats, as well as local beer. The whole place is decorated with various figurines and images of pigs; quite fun to see.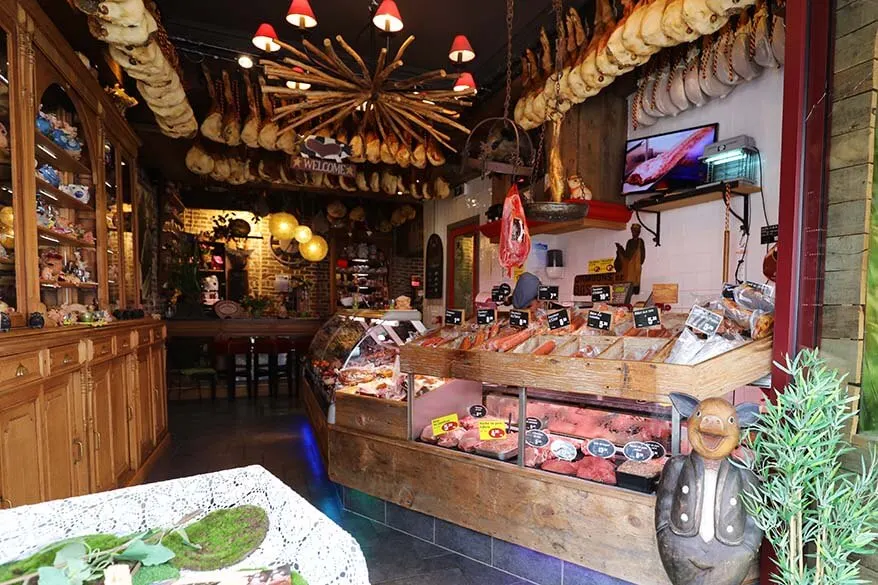 Map
Here's the map of the best things to do in Bastogne, as well as additional suggestions for places to see nearby.
How to use this map: Use your computer mouse (or fingers) to zoom in or out. Click on the icons to get more information about each place. Click the arrow on the top left corner for the index. Click the star next to the map's title to add it to your Google Maps account. To view the saved map on your smartphone or PC, open Google Maps, click the menu and go to 'Your Places'/'Maps'. If you want to print the map or see it in a bigger window, click on 'View larger map' in the top right corner.
Where to Eat
In addition to the tiny bar at the Pig Museum, there are also many other cafés, bars, taverns, and restaurants in Bastogne.
One of the places that will definitely catch your attention is the Wagon – Restaurant Léo. From the outside, this restaurant looks like a luxury train wagon. Inside, you find a very big restaurant that serves local specialties, traditional Belgian food, but also pizzas, etc. In other words, something for everyone. They also have a good beer menu. This is probably the best restaurant to eat in Bastogne.
Just next door is a smaller café called Bistro Léo (same owners as the restaurant). This is a good place for drinks, small snacks, or a piece of a local pie.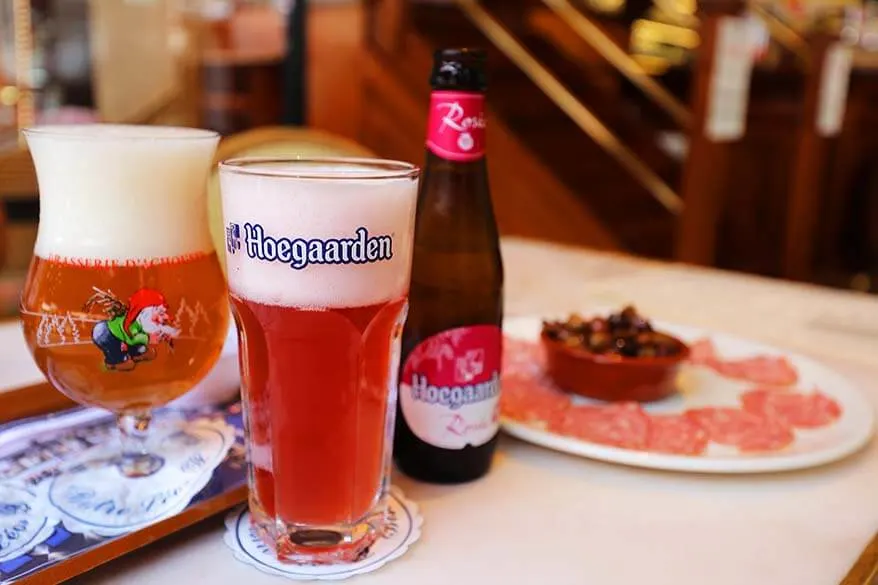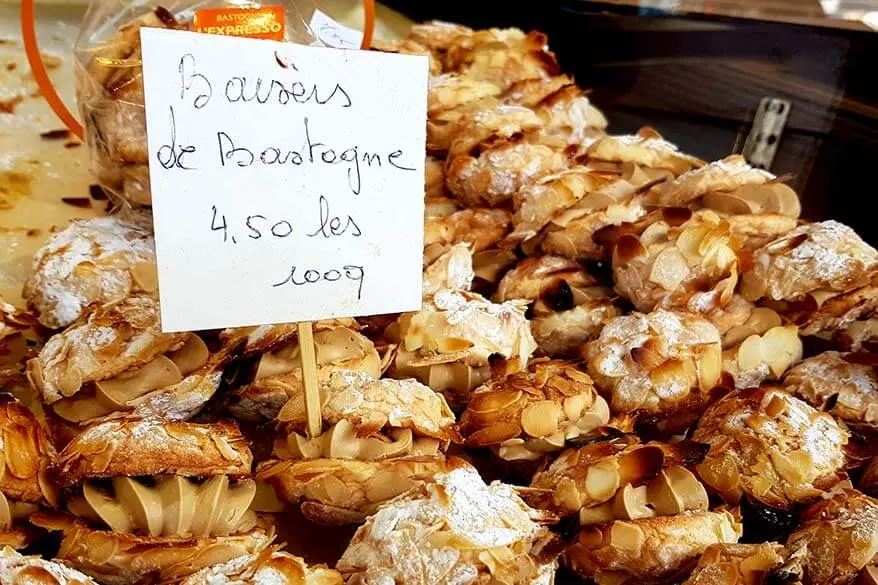 How Much Time You Need
One day is enough for the main sights of Bastogne – the Bastogne War Museum, Mardasson Memorial, and the town center. If you want to visit one more museum, such as Bastogne Barracks or 101st Airborne Museum 'The Mess', you might be able to do it on the same day as well.
In that case, make sure to arrive early and check the opening times of the museums to make sure that you can do both in one day.
If you want to walk around the town center and visit all the three museums listed here (and potentially other places nearby – see below), it's best to spend a night in Bastogne. Below, you can find our suggestions on where to stay in Bastogne.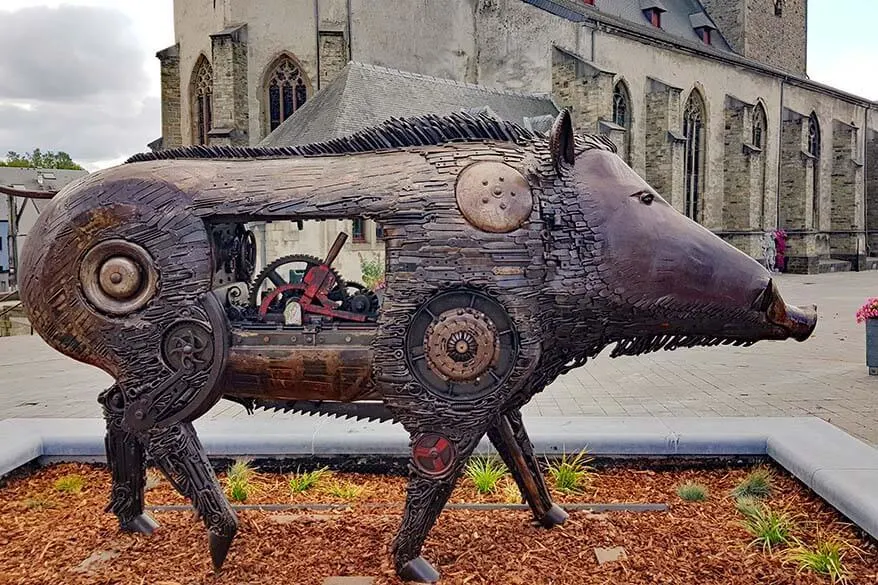 Where to Stay
There are several hotels and privately-owned accommodations in Bastogne (see the full selection here).
One of the best places to stay in Bastogne is the Hotel Leo Station (the same place as the restaurant and the bistro mentioned above). However, they don't have parking available. But you can use the public parking on the town square just nearby.
Alternatively, take a look at Hotel Melba or Hotel Giorgi.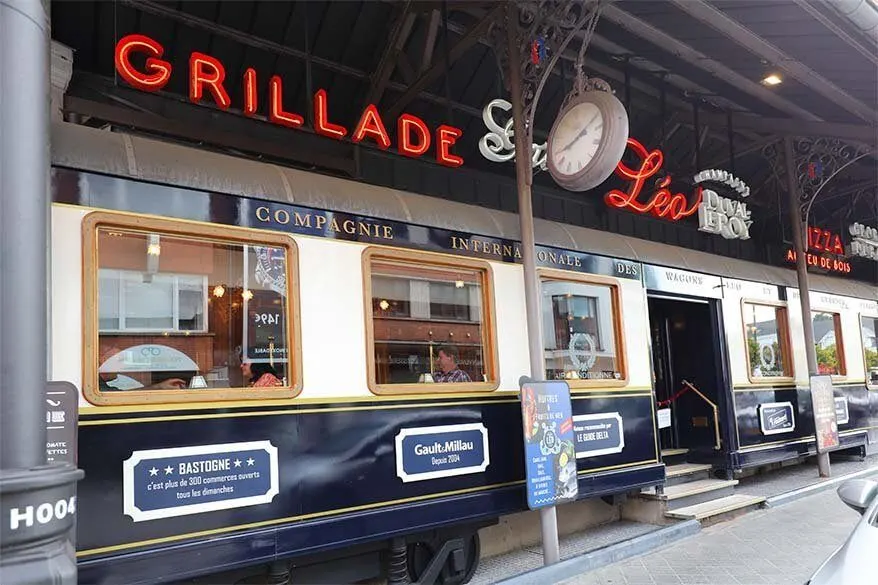 Getting There
Bastogne is located in the remote part of the Belgian Ardennes. It's 150km (1h45 – 2hrs drive) from Brussels or 75km (1hr drive) from Luxembourg city. Bastogne is therefore a perfect day trip from Luxembourg, but also from Brussels.
The best way to visit Bastogne is by car or with an organized tour from Brussels. If you are using public transport, you can reach Bastogne by bus from Liege, but it's not something to do if you have limited time.
There are a couple of (private) tours that can bring you to Bastogne – see on Viator or on GetYourGuide (our preferred tour booking platform).
Places to Visit near Bastogne
Depending on how much time you have and what your interests are, there are quite a few nice places to visit in combination with Bastogne. The main bigger towns are Liege and Luxembourg, and also Namur or Dinant.
But if you are looking for some smaller places for a quicker visit, then you may want to check out La Roche-en-Ardenne (a very cozy small town with the ruins of a medieval castle) or Durbuy (the smallest 'city' in the world). Both these towns make a nice stop of an hour or two and both have lots of nice restaurants. Bouillon Castle is also worth a visit.
READ ALSO: Belgium Itinerary
So, this is our guide to Bastogne. Planning a trip and have a question? Feel free to leave a reply below.
More travel tips for Belgium:
If you found this post useful, don't forget to bookmark it and share it with your friends. Are you on Pinterest? Pin these images!