Bruges (Brugge) is the most beautiful town in Belgium. Known as the 'Venice of the North', Bruges once was one of the biggest and richest towns in northern Europe and it has managed to preserve a lot of its rich history and charm. But what to expect when visiting and what are the best things to do in Bruges?
In this article, you can find an overview of the main attractions in Bruges (+ map), coupled with insider tips and recommendations.
We live in Belgium and have been to Bruges countless times. Even after so many visits, we still haven't seen and done everything that the city has to offer. However, I know that most visitors only have a day or two in Bruges and are looking for the very best places to see and things to do.
So in this article, we only focus on the main landmarks and tourist attractions in Bruges that are worth your time the most. I sorted this list by putting the must-sees in Bruges first. That way, if you are really short on time, you can just focus on the items at the top of this list. If you have two days in the city, you should be able to cover everything listed here. Find out!
To help you get a better idea of where everything is, I also created a map of the best things to do in Bruges. In addition, you can also see the suggested walking route. It's a very busy route, but it allows you to see all the main points of interest in Bruges in a short time.
If you have more time, however, I suggest that you leave this route far behind you and also take the time to explore the quieter parts of Bruges.
How to Use This Map: Use your computer mouse (or fingers) to zoom in or out. Click on the icons to get more information about each place. Click the arrow on the left top corner for the index. Click the star next to the title of the map to add this map to your Google Maps account. To view the saved map on your smartphone or PC, open Google Maps, click the menu button, and go to 'Your Places'/'Maps'.
These are the very best things to do in Bruges:
1. Market Square
The bustling heart of the city, Bruges Market Square (Markt) is an absolute must-see when visiting Bruges. It's here that you'll find some of the most beautiful and iconic buildings in Bruges, as well as many restaurants and shops. The 'Markt' is a popular meeting place and many events take place here. The tourism information center is located in this square and most city tours start here as well.
Bruges Market Square has a very long history. It has served as a marketplace since 958 (!) and there have been weekly markets here since 985. It's been the commercial center of Bruges ever since medieval times.
The Markt is surrounded by the most beautiful buildings dating from various periods. The most prominent of them is the medieval Belfry Tower & Cloth Hall (more about it below), the symbol of Bruges. Another stunning piece of architecture is the Provincial Palace. This neo-Gothic building dates from the end of the 19th century. In medieval times, the Bruges Water Halls were located at this exact spot. You can learn all about it at Historium Bruges, located just next door (more info below).
The oldest house on the Markt Square is Huis Boechoute. Its facade dates from the 15th century. You can recognize it from the golden ball on the roof and a big compass on the facade. It's also the only building on the market square that has a flat roof.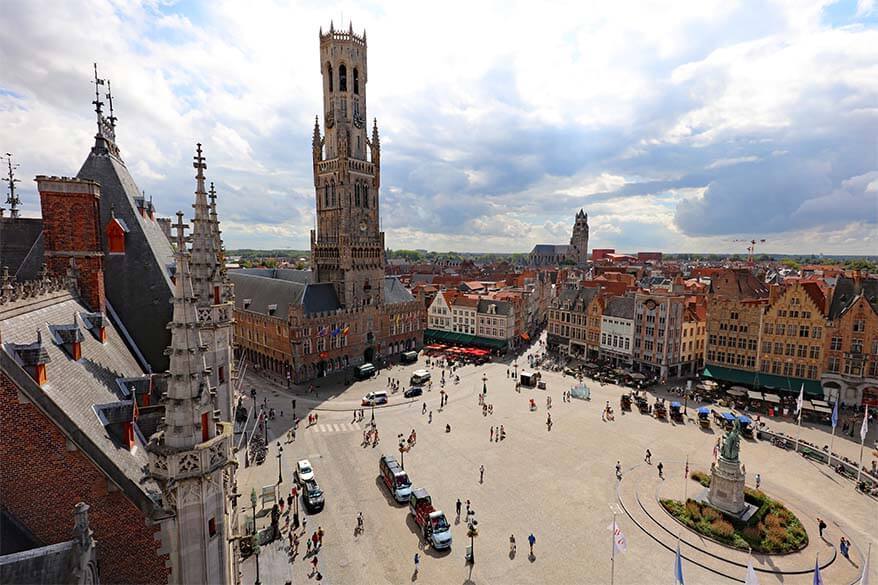 TIP: My personal favorite photo stop at the Markt is the northern end of the square where you can find the Jan Breydel monument and the colorful guild buildings.
Good to know: Nowadays, there is a weekly market at the Markt on Wednesday mornings (8 AM to 1 PM). So if you happen to be in Bruges on Wednesday, check it out.
It's a good place to buy local produce, but also for locally made handicrafts and souvenirs. In winter, the Markt is home to the Bruges Christmas Market and an outdoor ice skating rink.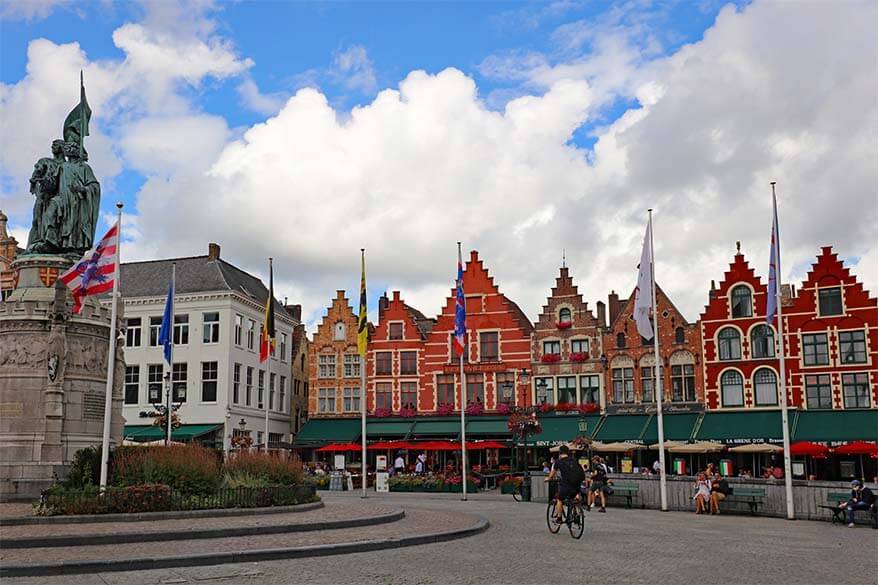 2. Boat Trip on the Canals
No trip to Bruges would be complete without taking a boat tour on its canals. This is by far the quickest and easiest way to get a good idea of what Bruges is truly about and see some of the nicest parts of the city. It's, therefore, also perfect for those who are short on time. But no matter how long your visit is, a boat trip is really not to be missed.
Boat tours in Bruges are all exactly the same and take about 30 minutes. The route includes the canals between Jan Van Eyck Square and Minnewater and your driver/guide offers live commentary in several languages.
Practical information: There are several spots in town where you can join boat tours (see the map above). Normally, you can't pre-book a tour. In summer, waiting times can get long, but usually don't exceed half an hour. In winter, you can usually just go without having to wait. At the moment of writing, Bruges boat tours cost 10 EUR for adults, 6 EUR for kids over 6, and free of charge for younger children. Please note that most of them only accept cash.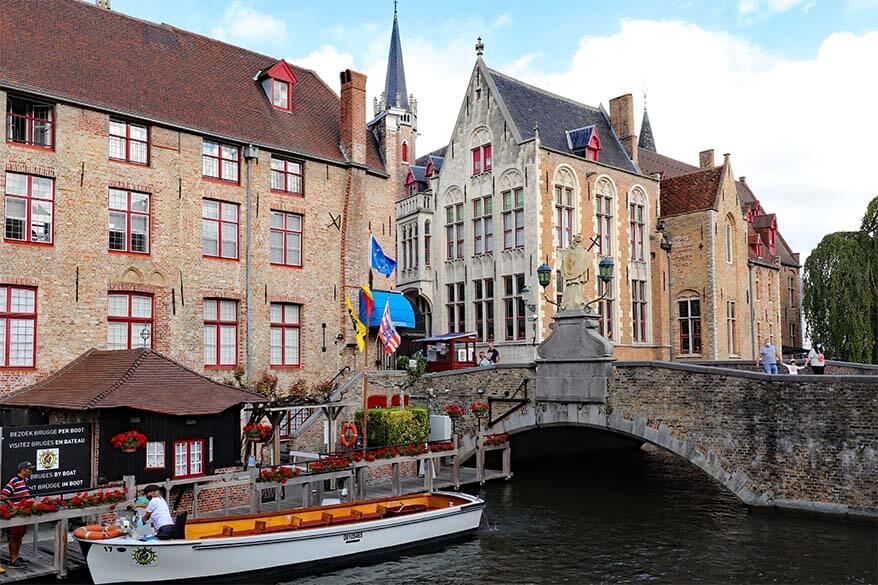 3. Rozenhoedkaai
Among the best things to do in Bruges, I just have to mention the view at Rozenhoedkaai (Quay of the Rosary). At the corner of Rozenhoedkaai street and Huidenvettersplein town square, you'll find the most iconic view of Bruges.
This viewpoint is so popular that it even has its own location tag on Google Maps called 'Bruges Photo Point'. It can get really busy here during the day. But the light for photography is actually best in the morning or at around sunset. If you come here in the evening, it's simply magical, with an added bonus of no crowds.
TIP: Take your time to explore this part of the city a bit deeper. You can follow the canal in both directions and get to see some really nice buildings and bridges. The tiny town square Huidenvettersplein with restaurants and shops and the nearby Fish Market (Vismarkt) are also worth checking out. Although, if you want to find fish here, you'll have to come early on Wednesday or Friday mornings. The rest of the time, it's only souvenirs and street musicians.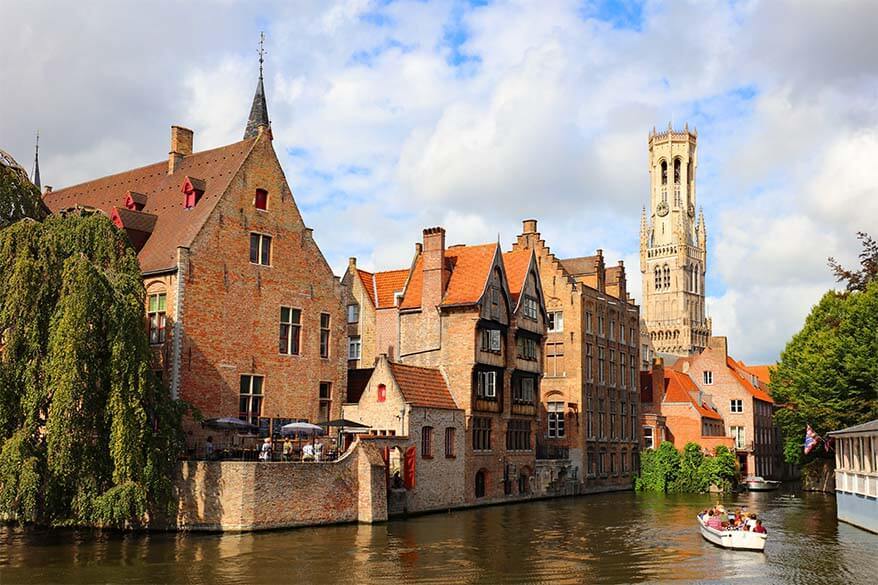 4. Belfry of Bruges
Belfry of Bruges (Belfort Brugge) dominating the earlier-mentioned Market Square and the skyline of Bruges is an unmistakable symbol of the city. As your eyes are drawn up to the top of the tower, don't forget to appreciate the beautiful Cloth Hall building from which this tower rises.
This medieval tower dates from the 13th century. It's 83 meters (272ft) high and if you make an effort to climb the 366 steps, you'll be rewarded with nice views of the city and its surroundings.
Other highlights include a treasury room with wrought iron doors from 1300, the clockwork mechanism, and the carillon drum dating from 1748.
Practical information: Belfort is open daily from 10 AM to 6 PM. At the moment of writing, a visit costs 12 EUR for adults and 10 EUR for kids students. More info on the official website of Musea Brugge.
LEARN MORE: Belfry of Bruges: Worth the Climb?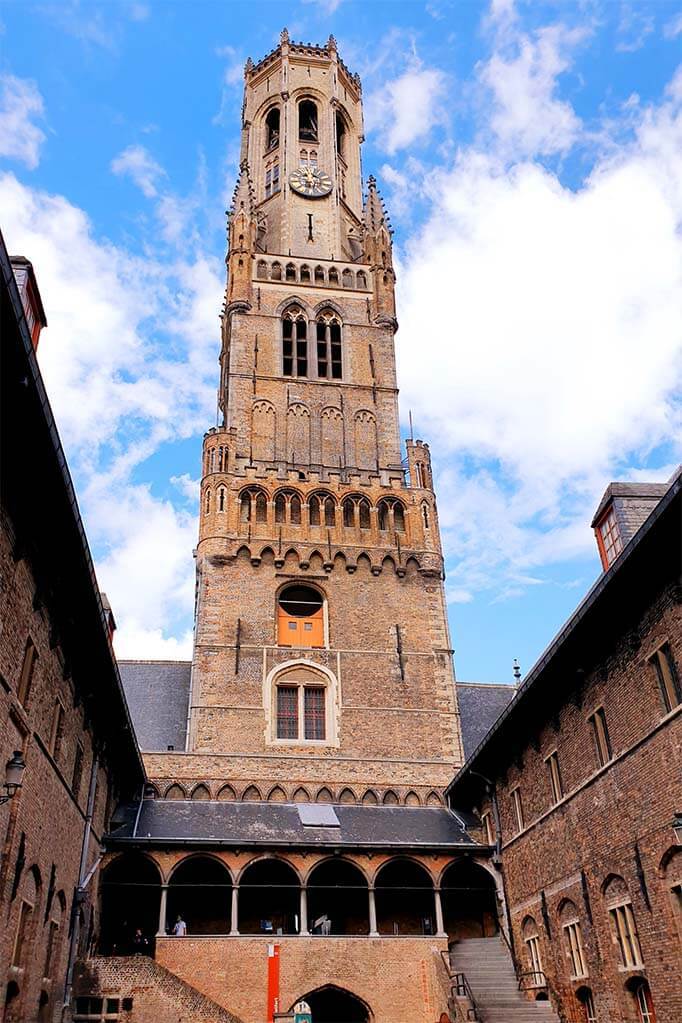 Good to know: You can see the tower from Market Square and you can also walk to the inner court of the building and see it from the backside. If you have time (count at least half an hour if there are no queues) and are fit, you can also climb to the top. I would only suggest climbing the Belfry tower if you have more than a day in Bruges or if it's exceptionally quiet and there are no waiting times.
Further below, you can find our tip for a really nice view of Bruges that requires less time and effort.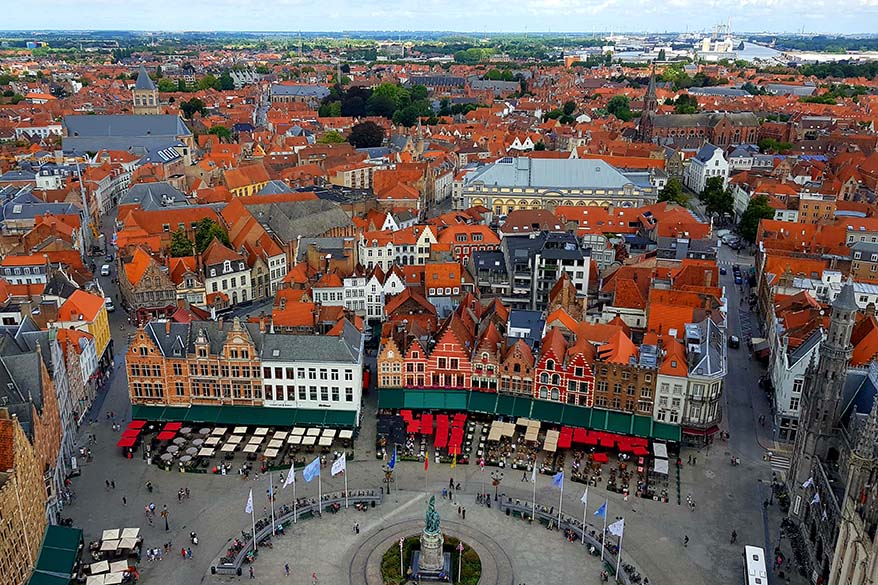 5. Historium Bruges
Located on the Market Square, Historium has quickly become one of our favorite things to do in Bruges. This is a historical experience/museum that takes you back in time to the 'Golden Age' of Bruges at the end of the 14th – beginning of the 15th century. The story is built around the famous painting 'Virgin and Child with Canon Joris Van der Paele' by the famous Bruges painter Jan Van Eyck.
Historium is not your usual museum, but a trip back in time where you can see, hear, smell, feel, and experience medieval Bruges as nowhere else in the city. The Virtual Reality tour is yet another incredible experience and one of the best things we did in Bruges recently. It's really well done and is worth your time even if you have to be really cautious about what you choose to do in the city in a limited time.
There are several things to experience at the Historium and I suggest you do them all: the 1-hour trip back in time through 7 historically-themed rooms, the 8-minute virtual reality experience, and also the climb of the tower. You can also have a drink at the Duvelorium – a beer bar with great views from the balcony overlooking the Market Square.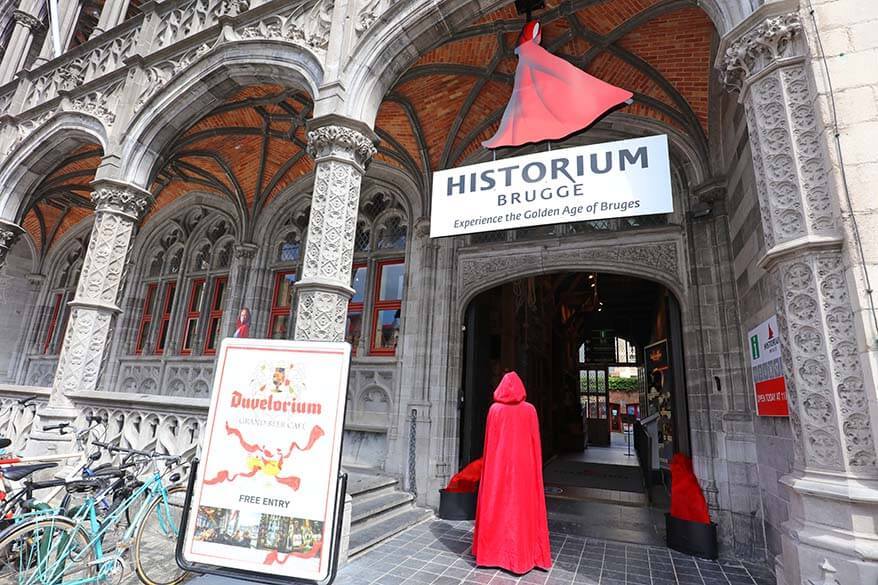 Practical information: Historium Bruges is open daily from 11 AM to 6 PM. Prices online and at the museum are the same and because there is a priority entrance for advance bookings, it's probably best to book your tickets in advance. You can opt for the Explorer Ticket, but I highly suggest you get the Time Traveller Ticket that includes the Virtual Reality Experience. In addition, you can get an optional drink at the Duvelorium bar, or you can just get one once you are there (a bit more expensive).
TIP: For an additional fee of 7 EUR, you can climb the Historium Tower. This cannot be booked in advance, but you can get the ticket at the Historium once you exchange your online tickets at the priority desk. This tower offers amazing 360° views of Bruges Market Square and the surroundings.
It's not as high as the Belfry and there are just 145 steps, but I found that it was worth it much more. The views here are great, it's easier to get to the top, and it's cheaper. If you have the time for just one tower in Bruges, make it this one!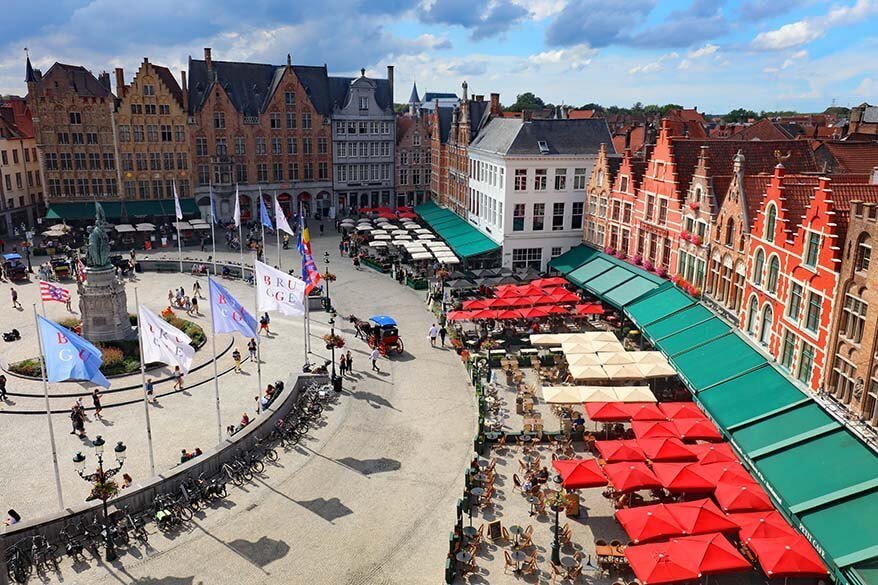 6. Burg Square
Just a stone's throw away from the Market Square, you'll find another beautiful town square with some significant buildings, Burg Square. Even if you have no time to visit any of the buildings inside, this place is not to be missed in Bruges.
The main highlights here are the City Hall of Bruges (that also houses a museum), the Basilica of the Holy Blood (see below), the courthouse Brugse Vrije, and several ornate buildings.
If you have at least an hour to spare, the City Hall Museum is well worth visiting. Otherwise, you can just enter the building and admire the beautiful interior of the entrance hall without actually visiting the museum.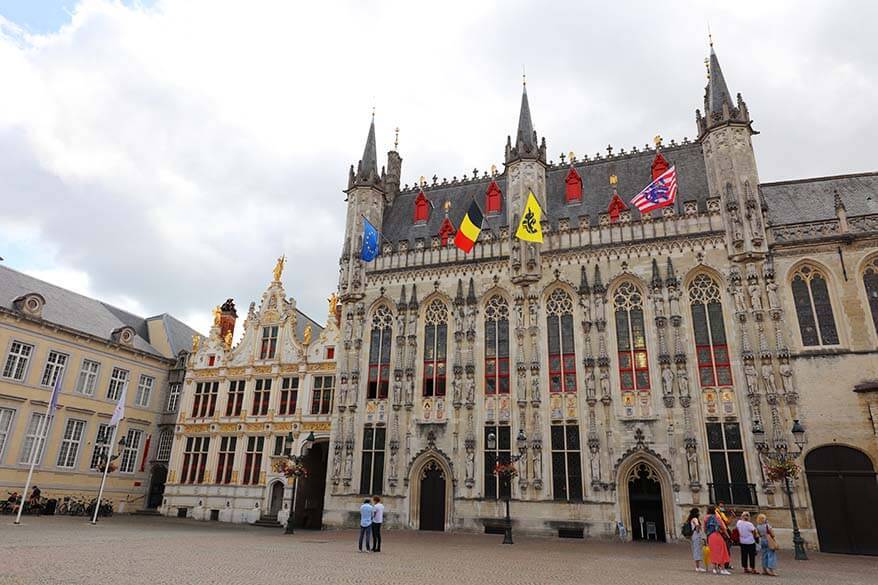 7. Basilica of the Holy Blood
The tiny Basilica of the Holy Blood hidden in the corner of Burg Square is another place you should try to see when visiting Bruges. It houses a relic – a cloth containing Holy Blood of Jesus. The basilica comprises of two parts – St. Basilius Chapel on the ground floor and the Holy Blood Chapel and Treasury upstairs.
You can visit the St. Basilius Chapel for free and it doesn't require much time. This church dates to the beginning of the 12th century and its interior is quite dark and very different from any other churches in the city. I find that it's one of the best places to find a true medieval feel in Bruges.
The most impressive, however, is the small Holy Blood Chapel and Treasury Room. It can be reached via the staircase from the square and there's a 2.5 EUR fee to enter this part. Often, it's very busy here, however. I remember spending a significant amount of time in order to see it the first time I visited Bruges.
Is it worth visiting the Holy Blood Chapel inside? Yes, the chapel and the treasury is very impressive indeed. But there are better things to do in Bruges than spend an hour waiting in line to get inside this tiny chapel. So I'll leave it up to you to decide whether it's worth your time. If there are no queues, then definitely check it out! But if it's very busy and you only have a day in Bruges, then just admire the beautiful building from the outside and move on.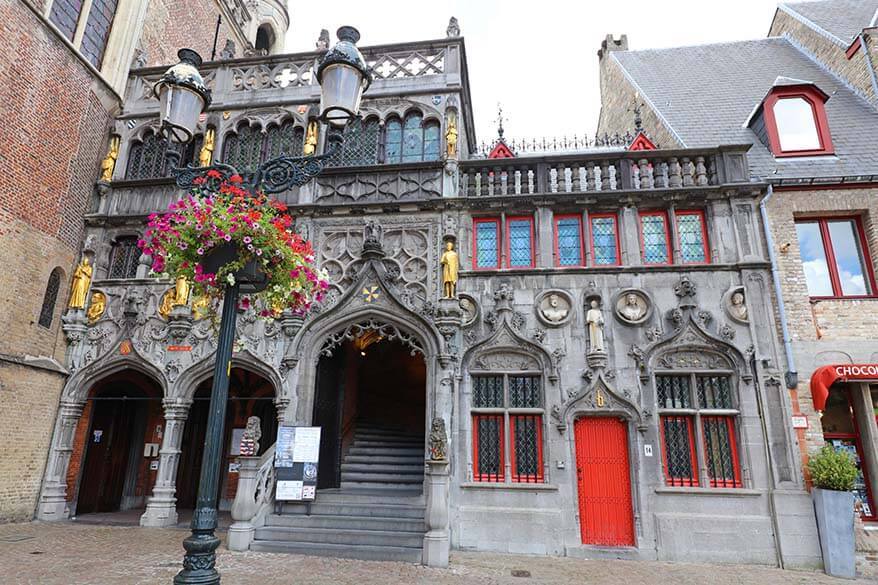 8. Blinde Ezelstraat
As you leave the Burg Square, walk under the arch on the left side of the City Hall building. This tiny passageway is one of the most beautiful little streets of Bruges. It's called Blinde-Ezelstraat (the blind donkey street) and brings you in the direction of the earlier-mentioned Huidenvettersplein, Rozenhoedkaai, and Vismarkt.
Don't forget to look backward as you walk through this narrow street. It's stunningly beautiful. Although… it's often so busy that it's difficult to appreciate it. So if you are staying in Bruges for a night, you may want to come back here in the evening when the day tourists have left.
Interesting to know: There are several legends about how the street got its name. One of them goes back to the 14th century and a fight between the people from Ghent and Bruges. However, it's quite a long and very dark story so I'll spare you the details…
Another legend says that there was an Inn called 'in de Blinde Ezel' at this place. Its name came from the nearby market (now Vismarkt) with donkey-powered mills. Blinkers were used to cover the eyes of the donkeys so that they wouldn't get dizzy from all the turning the whole day long. Thus the name – the blind donkey.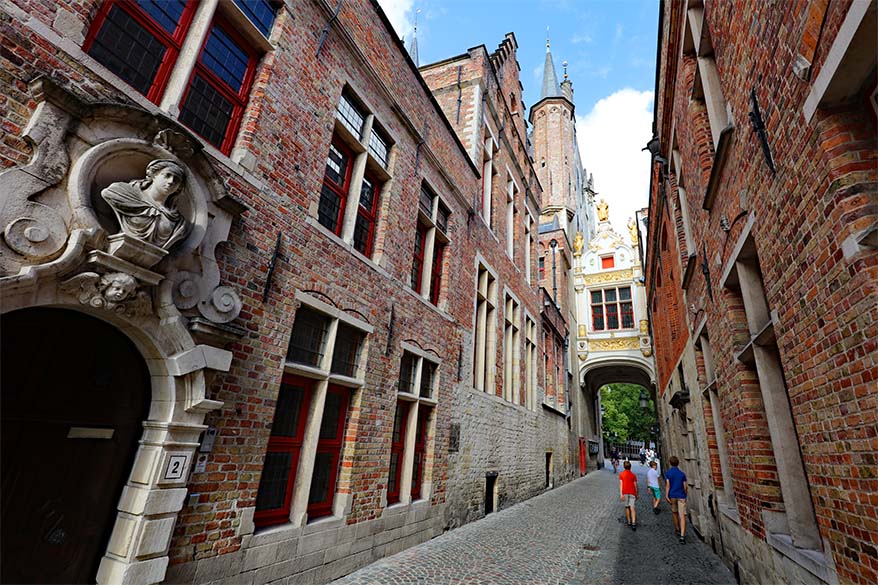 9. St. Boniface Bridge
The Bridge of St. Boniface (Bonifaciusbrug) is one of the most photogenic bridges in Bruges. This place is absolutely not to be missed!
Make sure to cross this tiny bridge over the 'Reie' canal and admire it from both sides. If you come from the east, you have a stunning view of the Church of Our Lady and the buildings of Gruuthusemuseum. Looking from the other side of the bridge, you can see some really nice old buildings lining the canal.
Interesting to know: Many people (including some local guides) mistakenly think that Boniface Bridge is the oldest bridge in Bruges. And indeed, it looks very 'medieval'. In reality, it's one of the youngest bridges in the city, built in 1910. In fact, many buildings in the city date from the 18th-19th centuries and aren't nearly as old as you'd think.
On the western side of the bridge, on the facade of the Gruuthuse Museum, you can see a tiny little window. It's supposedly the smallest window in Bruges and the smallest gothic window in Europe.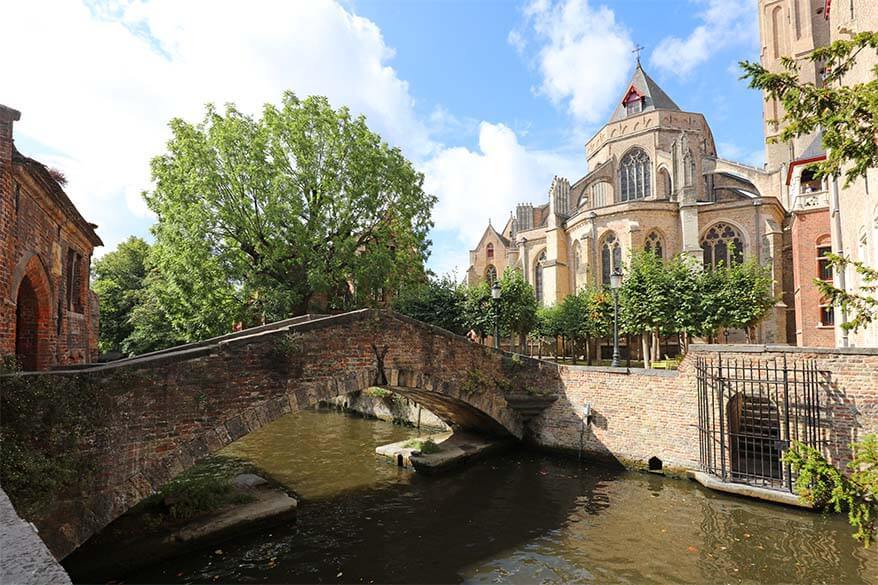 10. Church of Our Lady
The Church of Our Lady (Onze-Lieve-Vrouwekerk) is a must for art lovers. This church houses impressive crypts and tombs dating from the 13th-16th centuries and countless paintings. But the main highlight is Michelangelo's world-famous marble sculpture, Madonna and Child.
The exterior of the church is quite impressive as well and the best view is from the back, when coming from the above-mentioned Bonifacius Bridge. The 115.5 meter-high brick tower of the church is supposedly the second-tallest church-tower in the world. It's also one of the main towers dominating the skyline of Bruges.
Practical information: The church is open daily from 9 AM to 5.30 PM and from 1.30 PM to 5.30 PM on Sundays. You can visit it for free. However, the museum section (the most impressive part with the nicest paintings and Michelangelo's Madonna) requires a ticket. Tickets costs 6 EUR for adults and are free for kids and – to make things complicated – you can only purchase it at the Museumpavilion at the Gruuthusemuseum just near the church. More info on the website of Musea Brugge.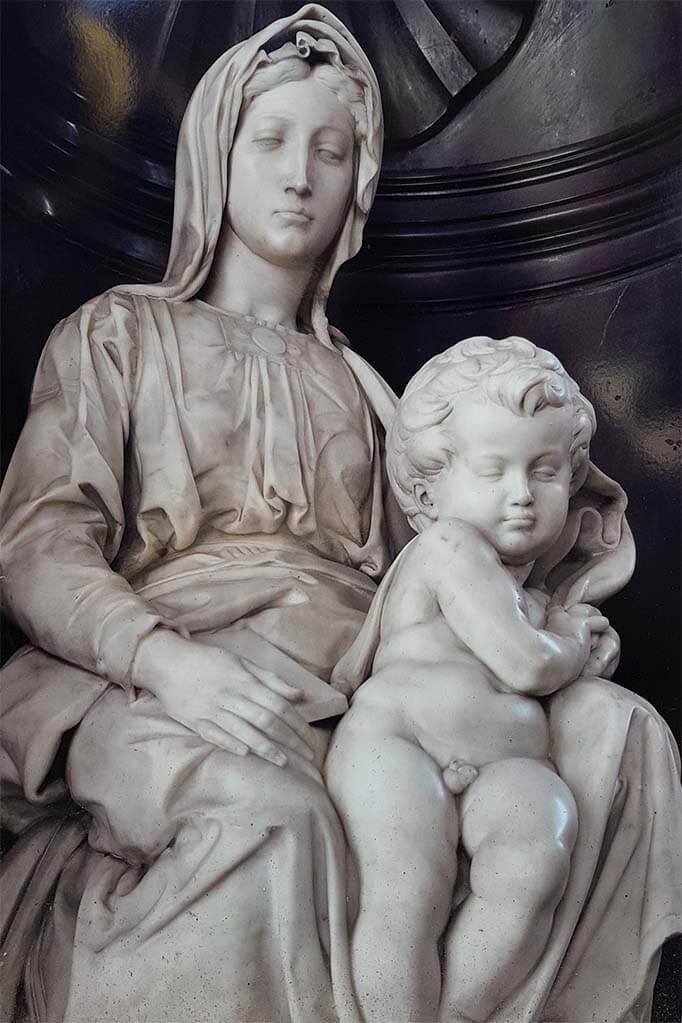 11. Bruges Beguinage
The Princely Beguinage of the Vineyard (Begijnhof Ten Wijngaerde) is one of the most tranquil places in the busy city center of Bruges. All the boat tours pass just at its entrance, but somehow it's overlooked by the majority of visitors… But it's well worth a visit!
The beguinage is a collection of white-washed houses with tiny doors and even smaller windows, built around a beautiful green space in the middle. From the gardens, you can also access the church, Begijnhofkerk Sint-Elisabeth. The church is very simple and somber – a real place for prayer and meditation. There are religious services here several times a day and almost every time we visit, we see nuns here.
This convent was founded in 1245 and has been home to beguines for many centuries. Beguines were emancipated laywomen living celibate life in a religious community, but without taking vows or retiring from the world. Nowadays, Bruges beguinage is inhabited by Benedictine nuns and several unmarried women.
Bruges Beguinage is most beautiful in the spring when thousands of white daffodils are blooming in the garden. But it's worth a short visit at any time of the year!
Practical information: Begijnhof is open daily from 6.30 AM to 6.30 PM and is free to enter. Just be quiet and respectful, because you're just a guest here.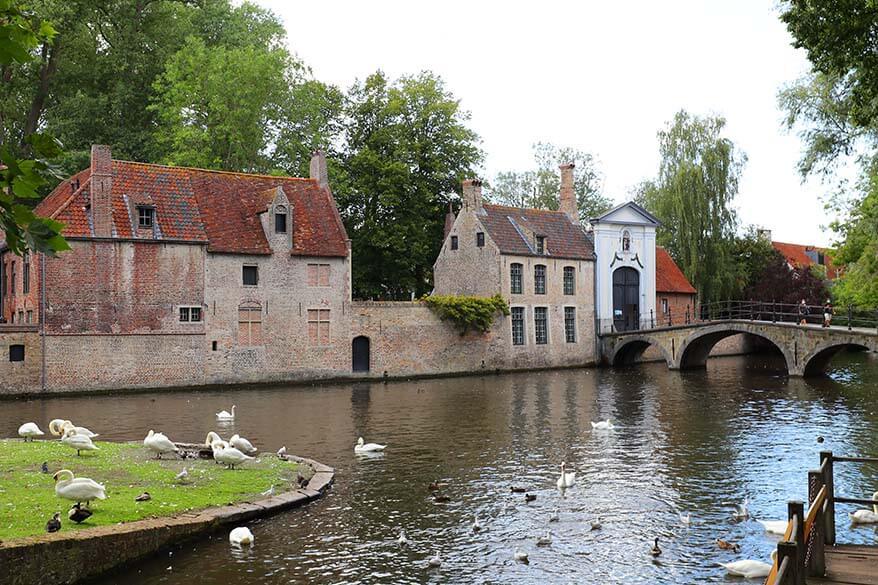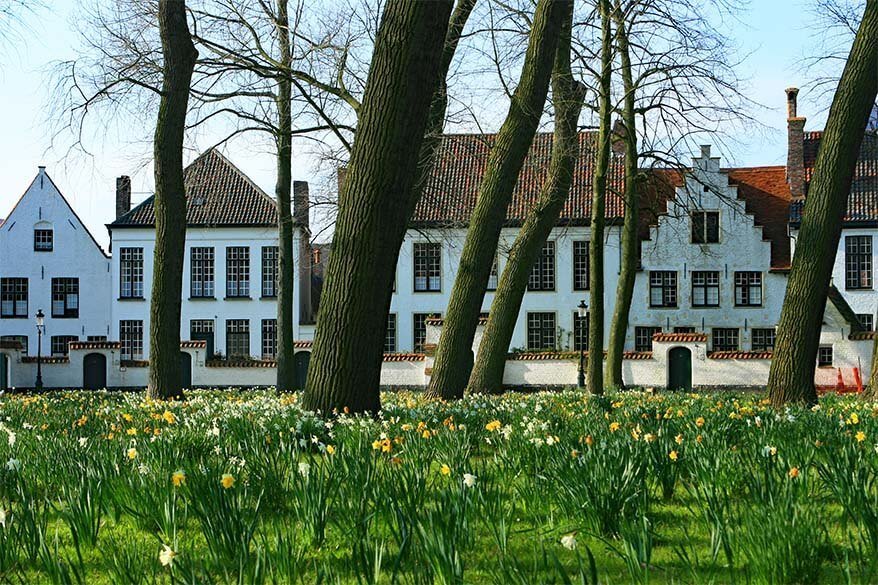 12. Minnewater
The so-called Lake of Love (Minnewater) is another really beautiful and tranquil place to see in Bruges. It's a nice spot to get away from the hustle and the bustle of the busy streets lined with shops and restaurants.
Most people don't seem to get further than the Wijngaardplein (at the entrance of the Beguinage) that is home to lots of white swans and always busy with tourists. But the actual Minnewater park and lake are just a little bit further, so make an effort and check it out!
I suggest that you walk past the Sashuis (a historic lock house) and follow the west side of the lake. From here, you have nice views of the castle Kasteel Minnewater (now a restaurant). At the end of the lake, cross the Park Bridge at the Powder Tower (Poertoren) and walk back via the Minnewaterpark, potentially stopping at the castle for a drink. It's just a short detour, but it will make your trip to Bruges more special.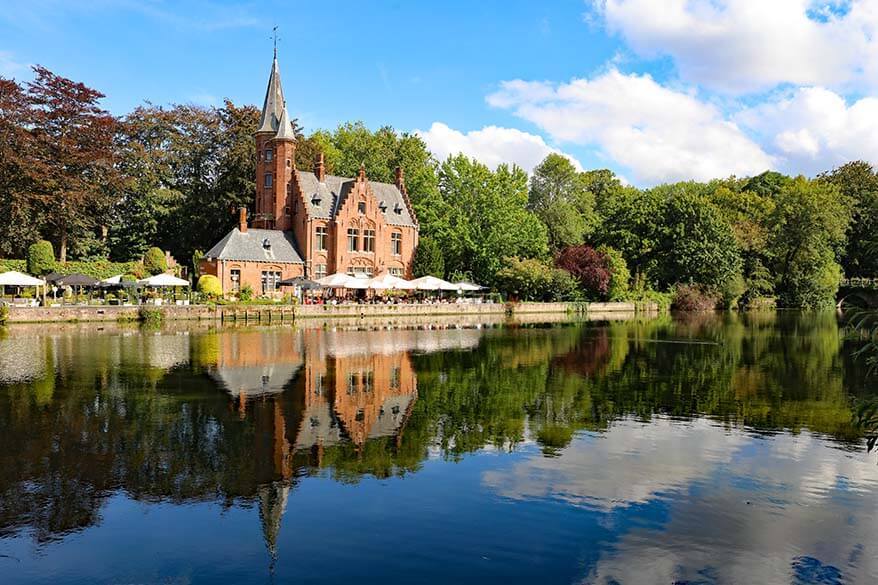 13. Horse-drawn Carriage Ride
If you want to see the best places in Bruges without much effort, you may want to consider a horse-drawn carriage ride. The trip takes just 30 minutes and you pass pretty much every main landmark in Bruges. They also make a short break at the Horse Head Drinking Fountain near the Beguinage at Wijngaardplein. You can take a short walk while the horses rest a bit.
I would still suggest a walk through town afterward, but a carriage ride might be a nice way to get an overview of the most important attractions of Bruges, coupled with commentary of your local guide/driver.
Practical information: You can find horse-drawn carriages parked at the Market Square and there's no need to prebook anything. Just wait for the next available carriage and you're ready to go. The last time I checked, a horse-drawn carriage tour in Bruges cost 55 EUR. I think that you can only pay cash. On Wednesday mornings (market day), carriages are standing at the nearby Burg Square.
TIP: If you rather see more of Bruges without having to walk, you can also book a highly-rated rickshaw tour with a local guide. This tour is longer than a carriage ride (1-2 hours), costs a bit less, and covers more than just the main highlights in the city center. While horse-drawn carriages have a fixed route, rickshaw tours also bring you to some lesser-known parts of Bruges, such as the windmills (more info below).
If you don't want to (or can't) walk the whole day, this is one of the best ways to see the highlights of Bruges and get a good idea of what this beautiful city is truly about!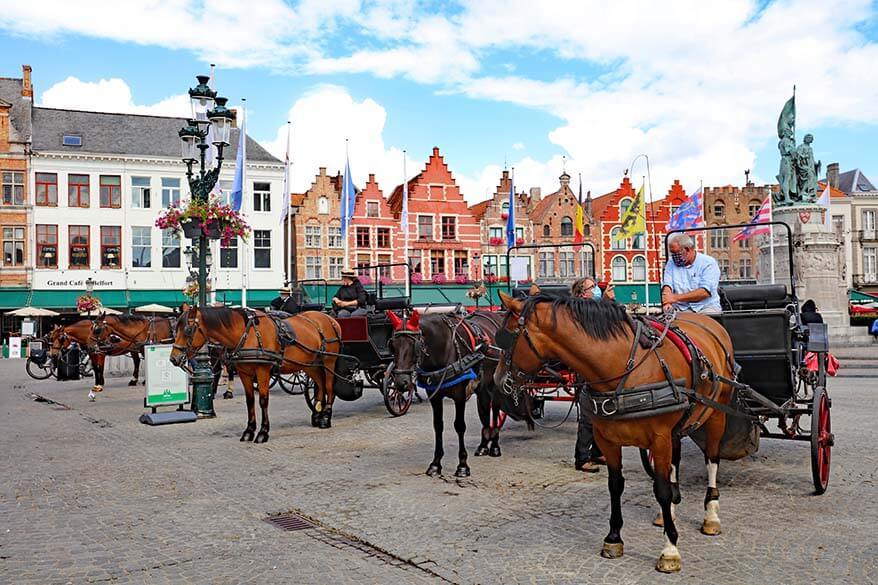 14. Groeninge Museum
There are so many museums in Bruges – from various art museums, crafts, tapestries, to somewhat quirkier places like a torture museum, chocolate museum, beer museum, and even a museum dedicated to Belgian Fries… But if you visit just one art museum in Bruges, make it the Groeninge Museum (Groeningemuseum).
This museum houses a collection of some of the best paintings by world-renowned Flemish primitives. The earlier-mentioned 'Madonna with Canon Joris Van der Paele' by Jan van Eyck and the 'Moreel Triptych' by Hans Memling are just some of the highlights. Here, you can see some of the best works of Flemish painters from over six centuries: primitivism, neo-classicism, expressionism, and also the 20th-century modern art all in one place.
Practical information: The museum is open daily except for Mondays from 9.30 AM to 5 PM. A regular ticket costs 12 EUR. More info here.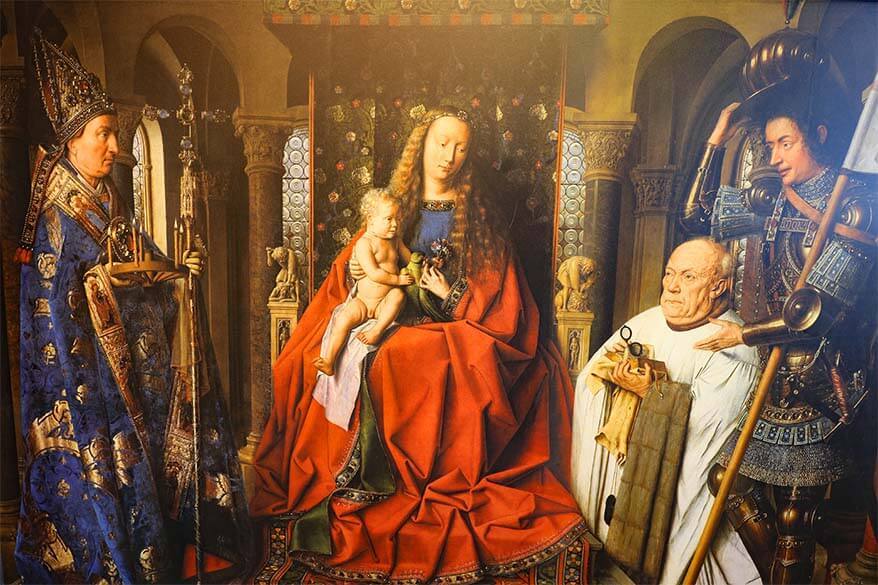 15. Saint John's Hospital
The Old Hospital of St. John (Sint-Janshospitaal) dating to the 12th century is one of the oldest hospitals in Europe. If you prefer more authentic museums that combine history, architecture, arts, and – in this case – medical instruments and artifacts, then this is one of the best museums to see in Bruges.
It's been many years since I last visited it, but it left a lasting impression. You can visit the medieval wards, the church, and the chapel, as well as the pharmacy of the former hospital. The Diksmuide attic with its impressive roof support structures is not to be missed either. The museum is set in two buildings and also houses an amazing collection of works by Hans Memling.
I know how tough it is to choose where to go in Bruges and you probably won't have the time for this if you are only visiting for a day… So at least check out the exterior of the buildings of the museum. And, if you have at least an hour to spare, visit the inside as well! It's also a good place to visit in colder season or on a rainy day in Bruges.
Practical information: The museum is open daily except for Mondays from 9.30 AM to 5 PM. The ticket costs 12 EUR. More info here.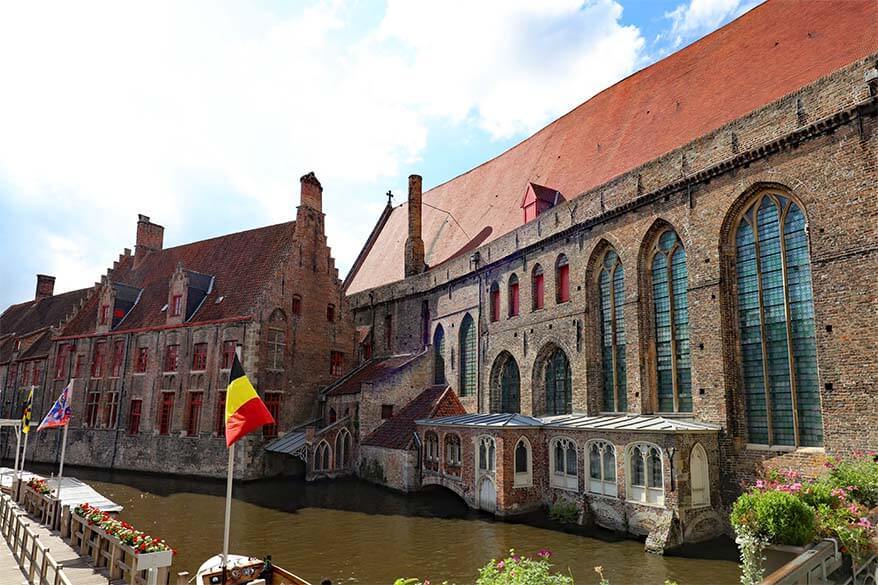 16. Windmills
Not many people visiting Bruges know that the city has several traditional windmills. They are located a bit outside the city center and so most day visitors never get there… But if you make an effort, you'll definitely enjoy this quieter part of Bruges.
In the past, there were 23 windmills in Bruges. Nowadays, you can see 4 remaining windmills along the ramparts at the northeastern side of the city (see the map for exact locations). The windmills can be found along the canal at Park Kruisvest. Some people call this place the 'Windmill Walk'.
Sint-Janshuismolen (Sint-Janshuis mill) is the oldest windmill (built in 1770) and is the only of the four mills still standing in its original position. It's still used for grinding flour and this is the only mill that can be visited inside. More information here.
Bonne Chiere windmill was rebuilt at its current location in 1911. It's purely built as decoration and has never been used for grinding. This windmill cannot be visited inside.
De Nieuwe Papegaai (the New Parrot) is one of the newer windmills of Bruges. The original mill from 1790 was called Hoge Seinemolen. In 1970, the mill was rebuilt and moved to this new location. Because of the parrot on its roof, it got this new name.
Koeleweimill (Coelewey mill) was originally built in 1765. It's been moved to its current location and rebuilt in 1980.
Good to know: The windmills are close to each other and just 15-20 minutes walking distance from the Markt. The earlier-mentioned rickshaw tour and an e-scooter tour visit here. Alternatively, this is also a great place to explore by bike.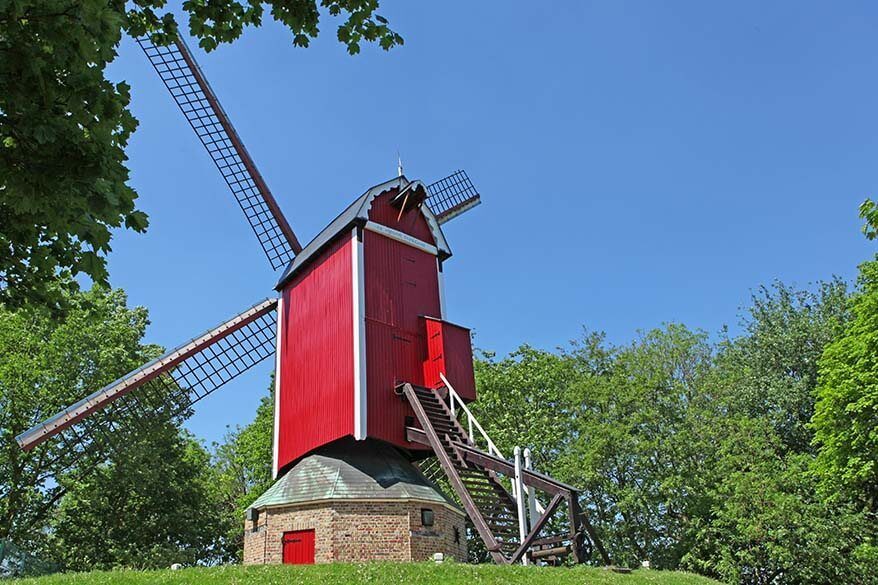 17. Lace & Tapestries
No list of the best things to do in Bruges would be complete without mentioning the world-famous Bruges lace and Flemish tapestries.
As you stroll the streets of Bruges, you'll find many souvenir shops. If you want to buy real handmade lace from Bruges, you'll have to look a bit deeper because lace sold at most souvenir stores isn't locally made. However, it's still possible to see traditional lacemakers in some shops. I'm not even sure if any of the tapestries sold in the souvenir stores are still made in Belgium…
TIP: The Lace Center has demonstrations and workshops (more info here) as well as a shop selling some hand-made lace.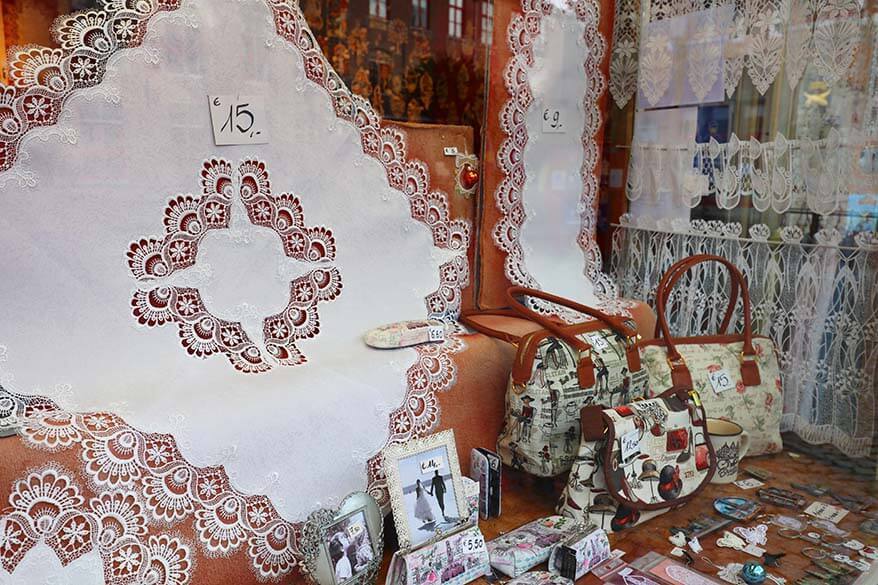 18. Chocolate, Waffles & Beer
Just as in any other Belgian city, the streets of Bruges are lined with stores selling all kinds of local delicacies. And you really shouldn't resist the temptation and try some of them. After all, travel is also about local food, drinks, and tastes that you just can't replicate at home…
Belgian chocolate and all kinds of traditional sweets are extremely popular in Bruges. You won't know which shop to enter first – the window displays are mouth-watering!
There are also many stores selling hundreds of different kinds of Belgian beer, including many varieties of beer from Bruges. The Bruges Beer Museum might be interesting for beer fans and you can taste several different beers after your visit.
In addition, several breweries offer tours coupled with beer tasting as well. The most popular is Brewery De Halve Maan, but the lesser-known Brewery Bourgogne des Flandres is also an excellent choice. And, of course, every café and restaurant in town has local beers on the menu.
All across the city center, you'll also find food stalls/little shops selling freshly baked Belgian waffles and traditional Belgian fries (try them with mayo!).
TIP: If you have the time and like to get to know more about beer, chocolate, or waffles, you can consider local tours and workshops. Check out this chocolate making workshop or this waffle baking workshop!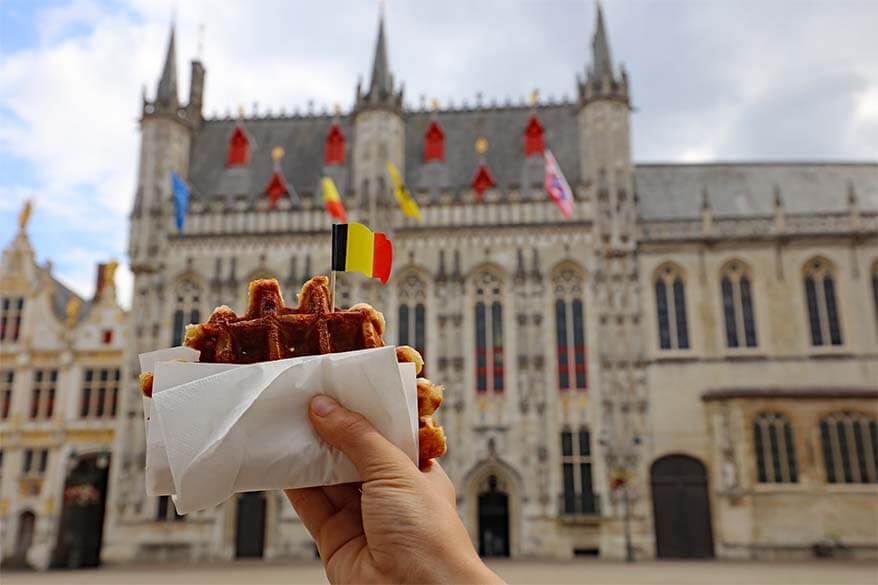 19. Get off the Beaten Path
Now that we covered all the best things to do in Bruges, I feel obliged to tell you that one of the very best things to do is actually simply walk around the city. Bruges is a historic town and there are so many nice places to see, also beyond its most popular landmarks and attractions.
So if you have some time to spare, make sure to get a bit off the main tourist streets and explore the more authentic side of Bruges. Take a stroll along its many canals (e.g. St. Anna Quarter, Gouden-Handrei (don't miss Augustijnenbrug), Coupure, or Groenerei), check out the little squares (Jan Van Eyck Square – not completely unknown, but usually much quieter than the rest), and old buildings (such as the timber house at 7 Genthof dating from late 15th century).
If you bike (or don't mind a longer walk), make sure to also check out the old city gates – Kruispoort and Gentpoort.
I indicated all these places on our map above, but there are many, many more. Sometimes the best moments of your trip are the unexpected finds. So take a walk in Bruges and discover the city beyond any tourist guides.
TIP: Our favorite lesser-known place to visit near Bruges is Damme, a tiny town just a few miles northeast of the city. If you have more time, you could walk there in about 1.5 hours, and there's also a boat Lamme Goedzak that travels between the two places a few times a day (high season only). But the best way to visit is either by bike or by e-scooter or similar.
This highly-rated e-scooter tour with a private guide is one of the easiest ways to visit Damme if you are short on time. You'll pass beautiful canals, windmills, and see a very different side of Bruges that most tourists completely miss. It only takes about 2 hours in total, so check it out if looking for something a bit different to do in Bruges!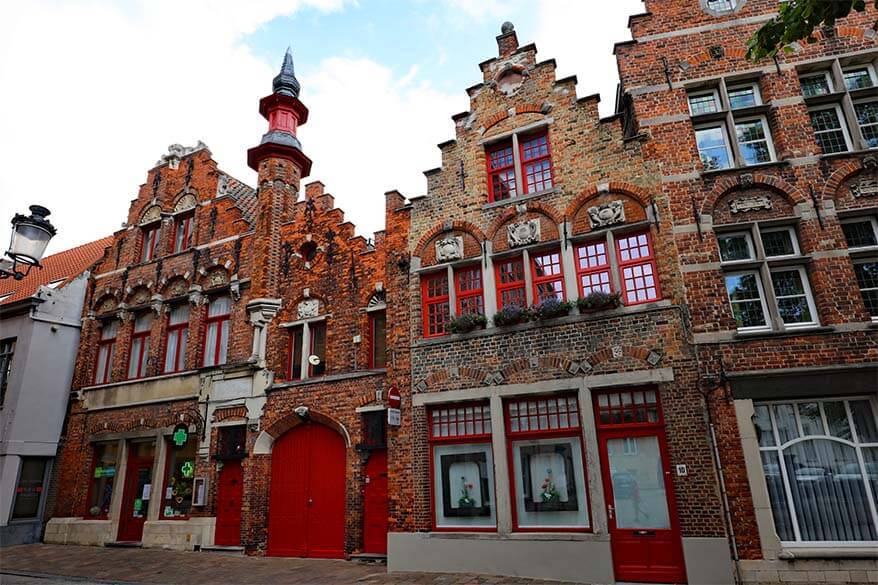 PRO TIP: The vast majority of tourists visit Bruges for a day and the city can get crowded. However, after 6-7 PM, most people leave and evenings are, in my view, the best time to be in Bruges. Strolling the picturesque canals at sunset and seeing the beautifully lit buildings and bridges in the evening is magical.
So if you can, stay in Bruges for at least one night and explore it in the evening. It will make your visit so much more special! Here you can find the best deals for Bruges accommodation. If you are looking for a really nice place to stay, check out the Hotel Duke's Palace!
TIP: Using the map below, you can compare hotels, apartments, and short-term rental accommodations in central Bruges. Simply insert your travel dates and group size, and you'll see the best deals for your stay. Check it out!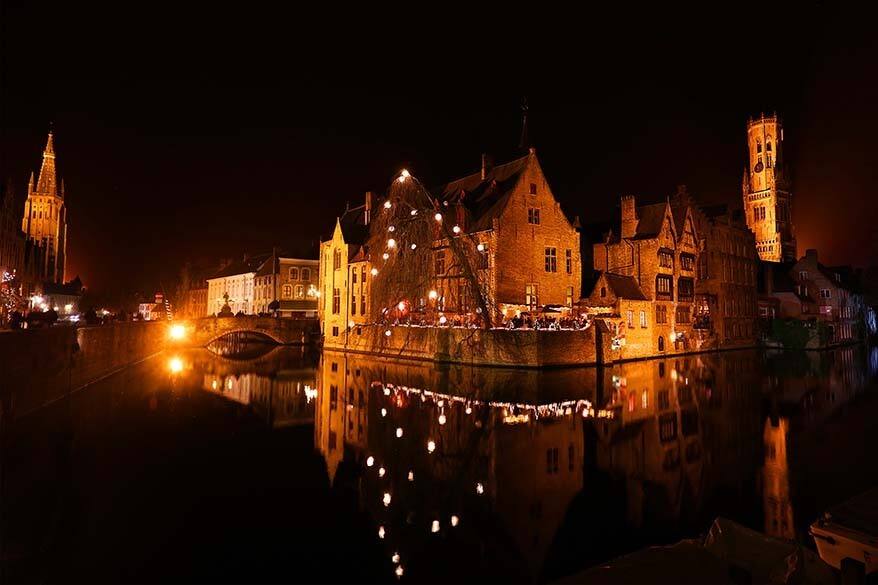 So, this is our guide to the top places to see and the best things to do in Bruges. I hope that our tips and local insights will help you plan a truly unforgettable trip.
If you have some questions about visiting Bruges, feel free to leave a reply below and I'll try to help.
READ ALSO: Interesting Facts About Belgium
For more travel tips for Belgium, make sure to check our other articles as well. Here's a small selection of our travel guides for Belgium:
If you found this post useful, don't forget to bookmark it and share it with your friends. Are you on Pinterest? Pin these images!