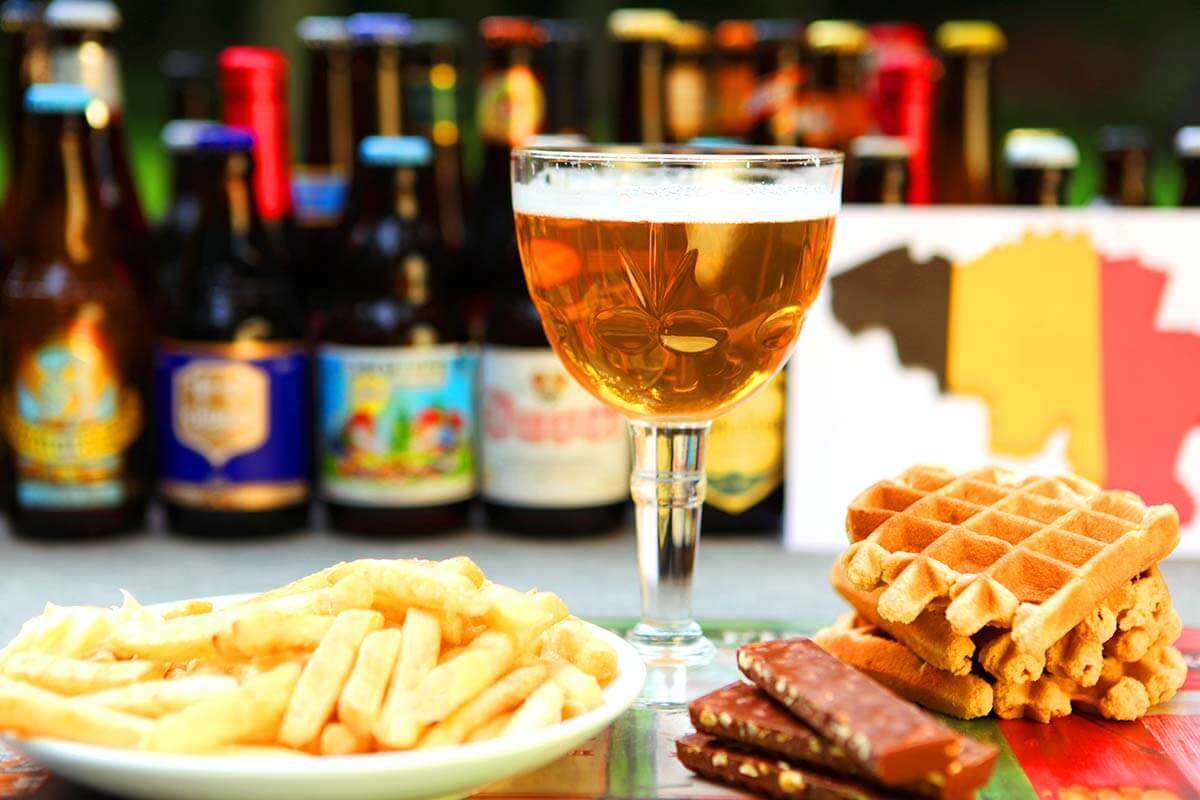 Are you thinking of visiting Belgium and wondering if Belgium is safe? Or maybe you are planning a city trip to Brussels and want to know if Brussels is dangerous? This article should answer all your questions.
Good to know: We live in Belgium and have also lived in the center of Brussels for many years. So this article is not based on a single visit or a single experience, but should give you a good idea of how safe Belgium really is.
Originally published after the terrorist attacks in Paris and Brussels at the end of 2015 – the beginning of 2016, this guide was meant to show that life in Belgium is just as safe as ever. And yes, bad things have happened here in the past (just as they happen in so many other safe places all around the world on a daily basis). But the fact is that Belgium is one of the safest countries in the world.
People often joke that the most dangerous thing you are going to face in Belgium is the Belgian food. And the biggest risk is that of increased cholesterol. (Thus the featured image of this article about safety in Belgium)
Anyway, all joking aside, here are some things and safety tips you may want to know when visiting Belgium and Brussels in particular. Find out!
READ ALSO: Interesting Facts About Belgium
Is Belgium safe?
Yes, Belgium is a very safe country to live in and Belgium is also safe to visit. Crime rates are low and it's unlikely that anything will happen to you when visiting Belgium. However, just as everywhere else in the world, you should be vigilant for petty theft and pickpockets.
How does Belgium compare to other countries in terms of safety?
Belgium is one of the safest countries in the world. It's been in the top-20 list of the Global Peace Index* for years. At the moment of writing, Belgium is the 17th safest country in the world, just under Germany and Sweden and above Norway and the Netherlands. For comparison, the UK is number 42 and the USA – number 121.
*Global Peace Index (GPI) is the world's leading measure of national peacefulness. It measures peace according to 23 qualitative and quantitative indicators.
Is Brussels safe?
Overall, Brussels is a safe city. However, it has the highest crime rates in Belgium. So if there is one place where you should be extra vigilant in Belgium, it's Brussels. During the day, be careful of pickpockets. At night, it's best not to walk around alone and you should also avoid certain parts of the city in the dark.
Are other Belgian cities safe?
As already mentioned, Brussels has one of the highest crime rates in Belgium. In addition, there are several other cities (Charleroi, Liege) where you probably better not walk around alone after dark. But in general, Belgian cities are safe. I would be quite comfortable walking around the center of Antwerp, Ghent, or Bruges on my own after dark.
Why is Brussels so dangerous?
Brussels is not more dangerous than any other big city in Europe. There are a few sketchy neighborhoods where you should probably not walk around on your own after dark and that's it. To give you an idea, I lived just next to one of the 'most dangerous' areas in Brussels as a 20-year old girl for two years and never experienced any problems.
Below, you can find some recommendations for the areas to avoid and our top safety tips for Brussels. Take a look!
Safety tips for Visiting Brussels:
Beware of pickpockets. Pickpocketing is the biggest risk for tourists in Brussels, just as it is in any other big city. So be extra careful on public transport and in the busy areas. Watch out for distractions and be extra careful when there's any commotion all of a sudden – thieves often operate in groups.
Don't carry any valuables that you don't absolutely need. It's never a good idea to carry a wallet full of cash in your pocket. And if you go to a nightclub, you probably won't need your expensive camera either. So leave the things that you don't need at home. That being said, it would never occur to me to leave my watch or jewelry at home when going to Brussels for a day. Simply use common sense.
Don't carry the documents and the credit cards that you don't need. On the other hand, you should know that it's obligatory to have an official ID on you at all times in Belgium. If you would rather leave your documents at the hotel, make sure that you have a copy of your passport with you.
Keep your belongings close to you. A travel money belt can be a good idea for your documents and credit cards. A belt like this is great for cash. Otherwise, just make sure that your belongings aren't sticking out of your back pocket and that they are not easy to take out of your backpack or from your handbag.
Always keep an eye (and a hand) on your bags. Never leave your luggage unattended, not even for a second. For example, many laptop bags and small luggage get stolen when people put a bag on the ground between their legs while purchasing tickets or looking for train schedules. Even at a restaurant, I never hang my purse on the chair or put it on the ground. If you can, hang your purse in front of you on the table (using a handbag hanger like this), put it on your lap, or wrap it around your leg.
Don't put your phone on the table. Most mobile phones get stolen from restaurant tables in big cities. So never put your phone on the table. Some people are very good at distracting you, and your phone will be gone before you know it. I once witnessed this in the middle of a day in a restaurant in London.
Be careful at the railway stations and on the metro. Petty theft and pickpocketing are very common at the main railway stations in Brussels, so always be vigilant. Brussels Central Station is one of the safest in the city, whereas Brussels South Station (Brussels Gare du Midi), Brussels North Station (Gare du Nord), and also Schuman are the stations where you should be extra careful.
Avoid certain areas at night. There are several areas in Brussels where it's not the best idea to walk on your own after the dark. Avoid Sint-Jans-Molenbeek, Schaerbeek, Anderlecht, Marollen, Saint-Josse-ten-Noode, and Anneessens at night.
Lock your car. If you are driving in Brussels, make sure that your car is locked and cannot be opened from the outside. The only incident I ever had in over 20 years living in Belgium was when someone tried to open my car door at the red light close to Brussels South railway station in the evening. Luckily, my car was locked… I saw a guy run to the car in front of me, open the door, and disappear with a handbag before anyone even realized what happened. Since that day, I never put my handbag on the passenger seat anymore.
Know where you are going. Try to do some research on where you are going so that you don't find yourself in the sketchy areas at night. If you have to go out in Brussels at night, it's always best to take public transport or a taxi rather than walk through unfamiliar areas.
Ask locals for advice. If you are not sure about visiting certain areas in Brussels, ask your hotel for advice. Locals always know the area best and they'll be able to help you with any recommendations or tips on places to avoid.
Remember European emergency number – 112. If an unlikely event that anything happens or you feel unsafe, don't hesitate to dial 112 for assistance. Belgian police is very efficient, most officers will speak at least a bit of English, and you should never hesitate to contact them in case anything happens.
So, here are our tips and recommendation for your visit to Belgium. I hope that this assured you that there is really nothing to worry about when visiting Belgium. I have lived here for 20 years now, 2 years in the heart of Brussels, and apart from that one incident when someone tried to steal my handbag from the car, I never experienced any issues.
Belgium is a beautiful safe country that has so much to offer to visitors. You will absolutely love it here!
READ ALSO: Best Things To Do in Brussels
Travel inspiration and tips for Belgium & The Netherlands: