Are you planning to visit the Bruges Christmas Market in 2023 (winter 2023-2024) and wondering what to expect, what to do, or where exactly to go? Or maybe you are researching the best Christmas Markets in Belgium and wondering if the Bruges Christmas Market is worth it?
This insider's guide should give you a good idea of what to expect when visiting the Bruges Christmas Market and Winter Glow winter experience this winter season.
You can also find some practical information about the Bruges ice skating rink, Christmas tree, light experience trail, and pictures that will give you a better idea of what it's like to visit Bruges during the Christmas season.
What is Bruges Winter Glow?
Winter Glow is the collective name of all the winter experiences in Bruges: Bruges Christmas Market, light experience trail, ice skating, light decorations throughout the city, and festive shopping.
In other words, it's a winter festival that turns the entire city of Bruges into a true Christmas town.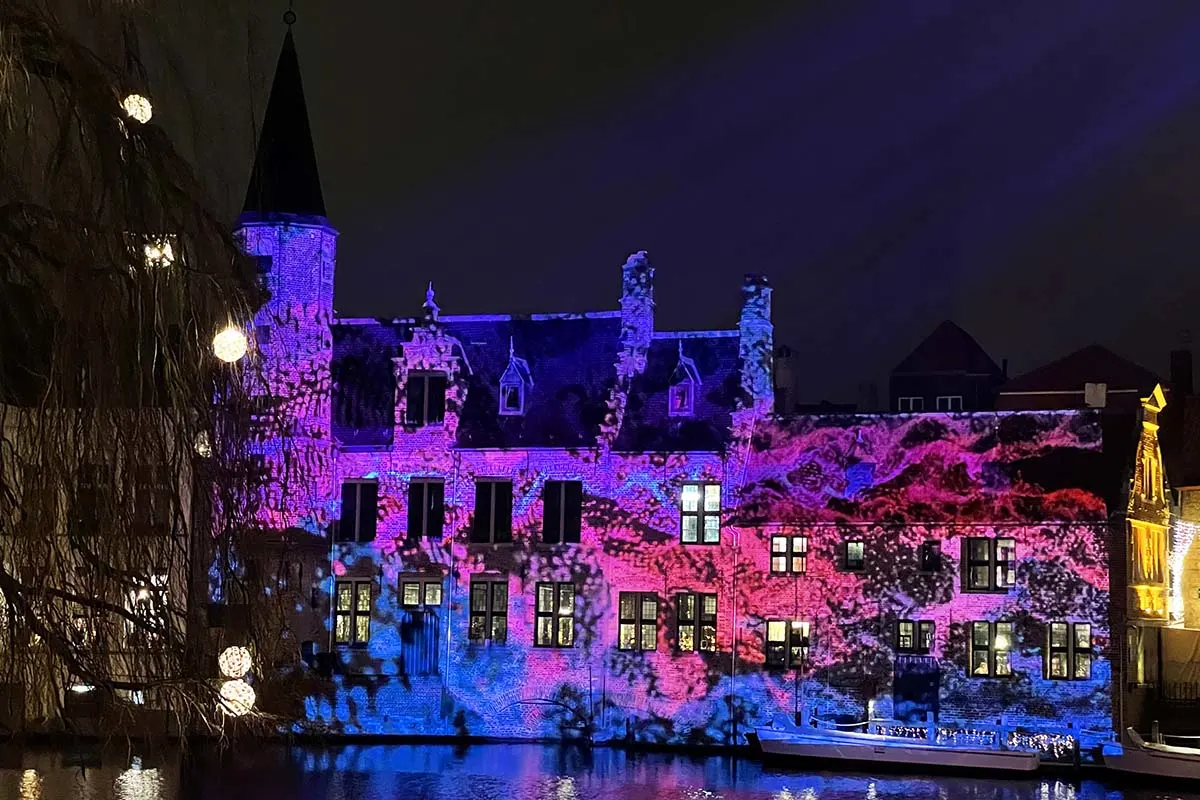 When is Bruges Christmas Market Open?
Bruges Christmas Market is usually open from the 3rd week of November till the first weekend of January (or the weekend after Epiphany, whichever comes later).
It's open daily from around 10-11 am to 10-11 pm. On 24/12 and 31/12, the market closes earlier, usually at around 7 pm.
Bruges Christmas Market is an annual event. Some names, locations, and decorations differ from year to year, but it's always nice and well worth visiting Bruges during the winter season.
This winter, Bruges Christmas Market & Bruges Winter Glow light festival will be open from November 24, 2023, until January 7, 2024.
Good to know: Most Christmas Markets in Western Europe close just before Christmas. This is especially the case in Germany, where all the world-famous Christmas markets shut just before Christmas Eve. The good news is that this is not the case in Belgium. Here, all the bigger Christmas Markets stay open through the entire holiday period, including the entire school holidays period in the first week of January.
So if you are looking to visit a nice romantic Christmas Market during the Christmas – New Year period, Bruges Christmas Market is a great choice.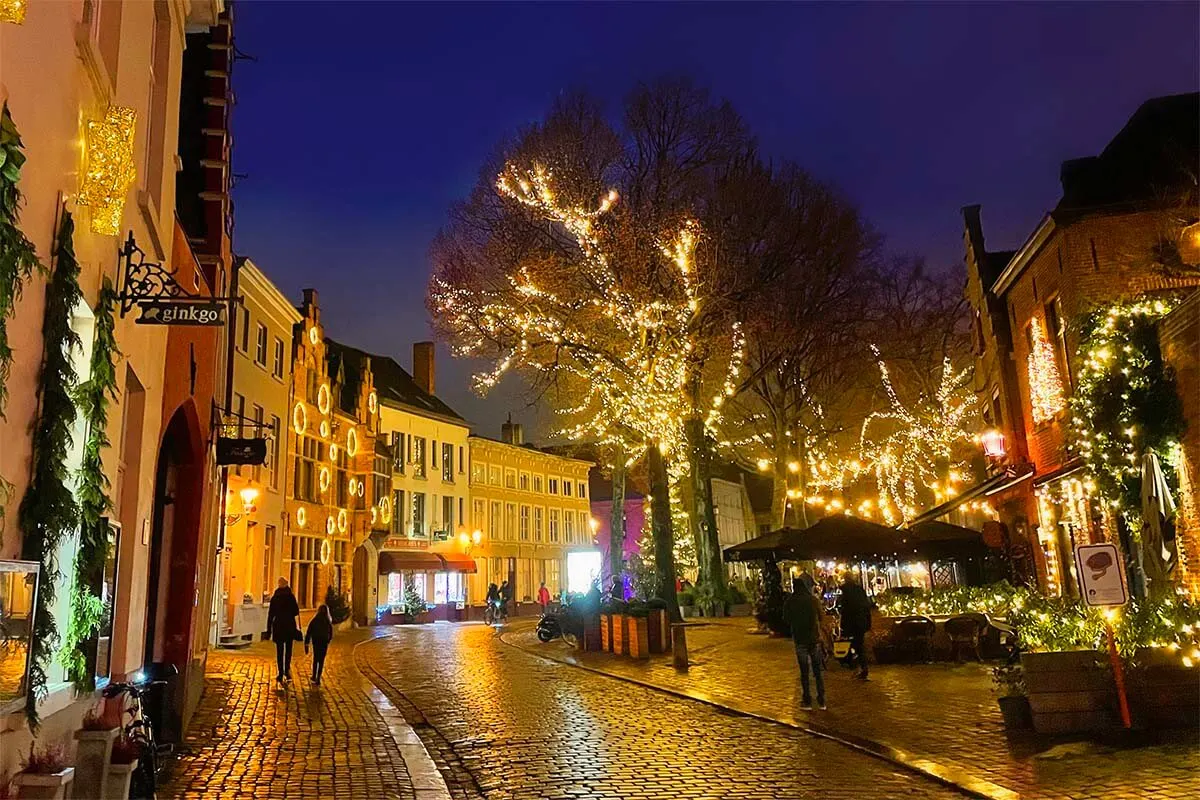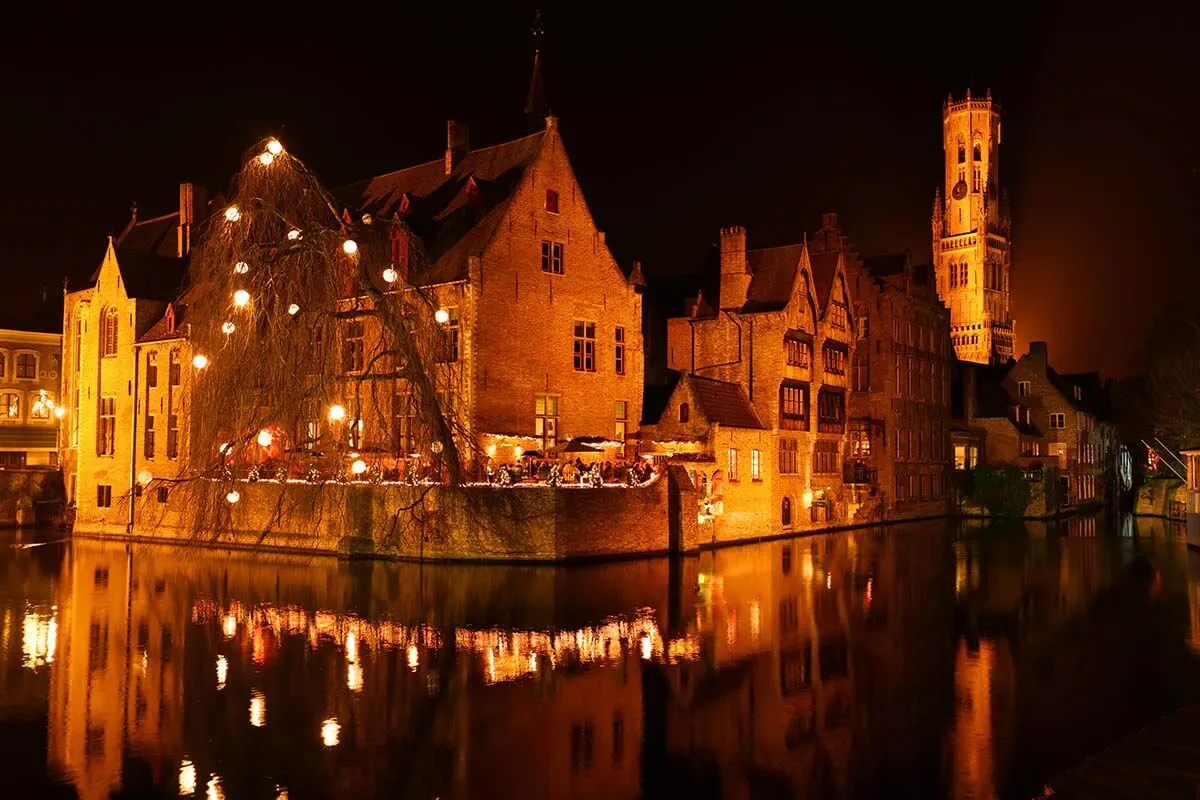 Bruges Christmas Market – What to Expect
Many people wonder what the Bruges Christmas market is really like. Well, it's not nearly as big as Brussels Winter Wonders, or the Christmas market in Antwerp, and you won't find many country-fair-like attractions here. But it's the most Christmassy and most romantic of all the Belgian Christmas Markets.
Of course, you'll find market stalls selling everything from wool socks and Christmas decorations to all kinds of local food and drinks. But the true charm of Bruges Christmas market is the city itself!
Bruges is already a fairytale-like destination, but it's even more beautiful with all the Christmas lights and decorations.
Good to know: For a few years, Bruges used black containers for its market stalls. After lots of criticism, it has now been decided to change this and make Bruges Christmas Market cozier again.
One more thing to keep in mind is that Bruges is a very famous day-trip destination for tourists (not just from Brussels, but also from Amsterdam and North of France). It's also a popular shopping destination for locals. But the majority of day visitors leave early, so the city is always quiet in the evening. And while the two main locations of the Christmas Market in Bruges can get a bit busy at times, in general, Bruges is quite deserted in the evening.
TIP: So if you can, plan to spend at least one or two nights in Bruges. That way, you can experience its magical atmosphere at night as well. As already mentioned, Bruges is even more romantic and dreamy during the Winter Glow season, when the entire old town is beautifully lit with Christmas lights.
Furthermore, there are many really nice hotels and B&Bs in Bruges (many have stunning Christmas decorations as well), and lots of nice restaurants. You can easily spend an entire winter weekend here and you'll find plenty to see and do in Bruges.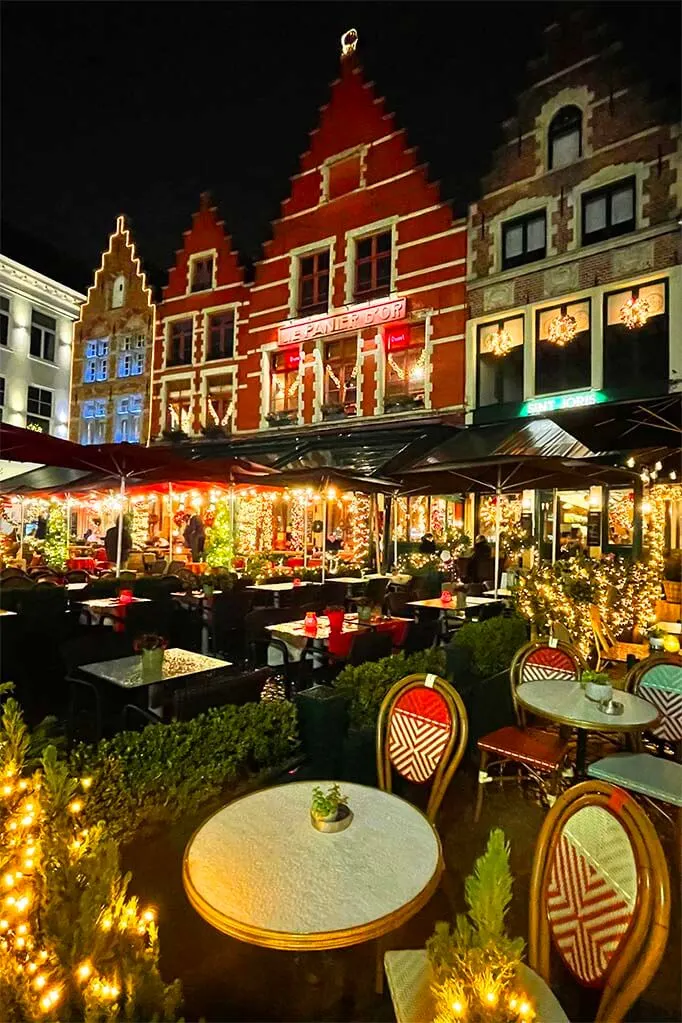 Where does the Bruges Christmas Market take place?
Bruges Christmas market usually consists of two Christmas markets. The biggest Christmas Market is located on the Grote Markt (the Market Square of Bruges), the main town square where you'll find Bruges Belfry Tower and Bruges Historium (one of the best tourist attractions in town).
There is also a smaller Christmas market on Simon Stevinplein, a cozy town square just off the main shopping street of Bruges.
You don't really need any special walking map or preparations for visiting the Bruges Christmas Market – it's so compact that you'll easily find your way to it. And if you follow the walking map that we shared in the article featuring all the main sights and attractions in Bruges, you'll pass most of the best Christmas decorations in the old town as well.
However – in addition to the Christmas Markets – there are also other places that are well worth seeing if visiting Bruges at Christmas. So don't miss those as well – see below.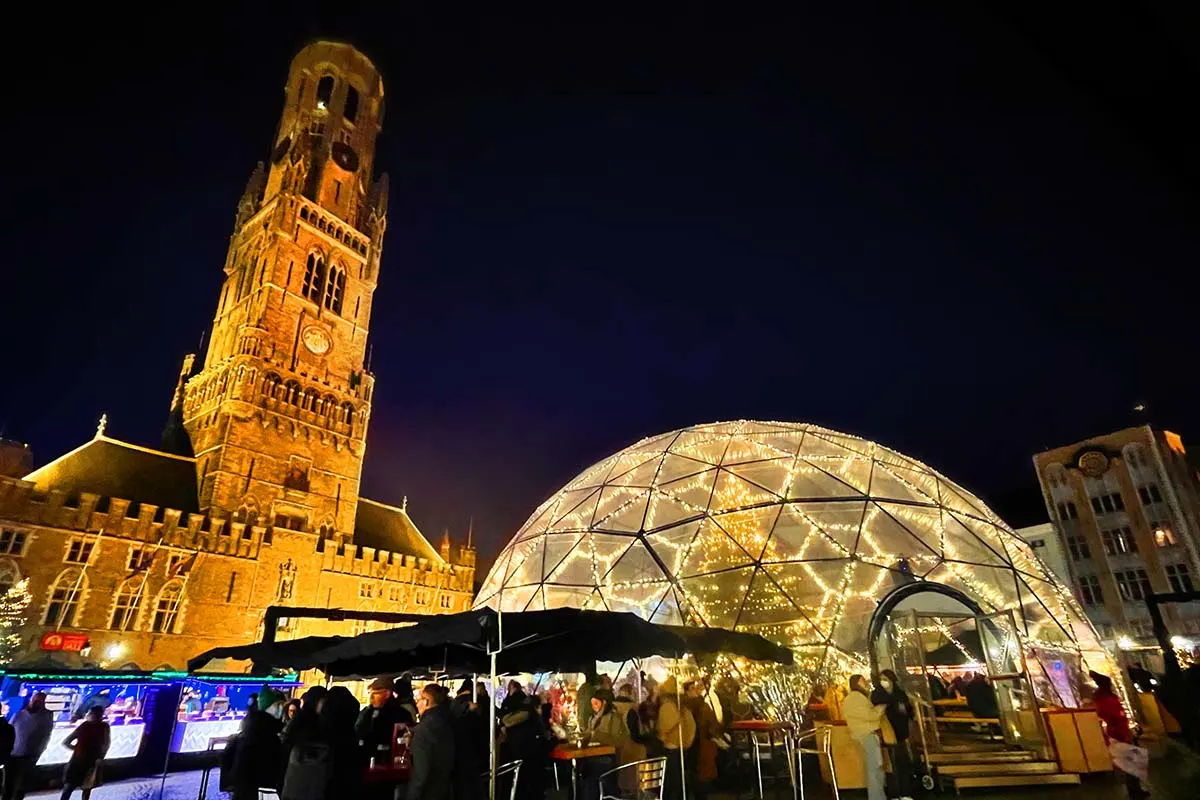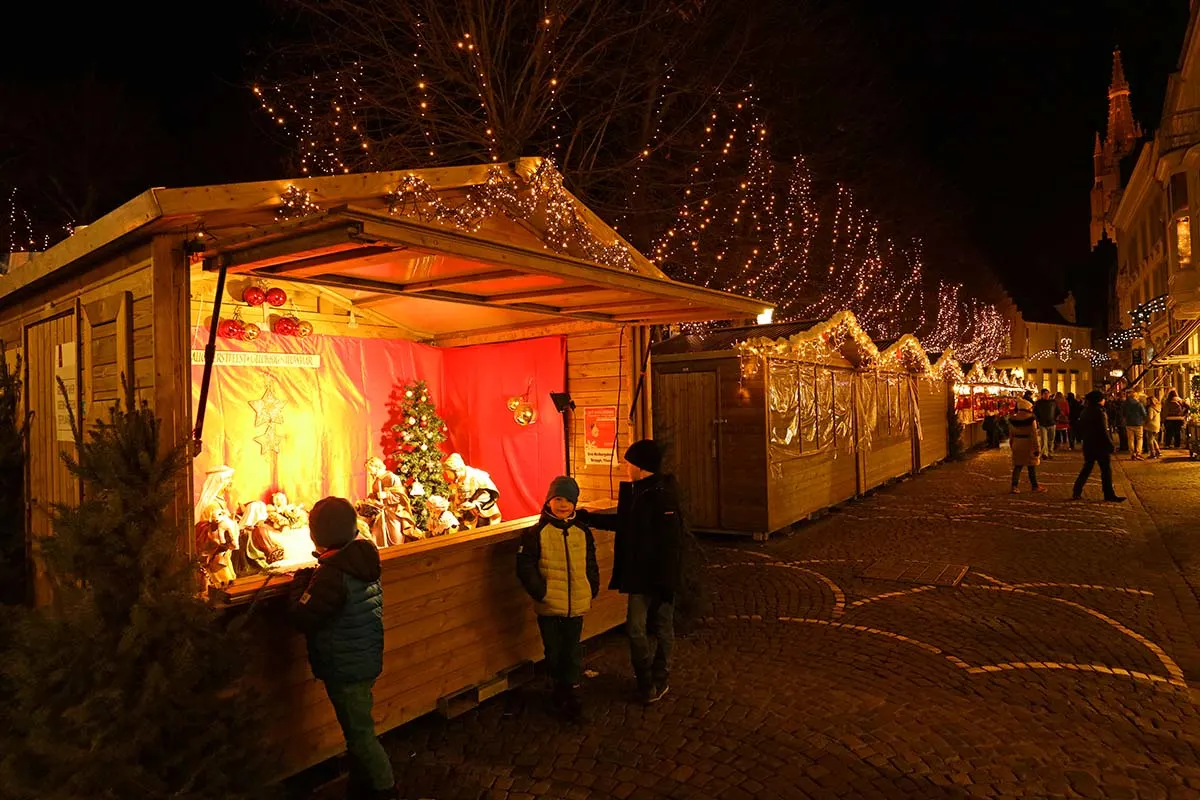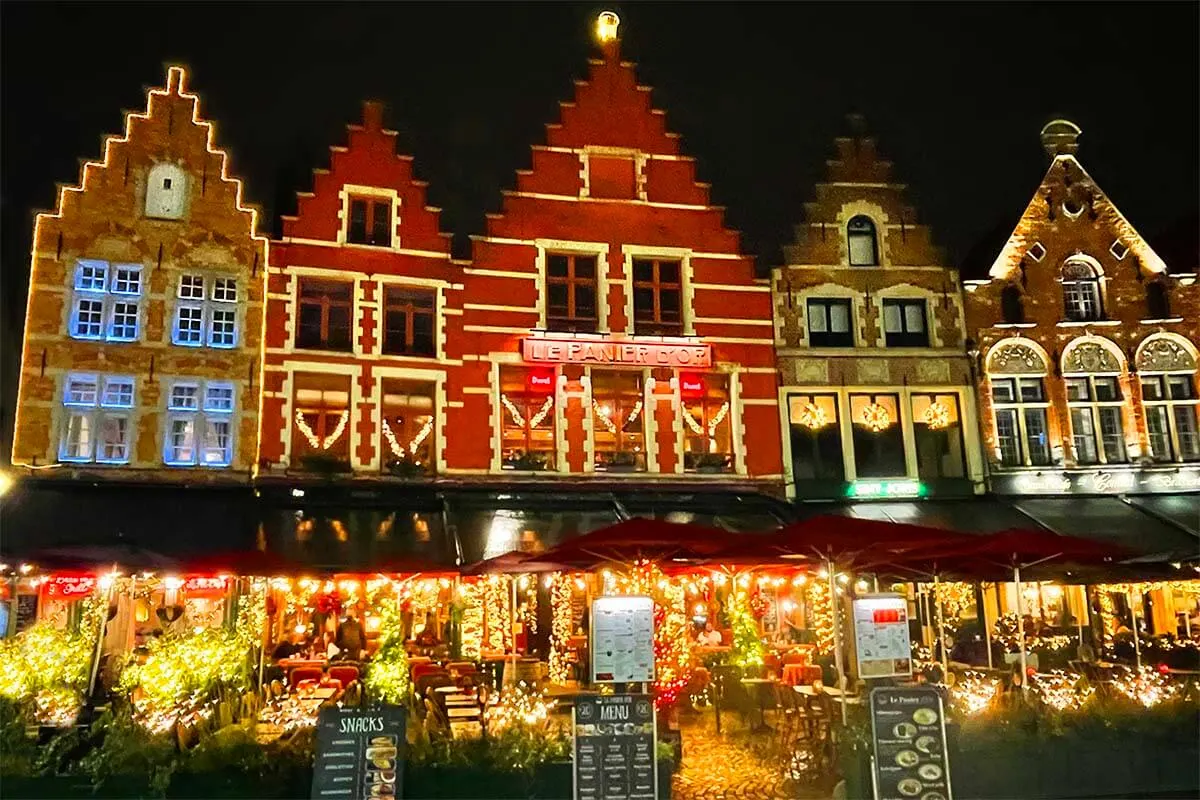 Bruges Ice Skating Rink
Every winter, during the same period when the Bruges Christmas market is open, the city also opens an outdoor ice skating rink.
However, the location of the Bruges ice skating rink is not the same every year. Sometimes it's located on the Grote Markt, but recently, the ice skating rink can be found at Minnewater (Lake of Love). There is a cozy winter bar here as well.
Practical information: The ice skating rink is normally open daily from 11 am to 9 pm (10 pm on the weekends). It also closes a bit earlier on December 24, 25, 31, and has shorter opening hours on January 1. Skates are normally included in the ticket price and there's no need (or possibility) to reserve ice skating in advance. Be sure to have a credit/debit card, because normally, they do not take cash.
Once you are inside, you can usually skate as long as you want to. For more practical info, see here.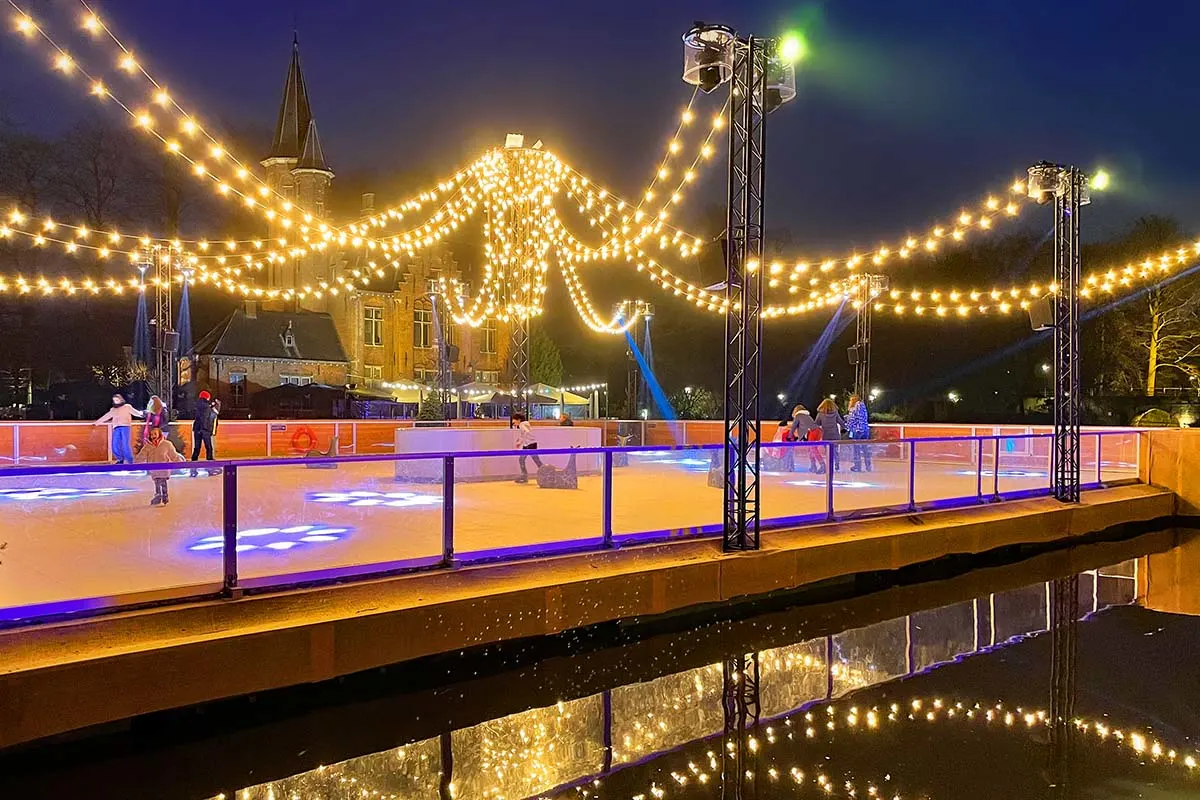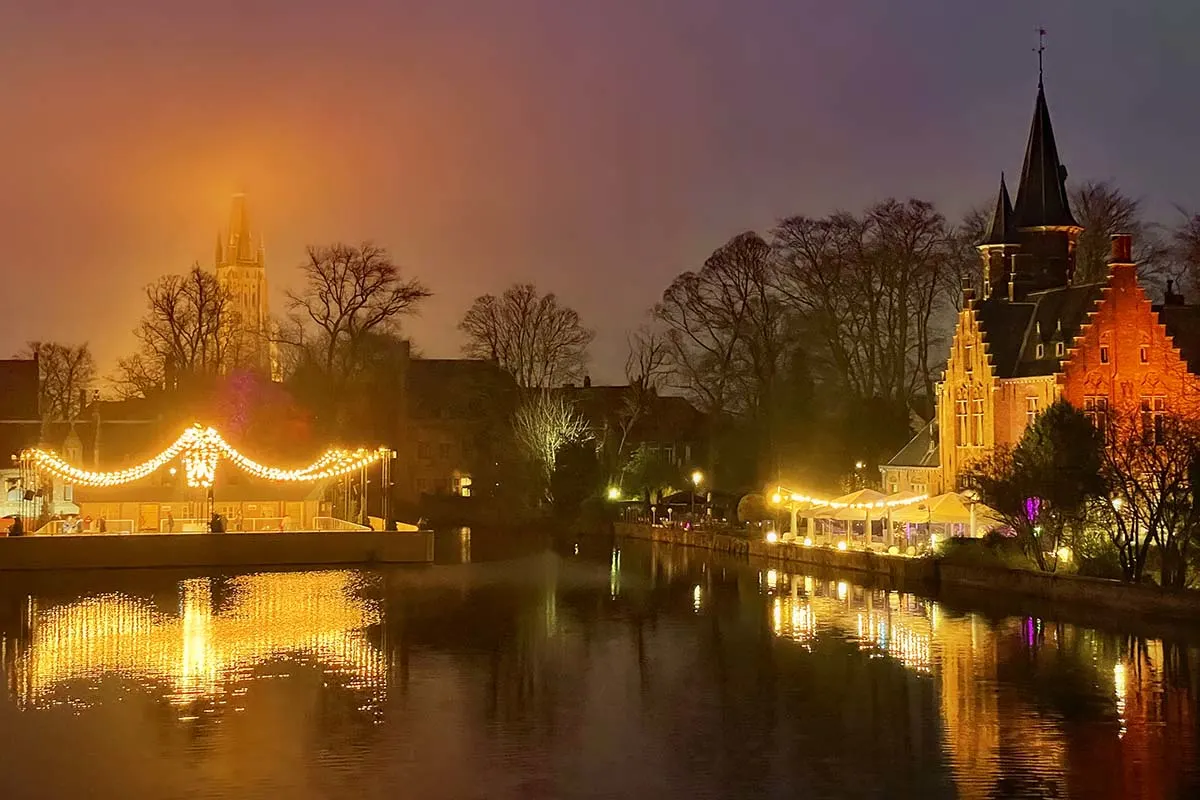 Bruges Christmas Tree
There are usually several Christmas Trees in Bruges.
The nicest one can be found in Burg Square, where you'll also find Bruges City Hall.
It's located to the east of the Grote Markt, on your way to Rozenhoedkaai, one of the most famous photo spots in Bruges.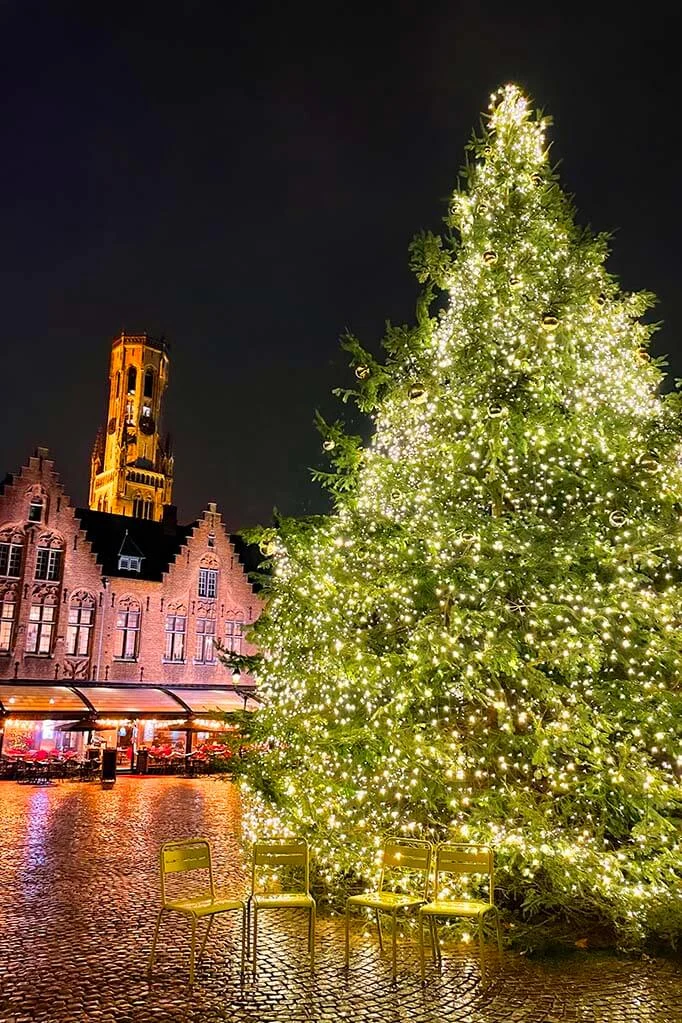 Winter Glow – Light Experience Trail
In addition to the Christmas Market and the ice skating rink, there are also various light installations throughout the city of Bruges. You can follow a light experience trail Winter Glow, and see various light installations along the way. You don't absolutely have to do the entire route, but it's another nice way to experience Bruges in winter!
Here you can find more information about this light trail and a map of all the locations. However, there are signs throughout the city leading you from one place to the other, so you'll easily find your way around even without a map.
Below are some pictures to give you an idea of what it's like.
Practical information: The light experience trail is lit every evening from 5 PM to midnight. It's free of charge. The opening dates are the same for all the Winter Glow experiences, as noted above.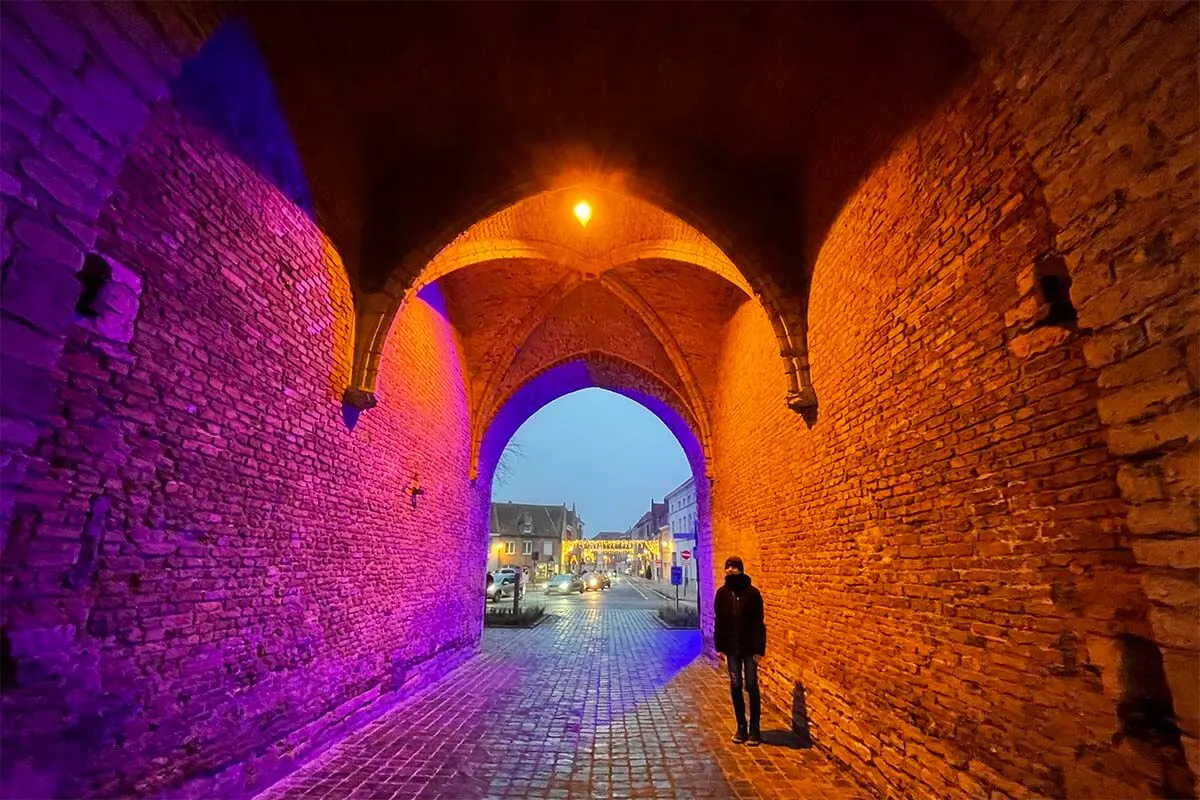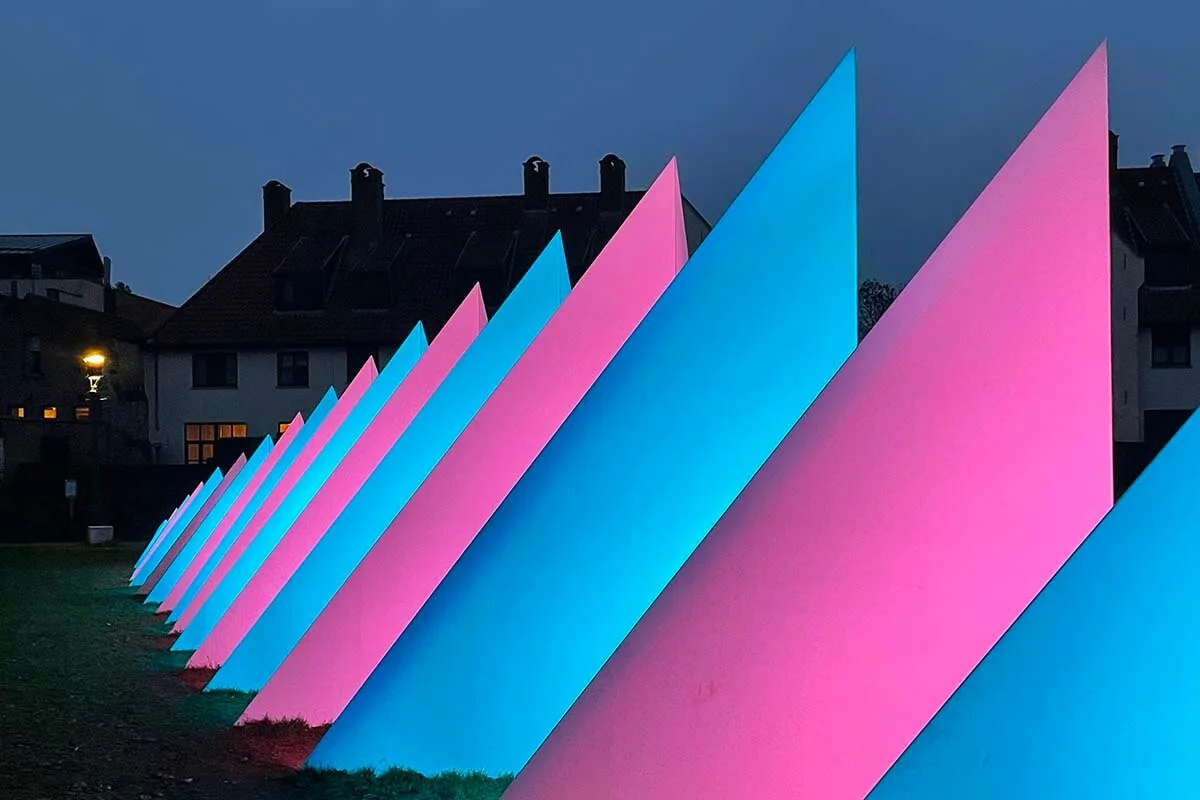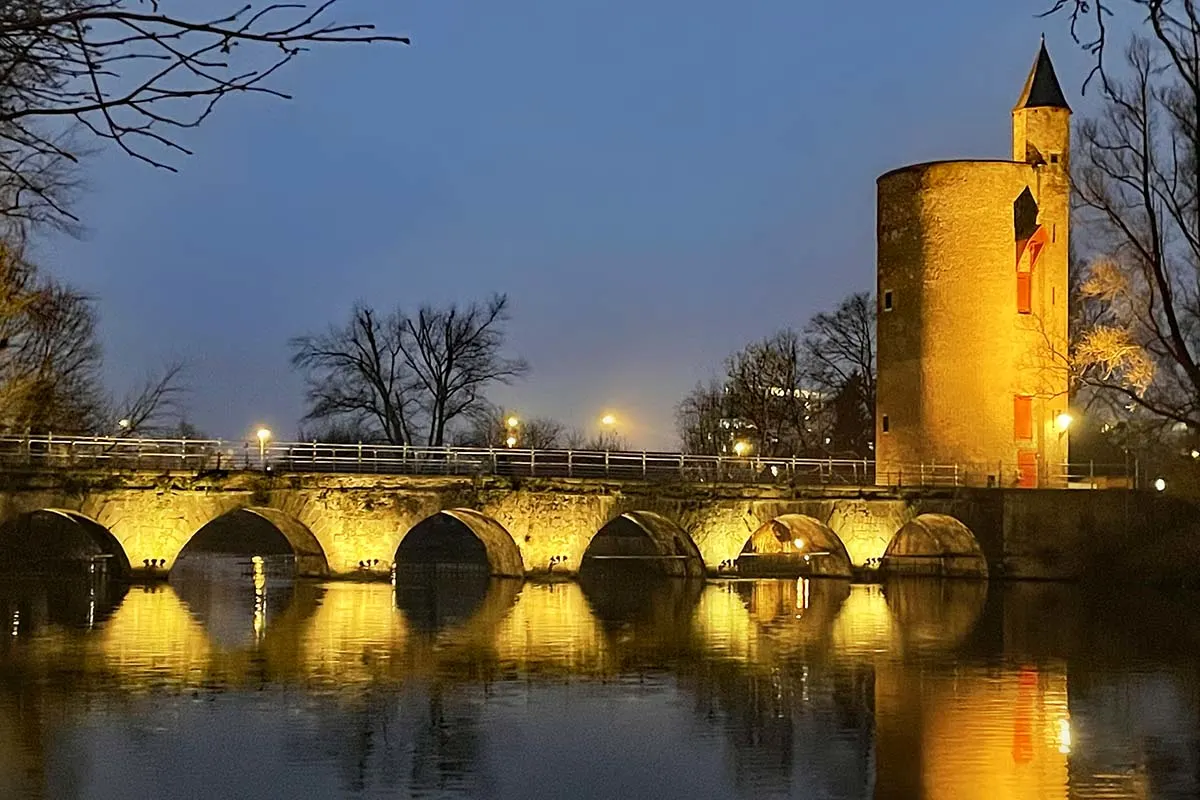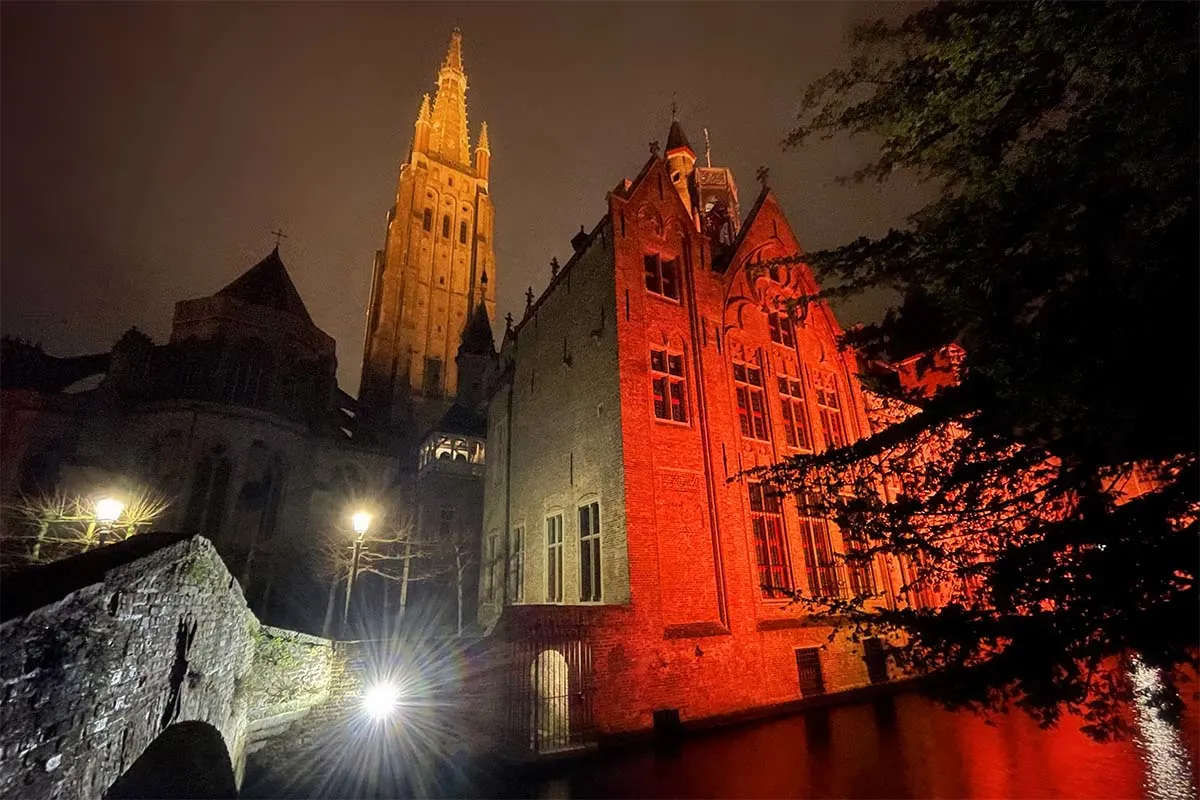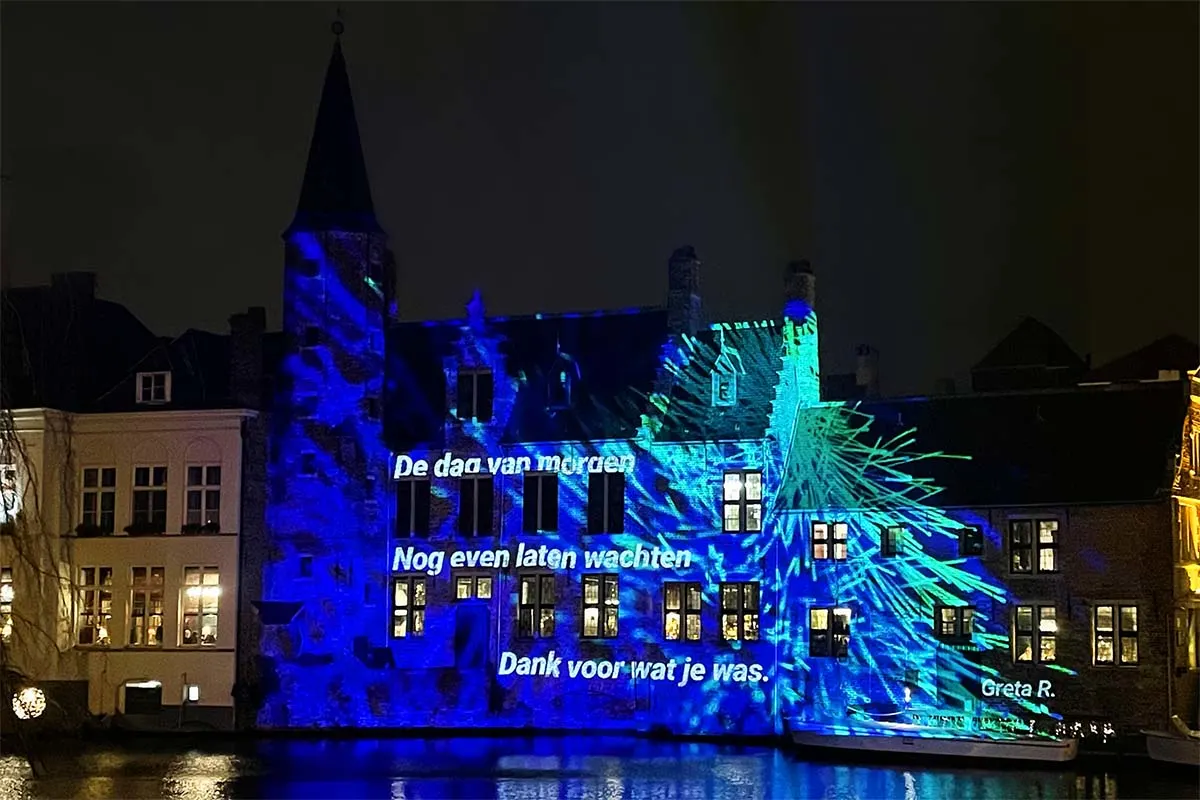 Is Bruges Christmas Market expensive?
This is the question we often get from our readers, for a big variety of destinations we write about… In all honesty, I find it difficult to answer. Because what's expensive for one person, is completely normal for others…
Let's just say that the prices at the Bruges Christmas market are comparable or even cheaper to those in the other Christmas markets in Belgium, the Netherlands, France, or Germany.
Expect to pay 3-5 EUR for a warm Belgian waffle or a crepe pancake, 3-5 EUR for Belgian fries, 2-4 EUR for a cup of tea, coffee, or hot chocolate, and 2-5 EUR for a shot of jenever or a glass of mulled wine. Ice skating costs 6 EUR.
If you want to explore Bruges by a horse-drawn carriage, prepare to pay 55 EUR for a ride (up to 5 people per carriage). Carriage rides usually start at the Grote Markt.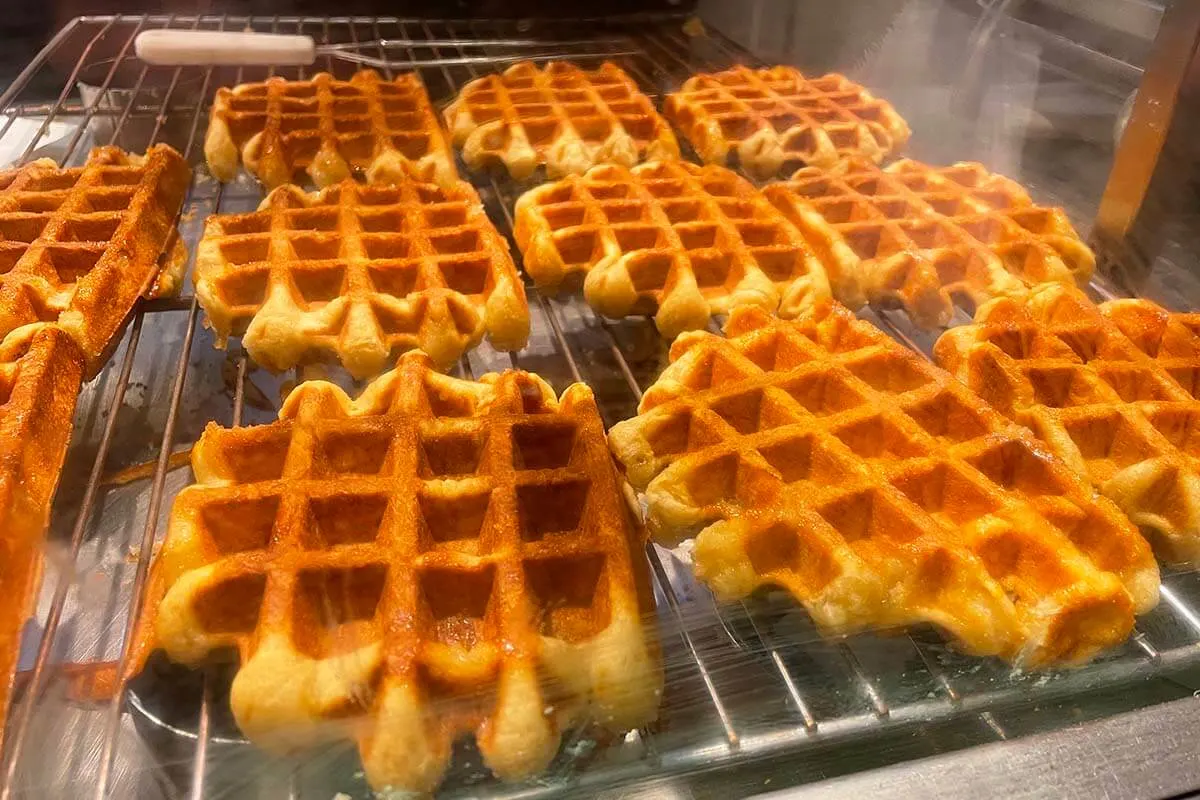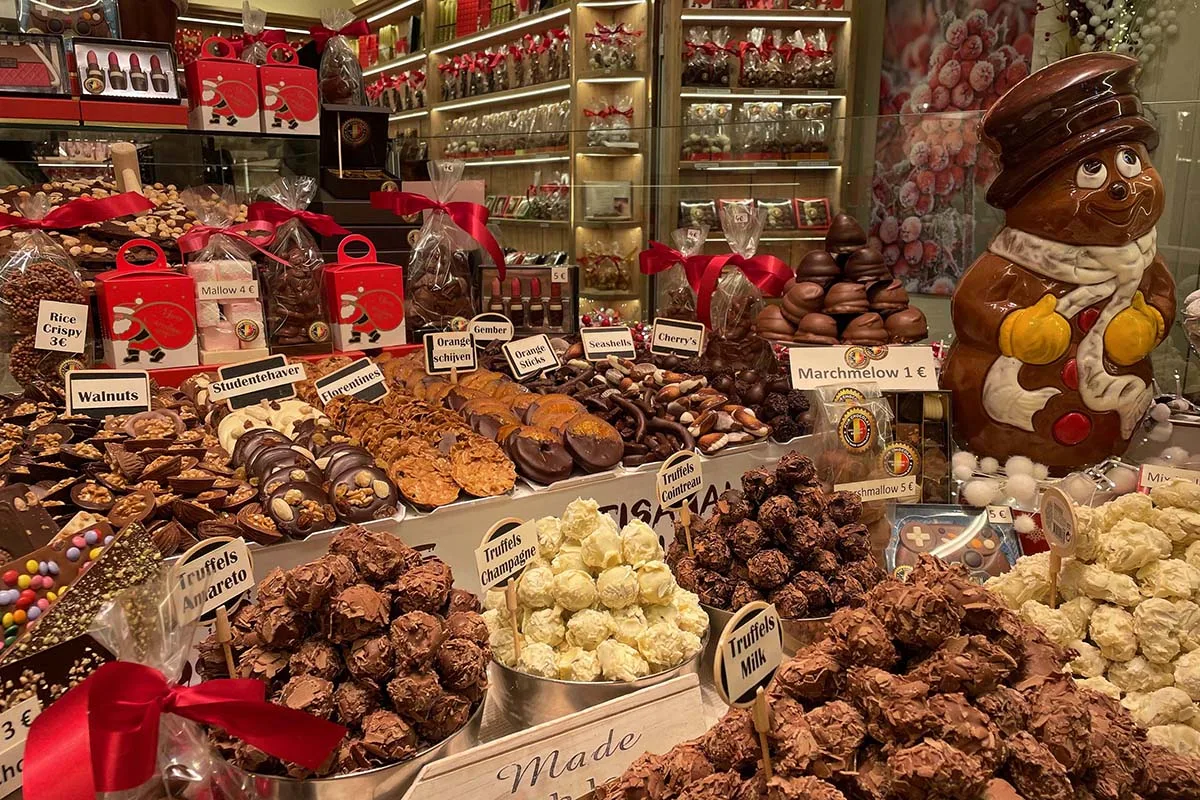 Is Bruges Christmas Market worth it?
Bruges Christmas market is quite small and – as far as Christmas Markets go – is not that exciting compared to the ones in the bigger cities in Belgium.
However, if you come here for the complete experience and take the time to explore the city deeper, then yes, Bruges is well worth it at Christmas!
The city is magical and truly fairytale-like, with all the beautiful lights and Christmas decorations everywhere. And the Christmas Market is just a nice extra that will make your Bruges winter visit even more special.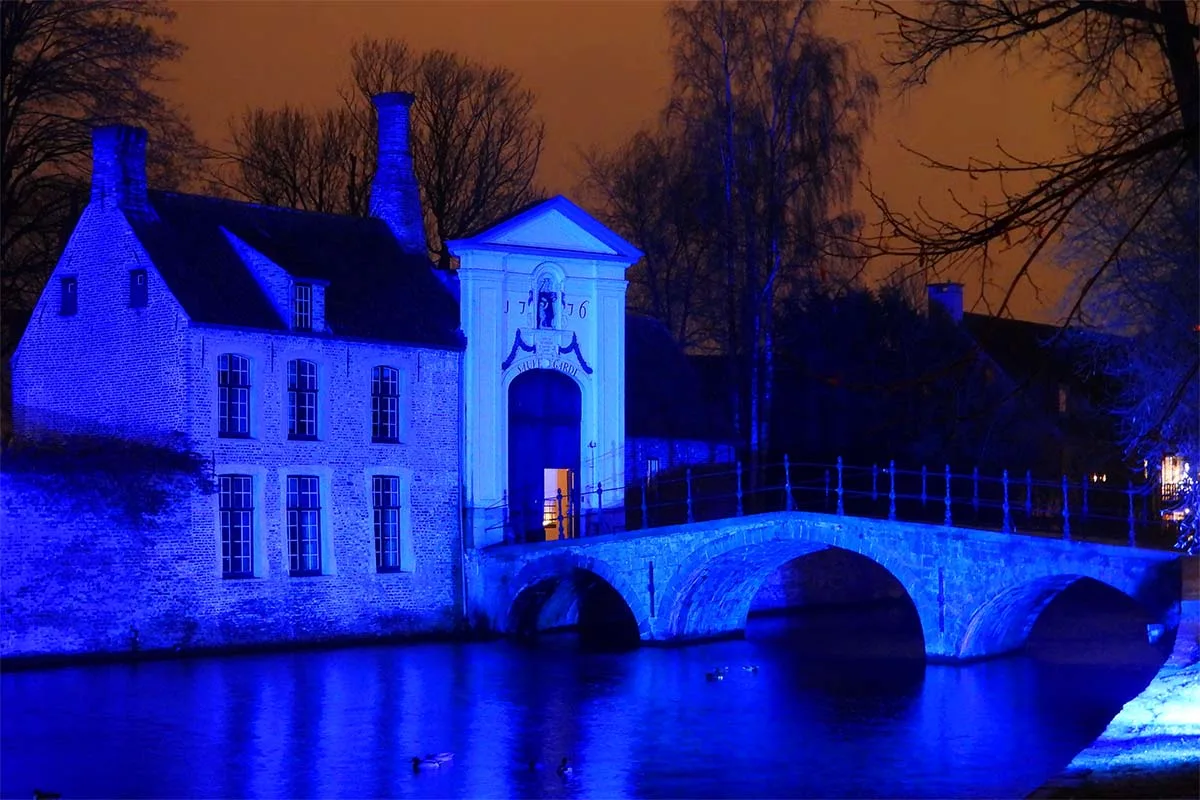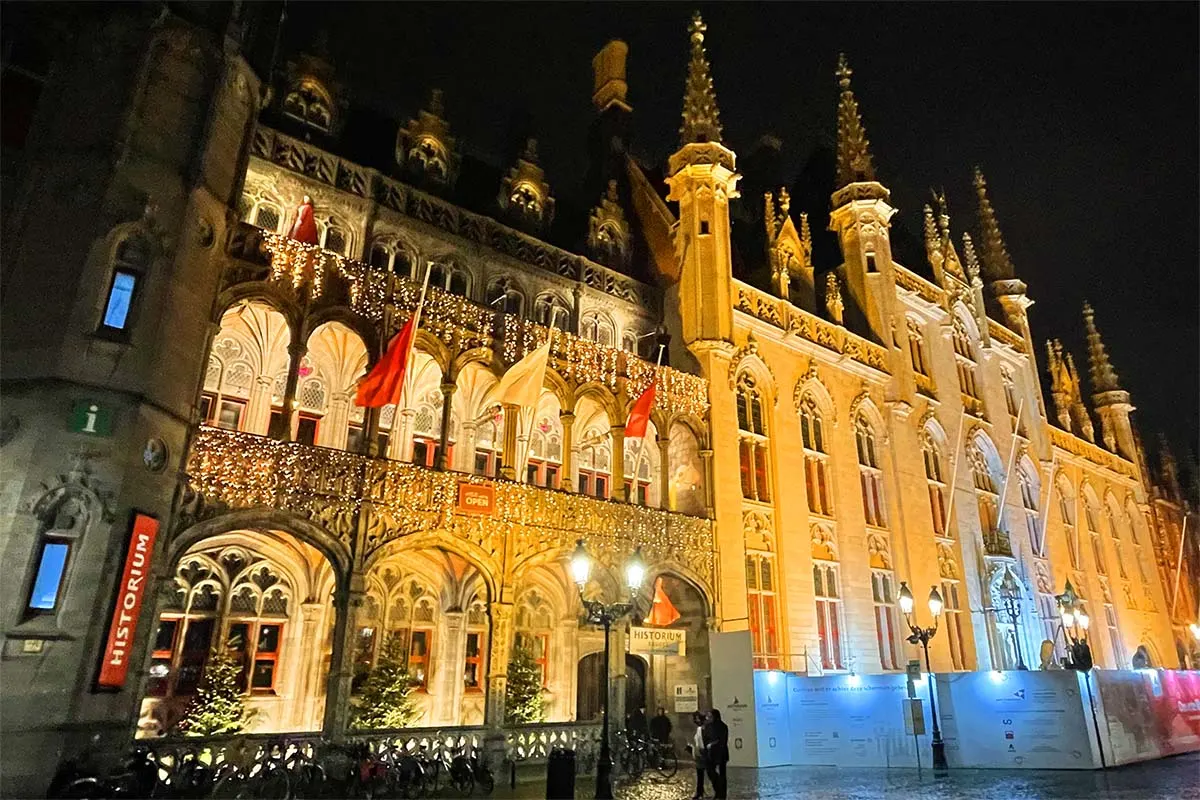 Tips for Visiting Bruges Christmas Market
If you can, try to avoid weekends. Bruges can get very busy, especially on Friday, Saturday, or Sunday afternoons during the most popular shopping weekends around Christmas.
Bring credit cards and some cash (we use Euro here in Belgium). While most stands at the Christmas market now take cards, it's always good to have some change as well. Also because you have to pay if you want to use public bathrooms (this is the case everywhere in Belgium).
Avoid coming by car on the weekends. Once in Bruges, park your car and simply walk everywhere – it's a very walkable city. If you absolutely want to drive, one of the easiest-accessible centrally-located parking is Parking 't Zand (see map). Somewhat less busy are the car parkings at the railway station. However, often it's easier (and much cheaper) to park on the outskirts of the city. Sometimes the city also offers free buses to avoid congestion in the center.
Dress warm and wear comfortable shoes – you'll be walking a lot. It can be quite windy in Bruges, so it's always a good idea to pack a warm hat and gloves. An umbrella is usually a good idea as well. It hardly ever snows in Belgium, and even less so in December than in January, so – unfortunately – your chances for a white Christmas in Bruges aren't very high. But you never know – Belgian weather is one thing you really can't foresee in advance.
If you are visiting Bruges with a baby or a toddler, you can usually manage with a stroller. However, prepare for lots of cobbled streets. And – if it's busy – it will be a very frustrating experience, so it's better to carry a baby in a carrier if you can.
Don't bring dogs to a Christmas market – it's usually much too busy for that.
Stay in Bruges for at least one night. I can't say this enough – if you want to experience that special fairytale-like atmosphere Bruges is known for, be sure to explore the city in the evening. Bruges is magical when all the day-trippers leave. Further below, we have some hotel recommendations for your winter stay – take a look!
READ ALSO: What It's Really Like to Visit Belgium in Winter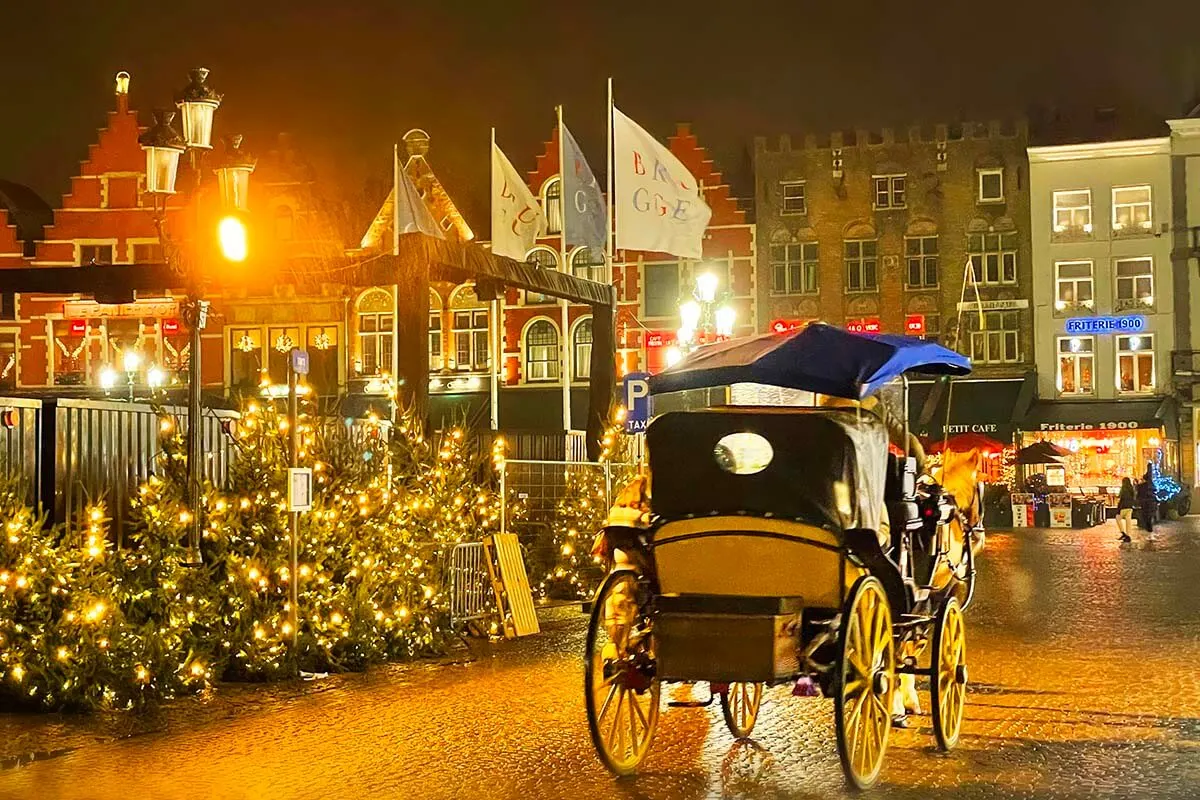 Where to stay for Bruges Christmas market
Here are some recommended hotels for your Christmas stay in Bruges, for all budgets: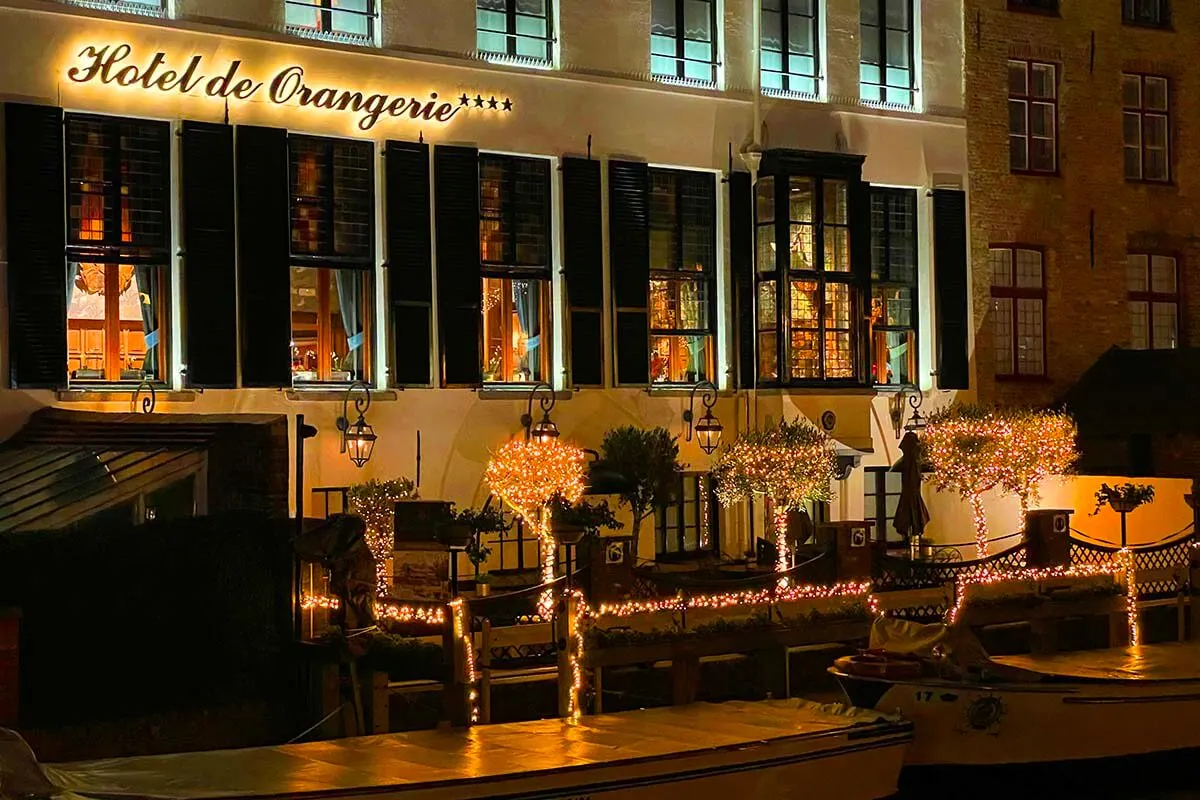 So, this is our guide to the Bruges Christmas market and Winter Glow. I hope that it gives you a better idea of what you can expect when visiting Brugges for the holiday season.
We live in Belgium and visit Bruges quite often. So if you have any questions about your trip that aren't answered in our articles, feel free to leave a reply below and we'll try to help.
Have a great time in Bruges at Christmas. It's truly magical!
READ ALSO: Best Things to Do in Bruges
More tips for your trip to Belgium:
If you found this post helpful, don't forget to bookmark it and share it with your friends. Are you on Pinterest? Pin this image!