Visiting Belgium's capital city for the first time and wondering what there is to see and do in Brussels? In this article, you can find our list of the very best things to do in Brussels. It will help you to make the most of your trip and explore the city just a bit deeper. Take a look!
Good to know: We are from Belgium and have lived in and near Brussels for several years. And I can tell you that there's so much more to see and do in Brussels than you'd ever be able to do on a short visit… So instead of trying to make the most complete list of things to do in Brussels, we focus on the very best experiences only. For each place or activity, we also share our insider tips and recommendations.
Read on to learn more about the most beautiful places to see in Brussels, the very best things to do, and the most typical Belgian experiences that will make your trip more memorable!
TIP: In order to help you plan your trip, we also created this map indicating all the best places to visit in Brussels. That way, you can see where everything is located and can easier plan your itinerary.
How to Use This Map: Use your computer mouse (or fingers) to zoom in or out. Click on the icons to get more information about each place. Click the arrow on the left top corner for the index. Click the star next to the title of the map to add this map to your Google Maps account. To view the saved map on your smartphone or PC, open Google Maps, click the menu button, and go to 'Your Places'/'Maps'.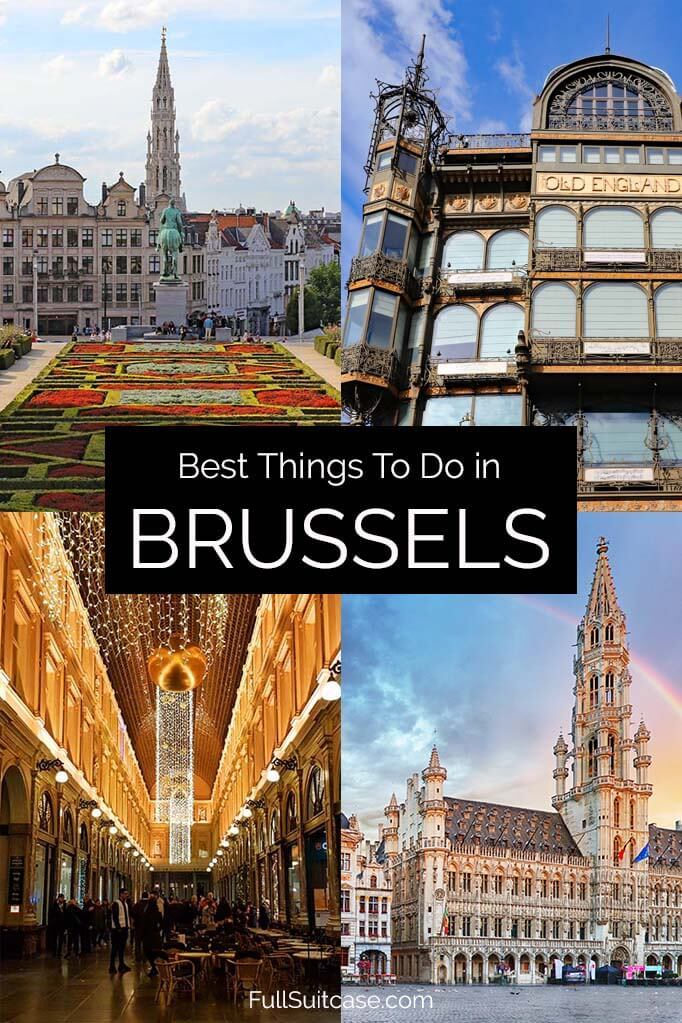 Good to know: We listed the main landmarks and tourist attractions in the center of Brussels first, followed by places a bit further away.
In addition to all the 'must-sees', we include some of the most typical Belgian food experiences as well. After all, no visit to Brussels would be complete without tasting Belgian waffles, beer, or trying moules-frites. Find out!
BEST OF BRUSSELS IN A NUTSHELL:
* TOP-5: Grand Place, Mannekin Pis, Royal Galleries, Mont des Arts, Royal Palace.
* FUN TO DO: Atomium, Mini-Europe, EU headquarters, food tours.
* MUST TRY: Brussels waffles, moules-frites, Belgian beers and chocolates.
* WHERE TO STAY: €€€€€ Warwick Grand Place, €€€€ Hotel Hubert Grand Place, €€€ Atlas Hotel, €€ MotelOne. See also: most popular hotels in Brussels.
* DAY TRIPS: Bruges, WWI Battlefields, Antwerp. Best tour – Ghent & Bruges day tour.
Here are the best things to do in Brussels:
1. Grand Place & Brussels Town Hall
If there is one place that you absolutely have to see in Brussels, it's the Grand Place (or de Grote Markt, in Dutch). Grand Place is the main town square of Brussels, home to the impressive Brussels Town Hall and the most beautiful guild houses in the world.
Grand Place is a UNESCO World Heritage Site and one of the most beautiful town squares in Europe. Even if this would be the only place you see in Brussels, Grand Place is worth a trip on its own!
Brussels Grand Place is amazing at any time of the day and in any season. Lots of big events take place here, including the annual Brussels Christmas Market in winter and the bi-annual Brussels Flower Carpet in summer. Often, there are (free) light and music shows at the town square in the evenings. It's always magical!
But even if there is nothing special going on, I recommend visiting Grand Place during the day and also in the dark. The buildings are beautifully lit at night and it's well worth coming back for it.
Practical info: You can visit Grand Place at any time and it's free of charge. Brussels Town Hall can also be visited inside, but only with a guided tour that runs just two days a week. More info here.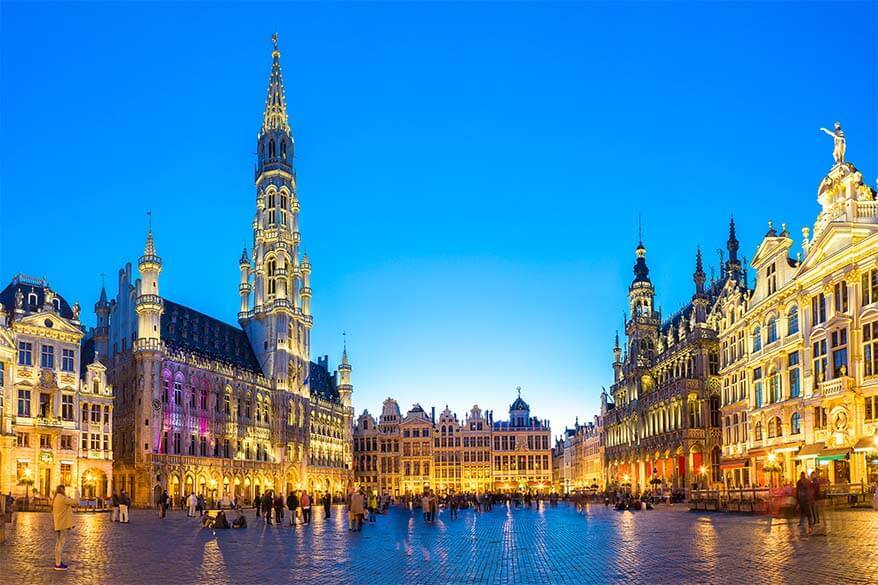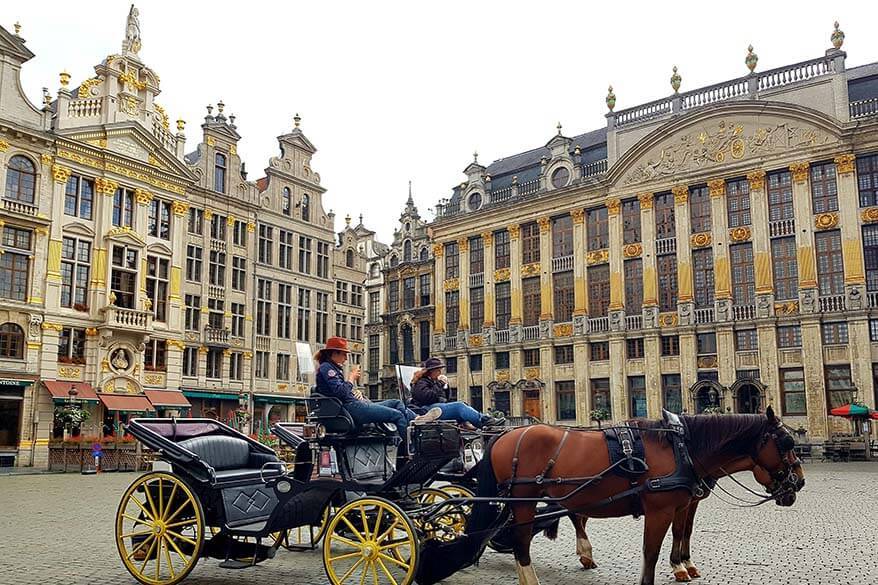 2. Royal Gallery of Saint Hubert
The Royal Gallery of Saint Hubert is one of the most beautiful landmarks of Brussels! In fact, there is not one, but two connecting galleries – Galerie du Roi (Gallery of the King) and Galerie de la Reine (Gallery of the Queen).
Opened in 1847, these impressive galleries not only transformed the formerly poorer part of the city, but also put Brussels on the map as one of the greatest cities in Europe at that time. It quickly became the place to see and to be seen, attracting the rich and the famous. The former Café des Arts (now Taverne du Passage) was a popular meeting place for writers and artists, such as Victor Hugo, Alexandre Dumas, and many others.
Nowadays, this impressive arcade houses many luxury boutique shops, beautiful cafés, and stores selling local delicacies and traditional Belgian chocolates. Inside, you'll also find the Cinéma des Galeries, the historic movie theatre dating from 1939.
Practical info: The Royal Galleries are always open and it doesn't cost anything to walk through them. The shops and the restaurants inside have varying opening times.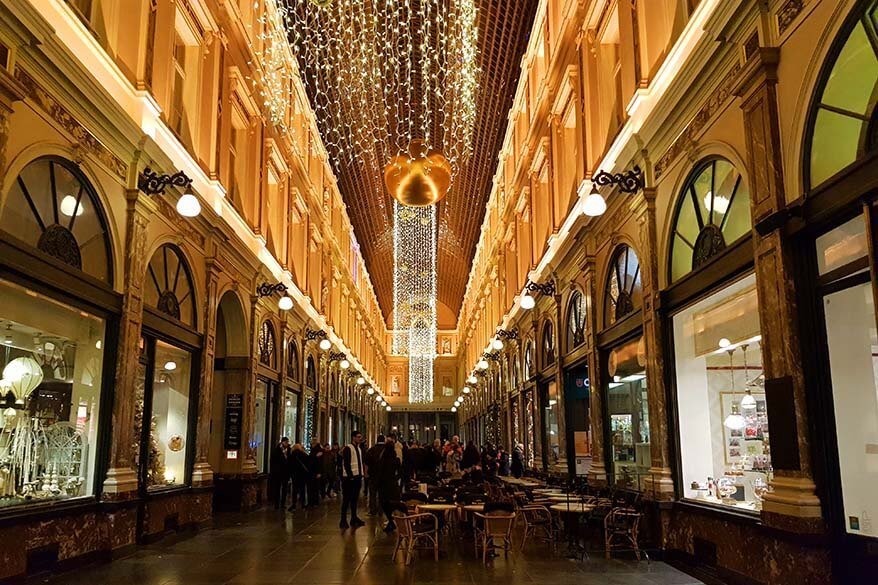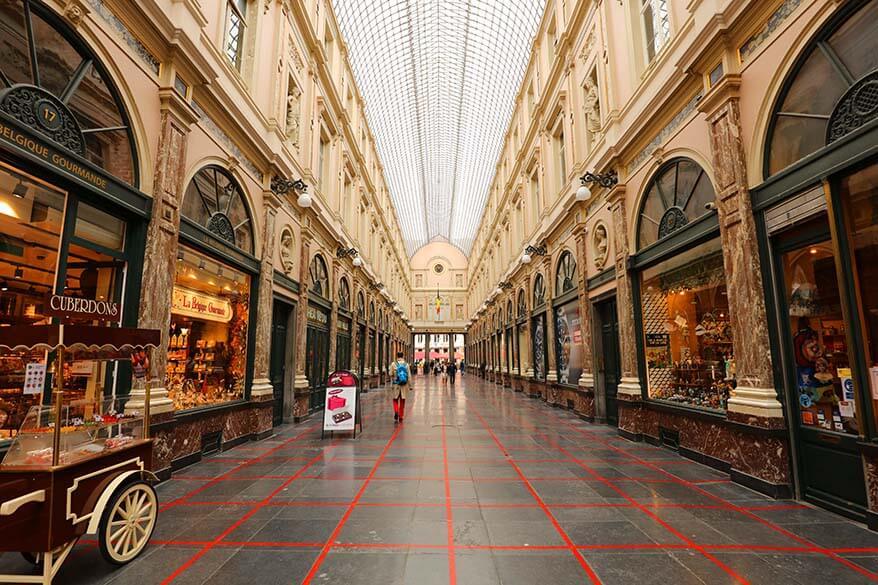 3. Manneken Pis
Manneken Pis (the peeing boy) is the quirky symbol of Brussels. And while you'll most likely be underwhelmed with the sight of this tiny statue, it's one of the main landmarks of Brussels that every first-time visitor absolutely has to see.
Legend has it that a small boy stopped a fire from spreading in Brussels by peeing on it. And so the city was saved and the little peeing boy became its symbol. The current statue dates from the early 17th century, but archives show that there was a similar fountain here as early as the 14th century.
Manneken Pis is normally naked, but he also has a huge collection of costumes that he wears for a variety of different occasions. He received his first set of clothes in the late 17th century and his oldest surviving costumes date from the 18th century. Nowadays, Manneken Pis has over 1000 costumes, with 20-30 new items added to the collection every year. If you want to see his wardrobe and learn more about this peculiar little statue, check out the museum GardeRobe Manneken Pis.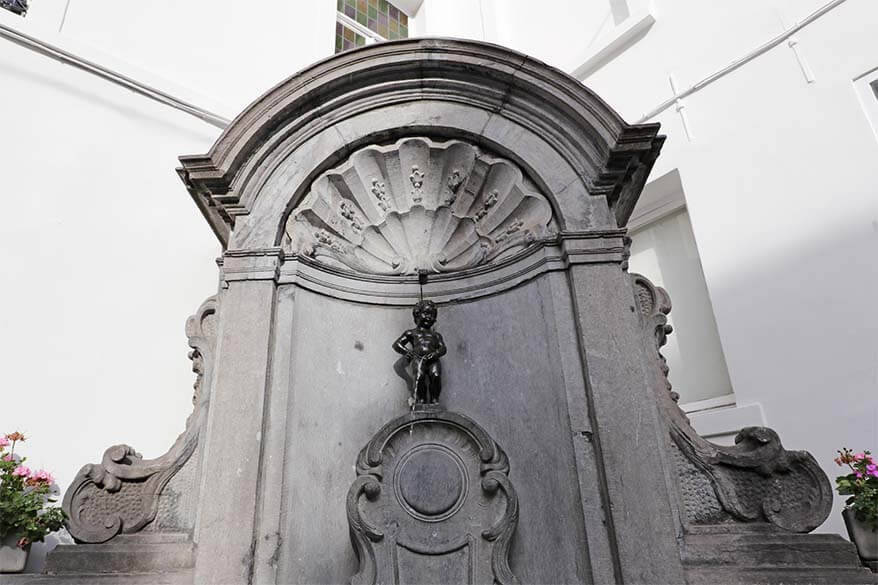 TIP: If you have the time, you may also want to locate the statue of a little peeing girl – Jeanneke-Pis. While not as famous as Manneken Pis and usually locked behind metal bars, this little fountain has always been a popular 'hidden gem' in Brussels. If you want to check it out, I indicated its location on our map above.
And no, that's not all. Brussels has something with 'urinating' statues. There is also a Zinneke Pis, which is a statue of a peeing dog. This – for now – completes the trio of peeing statues of Brussels. But tourists sure seem to like them, so I wouldn't be surprised if we see a few more of those appearing in the future.
Practical info: You can see Manneken Pis and other statues at any time and there is no fee. If you are interested in the museum, check the above link for more information.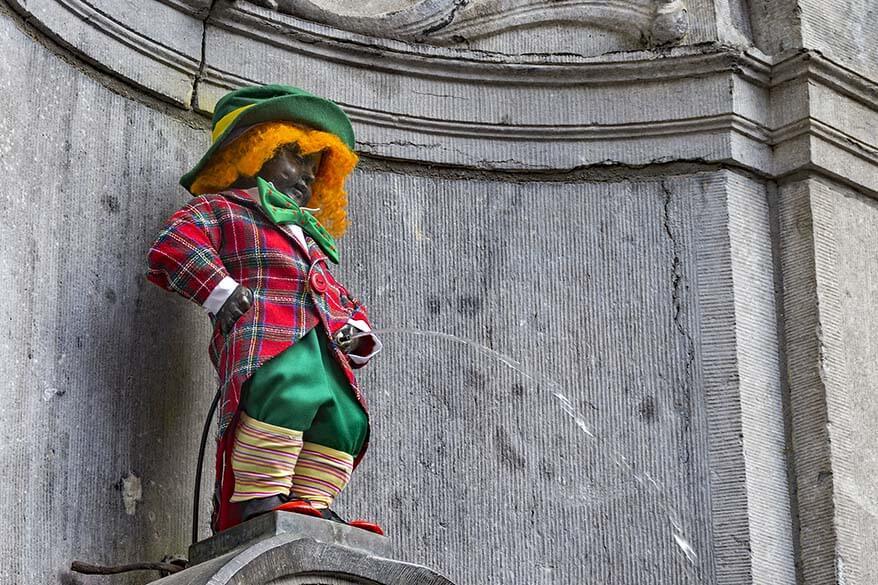 4. Brussels Cathedral
One of the most impressive buildings of Brussels – St Michael and St Gudula Cathedral – is another must-see in the city. It's just 5 minutes walk from Grand Place and well worth the short detour.
St Michael and St Gudula Cathedral is the main church of Belgium, where all the Royal religious ceremonies take place. This is where Belgian Royals get married, princes and princesses are baptized, etc.
The exterior of the Cathedral is really impressive. However, it's very hard to appreciate its beauty because it's literally squeezed in between different streets and buildings, which makes it difficult to see it in its full grandeur. The front façade is best visible as there is a small square in front of it, giving you a better perspective in order to admire this colossal building.
The interior of the Cathedral is beautiful too and can be appreciated much easier than its exterior.
Practical info: The Cathedral is open daily and you can visit freely. So if there's no Mass celebration at that time, definitely take a look inside.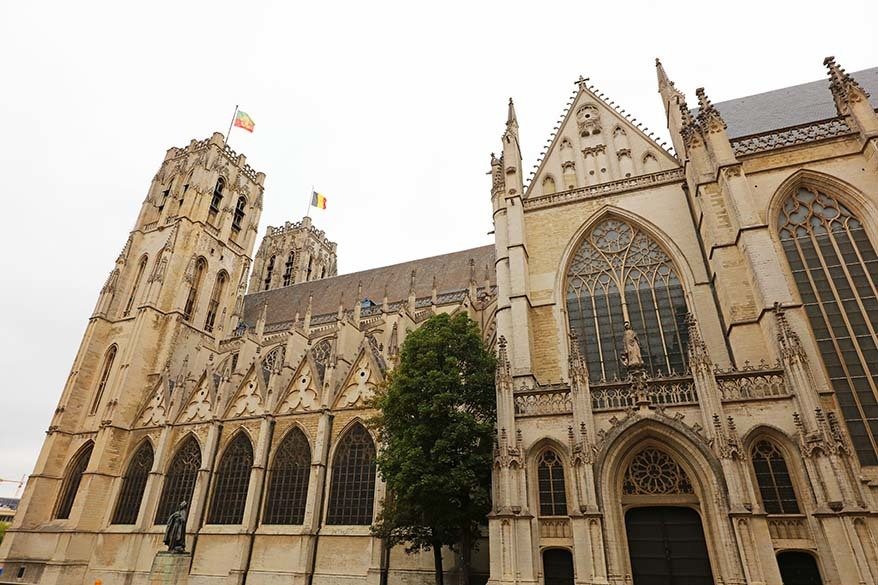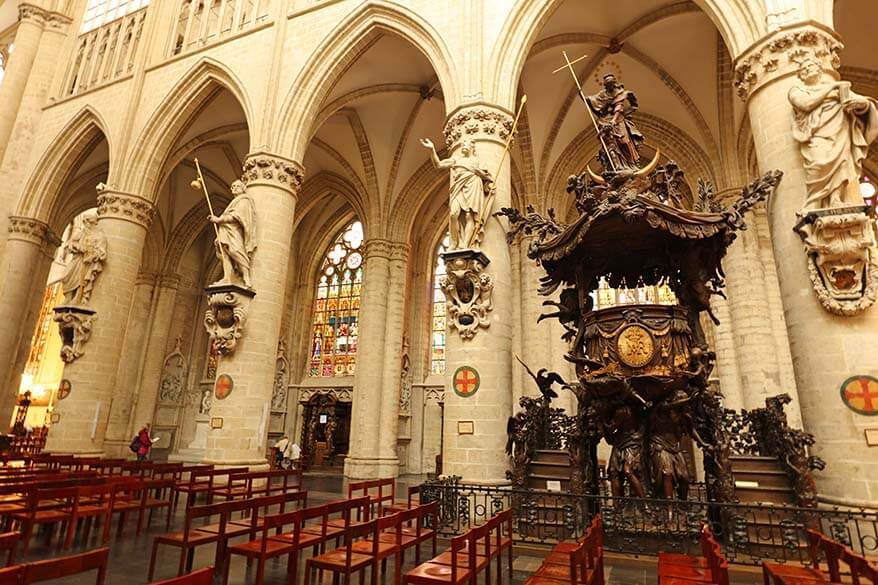 5. Mont des Arts
Mont des Arts (Hill of the Arts) is a little hill in the center of Brussels, offering one of the best viewpoints of the city. As you walk the stairs all the way to the top, you get to see a beautiful panorama of the Brussels skyline. This is the typical postcard-view of Brussels.
Historically, this hill connected the lower working-class part of the city with the upper part where aristocrats used to live. The Royal Palace of Brussels can be found on top of the hill, whereas the Town Hall can be seen below.
At the bottom of the hill, you'll find the statue of Belgium's King Albert I and the landscaped Mont des Arts Garden. Another thing to look out for is the Carillon of Mont des Arts. It has 24 bells and an impressive star-shaped clock, but is a bit hidden out of sight and often overlooked by first-time visitors. However, it's also well worth seeing, so make a little effort to locate it. You can find it on the eastern side of the archway above the street of Mont des Arts.
Practical info: All these places are outdoors and can be seen at any time. Also, don't worry about the stairs – this is not a steep hill at all. Furthermore, if you don't want or can't do the stairs, you can just take the sidewalk of the Mont des Arts Street that brings you to the top of the hill.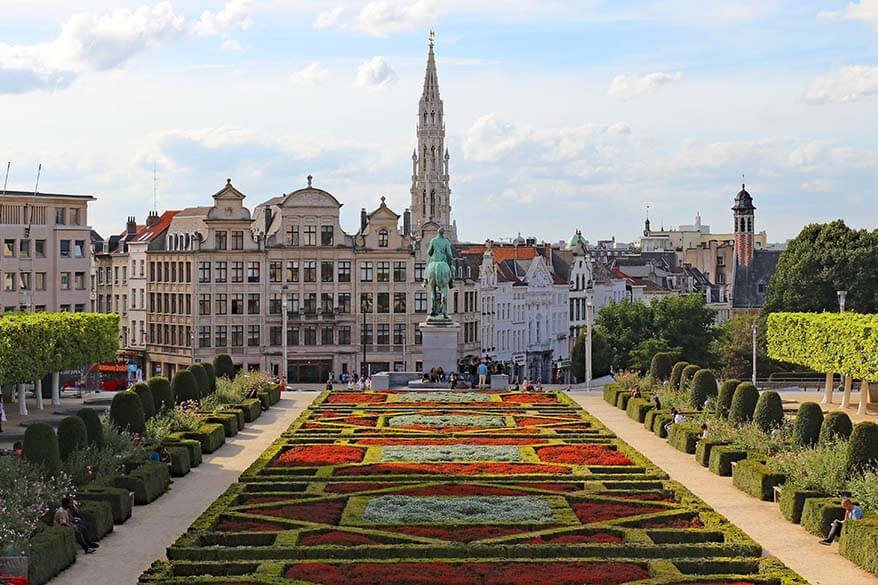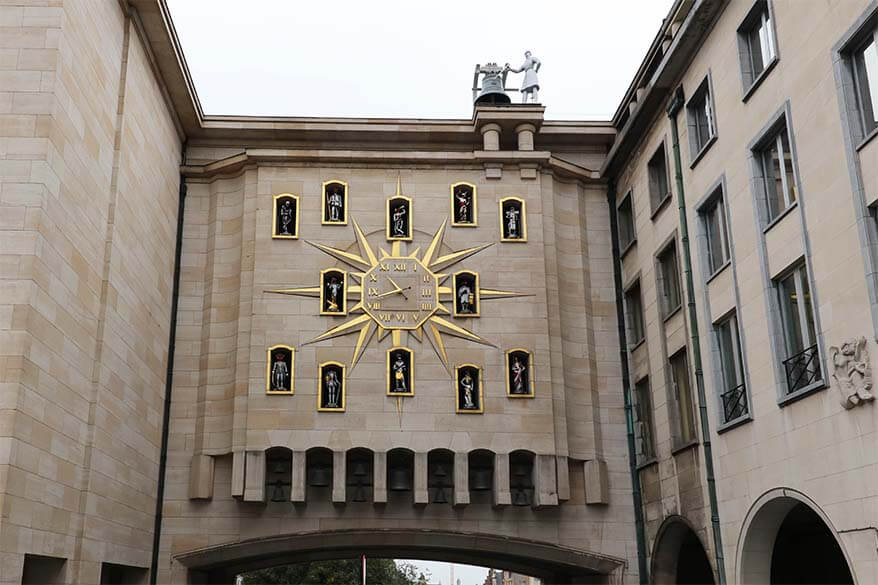 6. Musical Instruments Museum
Just at the top of the Mont des Arts, stands an impressive Art Nouveau style building that houses the Museum of Musical Instruments (MMI). This is one of the most beautiful examples of the Art Nouveau architecture that Brussels is famous for.
MMI has been established in 1877 and now has over 7000 musical instruments from all over the world and from many different periods. This is one of my personal favorite museums in Brussels.
Every visitor receives headphones that start to play music of the instrument near you. This makes the visit even more special.
But even if you have no time to visit the museum inside, you really shouldn't miss this beautiful building. It's located on the popular tourist route anyway, so no need to make an extra effort or get out of your way for it.
Practical info: The museum is open daily except on Mondays and some public holidays. For more up-to-date information and opening times, please check the official website. This is one of the museums that's included with the Brussels Card.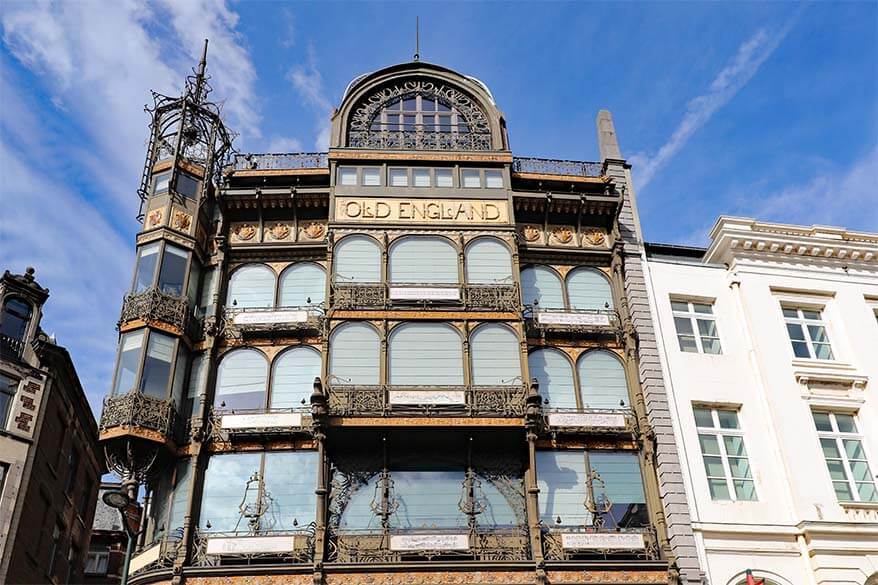 7. Royal Palace & Place Royale
Belgium is a monarchy and we have a beautiful Royal Palace right in the middle of Brussels. The Royal Family actually lives in another palace in Laken, on the outskirts of Brussels. The palace in the city center is where the Belgian King works. It's also used for various ceremonies, state dinners, and other official occasions.
Normally, you can only admire the palace from the outside. Nevertheless, it's worth passing by here because it's a truly impressive building. Also, you can't really miss the Place Royale Bruxelles, a big square with a statue of Godefroid de Bouillon on his horse in front of the Saint Jacques-sur-Coudenberg church.
Good to know: The Royal Palace is only open for visitors for a brief period of time in the summer. It opens to the public after the 21st of July (Belgian National Holiday) and stays open until the last week of August. You can visit every day except Monday and it's free of charge. If you happen to be in Brussels during this time, it's definitely worth a visit, but be prepared for the crowds.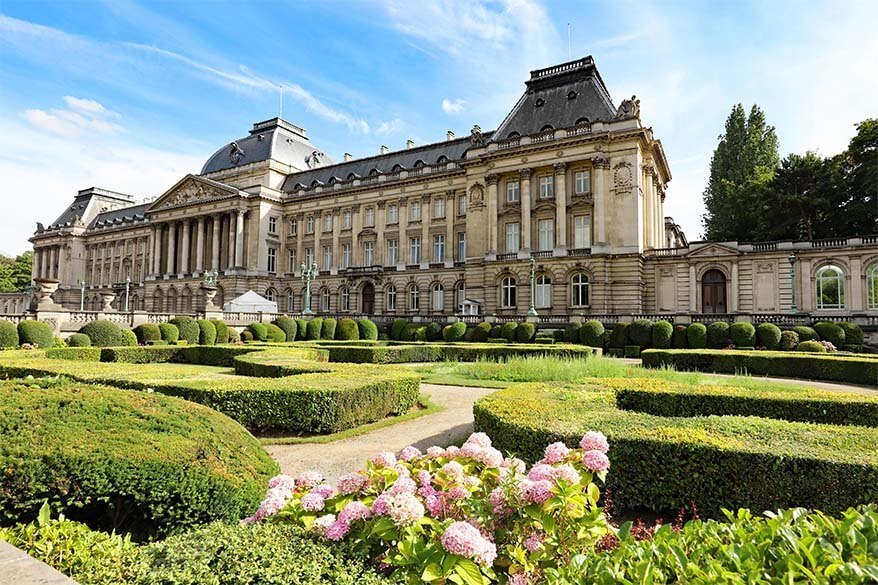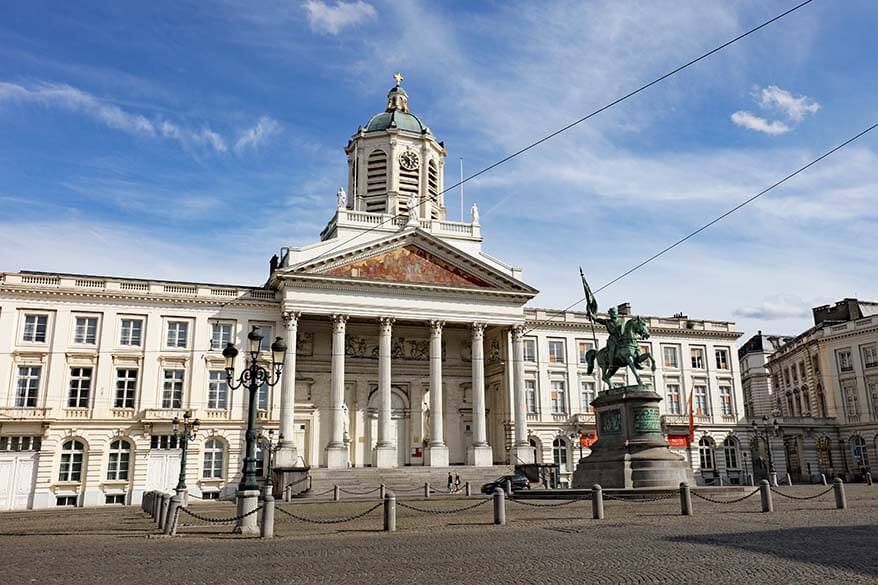 8. Brussels Park
Right in front of the Royal Palace, there is a nice small city park – the Royal Park or the Brussels Park. Located on the former hunting grounds that in the past were reserved for the aristocracy, this public park was established in the 18th century.
Brussels Park is quite small and you can see everything in 15-30 minutes. It has several fountains and beautiful statues, and you can escape the hustle and the bustle of the city for a few moments here. There are also one or two cozy outdoor cafés in the park.
Practical info: The park is open daily, from 6 AM to 10 PM and is free to enter. It's more lively in the afternoons and on the weekends.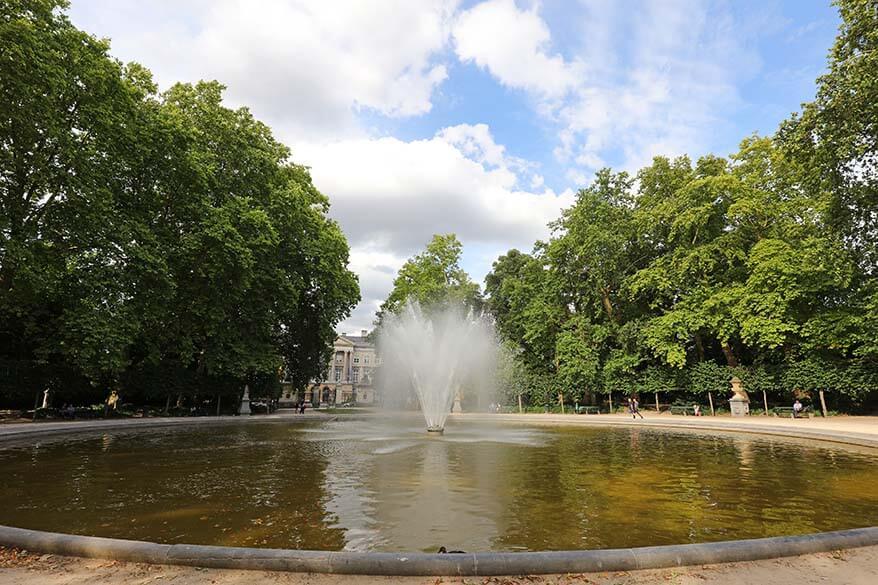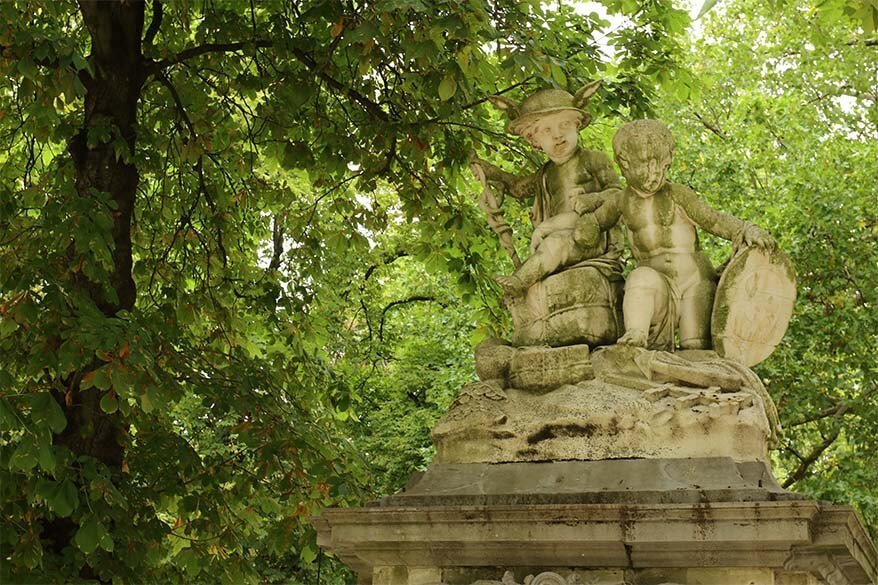 9. Petit Sablon Neighborhood
Just a short walk from the main tourist attractions, in the heart of Brussels, lies a very nice local neighborhood called Petit Sablon. It's an area where historic architecture and modern artsy lifestyle mingle to create a very unique atmosphere. This is one of the nicest, trendier, but also very local parts of Brussels.
Don't miss the Église Notre-Dame des Victoires au Sablon (Church of Our Lady of Victories at the Sablon). It's one of the most beautiful churches in Brussels! The little park at the Square du Petit Sablon, just opposite the street from the church, is also very nice. Don't miss it.
For the rest, just stroll through the neighborhood, following the information panels that indicate all the main sights. One of my favorite places here is the town square Place du Grand Sablon. It's lined with art galleries, trendy boutiques, artsy cafes, and luxury chocolatiers. On the weekends, this is where you'll find Brussel's most famous antique market.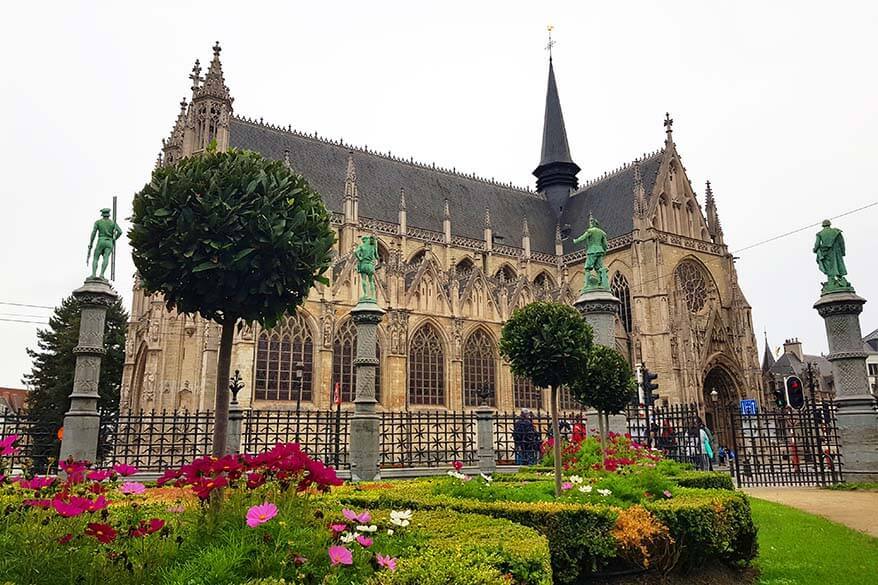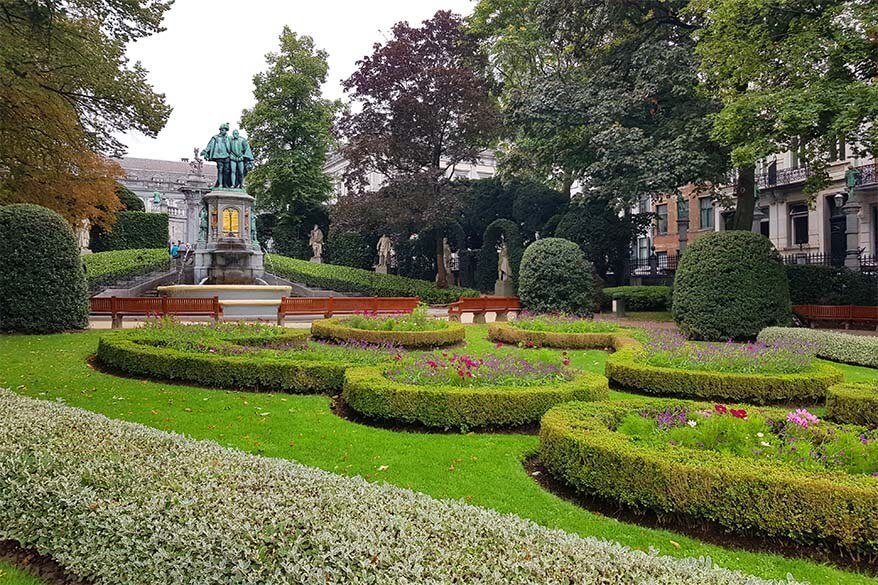 10. Rue des Bouchers
Probably the most famous restaurant street in Belgium, Rue des Bouchers is another top tourist attraction in Brussels. It's a colorful, lively pedestrian street, packed with bars and restaurants. Most of them offer all kinds of seafood, and you'll see impressive displays of shellfish on ice all over the place.
Most restaurants here are really oriented towards tourists, with pictures on the menu, food displays, and waiters trying to convince you to sit down at their restaurant. It will take some willpower to cross this street without actually sitting down for a meal. But it's also a very well known place to see in Brussels, and so even if you don't plan to eat here, you should definitely check this street out!
Good to know: Rue des Bouchers is a popular place to try the traditional Belgian 'moules-frites' (mussels and fries). However, in general, you'll get better value for money in the more local restaurants. The best season for Belgian mussels is from the beginning of July to around mid-April.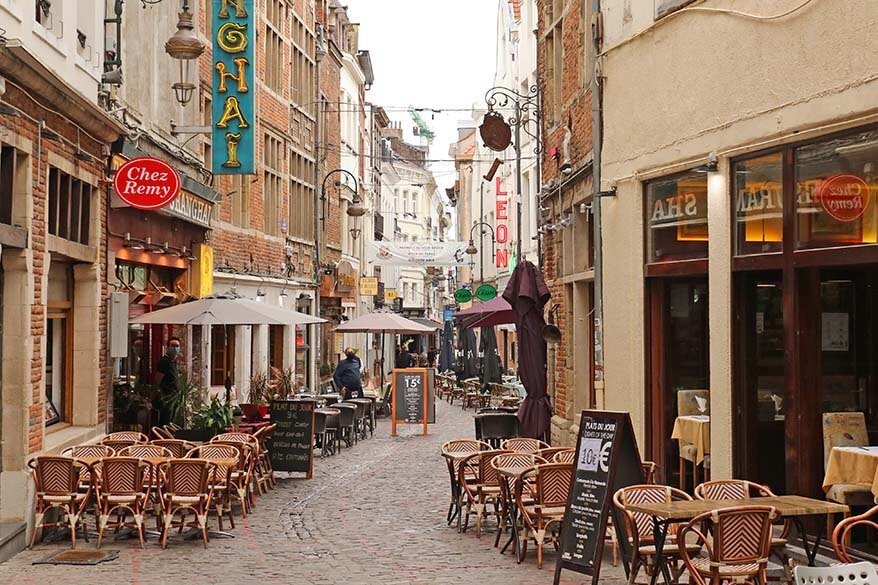 11. Place de la Bourse
Place de la Bourse (Stock Exchange Square) is a town square in front of the old Brussels Stock Exchange building. It's a popular place for all kinds of events and also political demonstrations.
The Stock Exchange building itself doesn't really have an official name and is often simply called Palais de la Bourse (the Stock Exchange Palace).
This colossal 19th-century building has an impressive facade that makes you think of Greek temples. It's even guarded by lion statues on the sides. However, it hasn't been used as a stock exchange for a long time and nowadays serves as a space for various exhibitions.
Practical information: Stock Exchange Square is located just near Grand Place and only takes a few minutes of your time. So check it out!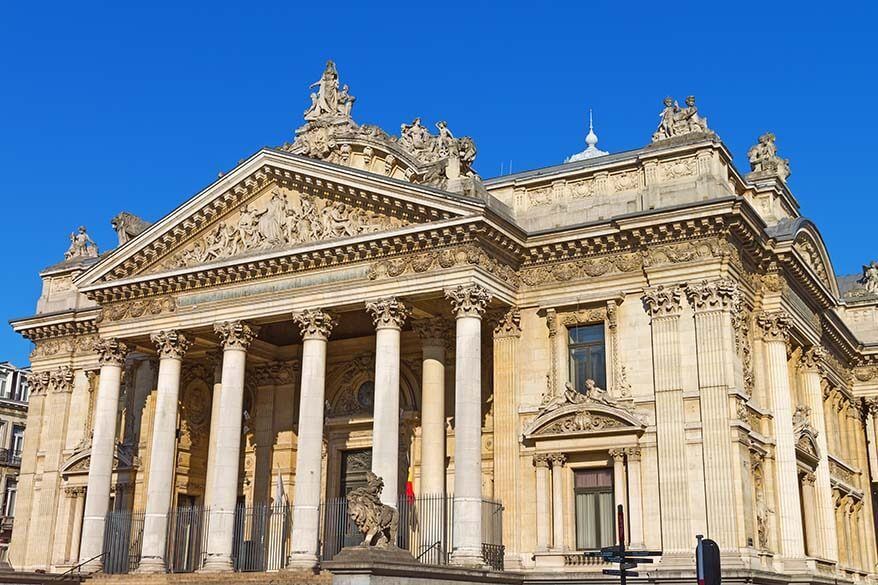 12. Saint Catherine & Fish Market
Another really nice and more local area to see in the Brussels city center is the Saint Catherine neighborhood. It's concentrated around the Saint Catherine Church and several town squares. The best-known square is Marché aux Poissons (Fish Market), where the old Brussels port used to be.
There is no actual fish market here. However, this part of Brussels is also a good place for (sea)food lovers and you'll find many restaurants and cafes lining the streets. If locals go for seafood in Brussels, they'll likely come here and not at Rue des Bouchers. Prices tend to be higher here as well, but you also can expect better quality.
In winter, this is one of the places where the Brussels Christmas market takes place. And in summer, you'll find a lively area with outdoor restaurant terraces and a very pleasant vibe.
TIP: Don't miss the Tour Noire (the Black Tower), a restored medieval tower surrounded by modern buildings.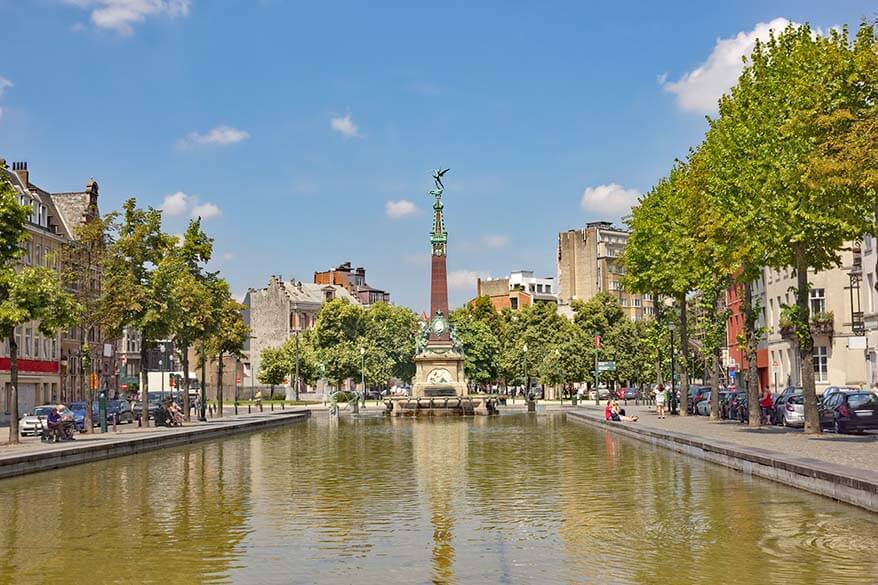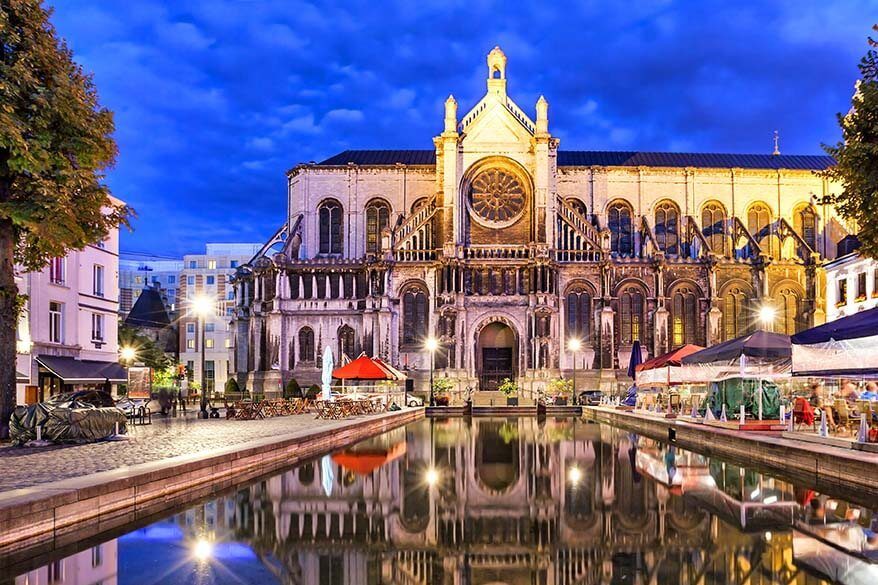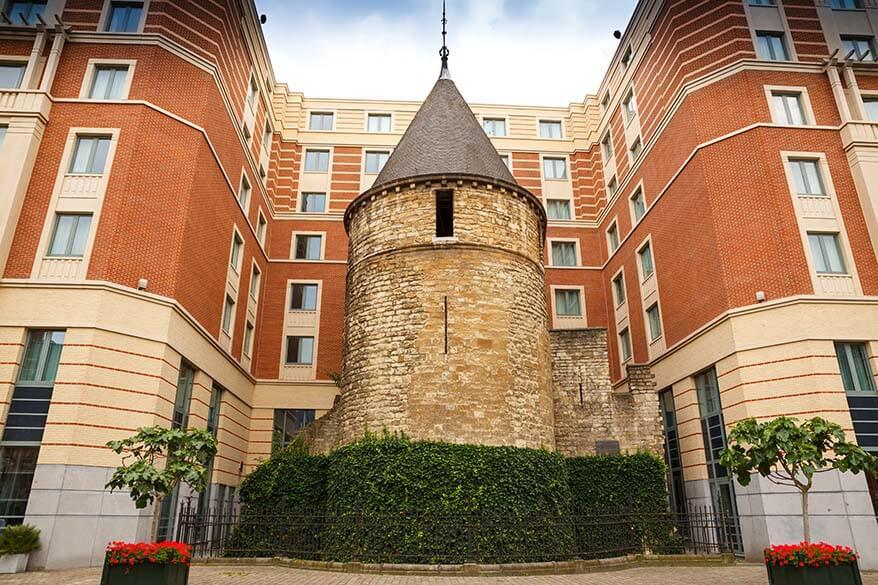 13. Atomium
While most of the main Brussels tourist attractions mentioned above can be found in the city center, the most remarkable landmark of Brussels – the Atomium – requires a separate visit. It's located on the western side of Brussels and can be reached by metro or with a hop-on hop-off bus (more info on the bus below).
The Atomium was built in 1958 as the flagship building of the Brussels World's Fair, Expo 58. The nine spheres represent an iron crystal (magnified 165 billion times) and it was supposed to be torn down soon after the event, but it quickly became an unmistakable symbol of Brussels. It has recently been renovated, looks more impressive than ever before, and nobody can imagine the city without the Atomium anymore.
At the moment, Atomium is one of the most visited tourist attractions in Brussels. It's impressive both, from the outside and well as on the inside. Inside, you'll find is a museum, a panoramic restaurant, and a magnificent 360° panorama with unparalleled views over Brussels and its surroundings.
Practical info: You can see the Atomium from the outside at any time and it's beautifully lit at night. For visits inside, see practical info and get your tickets here.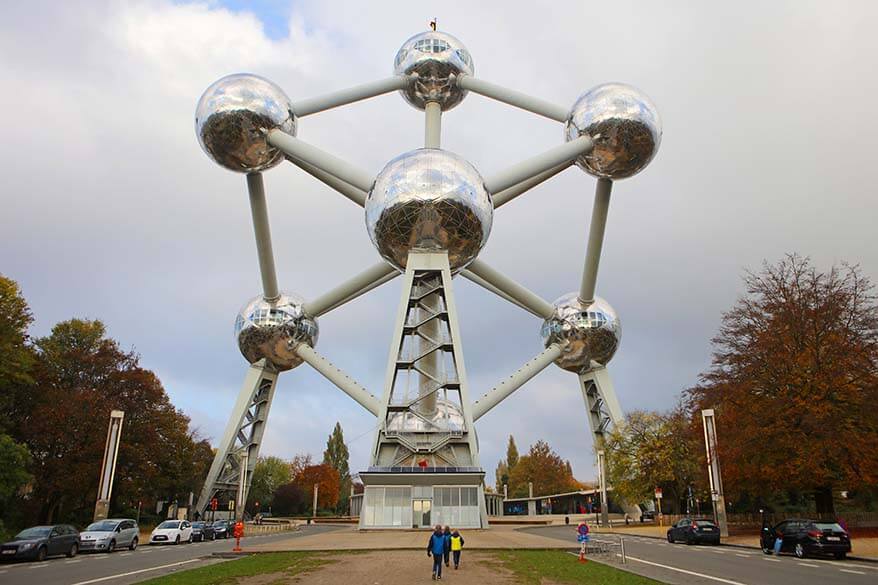 14. Mini-Europe
If you already make it all the way to the Atomium, then definitely visit the adjacent Mini-Europe as well. Here, you'll find miniature buildings and landmarks from all over Europe, scaled to the size of 1:25.
It's a fun way to discover the main landmarks from various European countries and maybe even find some travel inspiration for future trips. And if you ever wanted to take some fun pictures with the mini versions of the Eiffel Tower or Big Ben, this is your chance!
Mini-Europe is great for all ages. It's fun for families visiting Brussels with kids, but it's definitely not only for kids.
Practical info: Mini-Europe is an outdoor attraction, but is open daily, all year round. See here for more info and tickets.
TIP: If you are planning to visit both, Atomium and Mini-Europe, you can get a combi-ticket that saves a few euros.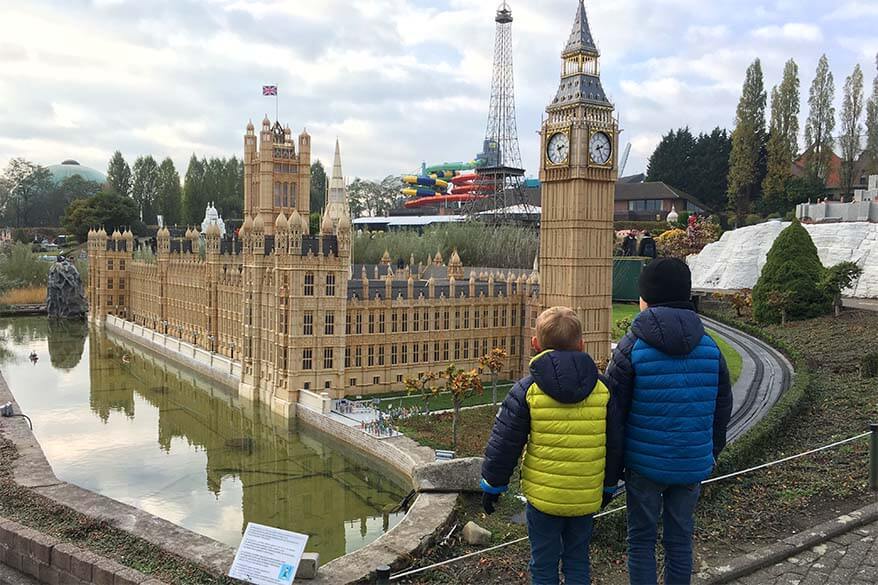 15. European Quarter
Brussels is the capital of Europe and there are many EU institutions in the city. Most of them are concentrated around Place Schuman, Place du Luxembourg, Place Jourdan, and Place Jean Rey. All these places are a few metro stops from the old town.
If you want to get to know more about the EU, then it might be interesting to visit the European Parliament in Brussels. There are several unique experiences that you can choose from, and it's also free of charge. You should book in advance.
Practical info: You can see all the buildings from the outside at any time. For more information for a visit inside, please check the official website of the European Parliament in Brussels.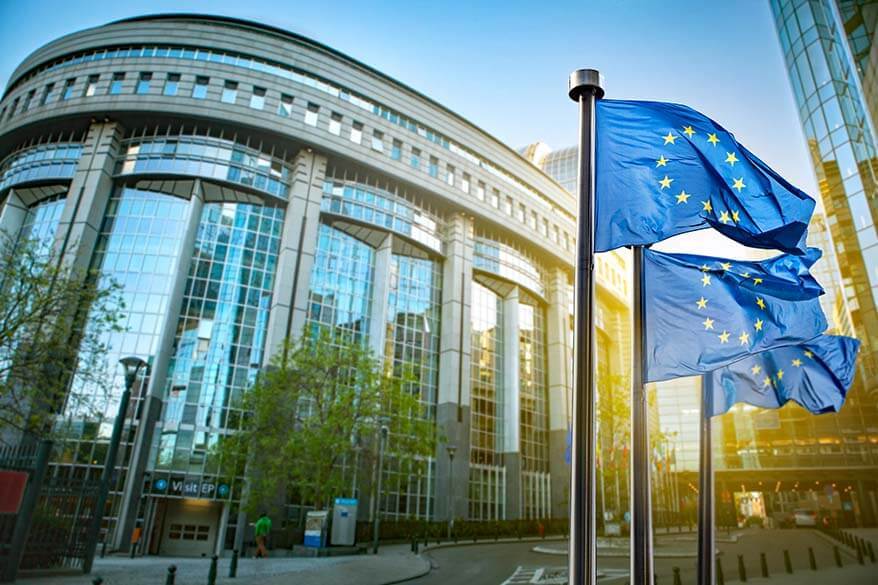 16. Cinquantenaire Park
Located outside the city center, a short walk from the EU Quarter, the Parc du Cinquantenaire (Park of the 50th anniversary of Belgian independence). This is one of the biggest and most famous parks of Brussels. It has nice lawns, flower displays, fountains, playgrounds, a huge triumphal arch in the middle, and several big museums.
The Royal Museum of the Armed Forces and Military History is a nice place to see all kinds of military equipment, armory, but also tanks and even aircraft. More info.
Autoworld is a car museum, with a big collection of vintage vehicles. This is one of the best museums to visit in Brussels with children and it's not just for boys. More info.
The Art & History Museum has an impressive collection of works of art dating from various periods of time, from Ancient Egypt, the Roman Empire, to the Renaissance, and more. More info.
Most tourists who come to Brussels just for a day don't get to this part of the city. But if you take a hop-on hop-off bus (more info below), you'll definitely pass here. If you have more time, take a stroll through the park and visit one of the museums.
Practical information: You'll need at least 30-45 min for Autoworld or for the Royal Museum of the Armed Forces. The Art & History Museum requires at least 2 hours of your time. For more information and opening times, please check their websites linked above.
TIP: All these museums are included with the Brussels Card.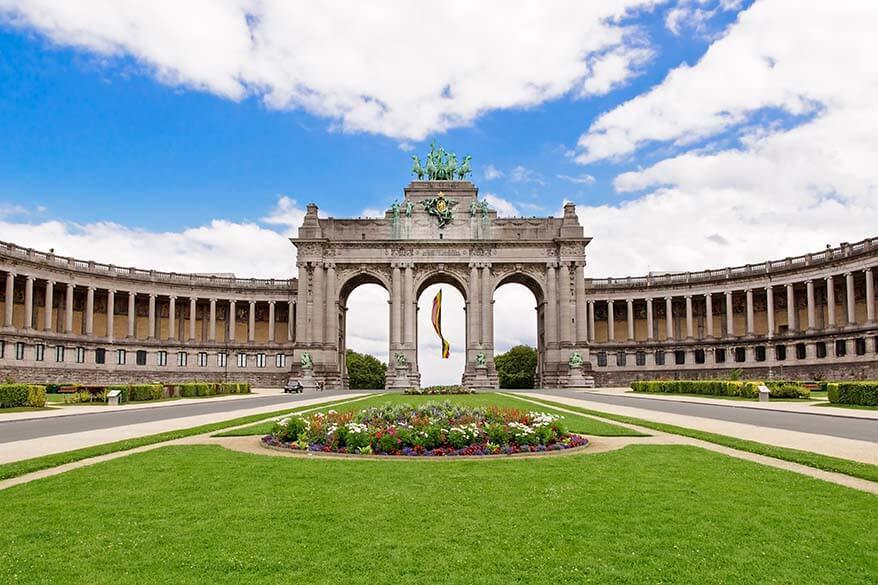 17. Hop-on Hop-off Bus
If you want to see a lot of Brussels in a short time, then consider taking a hop-on hop-off bus. It's especially convenient if you are planning to visit the attractions located a bit outside the city center. For the Atomium, Mini Europe, but also the EU buildings or Cinquantenaire Park, the hop-on hop-off bus is the best way to easily get there.
There are two routes and your ticket covers both of them. For the western side of the city including Atomium, take the Blue Route (aka Atomium Route). For the easter side, including the European quarter and Cinquantenaire Park, take the Red Route (aka Europe Route).
The advantage of taking the sightseeing bus is that it also passes the Royal Palace in Laken, the National Basilica of the Sacred Heart in Koekelberg, the Japanese Tower at the Royal Greenhouses of Laeken, and several other interesting Brussels landmarks. You also get to see some colorful neighborhoods of Brussels that you'd totally miss otherwise.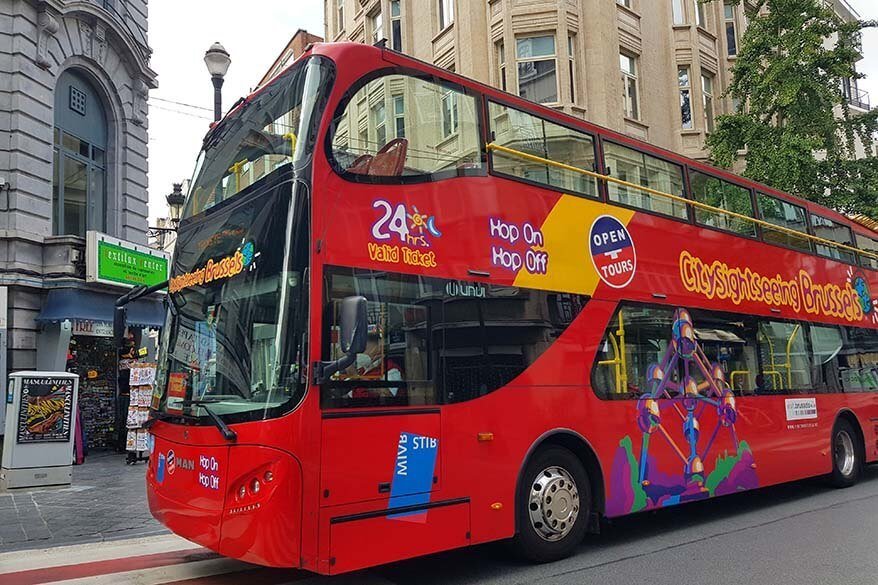 18. Brussels Museums
Brussels has many museums and, depending on your interests and the time you have, you could consider visiting a few of them. However, with so much choice, it can be really overwhelming to decide where to go. So here are a few more suggestions, in addition to the ones already mentioned above. (You can also find these on our map of Brussels attractions).
In the heart of Brussels and just near the Musical Instruments Museum, you'll find the Royal Museums of Fine Arts of Belgium. This is a complex of two museums – the Old Masters Museum and the Magritte Museum. You can visit one or both of them (combination tickets are available). The building is so large that you can spend a big part of the day here. More info here. If you have time for just one museum, make it the Magritte Museum!
For nature, history, and dinosaurs, head to the Museum of Natural Sciences. The museum houses the largest Dinosaur Gallery in Europe and is a favorite among kids. However, it's located somewhat far away from all the attractions in the city center. So you really have to make an effort in order to visit. More info here.
Brussels City Museum, located at the Grand Place town square, is dedicated to the city of Brussels. This museum is a great place to learn about Brussels and its history from the Middle Ages to modern times. More info here.
Other Brussels museums that are also worth considering are Comics Art Museum, Train World, BOZAR, and Choco-Story Brussels. But even if you'd somehow manage to visit all of these, you'll just scratch the surface of all that there's to see in Brussels.
TIP: If you are a museum fan and plan to visit several of Brussels museums in one trip, then definitely get Brussels Card. It will save you a lot of money.
Now that we covered all the best places to see in Brussels, here are some additional experiences that you don't want to miss. Ok, you can skip the shopping, but definitely don't skip all the food and the drinks that Belgium is famous for. Take a look at our suggestions with some insider tips!
19. Shopping at Rue Neuve or Avenue Louise
In addition to all the tourist sights and attractions, many people come to Brussels for shopping. It's a great place for that indeed, with countless options and plenty of choice for all styles and budgets.
The busiest place in Brussels, Rue Neuve is the main shopping street of the city. It's lined with big chain stores and looks and feels like any other big shopping area in the world. But if you'd like to do some shopping, this is the place to be.
For a more high-end shopping experience, head to Avenue Louise on the other side of the city center. Here, you'll find expensive designer boutiques, with names as Louis Vuitton, Tiffany & co, Michael Kors, and similar.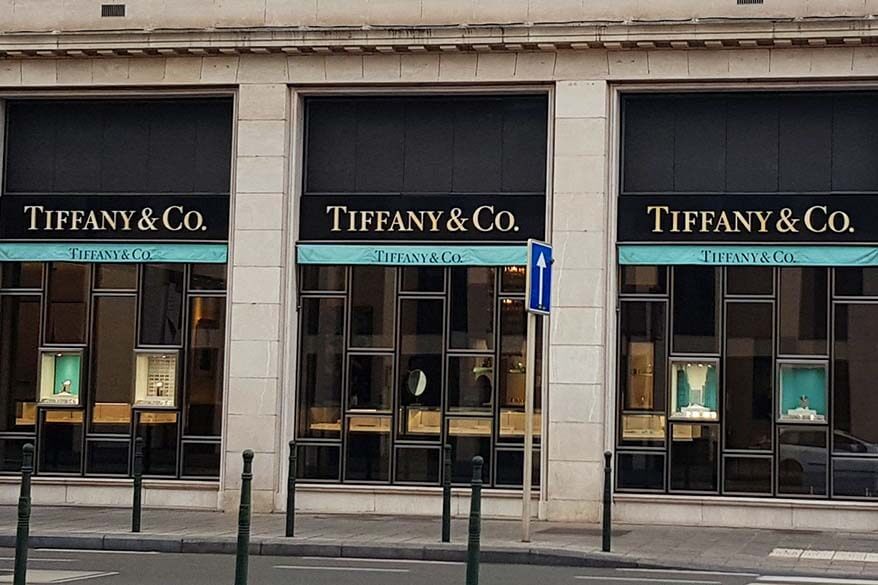 20. Belgian Chocolate
No trip to Brussels would be complete without tasting some really good Belgian chocolate. There are probably hundreds of shops selling chocolate in the center of Brussels. And you can also visit Choco-Story Brussels, where you can learn more about Belgian chocolate and taste some of it.
TIP: If you are looking to taste some truly good Belgian chocolate, I recommend checking out the shops of the traditional Belgian chocolate brands such as Neuhaus, Godiva, Leonidas, or Pierre Marcolini.
The traditional Belgian chocolate brands such as Neuhaus (est. 1857), Leonidas (est. 1913), and Godiva (est. 1926) have a long history, whereas Pierre Marcolini is the newcomer that opened his first shop at the end of the 20th century.
Leonidas offers some of the best price-quality Belgian chocolates. Godiva and Neuhaus are somewhat more expensive and some of their chocolates require an acquired taste that not everybody will appreciate.
The chocolates of Pierre Marcolini are more contemporary and often quite daring. They come with a high price tag as well. But if you want to taste some of the best chocolate in the world, then you can't go wrong stopping by at one of their shops in Brussels.
Our personal favorite Belgian chocolate is the white 'Manon' praline from Leonidas. These pralines have coffee-flavored buttercream in a shell of white chocolate, with hazelnut in the middle. You can find them without hazelnut, with milk chocolate or dark chocolate as well, but definitely try the original one too! They were invented back in 1934, but are just as popular nowadays as they were almost a hundred years ago.
Our kids' favorites are the Côte d'Or Praliné chocolates that come in many different varieties. You'll find them in all Belgian supermarkets. They are much better and much cheaper than the chocolates sold in the tourist stores.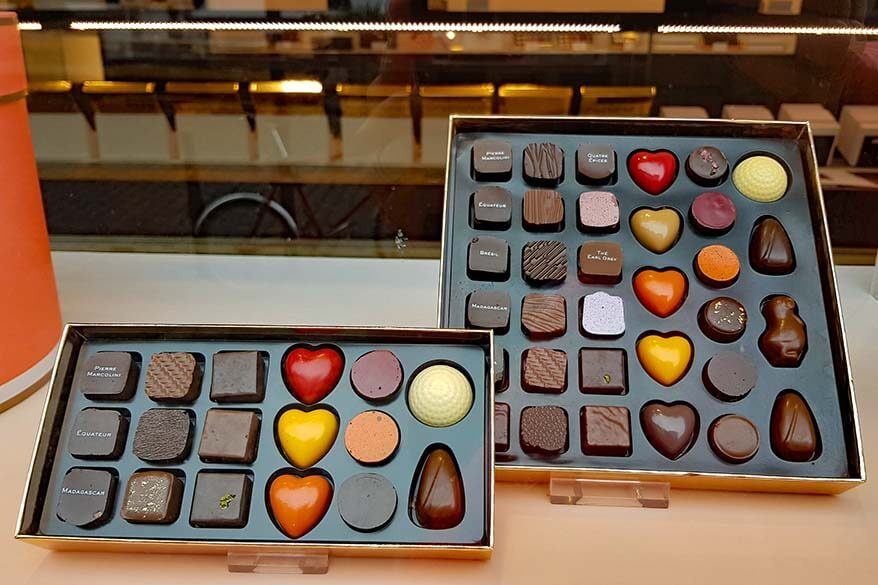 21. Belgian Waffles
It's impossible to not mention Belgian waffles when writing about any major city in Belgium. You'll see and smell the waffles in all the tourist areas in Brussels. And they're so hard to resist.
There are so many different types of Belgian waffles, but the tourist places usually all sell just one or two kinds – the Brussels waffles and the Liege waffles. Usually the latter. The Brussels waffles are somewhat bigger, more 'airy', and not as sweet. They are rectangular in shape. Whereas the Liege waffles are quite thick and heavy, and they also contain more sugar. They are also somewhat more rounded than the Brussels waffles.
In addition, you can choose extra toppings that vary from whipped cream, chocolate to fresh strawberries, and many others. If you dare, try a few toppings at once. Just keep in mind that you'll have to try to eat it all while standing in the busy street, with hundreds of people walking by. This is the reason why we usually simply opt for a plain waffle when buying Belgian waffles from the street shops.
Still, the best traditional waffles are the ones you'll find at these street stands and not at the restaurants. Definitely give it a try!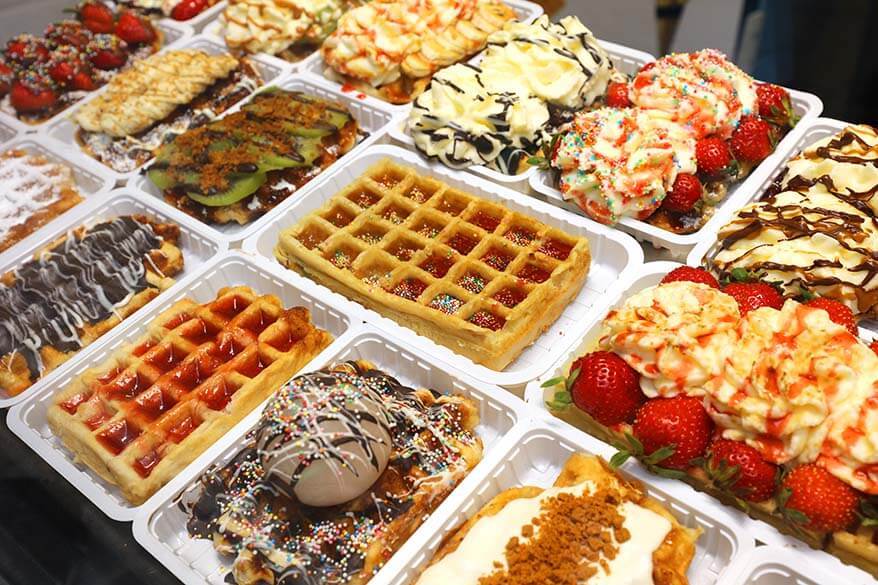 22. Belgian Beer
One of the best things to do in Brussels is going bar hopping, trying different Belgian beer in various pubs and cafes. There are many tourist-oriented places, but for a more authentic experience, look for older, traditional pubs and cafes. Some of them have hundreds of different Belgian beers, many on tap, and always with their own matching glasses (see more about this in our guide to fun facts about Belgium).
Here are just a few of the best beer cafes in Brussels (we also indicated them on the map): Delirium Café, Moeder Lambic, Café Mort Subite, Bier Circus, etc.
TIP: Don't settle for the typical mass-production Belgian beer that you find all over the world. Make sure to ask for some local suggestions and try something that you can only find in Belgium!
Good to know: Some Belgian beers are very strong, so be careful if trying more than one or two of them on the same evening. On the other hand, there are also very light, fruity beers, that you will enjoy even if you are not a big fan of beer, like me.
Local's recommendation: My husband's favorite Belgian beers are the Trappist beers: Westmalle, Westvleteren, Orval, Rochefort, Achel, Chimay, and La Trappe. In Brussels, Lambic, Geuze, Mort Subite, La Chouffe, or Rodenbach are just a few popular choices.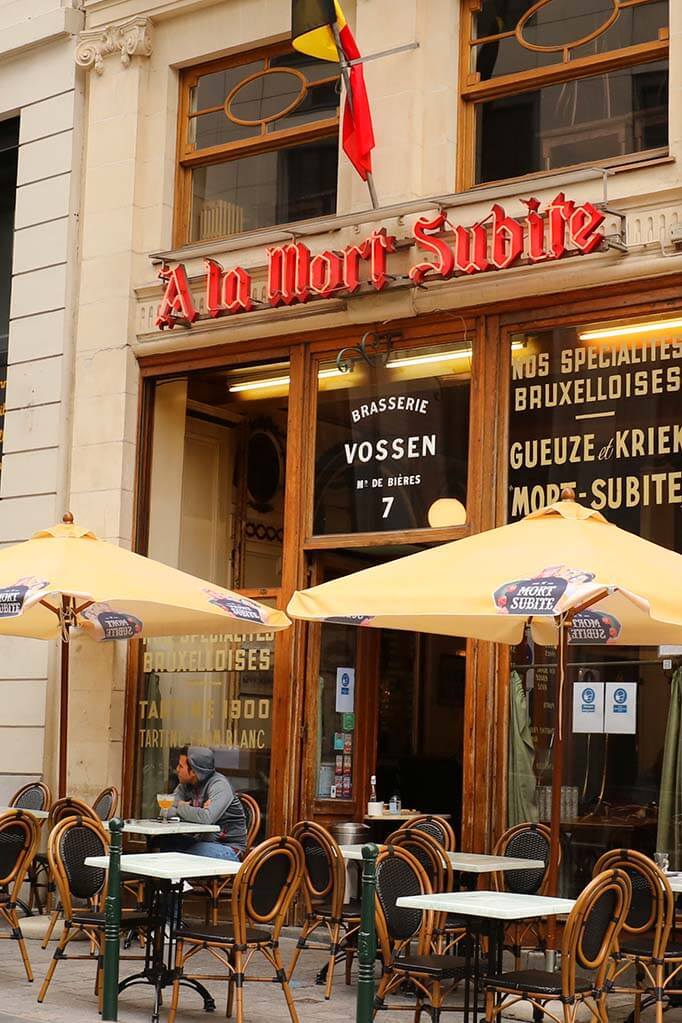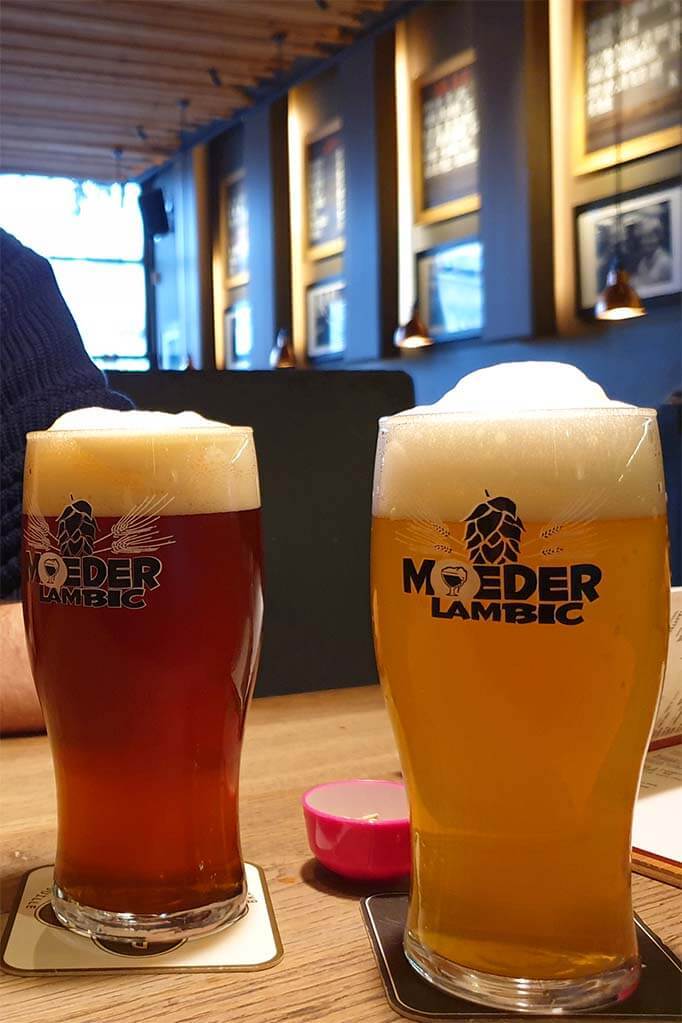 23. Belgian Fries with Mayo
No visit to Belgium would be complete without trying some typical Belgian fries with mayo (and no, it's nothing like fries or mayo that you'll find anywhere else in the world). And while you can find good fries in the restaurants as well, the best ones come from the street-stands called 'friterie' or 'fritkot'.
For a couple of euros, you can have a delicious and quick meal. It's perfect when you don't want to sit down for a long meal during the day and rather spend your time sightseeing.
And yes, it's not the healthiest option, but with all the chocolate, waffles, and beer, you'll likely need to loosen your belt in Brussels anyway. So why not go for a full experience and try it all!
TIP: The most popular place to taste traditional Belgian fries in the center of Brussels is the friterie called Fritland, located on the western side of the Stock Exchange building. No matter what time of the day, there's always a queue here, you can't miss it. Another good place is Friterie Tabora, very close by to the Grand Place as well. I indicated both of these on our map, but there are many, many more good places throughout the city.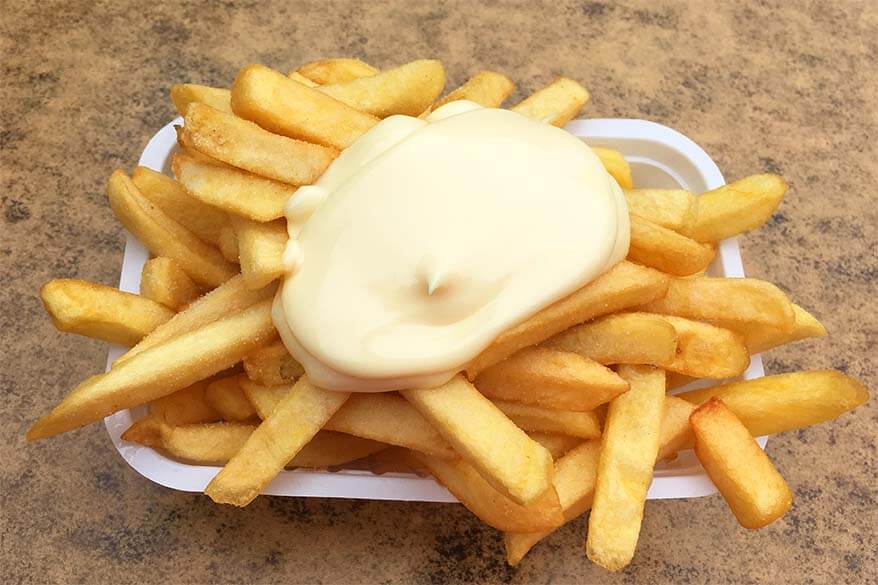 Where to Stay
There are so many nice hotels in various areas of Brussels that it's really difficult to recommend just a few accommodations. For sightseeing, we recommend staying in the city center, close to Grand Place – this area really has it all and is also easy to access by public transport.
Here are some of the best hotels in the heart of the city center, close to Grand Place, for all budgets:
READ ALSO: Where to Stay in Brussels (best areas & hotels for all budgets) & Most Popular Brussels Hotels (top 10 most-booked hotels in the city center)
TIP: Using the map below, you can also compare hotels, apartments, and short-term rental accommodations in Brussels city center. This map compares different websites and displays the best price for each accommodation. Simply insert your travel dates and group size, and you'll quickly get an overview of all the best deals for your stay. Check it out!
So, this is our guide to top things to do in Brussels and the main tourist attractions that you shouldn't miss. I hope that this will help you make the most of your visit and get to know Brussels a bit better.
If you are visiting other Belgian cities as well, make sure to also check our guide to the best things to do in Bruges and also the best things to do in Antwerp (+ don't miss our favorite local places in Antwerp).
TIP: If you are looking for ideas on how to plan your trip, see our suggested Belgium itinerary for 3-4 days. It also includes tips for where to stay and how to get around. Check it out!
If you found this post useful, don't forget to bookmark it and share it with your friends. Are you on Pinterest? Pin these images!