Thinking of visiting Colmar in France and wondering what to expect and what there is to see and do in Colmar town and just nearby? In this guide, we highlight all the must-sees, the VERY BEST things to do in Colmar that are worth your time the most. You'll also find some practical tips for your visit.
Colmar is one of the most beautiful towns in the Alsace region in France. Best known for its colorful half-timbered houses, Colmar is extremely picturesque. It might sound like a cliché, but it truly looks like a town from a fairytale or some Disney movie…
But there's more to Colmar than just the most photographed street in the La Petite Venise district that you see in all travel brochures and on social media… The entire city center is gorgeous, with lively squares and a labyrinth of pretty streets lined with cafés and shops selling local specialties.
Indeed, one of the best things to do in Colmar is simply strolling through the old town, soaking up the lovely atmosphere, and enjoying all the culinary delights that Alsace is famous for. But the city also has some amazing museums and fun activities. In addition, you can also see the Statue of Liberty here (yes, you're reading it right!).
A visit to Colmar and the area is also a great opportunity to get acquainted with the unique culture and cuisine of Alsace. You'll notice both, French and German influence in pretty much everything in this part of France.
What makes Colmar even more special is its beautiful location in the heart of the Alsace wine region, and there are some incredibly picturesque places just nearby that are worth your time too (we include a few of the musts in this guide too). Take a look!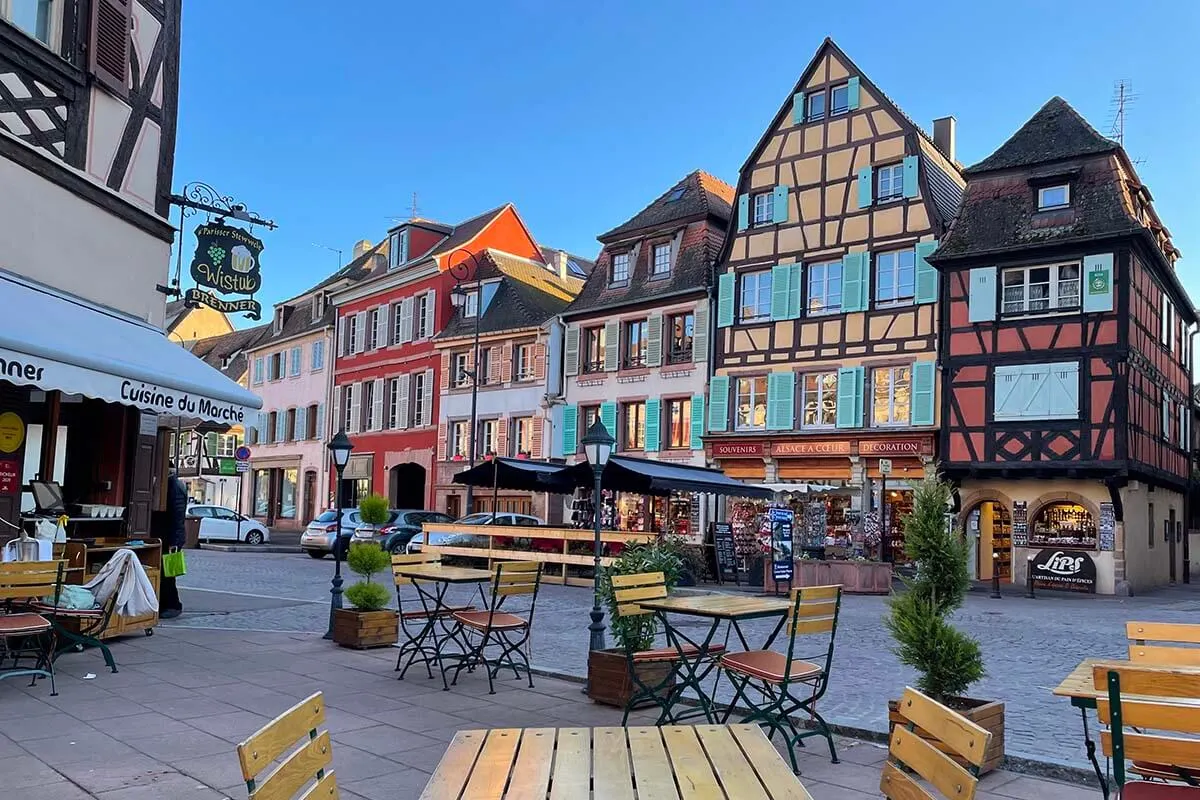 To help you plan your visit to Colmar, we created a map of the main sights in Colmar. This should give you a better idea of where everything is and how to plan your time.
Good to know: Half a day to a day is enough for the main attractions in Colmar town itself. If you plan your time well, you can even explore some of the best places near Colmar on the same day as well. However, we highly recommend spending at least a night or two in the area – it's more than worth it (see our suggestions further below).
TIP: If you only have 1 day for Colmar and are coming from Strasbourg, it's best to visit with an organized tour. They make sure that you get the most out of your limited time, and some tours include a visit to at least one other nice village nearby, and/or wine tasting. In winter, there are tours that focus on the beautiful Christmas markets.
How to use this map: Use your computer mouse (or fingers) to zoom in or out. Click on the icons to get more information about each place. Click the arrow on the top left corner for the index. Click the star next to the map's title to add it to your Google Maps account. To view the saved map on your smartphone or PC, open Google Maps, click the menu and go to 'Your Places'/'Maps'. If you want to print the map or see it in a bigger window, click on 'View larger map' in the top right corner.
Good to know: If visiting Colmar on your own, one of the best ways to be sure you get to see all the best places in Colmar in a short time is to start your town visit with a stop at the Tourist Office. There, you can get a free city map indicating all the best things to do in Colmar.
Throughout the town, you'll also find informational boards (in French, German, and in English) at all the main points of interest.
You can also follow the metal arrows with the Statue of Liberty on the pavements throughout the old town. They indicate a popular tourist route that covers most of the main sights in Colmar.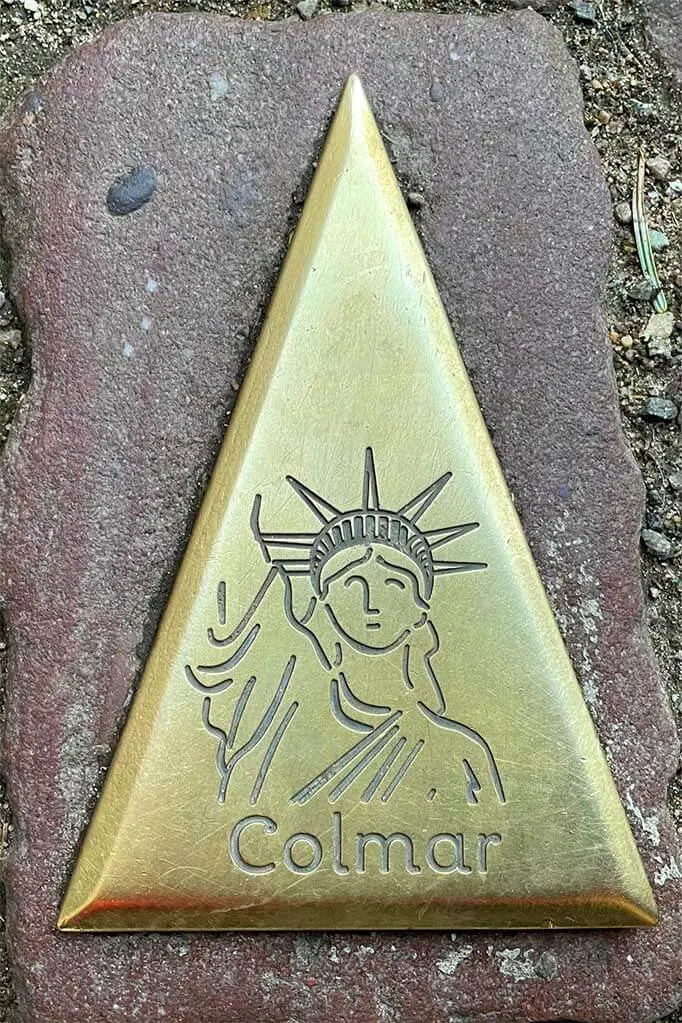 These are the best things to do in Colmar and top places to visit nearby:
1. La Petite Venise
La Petite Venise (The Little Venice) is the popular name of one of the most picturesque places in Colmar – the neighborhood along the Lauch River in Colmar. The district stretches from approximately Parc de la Lauch in the northeast to the St-Pierre Bridge in the southwest.
The most visited and most photographed place here is the Quai de la Poissonnerie (The Fishmonger District). This is the most famous image of Colmar that you see everywhere. The adjacent Rue de la Poissonnerie is also not to be missed.
But the whole area is really picturesque, so be sure to walk the entire length along the river. There are lots of cafés and restaurants here, some with really nice views. See if you can find a table and sit down for a drink and soak up the incredible atmosphere here.
Also, don't miss the beautiful town square at Rue Turenne, just near the bridge where boat tours start. There are some really pretty buildings here too.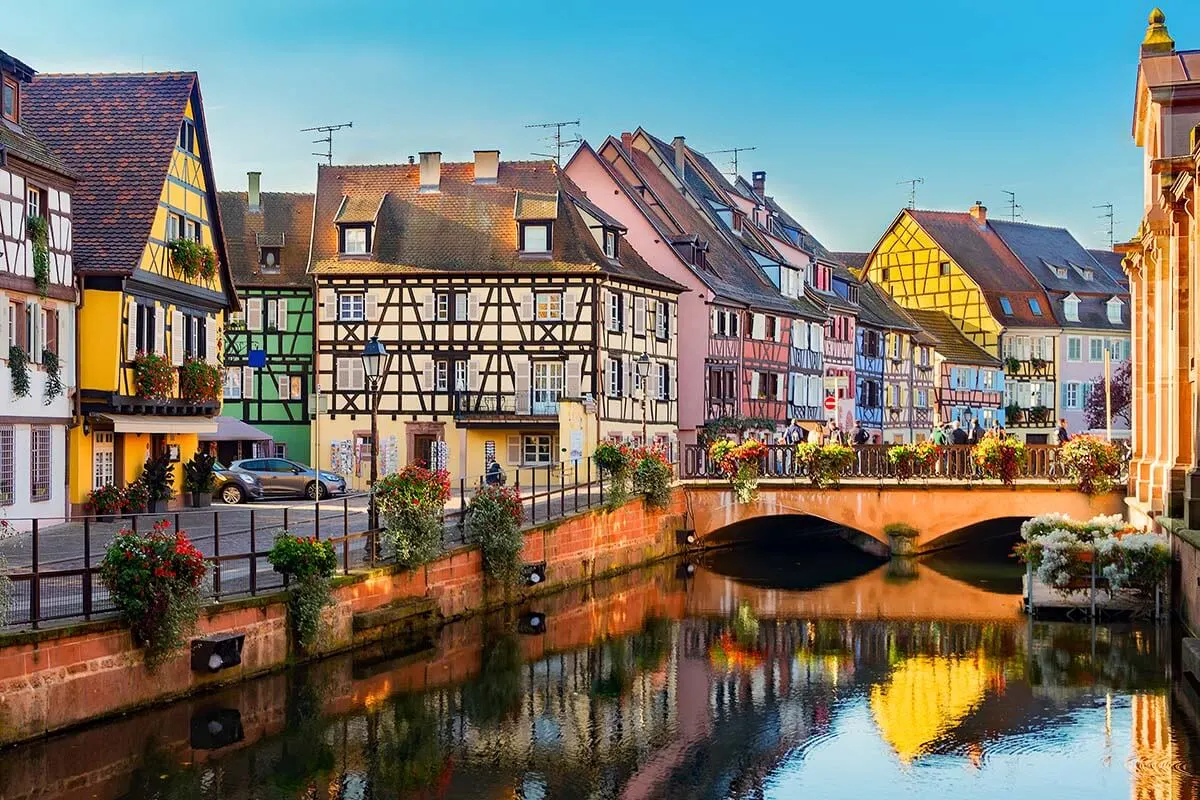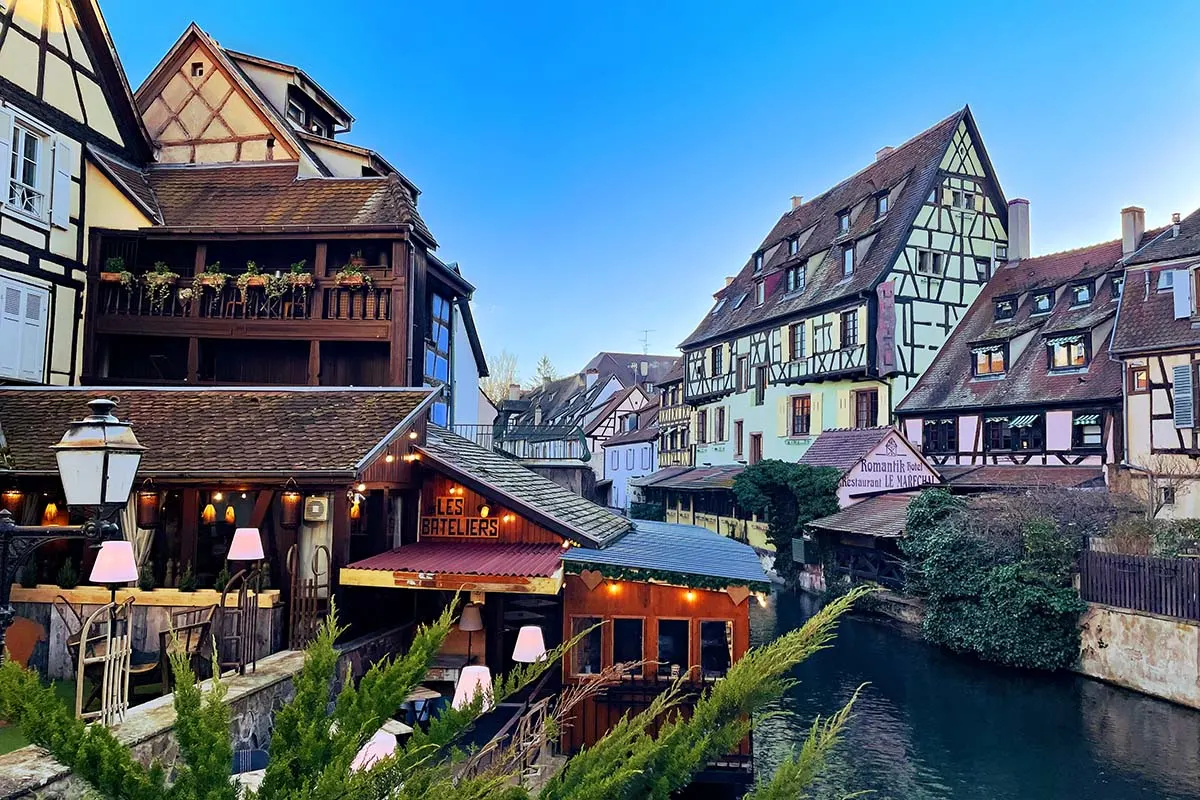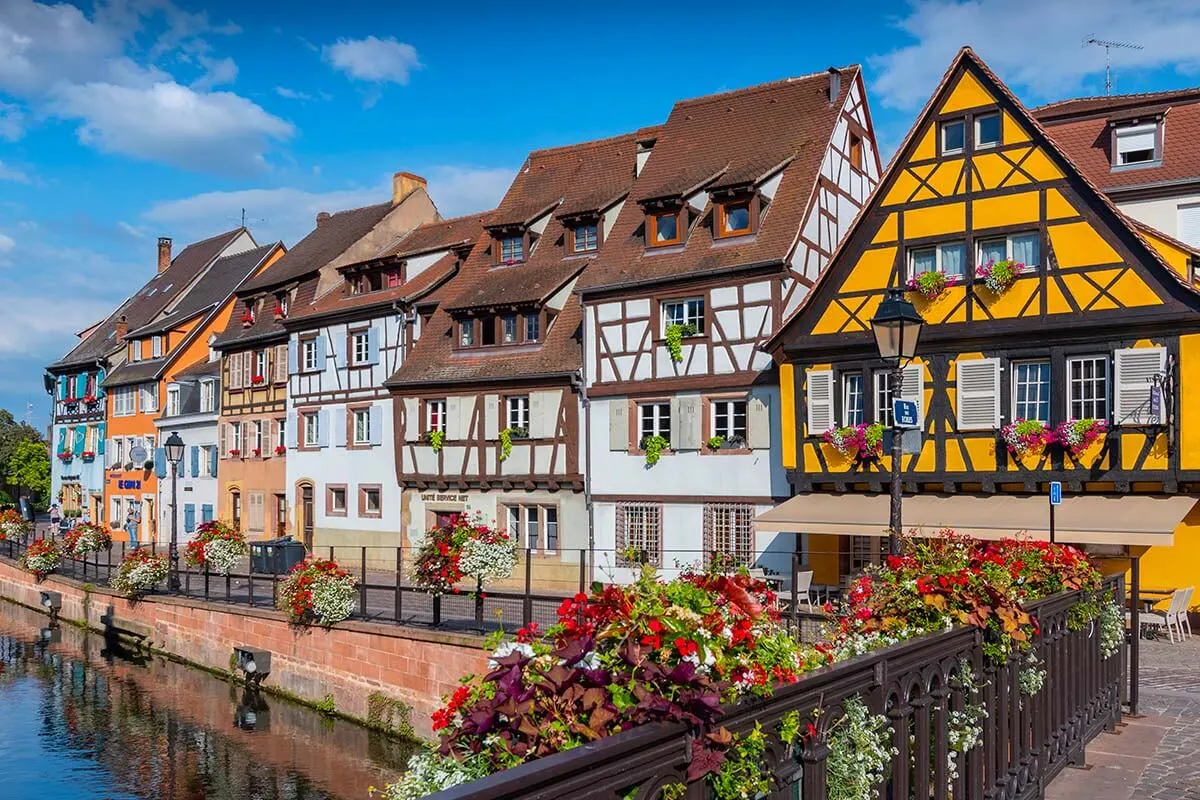 2. Boat Trips on the Lauch River
In addition to exploring La Petite Venise on foot, you can also opt for a boat ride on the river. This is probably the most popular tourist attraction in Colmar!
The traditional flat-bottomed boats (barques) take you for a short ride on the Lauch, giving you a slightly different perspective of the Little Venice district. Since some parts of the river are lined with houses, you can't really see the entire area on foot, so taking a boat is the best way to see everything that this area has to offer. The journey also takes you to the quieter part of the city center, with lots of greenery and several grand mansions.
Is it worth it? We had been in Colmar in the past and since the boats were always crowded, we never found it worth the wait. However, on our most recent trip to Colmar in March, it wasn't nearly as busy as in the summer, and so we decided to give it a try. I have to admit that we had somewhat mixed feelings about the boat trip.
It's something nice to do in Colmar if you have time, but I don't think you are really missing much if you decide to skip it. By far the nicest part is the area around Quai de la Poissonnerie and Rue Turenne Bridge – all the places that you can easily see without taking a boat as well.
Practical information: Boat trips run daily the whole year (limited offer in winter) and take about 25 minutes. At the moment, a boat ride in Colmar costs about 7 EUR per person (kids under 5 are free). There are two places where you can take a boat – one next to the Rue Turenne Bridge (very busy), and the other – next to St. Pierre Bridge (much quieter). I indicated them both on our map as well.
You don't have to book in advance and can just get a ticket for the next available boat when you arrive. However, if it's busy, you might have to wait quite a long time (you can also get a timed ticket and then go explore more of the city while you wait). Boat tours at St. Pierre Bridge allow online bookings. So if you are short on time and want to absolutely do this when visiting Colmar, then it might be worth booking a specific time slot in advance.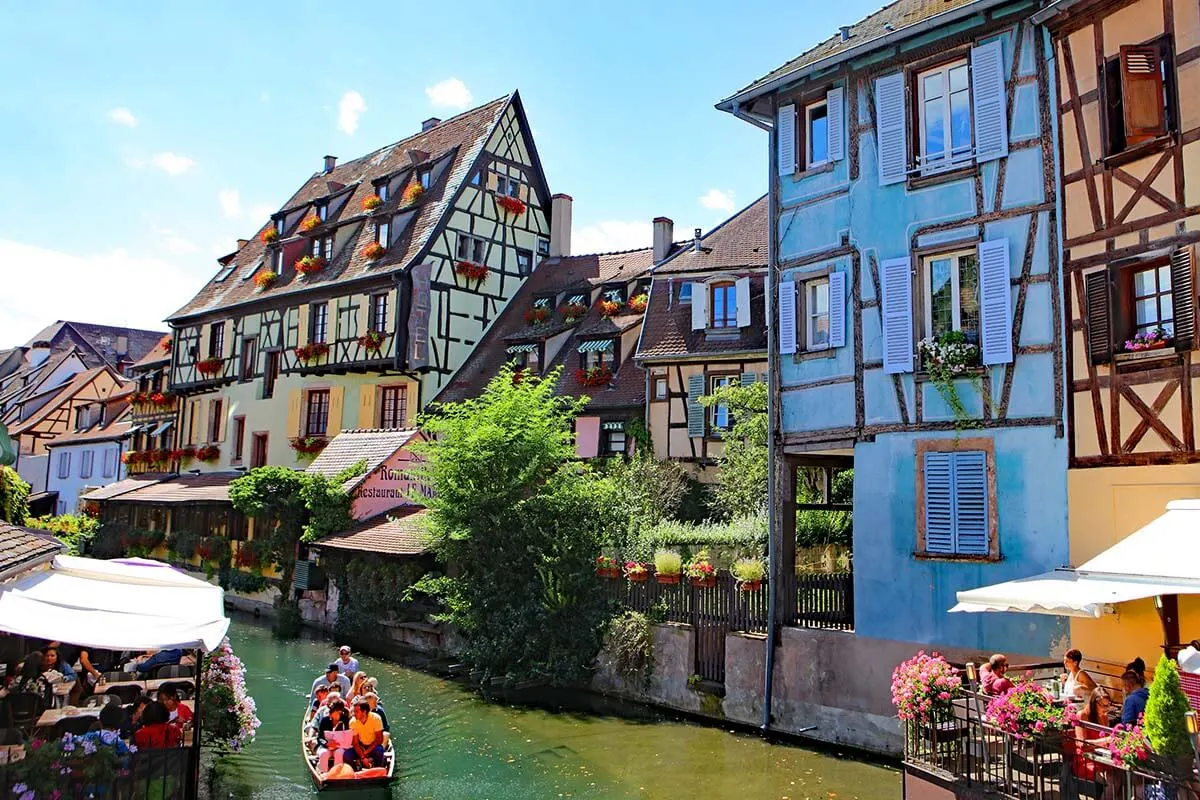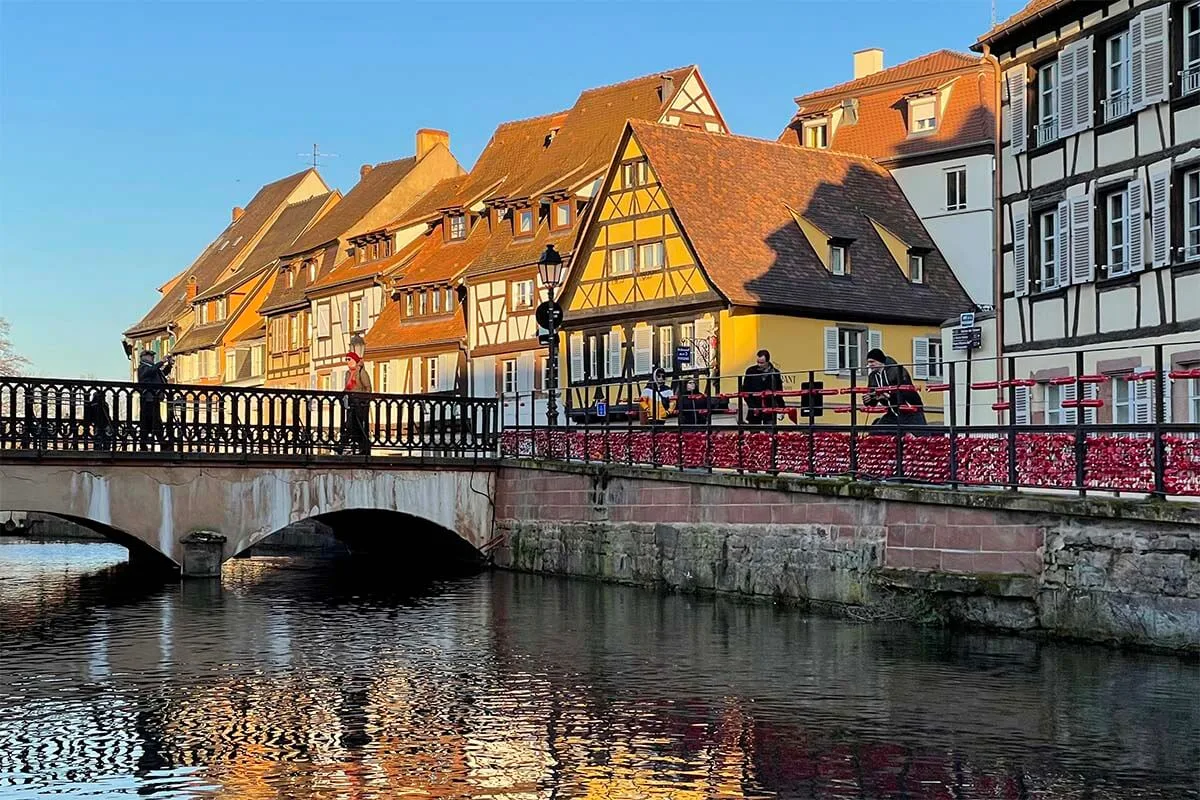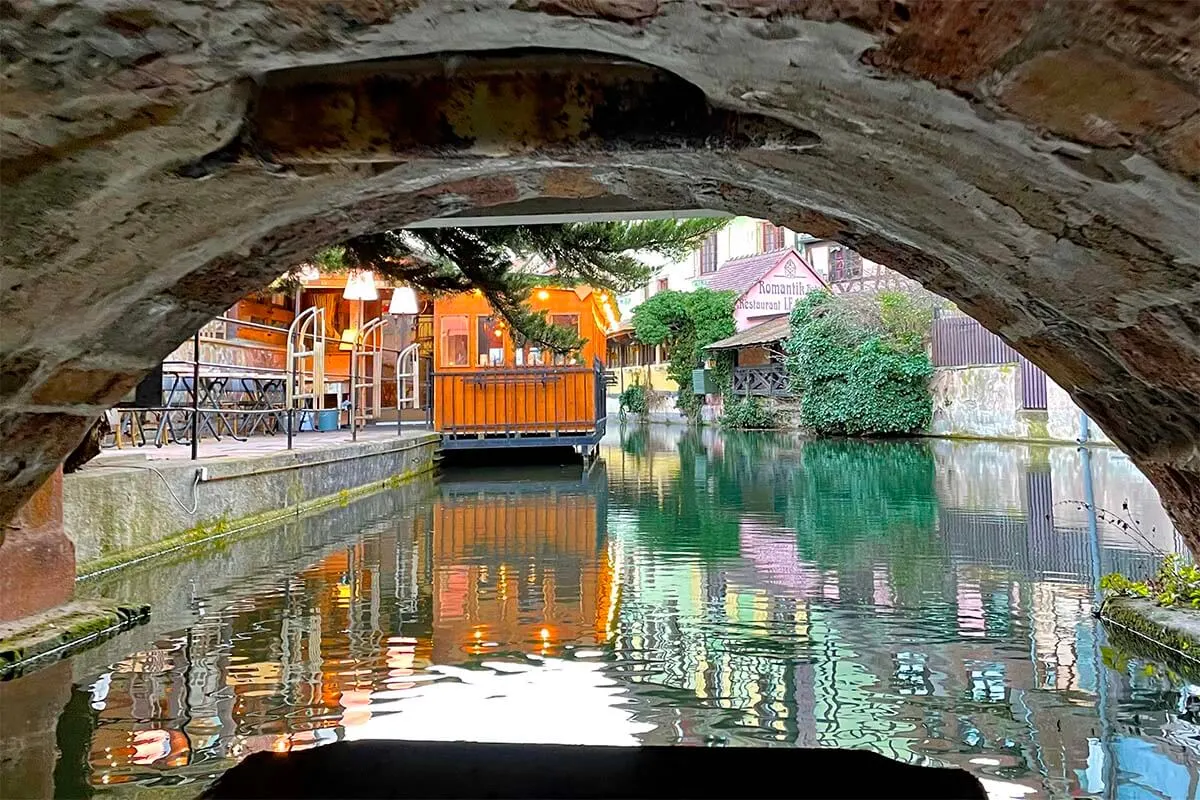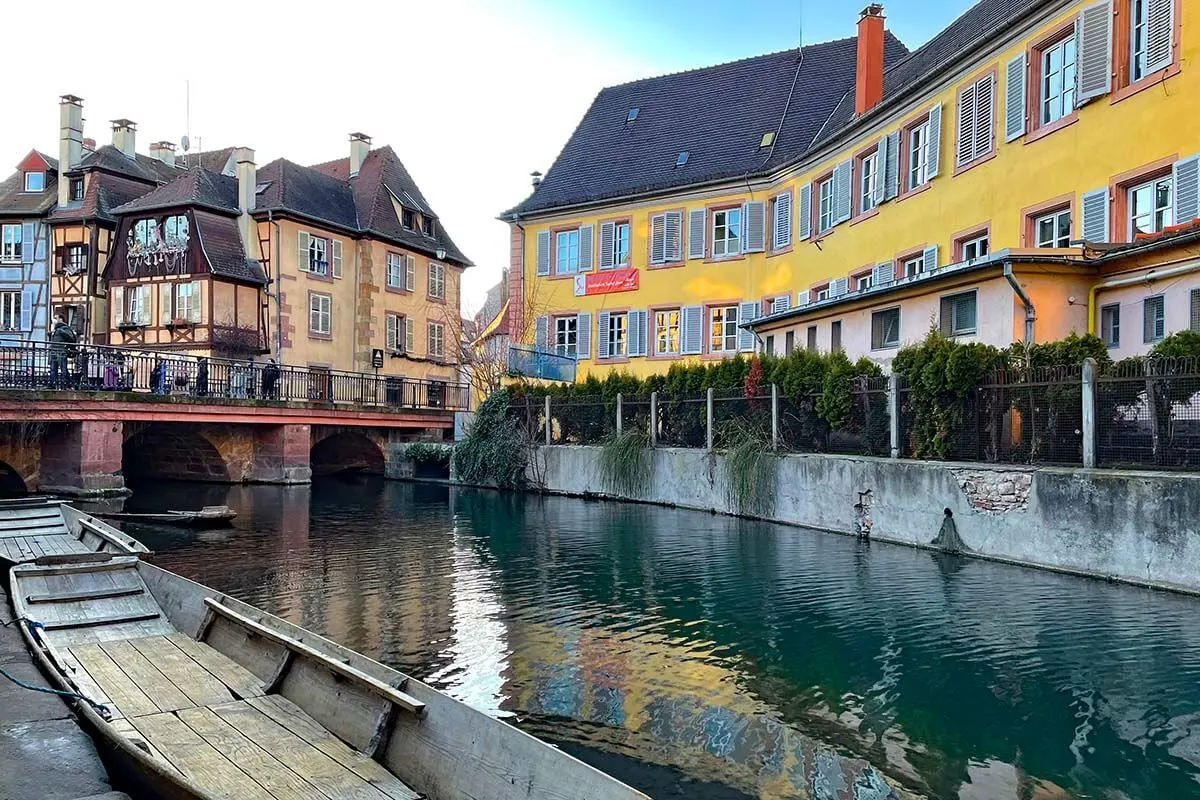 3. Quartier des Tanneurs
Quartier des Tanneurs (Tanners' District) is another place that you absolutely have to see in Colmar. Located just a short walk from Little Venice, this area is just as picturesque.
The Tanners District is a small area in the heart of the old town center of Colmar. It's located between the Place de l'Ancienne Douane, Rue des Tripiers, Rue de Montagne Verte, and Rue des Tanneurs. Its colorful timber-framed houses date from the 17-18th centuries and have been beautifully restored in the 1970s.
These were the houses of families of leather tanners who lived and worked here. The top floor of the buildings was usually used to dry the pelts.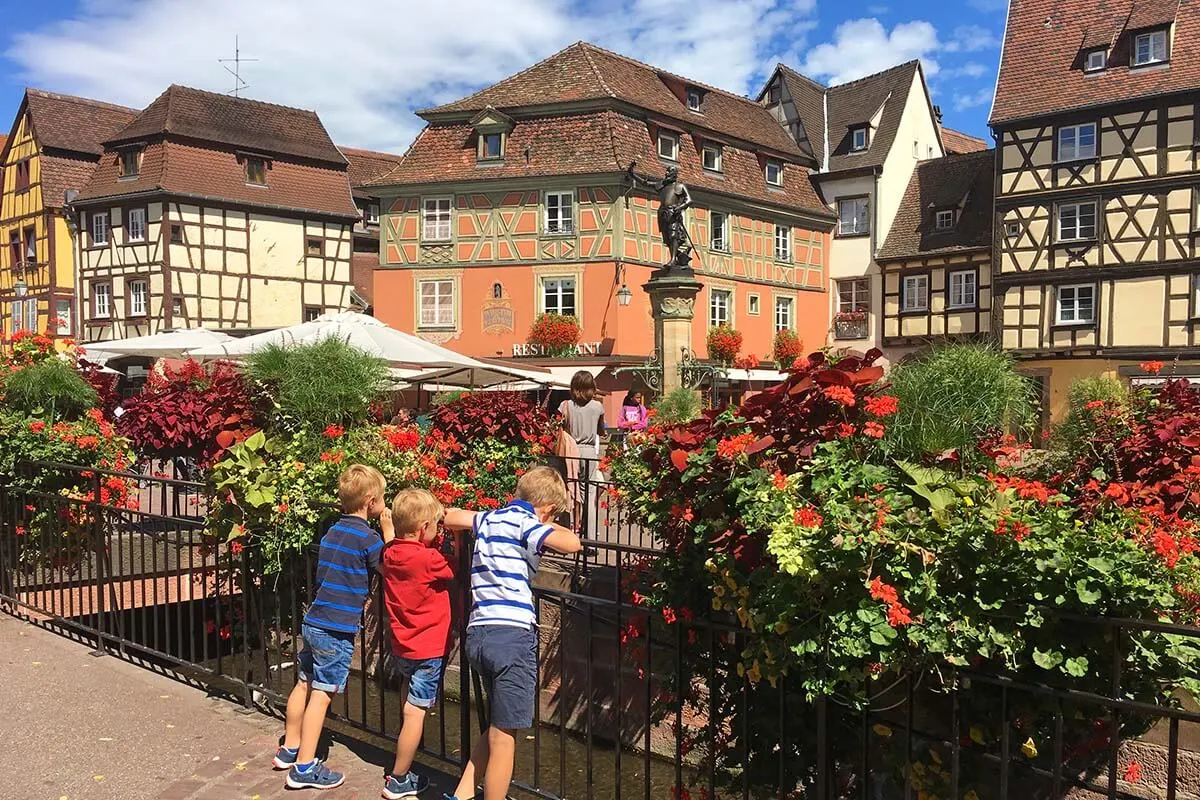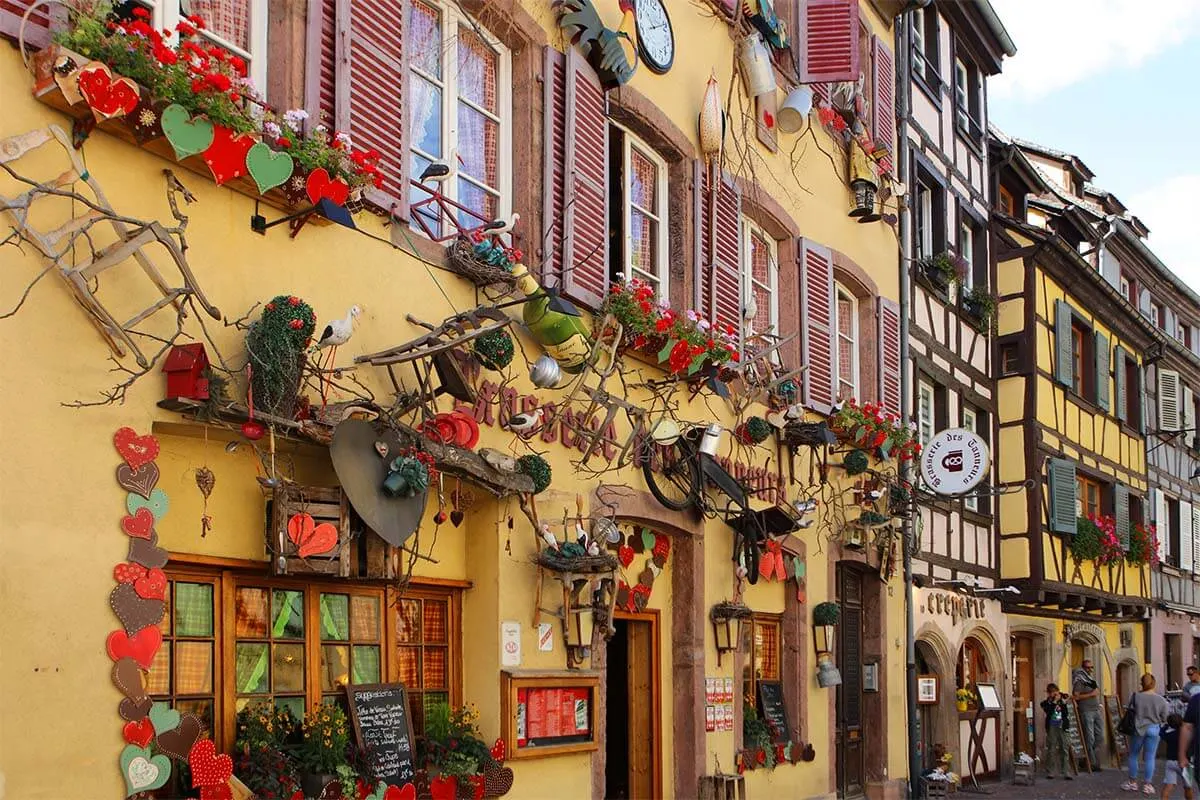 4. Place de l'Ancienne Douane & Koïfhus
Bordering the Tanneurs District, this is one of the most beautiful town squares in Colmar, Place de l'Ancienne Douane. This is the old business-heart of Colmar, home to the 15th- century Customs House Koïfhus (or Ancienne Douane in French).
This lively square with Schwendi Fountain in the middle is lined with beautiful buildings, with lots of cafes and restaurants. The atmosphere here is usually both cozy and vibrant. Place de l'Ancienne Douane hosts various events throughout the year, and it's also the location of one of the six Christmas Markets in Colmar.
The impressive Renaissance building Koïfhus dates from 1480 and is the oldest public building in Colmar. In the past, it served as a warehouse, but also as a customs office where the city collected taxes and duties on the imported goods. Two adjoining buildings were added in the 16th century.
In the late 19th – early 20th centuries, the Koïfhus was occupied by the Chamber of Commerce and Industry as well as by a few schools. Nowadays, it hosts various public events.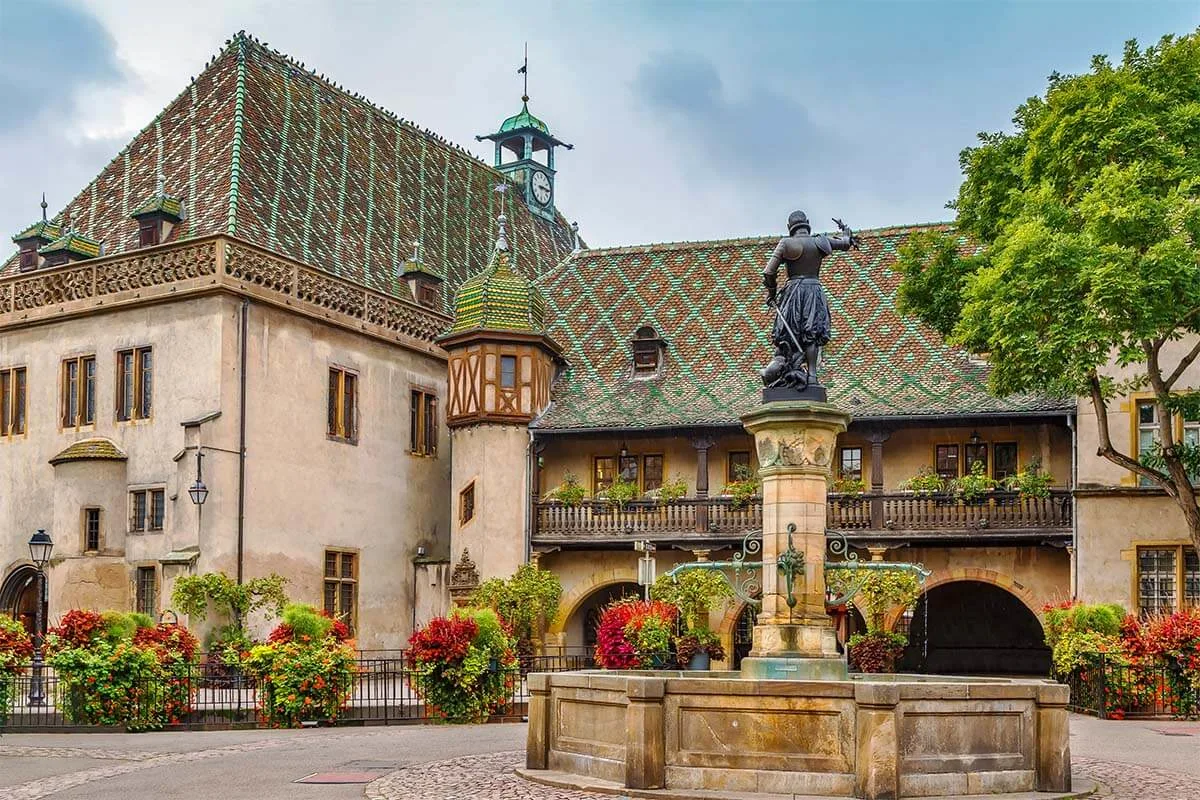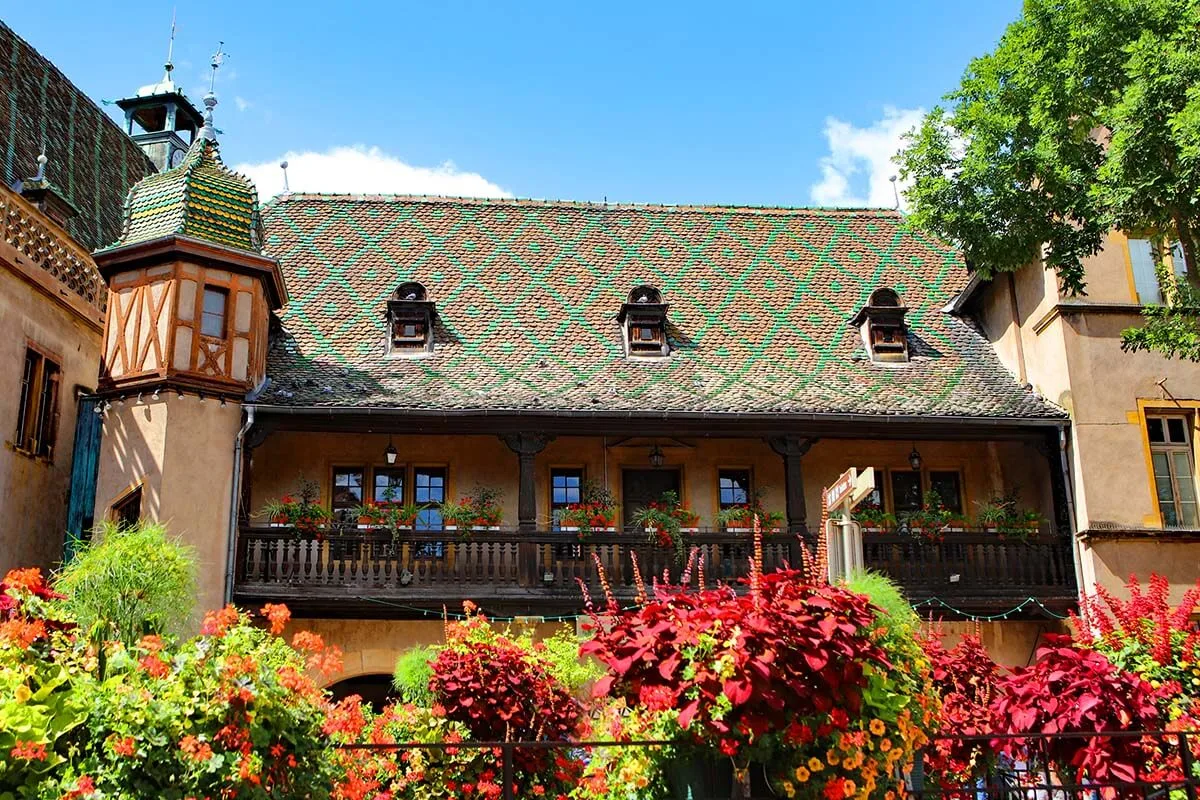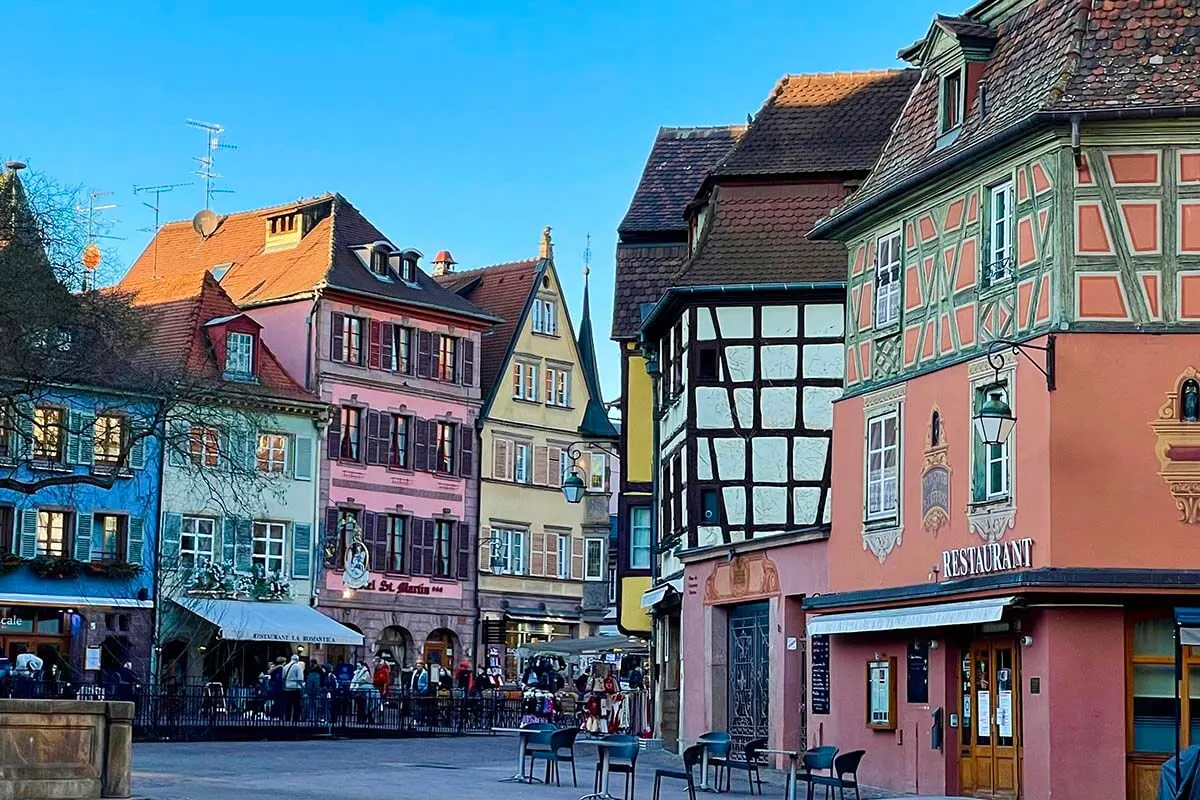 5. Colmar Old Town
As already mentioned, one of the best things to do in Colmar is to simply walk around through the Old Town admiring the stunning architecture all around you. The most popular districts mentioned above take up just a small part of the city center; the rest is well worth seeing as well!
It would be impossible to describe every building, street, or square that's worth seeing in the historic old town of Colmar because pretty much every street you turn into is more beautiful than the other. Nevertheless, there are several particularly impressive buildings that are worth a separate mention.
Here is a short overview of some of the nicest places to see in Colmar old town, in addition to those already mentioned above:
Maison Pfister. Built in 1537, this is an impressive Renaissance house with a corner window, a wooden gallery, octagonal turret, and murals depicting biblical scenes. It's considered one of the symbols of Colmar. The house was built for a silver trader Ludwig Scherer, but its current name is dedicated to the Pfister family who restored the house and lived in it in the late 19th century. The exterior has been recently restored again.
The Tribunal Judiciaire (Law Court) is another noteworthy building in the center of Colmar. Be sure to also locate the small statue Manneken Pis Colmar on the northern side of the building facade. It's a replica of the famous Manneken-Pis, the symbol of Brussels. It was gifted to Colmar by Brussels in 1922, to commemorate the sufferings both cities endured during the German Occupation.
Maison Adolph. Built in 1350, this is one of the oldest houses in Colmar. Its name comes from the Adolph family who renovated the house and lived there at the end of the 19th century. Nowadays, you'll find a wine shop on the ground floor.
La Maison Des Têtes (The House of the Heads) is another remarkable building to see in Colmar. Built in 1609, the building owes its name to the 106 heads/ grotesque masks on its facade. Recently renovated, the building now houses one of the nicest luxury boutiqe hotels in Colmar, Relais & Châteaux La Maison Des Têtes.
Grand Rue, Rue des Clefs, Rue des Marchands. These are the main shopping/ restaurant streets in the old town of Colmar.
Place des 6 Montagnes Noires. This is a very picturesque town square with the Roesselmann Fountain in the middle. It's located just next to the Rue Turenne bridge, very close to Little Venice – definitely check it out!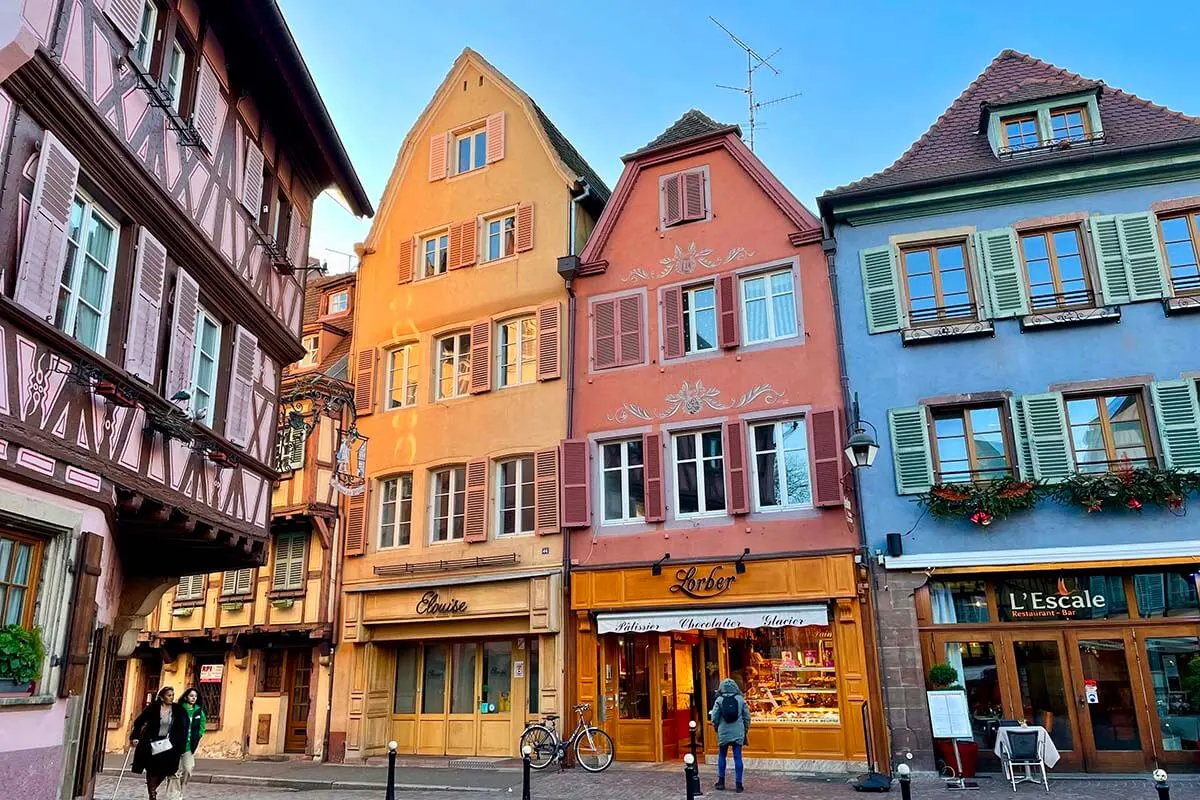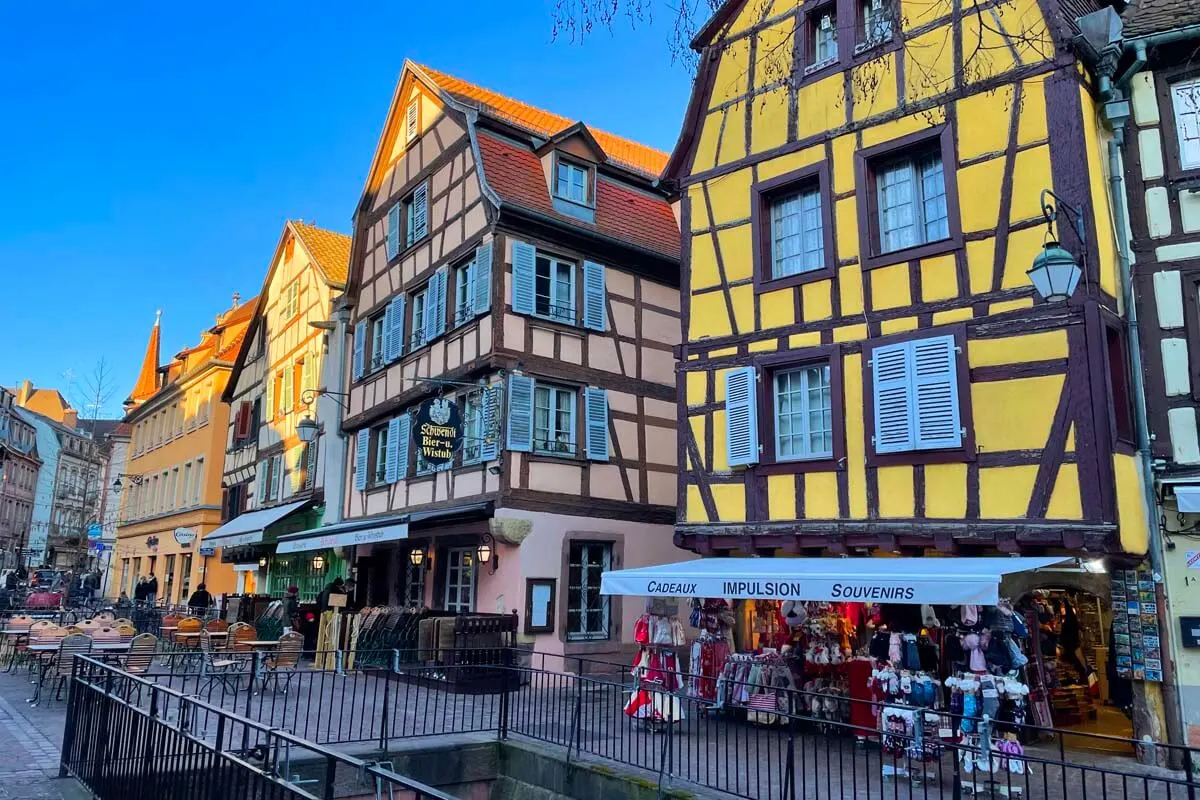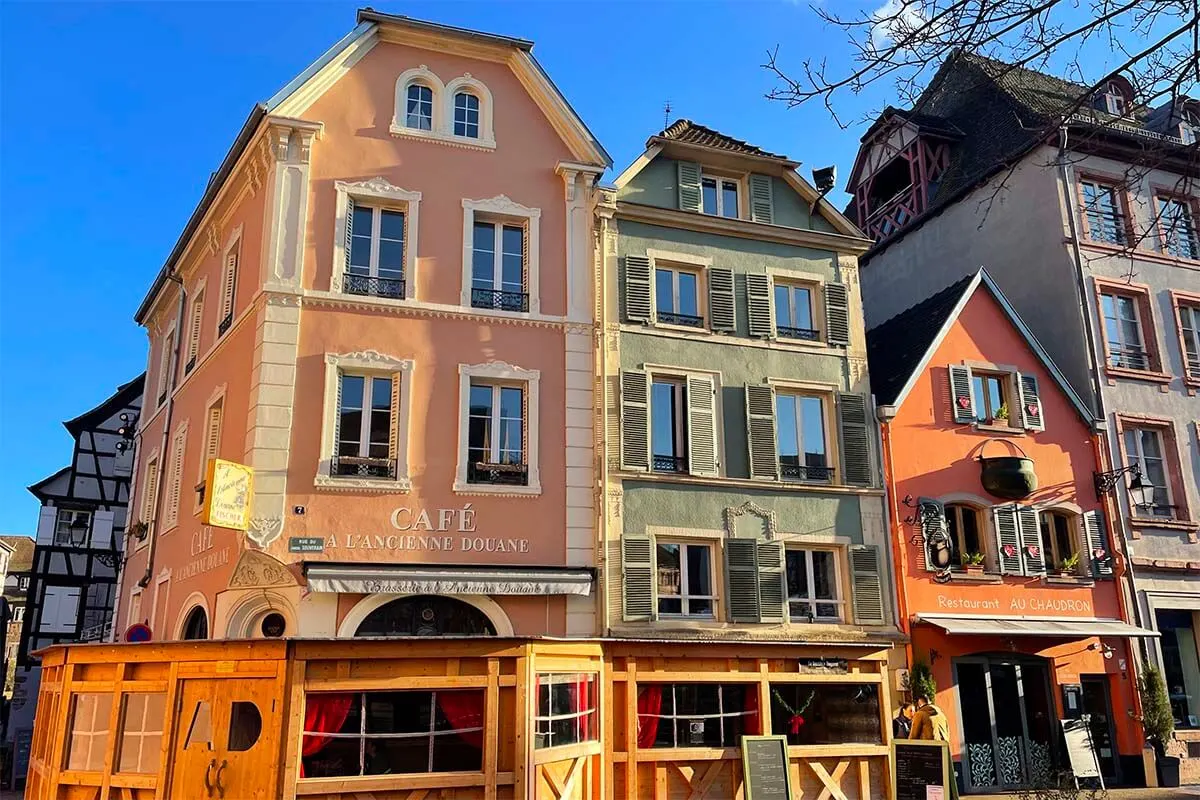 6. Unterlinden Museum
Musée Unterlinden is one of the must-sees in Colmar. If you have time to visit just one museum in town, make it this one!
Set inside a 13th-century Dominican convent, the Unterlinden museum covers thousands of years of history, from the prehistoric era to contemporary art. A new wing of the museum is located inside a building of old public baths, just across the square. Both parts of the Unterlinden museum are linked by an underground gallery.
Probably the most interesting are the rooms located around the cloister. Here, you can see art dating from the Middle Ages and the Renaissance. A must-see is the 16th-century Isenheim Altarpiece by Grünewald and Niclaus of Haguenau.
The museum also houses some 20th-century masterpieces by Monet, de Staël, and Picasso, to name just a few.
Practical information: Unterlinden Museum is open daily except on Tuesdays and some public holidays. For more info, please check their website. You can reserve your tickets in advance here.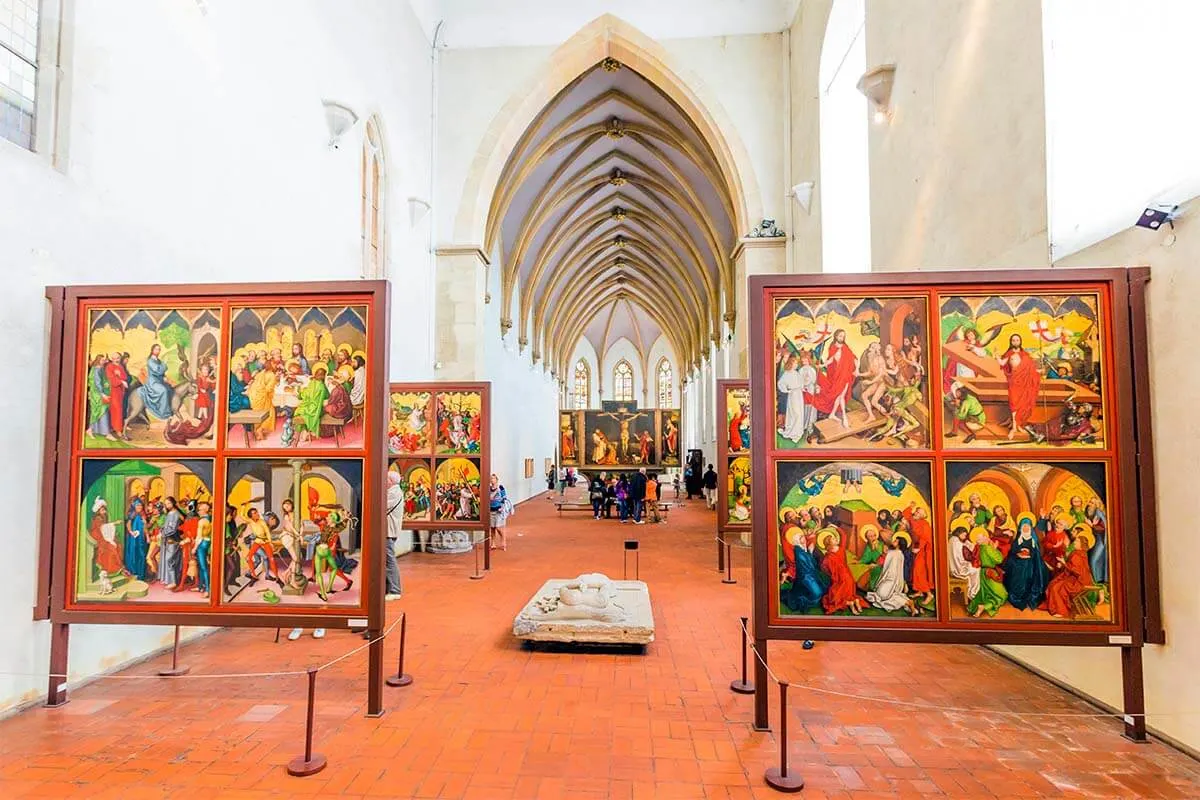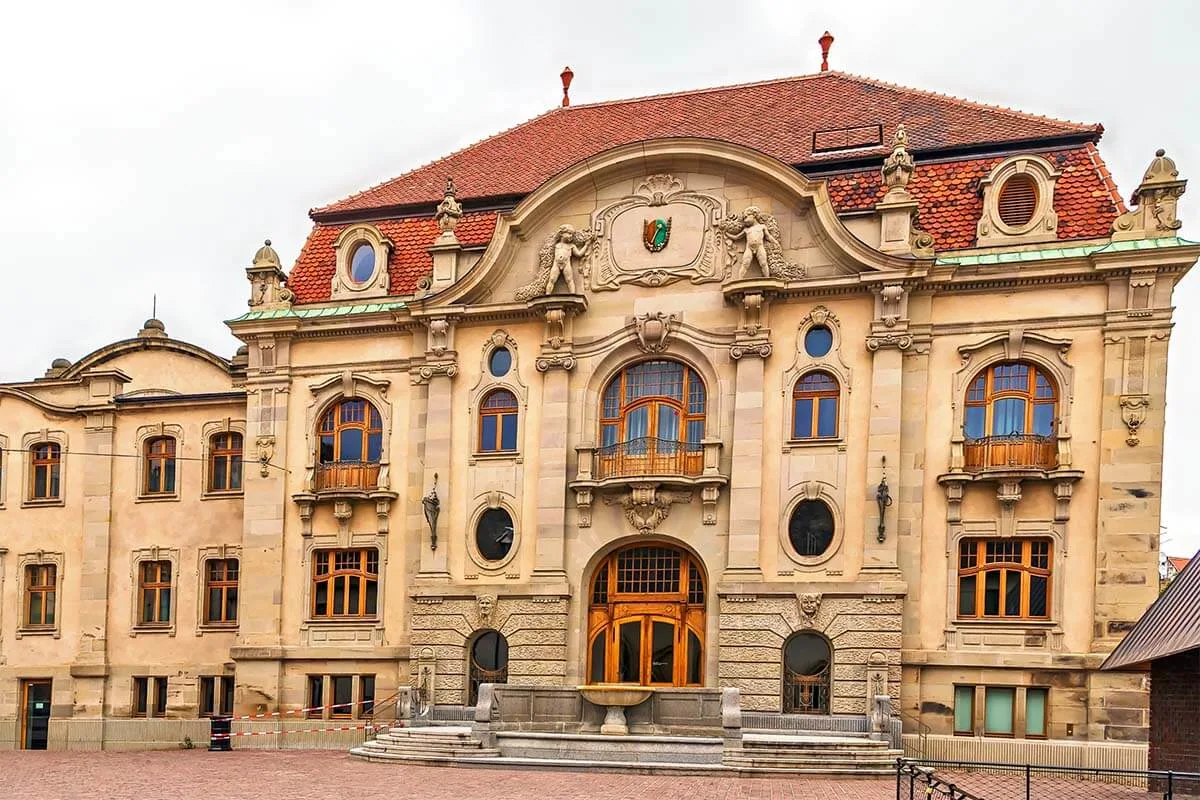 7. Colmar Tourist Train
One of the most popular tourist attractions in Colmar is the little tourist train, Petit Train Touristique. These green miniature 'trains' pass most of the main sights in the old town in about 35 minutes.
It's a great way to see the best of Colmar without having to walk and you get an overview of the city with an accompanying commentary.
While the tourist train is good for those who are short on time, have mobility issues, or for families with kids, don't use it as a substitute for exploring the city on foot. Ideally, you do this train ride first, get a good understanding and some background info on the main sights in Colmar, and then explore deeper on your own.
Good to know: The tourist train runs the whole year round and departs from Rue Kléber, just near the Unterlinden Museum. In high season, it runs every 30 minutes from 9 AM to 6.30 PM. For more information, check their website.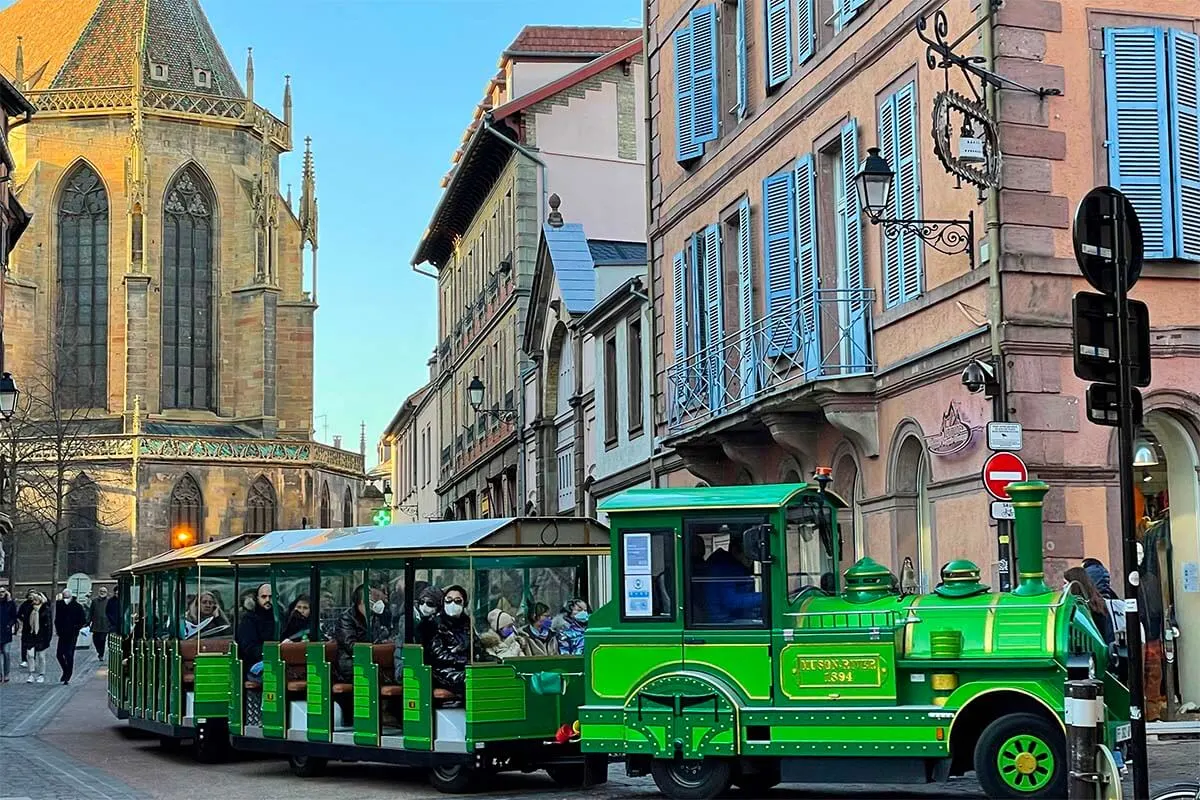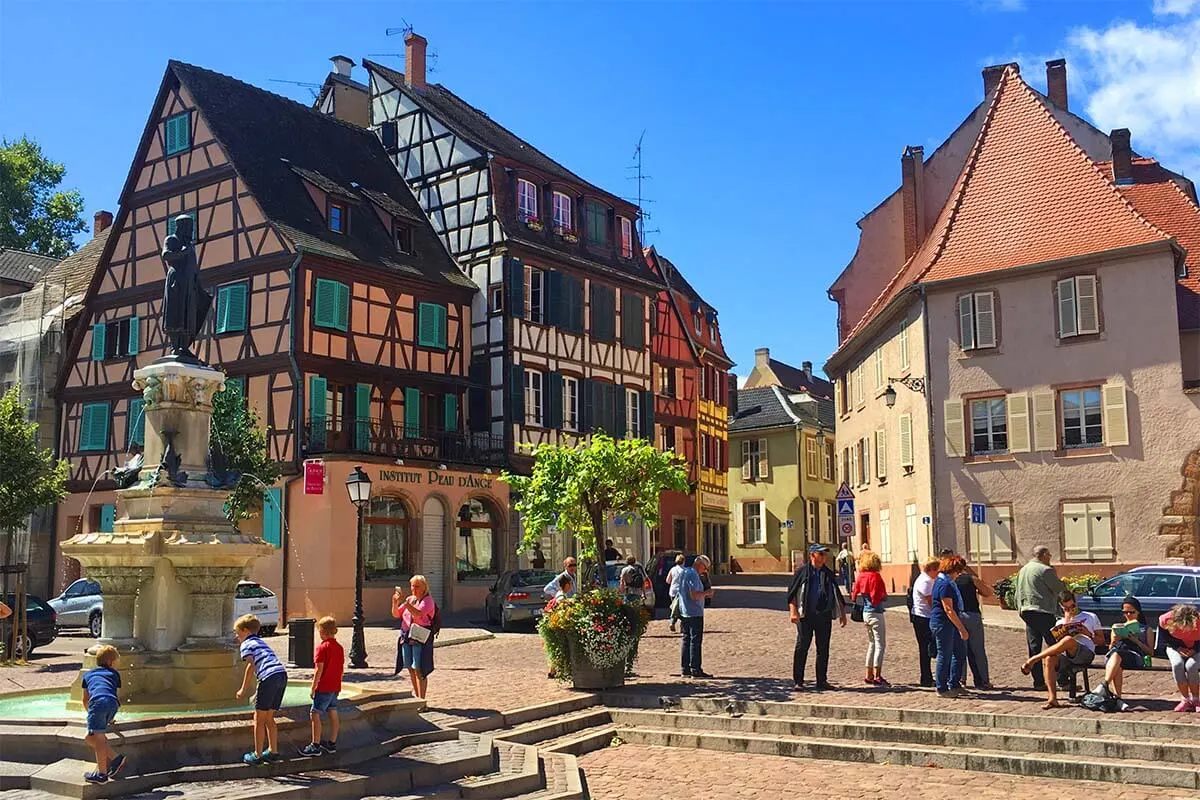 8. St. Martin's Church
St. Martin's Church (Église Saint-Martin) is probably the most remarkable church in Colmar. Built during the 13-14th centuries in the Gothic style, its original spire and roofs were destroyed in a 16th-century fire. This explains the unusual tower top in the form of a lantern.
Saint Martin's collegiate church is often referred to as Colmar Cathedral (in German "Münster"). However, it only had the cathedral status for about 10 years, at the end of the 18th century.
The building has a very impressive exterior, and especially the colorful roofs that look even more special on a sunny day. But the interior is well worth seeing too, especially the Chapelle du St Sacrement with its neogothic mural paintings.
Good to know: The church is located in the heart of Colmar old town and only requires a few minutes. It's, therefore, very easy to include in your itinerary. It's free to enter and is open daily from 8 AM to 6.30 PM, except Sunday morning.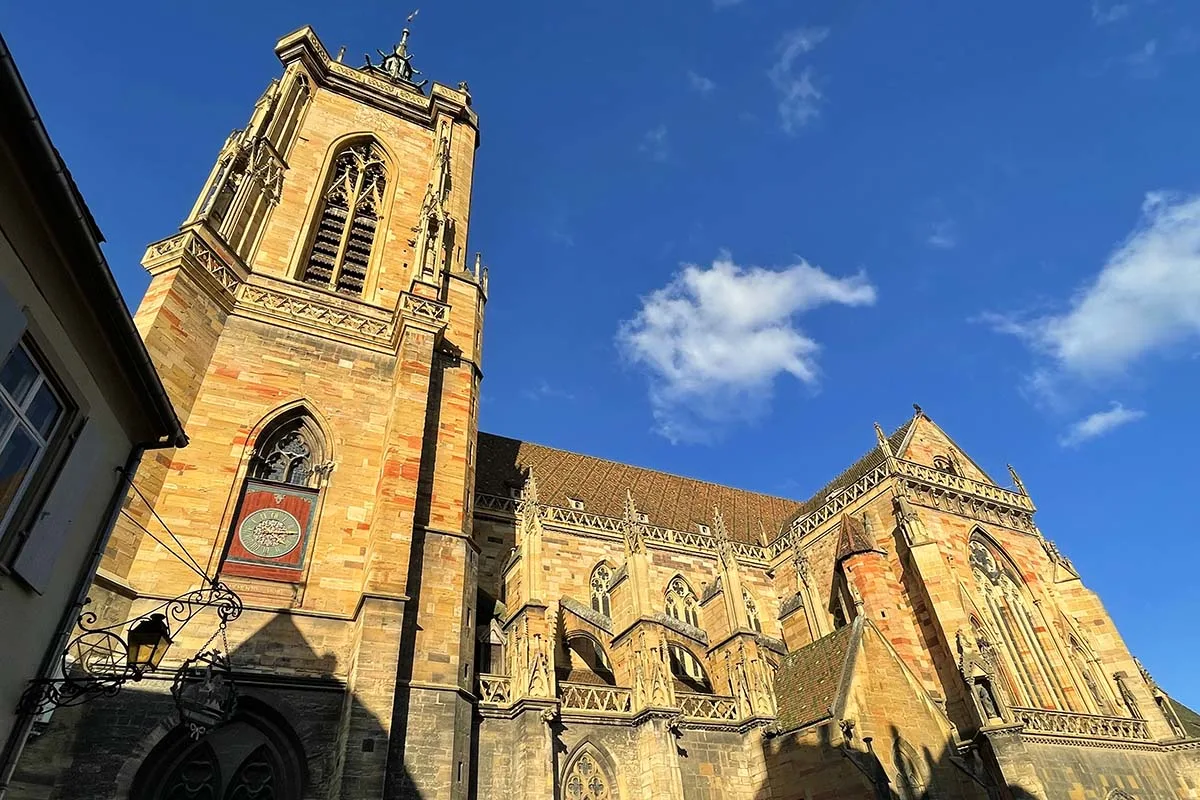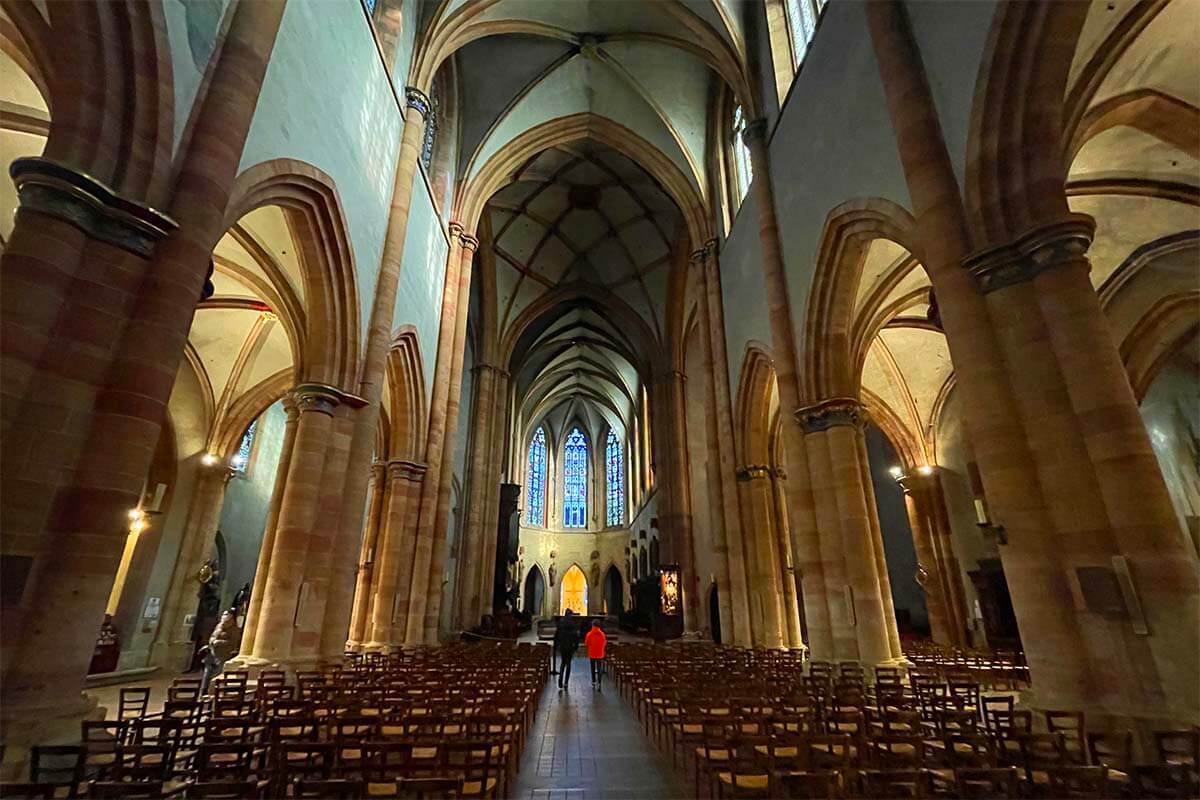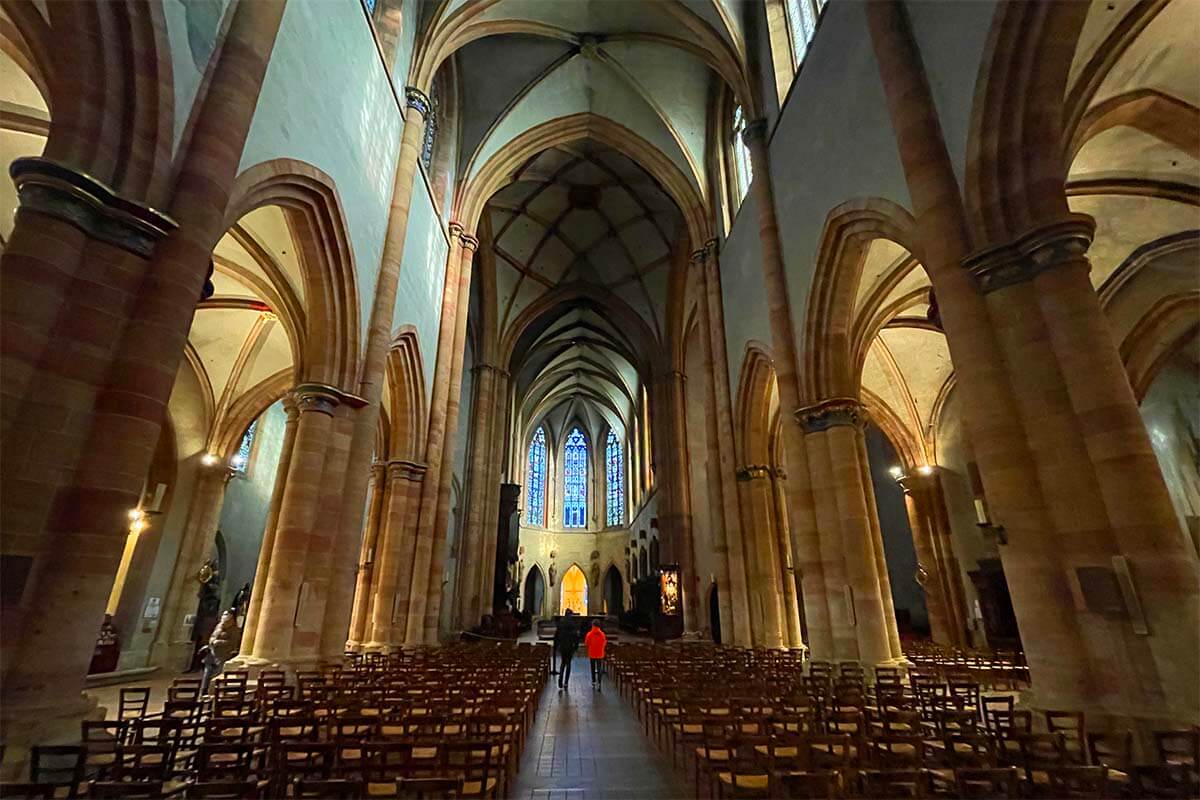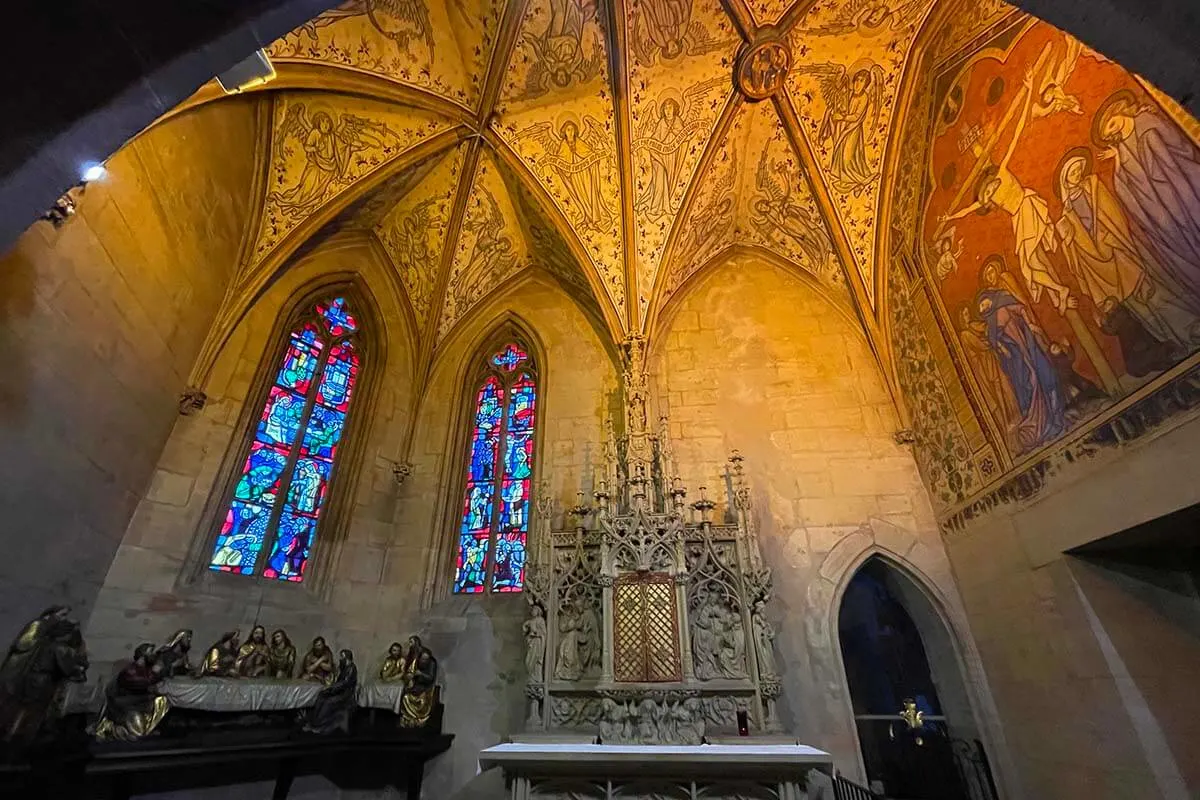 9. Dominican Church
The Église des Dominicains is another noteworthy church in Colmar. It's more visited than the St. Martin's Church, mainly because of the famous Madonna of the Rose Bush (Maria im Rosenhag) masterpiece painting by Martin Schongauer, a 15th-century Alsacian painter.
Dating from the 13-14th centuries, the Dominican Church in Colmar is an example of the mendicant orders architectural style. Also noteworthy are the beautiful and very well-preserved 14-15th century stained glass windows.
Good to know: The church is open daily in the morning and in the afternoon. There's a small fee to visit inside.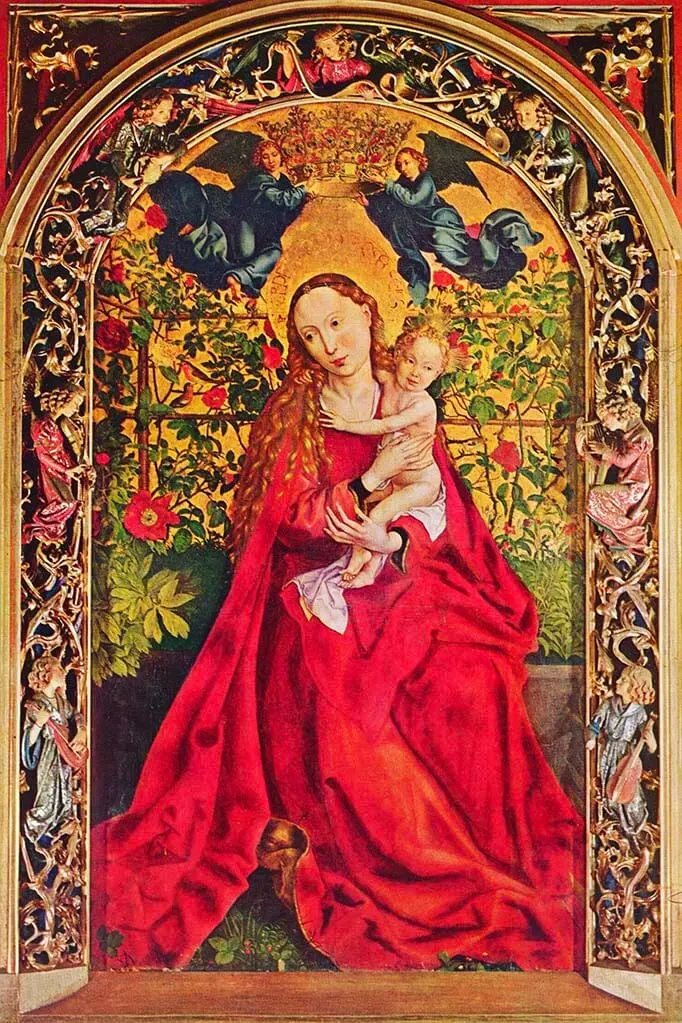 10. Covered Market
If you are looking for a somewhat more local atmosphere and something different to do in Colmar, check out the Covered Market (Marché couvert). It's located between the Tanner's District and Little Venice. So you'll inevitably pass here when sightseeing in Colmar.
The strategic location of the market directly by the Lauch River is not a coincidence. In the past, local farmers would bring their produce to the market directly from the fields using the traditional flat-bottomed boats.
Dating from 1865 and recently restored, the building exterior is quite impressive and nice to see, but the market is also worth a quick visit inside. Inside, you'll find market stands selling fruit, vegetables, and all kinds of regional specialties.
TIP: Adjacent to the market and right above the river, there's a nice outdoor restaurant, La Terrasse du Marché. It's a lovely place for lunch, but it's so small and so busy that you should probably reserve in advance on their website if you want to be sure to find a table here.
Good to know: The covered market is open daily except for Mondays. On Thursday, there's an outside market as well.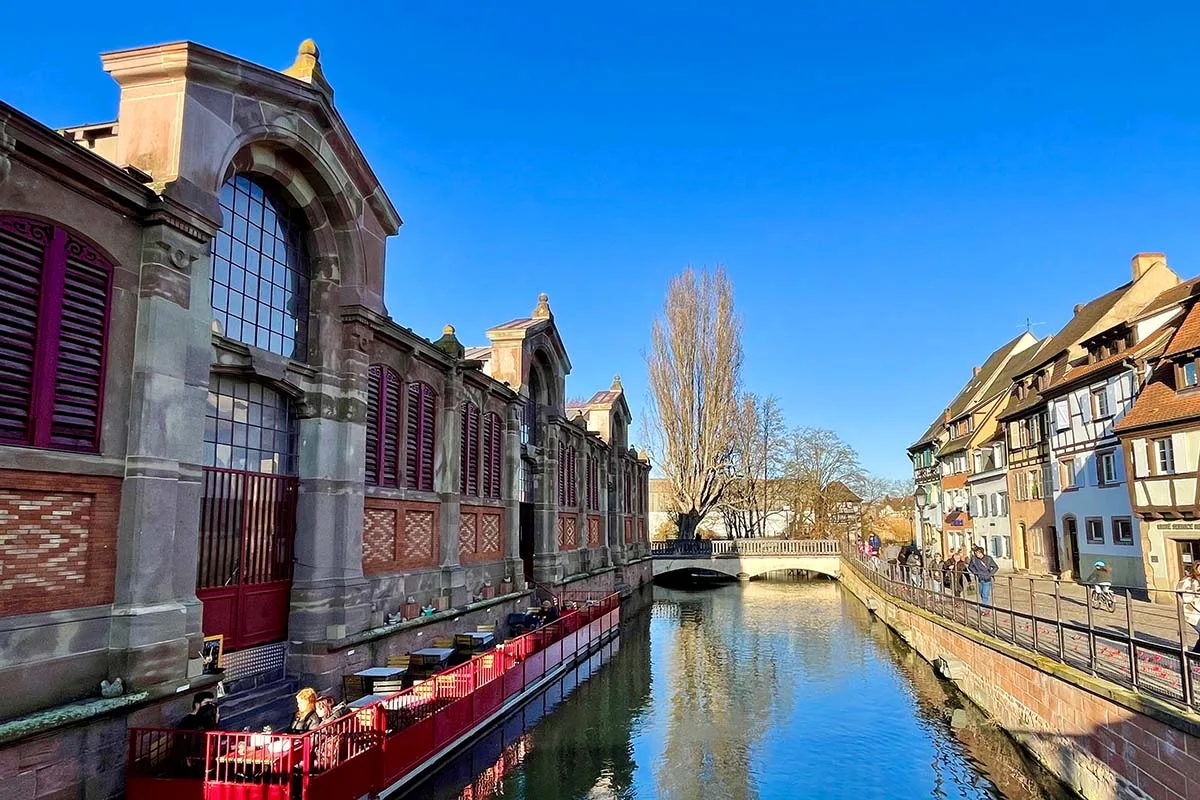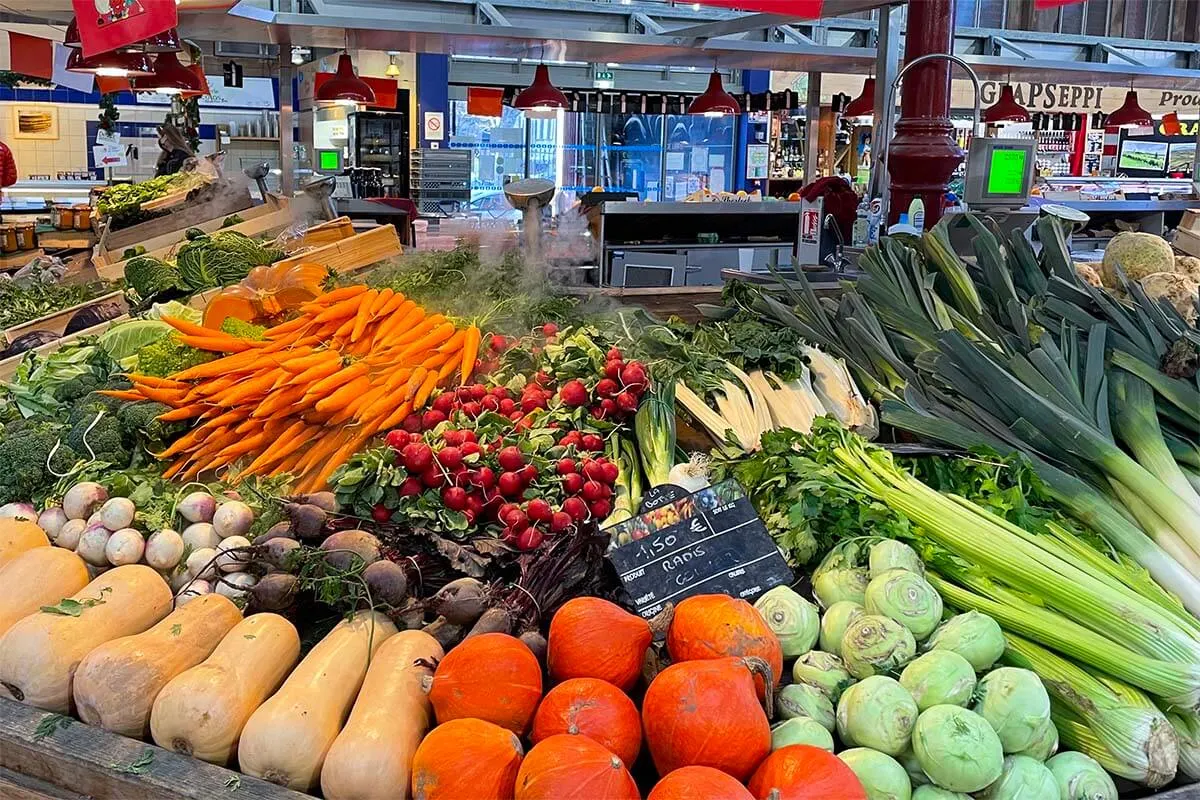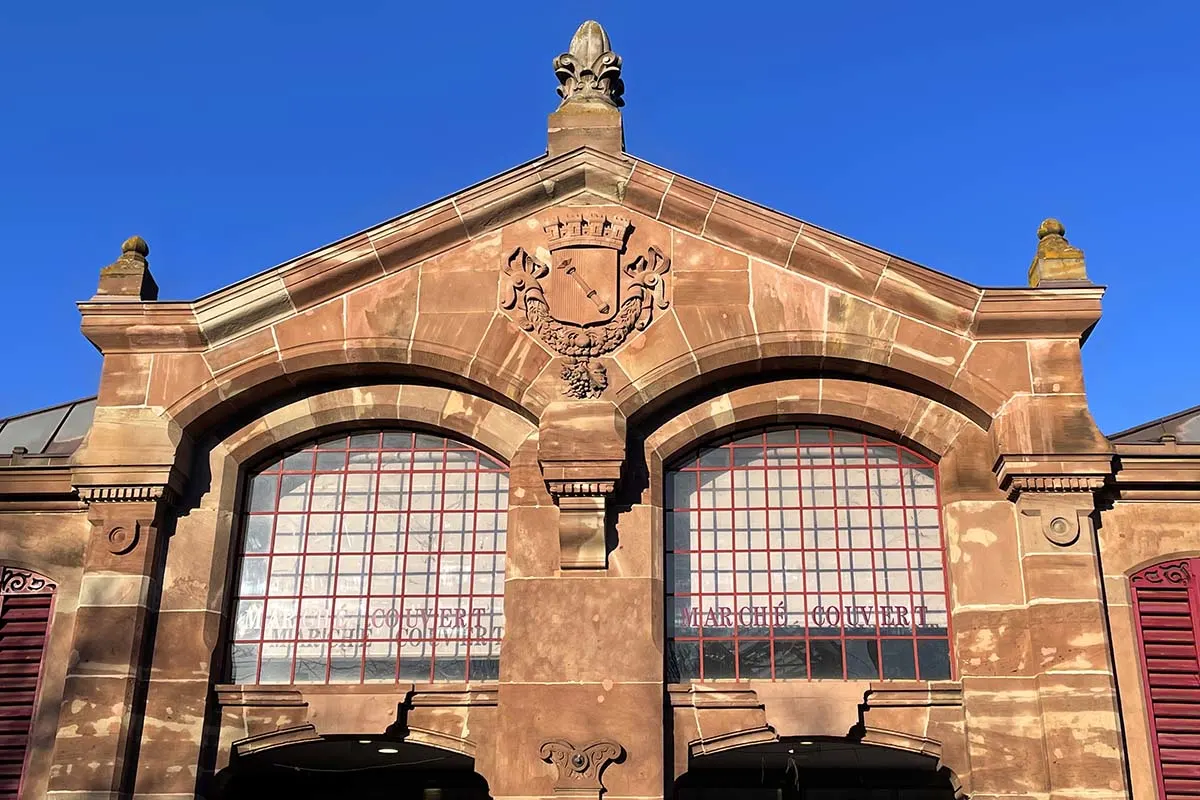 11. Colmar Museums
In addition to the Unterlinden Museum mentioned above, there are quite a few other museums in Colmar. However, most people only visit Colmar for a day and have no time to explore them. I have to admit that – despite having visited Colmar on various occasions – we also haven't seen them all…
That being said, if you have more time and are looking for more interesting things to do in Colmar, you may want to check out the following museums as well. It's also something nice to do when visiting Colmar in winter when it's cold and wet outside, or if you are looking to escape the summer crowds at the most popular attractions.
Here are some of the most interesting museums to visit in Colmar:
Hansi Village and Museum. Located close to Maison des Têtes, this museum features artworks by the local 19-20th century artist Jean-Jacques Waltz, aka "Hansi". It's a great opportunity to learn more about the history and culture of Colmar through various artworks. More info on their website. This museum is included with the Alsace Pass.
Bartholdi Museum. Located close to Maison Pfister, this is another noteworthy place to see in Colmar. This is the house where sculptor Frédéric Auguste Bartholdi, the sculptor of New York's Statue of Libery, was born. Inside the museum, you can see the apartments and original furniture and personal items of the Bartholdi family, as well as several original statues that the artist created for the city of Colmar. More info on their website (in French).
Musée du Jouet. Located just a bit off the main tourist area, but still very close to the main Colmar attractions, this is the Toy Museum. It's well worth seeing even if you are on a short visit in town, and especially if visiting Colmar with kids. Located inside an old cinema building, this museum features an impressive collection of toys from the 1800s to today. Definitely not just for kids! For more info, see their website. This museum is also included with the Alsace Pass, and you can also get tickets on Viator.
Choco Story. There are many similar museums throughout Europe, but if you like chocolate, it's always nice to visit. This is an interactive chocolate museum with several tastings included during your visit. It's something fun to do in Colmar with kids, but adults will appreciate it too. You can opt for a regular ticket or join a chocolate-making workshop (see all options here).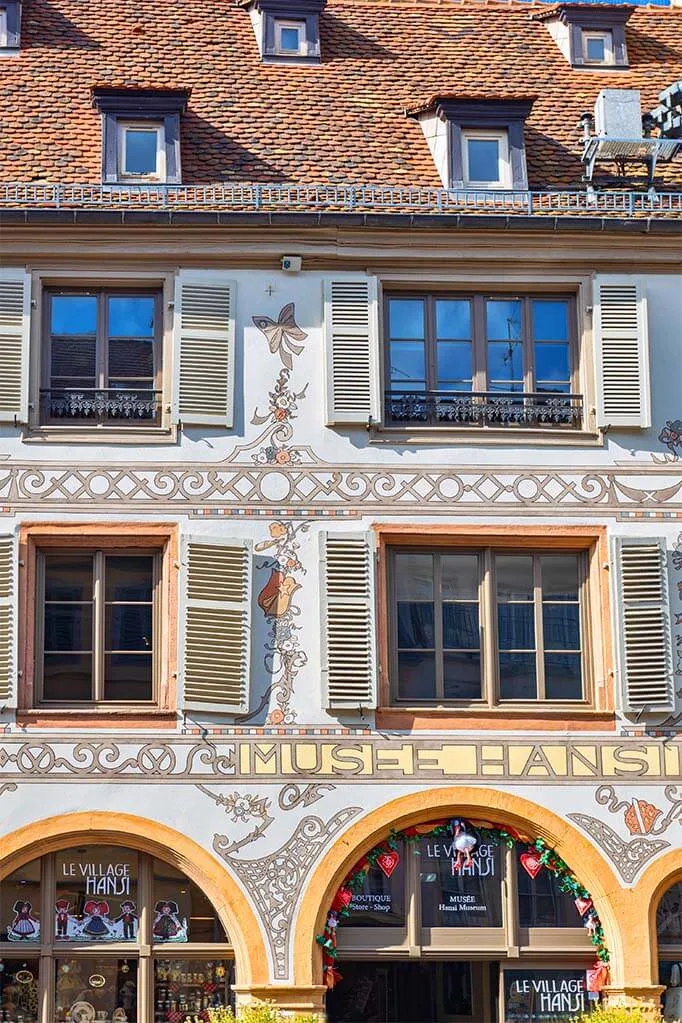 12. Statue of Liberty
The Statue of Liberty is probably one of the most unusual attractions in Colmar. Located outside the city center, in the middle of a roundabout in an industrial area, it's quite an unusual sight.
The reason why there's a Statue of Liberty in Colmar is quite simple. The sculptor that made the world-famous statue that stands in New York City – Frédéric Auguste Bartholdi – was born in Colmar. This (much) smaller replica of the original statue was made to commemorate the 100 years after his death.
Good to know: You'll need a car/ taxi/ bus if you want to see the Statue of Liberty (it's about 45-60 minutes walk from the city center). There is a small parking nearby too, but since the statue is located in the middle of a busy roundabout, it's not that simple to visit.
We once stopped here, took the trouble to park the car, cross the street, and get as close to the statue as possible. But it was low season, the traffic was quiet, and we were lucky to find a parking spot nearby. Once at the statue, there's not that much to do, except for taking a few pictures.
So all in all, I'd say the Statue of Liberty in Colmar is interesting to see when driving into the city from the north, but I don't think I'd go out of my way for it if you don't have a car.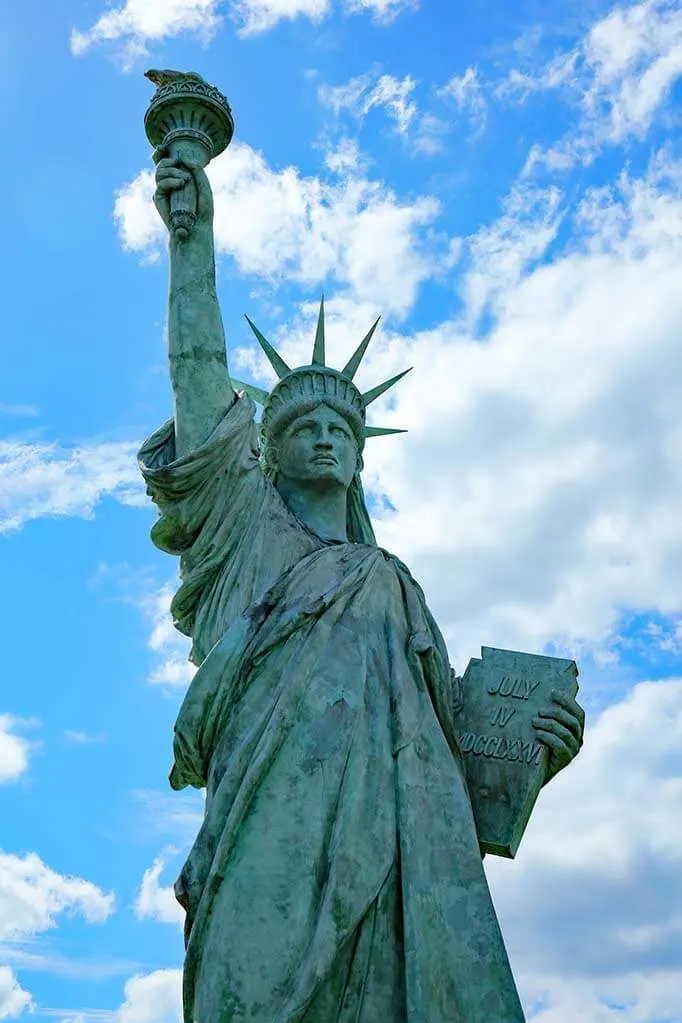 13. Traditional Alsace Food
One of the best things to do in Colmar is to taste some of the regional specialties – both, traditional local foods as well as the famous Alsace wines.
Here are just a few of the most typical dishes to try in the Alsace region:
Choucroute à l'Alsacienne – Alsatian braised sauerkraut with mixed meats, sausages, and potatoes.
Tarte flambée (Flammekueche) – a sort of Alsatian thin-crust pizza covered with white cheese or cream, thin-sliced onions, and lardons. These are the basic ingredients, and you can have all kinds of additional extras on top.
Baeckaoffe – a casserole dish composed of several types of marinated meat and potatoes in white wine.
Crêpe Alsacienne – all kinds of traditional pancakes.
Foie gras – goose liver, a regional specialty invented in Strasbourg in 1780.
Pain d´épices – traditional cake/bread.
Bretzels – twisted dough bsicuits, sweet or salty. Somewhat similar, but not exactly the same as pretzels.
Kougelhopf – sweet, bun-like cake with raisins.
READ ALSO: Traditional Dishes Not to Miss in France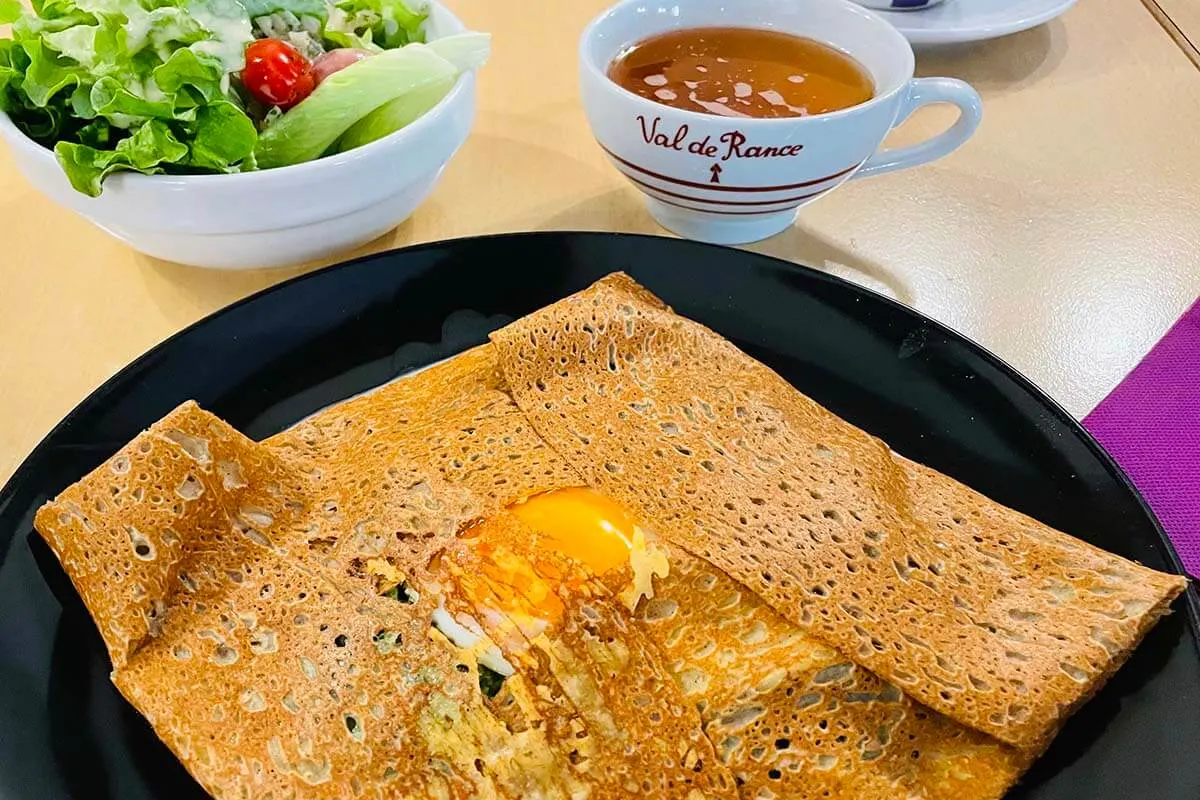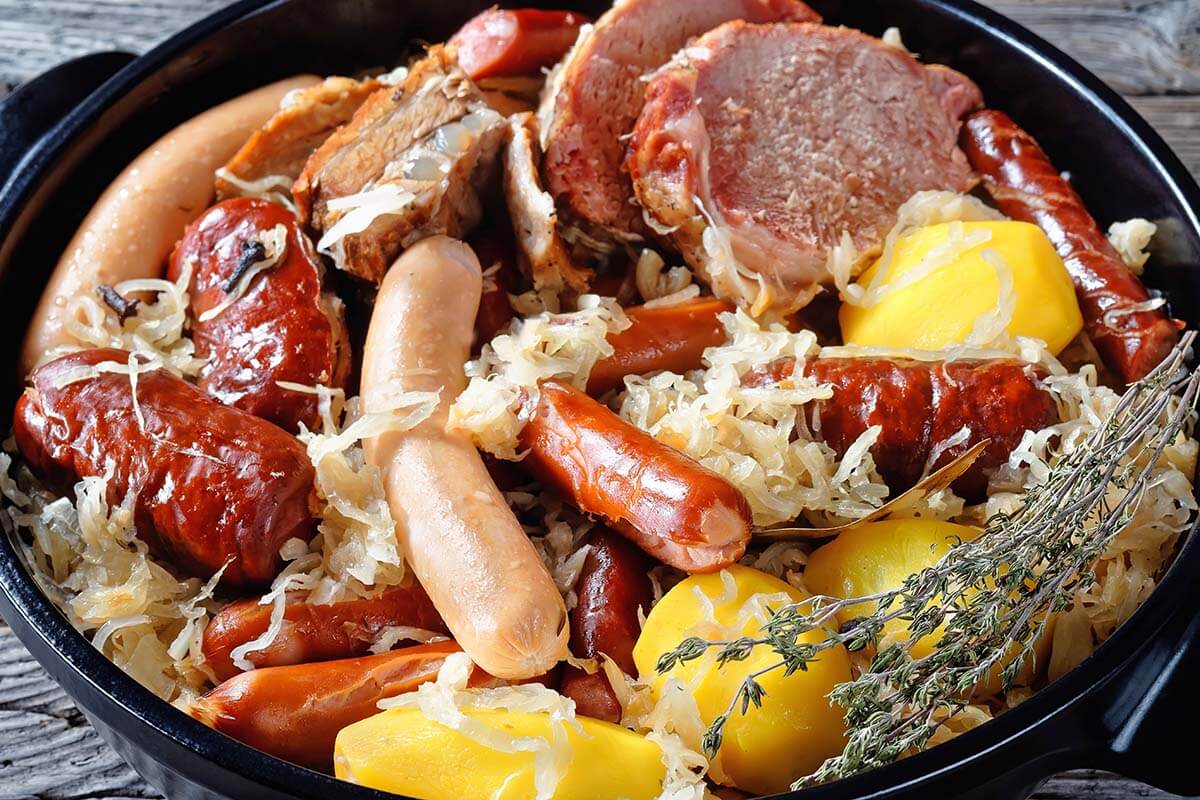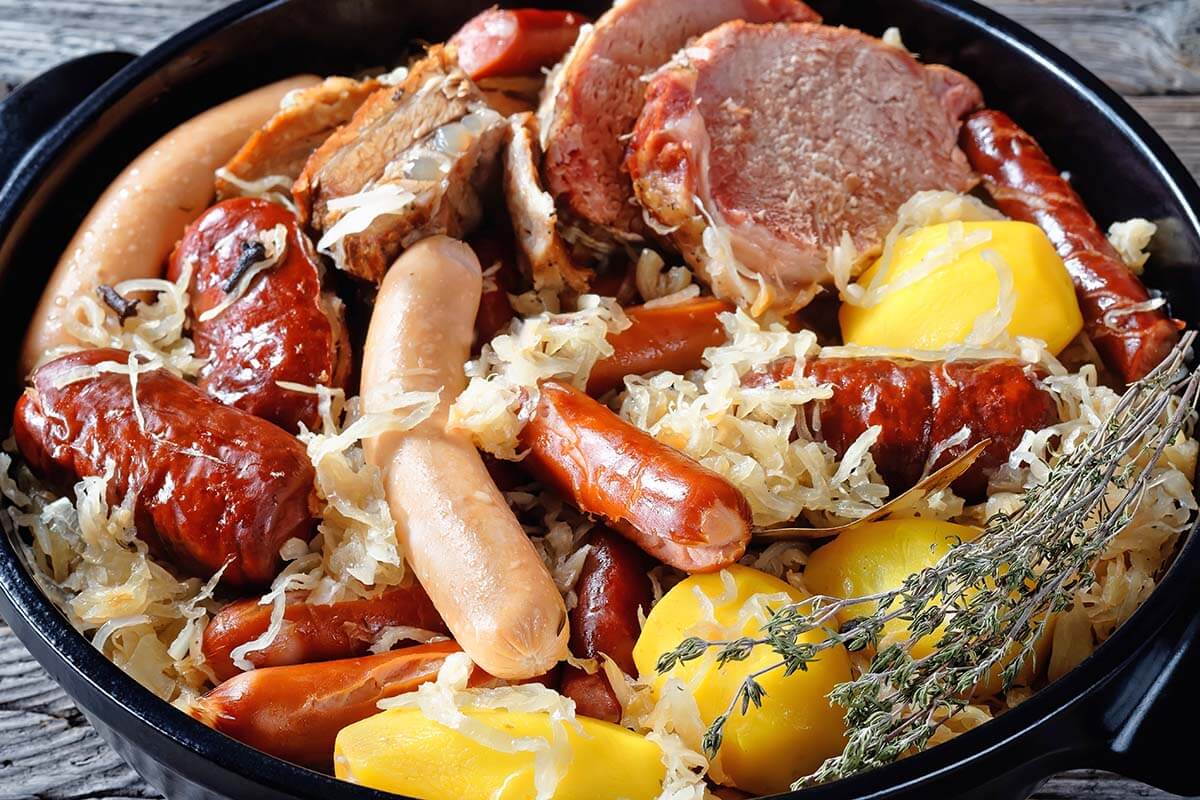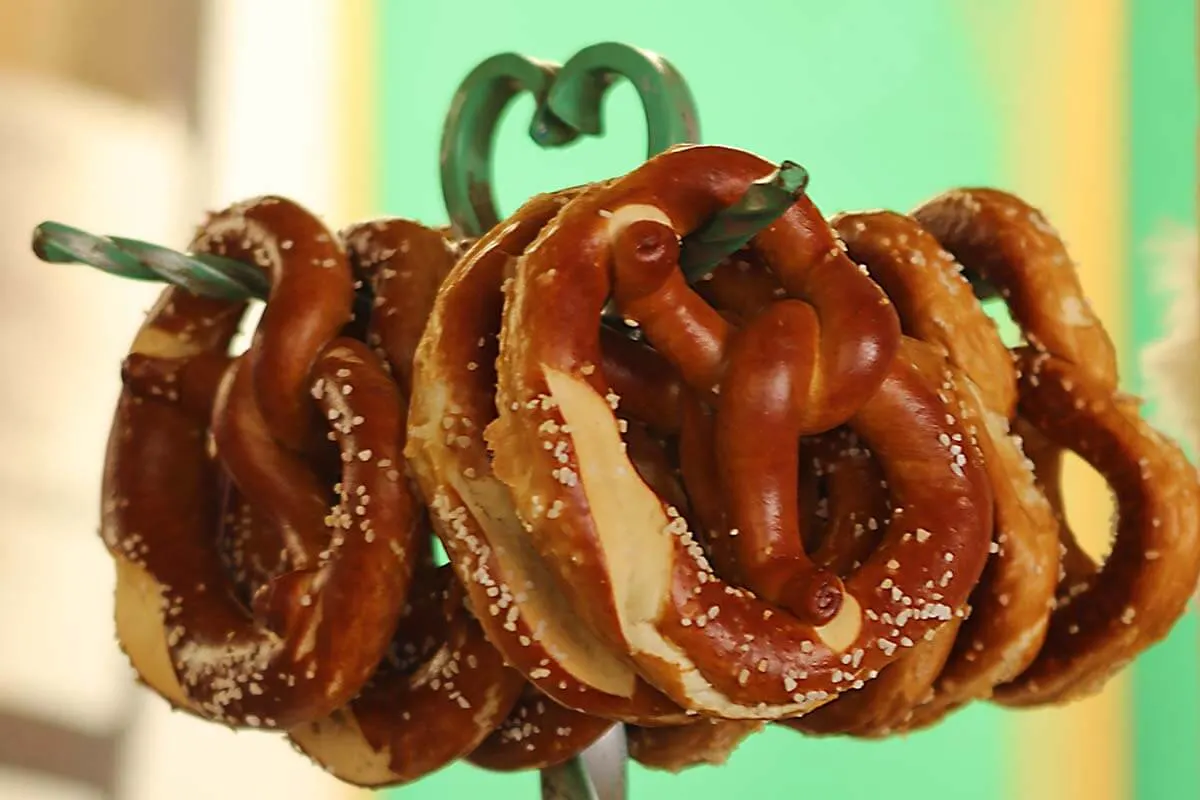 14. Alsace Wines
No trip to Colmar would be complete without tasting some of the famous Alsace wines!
The best-known white wines such as Gewürztraminer, Riesling, Pinot Gris, Sylvaner,… are traditionally served in a small round wine glass with a thin green stem. And be sure to also try Crémant d'Alsace, the sparkling wines of Alsace.
You'll find regional wines in shops and restaurants all over Colmar. Of course, you can just try local wines with lunch or dinner, but it's not the same experience as visiting a local wine house. So one of the things we recommend doing when visiting Colmar is taking an excursion to a local vineyard/wine cave, where you can learn more about winemaking, and of course, also taste and buy local wines.
If you have a car, it's easy to find and visit local wine houses in the region on your own. However, unless you have a designated driver who doesn't like wine, it's probably not the best idea :). Also, if you just show up there, you'll likely be able to taste one or two wines and buy them, but you won't always get much explanation (if any at all in English…).
You can also rent bikes in Colmar and there's even a 'wine route' that you can follow. But drinking wine and riding a bike is probably not the best solution either…
Another option – and probably the best one for tourists – is guided tours. If you are staying in Colmar and have an extra day, there are quite a few nice options to consider.
One of the very best (and with the most complete sightseeing itinerary) is this highly-rated Alsace day tour. It combines a visit to 4 of the nicest villages near Colmar, as well as wine tasting along the Alsace Wine Route. If you don't have an entire day, check out this half-day wine tour instead.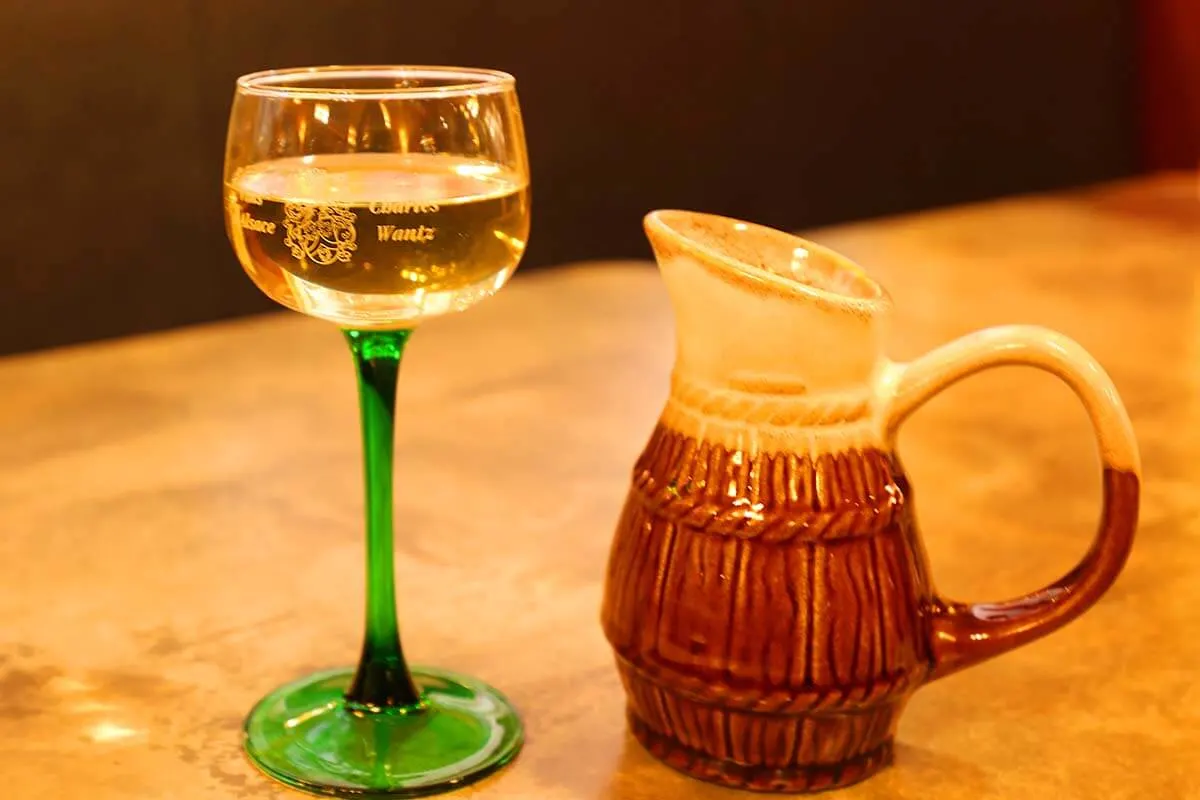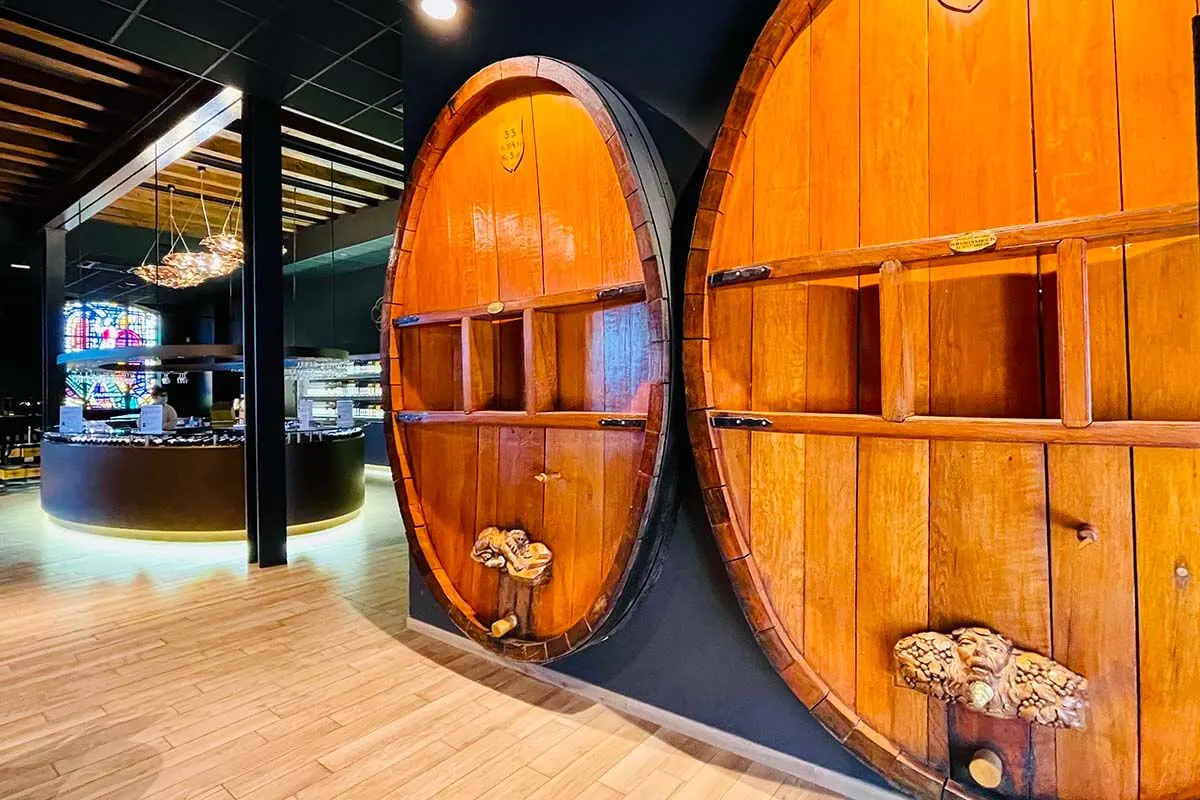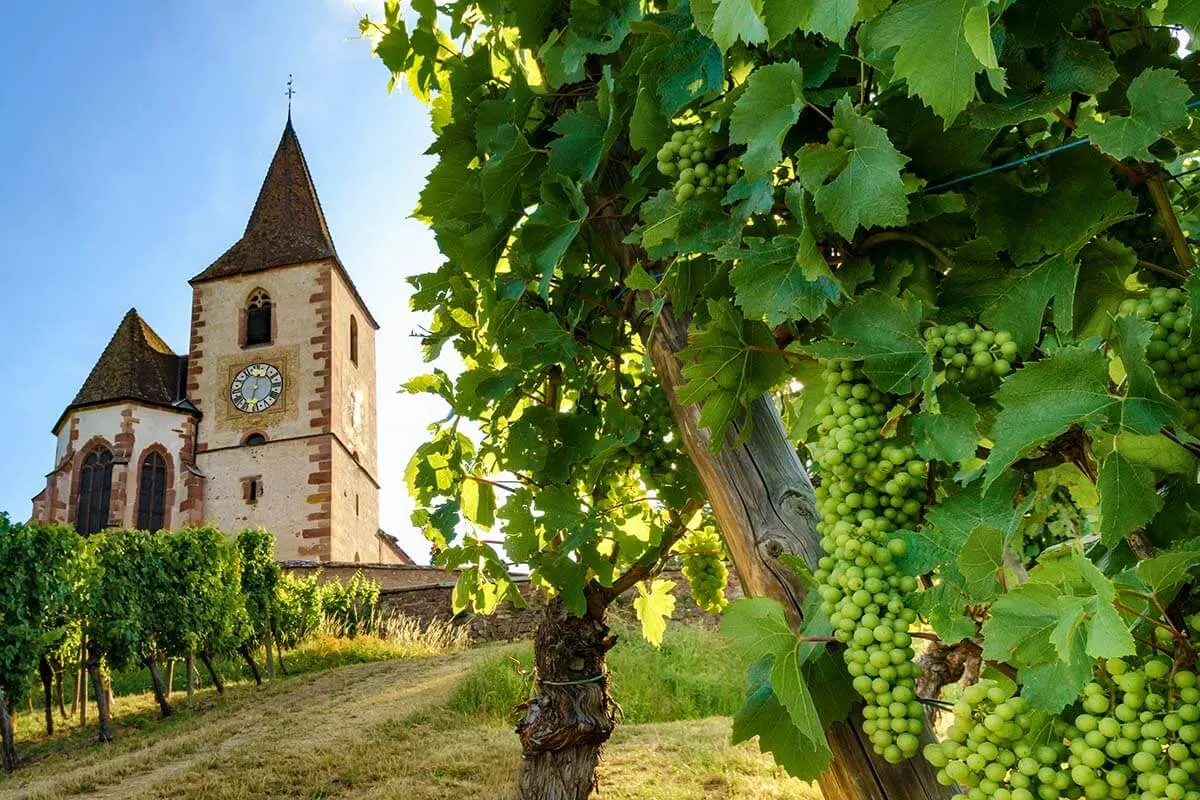 15. Alsace Wine Route: most beautiful places to see near Colmar
While there's a lot to see and do in Colmar town, its location in the heart of Alsace makes it an ideal jumping-off point for exploring some of the most picturesque villages and small towns nearby.
There is a lot to see and do near Colmar, but – unless you have a few weeks in the region – there's no way to see it all. As a minimum, try to see at least a few of the most beautiful places along the famous Alsace Wine Route.
TIP: The best way to see several of these places in a day is by taking this 4-villages tour from Colmar. If you are visiting Colmar from Strasbourg, look for a tour that visits at least one or two of these places on the same day as well.
Some of the most beautiful places to see near Colmar (all these are part of the Alsace Wine Route):
Eguisheim is one of the most beautiful small towns in France. Every street and every building in the old town is so picturesque that you can hardly believe that places like this exist for real. It's especially beautiful in the summer when there are flowers everywhere, but we also visited it in winter and it was amazing too. Eguisheim is located just 7 km southwest of Colmar and you can get there by car, by bike, or with the above-mentioned tour. These tours also stop here.
LEARN MORE: What to See & Do in Eguisheim
Kayserberg is another very picturesque village, just 11 km northwest of Colmar. With colorful half-timbered houses and an old Fortified Bridge, its old town is well worth seeing too. Kayserberg also hosts one of the nicest Christmas markets in the region. Be sure to climb the tower of Château du Schlossberg – the views from the top are well worth it! This tour from Strasbourg that visits Colmar includes a stop at Kayserberg as well.
Riquewihr is located in the heart of the Alsace wine region. Surrounded by vineyards, the location is wonderful and probably one of the nicest in the region. But also the old town looks like a place from a fairytale book. This is a very picturesque town, one of the most impressive places you can visit near Colmar. Riquewihr is located slightly further away from Colmar – about 14 km. If you don't have a car, the best way to visit is by bus (30 min ride) or with one of the tours.
Ribeauvillé, just 5 km north of Riquewihr, is another popular town to see near Colmar. Also here, you'll find picturesque cobbled streets lined with colorful half-timbered buildings and some very picturesque town squares and neighborhoods. The town is surrounded by vineyards, has a beautiful park, and there are also some impressive castles (ruins) in the nearby hills. From Colmar, the best way to get here is either by car, with the same bus that goes to Riquewihr (add 15 minutes to the ride), or with tours.
Château du Haut-Kœnigsbourg is one of the best-preserved medieval castles in Alsace. The castle is absolutely impressive, and the views from the top are incredible too. Since it doesn't require that much time (we spent about 1 hour inside), it can be combined with the other places nearby. The castle is located about 30 km north of Colmar. The best way to visit is by car or with these tours.
LEARN MORE: Best Towns to See on the Alsace Wine Route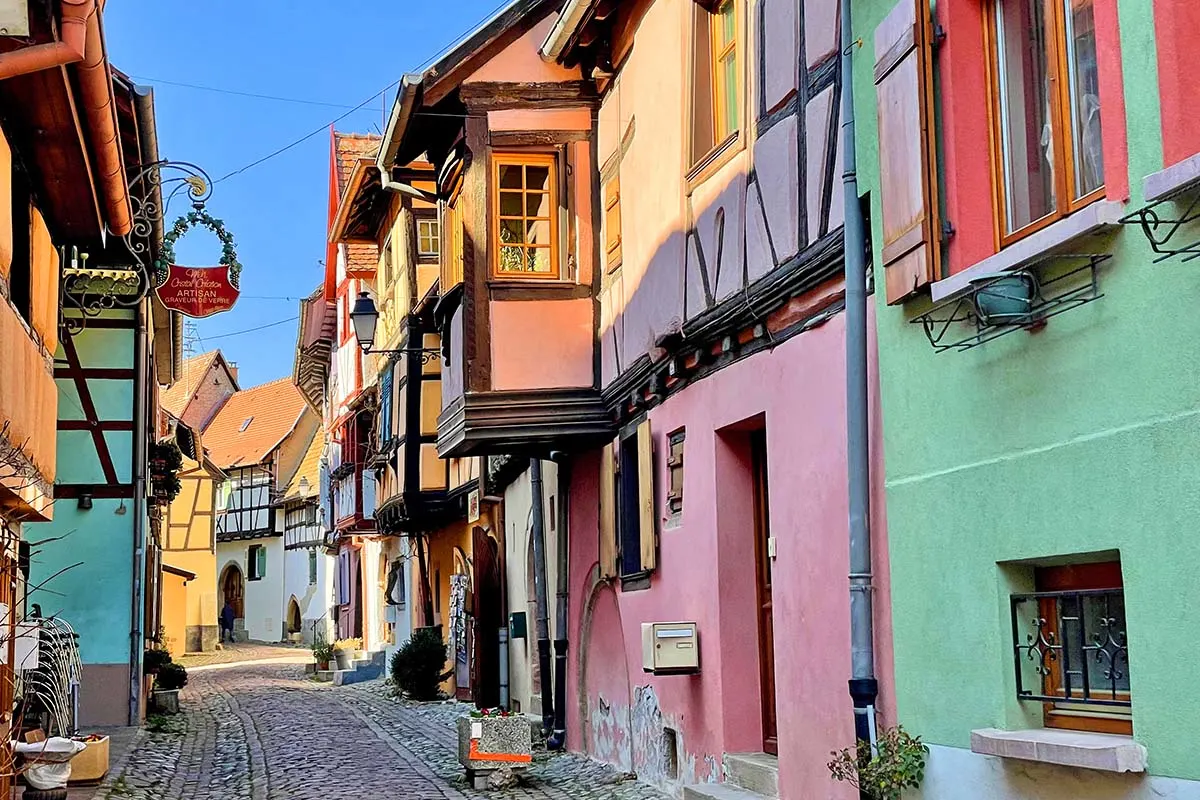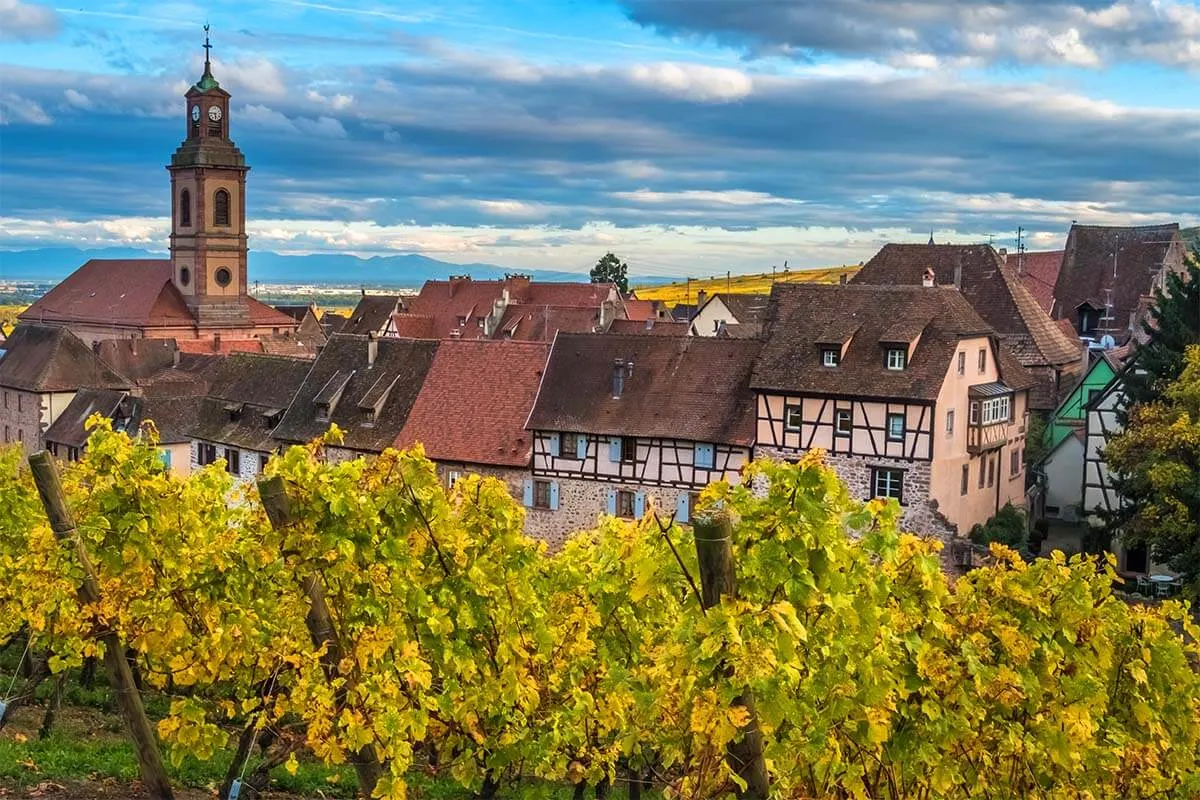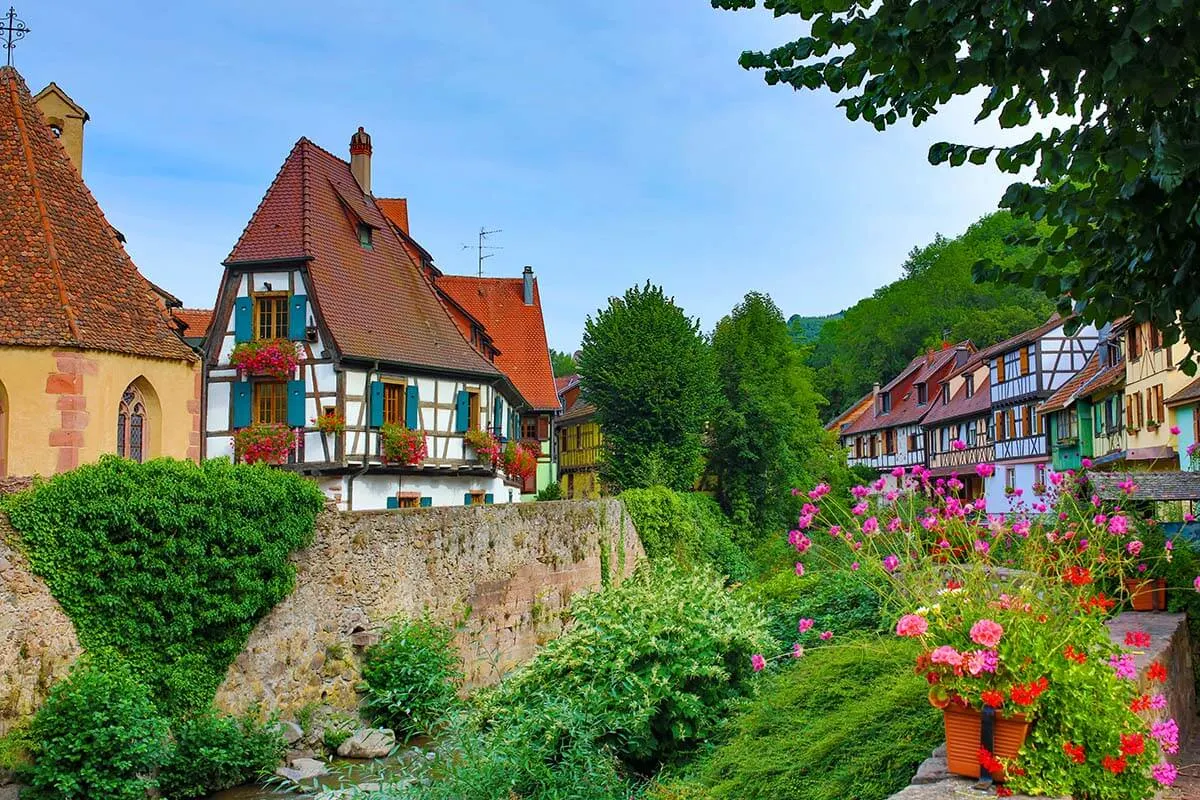 Tips & info for visiting Colmar
Best time to visit
There is really no bad time to visit Colmar and every season has its charms. The most popular is, of course, the summer season when the town is even more picturesque because of the colorful flowers everywhere. There are also lots of events and celebrations in the summer. Early fall is a good time to visit the vineyards, although the harvest season also means that locals will be very busy and not as relaxed as in the summer.
Colmar also hosts some amazing Christmas markets, so December is a busy time to be here too. However, just before or after the Christmas season, Colmar is rather quiet. Some tourist-oriented businesses might be closed, but it remains quite a lively town at any time of the year.
TIP: For nicer weather and fewer crowds, visit Colmar in May-June or in September-early October. These months are in general the best time to visit Europe.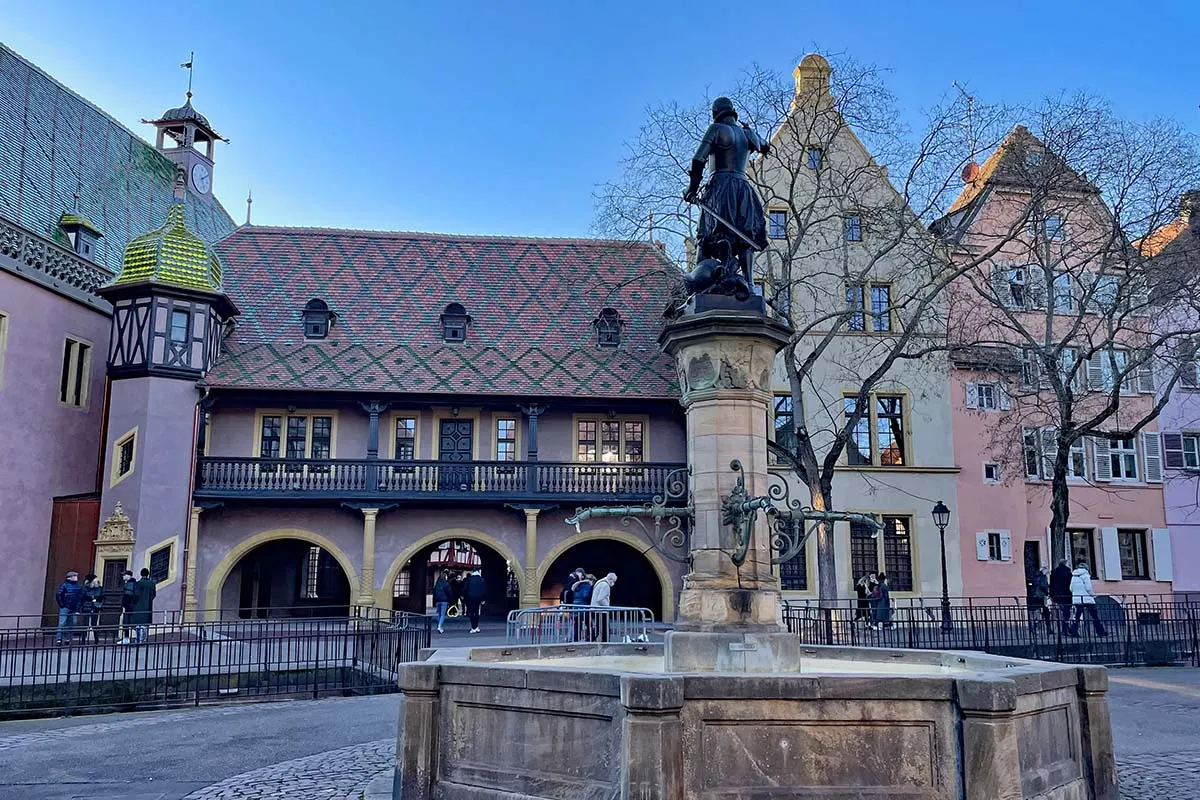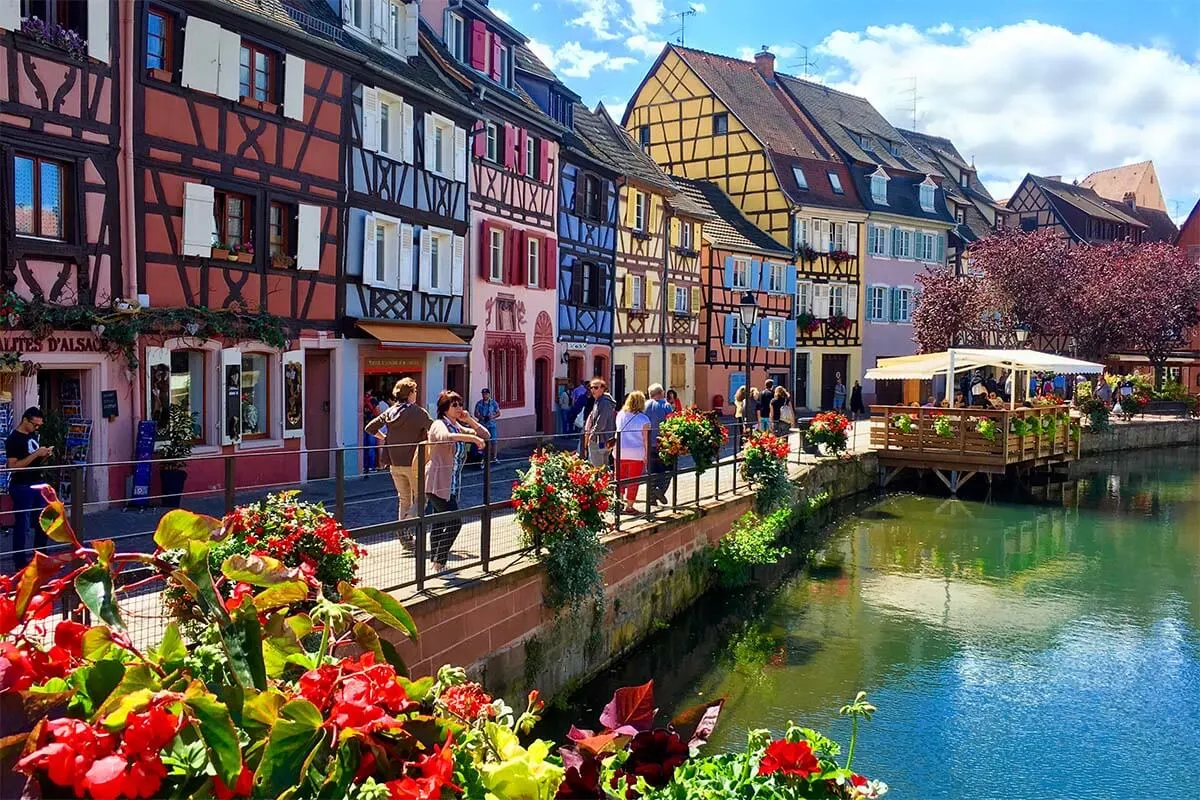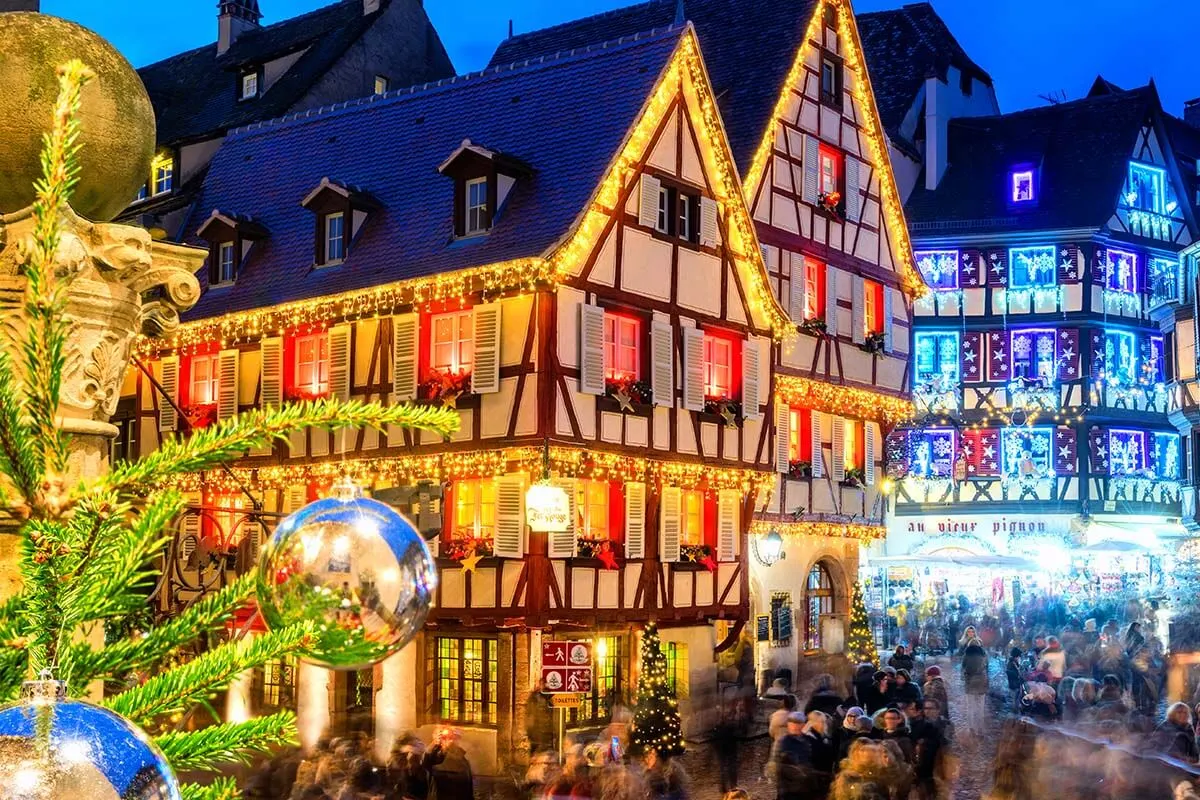 Getting there
Because of good railway connections, you can easily get to Colmar from any major city in France. Colmar can be easily reached by train from Strasbourg, and the ride takes just over half an hour.
As already mentioned, there are also organized tours from Strasbourg that visit Colmar and some other nice places nearby.
You can also easily visit Colmar by car, but keep in mind that parking is not always easy to find, especially in the peak season. We always drive and never had trouble finding parking not too far from the old town, but parking in the smaller towns nearby can be really challenging.
Getting around
Colmar town is quite compact and the best way to explore the city is on foot.
You can also take a tourist train or rent a bike. However, renting a bike is probably better if you are planning to visit the picturesque countryside, and not that much for the city itself.
TIP: A popular way to explore Colmar is by joining an organized segway tour of the main sights. You can cover a lot of ground in a short time and also visit some places that are a bit outside the main tourist routes.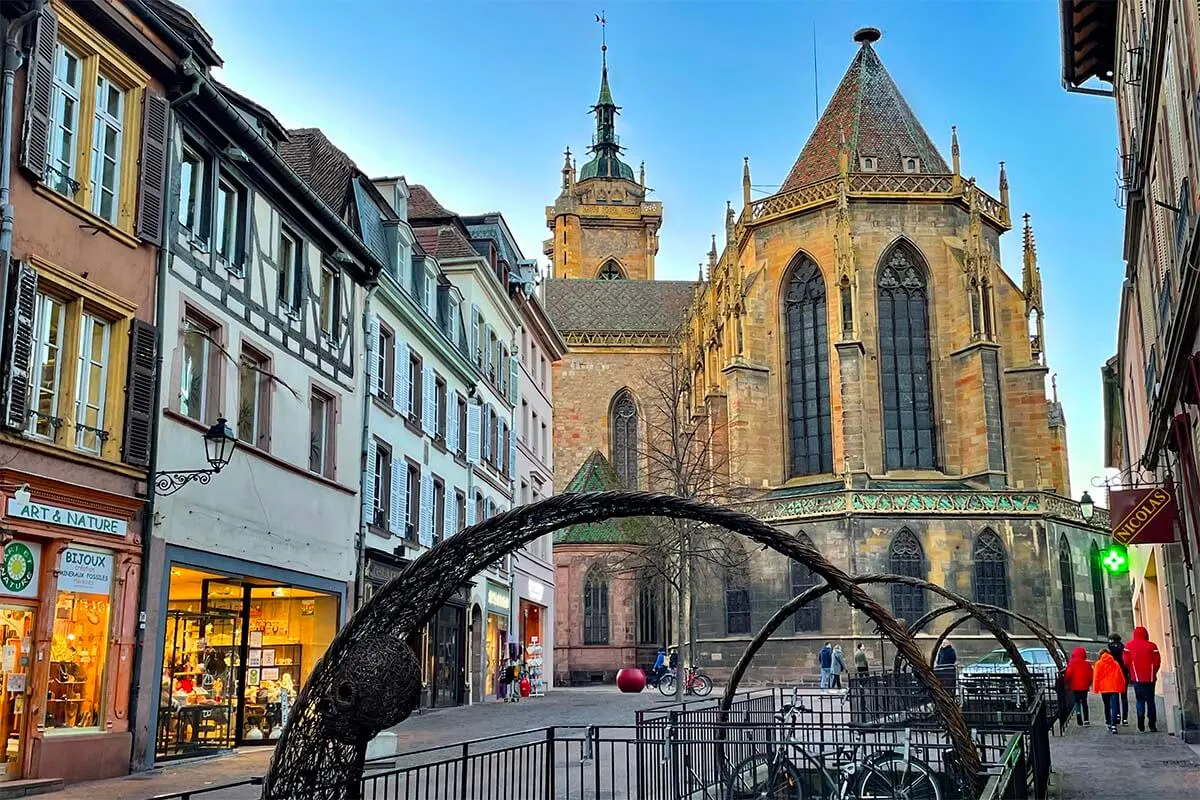 How much time do you need
While you can see the main highlights of Colmar in half a day to a day, we recommend planning at least two days for the Colmar area: one day for the town itself and one day for the beautiful towns and vineyards nearby (such as the earlier-mentioned Eguisheim, one of the prettiest villages nearby).
But you can easily spend a week in Alsace and never get bored. Be sure to also visit Strasbourg!
Where to stay
There are lots of really nice hotels in Colmar, and also the surrounding area has plenty of beautiful accommodation options.
If you are traveling by car, look for a place that offers (affordable) parking!!! A nice choice for those who want to stay in Colmar town itself is Novotel Suites Colmar Center with its own underground parking garage, and just a very short walk from Little Venice.
If you are traveling by train, stay in the heart of the old town so that everything is within a short walking distance. You can easily book day tours to the nicest nearby places, so plan at least 2-3 nights here.
Here are some of the best hotels in Colmar city center for all budgets: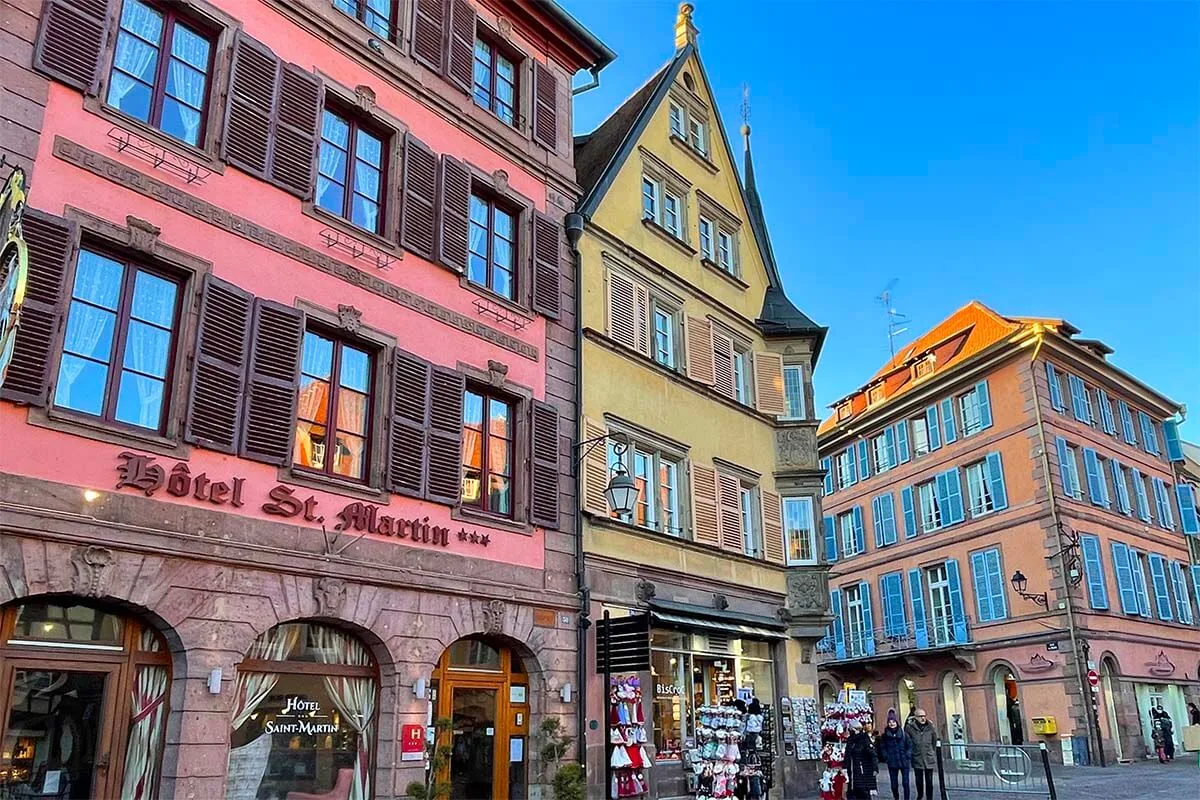 So, this is our guide to visiting Colmar in France. I hope that it helps you get a better idea of what to expect and plan your visit.
I also hope that it inspires you to spend more time in this beautiful region and explore it deeper!
Have a great trip!
YOU MAY ALSO LIKE: Tips & Tricks for Visiting Paris
READ ALSO our guides to some of the most beautiful European cities:
If you found this post useful, don't forget to bookmark it and share it with your friends. Are you on Pinterest? Pin these images!