Are you visiting Switzerland and wondering if it's worth including Geneva in your itinerary? Or maybe you already decided to visit Geneva and just want to learn what are the best things to do in Geneva or how to see the best of Geneva in one day? This article should answer all your questions – find out!
This post is written in collaboration with Anna from Expert World Travel. Anna lives in Switzerland and knows Geneva quite well. With her insight and tips, we put together this list of the very best things to do and places to visit in Geneva.
Geneva is probably not the first city that comes to mind when people think of traveling in Switzerland. In fact, many international visitors will often end up in Zurich instead of Geneva, if only because their plane lands there. Or visit Lucerne or Bern, because those cities are closer to the rest of the most popular places…
However, it is well worth spending a day or two here to explore the surprising attractions that Geneva has to offer. Not only is this city rich in history, but it also offers stunning lakeside views and quite a few unique attractions that you won't find anywhere else in the world.
BEST OF GENEVA IN A NUTSHELL:
* MUST SEE: Lake Geneva, Old Town, International Quarters.
* FUN TO DO: Boat tour on the lake & chocolate tour.
* MUST TRY: Swiss chocolates.
* WHERE TO STAY: €€€€€ The Ritz-Carlton Hotel de la Paix €€€€ Fairmont Grand Hotel Geneva €€€ Edelweiss Manotel €€ ibis Geneve Centre Lac.
* BEST CITY TOUR: Old Town & International Quarters.
* NEARBY: Chamonix & Mont Blanc tour.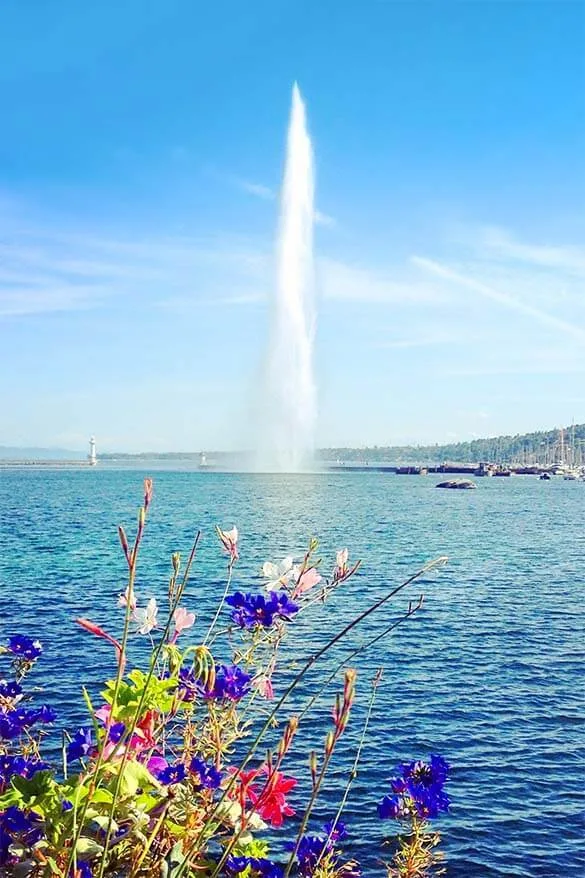 A mild climate and exceptional location make Geneva one of Switzerland's most sought-after cities to live in. It's also very cosmopolitan and has a great international atmosphere, also because of the United Nations and many other international organizations that are located here. Despite this and despite the fact that Geneva is one of Switzerland's largest cities, it somehow manages to retain the feel of a small cozy town.
So, rather than passing by this stunning city in the French-speaking part of Switzerland, take some time to discover its charm. And to help entice you to spend more time here, we made a selection of amazing places to see and things to experience in Geneva…
In addition, you can find the map indicating all the places worth seeing in Geneva that are mentioned in this post. At the bottom of this article, you can also find some suggestions on how to see the best of Geneva in one day. Find out!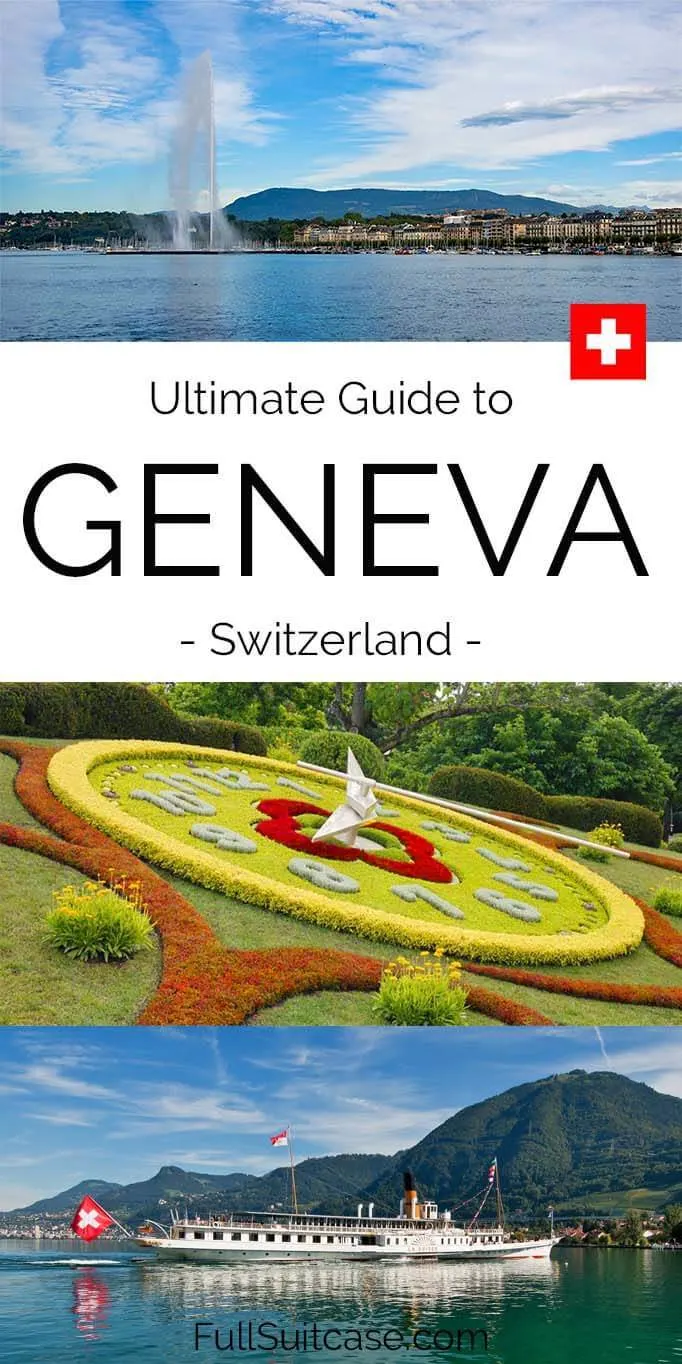 Things to do in Geneva – overview:
How to Use This Guide
We ranked the main Geneva attractions in such a way that all the must-sees are on top. All the places on this list are really nice to see, of course, but unless you have a week in Geneva, there is no way to visit them all. So you'll have to choose what suits your interests best.
To help you with the planning, we also included a map indicating all the main Geneva attractions.
Geneva has so much to offer that you could easily spend several days in the city. However, if you are like most visitors, you are probably just visiting Geneva for one day. So, in order to help you get the most of your time in Geneva, we also have some suggestions on how to best spend one day in Geneva. You can find these suggestions at the bottom of the article.
But if you do have the time, definitely stay in Geneva for at least 2-3 days. There's plenty to see and do in the city and nearby! At the bottom of this article, you'll find our tips for places to see near the city and also suggestions on where to stay.
TIP: If you are planning to visit several attractions in Geneva, consider getting the Geneva Pass that includes all the main attractions, public transport, and much more… It's the best way to see the city and explore the lake at your own pace. It offers really good value, especially if you are in the city for a few days.
Top Things to Do in Geneva on the Map
In order to help you plan your time in Geneva, I created this map indicating all the main Geneva attractions.
How to use this map: Use your computer mouse (or fingers) to zoom in or out. Click on the icons to get more information about each place. Click the arrow on the top left corner for the index. Click the star next to the map's title to add it to your Google Maps account. To view the saved map on your smartphone or PC, open Google Maps, click the menu and go to 'Your Places'/'Maps'. If you want to print the map or see it in a bigger window, click on 'View larger map' in the top right corner.
These are the top attractions and the best things to do in Geneva:
1. Lake Geneva & Jet d'Eau
Geneva is located on the shores of the Rhone river and the stunning Lake Geneva, so you should definitely take advantage of that. A simple stroll on either side of the Rhone river is definitely worth your time. After all, Lake Geneva is one of the main Geneva attractions!
Most big cities have a landmark that everyone identifies with that city. Geneva's iconic symbol is Jet d'Eau – a huge water jet that splashes water to 140 m (460ft) height. You can see it in the distance from almost anywhere along the lake, but it's worth getting up close to really appreciate how powerful it is. Jet d'Eau is operational in the warmer season only – usually from March till the end of October.
Along the left bank is a wide promenade with lawns, flower beds, and lots of trees. The right bank of the lake is known for the luxurious mansions of Quai du Mont-Blanc and offers stunning distant views of the surrounding mountains.
Lakeside promenade is a beautiful place that you can explore on foot, but I recommend renting a bike. Otherwise, it will take you several hours just to visit the main Geneva attractions located along the lake.
If you are visiting Geneva in summer, you can pop into the public swimming baths, Bains des Pâquis, which are actually in the lake. More info further below.
TIP: A 1-hour boat cruise is the most popular way to explore Lake Geneva. If you are short on time and want to see the main highlights of Geneva in just half a day, check out this city tour that also includes a boat ride on Geneva Lake.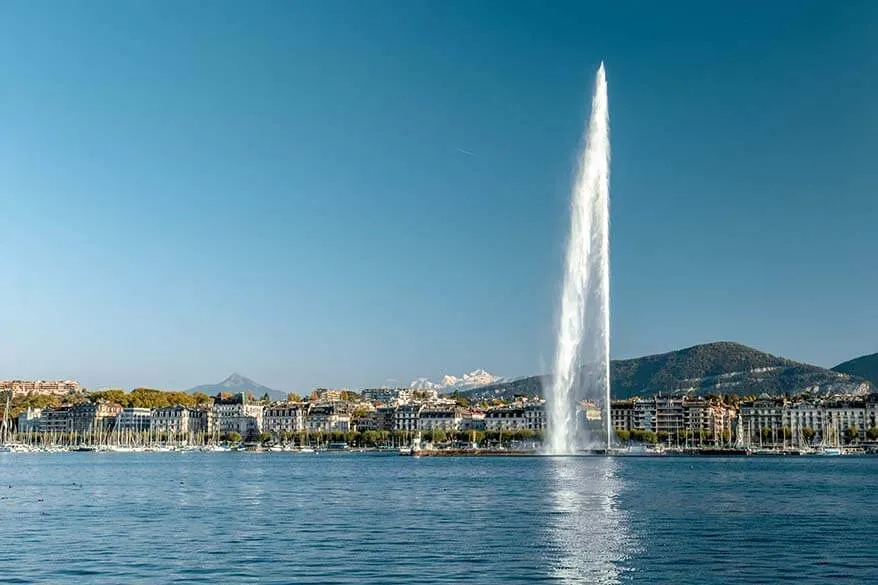 2. Old Town
There are actually lots of different things to see in the old town of Geneva, but before we get to those I wanted to highlight the old town as a destination of its own. Just strolling through the cobbled streets, peering down the alleys and getting lost, is an experience that makes it a must-do in Geneva.
Geneva's old town is dotted with some incredible architectural gems, many dating back to the 12th – 18th century. At the same time, it's a very cozy place filled with modern cafés, shops, and restaurants.
Some of the highlights not to be missed in the old town are the public gardens Promenade des Bastions, large city squares Place Neuve and Place du Bourg-de-Four, picturesque Grand'Rue street, the City Hall, several museums, and churches. You'll find the most important attractions listed further below.
While it may look like a labyrinth at first, the old town of Geneva is actually very hard to get lost in. It is clearly bounded on all sides, so don't stress about that. Just be prepared to do some uphill walking and plan at least 1,5-2 hours for a visit.
TIP: Visit the small islands of the Rhone river as well. There are several cafés and restaurants on the islands, or you can grab a takeaway sandwich and join the locals for a picnic on the tiny Ile Rousseau.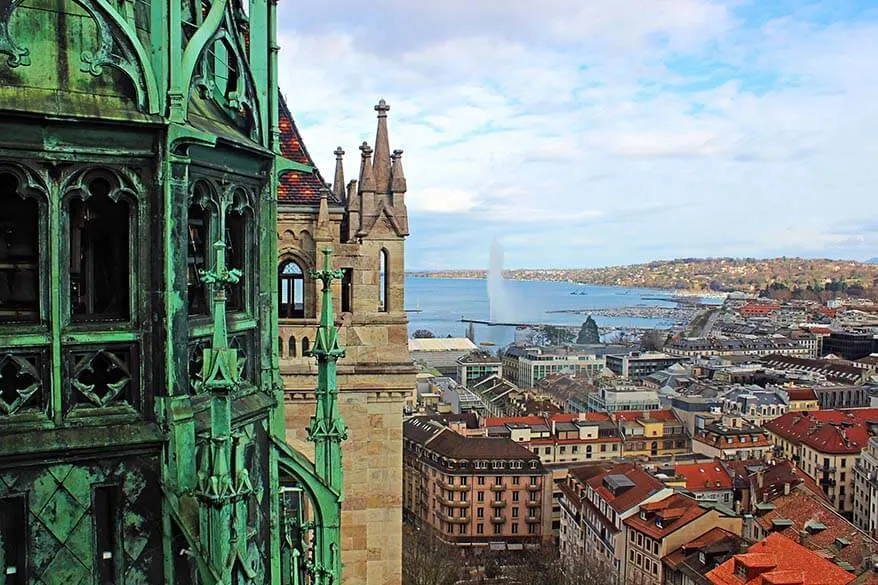 3. Geneva Flower Clock & English Garden
Another famous landmark and one of the most must-see tourist attractions in Geneva is the famous flower clock, L'horloge fleurie. It is exactly what it sounds like – a clock made from flowers.
Geneva Flower Clock is an actual functioning clock that has all the background and markings made inside a bed of flowers. This masterpiece, a symbol of Geneva's clock-making industry, is made of thousands of different flowers. It's well maintained and since flowers are changed several times a year, the clock is nice to see in any season. But for the most beautiful colors and to see the flower clock in all its splendor, you should visit in summer.
Flower clock might be one of the most famous Geneva attractions, but it's actually quite small, so don't expect too much of it. It takes just a few minutes to visit and to take an obligatory picture.
Geneva Flower Clock is located in Jardin Anglais, the English-inspired park that also features a 19th-century fountain, various monuments, and stunning lake views. Jardin Anglais is one of the prettiest public parks in Geneva and is the perfect place to find some peace away from the city crowds.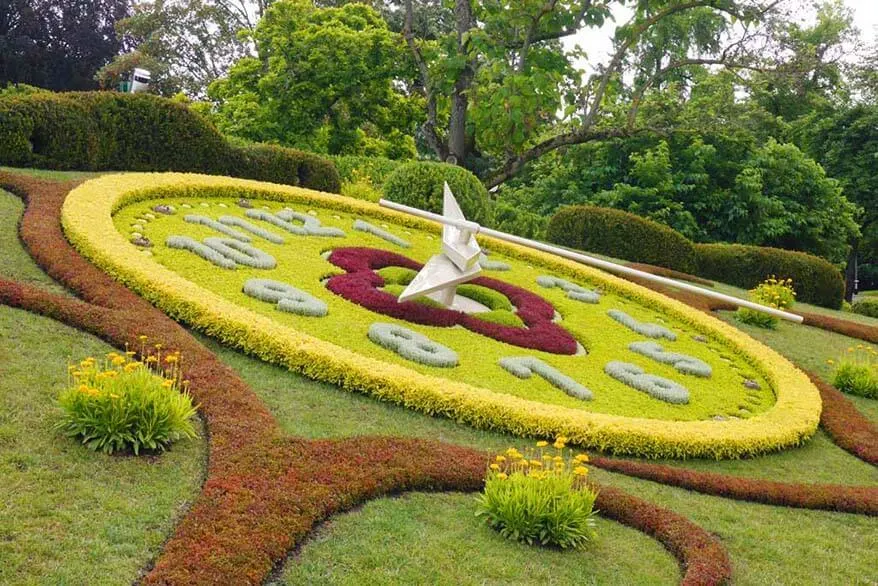 4. St Peter's Cathedral
Cathédrale St-Pierre is one of the main points of interest in Geneva's old town. Built in the 12th-13th centuries and partially rebuilt later, it's a huge building tightly wedged in amongst the old town. Even standing in front of the Cathedral you can't fully appreciate it's grandeur…
I recommend trying to circle the building completely and discover the hidden sides of the Cathedral. There is a small staircase behind the Cathedral that leads back down to the street between the Rue du Rhone shopping area and the Place Bourg-de-Four. It's a little hidden gem of Geneva, so check it out.
For the best picture spot, I recommend the right side of the Cathedral.
TIP: Climb the 156 steps on the winding staircase to the top of the North Tower of the Cathedral. From here you have a magnificent view over the old town, Lake Geneva, and mountains in the distance.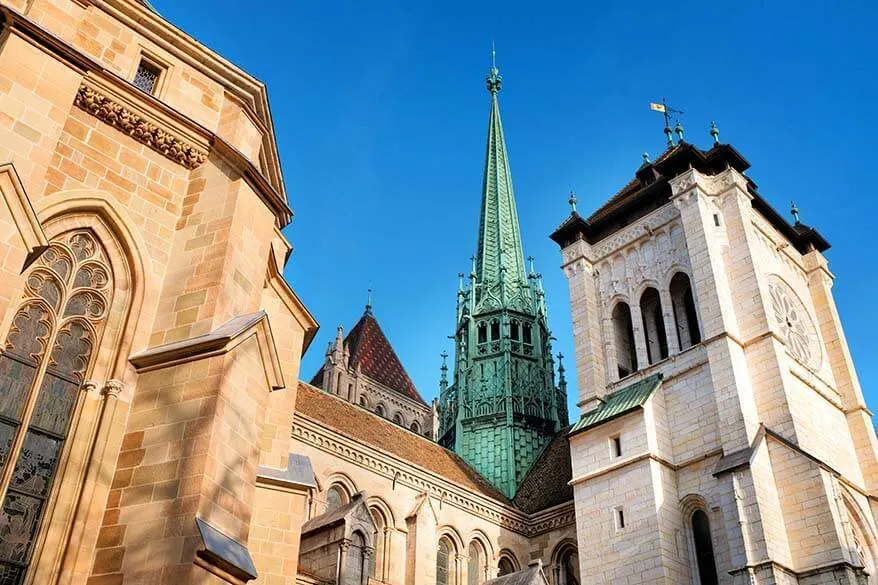 5. Bourg-de-Four Square
Place Bourg-de-Four is located in the heart of the old town, just next door to the St Pierre Cathedral. This enticing and very French-looking square dates from the Middle Ages and is the oldest town square in Geneva.
This cobblestoned town square with a flower-bedecked fountain in the middle is surrounded by old buildings that host antique shops, art galleries, and cafés.
With so many other great attractions right around the corner, you are bound to cross this square a few times while in Geneva. So there is no excuse not to stop here. Get yourself some coffee or local beer and absorb the city life from one of the many relaxing café terraces of Borg-de-Four square.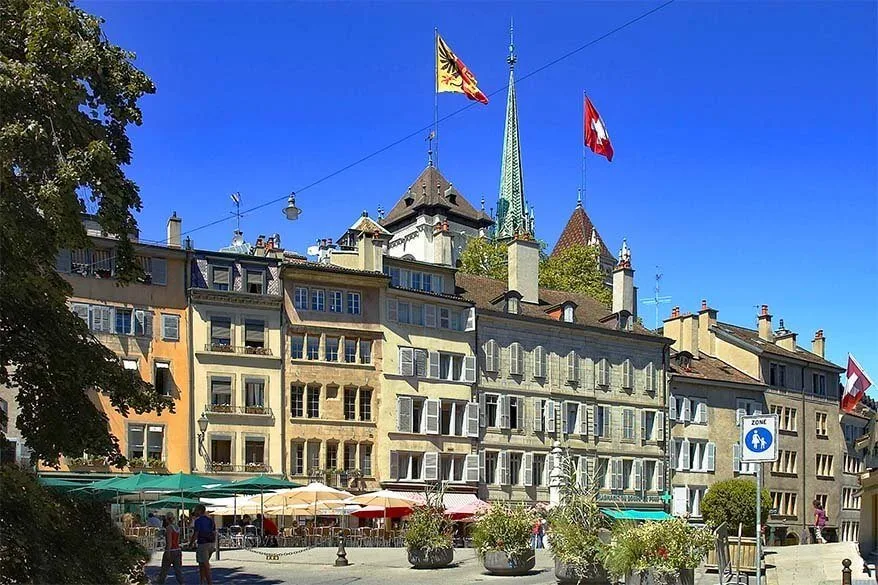 6. Window Shopping on Rue du Rhone
Switzerland is an expensive place, so it is no surprise that the main shopping areas attract some of the world's top brands. Window shopping in a place like Geneva is a great way to spend an afternoon, or you can just pass by and take a quick look on your way to the main tourist attractions in Geneva.
Take a peek into the étalages of Tag Heuer or Rolex shops and dream of watches most of us can't afford. Or check out what Bulgari or Dior are doing this month and see if you can grab something similar at H&M or Zara…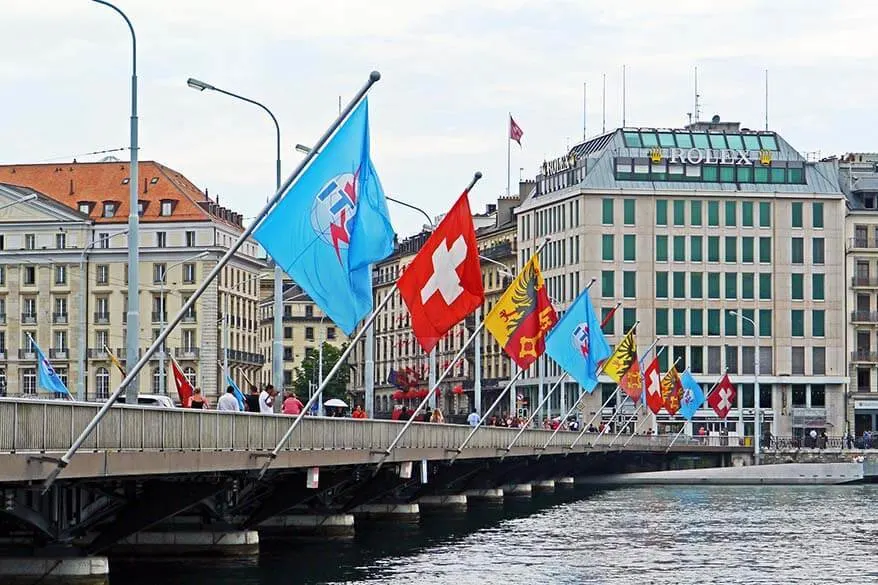 7. Art and History Museum
With everything from art and archeology, and from prehistoric times to the 21st century, there is something for everyone at the Musée d'Art et d'Histoire. This is the largest museum in Geneva, but its collection is organized by period, easily guiding you through the centuries of evolution of art.
Some of the most famous works of Geneva's Art & History museum include paintings by Monet, Cézanne, Renoir, and Sisley. In my opinion, this is not a must among places to visit in Geneva, especially if you are only here for a day. But if you have more time and love art, check it out!
The museum is located in the old town, next to Place Bourg-de-Four mentioned above, and the permanent exhibition can be visited free of charge.
There is also a nice park opposite, Parc de l'Observatoire, where you can take a quick break from the midday sun. Even if you are not planning to visit the museum, make sure to check out the stunning building. It's worth a visit if only to see it from the outside.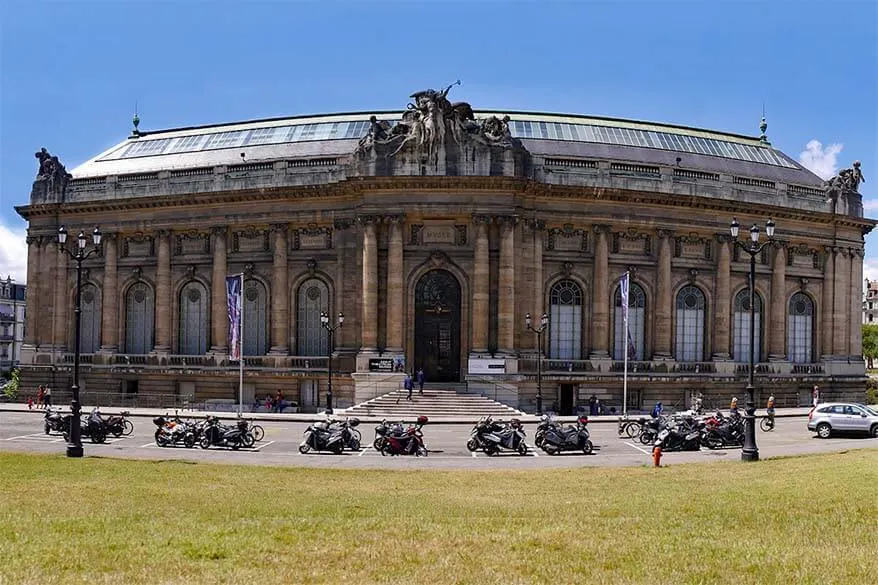 8. Old Arsenal
If you are up for something a little unusual to do in Geneva, it's worth popping by the Ancien Arsenal. This tiny museum is tucked right behind the St Peter's Cathedral and is one of the lesser known places to see in Geneva.
It's not a mind-blowing museum or stunning work of art… Still, I recommend it as one of the more unique things to do in Geneva. The display of cannons under the arches with the creative mosaics depicting Geneva's history on the surrounding walls is something you won't quickly find elsewhere.
This museum is conveniently located in the old town, it's free to visit, and only takes a few minutes of your time. You're in for a real treat – don't miss this secret little gem when in Geneva!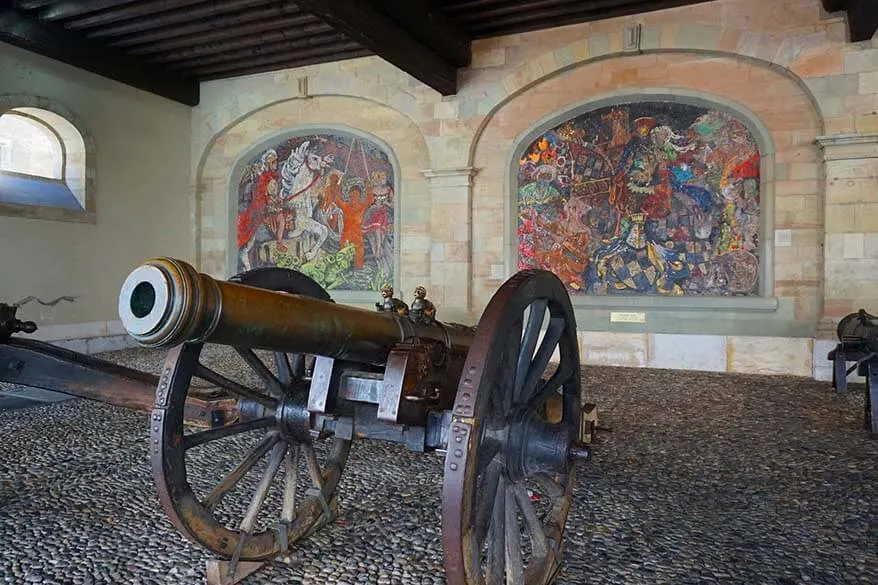 9. Reformation Wall
Among the best places to see in Geneva is also one of its most famous landmarks, The International Monument to the Reformation, known as Reformation Wall.
It is a huge wall with the figures of Geneva's most famous reformers (such as John Calvin, the founder of the University of Geneva) sculpted into it, standing over you like four wise old Jedis. It is a reminder of the Reformation period that had a huge influence on Geneva, and Switzerland as a whole, back in the 1500s.
Reformation Wall is located right next to Promenade des Bastions (see below) and makes a nice stop right next to the old town. You can easily reach it on foot – it's less than 10 minutes walking from the Cathedral.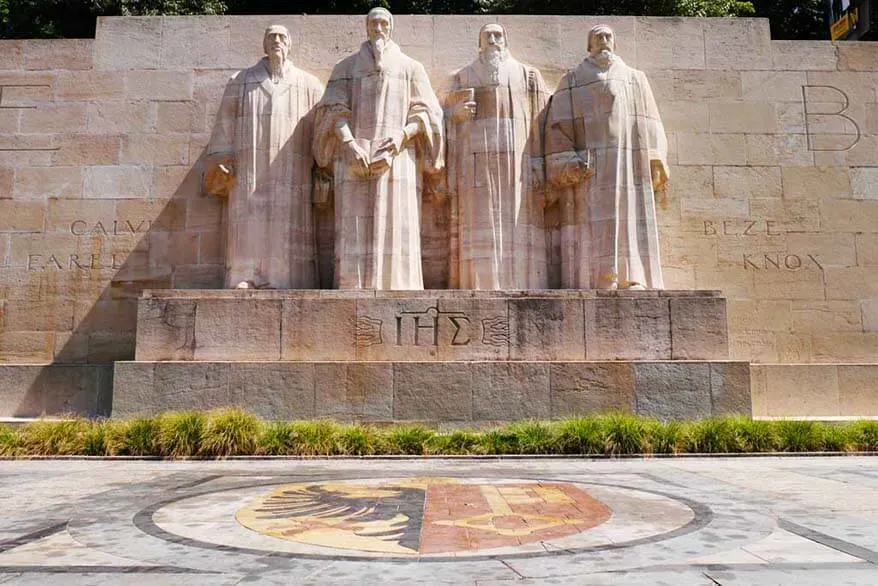 10. Bastions Park
The Reformation Wall sits right along the edge of Parc des Bastions, so you might as well take advantage of your time here. The park is quite big and has some very relaxing areas where you can take a break from busy city life. It's also a wonderful place to visit if you are in Geneva with kids.
The promenade running through the center of this park – Promenade des Bastions – is a place where you'll meet many locals. Some doing sports or out for a leisurely stroll, others hastily passing by on their bikes on their daily commute.
You can find giant chess and checkers here and in winter there is also an ice skating rink. This is a great place to see in Geneva if you have some time to spare.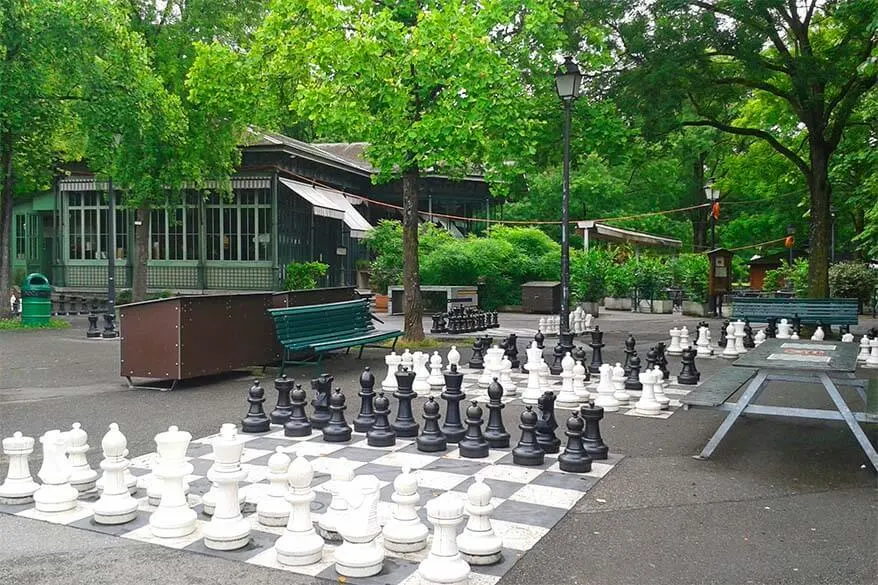 11. The Palace of Nations, the United Nations Office in Geneva
As a very neutral country that has not participated in a war for centuries, it is perhaps no surprise that Switzerland is also home to one of the main offices of the UN. The Palais des Nations is located a little further away from the other Geneva attractions, so I recommend either using a bicycle or public transport to get here.
If you want to get inside the UN, you will have to book ahead – they don't take spontaneous visits. There are two tours available. First is a guided tour focused on UN activities in Geneva, visiting the rooms where important international meetings and negotiations take place. The second is a thematic Art and Architecture tour, focused more on the building itself rather than the United Nations. You can find more information and book a tour of Palais des Nations here.
If you are less interested in politics, history, or architecture, you can just visit the beautiful Ariana park surrounding the UN Geneva office. No need for any special reservations for that. The Palais des Nations is one of the most special places in Geneva and well worth a quick visit when in town.
Don't miss the huge broken chair on the square outside the building. It is there to commemorate people who have lost limbs to landmines.
TIP: You could spend just an hour or the whole day in this part of Geneva. If you have more time, check out Musée Ariana, the Gandhi statue, and also the nearby Museum of the Red Cross or Botanical Garden (more info on the latter two below).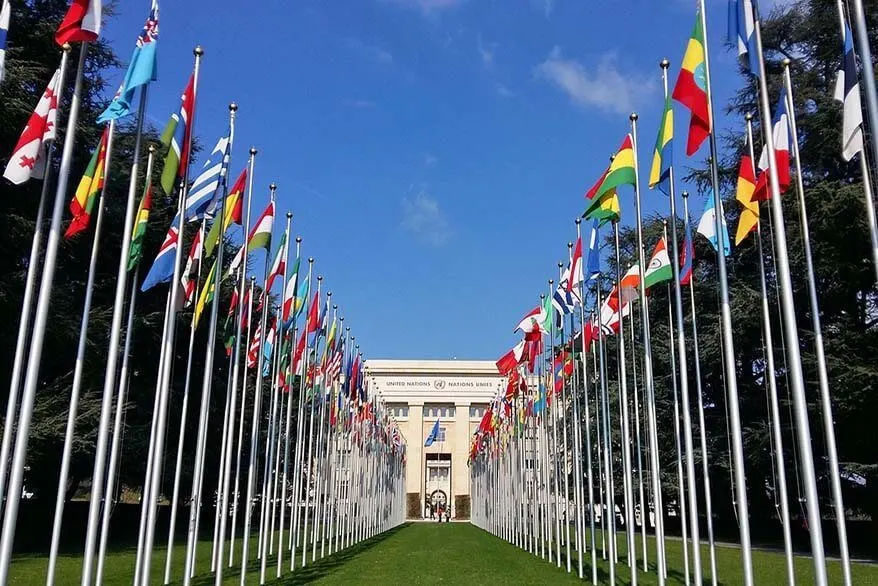 12. Conservatory and Botanical Garden
Geneva's Conservatory and Botanical Gardens are spread across some 28 hectares in a beautiful setting in a park near Lake Geneva. The herbarium here is one of the largest in the world, with more than six million samples!
Conservatoire et Jardin Botanique is also home to a living collection of more than 14,000 species, which includes rock gardens, horticultural plants, medical plants, a zoo near the lake and so much more. It is a living museum full of all kinds of plants and it's extremely well kept. Without a doubt, one of the most beautiful places to visit in Geneva, especially if you are visiting in late spring or in summer.
Admission to the conservatory is free of charge – one of the rare places to visit in Geneva where you don't need a ton of cash to have lots of fun.
TIP: If you like parks, you may also want to check the nearby Parc Villa Barton, La Perle du Lac, and Parc Mon Repos. These parks are on the shore of Lake Geneva and all offer stunning views of the crescent-shaped lake. Perfect for a morning walk, a relaxing bike ride, or some playground time for the children. Park Villa Barton is known for its giant sequoias – very impressive.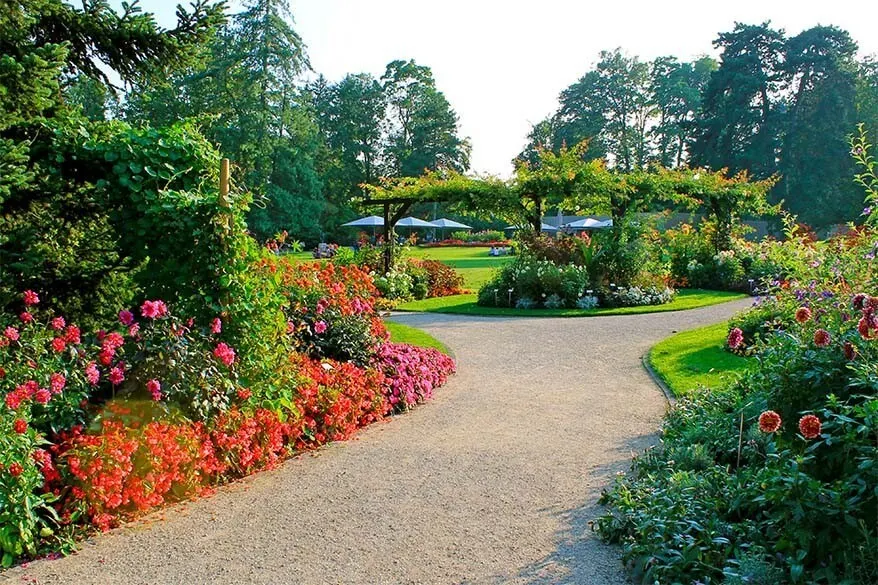 13. International Museum of the Red Cross and Red Crescent
Continuously rated as one of the best museums in Geneva, the Red Cross Museum is one of the most unique places to see in Geneva.
This museum provides a very touching insight into the history of mankind. It is extremely well done with lots of interactive displays.
You are confronted with the experiences of people who lived through wars and all kinds of disasters and get a very good insight into humanitarian work. It might not be the best place for young kids, but otherwise – not to be missed in Geneva. Count 1-2 hours for a visit.
For opening times and more information, please consult the website of the museum.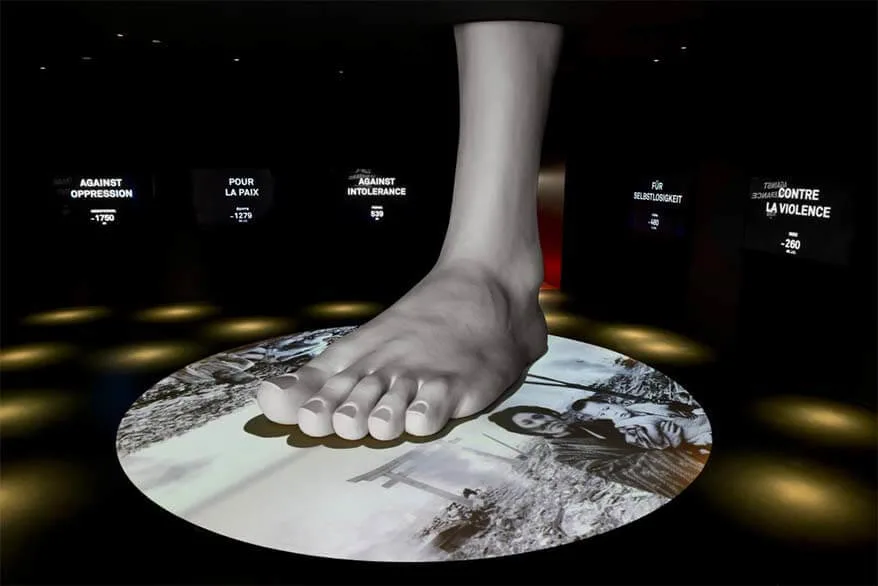 14. Patek Philippe Museum
You cannot visit Switzerland without getting confronted with what it's most famous for – Swiss watches. From Omega and Rolex to Swatch and Victorinox, there are more Swiss watch brands than you can name. If you want to get deep into the watch-making history of Switzerland, there is probably no better place to do that than Geneva.
One of the most formative names of watchmaking, Patek Philippe, has a stunning museum in Geneva. I know, that choices of what to see and do in Geneva might get overwhelming, but if you are interested in watches and the history of watchmaking, then the Patek Philippe Museum is not to be missed.
Located in a beautifully restored factory, within a walking distance from the old town, the Patek Philippe museum is one of Geneva's highest-rated attractions. However, it requires at least 2 hours to visit, so it's probably not something to do if you only have a day in Geneva.
TIP: Included in your ticket price is a free guided tour. It's the best way to visit this museum and to get to know the history of the company and interesting facts about selected watches. More info on their website.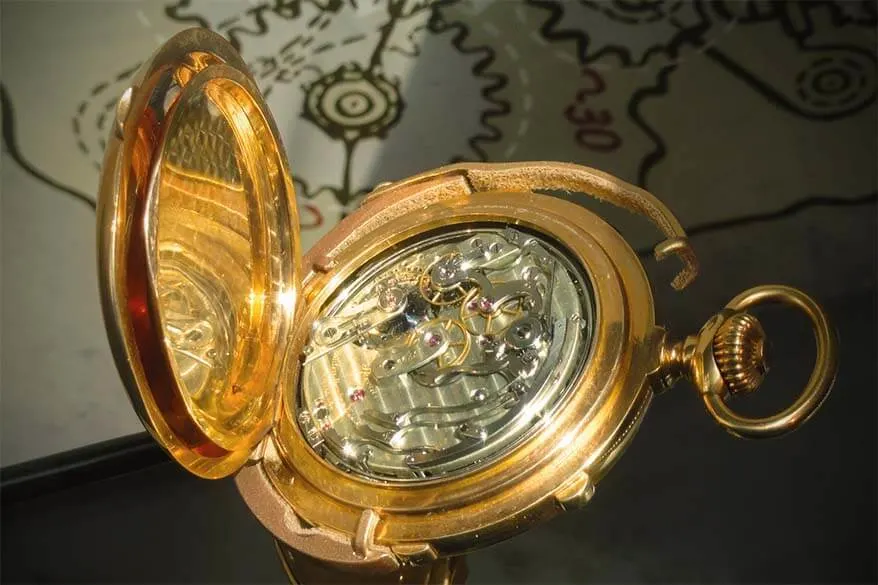 15. Marché de Plainpalais – Farmers and Flea Market
If you like shopping, then Marché de Plainpalais is a great spot for you. It is both a flea market and a farmers market in the center of Geneva.
You can buy pretty much anything here – from fresh flowers and spices to a laptop or some new chairs. It's the best spot in Geneva to do some shopping, mostly because of the extremely low prices.
The market is open on Thursdays, Fridays, and Saturdays, from 8 AM.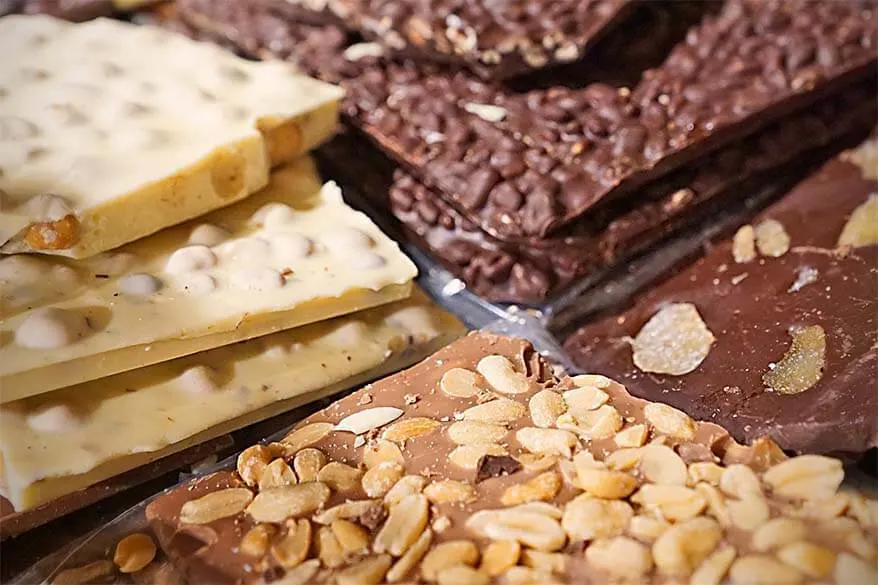 16. CERN
CERN is a European research organization that operates the largest particle physics laboratory in the world. It's located just outside Geneva city and very close to the Franco-Swiss border. It's really easy to get there – you can get a bus from Geneva, and then walk for a few minutes.
It is definitely worth the effort to visit CERN if you have more time in Geneva. The large wooden dome is a breathtaking piece of architecture, which looks even better in person than in photos.
If you want to join a guided tour of the laboratory, note that you have to reserve it 15 days in advance. The tours are free of charge but sell out very quickly, so this requires some advance planning. You can find more information about visiting CERN and book your visit here.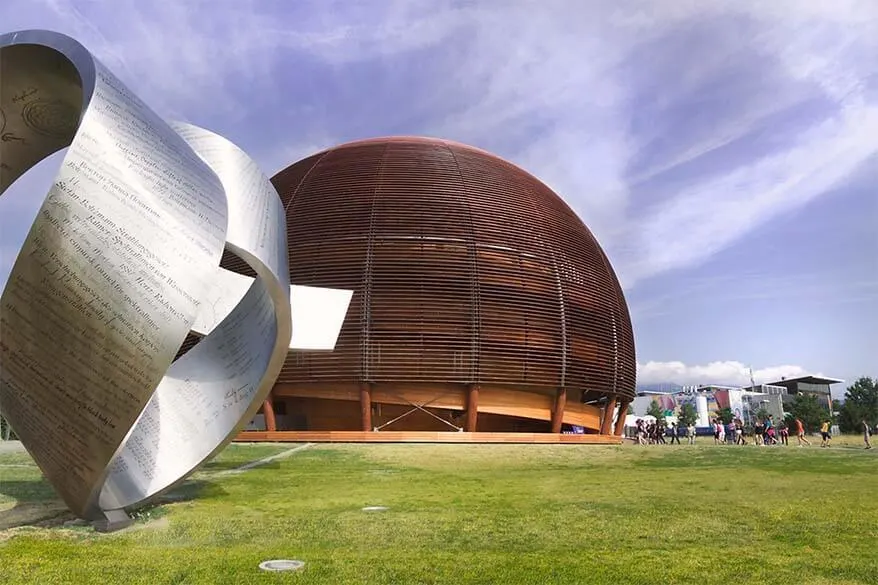 17. Natural History Museum
This museum in Geneva is actually the largest Museum of Natural History in entire Switzerland. The entrance to the museum is free, but there are no guided tours available. It's one of the best museums in Geneva for families with kids, but also adults will enjoy it for sure.
Among other things, you can even see a stone from the moon. It was a gift to the museum from NASA – pretty cool, right?
Other than that, there are plenty of other exhibitions in the museum, including fossil rocks, dinosaur fossils, and over 200 hundred stuffed animals. Some of which look way too real!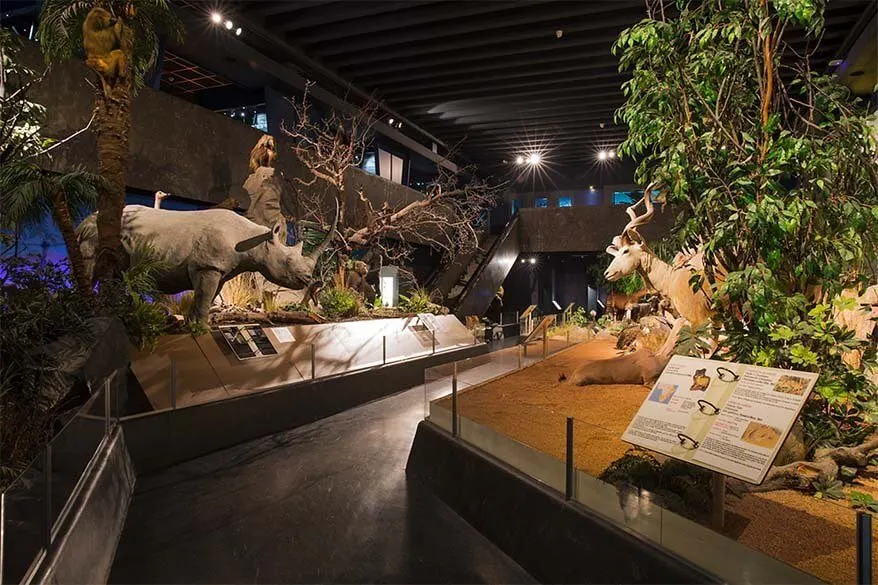 18. Bains des Pâquis or Genève-Plage
Want to swim in Lake Geneva? Hit up Bains des Pâquis, one of the hottest swimming spots in the city. This is a pier on the lake and it features a lighthouse at its end.
This outdoor bath is located right in the city center and in the summer months, the place is crawling with people who want to relax and cool off, so be prepared for the crowds.
Another great place for swimming and watersports, albeit a bit further from the city center, is Tropical Corner or Genève-Plage. This is just another of Geneva's wonderful parks on the banks of Lake Geneva. It features a beach, a large outdoor swimming pool, and a restaurant. This is an extremely popular place during summer weekends.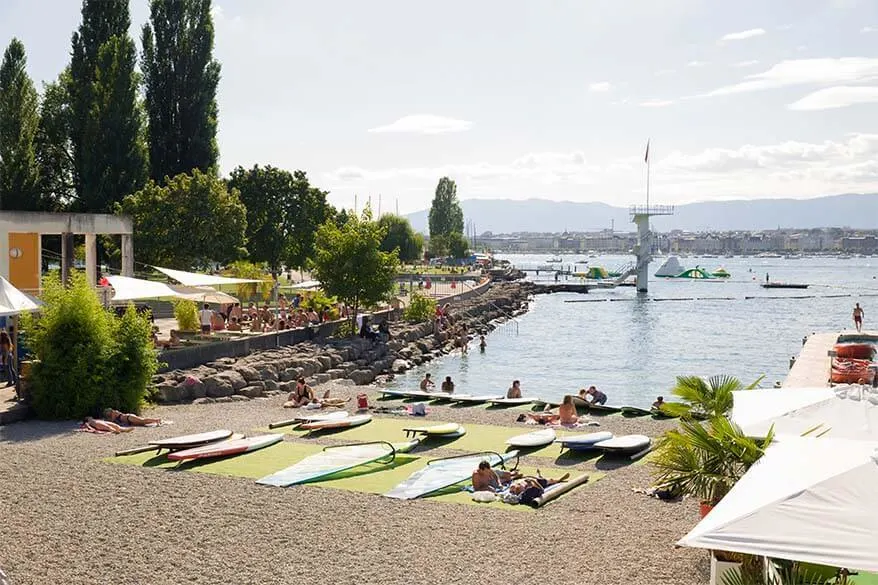 19. Swiss Chocolate
One last thing you absolutely have to do in Geneva (and Switzerland for that matter) is to sample as much Swiss chocolate as you can get your hands on. A wide variety of chocolate shops in Geneva make that a cinch.
I recommend checking out both: the more niche chocolatiers in Geneva, as well as more famous chocolate shops. For a true taste of what hand-made chocolates are like, try Auer Chocolatier, Favarger Chocolate Factory or Du Rhône Chocolatier. Just beware – you may never want to eat mass-produced chocolate again.
Once you have had your fill of those, you can move to the more famous producers like Laderach, Lindt & Sprüngli. You will find these brands in most major cities in Switzerland, so if you don't have time in Geneva, you'll be able to find them in other towns as well.
Sprüngli is famous for its Luxemburgerli, which are not chocolates, but macaroons. Don't let that put you off though, grab a small box of those to try all different kinds, from salted caramel to champagne. They are simply divine!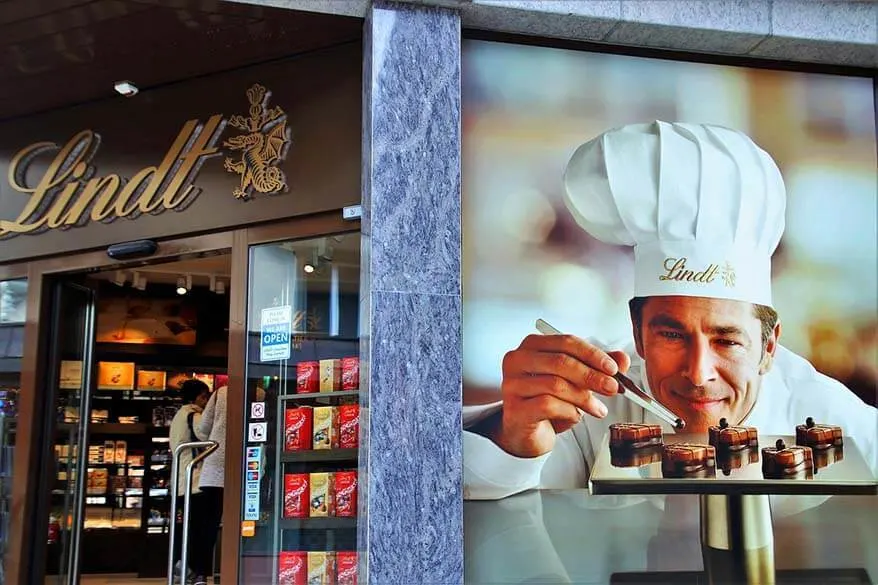 20. Musée Ariana
Also known as the Swiss Museum of Ceramics and Glass, Musée Ariana is located in an Italian palace-style building that dates from the 19th century.
It features a truly unique collection (literally one of a kind) in Switzerland, with more than 20,000 objects. This includes various pieces of glass and ceramics, collected in the past 1200 years. Most of the pieces on display are of European origin, but there are also some stunning pieces from Japan and China.
The museum was originally established in 1884, by Gustave Revilliod, who named it after his mother – hence the unique name of the museum.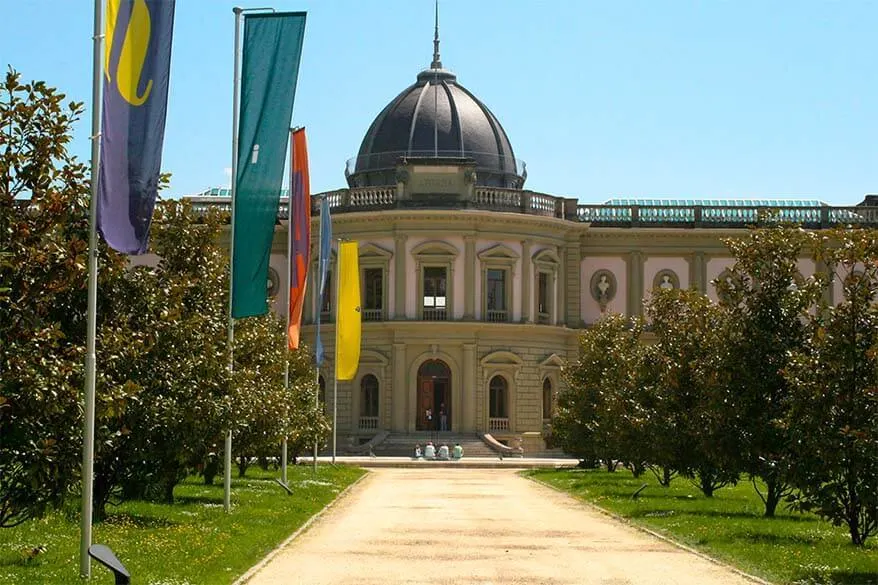 21. Mont Salève Cable Car
It's virtually impossible to leave Switzerland without riding at least one cable car. And luckily, there is one extremely close to Geneva, at Mont Salève. This is an extremely popular place to visit near Geneva. Tourists and local Genovese go here for hiking, mountain biking, rock climbing, and even paragliding.
Mont Saléve is easily accessible by road, but you can also hike there – if you're up for the grueling adventure. Oh, and remember to bring your passport, since Mont Salève is technically in France.
The Mont Saléve cable car takes you 1100 meters high in less than five minutes. The ride offers breathtaking panoramic views of Geneva, which are without a doubt worth the price. The ride is actually free with Geneva Pass.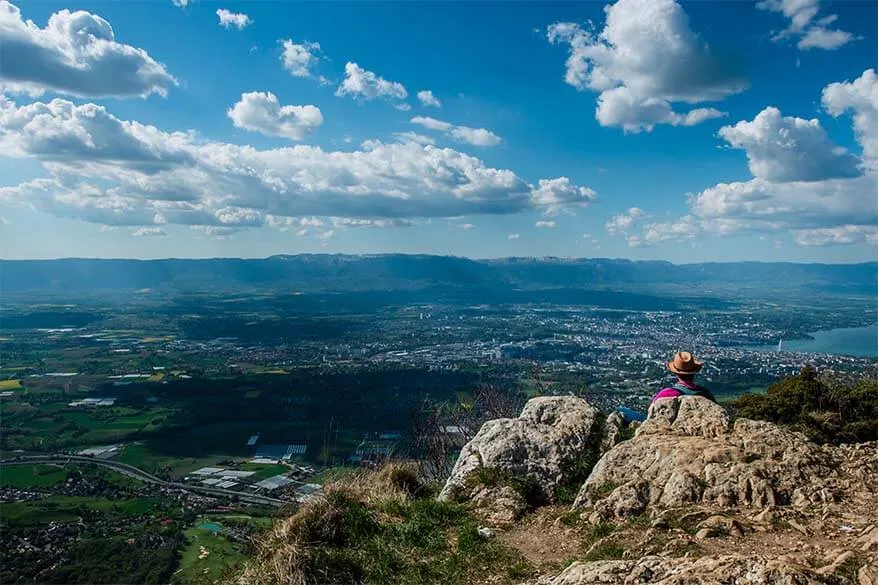 One Day in Geneva: Suggested Itinerary
If you have just one day in Geneva, you're probably overwhelmed with all these options of the best things to do in the city. Here are our recommendations for how to see the best of Geneva in just one day.
Wake up early, so that you can really make the most of your day. Since shops and museums aren't open in the morning, you could visit one of the parks first. Bastions Park and The Reformation Wall is a good option.
If you are in Geneva on Thursday, Friday, or Saturday, start your day at Marché de Plainpalais market. Some chocolate shops serve delicious breakfast, so it might be a nice way to start your day sightseeing in Geneva.
Afterwards explore the Old Town and visit the St. Pierre Cathedral. It is an amazing sight both on the inside and the outside and also the view from the top of the tower is not to be missed. Remember to check out the Ancien Arsenal, as mentioned above. A quick tour fits perfectly into the itinerary and leaves enough time to explore the rest of Geneva.
If you like museums, there are several of them in this area, but with just a day in Geneva, you can probably only visit one. The Art and History Museum and also the Natural History Museum are both in the old town. Patek Philippe Museum is also within walking distance.
For lunch, we recommend either the Mango Deck or Au Canivore. Both places are on Bourg-de-Four, the city's main square with high-end shops, restaurants, and cafes. If you rather make it quick and spend more time exploring the city, pop into one of the shops of La Maison du Sandwich for a huge meatball sub.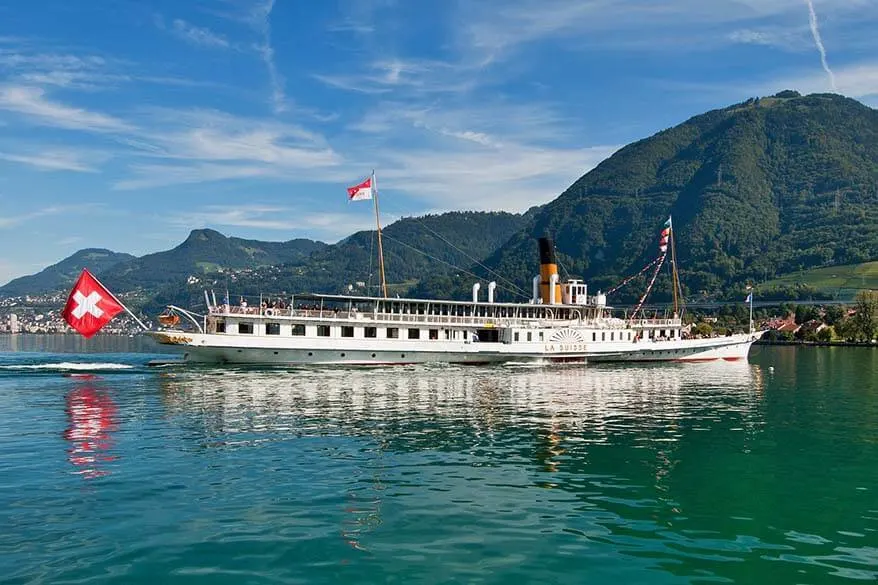 After lunch check out the Rue du Rhône – the street where you will find most designer boutiques in Geneva, like Chanel, Versace, Philip Patek, and plenty of others. It's a truly amazing luxe experience, both for the window shoppers and the credit card swipers.
Next up is Lake Geneva. Obviously, you can't have a perfect day in Geneva without being by the lake. We recommend going to the Jardin Anglais to see the amazing Flower Clock. It is truly an astonishing sight, and the rest of the park is pretty beautiful as well.
From here it's really close to the Jet d'Eau – the brilliant water fountain, one of Geneva's most famous landmarks. Try to get as close to it as you can – it's definitely worth seeing the majestic 140-meter-tall jet up close.
If you still have some time on your hands, it's best to take a boat tour on the lake or just relax on the lakeshore. Head over to the Place de Jeux des Bains des Pâquis. Definitely check out the lighthouse at the end of the pier. Alternatively, explore to one of the many parks by the lake. It's the perfect way to end a long day in Geneva.
TIP: If you are really short on time, you can join this 3-hour tour that covers all the main Geneva highlights in the city center and also includes a boat ride on the lake. A tour like this shows you the very best of Geneva in a nutshell.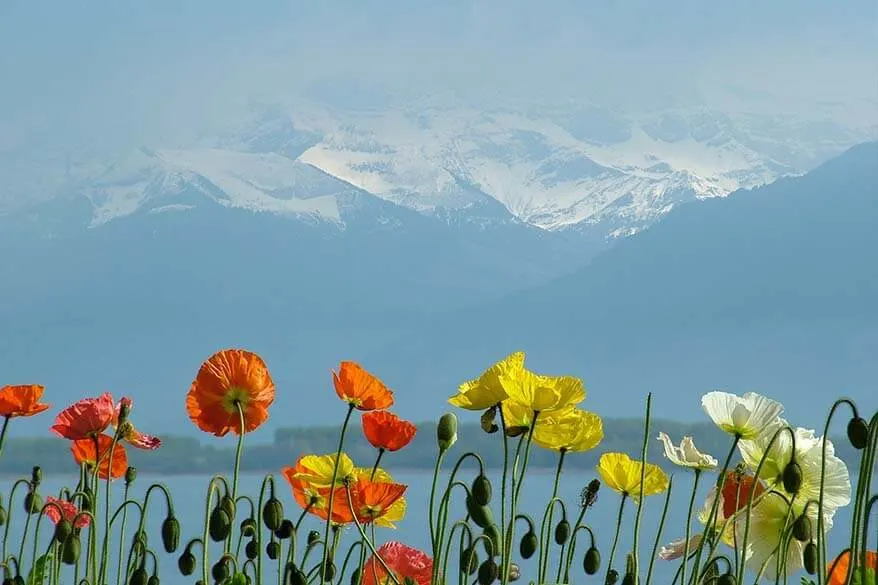 Where to Stay
Geneva is a big city with many hotels and other accommodation options. For sightseeing, the absolute best place to stay is in the city center, close to the lake. Of course, the hotels overlooking the lake are also VERY expensive (take a look at The Ritz-Carlton Hotel de la Paix if you are looking for an ultimate Swiss hotel experience).
Fairmont Grand Hotel Geneva is one of the nicest affordable-luxury hotels with a great location. For a mid-budget alternative in a great location, check out Edelweiss Manotel. On a lower budget (this is however relative in Switzerland), check ibis Geneve Centre Lac.
If you are looking for lower-budget accommodations in Geneva, then you'll have to look a bit further away from the city center.
TIP: Using the map below, you can compare hotels, apartments, and short-term rental accommodations in Geneva. Simply insert your travel dates and group size, and you'll see the best deals for your stay (this map compares all the websites and shows you the best deals). You can also zoom out to see accommodations outside the city center.
What to See Nearby – Geneva Day Trips
If you have two or three days in Geneva, the above list of things to do should give you more than enough inspiration.
If you have even more time or rather expand your horizons and visit some other great places nearby, I recommend Lausanne, Vevey, or Montreux. They all have lovely town centers to visit as well as their own local attractions, and all are perched right on the lake with alpine views.
Vevey has its renowned "fork in the lake", which I will leave you to figure out on Google. Montreux is home to the renowned Jazz Festival in July, and Lausanne is a city of its own worth – here you can find more information about visiting Lausanne.
A popular day trip from Geneva is to visit Gruyères, an extremely picturesque mountain village. Check out this amazing Gruyères gold tour with a train ride & chocolate and cheese tastings.
Another popular option is a guided day trip to Chamonix and Mont-Blanc. If you are looking for a chance to see some incredible Alpine landscapes, then this is one of the best day trips to consider!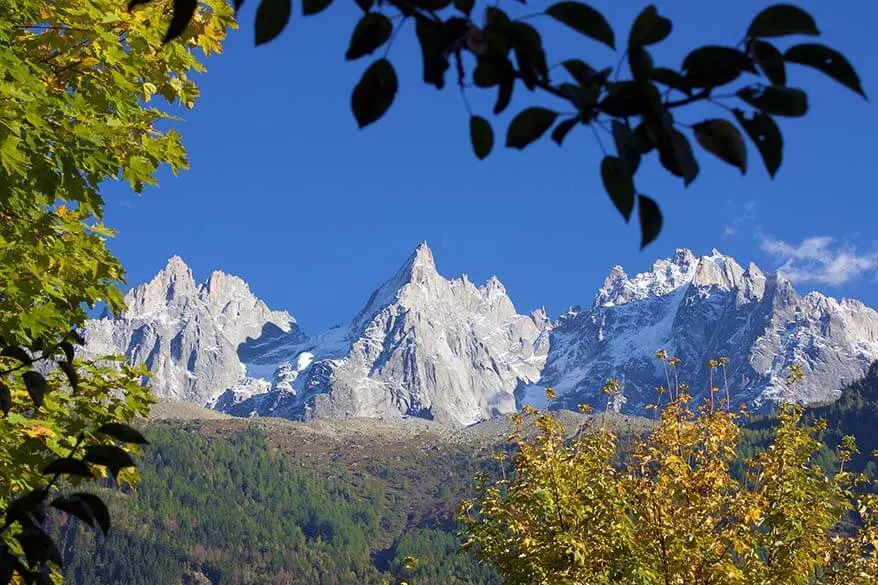 So, this is our list of the very best things to see and do in Geneva, Switzerland. As you can see, there is something for everybody in Geneva.
From shopaholics and chocolate lovers to nature and outdoor enthusiasts and everything in between – you will be hard-pressed to find such a beautiful city with such a broad range of things to see and do. Have a wonderful trip!
If you are looking for more inspiration for your trip, please check out our other articles about Switzerland.
More tips for your trip to Switzerland:
READ ALSO: Swiss Travel Pass (What's Included and If It's Worth it)
If you found this list of things to do in Geneva useful, don't forget to bookmark this post and share it with your friends. Are you on Pinterest? Pin this image!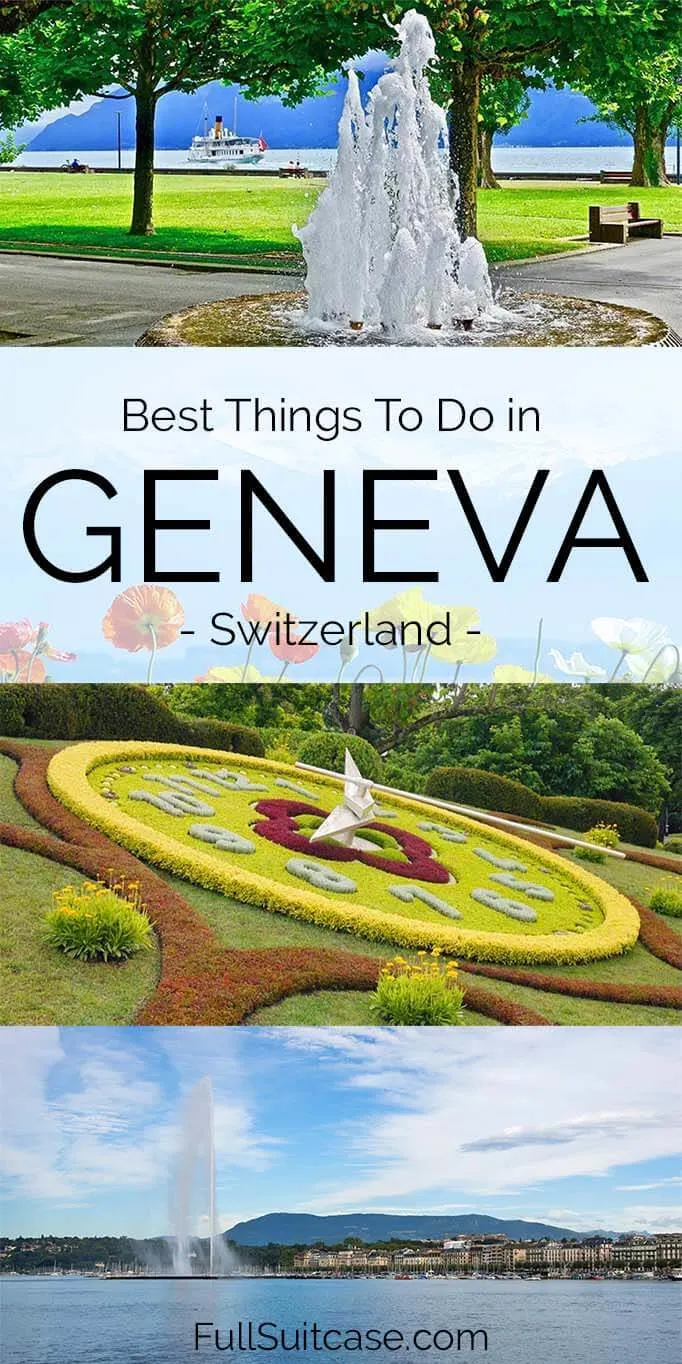 Some of our favorite hikes in Switzerland:
Winter trip:
Additional tips for planning your trip to Europe: