Switzerland has so many stunning mountain destinations, one more beautiful than the other. But if you only have the time and the budget to visit one or two places in the Swiss Alps, the choice can get overwhelming…
In this article, we compare two of the most popular mountain peaks/ destinations in central Switzerland – Mount Titlis vs Jungfraujoch, Top of Europe. What to expect and which one is better – Mt Titlis or Jungfrau. Find out!
Good to know: We visit Switzerland several times a year and we have been to both – Mt Titlis and Jungfraujoch multiple times. We have visited in summer and in winter and we also hiked and skied in both areas. So this comparison guide is based on personal experience over many visits. I hope that it will help you decide where to go (or maybe we'll inspire you to visit both places after all).
TIP: If you are interested to know all the details about one specific destination, please check our guides to visiting Jungfraujoch and visiting Mount Titlis.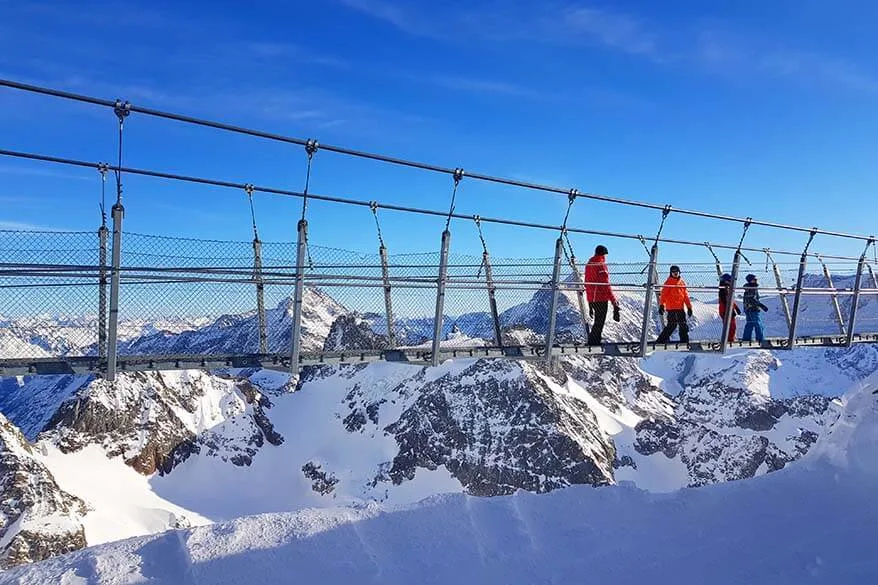 Location & Getting There
First things first. What makes both – Mt Titlis and Jungfraujoch – so popular is that they are both located in central Switzerland and are quite easy to get to from most major cities. For example, you can visit Titlis or Jungfraujoch as a day trip from Lucerne or from Zurich. It's much easier to visit either of these mountain peaks than e.g. Zermatt.
You can get here by car (not all the way up the mountain, obviously), by train, or with a tour. More info on tours further below.
Mount Titlis can be accessed via a series of gondolas from Engelberg town. Engelberg is located 35 km (22 miles) south of Lucerne. It takes less than 45 minutes to get to Engelberg from Lucerne by train. From the railway station in Engelberg, it's just a 10 minutes walk to the Titlis valley station (in high season, you can also take a shuttle). The journey from Engelberg to the top of Mt Titlis by gondola takes around 30 minutes.
All in all, it will take you at least 1.5 hours to get to Mt Titlis from Lucerne.
Jungfraujoch can be accessed via a series of trains either via Grindelwald or via Lauterbrunnen/Wengen. The closest biggest town from where you take a train to the area is Interlaken. You'll have to change trains several times, but it's very straightforward and train schedules are quite well synced so that you never have to wait long.
It takes 2.5 hours to get to Jungfraujoch from Interlaken.
So depending on where you are coming from, it will probably take you less time to get to Mt Titlis than to Jungfraujoch. This is mostly related to the fact that you need to change trains several times and they also stop along the way, whereas gondolas run all the time and so the final stretch of the journey to the top of the mountain is faster at Titlis.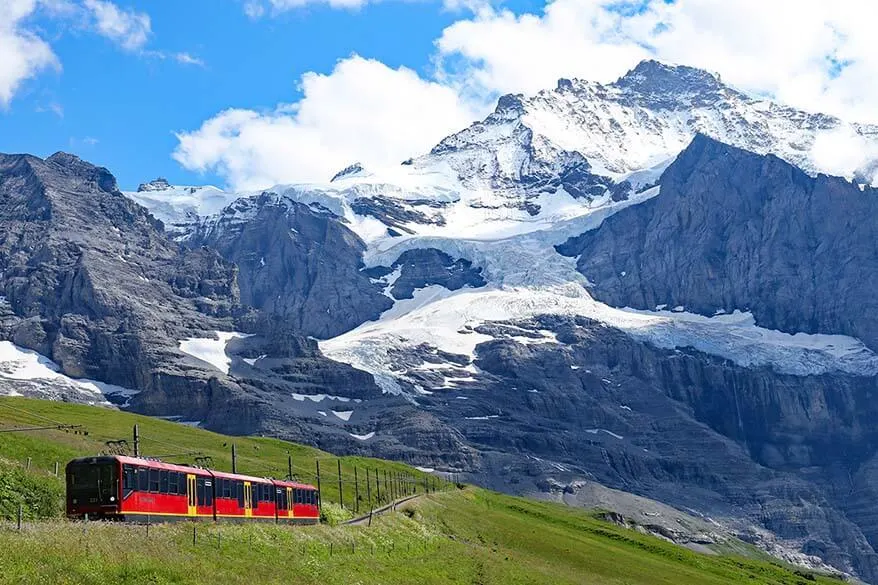 Tours
If you prefer to leave all the planning to someone else and are looking for a place that you can visit with a tour, you'll be glad to know that there are organized tours to both – Mount Titlis and Jungfraujoch.
Here are the most popular tours to Mount Titlis:
And here are some of the best tours to Jungfraujoch:
READ ALSO: Best Day Trips from Lucerne
Scenery
The altitude of Mount Titlis is 3,239 meters (10,626 ft). The altitude of Jungfraujoch is 3,454 meters (11,332 ft). So it will come as no surprise that both places have snow the whole year round and the scenery from the very top will always be white, with glaciers and snow-capped mountains around you.
If you are looking for panoramic 360° views, then you'll easier find them at Mount Titlis, which is essentially a mountain peak (although one side is a bit more difficult to access). So you have stunning views over the mountains in all directions.
Whereas Jungfraujoch is a 'saddle', a pass between the higher mountains, and even though it has several different viewpoints at different levels, the views in most directions here are more obstructed. The nicest far view at Jungfraujoch is over the Aletsch Glacier.
So purely for the views from the top, Mount Titlis offers much better far views in all directions than Jungfraujoch.
The scenery along the way (so not at the top) is great in both places and very different in summer than in winter. However, I find that the views of the area around Jungfraujoch (mostly around Kleine Scheidegg, but also Wengen and Lauterbrunnen or Grindelwald) are more impressive than those on the way to Mt Titlis (from Trübsee or Stand).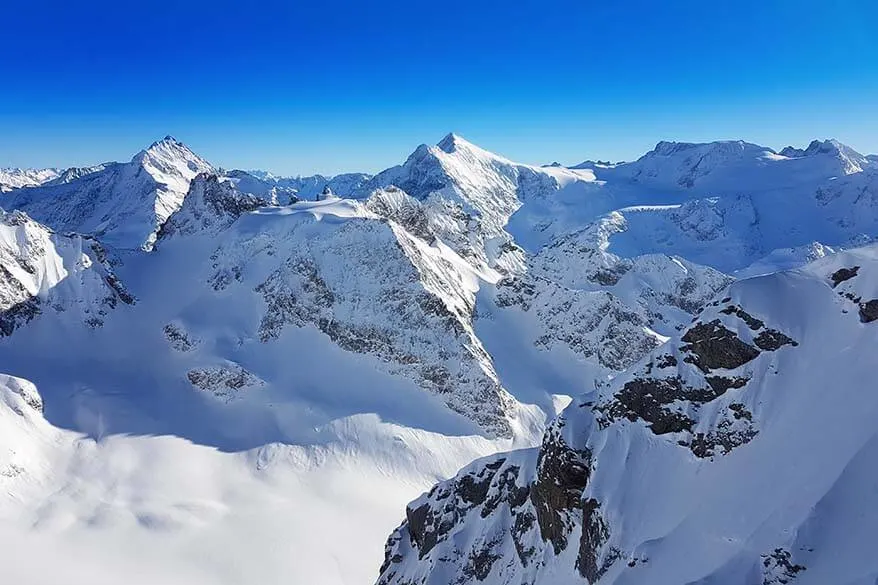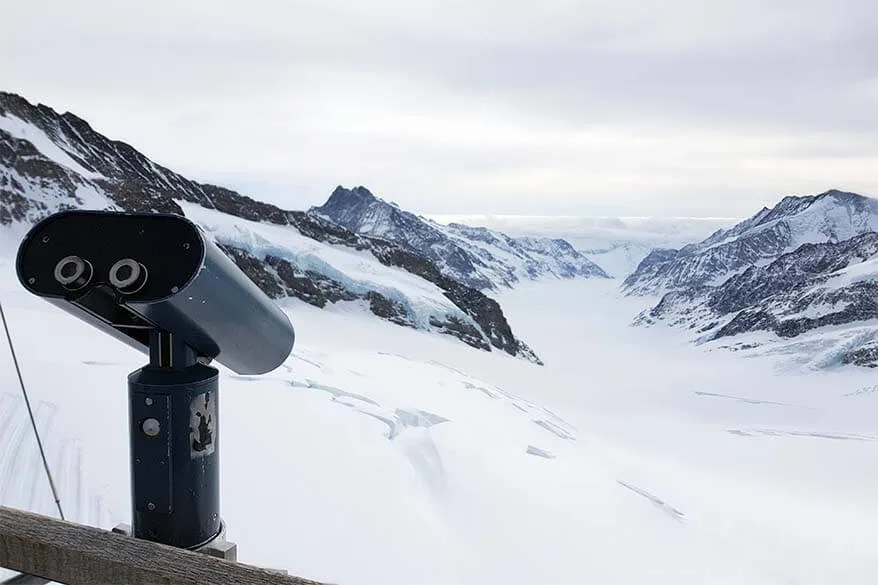 Activities at the top
Both destinations offer some similar activities at the very top, but there are also some big differences.
Both – Jungfraujoch and Mt Titlis – have a man-made ice tunnel where you can walk inside the glacier. They are quite comparable, with some ice sculptures, and colorful lighting to make it more special. Both places also have several viewing platforms, and both places offer snow tubing in summer. You will also find restaurants and souvenir shops on both mountains.
But that's also where similarities end.
In addition to the above, at Mount Titlis, you will find Cliff Walk, Europe's highest suspension bridge. A walk on this bridge is a must and you have the most incredible views on a clear day. There is also an Ice Flyer cable car at the very top allowing you to ski on the glacier, or you can simply ride it for somewhat different views of the area. You can also hike down a bit and then take a cable car back up to the mountain peak.
At Jungfraujoch, the activities are somewhat different. Inside, you will find Alpine Sensation, which is a multimedia-staged trip back in time to the early days when the Jungfrau railway was built. There is also the Jungfrau Panorama film experience which allows you to see the 360° panorama of the surrounding area. In summer, you can also take a hike on the glacier to the nearby Mönchsjochhütte.
If the weather doesn't cooperate, there's more to see and do at Jungfraujoch. It's also so high that you will often find yourself above the clouds, even if it rains in the valley.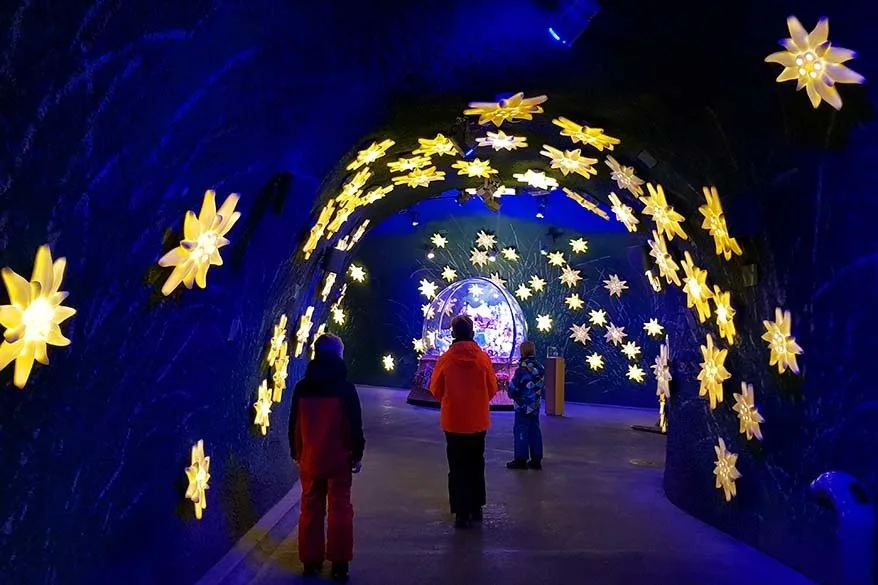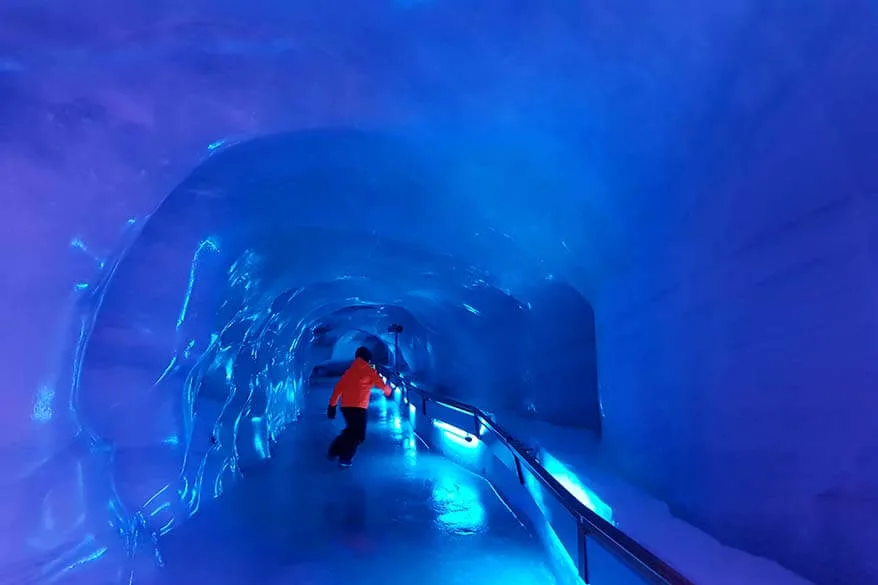 Activities in the area
When going all the way to the top of the mountain, you pass many stunning areas on your way up.
If you are looking for more variety in activities (summer or winter), then Trübsee at Mt Titlis is probably a better choice. Whereas if you are looking to do some hiking after your visit to the top, then the Kleine Scheidegg area in the Jungfrau Region has better options.
Below is an overview of what you can do in combination with your visit to the top of the mountain.
Things to do at Trübsee, near Mt Titlis
At Titlis, the nicest area to check out is Trübsee, which you pass by gondola on your way up. You can get off here and take a gondola again at no extra cost.
Trübsee area offers lots of activities in any season. In winter, this is the popular 'hub' for skiers, but there are also small sleds that you can use for free, or you can make a nice winter walk on the lake. In addition, there is usually a place where you can rent snowmobiles and in some years, there is also an ice bar/ igloo here. The newest addition Trübsee Flyer Zipline is also open in winter, weather permitting.
In summer, there are some nice hiking trails here (our favorite is the 4 Lakes Hike, but it requires a good part of the day and ends on the other side of the mountains). Alternatively, you can opt for a family-friendly walk around Trubsee Lake itself or hike down to Engelberg. At Trübsee Lake, there are also playgrounds and you can rent rowing boats. Every summer, they also have some new fun activities and the zip line is also open.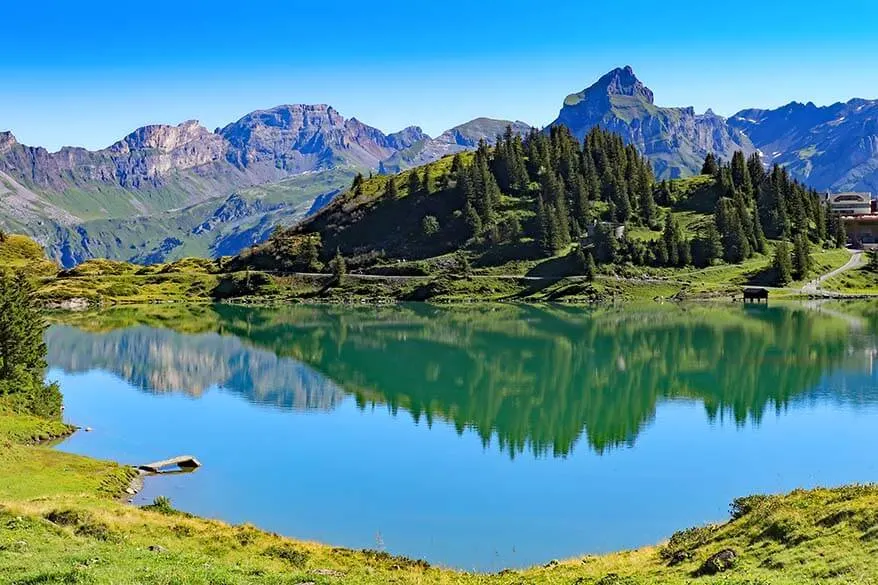 Things to do near Jungfraujoch
At Jungfraujoch, there are several choices of places to visit, depending on which side of the mountain you are coming from/departing. The nicest places are Lauterbrunnen and Wengen on one side and Grindelwald on the other. But the most popular stop on the way up is Kleine Scheidegg, which is the last train station on the mountain before you board the train to Jungfraujoch itself.
In winter, you can walk around a bit and there are several restaurants and shops at Kleine Scheidegg, but the main activity here is skiing. In summer, there are countless hiking trails, one more beautiful than the other… In any season, you should definitely check out Wengen, a very picturesque car-free village.
In summer, you can also visit Trümmelbach Falls in Lauterbrunnen. And the Grindelwald-First area is a destination in itself and requires an extra day as a minimum!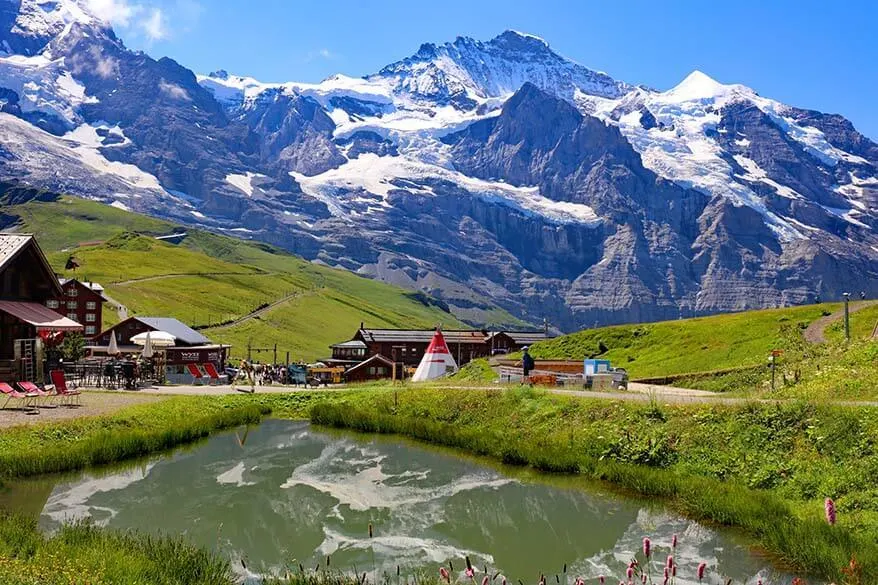 Crowds
While both destinations are very popular with day tourists, its is usually significantly busier on Mount Titlis than it is at Jungfraujoch.
This has several reasons – it's quicker, easier, and cheaper to visit Titlis than Jungfrau. There are also no limited seats on gondolas and they run more frequently than the trains to Jungfraujoch. In addition, in winter, skiers go up to Mount Titlis as well. Whereas you cannot ski at Jungfraujoch, so only tourists go there.
Accessibility
Jungfraujoch is much more accessible than Mount Titlis. So if you are visiting with a wheelchair or with a baby in a stroller, then Jungfraujoch is a much better option for you. That being said, for babies, I'd consider a baby carrier instead – it will be much easier to navigate.
Jungfrau railway has special accessible wagons and also at Jungfraujoch, you can visit most places in a wheelchair. It might not be very easy, especially when it's busy, but it is definitely possible.
And while you can probably get to Mt Titlis in a wheelchair, you really won't be able to do much on top. Some of the best views and Titlis Cliff Walk can only be accessed on foot. It's a short walk and nothing strenuous, but it's mountain terrain and not wheelchair accessible.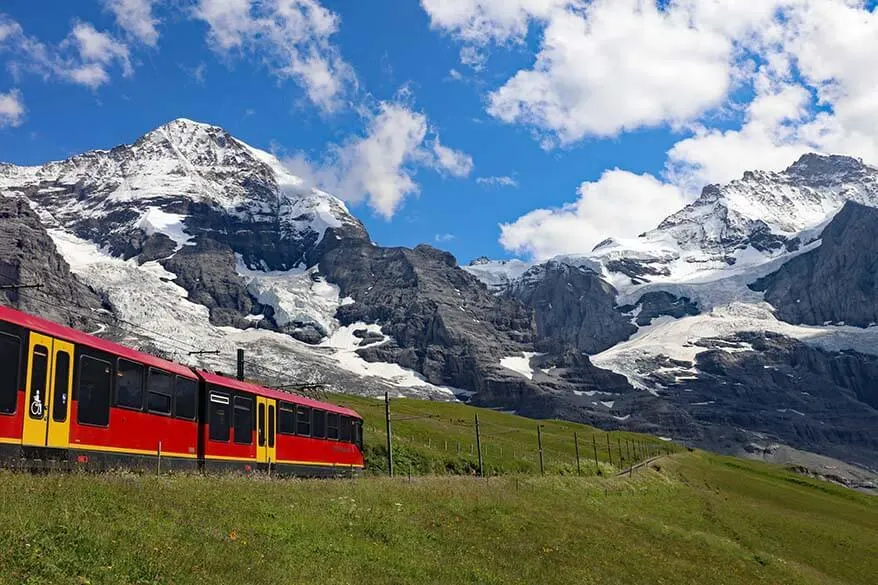 Ticket Price
No matter if you are coming on your own or with a tour, it is a lot cheaper to visit Mount Titlis than Jungfraujoch. Depending on where exactly you are traveling from, it can be about 100-150 CHF cheaper to visit Mt Titlis than Jungfraujoch. That's the price difference per adult.
Jungfraujoch ticket prices vary a lot per season and depend on where you are traveling from. For example, a standard 2nd class return ticket from Interlaken to Jungfraujoch in summer costs 236 CHF. You can find a complete price overview on the official website.
Good to know: If you take a tour to Jungfraujoch from Zurich or from Lucerne, you'll pay just a little bit more than this (but your train ticket is included from those cities and not just from Interlaken). So it is cheaper to go with a tour than to buy an individual ticket. This is because tours get big group discounts.
Mt Titlis ticket from Engelberg costs +- 108 CHF (or 96 CHF if you don't take the all-in ticket), plus you need to get to Engelberg.
Good to know: You can buy Mt Titlis tickets online on the official website or once you get there. However, often, the all-in Mt Titlis ticket on the GetYourGuide website is a better deal.
Taking a tour from Lucerne or from Zurich will be significantly more expensive, but it will still probably be cheaper than buying your own train tickets and Mt Titlis tickets separately.
TIP: If you have the Swiss Pass, all the regular train tickets are included. In addition, you get discounts on the Jungfraujoch railway and Mt Titlis gondola.
With kids: If you are visiting Switzerland with kids aged 6-16 and don't have the Swiss Travel Pass, try to get a Junior Travel Card at any major railway station at the beginning of your trip. With this card, children travel free with a paying adult, and it can save you a small fortune when exploring Switzerland.
READ ALSO: Swiss Travel Pass (complete guide and useful info)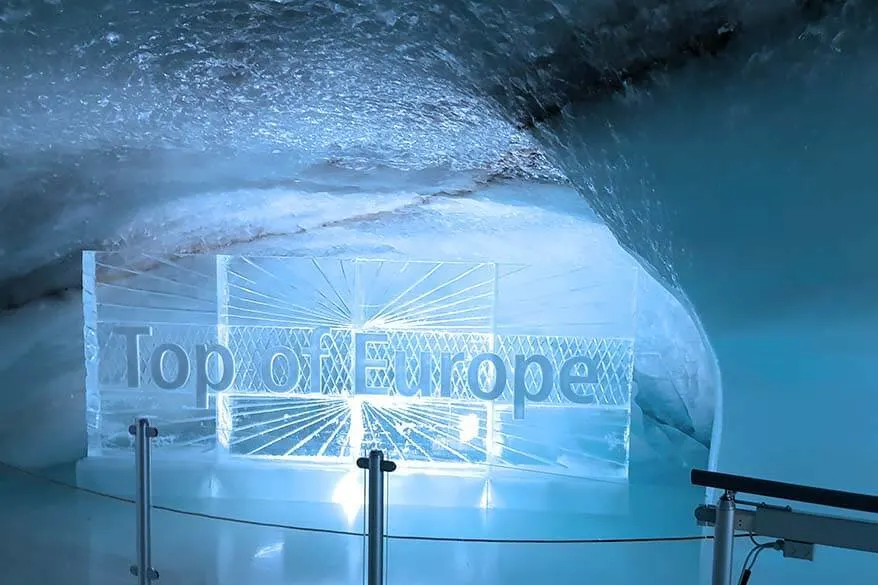 Conclusion – Mt Titlis or Jungfraujoch
So, now that you know what to expect, hopefully, you already decided which place to visit – Mt Titlis or Jungfraujoch. If you are still doubting, here are some things to consider:
If you are conscious about time or budget, but are still looking for the ultimate Swiss mountain experience, then go to Mount Titlis. It's much quicker to get to than Jungfraujoch, it is a lot cheaper to visit, and it has a lot to offer in any season. The ice tunnel is impressive and the views from the Cliff Walk are simply stunning. Furthermore, you'll find a lot of great activities at Trübsee.
If, however, you don't mind about the budget and are looking for a really special place to visit in the Swiss Alps, then go to Jungfraujoch. It's a very unique landmark – the Top of Europe – and it sure feels like it. The journey in itself is really scenic and the activities on the top are great.
Furthermore, if you plan your visit well (go as early in the morning as you can!), you can explore the beautiful area around Kleine Scheidegg, and also do some hiking or visit Wengen and Lauterbrunnen on the same day. You can use the same train ticket to disembark in Wengen before going back down to Lauterbrunnen, so it won't cost even more.
TIP: If you can spend a few days in the Jungfrau Region, you'll enjoy it even more (especially in summer!). You can book your train tickets and a hotel in Grindelwald, in Wengen, or in Lauterbrunnen. If you are planning to visit the Grindelwald-First area, it's best to stay in Grindelwald.
Actually, there is so much to see and do in both regions, that you can easily plan at least 3-4 days in either area. In winter, skiing is amazing too! And in summer, there is so much to see and do, and hiking is great!
Below, you can find our guides for more inspiration for both areas. Take a look!
More travel inspiration for the Jungfraujoch Region:
More travel inspiration for the Mt Titlis – Lucerne area:
YOU MAY ALSO LIKE: Best Things to Do in Zermatt & 1 Day in Zermatt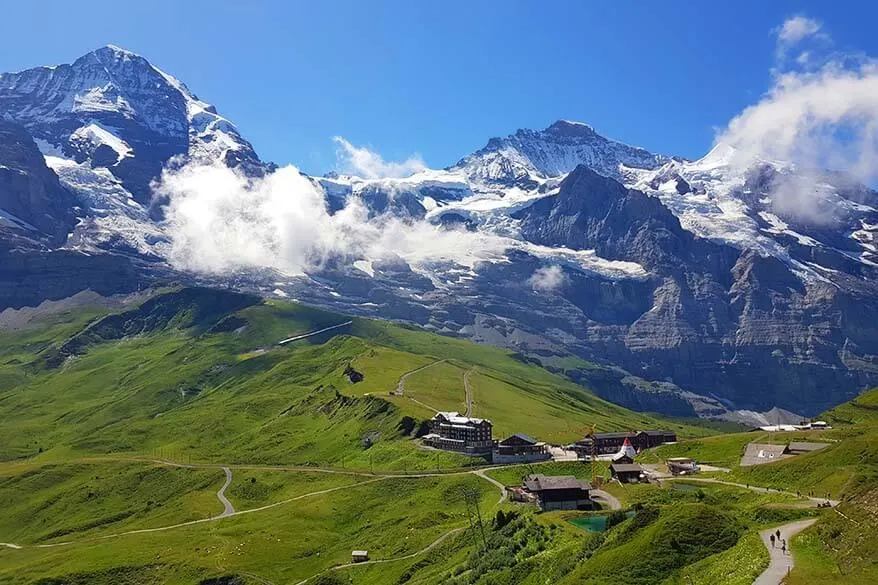 FAQ
Which is better Jungfraujoch or Titlis?
While both destinations are really nice and Jungfraujoch is more unique, Mount Titlis is much easier, quicker, and also significantly cheaper to visit than Jungfrau. So if you have to pick just one of the two – in summer or in winter – I think I'd go to Mt Titlis. There is just one drawback – it's always much busier at Titlis.
Is it worth going to Jungfraujoch?
If you have the time and don't mind the high price tag, yes, it's absolutely worth visiting Jungfraujoch. Also known as The Top of Europe, this is one of the most unique mountain destinations in Switzerland. The scenery is stunning and the experiences at the top are truly special. Also the areas that you pass along the way (Kleine Scheidegg, Wengen, Lauterbrunnen, Grindelwald) make the journey to Jungfrau worthwhile.
Is it worth going to Mt Titlis?
Mount Titlis is one of the nicest mountain destinations and offers the best of the Swiss Alps in one place: the views are spectacular, you can explore a real ice tunnel, and walk on the highest suspension bridge in Europe. Furthermore, it's easy to get to and is very affordable by Swiss standards. So yes, it's absolutely worth a visit!
Is Jungfraujoch better in summer or in winter?
While it is a year round destination and many activities and attractions are inside, there is more to do at Jungfraujoch in summer than in winter. For example, in summer, you can go snow tubing or hike to Mönchsjoch Hut. There are also more activities in the surrounding areas in summer than in winter.
Is Mt Titlis better in summer or in winter?
Mount Titlis is truly a year round destination, there is always snow on top, and it's nice in any season. You can enjoy the views, visit an ice tunnel, and walk on the suspension bridge at any time. In winter, you can go skiing and sledding, and in summer you can go snow tubing on the glacier. For us, the most magical time to visit Mt Titlis is on a cold sunny winter's day.
LEARN MORE:
What to Expect When Visiting Jungfraujoch
What to Expect When Visiting Mt Titlis
TIP: If you'd like to visit more popular mountain destinations in the Swiss Alps, take a look at our guides to Mt Pilatus Golden Round Trip (the most popular summer day trip from Lucerne), as well as 1 day Zermatt itinerary that covers two amazing peak destinations – Gornergrat and Matterhorn Glacier Paradise – in just a day.
If you found this post useful, don't forget to bookmark it and share it with your friends. Are you on Pinterest? Pin these images!