There are so many beautiful places in the Swiss Alps that it's often impossible to say which of them is nicer or worth a visit more than another. However, if you are wondering if Schynige Platte is worth visiting, I can say without any hesitation that Schynige Platte deserves a place on any list of must-see places in Switzerland. Yes, it's that beautiful!
Last summer we spent ten days in the Jungfrau Region in central Switzerland and visited so many beautiful places. One by one worth a trip, even if you are coming from the other side of the world.
However, there was one place that stood above all the rest – Schynige Platte! We were blown away by the incredible scenery here! After so many trips and so many places visited, Switzerland – once again – surprised us beyond expectations.
Furthermore, Schynige Platte is one of the easiest accessible mountain destinations in the Jungfrau Region. It's a place that has plenty to offer to everyone – from families with young kids to experienced hikers.
All this makes Schynige Platte popular with locals and people vacationing in the area for a longer time, but it's not as widely known or visited by groups of international tourists as e.g. Zermatt, or the nearby Jungfraujoch or places like Interlaken, Wengen, and Grindelwald…
In this article, you can find our guide for visiting Schynige Platte. What makes it so special and what there is to see and do here. We also included hiking suggestions, as well as our top tips for the best viewpoints and more. At the end of the post, you can find some practical information for your visit. Find out!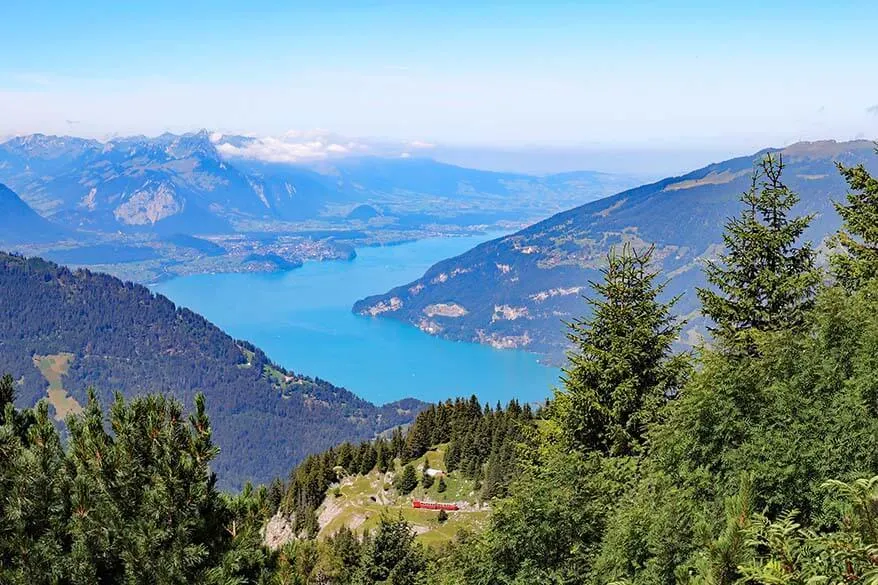 Here are the best things to do at Schynige Platte:
1. Historic Railway
Schynige Platte proudly calls itself 'Top of Swiss tradition'. First opened in the summer of 1893, the historic railway between Wilderswil near Interlaken and Schynige Platte has been in operation for over 125 years.
The old steam locomotives have been replaced by electric trains in 1914. The 'newest' trains operating on this line today are all over 100 years old. As you step into a wooden carriage, it truly feels like taking a trip back in time, the beautiful Belle Époque era. There aren't many other places in Switzerland that still use trains from those days… It certainly has its charm!
Some trains have open carriages without windows, which look even more like something from an old movie. I'm not sure how they decide which trains to use, but we saw several different models in operation during the day when we visited.
The 52-minute, 7 kilometers journey on the historic railway is stunning! And because the train ascends quite slowly, you have plenty of time to admire the scenery. However, that's just a taste of what's to come…
Good to know: You can reserve your tickets for the railway here. Four times a year, you can also ride to Schynige Platte on a historic steam train, using the original locomotive that was built in 1894. You can find more information about these steam trips here.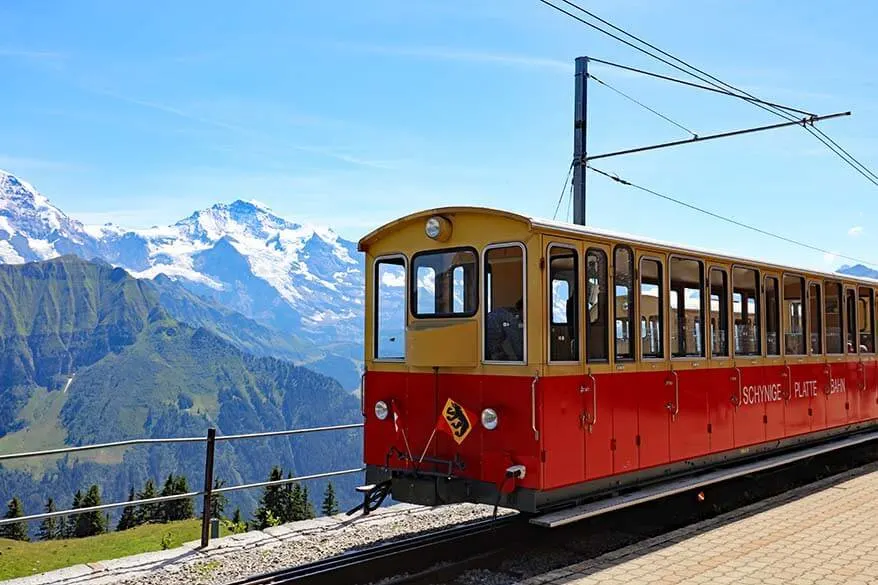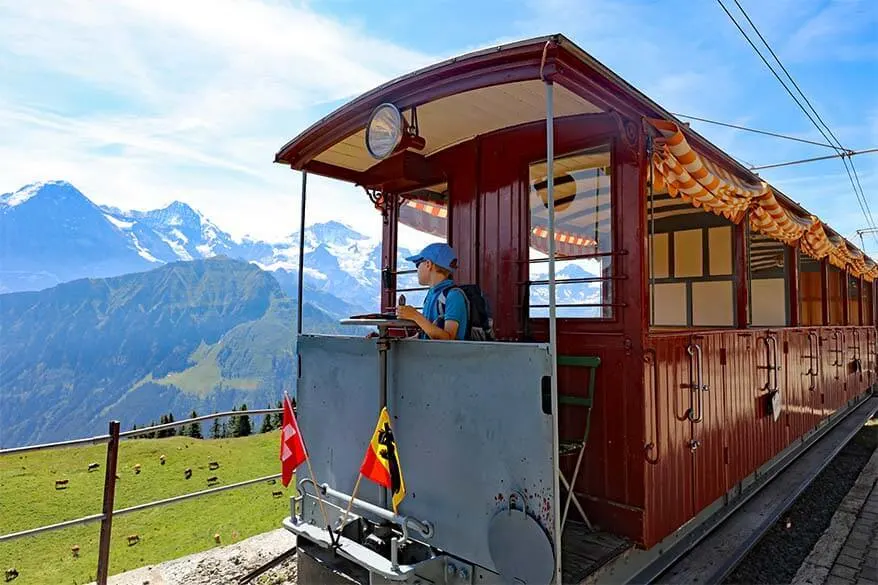 2. Jaw-dropping Scenery
Once you reach Schynige Platte at 1967 m altitude, the most spectacular landscapes await. The panoramic terrace of the hotel restaurant has great views and also allows you to easily access the nearest summit at 2076 m, from where you can see the lakes of Interlaken and the mountains of the Jungfrau Region.
Even if you don't hike, you should at least take a short walk at the Botanical Alpine Garden that's located right above the railway station (more information further below). From there, you have a fantastic view of the stunning landscapes in the direction of the most famous mountain peaks of the Jungfrau Region.
As you walk around, you'll pass giant wooden picture frames overlooking the snow-capped mountain peaks of Eiger, Mönch, and Jungfrau. The Swiss call it the 'Nature Cinema'. And indeed, you can just sit there and watch the most beautiful scenery through these giant frames or take some fun pictures with your family or friends.
However, as nice as the scenery here is, the views are yet a hundred times better from the Panorama Trail. So if you are physically capable, don't miss it. Read on!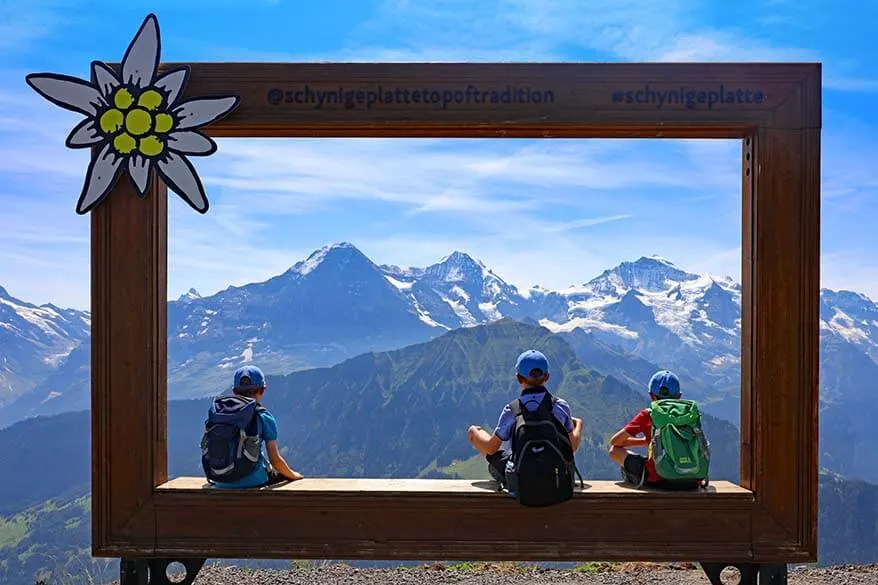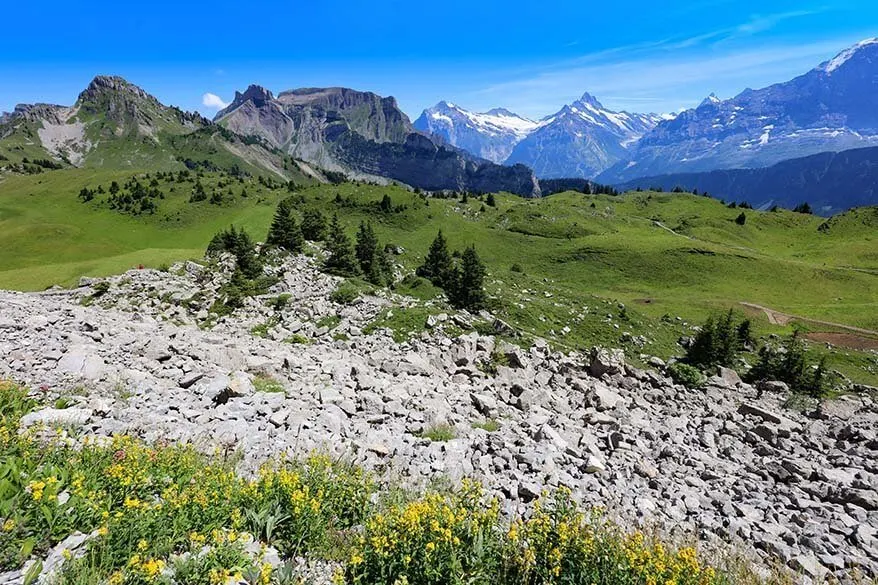 3. Panorama Trail
Panorama Trail at Schynige Platte is one of the most rewarding rather easy hikes in Switzerland! The 360° panorama with phenomenal views of the Interlaken area and the mountain peaks of Eiger, Mönch, and Jungfrau will take your breath away!
Part of the trail takes you along a mountain ridge with spectacular 360° views. On one side, you can see Interlaken with the colorful scenery of the azure-blue waters of Lake Brienz and Lake Thun. On the other side, you have the snow-capped mountain peaks of the Jungfrau region. Just under your feet, there are green Alpine pastures dotted with Swiss cows… It's like walking inside a massive painting and you don't know where to look first…
There are several hiking trails at Schynige Platte. However, the nicest views are from the Panorama Trail, and in particular the section between Daube viewpoint and Oberberghorn. If you are fit enough and can hike a bit, don't miss it! It's by far the best thing you can do at Schynige Platte!
LEARN MORE: Best Schynige Platte Hikes (+ Maps & Practical Info)
For many years, we considered the Oeschinen Lake hike to be the most beautiful hike in Switzerland. I have to say that Schynige Platte is at least as impressive! Furthermore, the Panorama Trail is easier, shorter, and incredibly rewarding, especially if you visit on a sunny day.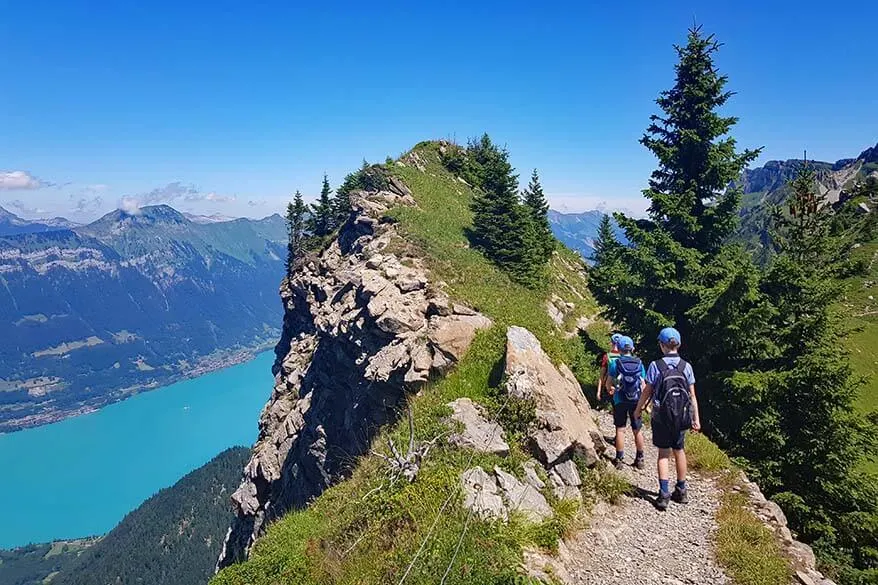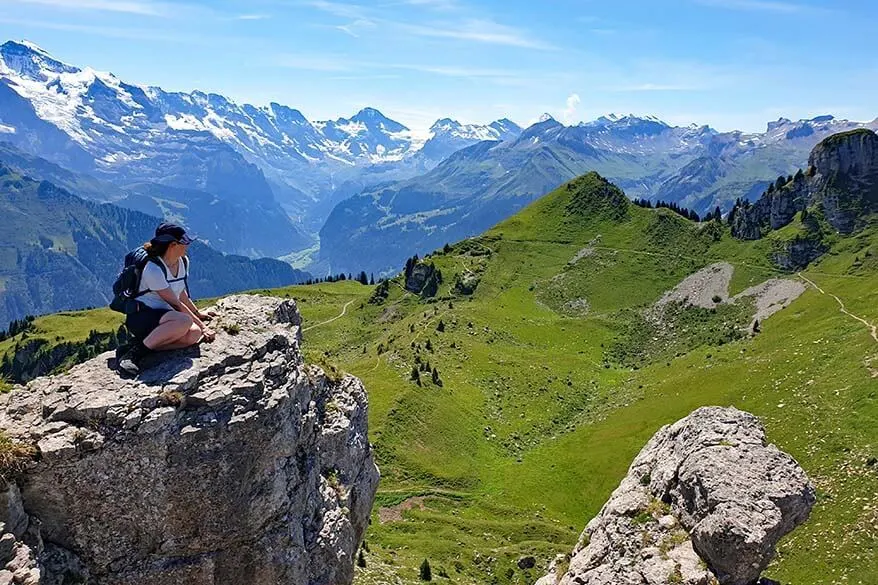 4. Alpine Flowers & Edelweiss
If you ever wanted to see an edelweiss, you may just get lucky at Schynige Platte. Their Botanical Alpine Garden contains about 650 species of alpine flowers, including the famous and protected Edelweiss.
It took us some time to find Edelweiss among so many other flowers, but it was worth it. For us, this was the very first time that we saw real Edelweiss flowers growing in their natural surroundings. It's beautiful! In addition, there were many other flowers that were really beautiful and made it worthwhile to take some time to visit this garden.
Swiss Flower and Panorama Trail is an easy walk of about 1km. It starts at the Schynige Platte railway station, past the carved wooden cow Lily. The trail passes alpine meadows with many different species of plants and colorful flowers, with their names indicated on the informational panels. There are so many paths crisscrossing the area here, so you can make this walk as long or as short as you desire.
June to August are the best months to see the flowers. They say that August is the best time for flowers because most species are blooming at that time. That's also when we visited – at the beginning of August, and the gardens were really nice.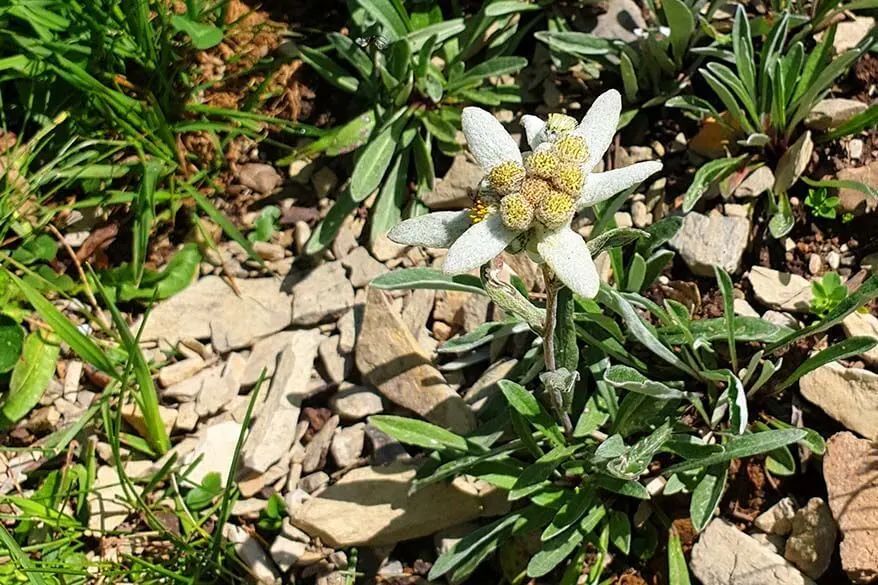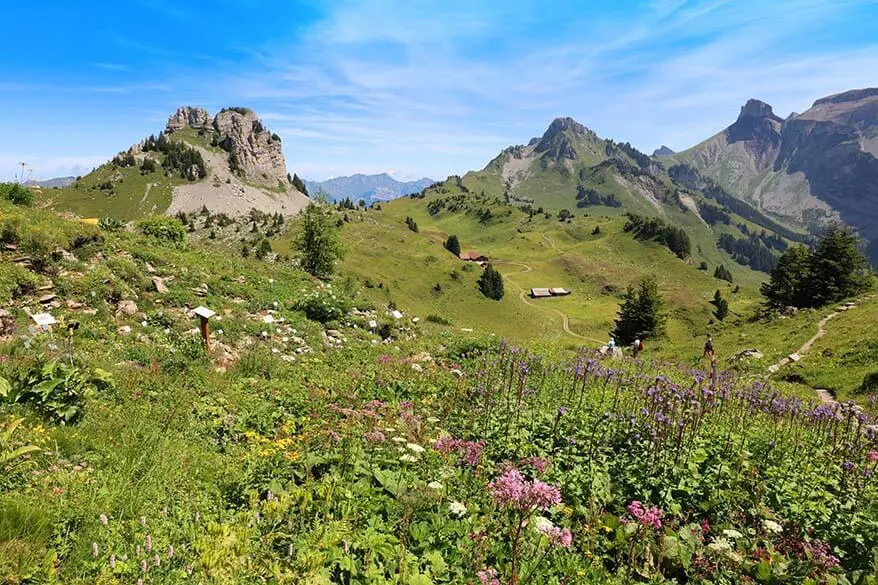 5. Alphorn Players
The alphorn (also known as an alpine horn) is a typical music instrument from the Alps. It's often played during all kinds of traditional celebrations or local events in Switzerland, but also in Austria, the Bavaria region in Germany, and several other places in the Alps.
It's a long wooden natural horn that can be almost 4m long. It's always fun to see and hear this instrument, but the chances of you encountering somebody playing an alphorn during your trip in Switzerland aren't high.
Here at Schynige Platte, they employ Alphorn players and have daily performances during the summer season (June to mid October). If the weather is good, they play in front of the hotel from 11 AM to 2 PM. In case of bad weather, performances are held inside.
We were not aware of these hours and missed them because we started our visit at the Alpine Garden and then continued to the Panorama Trail. By the time we were back at the Schynige Platte hotel, it was already late afternoon and the alphorn players were already gone. It wasn't a big deal for us, because we saw them that same evening during the Swiss National Day celebration in Wengen where we were staying.
But if you really want to hear alphorn players at Schynige Platte, it's probably best to visit the Alpine Garden first, then go to the hotel for the alphorn performance, maybe have lunch at the restaurant, and then start the Panorama Trail from there.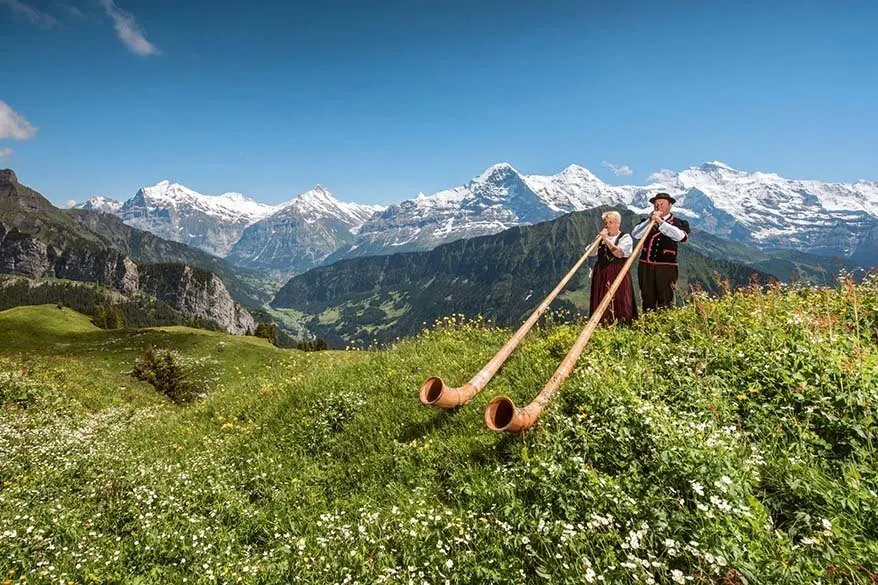 Practical Information for Visiting Schynige Platte
When to Visit
Schynige Platte can only be visited in the summer season (end of May to mid October). It's closed in winter. The best time to visit is in summer when hiking trails are completely open. If you can choose, pick a nice sunny day for your visit so that you can enjoy all the incredible views to the fullest.
TIP: The second half of August – the beginning of September are the best times to go if you want to avoid the crowds of the busiest season (from mid June to mid August).
Our experience: We visited Schynige Platte on the 1st of August, the National Day of Switzerland. It was a beautiful sunny day and it was really busy. However, they added a few extra trains in the morning and we didn't have any delays going up. Once on top, everyone spread out and it wasn't crowded. Some parts of the Panorama Trail were a bit busy but not too crowded and still very enjoyable.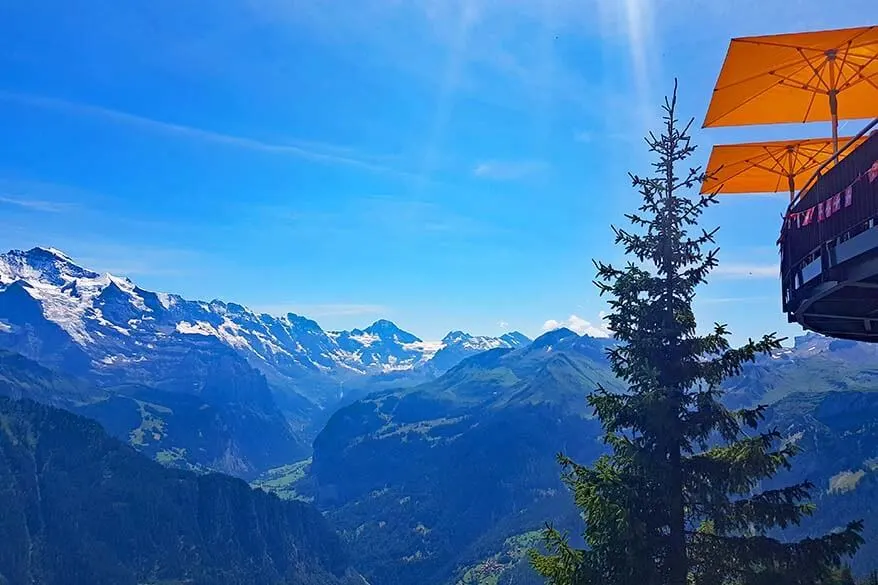 How to Get to Schynigge Platte
Schynige Platte is located in the Jungfrau Region in Bernese Oberland in central Switzerland. The closest bigger town is Interlaken. It can only be reached by a historic cogwheel train from Wilderswil.
If you are not staying in the region, you can either get to Wilderswil by car or by taking a train via Interlaken. If you come by car, you can leave it in a car parking area in Wilderswil. If you are coming by train, you'll first have to get to Interlaken. From there, take a train either in the direction of Grindelwald or of Lauterbrunnen – they both stop in Wilderswil.
Trains to Schynige Platte depart Wilderswil every 40 minutes and take almost an hour to get to the top (and also to get back down). The first train from Wilderswil to Schynige Platte leaves around 7.25 AM and the last train to Wilderswil departs from Schynige Platte at around 5.30-6 PM, so keep this in mind if you are planning to do any longer hikes.
Unless you travel with a big group, you can just show up at Wilderswil train station and take a train to Schynige Platte without any advance booking. You can also book your tickets online in advance, so you can just board the next available train without any delays).
Also, keep in mind that it can be quite busy, especially around 9-11 AM, so be prepared to wait for the next train if need be. It was really busy when we visited and they just added a few extra trains. I'm not sure, however, if they always do that.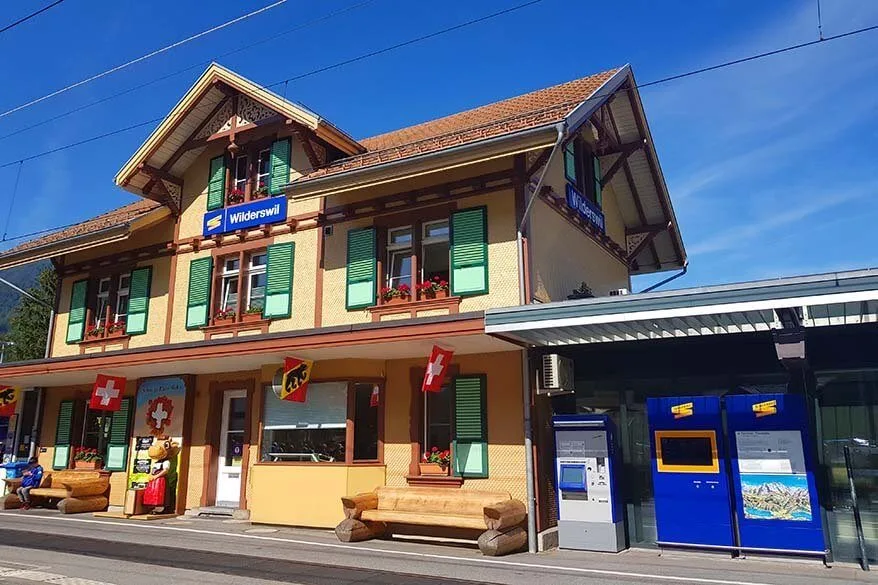 Schynige Platte Tickets
Just as everywhere in Switzerland, a simple day ticket to Schynige Platte is quite expensive. At the moment of the last update, the train ticket from Wilderswil to Schynige Platte and back costs 64 CHF. There are discounts for kids and children under 6 travel free of charge.
However, just like anywhere else in Switzerland, there are so many possibilities for tickets – hiking tickets, teatime tickets including a cup of tea and a piece of cake, but only for afternoon departures, etc. You can also get discounts with the Swiss Pass (50%). More information about tickets here.
Good to know: All the activities on top of Schynige Platte are included in the train ticket price. So there is no extra charge for a visit to a Botanical Garden or similar.
TIP: We bought the Jungfrau Travel Card because we stayed in the area longer. Schynige Platte ticket and all the other train rides in the wide area of Interlaken, Grindelwald, Wengen, Kleine Scheidegg, Mürren, and Lauterbrunnen were included with this card (all except Jungfraujoch, for which you get a big discount if you have this card). It saved us so much money! But it only makes sense to get this regional card if you are here for at least 3-4 days and are planning to do lots of sightseeing every day.
READ ALSO: Swiss Travel Pass (& Is It Worth It?)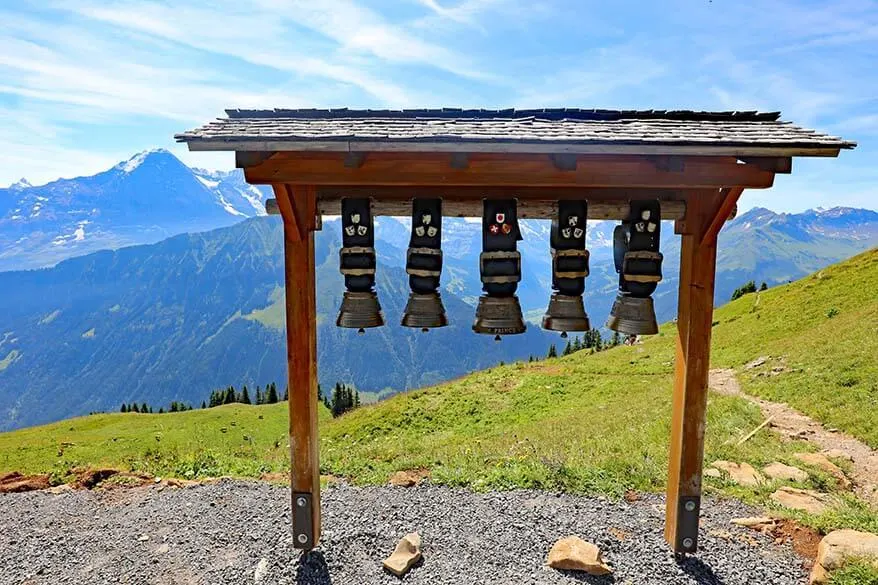 Restaurant, Hotel, Playground
Schynige Platte is a destination in itself. Many people just come here for the train ride, the views, and lunch or a drink on a sunny outdoor terrace with fantastic views.
Some others come here for a few days and stay in the historic Schynige Platte Mountain Hotel located on the mountain.
If you stay here, you can hike in the area as late as you want and have the most amazing scenery all to yourselves, when all the day tourists have left. We love Swiss mountain hotels! Staying on the mountain when day-trippers leave is always a magical experience.
At the hotel, you'll find a restaurant with a big outdoor terrace. It's a great place to have lunch or stop for a relaxing drink after a hike. There are also several shops and, of course, bathroom facilities as well.
Near the hotel, there is a nice playground for kids. While our kids played there, we enjoyed a drink with the most beautiful views around us. Vacation at its best!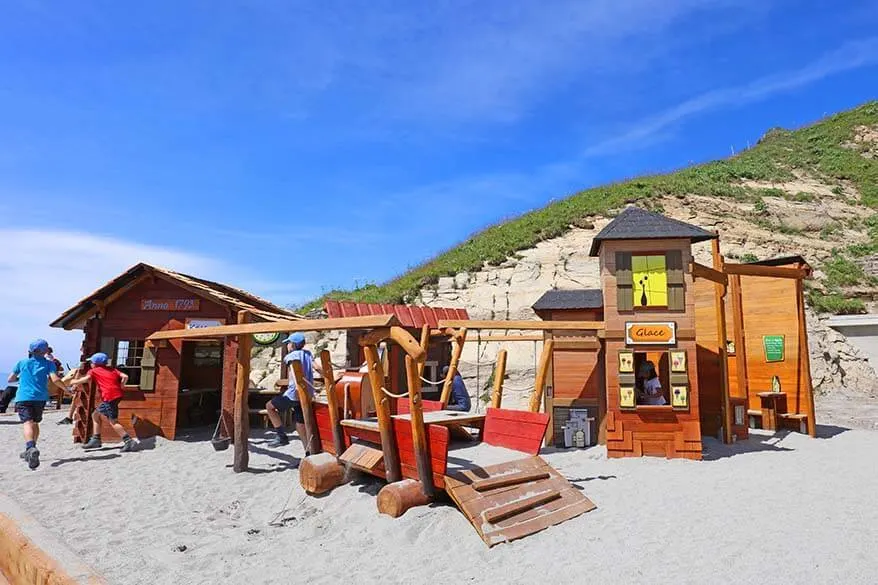 Schynige Platte was an unexpected discovery for us. After visiting so many other famous landmarks of the Jungfrau Region, we never thought we'd find yet another place that would make its way into our list of the absolute-best destinations in Switzerland.
I'm so glad that we went there and I really recommend that you visit Schynige Platte if you have a day extra in the Jungfrau Region!
If you like magnificent landscapes and a typically Swiss experience without huge crowds, then Schynige Platte might just be what you're looking for! It's located just near Interlaken, therefore easy to reach from most big cities in Switzerland, and makes a great day trip for the whole family.
TIP: Don't miss Jungfraujoch, Top of Europe, when visiting this area. Here you can read what to expect when visiting Jungfraujoch – one of the best day trips in Switzerland in any season.
YOU MAY ALSO LIKE: What to See & Do in Zermatt
More tips for your trip to central Switzerland:
If you found this post useful, don't forget to bookmark it and share it with your friends. Are you on Pinterest? Pin these images!