Are you looking to visit Switzerland's Jungfrau Region in winter, but are not sure what to expect? Or maybe you're thinking of traveling to Switzerland in winter and are overwhelmed with all the choices trying to decide where to go? This article is for you!
We just returned from yet another winter trip in the Jungfrau Region, one of our favorite places in Switzerland. I am more convinced than ever before that Jungfrau is a wonderful choice for a winter trip. Find out!
Disclosure: We visited Jungfrau in winter in collaboration with Jungfrau Region Tourism. However, this was not the first time we traveled here and definitely not the last one (we just booked a trip again for this summer). As I said, Jungfrau is one of our favorite places in Switzerland. I'm thrilled that this time we could explore the region with the locals, discover new experiences, and tell you about all the amazing things that you can do in Jungfrau in winter.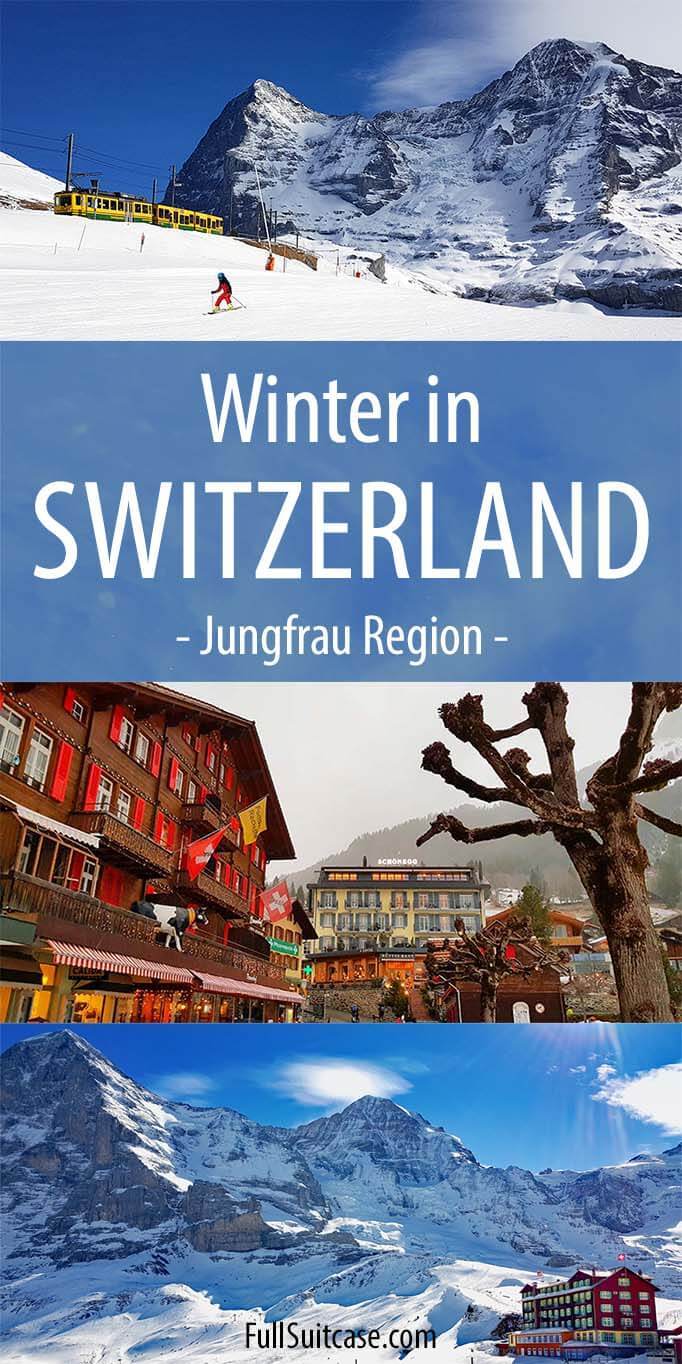 Just a few reasons to visit Jungfrau in winter
1. Location. Jungfrau Region is located in the Berner Oberland region in central Switzerland and is very easy to get to. Whether you are coming by car or by train, it's really simple to get here, also in winter. Jungfrau Region is about 1-hour drive from Bern or Lucerne and 2 hours from Zurich or Basel.
2. Scenery. Jungfrau Region is located in the most spectacular setting, in the heart of the Swiss Alps. Mountain scenery here is simply amazing!
3. Activities. One of the reasons why we love visiting the Jungfrau Region so much is the fact that there are so many different things one can do in this area. Also in winter, there are countless possibilities for all kinds of travelers. There are several ski areas and the main one is so big that you could ski 3-4 days without ever doing the same run twice. There is also winter hiking, ice skating, sledding (with dedicated sled runs), snowshoeing, cross country skiing, and even curling…
4. Top of Europe. Jungfrau region is probably best known for the highest railway line and train station in Europe, Jungfraujoch, aka Top of Europe. It attracts a big number of tourists from all over the world and is definitely one of the highlights of any visit to Switzerland.
5. Schilthorn: Piz Gloria & Bond World. One of the most impressive mountain peaks in Switzerland, Schilthorn is also a must-see for James Bond fans. Not only is it a filming location, but you can also follow in the footsteps of Secret Agent 007 in the interactive Bond World at Schilthorn. Summer or winter – must-see.
6. Charming towns and car-free villages. The first time I visited the Jungfrau Region over 20 years ago, I was mostly intrigued by its car-free villages, Wengen and Mürren. Little towns, high in the mountains that can only be reached by train. How cool is that!!!
7. Sherlock Holmes, meringues, historic hotels, family-focus, and so, so much more… Read on to discover these and many other great reasons to visit Jungfrau in winter!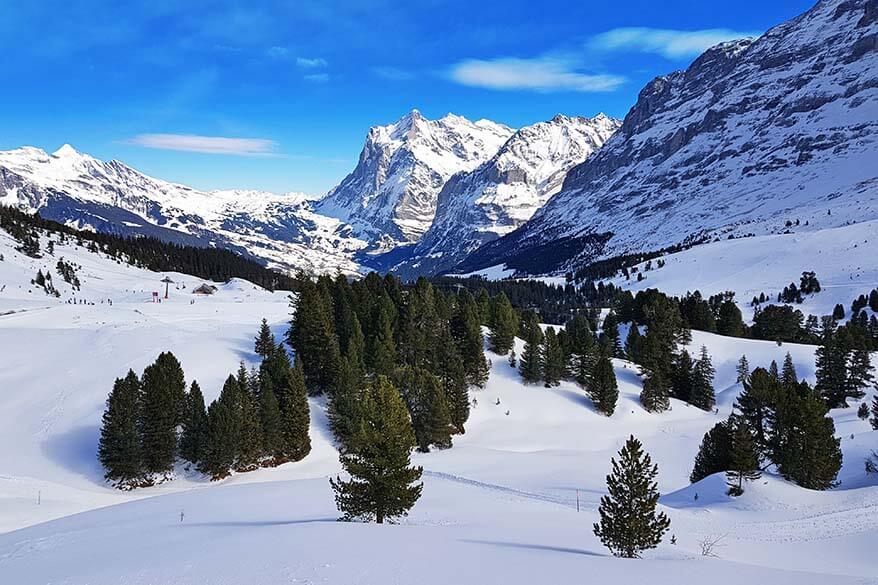 Jungfrau Region – where to go
Jungfrau Region refers to the following places: Lauterbrunnen, Wengen, Mürren, Grindelwald, and Haslital. And then there is also Jungfraujoch, Top of Europe and Schilthorn…
Each of these places is unique and each – well worth a visit on its own. They all offer something different, so if you have the time, make sure to visit them all.
At one point or another, we have been to every town in the Jungfrau Region. However, most experiences date from the summertime or from so long ago that it would be difficult to give you the most relevant and up-to-date information about visiting all the towns of Jungfrau in winter.
Therefore, in this article, I mainly focus on the places that we visited in Jungfrau this winter – Wengen, Jungfraujoch, and Meiringen in Haslital.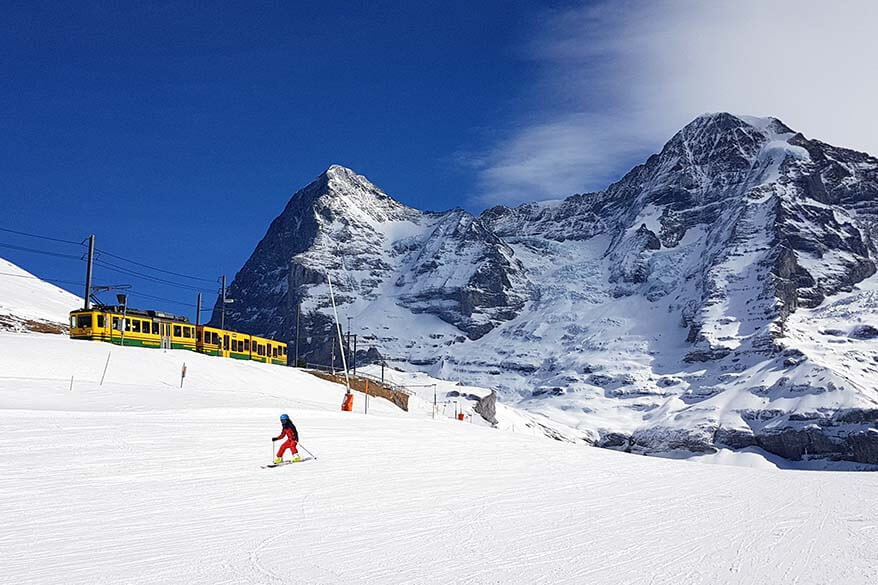 Wengen in winter
Wengen is our absolute favorite of all Jungfrau towns. It's just a perfect balance between the picture-perfect mountain village and a well-equipped vacation resort that has plenty to offer to all types of travelers.
In order to reach Wengen, you have to take a train in Lauterbrunnen, 400m lower in the valley. The moment you step on that train and watch the beautiful scenery passing by, you know you're on holiday.
Wengen is a small mountain village with just over 1,000 local residents. But come winter time and the number of people in town can multiply several times… Still, Wengen never feels crowded or overly touristy – everyone is enjoying the mountains and the ski area is immense…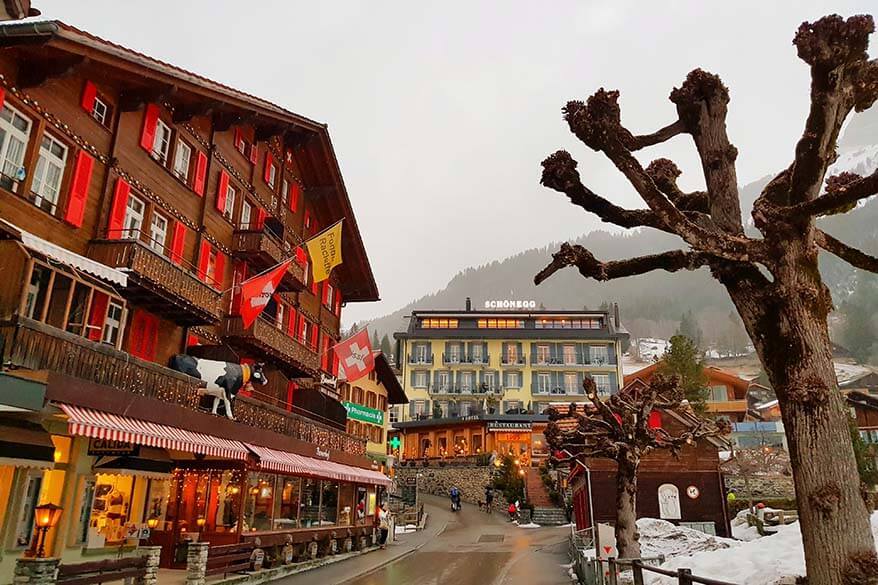 Skiing in Wengen
Jungfrau ski area connects Wengen, Grindelwald, Männlichen, Kleine Scheidegg and if you take a train you can also easily get to Mürren. With three mountain ranges, two valleys, and over 200 km of ski runs for all levels, Jungfrau ski region is a real paradise for all winter sports enthusiasts.
The highest ski runs in Jungfrau ski area are at an altitude of over 2000 m, so you don't have to fear a lack of snow or bad snow quality here.
Wengen town itself has several beginner's slopes and ski schools – perfect for young children. It's actually here in Wengen that our twins learned to ski when they were just 4 years old…
The main Jungfrau ski area is a mix of easy and medium runs (indicated as blue and red pistes), with just a few really steep sections (black runs). The majority of ski pistes are red, but they are so wide that even our young kids managed just fine. There is truly plenty of choice for skiers of all levels of experience.
LEARN MORE: Complete Guide to Skiing in Wengen
You may have heard of the famous Lauberhorn downhill ski race that takes part in Wengen every year in January. If you come here after the race, you can try this iconic slope for yourself.
Standing at the starting point, it is hard to even imagine that someone would complete this race in just over 2 minutes… We only did the first part and it took us longer than that… Of course, we stopped for the pictures and all – it was just too beautiful to race down the mountain and not enjoy the views…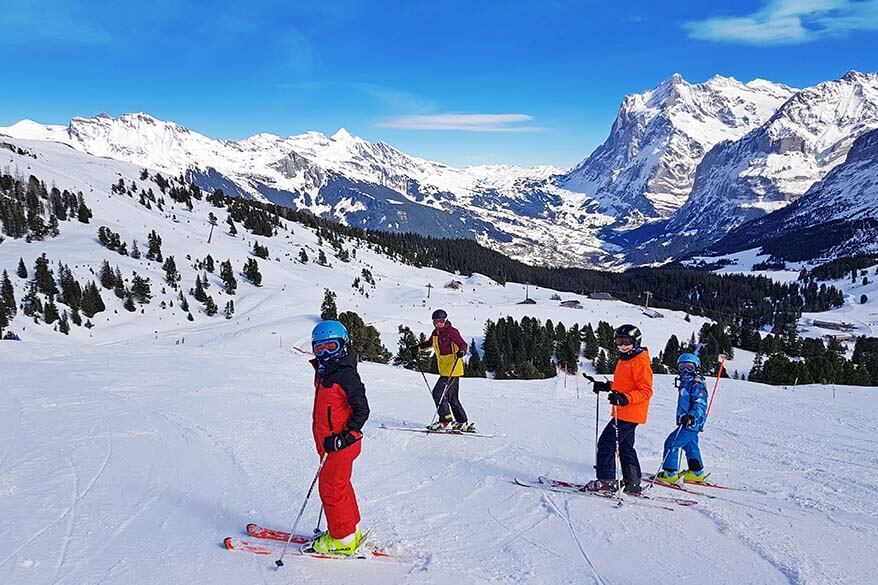 Sledding in Wengen
One of our kids' favorite winter activities in Jungfrau was sledding. The area has plenty of dedicated and well-maintained sled runs – they are indicated in purple on the map.
Last time we were in Wengen, we tried sledding from Männlichen to Grindelwald, but stopped somewhere halfway – that side is really quite steep and the sled run was too long for young kids (just 4 to 6 years old at that time).
This winter we opted for the Fox Run – a sled piste that pretty much follows the railway line between Kleine Scheidegg and Wengen. We tried just a small section between Wengernalp and Allmend first and everyone loved it so much that we decided to try a longer run. We then took the train back up for a second run from Wengernalp and all the way down to Wengen. The second time went so much better and easier – it's really a matter of practice.
The Fox Run is just steep enough to be fun, but not too steep. Perfect for families with children! Still, sledding in the mountains is not as easy as it looks at first sight. It takes some practice to master the art of sledding and young kids definitely shouldn't do this on their own. You have to use your legs in order to turn or brake.
Also, once in a while you might need to take a decision to tip the sled over to avoid going the wrong way… That's something young kids aren't able to estimate very well. So we took our 8-year-olds on a sled with us. The 10-year-old did it all by himself and had the time of his life…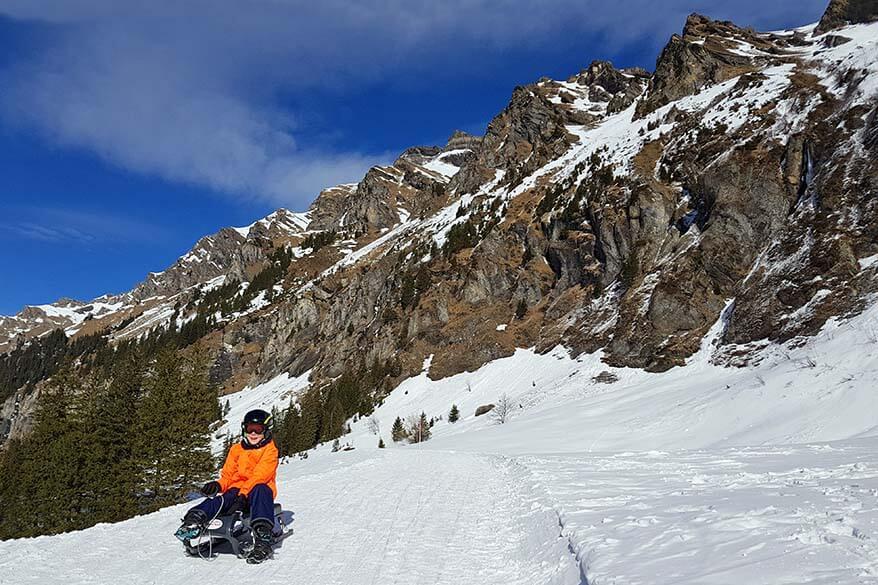 Ice skating in Wengen
The ice skating rink is right in the center of Wengen town, next to the ski school. You'd expect it to be busy, but we were lucky to have practically the whole ice skating rink to ourselves. It was so much fun!
We haven't enjoyed ice skating so much in years! I don't know what it was – the ice, the quality of ice skates, the scenery, or maybe a combination of all of these factors. Whatever it was, ice skating in Wengen was the best we have ever done!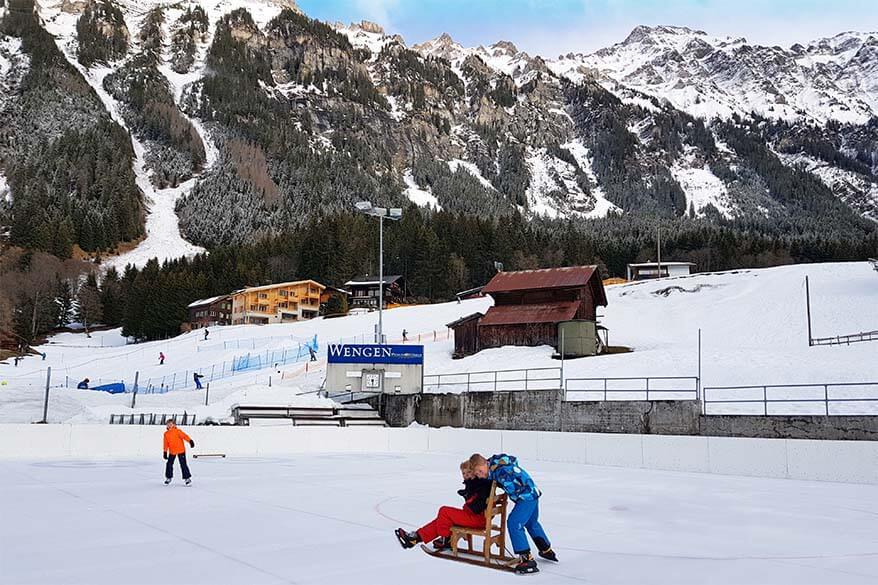 Curling in Wengen
Behind the Wengen Tourism Office, next to the ice skating rink, you can also find a covered curling rink. It has to be booked at least a few hours in advance, so ask at the tourist information for available times.
And don't worry if you are a complete novice – there is a teacher who will help you with the basics so that you can try curling for yourselves.
We had never tried curling before and to say that the kids were excited is an understatement. All three of them absolutely loved curling. Not that we were good at it (not at all, actually), but I think we are all hooked now and can't wait to try it again when we get the chance. It's just so much fun!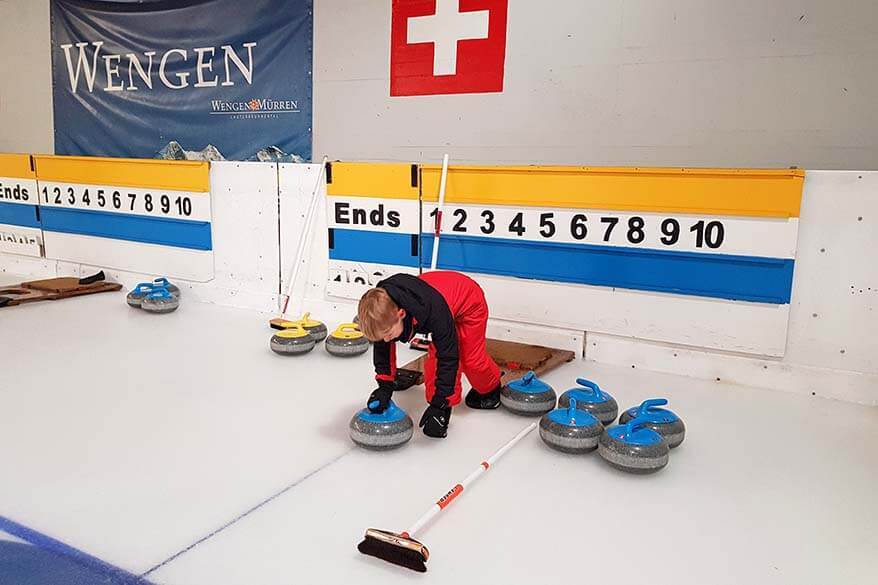 Wengen in winter with kids
Wengen is a very family-friendly place. Also in winter, you have nothing to worry about. As I already mentioned, there are plenty of family-friendly winter activities in and around Wengen.
In addition, there are several ski schools: one in Wengen town and one at the Männlichen ski area. So you can find one that best suits your needs.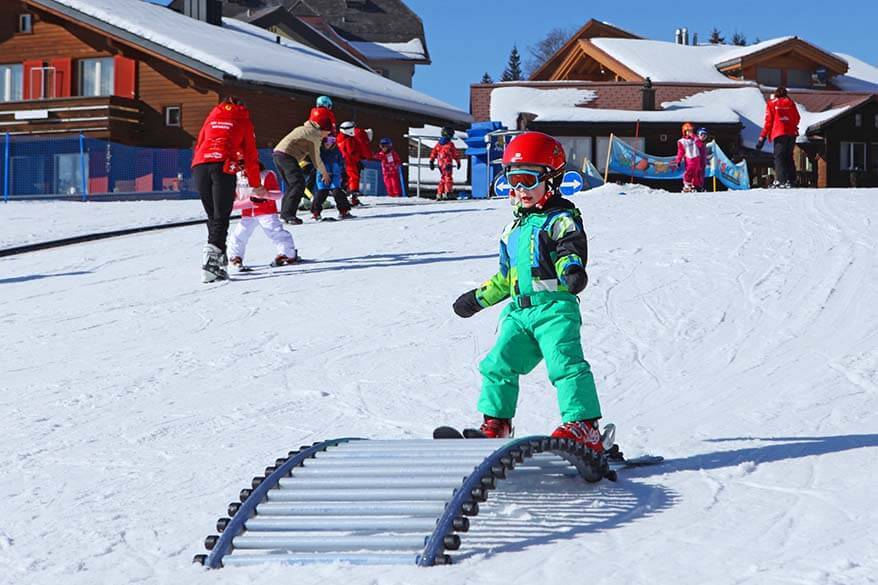 Furthermore, there is a daycare center, Playhouse, where you can safely leave the youngest members of your family (1 month to 8 years old).
The Playhouse is conveniently located just next to the Manlichen gondola and Wengen ski school. It is possible to ask ski instructors to drop your children off at the daycare after their ski lessons. They then get a warm lunch there and play till the parents come back after skiing. In the meantime, you can enjoy a break you really deserve, knowing that your kids are in good hands.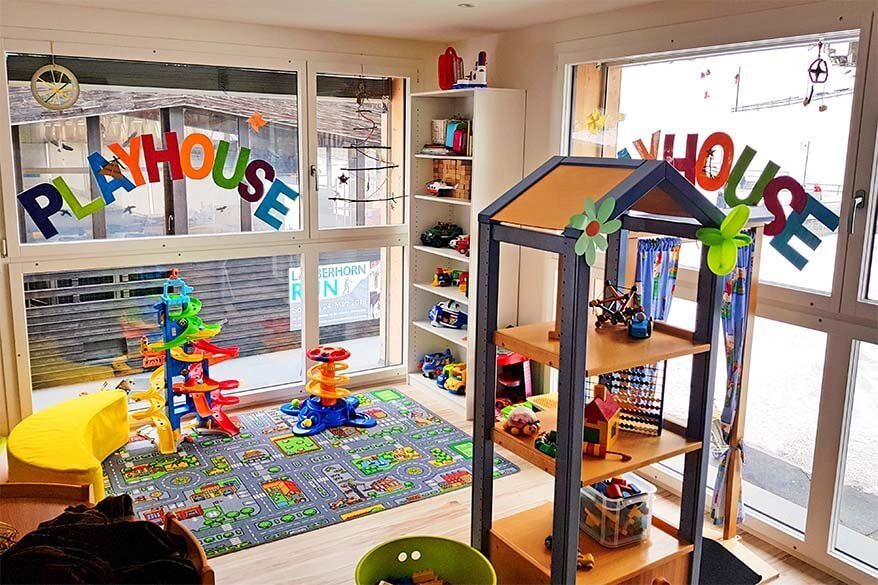 What to do in Wengen in winter for non-skiers
Winter holidays in Switzerland are so much more than alpine skiing! As already mentioned, the Jungfrau Region offers plenty of winter hiking trails, cross-country skiing, sledding, ice skating, and even curling… And of course, you shouldn't miss the chance to visit Jungfraujoch, Top of Europe (more information further below).
Wengen Tourist Office also organizes all kinds of free events, so make sure to stop by and ask for their weekly program.
We joined a free culinary village walk in Wengen and it was fun for the whole family. Not only do you get to know a little bit of history and fun facts, but you can also taste some local specialties. Kids absolutely loved it!
There are also lots of nice restaurants in Wengen town and plenty of mountain huts where you can go for a nice lunch or dinner…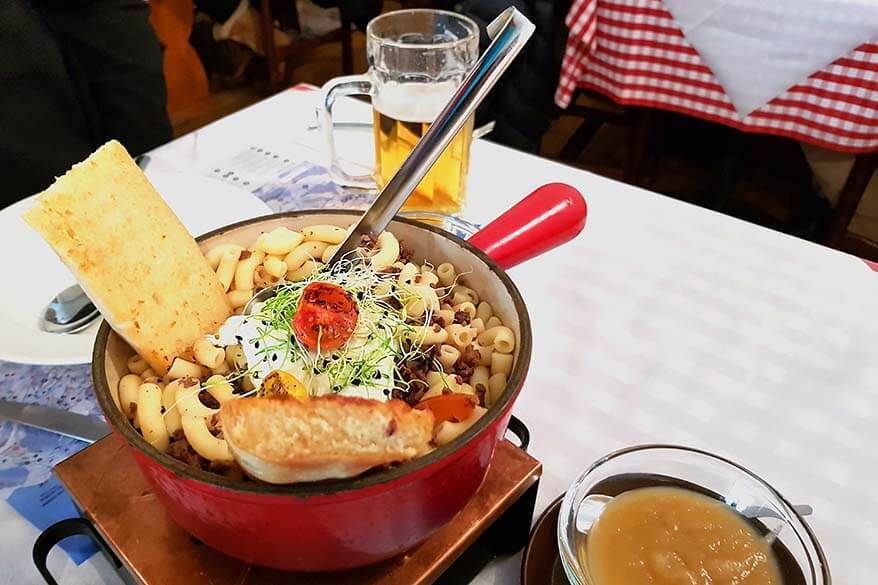 Where to stay in Wengen
Wengen has a big range of accommodations, from chalet rentals to luxury hotels. What we love about Wengen (and Switzerland in general) is that there are so many beautiful historic hotels. We love staying in historic hotels! There is so much charm and history…
This time we stayed at Hotel Belvedere. If you love historic places, you'll absolutely love it! One disadvantage is that the hotel is a bit far from the ski school and gondola, so not easy if you have to carry skis every day, especially with kids. We solved it by leaving our skis at the lockers, but if your kids are older, you could definitely carry them – nothing is far in Wengen.
On our previous winter trip to Wengen, we stayed at Hotel Silberhorn, which is located right next to the gondola and the train station and is, therefore, more convenient for families with kids. They have a beautiful spa area with an outdoor jacuzzi that we loved.
Victoria Hotel is also great for families – the location is excellent and there is also a swimming pool.
These are just a few examples. Here you can find more options for Wengen accommodation. Just remember to book well in advance – Jungfrau Region is extremely popular in winter and also in summer.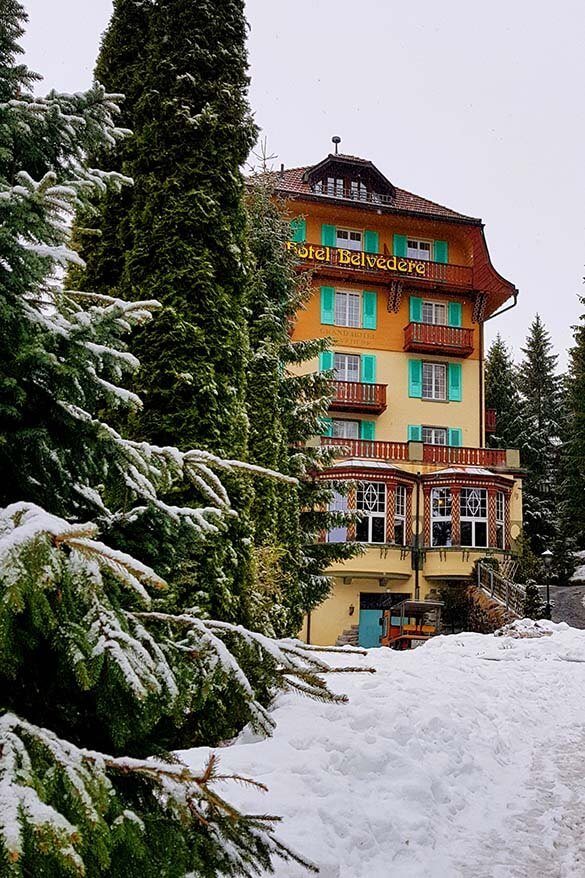 Visiting Jungfraujoch, Top of Europe
Without any doubt, the main highlight of visiting the Jungfrau Region is a trip to the highest railway station in Europe, Jungfraujoch. It's also called the Top of Europe.
It's hard to imagine that this steep railway was built to reach the glacier at 3,454m height and that at the end of the 19th century. The construction of the tunnel and the railway line took 16 years to complete. The man behind this crazy idea, Adolf Guyer-Zeller, died before he could see the result. And what a result it is indeed!
It takes quite some time to get to Jungfraujoch – about 2hrs if coming from Interlaken, 1,5hrs if coming from Lauterbrunnen, or 1 hour from Wengen. You have to change trains at Kleine Scheidegg, where you hop on the luxury Jungfraujoch train for the last part of the journey.
Once you arrive, the place looks a bit like a labyrinth, but if you follow the signs for the visit, you really can't miss any of the main attractions. There is so much more to see and do at Jungfraujoch than I imagined…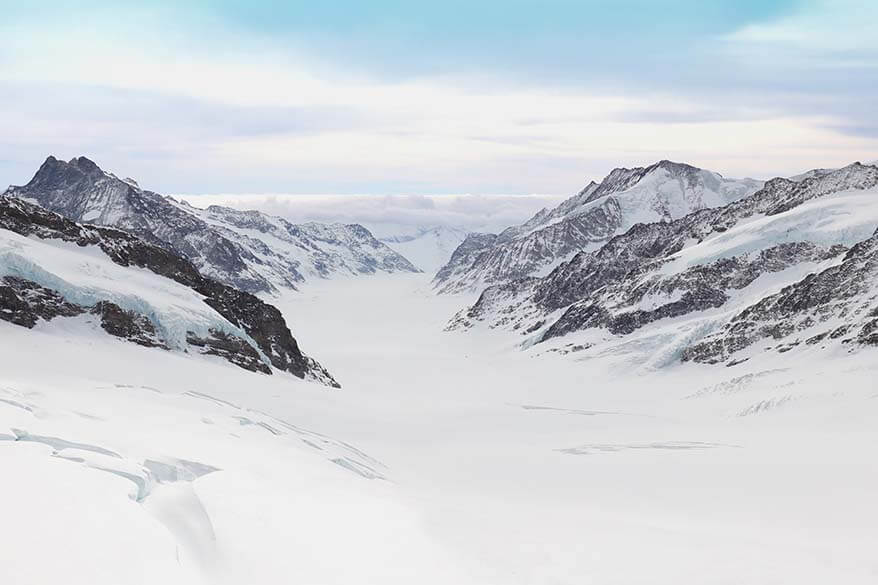 First, there are the magnificent views – over the Aletsch glacier on one side and over the Jungfrau mountain on the other. In addition, there is all the history of the construction of this unique place… Last but not least, there is a whole range of unique activities like 360°Jungfrau Panorama movie, Ice Palace – a man-made ice tunnel deep under the glacier, and even a Swiss chocolate experience.
If you visit Jungfraujoch in summer, in addition to all of the above, you could also hike to Switzerland's highest serviced mountain hut (The Mönchsjoch Hut) or spend hours skiing or tobogganing at the Snow Fun park on the glacier.
Jungfraujoch, Top of Europe, is such a unique place, not just the highlight of the Jungfrau Region, but one of the most unique places to see in Switzerland. No matter what time of the year you visit Switzerland, you really should include Jungfraujoch in your Swiss itinerary. It will be the highlight of your whole trip!
Below, you can read more about all the amazing things you can see and do at Jungfraujoch Top of Europe.
LEARN MORE: Jungfraujoch – Top of Europe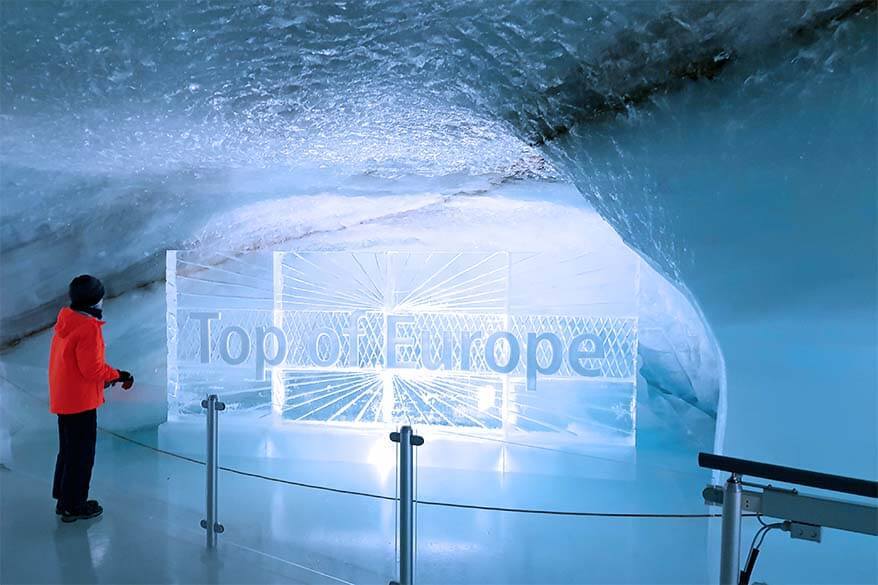 Haslital Region – a hidden gem of Berner Oberland
I have to be honest with you, in all those years and so many trips in Switzerland, we had never even heard of the Haslital region or the Meiringen – Hasliberg ski area. We passed Meiringen quite a few times, on our way to the famous Three Passes but never even stopped here…
When the kind people from the Jungfrau Region Tourism told us that Haslital is an amazing Swiss mountain destination for families, we were intrigued and curious to see what we'd find there.
We spent just a very short time in Haslital but absolutely loved it. This area has such a great local feel. Beautiful scenery, amazing food, and super friendly people – real Switzerland, not overrun by tourists (yet). It's also, indeed, one of the most family-oriented ski regions we had seen in Switzerland. Read on!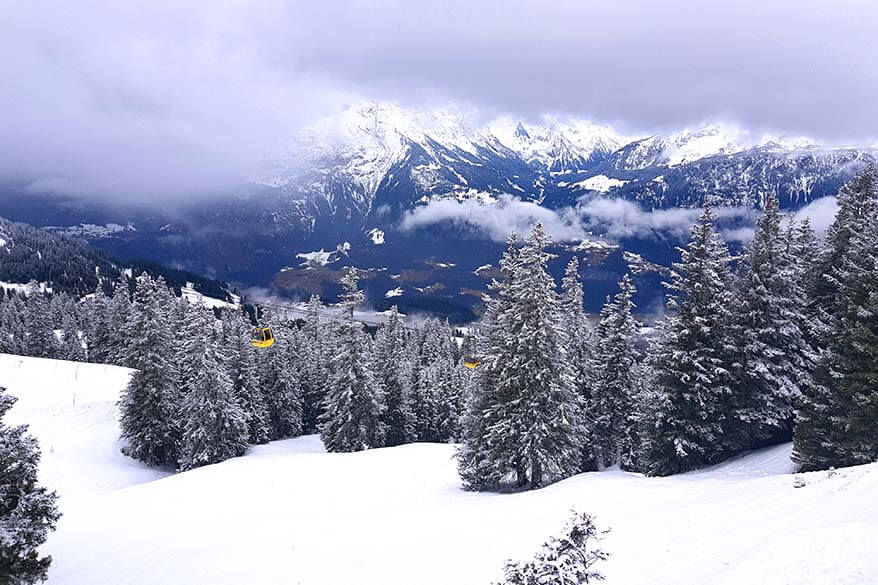 Meiringen
Apart from being a charming little town surrounded by magnificent mountains, Meiringen is world-known for meringues and Sherlock Holmes. The two are not related, I think, but I'm sure that even the most famous detective of all times wouldn't have said no to some delicious meringues…
Meringues
Meiringen is the birthplace of meringues – light crispy cookies made with egg whites and sugar. It's believed that an Italian chef named Gasparini invented meringues somewhere in the 16-17th century and gave them the name of the town. Later on, the name has been adapted a bit by French bourgeoisie to the more refined 'meringue'.
Meringues in Meiringen are like nothing else I have ever tried – they melt in your mouth. Absolutely divine! One of the best places to try original meringues is Frutal Versandbäckerei in Meiringen. They have a shop in town and the bakery itself is nearby as well.
The bakery can organize guided visits and even meringue baking workshops (at the moment only in German though). Unfortunately for us, the oven was broken just the day we visited, so we couldn't bake meringues, but it was a very interesting and yummy bakery visit. We all loved it! Two weeks later we are still enjoying meringues that we brought home with us.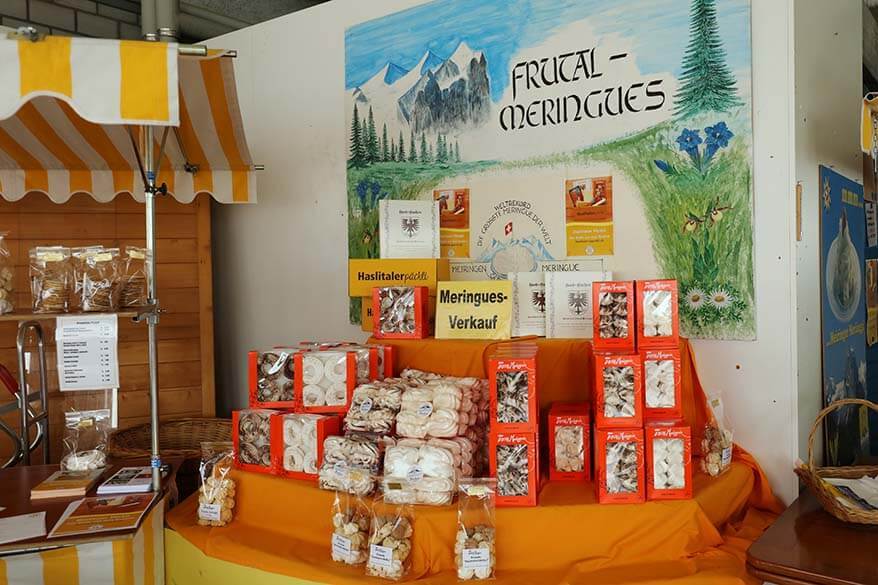 Sherlock Holmes
Meiringen is well-known to all the Sherlock Holmes fans as a place where Arthur Conan Doyle 'killed' the famous detective at the nearby Reichenbach Falls. It's almost a pilgrimage site, attracting Sherlock Holmes' fans from all over the world.
The Sherlock Holmes Society in London even organizes trips to Meiringen, where participants wearing 19th-century clothing play the final scenes of their hero's life…
If you have half an hour to spare, you can visit the tiny Sherlock Holmes museum in Meiringen. It contains a model of Sherlock Holmes' living room of 221b Baker Street and various items related to the stories. In town, you can also follow the Sherlock Holmes trail, with information boards about the famous detective.
The hotel we stayed at in Meiringen – Parkhotel du Sauvage – was featured by Arthur Conan Doyle as 'Englischer Hof'. It was the last place where Sherlock Holmes and Doctor Watson stayed the night before the fatal encounter with Prof. Moriarty at Reichenbach Falls…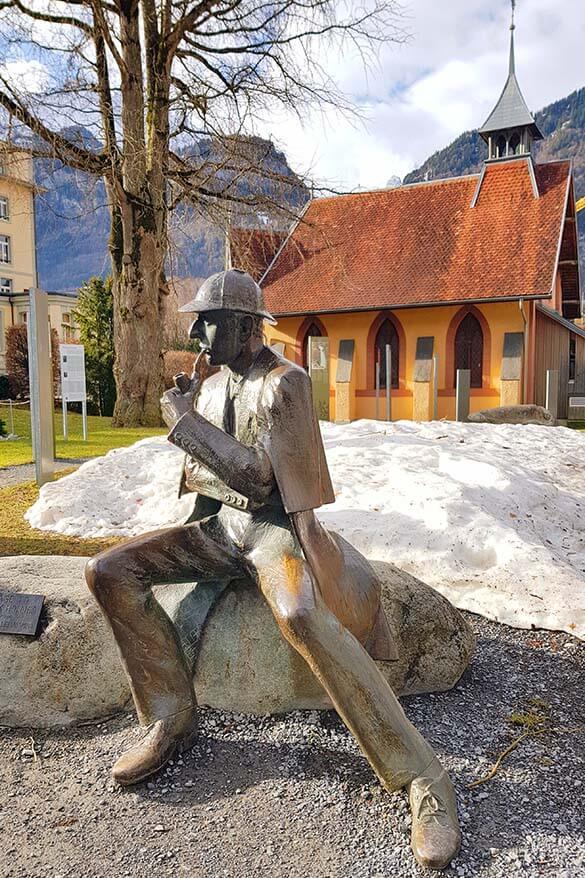 Meiringen – Hasliberg ski area
With 60km of ski slopes, the Meiringen – Hasliberg ski area isn't huge for Swiss standards, but it's simply amazing and quite diverse. Part of the slopes are quite high in the mountains (1800-2400m), offering lots of sunshine and amazing views. The other part is somewhat lower, surrounded by trees. It gives protection from wind or mist and is therefore perfect for the days when the weather is not as good.
We absolutely loved skiing between the snow-covered trees – it's so beautiful! The big selection of blue and red ski slopes around Hasliberg is perfect for families with children. From what I saw, this area has just two black slopes and is, therefore, a bit less popular with the adrenaline-seeking youth; it's really more a family place. Which doesn't mean that skiing here is boring. On the contrary…
We found the ski slopes in Meiringen – Hasliberg ski area very varied and fun for the whole family. At one moment we stumbled upon a more adventurous ski slope near Balisalp, where we could try all kinds of new ski tricks in a safe environment. Think of small jumps and similar – the kids just couldn't get enough of it, so we went back again and again.
In Bidmi (right in the middle of the ski area) you'll find a ski school and a few exercise slopes for beginners. There is even a little farm with some ponies right next to the ski school… We'd never seen that before next to a ski slope.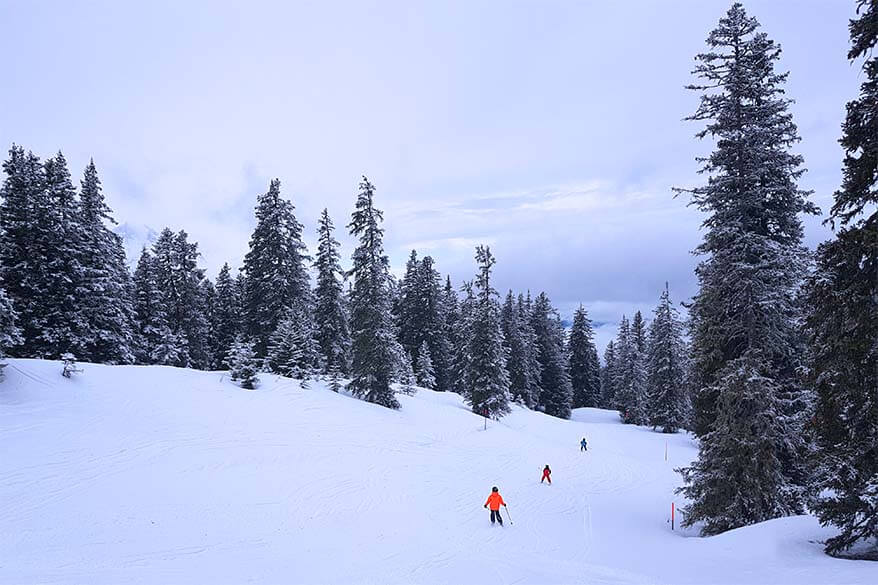 Winter hiking and Swiss fondue in Haslital
On our last day in the Jungfrau Region, we set for a winter hike. There are 25km of winter hiking trails and also sledding trails, so you can always find one that suits you best.
We walked from Reuti to a little Swiss mountain chalet Winterlücke. It's not a long hike and if you are lucky to come here when there is snow, you could afterwards sled back down to Reuti. We were there in March and the snow there was almost gone, so no sledding for us. On the other hand, the hike was so much easier without the snow…
What a wonderful way to end a day in the Swiss mountains – with a traditional cheese fondue served in a cozy mountain hut watching the sunset over the mountains. Winter evenings don't get any better than that! The lady of the house taught our kids some card games and my husband didn't want to leave the place.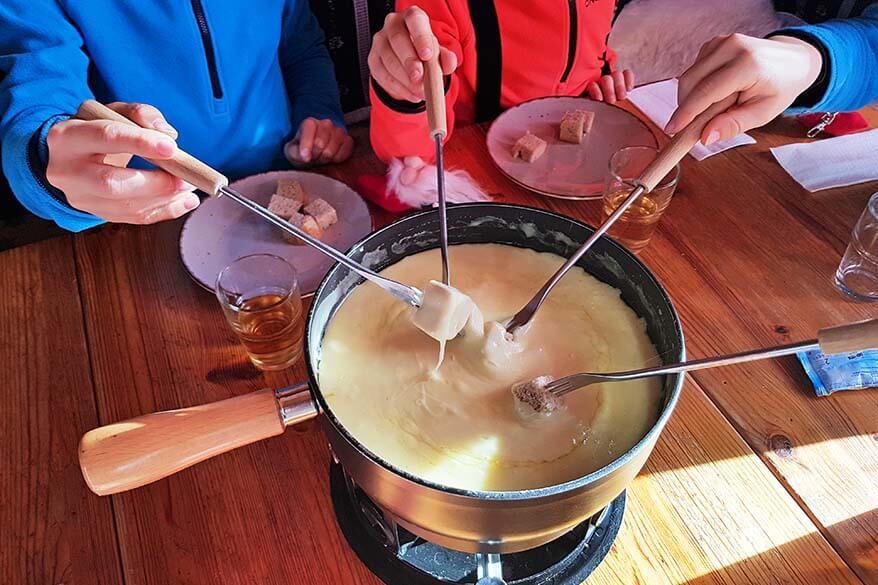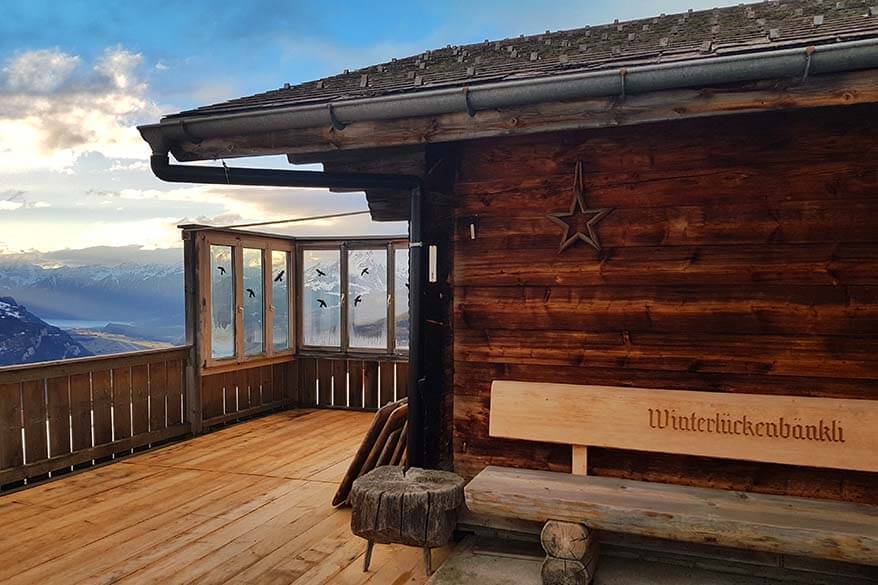 Where to stay in Haslital
We stayed at Parkhotel du Sauvage in Meiringen. From there it was just 5 minutes walking to the gondola that took us to Reuti and from there another gondola to Bidmi ski area.
If you come to Haslital mostly for skiing then a better option might be to stay in Reuti and save yourself two gondola rides a day. The following hotels are located very close to Reuti-Bidmi gondola and are therefore ideal for a family ski trip in Hasliberg-Meiringen area: Hotel Reuti and Das Hotel Panorama. Also here you really should book well in advance.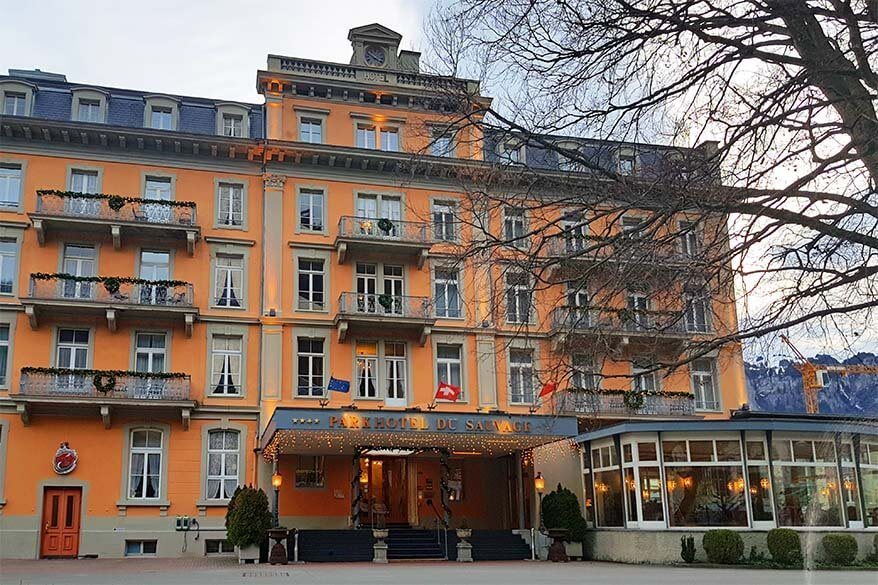 So, this was our guide for a family winter vacation in the Jungfrau Region in the heart of the Swiss Alps. I hope that this will inspire you to visit this wonderful Swiss mountain destination in winter and to explore it a bit deeper.
More tips for a winter trip to Switzerland:
READ ALSO: What to See & Do in Zermatt
If you found this post useful, don't forget to bookmark it and share it with your friends. Are you on Pinterest? Pin this image!