Are you thinking of visiting Mount Titlis in Engelberg, Switzerland and wondering what to expect, how to do it, and if it's worth it? This article should answer all your questions and help you decide whether it's worth your time and money. Find out!
We also included some of the best Mount Titlis tour recommendations and insider tips that will help you make the most of your day trip to Mt Titlis in any season.
Good to know: We've been to Engelberg several times, in summer and in winter, and visited Mt Titlis on various occasions. In this article, we share our experience-based tips for your visit to one of the most popular mountain destinations in Switzerland.
First, you can find all the practical information for visiting Mt Titlis. Further below, you can read about what to do at Mount Titlis and also find some additional tips for how to get the most out of your visit. Read on!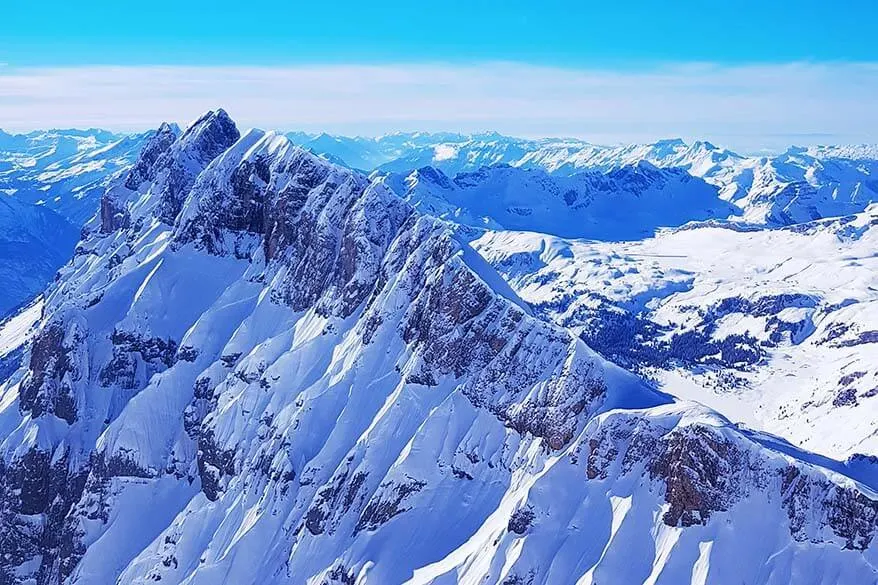 What is Mount Titlis
At 3,239 meters above sea level, Mount Titlis is one of the highest mountain peaks that you can easily visit in Switzerland. It's also one of the most popular day trip destinations in Switzerland, attracting lots of visitors in all seasons.
It's not very clear to me how high Mt. Titlis actually is. According to Wikipedia, it's 3,238 meters, whereas the maps of Titlis ski area say 3,239m. When you visit Mt Titlis, there is a sign at the viewing platform at the top saying that it's 3,020 meters (10,000 ft)… But that's the height of that place, at the nearby Klein Titlis (3,028 m) and not of Mt Titlis itself.
Whatever the precise height is, the landscape is amazing and it truly feels like you're standing on top of the world. The 360° views from Mt. Titlis are incredible and if you visit on a clear day, the scenery of countless mountain peaks all around you will take your breath away.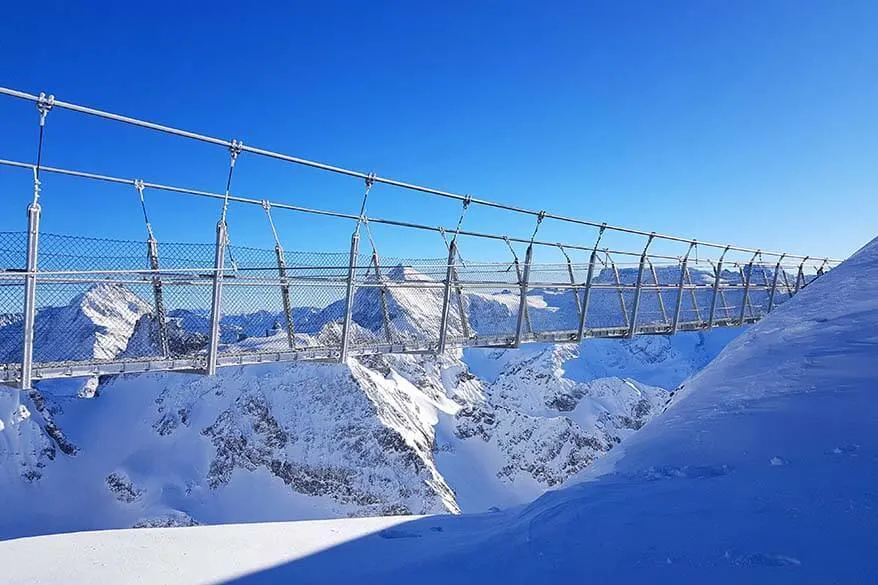 Where is Mt Titlis & How to Get There
Mt Titlis is located near Engelberg, a small mountain resort about 35 km (22 miles) south of Lucerne in central Switzerland. Mt Titlis can be reached by taking a gondola from Engelberg to Stand, followed by a rotating cable car from Stand to Mt Titlis.
Engelberg can be reached by car or by train from Lucerne (see below). Railway connections are very good in Switzerland and so it's easy to visit Mt Titlis as a day trip from Lucerne, Zurich, or other towns.
You can visit Mt Titlis on your own (you'll still need to get a Mt Titlis ticket, of course) or with an organized tour (see further below for more information and the best options).
In order to make it easier for you to orient yourself, I created a map of the Mount Titlis area that should give you a much better idea of where everything is and clarify some of the names you'll see mentioned in this article. Take a look below.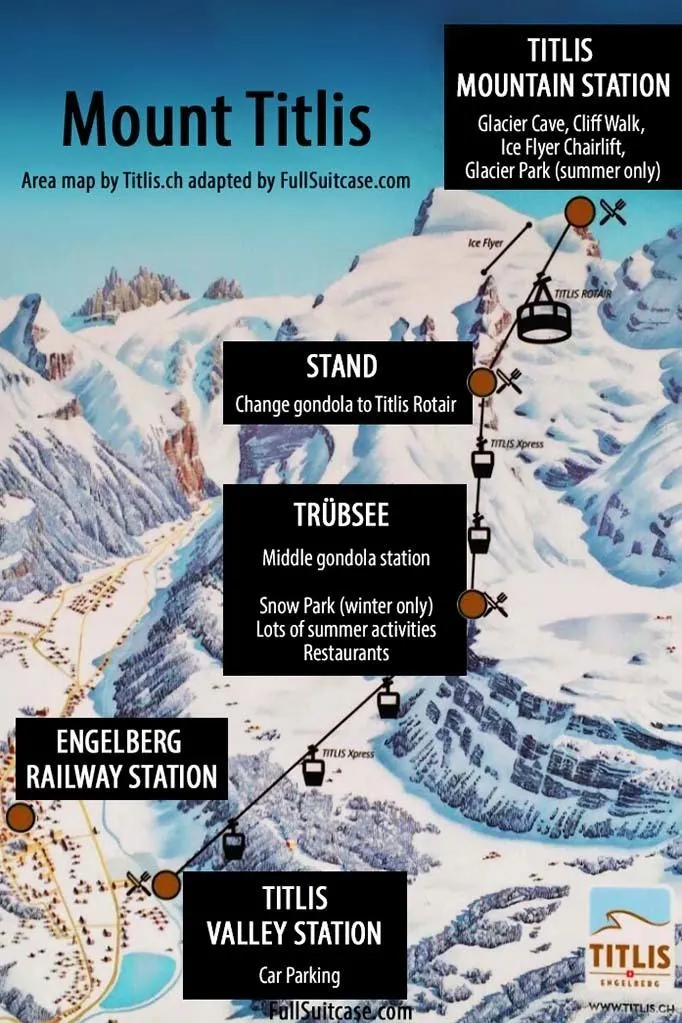 How to Get to Engelberg by Train
Engelberg can only be reached by train from Lucerne. So you'll need to get there first. From Lucerne, there are regular trains to Engelberg, usually at least once an hour. The train journey from Lucerne to Engelberg takes 43 minutes.
Normally, you don't have to book a specific train ride and can just take any train, but you may want to double-check that when you buy tickets. If you have the Swiss Travel Pass, it's also valid for your journey to Engelberg (plus, it gives you a 50% discount on Mt Titlis gondola tickets).
The walk from Engelberg train station to the Titlis gondola takes about 10 minutes. It's an easy and flat walk. In the high season and on weekends in the low season, there are also free shuttle buses available from Engelberg train station to the Titlis cable car station.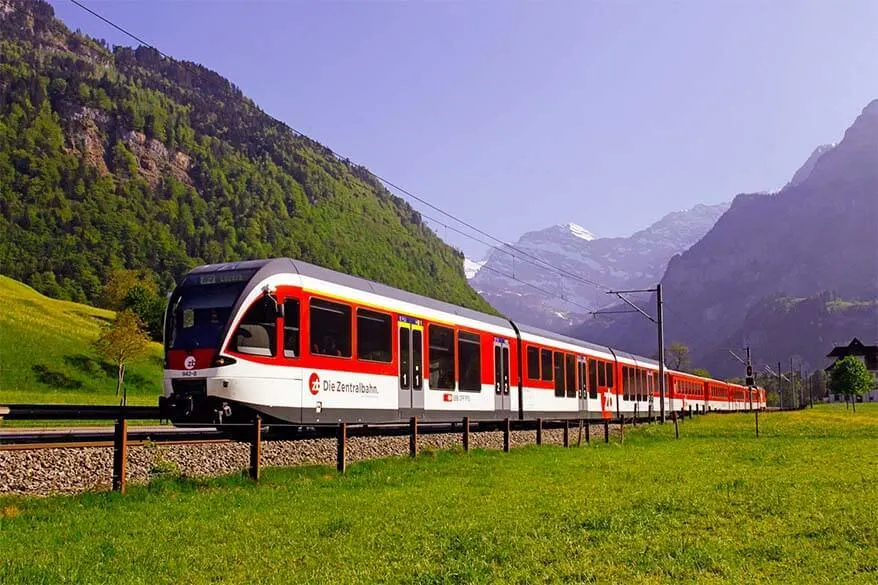 How to Get to Engelberg by Car
Engelberg is easy to get to by car. Take highway E35/A2 from Lucerne in the direction of the Gotthard Pass. Take exit #33, at Stans-Süd.
From there, follow the signs to Engelberg. There is just one road going south and it's well indicated. From the highway, it's just about 20 km (12 miles) to Engelberg.
The first half of this road is going through a valley and is flat. Only the last 10 km have some hairpin turns, but nothing to worry about. Even in winter, we never experienced any difficulties on this road. You should know, however, that snow chains are obligatory in case of hard snowfall, although we never had to use ours.
Once in Engelberg, take a right turn to Titlis Valley Station. It's well indicated from the main road, soon after you pass a small lake on the right. There are several big car parking areas here and there is usually plenty of staff if you aren't sure where to park or have any other questions.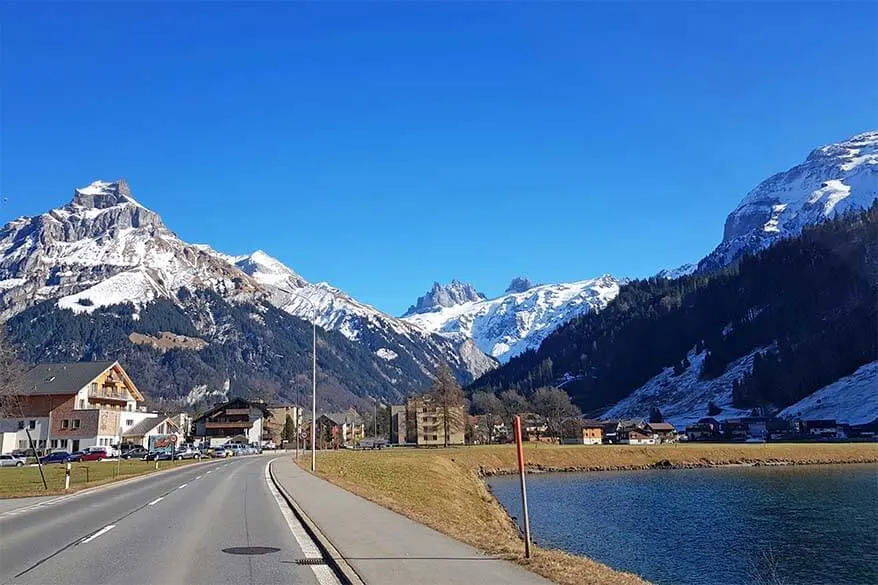 Best Mount Titlis Tours
As already mentioned, Mt Titlis is a popular day trip in Switzerland and there are tours available from some bigger cities nearby.
Here are the best options that have great customer ratings and the best price-quality ratio:
READ ALSO: Best Day Trips & Excursions Near Lucerne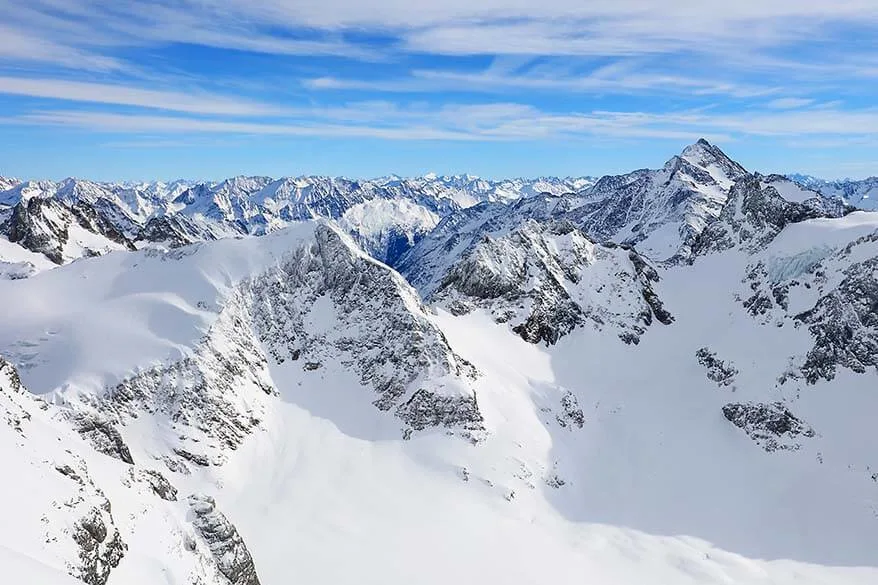 How to Visit Mt Titlis on Your Own
If you want to visit Mt Titlis on your own, it's perfectly doable (get your tickets here).
In that case, you'll first have to get to Engelberg (see above for more info). In Engelberg, take a gondola from Titlis Valley Station to Stand. In Stand, take a revolving cable car – TITLIS Rotair – for the last ascent to Mt Titlis.
Both – the gondola and the rotating cable car are included in the same Mt. Titlis ticket – this specific ticket also includes all the attractions at Mount Titlis itself (unless closed due to weather).
You can get Mt Titlis tickets upon arrival or online in advance. I recommend booking online as that will save you some time, especially on busy days. Often, it's also cheaper online, especially in the winter season when they work with flexible rates. You can find more information about the tickets further below.
TIP: On your way up or down, you can also disembark at Trübsee (it's a stop located halfway between Engelberg and Stand). It's a great destination in itself and has a lot to offer in summer and in winter. I recommend visiting Mt Titlis first so that you can then quietly enjoy all the activities at Trübsee before heading back down. Further below, you can find more info about things to do at Trübsee.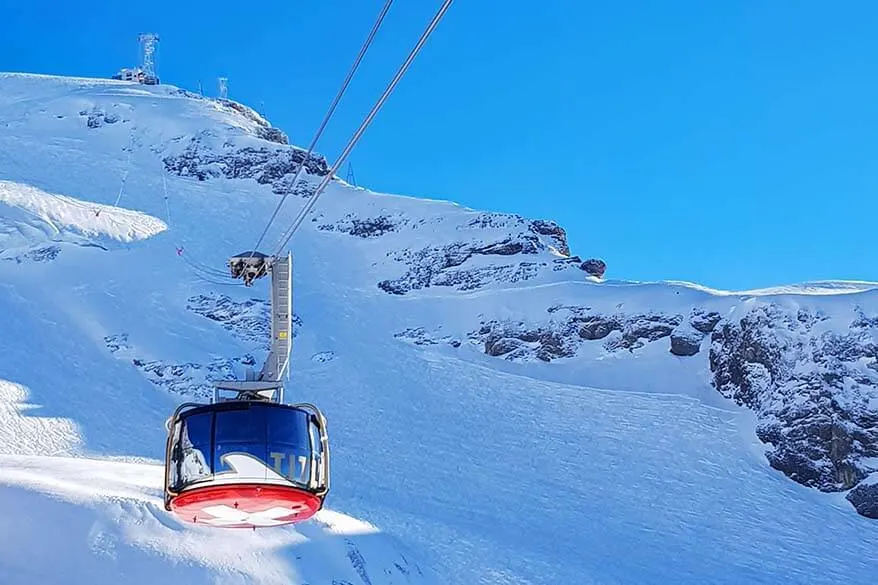 Mt Titlis Tickets
At the moment of the last update, visiting Mt Titlis will cost you 108 CHF (96+12 – see below), plus the cost of getting to Engelberg.
The official ticket price for a return ticket to Mt Titlis is 96 CHF. The Ice Flyer (cable car that you can take once you are at Mt Titlis itself) is an additional 12 CHF and it includes all activities of Glacier Park. If you want to experience everything at the top, the best option is this all-in Mt Titlis ticket.
Good to know: Kids age 5 or younger travel free of charge and kids age 6 to 15 get a 50% discount (free with Junior Travelcard). Discounts are also available with the Swiss Travel Pass (50%).
For more information about fares and discounts, please consult the official website. On their 'webshop' you can also book your Mt Titlis tickets in advance. You can also get the tickets on the spot – there are several ticket machines on the left side before you enter the cable car station. But I'm not sure if it's the same price there (we always get our tickets in advance), and it's always so busy. Plus the machine gives you so many ticket options that it might get overwhelming…
PRO TIP: If booking online, make sure to also check prices for Mt Titlis tickets on the GetYourGuide website (if available – this can be seasonal). The ticket price is the same as on the official site, but sometimes they also offer a seasonal discount that's not available elsewhere. Plus, if booking with GetYourGuide, you have free cancelation up to 24 hours in advance.
Important! Make sure that you keep your ticket throughout the entire day because you'll need to scan it multiple times. Also, keep an eye on the indicated times and make sure that you don't miss the last cable car to get back down to Engelberg. It'll cost you a small fortune if they have to let it run an additional round especially for you.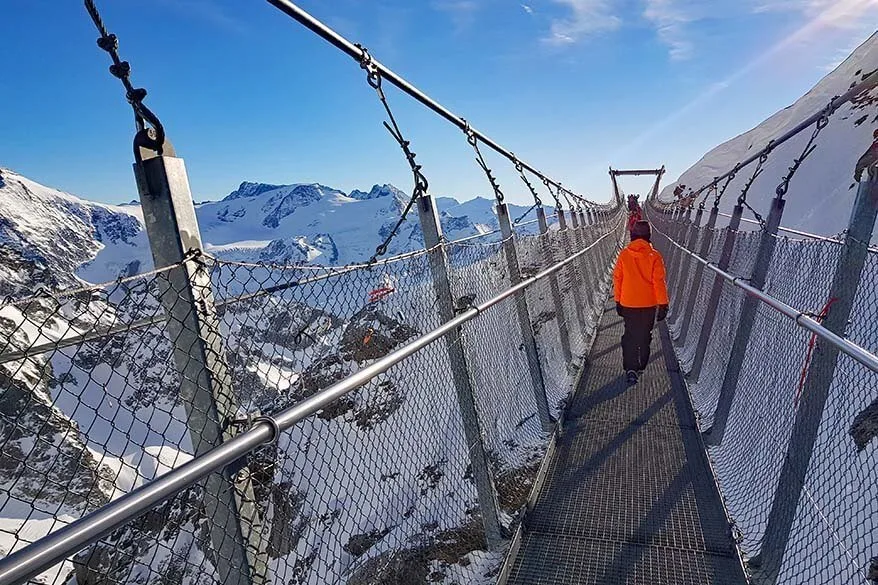 What's the Best Time to Visit Mt Titlis
Mount Titlis is a year-round destination and has something to offer in every season. Weather permitting, you can enjoy all the attractions and great views at any time of the year.
The best time to visit is, of course, on a sunny day when visibility is best, but the time of the year doesn't matter much.
My personal favorite time to visit is in winter when Mt Titlis itself and all the surrounding peaks are covered in snow. In summer, I prefer the lower green areas around Trübsee or Jochpass. But Mt Titlis is also amazing, especially if you haven't visited before.
READ ALSO: Best Time to Visit Europe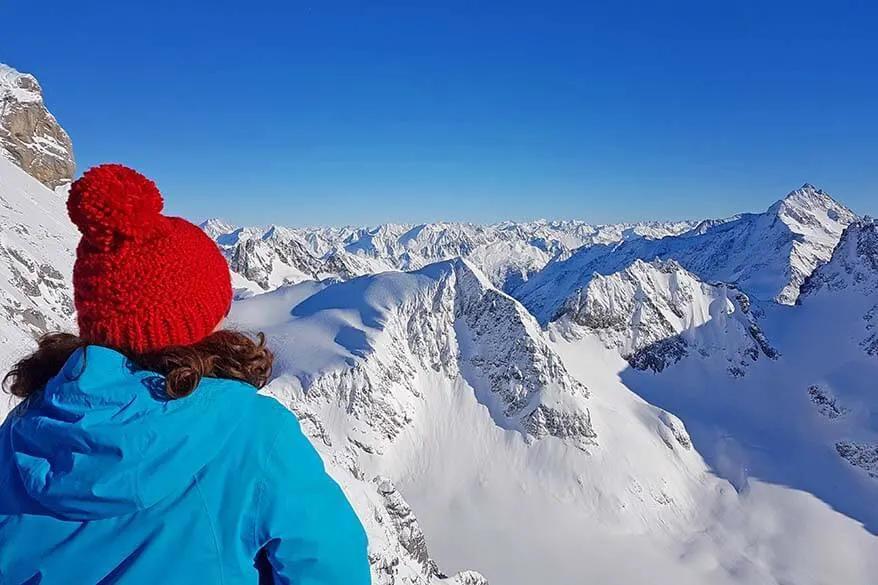 How Much Time Do You Need to Visit Mt Titlis
While visiting Mt Titlis itself and the main attractions on top of the mountain only require 1 or 2 hours, you should count at least 3-4 hours for a visit.
It takes a long time just to get to Mt Titlis from Engelberg and back, plus the wait times for Titlis Rotair can be quite long at times. You'll need even more time if you are planning to do anything extra like sledding or tobogganing, hiking, or any of the adventurous activities at Trübsee.
When you add up the time for cable cars, activities, lunch, plus your travel time to Engelberg, you'll quickly realize that you need the whole day for a visit to Mt. Titlis.
TIP: If you don't have an entire day and are visiting the area in summer, you could also opt to visit Mount Pilatus near Lucerne instead of Mt Titlis. Pilatus is closer to the city and you can visit it in 4-5 hours in total, so a good half a day.
YOU MAY ALSO LIKE TO READ: Mt Pilatus Golden Round Trip from Lucerne (warm season only)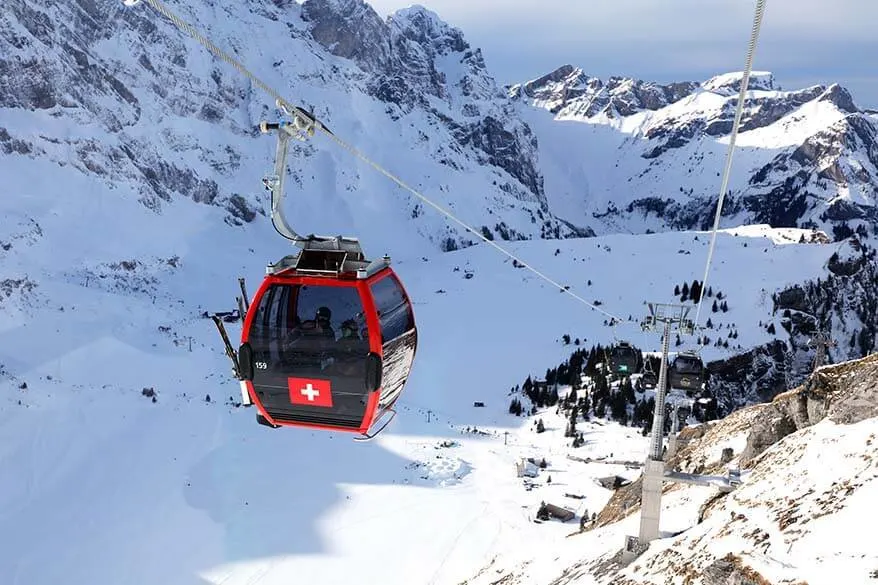 Things to Do at Mt Titlis
Below is an overview of everything that you can do at Mt. Titlis. Please keep in mind that some views and activities are weather-dependent, while some others can be enjoyed in any weather.
Here's what you can expect to see and do at Mt Titlis:
Amazing Views
Mt Titlis offers some of the best mountain views in Switzerland. TITLIS Rotair, the cable car that you'll have to take in order to get to Mt Titlis, offers impressive 360° views of the surroundings. This is the world's first revolving gondola that slowly turns as it goes up, giving you an opportunity to enjoy some jaw-dropping scenery all around you. However, this is just an introduction of what's to come…
Once on top of Mt Titlis, you have many more possibilities to enjoy spectacular views in pretty much all directions. There is a viewing platform on the top floor of the Mt Titlis Mountain Station, great views from the mountain top itself, and yet another angle from the Ice Flyer chairlift… But my favorite views are probably those that you get from the TITLIS Cliff Walk. Absolutely dazzling!
If you feel like hiking, you can also take a 40-min Stotzig Egg hike that offers some nice views as well. During winter (October – May), part of this trail is on the ski slope and not really well indicated.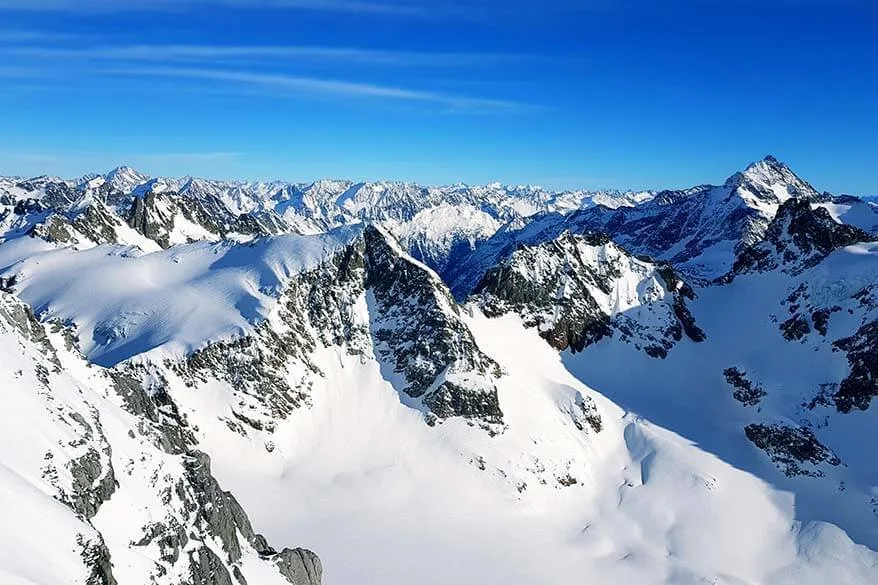 Glacier Cave
Titlis Glacier Cave is a 150-meter-long ice tunnel, located deep under the glacier. The temperature inside the cave is just below freezing point, so the Glacier Cave can be visited the whole year. Just keep in mind that it's cold and slippery inside, so you need good shoes and warm clothes.
Ice thickness above the cave is between 3 and 20 meters (10-65 ft). The ice inside is said to be up to 5000 years old – incredible, isn't it!
Every year, the Titlis Glacier Cave is a bit different. Sometimes they have ice sculptures, sometimes it's lit in different colors. One year we visited, there was an ice sofa standing at the entrance of the cave and Scrat from the movie 'Ice Age' was trapped inside the ice. However, the last time we went, the ice tunnel wasn't nearly as impressive as in previous years. Climate change is clearly visible if you come here every year…
However, if you have never walked inside an ice tunnel, it remains a very special experience. But if you have seen ice tunnels before, I have to admit that the one at Titlis is not that special. We found the ice tunnels at Jungfraujoch and in Zermatt much more impressive.
But then again, it looks different every time we visit and so they may add a few more ice sculptures or other elements and it will be more special again… Either way, it's definitely a place you have to see when visiting Titlis.
Good to know: Glacier Cave is included in your Titlis ticket. You can access it from Level 1 of the Titlis Mountain Station.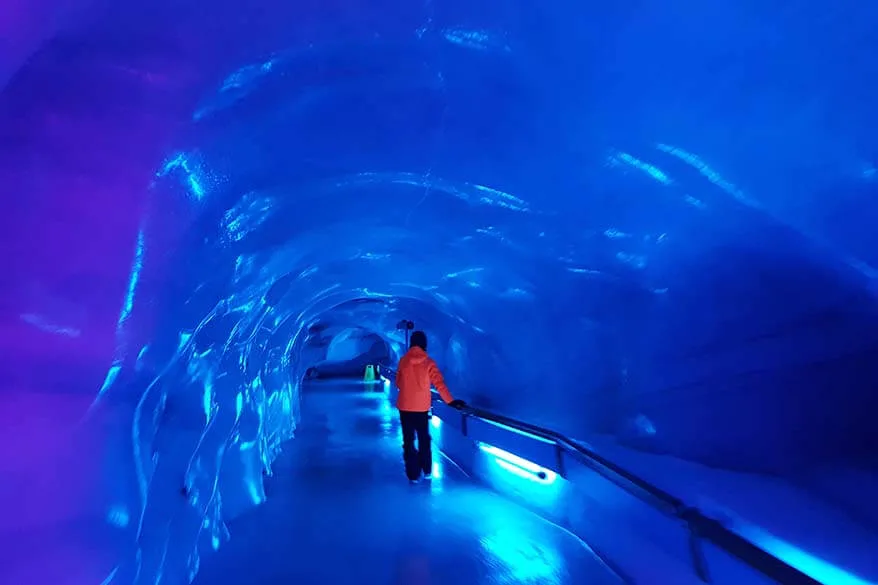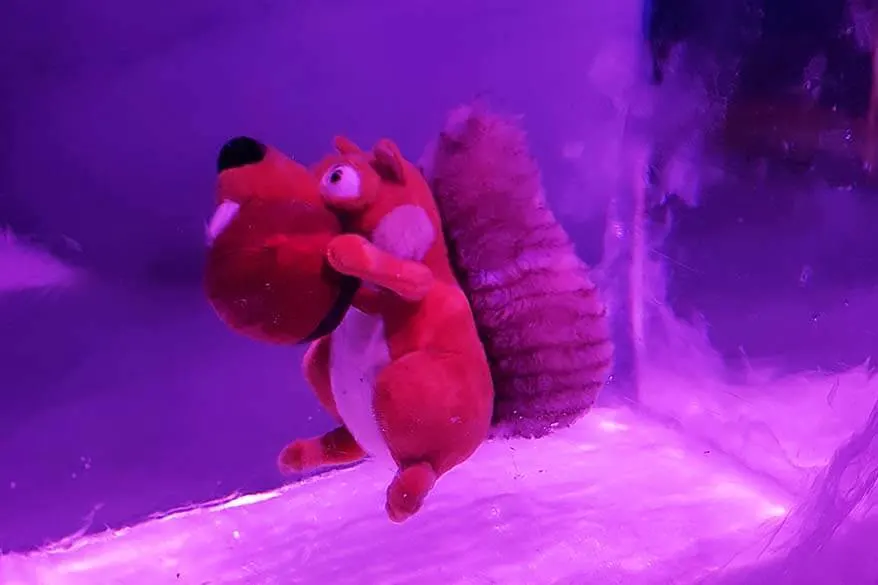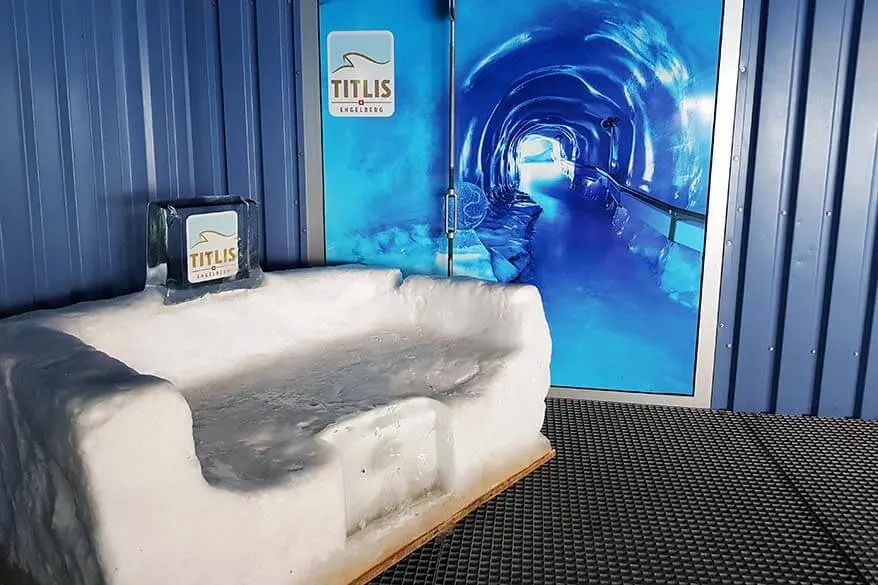 Titlis Cliff Walk
At 3,041 m height and 500 m above the ground, Titlis Cliff Walk is Europe's highest suspension bridge and one of the best things to do at Mount Titlis.
No matter how many times we walked over this bridge, it remains a special experience. Not to mention that the views are absolutely phenomenal!
The bridge is not wide and stretches over 100 meters. If there are more people walking at the same time, it usually swings quite a bit, adding to the experience and excitement. Don't worry though, the bridge is well-protected. Also, the sides are properly closed with steel wire, so you can also walk this bridge with young children. Our kids love it!
Good to know: The suspension bridge is also included in your ticket and can be visited free of charge. It can be found next to the Ice Flyer chairlift – both reachable via the exit on the top floor of the Titlis Mountain Station.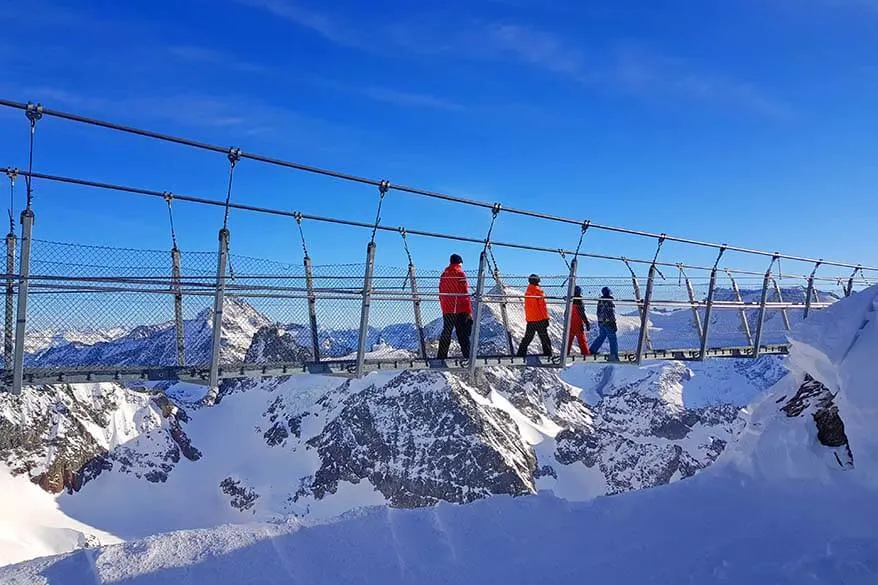 TIP: On the bridge, you'll see stickers in the shape of the feet. If you stand there, you'll be looking at a camera. Push the button and it takes a really nice picture from an angle that you wouldn't be able to do yourself.
You can then review your pictures and buy them if you like at the photography studio inside the main building of the Titlis Mountain Station. A picture will cost you about 12 CHF, and it's a really nice souvenir to take home.
Of course, you can just take your own pictures at no extra cost.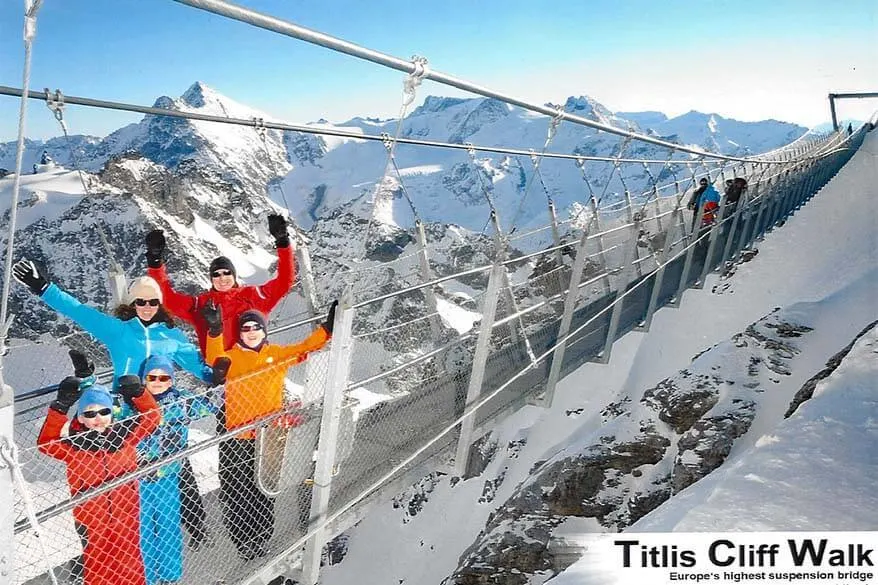 Ice Flyer
Titlis Ice Flyer is a chairlift located at the top of Mt Titlis, right next to the suspension bridge. It connects the summit to the Titlis Glacier Park. In summer, you can do winter activities here (more info below), and in winter you can ski on the summit.
The views from this chairlift are really nice as you 'fly' over the glacier and see it up close. For many people who don't ski, taking a chairlift is an experience in itself. I personally don't consider this as something you must-do when visiting Titlis in winter, especially if you have to pay separately for it. If you are skiing in Engelberg, this chairlift is included in your ski pass.
However, if you are visiting in summer, then it's definitely something you should do. It gives you access to Glacier Park – fun for young and old.
Good to know: If you get a regular Mt Titlis ticket, Ice Flyer isn't included. You'll have to pay an additional 12 CHF for it.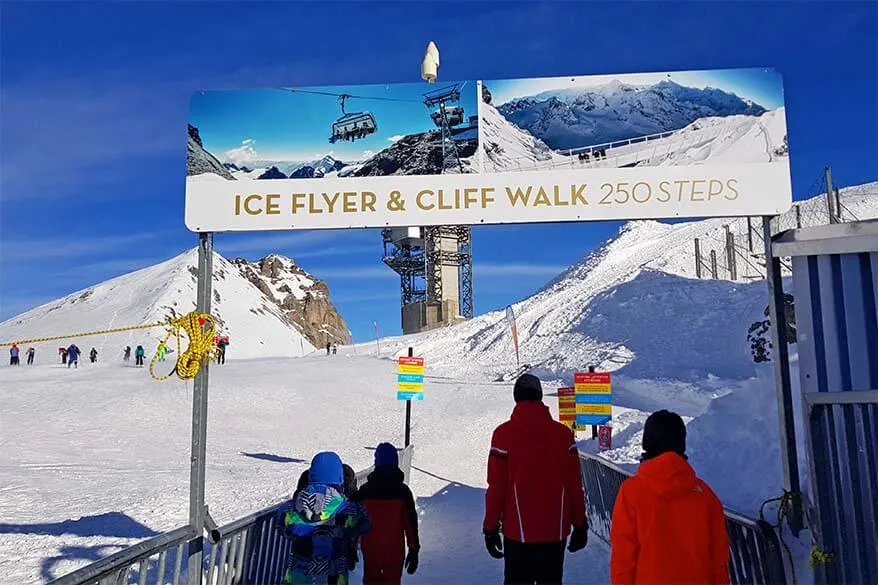 Glacier Park
Accessible via Ice Flyer chairlift, Glacier Park is only open in summer. There is always snow here, even if there is no snow at Mt Titlis itself. In summer, you can go sledding or snow tubing at Titlis Glacier Park.
Good to know: In winter, you can go sledding at another snow park, a bit lower down the mountain, at Trübsee. It's free of charge and you can sled here as much as you want. It's not just for kids and you'll see people of all ages sledding here.
In the past, they used to have sledding and snow tubing at Trübsee, but during our last visit, there were only sleds available. The former snow tubing track is now being used as an exercise slope for beginning skiers. So if you want to go snow tubing, you'll have to visit Mt Titlis in summer.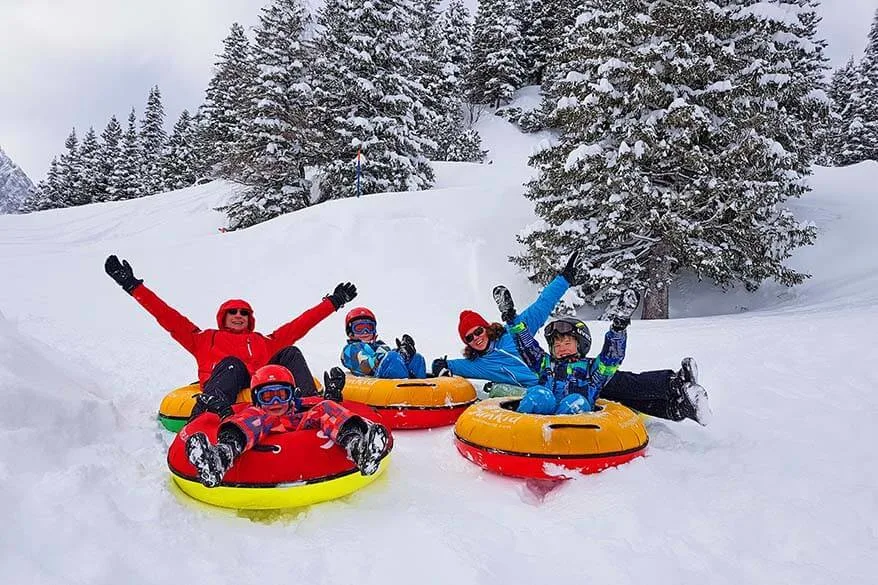 Shops, Restaurants & Souvenirs
Just like any other popular place in the Swiss mountains, Mt Titlis has everything a tourist might want. Restaurants, souvenir shops, Swiss chocolate… you'll find it all at the Titlis Mountain Station.
There is also a photography studio where you can buy pictures that you can take on the Cliff Walk or on the Ice Flyer.
They also have lots of traditional Swiss costumes available. You can dress up and take a 'typical Swiss' picture if you want to. It's not cheap and takes some time. We've never done it, but – as touristy as it sounds – the pictures look really nice.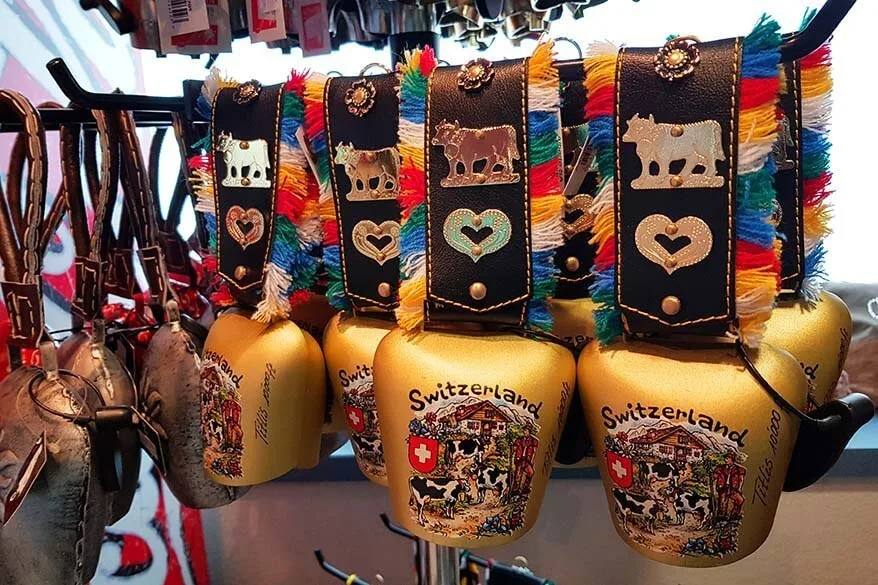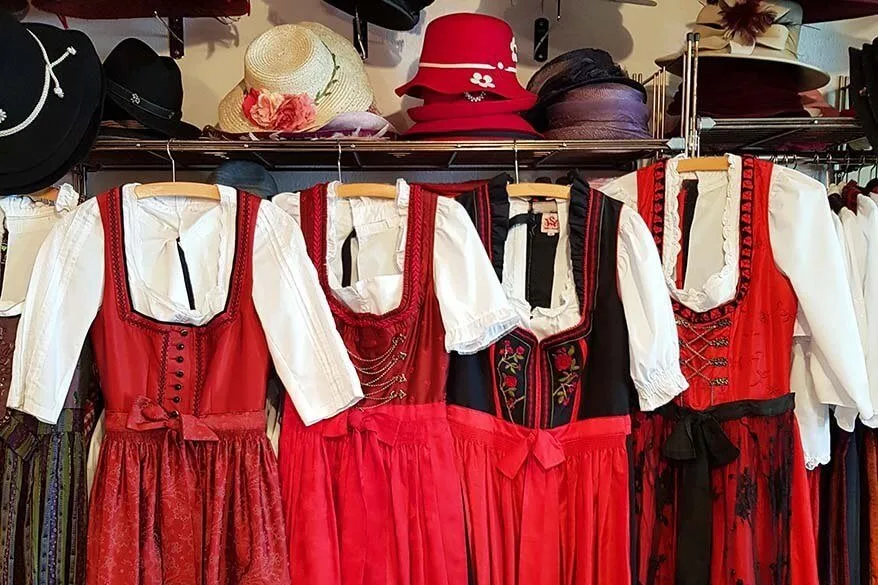 Trübsee Activities
As already mentioned, Trübsee, the middle station on your way to Mt Titlis, is another great place that you definitely have to stop at after visiting Titlis.
Winter
In winter, you can go sledding here (see the Glacier Park info above). Usually, they also have snowmobiling and some other fun activities available here, but they differ every year.
For several years, they had an ice igloo and an ice bar here, but then it was gone for several years. The last time we visited, there was an igloo restaurant at Trübsee again. There is also Trübsee Flyer Zipline, but it's not always open. So you just have to check what's available on the day when you visit.
If you are staying longer, you can also go skiing, cross-country skiing, snowshoeing, or winter hiking. But if you are visiting Mt Titlis for a day, then you won't have the time (or the equipment) for this.
Sledding and snow tubbing at Trübsee are free of charge, but you have to pay for all the other activities.
Good to know: Trübsee has a nice Italian restaurant, Lago Torbido, that is open in winter. If you are looking for a really nice lunch, check it out!
LEARN MORE: Winter Activities & Skiing in Engelberg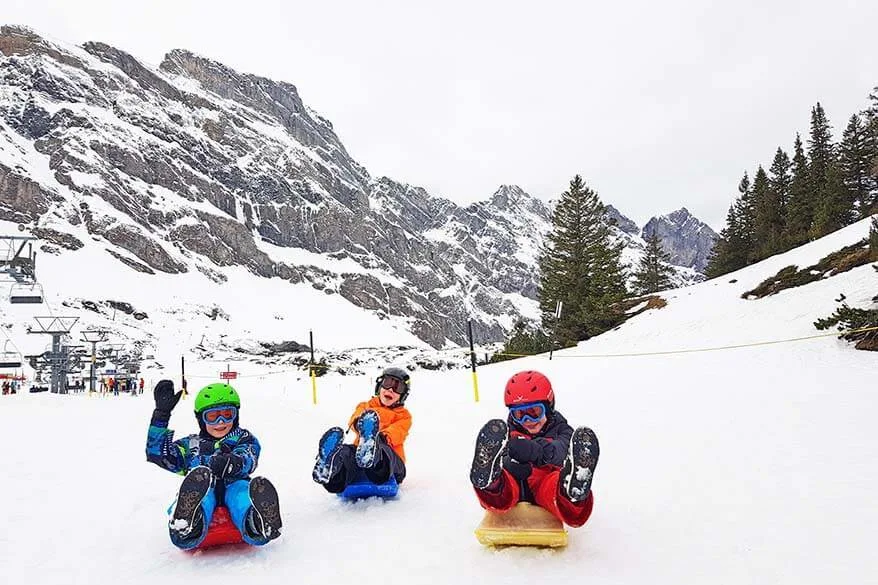 Summer
Also in summer, Trübsee is a great place to visit. There are some really nice hiking trails that start in this area. Our favorite is the Four Lakes Hike, but it requires a whole day. Alternatively, you can hike down to Engelberg.
You can also just walk around the lake, row a boat, or take your kids to a playground.
Trübsee Flyer Zipline is also available in summer and they have a variety of other activities that differ a bit every year. I heard rumors of an even more exciting zipline coming soon, so make sure to check it out on your next visit.
LEARN MORE: Trübsee in Summer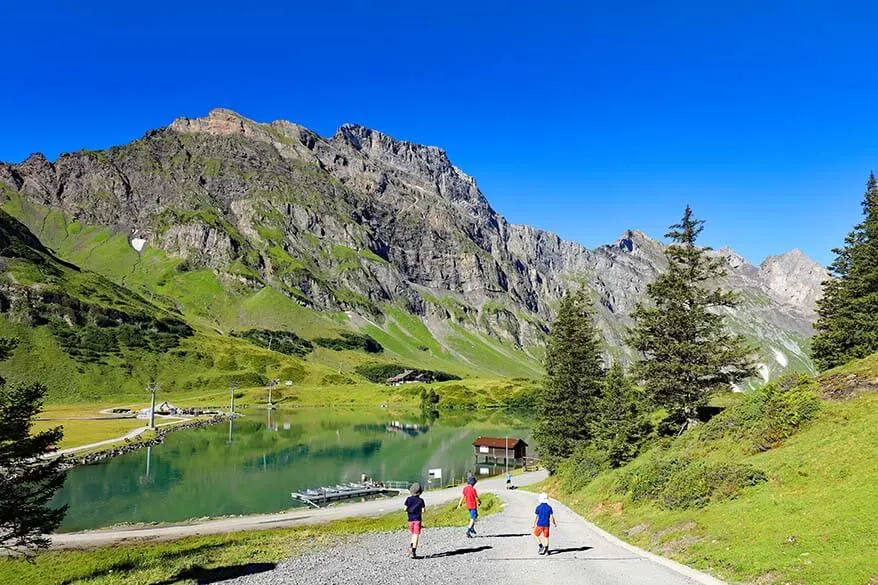 Is Mt Titlis Worth It?
With a high price tag and the whole day required in order to properly visit the area, you may be wondering if Mount Titlis is worth a visit. I suppose it depends on how much time you have in Switzerland and what other places are on your itinerary. But if you have the time and the money, yes, it's absolutely worth it.
Mt Titlis is a really special place that has a lot to offer: incredible views, thrilling experiences, and a big variety of activities to choose from in any season.
And while it might look expensive at first sight, it's actually one of the more affordable places for a day trip in the Swiss mountains. It's also a great destination for a longer stay – hiking in summer or skiing in winter.
Good to know: If you are skiing in Engelberg, a ticket to Mt Titlis is included in your ski pass. So if you are looking for a place to go skiing in Switzerland, in combination with sightseeing, Engelberg is a really good choice.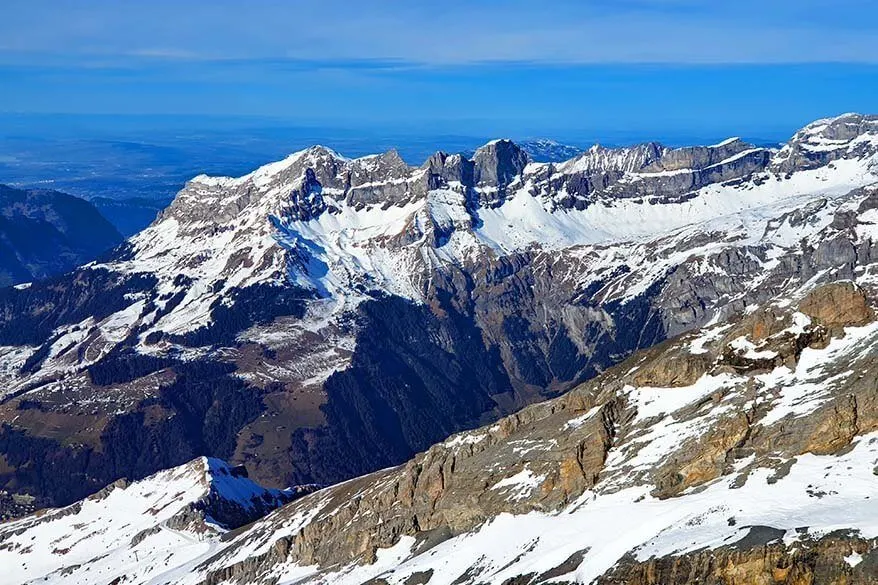 Additional Tips for Visiting Mt Titlis
Check the weather forecast. Mt Titlis is not the best destination for a cloudy day. However, if your plans aren't flexible and the weather isn't great, I wouldn't worry too much and still do it. You can still enjoy most of the activities at Titlis and also at Trübsee, no matter the weather.
Arrive early so that you can make the most of your day in Titlis. Plan at least half a day for the visit, ideally an entire day if you also plan to do any additional activities at Trübsee or visit Engelberg town.
Dress warm. It's usually very windy at the top. Even in summer, you may want to wear a jacket, gloves, or even a hat. In winter, it's a must.
Wear sturdy closed shoes. You'll need them inside the Ice Tunnel, but also for walking around on Mt Titlis, the suspension bridge, and any of the additional activities.
If you don't have warm clothing or suitable shoes, you can rent them either at Titlis Valley Station or at Titlis Mountain Station. Needless to say, it's not cheap.
If you are on a tighter budget, you can save some money by bringing your own picnic. Dining at Mt Titlis or Trübsee is really expensive. Drinks cost 5-8 CHF and a simple warm meal 20-30 CHF. There is a supermarket in Engelberg town where you can get some drinks and small snacks.
Mt Titlis is located at a very high altitude and not everyone adapts to it very well. It might help to stop at the intermediary stations such as Trübsee or Stand instead of heading straight to Mt Titlis so that your body can adapt to the higher altitude. On the other hand, in most cases, a short visit shouldn't be a problem. Just make sure that you drink plenty of water – it really helps to adapt to the height. Just in case, you may want to bring something for a headache.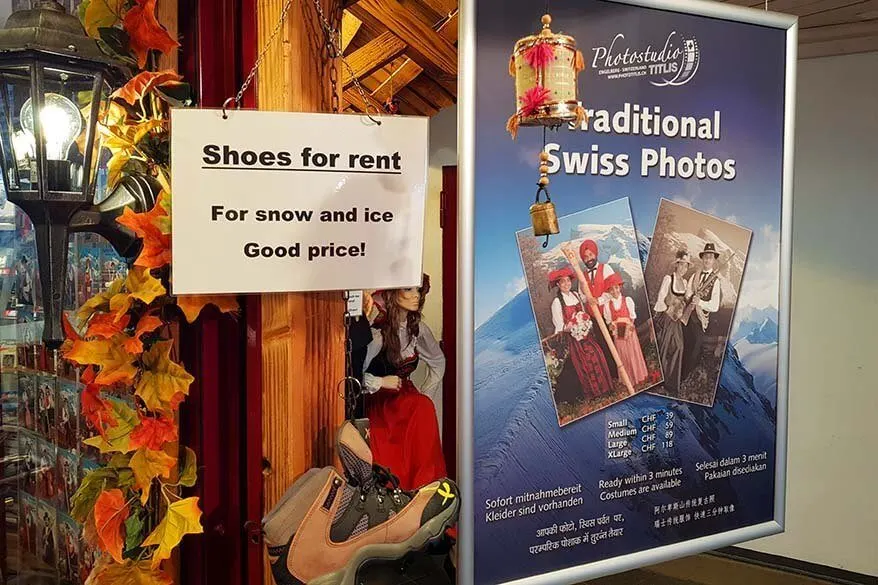 Where to Stay
Most people visit Mt Titlis as a day trip. If you are coming from Lucerne or Zurich, it's indeed quite easy to do that and there is no need to stay in Engelberg. However, if you have some time to spare, I think you'll really enjoy staying here for at least one night.
There are lots of nice hotels and accommodation options in Engelberg town. We always stay at Berghotel Trübsee that's located near Trübsee lake, at the middle gondola station on the way to Mt Titlis.
Staying here allows you to enjoy all the amazing activities and stunning surroundings. We especially love this hotel early in the morning or in the evening. When there are no day tourists around, you can have beautiful mountains all to yourself. Incredible feeling, particularly in summer when you can go rowing on the lake with nobody else around you or watch a sunset above the mountains from the hotel terrace…
LEARN MORE: Berghotel Trübsee Review
FAQ
Is Mt Titlis worth visiting?
Mount Titlis is one of the highest mountain peaks that you can easily visit in Switzerland and it's also one of the most affordable ones. It's worth a visit in any season: the scenery is incredible, and there are so many fun activities including an ice tunnel under the glacier, Europe's highest suspension bridge, snow fun the whole year round, and more.
When is Mount Titlis open?
Mt Titlis is a year round destination and is always open. Cable cars run daily from 8.30 AM until 4-5 PM. It can happen that cable cars don't operate due to very high winds, but it's very rare. Once a year (usually in November), they close for maintenance for a few days, but you'll see if there are any unavailable dates when you book your tickets.
How do I get to Mount Titlis?
Mount Titlis can only be reached by a series of cable cars from Engelberg via Trübsee and Stand. You can get to Engelberg by car or by train from Lucerne. There are regular trains in all seasons and it takes 43 minutes from Lucerne to Engelberg.
How long does it take to visit Mt Titlis?
Visiting the top of Mt Titlis will only take 1 or 2 hours, but because it also takes some time to get there and back, you need at least 3-4 hours for a visit. If you have more time, make sure to stop at Trübsee mountain station where you can find many activities such as sledding or snowmobiling (winter), zip line (year round), but also playgrounds, rowing boats, and hiking (summer).
Does Mount Titlis always have snow?
With 3,239 m elevation, there is always snow on top of Mount Titlis. It might melt a bit in the places where most people walk in the warmest months of the summer, but there is always snow on the glacier where you can go skiing in winter or snow tubing in summer. So no matter when you visit, wear good boots and dress warm!
So, this is our guide to visiting Mount Titlis. If you are planning a visit and have a question that we forgot to address in this article, feel free to leave a reply below and we'll try to help.
READ ALSO: Mount Titlis vs Jungfraujoch
Looking for more tips for other Swiss destinations? Check out our other articles below!
Travel guides for the Lucerne area:
More tips for your trip to Switzerland:
If you found this post helpful, don't forget to bookmark it and share it with your friends. Are you on Pinterest? Pin this image!