Located in the rugged Mojave Desert, Gold Butte National Monument is one of Southern Nevada's biggest secrets. While it is just a 2.5-3 hours drive from Las Vegas, only very few people visit Gold Butte. So this remote area sees just a fraction of tourists that come to nearby areas such as Valley of Fire State Park or Lake Mead. But it's worth a visit just as much!
In this article, you can find information about visiting Gold Butte National Monument: why to visit, how to get there, and the best things to see and do. We also included some practical tips for when to go, where to stay, and what to pack. Find out!
Good to know: This article is written by a fellow travel blogger Daria Bachmann from an adventure travel blog The Discovery Nut. She enjoys the beauty of the desert and has traveled extensively around the Southwest USA. All the tips here are based on her personal experience when visiting Gold Butte NM.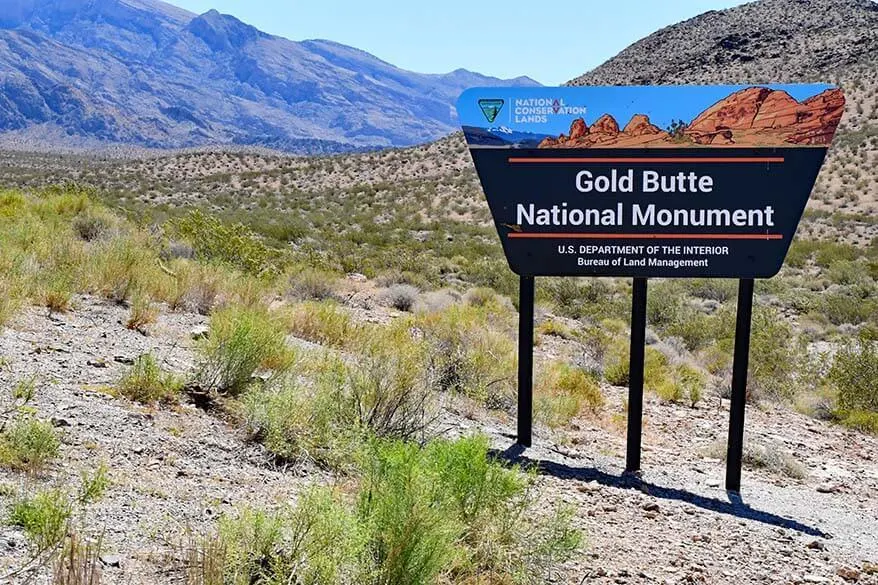 Why Visit
The Gold Butte National Monument is a 300,000-acre nature preserve in Nevada. It was designated just recently, in 2016, in order to protect the iconic desert landscapes and petroglyphs. Petroglyphs are inscriptions made in stone by the Native American tribes who lived in this area thousands of years ago.
Besides incredible red sandstone landscapes and history that can be seen in petroglyph panels, Gold Butte is one of the best places near Vegas to experience solitude and enjoy the desert. Unlike National Parks and other areas with developed infrastructure and facilities, Gold Butte is a place with a rugged environment where even your cell phone service will disappear!
Gold Butte National Monument is also a great place for stargazing because there are no major sources of light pollution in the area. On a clear night, you can see the most amazing Milky Way! However, if you decide to spend a night at Gold Butte, make sure to bring camping gear, enough water, food, and a detailed map of the area. You have to be self-sufficient as there are no stores or gas stations in the area. More about it further below.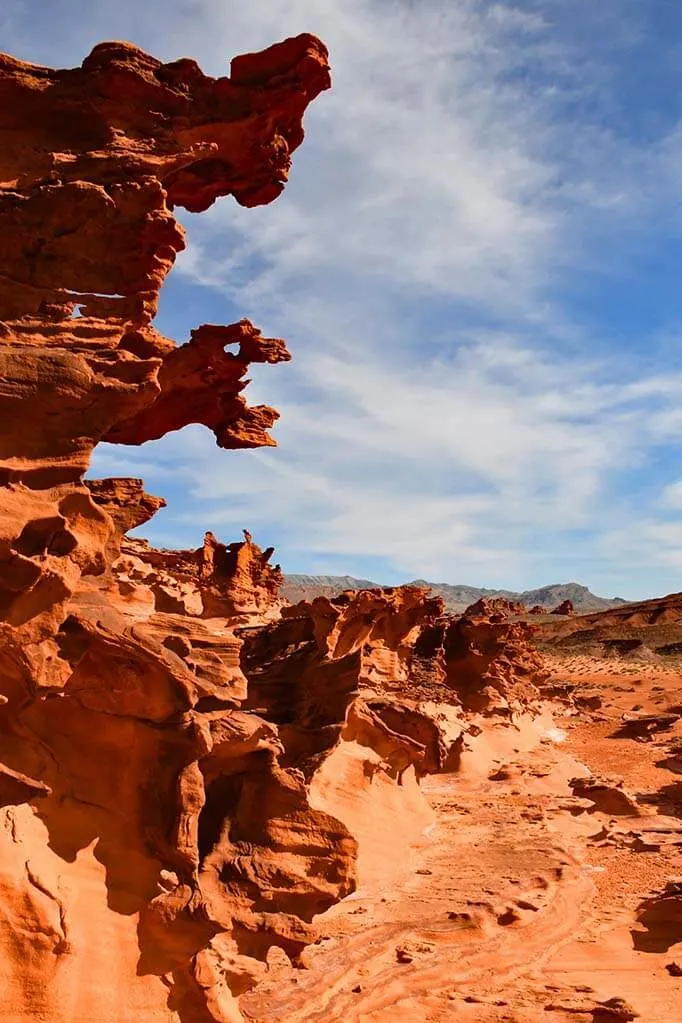 Getting There
While Gold Butte National Monument sits right next to Lake Mead National Conservation Area and Valley of Fire State Park, it's not as easy to get to as these other areas. There are also no organized tours to Gold Butte (or at least I didn't find any). But if you have the right car and a little sense of adventure, you'll be glad that you made an effort!
To get to Gold Butte from Las Vegas: Take Interstate 15 north of Las Vegas and take Exit 112 toward Bunkerville/Riverside. Keep going south from there until you cross the bridge over the Virgin River. Make a right turn on Gold Butte Road past the bridge and follow the road south all the way to Gold Butte NM. See map with driving directions.
It might be a good idea to get a good atlas of Nevada if planning to explore the desert where you can't rely on a cell phone connection.
The road to the entrance of the National Monument isn't well maintained and gets really rough in certain parts. So take your time navigating it. There are no paved roads inside Gold Butte NM and road conditions can vary greatly depending on when and where exactly you visit.
Most roads in the Gold Butte National Monument require a high-clearance 4X4 vehicle. So if you want to explore the area, see the petroglyphs, and check out scenic areas such as Little Finland, you will have to get a heavy-duty vehicle.
TIP: It's not uncommon to get a flat tire while touring gravel roads in the desert, so make sure to bring at least one spare for your trip. Also, make sure to fill up your fuel tank in Mesquite, before you leave the highway, as there are no petrol stations (or other facilities) in Gold Butte.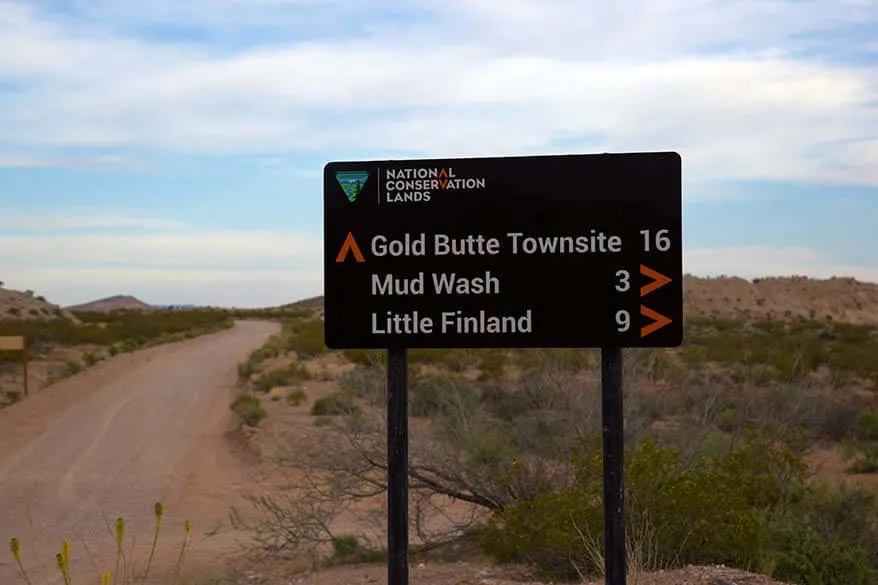 Best Things to Do at Gold Butte National Monument
Gold Butte is a true delight for outdoor lovers. It's remote, undeveloped and full of scenic views and incredible history. Getting from place to place takes time and navigation skills, but the reward is huge – you get to experience one of the least developed areas in North America!
Some of the best places to see in Gold Butte are Whitney Pocket, Devil's Throat, Gold Butte Ghost Town, Little Finland, The Scenic Gold Butte Backcountry Byway. See below for more details about each place. Here you can find a good overview MAP of this area.
Whitney Pocket. This is one of the first points of interest of Gold Butte after you enter the National Monument area. The Dam and Storage Cave found here were constructed by the Civilian Conservation Corps in the early 1930s.
Devil's Throat. A 110-foot-deep sinkhole on the edge of the Gold Butte National Monument is one of the most unusual features of this area. You can only admire it from afar because the ground around the sinkhole is extremely unstable and is dangerous to walk on. Don't worry though – it's fenced, so just stay in the designated area.
Little Finland. One of the most photographed features of the Gold Butte National Monument, Little Finland is famous for its stunning bright-orange rock formations created by the wind. The rocks are adorned by a group of palm trees down below and it makes it even more picturesque. If you venture into this remote corner of Gold Butte, don't forget to bring your camera! You can spend a long time trying to capture the beauty of this place as its colors change depending on the light.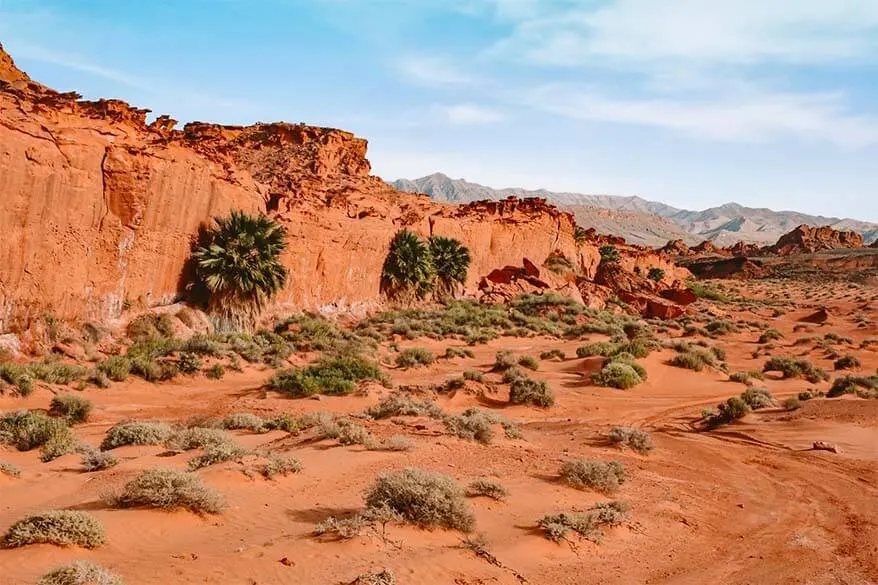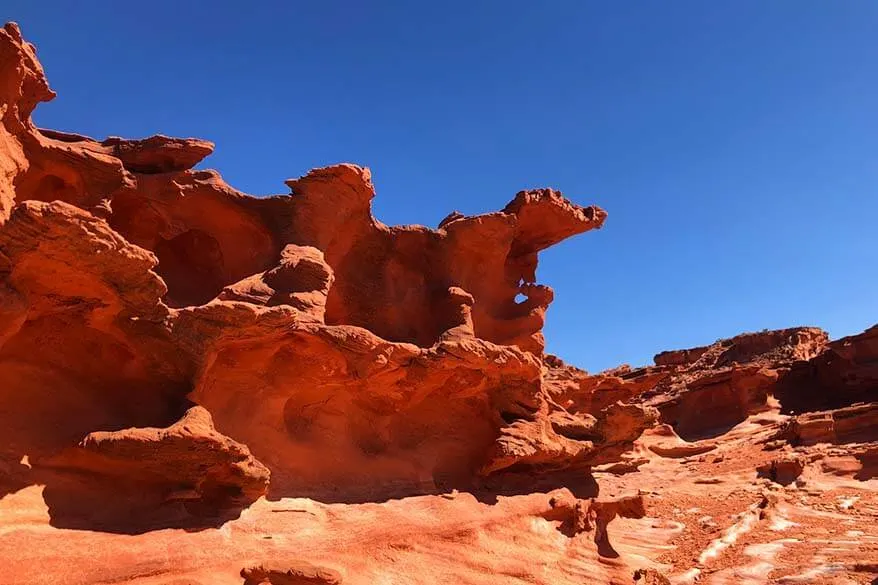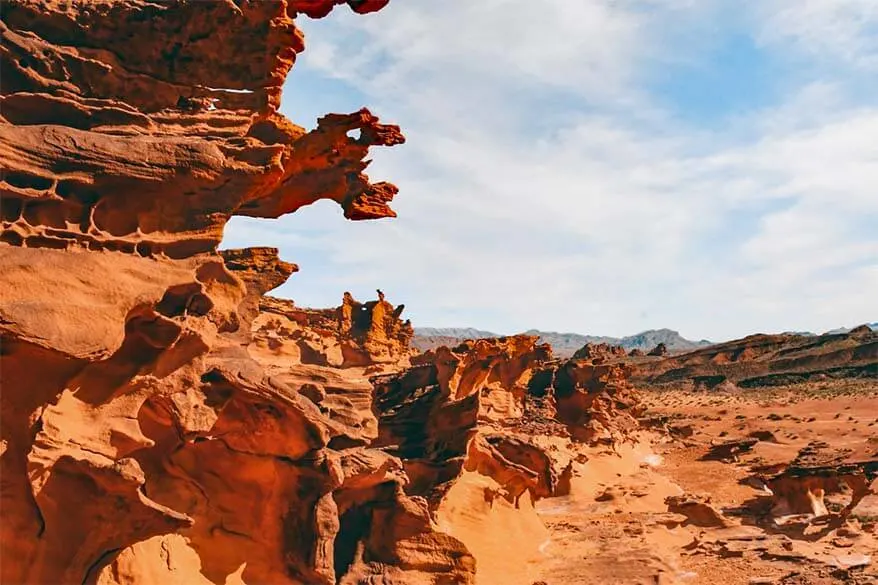 Newspaper Rock. Gold Butte boasts thousands of petroglyph panels scattered throughout the area. However, if you want to see one of the most impressive petroglyph collections, there's no better place than Newspaper Rock. It's a massive boulder with hundreds of petroglyphs etched in it! Newspaper Rock can only be accessed via a rugged backcountry road that requires a 4-wheel drive. After you park at the grinning of the trailhead, you will walk along the trail that meanders through Yucca trees and other desert vegetation before arriving at Newspaper Rock.
Another great petroglyph that you shouldn't miss is called "The Falling Man." This petroglyph portrays a man in free fall and there are many theories as to what it means.
Gold Butte Ghost Town (aka Gold Butte Townsite). A remnant of the gold mining times, this old ghost town used to be the center of the former Gold Butte Mining District (after which the monument was named). The town was established in the early 1900s and had about 2000 residents in its peak days. However, just 10 years later, it was already almost completely deserted. Most of the town has crumbled under the extreme heat and you won't find any old buildings here anymore. However, you can still find some structures, mine shafts, and graves of its last residents in this remote ghost town. Worth checking out if you have more time.
Good to know: Make sure not to touch any of the petroglyphs, as the oil on your hands can seriously damage them! The entire area is also rich in ancient artifacts. So if you happen to find an arrowhead or a piece of ancient cookware, make sure to leave it where you found it.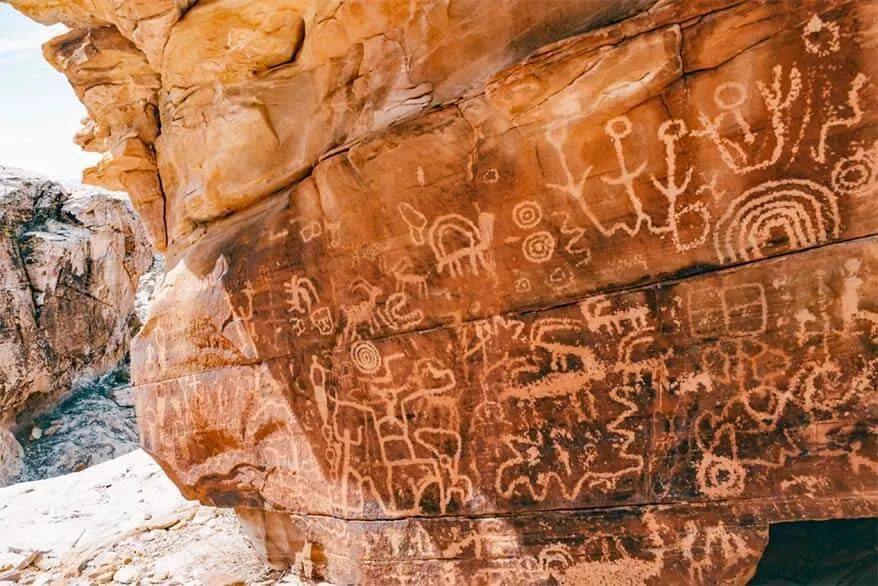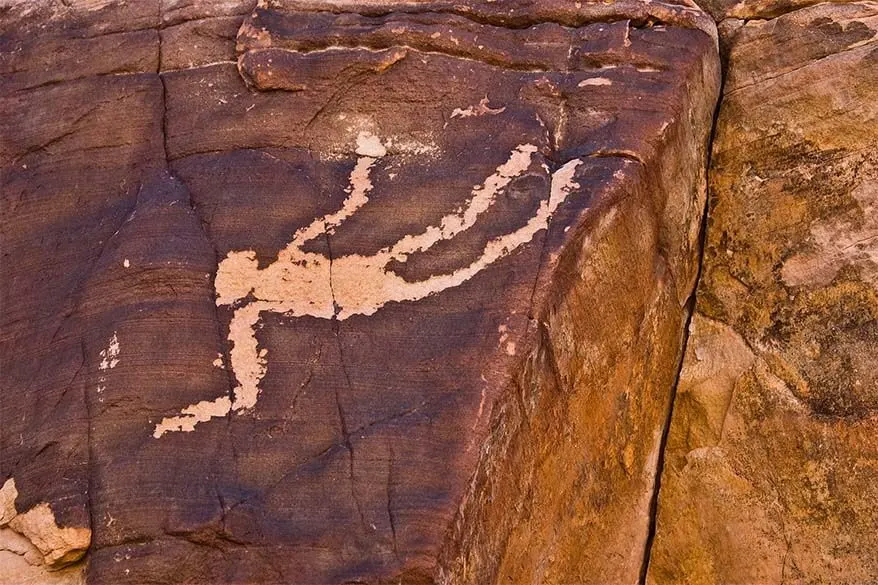 How Much Time Do You Need
I recommend setting aside the whole day for Gold Butte National Monument. While you can stay here at one of the primitive campgrounds, you can also head to nearby Mesquite town for the night.
TIP: Ideally, you stay in Mesquite for 2 nights. That way you have one full day in Gold Butte and can explore the area to the fullest without having to drive big distances. More info below.
Accommodation & Dining
There are no facilities at Gold Butte. So make sure to bring plenty of water and a picnic lunch with you. If you want to camp, you should know that there are only primitive campsites with no designated spots or hookups.
The good news is that you can find all the facilities in Mesquite, NV. This is the nearest town to Gold Butte, just next to I-15 highway and about 10 miles from the Nevada/ Utah border. There are plenty of restaurants, stores, and a variety of accommodations in Mesquite.
TIP: Make sure that your accommodation has a swimming pool. You'll really appreciate a dip in the cold pool after the day of sightseeing. Best Western Mesquite Inn is one of the best price-quality hotels in town. Breakfast is included in the rate.
If you want to 'splurge' just a bit more, Holiday Inn Express & Suites is an excellent choice and also includes breakfast for all guests.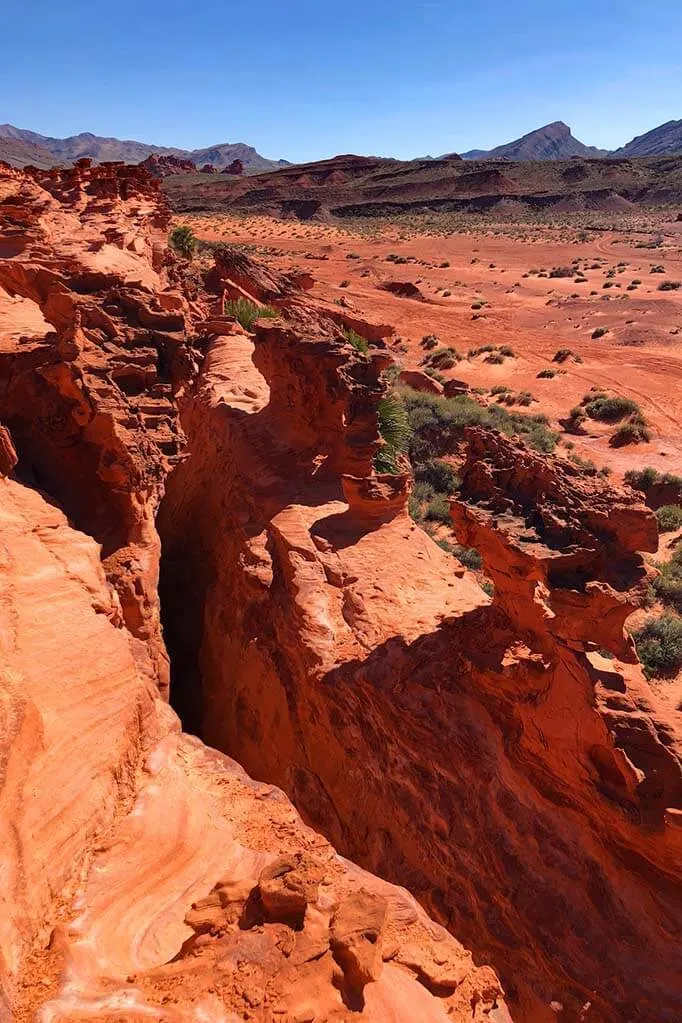 Best Time to Visit
The best time to visit Gold Butte National Monument is from late October through early spring (March-April). That's when the desert cools down and temperatures make exploring this area much more pleasant.
Summers can be unbearably hot in southern Nevada with temperatures soaring well above 100 degrees Fahrenheit. High temperatures make it really challenging to do any hiking in the desert. If you visit in summer, you could probably manage a few short stops at the main landmarks. Still, I recommend avoiding visiting the area in the hottest summer months from June to August.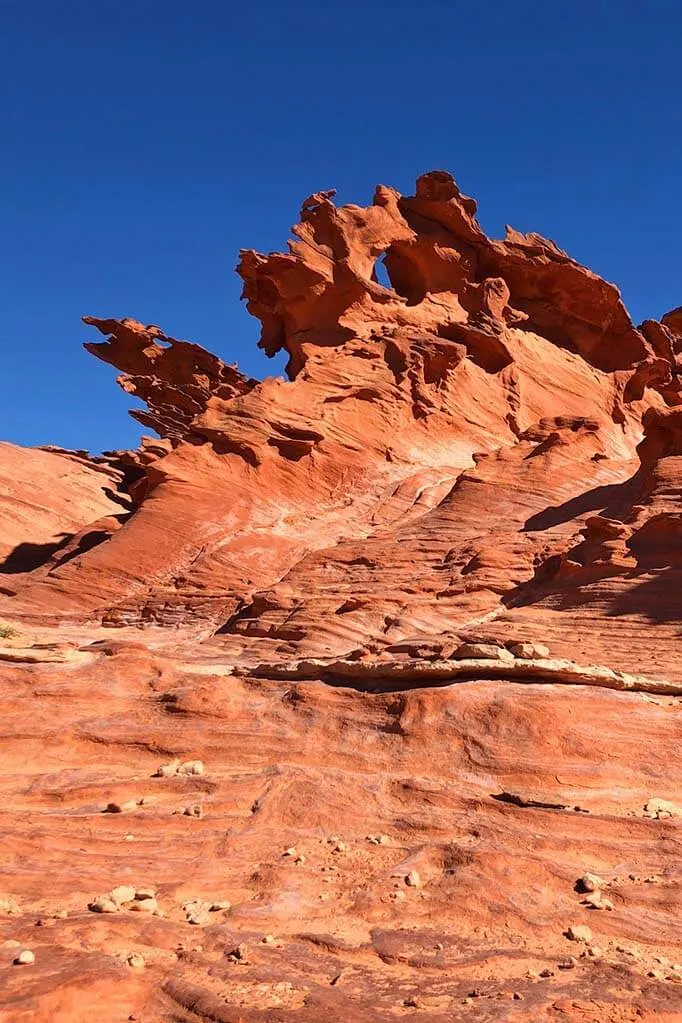 What to Pack
Before you plan your trip to Gold Butte National Monument, you need to know that the area is truly remote. So in case of an emergency, you should rely on yourself. It's a good idea to bring a first aid kit, as you will be miles away from the nearest hospital with no cell phone service and very few people around you.
Here are some essential items that you should pack for Gold Butte:
Water. Make sure to pack at least a few gallons of water. Gold Butte is located in the inhospitable Mojave Desert. Even during winter, your body can quickly get dehydrated after spending less than one hour outside. Depending on how much time you plan to spend at Gold Butte, you should bring enough water.
Food. There are no restaurants or stores selling food at Gold Butte. This means that you have to bring enough food and snacks to last for your trip.
Sunscreen. The desert sun can be really harsh and quickly cause a sunburn. Make sure to get SPF 50 sunscreen lotion for the desert.
Sun hat. This is especially important during spring and summer when it gets really hot at Gold Butte.
Good hiking shoes. Make sure to wear a pair of hiking shoes with a good grip.
First aid kit. When you are in Gold Butte, you are hours away from the nearest hospital, so make sure you pack the most basic items for medical help.
GPS tracker & more. Should you get lost, you might be able to use a GPS tracker to get help. Bringing a canister of gasoline is also a good idea if you are planning to explore the area longer as the nearest gas station is miles away, near Mesquite.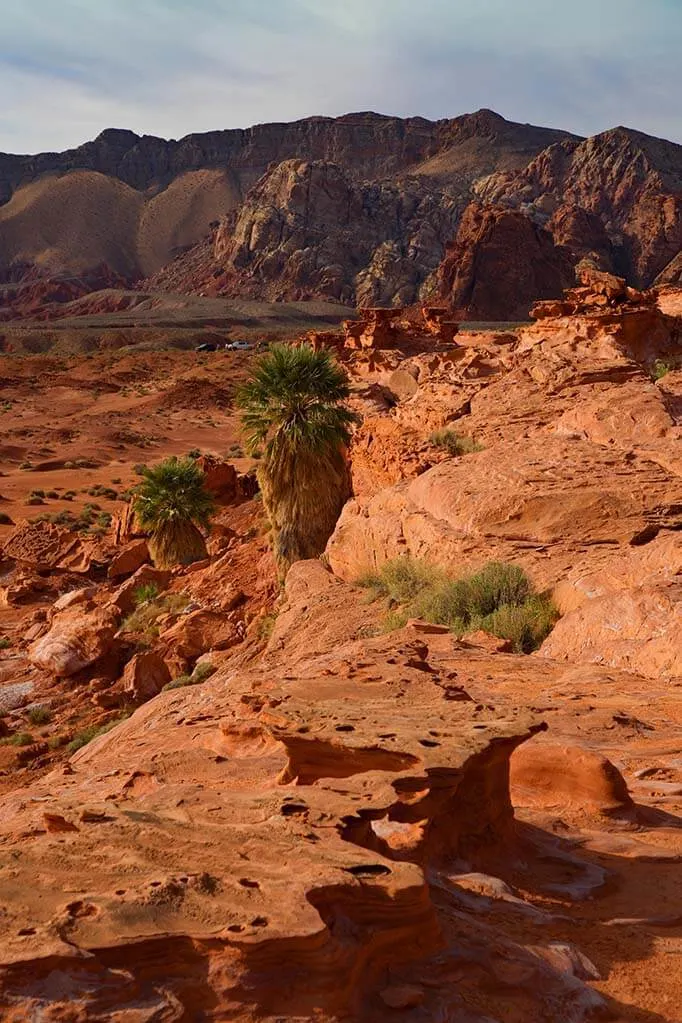 So, this is our short guide to Gold Butte National Monument. I hope that it will inspire you to get off the beaten path in Nevada and enjoy the rugged beauty of this stunning area.
This place is a true hidden gem so don't wait till the rest of the world finds out about it. For now, the area doesn't see a lot of tourists, so you will be one of the few visitors that get a chance to experience it.
Visiting Las Vegas and its surroundings? Check out these guides:
More Travel Guides for the Western USA:
If you found this post helpful, don't forget to bookmark it and share it with your friends. Are you on Pinterest? Pin this image!