Are you planning to visit Arches National Park with kids and wondering what are the best things to see and do in Arches for families? This article should answer all your questions, give you plenty of inspiration for things to do in Arches National Park with kids, and help you plan an amazing trip to Arches National Park in Utah, USA. Take a look!
Arches National Park was one of the most beautiful places we visited on our American summer road trip. It just so happened that we included Arches NP in the same itinerary as the Rocky Mountain NP, Maroon Bells near Aspen, and Yellowstone, and therefore ended up visiting Arches with kids in the summer heat of over 100°F (38°C).
Despite that, we managed to see all the main highlights of Arches National Park, and we even did some hiking in Arches with kids (ages 5, 5, and 7 at that time). In this post, I'm sharing our experience to help you better plan your family trip to Arches National Park with kids.
READ ALSO: Best Things to Do in Arches National Park
Best things to do in Arches National Park with kids – OVERVIEW
These are the best things to do in Arches National Park with kids:
Arches National Park Scenic Drive
Driving the 18-mile long scenic drive (22 miles with the side roads) is a good way to see the stunning landscapes of Arches National Park. Many sights are just a short walk off the main road, so this is a perfect way to explore the park for everyone.
The Scenic Drive is a must if you are traveling to Arches with very young kids, or if the summer temperatures are really too hot to do any hiking.
This road is so beautiful that it's worth a trip just by itself!
LEARN MORE: Arches Scenic Drive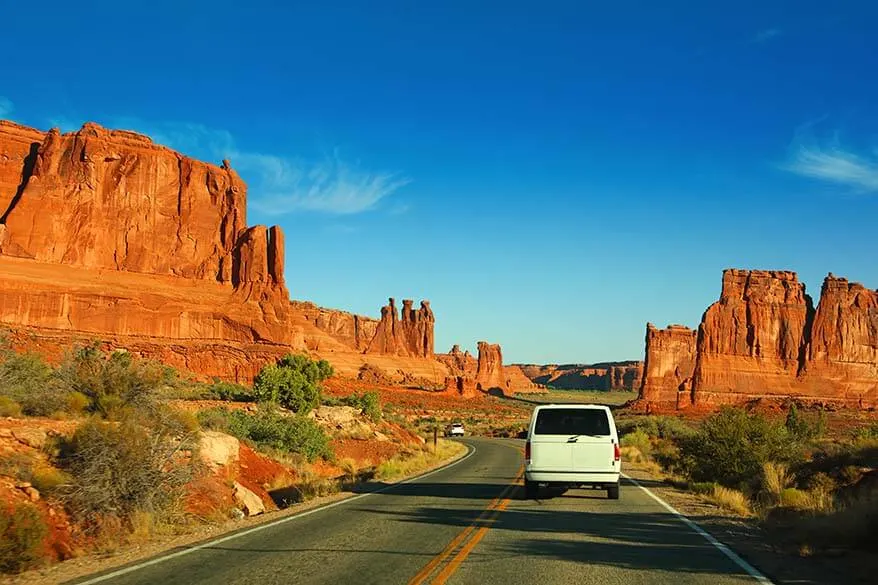 Short hikes you can easily do in Arches National Park with kids
Many highlights of Arches National Park don't require a lot of hiking. Below are some of our favorite short hikes that you shouldn't miss, even if visiting Arches with young kids.
Good to know: The distances in Arches National Park are not that big. Take a look at this official map of Arches N.P. to get a better idea of where all these places are located. You can also buy a map here.
Balanced Rock
Balanced Rock is an extremely popular stop along the scenic drive in Arches. The easy trail is just 0.3 miles (0.5km) round trip and is perfect for families with very young children. You could even take a stroller here.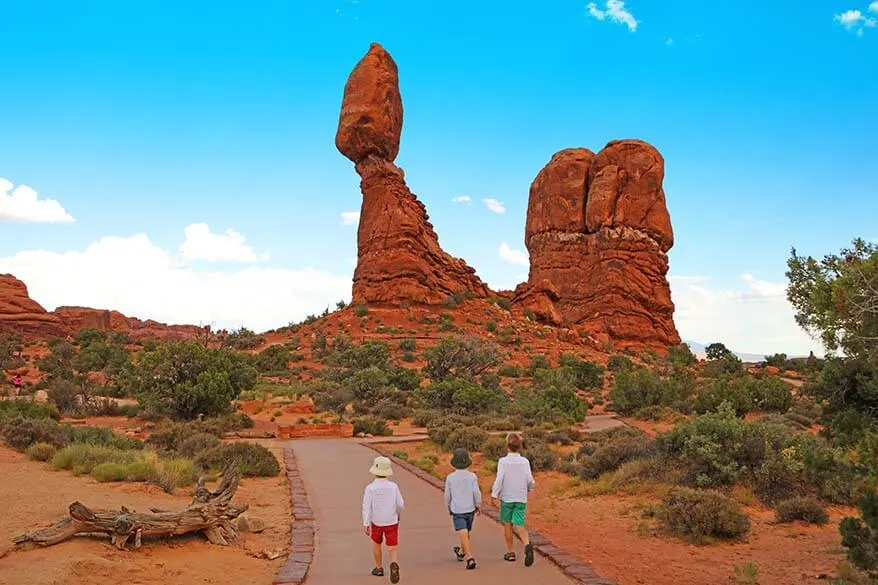 The Windows
The Windows area is simply spectacular and also shouldn't be missed when in Arches.
The entire Windows Loop is an easy 1 mile (1,6 km) hike, or you can opt to walk just a part of it. You can see three impressive arches here: North and South Windows and Turret Arch. The whole area is relatively flat and is very easy to do with kids.
TIP: The Windows are just stunning at sunset, while the Turret Arch and the nearby Double Arch are just beautiful at sunrise.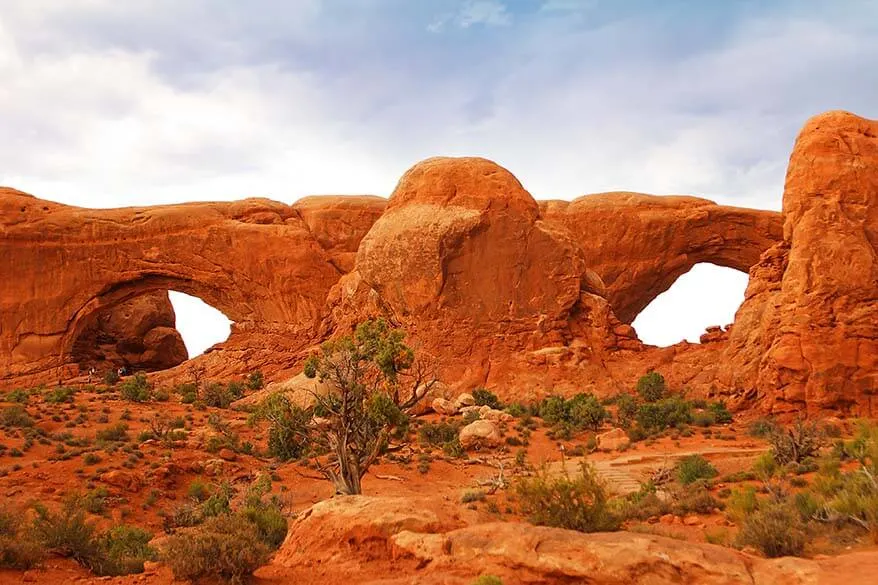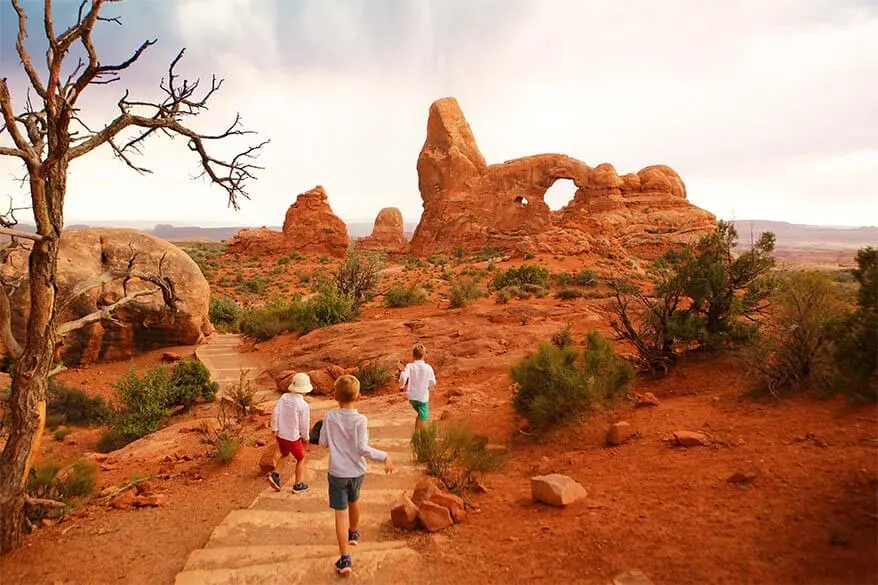 Double Arch
Located just next to The Windows, Double Arch is another must-see in Arches with kids. It's a very short easy trail of just 0.5 miles (0.8km) round trip.
We also hiked up the slack rock for a view to the other side, but honestly, I didn't feel safe at all, and climbing back down was much more challenging for the kids than going up.
The view from the bottom is actually better, so don't worry that you are missing something and stay safe!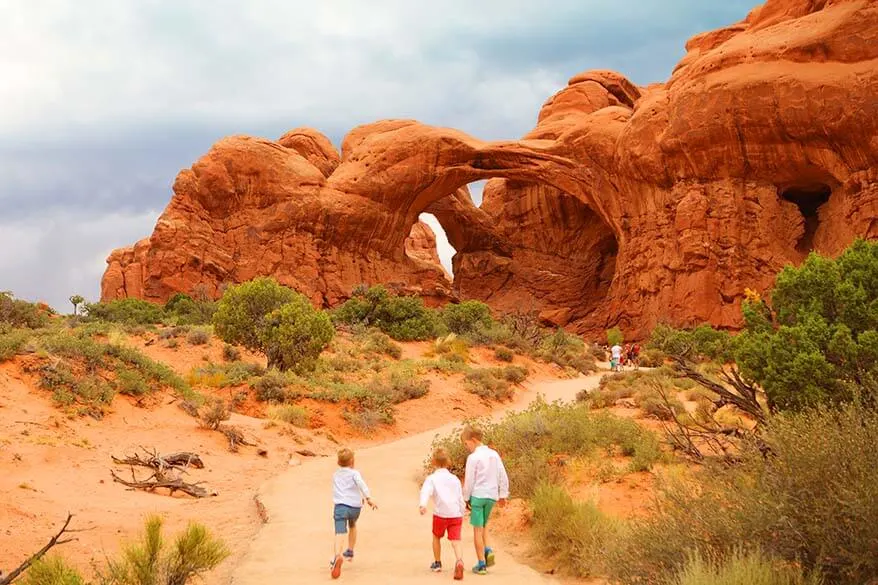 Pine Tree Arch and Tunnel Arch (Devils Garden)
Devils Garden is a popular hiking area with most visitors hiking to Landscape Arch or even further to Double O Arch (read further for more info). However, if you are visiting Arches with young kids, those hikes might be too strenuous, especially in summer.
The good news is that the nearby Pine Tree Arch (featured image) and Tunnel Arch are both easy to reach and well worth a short hike. Round trip is around 1.2 miles (1.9 km).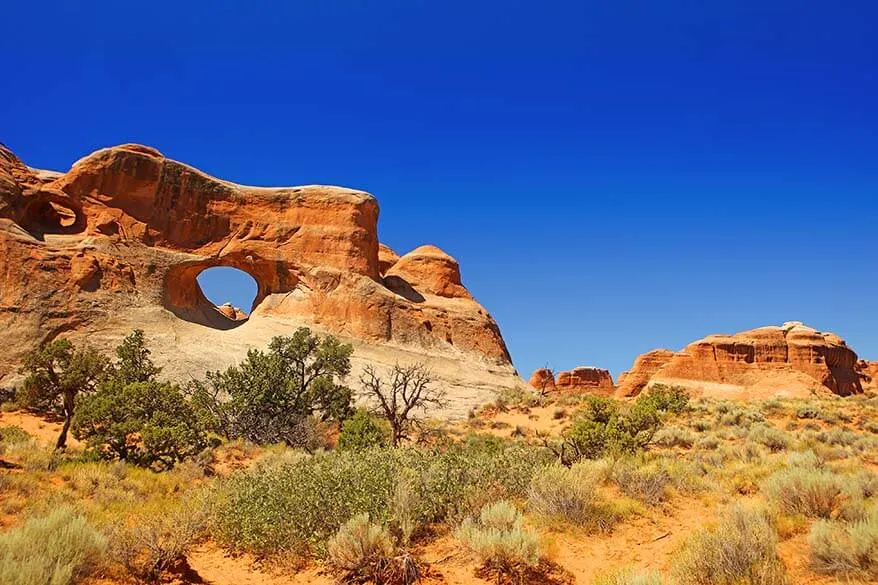 Park Avenue Viewpoint
You can take the Park Avenue hike to the Courthouse Towers (1 mile (1.6 km) one way) and arrange for someone to pick you up by car there. Or you can hike just a part of it.
With young kids, make sure to at least stop at the Park Avenue Viewpoint – the scenery is just incredible!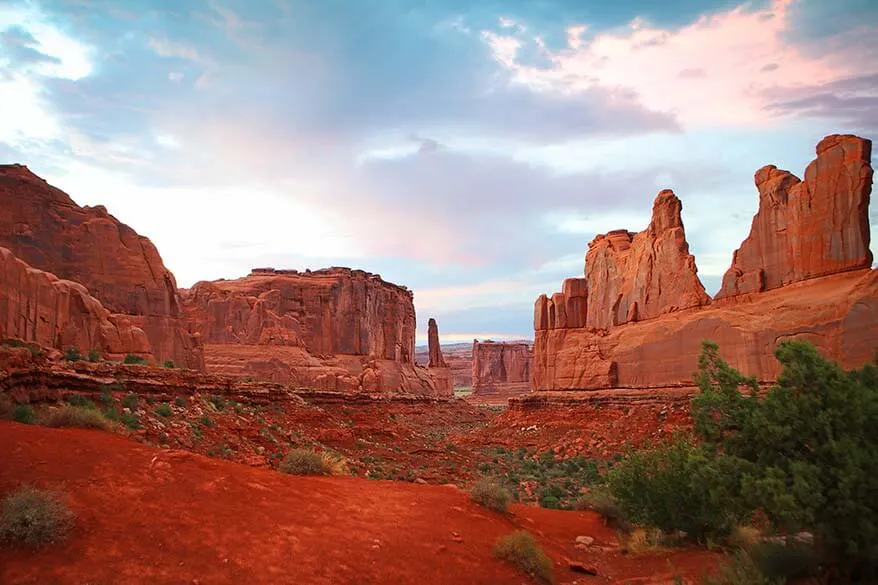 Wolfe Ranch and Rock Art at the Delicate Arch Trailhead
You can hike to Delicate Arch with kids (see below for more info or click on the link to read the complete guide), but I wouldn't advise doing this hike with children younger than 4.
If you are visiting Arches with young kids, you can see Delicate Arch in the distance from the Delicate Arch viewpoint along the scenic drive. And you can take the kids for a short stroll to Wolfe Ranch and the Rock Art Panel, just a few minutes from the car park.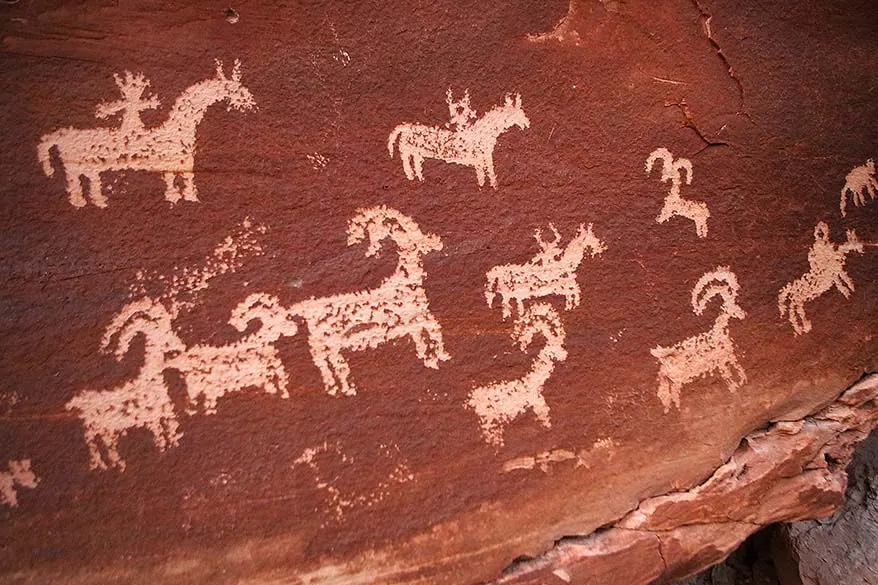 Other easily accessible arches in Arches NP
Other short and easy places to visit in Arches with kids are Sand Dune Arch, Skyline Arch, and a couple of viewpoints along the scenic drive.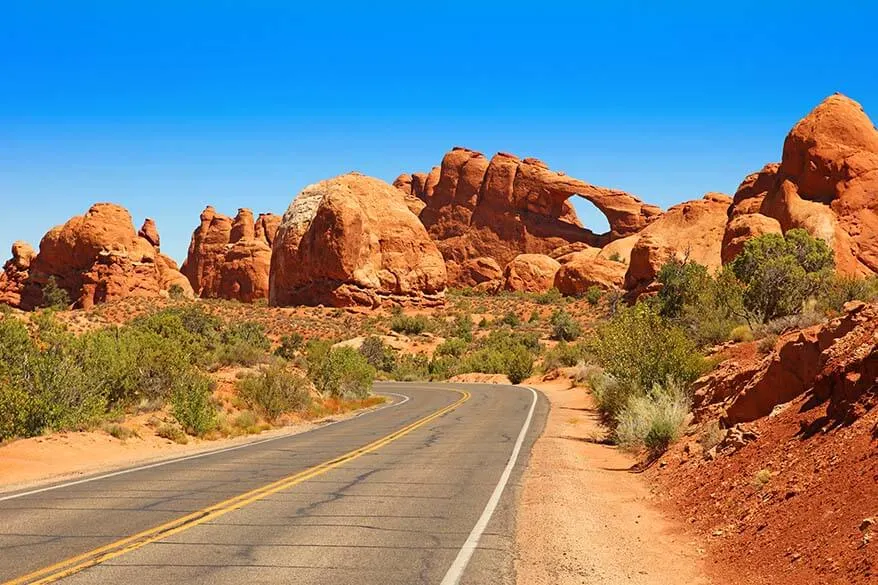 Most beautiful family-friendly longer hikes in Arches National Park
Hiking is, of course, the best way to see the most stunning scenery of Arches National Park. Despite the heat, we managed to make several longer hikes in Arches NP with kids.
We hiked Delicate Arch Trail and to Landscape Arch with the whole family. In addition, I also hiked a part of the primitive trail to Partition Arch and Navajo Arch with my 7-year old.
Below, you can find more information about these beautiful hikes.
Delicate Arch
Delicate Arch is, without doubt, the most iconic landmark of Arches NP. It requires a 3-mile (4.8 km) moderate hike in order to see it from up-close, but it's definitely worth it.
And yes, you can hike to Delicate Arch with kids (ages 4+), even in summer. Just avoid the warmest hours of the day and go either early in the morning or – as we did – at sunset.
READ MORE: Hiking to Delicate Arch with Kids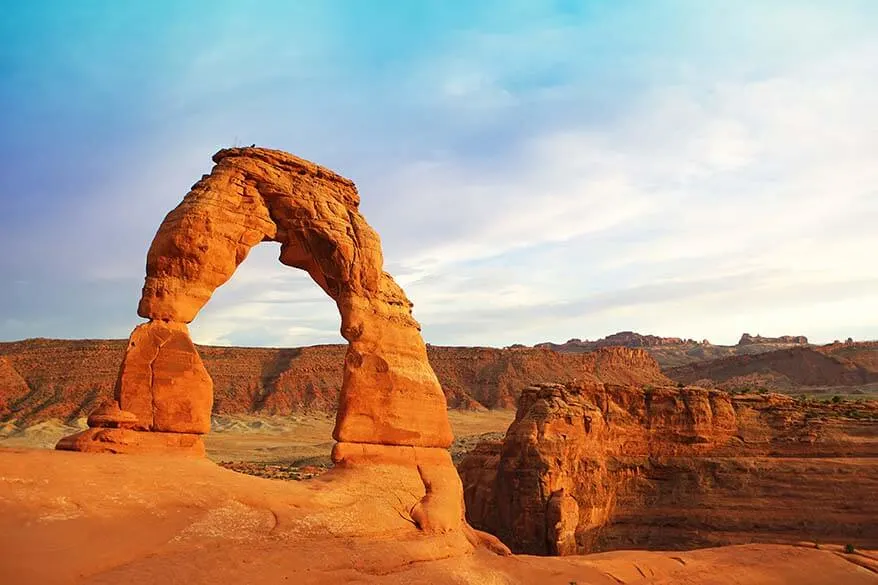 Landscape Arch (Devils Garden)
Landscape Arch is probably one of the most popular trails in Arches NP. A relatively flat hike of just 1.6 miles (2.6 km) round trip is easily doable with kids.
As I said before, you can hike just the first part, to Pine Tree Arch and Tunnel Arch, but it's really worth it to continue just a bit further and see the famous Landscape Arch.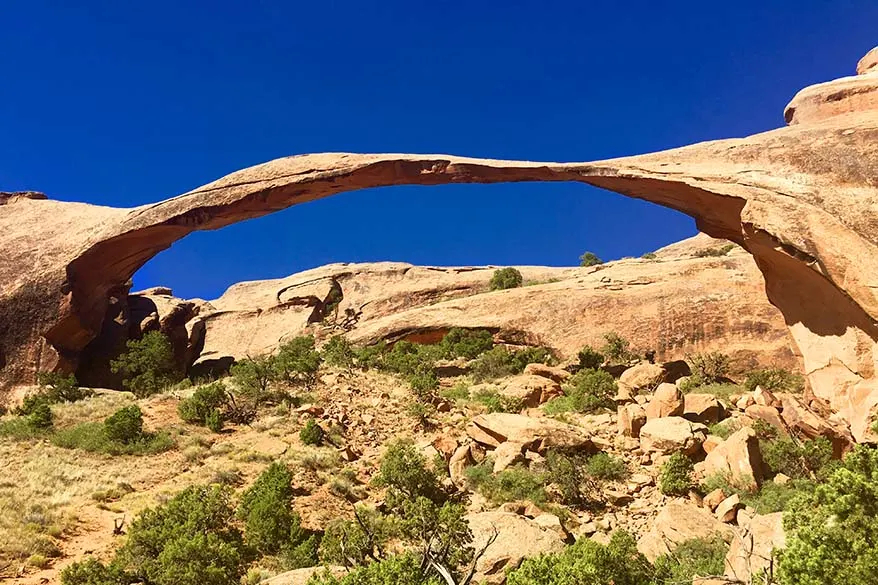 Navajo Arch and Partition Arch (Devils Garden)
Navajo Arch and Partition Arch might look very close to Landscape Arch on the map, but the trail leading there is quite challenging. At first, we were not planning to go as far with kids, but it looked so close by that we decided to give it a go.
However, our 5-year old twins really had difficulties with the high temperatures (it was only 9.30 AM! and unbearably hot). And so half-way the climb on the primitive trail my husband decided to hike back to the car with them. In the meantime, I took my 7-year old to Partition Arch and Navajo Arch.
After a challenging climb, the rest of the hike to these two arches is flat and easy. But that climb up (and especially back down) is definitely not for everyone.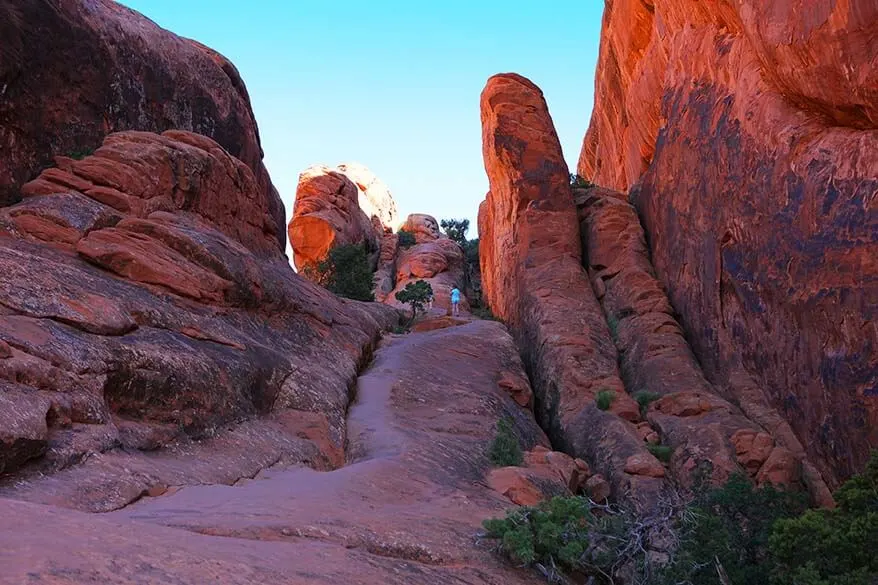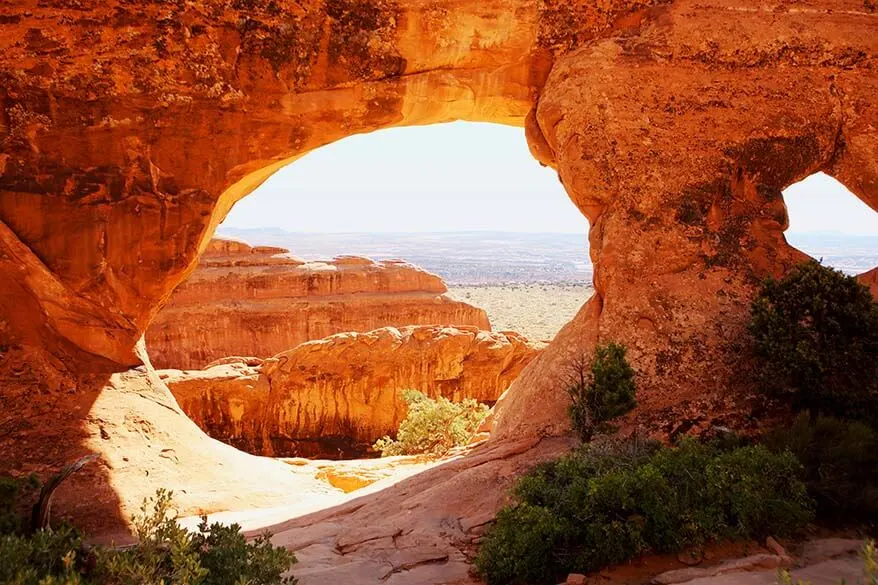 Rafting near Arches with kids
Ok, rafting is not officially inside Arches National Park, but it's something that I think every family should do when visiting Arches NP in summer. Rafting trips run from Moab, where most of the visitors are staying anyway, and you can do a half-day trip.
We had several days in Arches, and since daytime hours were really too hot for anything else but water activities, we went on a half-day rafting tour from Moab. I can definitely recommend it. Rafting was a huge success with our kids as well!
Colorado River close to Moab is rather quiet and so you can expect a very relaxing and family-friendly rafting experience, nothing compared to whitewater rafting I did in Colorado years ago. If it gets too hot, you can jump into the river to cool off. You are wearing a life vest and basically just float in the river. We all loved it!
TIP: If you can, opt for the half-day rafting tour leaving in the morning. According to our guide, summer afternoons are too hot even for rafting. You can book a family-friendly Moab rafting trip here.
READ MORE: Rafting in Moab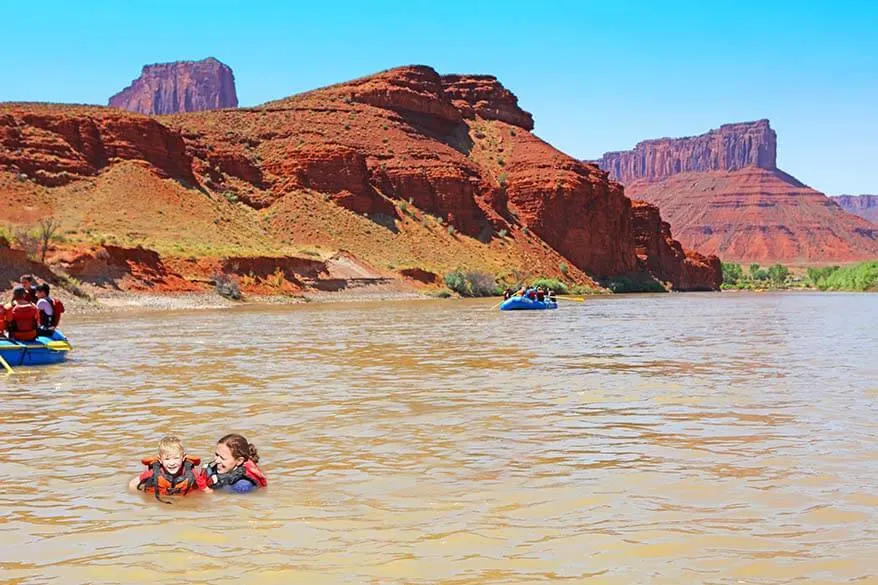 Practical tips for visiting Arches NP with kids in summer
IMPORTANT! In the high season (April-October), timed entry reservations are required for visiting Arches National Park. Reservations usually open 3 months in advance. So be sure to check the official website and reserve your entry!
Visit the park early in the morning or late in the afternoon to avoid the crowds and the heat. You can do the scenic drive in Arches during the hot hours of the day as well, just limit your time outdoors. Read our suggestions for more great things to do in Moab.
Limit hiking to the cooler hours of the day. We finished our morning hikes by 11 AM, ideally, you should stop by 10 AM. The temperatures become somewhat more bearable around 6 PM again, so you can do a nice sunset hike in the evening.
Spend the warmest hours of the day by the pool of your hotel or go rafting. Book a hotel in Moab, close to the entrance of the park, so that you don't have to spend hours in the car. We stayed at Aarchway Inn, great location and huge family rooms that sleep 6. Check also our hand-picked selection of the best Moab hotels for any budget.
Carry lots of drinking water. Reusable water bottle is best, but you can only refill it at the Visitor Center and at the Devil's Garden Trailhead. So make sure you have plenty of water in the car and refill your bottles before you set on any hike. Tip: if you use plastic water bottles, put them in the freezer the night before your hike. That way you can enjoy nice and fresh water during the entire day.
Wear closed walking shoes if you plan to do any hiking in Arches.
Buy a National Park Pass (you can also get it at the entrance of any National Park) if planning to visit more than one National Park during your trip. It costs $80 for the whole family (one vehicle) and gives you unlimited access to all National Parks (and some other locations) for the whole year.
More tips for your trip to the Moab area:
If you found this post helpful, don't forget to bookmark it and share it with your friends. Are you on Pinterest? Pin this image!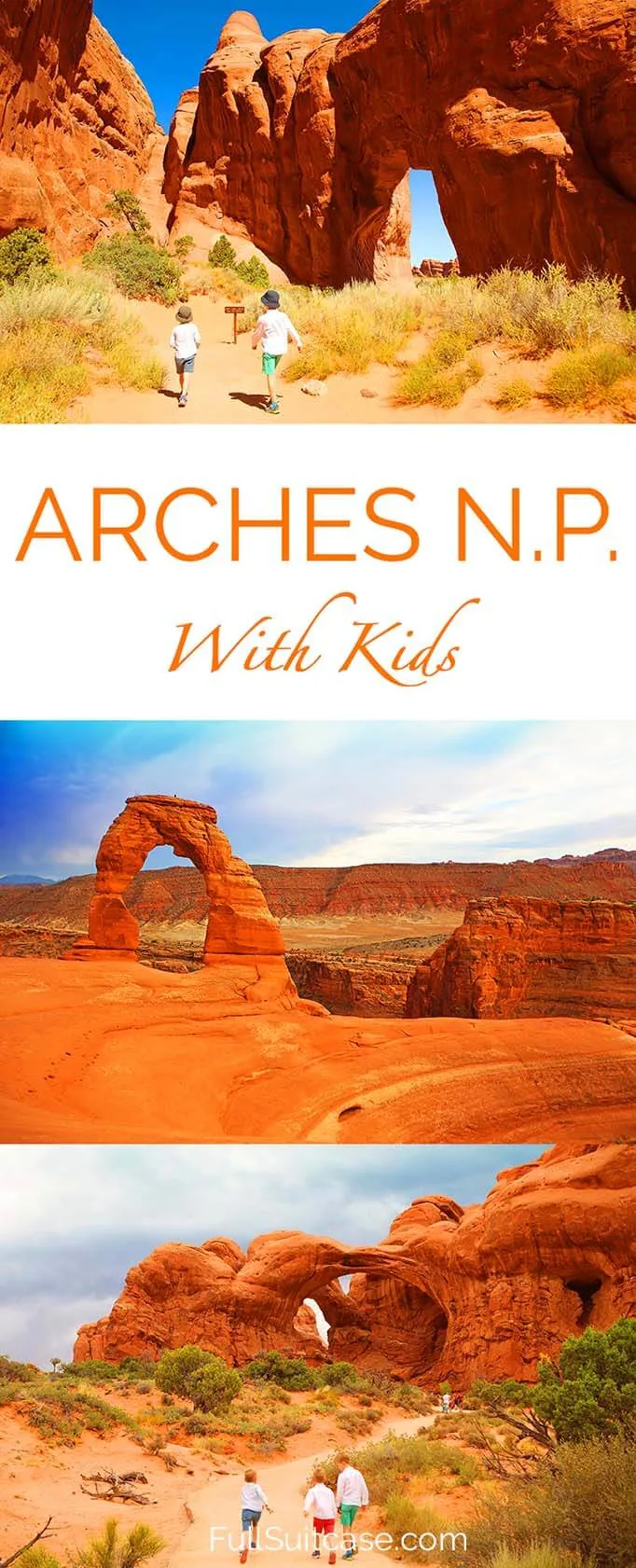 More travel guides for the southwestern USA:
Grand Canyon:
More of Arizona:
Zion & Bryce Canyon National Parks:
Las Vegas: