Looking for ideas on how to plan an American road trip that covers some amazing nature destinations, but don't know where to start? This article might be just what you're looking for. It covers the most beautiful National Parks in Colorado, Utah, and also in Wyoming. Take a look!
We had just two and a half weeks for our family summer road trip in the United States, and it was a big challenge to create a good itinerary. We had a big list of places we wanted to see and we also wanted to have some time to explore, not just tick the boxes and say that we'd been there.
On the other hand, when we travel far, we tend to just visit the landmarks and see the main highlights. Exploring in depth is not always easy to combine with three young kids, limited time, and expensive flight tickets…
The main highlights of this American road trip for us were Yellowstone and Arches National Parks. Therefore we chose to spend a bit more time in these two parks and built the rest of our U.S. road trip itinerary around it.
We ended up covering a pretty big part of Western United States in just 17 days, and it was an amazing trip. Our trip started in Denver, we traveled through Colorado, Utah, and Wyoming, and ended our road trip in Salt Lake City. We visited the Rocky Mountain National Park, Maroon Bells in Aspen, Arches National Park, Canyonlands National Park, Grand Teton NP, Yellowstone NP, and a couple of other incredible places.
In this post, I am sharing our American family road trip itinerary for nature and outdoor enthusiasts.
Our American road trip itinerary including Rocky Mountain NP, Arches NP, Yellowstone NP & more
TIP: Use this U.S. road trip itinerary as an example, as it gives you a good idea of the highlights you can see in Colorado, Utah, and Wyoming in just 17 days.
There are many other incredible landmarks and beautiful National Parks near these places. So depending on your interests and time, you could easily combine a part of our American road trip itinerary with, for example, Bryce Canyon and Zion National Parks, Monument Valley, the Grand Canyon, Sedona, Mesa Verde National Park, Mount Rushmore, Custer State Park, Glacier NP, etc.
PRO TIP: If you are planning to visit several American National Parks during the same trip, make sure to get an annual America the Beautiful Pass. It costs just 80 USD for the whole family traveling in the same vehicle. And it's valid in all National Parks and 2,000 federal recreation sites across the United States for one year from the month of purchase. If you visit more than two parks, it costs less than buying individual tickets.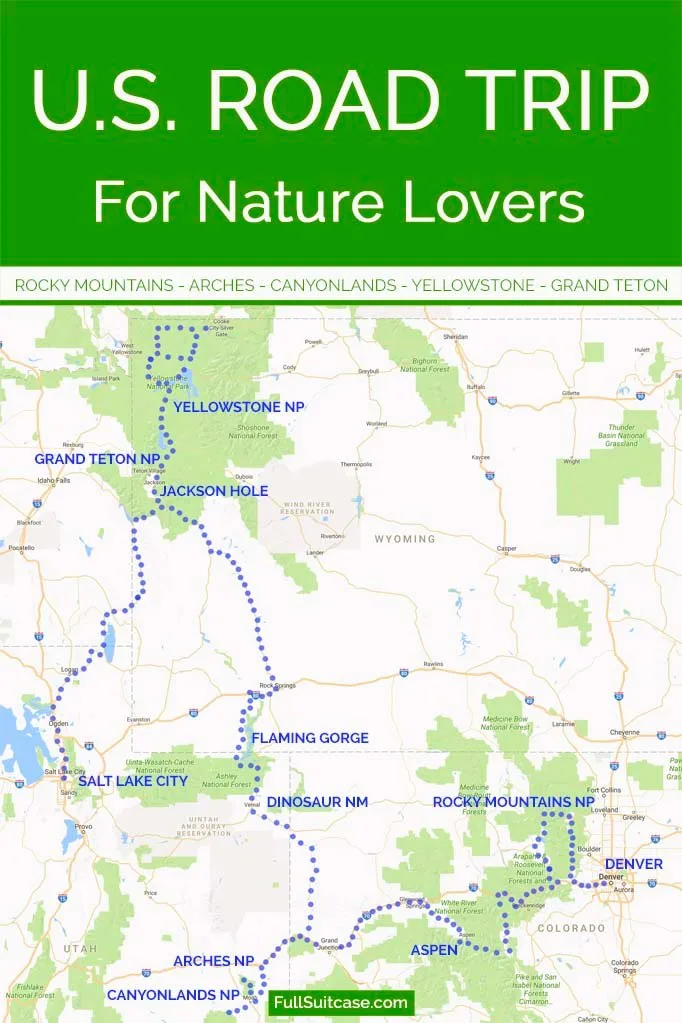 Day 1: Arrival in Denver
It was a long day flying from Europe to Denver, Colorado. We arrived late in the afternoon, picked up the rental car, and headed straight to our hotel outside the city.
I had been to Denver in the past; it is a nice city. However, we don't often stay in big cities when traveling with kids, so we skipped Denver altogether on this trip. But if you have more time, it's definitely a place where you could spend an extra day.
Day 2: Denver – Estes Park – Rocky Mountain NP – Grand Lake
We started our drive from Denver to Rocky Mountain NP with a very scenic ride following the Peak to Peak Highway. Recommended stop: Brainard Lake area, where you can make several walks.
Afterwards we continued in the direction of Estes Park. Recommended stops: Lily Lake and Saint Catherine's Chapel on the Rock. We also stopped at the rocky area just next to the road, where we made a beautiful short walk. Many people were practicing rock climbing here.
We had lunch in Estes Park and headed to the Rocky Mountain National Park. This beautiful park is worth a trip on its own, and in my college years, I spent the whole summer in Estes Park combining a summer job with endless hiking. But on this trip, we didn't stay here long and headed straight for the main highlight of our day – Trail Ridge Road.
Trail Ridge Road, reaching as high as 12,183 feet (3,700m+), is the highest paved road in any national park in the U.S. It's a beautiful road, so don't miss it if you ever find yourself in the area. Trail Ridge Road is only open in summer. Count 2-3 hours for this road, a bit more if you also plan to do some hiking at the viewpoints.
Driving distance: 130 miles (210 km).
Accommodation: We stayed for 1 night in Grand Lake. It's a peaceful little town with a real vacation feel, and not as busy as Estes Park. But if you have a day extra, then add 1 night in Estes Park before coming to Grand Lake and do some hiking. Here you can find our suggestions for Estes Park lodging.
TIP: If you have a few days to spare, I recommend you explore Rocky Mountain National Park more in-depth.
READ MORE: Rocky Mountain NP Itinerary from One to Five Days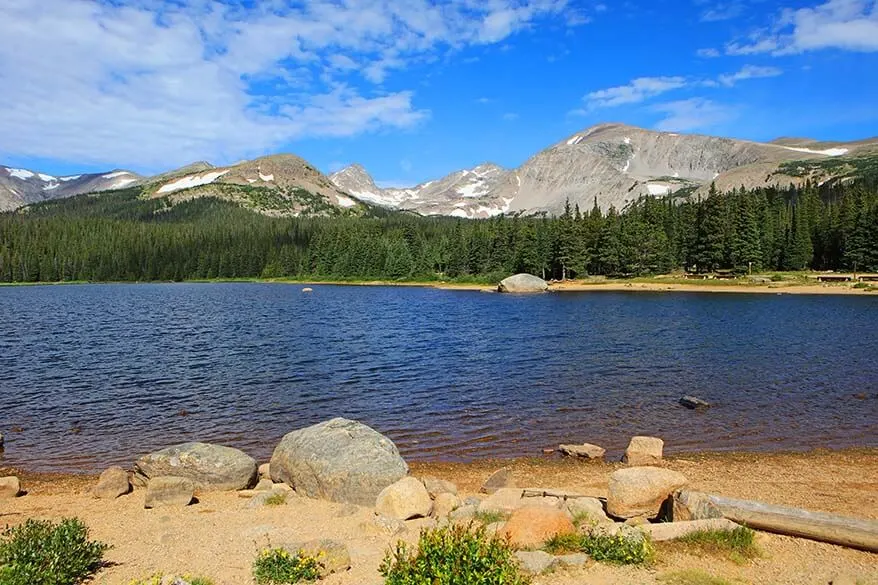 Day 3: Grand Lake – Independence Pass – Aspen
A long but very scenic ride today. There are several ways to get from Grand Lake to Aspen. We chose to drive via Hwy 82 over Independence Pass. This road is well worth it!
Note: Independence Pass is only open in summer and vehicles over 35 feet (11 m) length are not allowed on this road.
Suggested stops: Leadville town, Twin Lakes and Grottos – Ice Caves picnic area where you can also make a short walk.
In the afternoon you have plenty of time to explore Aspen downtown and/or take the Aspen Gondola to the top of the mountain.
Driving distance: 170miles (270 km)
Accommodation: 2 nights in Aspen. Make sure you book your Aspen accommodation well in advance. Aspen is very popular all year round and affordable quality accommodation options are limited.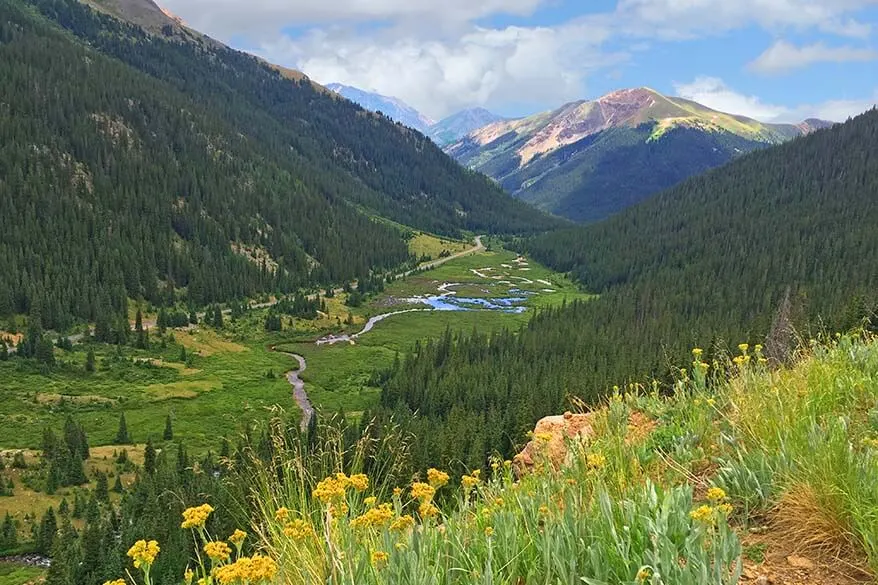 Day 4: Aspen, Maroon Bells & Ashcroft Ghost Town
A visit to Maroon Bells, the most photographed mountains in the U.S., is without any doubt one of the highlights of this American road trip. For the very best views and no crowds go early in the morning. Make sure you arrive well before 8 AM as parking is limited. Also, the road is closed for private vehicles during the day (8 AM-5 PM), and you have to take a shuttle bus instead.
You don't need to walk far in order to see the lake. If you have just an hour, walk the Maroon Lake Scenic Trail. But if you have at least 3 hours to spare, you should really hike the Crater Lake Trail. Spectacular views are absolutely worth the 3.6 miles (+-6km) round trip. This hike is not very easy but can be done with kids.
READ MORE: Maroon Bells and Hiking the Crater Lake Trail
Ashcroft Ghost Town is another nice place that is nice to visit in this area. Located just 13 miles (21 km) South of Aspen.
Other recommendations in Aspen: The John Denver Sanctuary, ACES (Aspen Center for Environmental Studies), also the Silver Queen Gondola if you haven't done it the day before.
READ ALSO: Best Things to Do in Aspen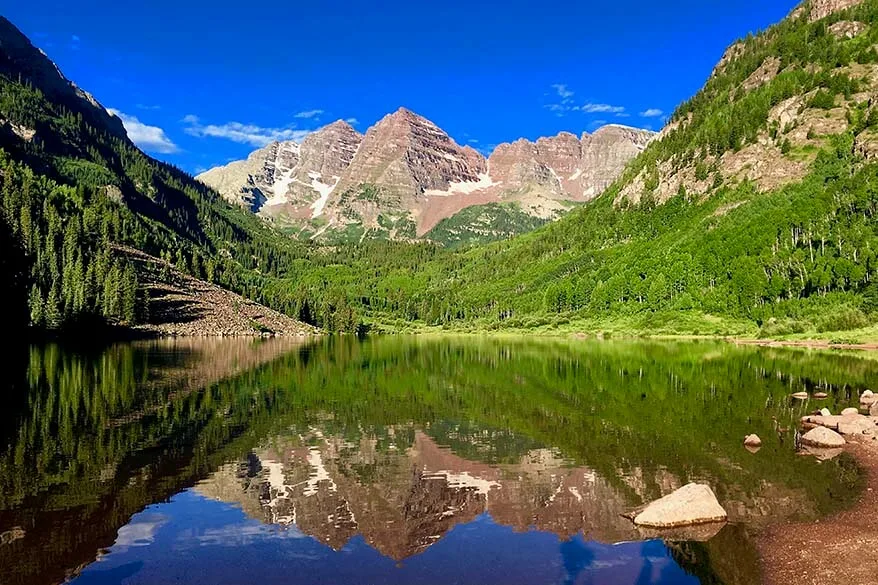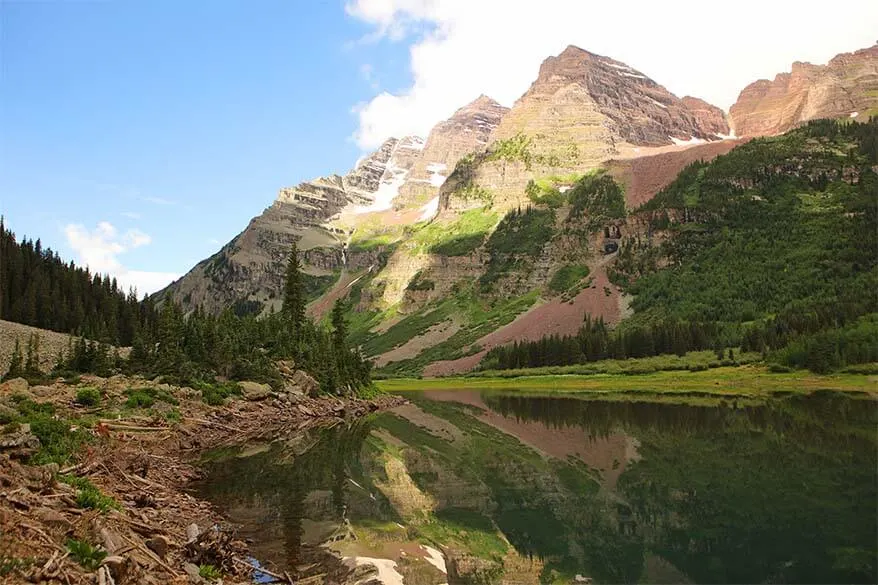 Day 5: Aspen to Moab (Arches NP) via Scenic Hwy 128
Another long day driving today. But then again – the roads are really scenic, so take your time and enjoy the ride. Suggested road to Arches National Park: scenic Hwy 128, Utah (take I70, then exit at Cisco).
This road is probably one of the best-kept secrets in the area, and you will not meet many other tourists here. Which is hard to believe as it's one of the most scenic roads we have ever driven. I find that it's almost as spectacular as the Monument Valley Scenic Drive. Don't miss it!
Temperatures in the Moab area are often over 100°F (38°C) in the summer months. Coming from the mountains in Aspen, the shock could not have been bigger. We reached Moab at around 2 PM and spent the hottest hours of the afternoon in the swimming pool of our hotel.
In the evening the temperatures were a bit more bearable and we made our first hike in Arches National Park. If you do just one hike in Arches, make it the Delicate Arch Trail.
Driving distance: 230 miles (370km)
Accommodation: 3 nights in Moab. Moab is the perfect base for exploring Arches and Canyonlands National Parks. Our hotel – Aarchway Inn – has huge family rooms and is very conveniently located close to the entrance of Arches NP. Here you can find more suggestions for the best Moab hotels.
READ MORE: Best Things to Do in Moab & Moab Itinerary Suggestions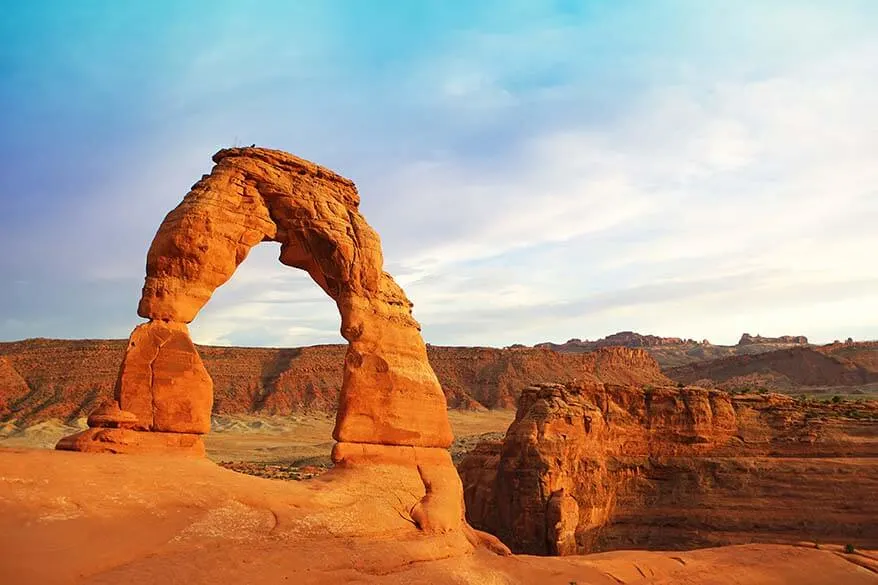 Day 6: Arches National Park
Full day exploring Arches National Park. In spring or in autumn you could probably see the whole park and do at least 3-4 hikes in just one day. But visiting Arches NP in summer is a whole other story! Furthermore, we visited Arches with kids!
We started our day early and hiked till 11 AM. By then it was impossible to even get out of the car and we spent some time driving around Arches Scenic Drive and making short stops at the viewpoints.
In the afternoon we went back to the swimming pool in our hotel. We returned to the park towards the evening to do some more hiking.
READ MORE: Best Things to Do in Arches National Park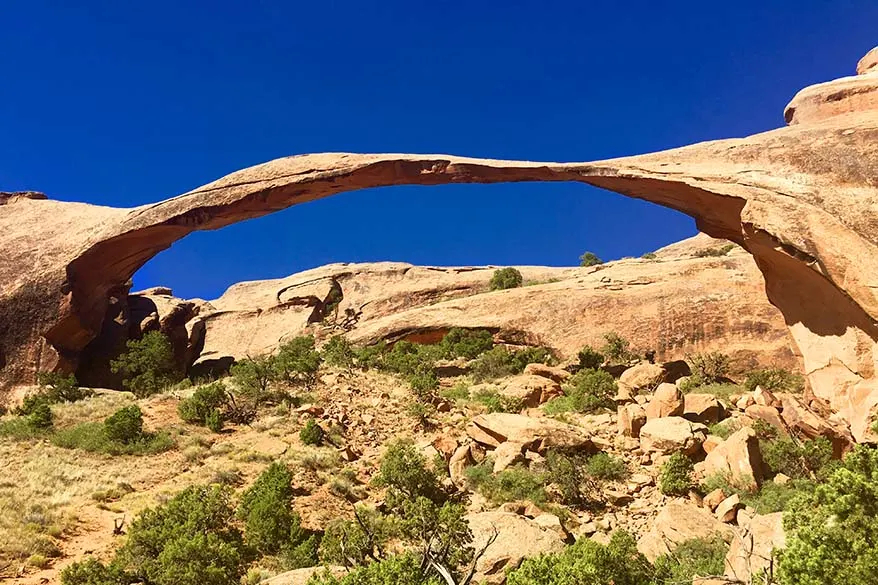 Day 7: Rafting on Colorado River (Moab) and Canyonlands NP
With temperatures of 106°F (41°C) and higher we couldn't imagine dragging the kids for yet another day hiking, so we booked a half-day rafting trip on the Colorado River instead. Great experience and we could jump into the river to cool off once in a while. Kids loved it!
READ MORE: Moab Rafting Tour
We spent the hottest hours of the day by the pool again and in the late afternoon, we drove to Canyonlands National Park.
Canyonlands is divided into several sections; the easiest to visit – Island in the Sky – is just 45 minutes drive from Moab. We drove the whole scenic drive of Island in the Sky and stopped at all the viewpoints. If you want to do one hike here, Mesa Arch is really worth it. It's a short, but very scenic walk. Highly recommended!
In the evening we drove to the nearby Dead Horse State Park for sunset.
Driving distance: 100 miles (160km)
READ MORE: Canyonlands and Arches One Day Itinerary & Best Things to Do in Canyonlands NP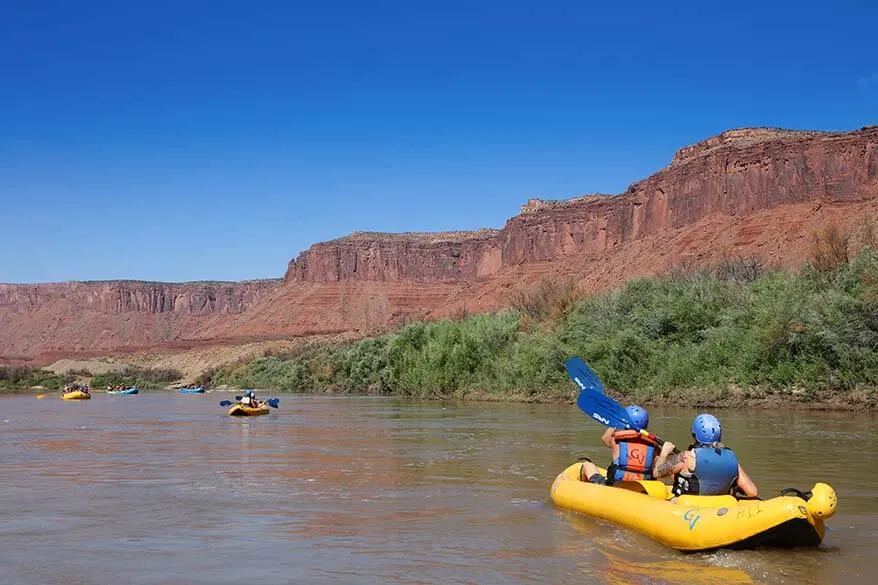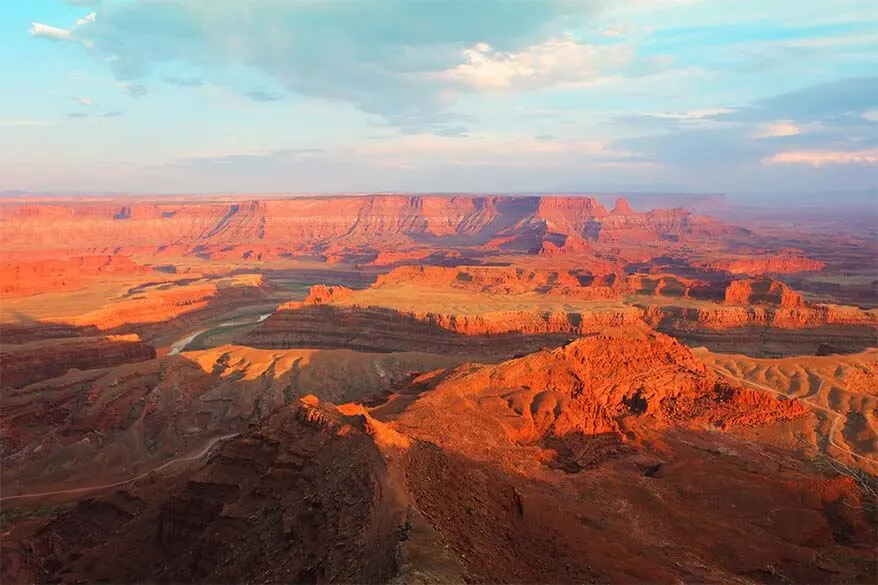 Day 8: Moab – Dinosaur National Monument – Vernal
There are several roads you can choose to get from Moab to Vernal. We drove via I-70, CO-139, CO-64, and US-40.
Suggested stop: Dinosaur National Monument. The visitor center with a very impressive dinosaur quarry is well worth a visit, but make sure to also explore the area by car. The scenery is just beautiful and you can find some ancient rock art as well. You can get a small map at the visitor center.
Driving distance: 220 miles (355 km)
Accommodation: 1 night in Vernal. Vernal is not a very exciting place to stay, but there are many hotels and restaurants in town and it makes it a convenient stop on the long stretch between Arches National Park and Yellowstone.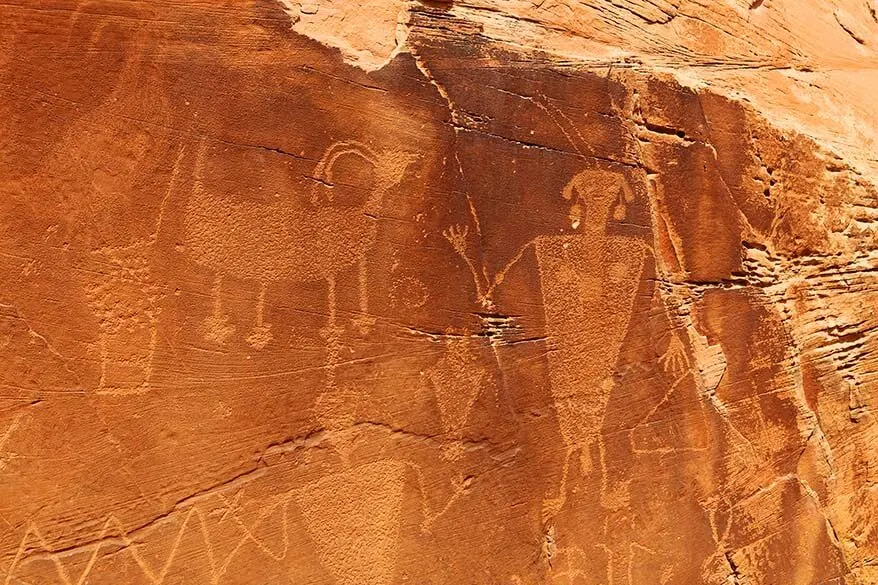 Day 9: Vernal – Flaming Gorge – Jackson Hole
A long drive again today, but with another incredible hidden gem along the way. Don't miss the Red Canyon and Flaming Gorge Recreational Area! Incredible views, scenic roads, and practically no people at all.
An absolute must is a view from the Red Canyon Visitors Centre. From there you have to choose which way to continue North, as there are two roads around the Flaming Gorge.
The road US-191 on the East side of the gorge passes the Flaming Gorge Dam. The road WY-530 on the west side gives you an opportunity to drive the scenic Sheep Creek Loop and visit the Dowd Mountain Overlook.
We asked for advice at the visitor center. They gave us a map of the area and told us to go West. It was definitely a good choice and we truly enjoyed the scenic Sheep Creek Loop. But if you cannot choose and have another hour or two to spare, drive to the Flaming Gorge Dam first, then return the same way you came, and continue in the direction of Manila.
In the late afternoon, we reached Jackson Hole. Jackson is a very charming town with many hotels, restaurants, and shops. It's a good place to stay for exploring the area, but don't use it as a base for visiting Yellowstone.
The road from Jackson to Yellowstone goes through Grand Teton National Park and is very busy in summer. Jackson is really too far for day trips to Yellowstone.
Driving distance: 300 miles (480 km)
Accommodation: Jackson has many accommodation options. However, just as Aspen, Jackson is extremely popular and not a budget-friendly place to stay, so book in advance. You can find the best deals for Jackson accommodation here.
READ ALSO: Best Things to Do in Jackson Hole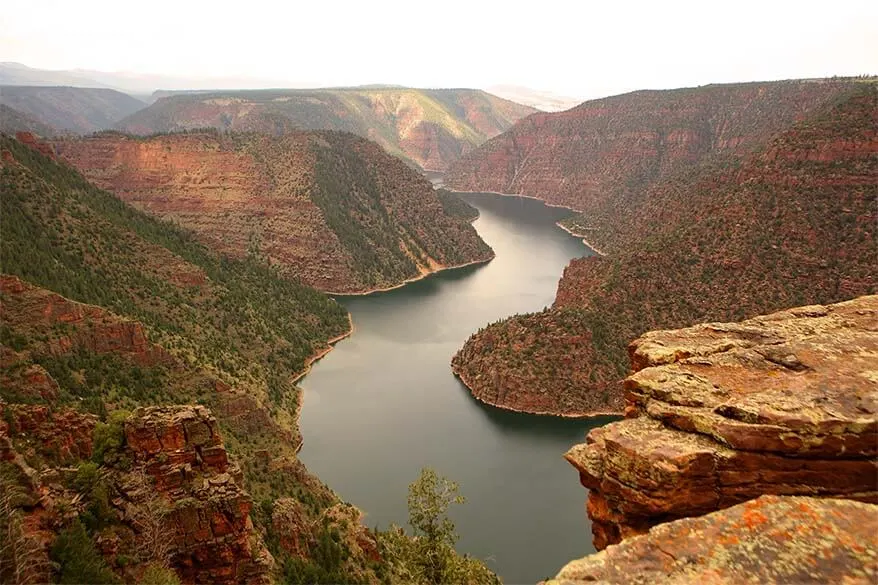 Day 10: Jackson to Yellowstone National Park
The drive from Jackson to Yellowstone goes through the beautiful Grand Teton National Park. We would be staying here at the end of the trip, so we didn't stop at Grand Teton on the way to Yellowstone.
We entered Yellowstone National Park at the South Entrance. It was quite busy here and the signs were warning travelers that all Yellowstone accommodation and camping facilities were fully booked. So make sure to book well in advance!
On our first day in Yellowstone, we explored the area around Yellowstone Lake, did some hiking, then got stuck in a major bison jam in the Hayden Valley. We were glad to reach our hotel at the Canyon Village in time for dinner.
Driving distance: 115 miles (185 km)
Accommodation: The best alternative to expensive and extremely popular Yellowstone accommodation is the town of West Yellowstone, just outside the park.
TIP: Planning a trip to Yellowstone? Read this guide about the best places to stay in and near Yellowstone National Park.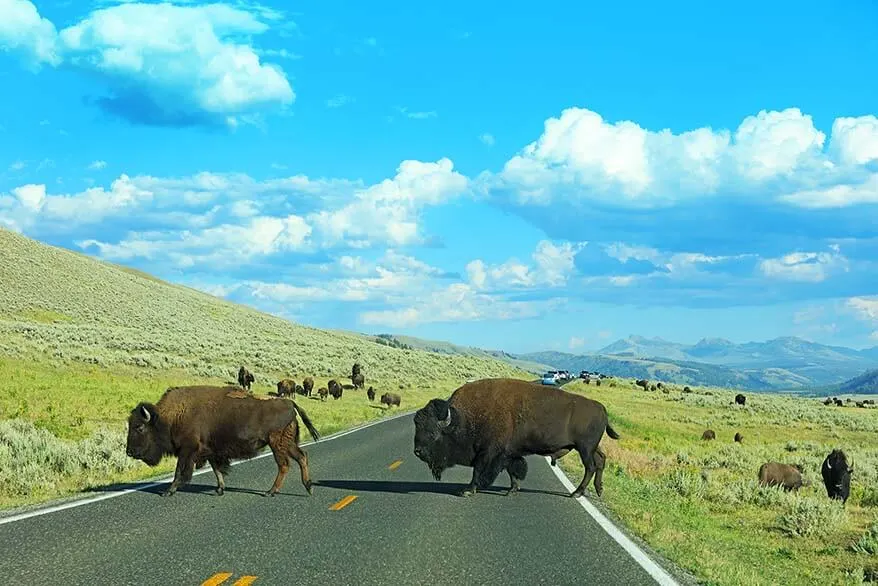 Days 11-13: Yellowstone National Park
We spent the following three days in Yellowstone National Park and visited all the main highlights and a few less-known areas.
Don't miss the Old Faithful and the whole Upper Geyser Basin! Grand Prismatic Spring is also a must, just like the Yellowstone Canyon.
Here you can read about the best things to do in Yellowstone. Make sure you don't miss the Boiling River – a hidden gem in the park!
Here you can also find our detailed day-to-day itinerary and Yellowstone itinerary suggestions for 1 to 5 days.
READ MORE: How to Plan Your Yellowstone Trip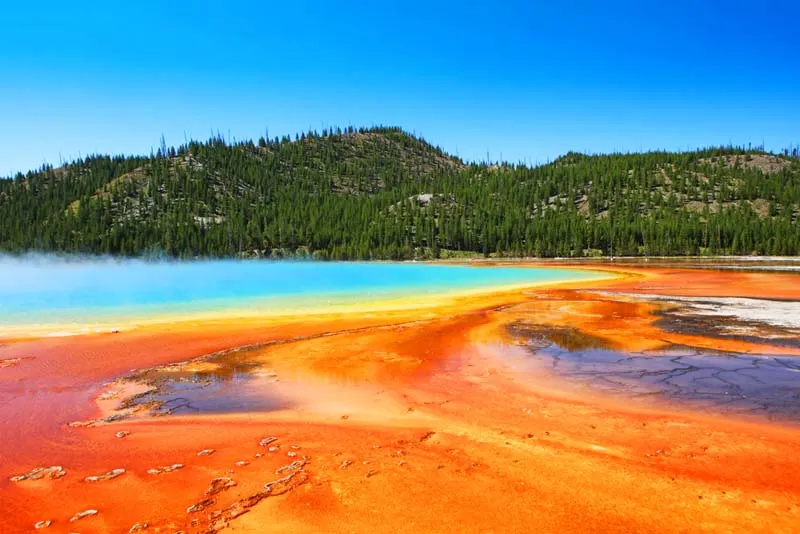 Day 14: Yellowstone NP – Grand Teton NP
We did some more sightseeing in Yellowstone and in the afternoon we headed to Grand Teton National Park. We made several short stops, including a really nice area at Grand Lake, and a scenic drive to Signal Mount Summit (not really worth it in my opinion).
Accommodation: 2 nights in the Moran area (Grand Teton National Park). Grand Teton is also extremely popular in summer, so book your hotel well in advance. The best places to stay location/quality – wise are Jackson Lake Lodge and Jenny Lake Lodge.
Driving distance: 70 miles (110 km)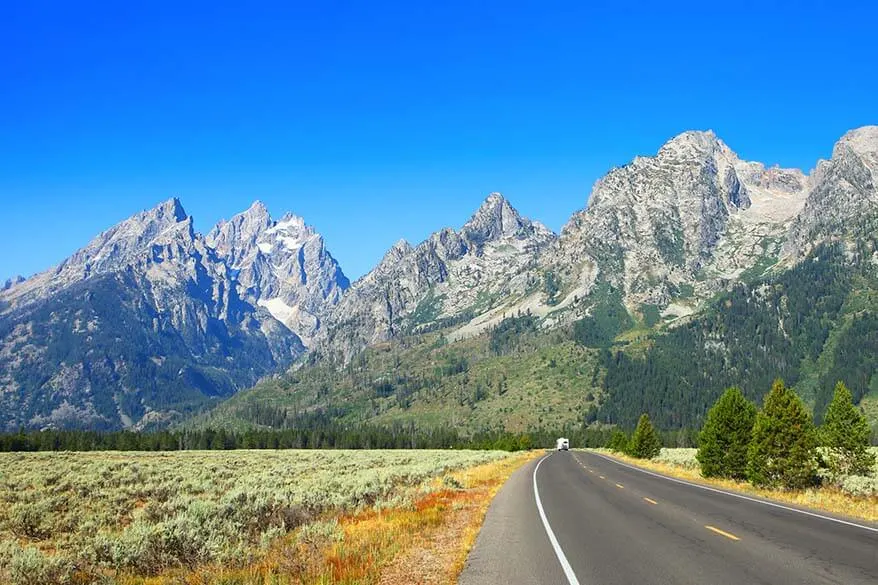 Day 15: Grand Teton National Park
The highlights of our visit to Grand Teton were a boat ride on Jenny Lake and the hike to Inspiration Point and Cascade Canyon.
READ MORE: What to See and Do in Grand Teton National Park in One Day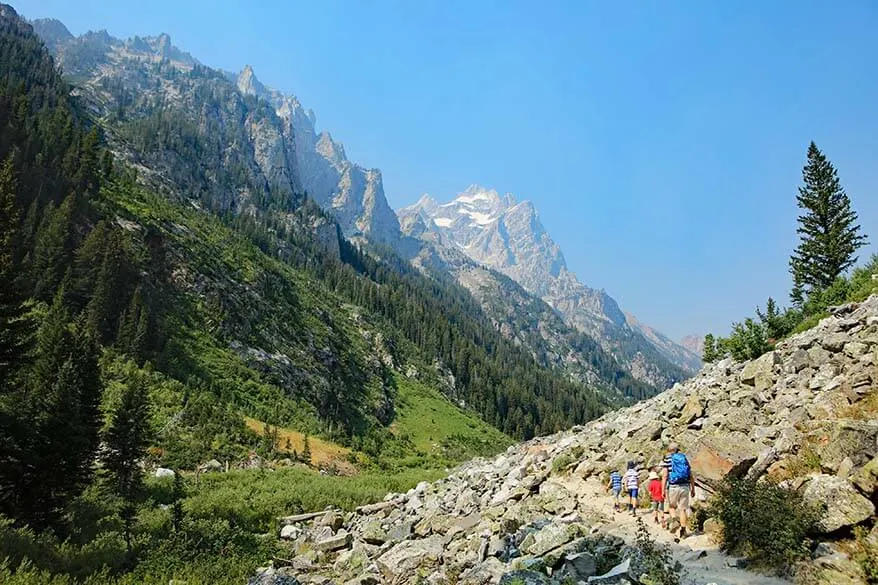 TIP: If you have more time, in addition to visiting Yellowstone and Grand Teton, you may want to add Glacier NP or Mount Rushmore and the Black Hills to your itinerary. In that case, I'd suggest visiting Grand Teton NP before you go to Yellowstone and then continue to either Glacier NP or Mount Rushmore area.
Here you can find some suggestions for the best things to do in Glacier NP and here you can find a very detailed Glacier National Park itinerary.
We also have a very comprehensive guide to visiting Mount Rushmore and suggested 1-3 day itineraries for the Black Hills.
Day 16: Grand Teton National Park to Salt Lake City
We left Grand Teton in the morning after a short stop at the scenic String Lake. We chose the more scenic road to Salt Lake City, the US-89 past Bear Lake.
In the afternoon we visited the Salt Lake City Temple Square, the headquarters of the LDS church, the Mormon religion. Wow! What an impressive place, definitely a must if you find yourself in Salt Lake City. All the people we met there were incredibly friendly and eager to show us around and tell more about each building we visited. I don't think I have ever visited such a warm place, they made us feel truly welcome.
Driving distance: 300 miles (480 km)
Accommodation: 1 night in Salt Lake City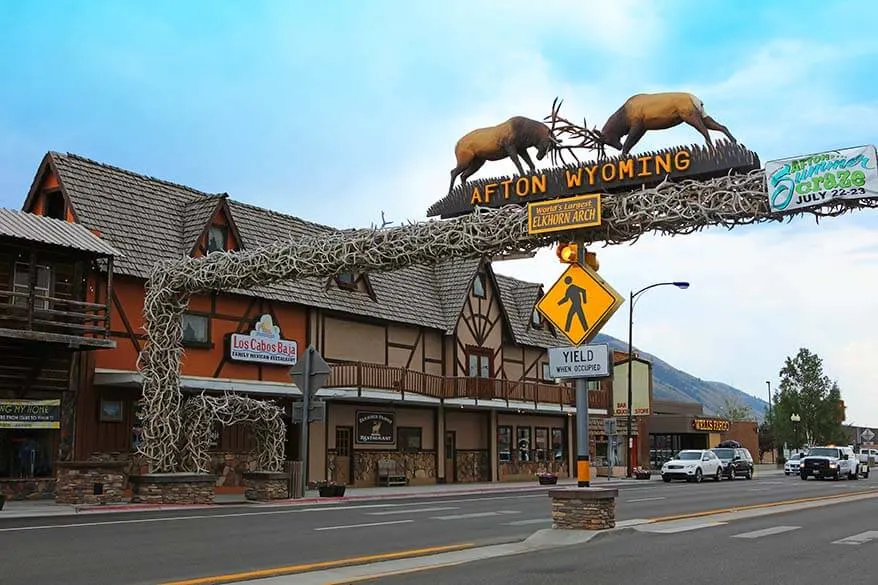 Day 17: Salt Lake City and departure
Salt Lake City was our last stop during this beautiful American road trip that brought us to some of the most scenic nature destinations in the U.S.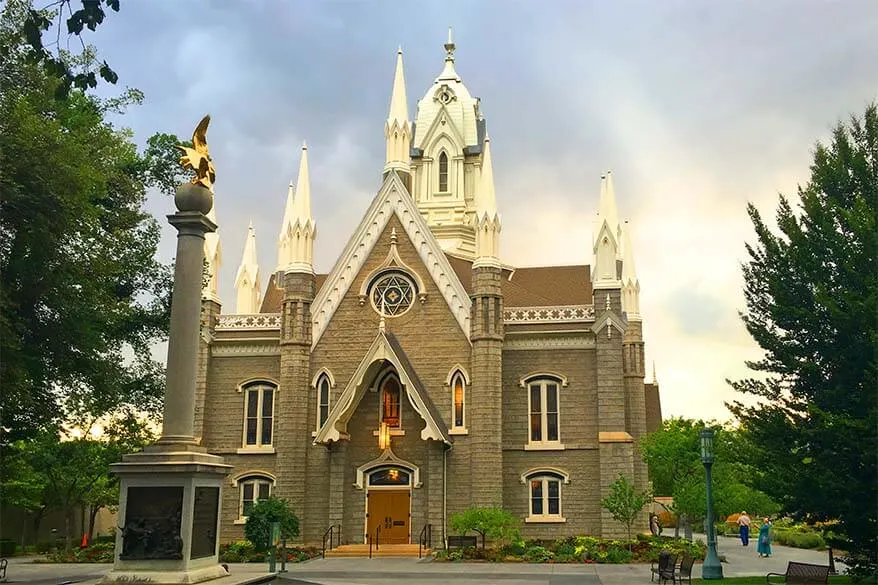 Practical information for planning a summer road trip in the U.S.
Prepare your trip well and check if the roads you want to drive are open in the period when you travel. This is a summer-only trip itinerary, as some of the roads are not accessible in winter. We traveled end of July – beginning of August.
If you are coming from far, book your flights in advance. Transatlantic flight tickets in summer are extremely expensive.
Book your rental car in advance. Consider alternative pick-up and drop-off locations for the best car rental deals. If you are traveling with kids, consider renting a van. If there is one country where you should rent a big car, it's the U.S. It doesn't cost that much more than a regular car and your family road trip will be so much more comfortable.
Book your hotels for Yellowstone, Jackson, Aspen, Arches, Estes Park, Salt Lake City, and other popular destinations as soon as you can. We booked our Yellowstone accommodation more than a year in advance before we even had our flight tickets. We used Booking.com to book our accommodation for this trip.
So, this is our itinerary that you could use to plan your Colorado – Utah road trip, Utah – Wyoming trip, Colorado – Wyoming trip, or Colorado, Utah and Wyoming road trip, just as we did.
The options are endless, but this gives you a good idea of how we planned our time and what's possible. Good luck with the planning!
More tips and places to see in the USA:
If you found this post useful, don't forget to bookmark it and share it with your friends. Are you on Pinterest? Pin these images!