Visiting Arches National Park with the family and wondering if it's a good idea to hike to the famous Delicate Arch with kids? In this guide, you can read about our experience on this hike with children. We also share some useful tips. Take a look!
Arches National park in Utah was one of the highlights of our family road trip to the U.S. in summer. I did a lot of research in advance and prepared a day-to-day itinerary for our visit to Arches National Park with kids. There was just one big question mark: would we be able to do the most beautiful hike in the park, Delicate Arch with kids?
Spoiler alert – we did it! In this post, I share our experience hiking to Delicate Arch with our three children (ages 5, 5, and 7 at that time). At the bottom of this article, you can also find some practical information for this hike. Find out!
READ ALSO: Best Tours & Fun Excursions in Moab
Delicate Arch – Introduction
Delicate Arch is one of the most famous geologic features in the world. The opening beneath the arch is 64 feet (19 m) high and 45 feet (14 m) wide, making it the largest free-standing arch in Arches National Park.
It's even more impressive in reality than it is in the pictures, so no wonder it's high on top of many visitors' to-do list in Arches.
You can see the arch from the Delicate Arch viewpoint on the road, but it's really far. So if you want to see Delicate Arch up close, be prepared to hike.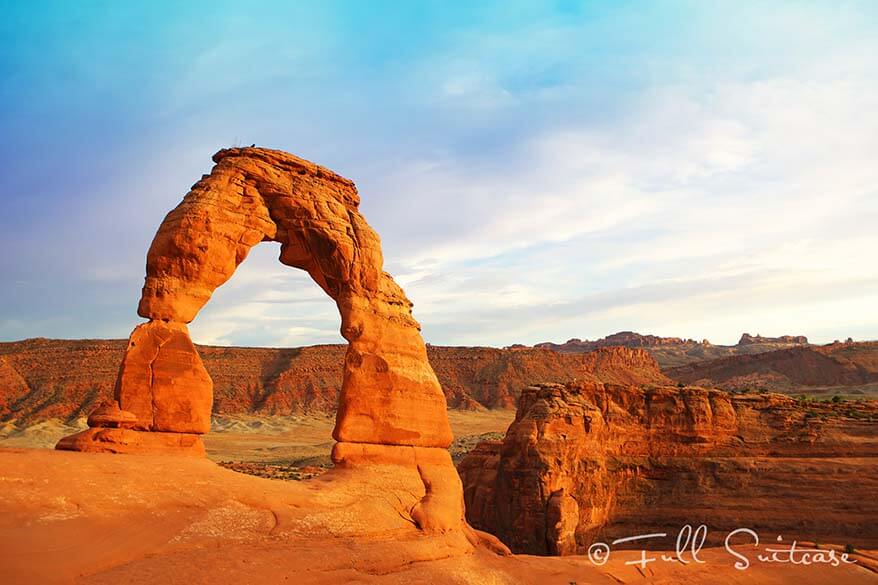 Arches National Park in Summer
We drove to Arches NP from the Rocky Mountains and as the altitude decreased, the temperatures rose by more than 20°F in just a couple of hours. It was over 106°F (41°C) when we arrived in Moab. All we wanted to do is jump in the swimming pool and not come out of the water for the rest of the day.
So that's exactly what we did. We checked in at our hotel (we stayed at the Aarchway Inn, Moab that is extremely conveniently located for visiting Arches National Park) and went swimming, not knowing whether we would be able to do any hiking that day, the next day, or the day after.
What an idea to come to Arches with kids at the end of July!
Late in the afternoon, we saw more and more storm clouds gather in the distance. When the clouds finally covered the sun, we could breathe again. This was our chance to do some hiking in Arches National Park with kids, we thought!
So we quickly packed our backpack and drove to a nearby restaurant for early dinner. While we were eating, it started to rain. And when it rains in the desert, it pours. We could forget hiking in this weather!
Luckily for us, the rain stopped as quickly as it began and we headed straight to Arches National Park, conveniently located just outside the town.
Hiking to Delicate Arch with Kids
Hiking to Delicate Arch – Go at Sunset
It was past 6 PM when we entered the park. We knew that it would get dark around 8.30-9 PM at Arches in summer, and so we only had 2-3 hours for a 13 mile (21 km) drive along the Arches Scenic Road and a strenuous 3.2 miles (5.2 km) hike.
From the moment we entered the park, we wanted to stop for pictures at every corner. The landscape was stunning and the light was perfect for photography. We stopped once or twice. Of course, we did, I just couldn't resist. But we quickly realized that we would have to drive straight to the Delicate Arch trailhead if we still wanted to try and do the hike.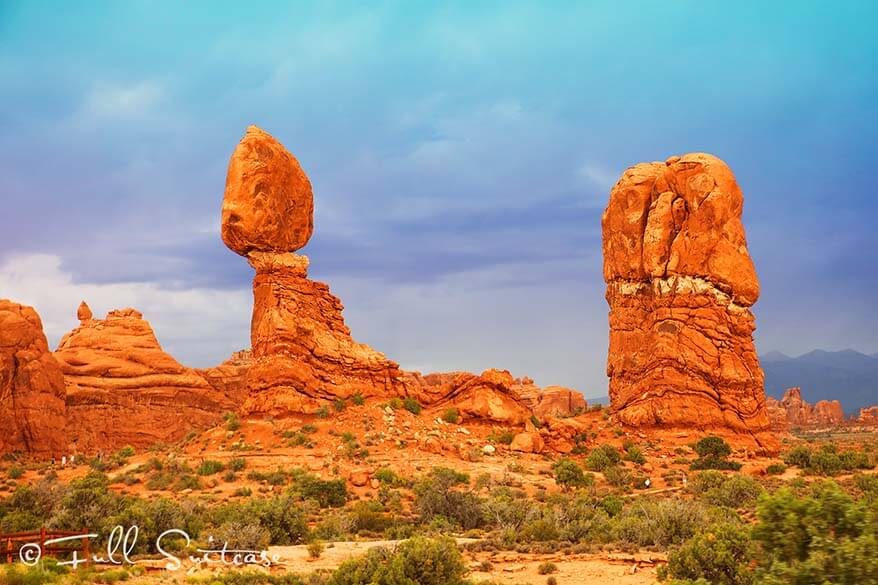 Delicate Arch trail is described as a strenuous climb that takes 3 hours return, but we knew by now that hiking time indications are very generous in the U.S. (not like in Switzerland, as we found out later that same summer when we took the kids hiking to Oeschinensee UNESCO World Heritage site).
Rumour has it that Delicate Arch is most beautiful at sunset. If we walked fast, we could make it there just in time for the sunset! But we were still not even sure if we would be able to do the walk. I read that the parking lot at the trailhead of the Delicate Arch hike fills up very quickly and especially in the evening.
We were driving there hoping for the best, but not knowing what we would find. You can imagine how relieved we were when we saw that there were plenty of empty spaces at the parking lot. I assume the storm scared many people away…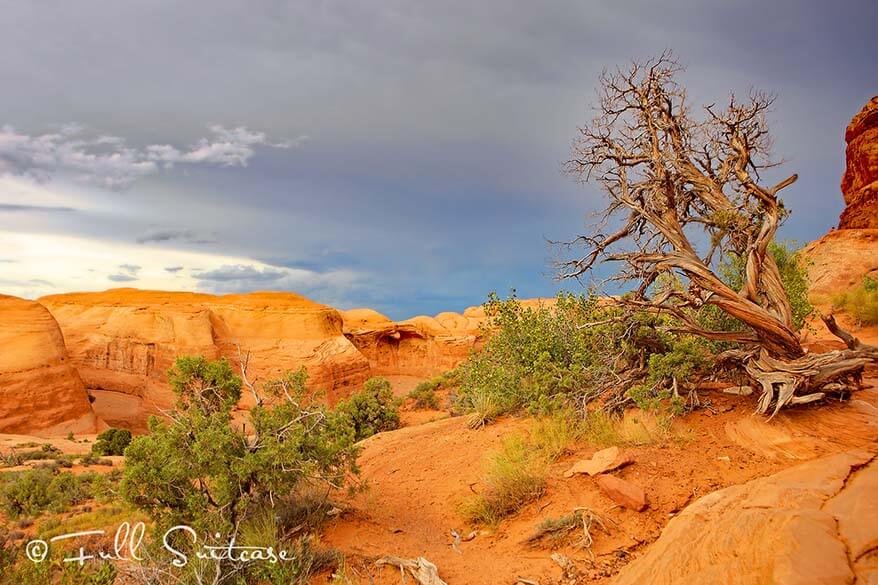 Delicate Arch Trail – What to Expect
We had never seen so many warning signs as at the Delicate Arch trailhead: carry water, use sun protection, wear hiking shoes, don't hike if the storm approaches, etc. etc.
I have to say that we started the hike despite the fact that there were storm clouds nearby. We were lucky and the storm never came our way. In fact, it's only thanks to those clouds that we could do this hike in 100°F (38°C) heat. I can't imagine hiking to Delicate Arch with kids in summer when the sun is shining – there is practically no shade on this trail and the climb is quite steep.
We started the walk at the Wolfe Ranch – a one-room wooden cabin that belonged to the first settler in the area – John Wesley Wolfe.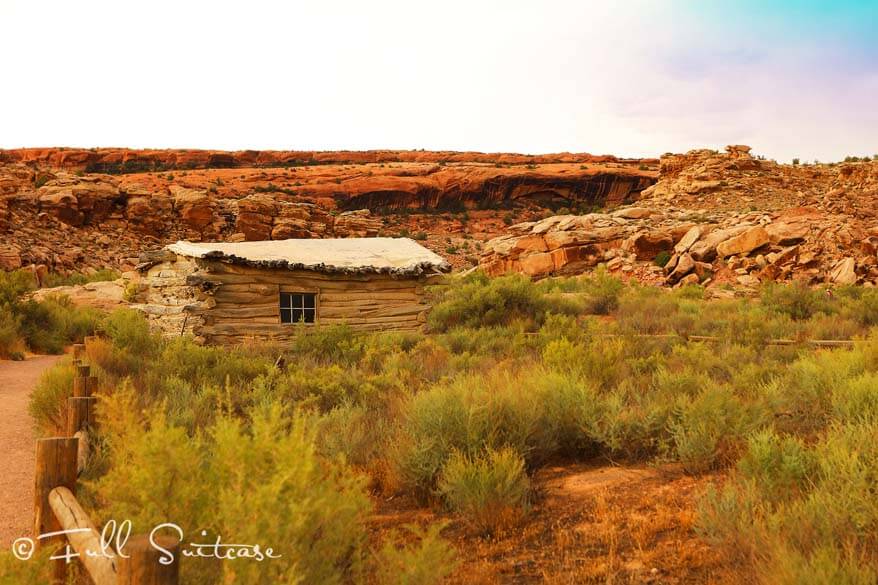 We took a short detour to see Ute rock art, and then slowly started climbing up the hill, hoping that the hike would take us less time than indicated.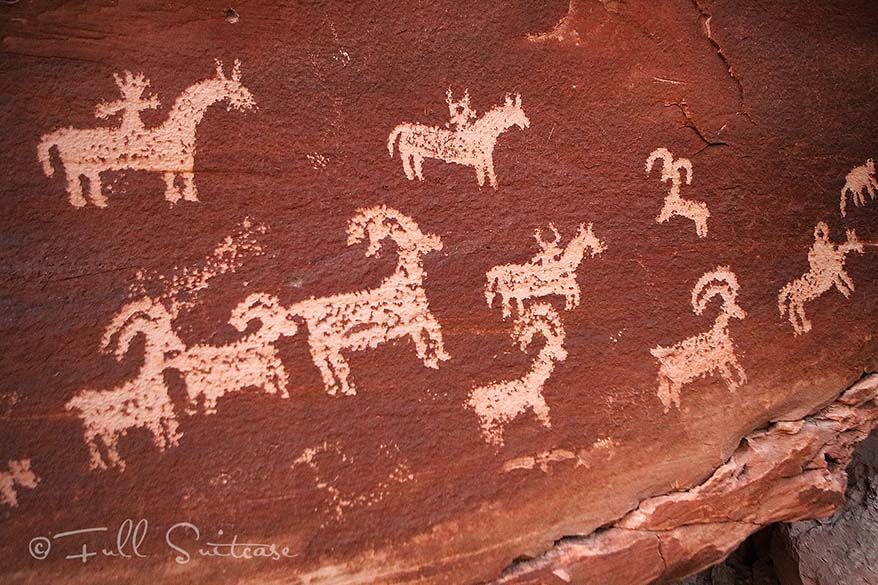 I read somewhere that the trail to Delicate Arch is not always easy to follow. There were indeed hardly any signs along the way, but there were plenty of cairns and you really cannot go wrong as there are so many people doing this hike (I did my best to take pictures without the people, but it was quite busy on this trail…).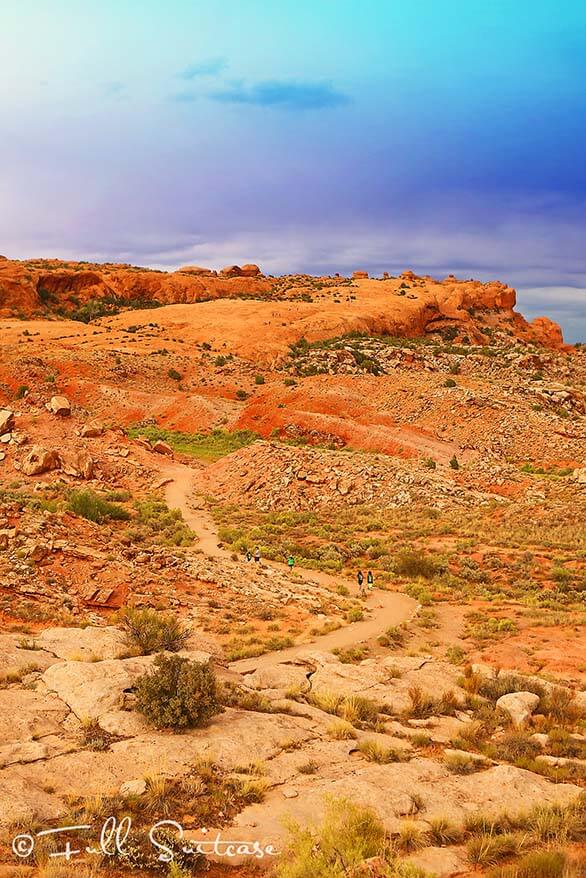 The first section of the trail is the most strenuous one as you gain quite some elevation, but the views are amazing! So you have a good excuse to stop and catch your breath once in a while.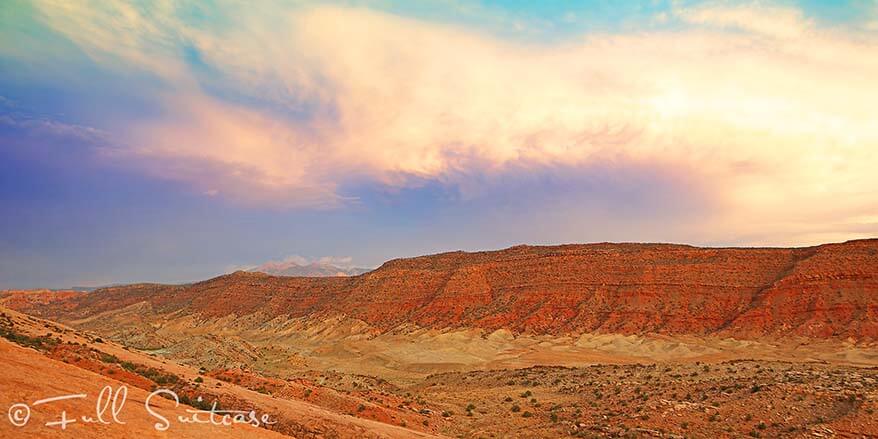 The most beautiful part of the hike is almost at the end, just before reaching Delicate Arch. Spectacular views all around! This part of the hike is a bit narrow and you have to cross the ledge, so make sure to hold on to your kids here.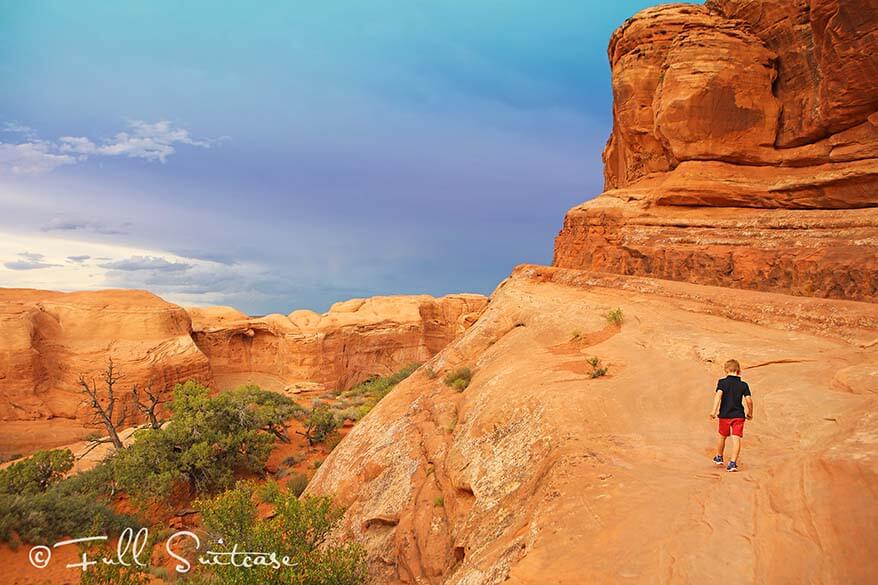 My favorite section of the Delicate Arch trail was at the very end of the trail (accidentally, this is also the part I filmed). You walk on the narrow path along the mountain ridge, enjoying the stunning landscape, and then all of the sudden you turn behind the corner, and here it is – the most beautiful Arch of Arches National Park. Take a look at the short video below.
We made it! Before our trip, we were not sure if we could hike to Delicate Arch with kids in summer, but with a little help from the clouds, we could do this fantastic hike.
It was busy at the Arch at sunset, but not as busy as I had expected after reading the reviews and seeing all those people along the way.
Many people just sat there waiting for the sunset, while some others lined up for an obligatory picture under the Arch. We took one too – you need a magnifying glass to see us, but it gives you an idea of how big the arch is.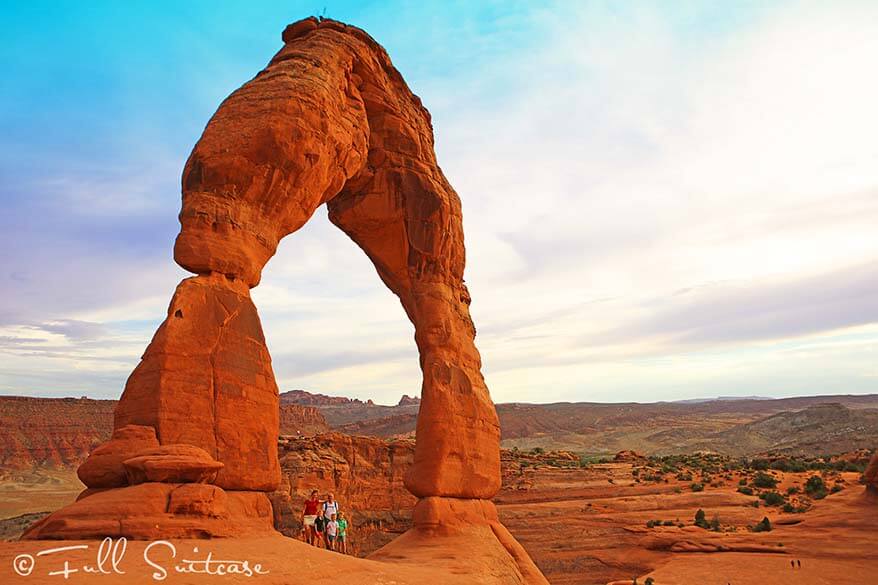 Afterwards we decided to look around a bit and discovered this amazing view towards the other side. All of a sudden we were all alone, just us and this amazing view.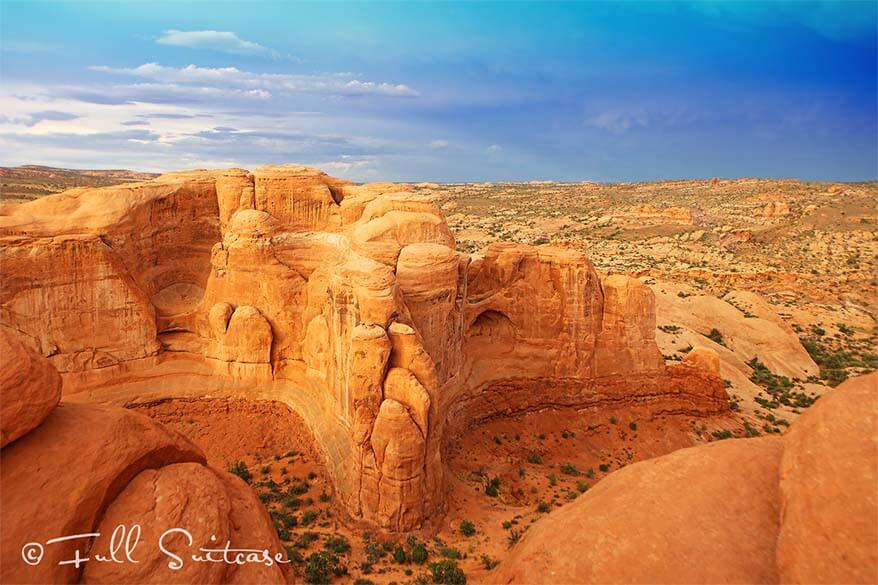 We took way too many pictures of the Delicate Arch and left just before sunset. By the time we reached our car, it was dark already.
Conclusion – You Can Hike the Delicate Arch Trail with Kids
Delicate Arch was really worth the hike, but this walk is not only about the arch itself. The views along the way are phenomenal and I would recommend this hike to everyone visiting the Arches. If you do one hike in the park, make it this one – it's probably the most beautiful hike of the Arches National Park.
And yes, you can do the Delicate Arch trail with kids in summer, but try to avoid the heat of the day – go either very early in the morning or in the evening, just before the sunset.
READ ALSO: Best things to do in Arches NP with kids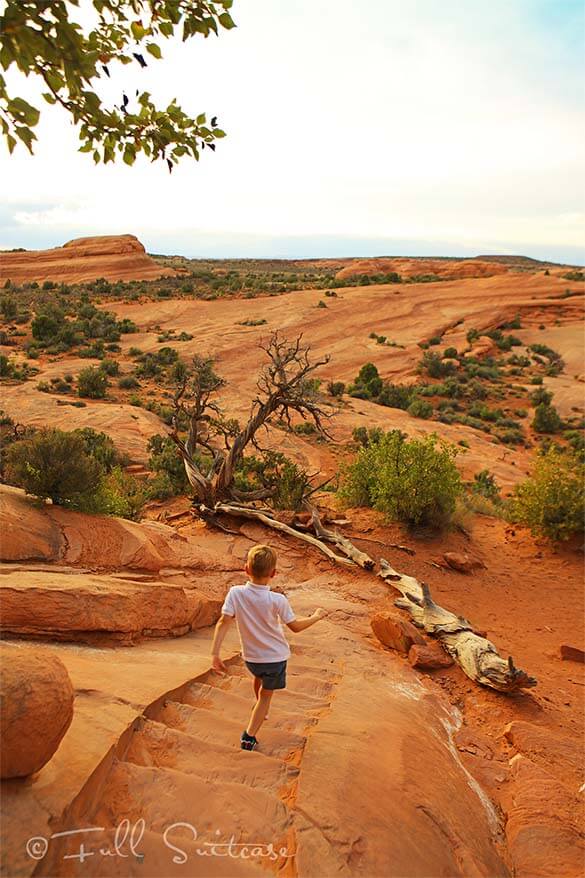 Delicate Arch Trail – Practical Info
The Delicate Arch trail is 3.2 miles (5.2 km) roundtrip and climbs 480 feet (146m). Trailhead is at the Wolfe Ranch parking area.
The hike to Delicate Arch with kids took us a bit less than 50 minutes each way, plus the time at the arch itself. This includes many photo stops along the way.
Wear hiking shoes for this walk. Unless it's wet, sneakers with good grip should be fine as well.
Bring a sun hat and sunscreen lotion. There is practically no shade on this trail.
Carry lots of water when hiking in Arches National Park, especially in summer. There is NO water available at the trailhead of the Delicate Arch trail.
Delicate Arch trail tends to get very busy, especially at sunset. A good alternative can be visiting early in the morning. If the parking lot is full, you can try to park at the Delicate Arch Viewpoint parking lot, but this will add another 2 miles to your hike.
It might be a good idea to carry a headlamp with you on this hike if planning to stay till after sunset.
Good to know: Arches National Park now works with timed entry slots in the peak season. Be sure to reserve your spot in advance!
So, this is our guide for hiking to the Delicate Arch. For more ideas and tips for the best places to see, make sure to also check our complete guide to the very best things to do in Arches National Park!
If you are also planning to visit Canyonlands National Park, check out our day trip guide to Arches and Canyonlands.
If you are staying in the area longer, here you can find some inspiration for the best things to do in Moab. Also don't miss our practical guide with information on where to stay near Arches National Park.
MORE FAMILY FUN NEARBY: Mesa Arch Trail and Rafting in Moab
TIP: If you are just starting to plan your trip to Moab – Arches National Park, you may want to check our suggestions for the Moab area itinerary. In that article, you can find detailed itineraries for any trip from 1 to 5 days. It will help you to plan your trip and make the most of the time that you have. Take a look!
If you found this post helpful, don't forget to bookmark it and share it with your friends. Are you on Pinterest? Pin this image!