Mesa Arch in the Island in the Sky district of Canyonlands National Park is the most beautiful short hike you can do in Canyonlands. It's actually one of the most spectacular very easy hikes in the world.
So whether you are visiting Canyonlands for a day or want to explore this National Park to the fullest, Mesa Arch trail is not to be missed!
If you're wondering how to visit Mesa Arch or when is the best time to go, looking for practical information for hiking the Mesa Arch trail or wondering if you can hike to Mesa Arch with kids, then read on. In this article, you can find all the answers to your questions. Take a look!
READ ALSO: How to Visit Canyonlands and Arches in One Day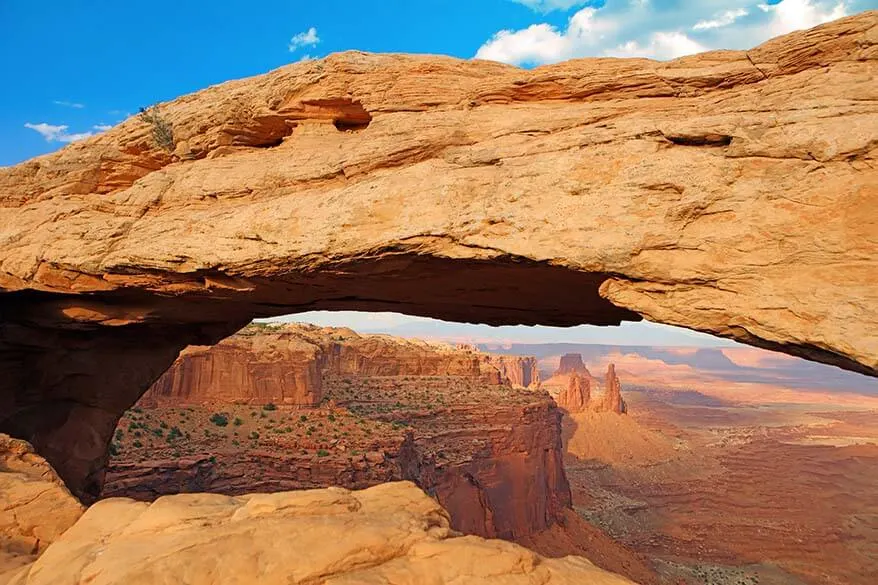 Why Visit Mesa Arch
Even if you've never heard of Mesa Arch before you started planning your Canyonlands trip, chances are big that you've seen photos of it. This spectacular stone arch looks like a giant natural frame with the most beautiful scenery inside it.
Mesa Arch is picture-perfect indeed and it will come as no surprise that it's featured in travel guides, brochures, and postcards of the Canyonlands National Park. But no matter how many pictures you've seen, Mesa Arch is even more impressive in reality!
Perched at the edge of a cliff with a 1,200 ft drop into Buck Canyon, the opening of Mesa Arch gives you a unique view of the La Sal Mountains in the distance and the White Rim country deep below. Depending on where you stand, you always get a different angle and the view inside the arch changes. So make sure to walk around and take in the views from several different angles!
If you're wondering whether Mesa Arch is worth a visit, yes, it absolutely is! It's one of the most beautiful places to see in the Canyonlands National Park. Furthermore, Mesa Arch Trail is really short and easy and doesn't require much time or effort. So don't miss it!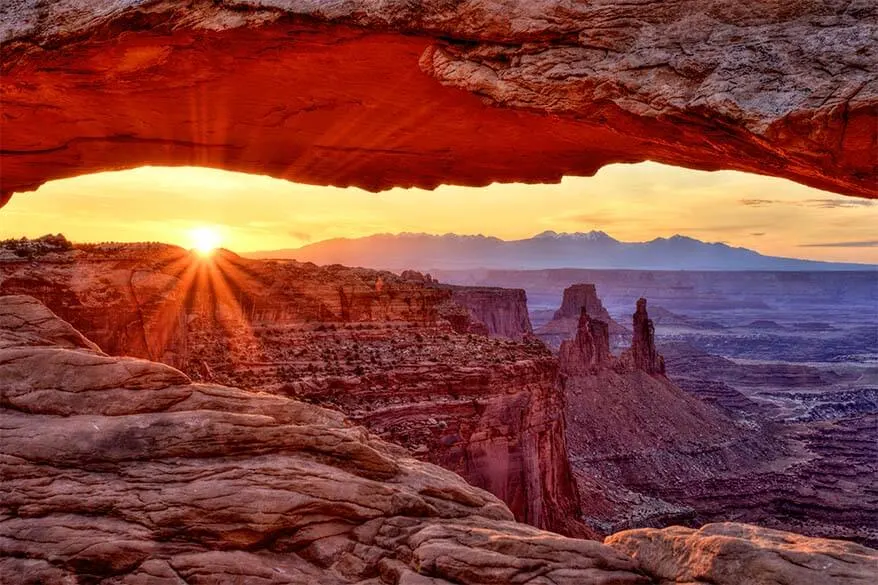 Best Time to Visit
Mesa Arch can be visited the whole year-round and it's spectacular in every season. If you come in winter or in spring, there will likely be snow on the mountain peaks of La Sal Mountains, making the scenery look even more special.
The best time to visit Mesa Arch is at sunrise. The rising sun colors the inside of the arch in a fiery orange color, giving it a unique glow. Furthermore, the sun peaks right behind the arch – perfect opportunity for the most beautiful starburst effect in your photos.
However, this also means that this place is extremely popular and busy at sunrise. If you are traveling in high season, you'll have to come really early and 'fight' for the best spot with other photographers waiting to capture that perfect shot…
TIP: For sunburst effect, try shooting in Aperture Priority Mode at f14-16. It's a good idea to carry a tripod as well.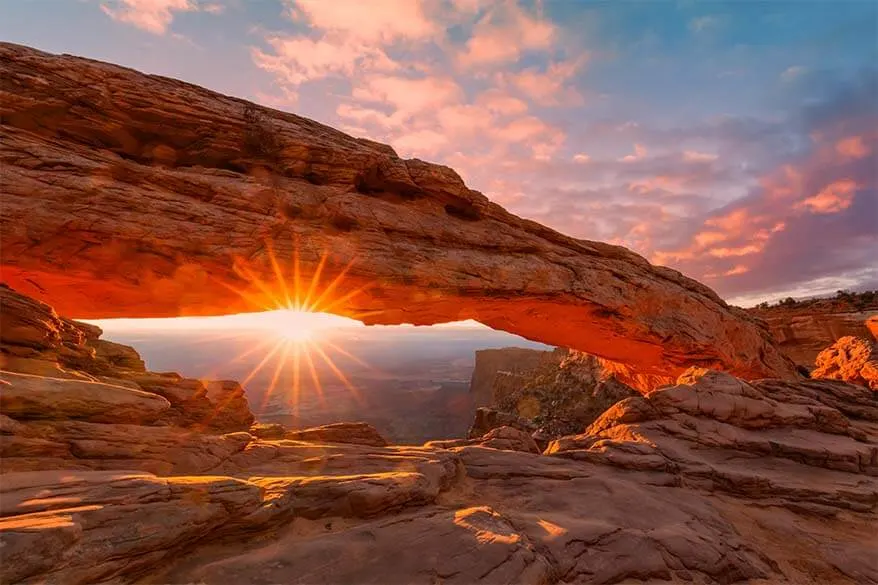 Do not despair if you can't get here at sunrise. The arch is just as impressive and worth a visit at other times of the day. Furthermore, you can take your own unique photos instead of trying to capture the same picture as everybody else…
We visited in the afternoon in July and it wasn't very busy, which allowed us to take some really nice pictures without bothering (or being bothered by) other people.
Another popular time is to visit Mesa Arch at sunset. In the evening, the sun is behind you lighting the front side of the arch and coloring the landscape 'within' it in the most beautiful orange tints.
TIP: If you want to find out Mesa Arch sunrise or sunset times for your travel dates, check this website and select the month when you're traveling. For example, in July, the sunrise at Canyonlands is at around 6-6.20 AM and sunset at around 8.30 – 8.45 PM.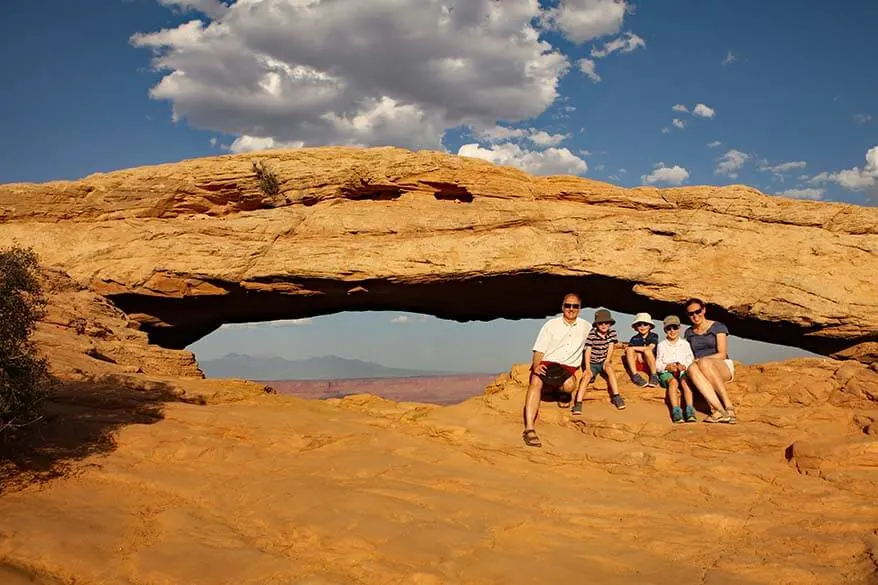 Mesa Arch Trail
Mesa Arch Trail is a very short and easy hike (see trail info below). You don't need any special equipment and everyone in a reasonable physical condition can do this hike. The trail itself is a dirt/slickrock trail with some steps along the way. Closed shoes are advised, but hiking sandals are also ok. We even saw people here in flip-flops, but that's probably not such a good idea.
Mesa Arch hike is a loop trail of about half a mile. Some sources say it's 0.6 miles, but it's really such a short distance and you'll be there before you realize it. You can walk this trail in any direction, or you can also decide to take the same trail there and back. In that case, I suggest walking anticlockwise as the scenery seems to be somewhat more impressive on that side.
Normally, it will take you 10-15 minutes to get to the arch and about the same time to get back. However, keep in mind that it can be quite busy at the arch itself and you'll probably have to wait a bit in order to get some nice pictures. Also, take your time and absorb the scenery – the views here are truly phenomenal!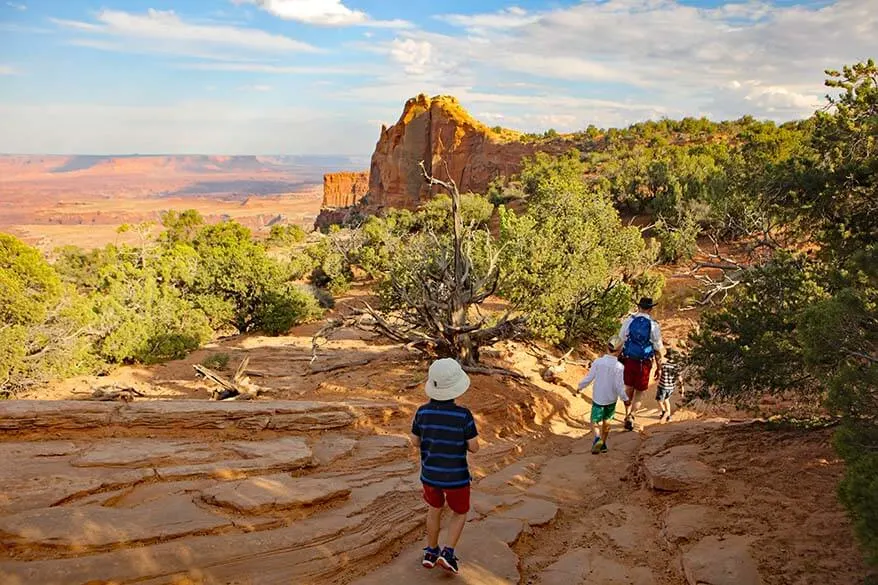 Mesa Arch isn't as big as, for example, the Delicate Arch or Landscape Arch in the nearby Arches National Park. However, it's one of the most impressive natural arches and mostly because of its unique location at the edge of a canyon. It's truly like looking through a window!
Good to know: It's safe to walk up to the arch and look through it, but please do not walk to the edge or climb on the arch. The views can't get any better and it's really dangerous. Not even talking about the fact that people doing this bring nature, themselves, and others in danger.
Mesa Arch Trail info:
Start: Mesa Arch Trailhead (see below for how to get there)
Distance: 0.5 miles (0.8 km) loop
Time: 20-30 minutes
Difficulty: Easy
Season: All year
Accessibility: Dirt trail not accessible for strollers or wheelchairs
Pets: No pets allowed
Facilities: Bathrooms at the trailhead. Visitor Center 6,3 miles drive away.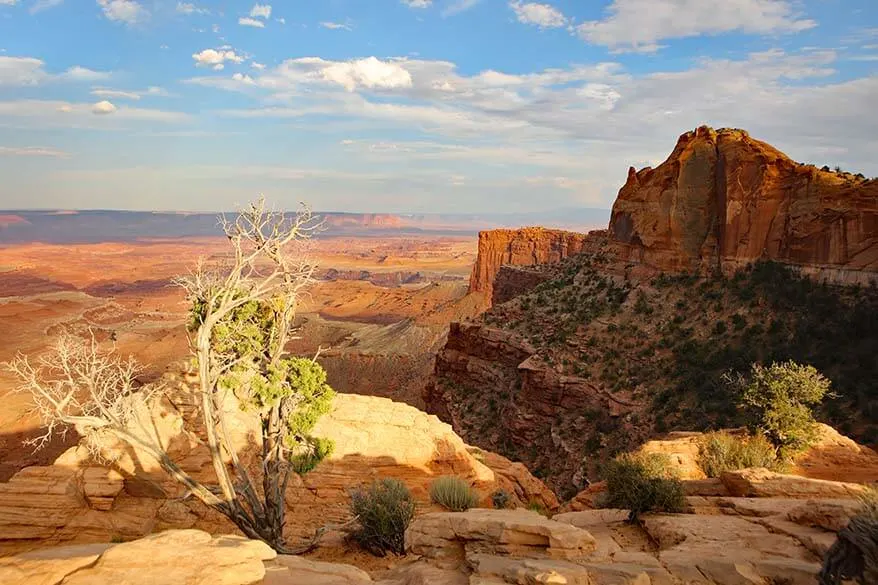 Mesa Arch with Kids
Mesa Arch Trail is perfect for families with children. If your kids can walk, they can probably do this hike. You may have to carry younger kids for a part of the trail, but 2-3 year-olds should already be able to do this hike by themselves. Needless to say, the hike will take a bit longer for the little feet.
It might be more difficult for young kids to hike in Canyonlands in the summer heat, so keep that in mind. Even a short easy walk can get really challenging at temperatures of over 100-115°F (38-46°C) and no shade.
Our experience: We hiked to Mesa Arch with our 5-7-year old kids. We were here in July, it was terribly hot, but this hike was really easy and our kids didn't experience any difficulties.
TIP: Keep in mind is that there are sharp drops into the canyon at the Mesa Arch itself, so you really want to hold on to your kids there. The area isn't fenced.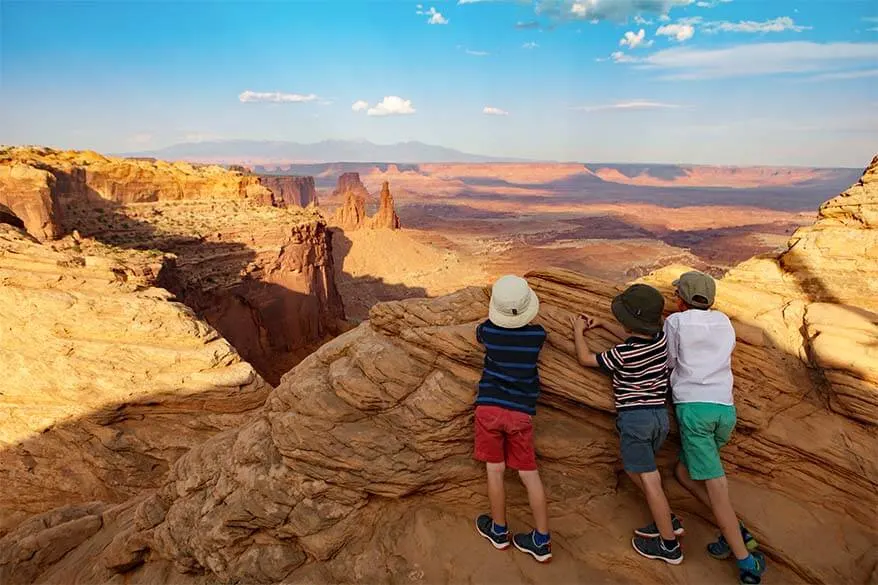 How to Get to Mesa Arch
Mesa Arch Trailhead is about 40 miles, 50 minutes drive from Moab or Arches National Park.
Take US-191 North from Moab. After about 11miles, take a left turn on UT-313 West in the direction of the Island in the Sky district of the Canyonlands National Park.
Mesa Arch Trailhead will be on your left, about 6 miles past the Island in the Sky Visitors Center. Mesa Arch parking lot is right before the intersection with Upheaval Dome Road.
You cannot really miss it as it's well-indicated and there are always cars and people at the parking lot. Here you can see the map with the exact location of the trailhead. You can also ask for a map at the entrance of the park or at the Visitors Center.
TIP: If the car parking at Mesa Arch trailhead is full, go and explore the other sections of the park and come back later.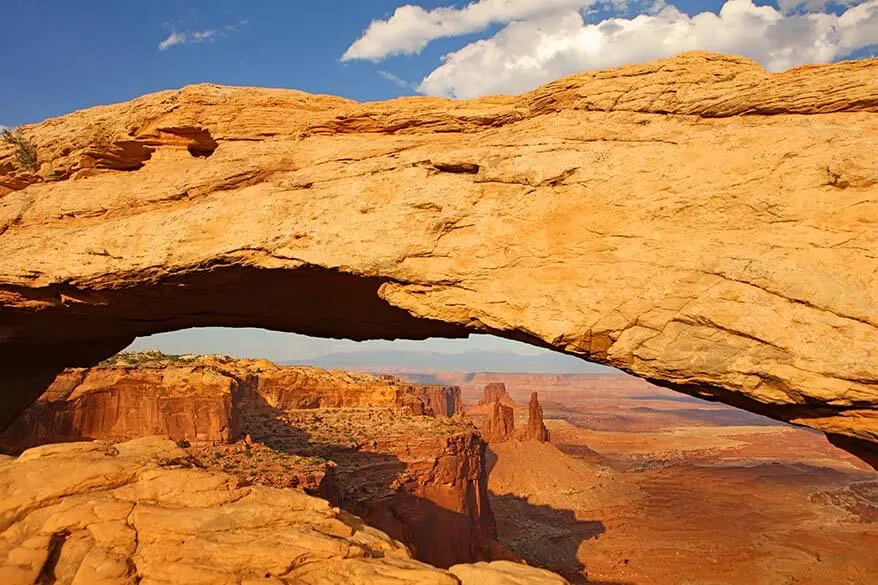 Tips for Visiting Mesa Arch
Travel prepared. Even though the trail is short and easy, make sure that you are prepared for the weather before you leave your car. It can get really hot here in summer, so sun protection and a bottle of water is a must! If it snows in winter, it can get slippery on the trail, so make sure to wear shoes with good traction.
TIP: Pack a good reusable water bottle and fill it up at the visitor center.
Visit Mesa Arch early in the morning or late in the afternoon. Mesa Arch is the most popular spot in Canyonlands and the small parking lot quickly fills up. The best time to avoid the crowds is early morning – after the sunrise photographers have left and also late afternoon when most daytime tourists are gone.
Stay longer. You'll see that most people come to Mesa Arch, take a picture and leave. Staying longer allows you to experience different vantage points and take some nice pictures without other people in them. This is especially the case in the morning. The moment the sun rises, almost everybody leaves. If you stay just a little bit longer, you'll likely have Mesa Arch all to yourself.
Be respectful to others. Everybody wants to get that perfect picture of the arch. So be patient and respectful to others. Also, stay on the paths and do not climb on the arch.
Explore deeper. There is more to see and do in Canyonlands than just the Mesa Arch! So make sure to explore the area beyond the arch. For example, Buck Canyon Overlook and Green River Overlook are both easy to reach viewpoints with spectacular scenery. Shafer Canyon Viewpoint is also nice and Shafer Canyon Road Overlook is even more impressive. There are also many beautiful short hikes in the Island in the Sky section of Canyonlands NP. If you are looking for ideas, check out this guidebook with 50 best short easy hikes in Utah.
TIP: The best view for sunset is the nearby Dead Horse State Park (requires a separate entrance fee of $20). It's just 20 minutes drive, in the direction of Moab.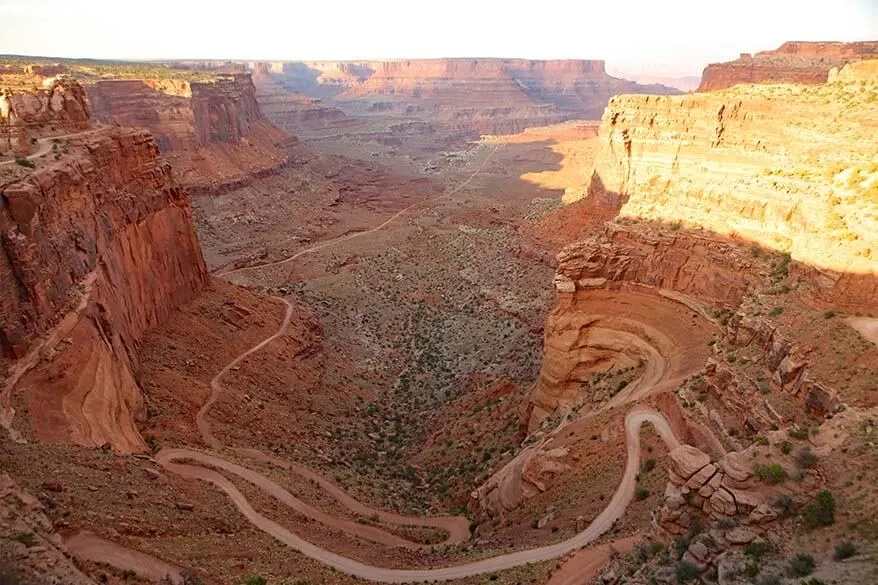 General Tips for Visiting Canyonlands NP
Here are some additional tips for your visit to Canyonlands:
Entrance fee. Canyonlands entrance fee is $15 per person or $30 for a car including up to 15 passengers. The ticket is valid for 7 days (check here for up-to-date rates). If you're visiting several National Parks in the same year, you may want to get America the Beautiful Pass. It costs $80 for one year and is valid in all USA National Parks for all the members of your family traveling in the same car.
Go off-season. If you are flexible, try to avoid peak season in Canyonlands. Utah's National Parks are very busy in summer and it's often difficult to find a spot at the car parking at the most popular landmarks, such as Mesa Arch. Furthermore, summer heat makes it difficult to explore the beautiful outdoors. The best months for visiting Canyonlands are from September to November and from March to May.
Start your days early. The best way to avoid the crowds and the summer heat is by starting out early in the morning. In summer, you really don't want to do any of the longer hikes during the day.
Travel prepared. Mobile phones don't work well in the remote parts of the park, so make sure you have a paper map of the area with you. You can also ask for a map at the visitor center. Also, there are no restaurants here, so bring a picnic. Carry plenty of water and dress according to the season and the weather.
Get off the beaten path. One of the nicest ways to explore Canyonlands deeper is by taking a 4×4 tour from Moab. It's a great way to see places that you wouldn't easily access otherwise.
Stay in Moab. Moab town is the best place to stay for exploring Arches and Canyonlands. It's about 45 minutes' drive from the Island in the Sky district of Canyonlands National Park. If you are planning to visit other parts of the park as well, check out our guide to the best places to stay near Canyonlands NP.
So, this is our guide to Mesa Arch – one of the main landmarks of the Island in the Sky district of Canyonlands.
Do you have any questions about visiting Mesa Arch? Don't hesitate to leave a reply below!
TIP: If you are visiting Canyonlands and are looking for ideas for other really nice short hikes or the best viewpoints to see, make sure to also check our complete guide listing all the best places to see and things to do in Canyonlands. Take a look via the link below!
READ ALSO: Best Things to Do in Canyonlands National Park
Mesa Arch FAQ
How long is the hike to Mesa Arch?
Mesa Arch hike is an easy hike of just 0.5 miles or 0.8 kilometers. You can do it as a loop or walk to the arch and back the same way. The distance is in total, for the entire hike. It takes about 20-30 minutes to hike to Mesa Arch and back.
When is the best time to visit Mesa Arch?
You can visit Mesa Arch in any season. The most popular time of the day to visit Mesa Arch is at sunrise. However, it's also the busiest time with many photographers queuing for a perfect sunrise shot. if you want to avoid the crowds, go about an hour after sunrise or in the late afternoon when most daytime tourists have left.
Which is better: Mesa Arch or Delicate Arch?
It's hard to compare Mesa Arch in the Canyonlands with Delicate Arch in Arches National Park since they are entirely different. However, while Delicate Arch is a moderate hike of 3.2 miles, Mesa Arch is an easy hike of just 0.5 miles round trip. So if you can visit just one of these two arches, Mesa Arch is much easier to reach than Delicate Arch.
Is Mesa Arch accessible by wheelchair?
While very easy and short, Mesa Arch trail is a dirt trail that also has some stairs. So it is not accessible with a wheelchair or with a stroller.
Can you walk on Mesa Arch?
We haven't seen any signs saying that it wouldn't be allowed to walk on Mesa Arch and I have seen some pictures of people standing on top of it. So it seems to be allowed and possible to walk on top of Mesa Arch. However, it's really dangerous, not even to mention the potential damage to nature and lack of respect to other visitors who all want to take nice pictures of the arch without you on it. So please don't do that.
READ ALSO: Travel Guide to Moab, Arches, and Canyonlands
If you found this post useful, don't forget to bookmark it and share it with your friends. Are you on Pinterest? Pin these images!