Do you have just one day in Grand Teton National Park and are wondering about the best things to see and do? This article is for you!
We had the exact same question when planning our trip to Yellowstone and Grand Teton National Parks. After some research, we realized that one of the best day trips in Grand Teton is to take a boat on Jenny Lake followed by a hike to Hidden Falls and Inspiration Point.
Jenny Lake boat trip and hike to Hidden Falls and Inspiration Point is one of the best things to do in Grand Teton National Park!
In addition, there are some other nice places to see and do that will make your day in Grand Teton even more special.
In this article, you can find our experience-based suggestions on what to see and do in Grand Teton in one day. Starting with the Jenny Lake and Inspiration Point hike and ending with additional suggestions such as the famous Mormon Row Barns. Find out!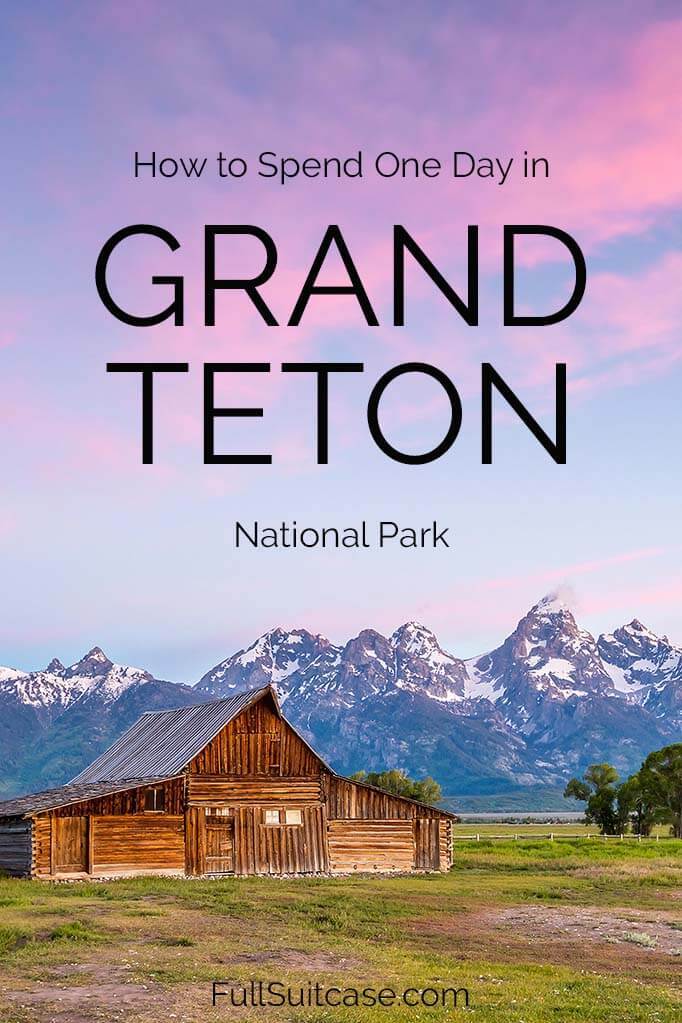 The nice thing about this boat & hike excursion at Jenny Lake is that you can make it as short and easy or as long and difficult as you want. Families with very young children and elderly people can opt for a boat ride alone, or combine it with a part of Jenny Lake Trail around the south end of Jenny Lake.
The hike to Hidden Falls is quite easy and is therefore the most popular hike in Grand Teton. The next section of the hike to nearby Inspiration Point requires a bit more effort and determination, but again is something that pretty much anyone in good physical condition should be able to do. And if you really like hiking, you can prolong the hike and walk into Cascade Canyon and beyond.
We visited Grand Teton with three young kids (age 5, 5, and 7 years old at that time) and opted for a boat ride on Jenny Lake in combination with a hike to Inspiration Point. However, we afterwards decided to hike even further and ended up walking a couple of miles into Cascade Canyon.
Below you can read all about our day at Jenny Lake and additional suggestions for your day in Grand Teton.
TIP: If you have one day in Grand Teton National Park and find the planning overwhelming, take a look at this highly-rated tour that covers all the main highlights and includes a boat ride on Jeny Lake as well. It doesn't include hiking, but lots of wildlife viewing opportunities and is a perfect first introduction to this beautiful park.
Jenny Lake Shuttle Boat
Jenny Lake shuttle boat (also known as Jenny Lake ferry) is the most popular and quickest way to shorten the hike to Hidden Falls and Inspiration Point. Otherwise, you have to hike around the lake first, which adds about 2.4 miles to your trip each way. The boat ride starts near Jenny Lake Visitor Center and campground. In less than 15 minutes they drop you off at the West Shore Boat Dock on the other side of the lake.
We read that it's wise to arrive at Jenny Lake early in the morning as the car park at the visitor center gets full very quickly. In summer, shuttle boats run pretty much non-stop starting at 7 AM, so you can take a really early start and beat the crowds. On the other hand, a late afternoon visit can probably be just as enjoyable and it's a better time for photography, especially at Inspiration Point.
When we arrived at Jenny Lake around 8 AM it was already quite busy; at the car parking, on the boat, and also on the hiking trails. However, we traveled in the first week of August, which is of course the most popular time to visit Grand Teton. It will probably be much quieter if you travel in the shoulder season.
If you rather hike, Jenny Lake Trailhead is also located at the Visitor Center. Or you can also opt to take the boat just one way (either way). If you want to spend the whole day in the Jenny Lake area, then hiking might be a really nice way to explore the area a bit more.
Jenny Lake shuttle boat practical information:
Boats run from mid May till the end of September.
Operating hours are 10 AM to 4 PM, but in summer (June – August) shuttle boats run from 7 AM untill 7 PM.
Boats depart every 10-15 minutes.
Boat ride takes 12 minutes.
No reservations are taken, you just take the next available boat.
Round-trip costs 18 USD (one way is 10 USD) for adults with various discounts for kids and seniors.
TIP: If you don't like hiking at all, there are scenic boat ride options on Jenny Lake as well. Scenic boat rides have to be reserved in advance to avoid disappointment. Check here for more information.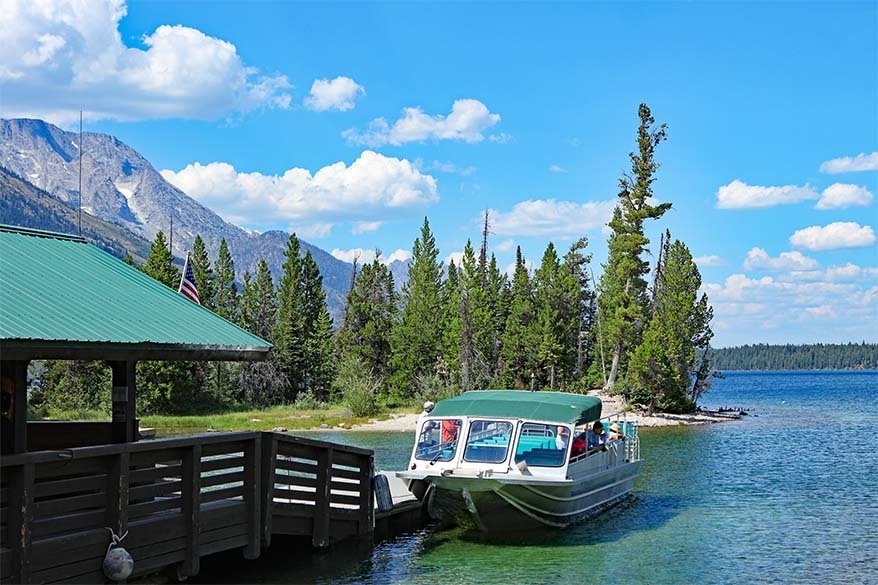 As mentioned above, the Hidden Falls trail is the most popular hike in Grand Teton. There are reports talking about the popularity of this hike in the beginning of the 20th century already, and it's still very much the case nowadays.
It's a nice, short, and relatively easy hike to a beautiful waterfall that drops almost two hundred feet in several steps. In combination with a scenic boat ride on Jenny Lake, a trip to the Hidden Falls makes for a beautiful family-friendly day out in Grand Teton. No wonder it's so popular.
Theoretically, Hidden Falls hike begins at the Jenny Lake Trailhead. But if you take a boat, then the whole length of the hike is only 1.3 miles (round trip). The path is well indicated from the boat dock and for the most part, follows the same trail that goes up to Inspiration Point.
At first, you climb a bit, but it isn't really strenuous and even young children can do this short hike. It shouldn't take you more than 30 minutes one way, maybe a bit more if you walk at a really leisurely pace.
Unfortunately for us, the falls were closed in the summer when we visited, so I don't have a picture for you. But from what I've seen it's a really beautiful waterfall well worth the short hike.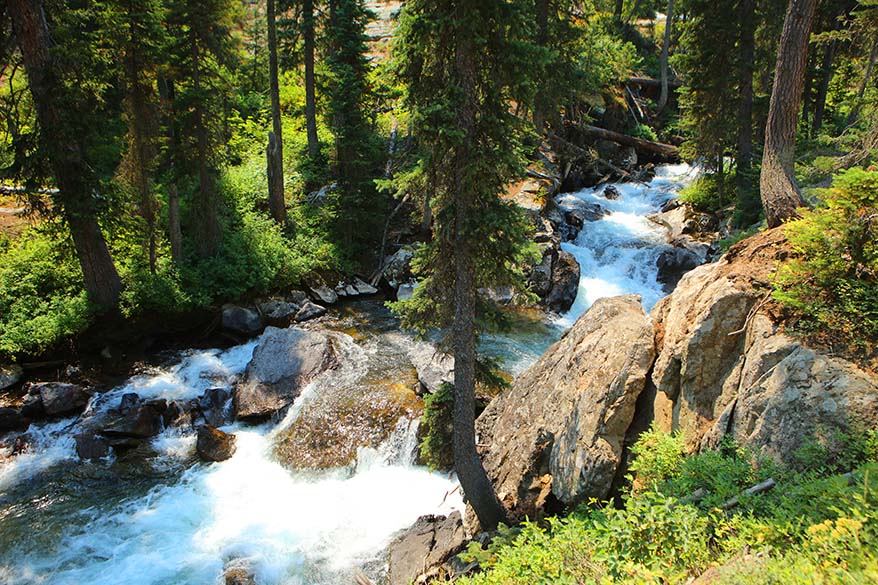 If you have more time and energy, continue hiking to Inspiration Point – see further.
TIP: There are many bears in this area, so travel in groups and make noise (which shouldn't be an issue in high season).
If you are traveling in the lower season, it's wise to carry a bear spray. You can buy one at the Jenny Lake visitor center or online at less than half the price. And yes, we saw a bear here when we were in the boat; it crossed the road right behind the unsuspecting tourists hiking on the trail.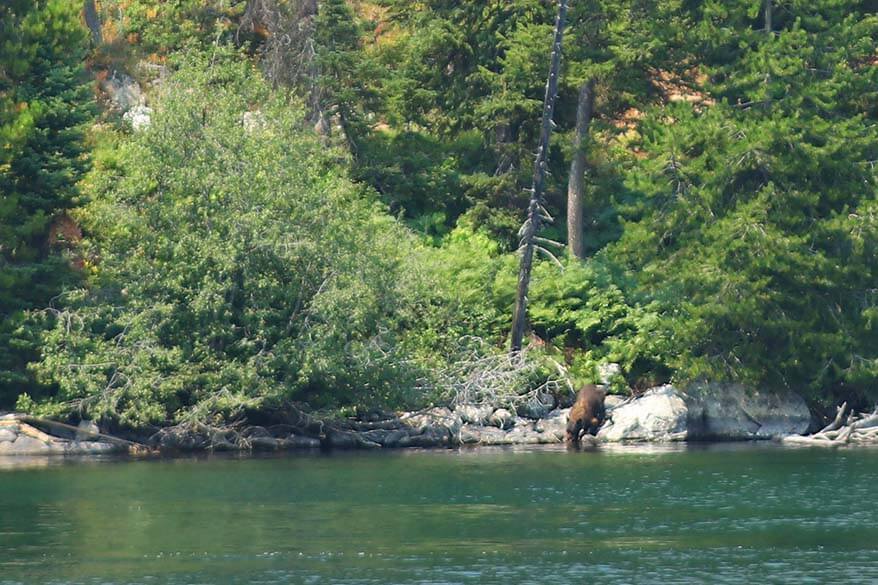 Inspiration Point Hike
After visiting the Hidden Falls, return to the main track and turn left towards Inspiration Point. This part of the trail is really rocky, rugged, and also quite steep.
It's best to wear good hiking shoes if you are planning to hike to Inspiration Point. Although if it's dry, I guess you'll be ok with any sturdy footwear.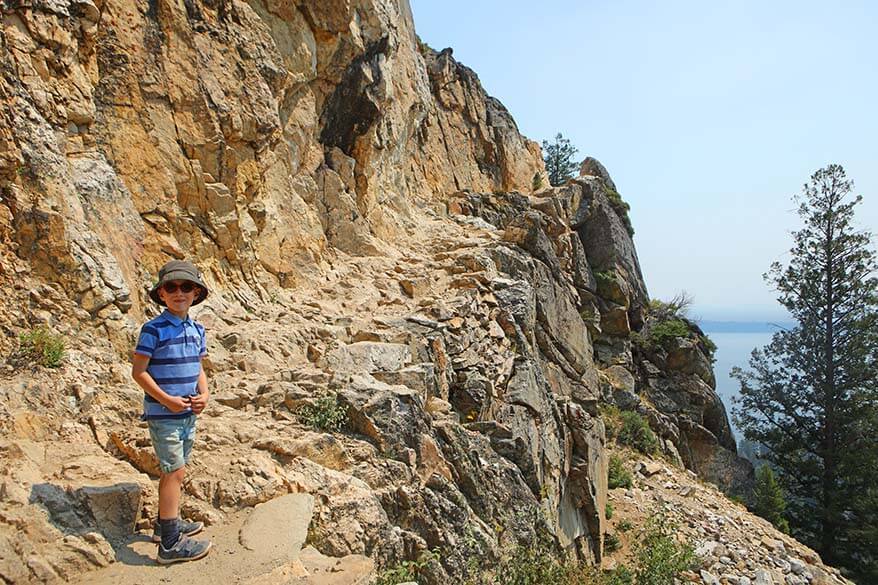 After a short while, you'll see the Cathedral Group (Teewinot Mountain, Grand Teton, and Mount Owen). From then on the scenery just gets better.
Soon you'll reach Inspiration Point with stunning views over Jenny Lake and the area. Judging by the number of friendly squirrels here, it's a very popular place for a picnic.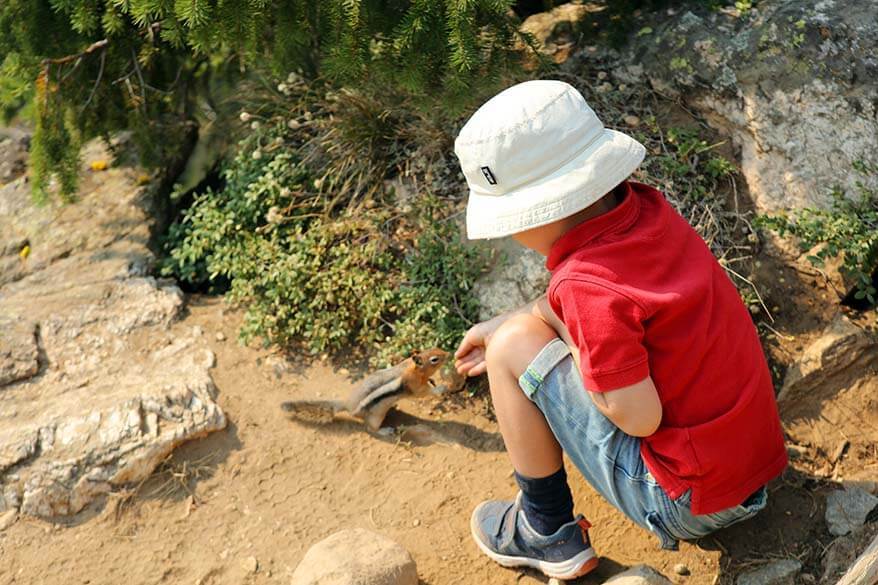 The entire hike from Jenny Lake boat dock to Inspiration Point is just 2.2 miles (round trip). It took our family a bit less than an hour one way.
Somehow we expected this whole trip to take much longer, but taking the boat and hiking to Inspiration Point took us less than 1,5 hrs.
So without having many other plans for our day in Grand Teton, we decided to do some more hiking and continued walking further into Cascade Canyon.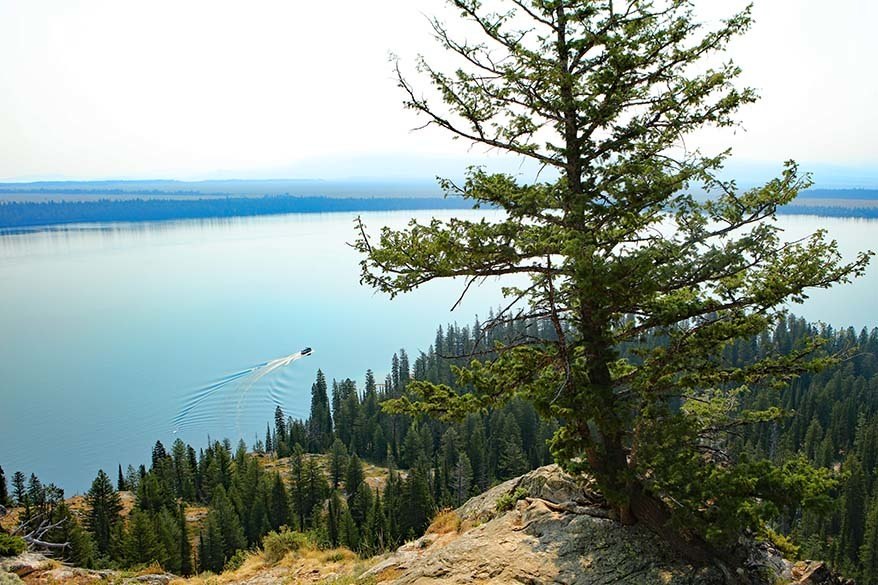 Hiking to Inspiration Point with Kids
The hike to Inspiration Point is not that long, but it's really steep with some sections that could potentially be dangerous for young kids. Our boys (5, 5, and 7 years old) had no difficulties with this hike at all. So I think that any child from 4-5 years and up should be able to complete this hike.
If you are not sure if you can manage this hike, you can always give it a try and turn around if you notice that it's too difficult for your children.
I hear that many families with young children take a Jenny Lake shuttle boat, then hike to Hidden Falls, and hike back along the southern shore of Jenny Lake instead of taking the boat back. That walk is quite flat and easy to do even with younger children.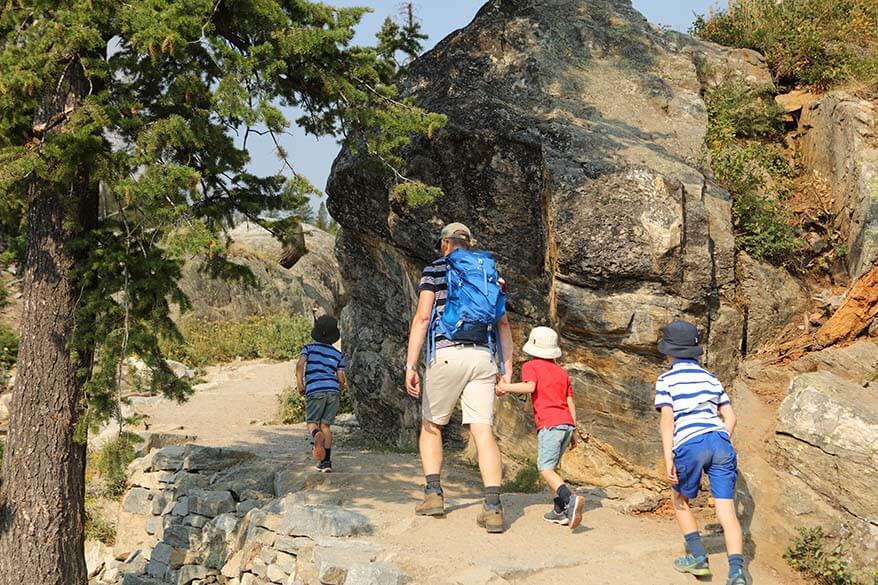 To The Forks of Cascade Canyon
From Inspiration Point take a trail heading west into Cascade Canyon. This hike is very different than the previous section as there is hardly any elevation gain. It is well suited for families with children, but of course you first have to climb to Inspiration Point in order to get here.
The first section of the hike goes through a forest and isn't all that impressive, but after a while it becomes really beautiful. The further you go into the canyon, the better the views get.
I have to say that up to this point we weren't that impressed with the hike, but going into Cascade Canyon really made our day – the scenery here is simply stunning.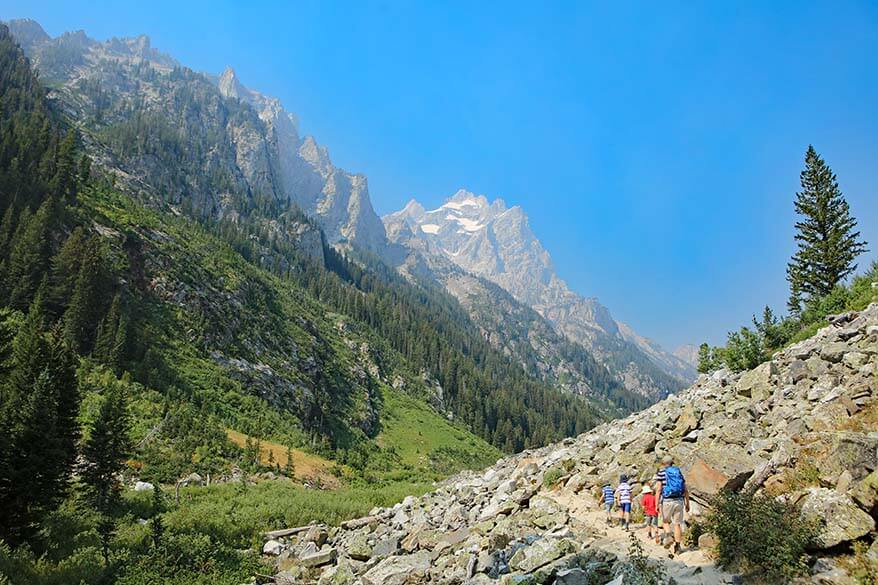 We had read that this area is frequented by bears, especially in huckleberry and raspberry season. Indeed, there were big wild berry patches along the way, but we didn't seen any bears here.
Anyway, it's wise to make noise and carry a bear spray if you hike in this area, especially if you travel in a small group or in lower season or at a less popular time of the day.
No black bears or grizzlies for us, but we ran into a couple of moose in Cascade Canyon. A mother and a young were grazing in a little creek along the way, and we also saw a big male moose in the bushes just next to the road. Picas and marmots live in this area as well.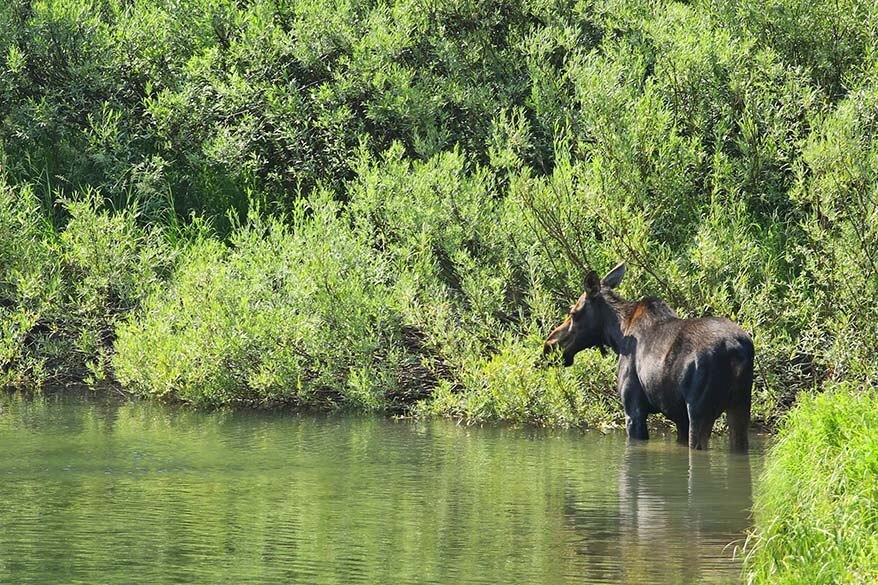 The entire hike to the Forks is 10 miles (round trip). We didn't walk all the way to the end as there isn't really any particular landmark at that point.
If you are a keen hiker and like to explore the Tetons trekking even further, you can continue to the North Fork of Cascade Canyon, and eventually to Lake Solitude (15.3 miles round trip, so start really early if you are planning on doing this).
There are also longer multi-day hikes possible in this area and we met quite a few hikers who were doing just that. They were fully equipped to hike and camp for a few days and had bear sprays with them. However, a couple who'd been hiking in Grand Teton National Park for 4 days told us they hadn't seen one single bear.
While we came here for just a few hours and saw one right next to a boat deck. And we also ran into a bear at our hotel later that same day. So in any case, travel well prepared and always be aware that you are in bear country.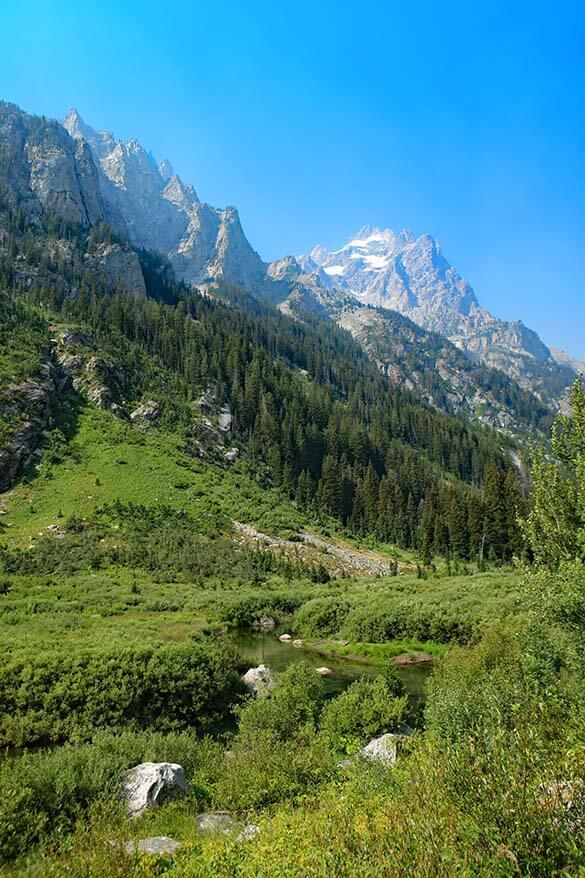 Back to Jenny Lake
After hiking into Cascade Canyon we decided to turn around and head back to Jenny Lake. The hike back follows the exact same trail, but takes even less time since it's pretty much downhill from Inspiration Point.
We stopped for a short picnic lunch (far away from the squirrels) and after that took the boat back to the visitor center.
In total, we spent about 5 hours in the Jenny Lake area, which still left us with a long afternoon to fill in Grand Teton NP.
Other beautiful places and things to do in Grand Teton NP
One of our other favorite places in Grand Tetons was the scenic Jenny Lake Road, as well as the beautiful String Lake.
We also drove the scenic Signal Mountain Peak Road, but found it not worth the long drive up. It's nice to see if you have the time, but if you have better plans, don't feel bad skipping it.
If you are looking for other ideas on what to see and do in Grand Teton, you can drive one of the scenic roads like e.g. The Kelly Loop, go and see the famous Mormon Row Barns, Shane Cabin, or the scenic Schwabacher's Landing spot.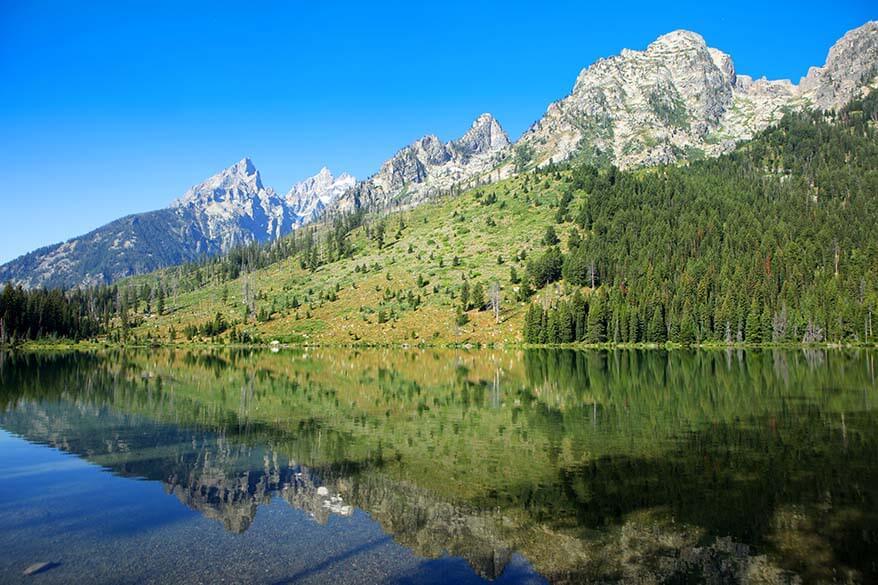 Since Grand Teton NP was also one of the last stops of our 2,5-week American road trip, we spent the rest of the day relaxing by the lake at our hotel.
There are also organized tours that you can do in the area. One of the most popular tours is this 4-hr wildlife safari adventure, or this half-day tour that covers the main highlights.
For a truly unforgettable experience in Grand Teton, check out the hot air balloon flight with amazing sunrise views of Grand Teton NP, a helicopter flight above the mountains, or this highly-rated whitewater rafting trip from Jackson.
But if you only have one day in Grand Teton National Park, I think you will not be disappointed if you choose to do the Jenny Lake boat ride in combination with a hike to the Hidden Falls and Inspiration Point. It's one of the absolute best things to do in Grand Teton NP and is popular for a reason.
READ ALSO: Best Yellowstone Tours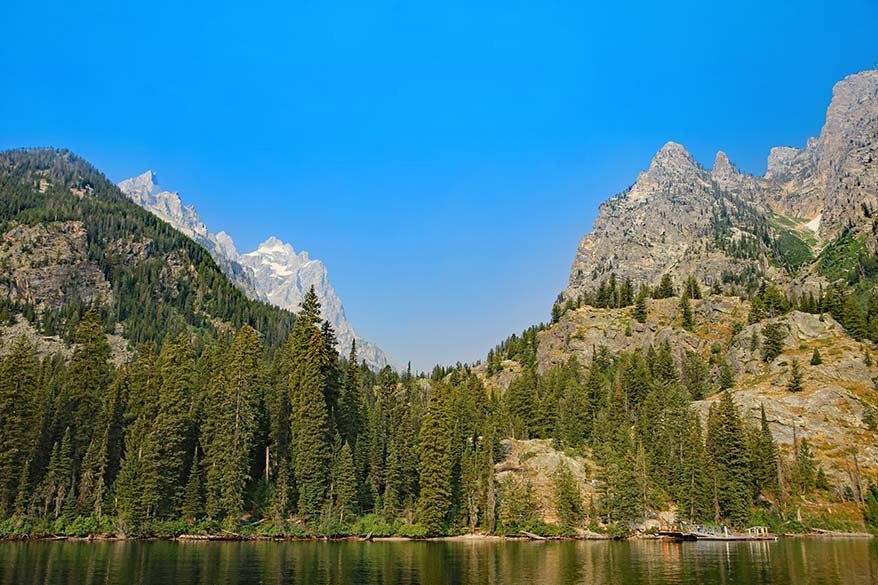 Best places to stay for exploring Grand Teton National Park
There are many accommodation options in the neighborhood, and most people choose Jackson Hole or Teton Village as their base for a Grand Teton Holiday.
There are also several extremely well-located accommodations in the heart of Grand Teton National Park, but you have to book well in advance to secure those. For that, see accommodations in Moran.
The nicest lodges in Grand Teton are Jackson Lake Lodge and Jenny Lake Lodge, but also Signal Mountain Lodge where we stayed has a stunning location and really good cabins. Once again, if traveling in high season, you'll have to book these a year in advance!
READ ALSO: Best Hotels Near Yellowstone National Park
TIP: Using the map below, you can compare hotels, apartments, and Airbnb accommodations in Jackson Hole. This is the most popular place to stay in the area, with the biggest choice of accommodations and facilities. Simply insert your travel dates and group size, and you'll see the best deals for your stay. If you want to see other areas closer to the park, you can zoom out the map, but the options are quite limited. Check it out!
What to know before visiting Grand Teton National Park
Grand Teton National Park has an entrance fee. If you are visiting multiple American National Parks in one year, it's best to buy America The Beautiful Pass.
Many scenic roads in Grand Teton, including the road to get to Jenny Lake, are closed between November and May.
Avoid driving at night – there is lots of wildlife in the area and accidents are quite frequent.
In high season, you need to book your accommodations well in advance. We booked ours a year upfront.
Grand Teton is bear country, so it's wise to carry bear spray if you go hiking to less popular areas or at less popular times.
You can see the best of Grand Teton in just one day, and many people do just that, devoting more time to the nearby Yellowstone National Park. However, with so many lakes, hiking paths, bike trails, wildlife, and a variety of activities Grand Teton is also a wonderful vacation destination for nature lovers looking for a quieter vacation. We met many people spending their yearly summer holiday here.
If you can, plan to spend more time in this area. Be sure to check our guide to the best things to do in Jackson Hole. Jackson town is a popular base for visiting Grand Teton National Park, but there's so much more to see and do nearby than that!
So, this is our short guide for an unforgettable day in Grand Teton National Park. Have you been to Grand Teton? Feel free to share your favorite spots and other recommendations by leaving a reply below.
READ ALSO: Best things to do in Yellowstone
If you found this post useful, don't forget to bookmark it and share it with your friends. Are you on Pinterest? Pin these images!