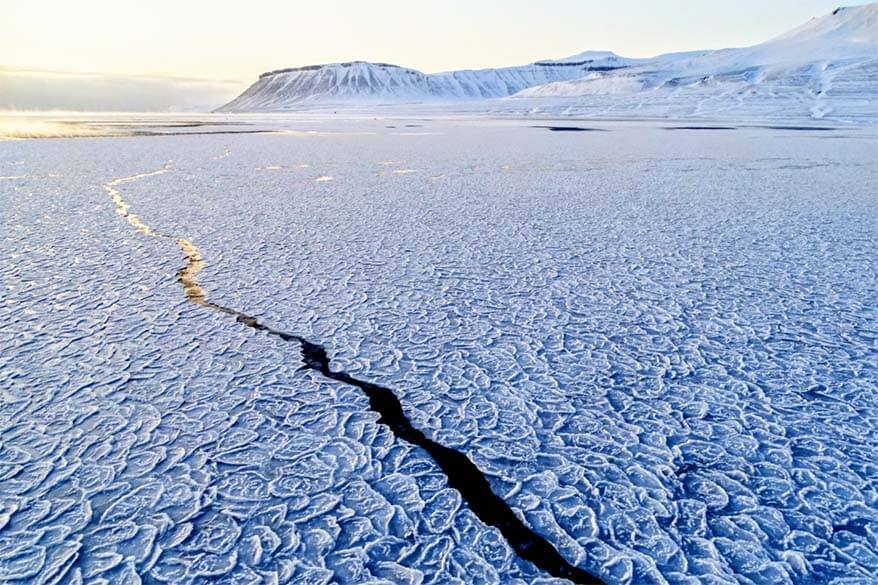 Are you thinking of taking a boat trip in Svalbard but are not sure what to expect, which boat tour to choose, whether you can see wildlife, or if it's even worth it? Or maybe you are wondering if Svalbard boat tours only run in summer or it's also possible to go on a fjord cruise in Svalbard in winter? This article should answer all your questions. Read on!
Without a doubt, one of the best ways to explore the stunning beauty of the Svalbard archipelago is by boat. While a multi-day Svalbard cruise is a bucket-list experience that not everybody can afford, there are also shorter (and more affordable) boat trips available in Svalbard. Tours that allow you to experience some incredible landscapes of Spitsbergen Island in Svalbard as a day trip from Longyearbyen.
The majority of Svalbard boat trips only start running in May and continue till September – October. However, it is now also possible to take a boat tour in Svalbard in winter, starting from the end of February – beginning of March.
I visited Svalbard at the beginning of February and it was still too early for boat trips. However, our loyal reader Marleen Boon traveled to Svalbard just a few weeks later and joined one of the first boat trips of the season.
In this article, she shares her experience with a Svalbard fjord cruise to Nordenskiöld Glacier and Pyramiden with Henningsen Transport and Guiding in winter. In addition, you can also find some practical tips for your own boat trip in Svalbard. Find out!
Good to know: This article isn't sponsored in any way. It's just a personal experience shared by one of our readers, including some jaw-dropping images she kindly shared with us as well. Just reading about it and seeing the pictures, I was inspired me to look into booking another trip to Svalbard and experience this myself.
If you have a day to spare when visiting Svalbard, you really have to consider booking a boat trip like this! It's absolutely amazing. Take a look!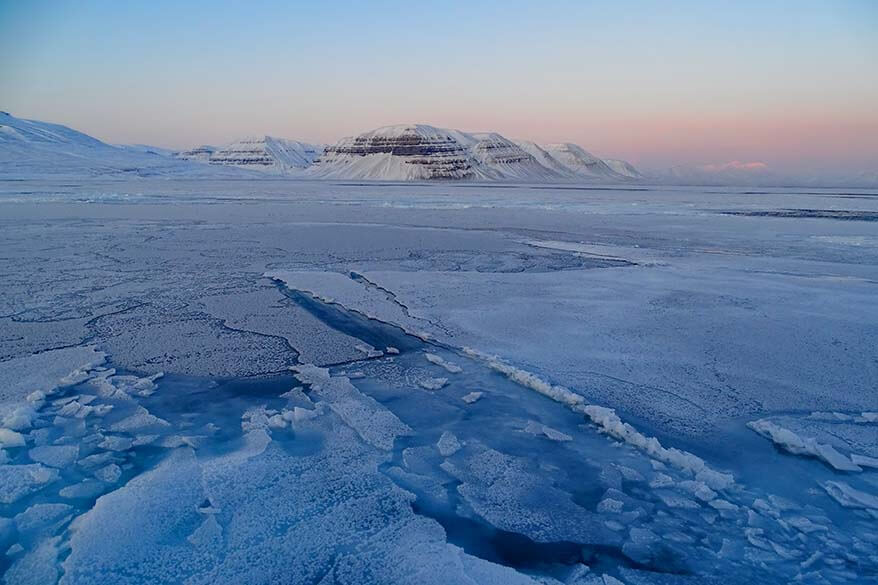 Why Take a Boat Trip in Svalbard
During your travels, you can sometimes feel a thrilling excitement that this might be one of the most special places or experiences that you have ever seen or done. However, the more you travel, the more difficult it becomes to still find such excitement and a real WOW moment…
When you're traveling to Svalbard in winter, you have such a large choice of bucket-list activities: snowmobile tours, dog sledding and ice caves, Northern Lights… They are all unbelievable and each worth it for its own reasons.
However, to me, the World's Northernmost Fjord Cruise in Svalbard was the most special experience of them all. It quickly made my list of one of the most memorable days in a lifetime!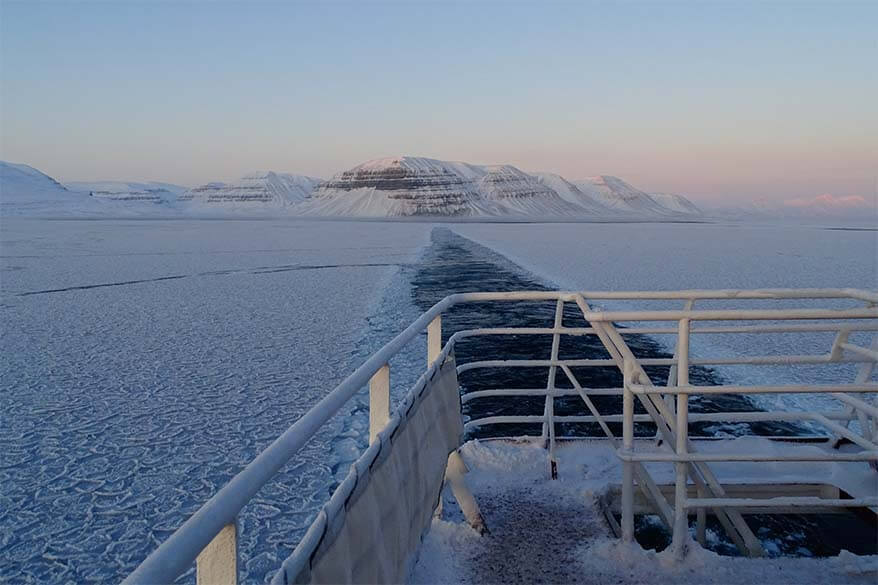 No matter where you go in Svalbard, you are surrounded by the most incredible nature anyway. However, going on a boat trip, it somehow feels even more special, as if you're one with nature and the vast landscapes around you. With the endless ocean, snow-capped mountains, and the pastel-tinted winter sky, you feel tiny and grateful and so much alive!
It feels really special to be on one of the world's most northernmost cruises! Endless sea, a vast wilderness, and nothing else between you and the North Pole some 1000 kilometers away, but water, ice, and Arctic wildlife…
And in case you didn't know it yet, there is no better way to see wildlife in Svalbard than going on a boat trip. You can expect to see walrus, seals, whales, and sometimes also polar bears. That in itself is a reason to book a boat tour in Svalbard!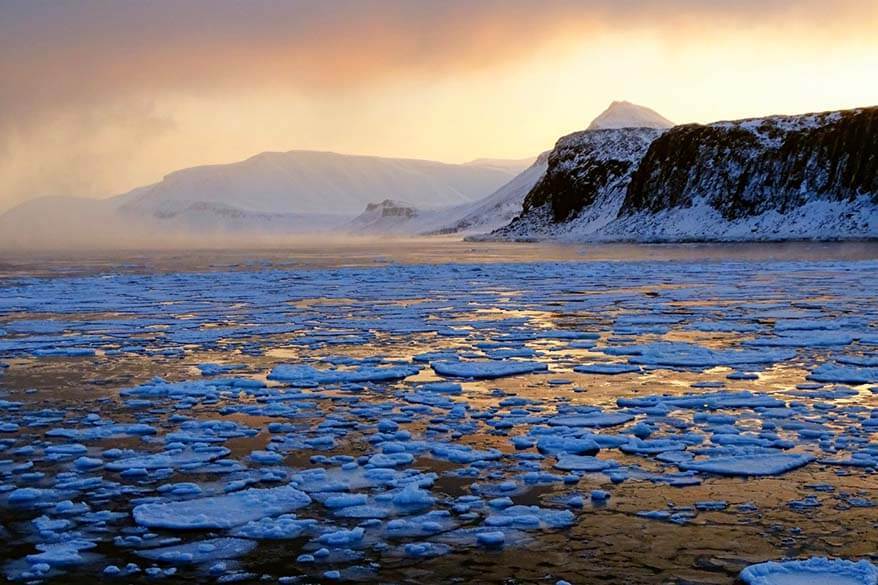 Svalbard Fjord Cruise – What to Expect
This review is based on our experience on this boat trip with HTG. Obviously, not all boat tours in Svalbard are the same and so much depends on the season when you travel, the weather, or pure luck (wildlife), but it should give you a good idea of what to expect.
First of all, don't take the word 'cruise' too seriously. It certainly is a great boat trip, but considering all the layers of clothing, the cold outside, and the absence of a captains' dinner, it sure is very different than the cruises you might be familiar with. It's also just a one-day trip, so you'll be back in your cozy hotel in the evening.
The tour starts with a pick-up from Longyearbyen hotels and a transfer to the harbor, which is just a few minutes' drive from town. The crew welcomes you personally and when you enter the boat, just pick a spot where you have a nice view.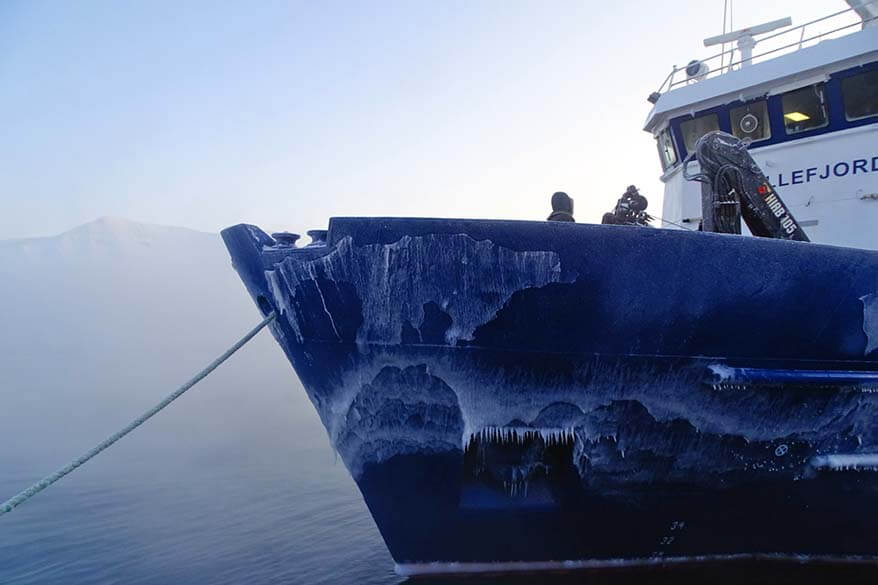 The Boat & The Bar
The boat we went on has two levels: upstairs where you find more small tables and nice seats or downstairs where tables are slightly bigger. The view is good from every deck, so there is no need to run for the 'best seat'. You'll change seats many times during the day anyway.
The big advantage of being downstairs is the bar! Here you can have tea, coffee, cold drinks, and freshly-baked warm waffles Norwegian style. During an entire day, a nice lady behind the bar makes a freshly baked waffle for you! So if you are planning to take this boat trip with kids, you know where they'll spend their day… However, keep in mind that any purchases from the bar are not included in your tour price.
Another good reason to stay in the vicinity of the bar is the heating, especially if you are taking a boat trip in winter. When it's extremely cold outside, it's not that warm inside the boat either, except for the bar area where most heaters are located. You can put your feet on the heaters while sipping a warm drink and gaze at all the incredible beauty outside.
TIP: Instead of paying for the drinks, you can also opt to buy a souvenir cup with a logo of the company. It includes free refills during the entire trip! I got a cup and every time after I had been outside, my cup was refilled to warm myself. It's a good investment and a nice souvenir to take home with you.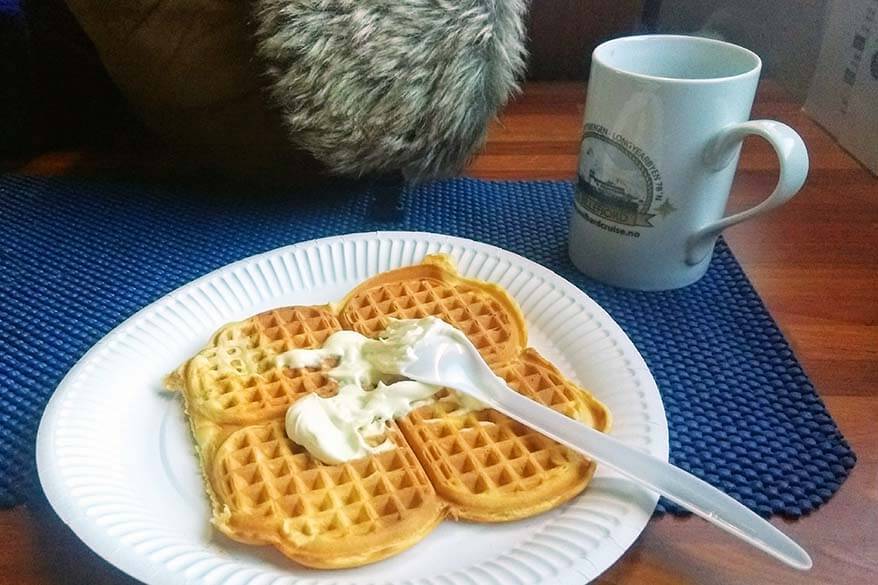 Lunch
While the drinks from the bar and the waffles are not included, the tour does include lunch. And not just any lunch – a BBQ. Yes, also in the cold Arctic temperatures of -30°C!
Lunch buffet includes salad, rice, pasta, vegetables, and locally baked bread. You'll have to hop outside to choose between marinated whale, baked salmon, or pork ribs from the BBQ. I've tried it all, and everything was absolutely delicious!
Good to know: Vegetarian lunch is available for an additional fee of NOK 50/ person, but you have to book it in advance when reserving your boat tour.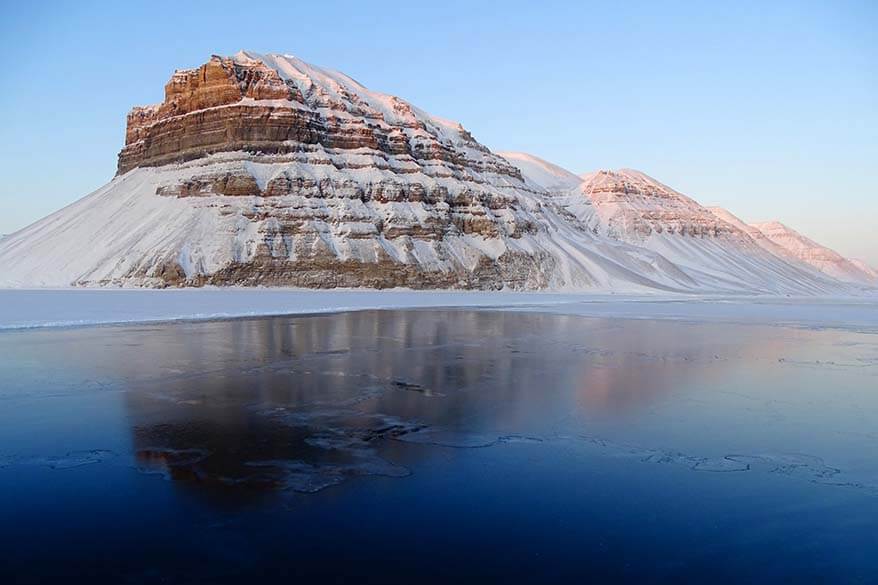 How Does Your Day Look Like
The boat trip towards Billefjorden and the Nordenskiöld Glacier, including a visit to Pyramiden (weather permitting), takes about 11 hours. You may be wondering how your day looks like and if you don't get bored on the boat…
Well, if you love nature and wildlife, you really have nothing to worry about. It's not boring at all!
If you're not too cold outside, you can spend the whole day standing there and admiring the ever-changing scenery. If it's cold, most people go outside for short periods of time and back inside to warm up, and back outside again, and so no.
I loved watching all the incredible ice formations that were all around us in winter. An ocean full of icy flowers, surrounded by snowy mountains and impressive glaciers, really takes you into another world. It made me very quiet, just staring at all this unknown, wild piece of natural art.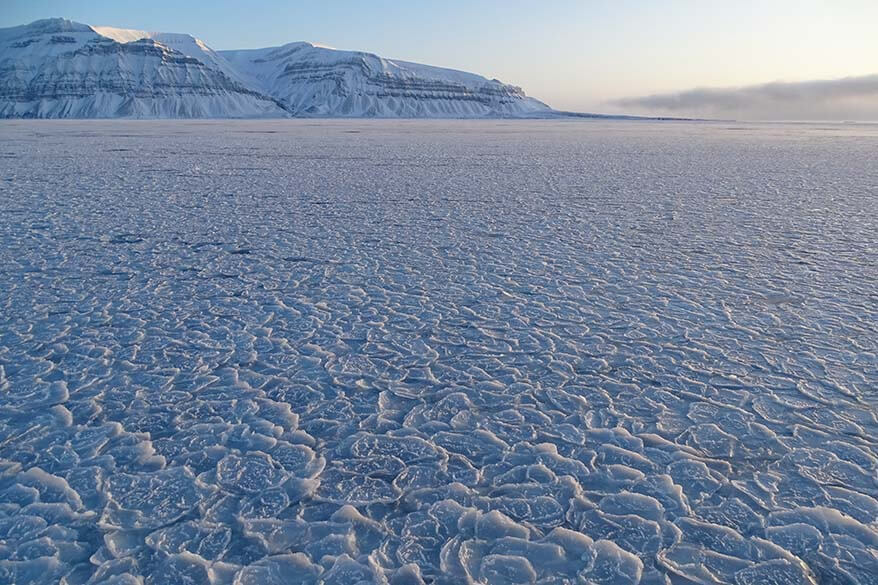 Every couple of hours, a local guide invites you to come on deck to tell you about the history of Spitsbergen, the glaciers, or the wildlife you see.
You don't have to attend these short 'lectures', but it's a great way to learn more about the Arctic. They aren't too long and are very informative, so it's really worth going to listen to the guide.
If you feel like it, you can also go up to the captains' deck, have a chat with him, and admire the best view you can get!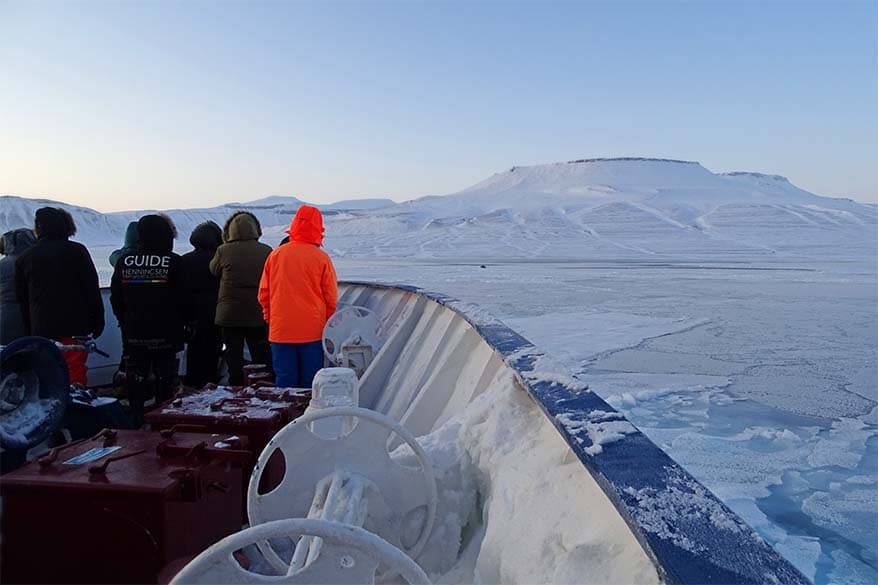 Wildlife
As already mentioned, a Svalbard boat trip is your best chance of seeing wildlife. Except maybe for reindeer, which are quite easy to spot during other land-based tours as well. But if you want to see any marine animals or polar bears, a fjord cruise is the way to go! Of course, you can never know for sure if and what you'll see, but the chances of seeing some wildlife are pretty high.
There are lots of walrus in Svalbard and so the chance of seeing them on your fjord cruise is really high. They are really big and the dark color makes them easy to spot from the big distance – just look for a big brown spot on the drifting ice.
Often, the captain or the crew will spot them long before you do and they'll point in the right direction. When this happens, leave the heater, the tea, and the waffles and run outside! It's amazing to observe those huge, ugly but also funny and cute animals.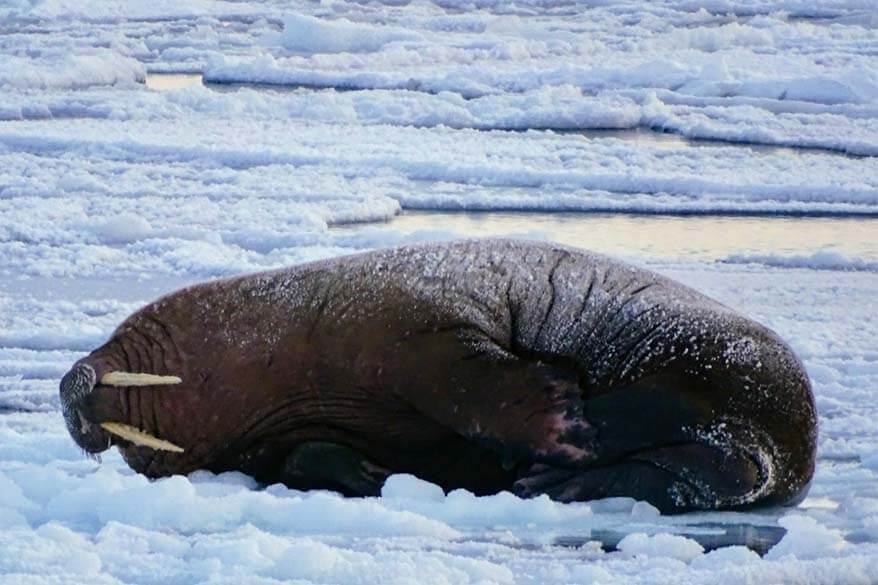 After seeing walrus, my day couldn't be ruined anymore. But it just kept getting better with many more surprises and stunning natural wonders. During the tour, we also saw seals. Some of them were laying on the ice, some others swimming or sliding into the water.
Towards the end of the tour, we were also incredibly lucky to meet the king of the Arctic – a polar bear! The captain spotted a yellow dot in the distance, about 500m in front of the boat. And yes, polar bears are actually yellow and not white. Therefore, they are quite easy to spot from afar. When this happens, it's the moment to grab your best camera and binoculars and rush outside!
The captain does his best to get as close to the bear as possible, without disturbing the bear or any other wildlife. And all of a sudden you find yourself looking at this incredible creature. The feeling when you see a wild polar bear wandering around, standing up, or looking your way is indescribable. It's one of the most breathtaking experiences ever!
Good to know: In summer, you have even higher chances to spot wildlife. Walruses and polar bears are often seen on the drifting ice blocks or close to shores where they hunt for food. From April on, you can also spot birds, particularly by the bird cliffs of Diabas.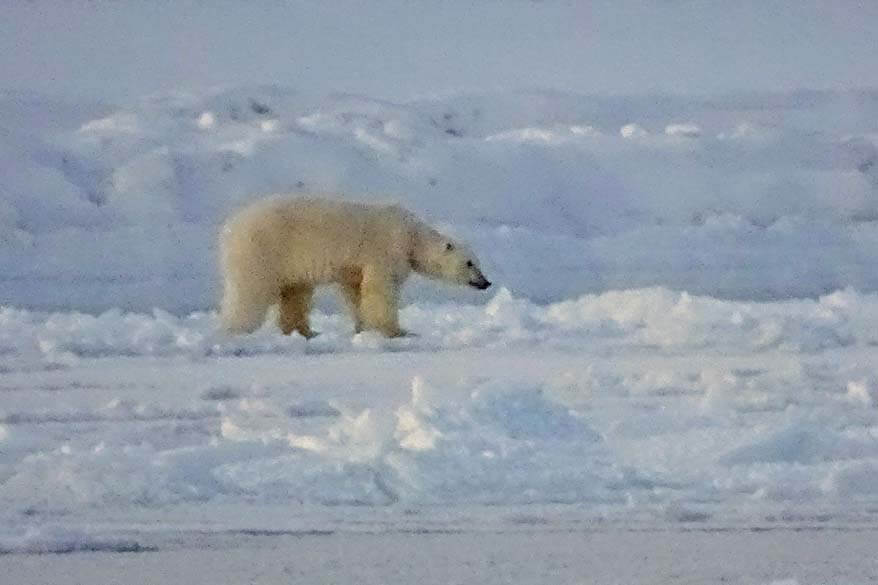 Pyramiden Ghost Town
Pyramiden is a very intriguing place to visit in Svalbard. It's a former Russian mining town where over 1000 people used to live in its glory days. Since the closure of the mines a few decennia ago, the town has been completely abandoned and the time surely stood still there. It's a ghost town where everything is still found just as it was left by its last residents.
There is a hotel in Pyramiden and in summer it's also possible to stay there. However, most visitors just come here for a day. Pyramiden is a popular destination for many Svalbard boat tours and our tour was also supposed to go there. However…
We never got to see it because we could not reach it. The ice layer drifting in front of the abandoned village was still much too thick, so our boat had to stop at this ice strip. The sight of this line between the water of the ocean on one side and thick ice on the other was also very interesting to see, maybe even more special than visiting Pyramiden. It's something you can only experience in very few places in the world and only for a short period of time.
Keep in mind that this was in the last week of February. We were the first boat of the season and knew in advance that the possibility of reaching Pyramiden was very small. If you take this boat tour later in the year, normally, you'll be able to visit Pyramiden and have some free time in town. From what I understood, the harbor is usually accessible from around mid March-April.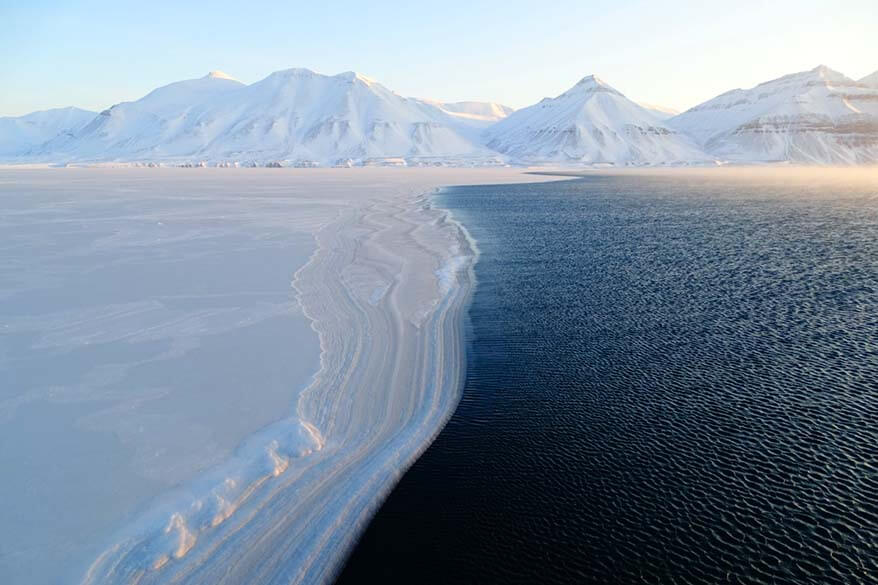 Practical Tips for Svalbard Boat Trips
Here are some practical tips and information for your boat tour in Svalbard.
Dress warm, according to the season, but always take a few extra layers for when you go outside. Waterproof warm clothing is essential and wool is the best in any season! Pack a pair of thin gloves that you can wear when taking pictures. Make sure to also pack a pair of warm mittens and a warm hat as well. It's a must in any season! For more tips, please check our Svalbard packing list for winter (October to May).
There are thermal overalls available on the boat. So if it's really cold, you can still enjoy the amazing scenery and wildlife without having to worry about freezing on deck.
On the Visit Svalbard website, you can find a complete selection of boat tours in Svalbard. The tour that I did runs from the beginning of March till mid-October. But this year they already had tours at the end of February as well, so it's always worth checking what's possible.
You don't need to book Svalbard boat tours far in advance if traveling in winter. The boat is quite big and we had lots of space. However, if traveling in summer, it's best to book at least a few weeks in advance.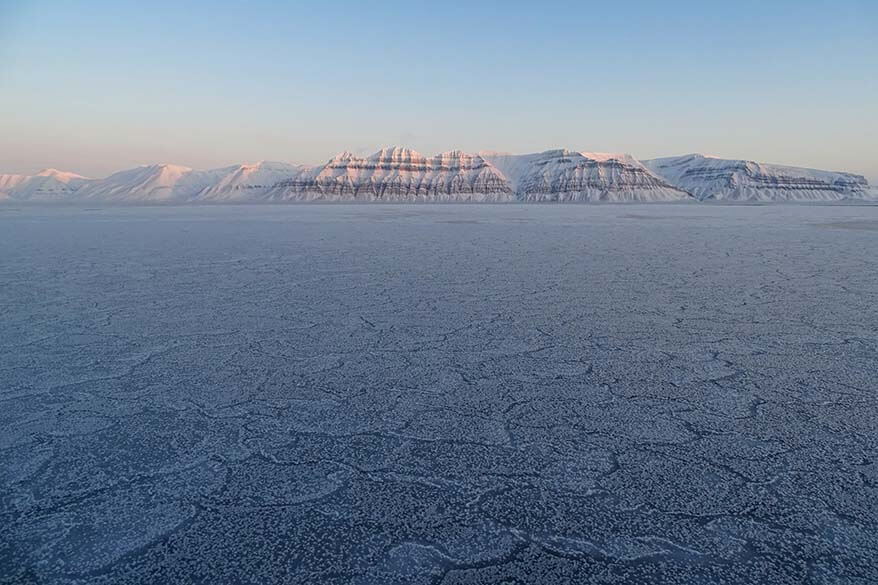 If you like to visit another old Russian mining settlement, Barentsburg is really interesting (and there are still around 400 people living there). In summer, you can visit Barentsburg by boat; in winter – you can take a snowmobile tour.
This trip uses a big boat and is suitable for everyone, also for families with kids. Young children (under 6) travel free of charge, whereas older kids get a big discount. TIP: Pack some books or games for your kids so that they can stay inside the boat and play. It's a long day for them. While the kids will be glad to go outside and watch wildlife for a while, there is just so much of standing still and staring at the landscape that a young child can handle…
Make sure to bring binoculars. If you are taking a tour with kids, get them a pair of their own binoculars. It's the best way to keep them interested in boat trips like this!
Nobody got seasick during our trip and we hardly felt the boat moving due to a very calm weather. It might be different when the sea is rougher, so you may want to take something against seasickness.
You don't need any cash on the boat. All the drinks and waffles from the bar can be paid by credit card. However, you may need cash in Pyramiden, so it's always good to have some cash on you.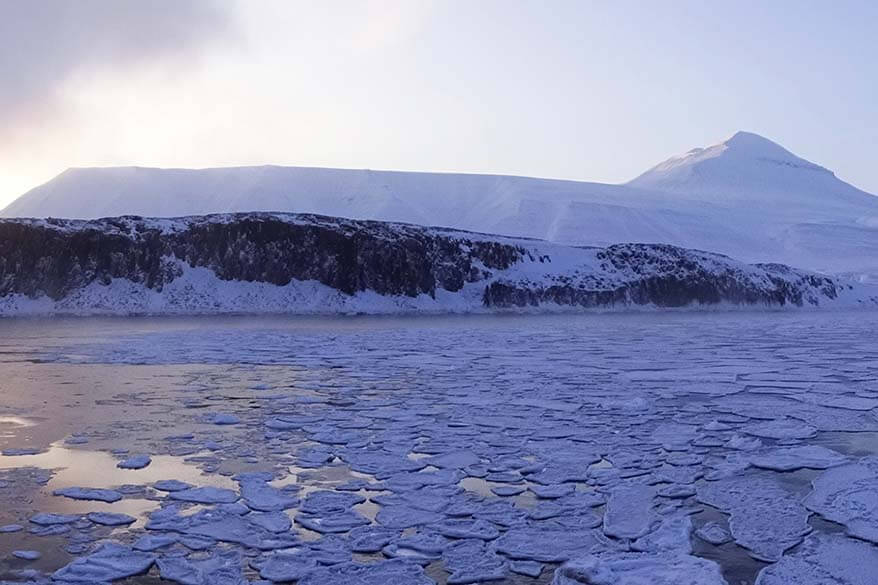 Image credits: Marleen Boon
So, this is our review of a fjord cruise in Svalbard and some practical tips for your boat tour in Spitsbergen. I hope that this article and the stunning images inspired you to book a boat trip in Svalbard. It sure inspired me to go back!
If you are visiting Svalbard and looking for more inspiration or practical information for your trip, make sure to also check our other articles. They are filled with lots of useful info and tips that will help you make the most of your trip to this incredible Arctic wonderland. Take a look below!
More tips for your trip to Svalbard:
If you found this post useful, don't forget to bookmark it and share it with your friends. Are you on Pinterest? Pin this image!