Svalbard is a great destination for outdoor adventures and one of the most thrilling and exciting winter activities is snowmobiling. If you are thinking of taking a snowmobile tour in Svalbard, but are not sure what to expect, whether it's worth it, or which tour to choose, then read on!
In this article, I share my personal experience with a snowmobile day trip from Longyearbyen to Barentsburg with Better Moments Svalbard. In addition, you can find some useful tips and practical information for your own snowmobile tour – things you may want to know no matter which tour or which company you'll choose to go with.
TIP: The most popular snowmobile tours in Svalbard are the shorter, Northernlight tours like this one. If you have never driven a snowmobile before, it's probably best to start with a tour like that.
Disclosure: I visited Svalbard in cooperation with Visit Svalbard and they arranged a snowmobile day trip with a company called Better Moments. As always, all opinions are my own and solely based on my personal experience.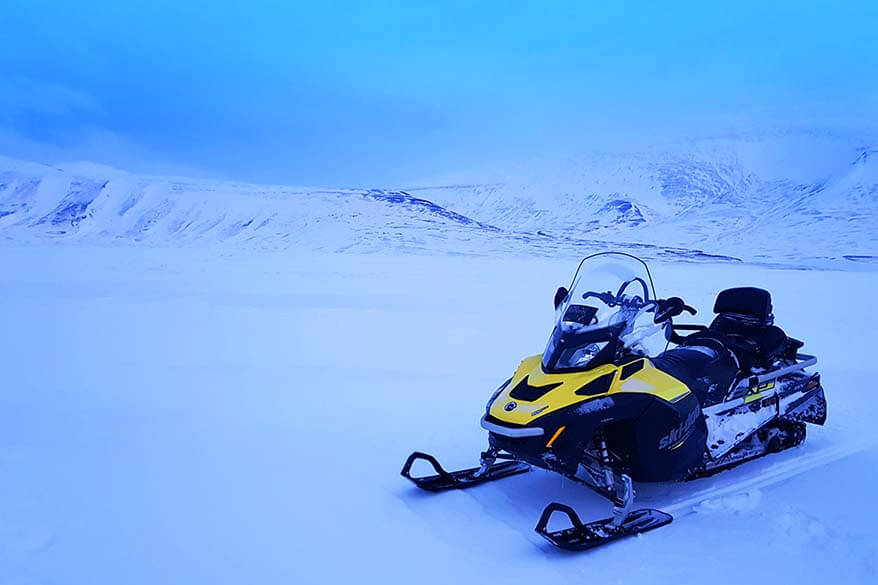 Why Go on a Snowmobile Tour in Svalbard
If you visit Svalbard in winter, you'll quickly realize that snowmobiling is a way of life here. Almost everybody in Longyearbyen owns a snowmobile. Not only is it the main means of transportation in winter (and the only way to reach some places), but also a popular recreational activity. Come weekend and locals set out to explore the beautiful nature of Svalbard on their snowmobiles…
So if you are looking for a way to explore Svalbard like locals do and see some incredible landscapes that are inaccessible otherwise, there is no better way to do this than by joining an organized snowmobile tour from Longyearbyen.
Snowmobiling is also really fun to do and it's something that will make your Svalbard winter trip even more special. Excitement, fun, adrenaline, and some of the world's most remote and spectacular landscapes – Svalbard snowmobile safari is worthy of any bucket list!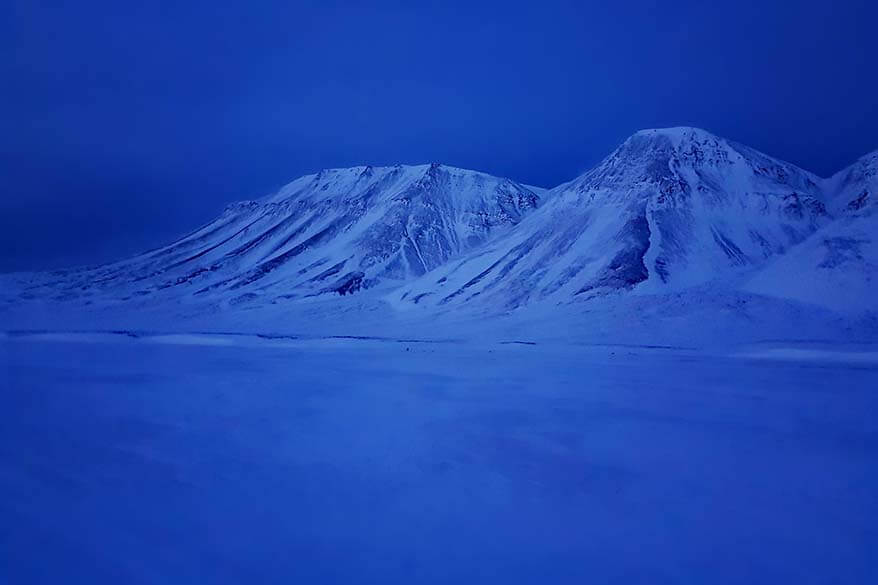 Do You Need Previous Experience?
No, you don't need to have any previous snowmobiling experience in order to go on a snowmobile tour in Svalbard. However, you do need a valid driver's license in order to drive a snowmobile. So make sure to bring it with you!
No experience required doesn't mean that everyone feels comfortable driving a snowmobile for the first time. I sure wasn't. If you are like me, you're probably wondering if it's a good idea to go driving a snowmobile if you have never done it before. Let alone take a full-day snowmobile tour in extreme Arctic winter conditions…
I never sat on a snowmobile before, let alone drive one, so I was really anxious about this. I was so worried about the tour that I considered asking our tour guide if I could just sit behind him instead of driving myself. The guide told me that in over 15 years of experience, he only encountered a handful of people who gave up. So I decided to give it a try. The other people in our group were complete beginners as well.
Snowmobiles are really easy to control. Much easier than a motorbike and somewhat comparable to an ATV / quad. There are no gears or anything like that and it's really very intuitive. The biggest challenge of our tour was that it was a full-day trip and quite physically demanding. But apart from that, there was nothing to worry about.
Despite all the worrying, everybody in our group did great. We all agreed that this was one of the most special things we had ever done. One person said that this was the best tour ever. I guess that says it all.
However, for beginners, I would really recommend opting for a shorter, 2-3 hour tour first, and then you can decide whether a longer tour is something for you. I met a lot of people in Svalbard who did this Northern Lights snowmobile tour and they said it was a great introduction to snowmobiling and it gave them more confidence to book a longer trip afterwards.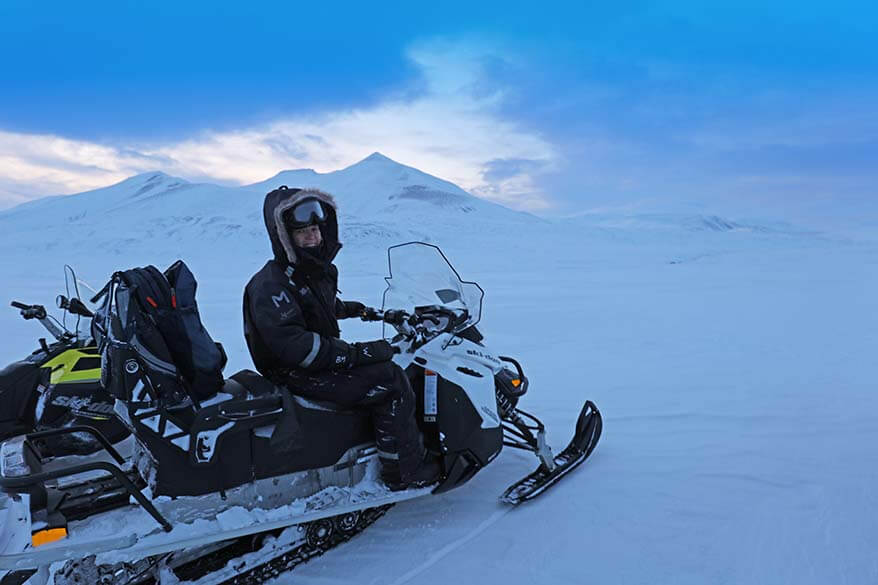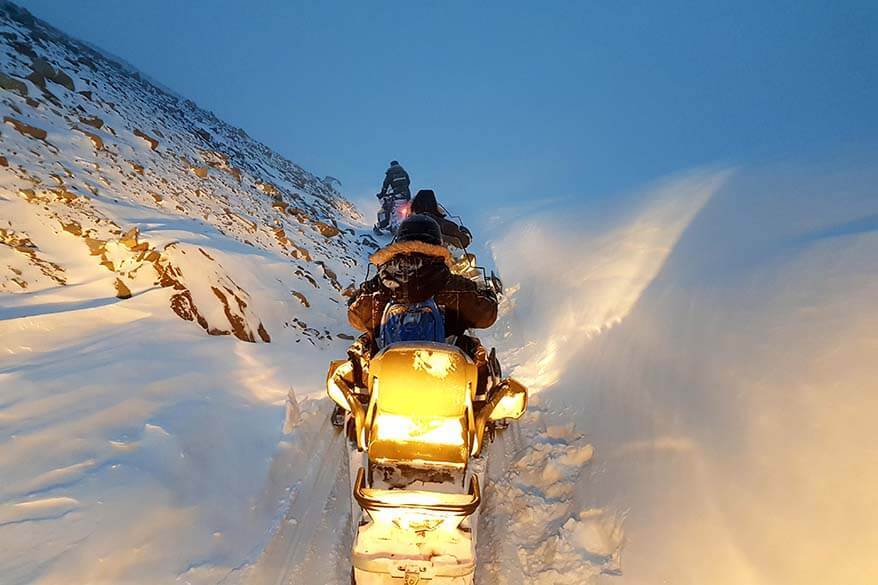 Svalbard Snowmobile Tours
There are many different options when it comes to Svalbard snowmobile tours (you can find a complete selection here). There are short tours of just a few hours, often with the focus on seeing the Northern Lights (see this popular tour). There are also somewhat longer tours that take half a day. And there are also full-day tours that go further away from Longyearbyen and visit Barentsburg or the East Coast…
It also depends on the season when you travel. During the dark winter season (October-February), you can only join short snowmobile tours that go looking for auroras. Longer snowmobile tours start running in February when there is some daylight and continue to run till May, as long as there is enough snow. At the beginning of summer (end of May-June), you can hike up the glacier and ride a snowmobile there.
I was in Svalbard in February and joined one of the first longer tours of the season. The snowmobile tour that I went on is this 9-10 hour tour from Longyearbyen to Barentsburg. This tour covers a total distance of about 120-150 km, depending on the chosen route, and can only be done when there is sufficient daylight and sufficient snow. Normally, it runs from February to mid-May. Further below, you can read about this specific tour and what to expect. Take a look!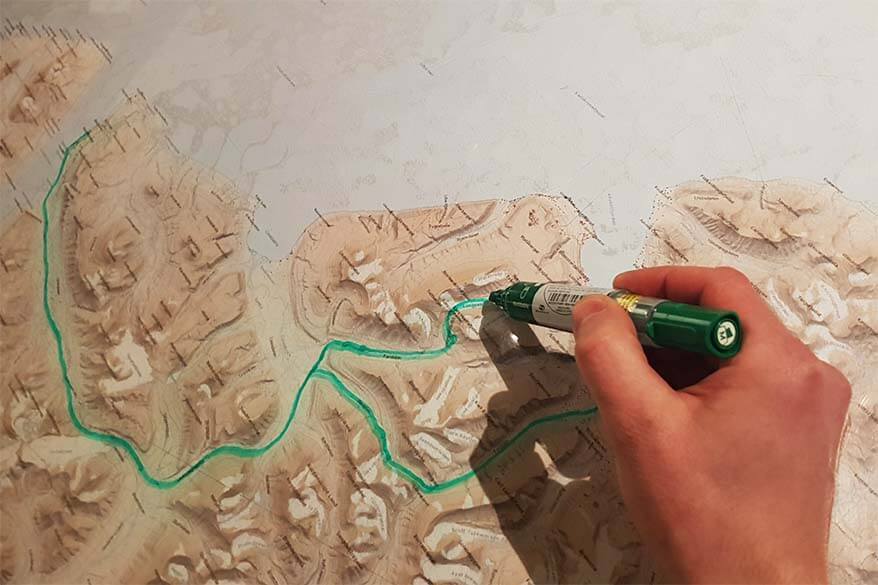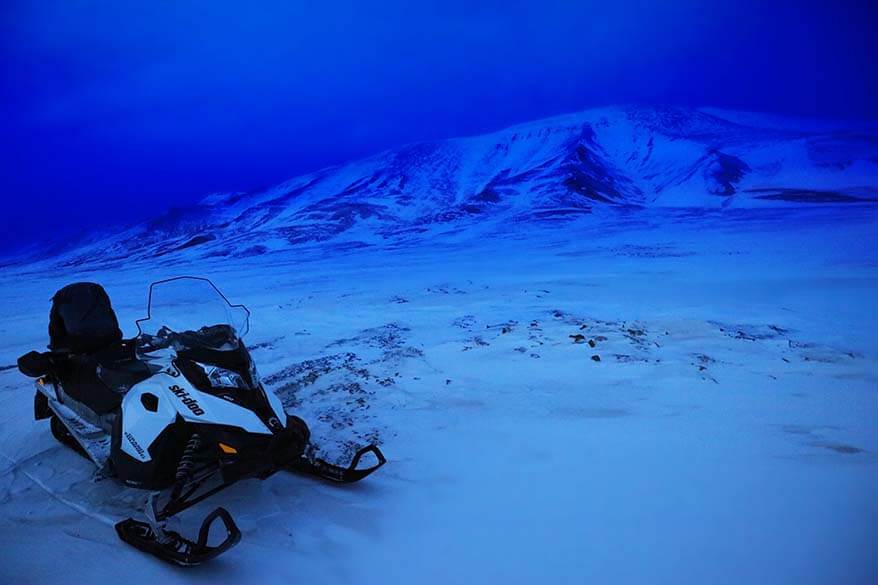 Svalbard Snowmobile Tour to Barentsburg – What to Expect
Clothing & Equipment
Our tour started with an early morning pick-up from the hotel. After a short introduction and safety briefing, we all got warm thermal overalls, super warm winter boots, balaclavas, helmets, and gloves. It was a very cold and windy day in February, but all the equipment and clothing is adapted for the cold Arctic conditions, so there's nothing to worry about. Furthermore, our snowmobiles also had heating that we could adapt as needed. I never felt too cold.
Afterwards we got a thorough explanation of how snowmobiles work and could ask any questions we had. We also stopped after the first few kilometers to see how everyone was doing and if anything had to be adjusted or people had any questions.
The guides make sure that you are really comfortable on your snowmobile before setting off into the wilderness. We also stopped frequently during the day and so there were plenty of opportunities to ask questions or adjust something if needed.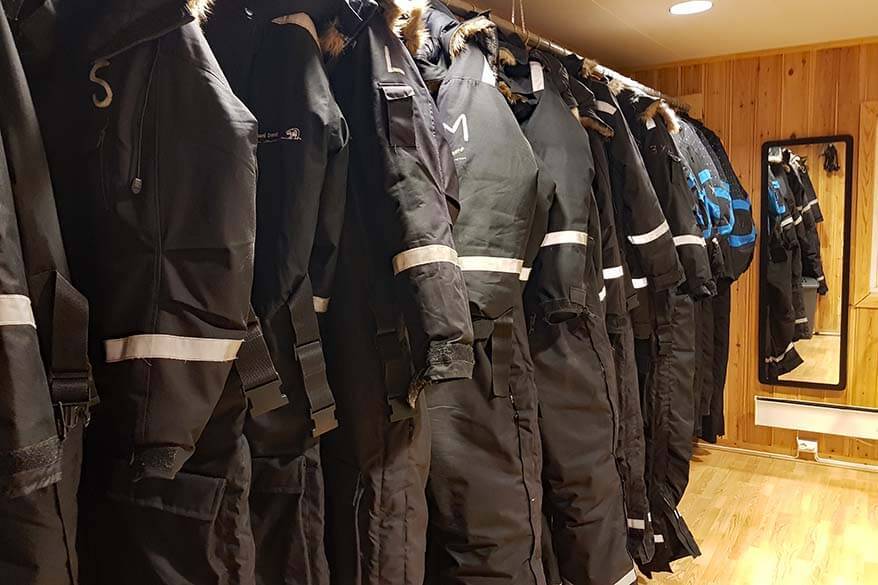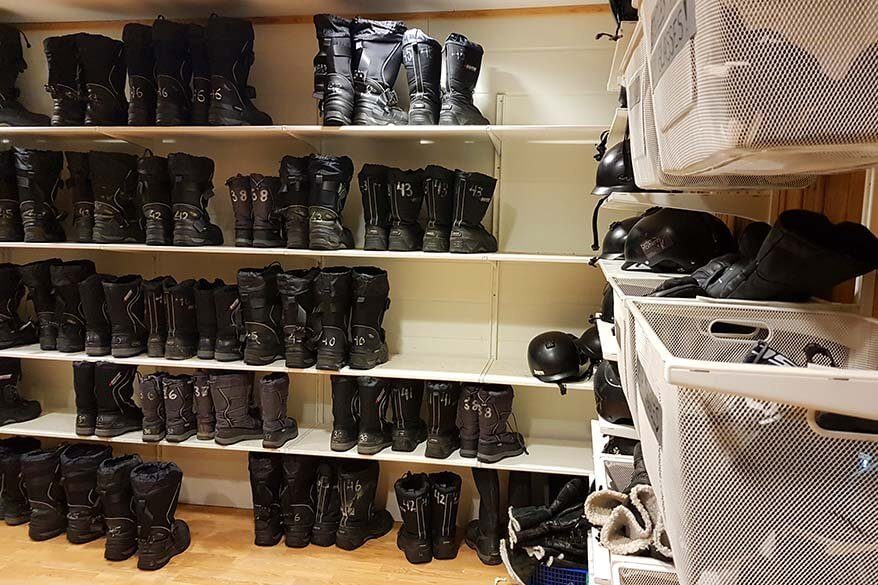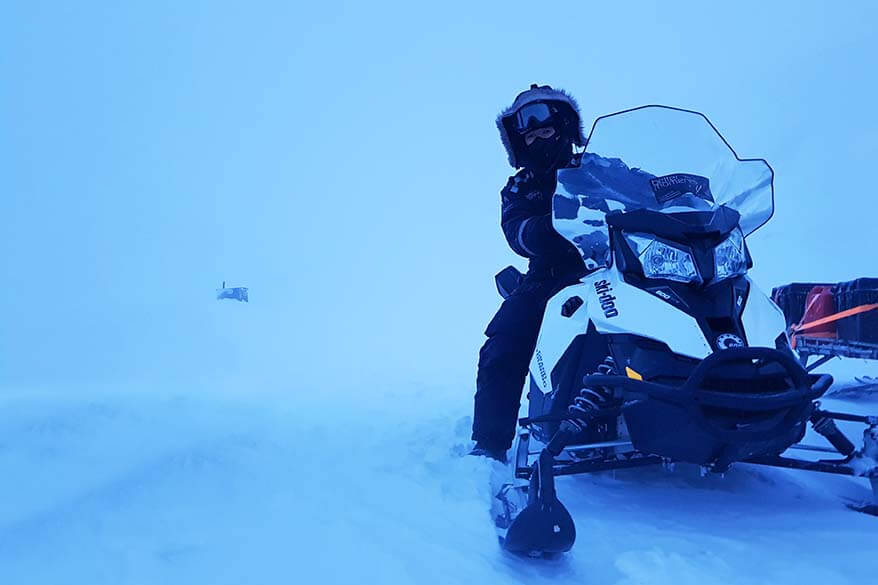 Scenery, Reindeer & Living in the Moment
From the moment you set off and throughout the entire day, you are surrounded by jaw-dropping sceneries all around you. Nature in Svalbard is so beautiful, pristine, untouched and the landscapes are so vast that it takes your breath away.
I can't imagine a better way to experience this incredible scenery than by going far off the beaten path and deep into the wilderness. A snowmobile tour allows you to do that and reach places that you'd never get to see otherwise.
As you drive, you forget everything else and truly just live in the moment. You're so concentrated on driving and the surroundings that there is literally no place for any other thoughts. It's a great feeling, one that is more and more difficult to find these days.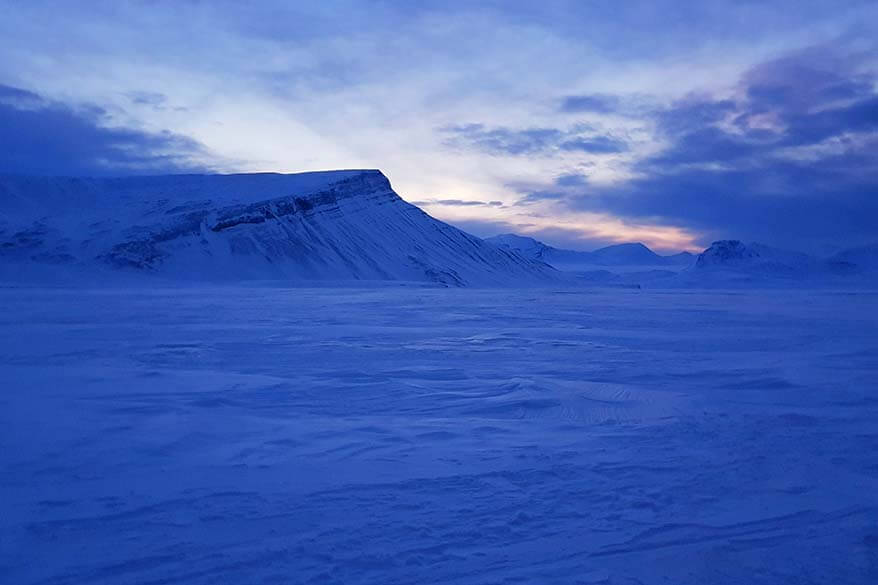 Once in a while, we stopped for pictures and to rest, but the distances and short daylight hours don't allow frequent or long stops. We passed herds of reindeer and so many incredibly beautiful places without being able to take pictures. That was really hard for me because photography is my hobby and my passion. Furthermore, I know that the best way to inspire you, our readers, is by showing the stunning images of the places and experiences…
Unfortunately, I wasn't able to take pictures of the most magical moments. And even the ones I took were usually just a quick snapshot with my smartphone in less than ideal light conditions… Nevertheless, I hope that you believe me when I say that the reality is so much better than any images could ever show. It's something you'll just have to go and experience for yourself!
As hard as it was not to be able to take pictures, it was also a great way to just be in the moment, live it to the fullest, and not document every single step of our day. I tried to take 'mental images' of the surroundings and truly enjoy the moment. And that made this day trip even more special.
A snowmobile tour in Svalbard is so much more than the thrilling ride on the snowmobile. More than the landscapes and the places you visit. More than the wildlife you see. It's about the experience as a whole. Something that cannot be put in words or pictures. Something you just have to experience for yourselves!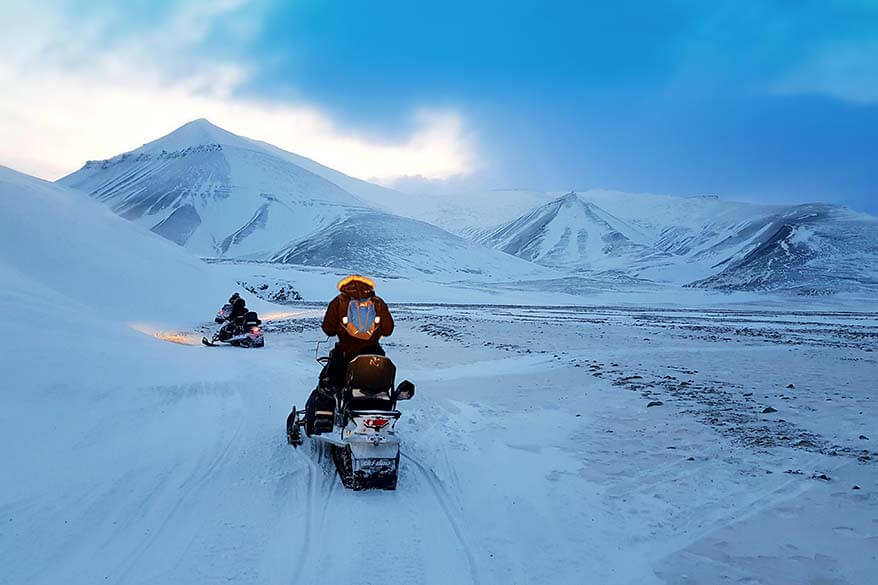 Barentsburg & Lunch
Our snowmobile day trip took us to Barentsburg, the second-largest 'town' in Svalbard. Barentsburg is a Russian-Ukrainian settlement with about 400 people living there.
A visit here is like going back in time, to Soviet times… Not only does it have that typical Soviet look and feel, but they also have a statue of Lenin right in the middle of town…
With no roads leading to it, Barentsburg is isolated from the rest of the world. It can only be accessed by boat, by helicopter, or – in winter – by a snowmobile. As you arrive here, it truly feels like you reached the end of the world… But they do have an excellent restaurant – the Red Bear – where we had a very delicious multiple-course lunch (included with the tour).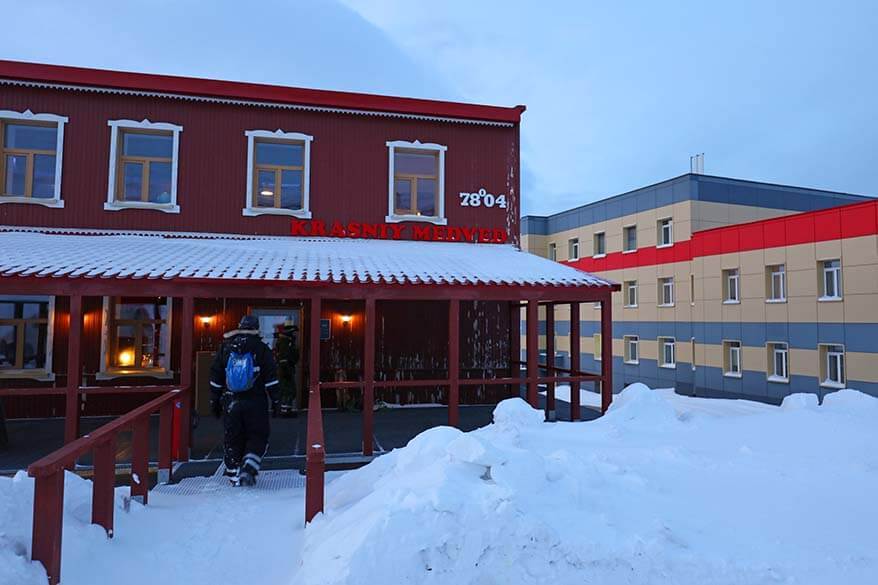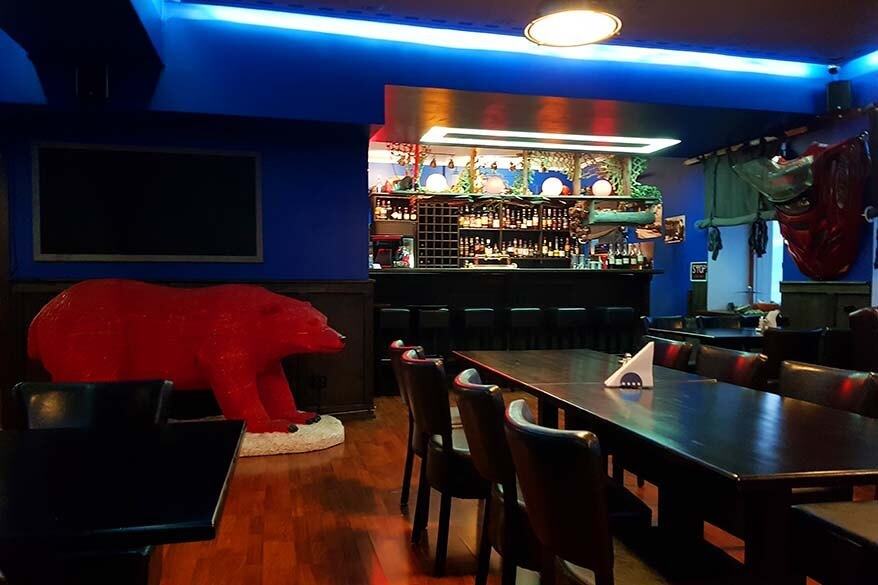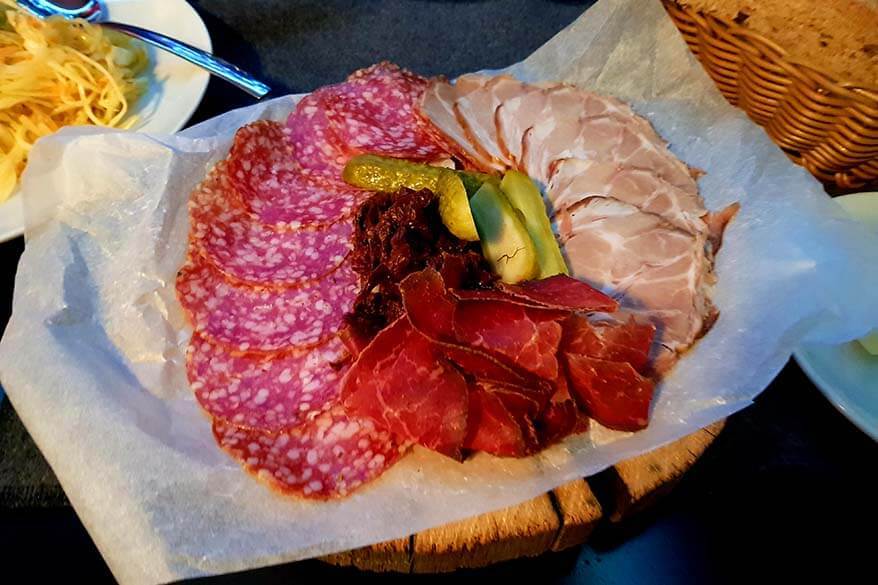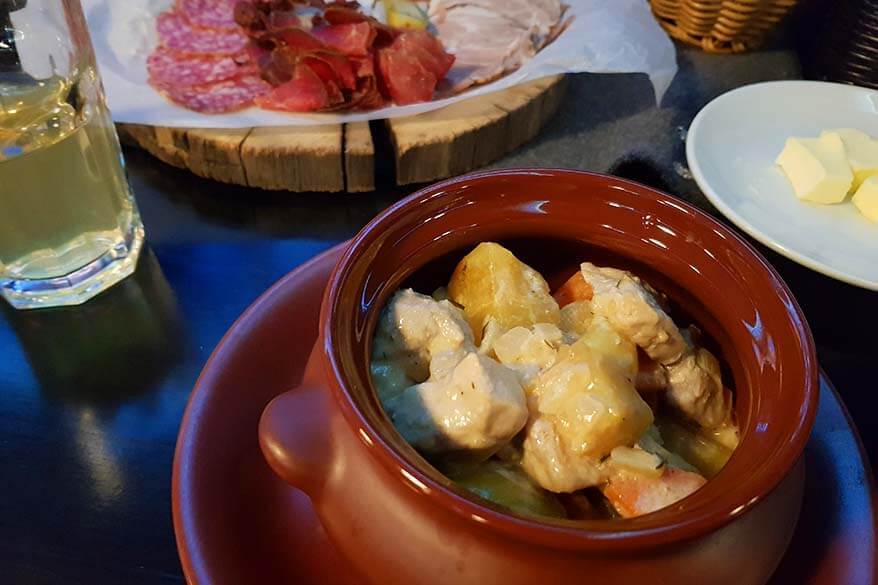 After lunch, we had some free time to explore the small town.
It's not the easiest thing to do dressed up as Teletubbies and with knee-deep snow. However, the town isn't big and so you can get the feeling of what it's like just by taking a short walk on the main street.
TIP: Make sure to visit the post office where you can find some really cool stamps or send a postcard to your family and friends from one of the most remote places on our planet.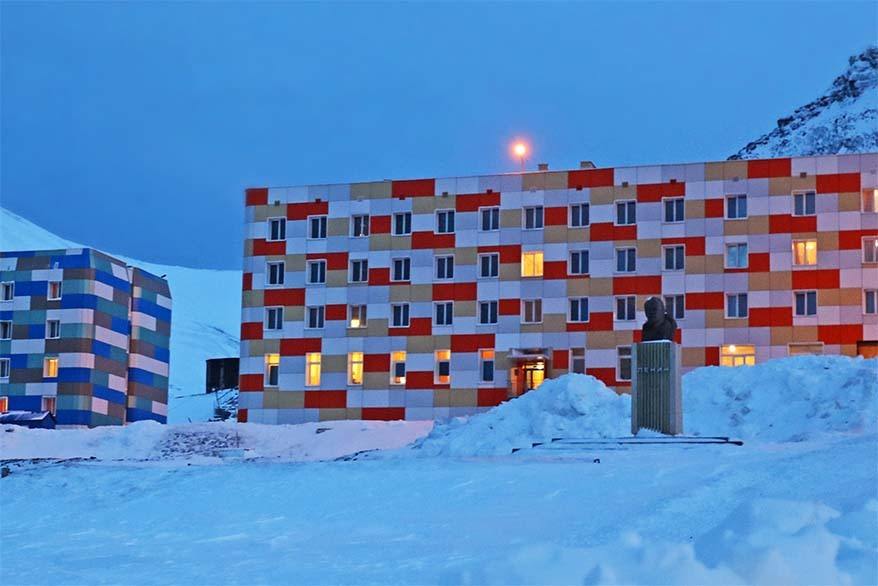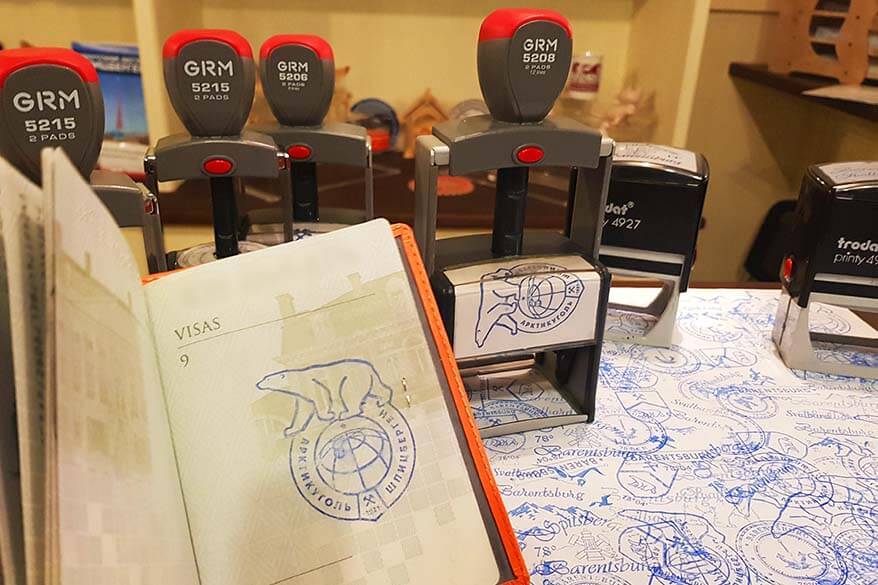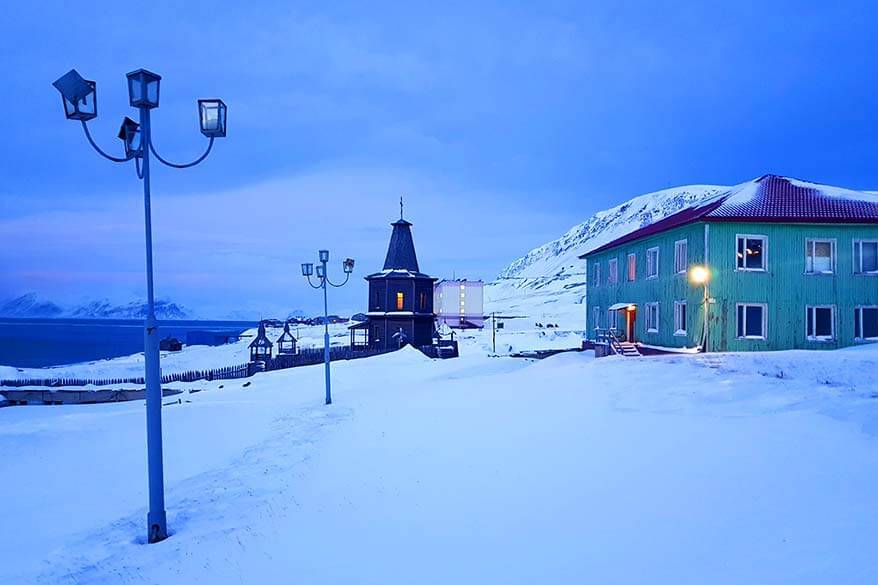 Moonlight & Northern Lights
As we drove back to Longyearbyen, it quickly started to get dark (I took this tour at the beginning of February when there's still very limited daylight). It was a full moon, a huge yellow moon lighting up the snow and showing us the way.
Driving inside a snowy canyon with that yellow moon shining right in front of us is one of those mental images I took that day that will stay with me forever. So beautiful and so magic!
If you are lucky, you may also see the Northern Lights if your snowmobile tour ends in the dark, as ours did. There was very little aurora activity when I was there and so we didn't see them, but it's really a matter of luck. If you do get to see them, it will just be the cherry on the cake.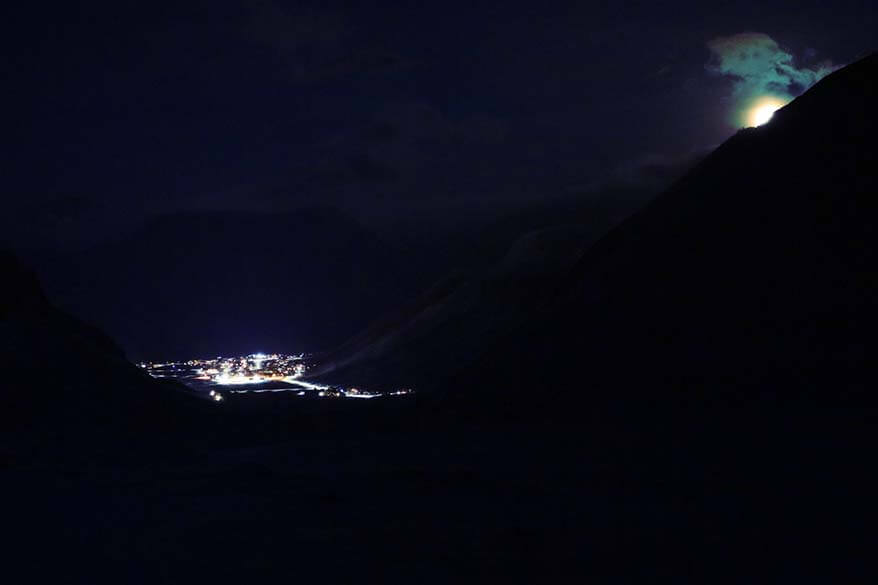 Back to Civilization
On the way back, we stopped for a warm drink. Total darkness around us, a few reindeer grazing nearby, and a full moon peeking through the clouds once in a while. It's not something you get to experience very often – complete silence and a strange feel of being in the middle of nowhere on a dark cold winter night. A truly unique moment, just like so many others that day!
We ended our tour with a steep descent into Longyearbyen. Seeing the lights of the town in the distance felt like we were coming back from a very long trip in the Arctic wilderness and back to civilization.
It was nice to be back at the warm and very cozy headquarters of the Better Moments. We were greeted with warm drinks, typical Norwegian liqueur Akvavit, and a nice souvenir to take home with us. But the best souvenirs are the incredible memories and unforgettable moments from that special day. A once in a lifetime experience!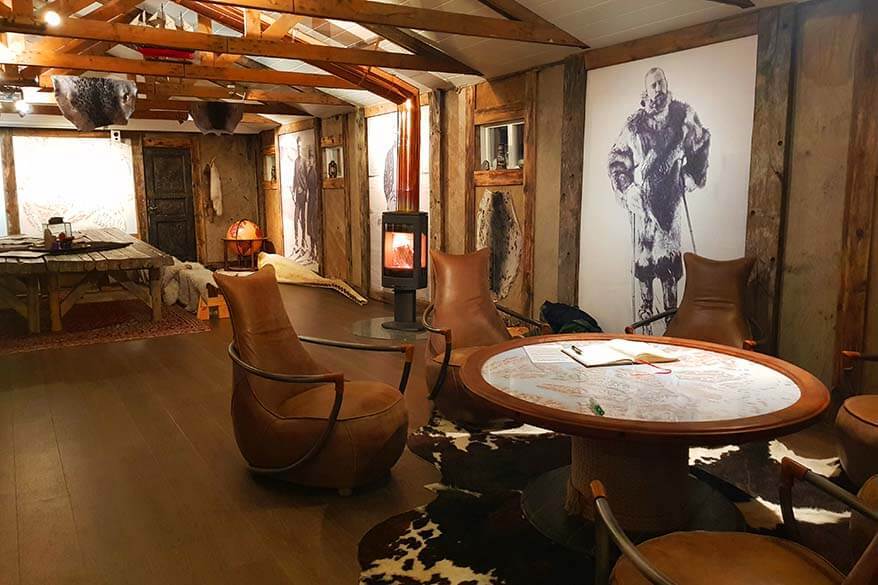 Is Svalbard Snowmobile Tour Worth It?
As you can imagine, my answer is yes! Taking a snowmobile tour in Svalbard is one of the best ways to experience the incredible vastness of the Arctic, push your limits, do something unique, and truly live in a moment.
With the ever-changing light and weather conditions, no two snowmobile trips in Svalbard will ever be the same. So I cannot tell you how your day will look like or what you will encounter along the way… One thing I know for sure is that it will be an experience of a lifetime. A day you'll never forget.
So if you are adventurous and physically capable, yes, Svalbard snowmobile tour is absolutely worth it!
Good to know: If you don't drive, you might still be able to join the snowmobile tour as a passenger. So make sure to ask about possibilities.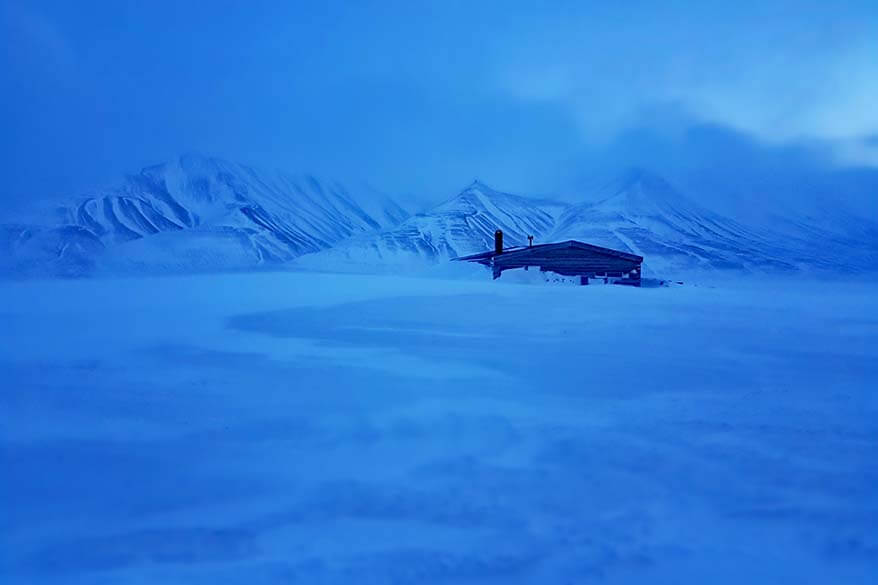 Snowmobile Safari & Polar Bears
I received so many questions about polar bears that I want to add this section for clarity. Many people visiting Svalbard for the first time are looking for a 'polar bear safari', thinking that they can book some kind of a wildlife tour in search of bears.
If you are looking to go on a snowmobile tour in order to see polar bears in Svalbard, then you'll be disappointed. There are no polar bear tours in Svalbard and all land-based tours will do their utmost to avoid any confrontation with the bears. If you want to see a polar bear in Svalbard in a safe and responsible way, your best bet is to go on a boat trip.
Chances of you seeing a polar bear on your snowmobile tour are very low. If it happens, you won't be allowed to stop anywhere close to the bear. If conditions allow it, the guides will do their best to stop and watch the bear from a safe distance, but from what I understood, it doesn't happen often…
Good to know: Just as with any other tours in Svalbard, your snowmobile tour guide carries a rifle and a flare gun. For safety reasons, our guide also had a satellite phone and other emergency equipment.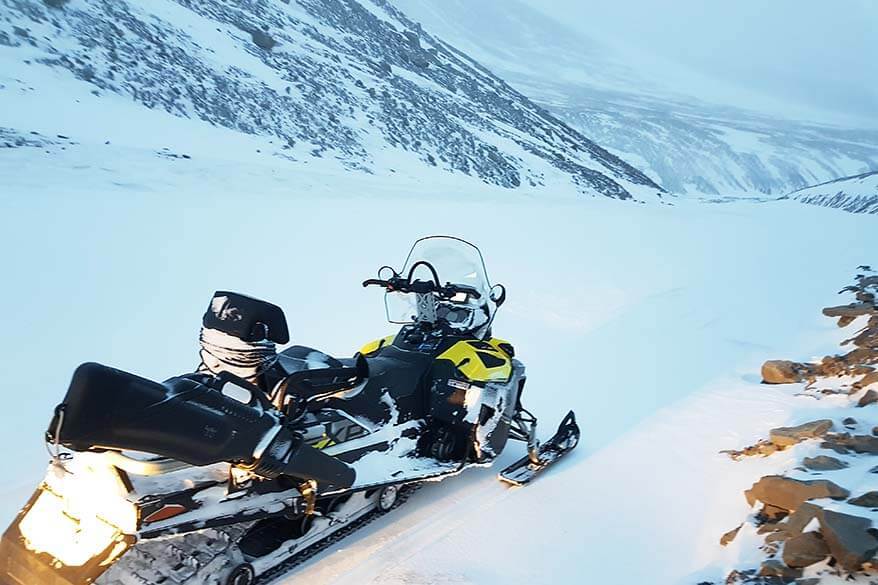 Practical Tips for Your Snowmobile Tour in Svalbard
Choose a snowmobile trip that suits your physical condition. If you are not sure if you can handle it, start with a shorter tour rather than going on a 10-hour long snowmobile trip. On the other hand, longer tours take you to more special and remote places. So choose wisely.
Dress warmly – you'll be outdoors in the freezing cold Arctic conditions. Snowmobile tour companies provide you with the thermal overall and other outwear, but you'll need to also wear warm wool socks, a warm wool sweater, warm winter pants, and ideally also thin gloves that can fit under the big Goretex mittens you'll be provided with.
Don't pack anything that you don't absolutely need. If you want to take a camera with you, make sure to also take a backpack. You can either wear a backpack or – if it has straps (outdoor backpack) – you can fix it to your snowmobile.
You won't be able to quickly access your big camera during the short stops, so it helps to keep a smartphone or a small camera in your pocket if you want to take some pictures. Keep in mind that batteries drain very fast in the cold and keep it in an inner pocket, as close to your body as possible.
Ask questions. If you are uncertain about something or have any kind of question in regards to your clothing, equipment, driving the snowmobile, or your itinerary, make sure to clarify everything with the guides. It's really not the best idea to set off for an adventurous day trip in the Arctic winter conditions to then realize that you are not dressed properly or lose your backpack along the way because it wasn't fixed well…
Food and drinks. Tour guides usually carry several flasks with warm drinks and some cookies on all day trips. Our tour also included warm lunch and drinks in Barentsburg. If you are not sure about what's included, check that with your tour operator in advance.
Once more – make sure to bring your driver's license with you.
Don't plan any late evening or early morning tours immediately after your full-day snowmobile trip in Svalbard. You'll be exhausted after it.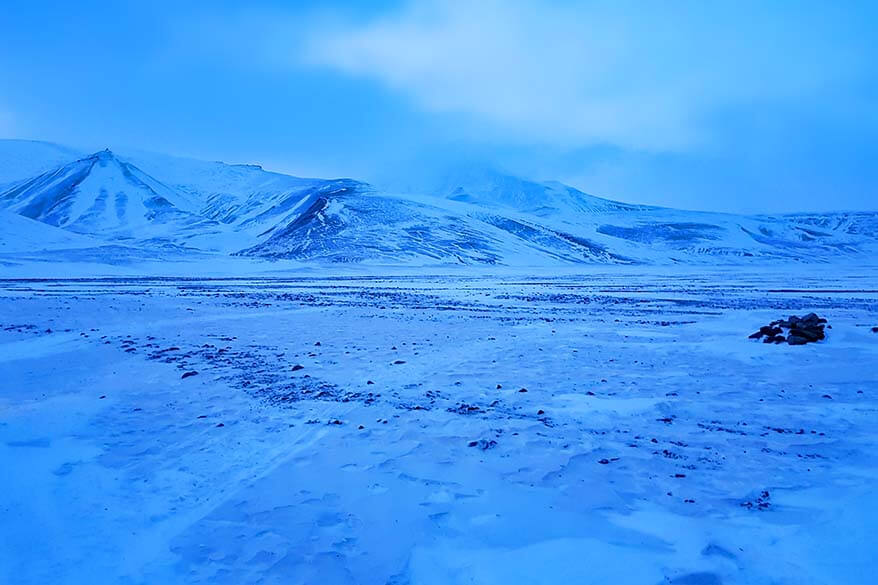 Planning a winter trip to Svalbard? Make sure to also check other articles on our blog!
Here you can read about all the amazing things that you can do in Svalbard in winter and here you can find a complete winter packing list for Svalbard.
For more practical tips and information, please check our guide with Svalbard travel tips and interesting facts, as well as our guide to Svalbard hotels and accommodation.
READ ALSO: Dog Sledding to Ice Caves Tour in Svalbard
If you found this post useful, don't forget to bookmark it and share it with your friends. Are you on Pinterest? Pin this image!