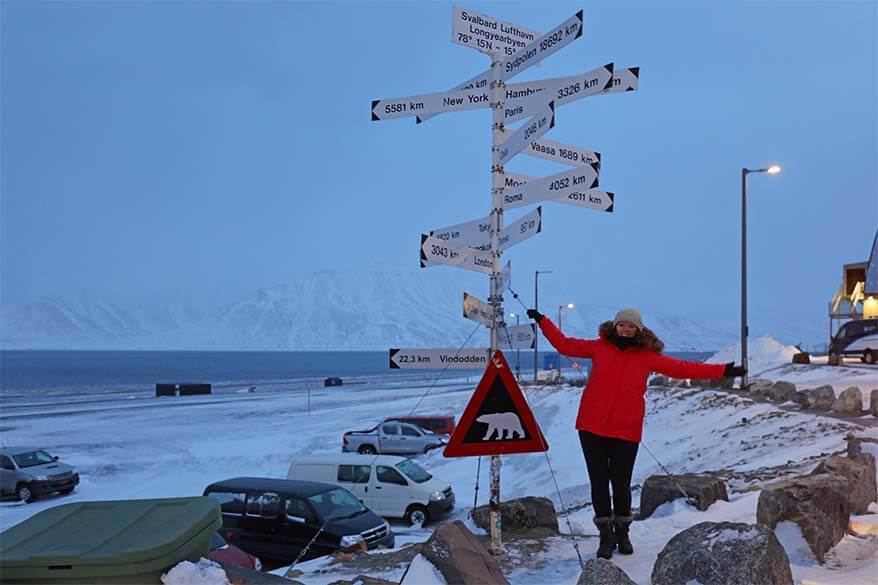 When planning a winter trip to Svalbard, the first thing you're probably going to ask yourself is what kind of weather to expect and what to pack. In this article, you can find our experience-based tips for Svalbard winter clothing: what to wear and what to pack for Svalbard in winter.
Good to know: Winter in Svalbard is very long. The period between mid October and mid May is considered winter. And while the temperatures won't be as low in April or May as they are in December or January, these packing tips will apply for any winter trip to Svalbard. Because when traveling this high to the Arctic in winter, you really have to travel prepared for everything. Read on!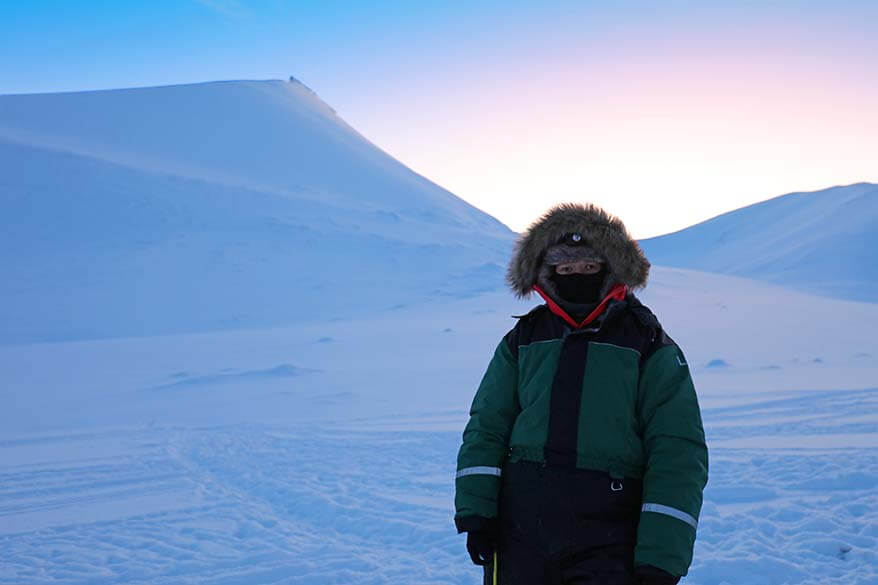 How's the Weather Like in Svalbard in Winter
When you look up Svalbard on the globe and see its proximity to the North Pole, you realize that it's a cold winter destination. However, thanks to the Gulf Stream, it's not as cold in Svalbard as at most other places at the same altitude.
The coldest month is February, with average temperatures of about -15°C (5°F), but it can get as cold as -25 to -35°C (-13 to -30°F) in Svalbard in winter. Keep in mind that the wind chill factor will often make it feel yet another 10°C colder…
However, these temperatures are more an exception. Most likely, you'll experience temperatures of about -10 to -20°C (-4 to 5°F) when traveling to Svalbard in winter months.
All this being said, you never know what kind of weather you get, so you really should prepare for the coldest Arctic winter weather and pack the warmest clothing. Whether it's -10°C or -20°C, the wind can make it feel so cold that you'll need all your winter gear.
My experience: I visited Svalbard in February (2nd week). Two days before my trip, it was -25°C to -32°C (-13 to -26°F), feeling as -36°C (-33°F) and lower. However, when I was there, it was just -6°C to -10°C (14 to 21°F), feeling as cold as -17°C (1°F) because of the wind.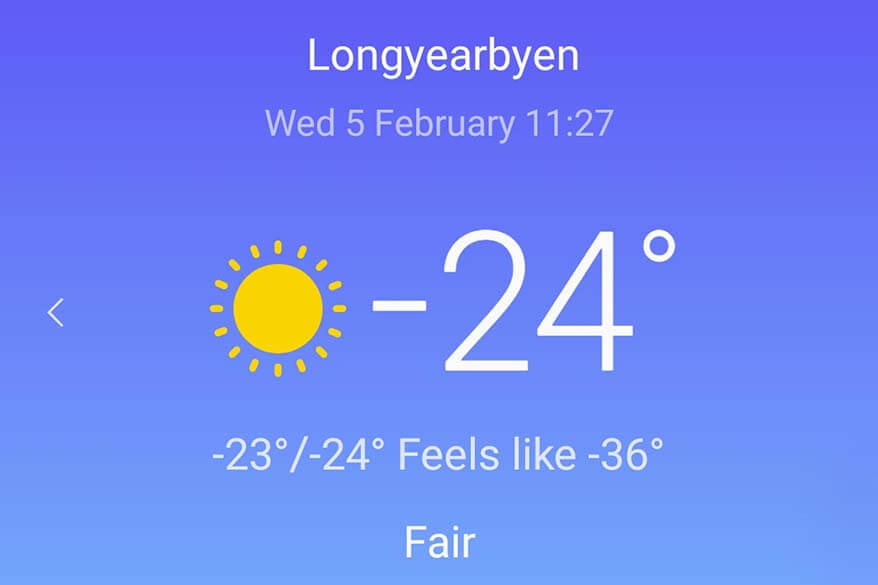 Svalbard Packing List for Winter
The biggest challenge when dressing in Svalbard in winter is that it's very warm inside and by the time you put on all the layers of clothing and are ready to leave, you're drenched in sweat… But then you're outdoors, walking around and it's just perfect. However, if you stand still for too long, you're starting to feel really cold…
So every time you have to dress, you should consider what you'll be doing. If you're just walking to a restaurant or a museum in Longyearbyen, you're probably better off wearing fewer layers, whereas if you're planning to spend a few hours waiting for the Northern Lights outside, dress as warm as you possibly can.
Here is the list of essential clothing and other items that you should pack for Svalbard in Winter. Further below, you can find more explanations about the most important items on this list.
Here's an overview of things to pack for Svalbard in winter:
Winter jacket (the warmest you can find)
A wool sweater or two (a lighter one and a really warm one, both 100% wool)
Warm winter pants (or ski pants)
Thermal underwear (both – shirts and leggings)
Wool socks
Warm winter boots
Shoes or slippers to wear inside (not a must because most hotels provide slippers)
Jeans or other pants and a lighter sweater (to wear at the hotel/ restaurant)
Pajamas, underwear, socks
Warm hat that covers your ears. Many people wear bomber hats.
Two pairs of gloves – thin inner gloves and thick Goretex gloves. Many locals wear wool gloves.
Reflective vest (if visiting during the polar night)
Ice cleats (shoe spikes)
Feet warmers and hand warmers (not a must, but might be useful)
Warm buff
Lip balm
Moisturizing face cream and hand cream
Day backpack with rain cover
Powerbank and extra batteries
Camera, smartphone, cables
Tripod (for any photography in low light)
Headlamp (useful, not a must)
European travel adapter
Paper tissues
Good to know: All adventurous outdoor tours such as dog sledding & Svalbard ice caves or snowmobiling in Svalbard provide warm thermal overalls, really warm gloves, and usually also balaclava, winter hat or a helmet, and super warm boots. In most cases, you'll still want to wear your ski pants and a sweater + jacket under the thermal suit.
If you want to know more details about some of the items from this packing list, below you can find some examples of what I packed to Svalbard in February and more explanation as to what and why. Read on!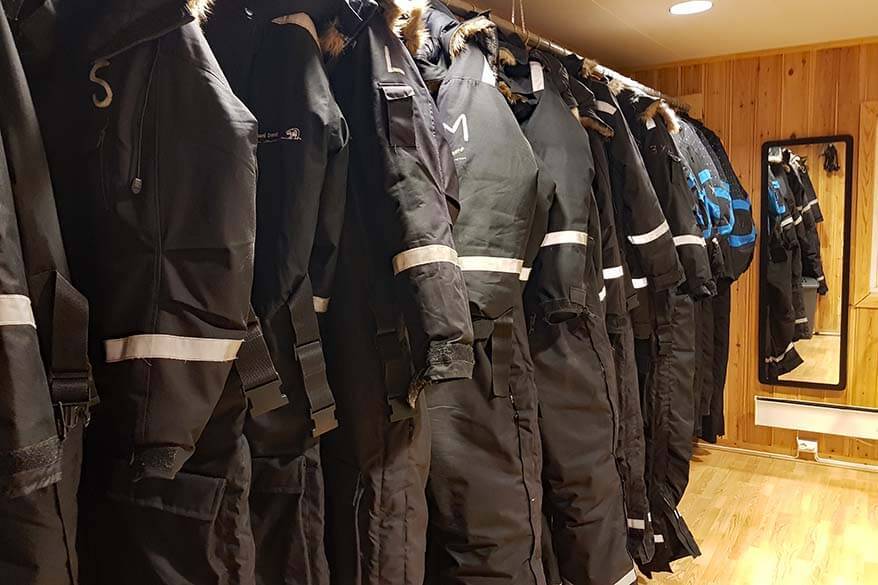 What to Wear in Svalbard in Winter
I usually wore the following layers in Svalbard: merino wool undershirt, Icelandic wool sweater, and winter parka. A few times, I also wore a thinner wool sweater under the thick wool sweater. So 3 or 4 layers in total.
For pants, I wore thermal merino leggings and my warm ski pants. Just 2 layers. I also wore my ski socks and warm 100% wool socks over them. Plus my warmest winter boots.
Further below you can find more details and examples of my Svalbard clothing.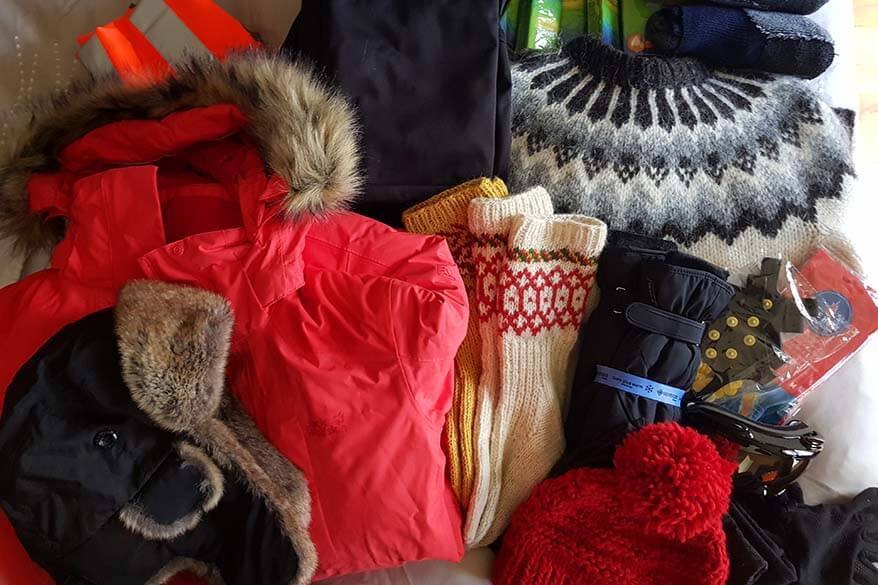 Below is a more detailed overview of some of the most important clothing items that you have to pack in winter.
Winter Parka
This is probably one of the most important things you have to pack – a really warm winter parka. I have a few warm jackets that served me well for a winter trip to Iceland and a winter trip to Northern Norway, but when I saw the weather forecast of under the -20°C, I knew that I needed something even warmer for Svalbard.
After some research, I ended up ordering this winter parka and it was just perfect for a very cold winter trip. It's not a cheap purchase and I may not quickly wear it again, but you don't want to have the whole trip ruined by not dressing properly…
It's not likely you'll find the exact same jacket as models change so much. Here are some of the characteristics of the jacket that I bought: Main Fabric: TEXAPORE TASLAN 2L Filling 1: 80/20 WHITE DUCK DOWN, 700cuin 80% White Duck Down, 20% Feather; Filling 2: MICROGUARD 120g/m. Basically – a very well insulated waterproof winter jacket with a thick duck down filling.
TIP: Take a look at the Fjallraven winter parkas when looking for a warm winter jacket for places like Svalbard. This brand is very popular among locals all over the Nordics.
If you are traveling to Svalbard in the warmer winter months like April or May, you'll probably be ok with a somewhat lighter winter jacket.
Reflective Vest
It's customary to wear a reflective vest in Longyearbyen in the dark season. You'll see that most locals and many tourists wear them in town and it really helps to be seen. Streets have no pavements, so it doesn't harm to be extra careful.
Some hotels lend reflective vests for their guests, but I just packed one from home. I took the biggest size reflective vest we had so that it fit over my thick winter jacket.
Good to know: One of our readers told us that the place they stayed at didn't have reflective vests and they paid around 12-15 EUR to buy one. I'm not sure if this price is correct, but if it is, it's definitely one more reason to bring one from home.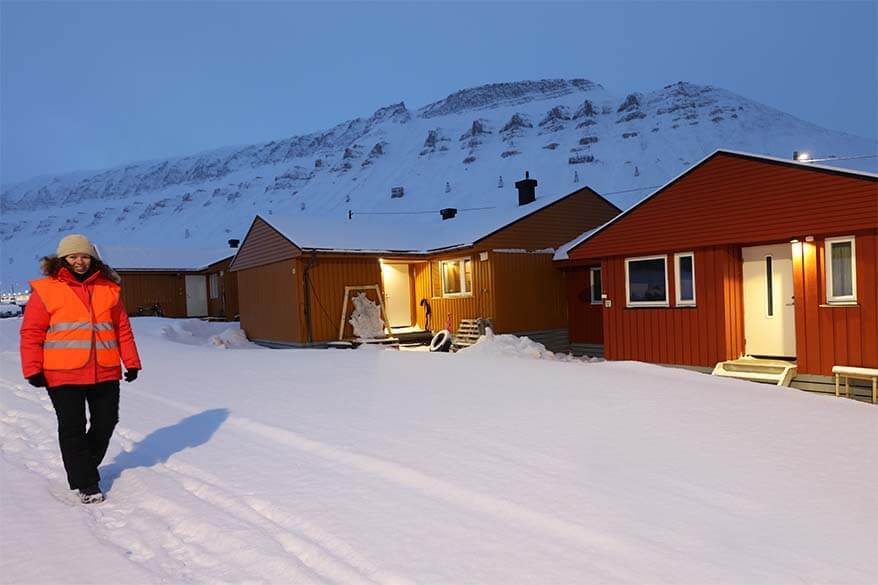 Wool Sweater
You don't have to wear many layers in Svalbard in winter, but make sure that each of them counts. A quality wool sweater (100% real thick wool) is an absolute must!
I took a couple of sweaters to Svalbard. Most of the time, I wore my Icelandic wool sweater, always in combination with merino wool underlayer. Once or twice I also wore a thinner wool sweater under my thick Icelandic sweater. Here's the type of sweater that I wore and here you can find more similar models for both, men or women.
Most locals in Svalbard wear this type of Norwegian wool sweaters and you can also find them in the local shops in Longyearbyen. But unless you have lots of time for shopping on the very first day of your trip, I'd get one online in advance.
Thermal Underwear
I recommend merino wool underwear – both shirts as well as leggings. While you'll probably be ok with just one pair of leggings, you should pack several thermal shirts. If you do any adventurous activities, you'll really want to change them every day.
I packed three merino shirts and just washed them once in the hotel room. The heating in the room works so well that it was dry a few hours later.
Already for years, I use these merino wool leggings and these merino shirts for all my winter trips. I also have a few of these merino t-shirts that are great for layering. They weren't cheap, but it was a good investment.
Ski Pants
I have several different winter pants and ski pants. For Svalbard, I packed my warmest ski pants and wore them the entire time. I recommend that you get insulated ski pants if you don't have them yet. You really need that extra layer of warmth in those Arctic temperatures!
Winter Boots
Good winter boots are one of the most important items you have to pack for a winter trip to Svalbard. Most people wore this type of Sorel winter boots. I took my UGG Airdonack winter boots – the same ones that I use for all my winter trips – and they were excellent.
For more suggestions in all price ranges and for the whole family, please read our guide to the best winter boots for travel.
TIP: When buying winter boots, make sure to get them at least a size bigger than you'd normally do. Wool socks take-up quite some space and it's also warmer if there is some extra space in your shoes and they're not too tight.
Good to know: In Svalbard, it's customary to take off your shoes inside. All Svalbard hotels, museums, and also some restaurants have shoe racks (or even a whole separate changing room) at the entrance where you can leave your outdoor boots. Slippers are provided.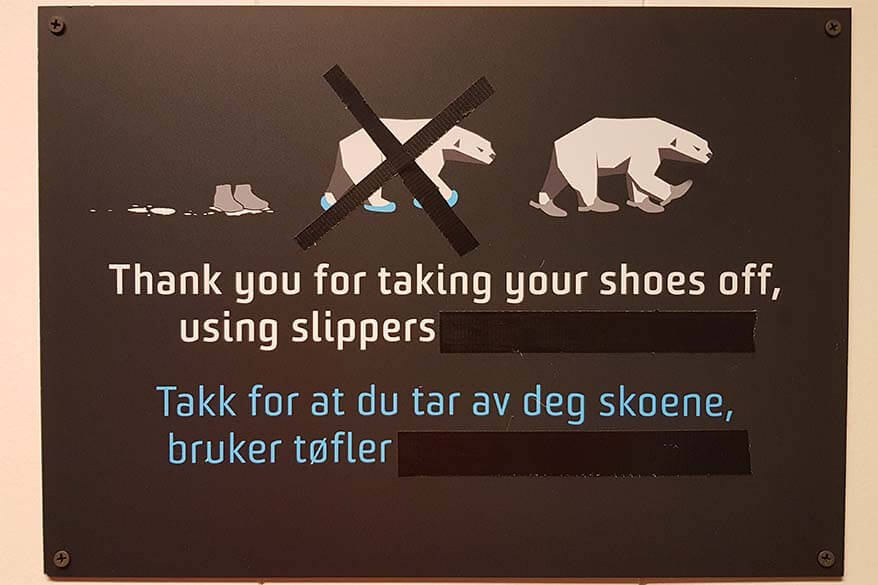 Shoe Spikes/ Ice Cleats
While not absolutely necessary, it's really handy to wear shoe spikes (ice cleats) over your shoes when walking around in Longyearbyen. Streets and pavements can be really slippery, especially when walking up or down a hill. I tried walking without them and it's really a huge difference.
I packed these shoe spikes with me and they were great. They are light, easily fit in your pocket, and are very easy to put on or take off.
Wool Socks
Good boots are important, but you also really need good quality wool socks. Most of the time, I wore my ski socks with thick wool socks over them. I took a few pairs of handmade 100% wool socks that I stock up on when visiting my home country Lithuania. They're about the same as this model that I was able to find online. So if these socks are available, they are about as good as you can pack for Svalbard.
However, it's not always easy to find good 100% wool socks in the countries where winters aren't as cold as in the Nordics. Most so-called wool socks just have 30-50% of wool and aren't nearly half as warm as real wool socks. These are about the warmest socks (70% wool, including 25% Alpaca) that you'll usually find. They should be fine if you have very good winter boots and it's not much colder than -10°C, maybe -15°C.
In Svalbard, you can also buy wool socks in most shops. So if you can't find anything suitable at home, pack the warmest socks that you have and then buy a pair or two when you get there. Most hotels sell warm socks as well.
Headwear
I took two winter hats with me – a warm fleece hat and a waterproof bomber hat. I wore both. In town, I usually wore the fleece hat in combination with my jacket's hood. Whereas during the activities, I wore the bomber hat and also a warm balaclava.
There were times when my face was still cold, even with all these layers… Wind can be really hard, especially in combination with rapid movement on a dog sled or a snowmobile.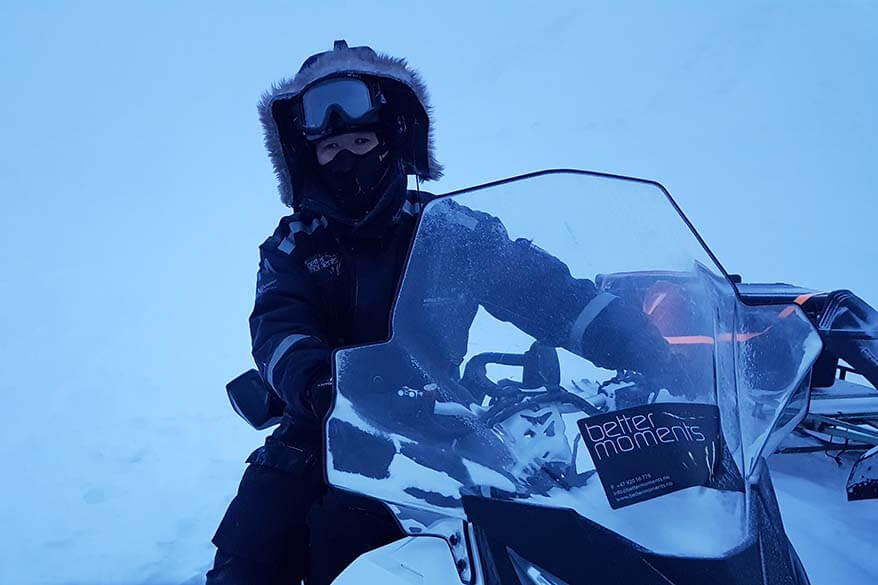 Feet Warmers & Hand Warmers
There was one time when my feet got really cold and that was when waiting for the Northern Lights and standing still for a longer period of time. So next time I used these feet warmers.
They're great, but you have to be careful not to use them from the very beginning if going on a full-day trip, because your feet will get used to the warmth and will feel cold when the footwarmers stop working.
So either pack enough so that you can change them after 3-4 hours, or only use them when it's really necessary. Just keep in mind that it's not always easy to just put them in on the go.
I took some hand warmers with me as well but never used them. This is not because it wasn't cold, because it sure was. It has more to do with the fact that I was always busy taking pictures and didn't find the time for hand warmers.
Gloves
I packed two pairs of gloves – thin inner gloves and thick Goretex mittens. Most of the time, I wore just the thin ones. It was perfect for taking pictures but really too cold to stand still for a while, so those mittens were needed as well. During tours, I used my thin gloves to wear under the thick mittens provided by tour companies.
Many locals wear thick wool mittens in town, but since they aren't waterproof, they also always have oversized Goretex mittens to put over those wool gloves when staying outdoors for a longer period of time.
TIP: These 2-in-1 Goretex mittens (with thin inner gloves) are a perfect example of what you should pack.
Neck Warmers
I find that packing a thick shawl isn't the best thing to do for a winter trip with lots of outdoor activities. That's why we always use buffs (neck warmers).
For Svalbard, I packed two buffs – a long polar buff and a thick fleece buff. Most of the time, I wore both of them over each other.
In many shops in Longyearbyen, you can also buy warm wool buffs that most locals wear as well, but not everyone is used to wearing wool touching the skin, so the fleece ones might be more comfortable, even though not as warm.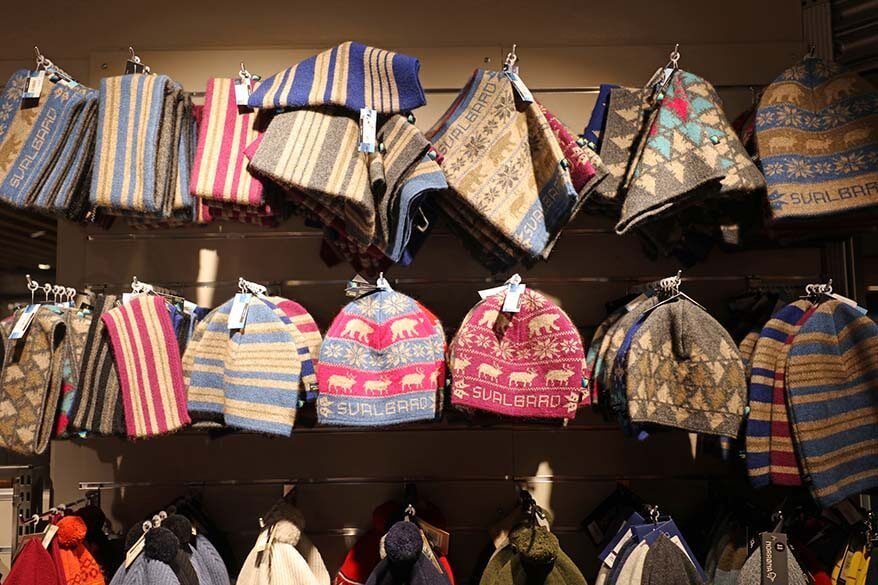 Other Things to Pack for Svalbard in Winter
Here are some other essential items that you shouldn't forget when packing for a winter trip to Svalbard.
Camera gear, including extra batteries (they drain fast in the cold). Make sure to pack a tripod for any photography in low light and also for photographing auroras. Here you can find more tips and settings for aurora photography for beginners.
Powerbank might be a good idea if you are using your smartphone a lot because batteries drain really fast in the cold. Just make sure that it's a powerful one or your power bank will drain just as fast as the batteries… My phone 'died' several times during the long day trips and refused to take pictures at times too. When not in use, it's best to keep your phone in an inside pocket as close to your body as possible.
European travel adapter. Svalbard uses the same plugs as Norway and most of continental Europe. If you're traveling from the UK, you'll need this type of adapter; from the US – this one.
Day backpack with rain cover. If you are planning to pack any camera gear or other items for your day trips, it's best to pack a small backpack. Ideally, one with a rain cover so that it doesn't get wet in the snow. If your backpack doesn't have a rain cover, you can get one separately (check out this selection in all sizes on Amazon). They aren't expensive and really handy for any outdoor adventures.
Moisturizers. Arctic climate is known to be very dry. Most people who are not used to this will experience slight discomfort of dry itchy skin and dry lips. Make sure to pack a good moisturizing cream for your face and a good lip balm. Body lotion might be nice to have as well.
Headlamp. This would be useful, especially when visiting Svalbard during the polar night. The tours that run in the dark (like a visit to an ice cave) provide headlamps as well, even though they aren't really strong.
Thermos. I usually pack a thermos for winter trips and I took it to Svalbard as well, but I didn't use it. Everything you do outside of town is with organized tours and they always pack their own thermoses and make warm drinks on the go.
Snow goggles. I packed my snow goggles and there were moments (during dog sledding) when I really wanted to wear them. However, the ones I have were really too dark (they are meant for the sunny skiing trips to the Alps and not polar expeditions in the dark) and were therefore useless. If you pack any, make sure that they are see-through and have an anti-fog coating (our dog sled guide had something like this – simple protective goggles). It's not absolutely necessary and will depend greatly upon the weather. For snowmobile trips, you'll get a helmet and appropriate goggles from the tour operator.
Sunglasses. There is obviously no need for sunglasses during the polar night. However, if you are visiting Svalbard during the sunny winter season (March – April), you probably want to pack good anti-fog sunglasses as well.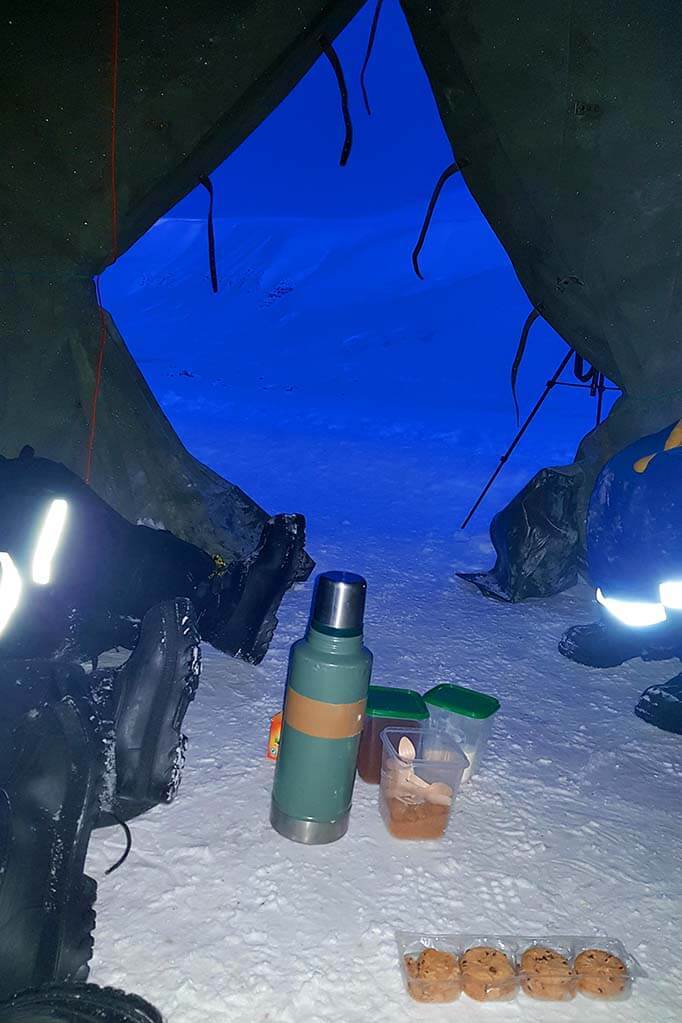 If you are still not certain about Svalbard winter clothing, check out the video below, made by Svalbard Tourism Board. It shows exactly how to dress for Svalbard in winter. Take a look!
So, these are my tips for packing for Svalbard. If you have any questions, feel free to post a reply below.
If you forget to pack something, you'll most likely be able to buy it in Longyearbyen (here you can find more information for visiting Svalbard). However, prices are significantly higher than online, so it's best to travel well-prepared.
READ ALSO: Things to Do in Svalbard in Winter
If you found this post useful, don't forget to bookmark it and share it with your friends. Are you on Pinterest? Pin this image!