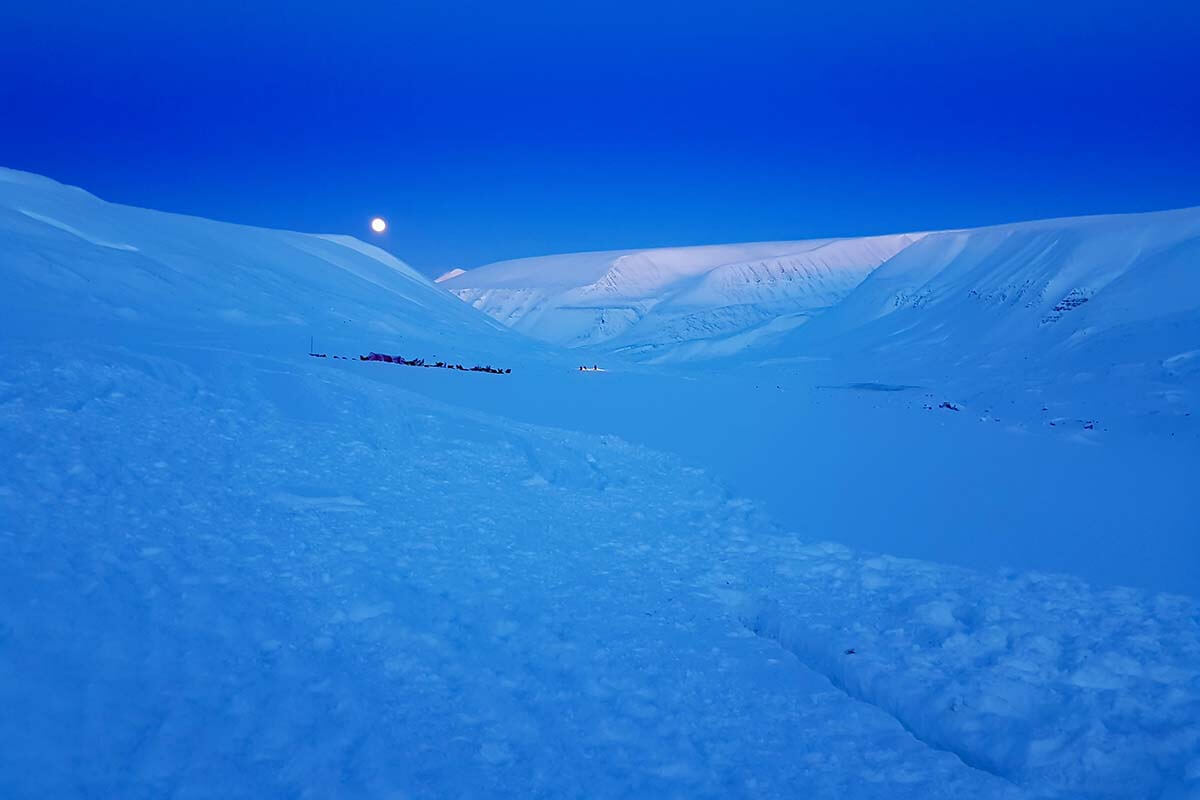 Thinking of visiting Svalbard in February, but are not sure what to expect? Wondering if it's a good month to travel this far north in the Arctic?
I had the same concerns when preparing for my trip to Longyearbyen at the beginning of February. I knew it would be cold, very cold in Spitsbergen in winter indeed. But what I wasn't sure about was how much (if any) daylight there would be in Svalbard in February and how much that would influence all the amazing winter activities and outdoor experiences that I was planning to do.
I spent several days in Svalbard and was there between the 6th and the 11th of February. Below, you can read about my experience and observations on whether it's a good time to travel to Svalbard. Find out!
READ ALSO: Svalbard Travel Guide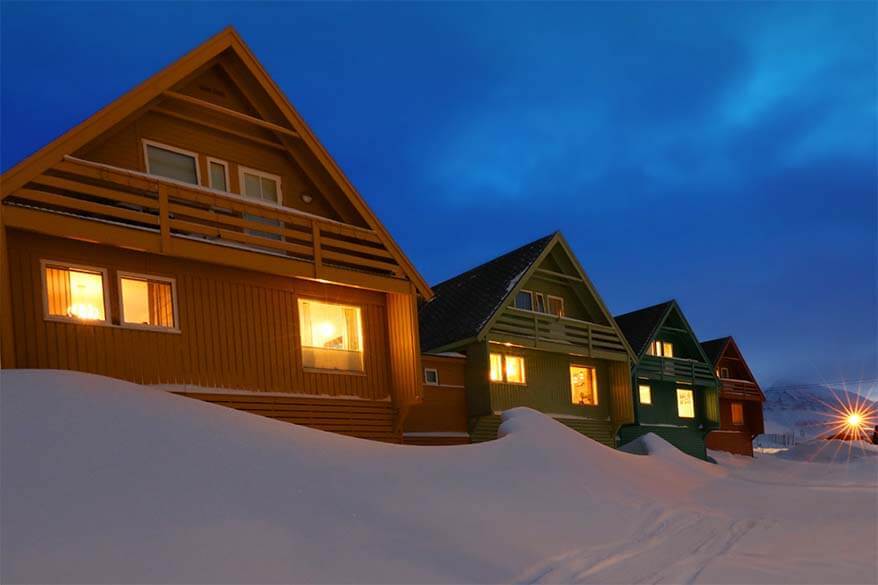 February Weather
February is one of the coldest months in Svalbard. And while you never know how the weather will be when you visit, you should expect average temperatures of -15 to -21°C (-6 to 5°F). However, it's not uncommon for the mercury to drop to -30 to -35°C (-22 to -31°F) or even colder.
Add strong winds and the wind chill factor, and you know that you have to be prepared for a real Arctic winter!
LEARN MORE: What to Wear in Svalbard in Winter
My experience: I was following the weather forecast very closely before my trip to Svalbard. Two-three days before my visit, it was -25°C to -32°C (-13 to -26°F), with real feel at around -36°C (-33°F). Just a few days later, when I was in Svalbard, it was just -6°C to -10°C (14 to 21°F). It was mostly cloudy but only snowed for short periods of time. Yet a few days after my trip, they had extremely cold weather of well under -30°C again.
Cold temperatures usually come with clear skies, whereas warmer temperatures usually mean cloudy skies and more snow. And you can always expect a lot of wind. So don't just rely on the temperatures you see in your weather app! It feels so much colder than temperatures make you think.
Good to know: It's not completely uncommon to get rain in Svalbard in winter. However, the chance of getting snow and freezing cold temperatures is much much higher. So prepare for that!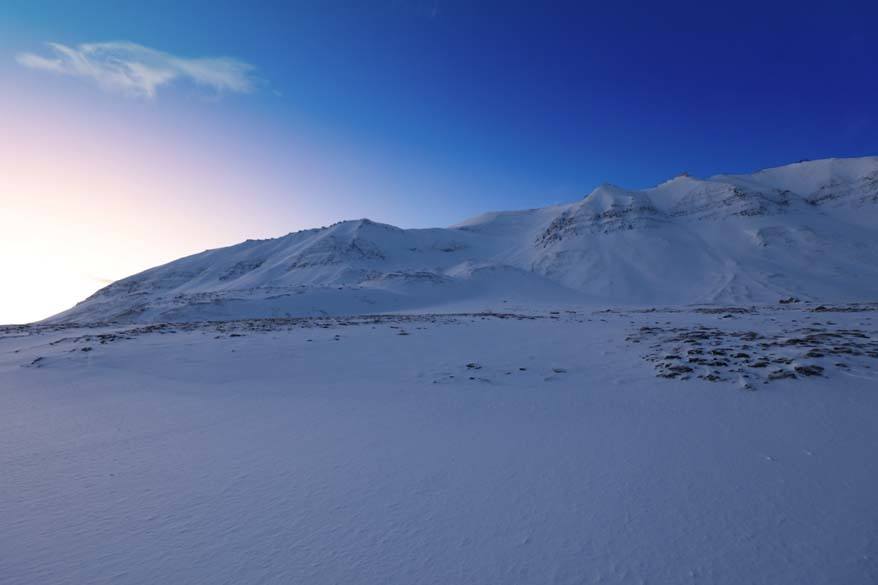 Daylight
Svalbard's Polar Night lasts from around the 26th of October to the 15th of February. That's the time of the year when the sun never rises above the horizon. However, it doesn't mean that it's pitch dark all the time.
In fact, there is quite some daylight in Svalbard in February already! Officially, it's not called daylight yet, but there is some natural light from around 10.30 AM to 2 PM at the beginning of February.
Days quickly get longer and at around the 10th of February, you already have daylight from +- 9.30 AM to 3 PM.
On February 15, the sun shows up behind the horizon and you have daylight in Svalbard from around 8.30 AM to 4 PM. However, Longyearbyen town is surrounded by mountains and doesn't get to see the sun until a few days later.
At the end of February, it starts to get light a bit before 7 AM and you have daylight until around 5.30 PM.
My experience: When I was in Svalbard in the second week of February, it was light from just before 10 AM to about 2.30-3 PM. Under each picture in this article, I indicated the time when it was taken. That gives you a better idea of what to expect.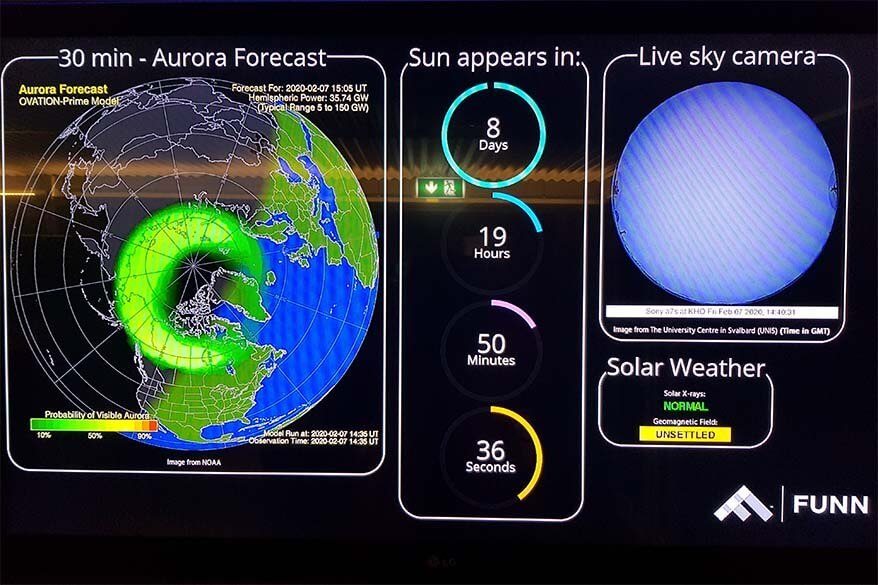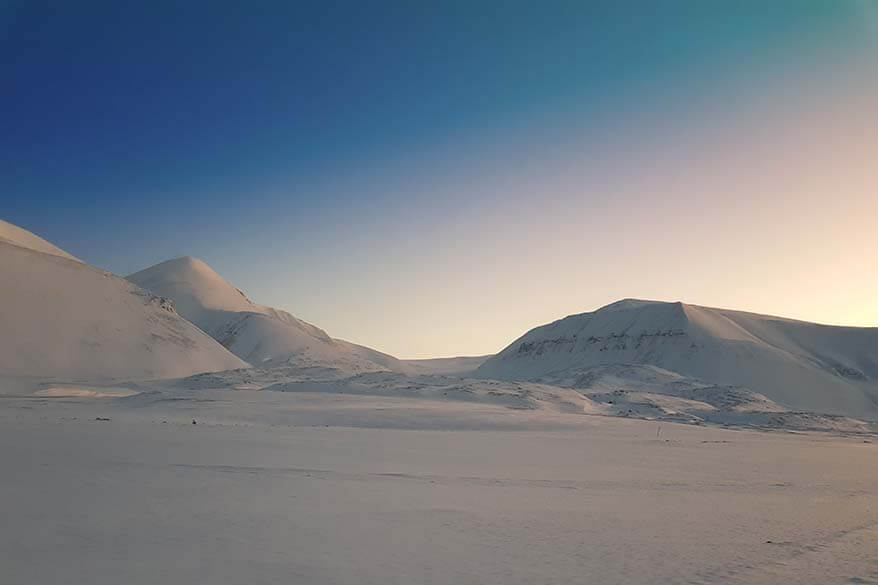 Blue Light
The end of the Polar Night makes February an exceptionally special time to be in Svalbard. It's the so-called 'Blue Season' in Svalbard.
Instead of the sun or actual daylight, you experience the most incredible blue light. It's like experiencing a sunrise that turns into sunset, but without seeing the sun in between. This blue light is dazzling, especially when combined with the moonlight. It makes the vast landscapes of Spitsbergen Island look even more special…
The blue light in Svalbard is simply gorgeous and hard to describe in words. I have never experienced anything similar to it anywhere else before. Just take a look at some of the pictures in this article (all taken in Svalbard in February), and you'll see what I mean. Although the pictures don't even do it justice.
I'm not sure how long this blue season lasts in Svalbard. From what I understood, it's at its best in the second-third weeks of February.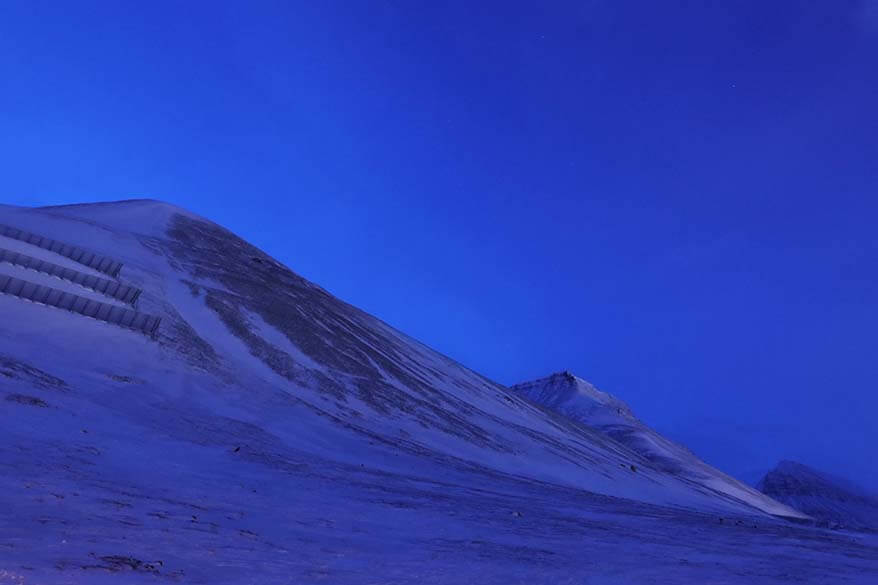 Outdoor Activities
With long dark nights, February is also a good month to see Northern Lights. Although this always remains a gamble, so try not to focus on seeing auroras as the main goal of your trip! Luckily, there are so many other great activities that auroras will be just the cherry on your vacation cake.
I was in Svalbard for a few days and it was so cloudy that I didn't get to see auroras. But I talked to a few people who caught a glimpse of them in that same period. So it also depends on where exactly you are and when.
February usually has lots of snow on the ground, which makes it a great month for snowmobiling trips and dog sledding. Limited daylight makes longer overland trips difficult, but some longer day tours start running after the first week of February already. Winter is actually one of the best times to see Svalbard's interior with snowmobile tours offering the smoothest travel experience through the rugged landscapes.
Many short snowmobile and dog sledding tours run even when it's completely dark in December or January. So with a few hours of light in February, you can do quite a lot more already.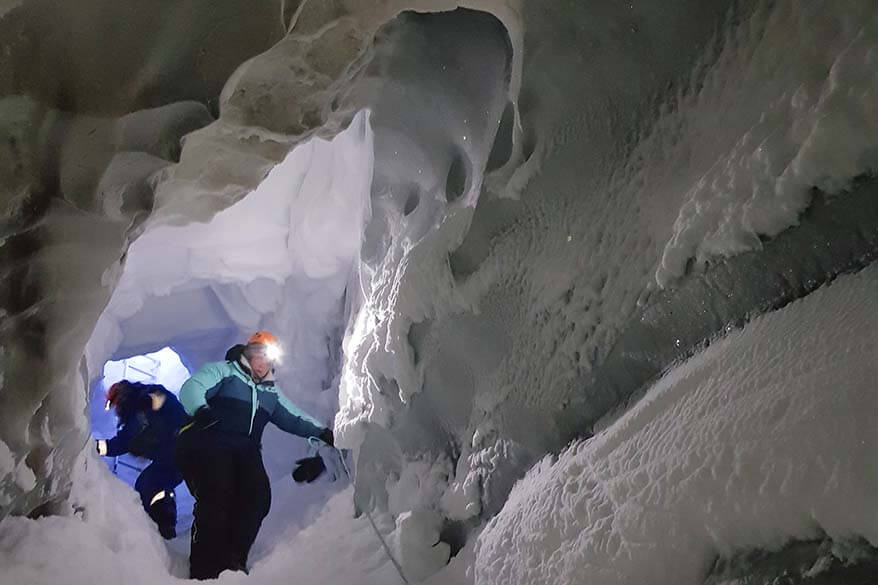 My experience: I did two longer day trips in Svalbard in winter. One of them was a dog sledding trip that included a visit to the ice caves. We started at twilight and ended in the dark. It was really windy in the morning, but it cleared up and we had the most beautiful weather and gorgeous light that day. Unforgettable!
LEARN MORE: Svalbard Dog Sledding & Ice Caves Tour
I was also able to join the first snowmobile day trip to Barentsburg that season. We started and came back in the dark, but had plenty of light during the day. The vastness of those landscapes – an indescribable experience!
LEARN MORE: Snowmobile Trip in Svalbard
With freezing temperatures and extensive sea ice, boat trips aren't possible in Svalbard in winter. However, my friend visited Svalbard just two weeks after I did, at the end of February, and she was able to join one of the first boat trips of the season already. So it seems that they're starting earlier than in the past (this might have to do with climate change and less sea ice).
LEARN MORE: Svalbard Boat Trip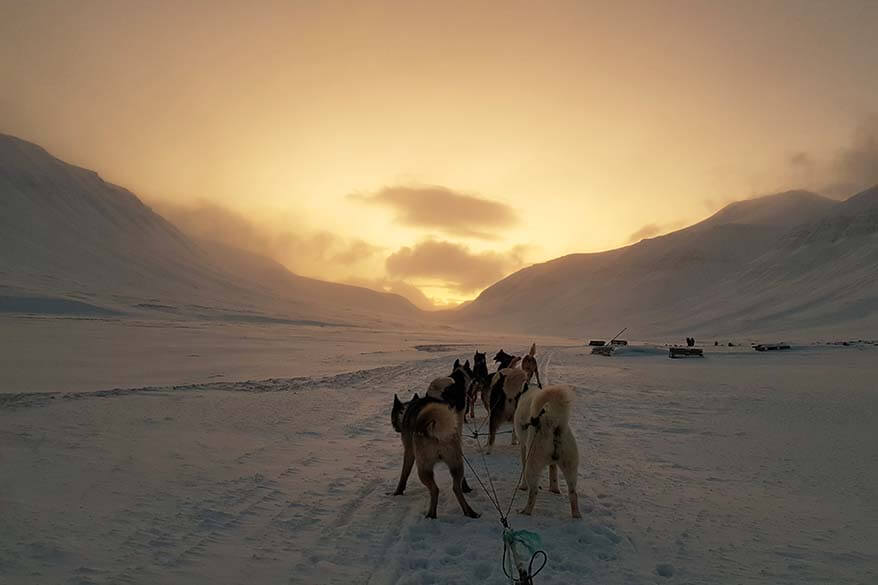 Wildlife
February is considered not the best month to see wildlife, but that doesn't mean that you won't see any animals. We saw lots of Svalbard reindeer on several different occasions. You might get lucky and see the Arctic Fox. And if you go walking next to the shore, you are likely to see seals.
A bear was spotted close to town when I was in Longyearbyen as well, but that's something you actually don't want to experience from close-by. A helicopter was quickly sent and they chased the bear away.
If you want to see whales, walrus, or polar bears, it's best to visit Svalbard in the warmer season when boat tours are running. It's also the safest way to see polar bears – from the boat.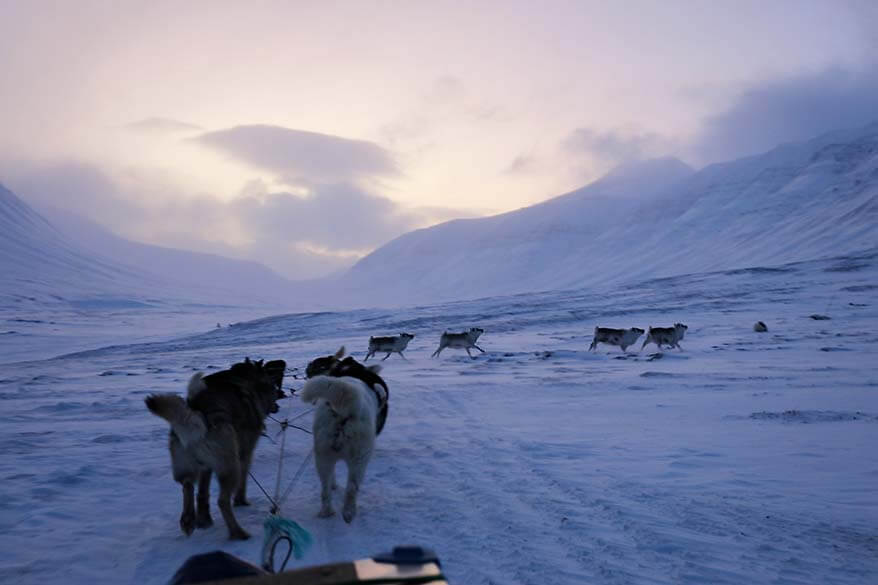 Indoor Activities
In addition to the outdoor activities, there's plenty to see and do in Svalbard during the dark hours of the Polar Night as well.
There are several museums in Longyearbyen, a library, quite a few shops, and many really good restaurants. Longyearbyen is a very lively town and there are usually many events and concerts in winter as well.
If you have a chance, make sure to also visit the Coal Mine at Gruve 3. This is the best place to learn more about life in Svalbard in the 20th century. I find that a visit here is an absolute must in Longyearbyen in any season! It just makes you understand so much better what this place is truly about.
And because the tour is underground and the temperature is always about the same inside, it's a great activity that you can do when it's dark and cold outside.
LEARN MORE: Best Things to Do in Svalbard in Winter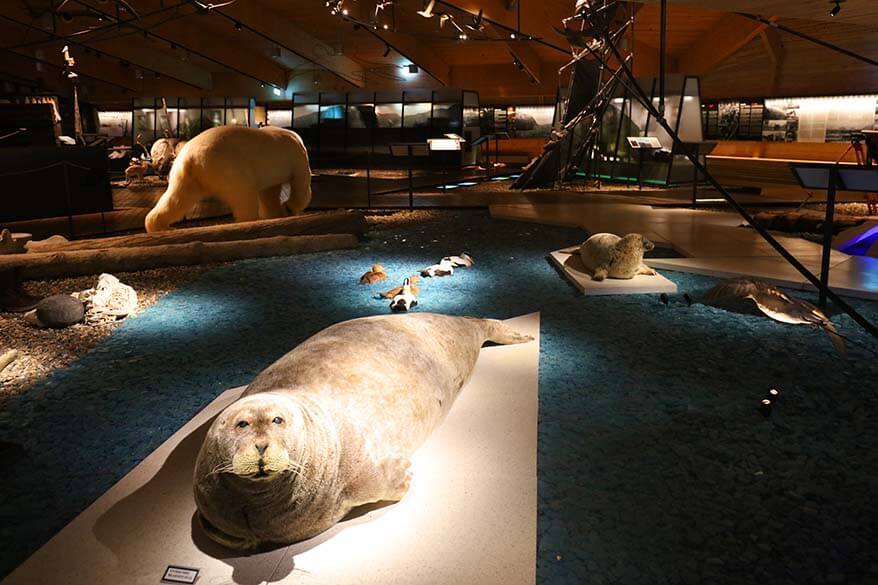 Is Svalbard in February a Good Idea?
If you are wondering whether it's worth visiting Svalbard in February, my answer is yes, absolutely! It's one of the best times of the year to experience all the different aspects of winter in Svalbard.
There is just enough daylight to appreciate the scenery and the beautiful snowy landscapes, and still plenty of darkness that gives you a chance to see the Northern Lights. Furthermore, the incredible blue light of February is a truly unique experience in itself.
Snow conditions are usually great for overland trips by snowmobile or dog sledding safaris. And because there are fewer people around, you might easier spot wildlife close to town or during your day tours.
Furthermore, February is somewhat of a shoulder season when there are not as many tourists and lower prices than during the sunny winter months (March-April). You might be able to get a really good hotel in Longyearbyen at decent rates without having to book long in advance and most tours will be available without having to reserve weeks in advance.
READ ALSO: Where to Stay in Svalbard – Best Longyearbyen Hotels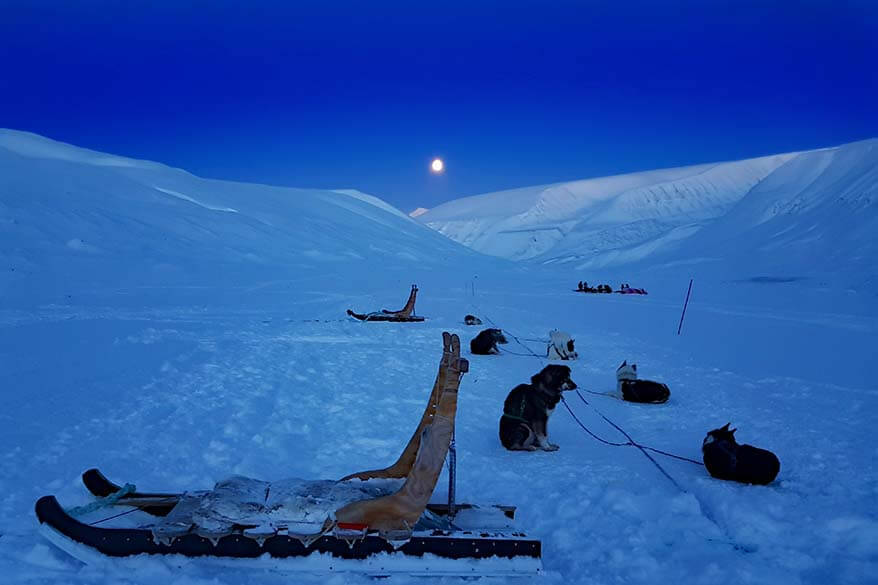 So, this is our guide to Svalbard in February. I hope that it inspired you to visit and that I addressed all your concerns. If you have a question, feel free to leave a reply below and I'll try to help.
Just remember one thing – when traveling to the Arctic region in winter, you really have to be open-minded, flexible, and be prepared for extreme winter conditions. Enjoy your trip!
If you found this post useful, don't forget to bookmark it and share it with your friends. Are you on Pinterest? Pin these images!