Tromsø Ice Domes is one of the newest additions to the already impressive list of unforgettable things to do in Tromsø in winter.
Surrounded by beautiful mountains in Tamok Valley in Northern Norway just next to the Finnish Border, Tromsø Ice Domes might look like a regular snow igloo at first sight. But appearances can be misleading. The moment you open the door, you step into a true winter wonderland…
Tromso Ice Domes were first opened in the winter of 2017-2018, and the project was a big success from the start. The next editions were a big success too, so it looks like it's there to stay.
The first edition featured a huge igloo complete with two ice bars, an ice restaurant, a cinema, and one hotel room. Later, they added more hotel rooms and turned the Ice Domes into a real Ice Hotel.
READ ALSO: Best tours in Tromsø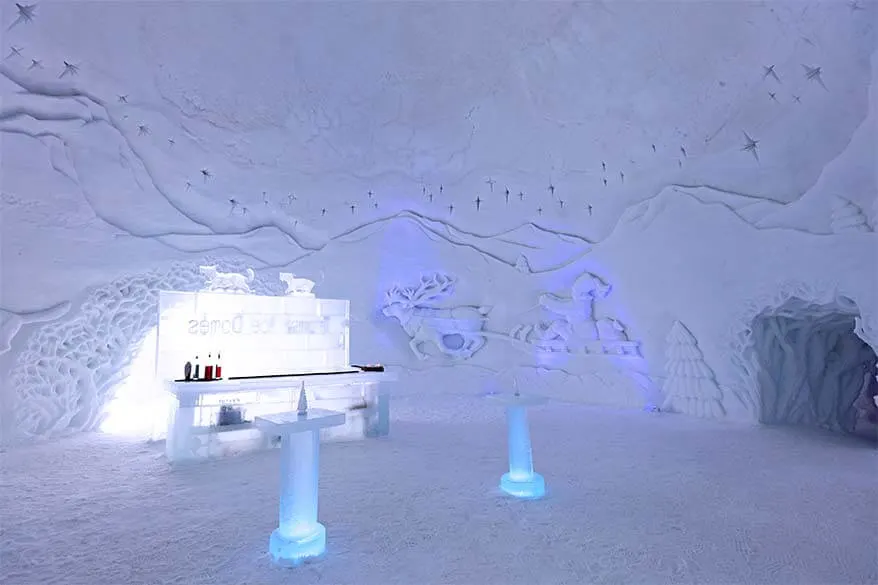 Since the Ice Domes have to be rebuilt from scratch every year, they look somewhat different every winter. But no matter which year you visit, the Ice Domes are a perfect addition to any Tromso itinerary in winter.
The focus of the winter season when I visited was on the ice art that reflects the unique bond between local Sami people and nature. It's fascinating to see what artists can do with a bit of ice and imagination!
I've seen several ice bars and ice hotels before, but I can tell you that none of them even compares to what I found in Tromso.
So let me take you on a short tour inside this winter wonderland and inspire you to go and visit Tromso Ice Domes for yourselves (I also included a short video to give you a better idea of what to expect).
I visited Tromso Ice Domes as part of my winter trip in cooperation with Visit Tromsø and would go back in a heartbeat!
Update: Based on the questions and comments I got, I want to clarify that you don't have to stay at the ice hotel in order to visit it. The tour that I took was just a half-day trip from Tromso and everybody can do it.
However, for the ultimate winter bucket list experience, you may want to stay at the Ice Domes Hotel for a night as well. Meals, transfers, and some activities are included. And if you are lucky, you may get to see auroras here at night as well.
Below, you can find my review of this unique place and practical tips for your visit. Read on!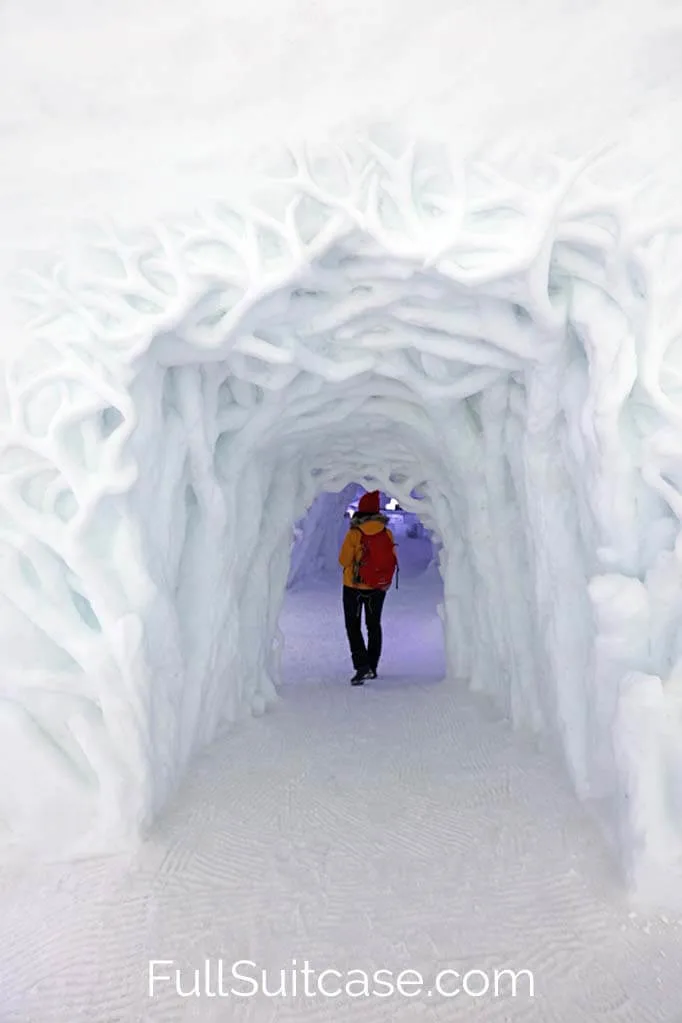 Visiting Tromso Ice Domes – What to Expect
I took this Tromso Ice Domes tour with pick-up from Tromso city center. After a 1.5-hour drive through spectacular scenery along the fjords, we reached Camp Tamok where the Tromso Ice Domes are located.
We were greeted by a guide who took us on a tour inside the Ice Domes. She told us the story of how the whole Ice Domes project started.
Apparently, the owner had a dream of building the Ice Domes, but couldn't get a loan from the bank, because you know – who would lend 160,000 EUR to build a place that will melt 6 months later. However, he was so passionate about the idea and confident in its success that he decided to sell his own house in order to fund the project.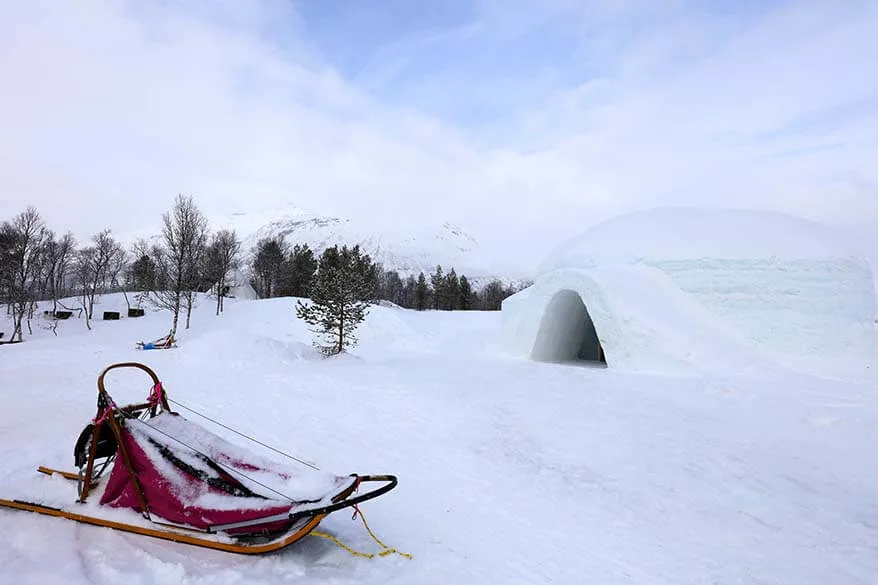 It took 5 weeks to build the place and apparently most time and money went into the interior decoration of the igloo.
They hired some of the world's best ice artists from China and the result is simply incredible. Let's take a look inside.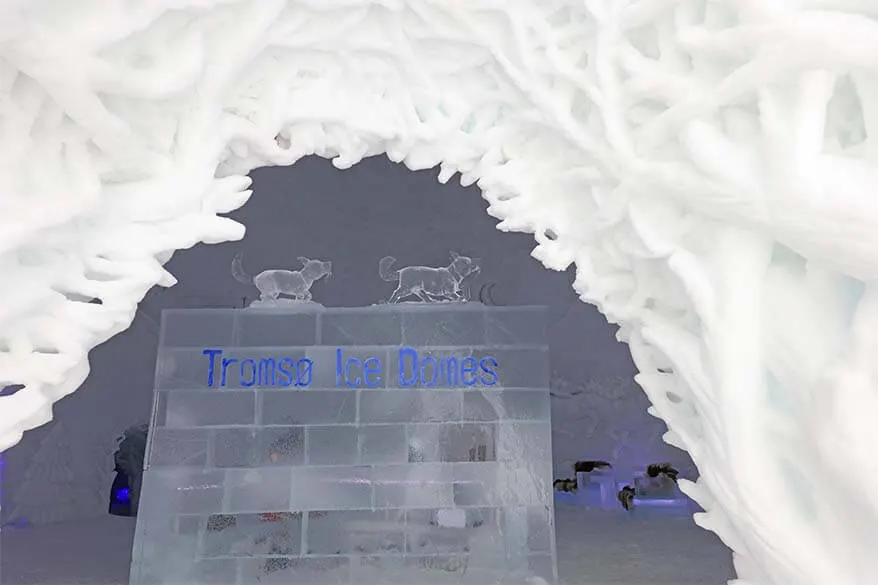 Ice Bar
The first room we entered was a beautiful ice bar where visitors were offered an ice shot (both alcoholic and non-alcoholic options are available).
Just hold your glasses tightly or they will slip out of your fingers because, yes you guessed it… the glasses are made of ice!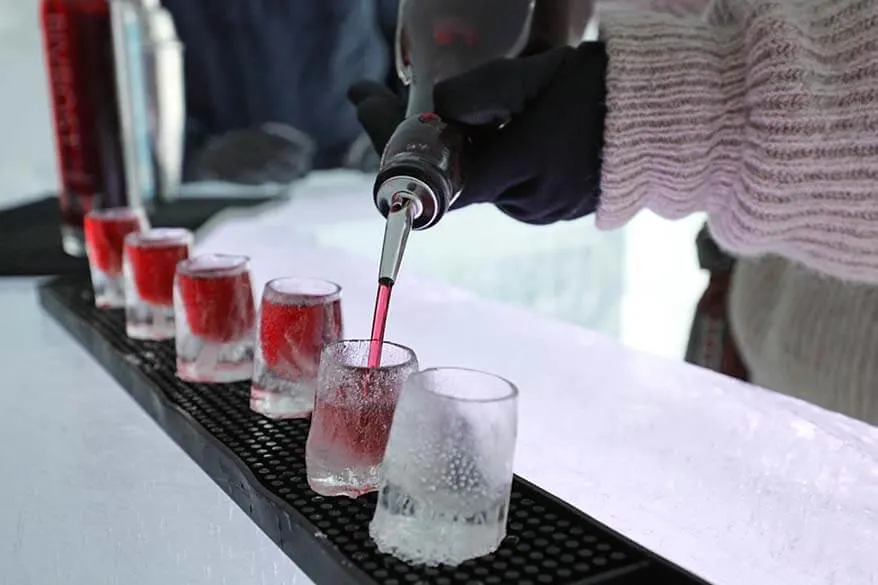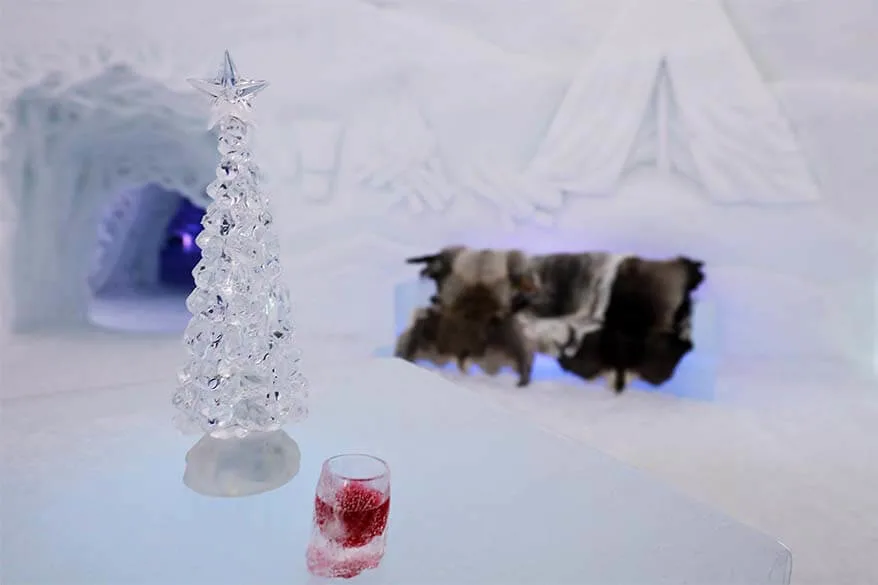 While you have a drink and listen to the stories about the local Sami culture, you can admire the stunningly detailed ice carvings on the walls.
And just in case you think you see a Santa Claus in the picture below, look closer!
It's actually a Sami person riding a reindeer-pulled sleigh. Now you know where the image of Santa's reindeer comes from.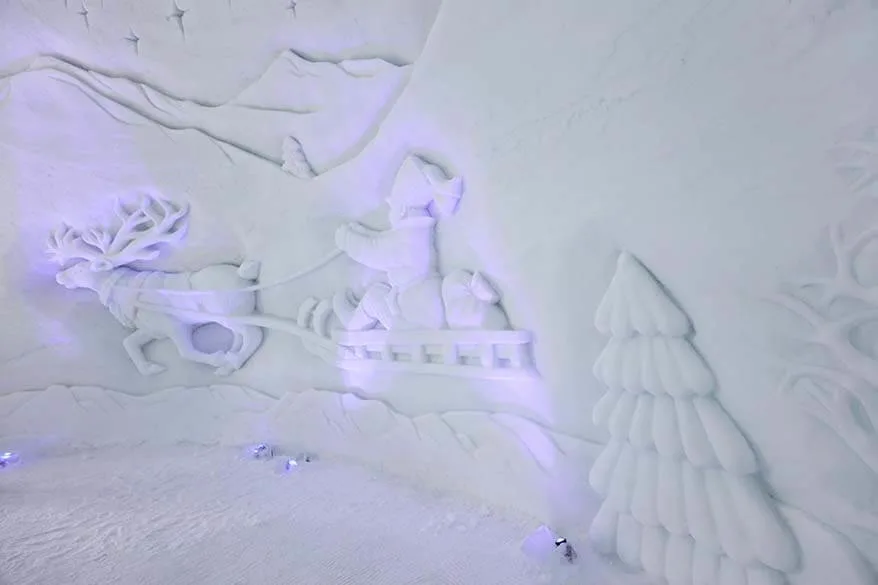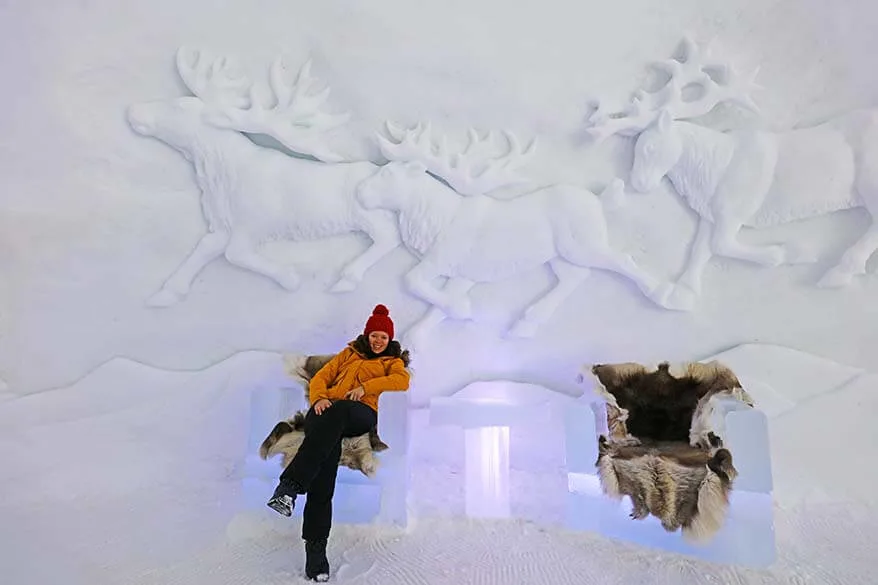 Ice Cinema
Our next stop was an ice cinema where we watched a short film showing the beautiful surroundings as well as the construction process of the Ice Domes.
It's really impressive to see how it's all done. And it's even more impressive to watch a movie in an ice cinema!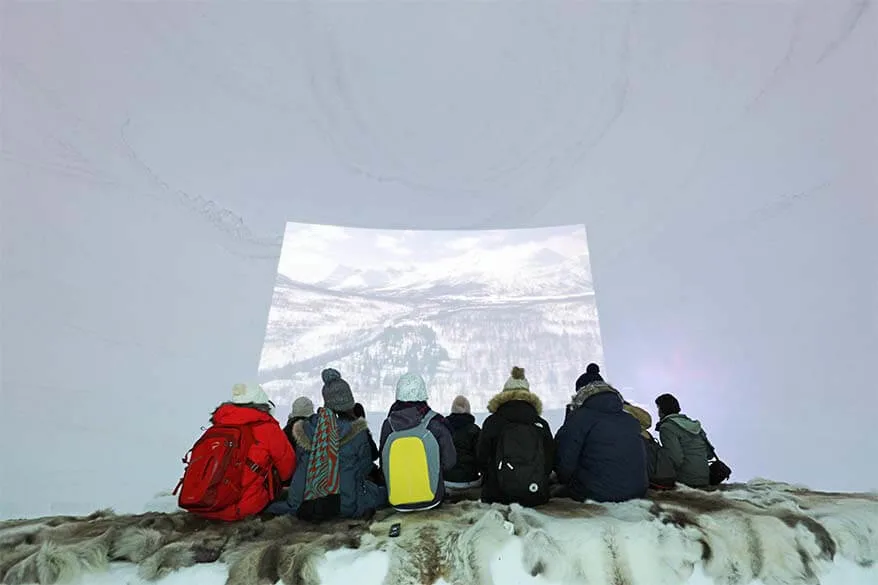 Ice Hotel
When I visited, Tromso Ice Domes only had one hotel room with plans to expand to 7 rooms. But what a room it was!
Everything is made with so much attention to detail. Who wouldn't like to spend a night here…. And no, the mattress isn't made of ice, so you can get a really good night's sleep.
The price tag of such a stay is really high though, but if you want a real bucket-list experience this fairytale-like ice bedroom can be all yours for one night. You can book a stay at the Ice Domes Hotel here.
And in case you wonder how cold it is, the igloo has a pretty much constant temperature of -5°C (23°F). So nothing to worry about; and they provide you with a good sleeping bag.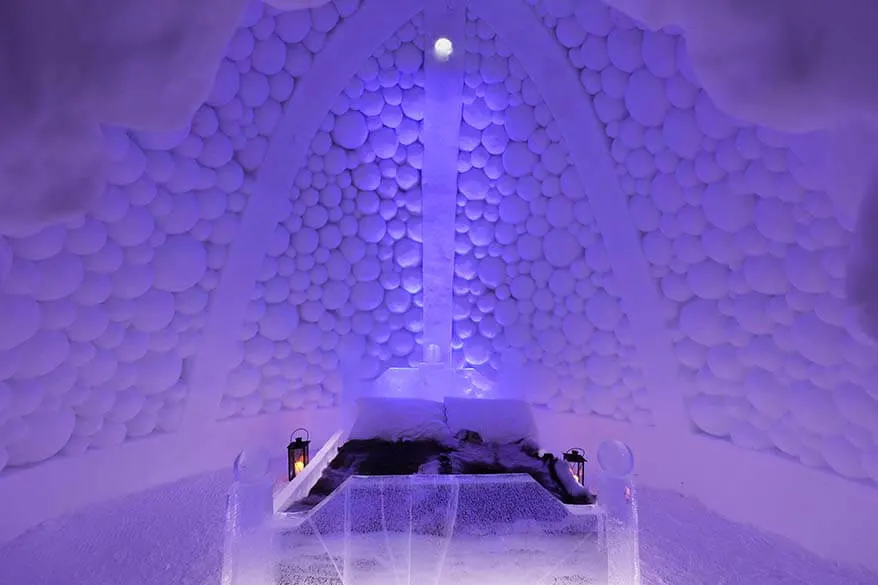 Ice Restaurant
The last room we visited was an ice restaurant. You can have a hot meal here (needs to be booked in advance), or order some drinks if you like.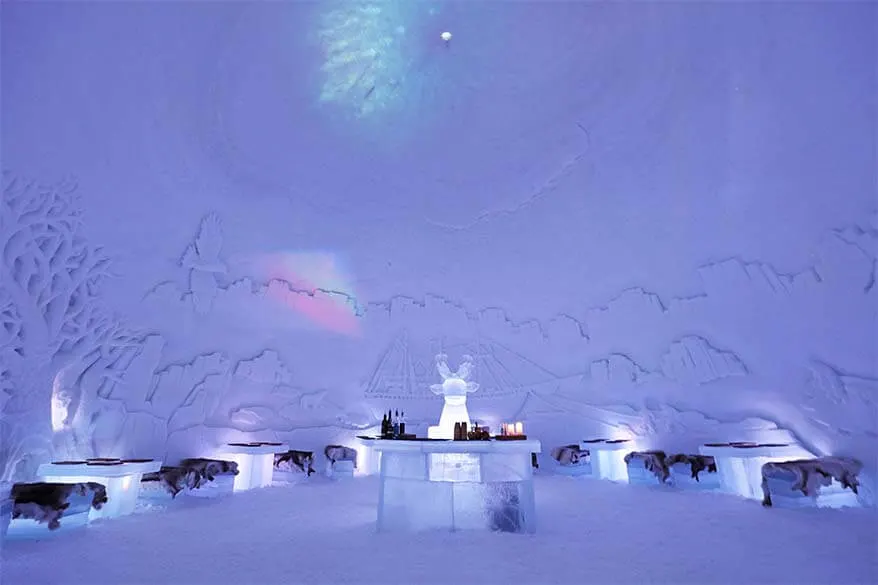 Practical Information for Visiting Tromso Ice Domes & Best Tours
Tromso Ice Domes are normally open in the winter season from 10 December to 31 March.
You can visit Ice Domes with this tour from the city. This is the most popular tour and the one I took. It includes a visit to the Ice Domes and you can also see reindeer. It departs from Tromso city center twice a day (in the morning and in the afternoon) and takes about 4-5 hours in total.
Another popular option is this tour which includes a visit to the ice hotel, but also husky sledding. Dog sledding is one of the ultimate winter experiences and truly one of the best things to do in Tromso. So if you want to do it anyway, here, you get to combine two activities in one in just about 7 hours.
If you like to explore the area around the Ice Domes on foot, you can also opt for this tour that includes a snowshoeing experience.
Alternatively, you can visit Tromso Ice Domes with this tour which includes not just the visit to the ice palace, but also a reindeer sledding experience. It's a new tour that takes about 7 hours in total and makes for a wonderful day trip.
You can also visit Tromso Ice Domes individually by car. See the map for the exact location. Please note that it's a long drive (96km-60 miles) and the roads can be really slippery – they were completely covered in ice when I visited. If you decide to go by car, it's best to call them in advance and inquire about the best times to visit. The entrance price is just a little bit cheaper than taking a tour from Tromso, but it's definitely not worth renting a car just for that.
Good to know: There is really no 'best' tour – it really depends on your interests and how much time you have. All the tours mentioned above offer a visit to the Ice Domes, so there, you get the same experience. The only difference is the activities you (potentially) do in addition to a visit to the ice palace.
More tips for your trip to Tromsø:
More travel inspiration for an Arctic winter wonderland: Svalbard in Winter
If you found this post useful, don't forget to bookmark it and share it with your friends. Are you on Pinterest? Pin these images!