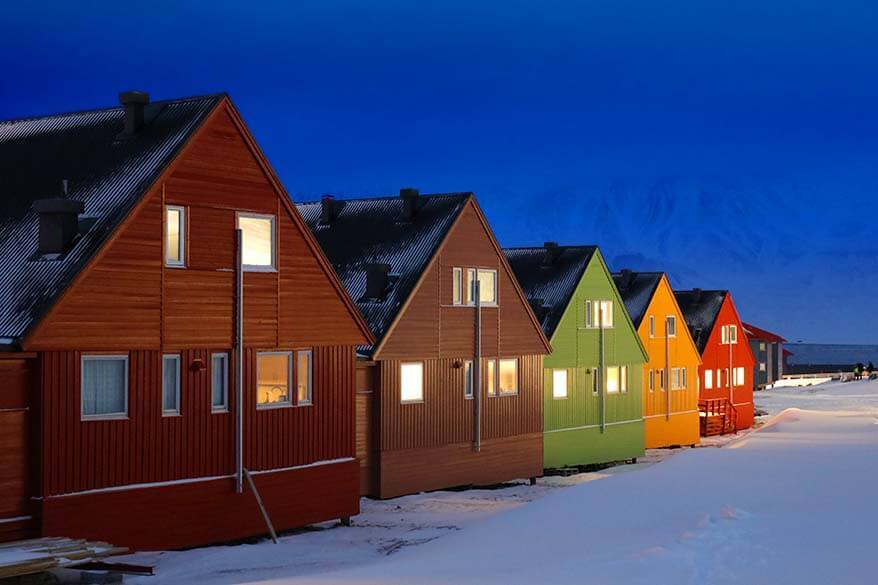 Svalbard, sometimes also called the Top of the World, is undoubtedly one of the most unique destinations on the planet. Set high above the Arctic Circle and just about 1050 km (652 miles) from the North Pole, traveling here might feel like going the end of the world… Yet, Svalbard is actually very accessible, easy to get to, and simple to visit.
No matter when you travel to Svalbard, you'll fall in love with this place that is truly one of a kind. But if you are looking for an even more special experience, a real bucket-list trip, you really have to experience Svalbard in winter!
If you are wondering what it's like to visit Svalbard in winter, how cold is it, or what there is to see and do in Longyearbyen in winter months, read on. In this article, I share my personal experience and stories from my trip visiting Svalbard in February. In addition, you can find lots of practical tips and information that will help you plan your own dream trip to this Arctic winter wonderland.
Disclosure: I visited Svalbard in cooperation with Visit Svalbard. As always, all opinions and enthusiasm about the destination are my own. Svalbard is one of the most special places I ever visited and I truly hope that I can inspire you to do the same. Traveling to the world's northernmost town in winter is one of those bucket-list experiences that will create memories to last a lifetime! It sure did for me.
Good to know: Svalbard is an island archipelago set between Norway and the North Pole. The largest island of Svalbard is Spitsbergen – that's where Longyearbyen, the main town of Svalbard is located. So when you visit Svalbard, you are actually visiting Longyearbyen town and potentially make day trips to the other areas on Spitsbergen island.
LEARN MORE: Top Tips & Info for Visiting Svalbard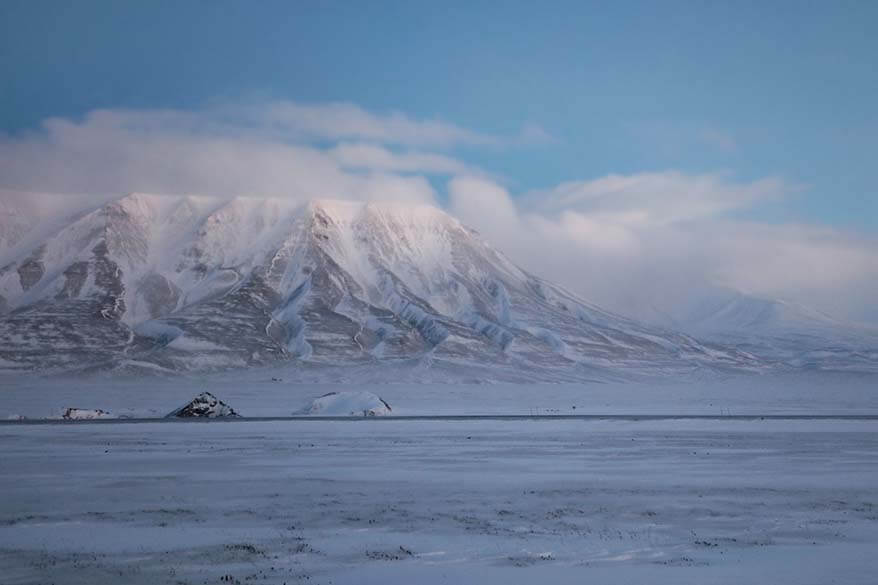 What It's Like to Visit Svalbard in Winter
If you look at the globe, you'll see that Svalbard is pretty much as high North as you can get to without going on a polar expedition. Needless to say, traveling to a place this high in the Arctic in winter is a very unique experience.
It is dark. Pitch dark for a long period of time. And it is cold. So cold that the months from mid-October to May are referred to as winter months. Yes, Svalbard has a long winter that lasts about 7 months.
However, there is a big difference between visiting Svalbard during the Northern Lights Winter (October to February) or visiting during the Sunny Winter (March to mid-May)…
READ ALSO: Svalbard in February
That's also what makes it such a fascinating destination. Traveling to Svalbard in winter is about experiencing something so unique that it's safe to say that no two trips will ever be the same.
If you come to Svalbard in December, you'll experience a polar night with no daylight at all. Not even a little bit. If you travel at the beginning of February, as I did, you'll experience the Blue Season, when the daylight just slowly starts to come back, but there is no sun yet. If you visit Svalbard in April, it will still be a cold winter season, but it will be really light already…
So you should keep this in mind when planning your winter trip to Svalbard and travel with a very open mind. No matter how many articles or blog posts you'll read about winter in Svalbard, your own trip will be unique in its own way. The light will be different, the temperature, the wind, the clouds, even activities on offer… Some activities only run in the dark winter months, others in the in-between season, and yet some others only in the beginning or towards the end of the winter…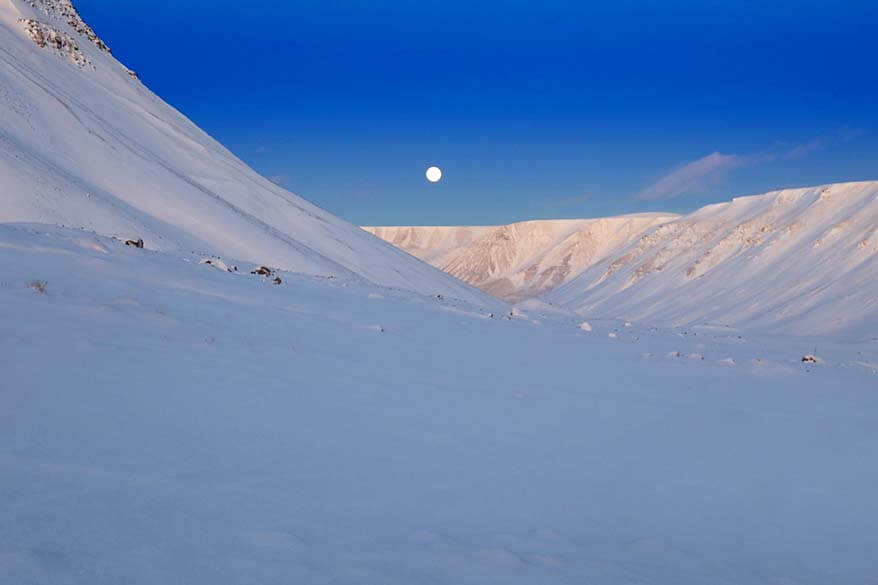 Now that you have a better idea of what it's like to visit Svalbard in wintertime and what you can expect, let's take a deeper look at all the amazing things you can experience in Svalbard in winter.
At the bottom of the article, you can also find some practical tips for planning your winter trip to Svalbard, what kind of weather you can expect, and suggestions on how much time you need in Longyearbyen in winter. Read on!
Best Things to Do in Svalbard in Winter
Below is an overview of some of the best things to do in Svalbard in winter. But first, there is something you really have to know before planning your trip.
Important! Because of the constant presence of polar bears, you can never ever wander outside of Longyearbyen town on your own. It is forbidden to explore Svalbard without carrying a gun AND having experience with using it. This means that anything you do outside of Longyearbyen will require joining an organized tour with a local guide.
Here are the best things to do in Svalbard in winter:
Northern Lights
Svalbard is a great destination to see the Northern Lights in winter. If you travel to Svalbard from mid September to mid March, you have pretty high chances of seeing auroras.
Furthermore, if you visit during the polar night, Svalbard is also one of the few easily accessible places in the world where you can also see auroras during the day. Well, technically it's day, but because it's so dark, you can see auroras any time of day or night, that is if the sky is clear and that there is some aurora activity.
There are many companies running all kinds of Northern Lights tours in Svalbard (you can find a small selection here). You can take a coach tour, a snowcat tour, aurora tour to a camp with dinner around the fireplace, or you can go chasing auroras on a snowmobile or with a dog-pulled sled…
I took two aurora tours in Svalbard, both with Hurtigruten Svalbard. One tour was a Northern Lights evening with dinner at Camp Barentz and the other was a Snowcat aurora tour. They are both very different experiences and both unique in their own way. I loved the Camp Barentz tour because it was so much more than about the auroras. So it didn't matter that it was too cloudy to see the Northern Lights, it was still a very nice evening.
If the Northern Lights are strong and the sky above Longyearbyen is clear, you can also just see auroras in town. For that, it's best to walk a bit off the main street to a darker place, but it's really more about the luck than anything else.
The biggest advantage of going on a tour is that they bring you to another location where there is less light pollution and thus chances of seeing the Northern Lights are higher. If the sky is somewhat cloudy, most tours will also attempt to drive to a place that has no clouds, but it's still always a gamble.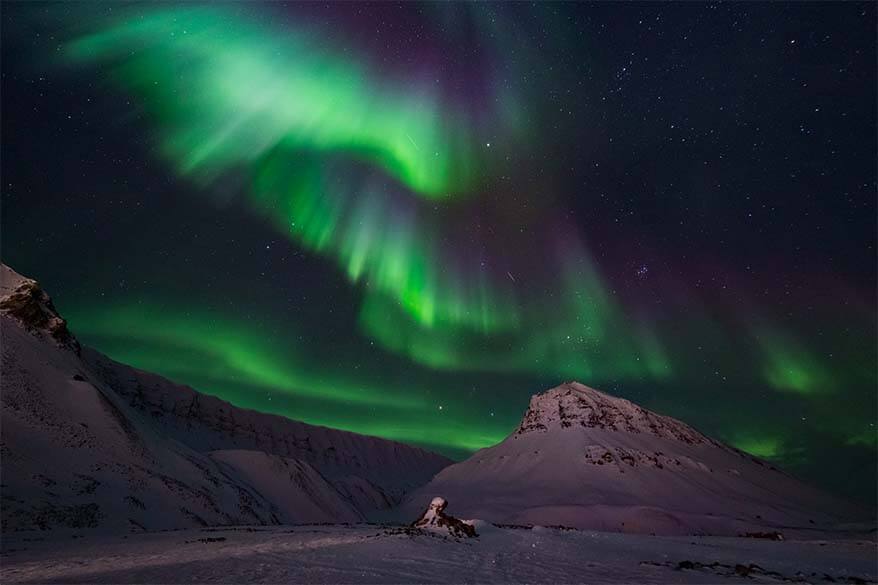 Dog Sledding
Without any doubt, dog sledding is one of the best things to do in Svalbard in winter. It's something that can be done during the entire winter season, as long as there is snow.
There are several companies running dog sledding tours in Svalbard. Some tours are dog-sledding only and take 3-4 hours, but there are also tours that take 7-8 hours or even multiple days. Multi-day dog sledding tours are truly unique, but you really need to be in a very good physical shape and have a good sense of adventure in order to embark on one of those.
I took a full-day dog sledding tour that also included a visit to an underground ice cave and it was one of the best tours I have ever done. Ever. This tour was run by Green Dog Svalbard, one of the best companies for dog sledding tours in Svalbard.
It's important to note that dog sledding in Svalbard requires certain physical conditions, especially if you are the one driving the sled. For comparison, dog sledding in Tromso in Northern Norway is much more relaxing and you can also just book a sled ride where you don't have to drive at all. Just sit in the sled and enjoy the ride.
Whereas here in Svalbard, there is just one guide per group and so unless you explicitly ask and arrange in advance that you want to sit in the sled of the guide, you have to be prepared to actually drive the sled. It's really fun and it's something most people in reasonable physical shape can do, but it can also be challenging and physically demanding.
If you are planning to go dog sledding with kids, it is also possible, but different arrangements might have to be made depending on the age of your kids. In that case, it's best to contact the company in advance.
LEARN MORE: Dog Sledding in Svalbard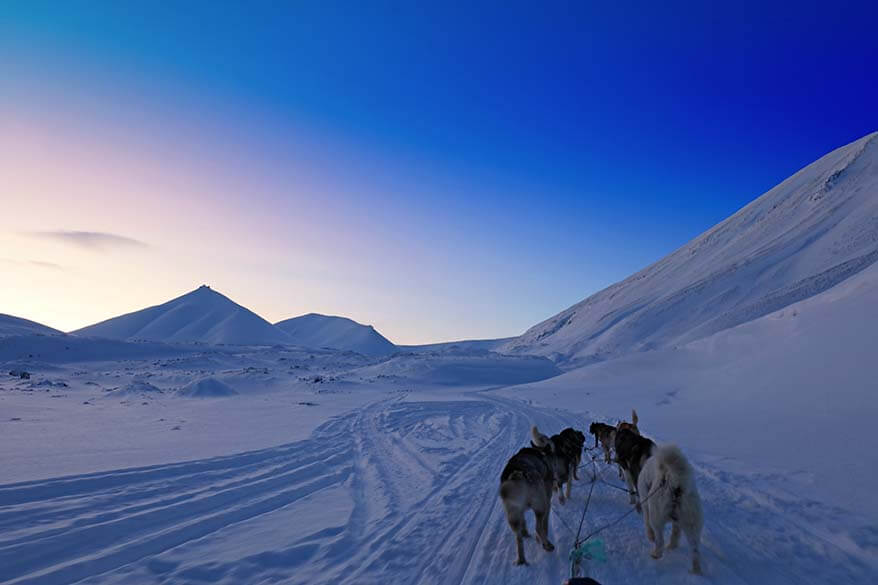 Ice Caves
There are quite some ice caves in Svalbard that can be visited in winter. Some of them are quite far away from Longyearbyen, but there are also a few that can easily be visited on a day tour – either hiking, by dog sled, or by snowmobile.
The ice cave we visited was incredible. You would never think there is such beauty hidden under your feet! It's accessible via a ladder and the deepest parts of the ice cave are located some 8 meters under the ground. I don't know what I expected, but I definitely didn't expect that it would be so big. There were long underground ice corridors with several bigger spaces in between. Incredible ice formations all around you…
Because these are natural ice caves deep under the ground, they are not lit. So the only light you have is that coming from your small headlamp. Taking pictures inside an ice cave is therefore really challenging, but the experience itself is unbelievable!
Some people in our group found that going down via a narrow hole and being deep under the ground was a bit of a claustrophobic experience, but everyone agreed that it was absolutely incredible. It's something you can only experience at very few places on Earth, and so if you are visiting Svalbard in winter and are fit enough to climb a ladder, I really encourage you to take an ice cave tour. It's a mind-blowing experience. One for a bucket list for sure.
I visited an ice cave as part of my dog sledding & ice cave tour with Green Dog Svalbard.
LEARN MORE: Svalbard Ice Caves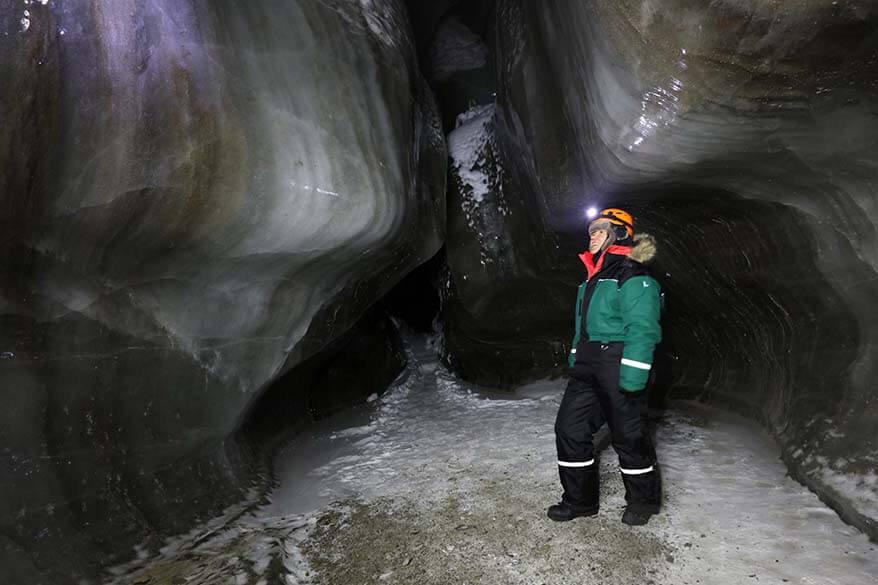 Snowmobiling
Snowmobiles are just as important in Svalbard in winter as boats are in summer. Since there are just a few roads outside of town, the best way to get around in winter is by taking a snowmobile. Almost all the local residents of Longyearbyen own a snowmobile and they use it for everything – to get around town, to go to work, and also to explore the area in their free time…
Taking a snowmobile tour is something so typical for Svalbard that no winter trip to Longyearbyen would be complete without giving it a try.
There are several local companies offering snowmobile tours in Svalbard. Some tours – like aurora hunt on a snowmobile – run during the entire winter. Some others are a bit more season-dependent. For example, the snowmobile tour to Barentsburg that I took only starts running in February because it's a really long day trip that would be too difficult to do in total darkness. There are also somewhat shorter snowmobile tours to the East Coast of Svalbard.
It's important to know that you need a valid driver's license in order to drive a snowmobile. But apart from that, no previous experience is required for most day tours. However, snowmobiling can be quite physically demanding, so it helps if you are in good physical condition.
I took a snowmobile tour to Barentburg with a local company called Better Moments and it was an absolute highlight. The guides were very knowledgeable and patient, the scenery along the route they chose is out of this world, and visiting Barentsburg was a very unique experience in itself.
Everyone in our group agreed that this was one of the absolute best things to do in Svalbard in winter. Some people even said that it was the very best thing they have ever done. I guess this says it all.
LEARN MORE: Svalbard Snowmobile Tour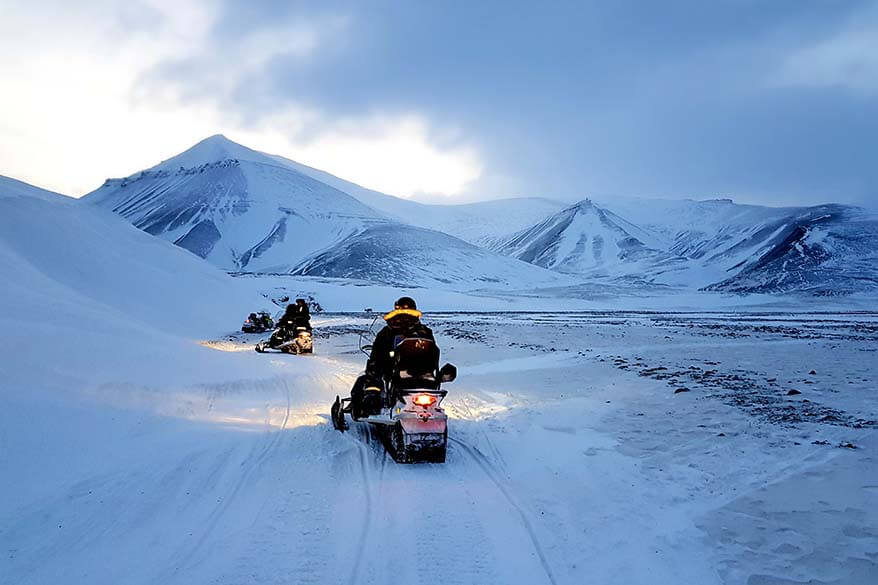 Barentsburg
Barentsburg is the second-largest settlement of Svalbard. It has some 400 inhabitants, mostly Russians and Ukrainians. Just as Longyearbyen, it's also located on Spitsbergen island, but it couldn't be more different. Just a short distance away, but a world apart…
Barentsburg is a very peculiar place, a mining town with most men still working in the coal mine. In addition to the mine, there is also a hotel in town, a restaurant, a post office, a tourist information center, a sports center, a school, a souvenir shop, and a small church. I guess they must have a food store as well, but I didn't see it… There are also several big apartment buildings and a statue of Lenin right in the middle of the town. Yes, Lenin. In the 21st century… A trip here is like going back to the Soviet era…
Barentsburg is a really special place that is isolated from the rest of the world. There are no roads leading to town and it can only be accessed by boat, by helicopter, or – in winter – by a snowmobile. As you arrive here, it truly feels like you reached the end of the world…
Locals are very friendly and do their best to speak English. But if you know a few words of Russian, you'll quickly make friends.
TIP: At the post office, you can find some really cool stamps for your passport or to stamp cards you want to send to your friends or family back home.
Good to know: In winter (from February on), Barentsburg can be visited by snowmobile. There is now also a boat tour to Barentsburg that runs starting at the end of February. Most smaller boat tours to Barentsburg only start running in May.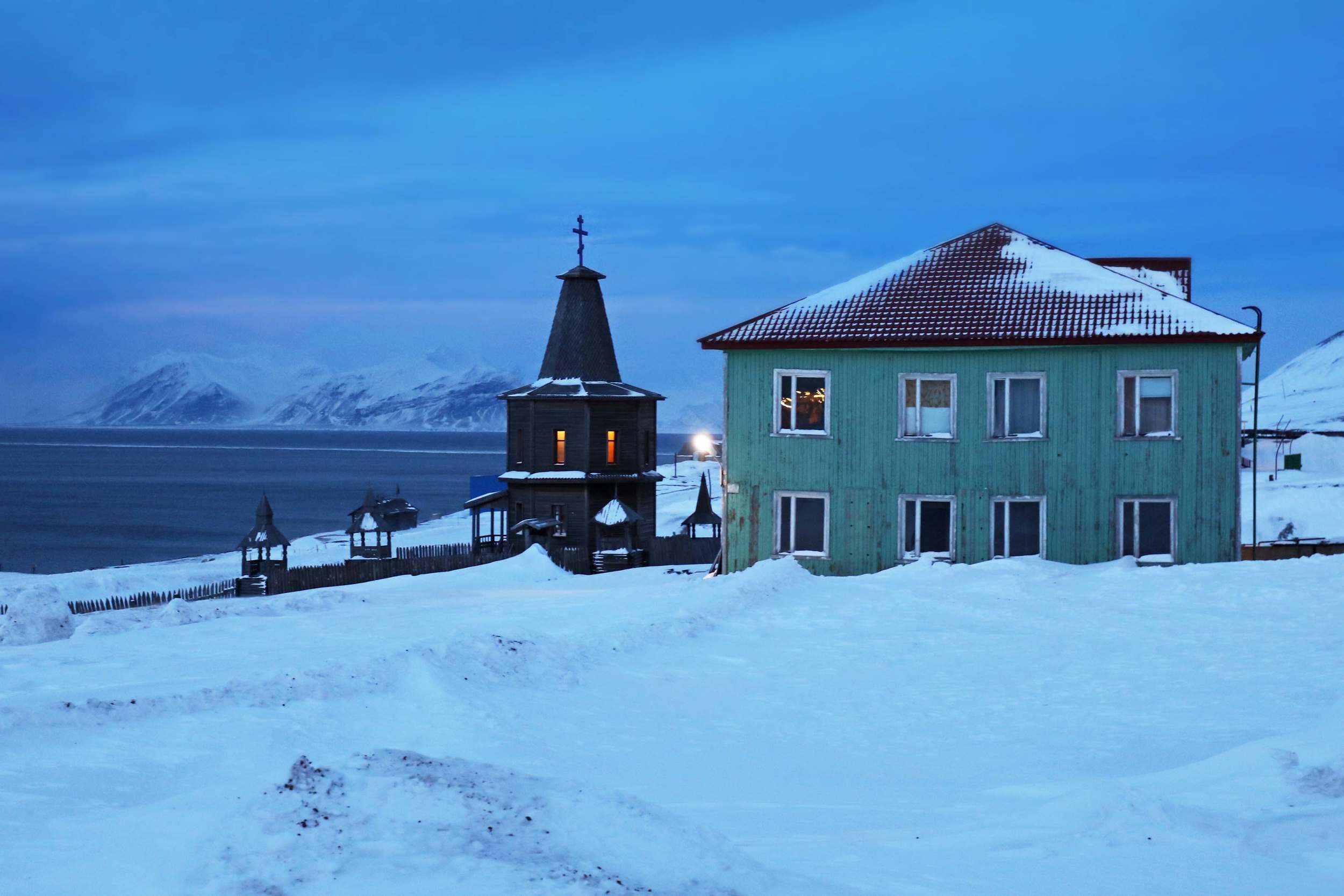 Boat Tours
One of the best ways to explore the otherwise inaccessible wilderness of Svalbard is to take a boat tour. While most boat tours in Svalbard run only in the summer months, there are several possibilities in winter as well.
So if you are visiting Svalbard starting from the end of February – beginning of March and till the end of October – the beginning of November, you should really consider taking a boat tour. In a way, it's even more magical in winter than it is in summer because you're going through a thin layer of ice and can experience the most incredible winter scenery that's worthy of any bucket list in itself.
Furthermore, taking a boat tour is a wonderful opportunity to see wildlife in Svalbard in winter.
LEARN MORE: Svalbard Boat Trip to Nordenskiöld Glacier & Pyramiden in Winter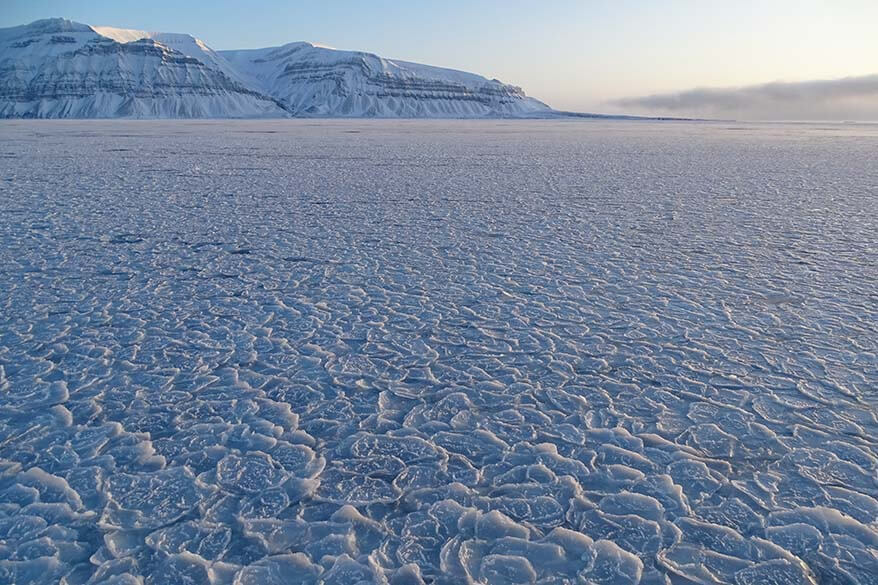 Coal Mine Tour
Coal mining is a big part of Svalbard's history and no visit to Longyearbyen would be complete without visiting a coal mine. There are 7 big coal mines in Longyearbyen and one of them, Mine 7, is still open today. A lot of coal is exported to Western Europe but some is also used for the power plant in town. Without that power plant, there would be no electricity or hot water in Longyearbyen…
Mine 7 is not open to tourists, but you can visit one of the former mines, Gruve 3. There are two tours a day and, because it's an indoor activity, it's also perfectly doable in the dark winter season. I really think that this is one of the best things to do in Svalbard, no matter in which season you visit.
A visit to Gruve 3 is the best way to learn more about life in Svalbard in the 20th century. It's also a unique opportunity to visit the mine itself and learn about the harsh working conditions. If you want to, you can even crawl inside one of the mining tunnels and get a better idea of what it's really like to work in the mine…
The mines are located inside the mountains near Longyearbyen and are huge. Underground tunnels stretch for several kilometers. Because of the permafrost, the temperature in these tunnels is perfect for storing all kinds of important things. Svalbard is therefore known as home to the Arctic World Archive and the Global Seed Vault. Read more about these unique storage facilities below.
Good to know: The coal mine tour is organized by Store Norske Gruve 3 AS. It runs almost daily, twice a day, and includes a pick-up in town. It's a short tour and the best 3 hours spent in Svalbard. Don't miss it!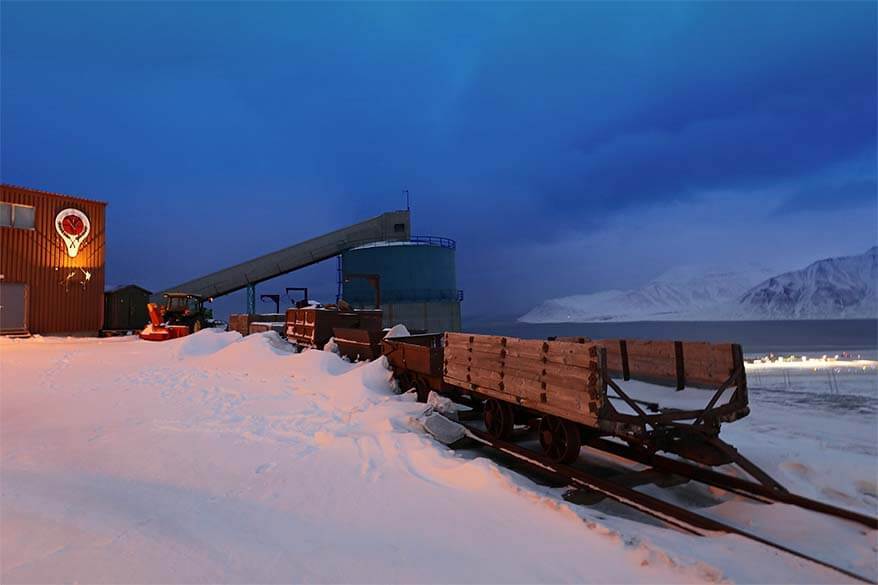 Arctic World Archive
One of the tunnels of Gruve 3 now houses the Arctic World Archive (AWA). It's a place where many countries and organizations from all over the world keep all kinds of data about the most important achievements of our civilization. For example, it houses information about political history, art masterpieces, scientific achievements, and cultural treasures.
So in case something terribly wrong happens on our planet, some important information would be preserved. Most of it is kept in an analog film format that is supposed to survive pretty much anything.
You cannot visit the AWA Vault itself, but it's so cool to see it from the outside as part of the coal mine tour and to learn more about this unique place.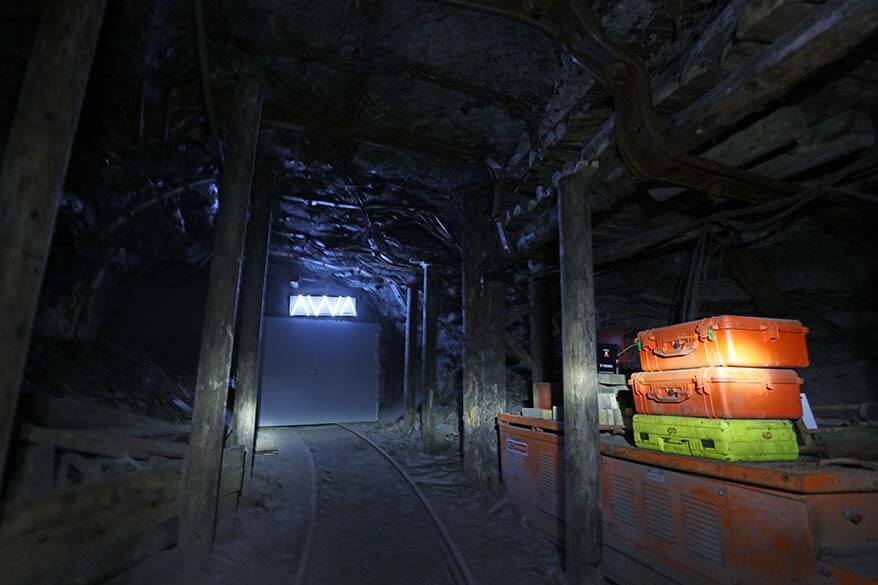 Svalbard Global Seed Vault
In the past, Gruve 3 used to house all kinds of seed samples from a big variety of plants from all over the world. The collection has become so big that it has been moved into a nearby underground tunnel that is called the Global Seed Vault.
It now has samples of seeds of pretty much all plant species, with thousands of sub-species. If an apocalyptic natural disaster strikes and one or the other type of plant gets extinct, the seed samples stored here would make it possible to recover the species again.
If you take the Coal Mine tour, you'll see the Global Seed Vault on your way to Mine 3. Alternatively, there are also hiking tours that walk there from town.
Good to know: It used to be possible to enter the Seed Vault, but nowadays it's only accessible to the selected few. Just as with the AWA, you cannot visit the Seed Vault inside; only can see the entrance to this underground tunnel.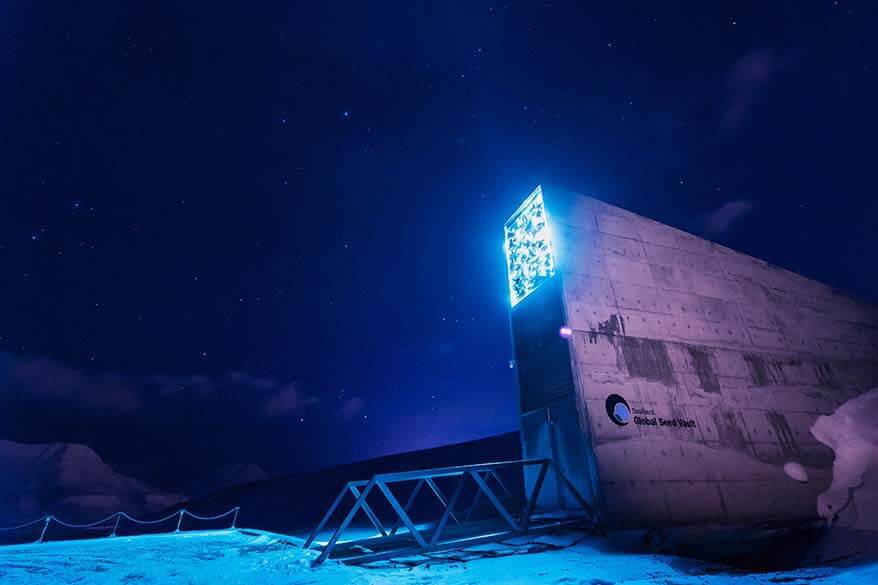 Svalbard Museum
Another great place to get to know the history of Svalbard is the Svalbard Museum. It's a place where you can learn about many different aspects of life in Svalbard – from its discovery, the early days of whaling, hunting, and trapping, to coal mining and more. You'll also find information about the AWA and the Global Seed Vault and learn about the challenges Svalbard is facing today.
Svalbard Museum also a great place to get to know more about the different wildlife species on Svalbard. You can also see some stuffed animals – reindeer, arctic foxes, seals, puffins, etc.
The most impressive exhibit is a 505 kg polar bear. It was shot with a revolver from just 2m distance after all other efforts to try to chase it away failed and it kept on coming closer and closer to the people… It's hard to imagine how it would feel like to have an animal of that size and strength coming at you. Standing up on two feet, it would probably be more than twice your size…
Svalbard museum is open the whole year round and it's one of the best places to get a quick introduction to what life on Svalbard is like. It's also a great place to visit in winter when it's dark and cold outside. No matter when you visit Svalbard, this museum is not to be missed!
Practical information: Svalbard museum is open daily from 10 am to 5 pm from February to September and from noon to 5 pm from October to January. More info on the official website of the Svalbard Museum.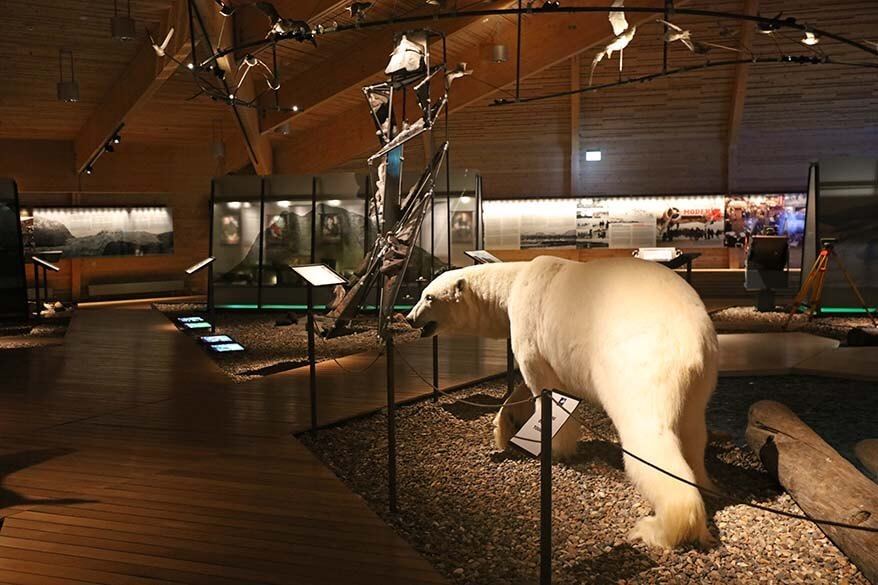 North Pole Expedition Museum
While the Svalbard Museum is primarily focussed on life on Svalbard, the North Pole Expedition Museum is completely devoted to the early explorers who attempted to reach the North Pole.
It's a very different museum, its exhibits are mostly all kinds of old documents and newspaper articles. There is so much information… You could spend hours if not days here, reading about all the adventures and misadventures of the North Pole explorers.
It's fascinating to read all the stories about the attempts to reach the North Pole – by airships, but also by boats, dog-pulled sleds, and even skis… The museum also shows many films, filmed during some of these expeditions about 100 years ago. Fascinating!
This museum isn't big, but there is lots of reading to do, plus all those films that you can watch… So it might get overwhelming to consume all that information in one go. That's why they have an open ticket that stays valid for 3 days, so you can come back here several times throughout your stay in Svalbard.
Practical information: Museum is open daily from 9 am to 5 pm from February to September. Outside this season, it's only open for groups and upon request. More info on their website.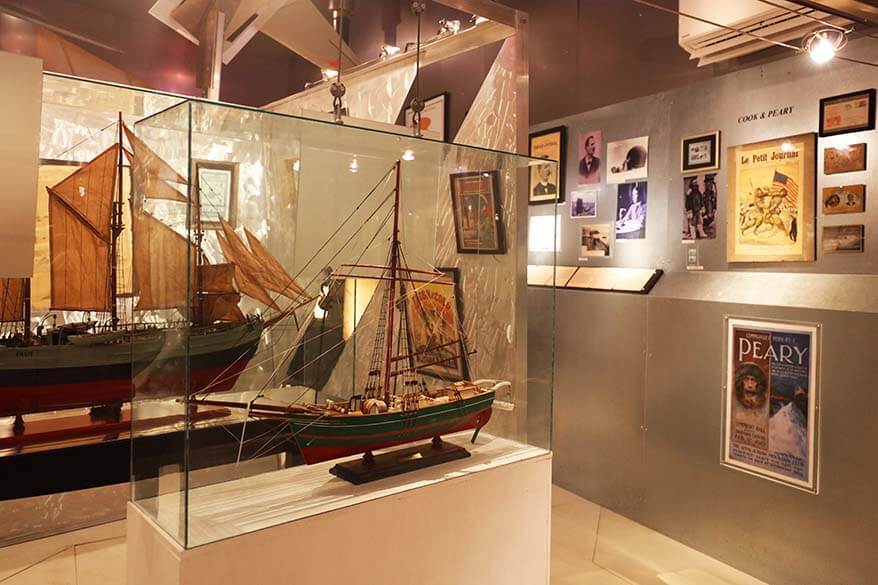 Svalbard Church
Located a bit outside of the town center, Svalbard Church is visible from far, but you'll need to make an effort to visit. Especially in winter, when an uphill walk in the cold wind might be quite challenging. But it's definitely worth the effort!
There was a church at this location since 1921, but it was destroyed in 1943, during WWII. The current building dates from 1958.
Svalbard Church used to be the world's northernmost church before Russians built one at the Nagurskoye military base even higher up north. Svalbard Church at least truly looks like a church and not a military establishment. It's a beautiful red building in distinctive Norwegian style and it's worth a visit just to see it. If you look closer, you can admire its unique style and beautiful woodwork.
The church is always open (24/7) and it's really more a meeting place and a community center than just a church. Its interior also looks more like a cozy home rather than a church. There is even a thermos of hot water and you can make yourself a cup of tea or coffee if you like to…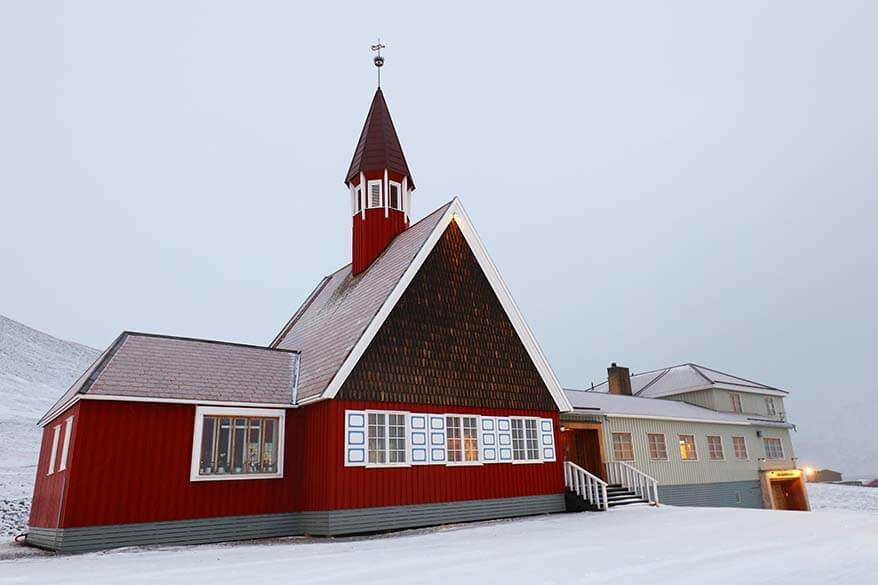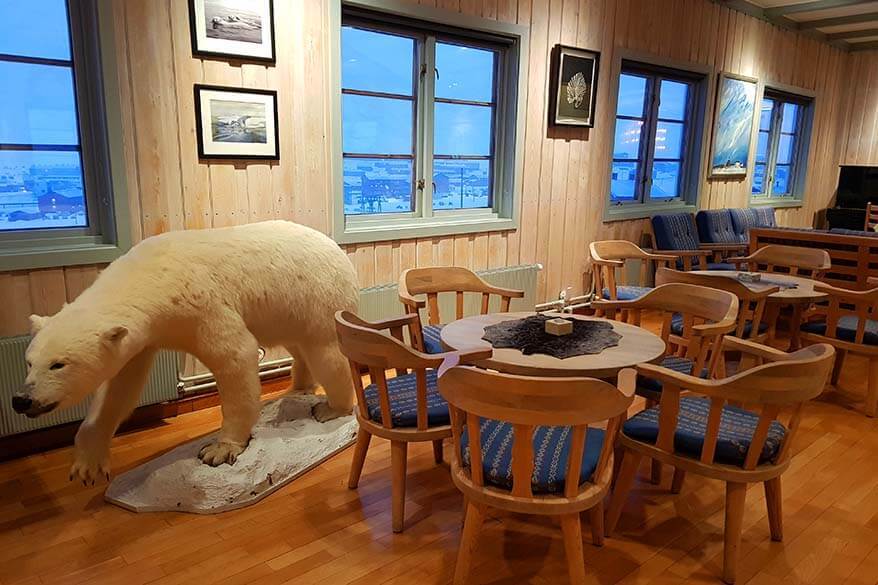 Wildlife
While winter is probably not the best time to see wildlife in Svalbard, you can still expect to see some reindeer. Sometimes they come to town or very close to it, but if you go on any tours outside of Longyearbyen, your chances of seeing reindeer are really high.
I saw so many reindeer on many different occasions. Next to the road close to the Gruve 3 coal mines, while I was dog sledding, while snowmobiling, and also at night, during one of the Northern Light tours.
It's not always easy to take a picture of them, however, because all the tour operators really do their best not to bother wildlife too much. If they get scared and start to run, animals use up a lot of energy that they need in order to survive in harsh Arctic winter conditions.
The chances of seeing polar bears during one of the tours aren't high, but it does happen. Needless to say that safety will always be the number one priority and it won't be sacrificed so that you can attempt to take a picture of a bear. If seeing polar bears is your main goal, it's probably best to visit Svalbard in summer when there are boat tours available with the intention of watching polar bears in a safe and non-intrusive way.
Chances of seeing Arctic Fox, seals, whales, or walrus in Svalbard in winter are very slim. For that, you'd have to come back in summer.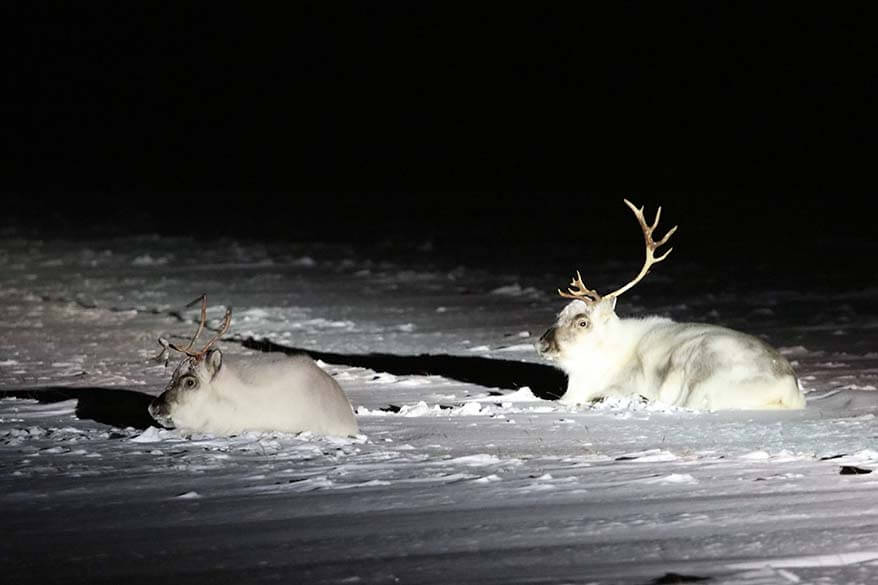 More Outdoor Activities
There are so many winter activities and day tours in Svalbard that it would be impossible to mention them all.
Among other things to do in Svalbard in winter are wildlife photo tours, hiking, FatBiking on snow, boat tours, fjord cruises to the ghost town Pyramiden, ATV tours, cableway adventure, ice climbing, skiing, overnight camping tours, multi-day winter tours, sauna experience, cultural evenings, etc…. You name it, they have it…
Because the offer is so varied and because some tours only run in certain periods, it's important to do proper research for your exact travel dates. I recommend that you do this on the Visit Svalbard website, where all available tours are listed. You can filter the search for your travel dates, interest, as well as difficulty level. You can then see what's available and choose tours that interest you the most.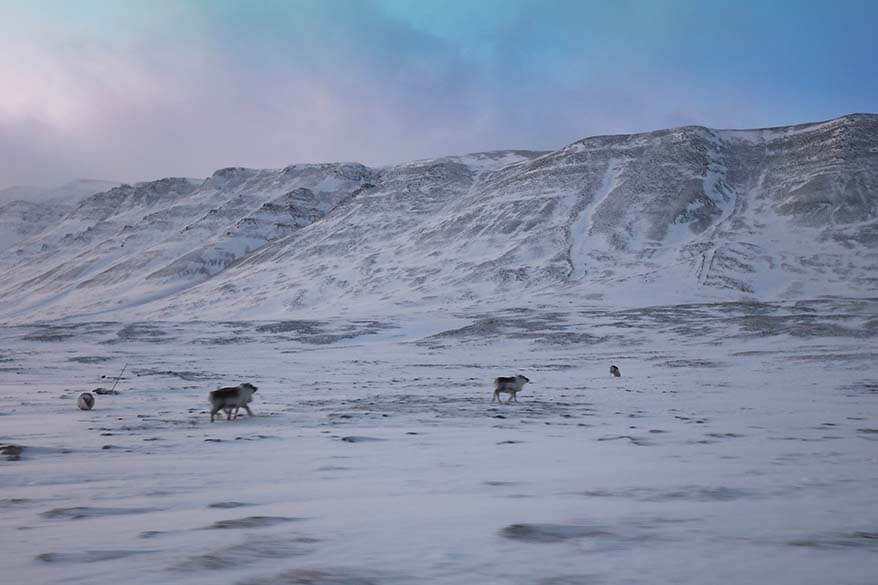 Local Events and Celebrations
One of the nice things about visiting Svalbard in winter is that there are always so many events and activities in Longyearbyen in the dark season.
Some locals told me that the polar night winter is the best time to be in Svalbard because there is always so much to do and their social life is at its best. But also as a tourist, you can join all the festivities in Longyearbyen.
When I was in Svalbard in February, they had a week-long Arctic Chamber Music Festival with various concerts per day. In October, they have the Dark Season Blues Festival and Taste Svalbard Culinary Festival. In December, they organize torch walks, concerts, and other Christmas festivities. There is also Santa's mailbox where kids can post letters to Santa Claus who is said to be living in one of the old mines in the mountains above Longyearbyen…
Music, arts, literature, local crafts, food or beer festivals… There is so much going on in Longyearbyen in winter that it would be impossible to name it all here. I encourage you to check the Visit Svalbard website for the events calendar and join the fun. These local events and celebrations are part of the unique experience of traveling to Longyearbyen in winter!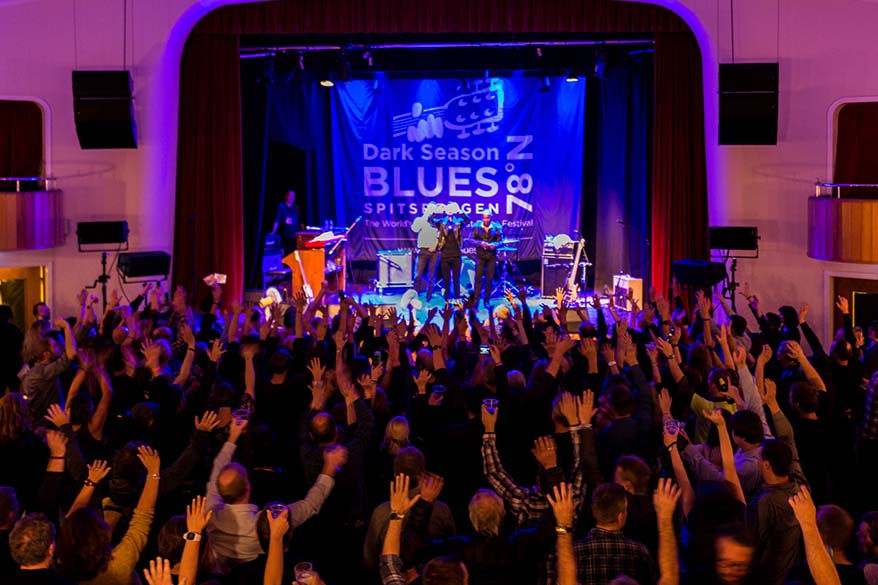 Dining and Shopping
With many shops, cafés, restaurants, and even a night club, Longyearbyen is a lively town. So no need to worry about getting bored during the long cold evenings when visiting Svalbard in winter. You can dine at a different place every single night and still not visit all the restaurants in town.
My favorite places for dinner were Kroa restaurant in Longyearbyen town center and the Coal Miner's Bar and Grill. However, the latter is located near the Coal Miner's Cabins, a bit outside of the town center. It's quite a walk in the cold and you should probably best take a taxi if going there in winter.
Another favorite restaurant in Longyearbyen is Restaurant Polfareren. It's located inside the Svalbard Hotell, where I was staying. All the bigger hotels in town have restaurants and everyone can usually dine there, no matter if you are staying at the hotel or not.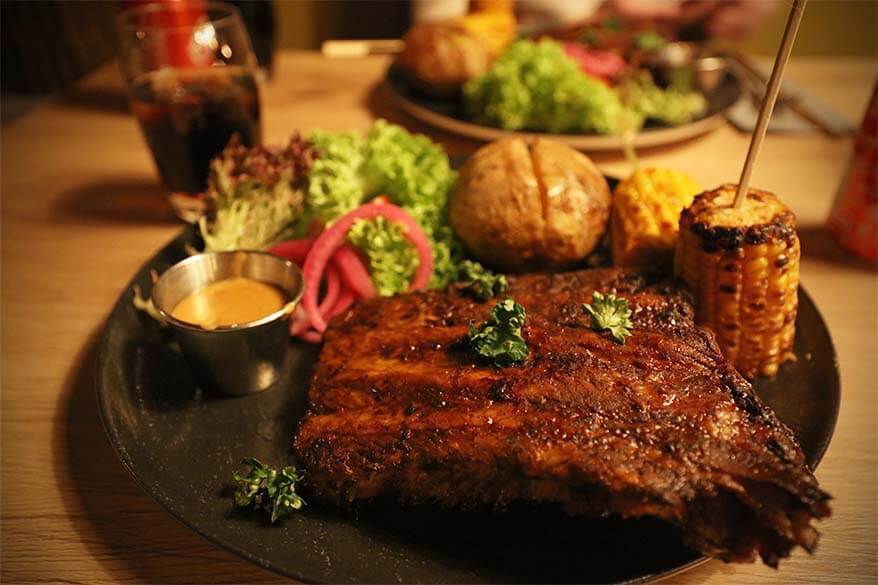 For lunch, check out Fruene Café that's located inside the shopping center (Lompen Senteret) or Rabalder Cafe & Bakery at the library and cultural center (Kulturhuset Longyearbyen).
Here you can find more information about Longyearbyen restaurants.
As for shopping, there is one big supermarket in Longyearbyen, Svalbardbutikken, where you can buy pretty much everything. There are also many clothing stores, sports stores, souvenir shops, etc.
Good to know: Because taxes are lower in Svalbard than on mainland Norway, shopping is quite a lot cheaper here. Food prices at the restaurants are very reasonable, but alcohol is very expensive, just like everywhere in Norway.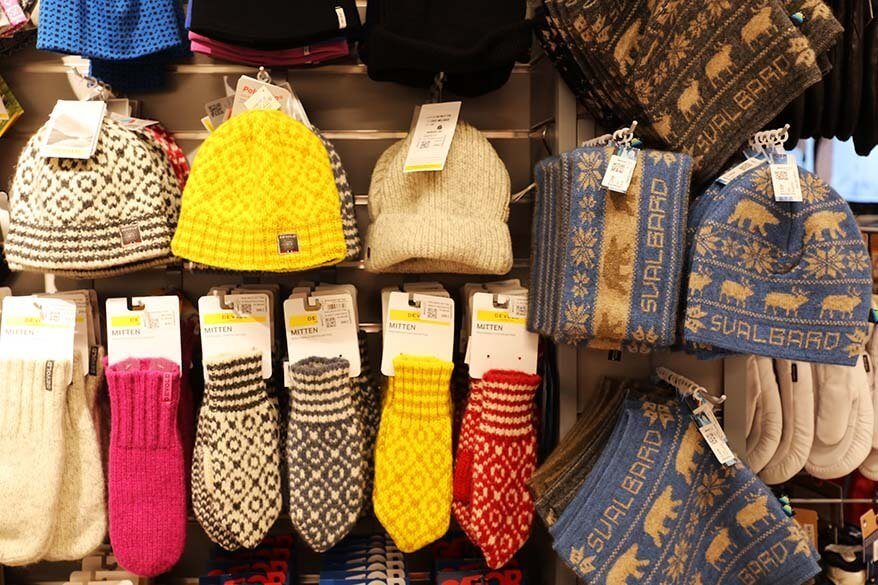 Temperature in Svalbard in Winter
Temperatures in Svalbard in winter aren't as cold as you'd think for a place located that high in the North. It has everything to do with the Gulf Stream.
The coldest you can expect to experience in Svalbard in winter is about -25 to -35°C (-13 to -30°F), plus the wind chill factor that can make it feel yet another 10°C colder… However, from what I understood, it's more an exception than the rule. More likely, the temperatures will be somewhere around -10 to -20°C, plus the windchill factor.
Needless to say that in October or in April-May temperatures will normally be much warmer than in December or in January. The air is also very dry in Svalbard and so often it doesn't feel as cold as temperatures would make you think. That being said, no matter how you look at it, even -10 -20°C is cold, so travel well prepared.
The weather is quite unpredictable in Svalbard and the long-term forecast can't be trusted completely. So it really makes no sense to start checking the weather forecast a month or even a week before you travel and start worrying about it. Prepare for the worst and you'll enjoy the trip no matter the weather.
LEARN MORE: What to Wear in Svalbard in Winter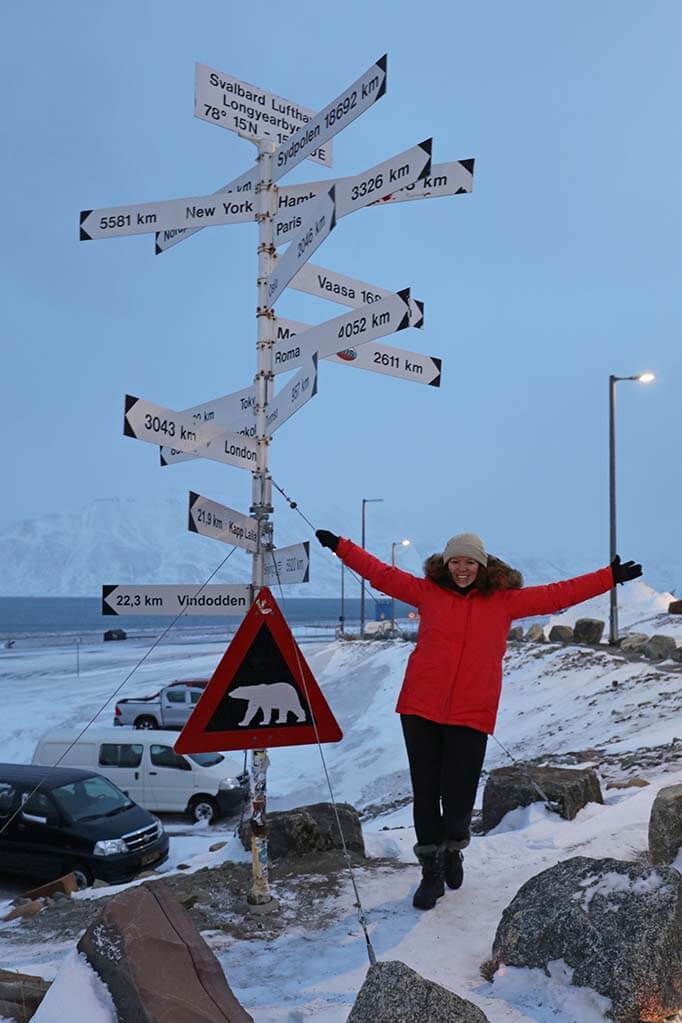 How Much Time Do You Need in Svalbard in Winter
If you have time and your budget allows it, I suggest planning at least 4-5 days for Longyearbyen in winter. This will allow you to see the town, visit the museums, do the coal mine tour, and join a couple of outdoor tours. 5-6 nights should also be sufficient time to see the Northern Lights at least once.
Most people I met in Svalbard in winter, were there for a long weekend of about 3-5 days. Some people stayed a bit longer. The ones who stayed just 3 days said it was too short and those who spent a week in Longyearbyen said that it was just perfect. Having more time allowed them to plan more demanding day tours every second day and take a quiet day to visit town and museums in between. That way they were also not too tired to go looking for auroras when it got dark.
If you visit for just 2-3 days, you'll probably leave feeling that you missed too much. I really think that Svalbard deserves a longer trip. Keep in mind that the weather is also unpredictable and you might have to change your travel schedule due to that. So give yourself a bit more flexibility so that you can truly enjoy your trip.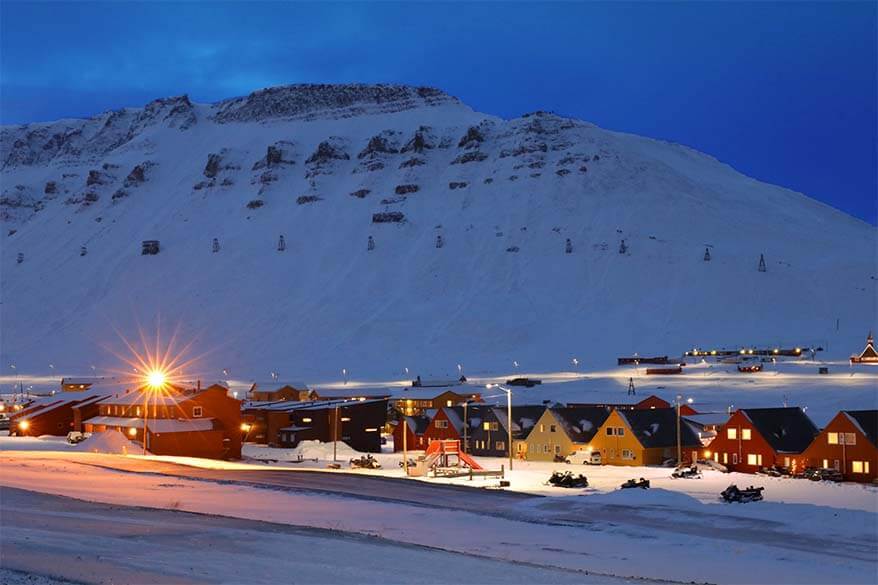 Practical Tips for Your Winter Trip to Svalbard
The best way to get to Svalbard in winter is by plane from either Oslo or Tromso. From Oslo, it takes about 3 hours, and from Tromso – a bit less than 2 hours. Both, FlySAS and Norwegian have regular flights to Longyearbyen in winter.
Once you have your flights booked, reserve your accommodation asap. You can find our tips and recommendations in this Longyearbyen accommodation guide.
You should also book tours in advance! I recommend booking all tours before your trip, except maybe for the Northern Lights tours. On the other hand, it also depends on how much time you have in town and how flexible you are. Some tours do sell out, especially in the busier winter season (from February on). So if you really want to do a specific tour, you should book it upfront or you risk not being able to do it at all.
You don't need to rent a car in Longyearbyen because there is really not much you can do with it (remember – bears). From the airport, you can take a bus to town, and in town, you can just walk everywhere. For everything outside of Longyearbyen, you'll need to join a guided tour anyway.
The airport bus runs after every flight, departing after all the luggage has been delivered. It stops at all the bigger hotels in town. To get back to the airport, it's just the same – there is always a bus before every flight. Here you can find more information about Svalbard Flybus.
So, this is our guide for visiting Svalbard in winter. Planning a trip and have a question? Make sure to also read our tips for visiting Svalbard. If you don't find an answer in our articles, feel free to leave a reply below and I'll do my best to help!
If you found this post useful, don't forget to bookmark it and share it with your friends. Are you on Pinterest? Pin these images!