Traveling to Barcelona for the first time and not sure where to start and what to expect? This article covers all the essential Barcelona travel tips that will help you make the most of your trip.
Planning your first visit to Barcelona, Spain, might be overwhelming. There are so many questions… How much time do you need in Barcelona? When to visit and how to avoid the crowds? Where to stay and what to see? Any local tips and habits to be aware of? Or how to see the best that Barcelona has to offer in a limited time and without breaking the bank?…
To help you plan your first trip to Barcelona, we selected some of the best tips for visiting the city. This no-nonsense practical guide will not only help you plan your trip, but will also show you how to make the best of your time and budget. Find out!
Top 5 Experiences in Barcelona: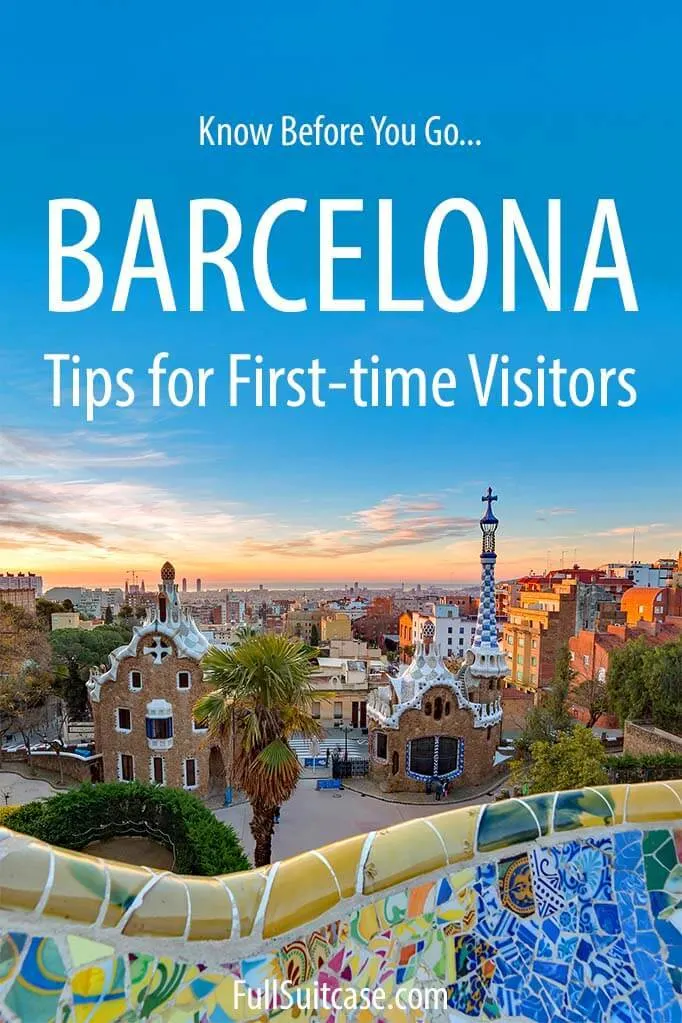 Here are our essential Barcelona travel tips:
1. Research & Book in Advance
One of the biggest mistakes you can make when visiting Barcelona for the first time is not to plan your trip in advance. So congratulations – because you are reading this, you already have a head start compared to other visitors!
Whether it's flights, accommodations, or tickets for the main Barcelona attractions – booking in advance means that you have more choices and much better prices. It also means less wasted time queuing and more relaxing time sightseeing and enjoying this fabulous city. After all, you want to make the most of your time in Barcelona and not spend all your precious time standing in lines.
Also, doing your research in advance means that you will avoid disappointment to find that the places you want to visit are closed or tickets sold out. Below are some examples that illustrate what I mean.
For example, we really wanted to see the dancing fountain of Barcelona, the Magic Fountain of Montjuïc, and were told that it dances every night. However, it's not the case. Furthermore, since we were traveling in the low season, it was actually only dancing three times a week.
Because we arrived on a Saturday and left before the next weekend, we only had one chance to see the fountains during our visit – on the first evening in the city. So despite an early flight and a very long day, we decided to go. If we hadn't done the research -assuming that we could just see it any night- we would have definitely missed it.
We also researched whether it was a good idea to visit Montserrat Monastery on Sunday. It turns out that it's the busiest day of the week. So we booked a tour for Monday instead…
I also heard from some of our readers that they couldn't visit the famous Barcelona market Mercado de La Boqueria because they didn't realize that it was closed on Sundays. By the way, all indoor markets in Barcelona are closed on Sundays.
Another reader told us that they couldn't visit Park Güell because they didn't buy tickets in advance and no walk-ins were possible… (Btw, Park Güell is one of the most-visited Barcelona attractions and you really have to book your tickets in advance!).
Good to know: Tickets for the most popular Barcelona attractions often sell out up to 2-3 weeks in advance. This is especially the case in high season. Plus, most entry tickets are now timed, so you need to see what's possible and how to fit it all into your itinerary. Further below, you will find more details and tips, but if you get the Barcelona Pass, you will have the option to pre-book a timeslot for your skip-the-line entry to all the main sights.
By doing your research in advance, you can also compare prices, reviews, and itineraries for the best tours in Barcelona… This brings us to the next point.
READ ALSO: Top Sights & Attractions in Barcelona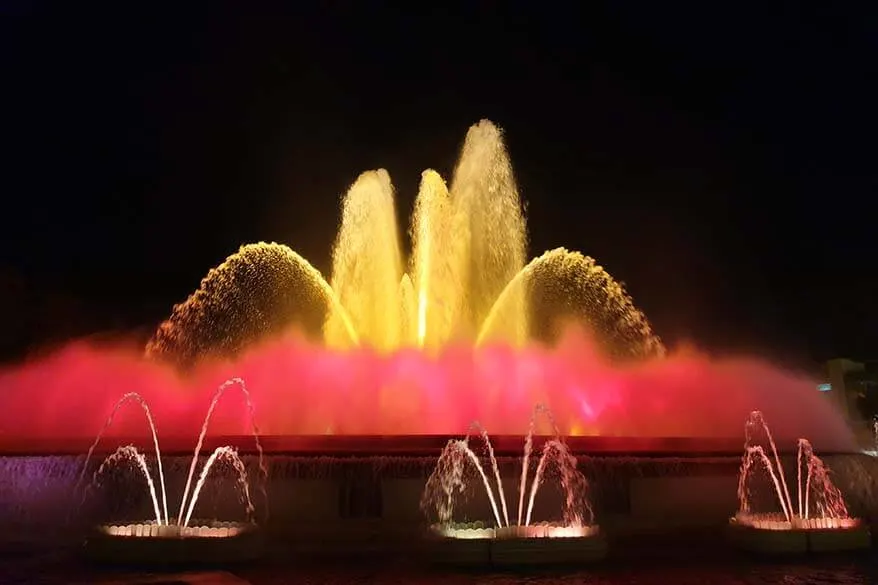 2. Save Time & Money When Visiting Barcelona's Main Landmarks
Visiting Barcelona for the first time also means visiting all the main landmarks and attractions. Of course, you will want to see the famous La Sagrada Familia and the other iconic Gaudi buildings and architecture! Just make sure that you are well prepared so that you don't waste hours and days standing in lines.
TIP: If you want to make the most of your time in Barcelona, consider skip-the-line tickets for ALL the main landmarks and the most popular tourist attractions. We also recommend booking guided tours for the Sagrada Familia and the main Gaudi buildings – that way you'll get a much better understanding of all the symbolism and stories behind the architecture.
You can find Barcelona tours and skip-the-line tickets on GetYourGuide and also on Tiqets. More information – further below.
Skip the Line Tickets
Some of the most popular attractions in Barcelona like Casa Mila, Casa Batllo, Park Güell, or La Sagrada Familia can have extremely long waiting times. Buying your tickets in advance is essential when visiting these places in any season!
Here you can get skip-the-line tickets for Casa Batllo, Casa Mila, Park Güell, and – the most popular of them all – La Sagrada Familia.
PRO TIP: With this Barcelona Pass, you can immediately reserve timed-entry tickets for the most popular sights, including the towers of La Sagrada Familia (regular tickets don't include tower access!). This is a digital pass, so you will get tickets per email (= very simple to book and use).
TIP: If you didn't think of buying the tickets in advance and they are sold out, try booking a guided tour instead. Guided tours prebook tickets and make it possible to visit the main landmarks even if the tickets are sold out. I recommend visiting Gaudi's buildings and especially La Sagrada Familia with a tour anyway. Read on to learn why!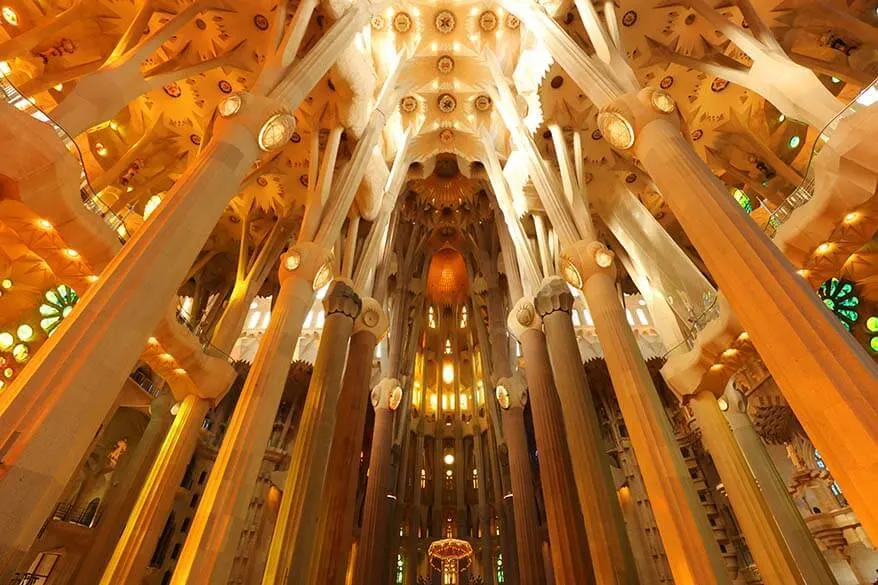 Guided Tours
Even when we visited in the low season, all the Gaudi buildings in Barcelona were incredibly busy. Often, it wasn't even clear where to go even if you had already pre-booked your tickets…
That's why we chose to visit all the Gaudi buildings on a tour. Here you can read more about our experience with the Gaudi tour (we chose this amazing tour that covers all the main Gaudi landmarks in a day).
We visited Barcelona with our three kids who, obviously, have no patience when it comes to long queues. Taking a tour meant that we could relax while the guide took care of everything. We just followed the guide and never had to wait anywhere longer than 10 minutes.
I can't imagine how different our experience would have been if we had to figure out where exactly to go and wait in endless lines everywhere. We wouldn't have been able to see half as much, not even to mention our sanity having to deal with bored kids…
Furthermore, having a local guide who explained what, where, and why, enabled us to appreciate what we were seeing. We never knew there were so many symbols and stories behind all the tiny details in Gaudi's buildings! Gaudi was a real genius and we would have never gotten to know any of that if we had visited his buildings on our own.
Free Museums
Most Barcelona museums have specific days or hours when you can visit them free of charge. In general, you can expect most museums to be free on the first Sunday of the month. But there are also additional times when you can enter free of charge.
For example, the Picasso Museum is free to visit on the first Sunday of the month and also on Thursday evenings. Barcelona Cathedral (not to be confused with Sagrada Familia) is free to visit between 8.30 AM and 12.30 PM and in the evenings from 5.45 PM to 7.30 PM (hours vary a bit per day and on some days are a bit longer, but the hours indicated here apply daily).
Museum of the History of Barcelona (MUHBA Plaça del Rei) is free on the first Sunday of the month and in the late afternoon on other Sundays.
These are just a few examples – there are so many museums and other attractions in Barcelona. So do your research for the places you want to see and, if possible, time your visit accordingly.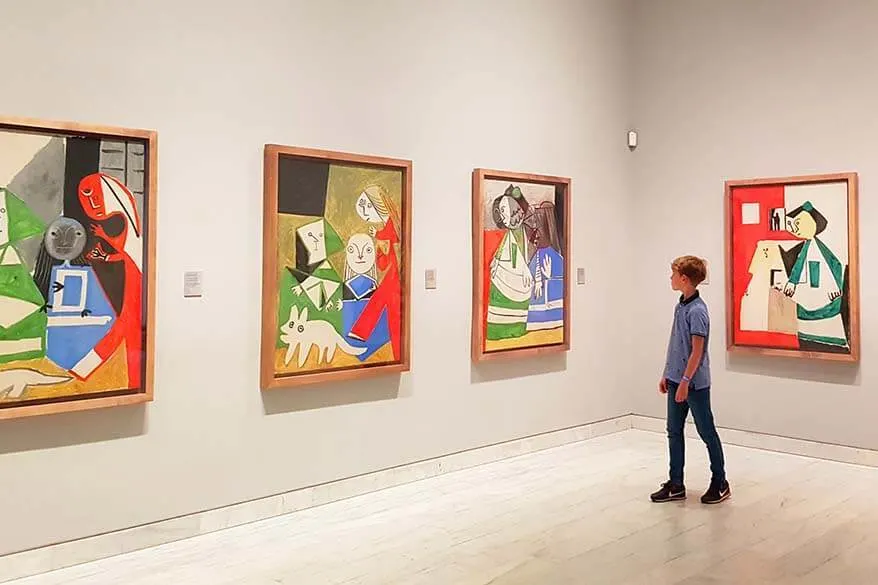 City Cards & Package Deals
If you are planning to visit several of the main Barcelona attractions on your own, you may want to look into getting one of the city cards that offer discounts and free entrances to certain attractions and also public transport tickets.
There is also a museum card that gives access to 6 of the most popular museums in Barcelona. So do your research and see if and which card makes sense for you, depending on your interests.
TIP: If you find the choice overwhelming, we recommend this Barcelona Pass. This is the best pass for Barcelona's top sights including Park Güell & Sagrada Familia. If you also want to visit the towers of the Sagrada Familia (recommended), then this all-in pass is the best option for you. In case you wonder, there is a lift to get to the top of the towers.
Good to know: These passes not only save you money but make it really easy to book fast-track tickets to the most popular attractions in one place. Furthermore, the tickets are digital so you don't have to waste your time once you get there!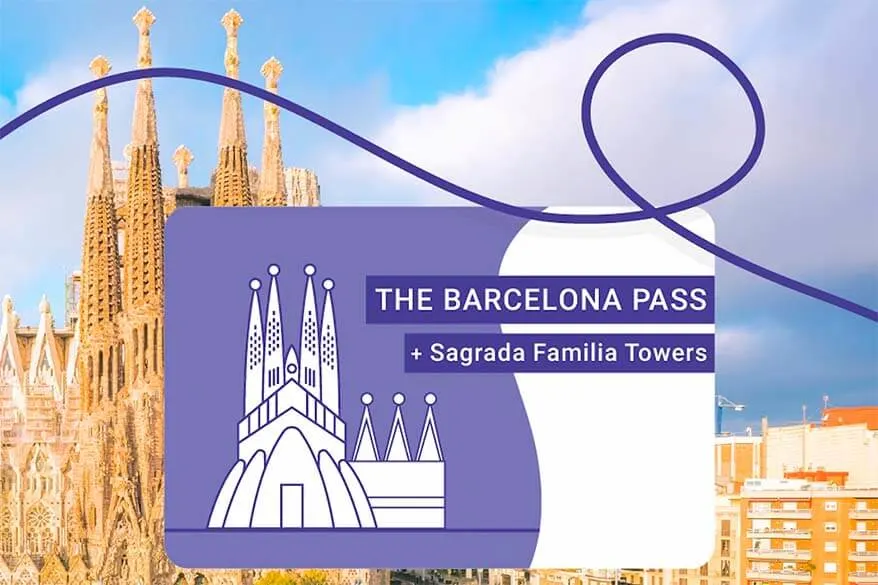 3. Avoid High Season, Bank Holidays, and School Breaks
As one of the most-visited cities in Europe, Barcelona is always busy. Still, there is a huge difference between visiting Barcelona in the high season (June-August), in the shoulder season (April-May and September-October + New Year), or in the low season when there are fewer international travelers and hardly any cruise ships in town.
Because we travel with kids, however, we can only travel during school breaks. For years, we have been postponing a trip to Barcelona for that reason. However, we decided that it was high time to see this iconic city and chose the first week of November (autumn break) for our trip.
We were pleasantly surprised. It was still busy at the main attractions in the city, but it never really felt too crowded or overwhelming AND we had quite a few amazing places almost to ourselves.
Needless to say that this greatly influenced our experience and we loved Barcelona so much more than I ever expected. Based on all the horror stories about the crowds, we were really fearing the worst. But what we found was a really pleasant city that gave us plenty of opportunities to enjoy the sights without having to brush elbows with thousands of strangers.
Furthermore, the weather in early November was fabulous with plenty of sunshine and temperatures that were warm enough to wear a t-shirt during the day.
So if you can, visit Barcelona in the shoulder season or in the low season. It will be so much more enjoyable!
READ ALSO: Best Time to Visit Europe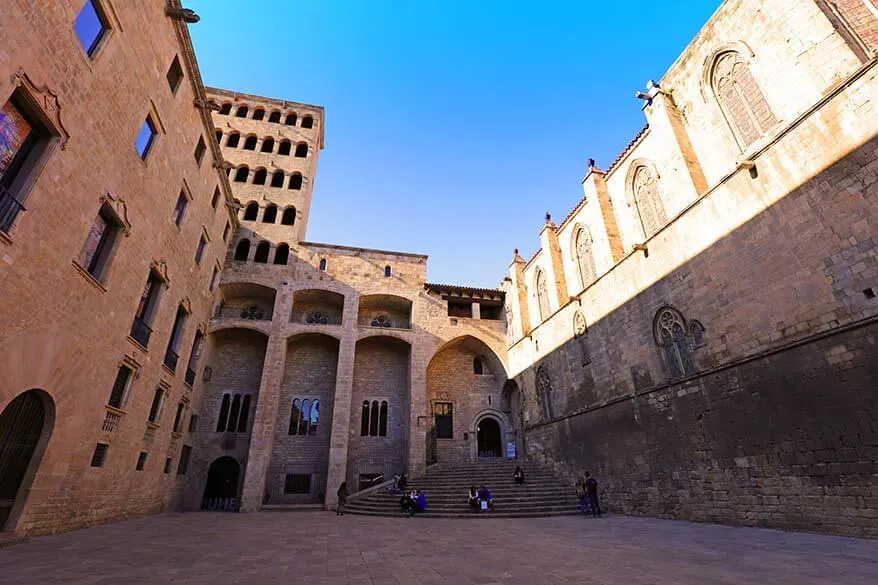 4. Stay in the City Center
Another very important thing to take into account when traveling to Barcelona is where to stay.
While it's often tempting to choose cheaper accommodation further away from the city center, we have learned the hard way that it's not the best idea. Yes, it can save you some money, but it will cost you time and comfort. It's so easy if you can just walk to a nice restaurant for dinner from your hotel or sleep longer in the morning knowing that your tour starts right around the corner and not on the other side of town…
So if you are visiting Barcelona for the first time and want to make the most of your short trip, stay in the city center! Also, stay somewhat close to a metro station – that way you can always get to the other parts of town quicker.
We recommend staying in the area close to Plaça de Catalunya. It's a perfect location for sightseeing and you can easily walk to most attractions in the old town or to the nicest Gaudi buildings… There are also plenty of shops and restaurants nearby, and most tours and excursions start in this area.
Here are our hand-picked recommendations with an excellent location near Plaça de Catalunya for all budgets:
If you are looking for a really nice place to stay in the heart of Barcelona, check out Ohla Barcelona, a fabulous 5* hotel with a rooftop pool and bar.
If you are on a lower budget, check out these popular and highly-rated options with excellent locations: Hotel Lloret Ramblas (the best-rated and most popular budget hotel in the center) or Hostal Boqueria (a very good, simple hotel on a low budget).
Where we stayed: We stayed at the Acta Splendid Hotel. The location couldn't be better and the price/quality was unbeatable for this area.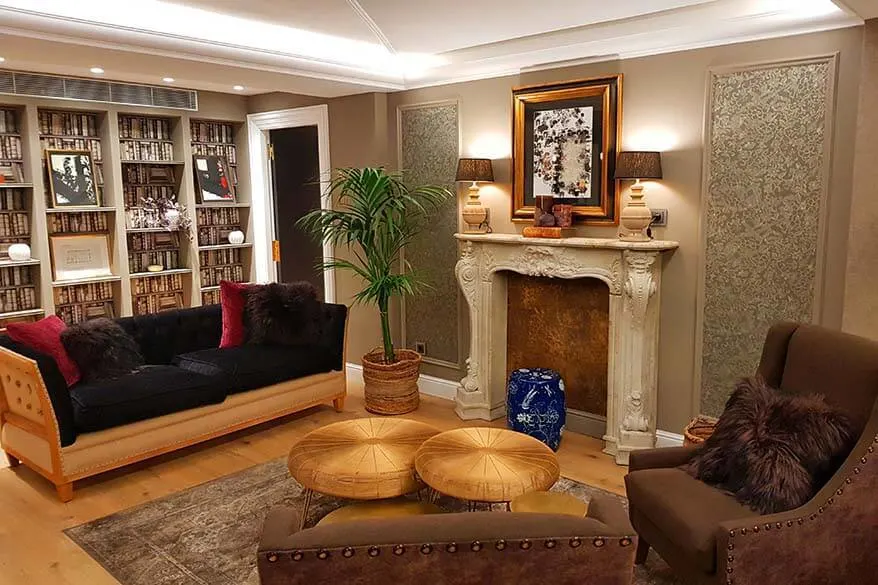 TIP: Using the map below, you can compare hotels and short-term rental accommodations in central Barcelona (Plaça de Catalunya area).
Simply insert your travel dates and group size, and you'll see the best deals for your stay. Check it out!
5. Explore the Gothic Quarter
One of the most beautiful parts of Barcelona is the old Gothic Quarter (Barri Gòtic). No visit to the city would be complete without exploring this fascinating area.
While the district gets its name thanks to the 13-15th century Gothic buildings, it's actually the oldest part of Barcelona with archeological finds dating to Roman times.
The main landmarks here are the Cathedral of Barcelona (The Cathedral of the Holy Cross and Saint Eulalia), Plaça del Rei, and the underground Roman city that is part of the earlier mentioned Museum of the History of Barcelona (MUHBA). But the real charm of the Gothic Quarter is its fascinating maze of streets and historic buildings.
TIP: This part of town can get really busy. The best time to visit is as early in the morning as possible, or in the low season.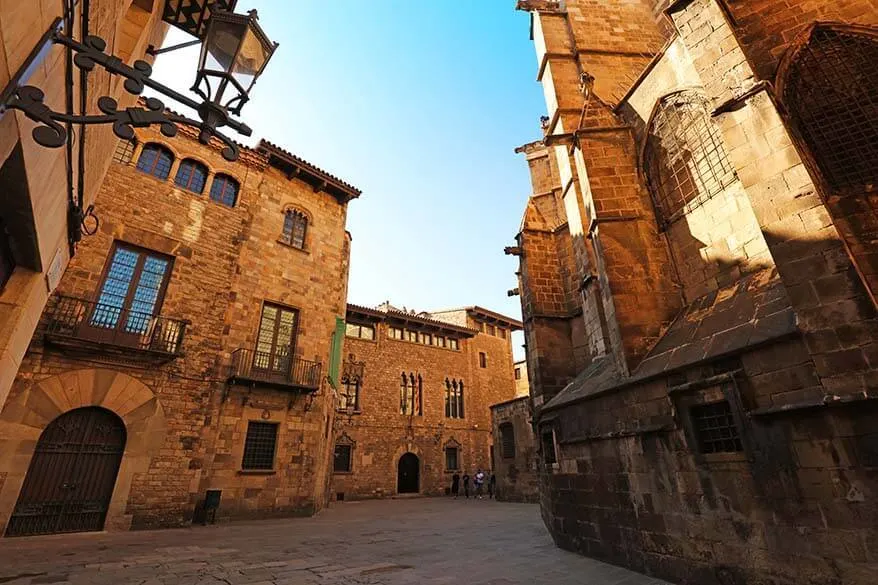 6. Use Barcelona Metro
Barcelona is a big city and its attractions are scattered throughout. So no matter where you stay, eventually, you'll find yourself in need of a transfer. By far the easiest and the fastest way to get around the city is by taking the metro. And, if you avoid peak times, the metro is surprisingly quiet.
There are all kinds of multi-day and multi-journey tickets available for Barcelona metro and public transport, so choose one that best suits your needs. When we traveled, we got a 10-journey card that could be used by multiple people at the same time. Names and conditions of these cards change often, and you can find the best up-to-date information on the official website.
If you're just taking the metro (so not a bus and other public transport options), you can easily get ticket cards at any metro station as well. There are ticket machines and everything is well-explained, also in English. Credit cards are accepted.
TIP: You can also take a metro to the airport, but it takes very long (it took us over 1.5 hrs to get to the city center). Alternatively, there are airport shuttle buses that run frequently, cost about the same as the metro ticket, and take much less time. On our way back to the airport, we took a taxi and it was surprisingly affordable. You can find more information about Barcelona airport transport here.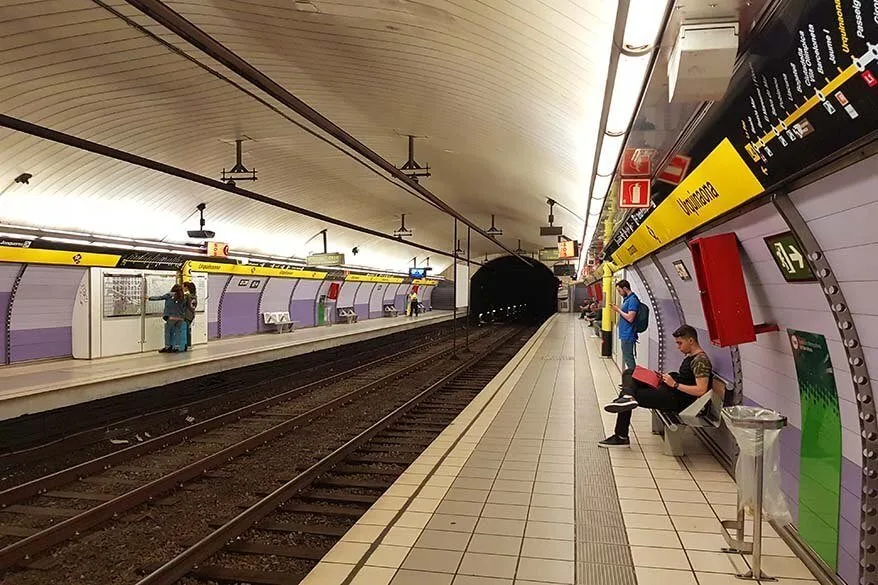 7. Wear Comfortable Shoes
Just as with any city trip, traveling to Barcelona means that you'll be walking a lot. Make sure that you wear comfortable walking shoes!
Take my word for it, wrong footwear can ruin your entire vacation. Get lightweight sneakers or slip-on shoes for your Barcelona trip. I wear and recommend shoes in this style; they are light and comfy – ideal for city trips.
TIP: If you don't like walking too much, consider taking a hop-on hop-off bus instead.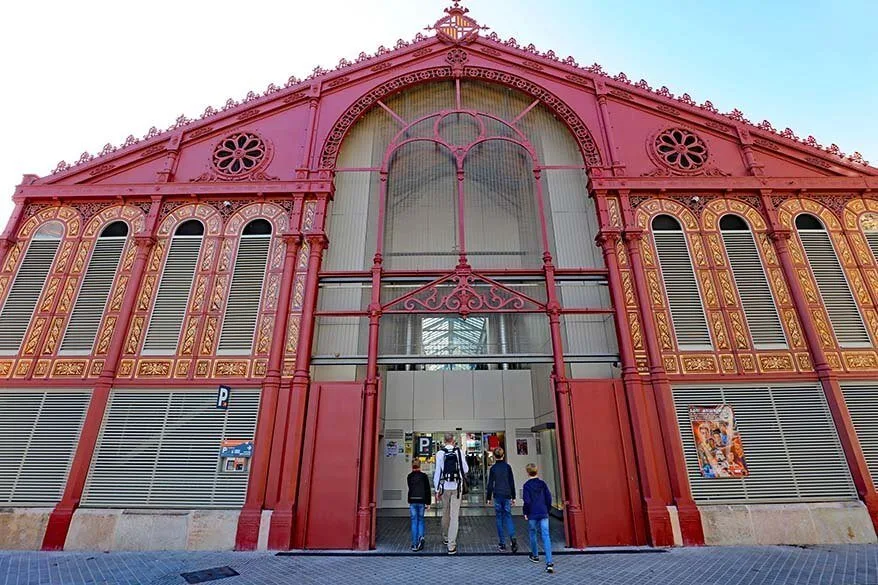 8. Adjust Your Dining Schedule
You may have heard this before – Spanish people have very different habits when it comes to dining times. The main meal of the day is lunch and it usually starts at around 2 – 2.30 PM. Most restaurants will not open for dinner before 8 – 9 PM.
We were a bit worried about late dinner times because we traveled to Barcelona with kids, but it worked out quite well. Since it's such a touristy place, there are quite some restaurants that have adapted their opening times and it was usually possible to find a place to eat at 7.30-8 PM.
We were told that the best local restaurants don't open before 8.30-9 PM, but we found plenty of good restaurants that do.
That being said, you won't easily find a good local restaurant open for dinner before 7 – 7.30 PM.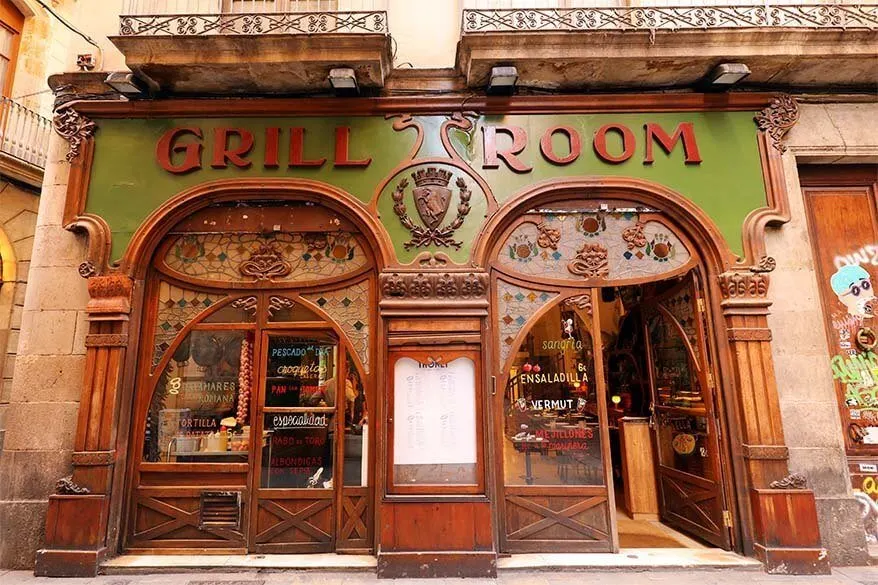 9. Try Tapas
No visit to Barcelona would be complete without tapas. In case you don't know what tapas are, this is just a popular Spanish word for small snacks. Like appetizers in the US or antipasti in Italy. Basically, tapas are just small-sized portions of food – from seafood, meat, to all kinds of vegetables or potatoes (patatas bravas).
Everywhere you go, you'll see tapas on the menu. It's a great way to try a big variety of Spanish food without having to order an entire dish not knowing whether you'll like it. It's ideal if you are traveling with a bigger family or a group of friends because you can order a big variety of tapas and everyone will easily find something they like.
Some restaurants have set tapas menus which are a real lifesaver if you are feeling overwhelmed. After a couple of tapas meals, you'll get more familiar with the concept, and ordering tapas will actually be fun.
Good to know: Tapas are EVERYWHERE in Barcelona, but they are not the only option (luckily). If you stay in Barcelona longer, it's quite likely that you'll eventually get tired of tapas. No worries – there are plenty of restaurants serving traditional Spanish food, seafood, paellas, but also a big variety of international cuisines. After five days in Barcelona, our kids didn't want to see or hear of any more tapas, so we found a really nice pasta restaurant that the whole family loved.
TIP: If you want to try some of the best local dishes, consider joining a food tour as well! Food tours are our favorite thing to do when visiting any city! Check out this highly-rated tapas & wine tour. Another popular choice is this paella cooking experience + Boqueria market visit.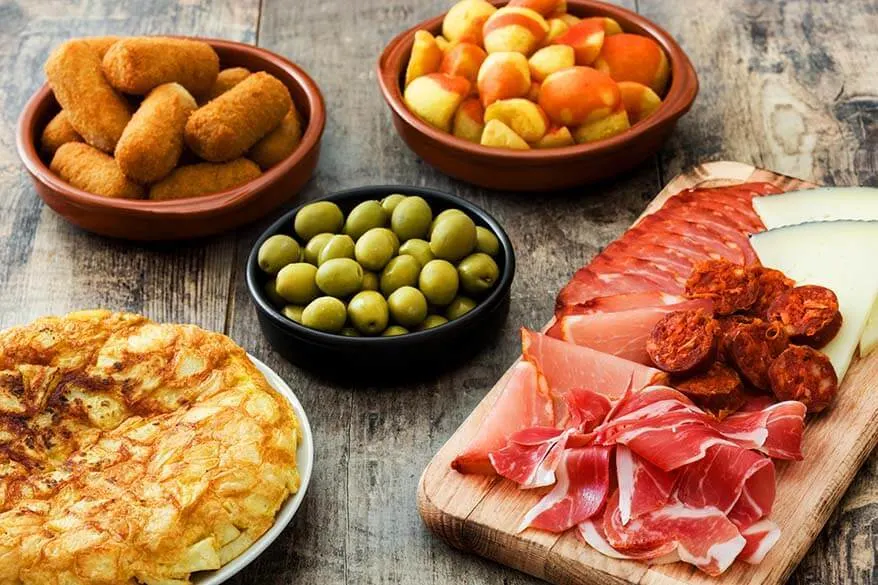 10. Tipping in Barcelona
Generally speaking, tipping is not that common in Europe, and so also not in Spain. However, American habits quickly find their way here too and it's now more and more common to tip. That being said, it's never really expected, let alone obligatory.
In Barcelona, you do not have to tip and locals usually don't tip or just round up the bill. If you find the restaurant service exceptionally good, you can tip 5-10%. It's not common to tip at a bar. Taxi bills are usually just rounded up. For bellboys – a euro or two is enough.
Many people tip tour guides, but it's really your call how much. In Europe, we usually tip 20 EUR for a day tour that we take as a family of 5. If you are alone or traveling as a couple, 5-10 EUR is acceptable, but most Europeans don't even do that.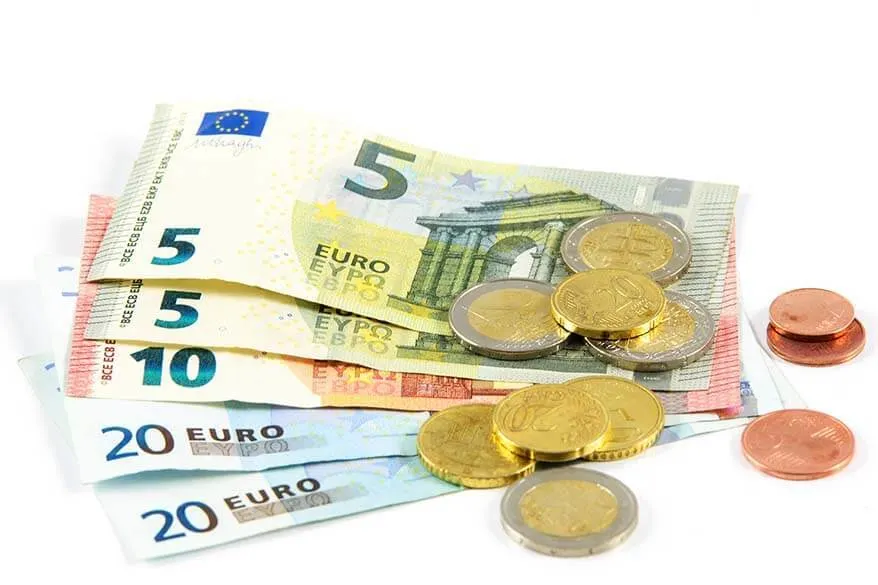 11. It's OK to Haggle
If you are planning to buy any souvenirs from street vendors, at the markets, or at the tourist shops in town, you should know that haggling is completely acceptable. Very often, you'll see that no prices are advertised and in such cases, you definitely have to haggle or you'll be overpaying up to twice the price, if not more.
It's also very common that the same souvenirs will cost twice as much close to the most popular tourist landmarks, compared to some lesser-visited places. However, it's not always the case.
My best advice is not to buy souvenirs immediately. Take your time, ask for prices, and get a better idea of what's acceptable before buying anything.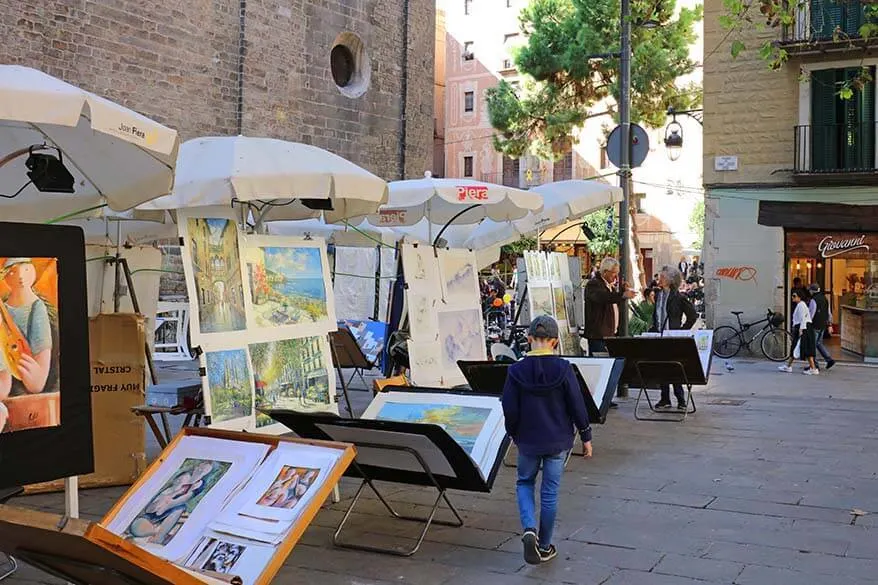 12. Know That Things Are Laid Back
Barcelona is a very laid-back place. You'll notice it in many ways. Depending on where you're from and what you're used to, things might seem a bit too relaxed, or maybe just normal…
The best way to enjoy your time in Barcelona is just go with the flow. Don't get upset if it takes a bit longer for a waiter to take your order, or if the shops are closed for siesta a bit longer than advertised…
Good thing is that Barcelona is also much more casual in terms of clothing than, for example, Madrid. There is no need for fancy clothing and even at dinner at some nicer restaurants we dined at, most people were quite casually dressed. That being said, when in doubt, I'm always in favor of overdressing.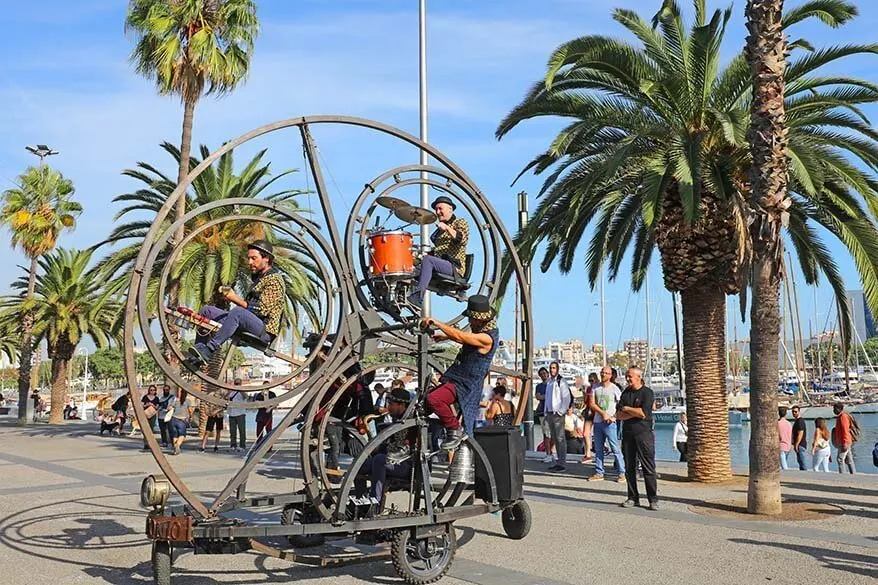 13. Beware of Pickpockets
Just as in any other big city or popular tourist destination, Barcelona has a problem with pickpockets. These guys are real professionals and it's not uncommon that they manage to distract attention and even rob a big group of people at the same time.
So take precautions and don't carry too much money or any other unnecessary valuables around. Also, make sure that you have good travel insurance! Be careful at the most popular tourist places, such as La Rambla or around La Sagrada Familia, and also when using public transport.
An anti-theft backpack might be a good idea too. Or – if you have a regular backpack – wear it in front of you and not on your back. Also, it's really not a good idea to store your wallet or your smartphone in your jeans pocket.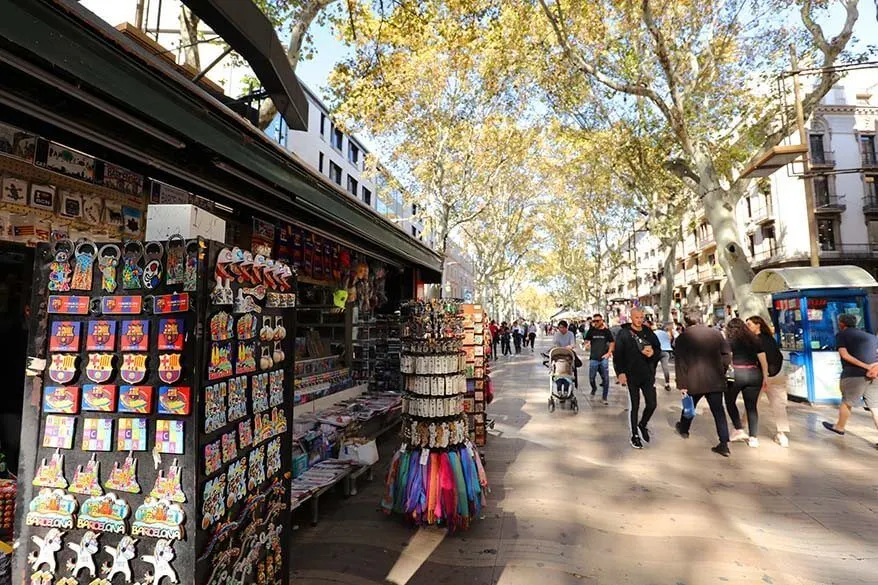 14. Don't Try to See Everything
Barcelona is a huge city and there is so much to see and do! But… there's no way to see everything in just a couple of days. So plan your itinerary well! If you don't know where to start, check out our tips on how to spend 1 day in Barcelona and also an itinerary for 2 days in Barcelona.
I recommend choosing a couple of must-see places each day or maybe one specific area, and not try to do it all at once. You'll enjoy the city much more if you also leave some time for a relaxing lunch at a nice café or some unexpected discoveries.
When it comes to visiting Barcelona, remember that less is more!
I know that it's very tempting to try and see as many landmarks as you possibly can, but you'll just get tired and frustrated. Take your time to sample some local specialties at the market, turn into a little picturesque alley and see where it leads, or explore some lesser-known places that don't involve standing in line for hours… This brings us to the next tip…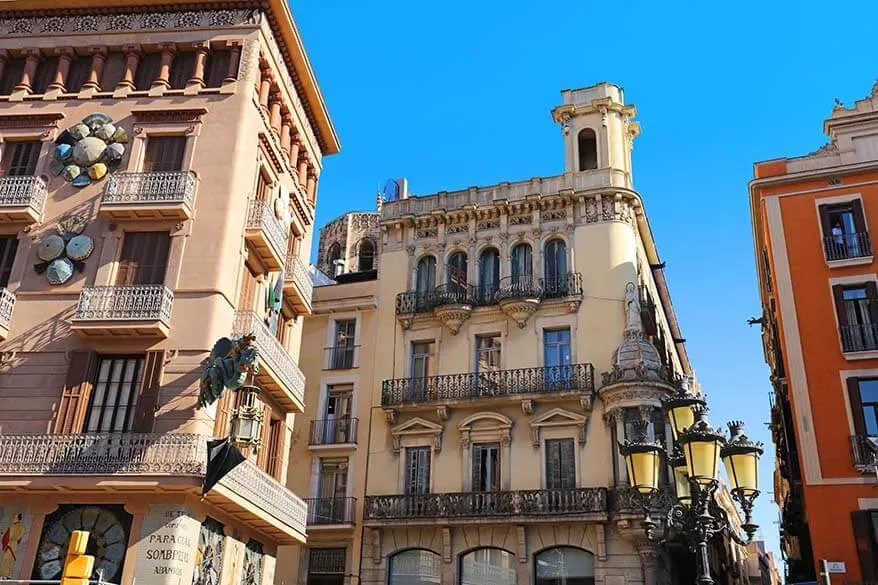 15. Get off the Beaten Path
Barcelona is so much more than its most famous landmarks, La Rambla, Gothic Quarter, Barceloneta beach, or Gaudi architecture… There are so many other amazing places that are worth visiting just as much, yet are overlooked by most first-time visitors.
Some of our favorite moments in Barcelona were visiting the lesser-known and less-visited places. And while it's not easy to find any truly 'hidden' gems, even just getting a bit off the main tourist routes will show you a very different side of Barcelona.
One of our favorite places in Barcelona was the beautiful Sant Pau Art Nouveau Site, which we had practically to ourselves. While it is not completely unknown, it was completely deserted when we visited it in the low season… And so worth a visit!
We particularly enjoyed the Port Vell and La Barceloneta – an old fishermen's quarter with narrow streets and local restaurants. And yes, there is a really busy area in this part of town as well – with a seaside promenade, fancy yachts, and tourist restaurants. But if you take the time to explore deeper, you find a totally different place, just a few blocks away…
The same counts for the El Born and La Ribera areas which are like a labyrinth of narrow streets and passageways – so fun to just get lost and explore this area without a map.
We also went to a more local Poublenou area and explored Gracia, L'Eixample, and Montjuïc on foot. We visited some little-known sights and some really nice markets that had many more locals than tourists (Mercado de La Boqueria is really not the only market worth seeing in Barcelona)…
Each and every area has something special and unique. Behind the busier streets and popular areas, there are always lesser-visited gems just waiting to be discovered.
Even if you just see a few of these more local areas, it will make your trip to Barcelona so much more memorable.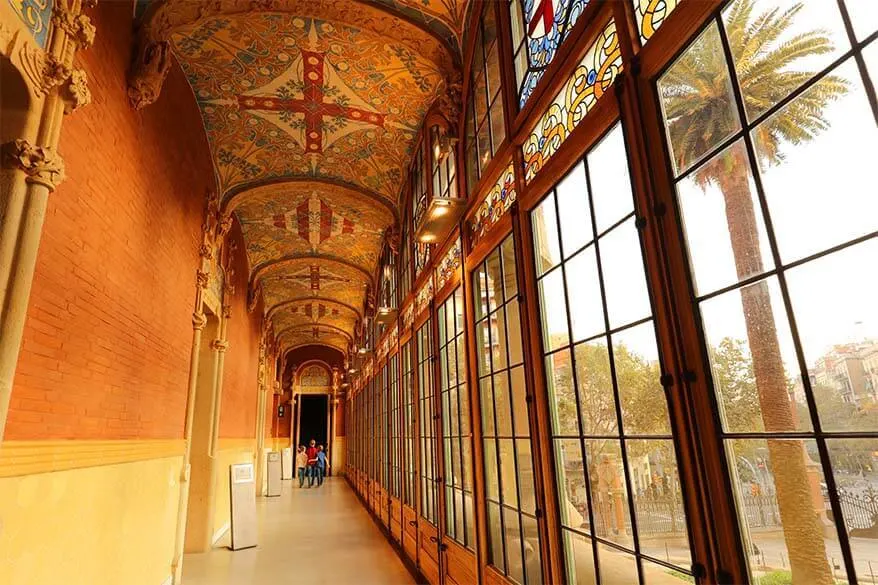 16. Attend a Performance at Palau de la Música Catalana
If you want to experience something really special in Barcelona, try to get tickets for a performance at Palau de la Música Catalana. This stunning music hall is a real masterpiece and worth visiting in itself, but it's even more special if you can attend a concert here.
They organize various concerts every evening and also during the day on the weekends. From classical music and dance to the most modern musical performances and traditional Flamenco dances – there are always plenty of choices to suit any interest. Most of the time, tickets are available just a few days in advance (or even on the day itself), so check the program and go. It will be totally worth it!
Good to know: You can also just visit the music hall itself. Self-guided and guided tours are available throughout the day and take less than an hour. Here you can get tickets for your visit.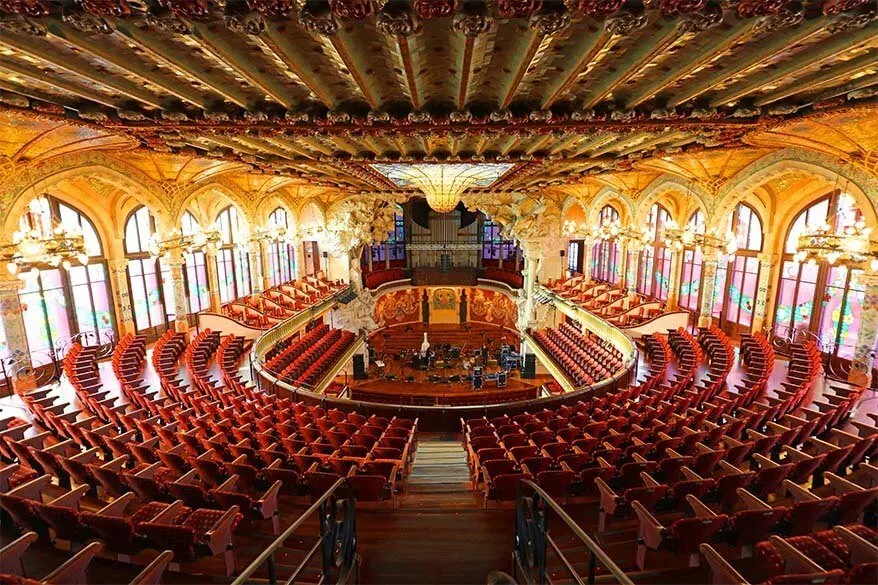 17. Escape the Hustle of the City for a Day
Visiting a busy city like Barcelona can leave you exhausted, especially if you are not used to the crowds or if the summer heat becomes too much for you.
While most tourists head to Barceloneta beach, you'll hardly find any locals there. The better beaches (nicer and also less crowded) can be found a bit further away. Try Playa de Bogatell if you don't want to go too far. Or – outside of town – Platja de Castelldefels in the south or Platja de Badalona in the north of Barcelona.
The most popular day trip outside of the city is visiting Montserrat Monastery. Because it's located in the mountains, the temperatures are usually cooler there too. We also took this day trip and here you can read all about our Montserrat tour.
These are just a few examples of places to visit outside the city. There are many more beautiful areas that you can visit on a day trip from Barcelona! Here are a few other popular options:
So if you are staying in town for more than 2-3 days, I suggest you take at least one day trip to see more of the surroundings or just to escape the crowds. As a minimum, rent a bike and drive along the beach – there is a beautiful waterfront promenade with bike paths that bring you to the quieter beaches and districts of Barcelona.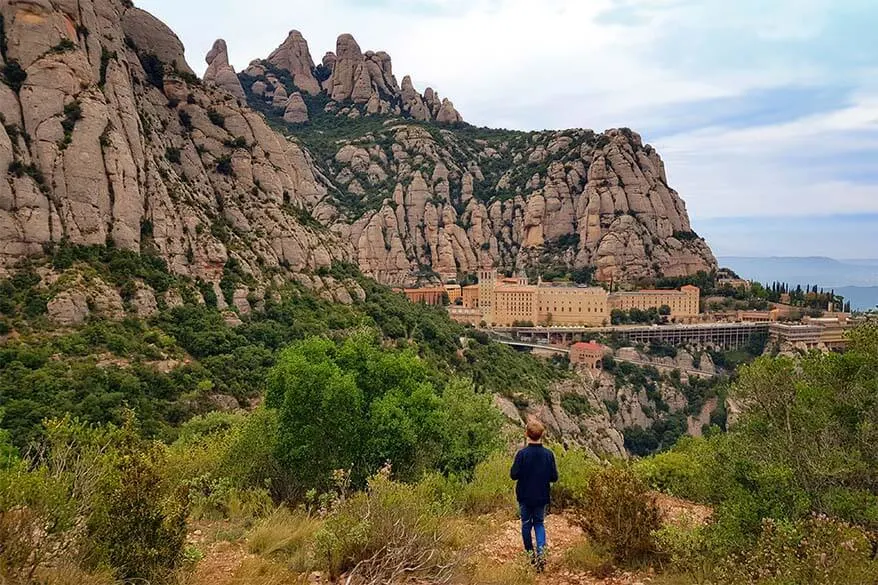 18. Stay Clear of Politics and Protests
Political protests in Catalonia are not uncommon. There were huge protests and even riots in Barcelona just a few days before our trip, and there were also some violent protests in the city while we were there.
But, in general, these protests don't really influence your travel experience much (unless they block an airport, which happened once a few years ago).
My best advice is to just stay clear of any political protests. If you see any demonstrations, just walk around or take another street. Barcelona is a big city and the chances that you'll find yourself amidst the protesters are really not that high.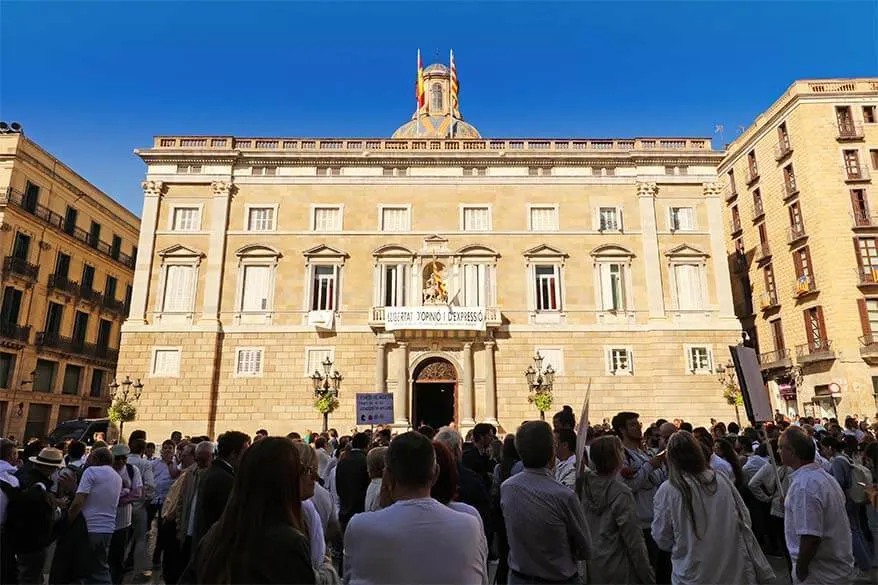 19. Don't Forget Little Important Details
Here are some more practical tips to consider when traveling to Barcelona for the first time:
You can pay by credit card pretty much everywhere, but it's always useful to have some cash as well. Spain uses the EURO.
While you can easily get around using English, it's always useful to learn a couple of words of Spanish or Catalan. Hola (hello) and gracias (thank you) go a long way.
Barcelona has a pretty good network of free WiFi with hundreds of access points throughout the city. Hotels and some restaurants also usually offer free wifi.
Download an offline map of Barcelona using apps like Google Maps or Maps.me. It's so much easier than a paper map and you can always easily find your way around.
Remember that many shops and markets are closed on Sunday. However, most museums and other attractions remain open. We chose to do a Gaudi tour on a Sunday and it worked out great.
Pack comfortable shoes and clothing suitable for the season. It can get really warm in Barcelona and sun protection is an absolute must in summer. Don't forget your sun hat!
Make a copy of your travel documents and send it to yourself by email (or save it in the cloud). As with any international trip, make sure that you have good travel insurance.
So, these are some of the most important practical tips that you should know when traveling to Barcelona for the first time.
Below, you can also find some frequently asked questions for your first visit to Barcelona. Take a look!
Barcelona Travel FAQs
When is the best time to visit Barcelona?
The best time to visit Barcelona are the shoulder months between March and May and also from September to October. The weather is best for sightseeing and it's not as busy as in the summer.
How much time do you need in Barcelona?
While you can see the main landmarks of Barcelona in one or two days, we recommend at least 3-4 days for your first trip to Barcelona. This will allow you to explore the city at a more relaxed pace, visit Gaudi buildings and a few museums, and maybe even take a tour to Montserrat.
What should you book in advance in Barcelona?
Barcelona is a very popular destination, so it's best to book your accommodation and the tours that you absolutely want to do in advance. Make sure to book skip-the-line tickets for the most popular landmarks such as La Sagrada Familia!
Is Barcelona safe?
Yes, Barcelona is a safe destination. However, just like in any other big European city, you should be careful with pickpockets and common travel scams. If you are not sure about visiting certain areas at night, ask your hotel for advice.
Where to stay in Barcelona for the first time?
We recommend staying in the area close to Plaça de Catalunya. The location is perfect for sightseeing and you can easily walk to the most popular attractions in the city center. There are also plenty of shops and restaurants nearby. Most tours also start in this area.
Do you have any questions or maybe want to share your experience when visiting Barcelona? Don't hesitate to leave a comment below!
More tips for your trip to Barcelona:
READ ALSO: One Day in Madrid: What to See & Itinerary
If you found this post useful, don't forget to bookmark it and share it with your friends. Are you on Pinterest? Pin these images!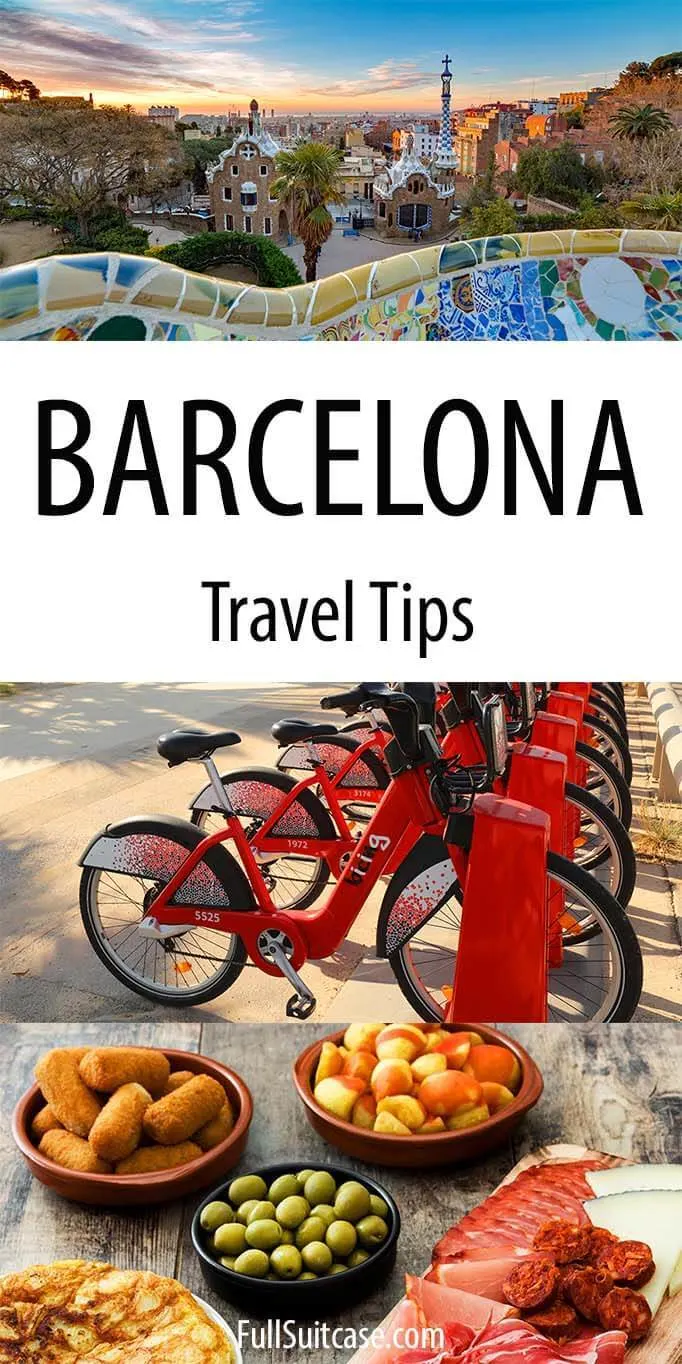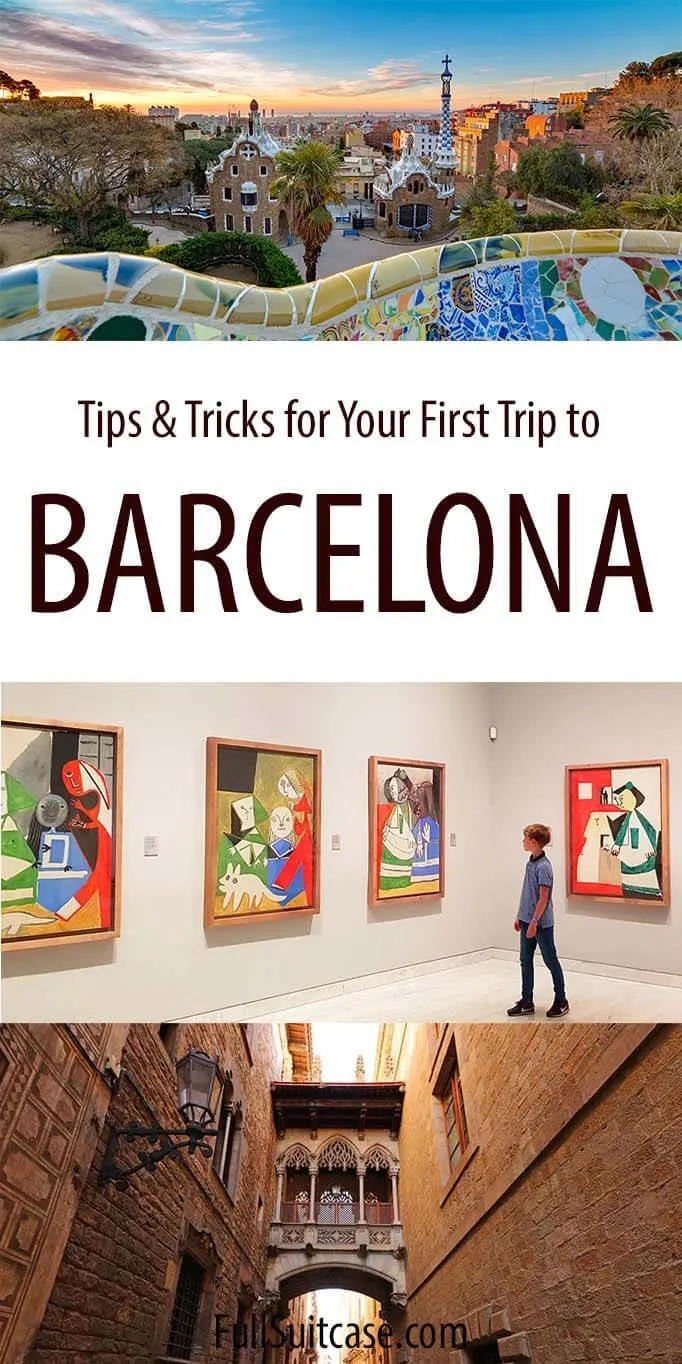 More travel inspiration for European cities:
If you are visiting other European cities and are looking for in-depth information for your trip, take a look at some of our city guides: