Visiting Brașov in Romania and wondering what are the best things to see and do in Brasov? This guide with insider tips and recommendations will help you get a better idea of what to expect and plan a more memorable trip.
Brasov (pronounced as bra-shov) is one of the best-preserved medieval cities in Europe and one of the most beautiful cities to visit in Romania. It's also a lively city that has it all: history, art, culture, fantastic architecture, as well as lots of nice cafes and restaurants. Brasov is also home to some of Europe's narrowest streets – always fun to explore!
Brasov is not only a charismatic destination but also an affordable one. It's easy to find really nice accommodation in the city center or pamper your tastebuds with delicious food in some of the best restaurants without breaking the bank. See our recommendations on where to stay and where to eat in Brasov at the bottom of this guide!
Good to know: The good news for tourists is that Brasov is so compact that you can see all the main sights in just a few hours. Furthermore, Romania's top attraction, Bran Castle, aka Dracula Castle, is located just nearby. So many popular tours from Bucharest visit both – the city and the castle – making it easy for you to see several of Romania's top destinations in just 1 day.
At the same time, Brasov has a lot to offer for those who are planning a longer visit as well! One of Transylvania's gems, Brasov is surrounded by lush green mountains. So in addition to the best sights and attractions in Brasov city itself, it's a good base for beautiful nature destinations nearby. In summer, you can go hiking in the Bucegi mountains. And in winter, you'll find lots of Romania's most famous ski resorts nearby.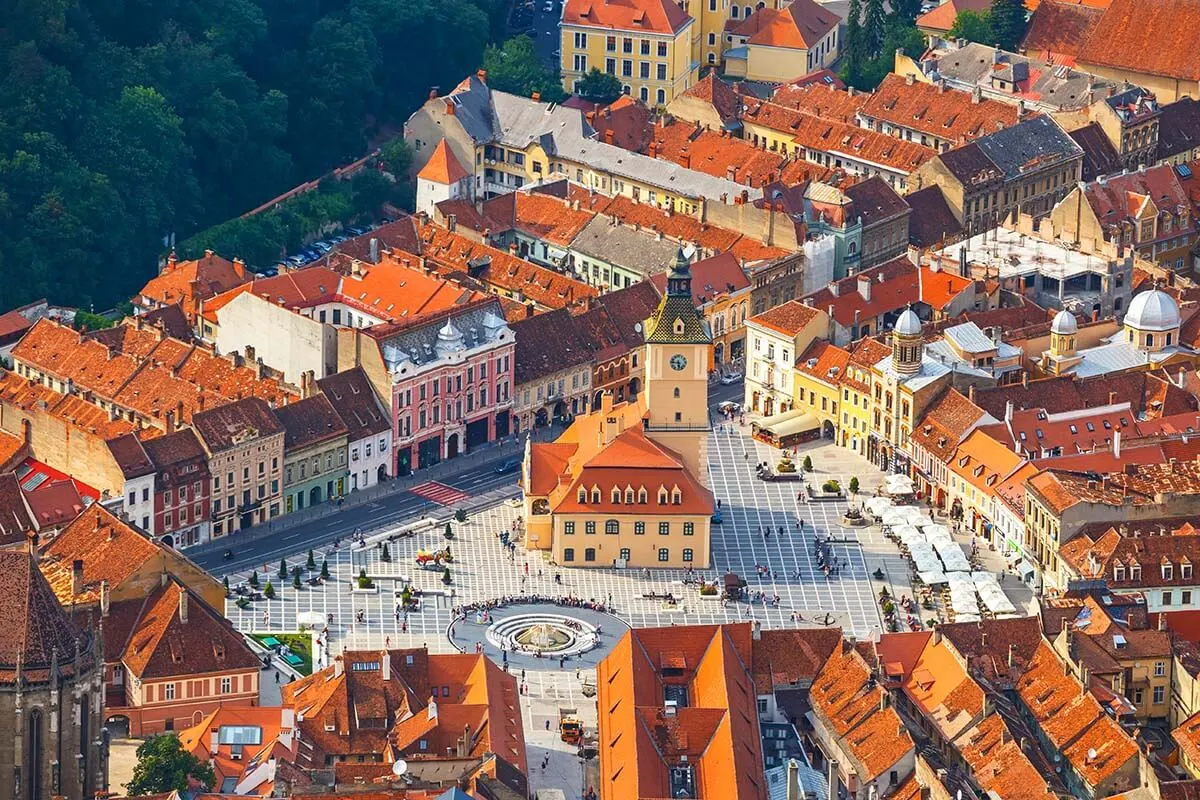 Whether you are visiting Brasov from Bucharest for a day or planning a longer visit, there are some top places to see and some absolute-best things to do in Brasov that you really shouldn't miss. We cover all the musts in this guide, coupled with tips and recommendations by a local.
To make it easier to plan your time, we also created a map of Brasov attractions. As you can see, all the best places are located really close to each other.
Take a look!
How to use this map: Use your computer mouse (or fingers) to zoom in or out. Click on the icons to get more information about each place. Click the arrow on the top left corner for the index. Click the star next to the map's title to add it to your Google Maps account. To view the saved map on your smartphone or PC, open Google Maps, click the menu and go to 'Your Places'/'Maps'. If you want to print the map or see it in a bigger window, click on 'View larger map' in the top right corner.
PRO TIP: If you are visiting Brasov for the first time and/or have limited time, book a city tour with a local guide. This is the best way to see the main tourist attractions in Brasov in just 3 hours. Furthermore, it will allow you to understand the history of the city and appreciate the sights and their significance. These tours are really good!
VISITING BRASOV FROM BUCHAREST: If you are planning to visit Brasov from Bucharest and are getting overwhelmed with all the tour options, check out this day trip. It has one of the most diverse itineraries allowing you to get a good taste of what Transylvania is about. Among others, you'll see Dracula Castle, Peles Castle, and Brasov.
GUIDE TO BRASOV, ROMANIA – OVERVIEW: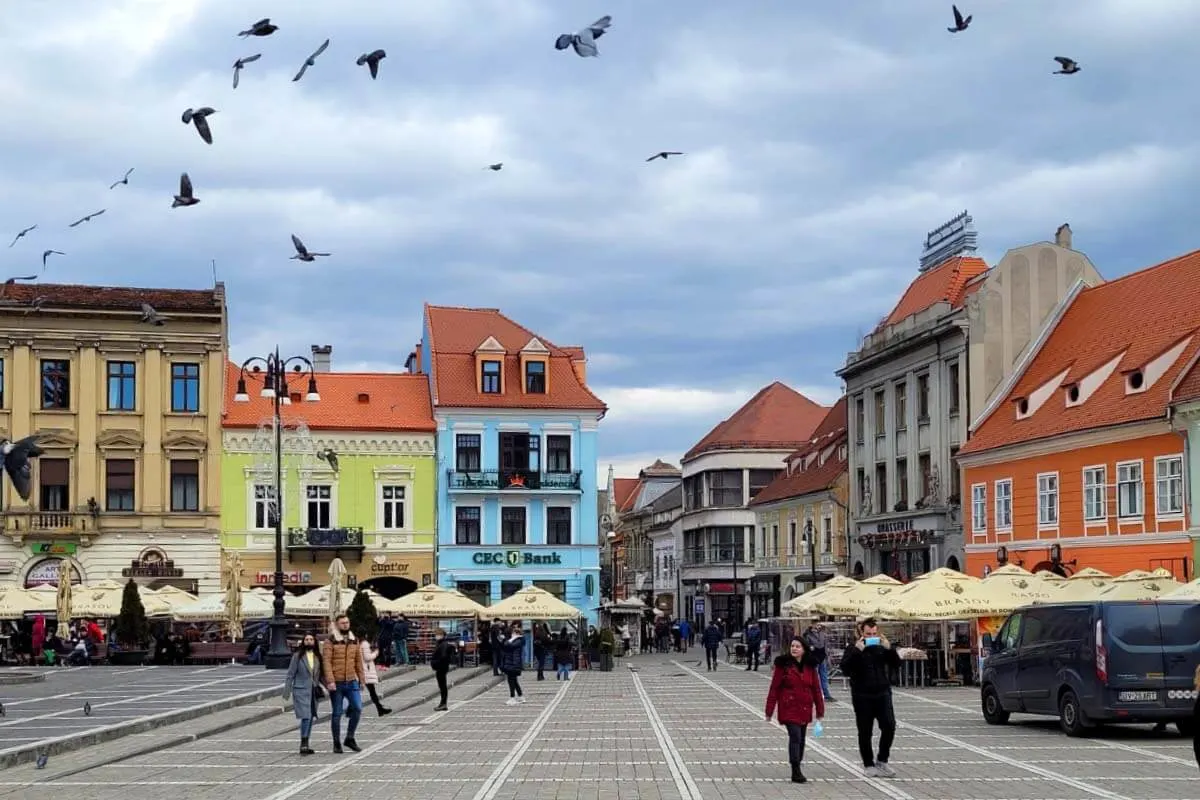 These are the TOP attractions & things to do in Brasov for first-time visitors:
1. Council Square
Brasov's Council Square (Piața Sfatului) is the main town square in Brasov. This is the one place you have to see in Brasov, even if you are just passing by. True, it would be difficult to miss, as almost all tourist attractions in the city are within walking distance from here.
Nowadays the heart of Brasov, full of energy and good vibes, this square used to be a marketplace where traders from all over the area gathered to sell their produce. Crammed with restaurants, cafe terraces, and small artisan shops, the Council Square is a nice place to just sit down and enjoy watching the passers-by.
In the center of the square, there's a building called the House of the Council (Casa Sfatului). This is the former Town Hall of Brasov that now houses the museum of the city. Here, you can see some interesting artifacts from the rising of Brasov (in 1987, two years before the Revolution) when people from factories planted seeds against communist oppression. Or, you can also observe a sports collection of the most famous Romanian sportspeople who made history at the Olympics.
The Council Square is lined with traditional colorful buildings. In the middle, there is also a fountain, which is a popular place for locals to meet and where you can encounter people selling balloons or flowers. The atmosphere here is very cozy!
TIP: Have a drink or coffee at one of the terraces with a view from the square and enjoy the beautiful view!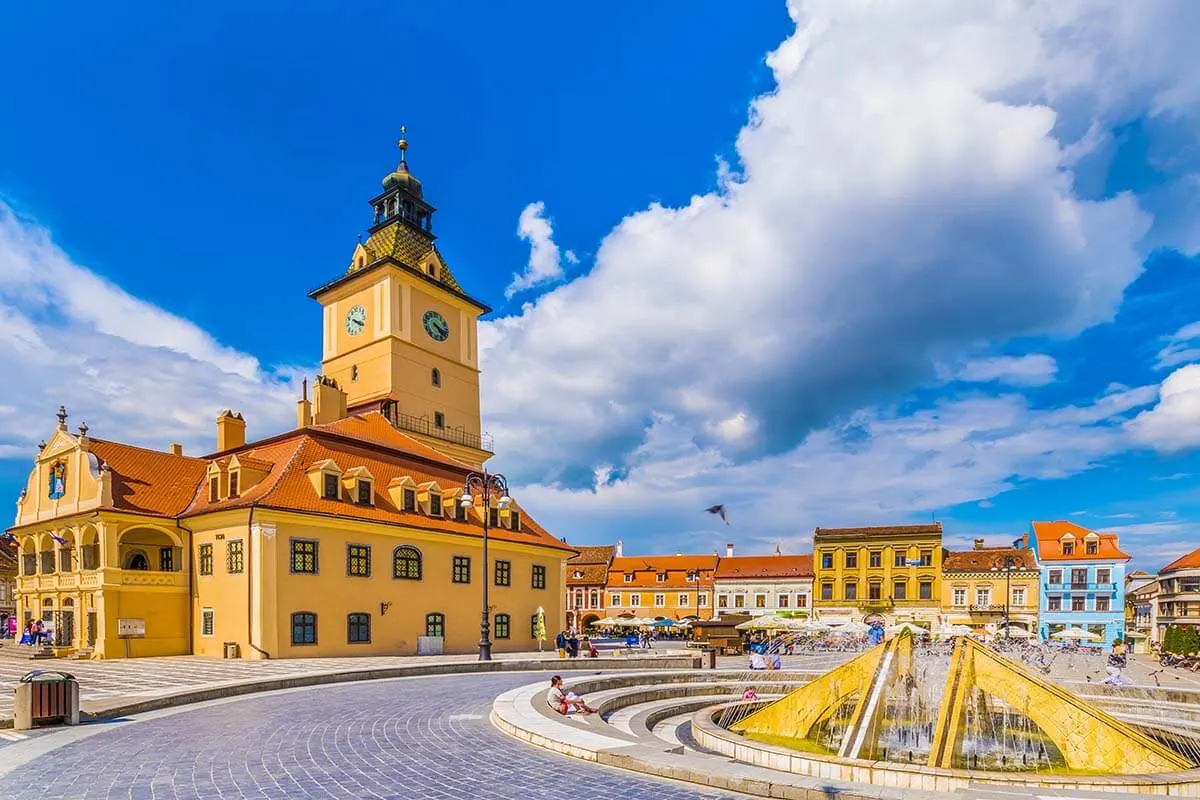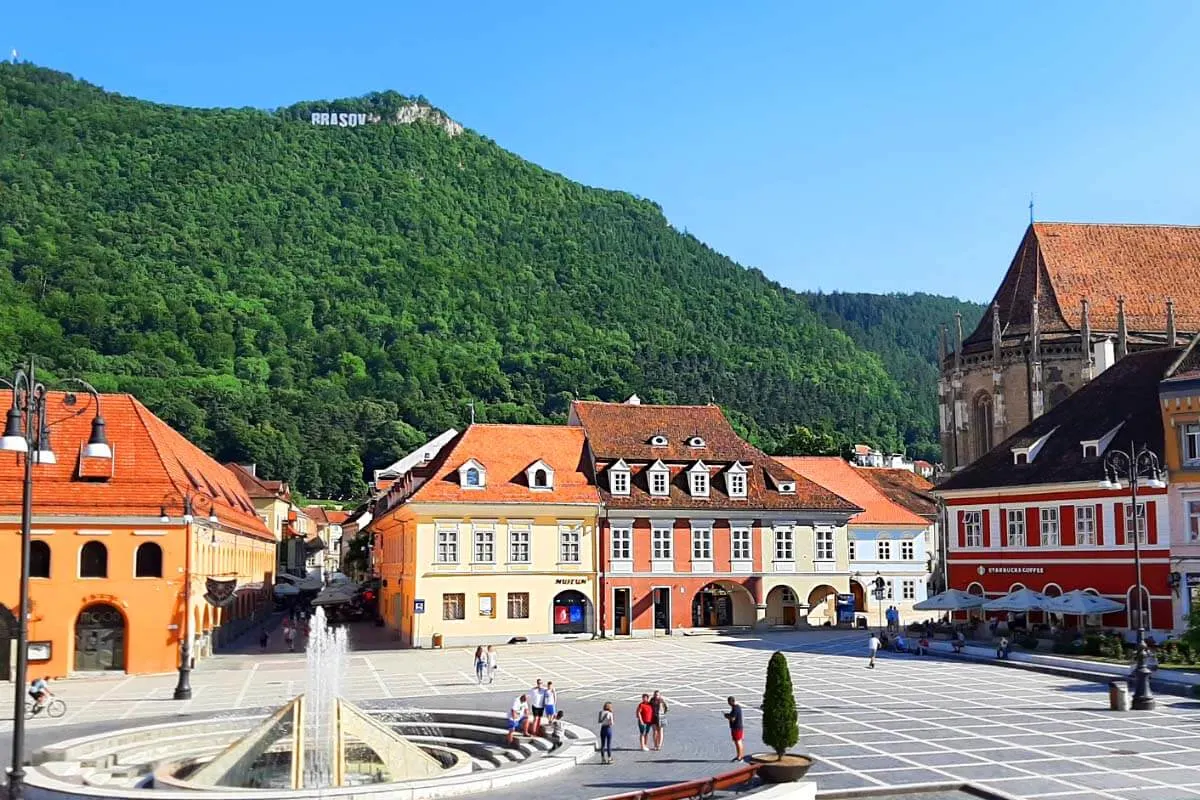 2. Old Town
In addition to the colored houses around Council Square, be sure to simply take a walk through the Old Town of Brasov. It's one of the best ways to experience the city!
A walk on the cobbled lanes recalls old times. Every house in the area has its own story. There are also plenty of restaurants here (see our restaurant recommendations below).
For the best experience, take the narrow alleys that start from the main square and just explore the labyrinth of old streets. Downtown Brasov is quite compact and there are lots of nice pedestrian areas with boutique shops and also places selling traditional handmade jewelry.
As you enlarge the downtown circle, you'll walk on Mureșenilor Street. Emperor Franz Joseph was accommodated at the pink palace here. Whereas the blue one offered shelter to the man who wrote the lyrics for the Romanian national anthem, etc. With more time (and if interested), you could also visit Casa Mureșenilor, which now houses a museum.
You can't really miss Republicii Street, which is one of the main pedestrian streets in Brasov. In the summer, the whole street turns into one big restaurant terrace, with a great atmosphere, but also higher prices than in the other less touristy parts of the city.
Just as the entire area, Brasov also has its share of fortifications. The city was one of the main Transylvanian defense citadels. This 3km encircling was erected between the 14-17th centuries and was meant to protect the city with tall walls, water ditches, and 27 towers.
And while most of this is now gone, you can still see several well-preserved sites that speak about the history of the area. Some of these are the Black Tower, the White Tower, Graft Bastion, Catherine's Gate, Weavers' Bastion, all reachable within walking distance from downtown. You can read about all these places further below and – depending on how much time you have in Brasov – decide which ones you want to visit.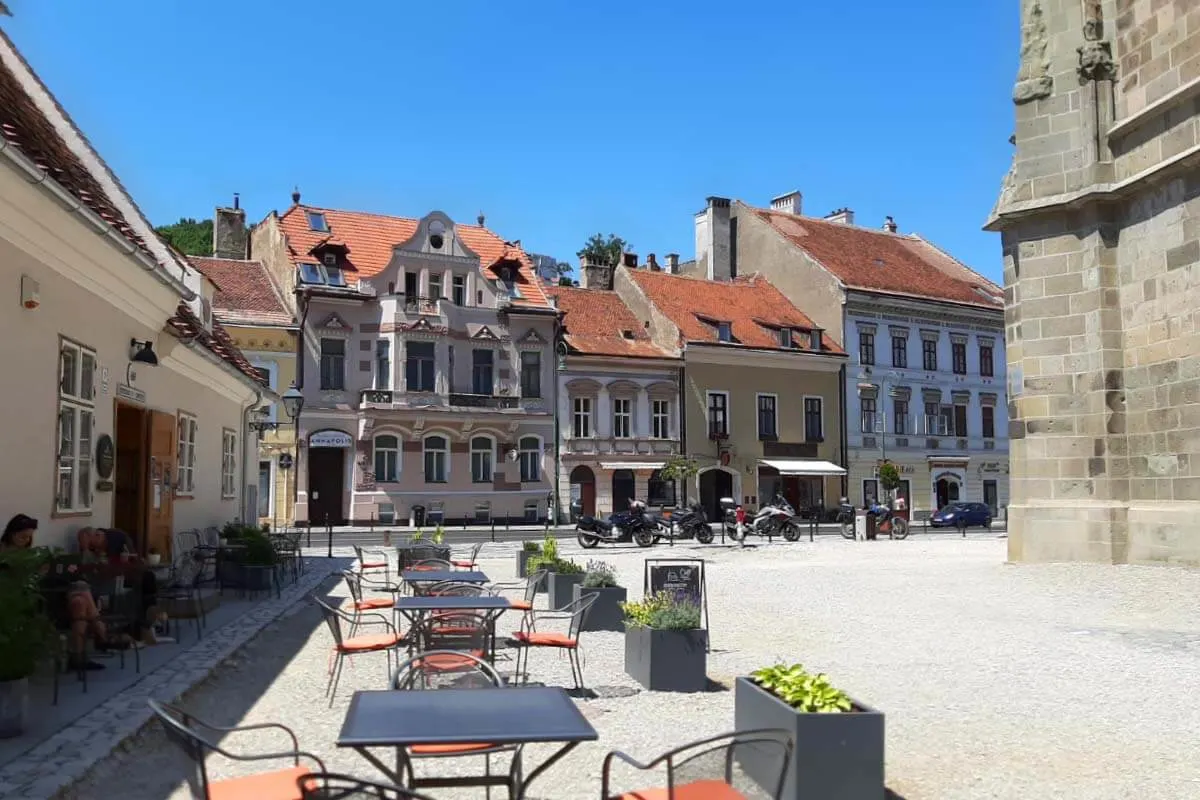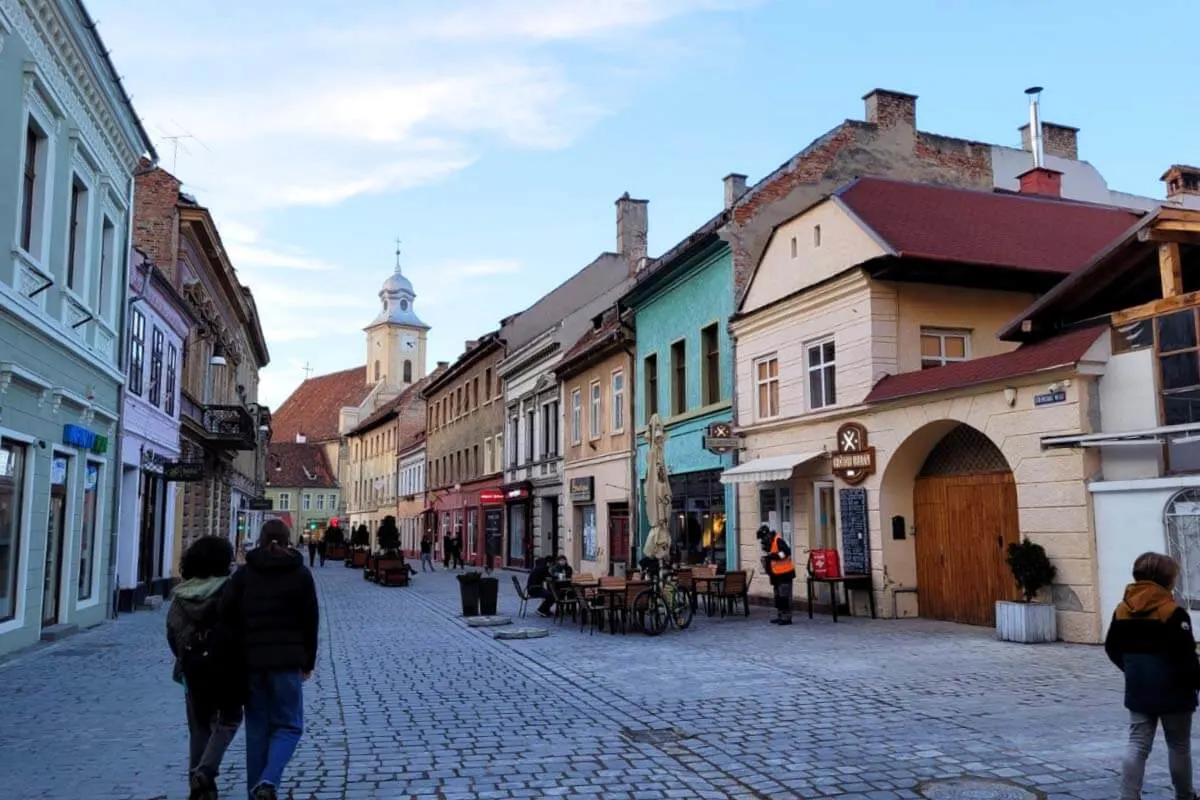 3. Tampa Hill & BRASOV Sign
Visiting Tampa Hill with a Hollywood-like sign of BRASOV is one of the most popular things to do in Brasov. From the top, you can enjoy the magnificent view of the city and the surroundings.
It's located just a short walk from Council Square and other attractions in the Old Town, so very simple to visit. You can go up the mountain on foot by taking one of the hiking trails, but you do need sensible walking shoes and even the shortest route takes at least 1 hour. Or – make it easy for yourself – and simply use the cable car. It runs daily between 9.30 AM and 5 PM and the ticket costs just a few euros. The journey takes just 2-3 minutes.
This bird's eye view from Tampa Hill is probably the best viewpoint in Brasov. However, it can get quite busy here, with long queues at the cable car during holidays and weekends, especially in summer.
TIP: If you are short on time and it's very busy, don't waste your time queuing – there are better things to do in Brasov than stand in line for an hour or two! Instead, you could try other observation points, like walking on Brediceanu street or going up to one of the White or Black Towers (more about these places below).
Interesting fact: Brasov has many names (in Romanian, German, or Hungarian). In addition, during the communist period between 1950 and 1960, the city changed its name to Orașul Stalin (Stalin City). As if that wasn't enough, a member of the communist party – in order to impress the leaders – came with a 'brilliant' idea of cutting down the trees from Tampa Hill in the shape of the letters that make up the name STALIN. Nowadays, during winter, you can still sometimes distinguish the remaining letters 'ALIN'.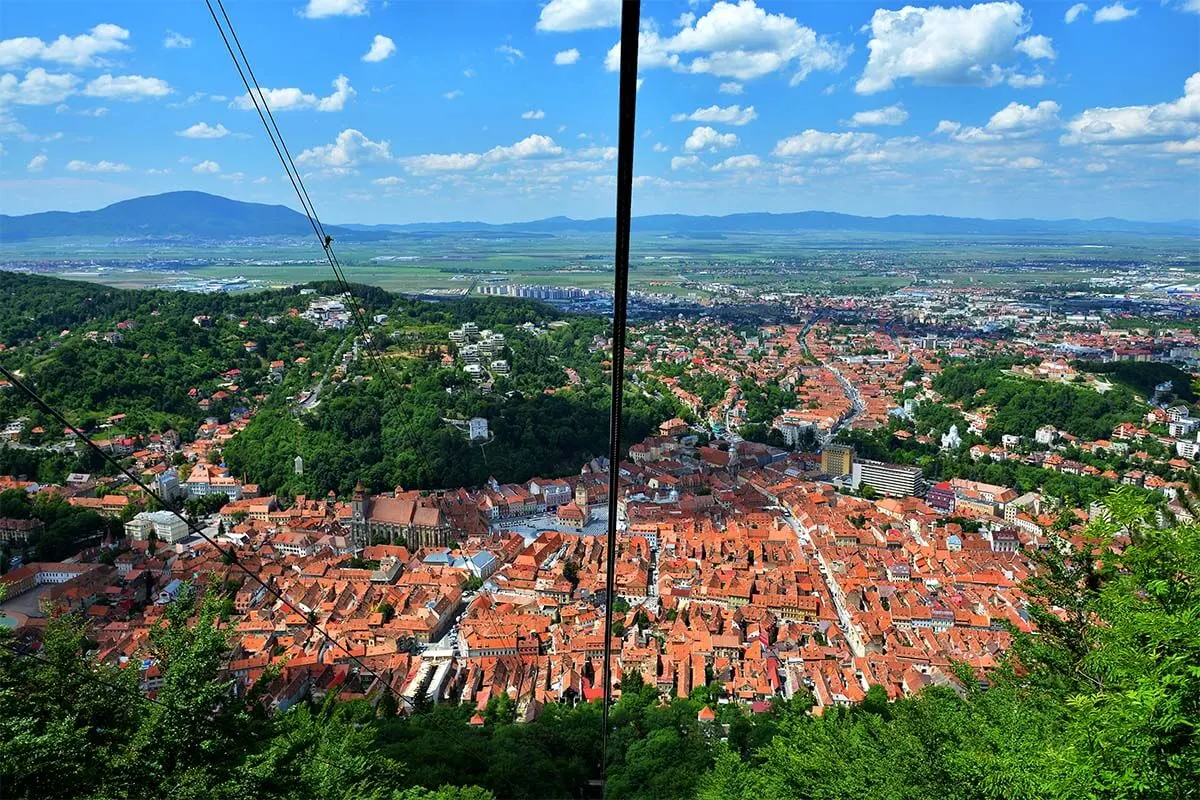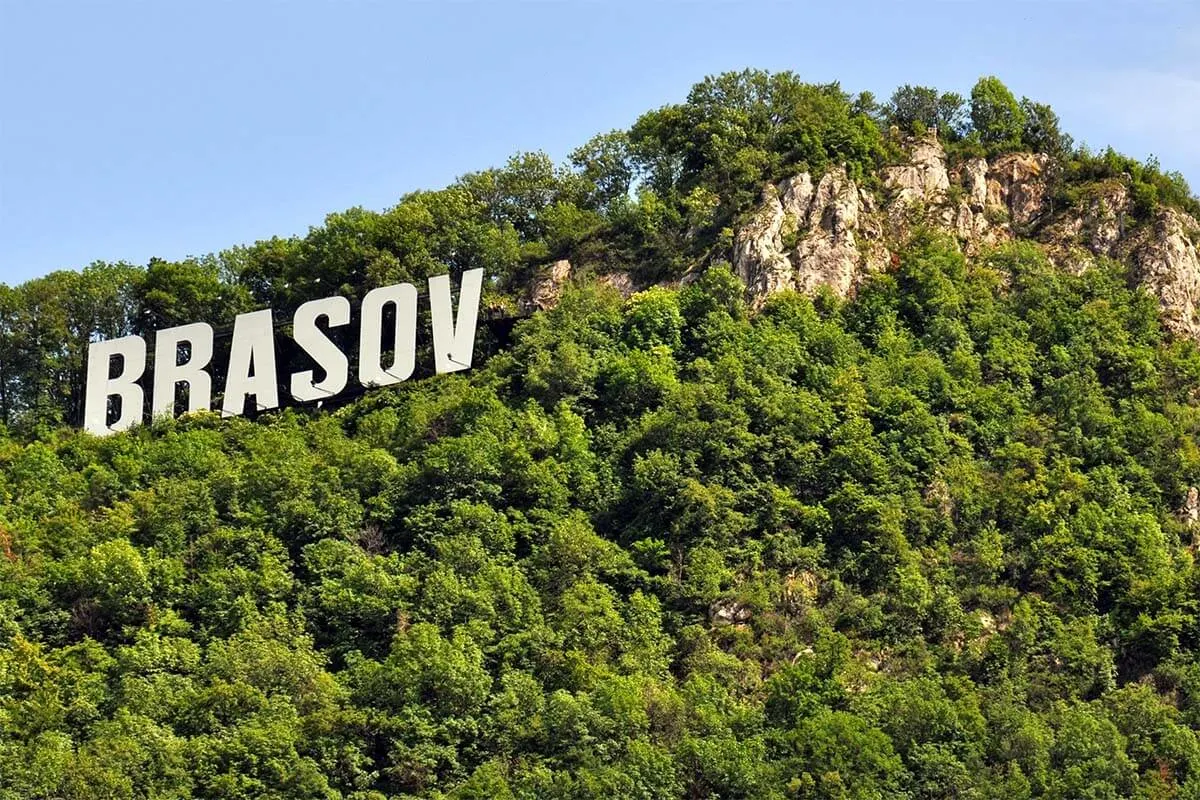 4. Black Church
The Black Church (Biserica Neagră) of Brasov has a history that goes back almost 600 years. It was built by the Saxons (the name of the German inhabitants from the area) and today is one of the most important houses of worship of the Lutheran religion.
Interesting fact: One of the most remarkable Gothic monuments in the area, the church was initially named Saint Mary, according to the patron saint of the city. Its current name was given after a fire that devastated Brasov in the 17th century. The church was seriously damaged and parts of it burnt down, leaving it black. The reconstruction took almost 100 years, and, in the process, Baroque elements were added to the church.
Beautiful and proud on the outside, the church is also worth seeing inside! Black Church houses the biggest mechanical organ in Romania and an impressive collection of carpets.
The organ was built in Berlin and can delight visitors with its wonderful sound during traditional concerts. If you look up, your gaze will be caught by the one of world's largest collections of Anatolian carpets, most of which reached Brasov through the guilds or as donations from the inhabitants.
The pulpit, together with the statues of the Evangelists are some of the oldest pieces in the church. And here you can also see the old coat of arms of the city.
TIP: If possible, visit the church during a concert so that you can hear its unique organ play. This will make the whole experience more memorable!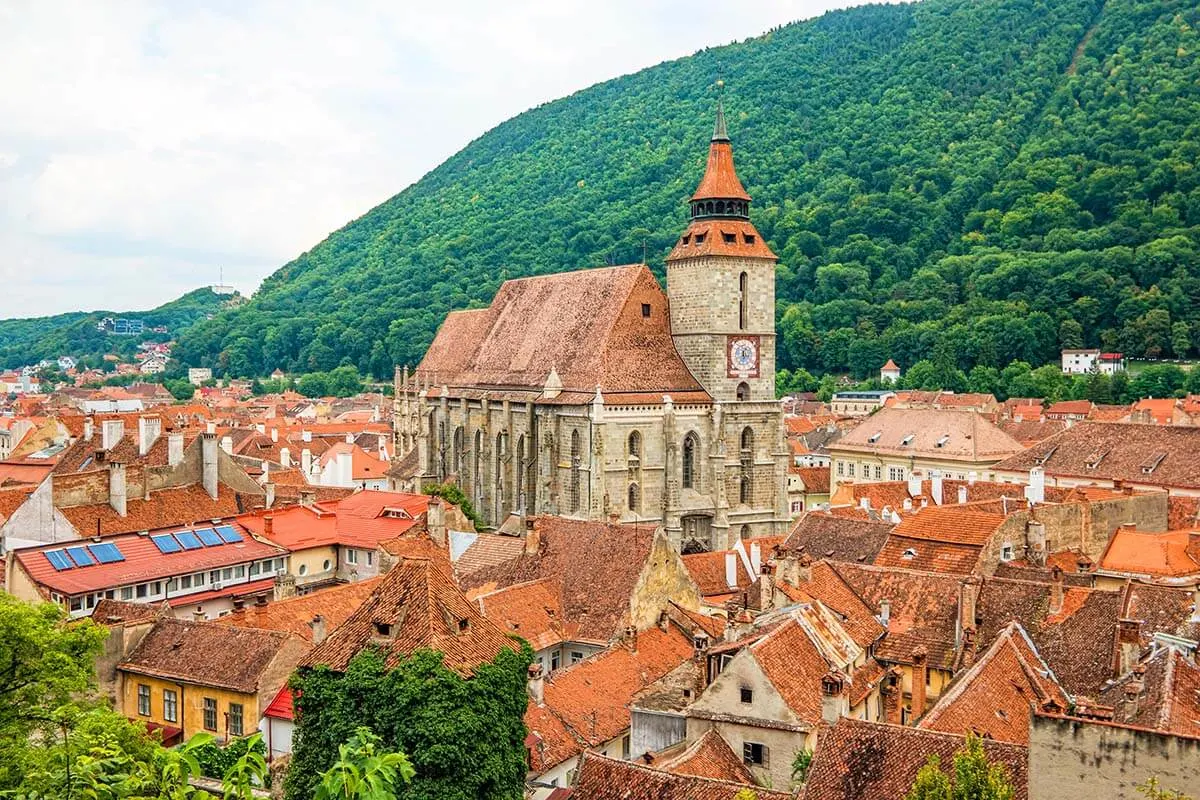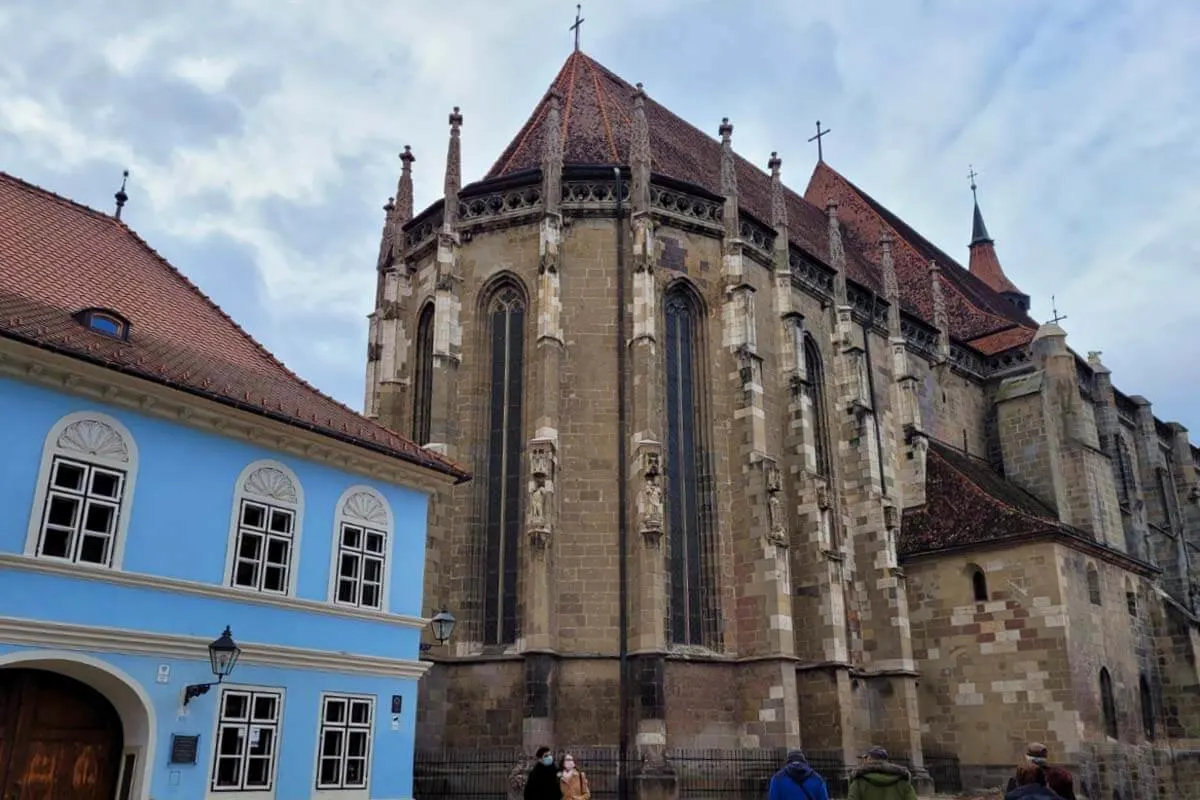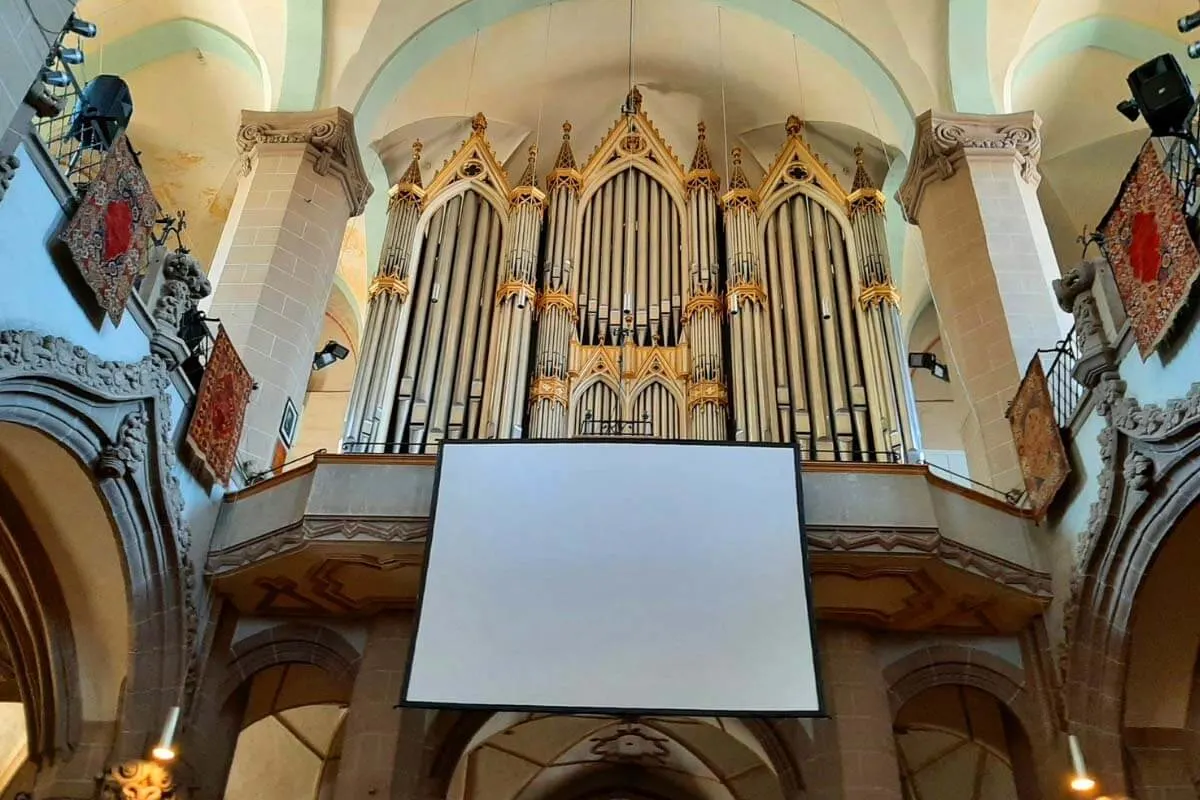 5. Rope Street
Rope Street (Strada Sforii) is probably the most photographed street in Brasov. One of the narrowest streets in Eastern Europe, Strada Sforii is 80 meters long and just 1.11 – 1.35 meters wide (43 – 53 inches).
In medieval times, this very narrow street served as an access passage for firefighters. But since Romanians love legends, of course, there's a story about this street too.
According to an old legend, lovers who didn't have the blessing of their family used to meet on Rope Street to kiss. It's believed that lovers making out on Rope Street will stay together forever. So if you are visiting Brasov with your significant other, you know what you have to do! 🙂
A few years ago, the municipality of Brasov started a project that would turn this tiny street into a street-art gallery. However, the street is full of lots of personal impressions of passers-by.
This is one of tourists' favorites, so check it out! It's also one of the favorite Instagram spots in Brasov, so it can get busy. Either way, it's a good opportunity for a special photo.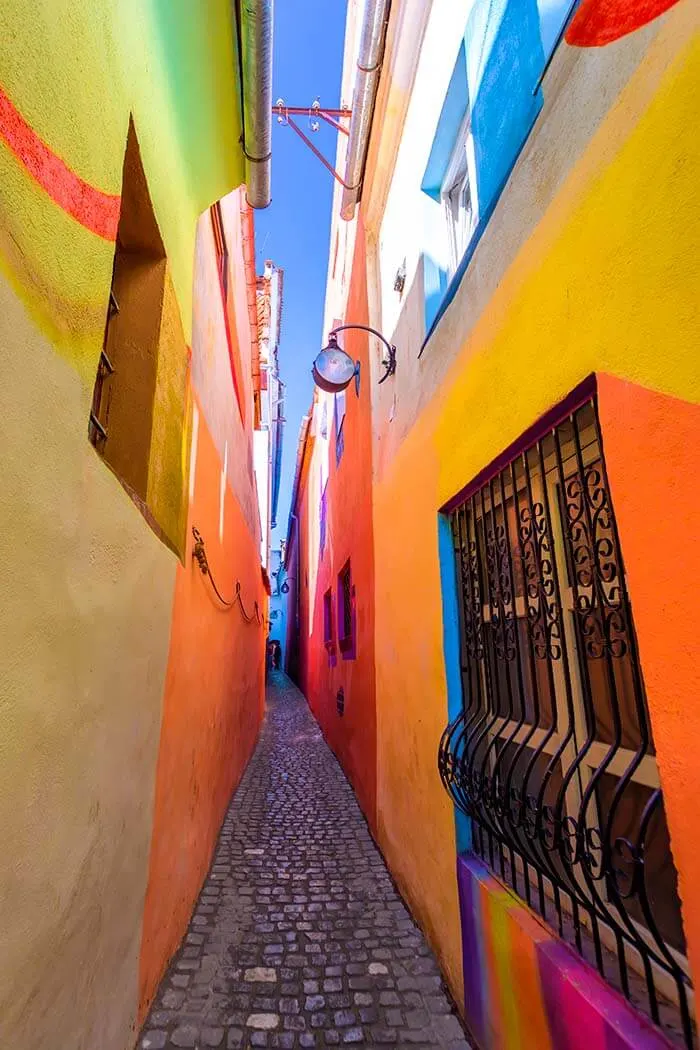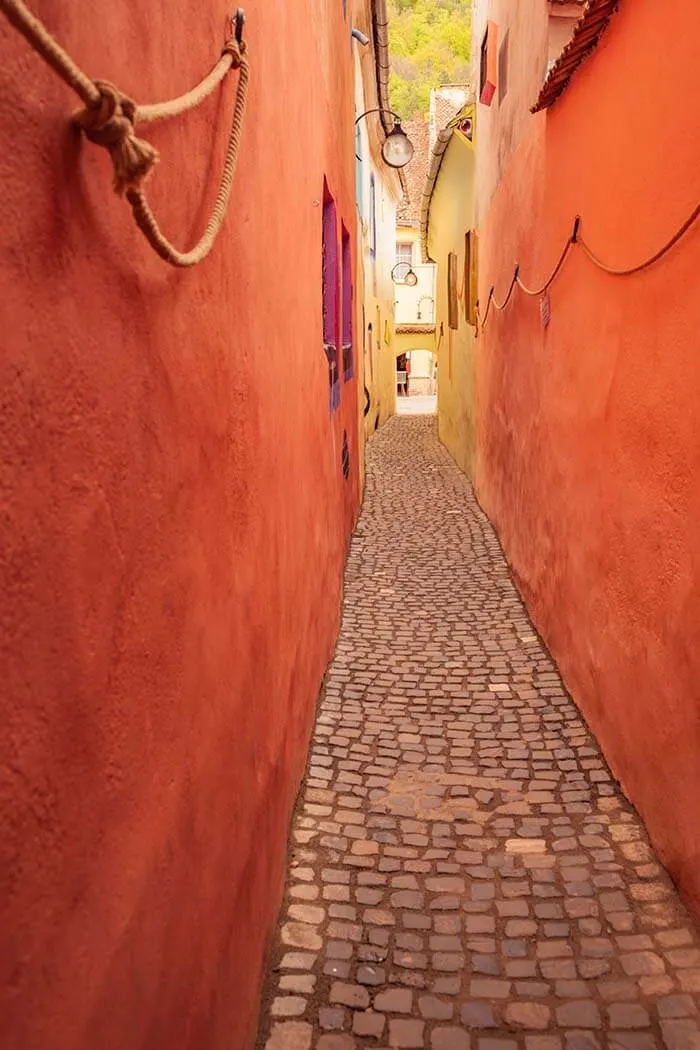 6. Graft Bastion and the White Tower
Graft Bastion (Bastionul Graft) and the White Tower (Turnul Alb) stand at the site of some of the oldest constructions in Brasov. The history of this area goes back to the 14th century when the excess water that was crossing the streets of the medieval fortress was drifted through an artificial canal, called a graft.
The Graft Bastion itself was built later to connect the soldiers to the White Tower. The White Tower is the second defense tower of Brasov, built in the late 15th century. Being the tallest tower of the kind, it got its name from the white lime that covers it.
Built with the purpose of protection, the walls are constructed from brick and stone, while on the inside there are five galleries on five levels. From the balconies of the tower, hot wax and stones were thrown over to the enemy.
Back then, the tower was in charge of the guilds and remained so for a long time. Unfortunately, the huge fire that devastated the Black Church in 1689, hit the tower as well, and it's been reconstructed. The most recent renovations date from 2003-2004 and the tower now houses a museum.
TIP: Go up to the tower for the beautiful panorama. You have to climb a few stairs on Warthe Hill so good walking shoes are recommended, but it's well worth it. From here, you have a nice view of the Tampa Hill and BRASOV letters as well.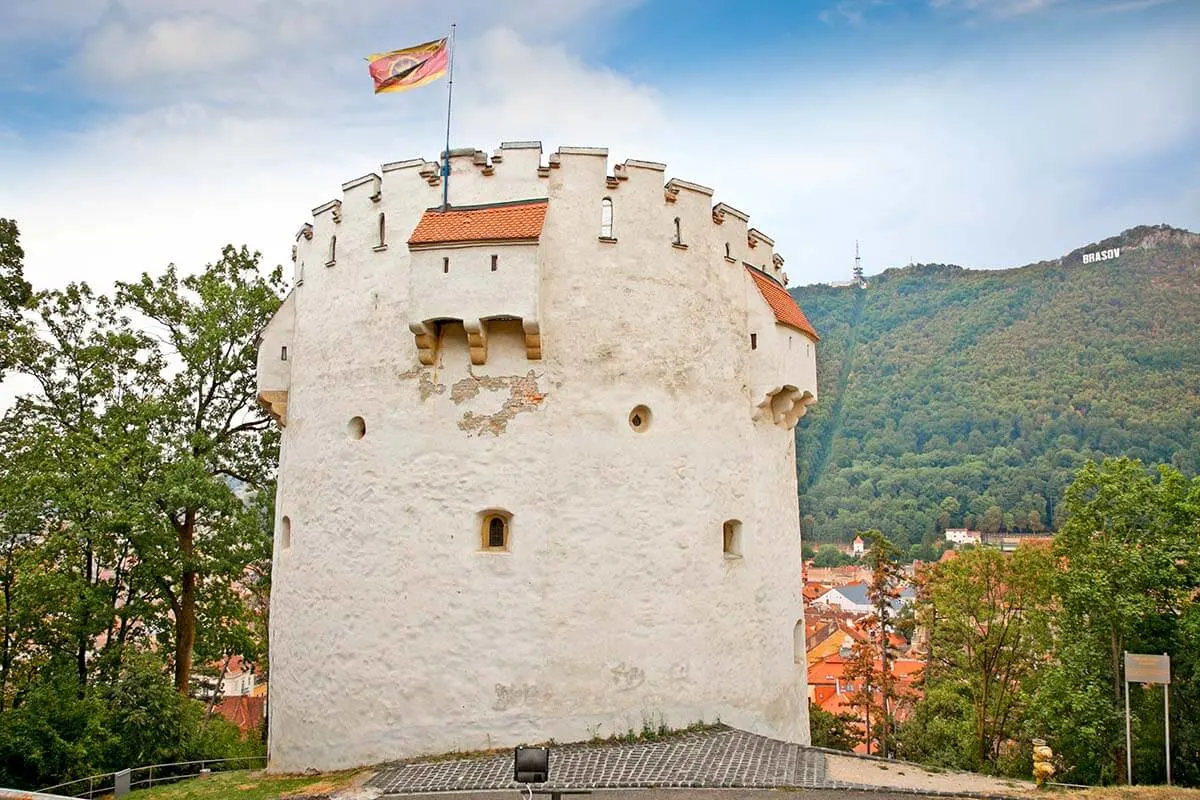 7. Black Tower
In the vicinity of the White Tower, you can see one of the four observation towers of Brasov. It is called the Black Tower (Turnul Negru), although it's a stone tower in a light grey color. Its name comes from the fire that dramatically darkened its walls, but there's no sign of that today anymore.
The Black Tower was supposed to shut out the enemies from the city walls, but it played another role as well. During the 1756 plague epidemic, this tower served as a shelter for the guardians who prevented new visitors from entering the city.
The white and black towers are close to each other and are amongst the most popular places to see in Brasov. Situated on a hill, they both offer amazing views over the city.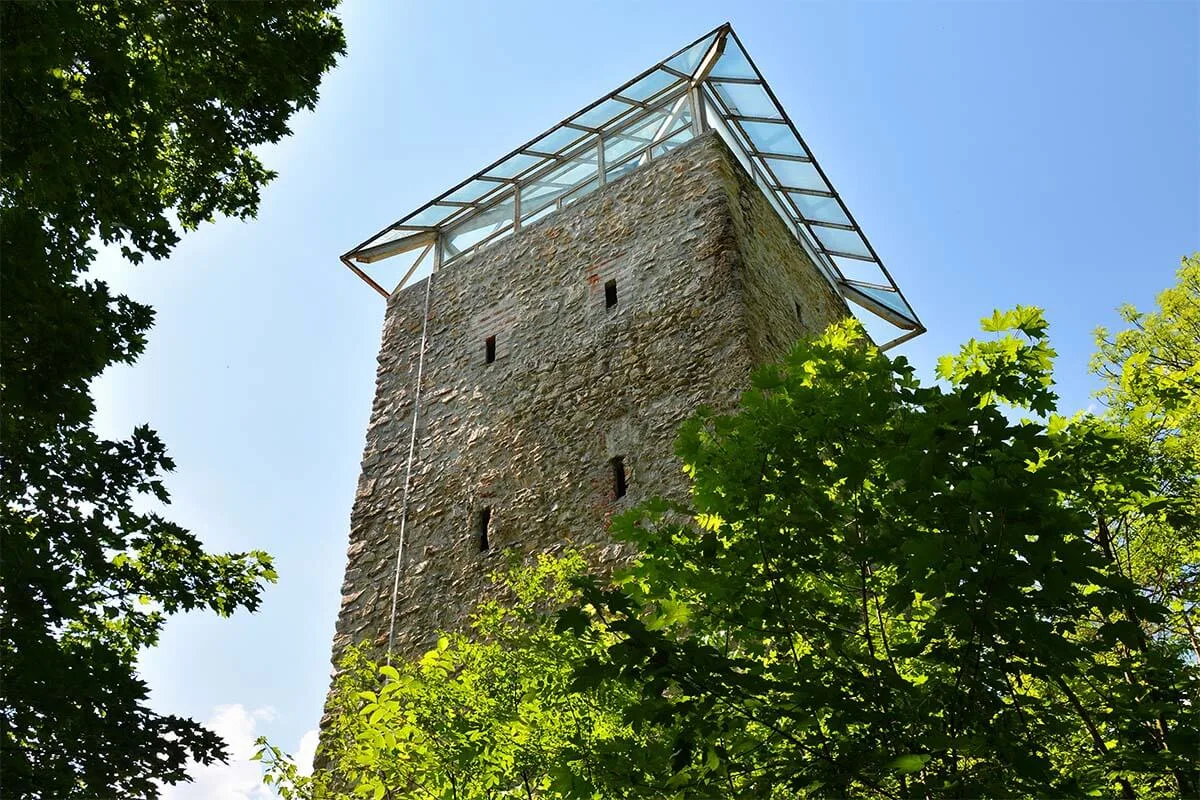 8. Catherine's Gate
Catherine's Gate (Poarta Ecaterinei) is another Brasov landmark that's well worth seeing. With its four turrets, it looks as if it were from a Disney movie!
The original gate was built for defensive purposes in the 16th century by the Tailors' guild and it was the only entrance gate for the Romanians living in the neighborhood Schei. This gate played an important role because during the Saxon reign, Romanians were not allowed to have any property inside the fortress, plus they had to pay a toll whenever they entered the gate to sell their produce.
Just as in most other Transylvanian towns, the nice turrets have a scary significance. They mean that the town had the right to decide on capital punishment.
Just near Catherine's Gate, there is another city gate – Șchei Gate. There's also a small park here with some statues and a playground for kids.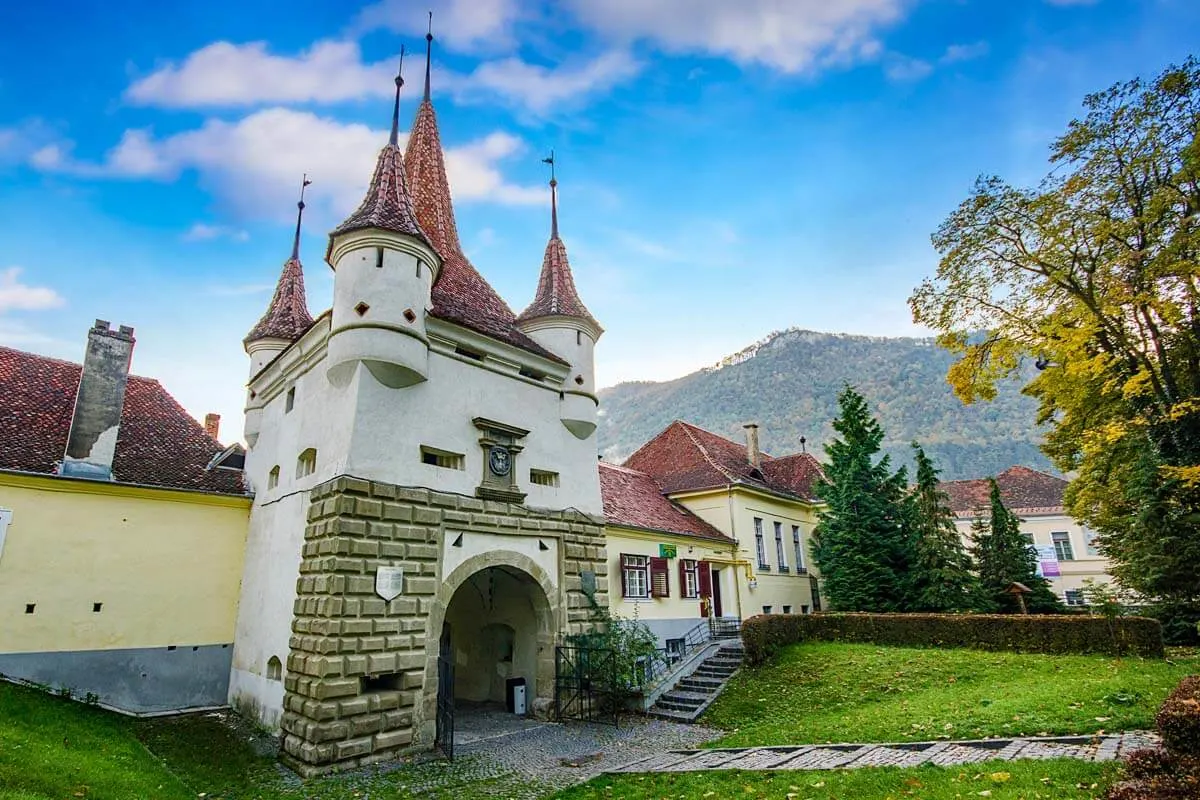 9. Weavers' Bastion
The Weavers' Bastion (Bastionul Țesătorilor) is a remarkable building erected by the weavers (guild) in the 15-16th centuries. The bastion was later abandoned and then restored in the mid-20th century when it was also turned into a museum.
The museum showcases old weapons and weavers' products, but the displays are somewhat old and translations are lacking.
Still, one of the most interesting landmarks in Brasov, Weavers' Bastion is a good place to visit and well worth it. Even if just to see the building from its inner courtyard.
Because of its fabulous acoustic, the Bastion sometimes serves as a concert hall. There used to be concerts and theatre plays here, but with the pandemic, these events became scarcer. Hopefully one day, the bastion shines again.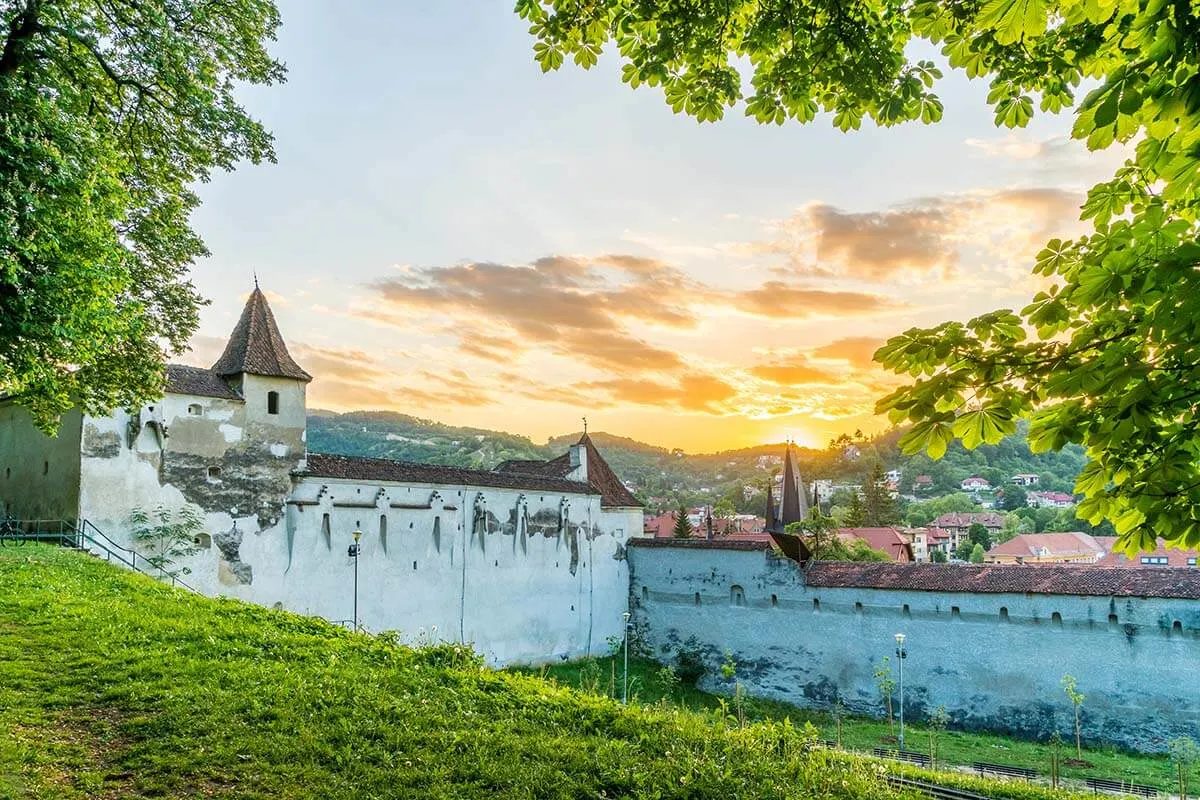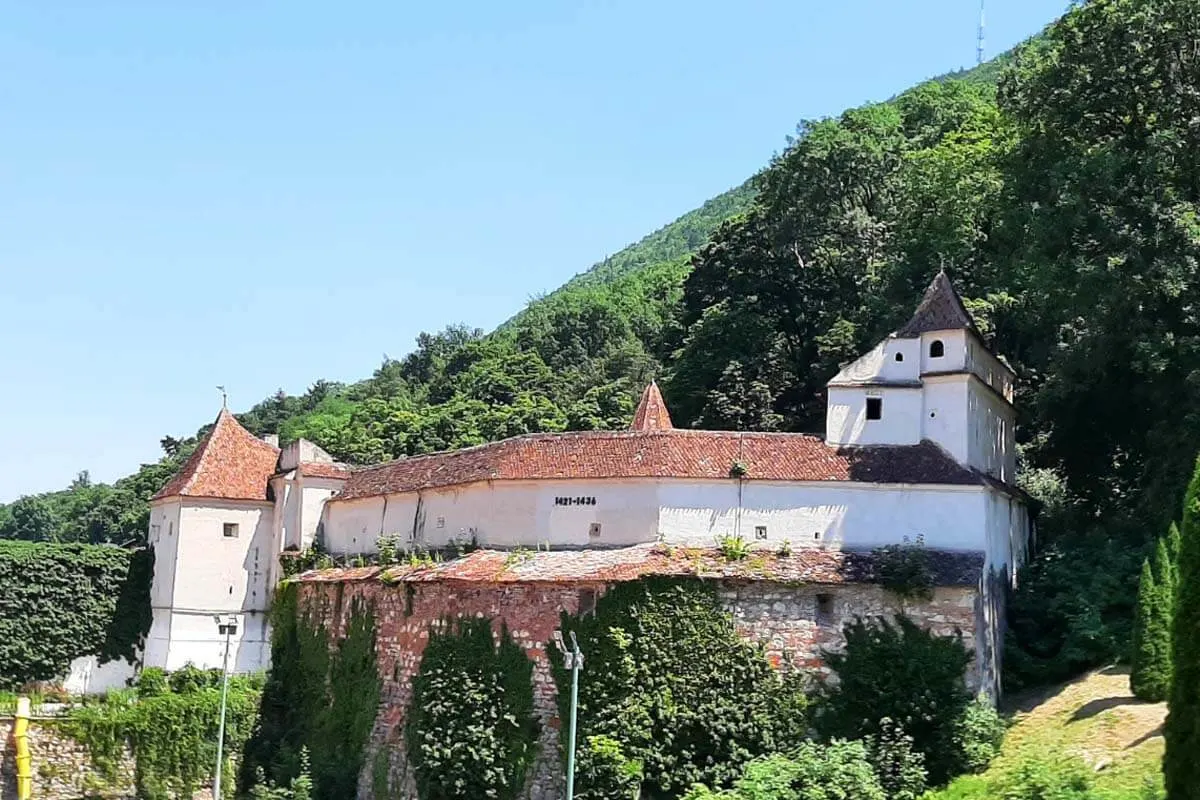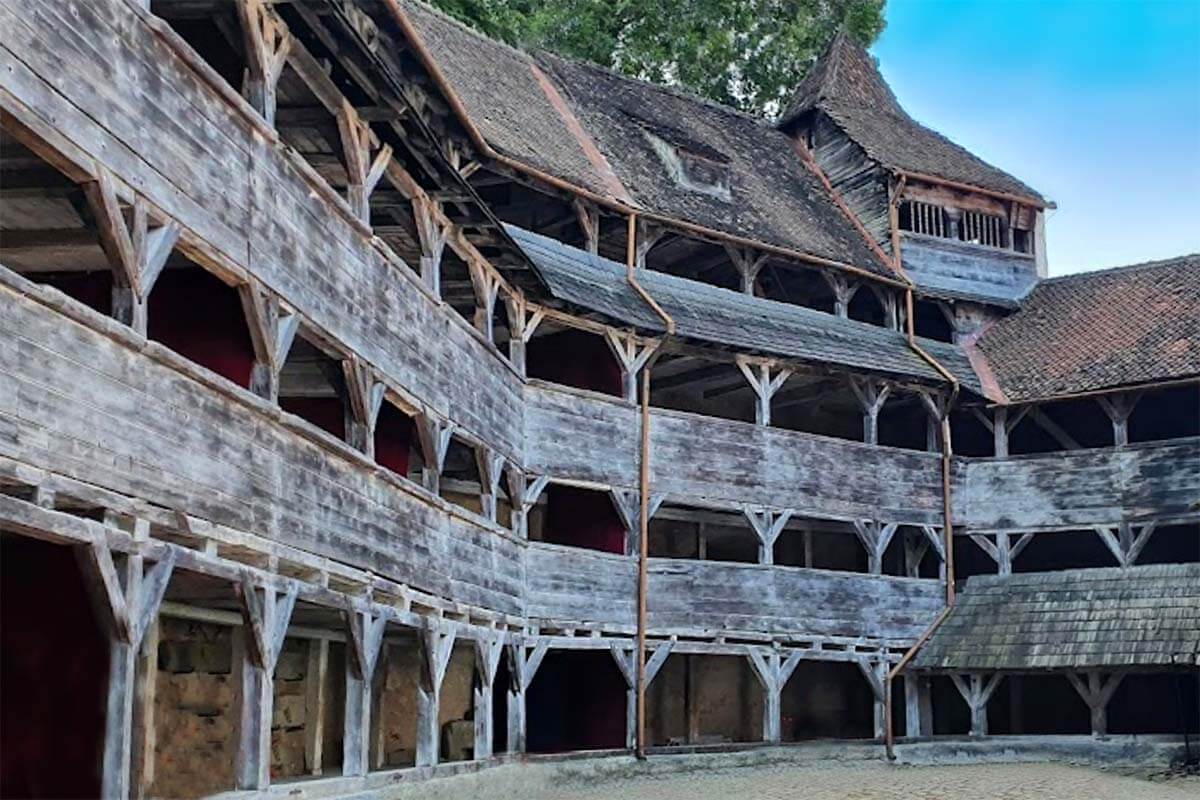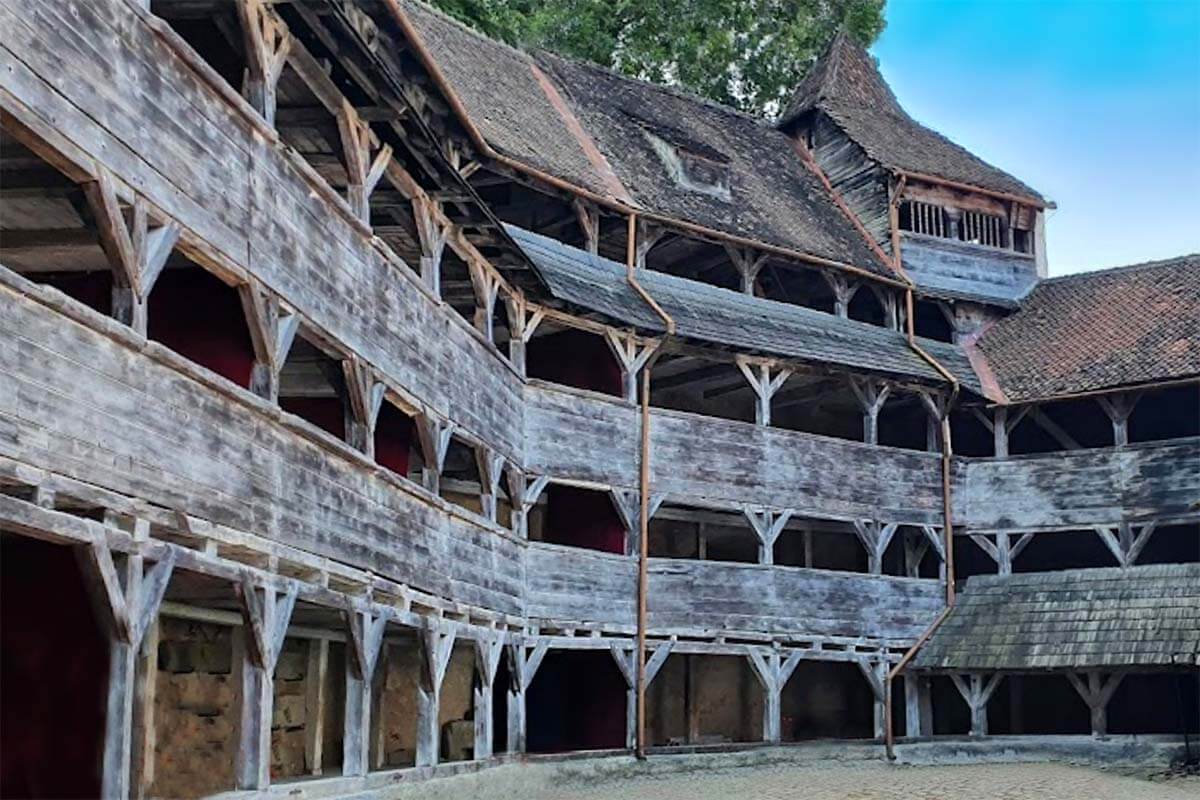 10. Beth Israel Synagogue
Just near Rope Street, you can find the Beth Israel Synagogue (Sinagoga Beit Israel Brașov). With its bright red exterior and decorative white interior, it's considered one of the most beautiful synagogues in Eastern Europe.
Built in the 19th century, the Synagogue has some interesting architectural elements, a mix of a Neo-Gothic style with some Moorish details. It still plays a very important role in maintaining the Jewish tradition in Brasov. There's a small Holocaust Memorial here as well.
There's a small fee to enter the Synagogue of Brasov, or you can just see it from the outside. It's well worth going inside though, so take a look!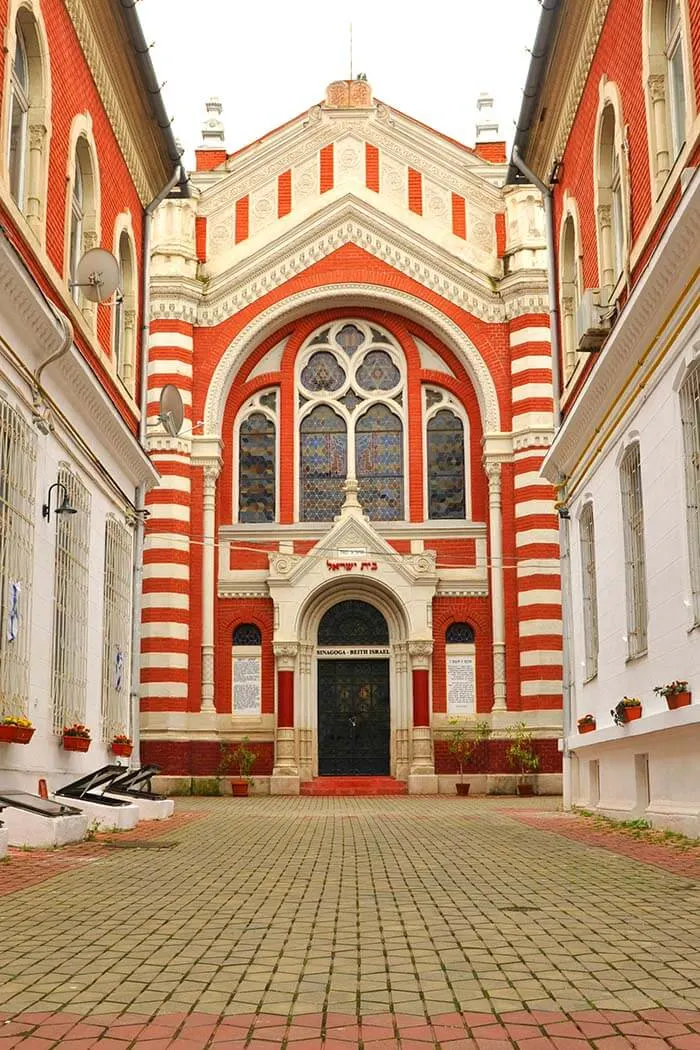 11. Schei Quarter, First Romanian School & St Nicholas Church
A short walk from the Old City, you'll find a local neighborhood called Schei (Scheii Brasovului). During the Saxon reign in the 13-16th centuries, Romanians weren't permitted to live inside Brașov's fortified city walls, so they lived here. Today, this is a quaint, charming, part of the city with narrow cobbled streets and colorful buildings.
One of the must-sees here is the First Romanian School Museum (Muzeul Prima Școală Românească). This is the site where the first lessons were given in Romanian. The first Romanian books were also printed here. Today, it's a museum where you can see a traditional classroom and learn some fascinating history. Well worth a visit, but even more so if you can do it with a guide.
The school is located in the courtyard of Saint Nicholas Orthodox Church (Biserica Ortodoxa Sfantul Nicolae), which is another beautiful place to visit in Brasov. In addition to the beautiful exterior, inside, you can also see some interesting frescoes and icons.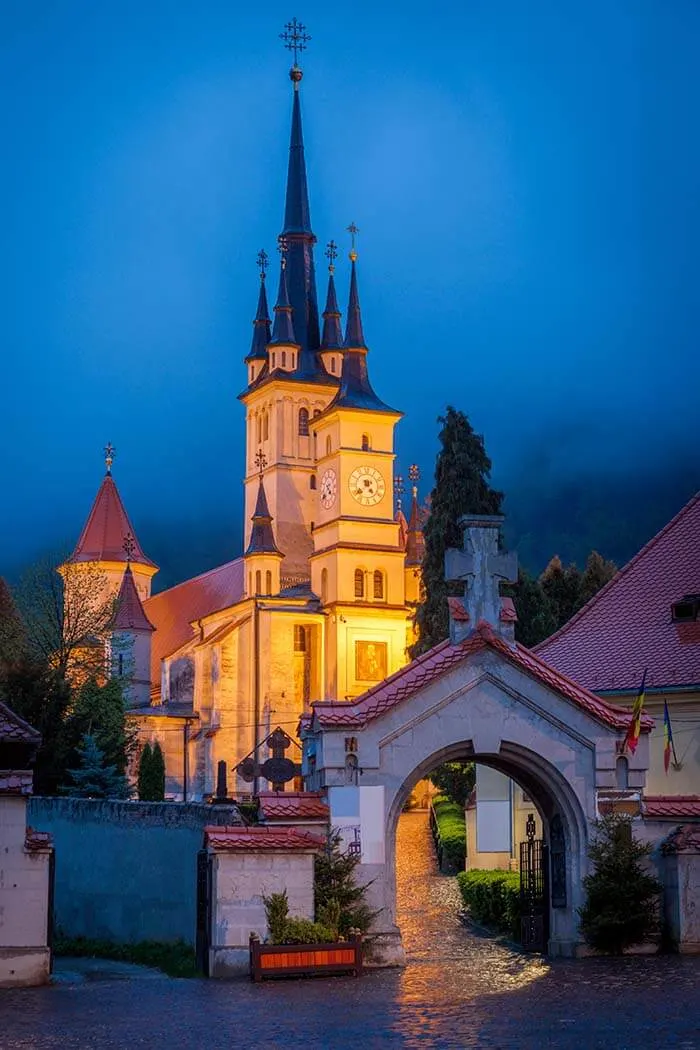 12. Day Trips & Tours from Brasov
In addition to all the best places to see in Brasov, there are also some nice places to visit nearby.
No list of the Best of Brasov would be complete without mentioning Dracula's Castle (Bran Castle), an absolute must-see in the area! But there are many other places to see nearby such as Peles Castle, Rasnov Fortress, 7 Ladders Canyon, mountain villages, fortified churches, etc. You can also go hiking, rafting, or wild bear spotting…
If you have a car, you can visit most of these places on your own. And otherwise, there are some really nice organized tours, some of which combine a few places in one tour.
Here are some of the best tours from Brasov:
When to Visit
Brasov is a year-round destination and is enjoyable in any season.
Most tourists come in the summer months, between May and October – that's when the weather is best, everything is green, and you can enjoy the most beautiful mountain scenery in the area (and maybe even spot bears). The city really comes to life in the summer!
However, Brasov can be really magical in winter as well, especially in December, when the city hosts an annual Christmas market. There's just something magical about it, especially if there's snow!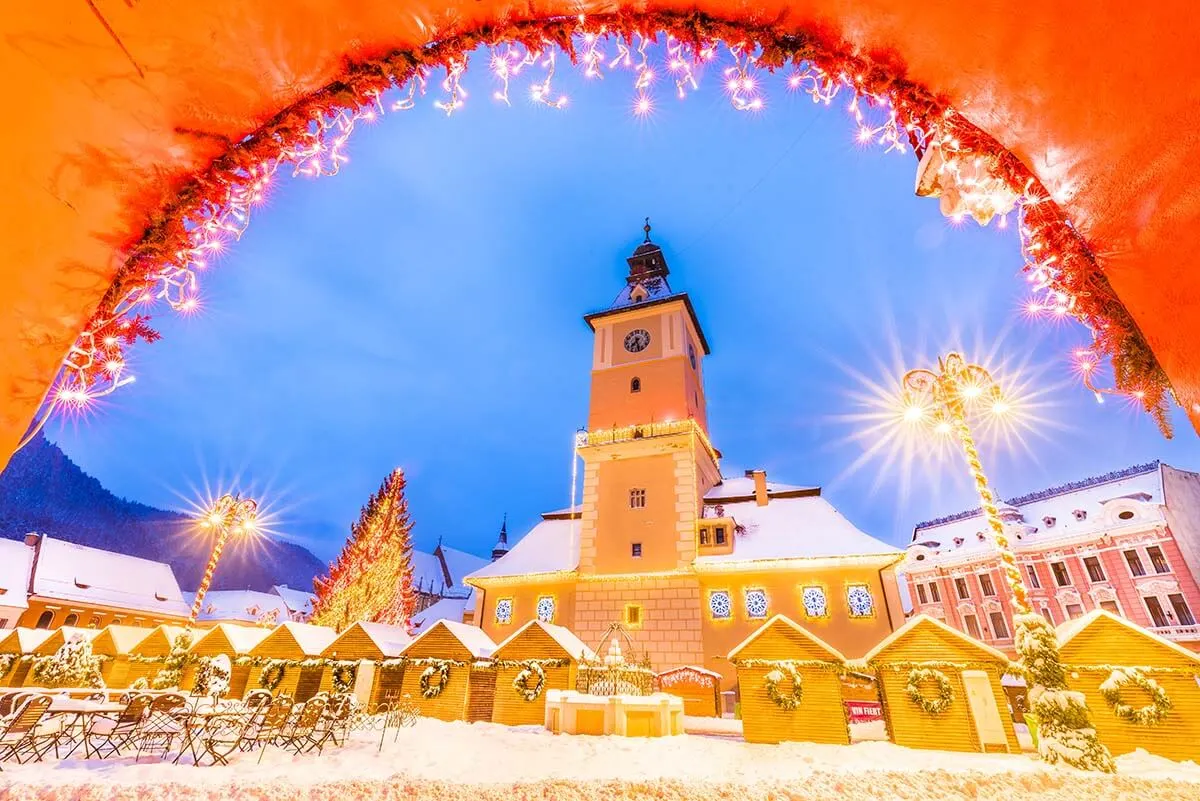 How to get to Brasov from Bucharest
Brasov has its own international airport, but most international tourists travel via the capital city Bucharest. The distance between Bucharest and Brasov is 184 km (114 miles).
Here are the best ways to get from Bucharest to Brasov:
If you are planning a longer trip to Transylvania, you could base yourself in different towns for a few days. Brasov is a very good base for the area, along with Sibiu, Sighisoara, and Cluj Napoca.
Cluj-Napoca airport to Brasov is 316 km, 4 hours. From Sibiu to Brasov – 140 km, 2.5 hrs.
Another option is to book a multi-day trip from Bucharest – it's the easiest way to visit some of the very best places without having to plan much.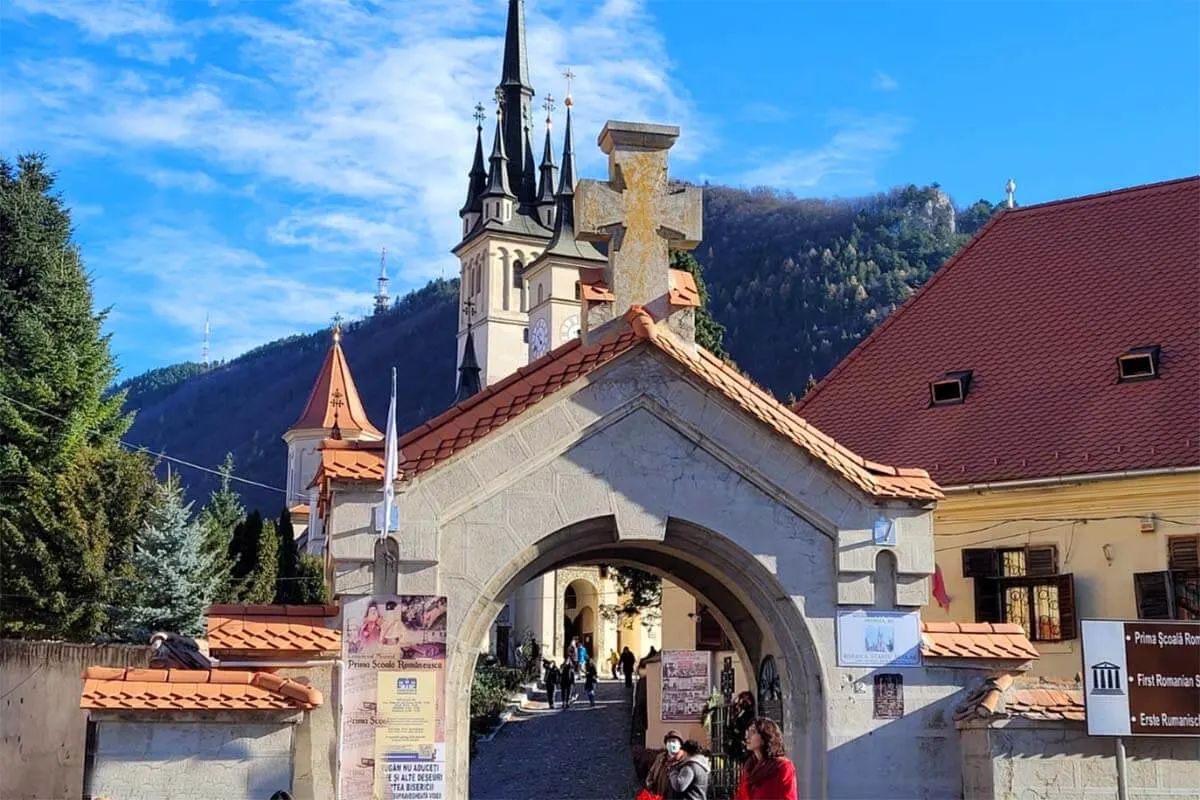 Best tours to Brasov from Bucharest
Many people visiting Romania prefer to stay in Bucharest and take day trips. We already mentioned that there are many tours that visit Brasov from Bucharest, usually in combination with Bran Castle.
Here are some of the most popular day and multi-day tours that visit Brasov from Bucharest: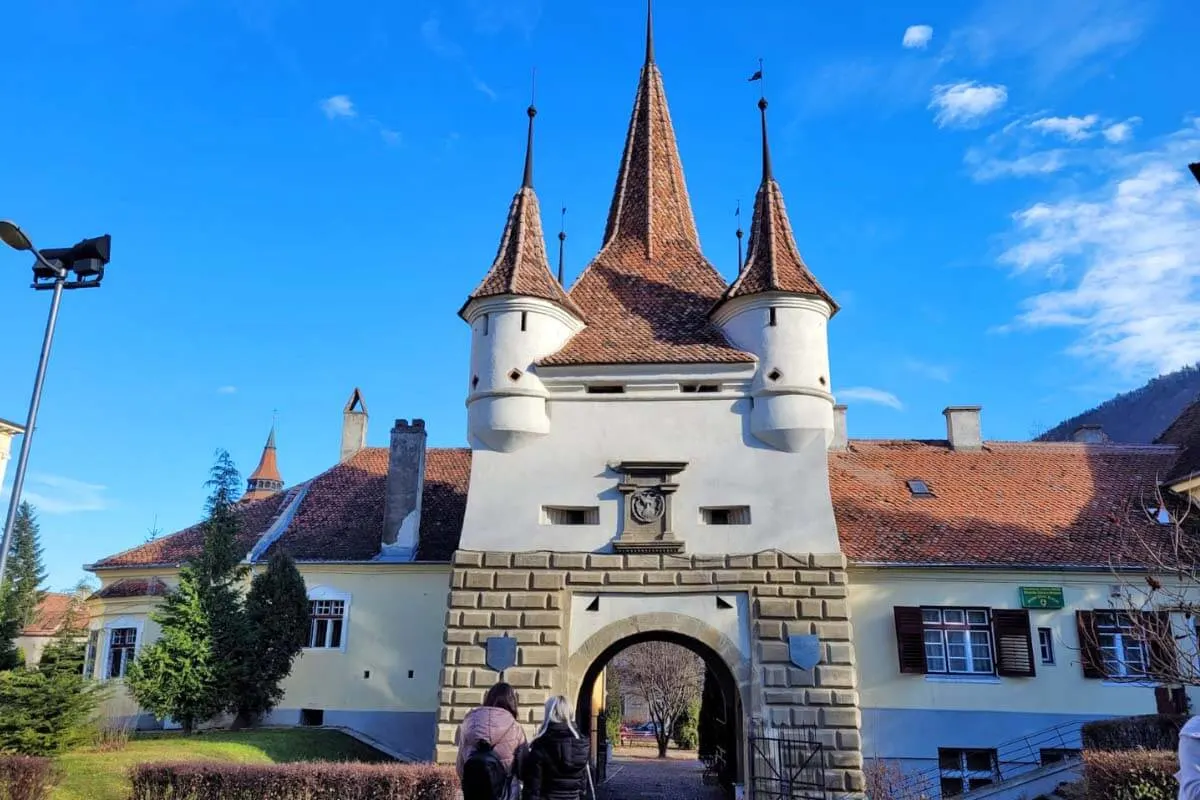 Where to eat in Brasov
There are so many really good restaurants in Brasov where you can find excellent food. (We indicated all the restaurants mentioned here on our map of Brasov attractions above.)
For Romanian food, try Sergiana (more traditional) or La Ceaun (more casual). Both are great choices.
For international or Mediterranean cuisine, try Dei Frati, Bistro de l'Arte, or Mediterra. All of them are located downtown in quiet pedestrian areas and offer delicious food. Be sure to book ahead if you are visiting on the weekend!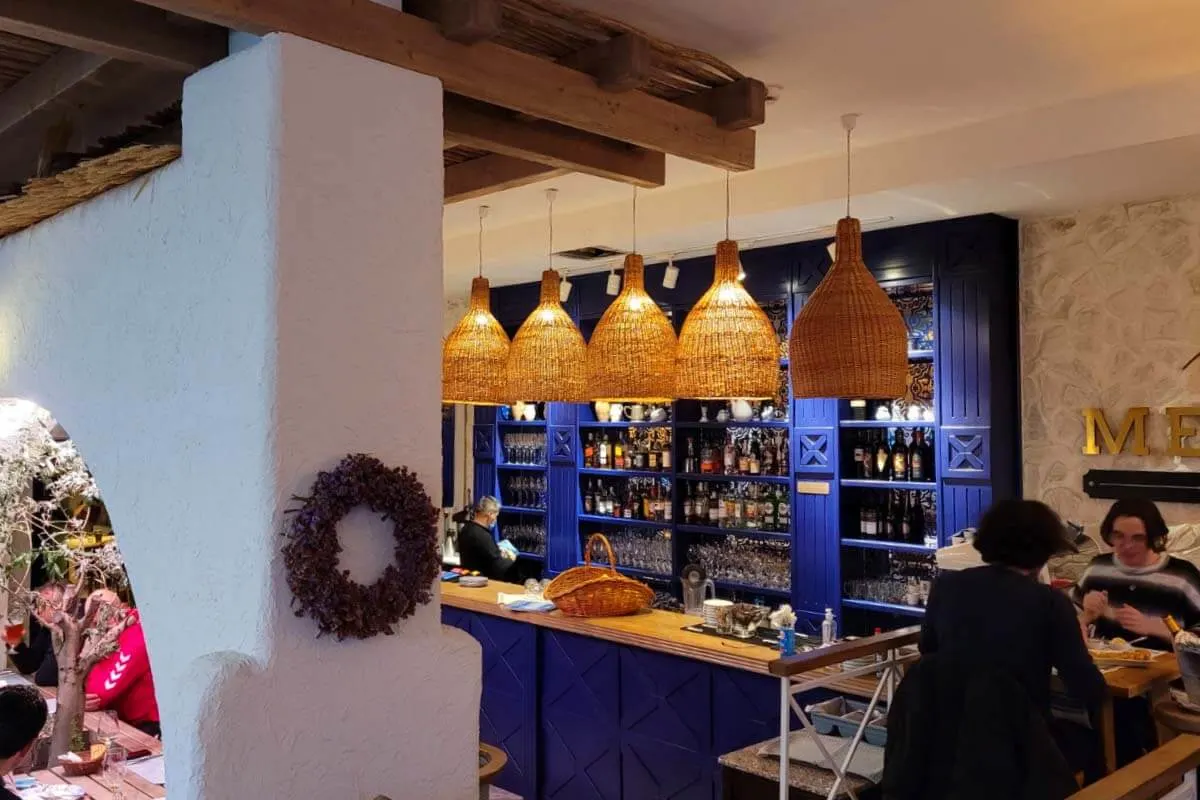 Where to stay in Brasov
We recommend staying in the heart of the city center, close to Council Square. It has an excellent location for sightseeing and there are lots of good restaurants nearby.
Brasov has a big range of accommodations to choose from, from beautiful privately-rented apartments to nice hotels. And the prices are very reasonable! If you ever wanted to stay at a really nice place without spending a fortune, Brasov is a good place to do that.
Here are some of the best-rated hotels in the best location for all budgets (this is quite relative since even the most expensive hotels are very affordable, especially in the lower season):
TIP: If you are looking to spend a more relaxing holiday or a weekend getaway in Brasov, take a look at Grand Hotel Belvedere a bit outside the city center. It's also an excellent choice for those traveling by car (free easy parking) and families with children (indoor pool).
About the author: Romanian travel writer Andrea from TravelTasteFeel has been to Brasov many times, in different seasons, and explored the city on foot from corner to corner. In this guide, she selected the most interesting landmarks and top things to do in Brasov for first-time visitors. All the recommendations in the article are based on her personal experience.
TIP: If you are visiting Bucharest on this trip as well, be sure to check our Bucharest guides below. One of them covers all the musts, and the other one takes you a bit off the beaten path. Take a look!
READ ALSO: Best Cities to Visit in Romania
If you found this post useful, don't forget to bookmark it and share it with your friends. Are you on Pinterest? Pin these images!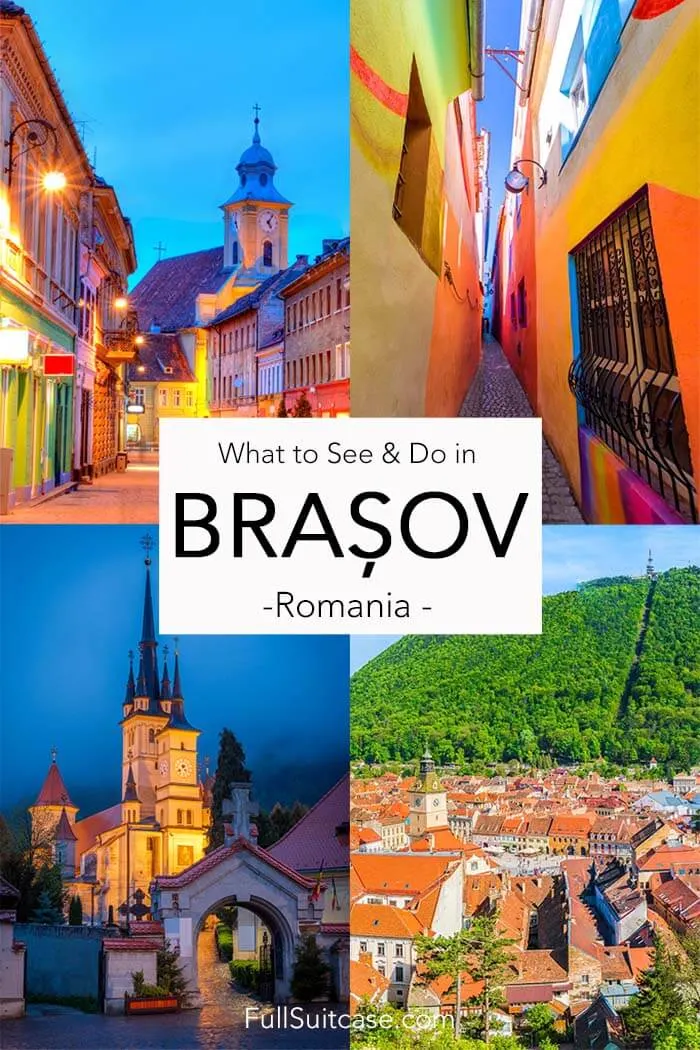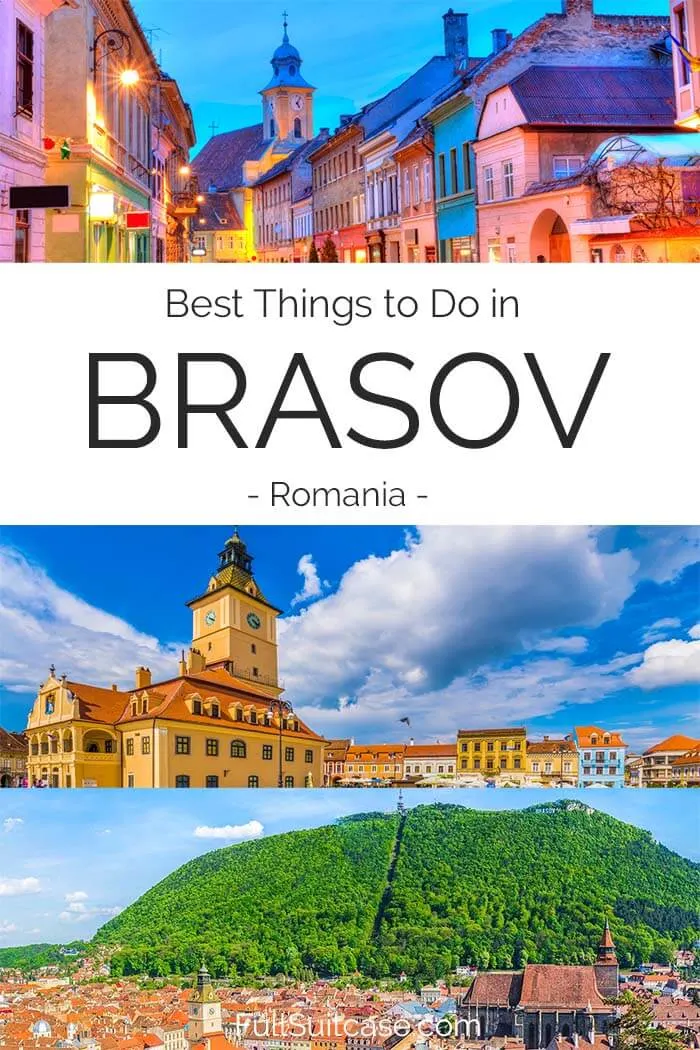 Image credits: Andrea Kriston and Depositphotos.com
More travel inspiration for European cities:
If you are visiting other European cities and are looking for in-depth information for your trip, take a look at some of our city guides: