Looking for some cool places in Bucharest or want to get a bit off the beaten path in Romania's capital city? Read on!
In our previous article, you could read all about the main highlights of Bucharest. And while it's an absolute must to visit the Palace of Parliament and the Revolution Square, you should also see the other side of Bucharest in order to truly appreciate the city as it is today!
So in this post, I'm sharing some different things to do in Bucharest, some less-known places, the hidden gems of Bucharest.
From street art to abandoned buildings, and from trendy bookstores to some of the hip rooftop bars that only locals know about… Find out!
I was extremely lucky to explore Bucharest with the local guides and discover not only the most known landmarks but also some of the best less-known places of Bucharest that most tourists never see.
In this article, I want to share some of these hidden gems with you so that you too can experience Bucharest as a local. Some of these cool places you can easily visit on your own. However, several others can only be visited with a guided tour, as you not only need to know the location but also have permission to enter.
In no specific order, here are some of the best hidden gems of Bucharest, Romania:
1. Pasajul Vilacrosse and Pasajul Macca
Bucharest is sometimes called the Little Paris.
No other place in Bucharest reminded me of Paris more than these two tiny passages hidden right in the middle of the city center – Vilacrosse passage and Macca passage. Even the tables and the chairs here look like they come straight from a Parisian café.
Location: Pasajul Vilacrosse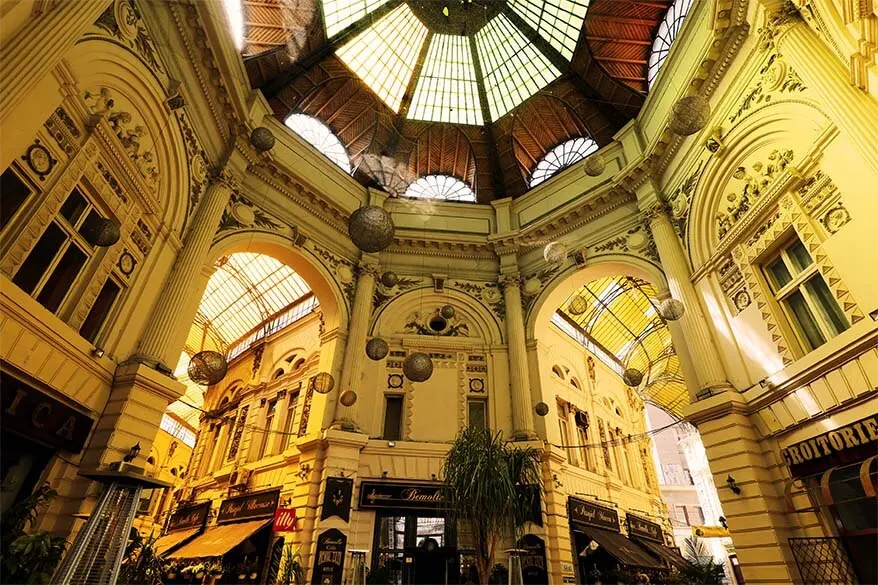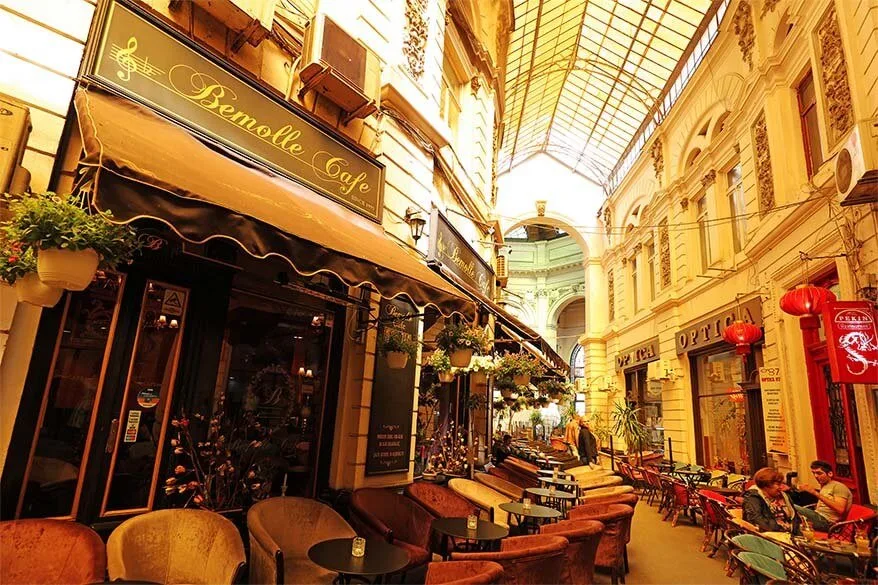 2. Pura Vida Sky Bar
You'll probably never think of climbing five flights of stairs of a hostel in the center of Bucharest in order to get to a bar. But if you are fit enough, I strongly recommend that you check this place out!
The views from Pura Vida Sky Bar are incredible. Furthermore, they make some of the best cocktails in Bucharest.
TIP: go in the evening and enjoy beautiful sunset views over the Old Town.
Location: Strada Smârdan 7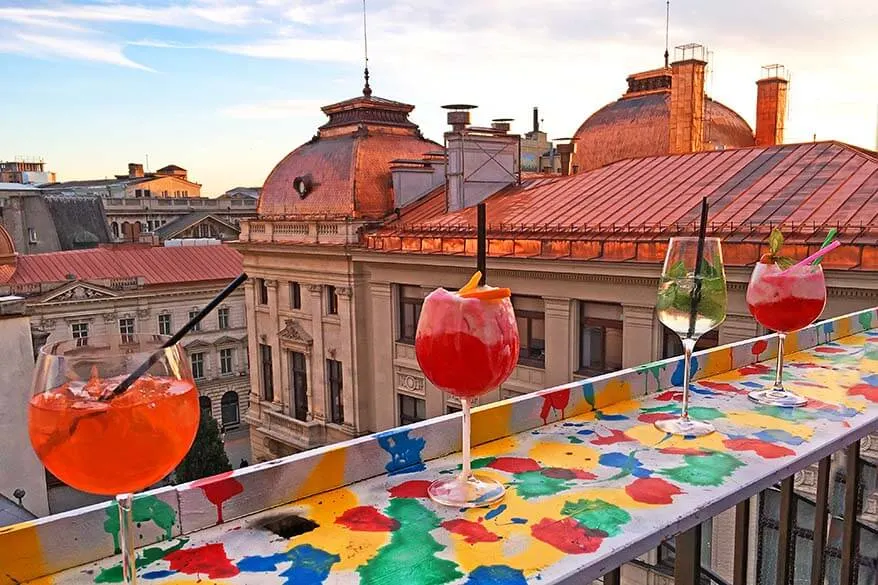 3. Carturesti Carusel
This beautiful bookstore is a true gem right in the Old Town of Bucharest. Carturesti Carusel is one of those Instagram-perfect places that probably get a lot of visitors thanks to social media.
Nevertheless, it's not something you'll probably find if you are not specifically looking for it, so keep in mind when exploring the Old Town.
TIP: on the top floor you will find a café that serves some really good homemade lemonade.
Location: Strada Lipscani 55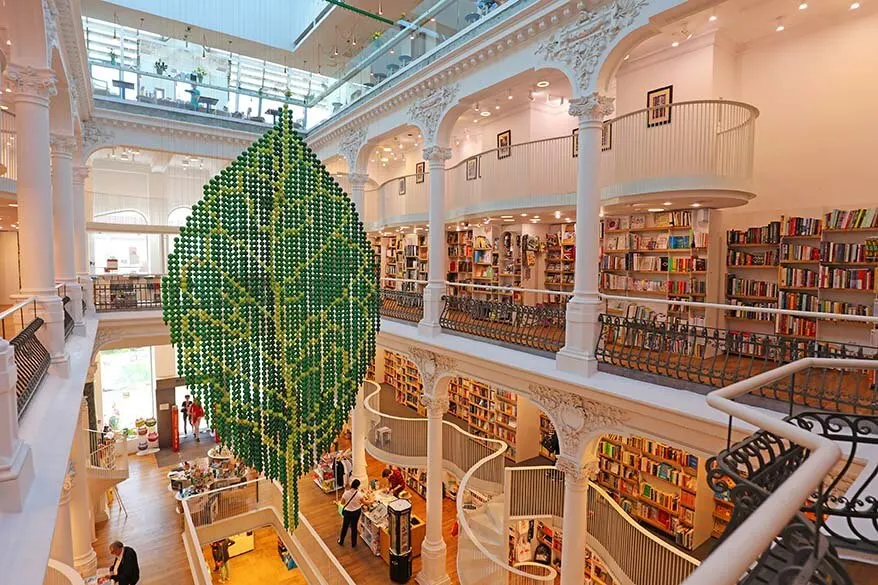 4. Carturesti Verona
Less known, but just as interesting to visit is another bookshop in the center of Buchrest – Carturesti Verona. It's actually an old house with many rooms, each with a different design and a variety of gifts and books classified per genre.
It's a great place to just walk around and discover something new in every room you venture. We saw several people sitting in different rooms and reading books from the store. One of the biggest rooms has a café as well.
Tip: don't miss the mural of the cat reading a book on the front side of the building.
Location: Strada Pictor Arthur Verona 13-15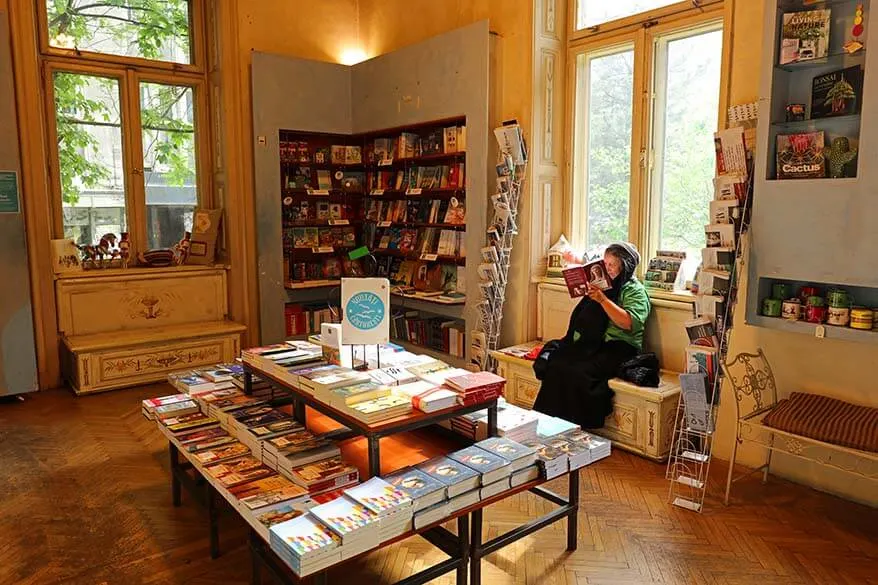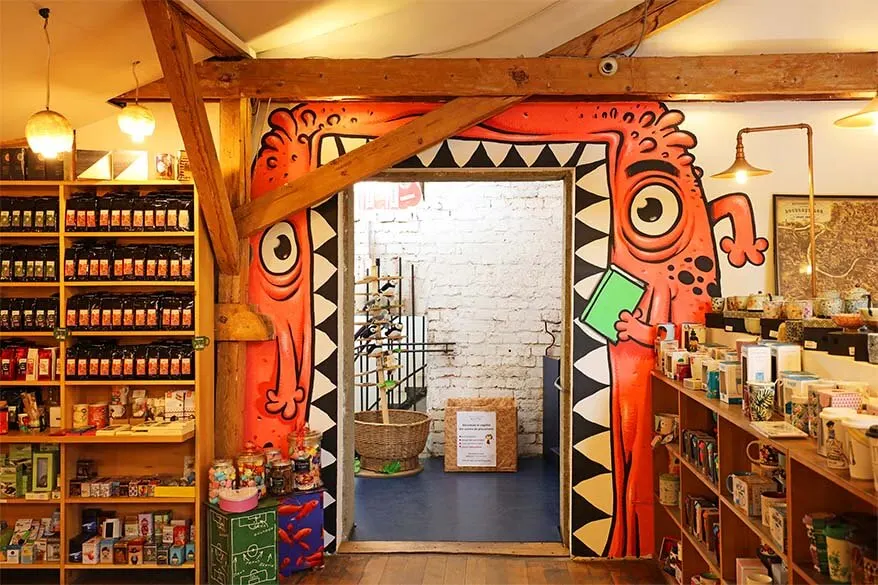 5. Abandoned buildings of Bucharest
Bucharest has incredible architecture, but also many abandoned buildings that still have so much charm.
Two of my favorites were the 120-year-old Macca House and The Truth newspaper Trust (1898).
These places cannot be visited individually, so you will need to book a tour.
Update: the same tour that I did seems to be unavailable at the moment. But there are some alternative tours you could consider instead.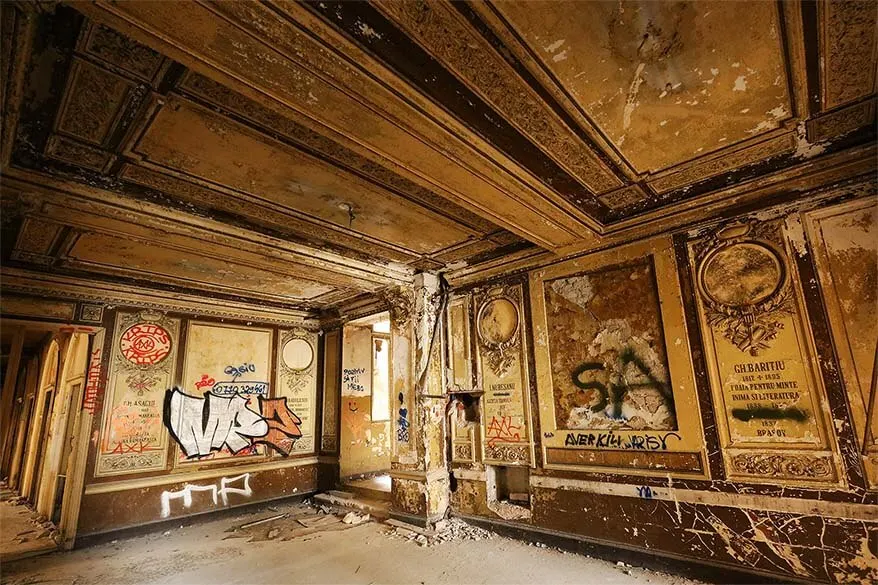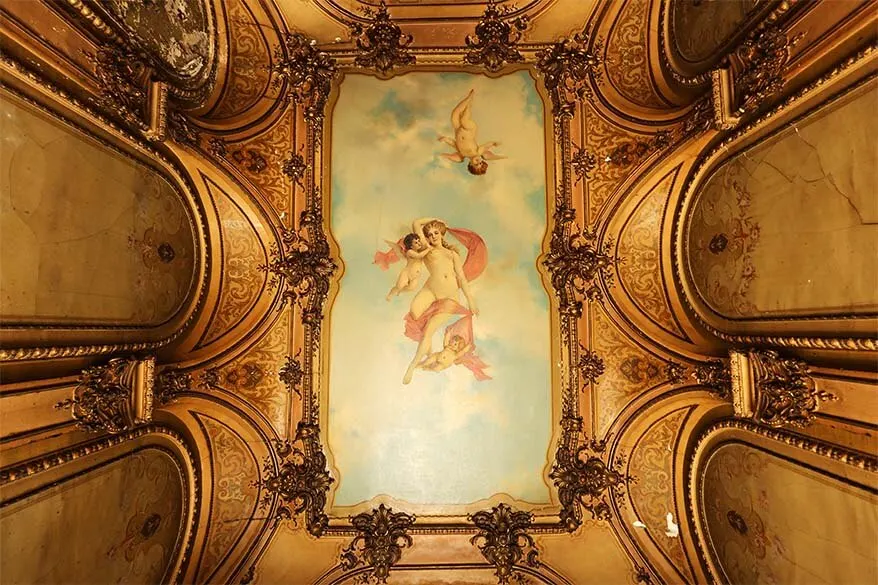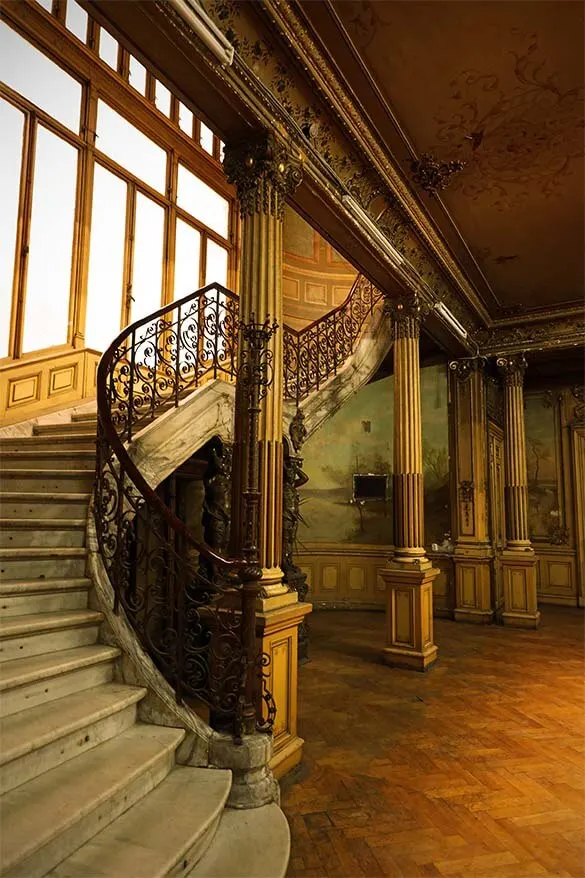 6. The English Passage
The English Passage leads you straight through a building that was first built as a brothel in 1900. Since WWII it's being used as social accommodation. The architecture is really worth seeing.
TIP: In the far corner of the passage you will see a little hat shop – Palaraii la mesterul Nicu. We had the pleasure of meeting the owner. Nicu was almost 90 at that time and he has been making hats since he was 14. It's really worth taking a look inside his little shop. And who knows, maybe you will find the perfect hat for you.
Location: Pasajul Englez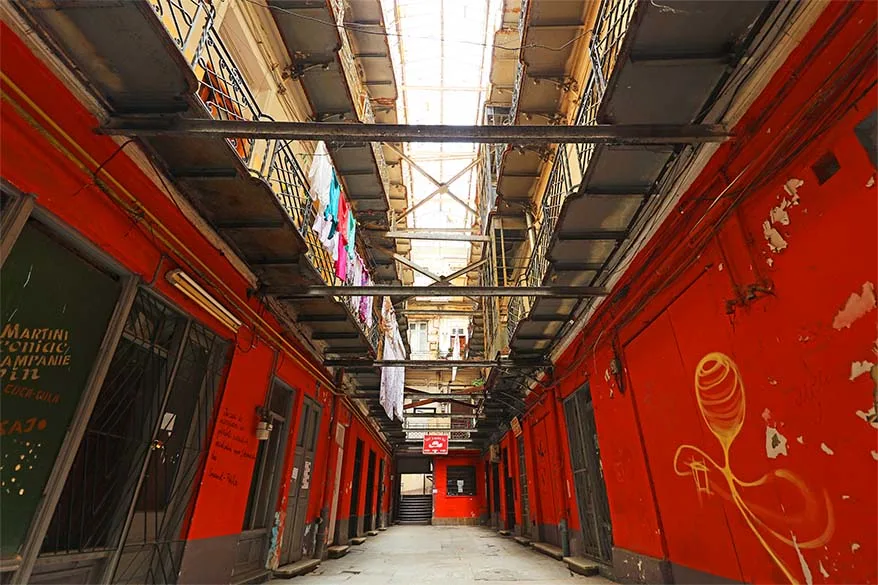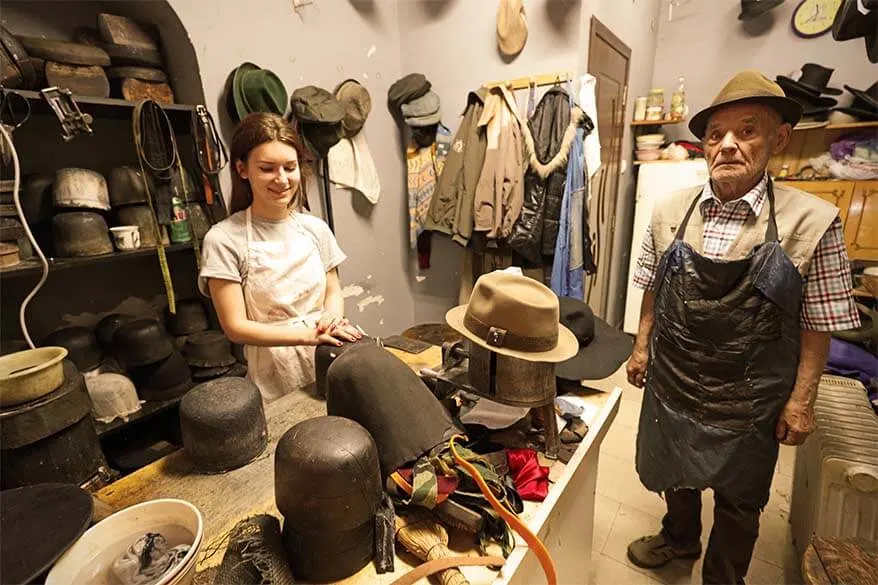 7. Bucharest street art
Bucharest has a lot of street art and you will probably be able to find at least a couple really interesting murals on your own.
However, Romanian street art often goes deeper than just a painting on the wall. There is so much history, so much social involvement and political protest behind these paintings, that to truly appreciate what you see you should better take a guided tour with a local.
Here is a small selection of really nice tours that will show you the alternative side of Bucharest: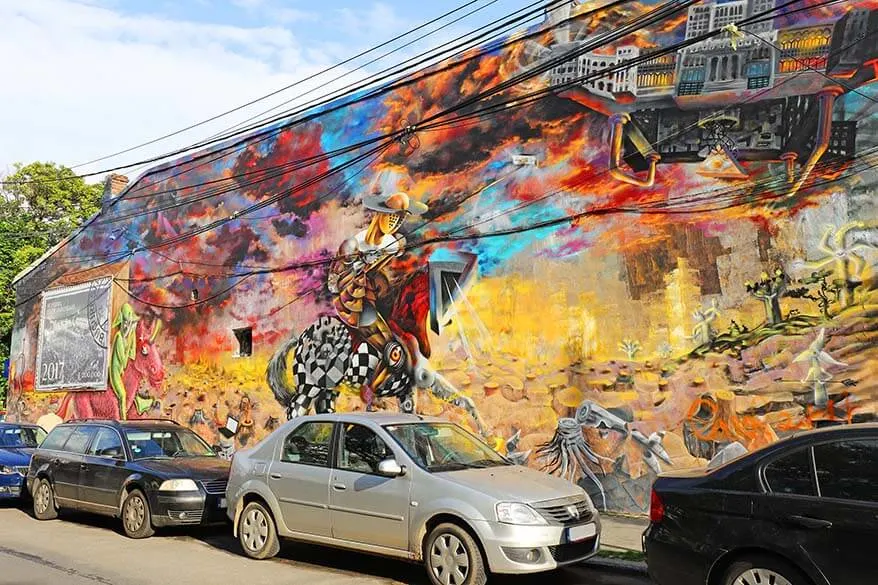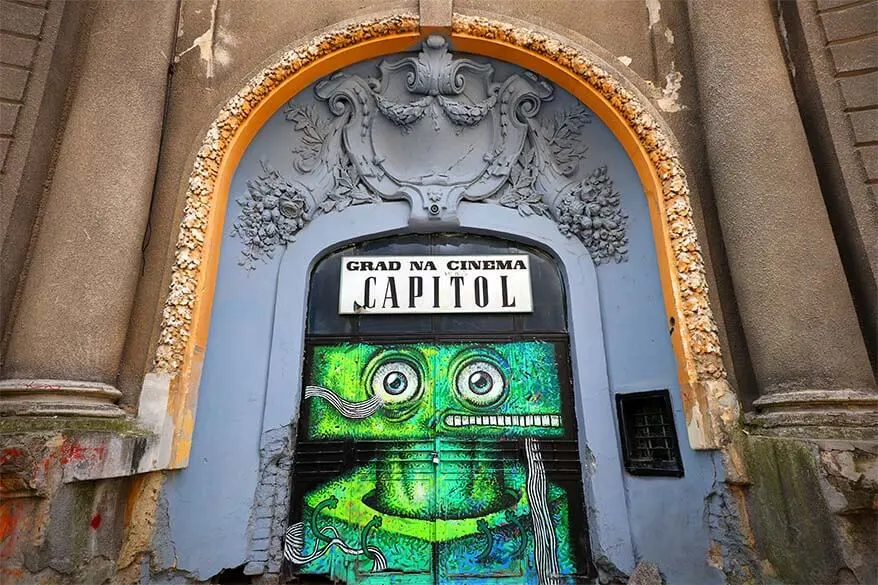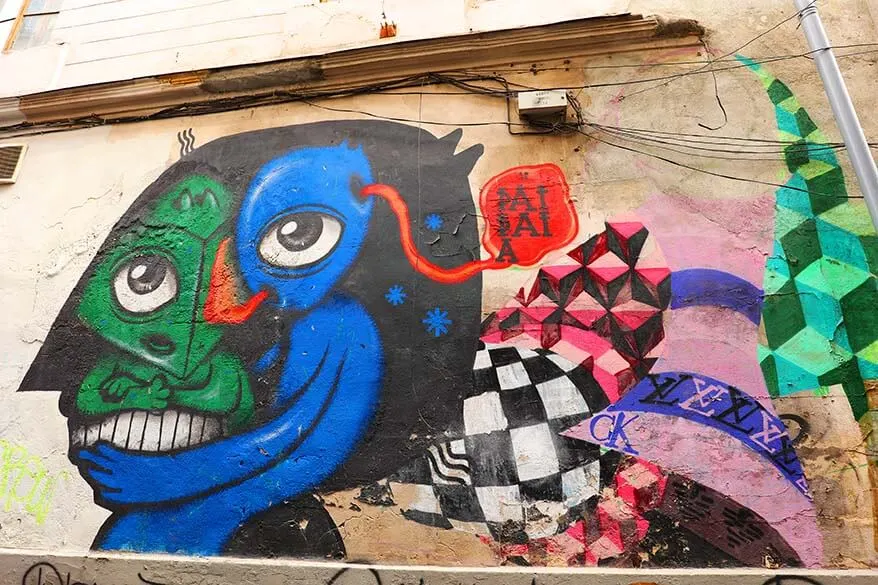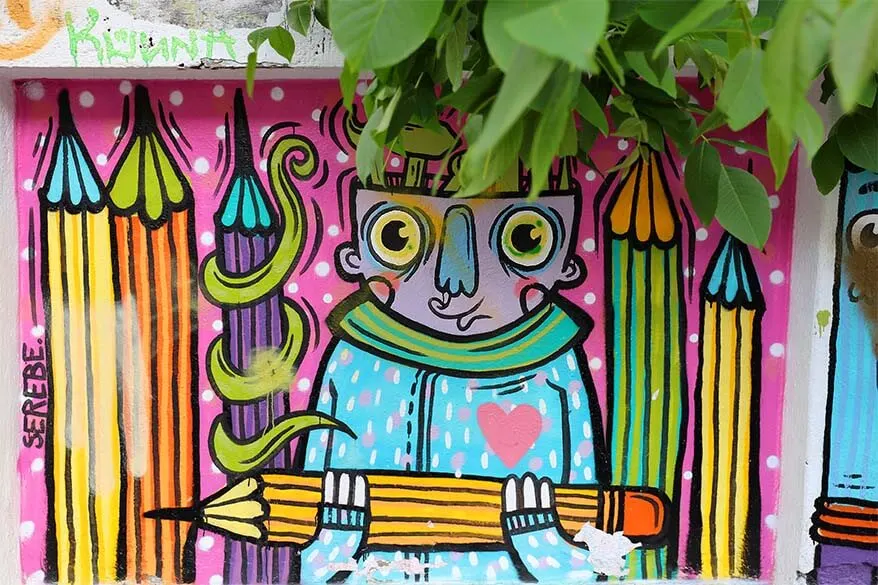 8. Pasajul Victoria – umbrella street and a hidden bar
The first day I arrived in Bucharest I stumbled upon this little passage – Pasajul Victoria, just next door to my hotel. I posted a picture on Twitter and before I knew it the hundred other bloggers that were attending #ExperienceBucharest had found the street as well.
So thanks to Instagram and other social media this little hidden passage is now probably the most popular street in Bucharest. I assume I wasn't the first one there, so please don't blame it on me… 🙂
Anyway, in the meantime, Bucharest umbrella street has become a must. So walk through it and have a drink or a pizza at the restaurant under these colorful umbrellas.
And once you are there, don't miss the hidden underground bar as well.
Location: Pasajul Victoria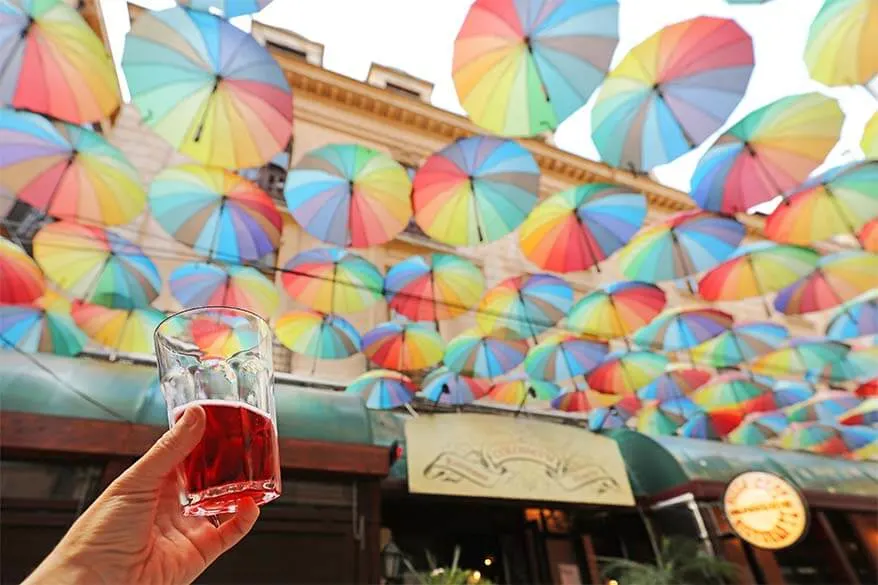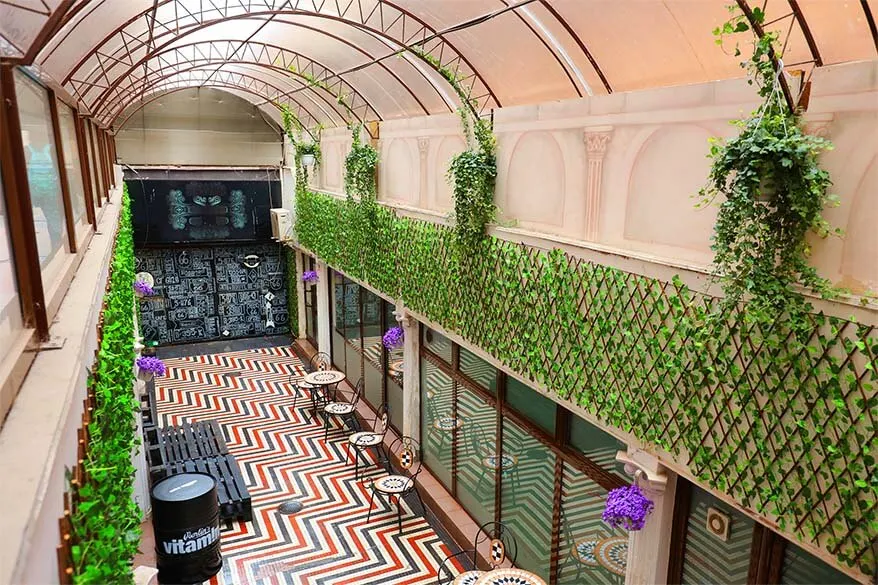 9. Antiquities market at Bazar
If you like flee markets and looking for some old hidden treasures, then don't miss this antiquities market in Bucharest.
It's located inside an old semi-abandoned building in the center of Bucharest. Even if you don't buy anything, the beautiful interior is worth a short stop.
Location: Strada Doamnei 11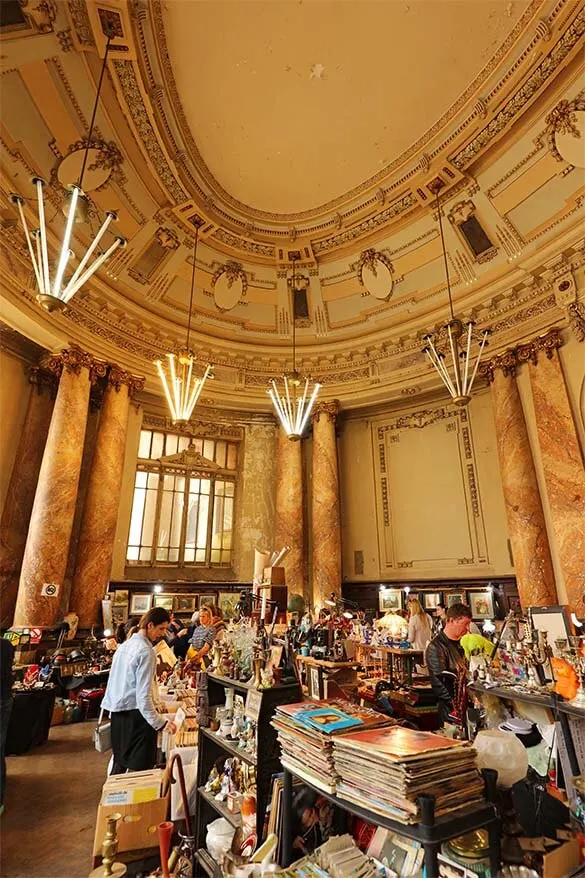 10. Largest Corkscrew Collection and The Pressing Iron Collection in the World
Bucharest is full of surprises.
The privately-owned corkscrew collection which comprises of more than 30,000 individual pieces and the pressing iron collection with over 35,000 pieces is a true hidden gem in Bucharest!
The collection is curated by the Museum of Romanian Records. It was not open to the public when I visited (only for events), but it seems that it's now open to everyone. In any case, it can be visited if agreed in advance, and also for corporate events and group trips. You can find more information here.
Location: Strada Parfumului 25-27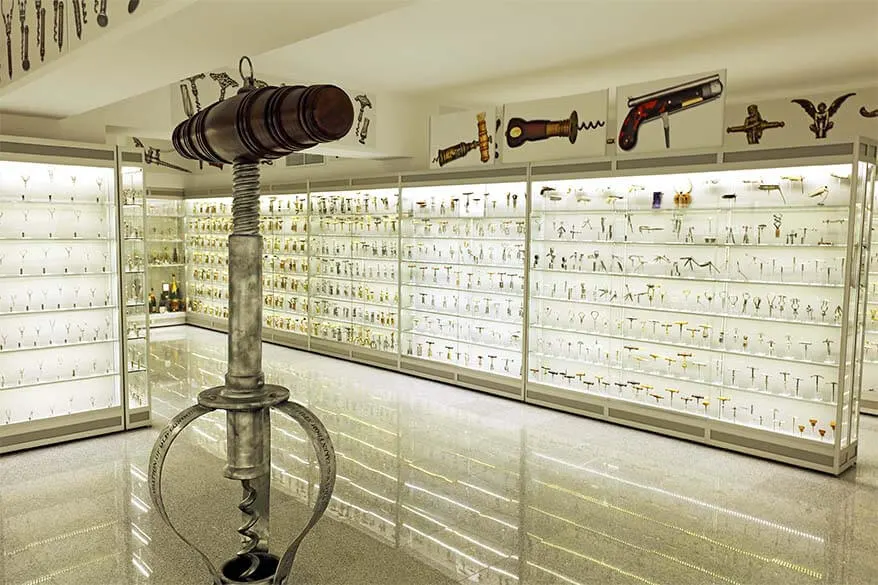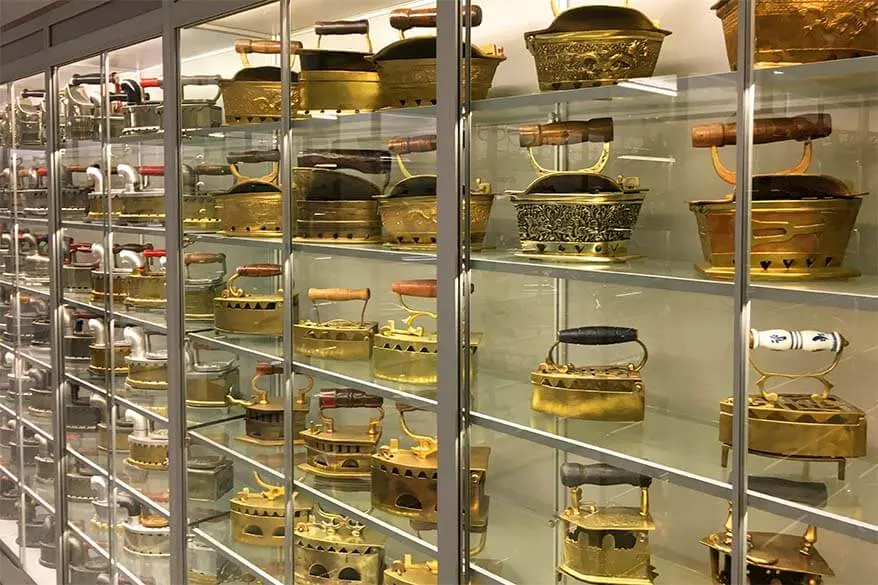 11. Hanul lui Manuc
Manuc's Inn is the oldest operating hotel building in Bucharest (built in 1806).
Nowadays, you will find a beautifully restored medieval tavern, a wine cellar, and a summer garden that is well worth a stop.
I don't know how the food is at the restaurant, but you can see the Inn even if you are not a customer here.
Location: Strada Franceză 62-64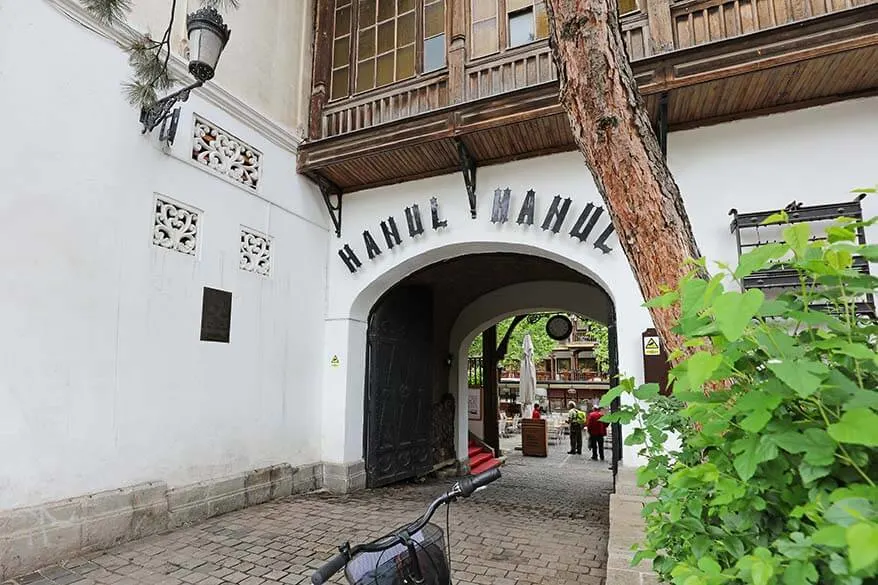 12. Simbio restaurant
If you are looking for a good meal, I can highly recommend Simbio restaurant. It had a great atmosphere and the best meal of my 5-day trip in Bucharest.
Just prepare to walk a bit in order to get there. The place is literally a hidden gem and is outside the main tourist areas.
Location: Strada Negustori 26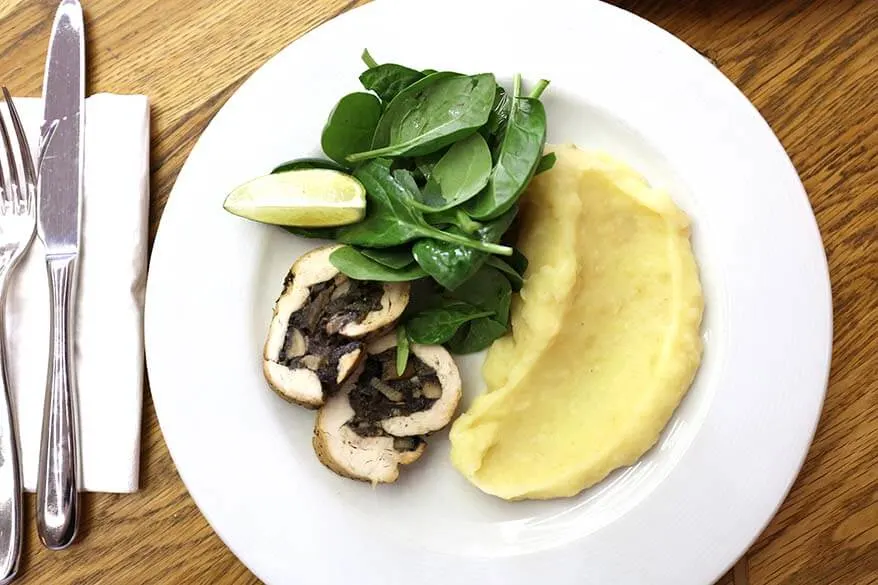 So, these are some of my favorite hidden gems of Bucharest. Bucharest is truly a city of contrasts and if you only see the landmarks, you'll be missing a great deal.
Have you been to Bucharest? Please leave a comment and share your favorite places in the city!
TIP: If you have some extra time in Bucharest, try to see a bit more of Romania too! Here you can read about the most beautiful towns and cities in Romania, and here – our guide to visiting Brasov, one of the most picturesque cities in Romania. Below is a small selection of the best-rated day tours – all well worth it. Take a look!
READ ALSO: Best Things to Do in Bucharest
If you found this post helpful, don't forget to bookmark it and share it with your friends. Are you on Pinterest? Pin this image!