Are you visiting Reykjavik for one day and wondering what to see and how to best plan your short visit to the capital city of Iceland? In this article, we share a suggested 1-day Reykjavik itinerary that covers the most important landmarks and must-see sights in the most efficient way. Find out!
Reykjavik is the biggest and most interesting city to visit in Iceland. It is the northernmost capital of the world and the starting point of many adventures throughout the country. However, you should know that Reykjavik is a rather small town, with a population of just over 130,000 (about 230,000 in the capital region and a total of less than 400,000 in the entire country).
While 10-15 years ago, we would have told you to skip the city altogether and head straight to nature destinations, Reykjavik has changed beyond recognition. It is now a vibrant, bustling place that is more than worth a visit.
In fact, you could easily spend a week here, but let's not exaggerate. Icelandic nature is still the main reason to visit the country. So unless you are traveling to Iceland in winter (when Reykjavik can be an excellent base for winter day trips and excursions), we think that a day or two is more than sufficient for the city.
Either way, you can easily fill a day in Reykjavik with sightseeing, shopping, and traditional food. If you plan well, you can even find some time for a relaxing soak in one of the geothermal pools that Iceland is famous for.
In this guide, we share a detailed 1-day itinerary and show you how to see Reykjavik in one day and experience the very best that the city has to offer. This way, you can see which places are worth your time the most, where to go and what to expect at each location, and know which things to pre-book.
Good to know: At the bottom of this article, you'll find an overview of this itinerary, with approximate hours indicated for your reference, and a map indicating all the places mentioned in this guide.
While we have been to Iceland and Reykjavik multiple times, this guide is written with the help of fellow travel blogger Kirsten from kirthetraveler.com who recently visited Reykjavik. We bundled all our top tips together to create the most perfect itinerary for Reykjavik in a day. So I hope that our experience-based tips and first-hand recommendations will help you get the most out of your visit to this unique city.
READ ALSO: Best Things to Do in Reykjavik (most of these are in the guide below, but if you have more than a day, you may want to check it out for additional recommendations).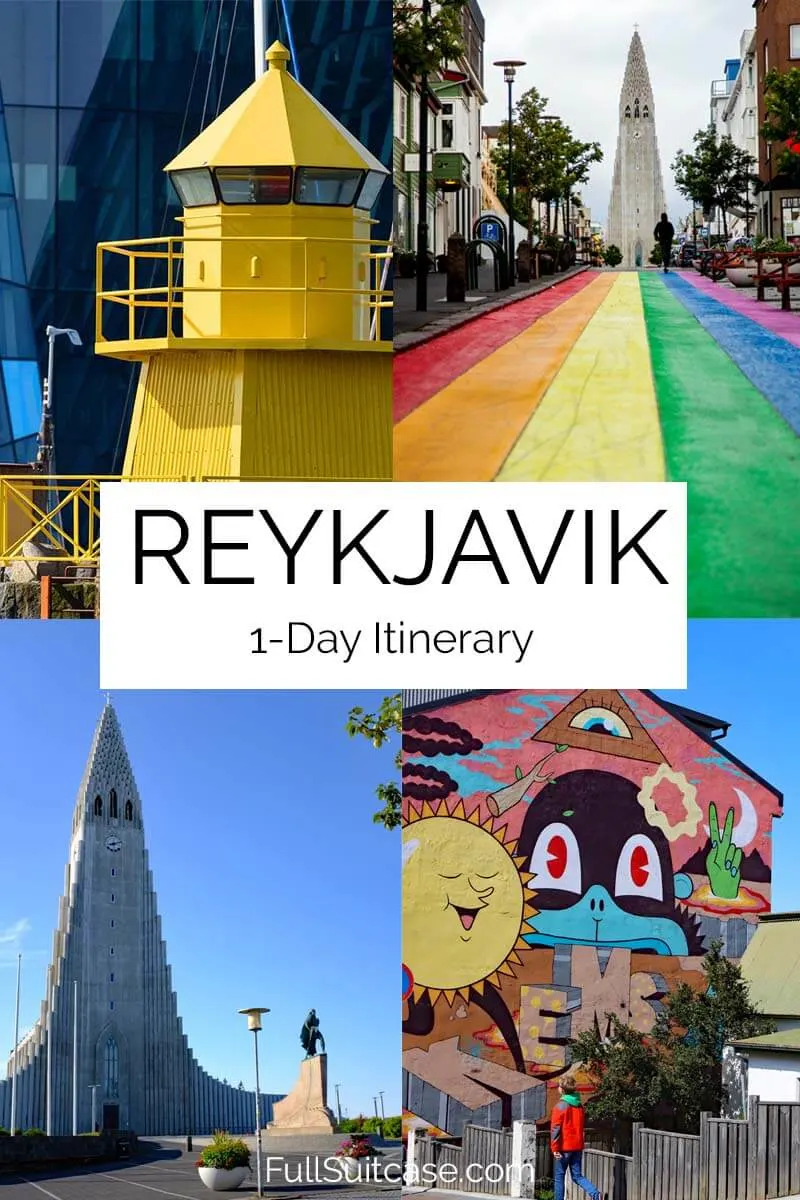 Good to know: If you follow this itinerary, every destination in the center is less than a 10-15 minute walk from each other, so you don't need a car for sightseeing in Reykjavik city center. However, having a car would be very useful for the second part of this itinerary (Perlan and Sky Lagoon). While you can also get there using shuttles or public transport, it will be a bit more difficult to squeeze it all in a day without it feeling rushed, so you may have to adjust this itinerary a bit or skip something that interests you less.
TIP: A nice way to explore the old town of Reykjavik is by joining a walking tour with a local. There are several options. One of the best options is this popular 2-hour walking tour that has several possible starting times every day. Another highly-rated option is this 2.5-hour city tour, usually starting at 10 am.
Whichever of these two options you choose, you are sure to cover all the main sights in the old town. So you could easily do a walking tour first thing in the morning and continue with the rest of our suggested itinerary afterward.
Without further ado, take a look at our recommendations on how to spend one day in Reyjavik!
Here's what you can see and do in Reykjavik in one day:
1. Walk to the waterfront and see the Sun Voyager
Because most Reykjavik attractions don't open early, we recommend starting your day with a morning walk to the Sun Voyager. This steel sculpture that resembles a Viking long-ship is one of the most photographed landmarks in Reykjavik. Plus, the entire waterfront area offers great views, so it's a nice place to start your day in Reykjavik.
The sun voyager was made to honor hope and freedom. The artist Jon Gunnar constructed it to represent hope in finding new and unexplored territory – it's a truly beautiful concept.
If you are feeling up for it, you can get up early enough to catch the sunrise by the water. It is a great photo opportunity and a nice place to reflect. But it really doesn't matter when you come here and the sunrise time can vary immensely depending on when you travel. The Sun Voyager is worth seeing in any light conditions and even in the dark if you are traveling in the winter when the daylight hours are minimal.
TIP: Either before or after your stroll, you can stop at the Sandholt bakery/cafe for breakfast. It's located in the town center, just a few blocks away from the Sun Voyager (don't worry – we indicated all these places on our map below). They specialize in baked goods, but you can also find breakfast sandwiches, waffles, shakshuka, and different variations of eggs. This is a perfect place to get a delicious breakfast or try some local pastry.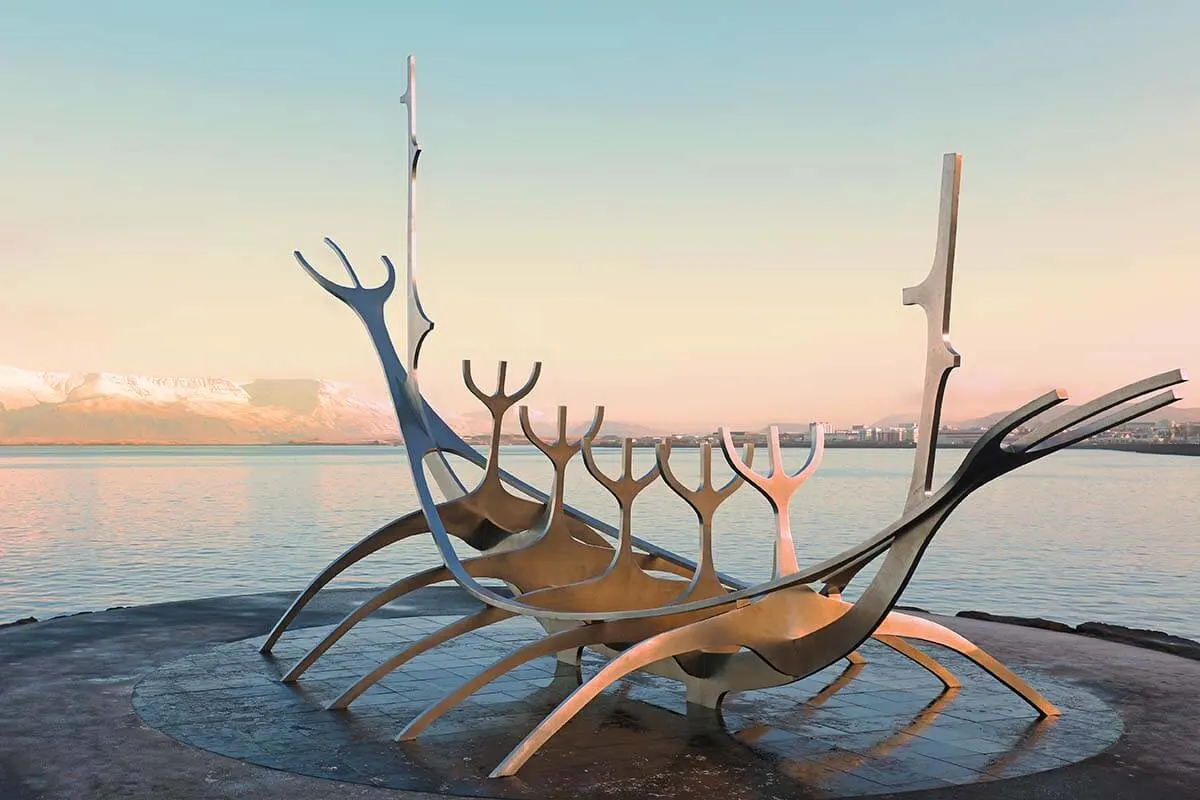 2. Visit Hallgrimskirkja & enjoy the best views in Reykjavik
Next, head over to Hallgrimskirkja church, the tallest building in Reykjavik. It looks over the entire city and is the most recognizable landmark in Reykjavik's skyline. The church is one of the most visited attractions in the city and a must-see!
It took over 40 years to build, as the initial architect passed away and others had to take over and finish it. You don't have to attend a service to see the impressive interior.
Keep in mind that if there is a ceremony or event going on, you will not be able to walk through the church. You can check their website if there are any events going on at the time of your visit, but it doesn't really matter since you'll want to come here anyway.
In front of the Hallgrimskirkja, you will also see a statue of Leifur Eiriksson. This 10-11th century Norse explorer is believed to have been the first European to set foot on the North American continent (long before Christopher Columbus). He's an Icelandic hero and even an International Air Terminal located at Keflavik Airport is named after him.
Must-do: In addition to visiting the church, be sure to also take a lift to the top of the tower for the best views in Reykjavik. At 73 meters high, you can see the entire city as well as the harbor, plus the sea and the snow-capped mountains in the distance.
Good to know: Hallgrimskirkja normally opens at 10 am, so we recommend visiting here around the opening time (you can double-check the official website for the most up-to-date info and opening hours). Visiting the church is free, but there's a small fee for the elevator to the top. You can get the ticket on the spot and there's usually no wait (it helps if you are here early). Right when you walk in, there is a gift shop to your left where you can purchase a ticket and go straight up the tower.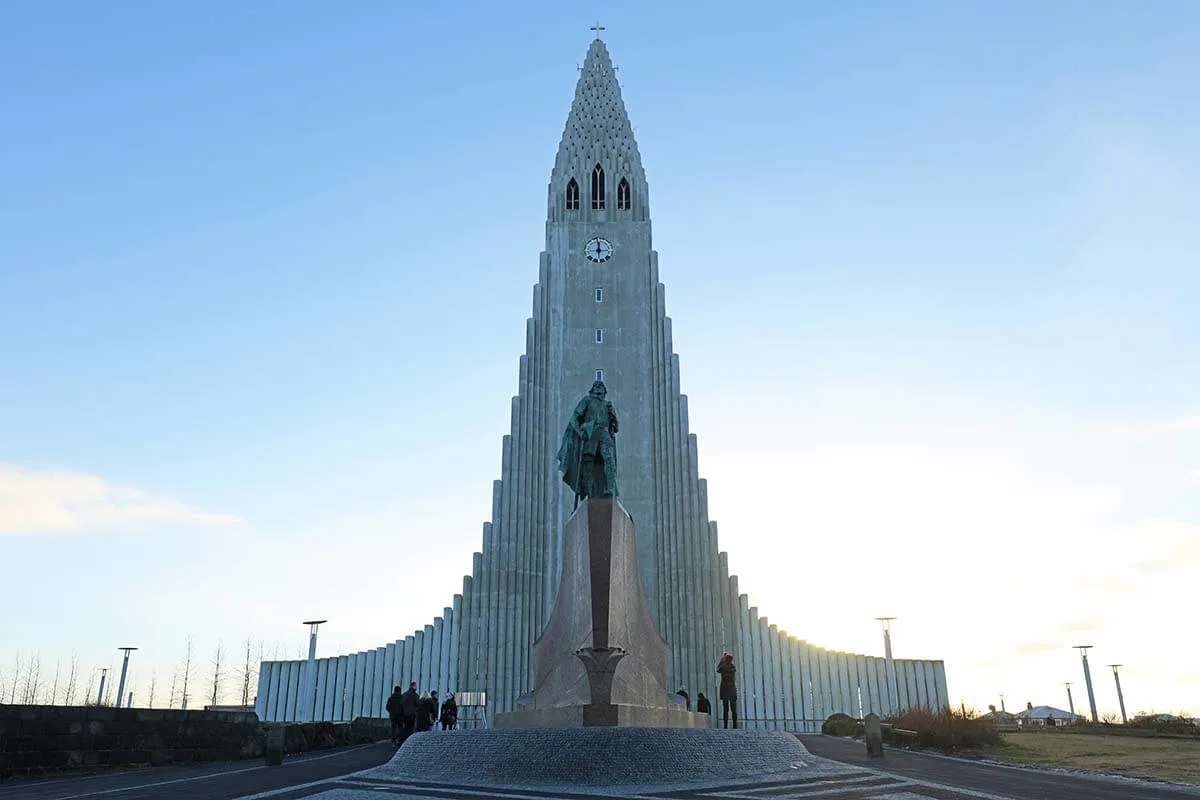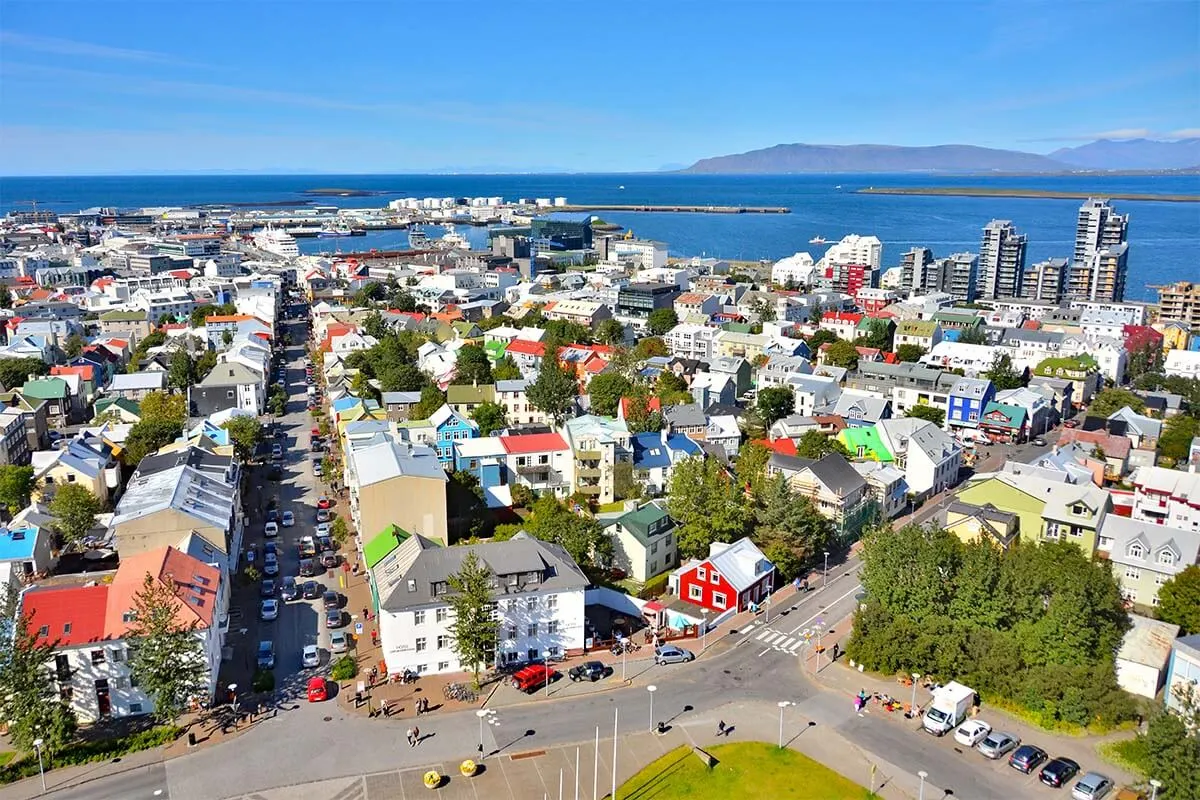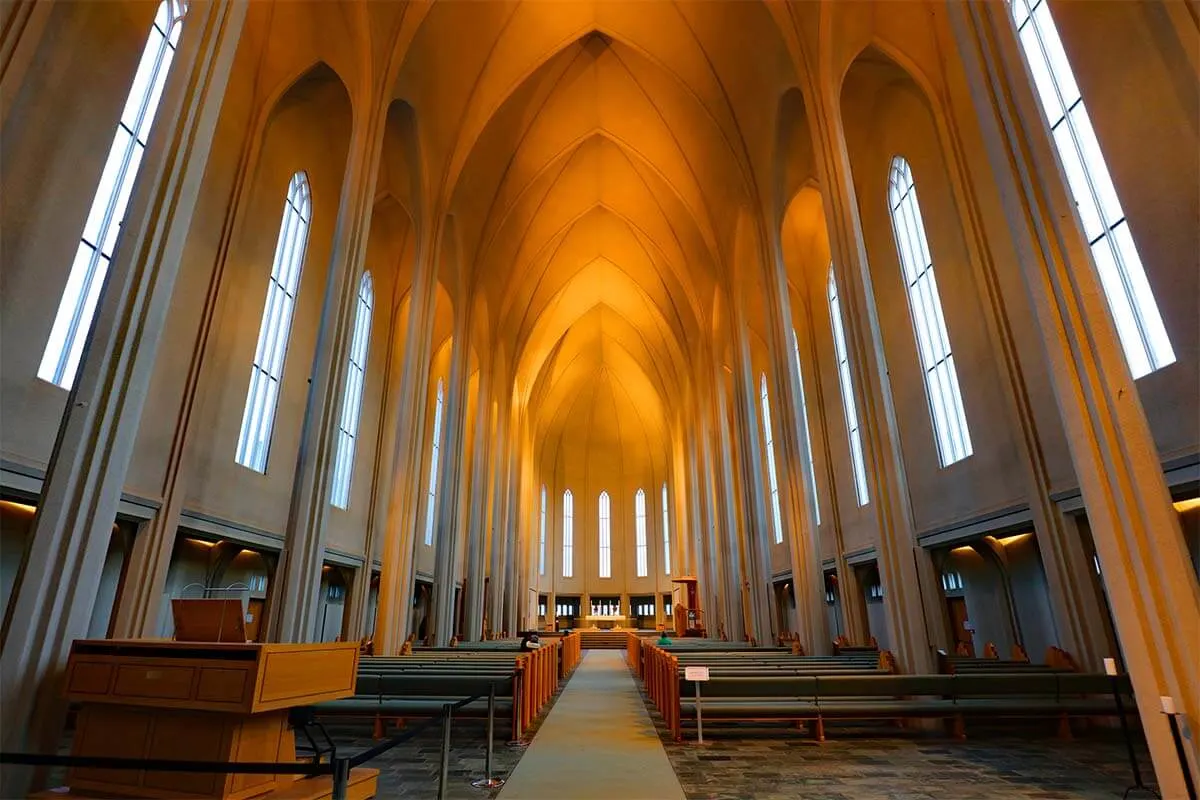 3. Explore the old town of Reykjavik
North of Hallgrimskirkja, you will find the old town of Reykjavik. This is now a bustling place with many shops, cafes, and restaurants. There are a few landmarks to see, but the majority of your visit is simply walking around the area and absorbing the local atmosphere.
There are two main streets that you shouldn't miss in the old town- Skólavörðustígur and Laugavegur.
Laugavegur is one of the oldest shopping streets in Iceland and is a must-visit because of its vibrant atmosphere, variety of shops, and interesting history. Its name means 'the Water Road' or 'the Wash Road' and it is said that in the past, local women used to walk this street all the way to the hot springs where they did their laundry. Oh, how times have changed!
Present-day Laugavegur is quite different. The street is now the main commercial area of Reykjavik with tons of shops, restaurants, and bars on each side. It is the perfect place to get some souvenirs for your family and friends. Even if you're on a low budget, there are some small shops offering vintage items at a low price. On weekends, this area has quite a lively nightlife scene.
Skólavörðustígur, aka the Rainbow Street, was recently painted to represent LGBTQ pride. It has a rainbow on the road stretching all the way to Hallgrimskirkja church. This is a great photo opportunity, and this street also has lots of nice shops, cafes, etc. If you are planning to buy an Icelandic wool sweater, the best place for that is the store of The Handknitting Association of Iceland on this street, just a few blocks from Hallgrimskirkja church.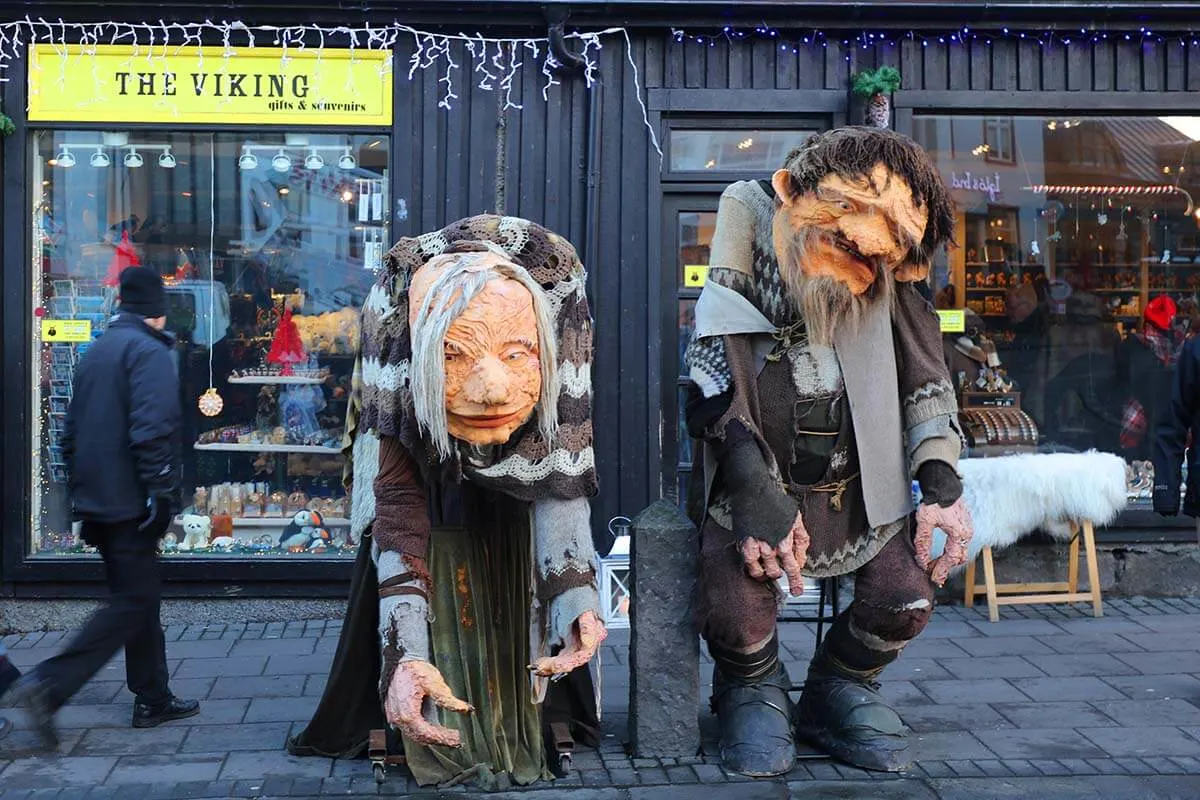 Be sure to also check out the street art of Reykjavik. A project called "Wall Poetry" gave the opportunity to tons of artists from around the world to paint stunning murals on buildings, pavements, alleyways, etc.
There's lots of street art in the city center, but with just a little time, focus on the area around Laugavegur and Grettisgata streets, where you can find quite a few interesting murals.
Next, head to Tjörnin, aka Reykjavik Pond. This is a small lake in the middle of the city, where you can usually see lots of birds. Nearby, don't miss the Monument to the Unknown Bureaucrat, Reykjavík City Hall, Parliament House, and one of the oldest buildings in the city – Reykjavik Cathedral (Dómkirkjan).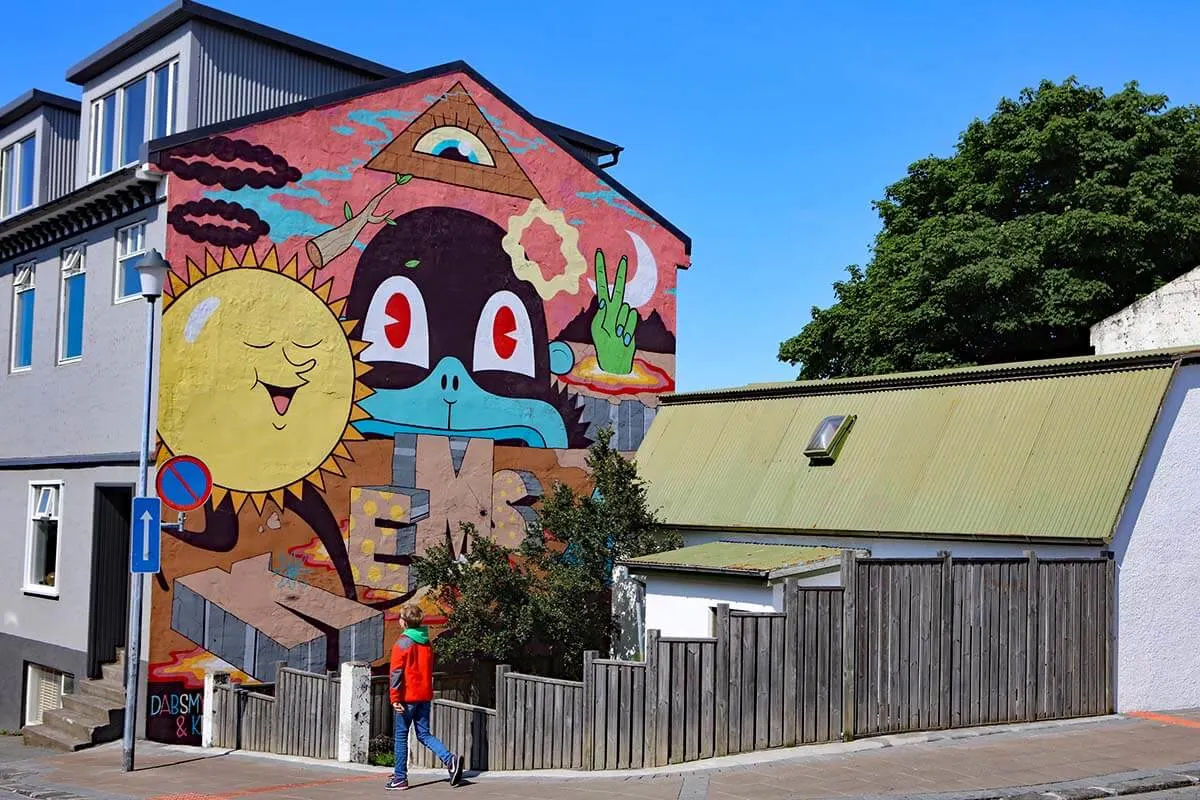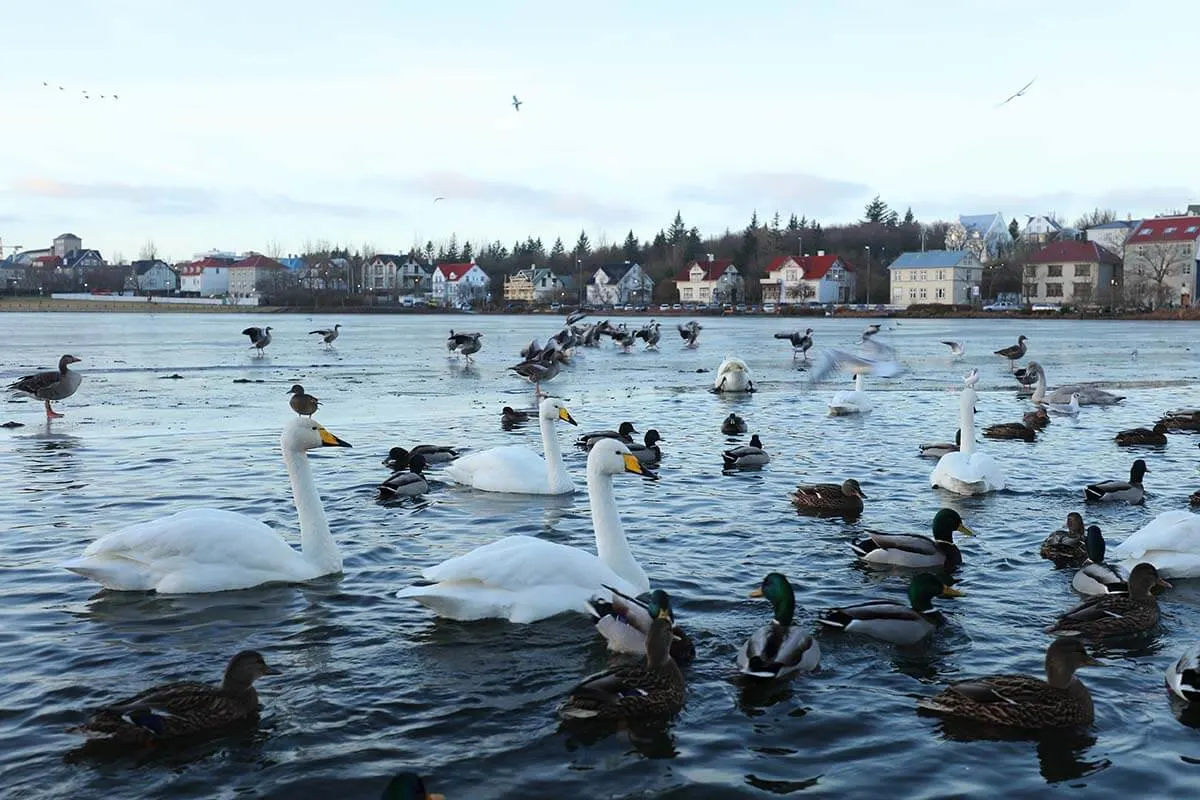 4. Try a traditional Icelandic hot dog for lunch
For lunch, head to Bæjarins Beztu Pylsur – Iceland's most famous hot dog stand. This is the perfect place to stop for a quick lunch when sightseeing in Reykjavik. Their hot dogs are absolutely delicious! Even if you don't generally like hot dogs, we encourage you to give these a try.
Icelandic hot dogs come with fried onion crumbles, white raw onions, mustard, ketchup, and remoulade (another condiment that contains herbs, mustard, mayo, etc). You can adjust it to your liking, but for the most authentic experience, take it with everything as locals do.
Good to know: The hot dog stand is normally open daily from early morning until late at night. They have some tables outside, but it's really street food, so if you want to sit down for a relaxing lunch, this is not the best place. But it's an experience that is well worth it, and it will cost you a fraction compared to eating at a restaurant. And you can always find a nice restaurant for dinner.
Don't be alarmed if there is a long line, as there most likely will be. The hot dogs are made extremely fast, and the line moves along quickly. You will probably only be here for a maximum of 15-20 minutes, so there's more time to see the city!
Alternative: If you want to try more Icelandic food, consider joining a food tour. This highly-rated food tour is one of the very best options and – among many others – they also normally include a visit to this Icelandic hot dog stand. Plus, you can taste many other Icelandic specialties such as lamb soup, fermented shark, Skyr, etc.
They usually have several possible starting times each day, so you can easily fit this tour into your 1-day Reykjavik itinerary. Just be sure to book in advance – that way, you usually have more choices for the available starting times.
And if none of these options interest you, you'll find a few cafes in the Old Harbor, the next stop on this itinerary. In that case, check out The Coocoo's Nest or Kaffivagninn, both nice places for a quick lunch.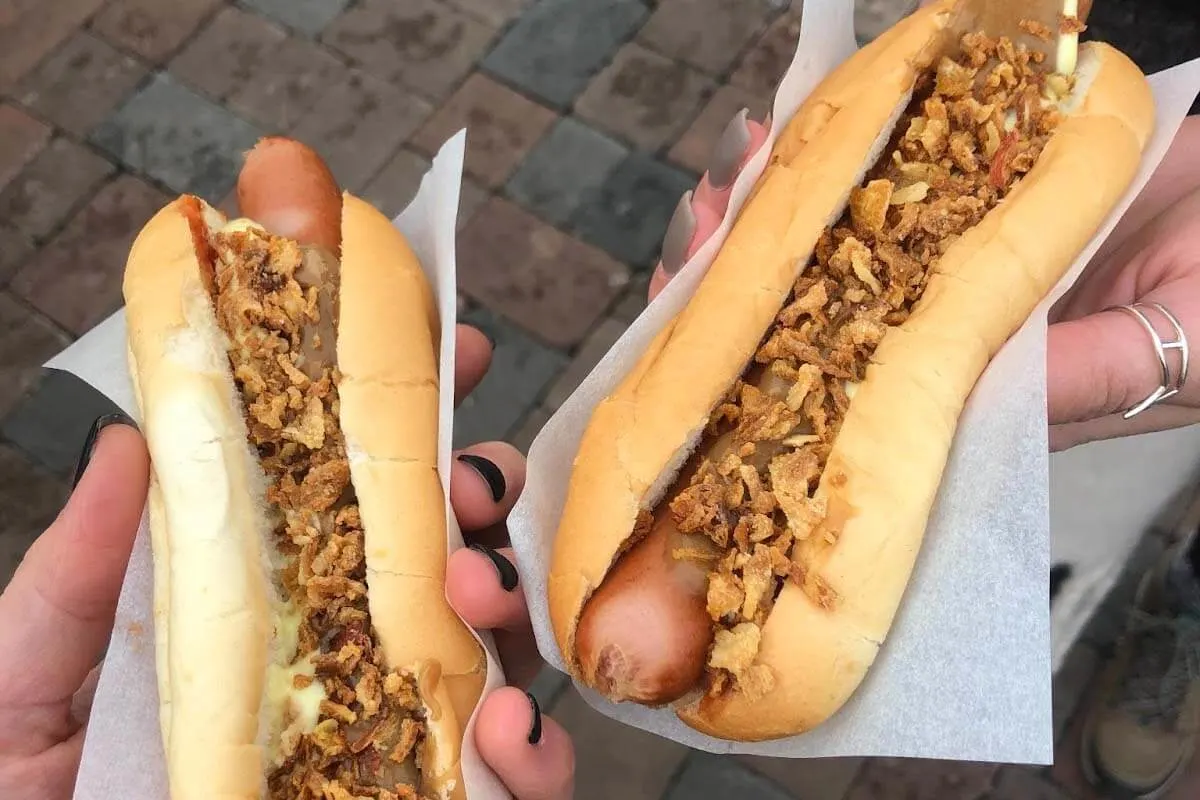 5. Visit one or a few museums at the Old Harbor
Reykjavik has a lot of museums and fun tourist attractions. Some are more traditional-style museums where you can see art or learn more about the history of Iceland, while others are more contemporary and also more family-oriented.
Even if you only have a day in Reykjavik, we recommend visiting at least one or two museums. It's a great way to get acquainted with Icelandic history and culture. And it's also something that you can do at any time of the year and in any weather.
Since some of the most interesting museums/attractions are located relatively close to each other at the Old Harbor, we recommend coming here. You'll also find some more street art here.
This area is just about 10-15 minutes walk from the hot dog stand. With this itinerary, you could easily allocate about 3 hours for this area and visit 2-4 places. It really depends on your interests and how you decide to fill the rest of your day.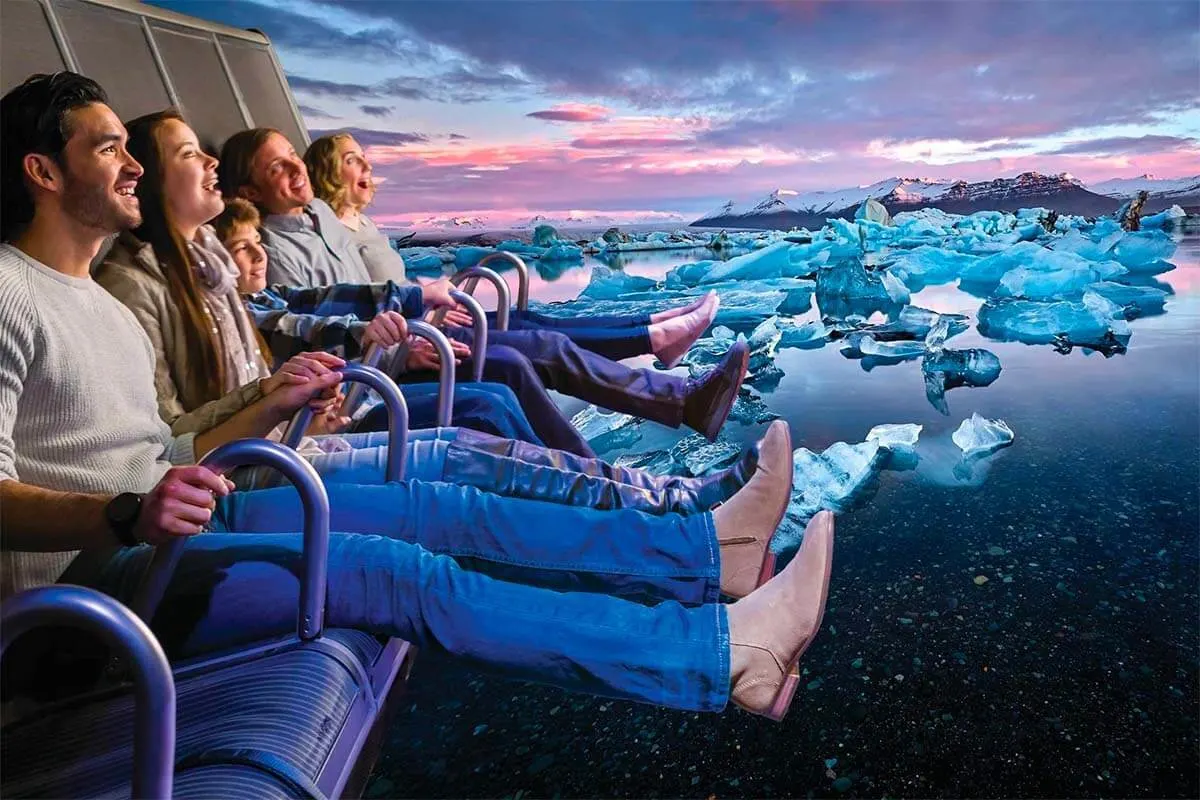 Here are some of the best places to visit at the Old Harbor and just nearby:
FlyOver Iceland. This is the ultimate 'flying' ride that takes you through Iceland's beautiful landscapes while completely suspending you in the air. You can expect a wrap-around screen, actual wind and mist, and the realistic feeling of being outside while viewing some of the most incredible landmarks in Iceland. You only need about half an hour here, and it's totally worth it. This would be our top choice and #1 place we highly recommend to see from this list.
Whales of Iceland. This museum features life-sized modeled whales from 23 different species. You'll see the beluga whale, narwhals, a striped dolphin, an orca, and many more. With interactive displays, an audio guide allowing you to explore at your own pace, and a very interesting documentary film about marine life, this is a great choice for families too.
Saga Museum is a museum dedicated to Icelandic history, but in a more entertaining way than the traditional ones. Most exhibits include life-size wax figures which all 'come to life' when you follow an audio tour guiding you through the exhibits. You can even dress up as a Viking and take some fun pictures.
Maritime Museum: This museum talks about the history of Iceland and its relationship/dependence on fishing. The building was originally a fish-freezing plant, and the museum took that history and made it into something to be proud of.
The Icelandic Phallological Museum: This somewhat controversial museum is located between the old town and the old harbor. The Phallological Museum was started by a man who collected the male genitals of animals (bizarre right?). They ended up crowding out his home, so he eventually founded a museum. Now, thousands of people visit here every year, and it's one of the most unique attractions in Reykjavik. You can even listen to an audio tape as you walk around to get the full history – definitely a place to check out if you want a good laugh!
All in all, you can't go wrong with any of these choices, and each offers something unique, Icelandic. But if you are looking for more traditional-style, history, and art museums, there are quite a few other options too, most located in the old town. You can find more information about the other museums in our guide to the best places to see in Reykjavik.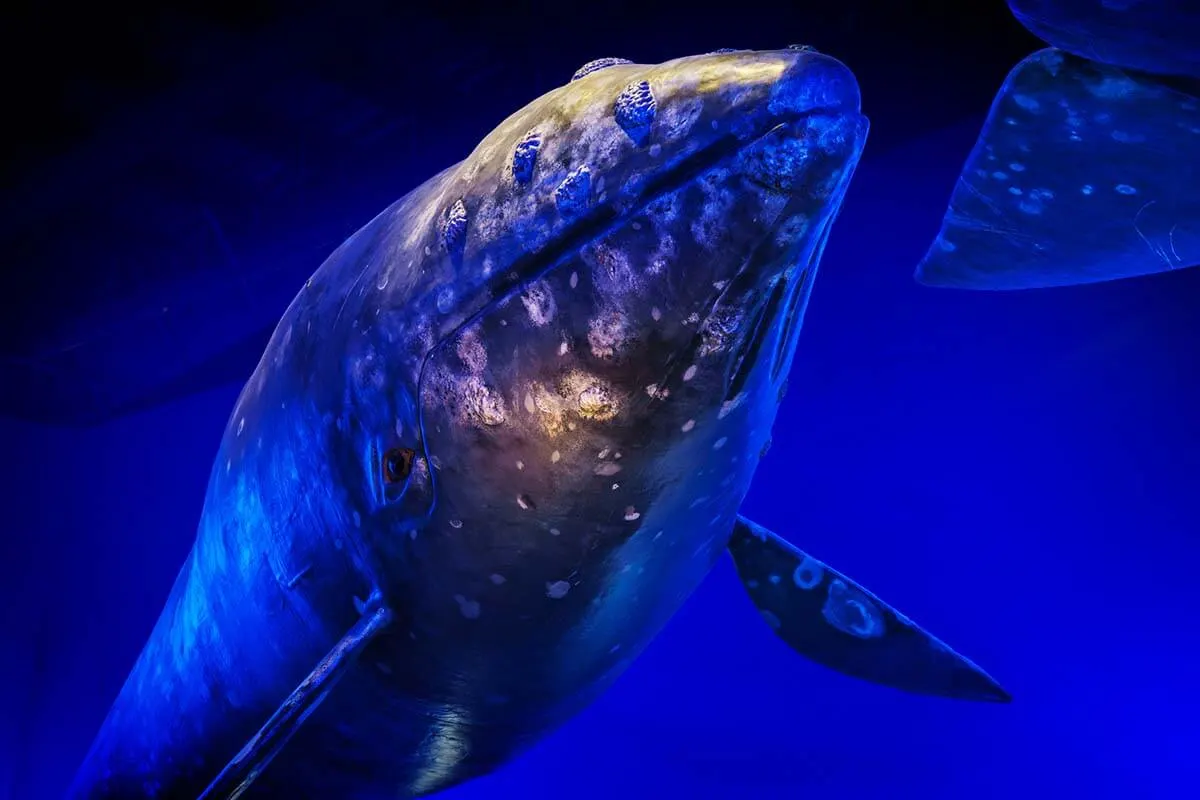 6. Admire the architecture of Harpa Concert Hall
Next, head over to the Harpa Concert Hall, at the waterfront a bit back in the direction of the city center. This remarkable building is a must-see in Reykjavik because of its artistic design and beauty. It's home to Iceland's symphony orchestra and opera, but you can simply visit the interior of the building to admire its unique architecture.
Covering the entire building are beautiful glass windows that represent Iceland's basalt columns. Its abstract shape and colorful windows are bound to draw you in.
With more time in Reykjavik, you could check the events calendar and maybe even attend a show. But with just a day, we recommend simply walking around inside. It's free to visit, but save some money if you want to buy souvenirs in the gift shop.
Also, if you haven't checked out the harbor yet, this is a perfect time. Harpa is located right on the water. Take a break or walk along the harbor to admire the majestic scenery. Be sure to also check out the yellow Ingólfsgarður Lighthouse, just near Harpa.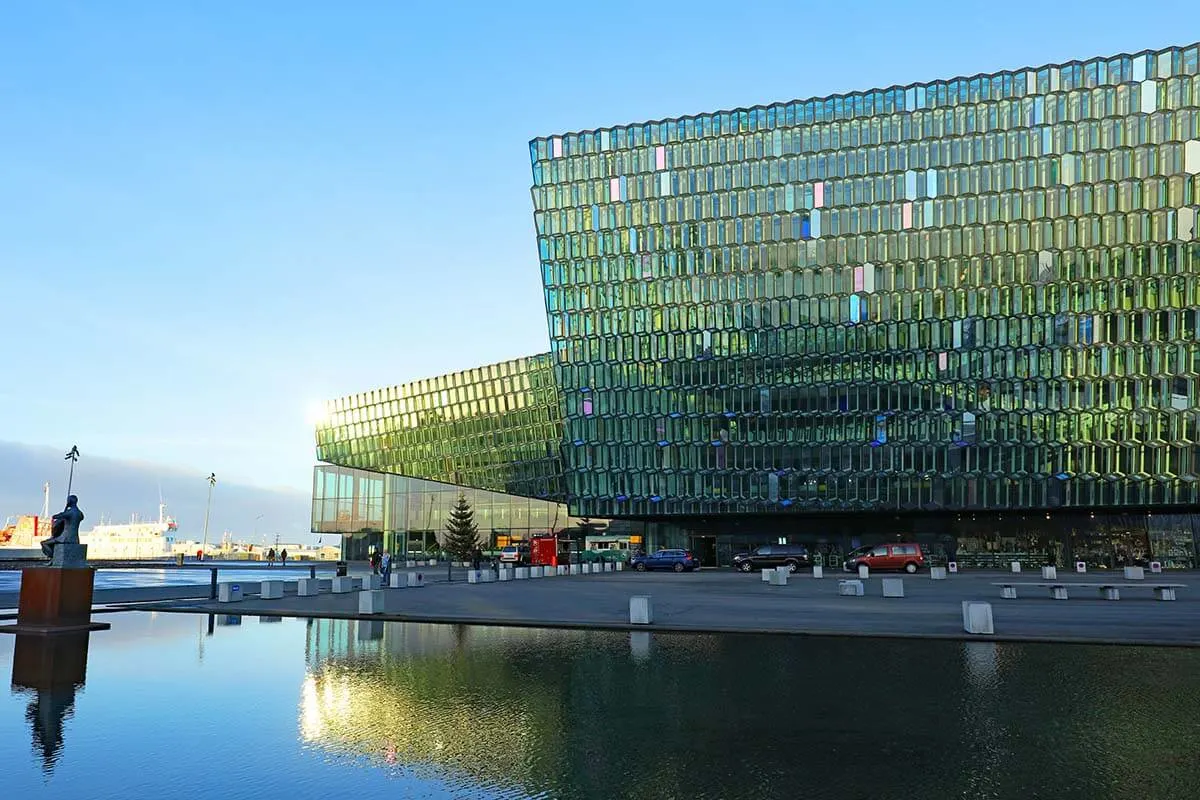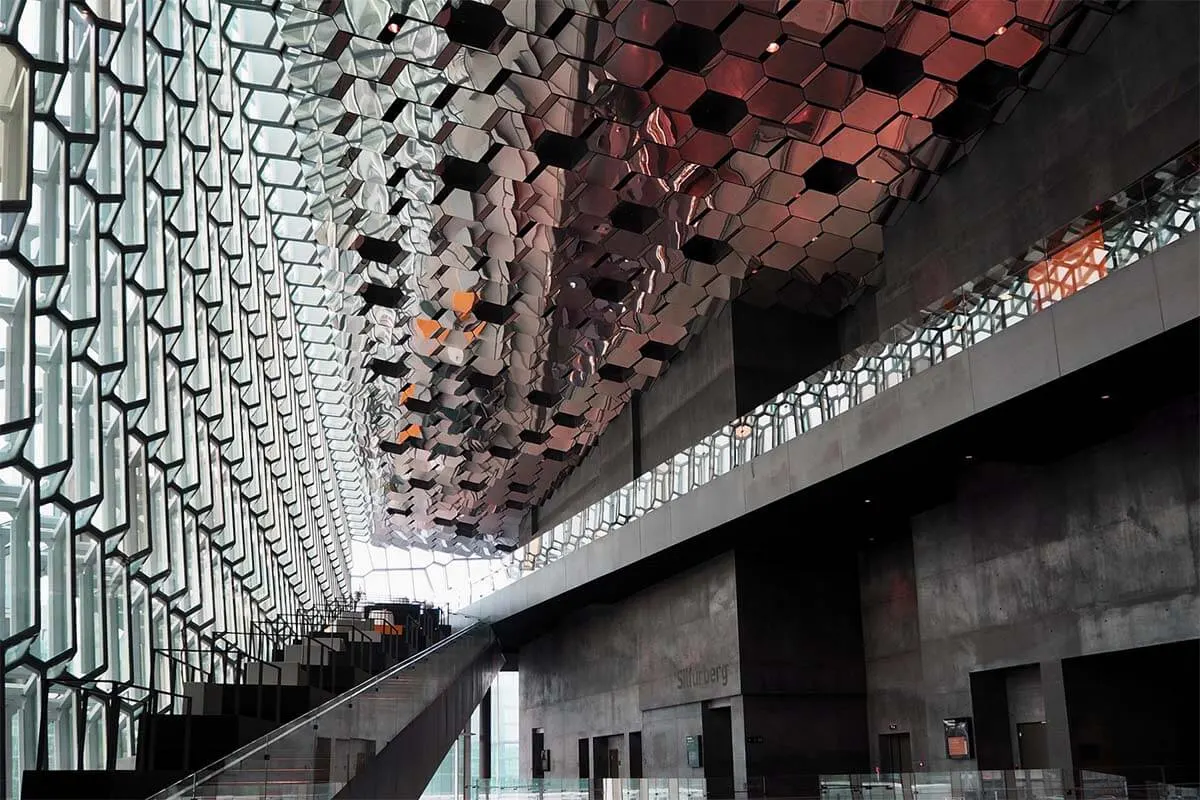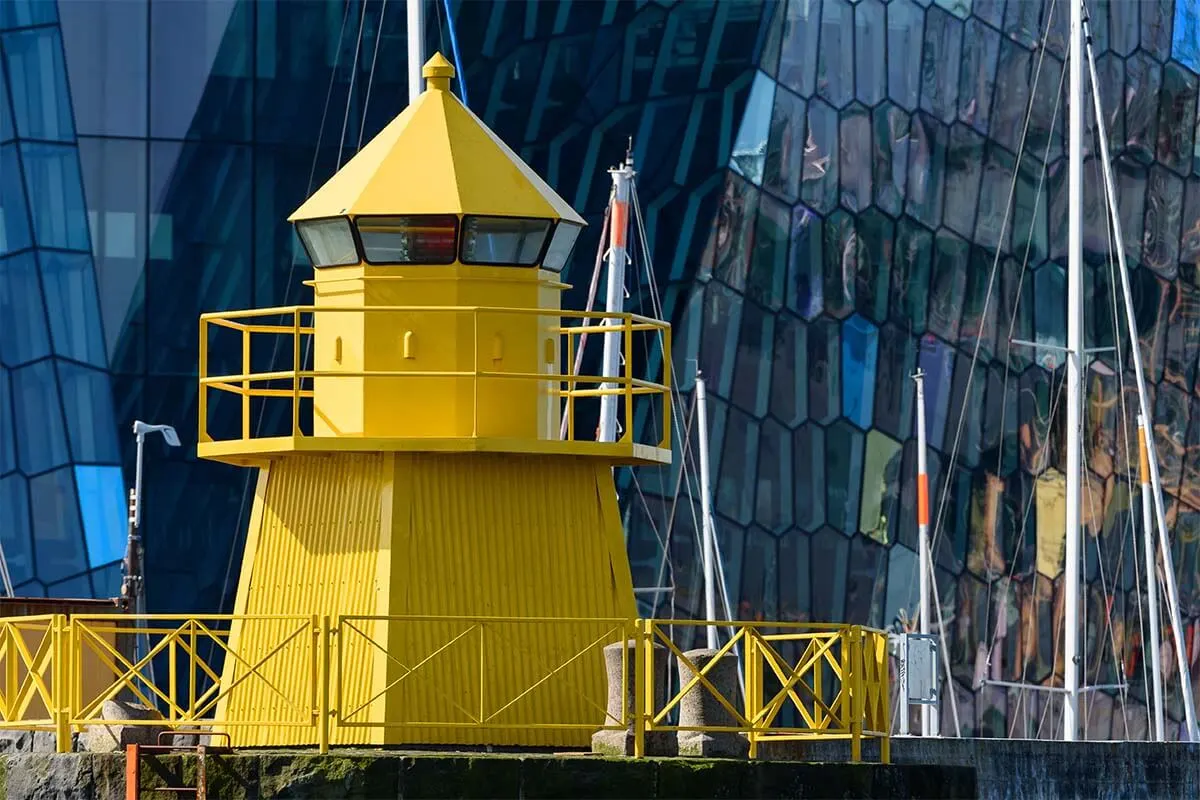 7. Experience the natural wonders of Iceland at Perlan Museum
Next, head over to Perlan, also known as The Wonders of Iceland. This is the most interesting museum in Iceland and has the potential of becoming your favorite place in Reykjavik.
True to its name, this museum is a great place to get acquainted with all the amazing natural wonders of the country. You can learn all about glaciers and volcanos, walk inside a real ice tunnel, see a reenactment of the biggest seabird cliff in Europe, and even enjoy an incredible Northern Lights show, Arora, at their planetarium.
In addition, the architecture of the building is very unique, and you also have great 360° views of Reykjavik and the surroundings from the observation deck. There are so many reasons to visit Perlan that we dedicated a separate article to it – see the link below.
Good to know: You'll need to allocate 2-3 hours for a visit to Perlan. For the Arora experience, you need timed-entry tickets. So if you don't want to waste time waiting for the next available show, it's best to book your tickets in advance. If following this exact itinerary, you could probably opt for +- 5.30 PM tickets. That way, if you arrive earlier, you can first visit other expositions in the museum or enjoy the views terrace.
Practical information: Perlan is open daily, usually from 9 AM to 9-10 PM, with some exceptions during holidays. The museum is located a bit outside the city center. If you have a car, the easiest way to visit is to drive here (and you can use the car for the rest of this itinerary too). Alternatively, you could walk to Perlan from Harpa in about 40 minutes, but it would eat up way too much of your time. So it's best to take a bus (line 18).
TIP: There is also a nice glass-dome restaurant at Perlan, where you can have dinner. Depending on how you decide to spend your evening, you could also get back to the city center where you'll find many more options – see below.
LEARN MORE: Complete Guide to Visiting Perlan Museum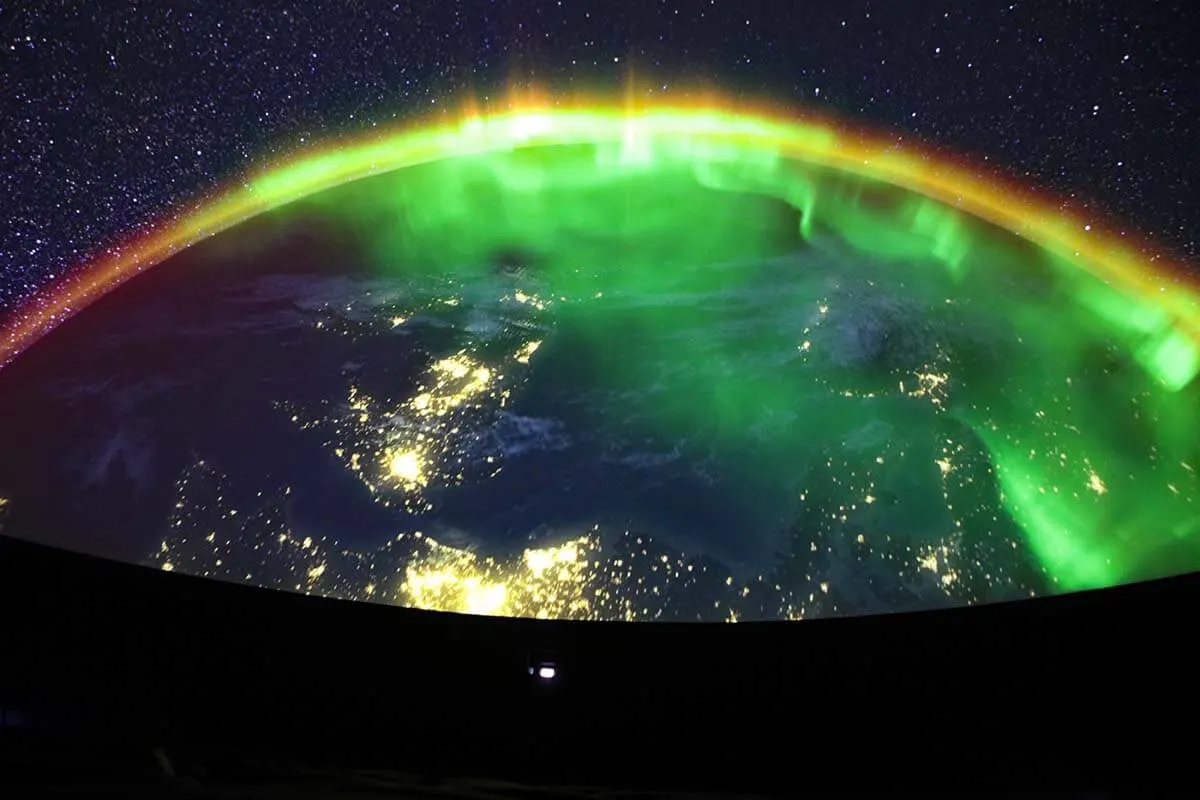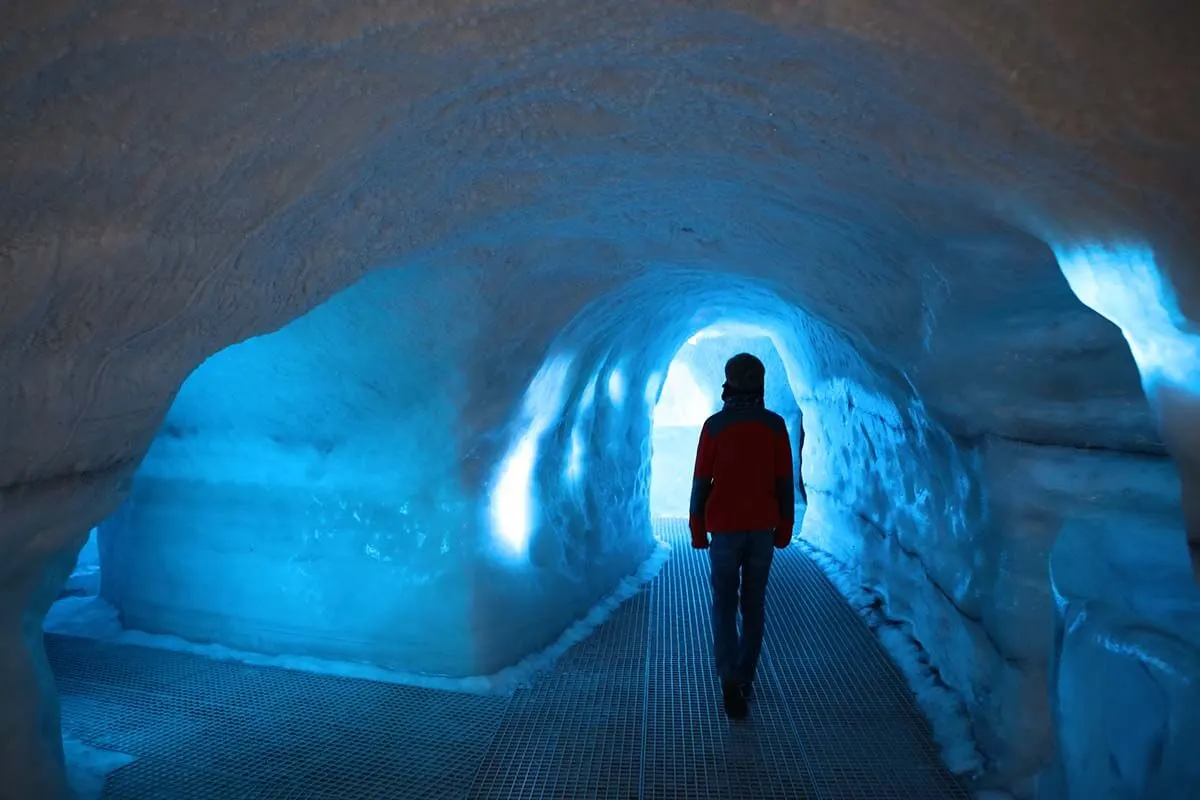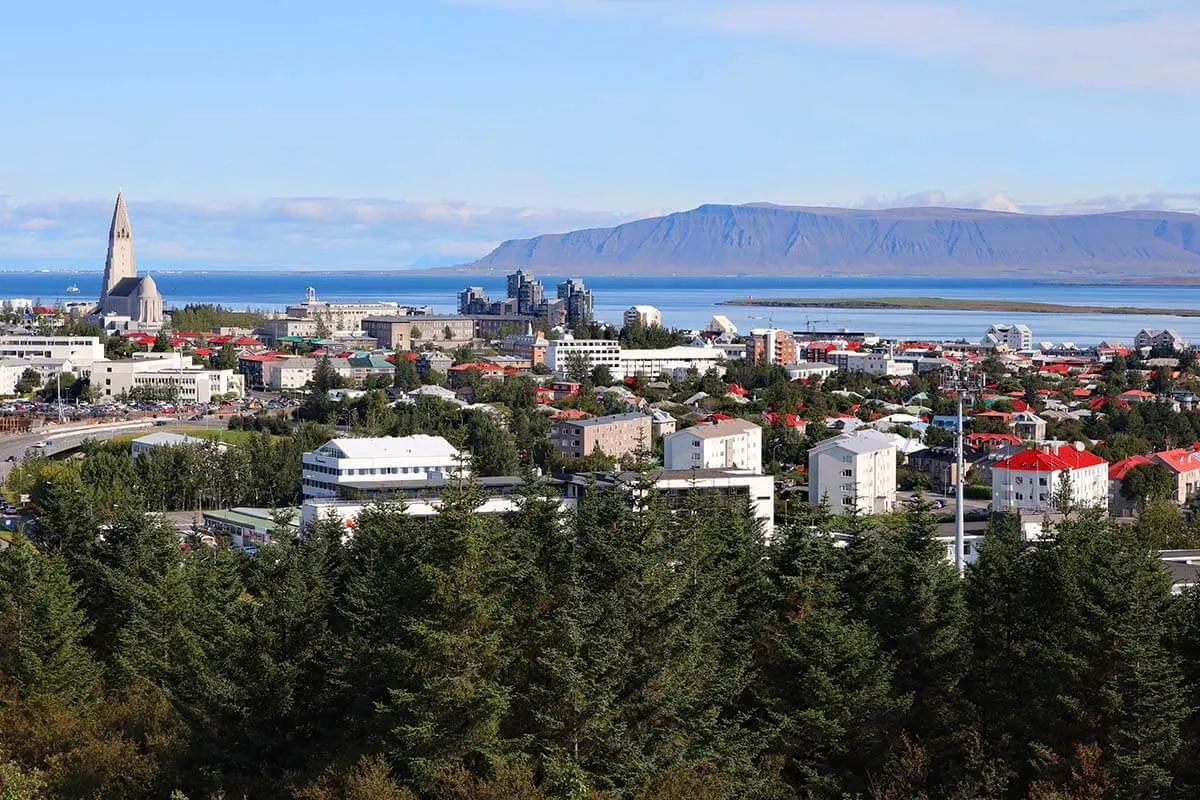 8. Dinner
Perlan Museum is just a short drive from the Sky Lagoon, the final stop recommended in this itinerary (see below). If you have a car or if you are planning to take a taxi, it would be a waste of time to return to the center for dinner.
So if you do indeed decide to end your day at the Sky Lagoon, we recommend having dinner either at Perlan or at the Sky Lagoon. Both places have good restaurants and the prices are in line with what you pay in the center.
If you decide not to visit Sky Lagoon, you can simply get back to the city for dinner, some souvenir shopping, or nightlife. Here are several restaurant recommendations in the old town.
If you want traditional Icelandic food, check out Café Loki. Another great restaurant for Icelandic food is Reykjavik Kitchen. Islenski Barinn is another very popular option for a big variety of traditional dishes; it's best to reserve in advance if you want to dine here. In most of these restaurants, you can try some Icelandic food such as meat soup, smoked trout, salmon, lamb, or even fermented shark.
TIP: If you decide to stay in the city center in the evening and are looking for something nice to do, pop inside the Magic Ice Bar. It's an experience that doesn't take more than 20-30 minutes and is really quite cool (pun intended). The Ice Bar is open until 10-11 PM, so it's something that you could even do later at night too.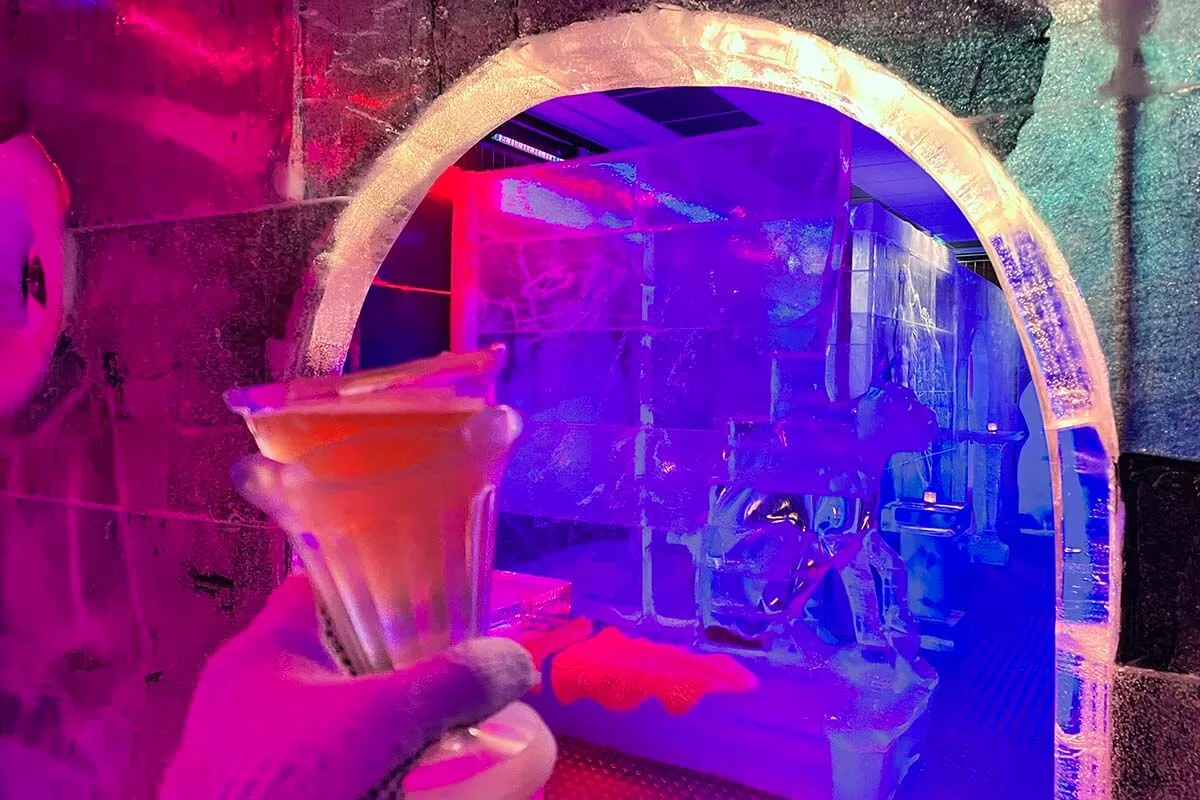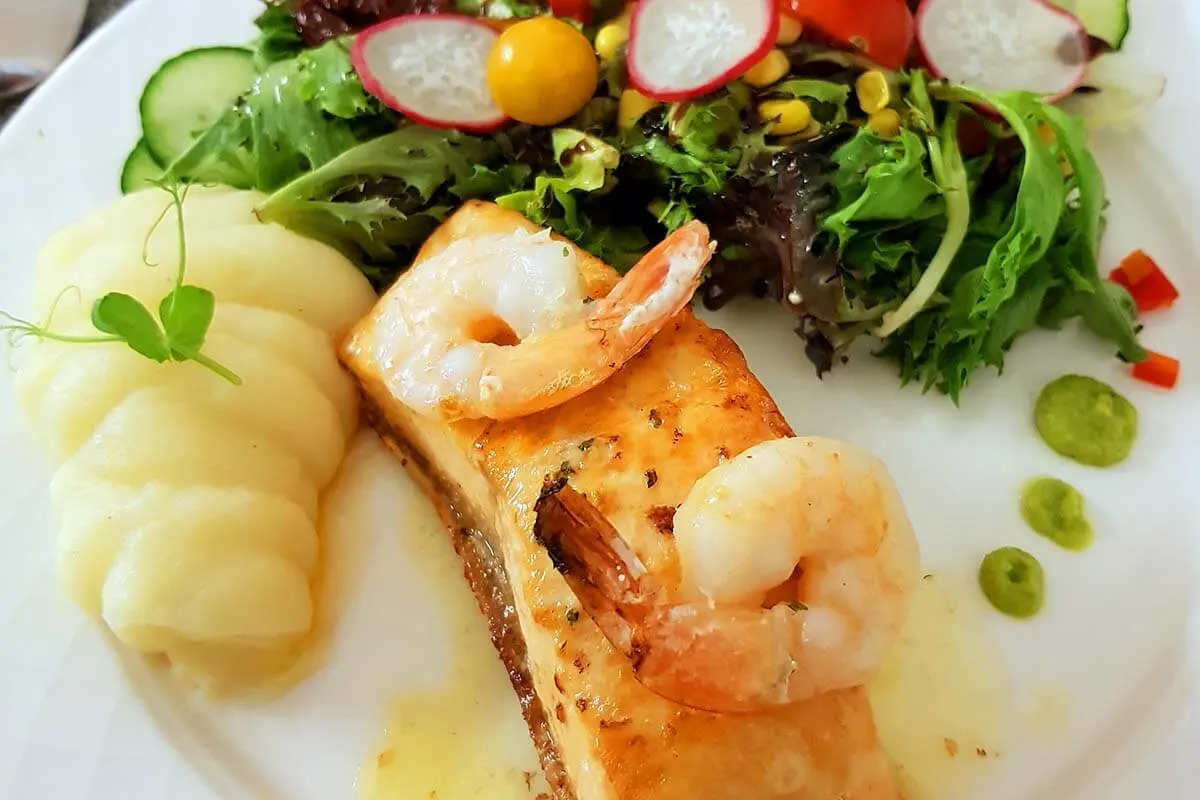 9. Enjoy the geothermal waters at the Sky Lagoon
One of the nicest ways to end your day of sightseeing in Reykjavik is with a soak in the warm geothermal waters that Iceland is famous for. Most pools in Reykjavik are open rather late, usually until 10 PM, so it's really simple to add the Icelandic bathing experience to your itinerary.
On a lower budget and less time (or if you don't have a car), you could simply opt for the public pool in the town center, Sundhöllin. But by far the nicest place to go is the Sky Lagoon, a short drive from the city center (and an even shorter drive from Perlan Museum). And yes, Blue Lagoon is also an option, but it's much further away and would require at least half a day. Plus, most of our readers agree that the Sky Lagoon is much nicer.
For families: You should know that kids under 12 are not allowed at the Sky Lagoon. If you are in Reykjavik with children, opt for the public pool Sundhöllin in the town center. It's a great alternative and is more relaxing with kids too.
The Sky Lagoon is the perfect place to relax, unwind, and reduce travel stress. It is an oceanside geothermal spa with an infinity pool and sauna with stunning sea views, steamy waters, and a swim-up bar. They have a 7-step ritual that involves the lagoon, a cold plunge, a sauna, a cold mist, a cleansing scrub, a steam room, and lastly, a shower to rinse off. You're bound to feel rejuvenated and ready to have a good night's rest after this experience.
If you're visiting between September and March, you may even get lucky to see the Northern Lights from here. This is just another reason to end your sightseeing day in Reykjavik at the Sky Lagoon.
Good to know: Sky Lagoon is open daily until 10 PM and the recommended time to spend here is about 1.5-2 hours. Be sure to book your timed ticket in advance!!! For this itinerary, we recommend the 7.30 PM time slot. Be sure to take your swimsuit with you (towels are included).
Getting there: The easiest way to get to Sky Lagoon is by car or by taxi. Taxis aren't cheap in Reykjavik, but if you take a taxi from Perlan, it's just a 10-minute ride, so it will likely cost about the same or even less than a bus transfer (and will save you a lot of time!), especially if you share the taxi with 2-4 people. There are also shuttle transfers from BSI Bus Terminal, but it would only make sense to book tickets with a transfer included if you are not going to Perlan, and are staying in town during the entire day.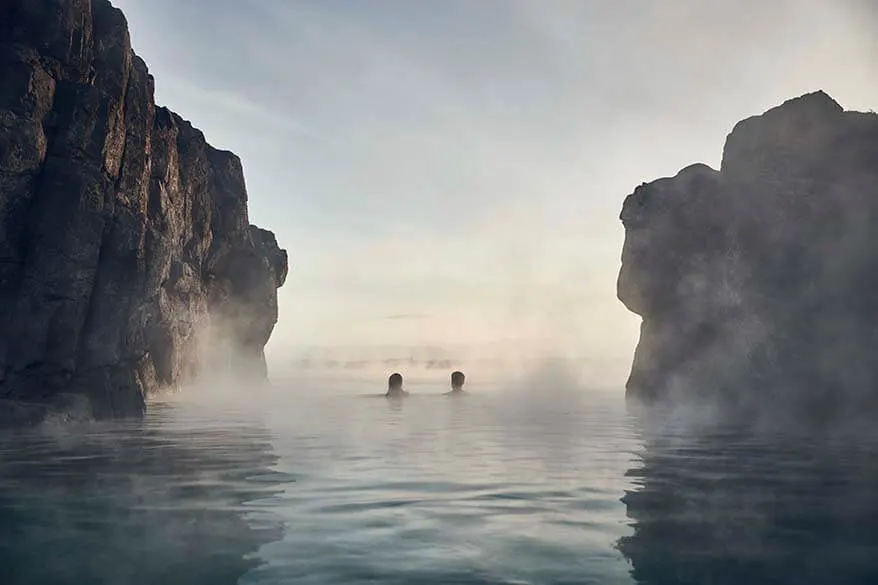 So, this is our recommended itinerary for an unforgettable day in Reykjavik. Below, you can see a short summary and also find a map indicating all the places mentioned in this article.
Reykavik 1-day Itinerary
Here's a summary of the above itinerary in a nutshell, with approximate hours, indicated just for your reference.
This is what your 1-day Reykjavik itinerary could look like:
9 AM: Sun Voyager & waterfront. Optional – breakfast/coffee at Sandholt.
10-10.30 AM: Hallgrimskirkja.
10.30 AM-Noon: Old town.
Noon: Lunch (try the famous Icelandic hot dogs).
12.30-3 PM: FlyOver Iceland and one or two museums.
3-3.30 PM: Harpa Concert Hall.
4-6 PM: Perlan (book timed-entry tickets for the Arora show in advance).
6-7 PM: Dinner.
7.30-10 PM: Sky Lagoon (be sure to book tickets in advance!).
As already mentioned, you can also opt for this popular 2-hour city walking tour in the morning and then continue with our suggested itinerary in the afternoon. So you'd visit all the museums like Perlan, FlyOver Iceland, and the Sky Lagoon after the tour.
Good to know: Depending on the season when you visit, you could turn things around and e.g. start your day with a visit to Perlan Museum, before heading to Hallgrimskirkja, the waterfront, and the old town. If you are visiting Iceland in summer when the days are endless, it's less important what you choose to do first or last.
However, there are several reasons why we recommend this specific order for this itinerary:
First, Perlan Museum is open late, and it's a place you can enjoy when it's dark. So if you are visiting Reykjavik in the darkest winter months, you'll want to use the best daylight hours to see the old town.
Second, Perlan has a lot to offer and so you may spend more time here than first anticipated. Again, it's easier to do this if you visit it towards the end of the day, when you already covered all the other landmarks, so you don't have to rush.
Third, if you would want to join a walking city tour or a food tour at lunch, it's easier to plan it in the morning/early afternoon. That way, you can get a nice introduction to the city and can afterward explore on your own.
And finally, Perlan is located on the way to the Sky Lagoon, so it's the most logical choice logistically. Take a look at the map below and you'll see how it all fits together!
Map
To help you plan your time and get a better idea of where everything is located, we created this map indicating all the places in Reykjavik mentioned in our itinerary.
How to use this map: Use your computer mouse (or fingers) to zoom in or out. Click on the icons to get more information about each place. Click the arrow on the top left corner for the index. Click the star next to the map's title to add it to your Google Maps account. To view the saved map on your smartphone or PC, open Google Maps, click the menu and go to 'Your Places'/'Maps'. If you want to print the map or see it in a bigger window, click on 'View larger map' in the top right corner.
Some useful tips for visiting Reykjavik
Plan at least one full day in the city. As you can see, there is a lot to experience!
If you have more time, take a few (half) day trips from Reykjavik! There are so many amazing places to see nearby! Here are some recommendations:
Prebook all the experiences that you absolutely don't want to miss in advance! Reserving timed-entry tickets for the Sky Lagoon is essential.
Take a credit card. You really don't need cash in Reykjavik.
Carry a refillable water bottle (Icelandic water is delicious) and pack your swimsuit!
FOR MORE GENERAL INFO: Iceland Travel Tips
FAQ
Is one day enough in Reykjavik?
Reykjavik has a lot to offer, so you could spend a few days here. However, one day is definitely enough for the main landmarks and highlights in the city center of Reykjavik.
What are the must-see places that you shouldn't miss in Reykjavik?
With a day in Reykjavik, don't miss the old town, the views from Hallgrimskirkja tower, Sun Voyager, and Harpa. Perlan Museum and FlyOver Iceland experience are also among the must-sees. In addition, we highly recommend a visit to the Sky Lagoon.
Is Reykjavik easy to walk around?
Yes, Reykjavik is a very walkable city and you can explore all the main sights in the old town, the waterfront, and the old harbor on foot. You could even walk to Perlan, but for this museum and other places further away from the center, we recommend using a car or public transportation.
Is there Uber, Lyft, or Bolt in Reykjavik?
No, there is no Uber, Lyft, or Bolt in Reykjavik. You can use public buses or get taxis for short distances in Reykjavik. But you really don't want to pay for a taxi for longer distances outside of town. For further rides, rent a car, book tours, or opt for shuttle transfers (where available).
Is Reykjavik safe?
Yes, Reykjavik is a very safe town to explore on your own. Crime rates in Iceland are among the lowest in the world.
So, this sums up our 1-day Reykjavik itinerary. If you have more time, you could easily spend several days in Reykjavik sifting through museums, shopping, eating, swimming, and admiring the beautiful scenery. But if your time is limited, this detailed itinerary and tips will surely help you plan the most amazing day in Reykjavik.
We hope that our recommendations got you excited about your upcoming visit and that you found plenty of inspiration for places to see in the city. For many more guides, itineraries, and useful tips for your trip, be sure to check our Iceland travel guide.
Have a great trip!
READ ALSO: Most Beautiful Places to Visit in Iceland
If you found this post helpful, don't forget to bookmark it and share it with your friends. Are you on Pinterest? Pin this image!