Are you traveling to Iceland soon and wondering what to pack for Iceland and what to wear in Iceland?
First, let me tell you that there is not one Iceland clothing list that fits all seasons. What to wear in Iceland depends on when you travel to Iceland.
In this article, you can find Iceland clothing advice for summer. By summer I mean the warmest months from mid-May to mid-September, and that's already stretched.
Summer is a relative term in Iceland, with average July temperatures around just 10–13 °C (50–55 °F). If you are extremely lucky, you will have a day or two with temperatures above 20°C (68°F) and maybe even some sunshine. Most likely, you will have the two extremes within a week or will experience all four seasons in just a day.
TIP: If you are traveling to Iceland in winter months (October to April), here you can find more information on what to pack and what to wear in Iceland in winter.
This Iceland packing list will answer your questions about what to wear in Iceland in June, July, or August. You can also use it for Iceland clothing advice for May and September, but in those months I would definitely go for a warmer jacket and also a full set of thermal underwear as well as wool socks.
No matter when you travel to Iceland, remember that waterproof clothing and layers are a must. Below you can read all about what to pack and what to wear in Iceland in summer. Find out!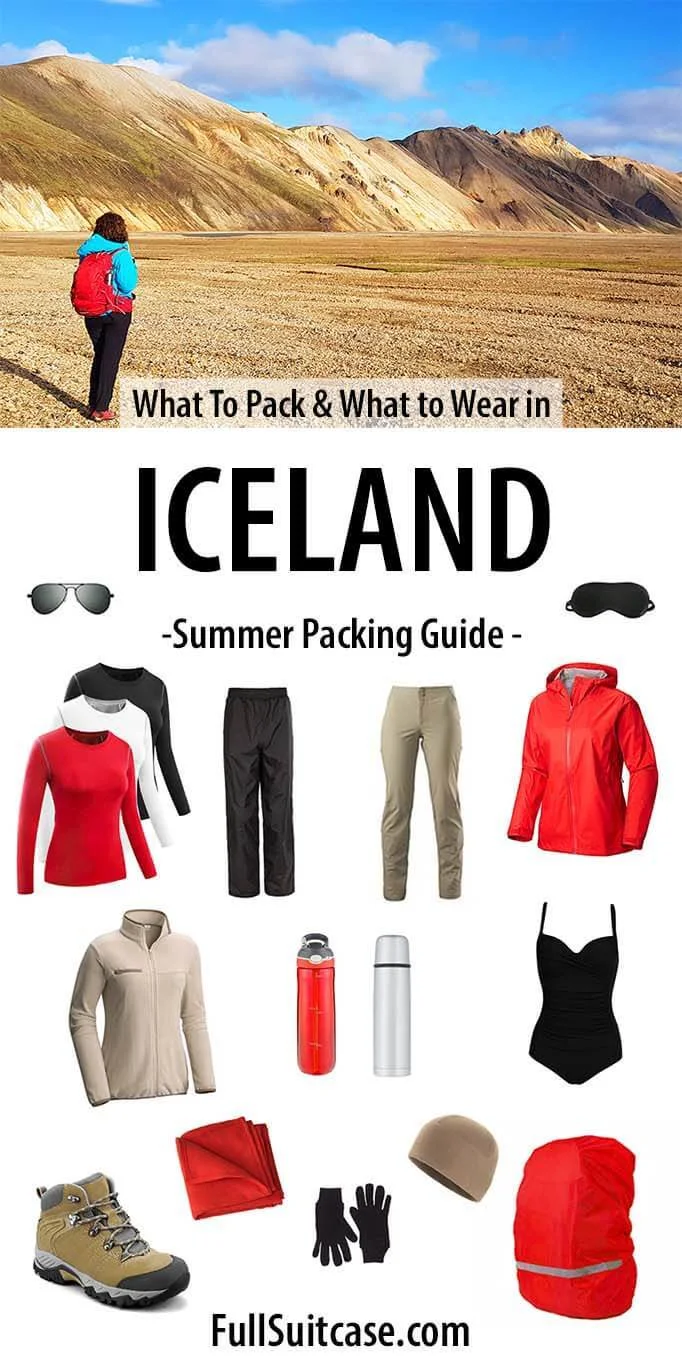 Iceland Summer Packing List – OVERVIEW
Waterproof hiking shoes
Waterproof jacket
Layers of short- and long-sleeved shirts and sweaters
Hiking pants and rain pants
Gloves, buff, winter hat
Sleep mask
Swimsuit, towel, and flip-flops
Reusable water bottle and a thermos
Day backpack and rain cover
Sun protection
Moisturizers
Mosquito head net
European electrical adapter
Camera gear
Power bank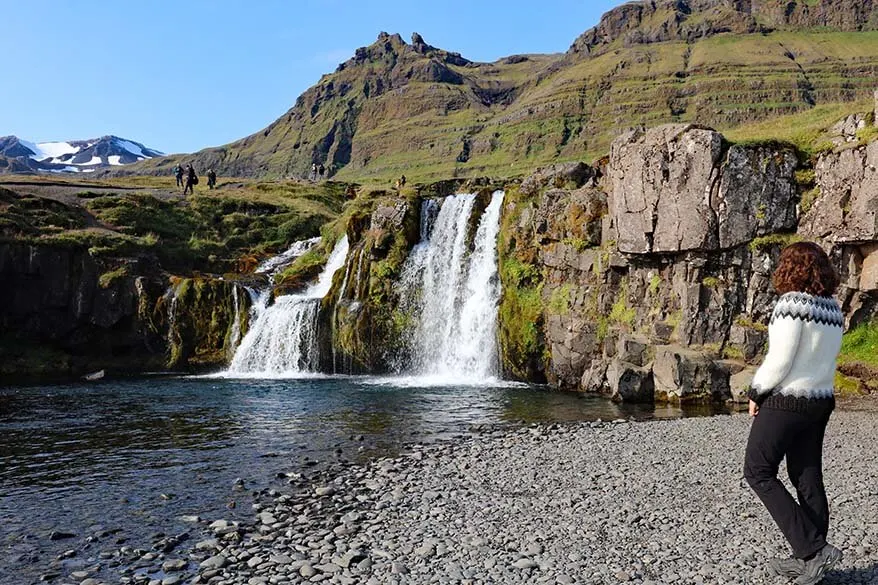 What to Wear in Iceland in Summer
Below is a list of Iceland clothing essentials that you shouldn't forget to pack for Iceland in summer. I didn't include any obvious items, as I assume you don't need anyone telling you to pack underwear and socks.
This list also doesn't include any regular clothing, but of course, you should also pack some jeans or light pants to wear at dinner. I also recommend packing light shoes to wear in your hotel in the evening.
This Iceland packing list is meant to help you with packing for Iceland, beyond the usual clothing and packing essentials that you would take on any other trip. Find out!
Waterproof hiking shoes
If you pack just one pair of shoes to Iceland, take sturdy waterproof hiking shoes. If you are serious about exploring Iceland even a little bit, you will need good footwear. If you are planning to visit any of the natural wonders of Iceland, you should opt for waterproof slip-resistant shoes or, ideally, waterproof hiking boots.
You will need good sturdy hiking boots if you are planning to go on a glacier hike in Iceland as well.
I know some people also like to use waterproof socks and they told me it's one of the most useful items they have packed for Iceland. So it's worth looking into these, especially if you are planning to do any hiking.
Some others who don't feel like investing in new waterproof hiking boots opted for waterproof shoe covers. However, I would only recommend these if you are only visiting Iceland for a day or two and your time outdoors is really limited.
There are many affordable waterproof hiking boots and I think that having dry feet are extremely important if you want to enjoy Iceland. Below you can find some examples of waterproof hiking shoes that should be suitable for regular sightseeing trips in Iceland in summer.
What do we wear? My husband and I now own these Lowa Renegade GTX hiking boots and have used them on various trips in Iceland (and also in Norway, Greenland, Switzerland, etc.). We had these hiking boots for several years and I can't fault them in any way. Worth every cent.
Our kids have had various hiking shoes (since their feet keep growing, we keep on buying new ones for every trip). Some of the best waterproof hiking shoes they had recently are these waterproof hiking boots from Salewa. However, these seem to be only sold in Europe, I haven't seen them in the USA. You will find similar price/quality with the Merrell hiking shoes for kids.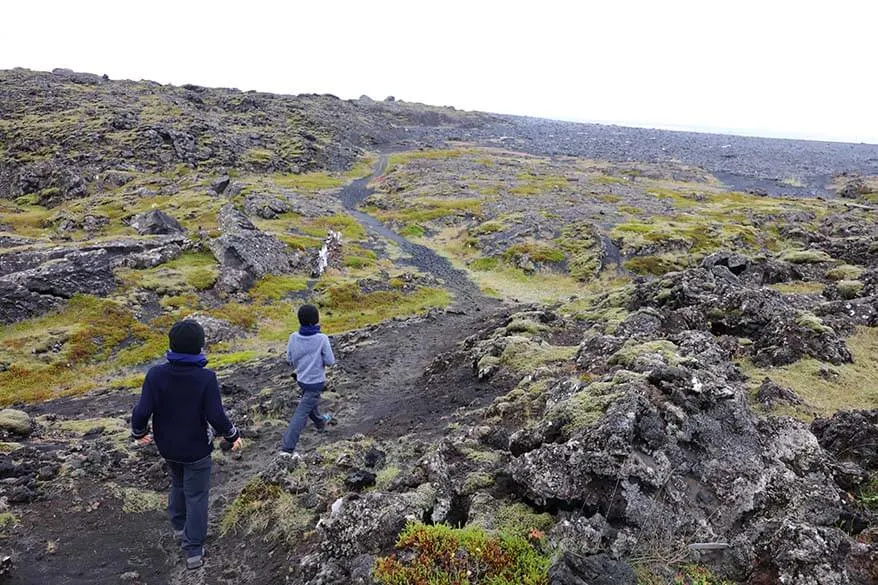 Waterproof jacket
You have absolutely no use for an umbrella or a water-resistant jacket in Iceland. Your outer layer has to be wind- and waterproof!
Even in summer, a thin K-way will probably not be sufficient, so you may want to get one of those 3-in-1 jackets or a waterproof jacket with more insulation. In July and August, you may be ok with a light rain jacket, but it really depends on the weather you get. In any case, make sure you always pack enough layers to wear underneath in case it gets really cold!
I would definitely opt for a thicker jacket when traveling to Iceland in any season, as memories of the snowstorm we had in Iceland in June are still very vivid…
What do we wear? When traveling in Iceland in summer, we always pack a light rain jacket with some space to layer up underneath when needed. For years, our entire family had Vaude Escape rain jackets. They are excellent for travel.
When we expect it to be colder and drier, we sometimes also opt for a packable puffer jacket, plus – when it rains – a very light k-way-style packable rain jacket on top. Or you could just opt for a 3-in-1 jacket instead, especially if visiting Iceland in May-June or in September.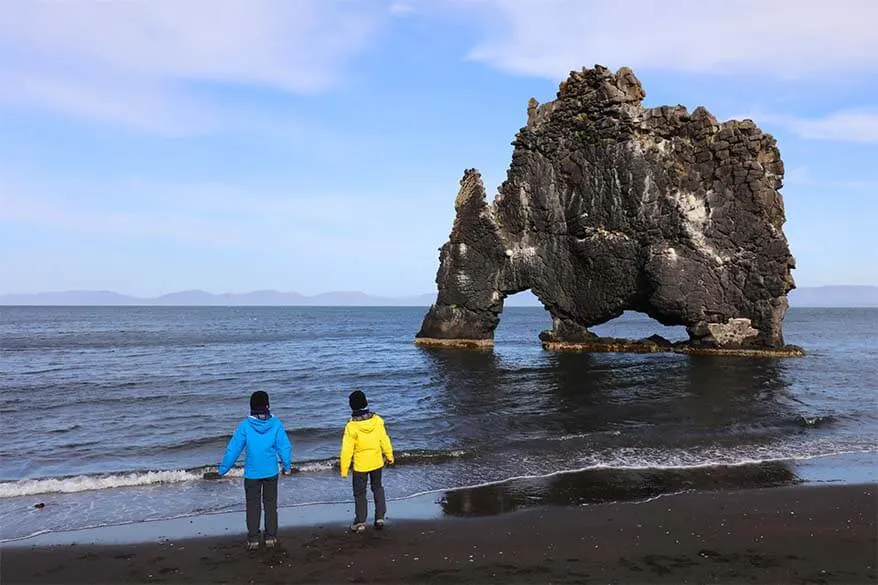 Layers of short- and long-sleeved shirts and sweaters
One of the first things any Icelander will tell you when you ask what to wear in Iceland is that you need to wear many layers.
The weather changes often and so it's best to wear plenty of layers that you can put on or take off when necessary.
Ideally, you have 3-4 layers at hand. In summer, I would go for a T-shirt or a long-sleeved thermal shirt, a sweater or a light fleece, a zip-up sweatshirt or zip-up fleece jacket, and a waterproof jacket. A warm vest might be nice to have if you are planning activities like hiking.
What do we wear? For Iceland in summer, we usually pack t-shirts and a few long-sleeved shirts, coupled with a few light fleeces that can be layered if needed. We also always pack one warm wool sweater per person and usually wear it every day. I own an Icelandic wool sweater and my husband and kids just take the warmest wool sweater they have at that moment.
Hiking pants and rain pants
I usually wear jeans when we travel (I wore jeans in Iceland when we visited Iceland for the first time in June 2006), but I can tell you that Iceland is not an ideal destination for jeans.
Jeans have one huge disadvantage – they take forever to dry. I would still pack a pair of jeans to wear when you go out for dinner or in your hotel in Reykjavik, but for sightseeing, during the day, I would recommend wearing hiking pants.
I suggest to also pack a pair of waterproof rain pants as well, especially if you are planning on spending lots of time outdoors. When it rains in Iceland, it pours. Rain ponchos are useless in Iceland because of the wind. So it's best to have light rain pants in your backpack at all times so that you can quickly put them on when it starts to rain.
What do we wear? We wear simple hiking pants (something like this) for 90% of our time in Iceland, plus we always take waterproof rain pants with us. In the evenings, in the city, or when we go to a restaurant, we usually simply wear jeans.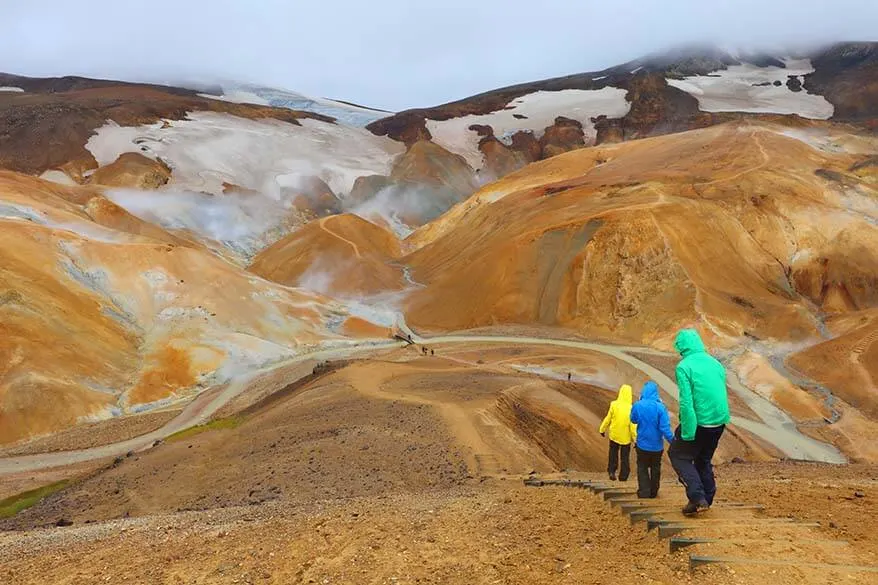 Gloves, buff, winter hat
When packing for Iceland, you really should take gloves, buff, and a warm hat. Yes, even in the summer!
You will definitely need gloves and a warm hat for whale watching excursions, glacier hiking, and definitely if you are camping in Iceland.
Do you need shorts and T-shirts in Iceland in summer?
If you are extremely lucky, you might have a day or two with summer temperatures in Iceland in July or August, but don't count on it. I would definitely pack T-shirts to wear as the under-layer. As for the shorts, you might find the zip-off travel pants more practical.
Do you need smart clothing or summer dresses in Iceland?
If you plan to get acquainted with the (supposedly) vibrant nightlife of Reykjavik, you might want to pack a set of smart clothes and shoes for Iceland. Otherwise, leave them at home. Summer dresses are of no use for sightseeing at all.
Iceland clothing for tourists should be mostly focused on waterproof outdoor clothing. If you really want to enjoy Iceland, you need to dress comfortably and stay dry.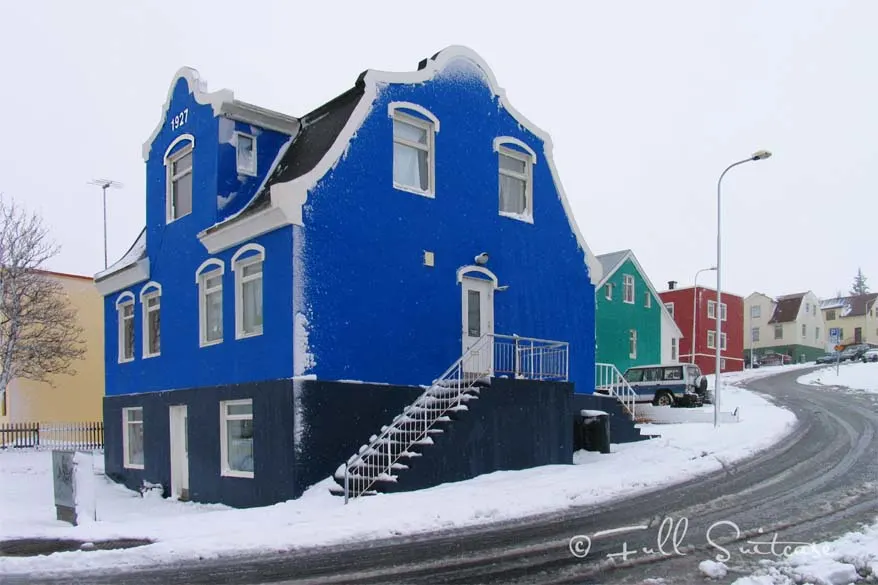 What to Pack for Iceland in Summer
Sleep mask
If there is one thing you don't want to forget when traveling to Iceland in summer, it's a good sleeping mask. You know, one of those eye masks that are designed to keep all the light away from your eyes and help you fall asleep.
It stays light 24 hours a day in the Nordics in summer. And so it hardly gets dark in Iceland in the months of May, June, and July. While it's fun to experience the midnight sun, it's definitely not fun if you are trying to get some sleep. And you cannot count on finding blackout curtains in the hotels outside Reykjavik.
We didn't think of this the first time we went to Iceland (in June) and I remember we used buffs to cover our eyes to be able to fall asleep. Not very comfortable, as you can imagine, but it gave us a nice picture and lots of sleepless memories.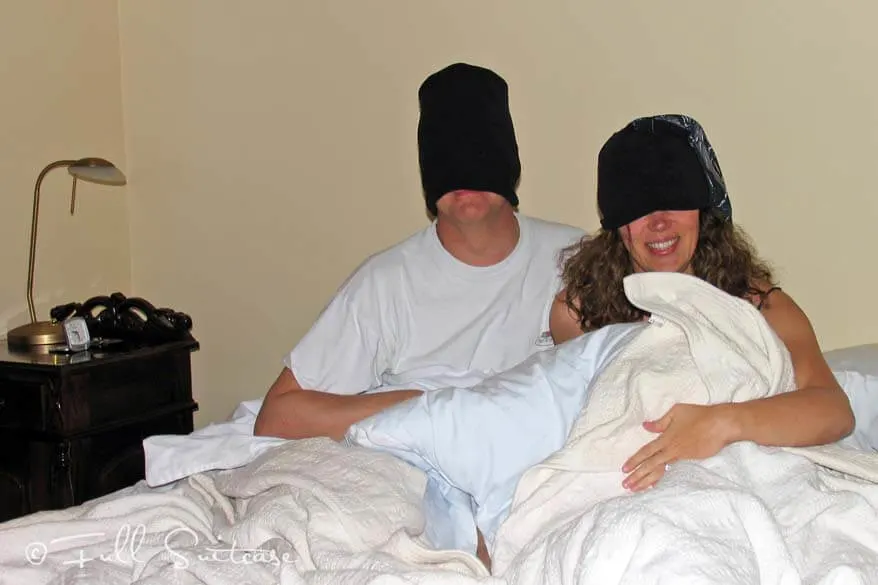 Swimsuit, towel, and flip-flops
Iceland is famous for its hot water springs and geothermal pools and there is nothing better than a relaxing hot tub after a long day outdoors. So when packing for Iceland, make sure to pack a swimsuit, a towel, and also flip-flops with you.
A quick-drying microfiber towel is also nice to have when traveling around Iceland. Some swimming pools rent towels, but they are quite expensive. And if you go swimming in natural hot springs, then you definitely want to have your own towel with you.
PRO TIP: You can visit local pools in Iceland without much advance preparation. However, if you are planning to go for a soak in the famous Blue Lagoon, it's essential to book in advance! It's also the case if you want to go to the Sky Lagoon in Reykjavik.
Reusable water bottle and a thermos
Tap water is absolutely pristine in Iceland and it's very convenient if you have a reusable water bottle that you can refill during the day.
I would definitely pack a travel thermos as well. I took one with me on the last two trips to Iceland and filled it with warm tea at the hotel every morning. It's so nice to be able to enjoy a warm drink after a walk in the cold and the rain!
Day backpack and rain cover
Even if you don't plan on doing longer hikes, you will be walking a lot in Iceland. It's convenient to have a small day backpack, where you can stash all your clothing layers and travel gear.
Waterproof backpacks are expensive, but a backpack rain cover is the best cheap travel item that you'll be glad you packed for Iceland. It's an absolute must!
I usually pack this 30-liter backpack for our outdoor adventures. It comes with an integrated rain cover included.
Sun protection
As everywhere else, you need sun protection in Iceland in the summer as well. Sun cap, sunglasses, and sunscreen should always be in your backpack.
Moisturizers
Face lotion or face cream and a lip balm are must-haves when packing for Iceland. The sun and the wind are particularly harsh for your skin in Iceland, so don't forget these simple travel essentials.
Mosquito head net
Some areas of Iceland, especially around Myvatn Lake (Mosquito Lake), are full of black flies in summer. If you happen to be there when the flies arrive, you really want to have a mosquito head net.
There are two periods in the summer when there are massive swarms of flies in the Myvatn area. Unfortunately, it's impossible to predict in advance when exactly the flies will be there.
Mosquitoes should not be a big concern in Iceland. There are very few mosquitoes, so normally, you don't really need a mosquito spray.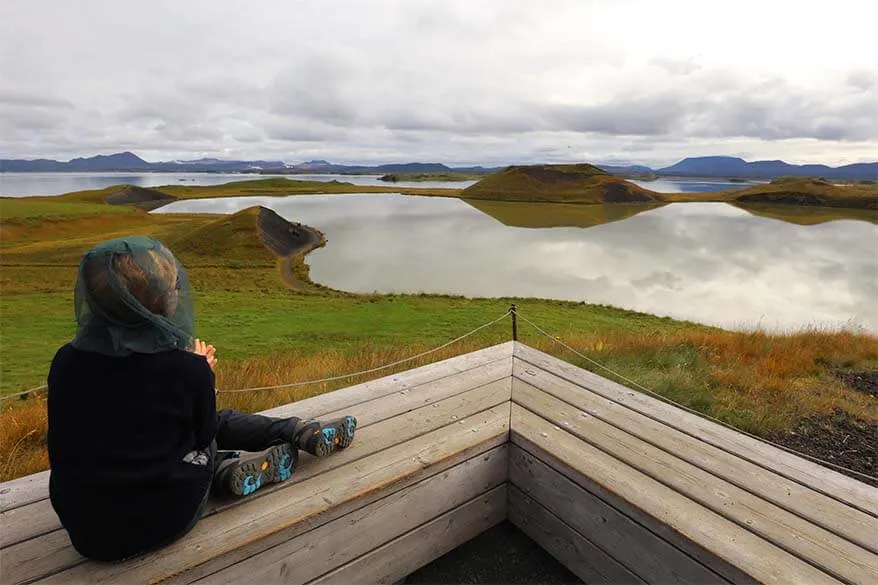 European electrical plug adapter
Electrical sockets in Iceland are standard European electrical socket types C and E. If you have European appliances, you can just use them in Iceland as you would at home. If you are traveling from outside of Europe, make sure to bring a European travel adapter.
Camera gear
When packing camera gear for Iceland, make sure that you have plenty of batteries and memory cards with you. Rural Iceland is really rural, so you might not be able to find these items for sale.
I recommend packing a good travel tripod for Iceland. It's a must if you want to take silky waterfall pictures.
If you are planning to go whale-watching or want to see puffins in Iceland, I also recommend packing a good zoom lens (e.g. 70-200mm or 70-300mm) for your camera. If you are not sure what camera gear to pack, please check our guide to camera gear for wildlife photography.
Portable charger
I really recommend taking a good power bank with you when packing for Iceland. The days are long in the summer and the chances are high that your phone will be empty long before you had finished sightseeing for the day.
Washcloths
If you are used to using washcloths at home, you may want to pack a few of them to Iceland. You won't find them in the hotels here.
So, this is our packing list for Iceland for summer. I recommend that you download our printable Iceland packing list as well – you can do so via the form below. It's a great checklist to make sure you don't forget anything when packing for Iceland.
If you have any additional questions about Iceland clothing or packing for Iceland for the summer months, don't hesitate to leave a reply below.
Alternatively, join our Iceland and Scandinavia travel group on Facebook. It's a great place to ask any questions about your upcoming trip to Iceland.
What to Pack for Iceland – FAQ
What clothes should you always bring to Iceland?
No matter in which season you visit Iceland, you should pack a waterproof outer layer, waterproof shoes, a couple of sweaters, gloves, a fleece hat, and a buff or scarf. In summer, rain pants and a rain jacket will do, whereas in winter, you also need warm base layers, a wool sweater, an insulated waterproof jacket, and winter pants.
What kind of shoes should I wear in Iceland?
If you are visiting Iceland in summer and are not planning any adventurous outdoor activities, you could just wear sneakers or trainers. However, if you are planning to visit many outdoor destinations, we recommend wearing waterproof hiking shoes. In winter, waterproof winter boots with a good grip are a must.
Do I need waterproof jacket for Iceland?
A good waterproof jacket is truly essential when packing for Iceland in any season. Water-resistant or softshell jackets aren't ideal for Icelandic weather because when it rains (it WILL rain), you'll get soaking wet in a matter of minutes.
Do I need waterproof pants for Iceland?
Wind- and waterproof pants are very useful in Iceland. They are definitely essential if visiting in winter, but also in summer, you should pack light rain pants for nature excursions. Iceland is known for its notorious winds and 'horizontal' rain, so if you want to enjoy the outdoors, you better make sure that you stay dry and warm!
More tips for your summer trip to Iceland:
Itinerary suggestions:
Some of our favorite places in Iceland:
MORE TRAVEL INSPIRATION & TIPS: Iceland Travel Guide
If you found this post useful, don't forget to bookmark it and share it with your friends. Are you on Pinterest? Pin these images!