Planning a trip to Iceland and wondering if it's worth visiting the Westfjords if you are short on time? Or maybe you are looking for ideas on what to see and do in the Westfjords if you only have a day? Read on!
We've been to Iceland quite a few times but never made it to the Westfjords. So on our recent trip, we decided to finally visit this remote part of Iceland. However, as it often goes, we wanted to see so many places and had little time. So we could only squeeze one day in the Westfjords in our itinerary.
Before our recent 10-day Iceland road trip, I spent a lot of time researching whether it was even worth visiting West Fjords for just a day. And, if we decided to go, how to best plan our time. After all, we also wanted to see some of the main landmarks of the region and not spend all our time in the car… It turns out that the Westfjords are well worth it, even if you just have a day!
In this article, I share our experience with visiting the southern part of the Westfjords and my suggested Westfjords itinerary for one day with a map. Take a look!
Good to know: This is a summer itinerary, from approximately May to October. Traveling in the Westfjords in winter is much more challenging and most of the nicest places can't be reached between November and April-May anyway.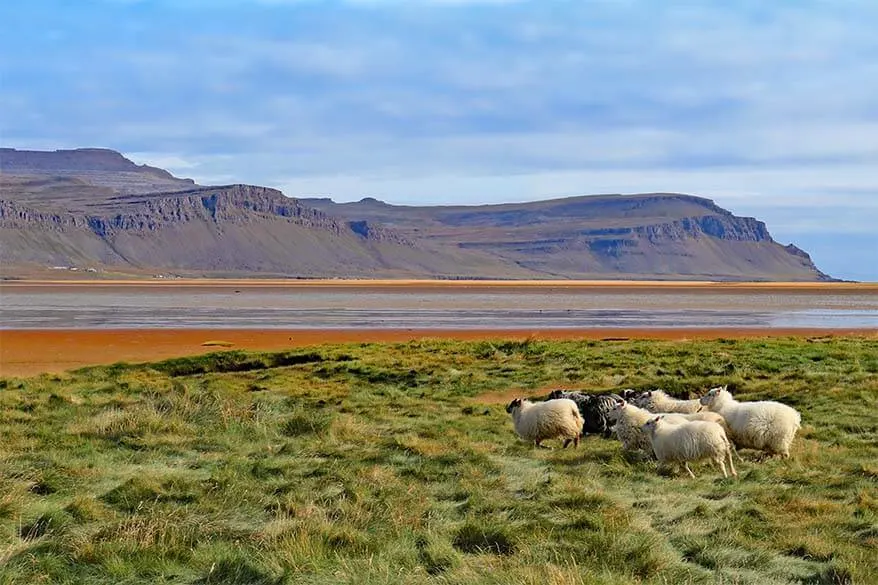 Is Westfjords Region Worth a Trip?
Yes, the Westfjords region is absolutely worth a trip! There is so much to see here: vast landscapes, beautiful fjords, stunning waterfalls, quirky villages, hot pools, endless beaches, puffins, and more sheep than people. This remote part of Iceland is a true hidden gem. It's well worth getting off the beaten path to discover it!
Ideally, you plan at least 3 days to drive around the Westfjords region and visit its main attractions. Many roads here aren't paved yet and so this is a place for slow travelers.
However, even if you only have 1 day in the Westfjords as we did, it's still worth a trip. You won't be able to see everything, but if you plan well, you can see a lot in a day. Find out!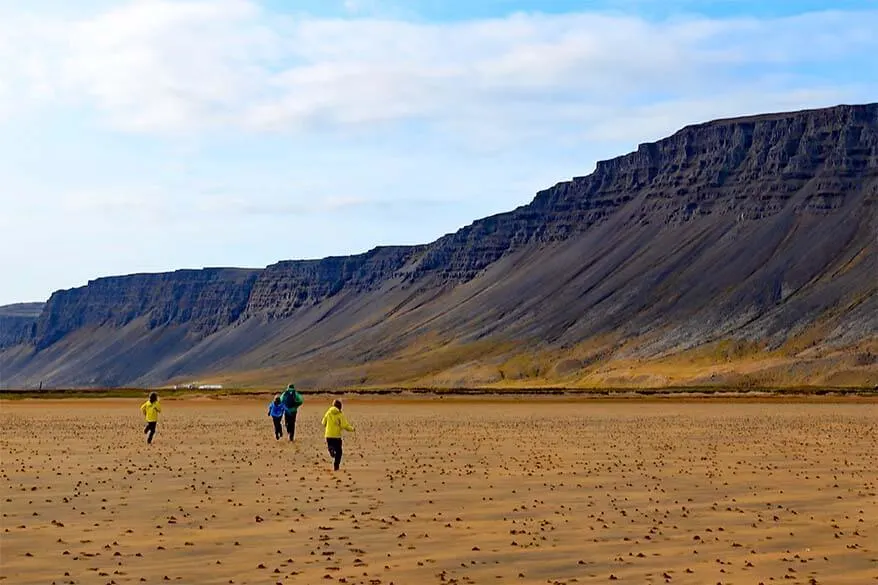 Westfjords in One Day – Things to Do
With just one day in the Westfjords, I suggest that you focus on the southern part of the peninsula. You can easily visit Dynjandi Waterfall, Raudisandur Beach, and potentially Látrabjarg in one day.
These are the three main sights and there are also some nice stops to consider along the way. However, with limited time in the region, you should focus on the main landmarks first and decide on the extra stops on the day itself.
Because driving distances in the Westfjords are big and many roads are gravel, you'll need to spend a night here. Further below, you can find our suggestions on how to best plan your short visit to this region. I also include a map indicating all the places mentioned in this article. Read on!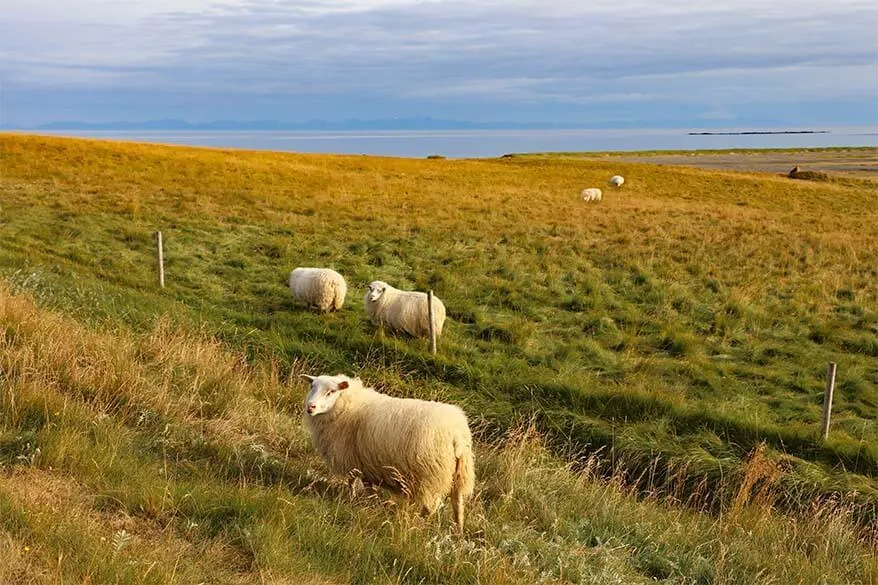 Best things to do in the Westfjords in one day:
Dynjandi Waterfall
Dynjandifoss is one of the most beautiful waterfalls in Iceland. Dynjandi is actually home to seven waterfalls and not just one, but it's the top waterfall that is the best known and the most impressive. Its bridal-veil-like shape is truly unique and makes it well worth a trip to this remote part of Iceland.
The waterfalls cascade down the mountain and into a beautiful fjord below. The surrounding scenery here is stunning and no pictures or videos do this place justice. You just have to see it in order to experience what it's truly about!
How much time do you need: You need 2-3 hours to visit Dynjandi if coming from the south of the peninsula. It takes at least an hour to drive there from Flókalundur and back. Plus, you should count about 1 – 1.5 hours at Dynjandifoss itself.
READ MORE: Dynjandi Waterfall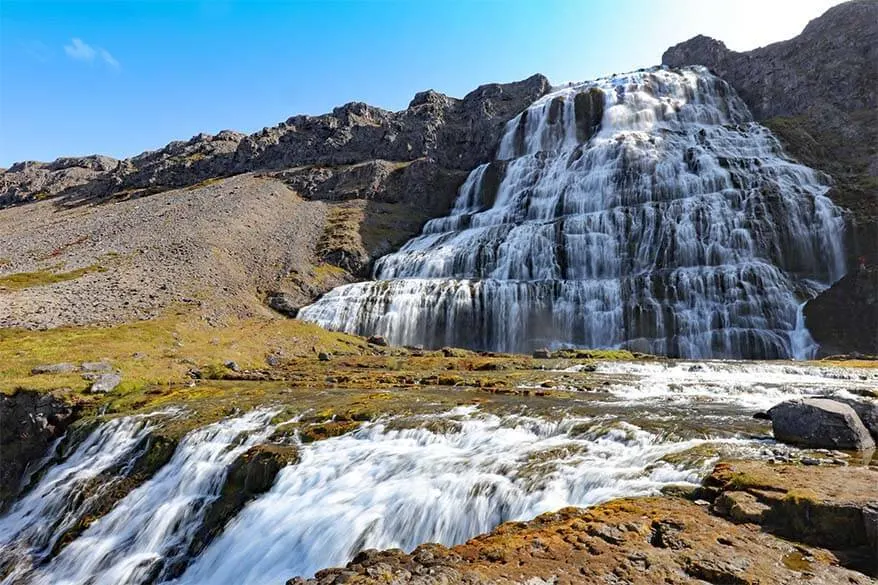 Rauðisandur Beach
Raudisandur Beach (aka Raudasandur) is hands-down our favorite place in the Westfjords. This is one of the very few beaches in Iceland that's not covered in black, and the landscapes here are also so vast and unique that it will take your breath away.
Furthermore, the beach is huge and there are hardly any people here. If the Westfjords is a hidden gem of Iceland, then Raudisandur is a hidden gem of the Westfjords. So get there before the rest of the world finds out!
The colors of Raudisandur are constantly changing depending on light conditions and tide. The best time to visit Raudisandur is at low tide on a sunny day. That's when you can experience this beach in its full glory and see it change color in red, orange, yellow, and brown tints.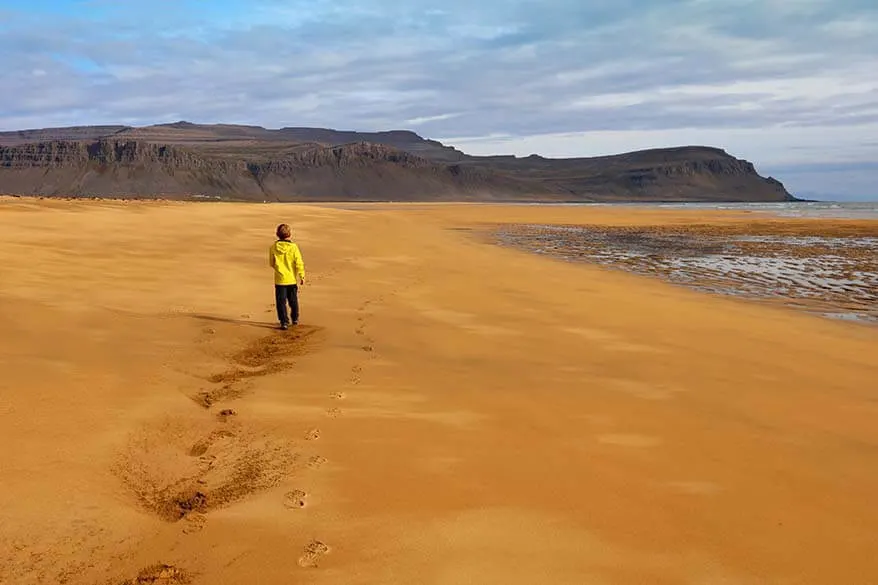 There is also a little church here, Saurbaejarkirkja, and a small cafe Franska Kaffihusid that serves delicious cakes and Icelandic waffles. In the distance, you can also see the cliffs of Latrabjarg.
You can spend just a few minutes at Raudisandur or you can stay here for several hours. The choice really depends on you and also on the weather and tide conditions.
How much time do you need: As a minimum, you'll need about 1 hour to visit Raudisandur. It's located about 11 km off road 612 in the direction of Látrabjarg, so it will take you about 30-40 minutes just to drive there and back to the main road. Plus 20-30 minutes to look around. Add at least 1 hour extra if you want to go for a walk on the beach or get delicious waffles at the cafe by the beach.
READ MORE: Raudisandur Beach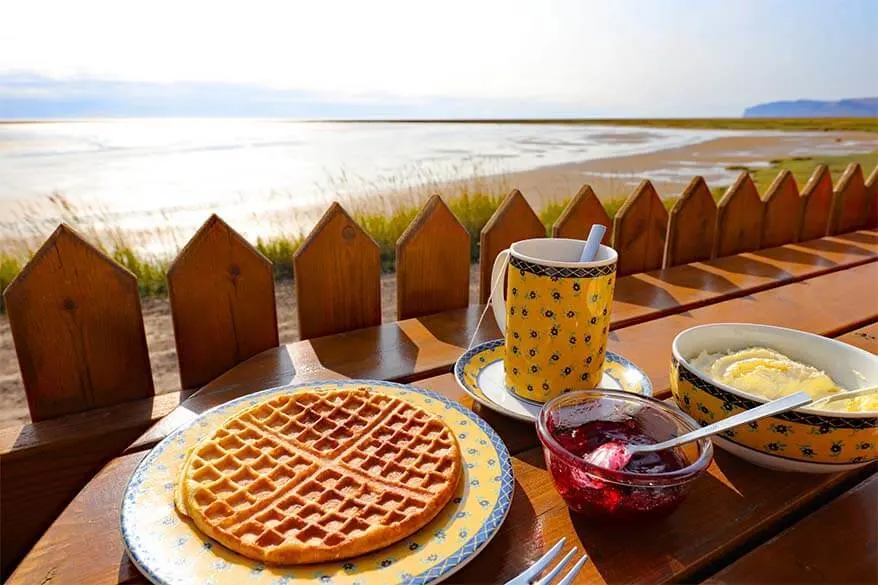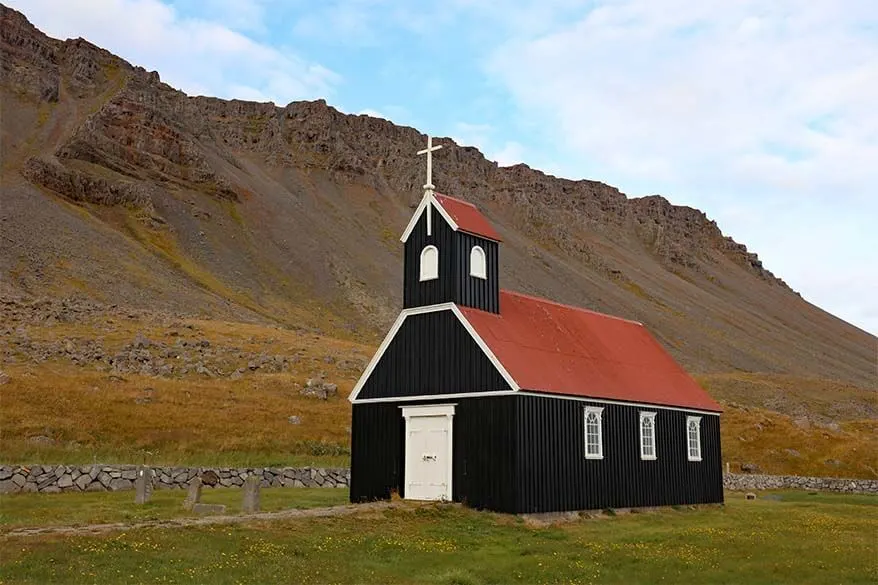 Látrabjarg
Latrabjarg is the westernmost point in Iceland and some people visit this place just for its symbolic meaning. However, this site is best known for its steep cliffs dotted with thousands of nesting birds in the summer. Most people come here to see puffins.
Latrabjarg Bird Cliffs extend for over 12 km along the coast. Some cliffs are up to 400 m high. You can walk along the cliffs and enjoy the beautiful scenery, just beware that there are no railings. Wind can be quite harsh here too, so be sure to keep a safe distance from the sides!
The best time to visit Latrabjarg is between June and mid-August when birds nest here. You can expect to see puffins, guillemots, fulmars, razorbills, and many other bird species. Seals are sometimes seen along the coastline under the Bjargtangar Lighthouse as well.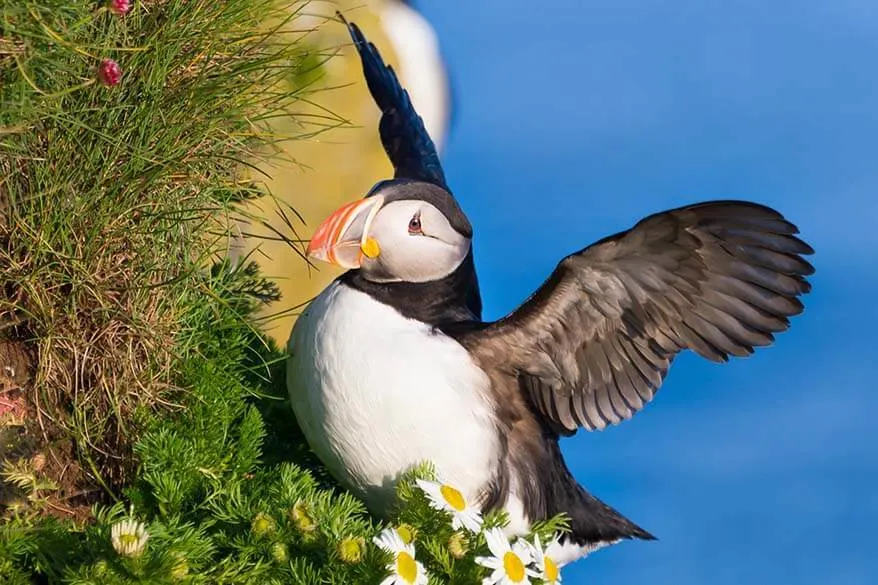 Good to know: The best time to see the birds is early morning or late afternoon – early evening. During the day, most puffins are fishing at sea. A good thing is that the days are endlessly long in summer, so you can easily come here late in the day without having to worry about driving in the dark.
I'm not sure if it's worth visiting Latrabjarg outside of the bird-nesting season. According to locals – not really. If you want to see the cliffs and say that you've visited the westernmost place in Iceland, then it might be worth it for you. But without the birds, it's just cliffs like many others. Furthermore, the gravel road to get to Latrabjarg is really long and out of the way from anywhere else.
Don't get me wrong – Latrabjarg is an amazing place that's well worth visiting. But the main reason to go is the puffins, so ideally you come here in June, July, or the beginning of August.
How much time do you need: Latrabjarg bird cliffs are located 45 km from the main road #62 that leads to Patreksfjörður town. It's at least 1-hour drive in one direction from there, plus an hour to walk around and see the birds. So, as a minimum, you need about 3 hours to visit Latrabjarg. If the weather is nice and there are many birds around, you'll probably want to stay longer.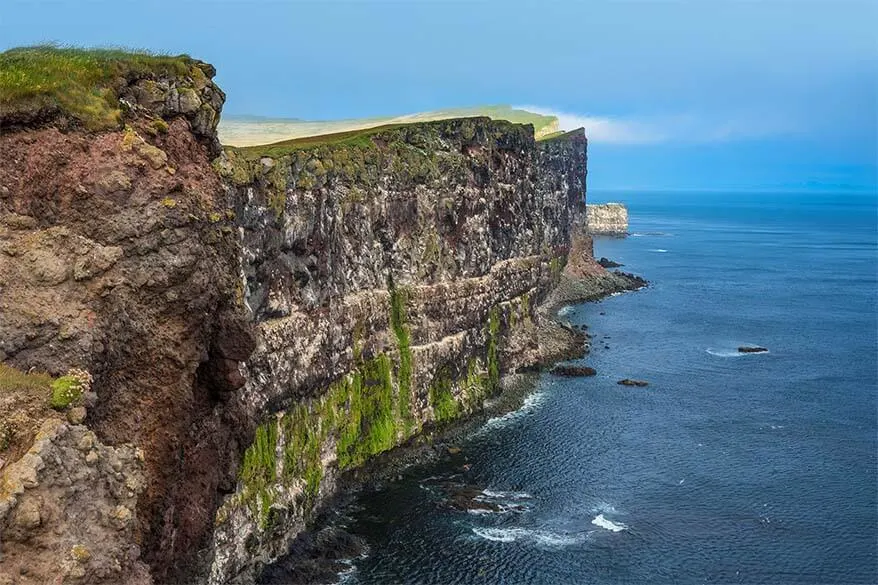 Garðar BA 64
Gardar BA 64 is an old Norwegian ship that's been beached at the end of Patreksfjörður fjord in 1981. Built in 1912, it is the oldest steel ship in Iceland.
This is not a major landmark and not really a must in the Westfjords. So I wouldn't go out of the way just to see it. However, you'll pass this rusty ship when driving road #612 to Raudisandur and Latrabjarg and it doesn't take much time to visit. If you are here anyway, then it's worth a quick photo stop.
The area is scenic and it's a good place to stretch your legs a bit. Just please don't climb on the ship – it's forbidden and can be dangerous too.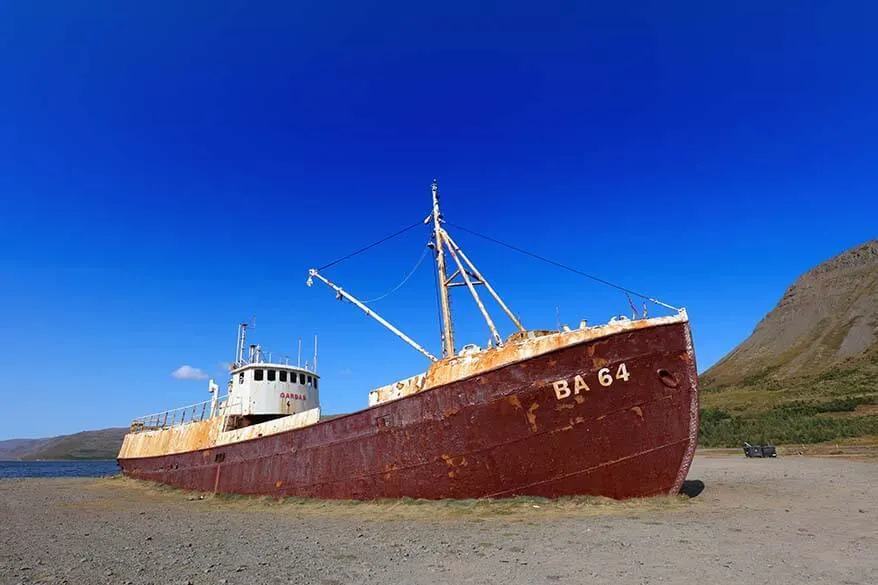 Kleifabúi Stone Man – Kleifaheiði
Kleifabúi is a stone statue of a man that is supposedly watching over people traveling road #62 in the Westfjords. It's more a big cairn in the shape of a man than a statue but is a really impressive sight.
You can find this peculiar construction at the highest point of the mountain pass Kleifaheiði, on the way from Bardastrond to Patreksfjordur. It's been built by the road workers to celebrate the construction of this difficult part of the road that greatly improved logistics in the Westfjords.
Just as with the rusty ship mentioned above, this is not something you have to go out of your way for. It's just a quick photo stop along the way, or something to keep the kids busy for a while 'Who sees the Stone Man first?'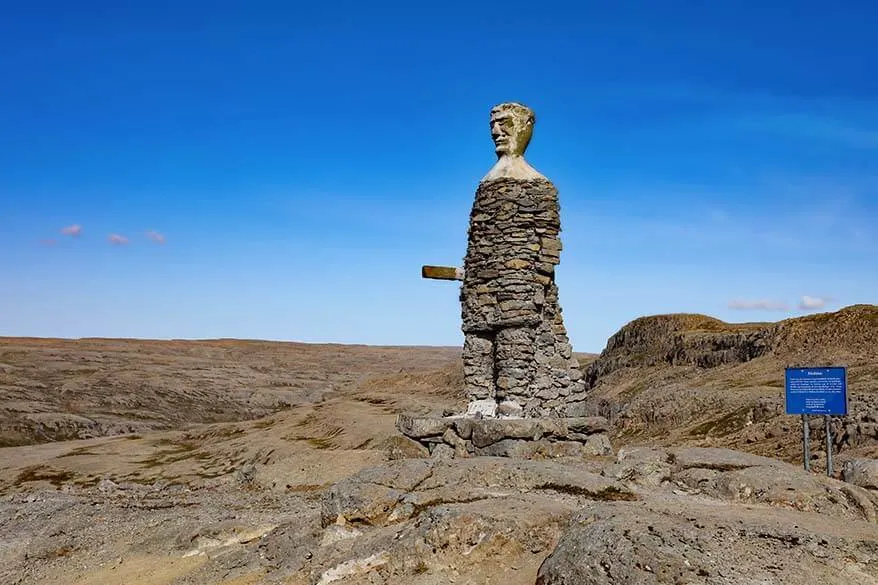 Birkimelur Swimming Pool
If you have some time to spare, plan a short stop at Birkimelur Swimming Pool, along road #62. It's a very low-key local outdoor pool and there is also a natural hot tub. The water is pleasantly warm in the pool and very warm in the tub. Just be careful when you enter the hot tub as the stones are extremely slippery.
Our accommodation was located just across the road from this pool and so we went swimming here in the evening. There were a couple of people when we arrived, but they quickly left and we had the whole place to ourselves. It was by far our favorite hot tub experience in Iceland. Hot tub with the most amazing views.
Good to know: There is a small changing room with a shower here. You have to bring your own towels and swimwear. It might be a good idea to have some cash with you when going here. Usually, there is no staff at the pool, but there is a small box where you're expected to pay for using the pool. I can't remember anymore how expensive it was; if I recall well, about 2,500 ISK for all of us (2 adults and 3 kids).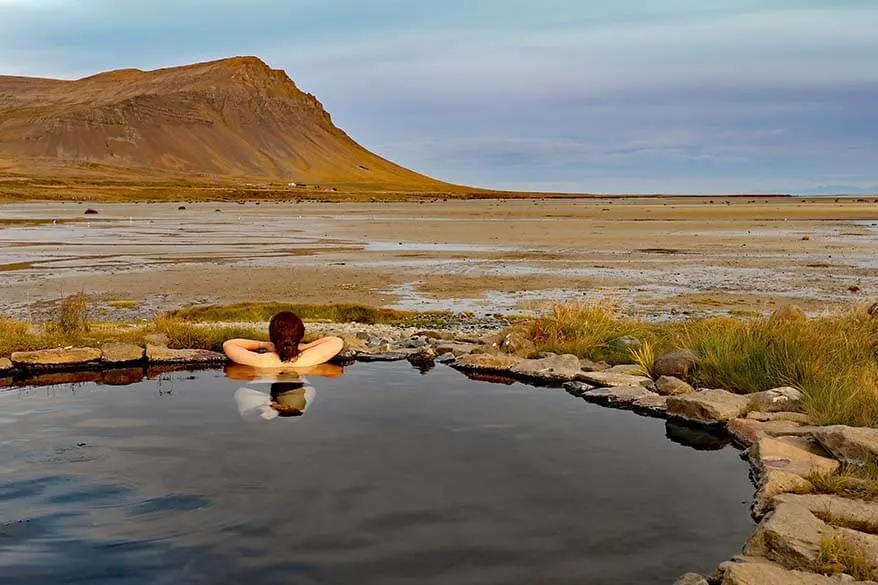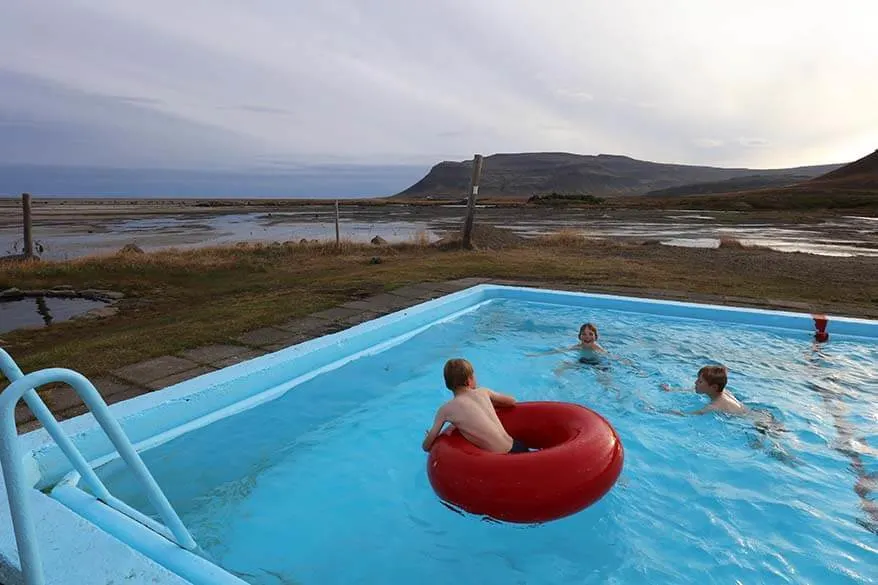 Map
To help you plan your Westfjords trip itinerary, I created a map indicating all the places that you can easily visit in one day. Further below, you can find a detailed one day program based on our experience.
How to use this map: Use your computer mouse (or fingers) to zoom in or out. Click on the icons to get more information about each place. Click the arrow on the top left corner for the index. Click the star next to the map's title to add it to your Google Maps account. To view the saved map on your smartphone or PC, open Google Maps, click the menu and go to 'Your Places'/'Maps'. If you want to print the map or see it in a bigger window, click on 'View larger map' in the top right corner.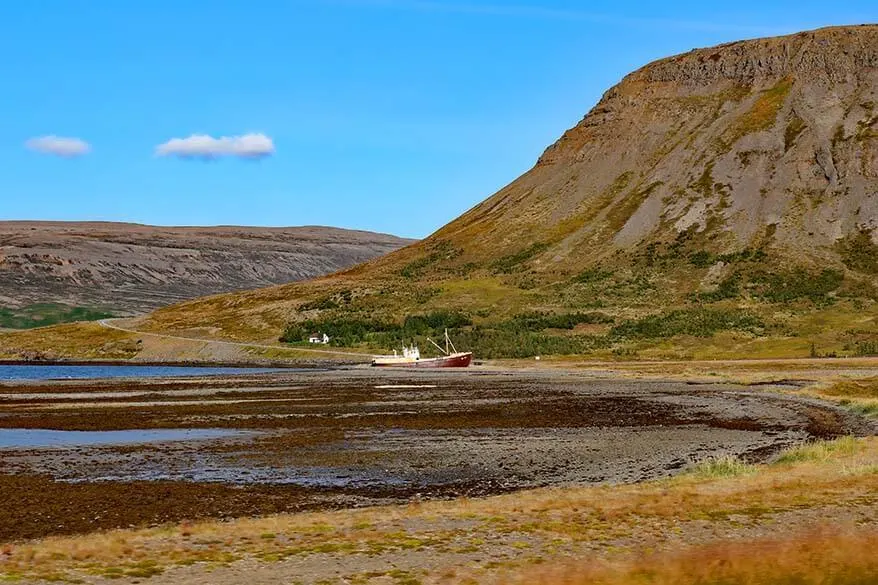 Westfjords Itinerary
Depending on the rest of your road trip itinerary, you have two ways to reach the southern coast of the Westfjords peninsula: by ferry from Stykkishólmur (Snaefellsnes Peninsula) or driving road #60 via Búðardalur.
We arrived in the Westfjords by ferry from Snaefellsnes Peninsula and continued our trip by car to visit North Iceland. You can also do this in the other direction or simply take the ferry both ways and save yourself a very long drive. It really depends on your overall itinerary.
Here's how our Westfjords itinerary looked like:
9 AM: Ferry from Snaefellsnes Peninsula to the Westfjords (ferry info and tickets).
Noon: Arrive in Brjánslækur and drive to Dynjandi: 40km/ 40 min
1 PM – 2.30 PM – Dynjandi waterfall and picnic
Drive towards Raudisandur, check in at our accommodation (Móra Guesthouse in Birkimelur)
3.30 PM: Quick photo stops at Kleifabúi and Garðar BA 64
4 PM – 6.30 PM: Raudisandur: waffles at the cafe, followed by a very long walk on the beach
Drive to Latrabjarg (we didn't do this – see below)
Drive back to our accommodation
7.30 PM Birkimelur Swimming Pool
8.30 PM Self-cooked dinner at our accommodation
The next morning we left the Westfjords and drove to Blönduós in North Iceland: 300km/4 hrs not including the stops. This is a very long drive, but the road in the Westfjords is really scenic, so we didn't mind. There are also some other nice places to see along the way, such as Hvitserkur, the rhino-shaped rock that you may have seen in the pictures.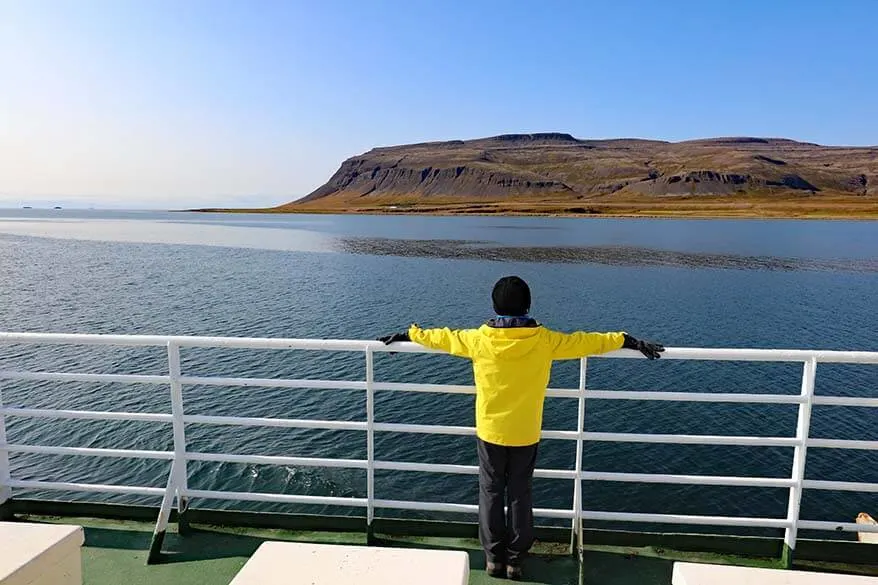 Good to know: You could easily drive to Látrabjarg Bird Cliffs after visiting Raudisandur. It's a 50km drive that takes about 1 hour. If you do that, you probably want to spend a bit less time at Raudisandur than we did. But if you don't mind a long day, it doesn't even matter that much because there is plenty of daylight in the summer. Also, the best time to see puffins in Latrabjarg is in the evening.
We decided not to go to Latrabjarg for two reasons: Raudisandur was just too beautiful to leave and there were no puffins anymore at the end of August anyway.
Driving to Latrabjarg would have added at least 3 hours to our day and we just didn't think it was worth it without the birds being there. A long walk on the most beautiful beach, followed by a long soak in the hot tub made our day much more relaxing. This day in the Westfjords was just perfect, with a great mix of sightseeing and relaxing time. It turned out to be one of the very best days of our entire trip to Iceland!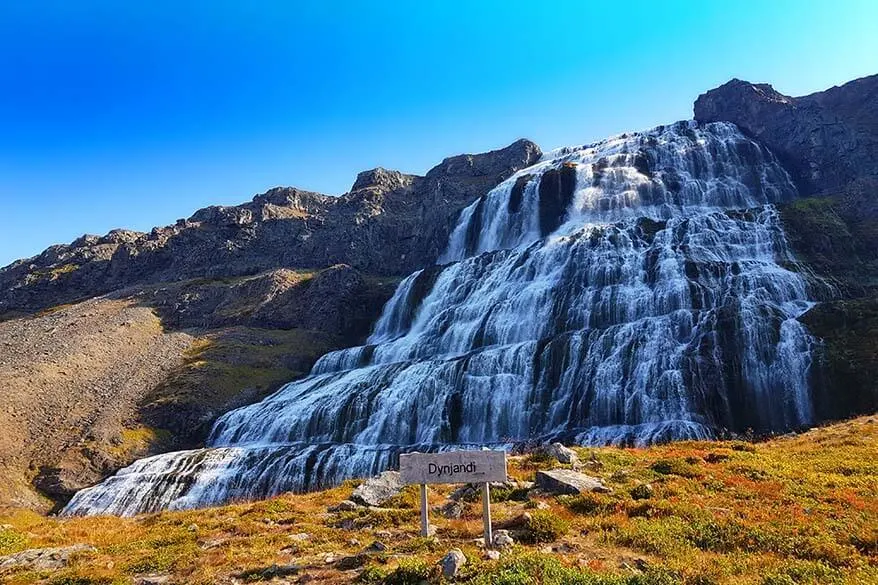 Driving in the Westfjords
Most roads in the Westfjords are gravel roads, but there are also quite some parts that are paved. In general, driving conditions on the way to the main tourist attractions in the region are good. However, it's still advisable to rent a 4WD or a 4×4 if you are planning to drive in the Westfjords.
You also have to make sure that your rental car is allowed to drive on gravel roads and has good insurance. We rented a Kia Sorrento 4WD with full insurance for this trip and it was perfect for the Westfjords.
Good to know: Some gravel roads in the Westfjords are closed in winter. For example, the roads to Dynjandi or to Raudisandur are usually only open in summer – from late April-May to late October (depending on the snow conditions).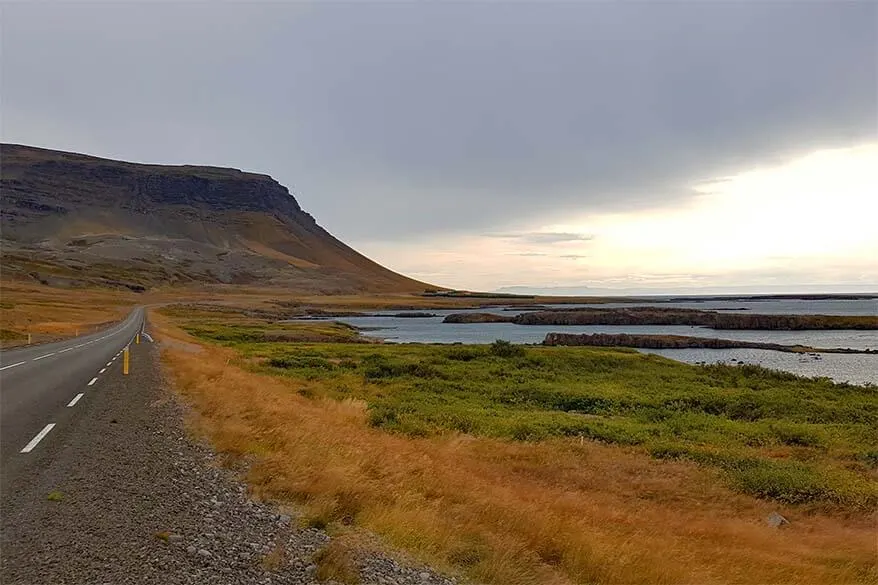 Where to Stay
We stayed at Móra Guesthouse in Birkimelur because of its central location which was ideal for this trip. The fact that there was a pool just across the road also contributed to this decision. Furthermore, it was not too far from the ferry and all the landmarks that we wanted to visit in the Westfjords. The location was also ok for our long drive the next morning.
If you have one day in the Westfjords and are visiting Latrabjarg, you could also opt to stay at Hotel Latrabjarg. It has a restaurant and is well-located for this itinerary. Staying there would mean a more relaxing day and less driving on the evening of the first day. However, it also means more driving the next day. On the other hand, this depends on your program and 1 hr extra drive might not be a big deal.
There are several other accommodations in this area – most are small guesthouses or privately rented apartments. You can find all the best options on this map.
TIP: Keep in mind that the Westfjords Region is very thinly populated and there are not many shops or restaurants. Depending on where you're staying and whether your accommodation has a restaurant, you may need to bring some food with you.
LEARN MORE: Where to Stay in Iceland
More tips for your trip to Iceland:
Some of our favorite lesser-known places in Iceland:
If you found this post useful, don't forget to bookmark it and share it with your friends. Are you on Pinterest? Pin these images!