Thinking of visiting Siglufjörður in North Iceland, but not sure if it's worth a detour? Or maybe you are wondering what there is to see and do in Siglufjordur town and nearby? This article should answer all your questions. Read on!
Spoiler alert – Siglufjordur is absolutely worth a visit! In my opinion, Siglufjordur is one of the most beautiful towns in Iceland. Not to mention the fact that the road to get there, road 76, is one of the most scenic roads in the country, and the entire surrounding area is simply stunning.
We traveled to the Siglufjordur area this summer and the whole family absolutely loved it. With this article, I hope to inspire you to visit this lesser-known part of Iceland that stole our hearts. Find out!
READ ALSO: Best Places to Visit in Iceland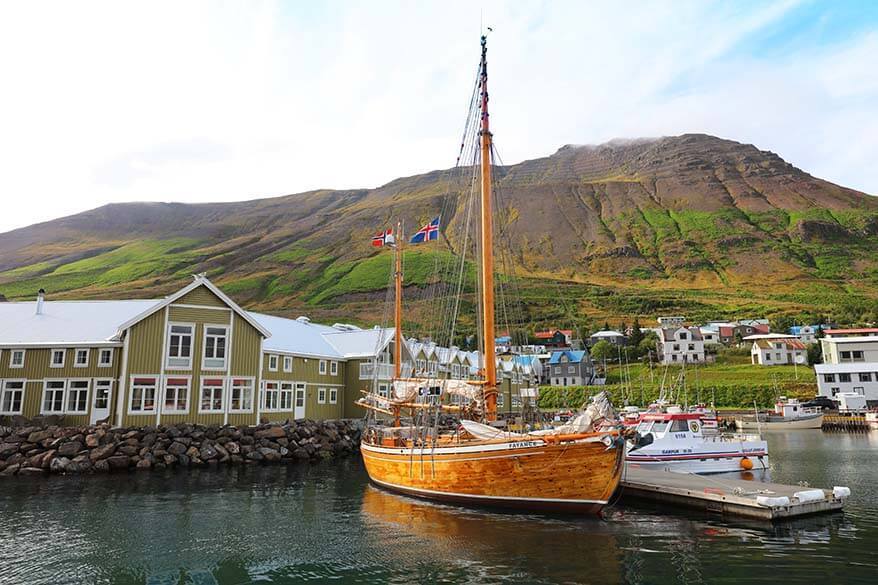 Siglufjordur – Some History
Less than 40 kilometers (25 miles) from the Arctic Circle, at the top of the Tröllskagi Peninsula in North Iceland, lies the picturesque town of Siglufjordur. This quaint fishing town is the northernmost settlement of mainland Iceland. A place with exceptionally beautiful nature, but also a fascinating history.
Once a tiny fishing village, Siglufjörður – known to the locals as Sigló – had become a fully established town by 1915. Its fishing industry boomed and Siglufjordur became known as the herring capital of the world. By the middle of the 20th century, Siglufjordur had developed into one of the largest settlements in Iceland.
Sadly, the enormous success of the area's fishing industry eventually became its downfall. The exploitation of marine resources and subsequent overfishing led to a decline in stocks. By the late 1960s the herring, for which the town was so famous, suddenly disappeared.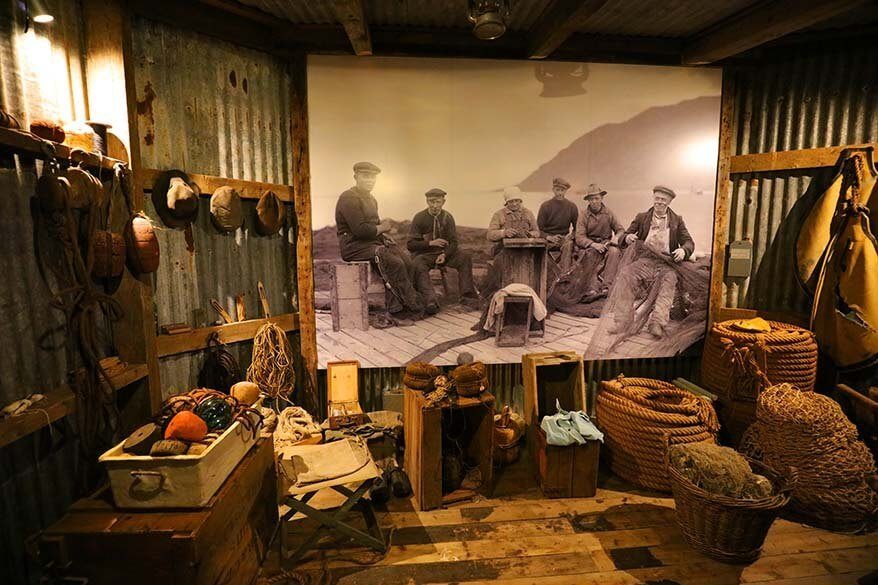 Siglufjordur was forced to look for a new industry and it slowly grew in popularity as a tourist destination. Transport links improved with the opening of the Hedinsfjordur Tunnel in 2010, making it easier for visitors to reach Siglo as a detour from the Ring Road or as a day trip from Akureyri.
However, tourism in Siglufjordur still has a long way to go. We saw just very few other tourists in town when we visited in August. For now, it remains one of the little-known gems of North Iceland.
Good to know: Scenes from the Icelandic drama series 'Trapped' were filmed in Siglufjordur. Ironically, the extreme weather conditions in the winter meant that the cast and crew really got trapped there on several occasions!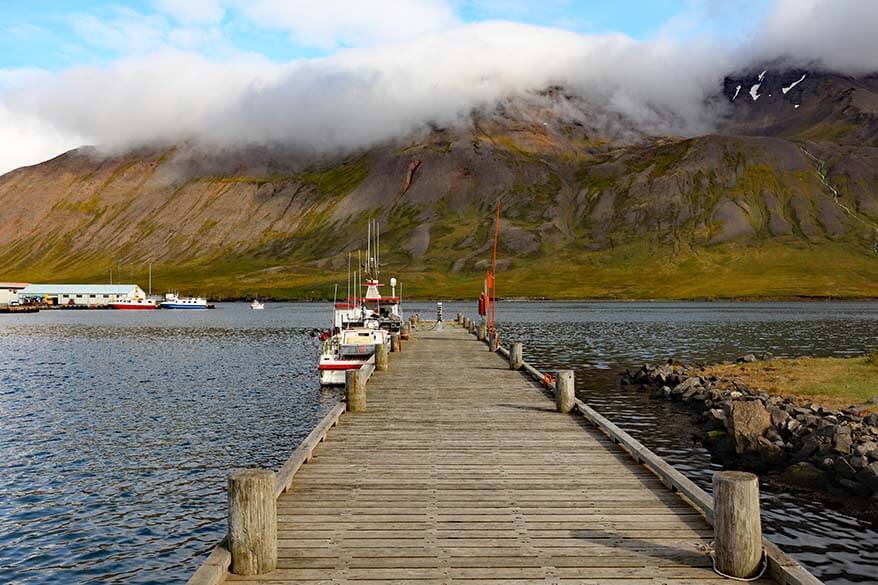 Things to Do in Siglufjordur
There is a lot to do in Siglufjordur and the surrounding area. Some activities are seasonal, while many other things to do in town can be experienced in all seasons. No matter when you visit or for how long, Siglufjordur will always be worth a trip. Below you can read about some of the best things to do in Siglufjordur.
Siglufjordur Marina
With its picture-perfect candy-colored houses, scenic marina, abundant wildflowers, and picturesque location on the fjord, Siglufjordur is one of the most beautiful towns in Iceland. The place not to be missed is the beautiful Siglufjordur Marina Village. The colorful wooden buildings that currently house Hannes Boy Restaurant and Kaffi Rauðka, immediately draw your attention and make the whole town even more picture-perfect.
It's so beautiful that it will make you want to stay longer! If you visit on a sunny day, make sure to get a drink or a meal at the restaurant, install yourself on the outside terrace, and watch the hustle and the bustle of the nearby harbor. I have no doubt that this will quickly become one of your favorite places in North Iceland!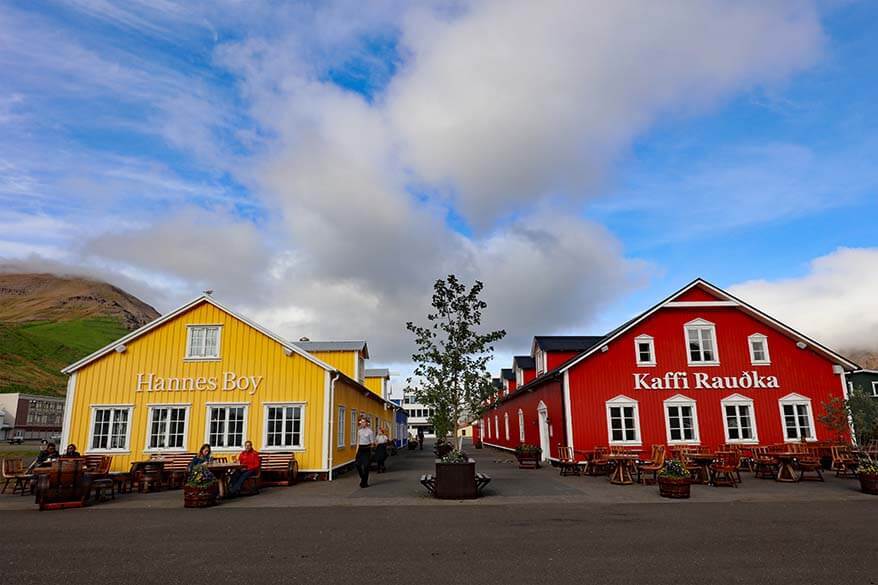 Siglufjordur Harbor
Just near the marina, you'll see the actual working harbor where fishermen return to shore with the catch of the day. We were lucky to be here in the afternoon, just as the boats filled with crates of fish were coming back to town. It's a fascinating sight and an experience we won't quickly forget.
We asked the harbor workers if we could just walk around a bit and they said it was fine. Kids tried to identify all different sorts of fish (not that we're experts!) and were fascinated by all the action around us. It was also fun to watch seagulls circling above the boats and trying to steal some fish for themselves.
Good to know: Siglufjordur area has a very diverse birdlife, with around 2000 birds and up to 18 species.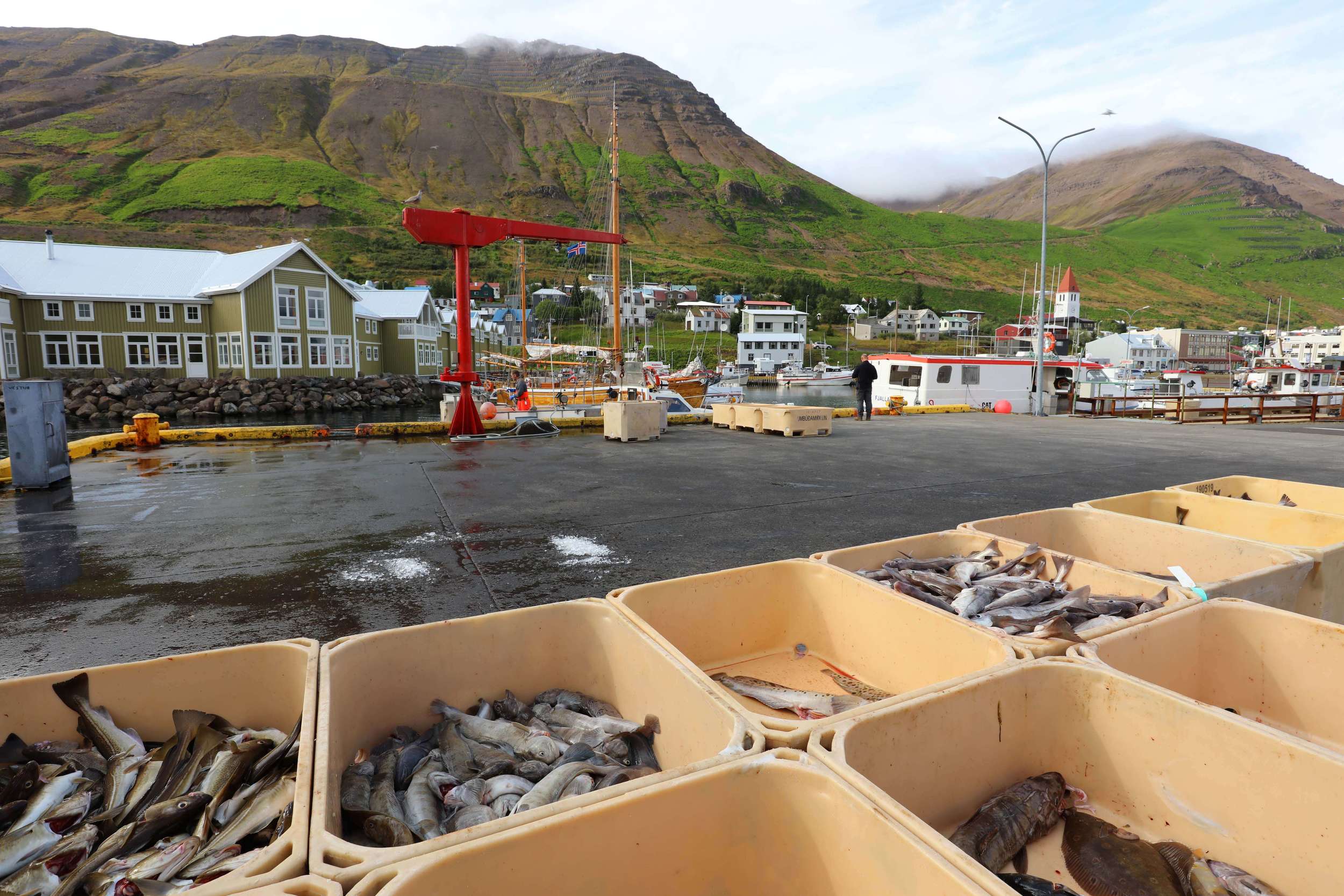 Herring Era Museum
If there is one thing you absolutely have to do in Siglufjordur, it's the Herring Era Museum (Síldarminjasafn Íslands)! It's a tribute to the town's history and its glory days of the herring era. The museum is extremely well done and is fun for young and old alike!
The herring era, affectionately called the herring adventure by the locals, refers to the period when Siglufjordur was a booming town. It had such a significant influence on the whole country that its success was often compared to the goldrush and referred to as the Atlantic Klondike, the golden age of Siglufjordur.
The era's importance to Iceland cannot be overstated. Herring provided almost half of Iceland's income. 20% of that came from Siglufjordur alone, which was then home to over 10,000 workers. Indeed, it is said that the herring era was responsible for shaping Iceland's unique culture.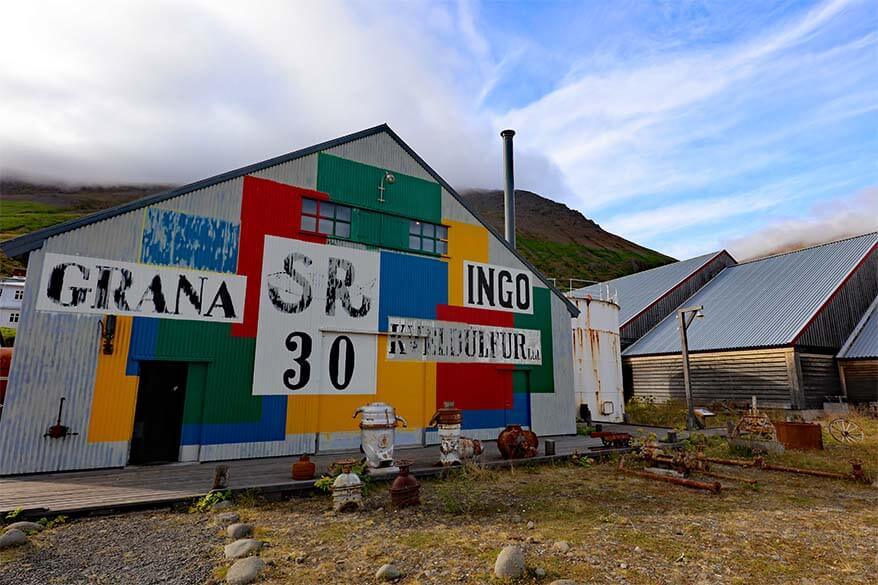 This 'golden age' is celebrated in the Herring Era Museum, which is located in 5 buildings on Siglufjordur's marina. It's one of Iceland's largest seafaring and industry museums.
It truly brings history alive, using a mixture of exhibitions, demonstrations, and even folk music to help you experience the unique and lively atmosphere of the town back in its glory days! When we visited, there were also some plates of herring available for tasting inside the museum. Somehow it made our visit even more authentic.
You can learn more about what went into fishing at the time and how the catch was processed. You can also see the variety of ships and boats that were used in the 1950s, nicely preserved inside one of the biggest buildings of the museum.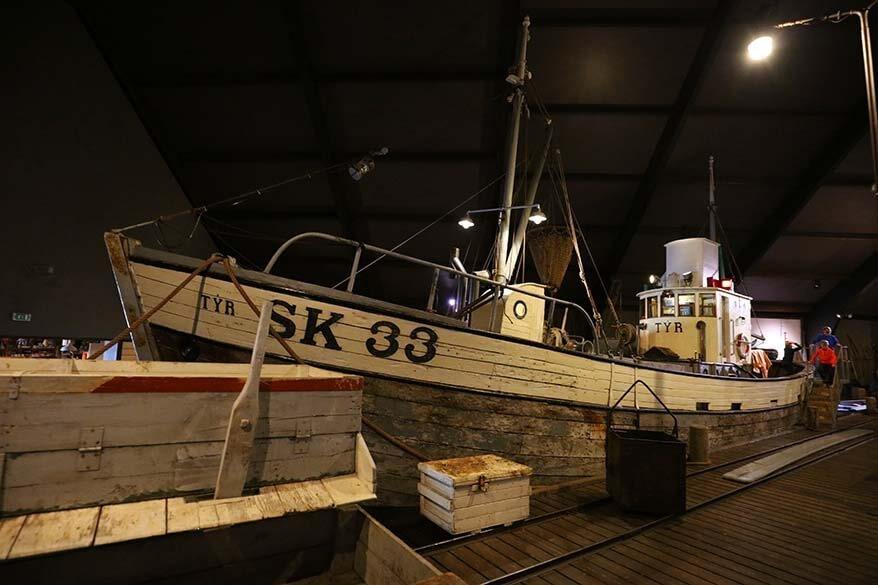 The salting station has been carefully preserved and the museum sometimes organizes demonstrations of the salting process. From what I understand, they are scheduled for every Saturday in July. However, they sometimes also arrange extra demonstrations upon request.
We visited in August and were just too late for the salting demonstration that they had arranged for a group that was visiting that day. It would have definitely been fun to watch!
Opening hours: 10 am to 6 pm from June to August. 1 pm to 5 pm in May and September. By appointment from October to April.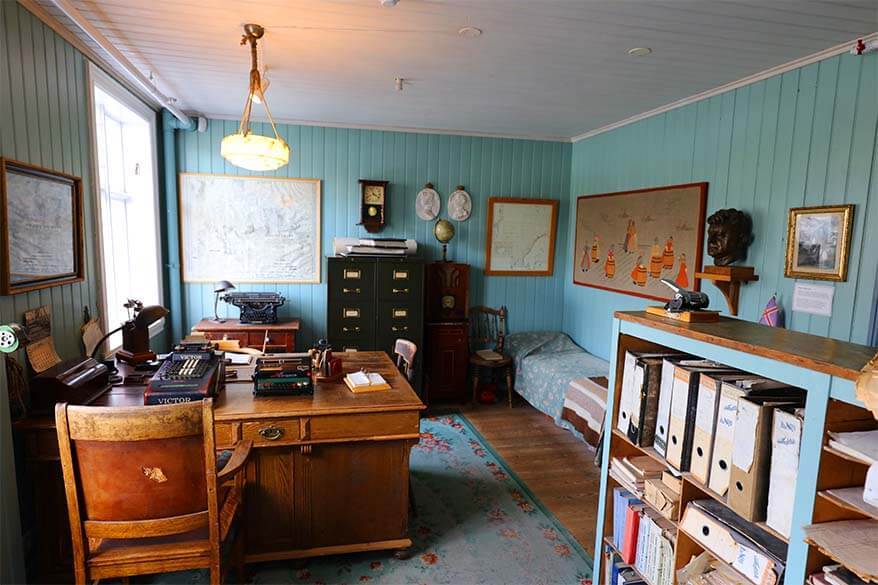 Folk Music Center
Included with a ticket to the Herring Era Museum is entry to the Folk Music Center (Þjóðlagasetur). The Centre is located in the former home of the reverend Rev. Bjarni Þorsteinsson – considered the 'father of Siglufjordur'.
It's like a small musical instrument museum and one of the best places to get acquainted with the Icelandic folk music. You can hear recordings of people singing Icelandic folk music, chanting epic rhymes known as rimur and singing Icelandic nursery rhymes. You can also watch musicians play the langspil, a traditional Icelandic zither.
One of the highlights of Siglufjordur's calendar is the 5 day Folk Music Festival, which starts on the first Wednesday of July every year. Although its primary focus is Icelandic and Scandinavian folk music – celebrated through dances, concerts and parties – the festival includes other types of music from around the world and continues to grow in popularity.
Opening hours: June to August from noon to 6 pm.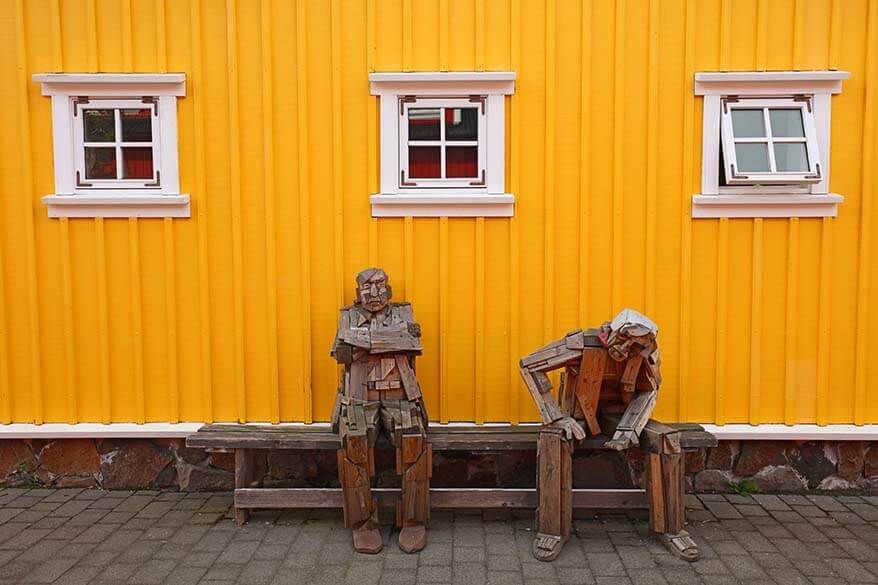 Segull 67 Brewery
Segull 67 is a family-owned craft beer brewery in Siglufjordur. You can find their beer in most liquor stores in Iceland, but visiting here is so much more than about the beer itself. It's a place that links the history of the town, of the fishing industry, and the three generations of beer-makers and the best way to experience it is by joining one of their guided tours.
It's a very authentic and special place. In addition to beer tasting, they sometimes have music performances with a live band or even poetry evenings.
Interesting to know: The name Segull 67 has a special meaning. 'Segull' means 'magnet' in Icelandic, and it's reflected in their logo with the magnet needle on the compass. 67 is the lucky number of the family. The grandfather of the current generation used to drive a truck F67 and has a boat with a number SI67.
Practical information: For more information for your visit and to book a guided brewery tour, please consult the website of Segull 67.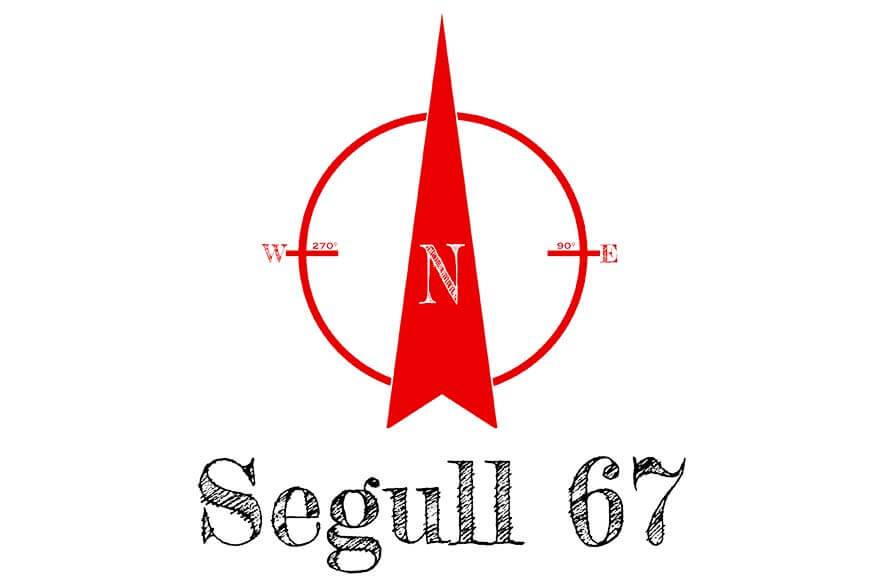 Chocolate
A trip to Siglufjordur would not be complete without a visit to the chocolate shop run by local artist Fríða Gylfadóttir. There you can indulge in handmade artisanal chocolates and fine coffee. You can also see her beautiful paintings, many of which are dedicated to Icelandic horses.
Everything in the shop is for sale – from chocolates that make nice souvenirs to arts, crafts and … paintings.
Opening hours: Thursday to Sunday from 1 pm to 6 pm. More info on the website of Frida.
Hiking
The Siglufjordur area is also a paradise for those who simply want to enjoy Iceland's natural beauty. The town is dominated by the dramatically high mountains of Trollaskagi (the Troll peninsula), Iceland's biggest continuous mountain range. In summer, you can go hiking here and in winter – skiing.
With its glaciated mountains, valleys, lakes and uniquely beautiful black sandy beaches, there are few locations in Iceland as perfect for the hiker as Siglufjordur.
The main trails are the Holsskard and Hestsskard passes, which lead down to the Héðinsfjörður. This beautiful fjord is rich in vegetation but was abandoned in the early 1950s by the last farmers, who were unable to cope with the harsh winters and repeated avalanches. The fjord lies deserted until this day, offering a spot of perfect peace and tranquility for hikers to enjoy the spectacular views.
Hiking maps are available from the Herring Era Museum. They highlight which are the easier trails and which are the more challenging. You can also get maps from the Siglo Hotel, which is located right beside the harbor. From what I read, guided hiking tours are also available, but you'd have to request about this in town. And if your visit happens to be at the end of June, you might be able to take part in Hiking Week, where locals provide daily guided tours.
Good to know: While hiking here in late summer/early autumn, you may come across berries growing on the hillsides around Siglufjordur. The most common are bilberries, which look a bit like blueberries. If they grow in a public area you are allowed to pick and eat them.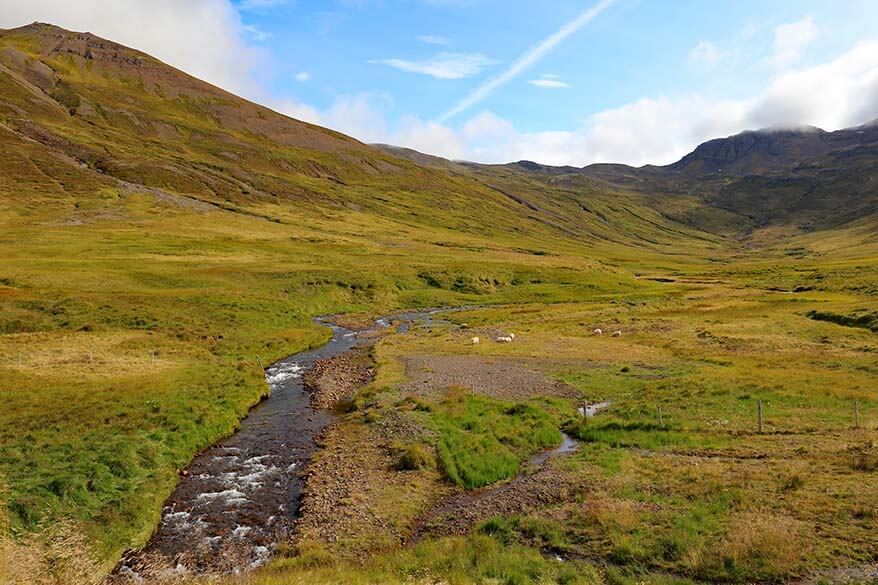 Swimming Pool
Just like most towns in Iceland, Siglufjörður also has a really nice swimming pool. It's a big indoor pool with a sauna, an outdoor hot tub, and a gym.
For more information, please check the website of the communal sports centers of the area.
Midnight Sun
Being so high up north, Siglufjordur area is a great place to experience the midnight sun. From the beginning of June and till almost mid-July, the sun shines here all night long. You can watch the sun fall to the horizon and then rise again.
Good to know: If you want to actually be able to sleep at night, you'll need a sleeping mask when visiting Iceland in summer. More tips here – what to pack for Iceland in summer.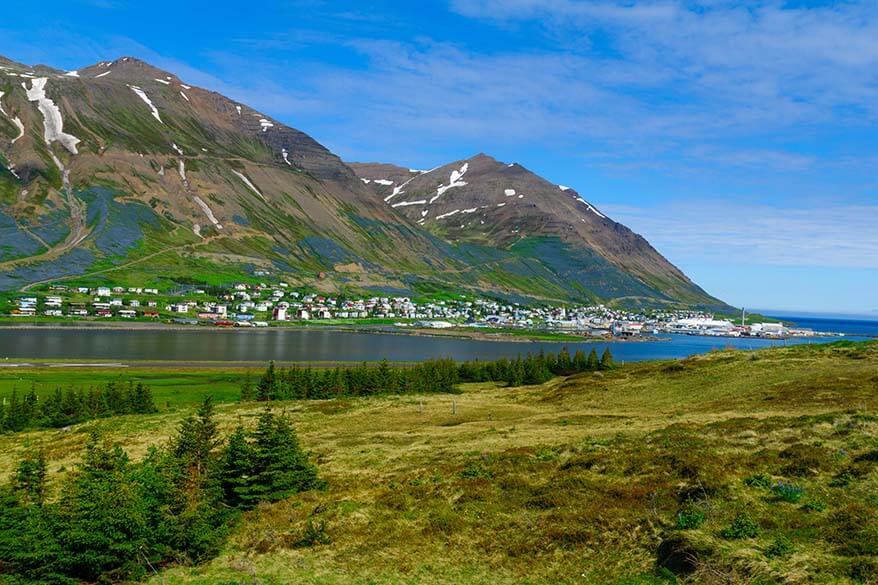 Northern Lights
Siglufjordur's remote northern location makes it a perfect place to watch auroras in winter (from September to mid-April). If traveling to Iceland during this time of the year, always keep an eye on aurora forecast and go chasing auroras.
While the town itself might not be the best place to see the Northern Lights due to light pollution, it's easy enough to find a dark spot in the beautiful surrounding areas nearby. Just don't park on the road!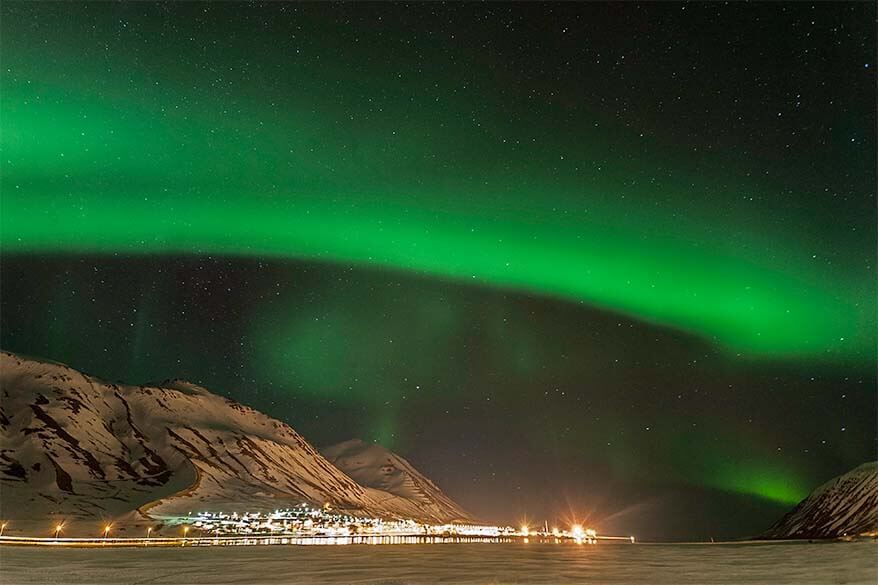 Skiing
The ski area Skarðsdalur with 4 lifts and 10 ski slopes is considered to be one of the best ski areas in Iceland. It's located in Skíðasvæði í Skarðsdal, just a 10-15 min drive from Siglufjordur town.
Furthermore, in nearby Hólsdalur there is also a cross-country ski trail. Helli-skiing is also becoming more and more popular.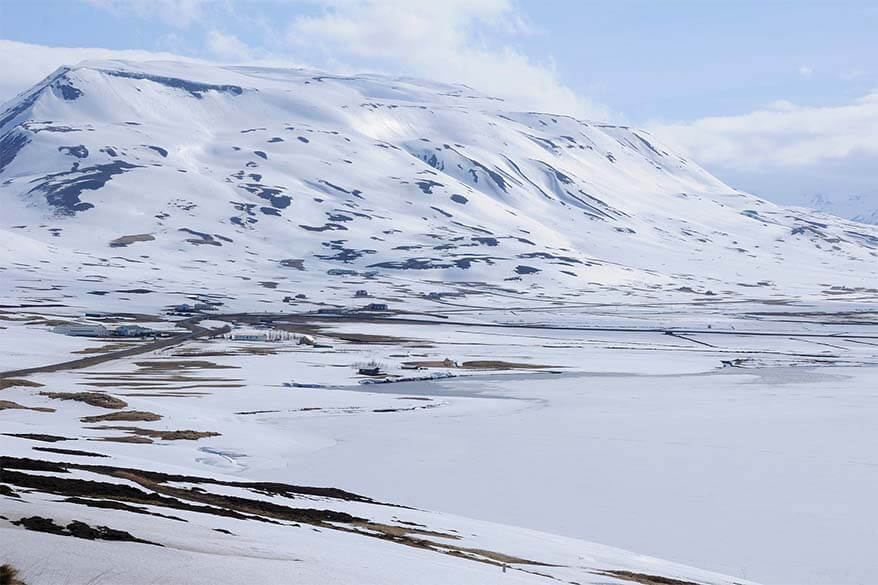 More Things to Do in Siglufjordur
If you have more time in the area, you'll be glad to know that Siglufjordur has a lot more to offer. You can enjoy a big variety of outdoor activities, including sea angling, fishing in the Hólsá River, kayak and boat tours of the fjord, or even sailing across the Arctic Circle at midnight.
Furthermore, there is a 9 hole golf course with breathtaking views.
In addition, there are some local art galleries, cafes, and shops.
There are also several playgrounds for children. Our kids found a big inflatable trampoline/ bouncy castle in the middle of town and they didn't want to leave…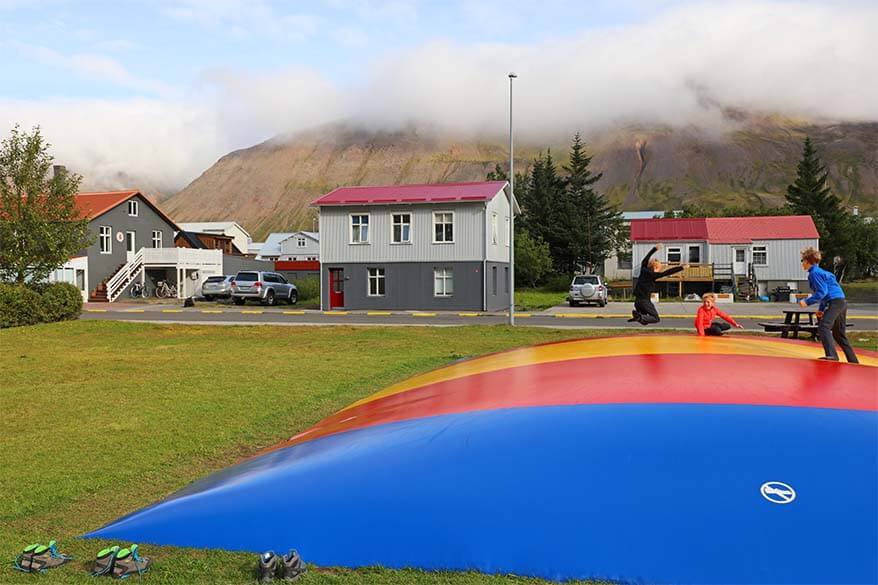 What to Do Near Siglufjordur
In addition to the above-mentioned places to see and things to do in Siglufjordur itself, there are many really nice places to see nearby. Here is a short overview of some of the best options.
Road 76 on the western part of the Trollaskagi Peninsula is one of the most scenic roads in Iceland. The entire surrounding area is simply stunning as well.
Trollaskagi Lighthouse at the northernmost point of road 76 is well worth a quick stop. Although the road to get down to the lighthouse is quite steep.
Hofsos swimming pool – a pool with the best view in Iceland – is not to be missed when traveling in this area! If traveling with kids, you may also want to check the Ólafsfjörður swimming pool – it's an outdoor pool with water slides and all.
The oldest church in Iceland, Grafarkirkja, along road 76 is also well worth a visit.
LEARN MORE: Grafarkirkja, Hofsós Pool & Road 76 – Best of Trollaskagi Peninsula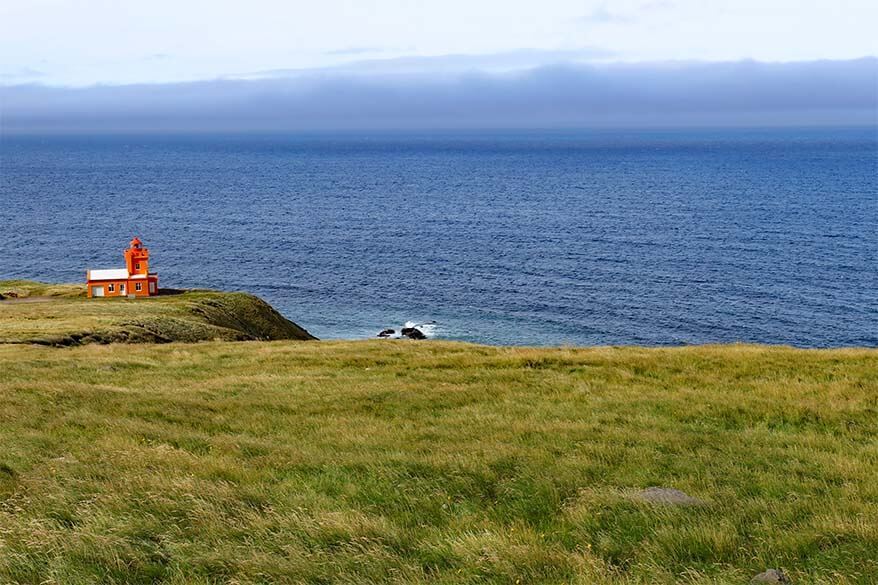 Practical Information for Your Visit
Below is some practical information that should help you plan your visit to Siglufjordur and the surrounding area.
Best Time to Visit Siglufjörður
Siglufjordur is a year-round destination, however, the best time to visit is in summer. The days are long and there are plenty of outdoor activities, nature is more accessible, the roads are good, and everything in town is open.
In winter, you can go skiing and watch the Northern Lights. However, there is not that much else to do in the area in the low season. If you are visiting Siglufjordur in winter, you'll need to call in advance to make an appointment to visit the Herring Era Museum and some other attractions that are not open in winter months.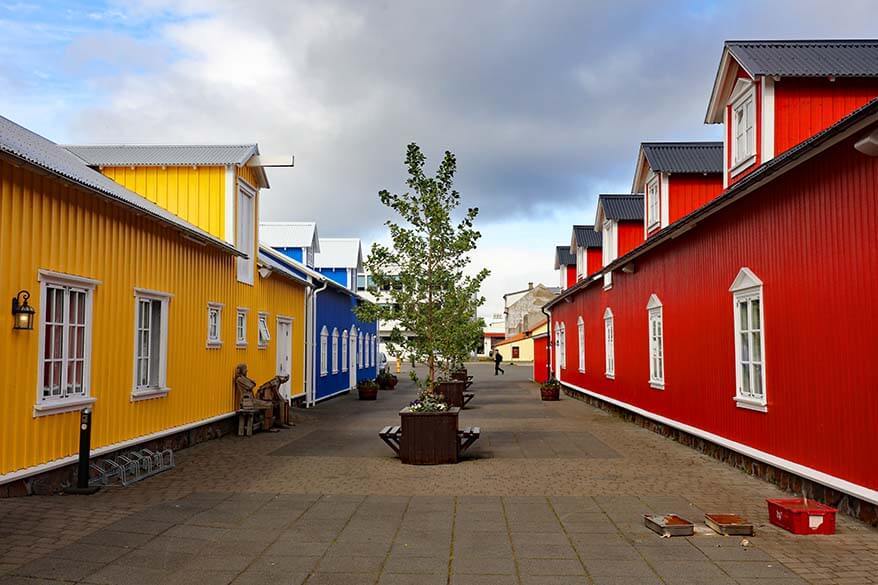 How to Get to Siglufjörður
Siglufjörður is located at the northern end of the Tröllskagi Peninsula. It's about 80 km, 1h15 drive from Akureyri. If coming from Akureyri, you'll need to negotiate a single-lane tunnel between Ólafsfjörður and Siglufjörður.
Road 76 on the other side of the Tröllskagi Peninsula is a much more scenic route, so even if you are coming from Akureyri, I recommend driving the entire circle around the peninsula instead of just going to Siglufjordur and back.
You'll need a car to visit Siglufjordur.
TIP: Siglufjordur is a great addition to your North Iceland itinerary or when driving the Ring Road in Iceland. We passed here when driving between Hvitserkur and Myvatn.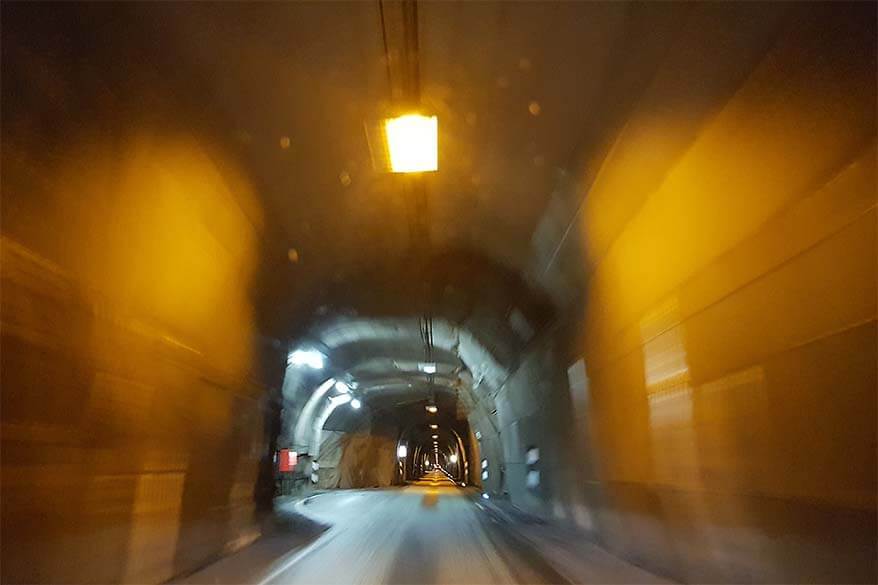 How Much Time Do You Need in Siglufjörður
You can see the main attractions in town in just half a day. It's therefore easy to visit Siglufjordur and the surrounding area in a day. You can come here on a day trip from Akureyri or include this area into your Ring Road itinerary, making a short detour via road 76.
We visited Siglufjordur when driving between Blönduós and Lake Myvatn, and also made some other nice stops on the Tröllaskagi Peninsula that same day. However, we felt that one day was too rushed and that it would have been better to stay in Siglufjordur for at least one night.
TIP: If you want to explore more of the surroundings, go hiking, or do any other activities, you should consider staying in Siglufjordur for 2-3 days.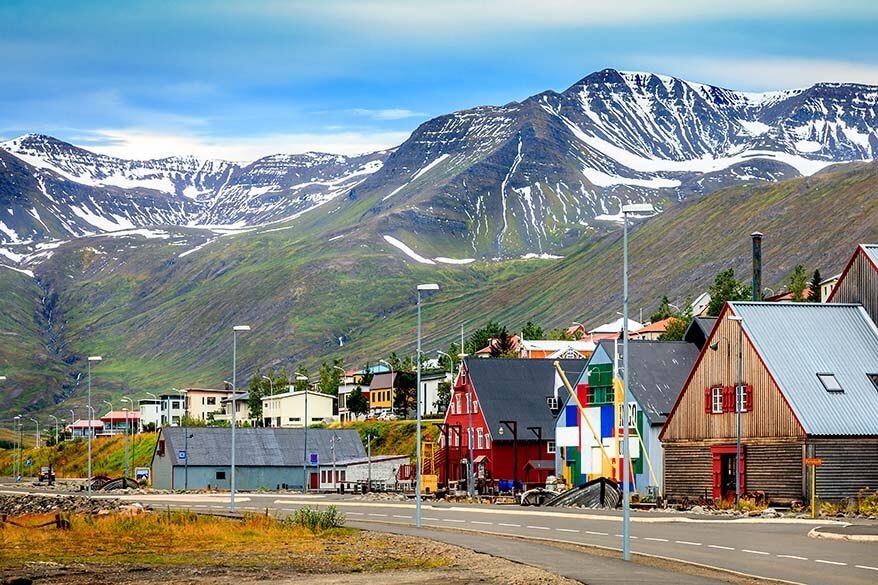 Where to Stay
There are several accommodation options in town, but the nicest affordable hotel is Siglo Hotel. When you see the building and the surroundings, you'll be glad you booked a stay here.
Interesting to know: Iceland's most exclusive accommodation, the super-luxurious Deplar Farm is located near Siglufjordur. However, with prices in the summer season starting at around 2,550 EUR per night for two people, with a 2-night minimum stay required, this is a place for the selected few. If you want to meet some celebs or tycoons and have an unlimited budget, then this is the place to be. For us, it will most likely be Siglo Hotel next time we return to this area.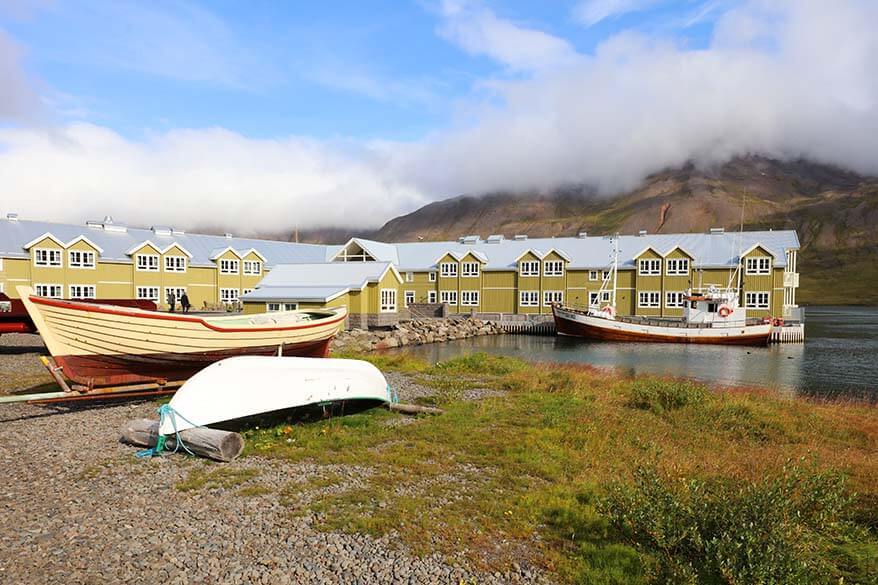 Planning to visit Siglufjordur and have a question? Want to share your travel experience? Leave a reply below!
READ ALSO: Things to do in Myvatn
How to plan a trip:
More tips for your trip to Iceland:
If you found this post useful, don't forget to bookmark it and share it with your friends. Are you on Pinterest? Pin these images!