Planning to visit Snaefellsnes Peninsula in Iceland and wondering what are the best places to stay in Snæfellsnes? Or maybe you're looking for the nicest Snaefellsnes hotels? This guide should help you decide where to stay. Take a look!
You may want to know that there are no big towns on the Snaefellsnes Peninsula. The biggest town is Stykkisholmur, followed by Grundarfjordur. A somewhat bigger place where you could potentially stay at is Borgarnes (with a population of +-3750 people), just outside the Peninsula.
That being said, there are several places on the Snaefellsnes Peninsula where you'll find some really nice hotels, guesthouses, and – in some cases – also shops and restaurants.
Below, we list the best towns to stay on Snæfellsnes Peninsula and the best Snaefellsnes hotels. We also include the best options for Borgarnes accommodation.
At the bottom of this article, you can also find some practical information and things to consider when booking your stay in Snaefellsnes.
But first – best towns to stay at and the best hotels on Snaefellsnes Peninsula. Find out!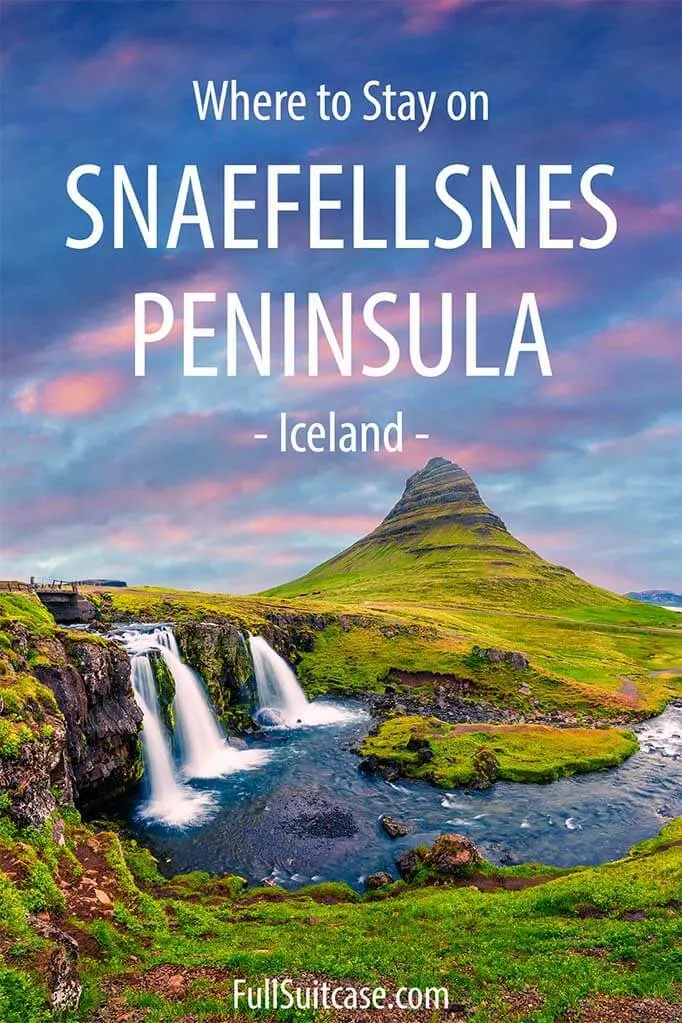 In order to help you get a better idea where all these places are located, I created this map indicating the best towns to stay on Snaefellsnes.
Below, you can find detailed information about each town, what to expect, and some hotel recommendations.
How to use this map: Use your computer mouse (or fingers) to zoom in or out. Click on the icons to get more information about each place. Click the arrow on the top left corner for the index. Click the star next to the map's title to add it to your Google Maps account. To view the saved map on your smartphone or PC, open Google Maps, click the menu and go to 'Your Places'/'Maps'. If you want to print the map or see it in a bigger window, click on 'View larger map' in the top right corner.
These are the best towns to stay in Snaefellsnes Peninsula:
Stykkishólmur
Stykkishólmur is the biggest town of Snaefellsnes Peninsula and the main center where you'll find the most infrastructure. There is even a Bónus supermarket here! If you stay in town, everything is pretty much within walking distance.
The car ferry to the Westfjords and Flatey island also leaves from here, as well as some boat tours. In the summer months, you can book a sea kayaking tour here as well.
If you like to have people around you and stay in a town where there are more locals than tourists, then this is the place to be in Snaefellsnes. There are lots of accommodation options in town and a couple of really nice hotels. Take a look at some of the best options below.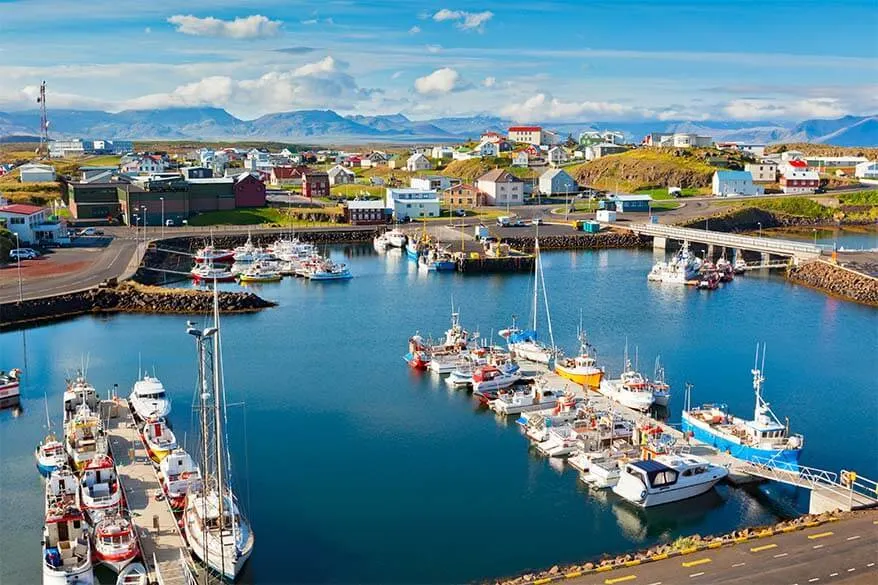 Here are the best hotels in Stykkisholmur:
Hótel Fransiskus Stykkishólmi
Hotel Fransiskus Stykkishólmi may not look like much from the outside, but it's really nice inside. The rooms are modern and very nice and you can find various options from single, double, or quadruple rooms with private bathrooms to a single room with a shared bathroom. Breakfast is included and customer reviews are great. This hotel is located right in town and offers great value for money.
Hótel Egilsen
Hotel Egilsen is a beautiful and very cozy boutique hotel. Set inside a historic building in Stykkishólmur town center, it's been very nicely renovated. Featuring single and double rooms, it's perfect for those looking for unique accommodation and a bit more luxury.
Akkeri Guesthouse
Akkeri Guesthouse is beautifully set near the harbor and offers excellent value for your money. Hundreds of customer reviews and a 9,6 rating on Booking.com website, confirm that this is one of the best accommodations in Stykkisholmur.
Fosshotel Stykkisholmur
Fosshotel Stykkisholmur is a more simple, 3-star hotel with a good location. It's not as cozy or modern as the other accommodations mentioned here (and the reviews reflect that), but it's still a very good option for those who are on a somewhat tighter budget.
Sjávarborg
Sjávarborg (previously Harbour Hostel) is a good choice for those who are traveling on a really low budget and don't mind a shared bathroom. It features private rooms for up to 4 people, but dorm beds are available too.
Helgafell
Helgafell is a tiny privately-owned accommodation about 6km outside of Stykkisholmur. With just two little but very beautiful bungalows at very competitive rates, it's quickly sold out at any time of the year. Customer reviews are excellent and if you are a couple looking for a really nice self-catering accommodation in a beautiful setting, you may want to check it out.
Compare Hotels and Short-term Rental Accommodations in Stykkisholmur
Using the map below, you can compare hotels, apartments, and short-term rental accommodations in Stykkisholmur. You can also zoom out to see accommodations in other places in Snaefellsnes Peninsula.
Simply insert your travel dates and group size, and you'll see what's available for your stay. This map shows data from various accommodation booking websites in one place and can help you find a place to stay even when availability is very limited.
Grundarfjörður
Grundarfjordur is a smaller town than Stykkisholmur, but it's the second-biggest in terms of infrastructure on the peninsula. It has several restaurants and a supermarket. It's also a place where you can go on whale-watching tours.
The town itself is very simple with not much to see, but its biggest attraction is the famous Kirkjufell mountain, located just outside of town.
There are quite a few accommodation options in Grundarfjordur, but most of them are simple guesthouses or apartments. It's, therefore, a much more budget-friendly place than most of the other locations on the peninsula.
While there are some really nice self-catering accommodations in town, there are just two hotels worth mentioning here. In addition, you may want to take a look at Dis Cottages or Grundarfjordur Bed and Breakfast.
Kirkjufell Guesthouse
Kirkjufell Guesthouse is one of the most popular places to stay in Grundarfjordur and has superb customer reviews. Featuring rooms and apartments for up to 4 people, it's a modern self-catering accommodation with great views overlooking Kirkjufell in the distance. In winter, you might even be lucky to see auroras without leaving your room.
Kirkjufell Hotel
Kirkjufell Hotel by Snæfellsnes Peninsula West Iceland is a simple 3-star hotel that only has double rooms and a bar. But since it's not as remote and there are several restaurants in town, that is not really an issue. Customer reviews are ok and this is a good option for those looking for a budget hotel on Snaefellsnes Peninsula.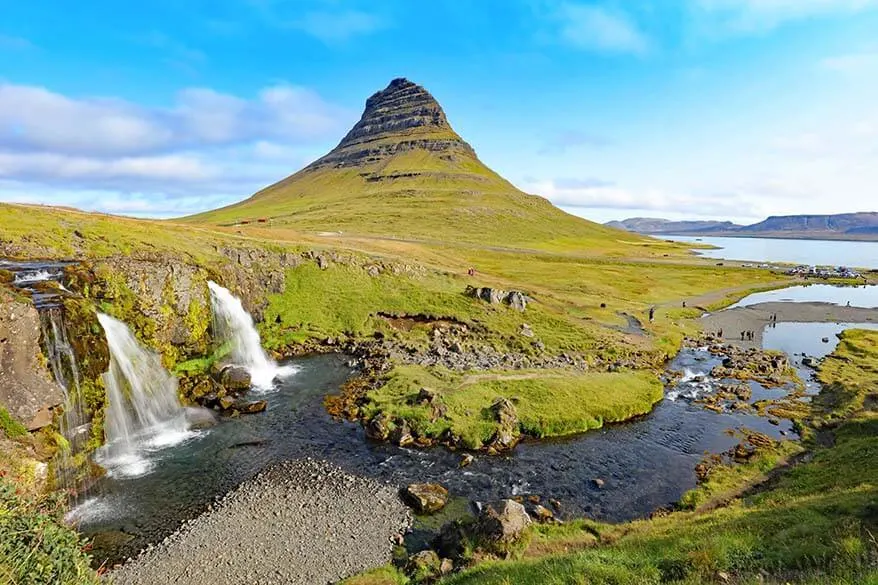 Arnarstapi
Arnarstapi, Snæfellsbær is one of the most beautiful places to stay on the Snaefellsnes Peninsula. This tiny village on the southern coast of the peninsula is famous for its stunning sea cliffs. It's also one of the most popular places to visit in Snaefellsnes.
There are good walking paths allowing you access to the most beautiful viewpoints along the coast and you can also take a scenic coastal walk to the nearby Hellnar village.
However, it's a really tiny place with not much going on, especially in the low season. There are several accommodations, a couple of cafés and small restaurants, but most of them are only open during the day and in high season.
Arnarstapi is crowded during the day in summer, but staying here for a night means that you can have the most beautiful scenery all to yourselves before the day-trippers arrive and after they leave. In winter, it's a very quiet place and perfect for aurora hunting in Iceland. But you have to love the solitude…
Here are the two best places to stay in Arnarstapi:
Arnarstapi hotel
Arnarstapi hotel is the nicest hotel here. Featuring double and triple rooms as well as spacious family suites, it also offers a lot of privacy because rooms are located in separate little cottages. The location is great, the rooms are very modern, and they also have a nice on-site restaurant.
Arnarstapi Cottages
Arnarstapi Cottages belong with the hotel, but are set somewhat further away. Each room is actually an individual cottage that can accommodate two adults and one child. Each room features a microwave and a fridge.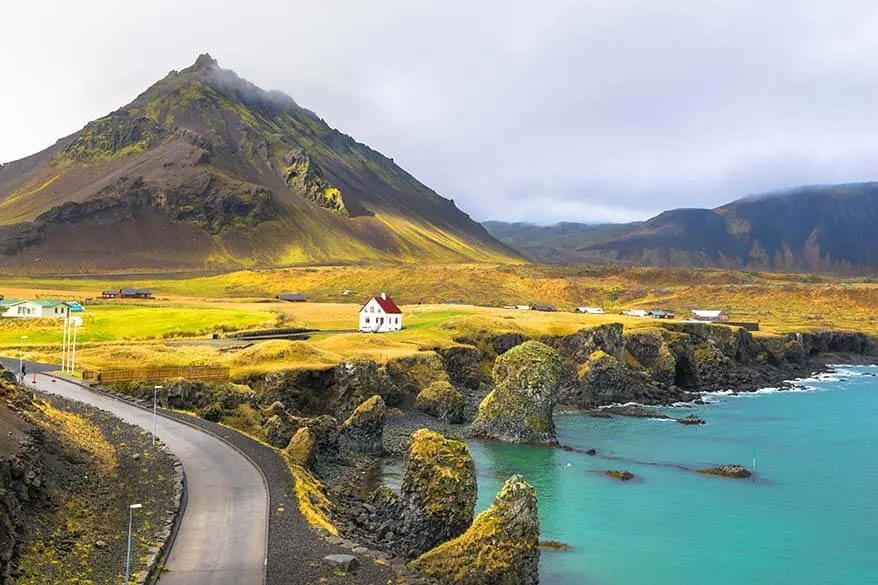 Hellnar
Hellnar is located just a few kilometers from Arnarstapi and has just one hotel, a couple of smaller accommodations, and a café.
The coastal walk from Arnarstapi to Hellnar can be done in both directions, but most people only do a part of the hike in Arnarstapi and so Hellnar is a much quieter place.
Fosshotel Hellnar
Fosshhotel Hellnar is a really beautiful hotel with cozy rooms, a bar, and a restaurant. They have double and triple rooms, most of them located in one big building. Prices here are generally slightly cheaper than in Arnarstapi and it's a lot quieter here.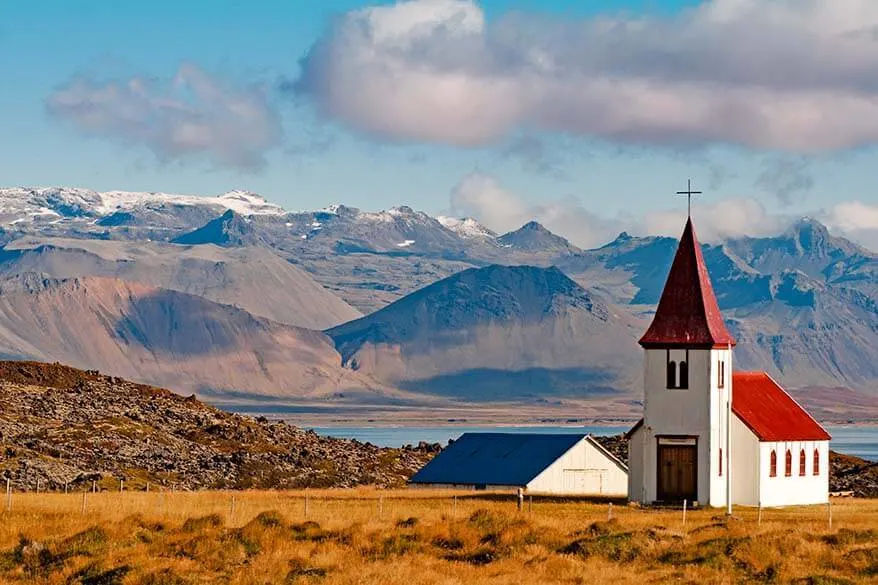 Búðir
Budir is not even a village, but pretty much all visitors come here for the famous Búðakirkja, the black church of Budir. Bjarnafoss waterfall is also located nearby, as is the nice little Búða beach. There is just one hotel here and no other infrastructure.
Budir Hotel
Hotel Budir is a simple hotel in a traditional style. It's not as modern as the newer hotels of Arnarstapi or Hellnar, but certainly has its charms and the service is excellent. Featuring double rooms only, this hotel also has its own restaurant. Customer reviews are excellent and the location is good for sightseeing on the Snaefellsnes Peninsula.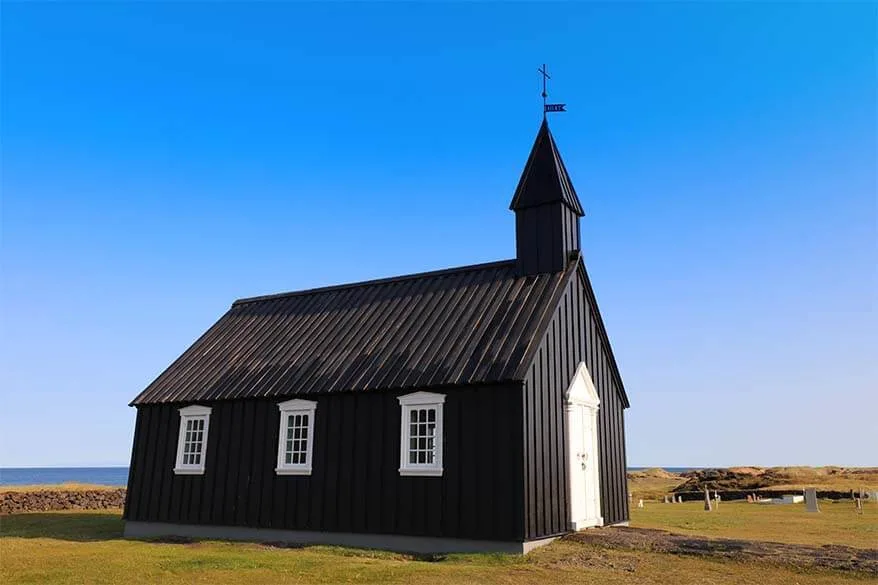 Borgarnes
While not part of Snaefellsnes Peninsula, Borgarnes is a popular place to stay when visiting the area.
Located along the Ring Road, Borgarnes is about 1-2 hours drive to the main Snaefellsnes attractions… It's a good option for those who are short on time and want to quickly visit the Snaefellsnes Peninsula while touring the Ring Road. However, I would only recommend staying here if you are planning to spend not more than one day in Snæfellsnes.
The main advantage of staying in Borgarnes is that it's close to the main road around the island and makes it easy to add a stop in any Iceland Ring Road itinerary. There are also big supermarkets in town and a really nice communal swimming pool with outdoor hot tubs. Hotel prices are also quite a bit lower in Borgarnes than on the Snaefellsnes Peninsula itself.
B59 Hotel
B59 Hotel is a beautiful and very modern 4-star Borgarnes hotel, located right in the town center. Featuring a bar and a restaurant, this hotel also has a spa and wellness center with jacuzzi, sauna, etc. The rates are very competitive and include breakfast. The hotel restaurant does its best to cater to any dietary requirements, but you can also just walk to the other restaurants in town.
Hotel Hamar
Hotel Hamar is a really nice 3-star hotel in a beautiful setting right at the golf course, about 4 km from the town center. It also has a beautiful outdoor wellness area with a sauna and several hot tubs. Just one disadvantage (or maybe advantage to some) – all the rooms here are for 1 or 2 persons only. Baby cots are available, but there is no capacity for extra beds.
Hotel Hafnarfjall
Located across the bridge from Borgarnes town center, Hotel Hafnarfjall is an excellent place to stay near Borgarnes on a somewhat lower budget. It offers nice rooms and an outdoor jacuzzi, but the restaurant only serves breakfast. You'll have to take a car to drive to a restaurant in town.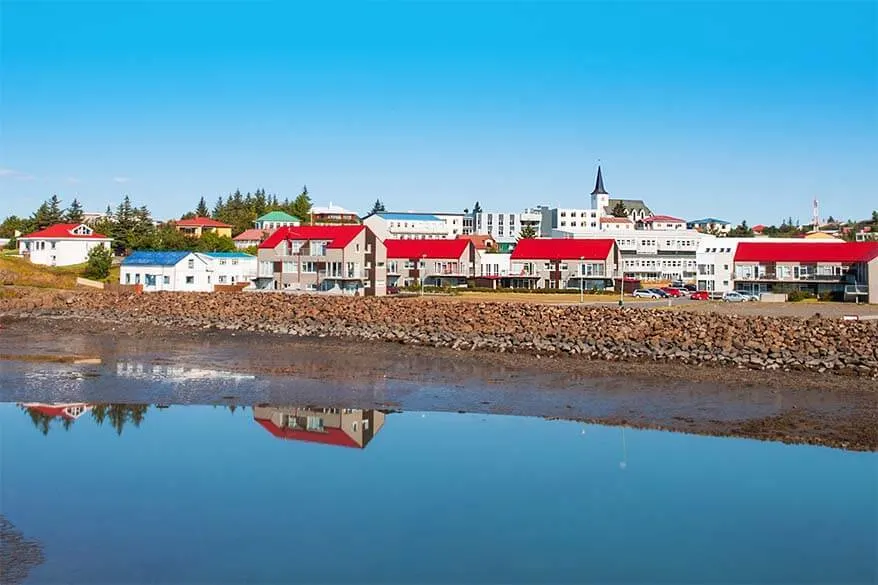 How Long Should You Stay on Snaefellsnes Peninsula
Many people visit Snaefellsnes Peninsula for just a day and don't even stay here. The area is also a popular day trip from Reykjavik. But while you can just see some of the main places in a day, Snaefellsnes Peninsula is a region that is worth exploring at least a bit longer.
In my opinion, 2 nights/ 1 full day is the minimum time you need in Snaefellsnes Peninsula. If you have more time and like to explore deeper, I recommend staying here for at least 2 or 3 days. You won't get bored!
LEARN MORE: Best Things to Do in Snaefellsnes Peninsula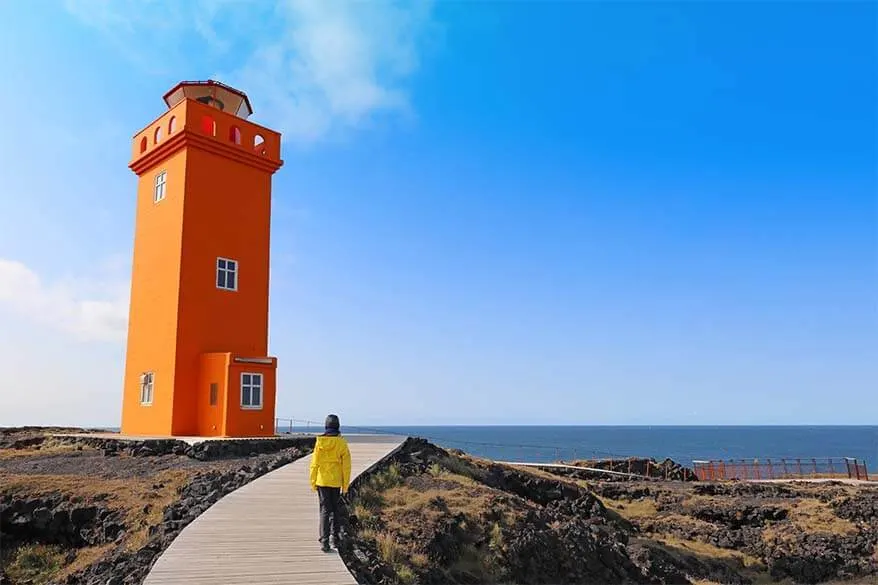 Things to Consider When Booking Snaefellsnes Accommodation
Since all the main landmarks of the Snaefellsnes Peninsula are located along the circular drive, it doesn't matter that much where you choose to stay. The nicest area to stay is Arnarstapi or Hellnar, but if you rather be in town where there are shops and restaurants, then Stykkisholmur is a much better option.
However, you should also consider the rest of your trip itinerary and other factors. It might be wise to choose a particular place that fits your trip best instead of just looking at the accommodation or its price.
For example, we stayed in Grundarfjörður on the northern side of the peninsula, because we had to catch an early morning ferry from Stykkishólmur to the Westfjords. It was also the only place where we found accommodation for 5 people in the high season. I was also secretly hoping to see auroras at the nearby Kirkjufell Mountain (which didn't happen because it just didn't get dark enough in the last week of August)…
READ ALSO: Where, How & When to See the Northern Lights in Iceland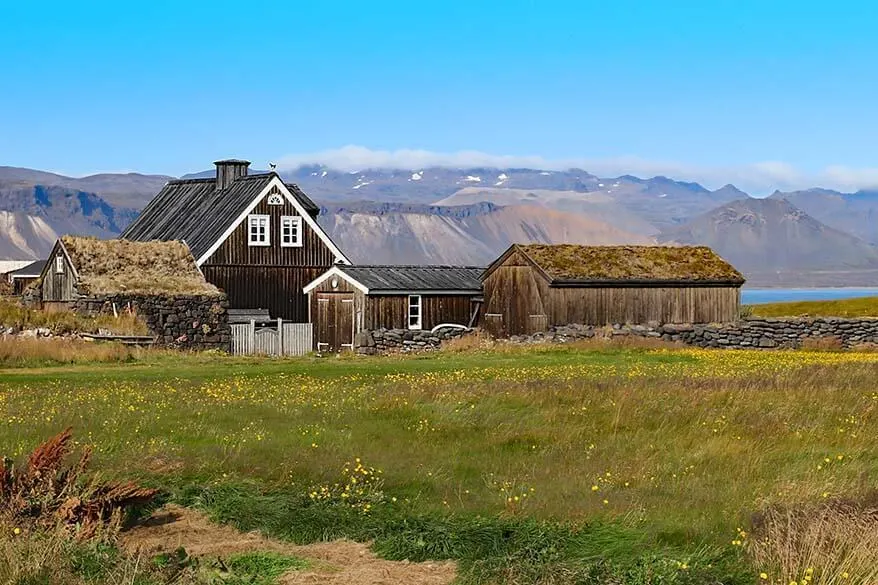 So, this was our guide to Snaefellsnes hotels. Just one last tip – book your accommodation as soon as you know your travel dates. Especially in the high season, hotels in Iceland fill up months in advance.
Planning a trip and have any questions? Check out our other Iceland travel resources below. Have a specific question about staying in Snaefellsnes? Leave a reply under this article.
READ ALSO: Snaefellsnes Peninsula – complete guide for your visit
More tips for your trip to Iceland:
If you found this post helpful, don't forget to bookmark it and share it with your friends. Are you on Pinterest? Pin this image!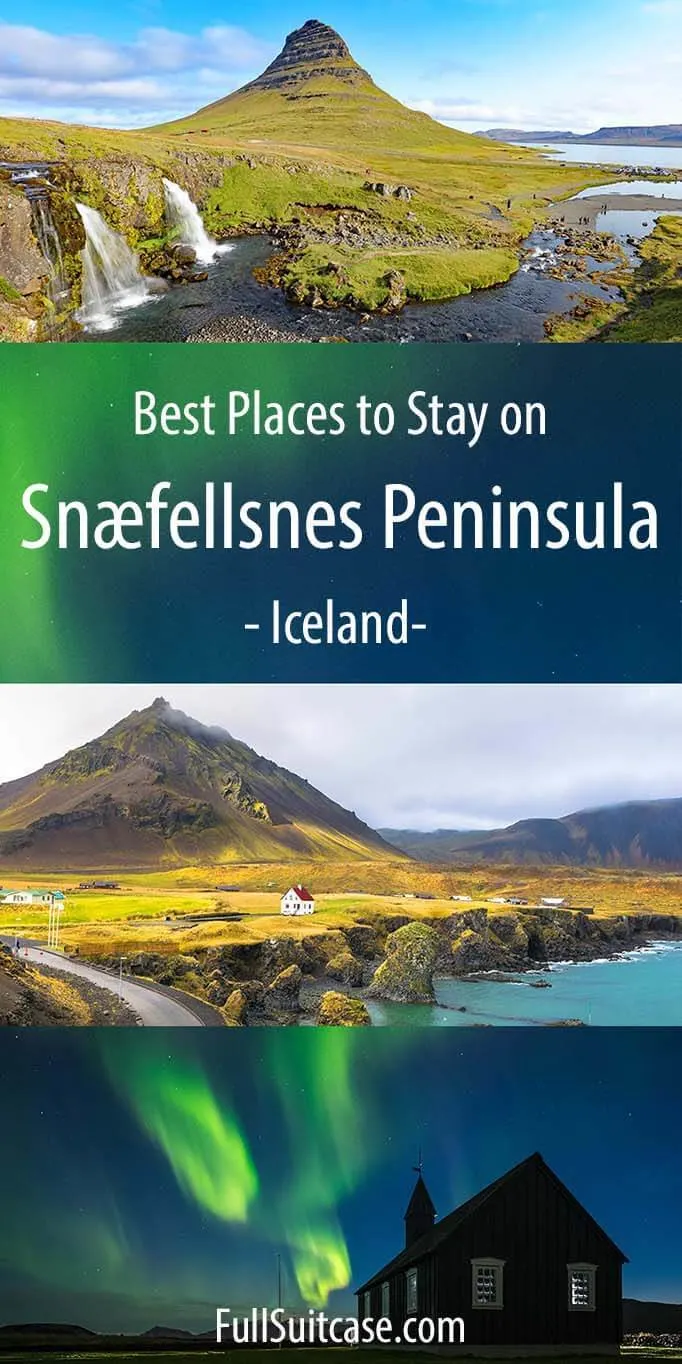 Image Credits: Budakirkja aurora – SW arts/Shutterstock.com// Kirkjufellsfoss – Andrew Mayovskyy/ Shutterstock.com// Styykisholmur – dvoevnore/Depositphotos.com// Borgarnes – Gesturleo/Depositphotos.com// Arnarstapi – Nido Huebl/Shutterstock.com// Hellnar – adwo/Depositphotos.com// All other images Jurga/FullSuitcase.com