Looking for the best Montserrat tour from Barcelona and are overwhelmed with so many options? In this guide, we share our research of the best Montserrat tours, as well as the tour we chose, our experience and tips for to help you choose the perfect Montserrat tour for you. Find out!
Montserrat is one of the most popular day trips from Barcelona. You can choose to visit on your own or with an organized tour. But how to decide if a guided excursion is worth it and which Montserrat tour to choose? This article will help you do just that.
While you can easily visit Montserrat on your own, after lots of research, we decided to visit Montserrat with an organized day tour from Barcelona.
In this article, you can read all about why we opted for a Montserrat tour, our experience with the tour we chose, and what to expect from a Montserrat tour.
In addition to our Montserrat tour review, you can also find some practical information that should help you decide whether to visit Montserrat with a tour or on your own. And, if you are set on a tour, which Montserrat excursion to choose and why.
Good to know: In this article, we focus solely on Montserrat tours. If you are looking for more general information about visiting Montserrat, its significance, history, or practical tips for your visit, please check our complete guide for visiting Montserrat Monastery. It also includes a list of the best things to do in Montserrat and also information on all the best ways to get there from Barcelona.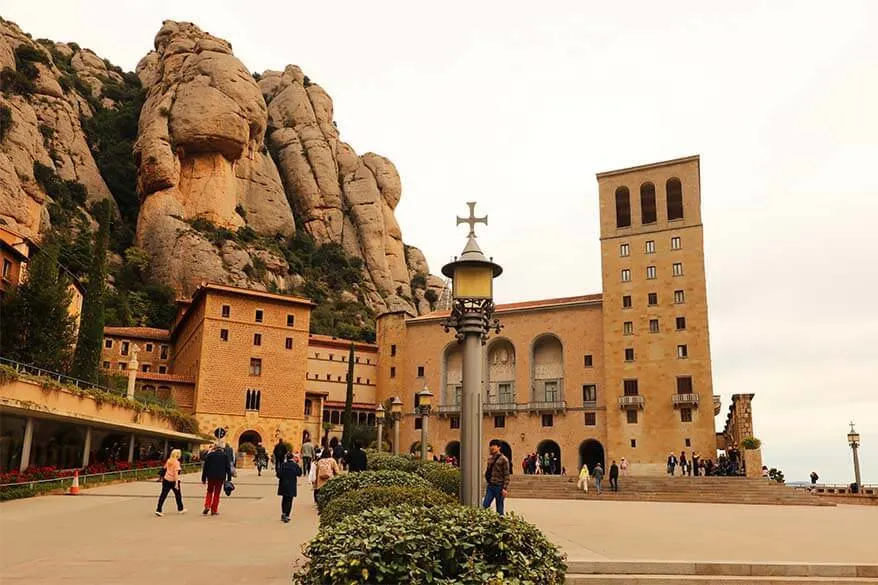 Why Visit Montserrat with a Tour
First, let me tell you that we hardly ever book tours to places that are easy enough to visit on your own. However, on our recent trip to Barcelona, we did two guided tours: Gaudi tour and a day excursion to Montserrat.
Why? Several reasons. First, we wanted to visit all these places with a local and learn more about them. Second, we didn't have the time or desire to deal with the practical aspects of figuring out how to avoid the crowds (Barcelona is as busy as it gets anywhere in Europe)… And finally, we just wanted to have a relaxing vacation and let someone else do the planning for us. Basically, we wanted to get the most of our visit in a short time. In both cases, it was a great choice.
Visiting Montserrat with a tour, allowed us to truly appreciate what this place is about and learn some interesting facts that we would have never known otherwise.
In addition, our local guide who comes here every day, gave us some insider tips that allowed us to see the best of Montserrat in a short time. We didn't have to waste time trying to figure out how to get everywhere, where exactly to be, where to buy the tickets, how to avoid the queues, or where to get the best pictures… We didn't have to plan anything or worry about the practicalities of visiting Montserrat… Just enjoy the day.
Furthermore, we opted for a Montserrat tour that also included a visit to a winery. So we got to see some of the stunning scenery of the surrounding area on our way there. In addition to the winery visit, we also had an excellent lunch with local wine. The option that we booked also included wine tasting. All these local experiences made our day trip to Montserrat even more special.
Further below, you can read about the tour we chose and our personal experience. But first – take a look at our hand-picked selection of the best Montserrat tours that will help you decide which tour is right for you.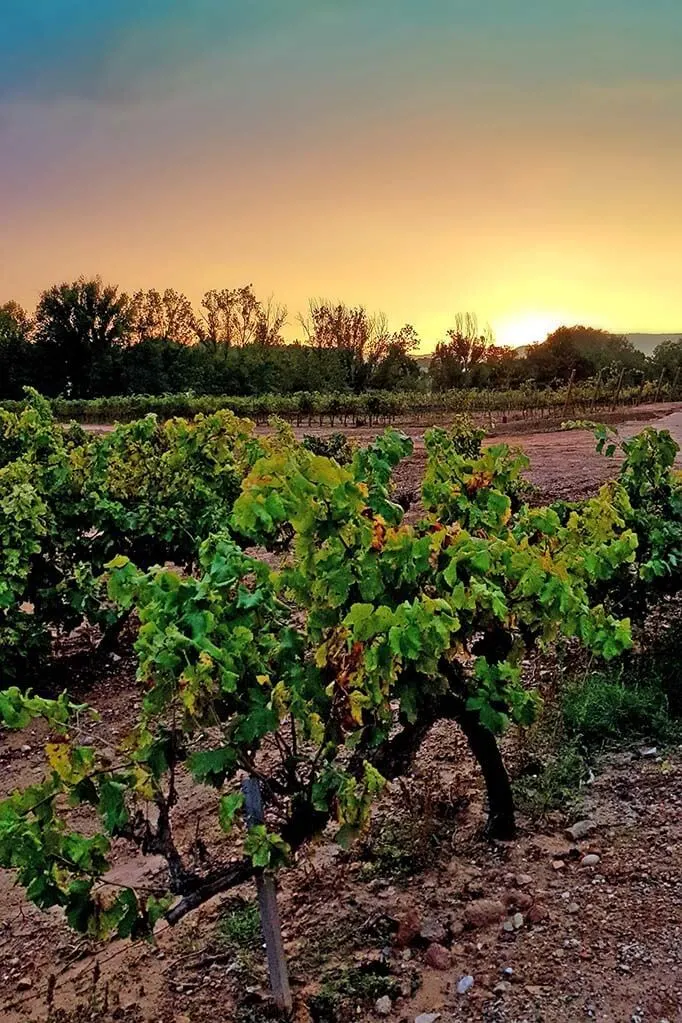 Best Montserrat Tours from Barcelona
There are so many excursions to Montserrat that it can be really hard to choose which one to take. We traveled to Montserrat in low(-ish) season and most tours weren't available so that limited our choices. However, even in the low season, it was still overwhelming. If you are visiting Montserrat in the high season, the possibilities are almost endless…
While doing research for our own trip, I made a list of the best organized Montserrat day tours, based on itinerary, price, and customer reviews. I narrowed it down to just several options that should make it easier for you to find the tour that suits you best. Take a look at the selection we made!
Best Montserrat tours from Barcelona:
Guided Tour with Early Access (5hrs). This is the cheapest and the shortest tour to Montserrat. It's ideal for those who don't have much time and want to visit the monastery.
Tour with Farmhouse Lunch (7.5 hrs). This is a very popular and one of the highest-rated luxury small-group tour that includes an excellent 3-course lunch and drinks.
Full-Day Tour with Lunch and Wine Tasting (5-9 hrs). This is the tour we did (you can read about our experience further below). It's an excellent and very relaxed Montserrat tour for those who love wine and have an entire day (9hrs). It's also available in two shorter versions – just the monastery visit (5hrs), or tapas tour (7hrs).
Sagrada Familia & Montserrat (10 hrs). This is a great small-group tour for those who are short on time and want to see the Sagrada Familia and Montserrat Monastery in one day.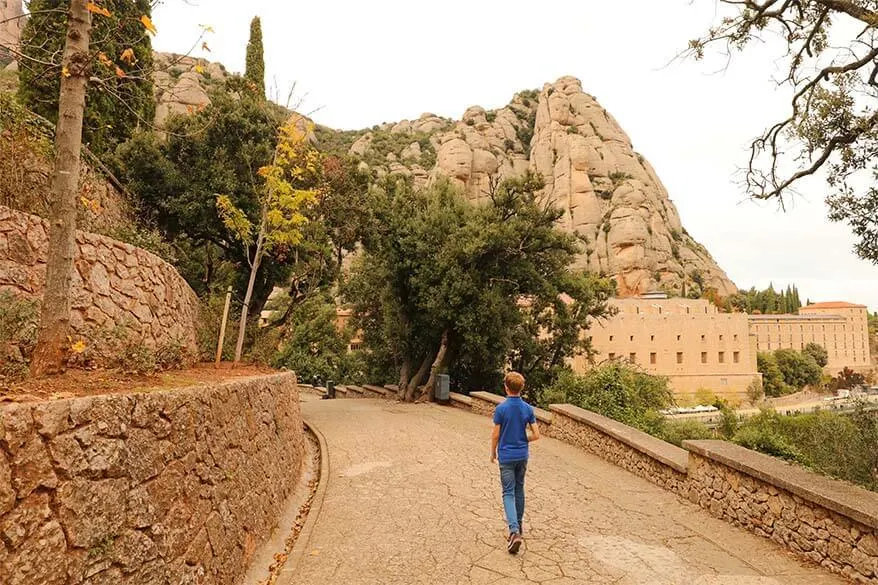 Our Montserrat Tour Review
We booked this highly-rated day tour from Barcelona to Montserrat and a local winery. The tour was organized by Castlexperience Wine Tours. Below, you can read about our experience.
Transport & Guides
Advertised as a small-group tour, I was expecting to travel in a minibus, but our transportation from Barcelona to Montserrat was actually with a big bus that transported three small groups together.
Once in Montserrat, all the groups split up. From then on, there were just 12 people in our group, with a dedicated guide just for us. Transport to the winery was also done on a big bus, just as our return to Barcelona. On the bus, all the three guides took turns in telling us stories about the region, places we visited, and some funny local anecdotes that made the long ride shorter.
Our guide Mr. X, as he called himself, was a local Catalonian who clearly knew his job well. He was knowledgeable, helpful, and entertaining, but without being too much. He was also quite honest about the places that we visited and told us what was worth our time or what could better be skipped.
Thanks to his tips, we quickly found the best photo spots in Montserrat and visited the church of the Abbey without having to spend our time standing in a long line. He also guided us to a local shop and a farmers' market where we could taste some local specialties…
In Monserrat, we also learned the history of the place and its significance to the Catalan people. We learned more from our guide in a few minutes than I read in any travel guide before. This alone was worth visiting Montserrat with a tour.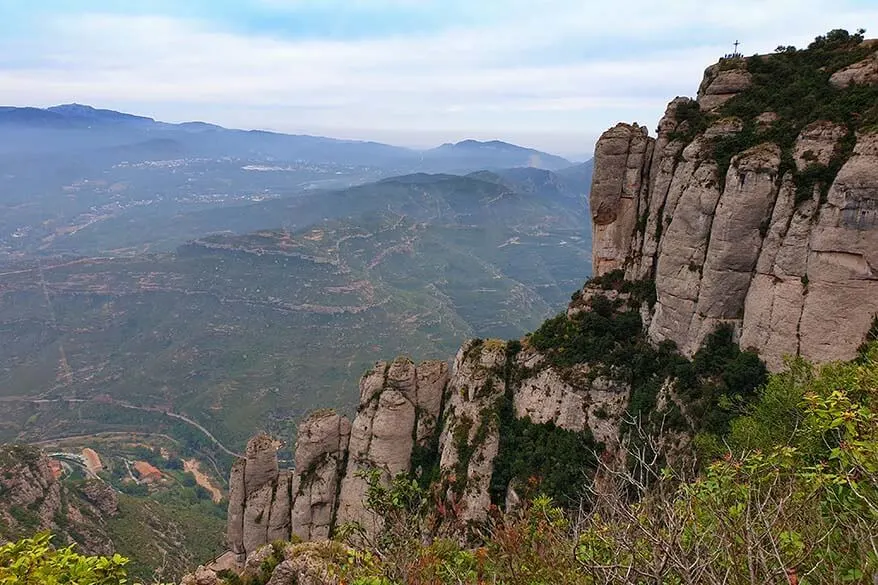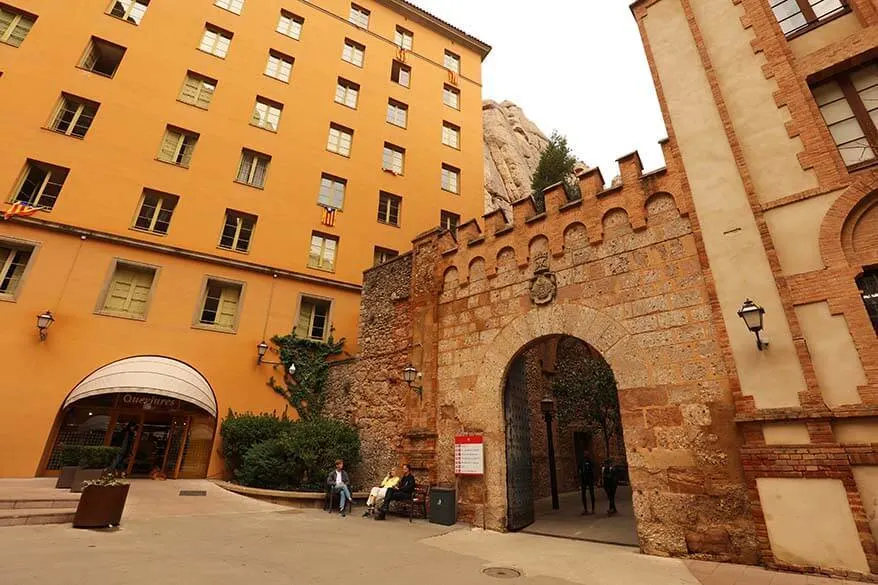 Our Montserrat Wine Tour Itinerary
Below, you can find a detailed itinerary of what our Montserrat day trip looked like.
Montserrat Monastery
Our Montserrat tour started at Plaça de Catalunya in Barcelona. After about 1hr drive on the bus, we reached Monistrol de Montserrat where we took a train up to Montserrat mountain.
Once on the mountain, our guide took us to visit Montserrat Monastery and its impressive church. We didn't queue for the Our Lady of Montserrat, aka the Black Madonna, but simply visited the church from where we could see the holy statue from a bigger distance.
Good to know: From what I read on other blogs and saw in Montserrat, many people do not realize that you do not have to stand in line in order to visit the church of Montserrat. People see others queuing and simply join in, without knowing why…
That long queue is just for those who want to see the Black Madonna from close-by and to touch the sphere that she's holding. Unless you are very religious and come to Montserrat on a pilgrimage, it's really not worth wasting several hours on this…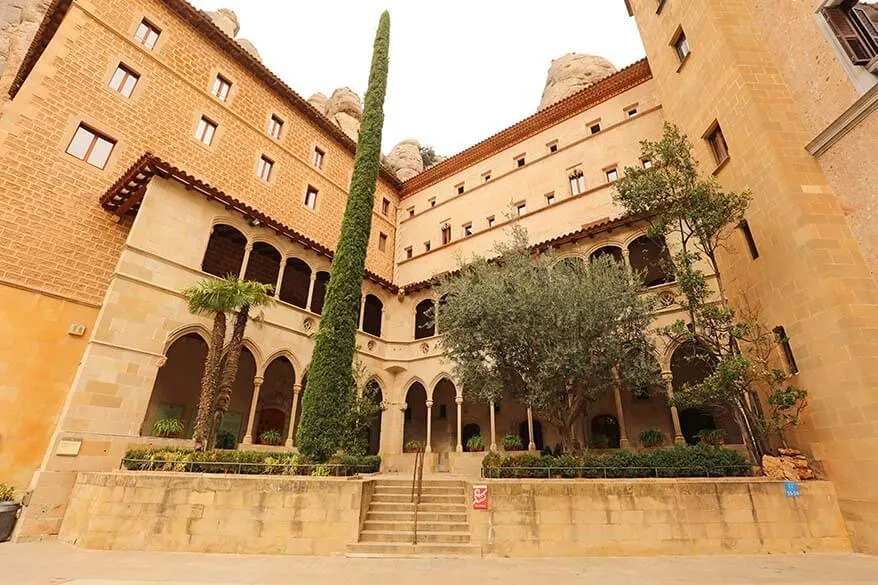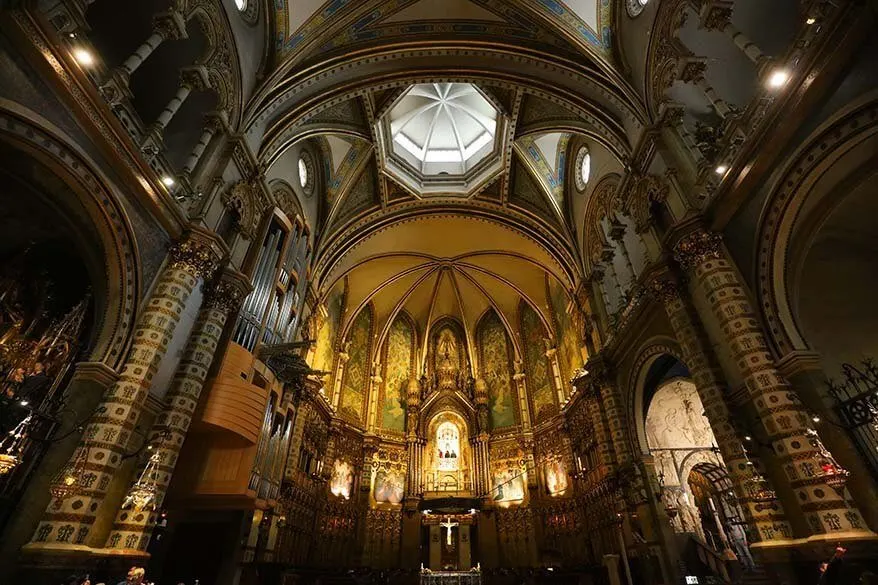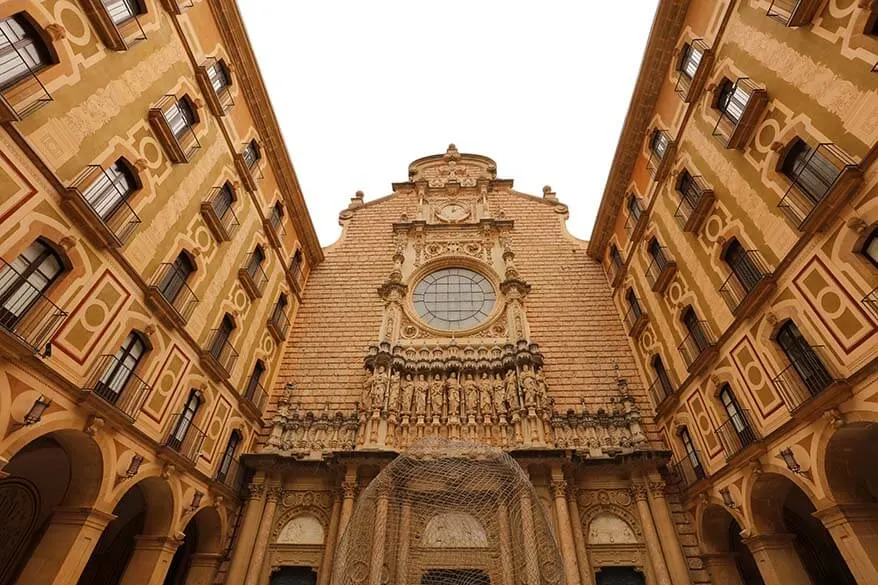 After a visit to Montserrat Monastery, we had almost an hour of free time. Some people chose to go and listen to the Montserrat Boys Choir (they sing daily at 1 PM and at 6.45 PM, and also at noon on Sundays). Some others opted for a short visit to Montserrat Museum.
We decided to visit a local shop where we could taste some local Montserrat Liquor and pastry. This degustation was included with our tour, but you could also get the same for 5 EUR if you visited individually. It's a unique opportunity to try some drinks that are produced here and would be hard to find anywhere else.
Aterwards, we walked to St. Michael's Cross for the best views of Montserrat Monastery. It was so worth it! The views from there are amazing!
We also quickly visited a local market where we got some local Mató cheese with honey, as recommended by our guide. It was excellent and highly recommended!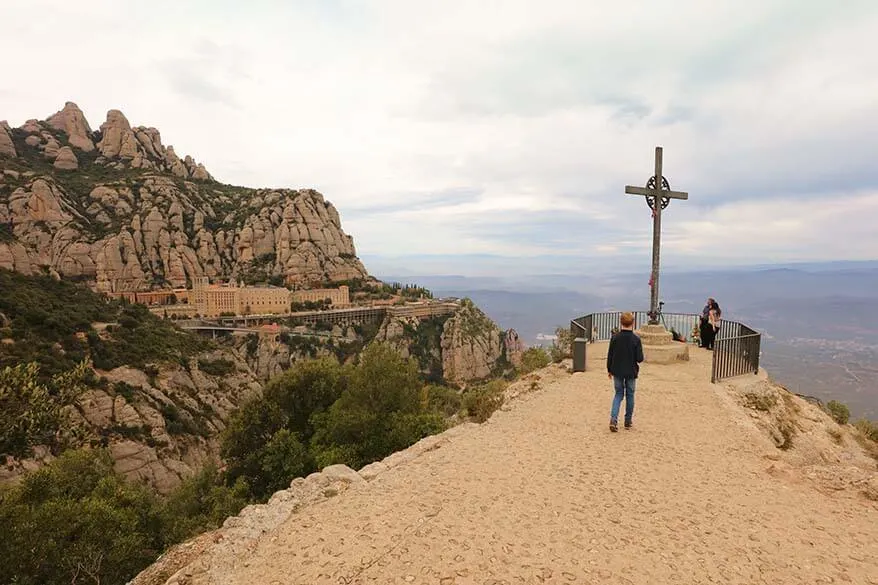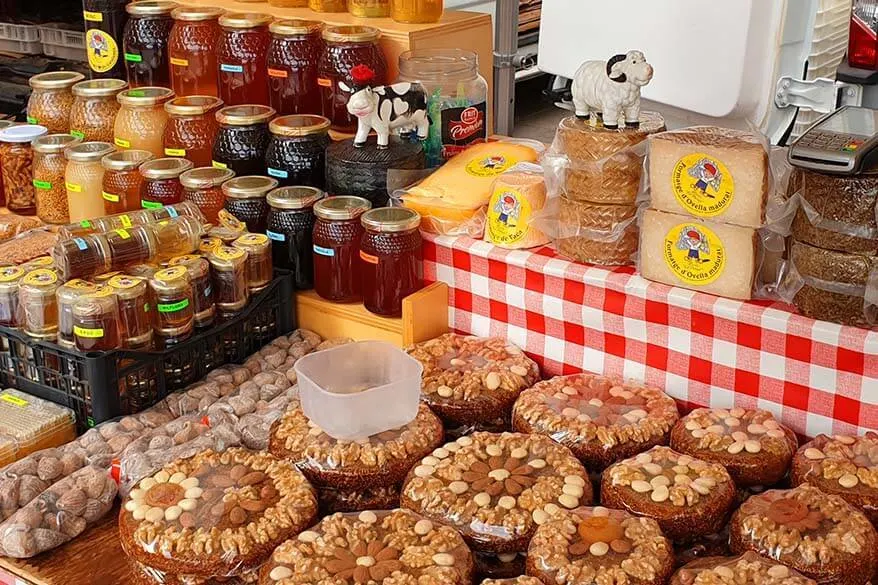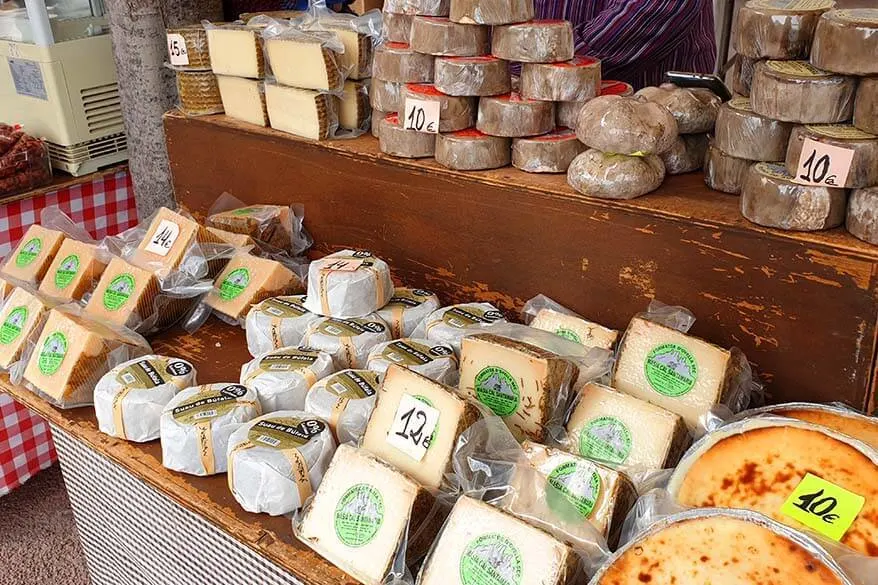 Winery Visit, Lunch, and Wine Tasting
After a short walk to a big parking area on top of Montserrat mountain (so no need to take a train down), we were picked up by a bus that brought us to a local winery. We visited Oller del Mas winery about 30 minutes drive from Montserrat.
The ride was so scenic that I really regretted that we didn't come here by car (so that we could stop and take pictures behind every corner). On the other hand, I realized that most people who visit Montserrat by train from Barcelona, never even see this area at all… And driving by car to the top of Montserrat mountain is really not advisable unless you are visiting in the middle of the winter when there are very few tourists…
So all in all, I'm glad we saw these stunning landscapes, even though it meant that I couldn't take proper pictures of them to share with you…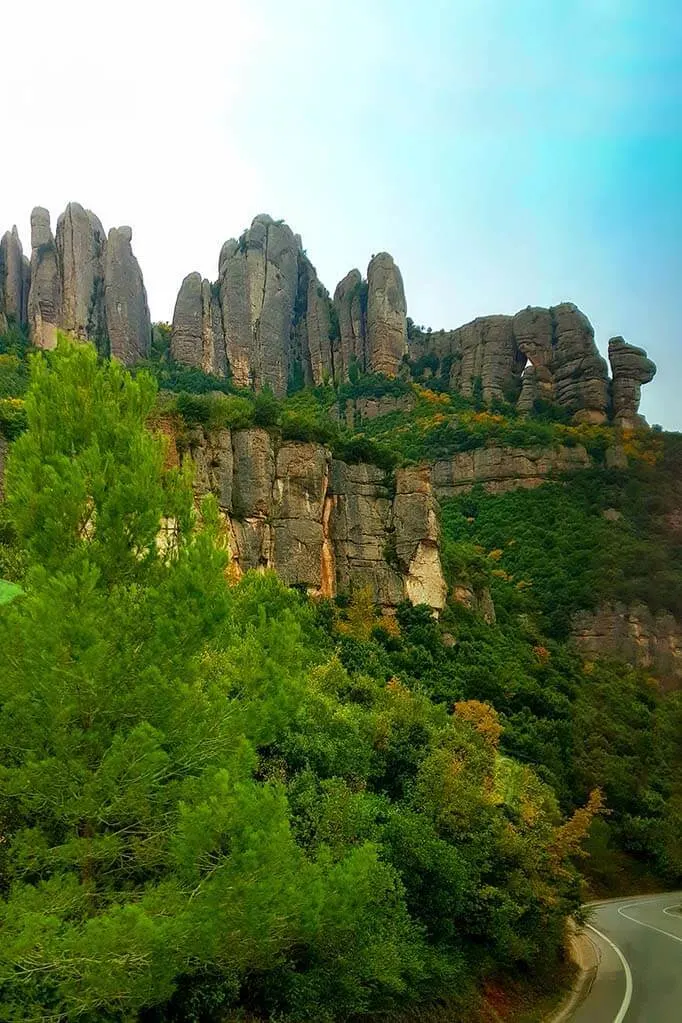 Upon arrival at the winery, we were guided to a big dining room where we had a 3-course lunch. Our Montserrat tour had two options – lunch, wine, and wine tasting OR tapas and wine.
The tour with lunch was longer and a bit more expensive, but since we dedicated the whole day to visiting Montserrat anyway, we went with that one…
Our lunch was excellent and there was plenty of wine to accompany the food (and soft drinks for the children). We were told that the cook has a Michelin star and so needless to say, the food was really good.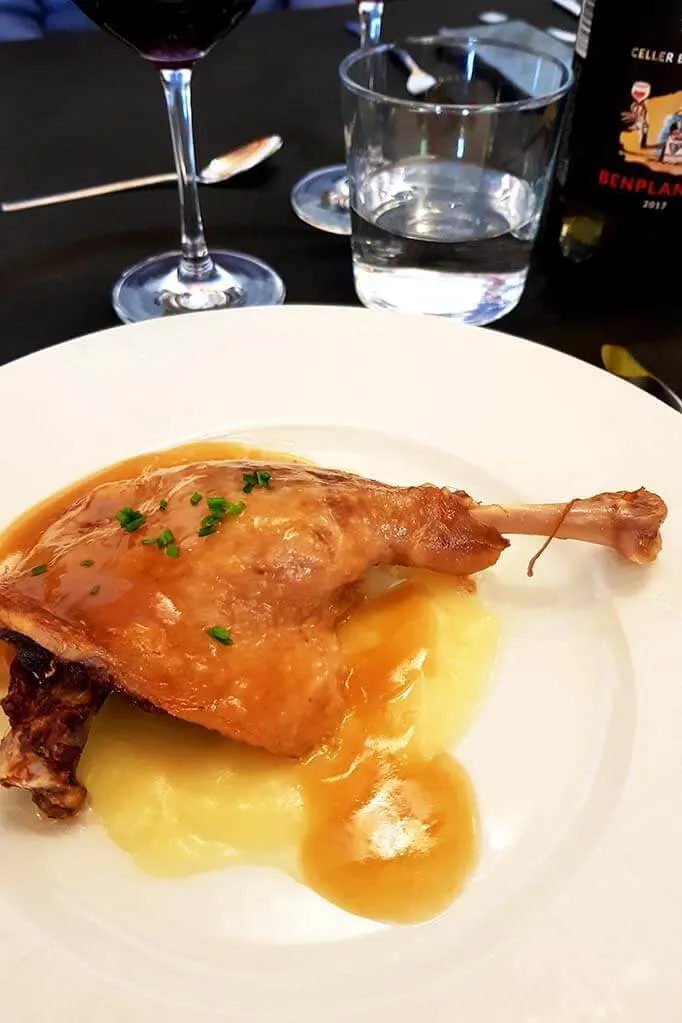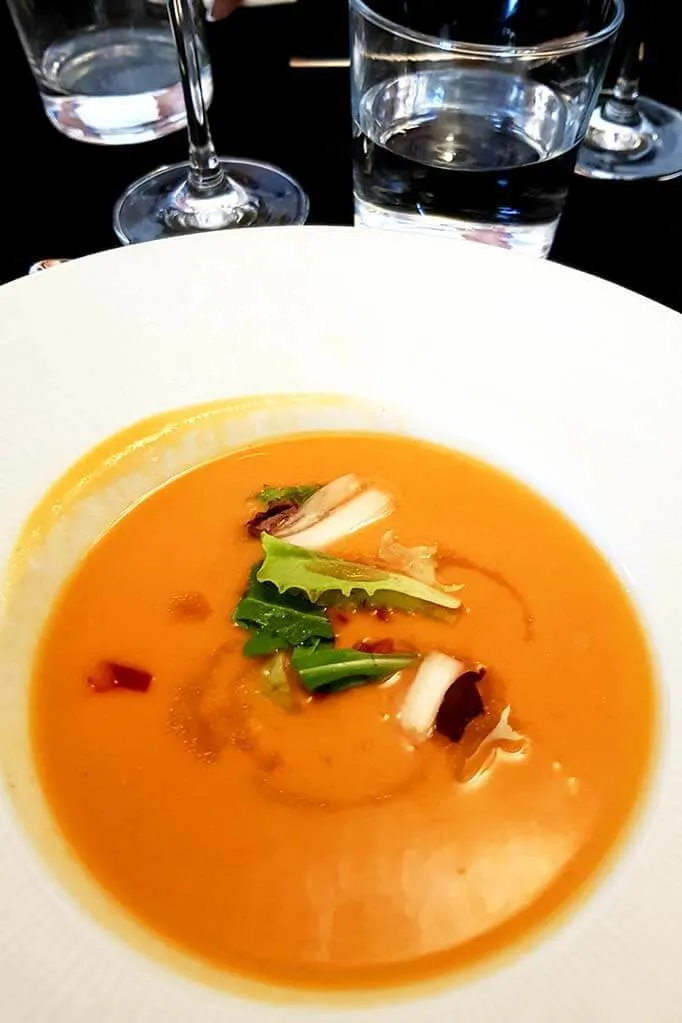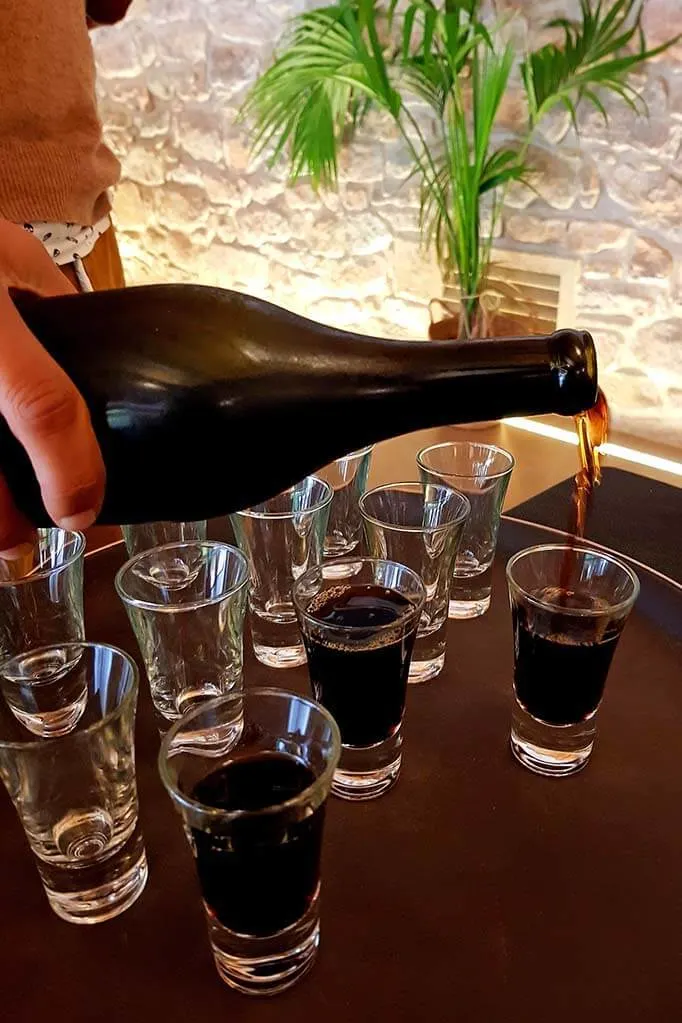 After a long relaxing lunch, we took a short walk through the beautiful grounds of the winery.
We saw where the wine barrels are stored, met some local donkeys, and witnessed a beautiful sunset over the vineyards with Montserrat mountains in the distance (the sun goes down quite early in autumn).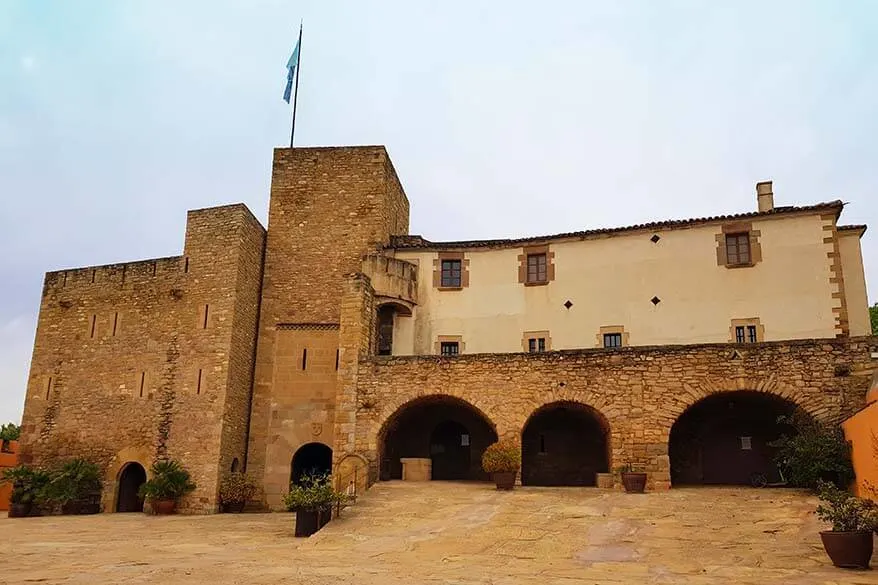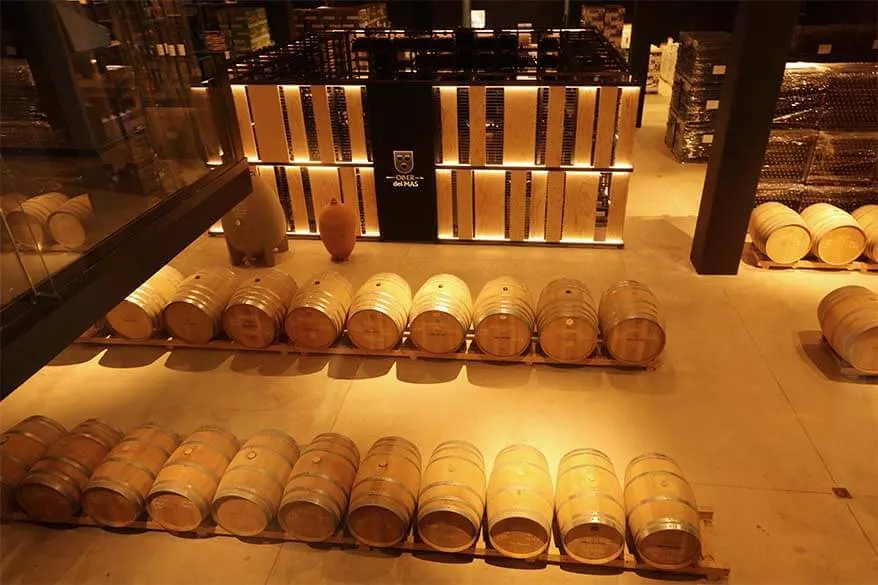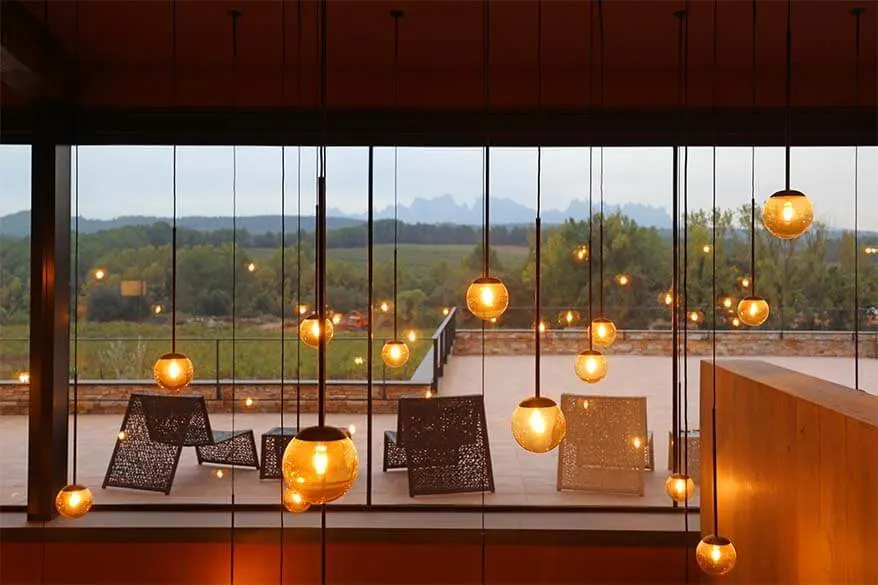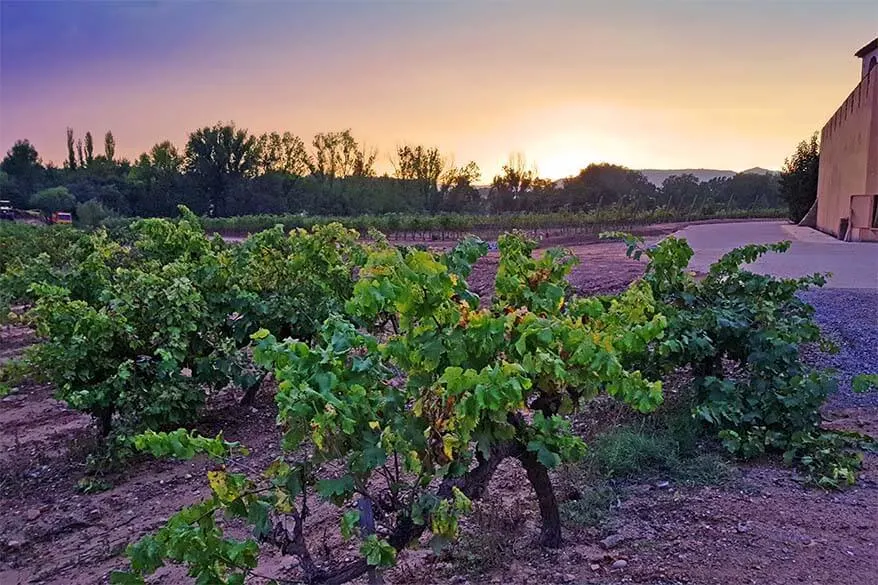 We then walked to another part of the winery for wine tasting… I didn't realize this before booking, but this tour was just as much about the wine as it was about the Montserrat Monastery…
We like good wine, so this was fine for us, but if you are not that much into wine, you may want to look for another tour (see our alternative suggestions above). Or book the light lunch/ tapas option instead.
We tried several different wines and with all the explanation, we learned so much about wine during this wine tasting that that in itself was worth it. It was a really educational visit.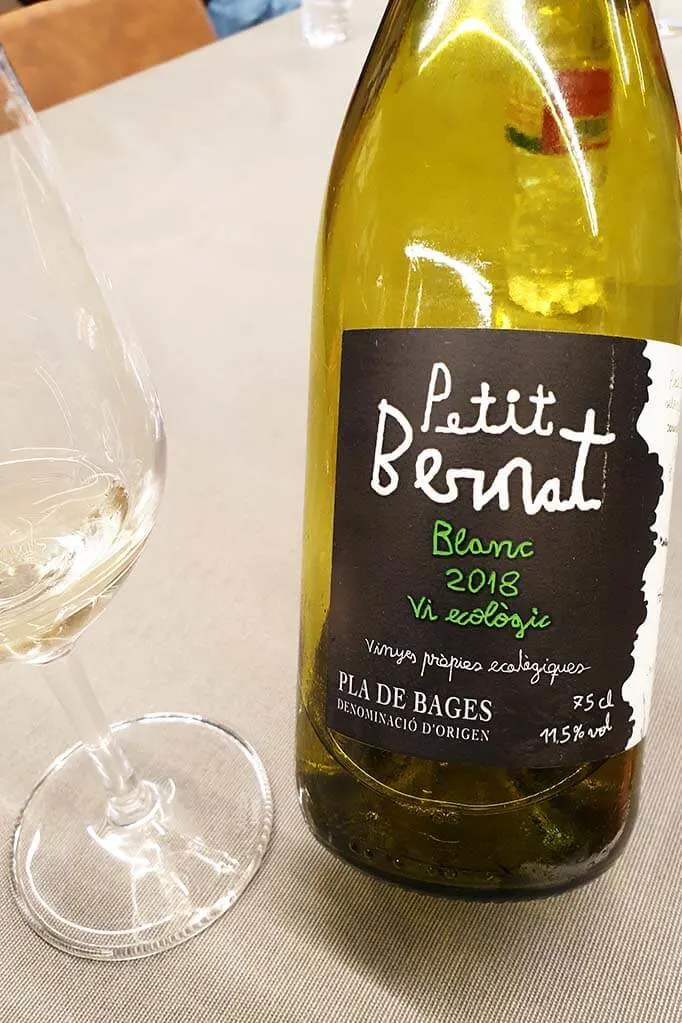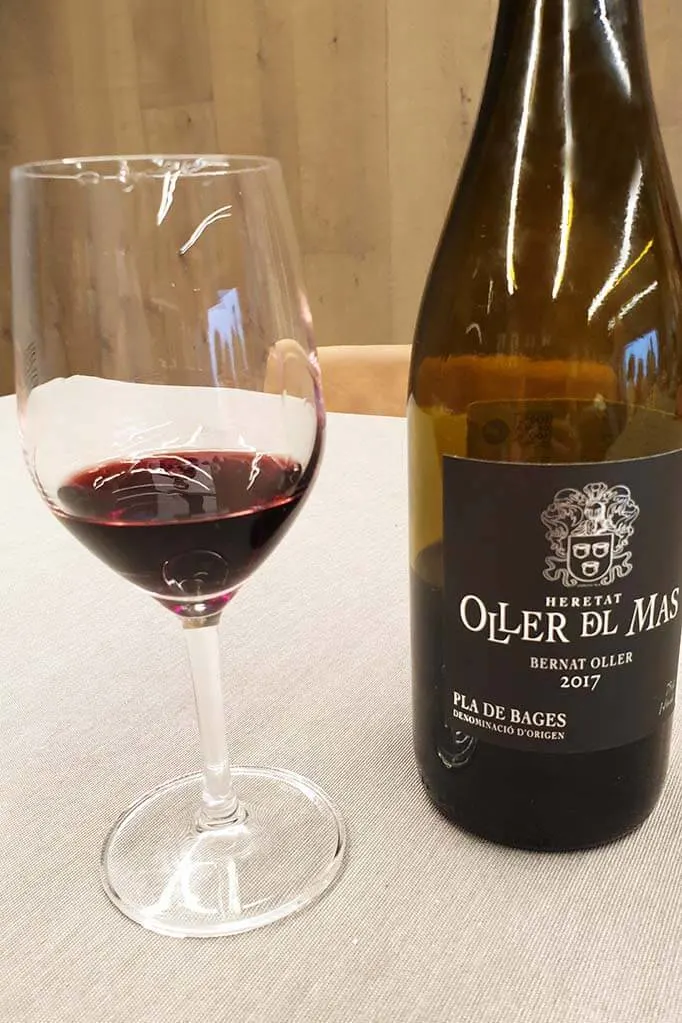 Our Montserrat & Winery Tour – Conclusion
We really enjoyed our day tour to Montserrat, the lunch, and the winery visit. It was great to learn more about Montserrat from our guide and to be able to take advantage of all the insider tips he gave us.
Our group of just 12 people was great and we met nice people from Canada and the U.S. They all absolutely loved the tour and said that it was one of the best things they did in Barcelona. Not one person in our group didn't enjoy it.
I would have liked to have a bit more time in Montserrat. Because we decided to walk to St. Michael's Cross, our free time was very rushed. Having just half an hour extra would have made it more relaxing.
But we were the only people in our group who even wanted to walk and experience some of the surroundings. The majority were perfectly happy with the Montserrat tour, local delicacies at a store, and a market visit during free time. One couple went to listen to the Boys' Choir…
TIP: If you want to explore the area a bit more and go hiking in Montserrat, then this tour isn't for you. In that case, you better check out these tours that include hiking.
The one disadvantage of taking a wine tour is that the wine tasting was, obviously, of no interest to the kids. Luckily, we had packed some games and e-readers and they kept themselves busy…. But in general, I wouldn't recommend this particular Montserrat tour for families with kids.
On the other hand, we saw quite a few families doing the same tour in another group and all the kids seemed to be having a good time… So it's up to you. But if I were to do this particular tour with kids, I would choose the tapas version of the same tour (it's also 2 hours shorter).
For couples or singles who love good food and wine – this tour is excellent.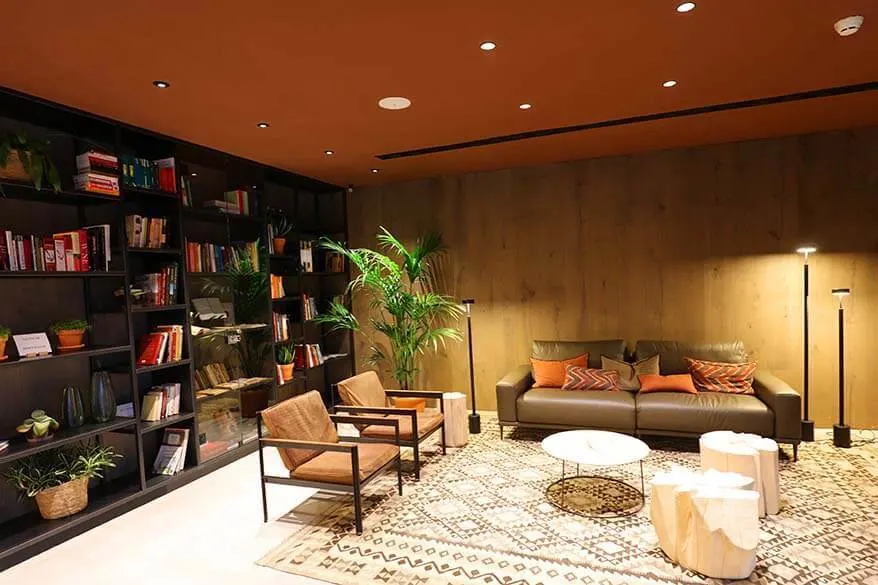 To summarize. If you want to visit Montserrat, but also enjoy good food and wine, then you'll love this Montserrat wine tour.
If you prefer a shorter tour (or one without the wine tasting), there are plenty of other excursion options that will suit different interests (see the Best Montserrat Tours section above for suggestions).
READ ALSO: Best Things to Do in Barcelona
More tips for your trip to Spain:
If you found this post helpful, don't forget to bookmark it and share it with your friends. Are you on Pinterest? Pin this image!