Are you thinking of a weekend in Barcelona and wondering if it's a good city break destination? Or maybe you are looking for ideas on what to see and do in Barcelona in 2 days? This guide should give you a good overview of what not to miss if visiting Barcelona for two days. Take a look!
Whether you're just starting to plan your Barcelona weekend, or already have the trip booked and are looking for a suggested Barcelona itinerary for 2 days,I hope that our tips and suggestions will help you plan an unforgettable weekend in Barcelona.
Good to know: For the sake of simplicity, our suggestions for a Barcelona weekend are made under the assumption that you have two days in Barcelona. We have listed all the very best things to do and places to see in Barcelona that you can do on a short city break of just 2 days.
In addition, we also include some amazing lesser-known places that are worth it just as much as the main landmarks. It's the combination of all these experiences that will make your trip so much more memorable!
To make your weekend planning easier, we also created a map indicating the best places to see in Barcelona in two days. You can find it at the bottom of this article.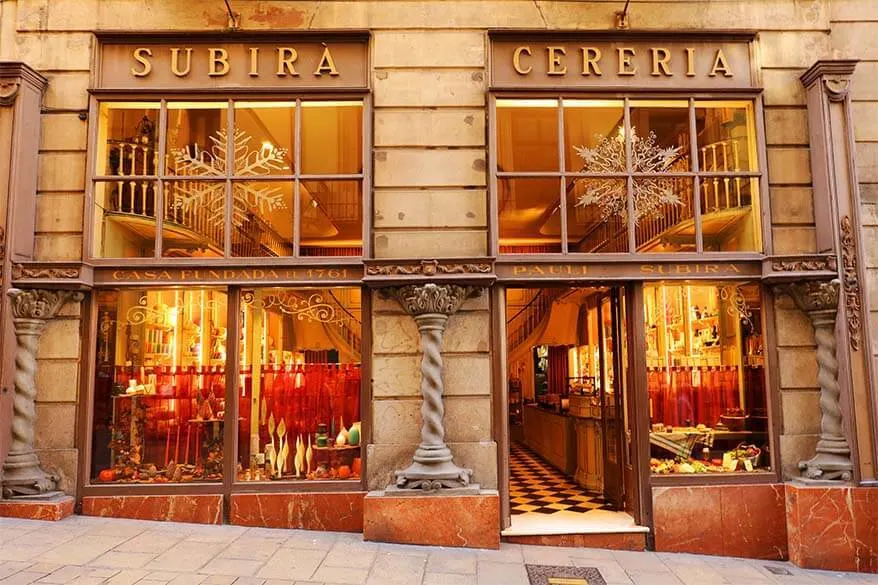 Our suggestions below include ALL the must-see places in Barcelona. So you can see all the main attractions that are worth your time the most when visiting the city for the first time.
In addition, we also share some extra suggestions for a long weekend in Barcelona, in case you have a bit more time.
And finally, we also include some practical tips for a weekend in Barcelona – where to eat, where to stay, and how to get around the city and to/from the airport.
Find out!
Complete guide for a weekend in Barcelona – OVERVIEW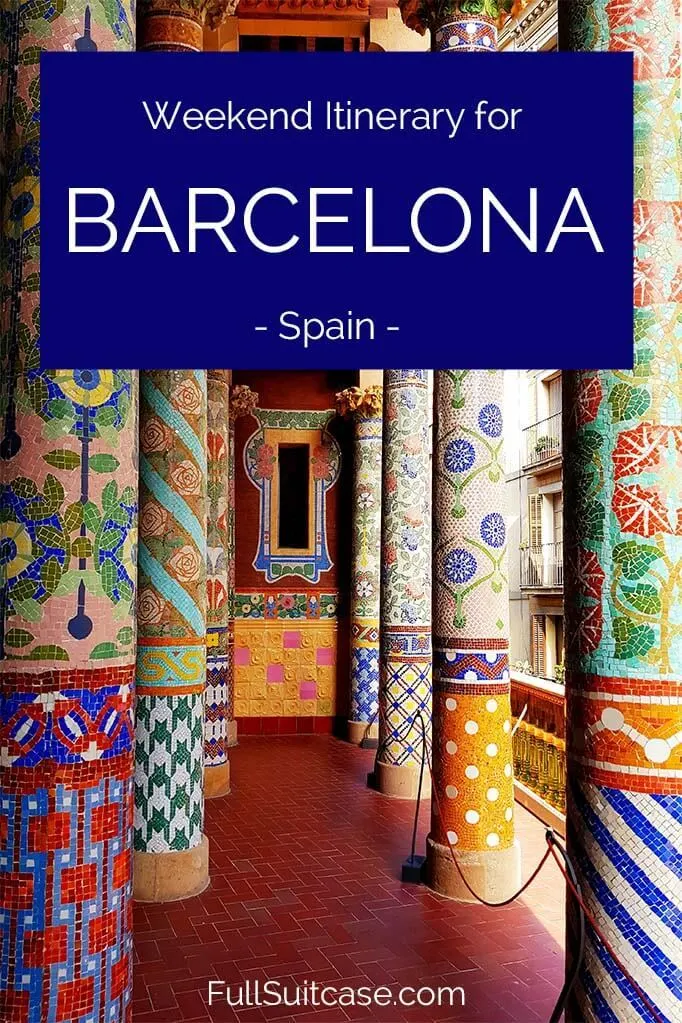 Before we continue with the best suggestions on how to plan a weekend in Barcelona, I want to address one question. Just in case you're still not sure if a weekend in Barcelona is a good idea… Find out!
Is Barcelona a Good City Break?
Yes, absolutely – Barcelona is one of the best European destinations for a city break or a short weekend trip! The city has all the ingredients for a perfect city break – history, culture, incredible architecture, world-class museums, local food markets, restaurants, and some of the best shopping you can imagine.
In addition, there is an amazing beach right in the city center, and you can expect some great beach weather too. And of course, there is also football!
With cheap direct flights from other major European (and overseas) destinations, Barcelona is extremely easy to get to and the airport is just a short ride from the city center.
Ok, so now that you know that you cannot go wrong with a weekend in Barcelona, let's take a look at all the amazing places to see and things to do in the city. See further!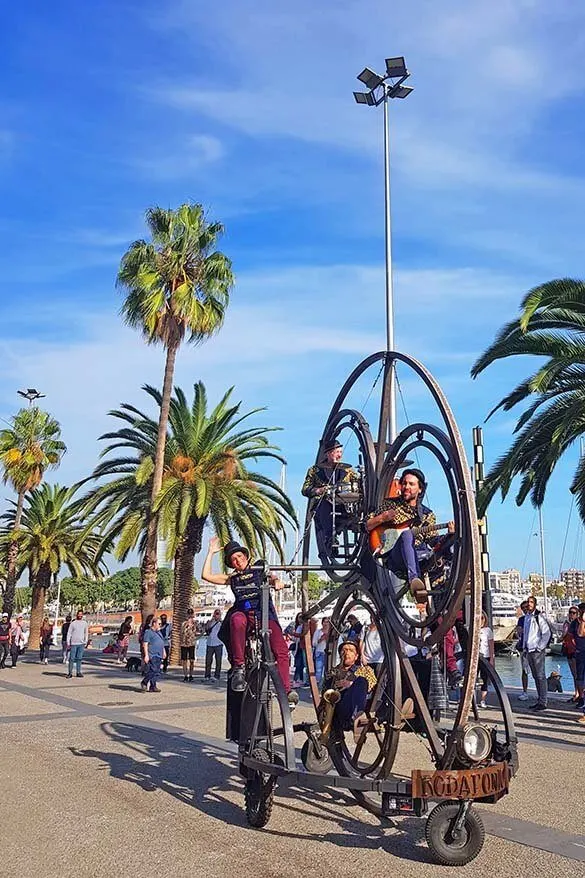 Things to Do – Barcelona Weekend Itinerary for 2 days
Before we go into more detail about all the best places to see on your Barcelona weekend trip, here's a short overview of a suggested Barcelona itinerary for 2 days. You can use this as an indication to plan your own perfect weekend in Barcelona. Take a look!
Here's how to spend 2 days in Barcelona:
Day 1 – Old Town, Waterfront & Dancing Fountains:
Plaça de Catalunya
La Rambla area
Mercado de La Boqueria
Old Town & Barcelona Gothic Quarter + Cathedral
Palau de la Música Catalana
Port Vell, La Barceloneta & Waterfront
Font Màgica de Montjuïc
Day 2 – Gaudi buildings & Sant Pau Art Nouveau Site:
Casa Batlló
Passeig de Gràcia
Casa Milà
Casa Vicens
Park Güell
La Sagrada Familia
Sant Pau Art Nouveau Site
Arco de Triunfo & Ciutadella Park
Additional suggestions for a longer trip:
Montserrat Monastery
Picasso Museum
Basilica of Santa Maria del Mar
Museum of the History of Barcelona (MUHBA)
Palau Güell
Joan Miró Foundation
Arenas de Barcelona
Camp Nou Stadium
Santa Caterina Market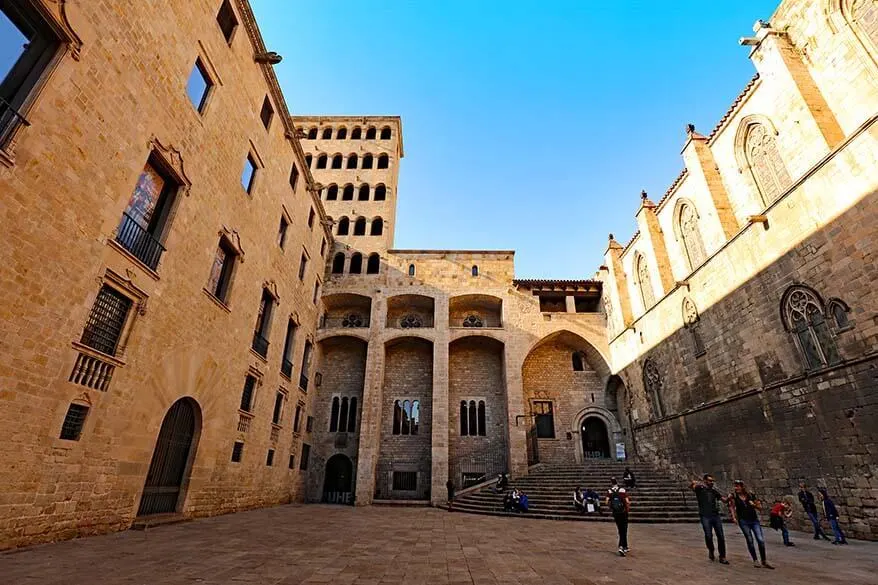 Day 1: Barcelona Old Town
Below, you can find our suggestions for your first day of a weekend in Barcelona. I recommend starting early in the morning before the city wakes up so that you can appreciate some of the busiest places without the crowds.
Plaça de Catalunya
Start your weekend in Barcelona in its very heart – Plaça de Catalunya. This huge square dating from 1927 is the connection between the Ciutat Vella (The Old Town) and L'Eixample district (literal translation – The Expansion). This huge town square is a mix of architectural styles and is surrounded by big shopping centers, restaurants, and cafés.
It's always busy here and if you come during the day, you'll get overwhelmed by the traffic and the crowds of people. In the morning, especially on a weekend, it's much easier to appreciate this place.
If you didn't have breakfast at the hotel, head straight to Cafe Zurich. It's located in the Southwestern corner of Plaça de Catalunya, just before the start of La Rambla. Established in 1862, this cafe is a popular place with locals and tourists alike. Get a cup of coffee and a croissant and watch pigeons and passers-by. It's a great place to start your day in Barcelona.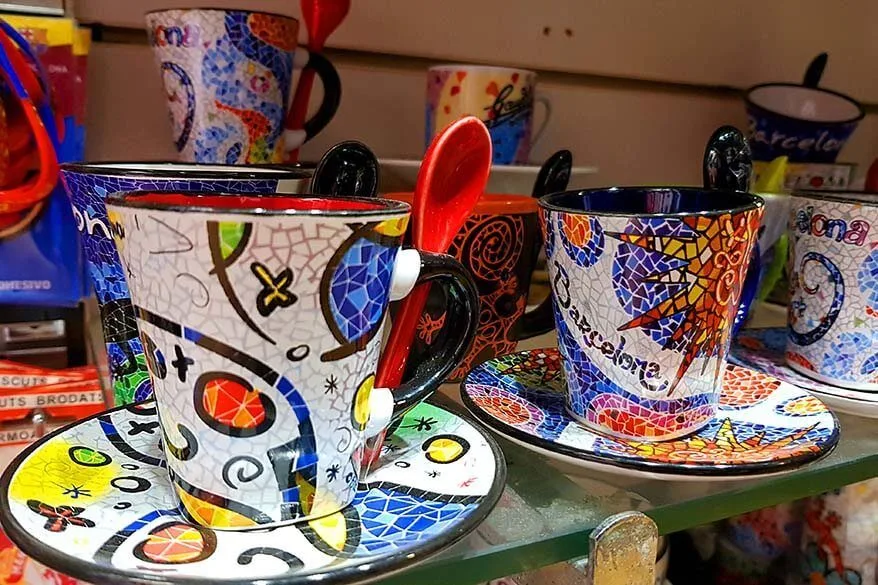 La Rambla
Probably the most famous street in Barcelona, La Rambla (also called La Ramblas) is a must in any Barcelona itinerary. It has a beautiful tree-lined pedestrian lane that connects Plaça de Catalunya to the Port Vell area by the beach.
However, going early in the morning is the only way to appreciate La Ramba. During the day, it's crowded with street vendors, street musicians, and restaurants terraces, and it gets extremely busy. So busy that you'll have to devote all your attention to navigating the crowds and avoiding pickpockets rather than enjoying the sights.
One of the first things you'll pass is Font de Canaletes. According to the legend, if you drink from this fountain, you'll definitely come back to Barcelona. But I have no idea if the water is actually drinkable…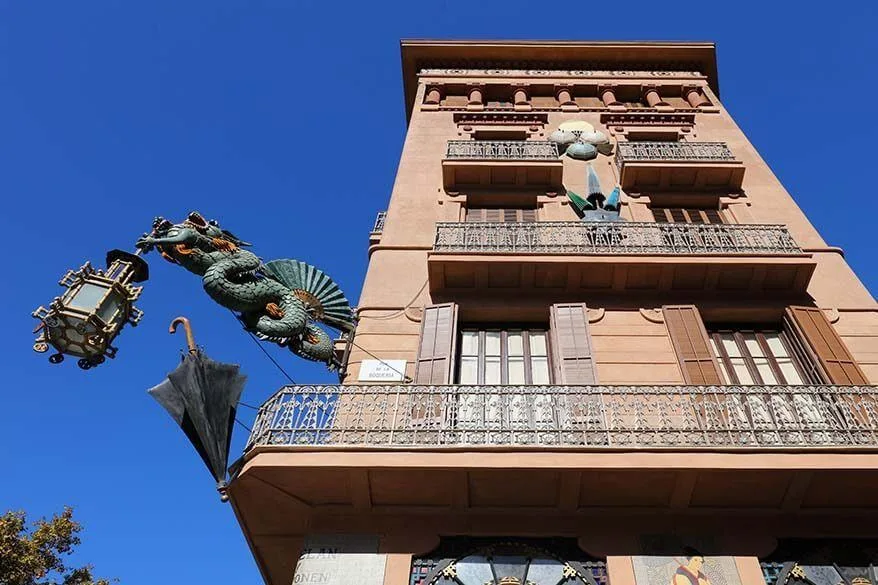 Other main sights in La Rambla area include Plaça de Sant Josep Oriol with Basílica de Santa Maria del Pi, Gran Teatre del Liceu, Palau Güell, and Plaça Reial. A corner building with a dragon at Plaça Boqueria is also noteworthy.
Some of these places are just a short photo stop, the others, like Palau Güell, can be visited inside. However, if you have just two days in Barcelona, I think you better save your time for the other sights. You have to be selective, especially if you are visiting in high season when there are queues and long wait times at every attraction.
TIP: Treat yourself to some pastry at the Pasteleria Escribà. Established in 1820, it's said to be the most famous patisserie in Barcelona. Even if you don't go inside, it's worth stopping by to see the building.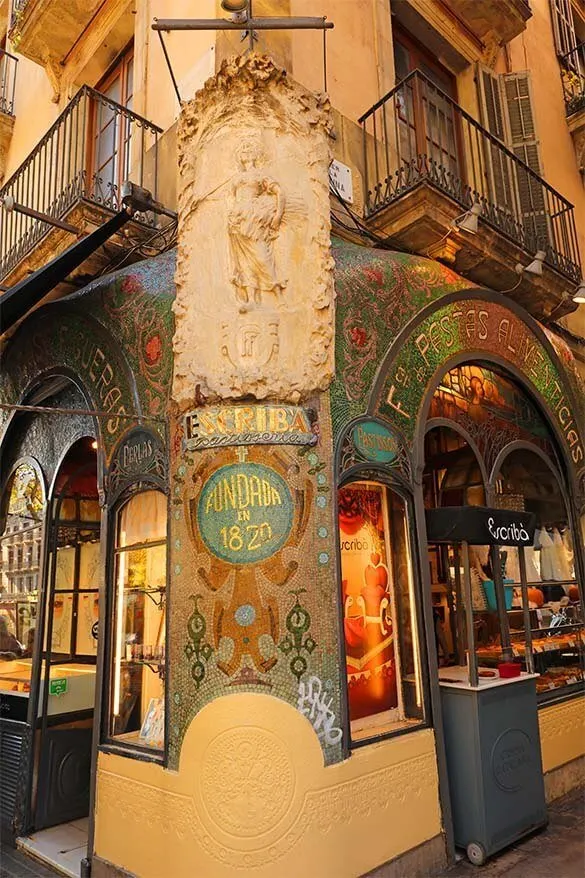 Mercado de La Boqueria
There are many amazing indoor markets in Barcelona, but none of them is as famous and popular as Mercat de la Boqueria. Set inside a beautiful building of steel and glass, this is the biggest market in Barcelona. Here, you'll find everything from local meat and cheese to the most exotic fruits and seafood.
With countless food stalls, this is a great place for lunch, if you don't mind eating while you stand. Alternatively, get some fresh fruit smoothies that you can enjoy while strolling the market and enjoying the colors, the smells, and the amazing lively atmosphere.
Mercat de la Boqueria is a great place to visit in Barcelona, but it can get really busy. If you rather visit a quieter market, you may want to check out the Santa Caterina Market, Mercat del Ninot, Sant Antoni Market, or one of the other 19th century indoor markets in Barcelona. However, all these are a bit further away from the main tourist areas…
Good to know: Barcelona indoor markets are open daily from morning till evening, except on Sundays. So if you are visiting Barcelona for a weekend, make sure to plan your market visits on Friday or Saturday!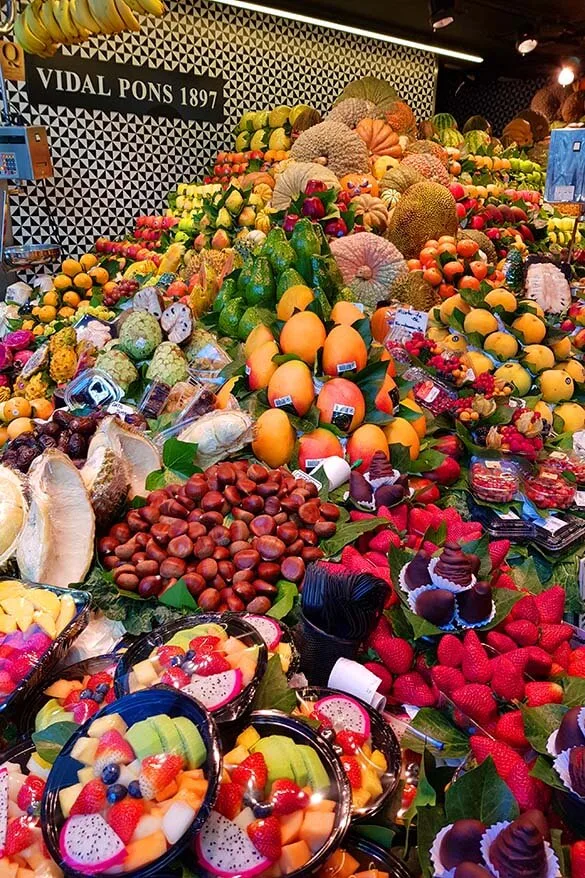 Barcelona Gothic Quarter & Old Town
Barri Gòtic (Gothic Quarter) and Ciutat Vella (Old Town) are other beautiful areas that you really should see on a weekend in Barcelona! With its labyrinth of narrow medieval streets, the Gothic Quarter is one of the most authentic and liveliest places in Barcelona.
The Gothic Quarter gets its name from the 13-15th-century buildings, but it's actually much older than that. There are quite some rests dating back to Roman times.
In fact, you can visit an underground Roman town with streets, houses, and workplaces dating back to the 1st to 4th centuries. It's located inside the Museum of the History of Barcelona (MUHBA) on Plaça del Rei.
We visited the museum and I found it really interesting. So if you have an hour to spare, you may want to check it out. But if you aren't a history fan and don't have the time, just visit the impressive Plaça del Rei. As you stand there, try to imagine that there is a whole underground town underneath. Quite cool!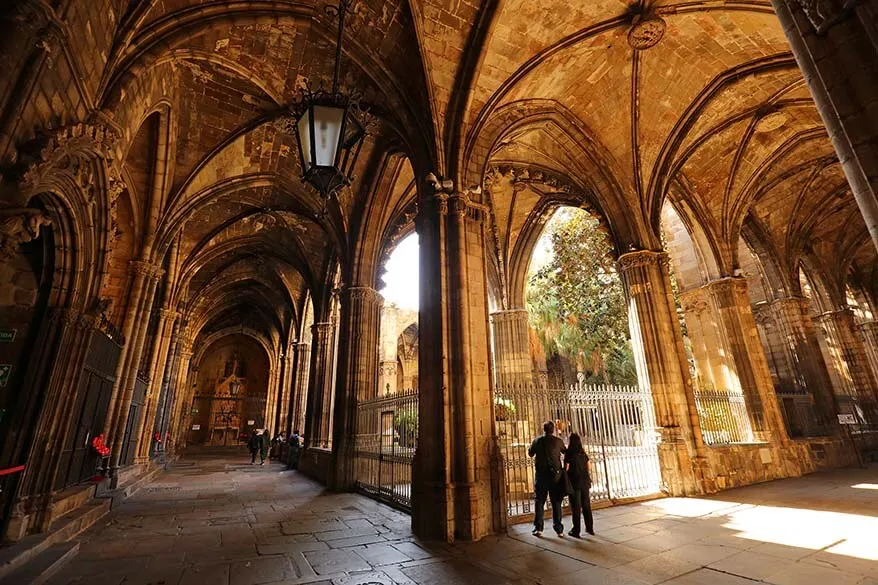 Probably the main highlight of the Old Town is the Barcelona Cathedral, The Cathedral of the Holy Cross and Saint Eulalia. It's not to be confused with Basilica La Sagrada Familia, which we'll cover on day 2 of this weekend guide to Barcelona.
The Cathedral is definitely worth a visit. No matter how much time you have in Barcelona. It's absolutely incredible inside! I really recommend that you take the time to see the interior of this impressive 13-15th-century church. It will take your breath away! The garden is also beautiful and reminded us of the famous monasteries we have seen in Portugal.
If you can, take an elevator up to the roof of the Cathedral, from where you have nice views over the city. I have to admit that the views weren't as nice as expected, but we visited in the low season and there were no queues for the elevator, so it was still worth it.
If you have to wait for it, I'd say just let it go. With just 2 days in Barcelona, there are better ways to spend your time. Such as the place I'll cover further – it's worth your time a thousand times more! Read on!
Practical information: You can get the tickets for the Cathedral at the entrance, or online. For more information about opening times and tickets, see here.
TIP: A great way to explore the old town of Barcelona is by joining a tour with a local guide. There are walking tours, bike tours, food tours, etc. Well worth considering! Here, you can find a selection of some of the best tours that visit this part of town.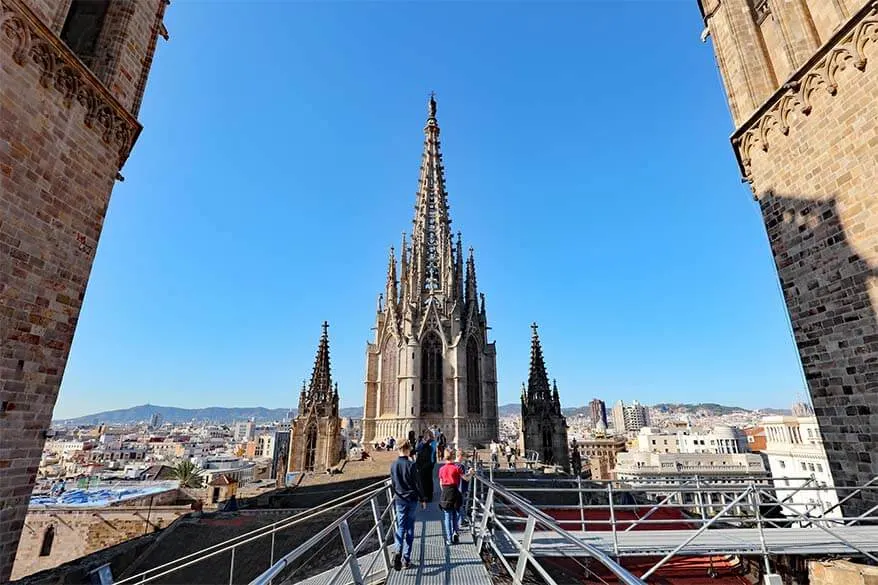 Palau de la Música Catalana
Located in the El Born, La Ribera district and just five minutes walk from Barcelona Cathedral, Palau de la Música Catalana is a real gem. You won't find it in most Barcelona travel guides, but it's absolutely worth a visit!
This music hall is a real masterpiece built between 1905 and 1908 by the famous Barcelona architect Lluís Domènech i Montaner.
The exterior of the building is really impressive, but it's located in such narrow streets that it's hard to really appreciate it. The interior is a whole other story. It's mesmerizing and will take your breath away!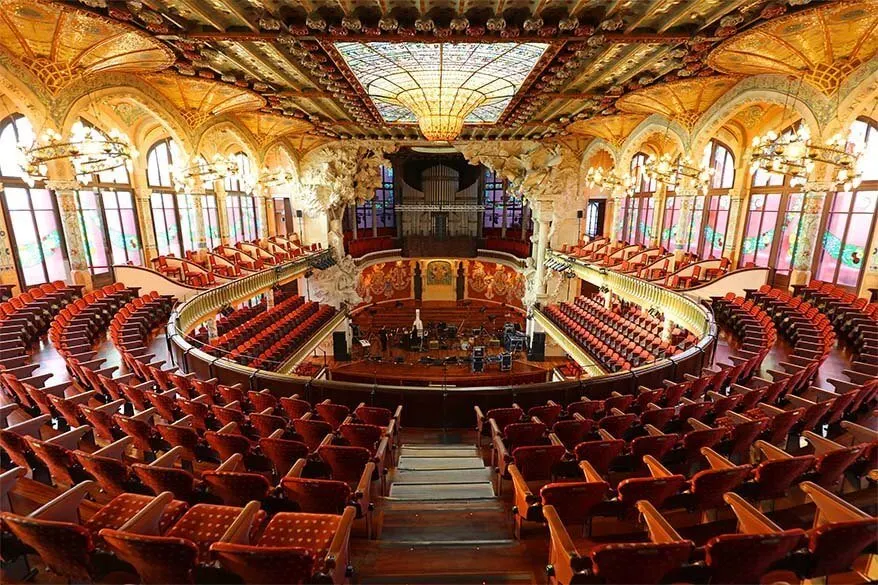 You can see the impressive entrance hall and the equally impressive cafe freely. However, you can only visit the main concert hall of Palau de la Música Catalana with a guided tour.
Practical information: Guided visits take about 45-50 minutes and are, in principle, possible every day. There are several tours in five different languages multiple times a day. You can check availability and book your tour here. If you want to be sure that you can do it on the day and the hour that best suits you, it's best to book it in advance.
Walk-ins are also possible, but you may have to wait an hour or two for the right tour. In October, when we visited, we had to wait almost an hour. In high season, it will probably be much longer or you may not be able to visit at all.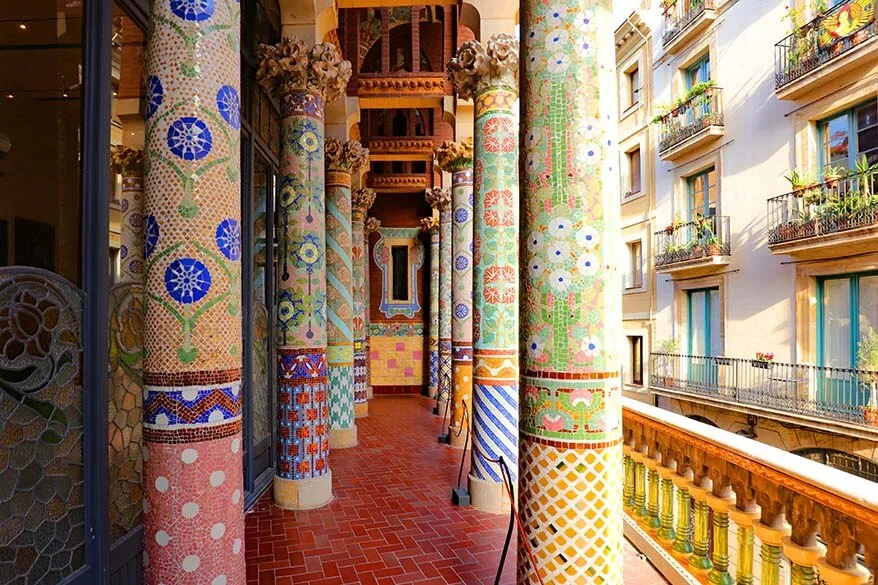 Port Vell & La Barceloneta
As you walk further down on La Ramba, you'll reach the Port Vell district, Old Harbor of Barcelona. If you turn left, you'll find a wide waterfront promenade and if you keep walking further, you'll find the famous Barcelona beaches.
La Barceloneta is a more local area that most tourists don't seem to take the time for. However, you don't need that much time to visit, so I recommend that you take a small detour here. Even if you just walk through a few streets of this old fishermen district, you'll get a taste of yet another very different side of Barcelona.
In the narrow streets of La Barceloneta or at the waterfront, you'll also find many restaurants. Depending on how late it is, you may want to have dinner here. However, keep in mind that many local restaurants in Spain don't open for dinner before +- 8 pm…
Here are a few good restaurant suggestions for dinner, but you'll find plenty of other choices nearby too. La Mar Salada is a well-priced restaurant known for its fresh seafood. Agut and Can Solé are a bit more expensive options and both serve all kinds of local specialties. You'll also find tapas bars, hamburger restaurants, and more.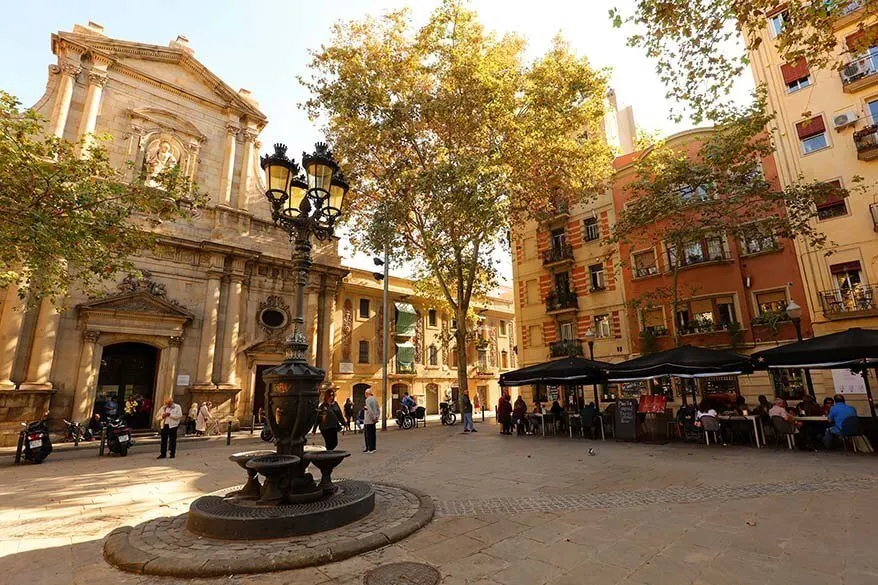 Font Màgica de Montjuïc
Situated in front of Museu Nacional d'Art de Catalunya, are a series of beautiful fountains tumbling down the mountain towards Plaça d'Espanya. At the bottom of the hill stands the biggest and the most impressive of them all – Font Màgica de Montjuïc, or The Magic Fountain of Montjuïc,
If you are visiting Barcelona for a weekend, I really recommend adding the Magical Fountain show to your Barcelona weekend itinerary. It's one of the best things you can do in Barcelona in the evening and it's FREE of charge.
Font Màgica de Montjuïc is an incredible music- and light show. It attracts huge crowds and for a good reason. It's extremely well-done and simply beautiful. There is no better way to spend your weekend night in Barcelona than by going to see this magical spectacle.
TIP: Try to get to the fountains at least 15-30 minutes before the show in order to get a somewhat good spot to see them. In high season, it might be packed an hour in advance already…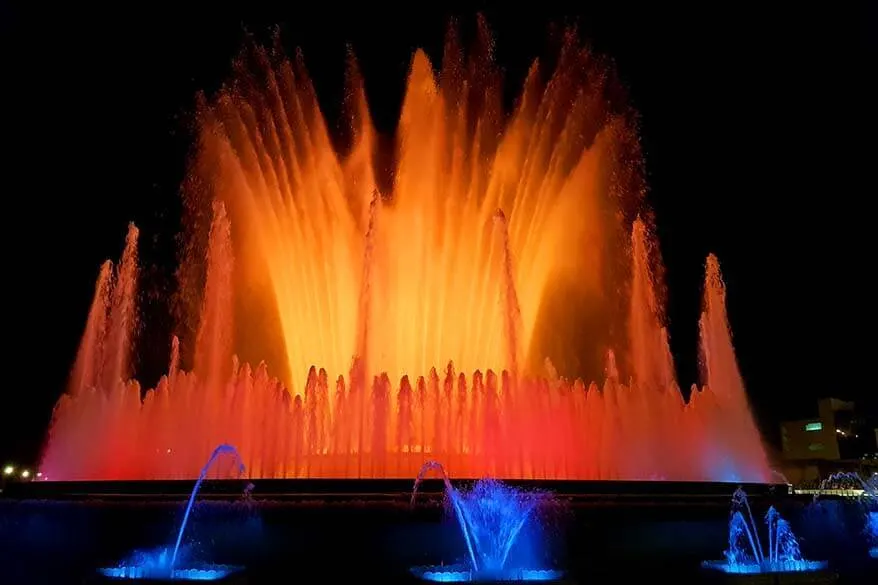 Practical information: The fastest and cheapest way to get to Font Màgica de Montjuïc is by taking a metro from the city center to Plaça d'Espanya. Alternative – for those who have more time – is to take a cable car from the harbor area.
Keep in mind, that queues here might get long and you'll need to switch to yet another cable car at Montjuïc and then also walk for another 15-20 minutes. I would only do this if you have the time to actually explore the Montjuïc as well.
Font Màgica de Montjuïc showtimes vary a bit depending on the month, but in general, there is always a show on Thursday, Friday, and Saturday at around 9 pm. Take a look at the schedule below for more info. Keep in mind that this is correct at the time of writing, but might change in the future.
March: Thursday to Saturday from 8 PM to 9 PM.
April, May, October: Thursday to Saturday from 9 PM to 10 PM.
June, July, August, September: Wednesday to Sunday from 9.30 PM to 10.30 PM.
November, December, and the first week of January: Thursday to Saturday from 8 PM to 9 PM.
Rest of January and February: closed.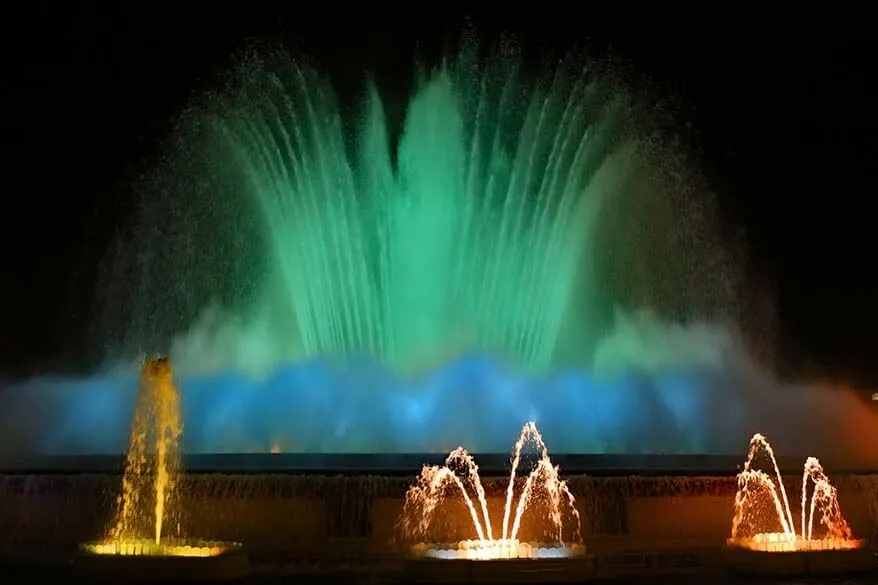 Day 2: Barcelona Architecture
I recommend devoting the second day of your Barcelona weekend itinerary to the incredible Gaudi architecture. While one day is not enough to see everything (keep in mind that Barcelona is busy and waiting times at the attractions might get really long), you can definitely visit at least a couple of famous Gaudi buildings in one day.
If you plan this day in Barcelona the way we did, you can visit Casa Batlló, Park Güell, and La Sagrada Familia, as well as see the exterior of Casa Milà and Casa Vicens in just +-6 hours.
That leaves you plenty of time to visit another architectural masterpiece of Barcelona – Hospital de la Santa Creu i Sant Pau. In addition, you'll still have plenty of time left to enjoy your evening, do some shopping, and go out for a nice dinner.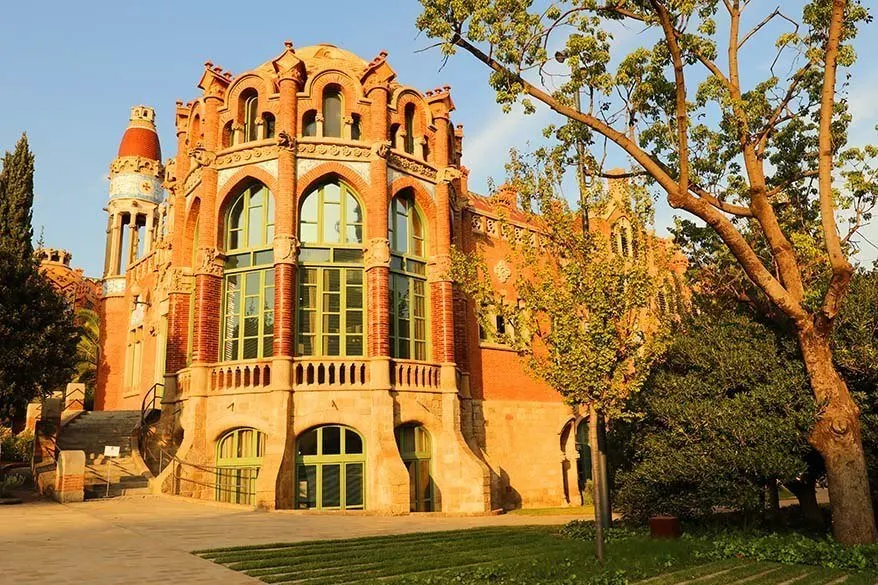 TIP: If you have just two or three days in Barcelona, I highly recommend visiting the Gaudi buildings with an organized tour. This will save you lots of time and will allow you to see a lot more than you would be able to do on your own. You can find our recommendations and more info in our guide to the best Gaudi tour in Barcelona.
Book a tour: If you have no patience to read our complete guide and just want to book your Gaudi tour, you can find it here. This tour isn't always available in the low season; in that case, the very best comparable alternative is this day tour.
Or do it yourself. Below, is a short overview of the best things to do on the second day of your 2-day Barcelona itinerary. I also include practical tips on how to visit these places if you decide to go on your own.
Just keep in mind that without a local guide and convenient private transportation, you won't be able to visit all of these places in just a day. Pick two or three attractions that interest you the most and visit those; see the rest from the outside. Take a look at our suggestions on how to plan your day!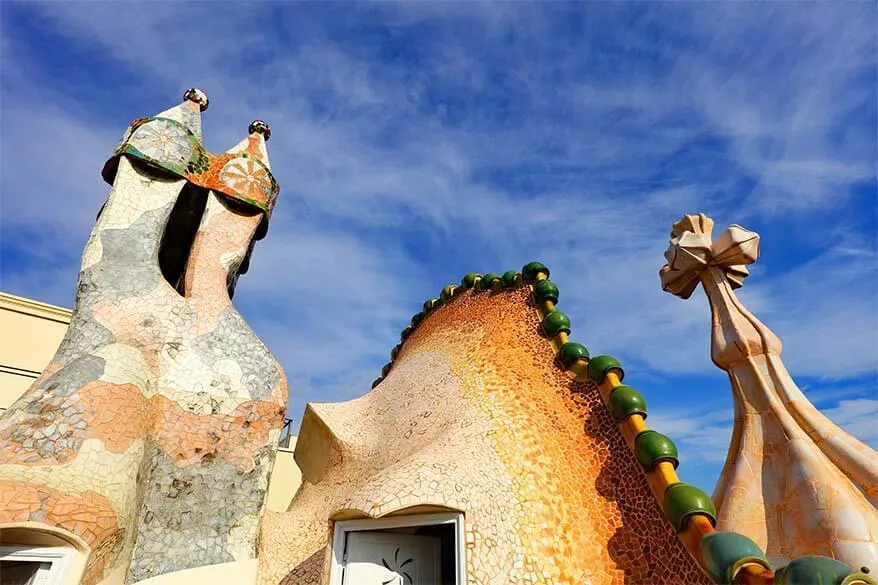 Passeig de Gràcia: Casa Batlló, Casa Milà & more
Passeig de Gràcia is one of the biggest and most important Avenues in Barcelona. It's here that you'll find some of its most impressive architecture, high-end stores and boutiques, and lots of cafés, bars, and restaurants.
Start your tour of the Passeig de Gràcia by heading to a block where five impressive buildings – Casa Amatller, Casa Lleó Morera, Casa Mulleras, and Casa Josefina Bonet, and Casa Batlló – are standing side by side. Built by different architects, they are all unique, but the biggest attraction here is Gaudi's Casa Batlló.
If you plan to visit Casa Batlló, make sure to arrive before it even opens. It's extremely busy, so make sure to book skip-the-line tickets in advance. These tickets now include a new immersive 10D Casa Batllo experience.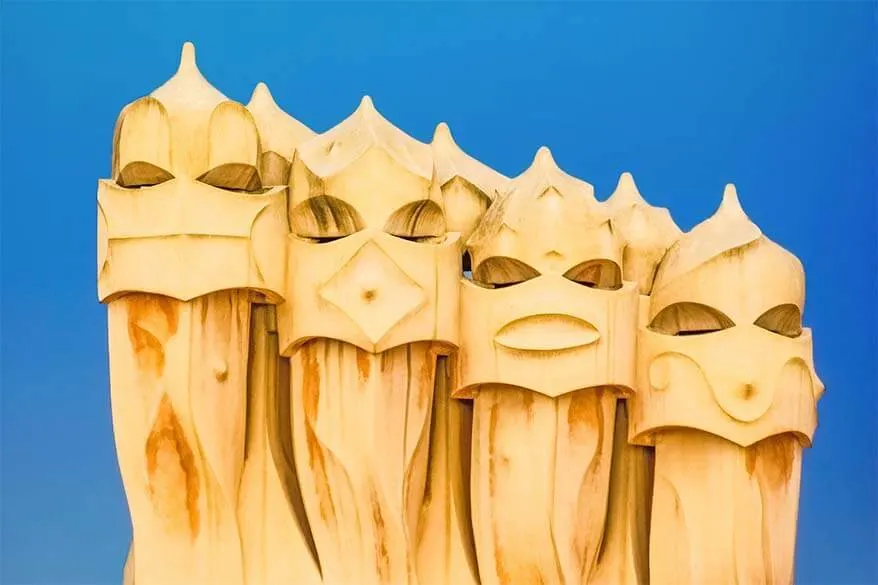 After your visit, walk further down the Passeig de Gràcia to the nearby Casa Milà, aka La Pedrera. It's just a short 5-minute walk. This is another masterpiece of Gaudi and it's possible to visit the building as well. Also for Casa Mila, you should book skip-the-line tickets in advance.
Good to know: The crowds at Casa Mila are just as bad as at Casa Battlo, so I advise visiting just 1 building inside and seeing the other one from the outside. We visited Casa Batllo and only saw Casa Mila from the outside. But not having seen them both, I cannot comment on which one is worth it more, Casa Mila or Casa Batllo. I suppose, it's a matter of personal taste and everyone would probably have a different opinion.
If you like walking and want to see another Gaudi masterpiece, continue further down the Passeig de Gràcia for another 1,5km (+-20 min walk). In Gràcia, you can see and visit the very first building Gaudi designed, Casa Vicens. It's not as widely known and not as popular as the other Gaudi buildings, so the crowds here are likely to be more manageable. However, if you want to save some time for the main landmarks, you should probably skip this one.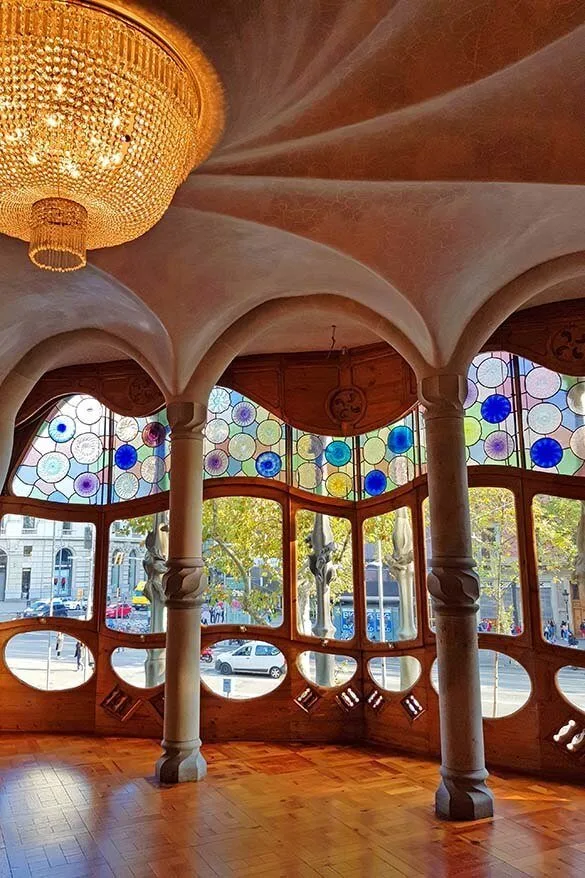 Park Güell
Located quite far from the other Gaudi attractions, Park Güell requires at least 2-3 hours of your time. If you walked to Casa Vicens, you can just as well continue on foot. It's another 1,5km (+-25min) uphill walk to Park Güell.
If you are coming from Casa Mila, however, it's about 40-50 min walk. Unless you absolutely love walking, I recommend taking a metro, but keep in mind that the closest metro station is also about 15 min walking distance from Park Guell… It might be better to just catch a taxi.
Many people consider Park Güell an absolute must-see in Barcelona. On the other hand, it's far from all the rest, not easy to get to, and it's extremely busy. So with just a short weekend in Barcelona, visiting Park Güell might not be the best use of your time. If you have a 3-day weekend in Barcelona instead of 2, then it's a different story. I'll leave it up to you to decide.
Good to know: If you are coming here on your own, you should also know that entrance tickets to Park Güell are usually sold out a few days in advance, so you absolutely have to book your tickets in advance.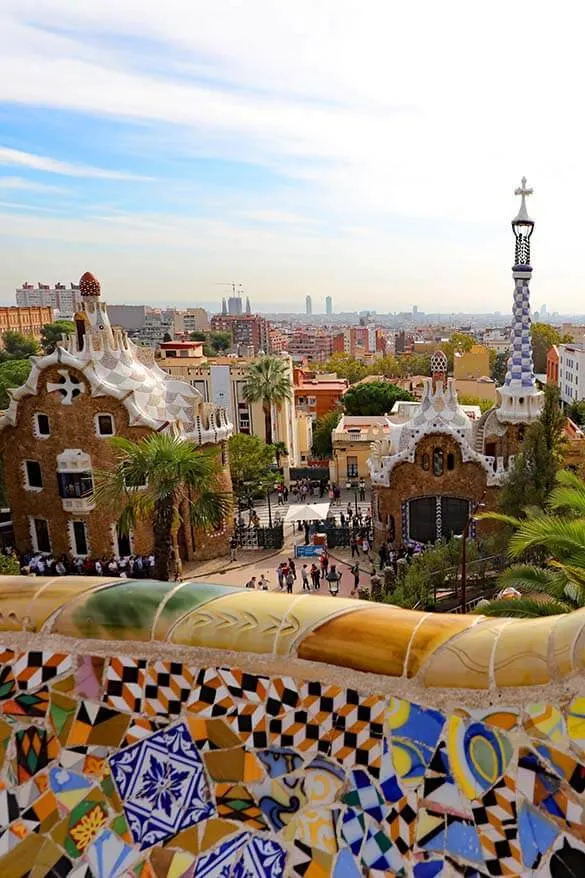 La Sagrada Familia
In addition to visiting at least one of Gaudi buildings, Casa Batllo or Casa Mila, one Gaudi masterpiece you really have to see in Barcelona is the Basilica of La Sagrada Familia. This monumental landmark is not to be missed, no matter if you visit Barcelona for a day, a weekend, or a week…
You can read more about La Sagrada Familia and why it's so worth a visit in our guide to the best Barcelona Gaudi tour. Here I'll just mention some practical information that should help you plan your visit if you are planning to visit on your own.
Good to know: La Sagrada Familia is extremely busy and you need 1.5-2 hours to visit it (not counting the time to queue, purchase the tickets if you didn't do it upfront, etc.). Also here, you really should get fast-track access tickets in advance or you risk wasting hours and hours in line.
PRO TIP: We recommend getting a ticket that includes skip-the-line access and a guided tour, which will help you appreciate this incredible building so much better than if you just visit on your own. If you want to see everything, you should get tickets that also include tower access. We visited the tower and found it well worth it. It allows you to see some incredible architectural details up close.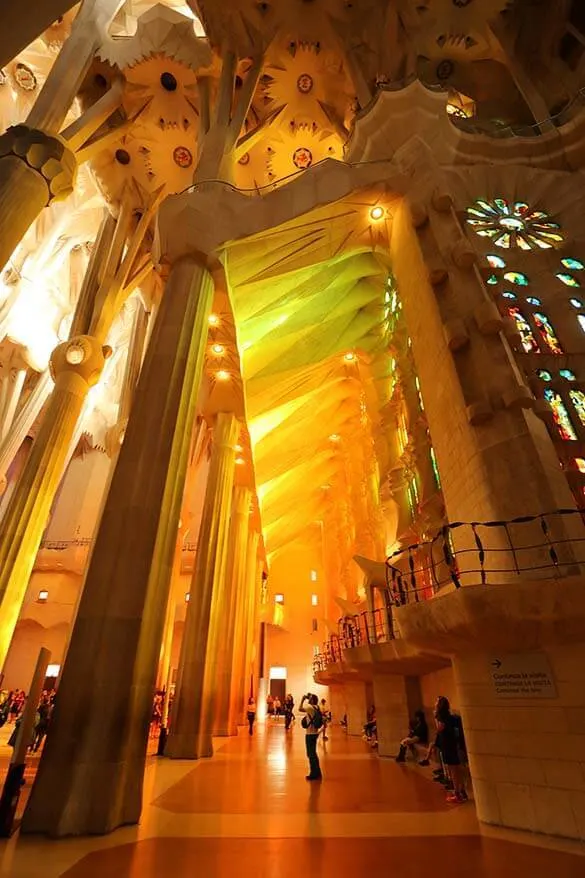 Sant Pau Art Nouveau Site
When people talk of Barcelona's architecture, you always hear one name – Gaudi. However, there are some really impressive buildings in the city that belong to other extremely talented architects.
Hospital de la Santa Creu i Sant Pau, designed by Lluís Domènech i Montaner (who is also the architect behind the earlier mentioned Palau de la Música Catalana), is one of those incredible architectural gems that are really worth seeing in Barcelona.
This historic hospital, listed as a UNESCO World Heritage Site, is now a museum called Recinte Modernista de Sant Pau.
It is located just a short 10-minute walk north of La Sagrada Familia, yet, it seems a world apart… Huge crowds of people, street vendors, and all the tourist madness of La Sagrada Familia disappear and you enter a quiet magical place that will take your breath away.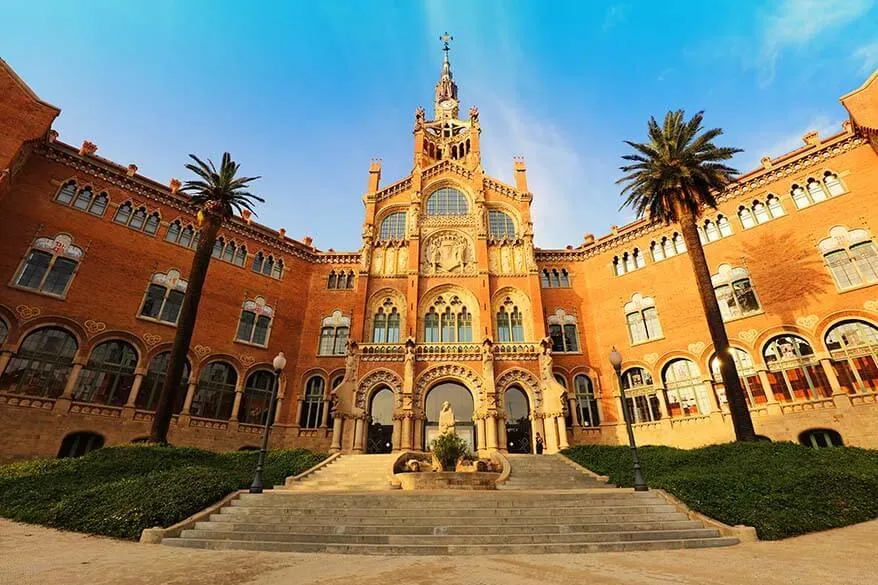 Some of the buildings of the former hospital have been restored and you can also visit the tunnels connecting them. With video projection of doctors and patients on the walls of these tunnels, you feel as if you are transported 100 years back in time…
We visited this hospital-museum late in the afternoon, after our Gaudi tour that ended at La Sagrada Familia. The tranquil gardens surrounded by stunning art-nouveau architecture were lit by a setting sun that colored the buildings in warm orange tints. It was just magical!
Yes, even after seeing an indescribable masterpiece like La Sagrada Familia, this place was still very impressive! The two are not comparable, of course, but in a way, we enjoyed our visit to this historic hospital even more. It just feels magical to have such a beautiful place all to yourself, with hardly any people around…
Practical information: This museum is open daily till 5.30 PM in the low season and till 7 PM from April to October. However, on Sundays and holidays, it's only open till 3 PM. So if you are visiting Barcelona on a weekend and this itinerary is planned for Sunday, you may want to come here before you go to La Sagrada Familia. You can get your tickets for Sant Pau Recinte Modernista here. Count about 1 hour for a visit.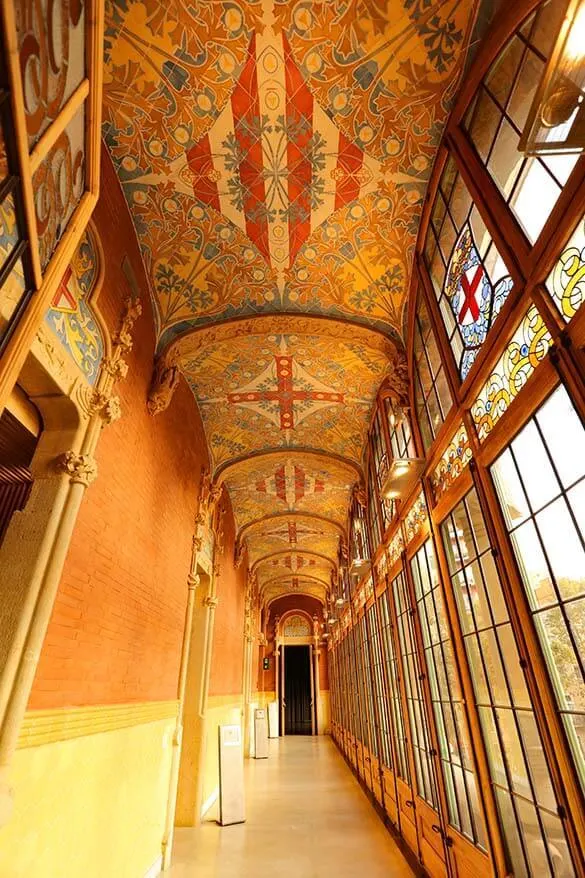 Arco de Triunfo & Ciutadella Park + Dinner
After devoting all your second day in Barcelona to architecture, you'll probably be exhausted. In that case, I suggest taking a metro to the Old Town area or to the beach and looking for a nice restaurant for dinner there.
If, however, you still have some energy and want to get absolute most of your time in Barcelona, you could visit one more area on this day. It doesn't require any special arrangements and it might be nice to see something you haven't seen yet.
Ciutadella Park with the Arc de Triomf is a nice area to visit on your last evening in Barcelona. Take a picture of the Arch, stroll around Ciutadella park. Take a look at the impressive fountain Cascada Monumental…
Restaurant recommendation: In this area, you can find a very good seafood restaurant La Paradeta. There seem to be several restaurants in Barcelona from this same group, but we have been recommended the one next to Ciutadella Park by the locals at least twice. So if you are looking for a nice restaurant for dinner, you may want to give it a try. In the evening, it's open from 8 PM.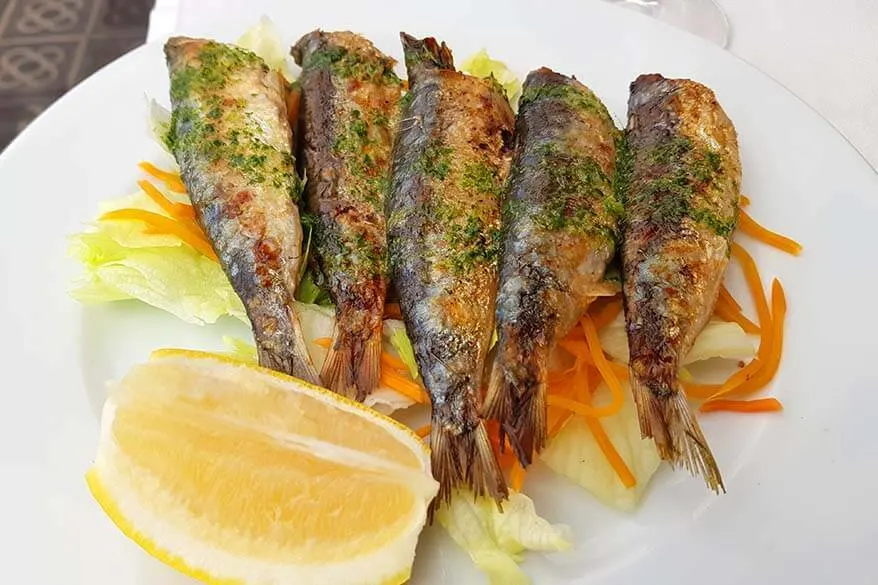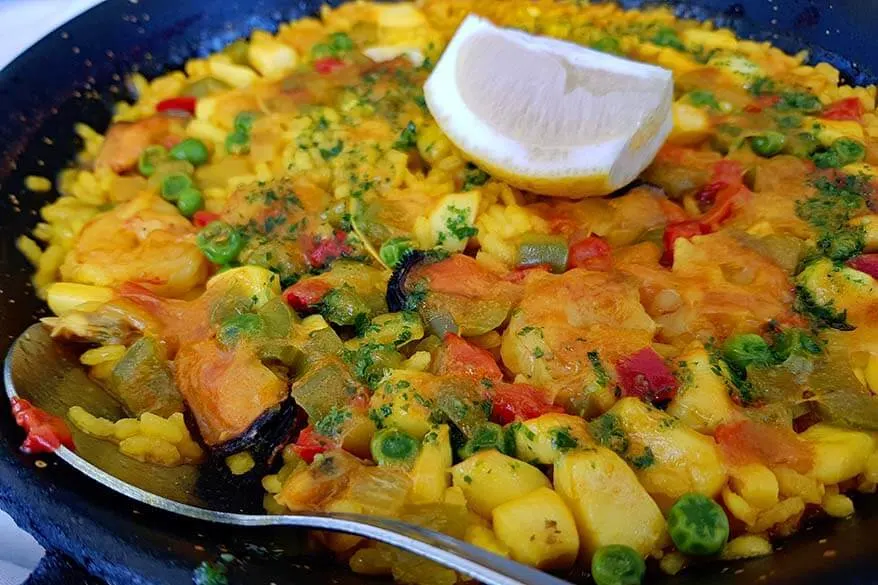 Additional Suggestions for a Long Weekend in Barcelona
If you are spending a long weekend in Barcelona and have a bit more time to explore the city than 2 days, we have some additional suggestions for other great things to do in Barcelona.
Below you can see a list of some amazing places that I recommend visiting on a long weekend in Barcelona. Each and every one of these is worth a visit. Depending on your interests and the time you have, you cannot go wrong with any of the below:
Montserrat Monastery (half-day or day trip outside the city)
Picasso Museum (old town)
Basilica of Santa Maria del Mar (next to Picasso museum)
Santa Caterina Market (close to Picasso museum)
Museum of the History of Barcelona (close to Barcelona Cathedral)
Palau Güell (La Rambla area)
Joan Miró Foundation (on Montjuïc)
Arenas de Barcelona (shopping center with a beautiful rooftop terrace with great views)
Camp Nou Stadium (outside the city center)
LEARN MORE: Montserrat Tour from Barcelona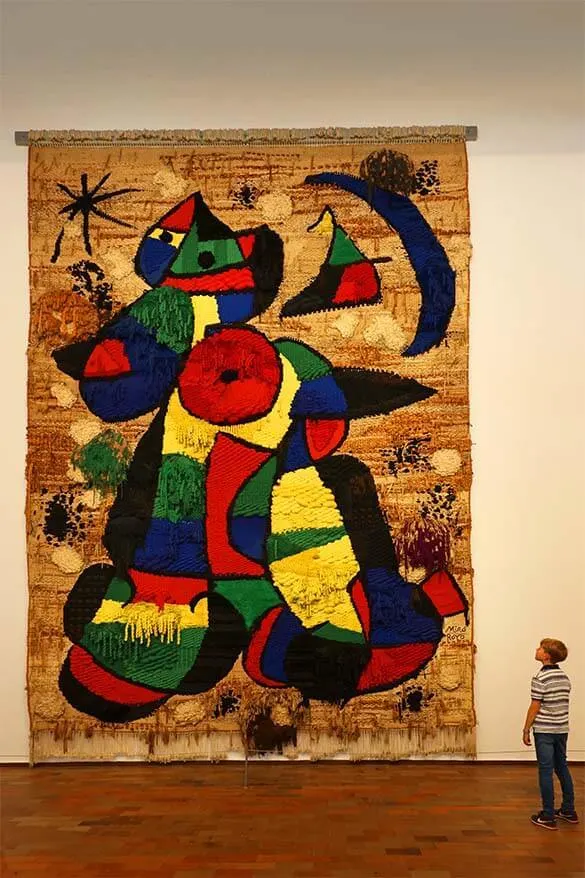 Map of Places to See in Barcelona in 2 Days
To make it easier to plan your Barcelona weekend break, I created this map that features all the best places to see in Barcelona in 2-3 days.
How to use this map: Use your computer mouse (or fingers) to zoom in or out. Click on the icons to get more information about each place. Click the arrow on the top left corner for the index. Click the star next to the map's title to add it to your Google Maps account. To view the saved map on your smartphone or PC, open Google Maps, click the menu and go to 'Your Places'/'Maps'. If you want to print the map or see it in a bigger window, click on 'View larger map' in the top right corner.
Getting Around
Getting around in Barcelona might look challenging at first, but it's actually really easy.
Disclaimer: The transportation prices below are for your reference only and were valid at the time of writing.
How to Get to Barcelona City Center from the Airport
First, let's take a look at how to get to the city center from BCN airport (Josep Tarradellas Barcelona-El Prat Airport).
By metro. This is an easy option that costs 5.15 EUR per person (also kids from – if I'm not mistaken – 6 years and older). This is not a fast option, however. It took us over 1,5 hrs! to get to Barcelona city center by metro. I'm not sure if the metro runs slow on weekends, but we couldn't believe how long it actually took us, taking into account that we only had to change once and didn't have to wait for a metro longer than 5 minutes.
By Aerobus. A single ticket on Aerobus costs less than 10 euros and the bus takes you to the city center in just 35 minutes. With buses running every 5-10 minutes and stopping at three different stops in the city center, this is by far the best price/quality option.
By taxi. We took a taxi to get back to the airport from the city center. It took just 18 minutes (on a working day at peak hour), and cost us around 45 EUR. For a family of five, it's actually not that much more expensive than a bus and it gave us an hour of extra sleep.
Private transfer. If you want to pre-book your airport transfer and be 100% sure about the price you pay, you can book this highly-rated airport transfer service. The price is about the same as taking a taxi.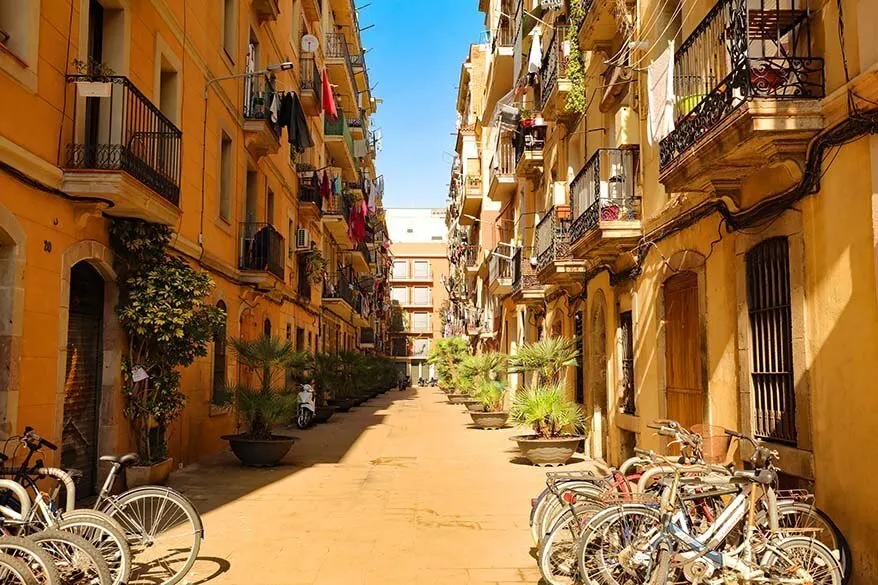 How to Get Around the City
On foot. The best way to explore the main sights of central Barcelona is on foot. Prepare to walk a lot and don't bring your fancy high-heeled sandals for a weekend in Barcelona. Comfortable shoes are a must!
Metro is a very convenient and fast way to get around the city center of Barcelona. During weekends and during the day on weekdays, the trains are practically empty and it's a really relaxing way to cover big distances.
A single metro ticket costs about 2-3 EUR. I recommend purchasing a T-10 card, which is about the price of 5 tickets, so much cheaper than 10 individual tickets. It's valid for zone 1 (which is practically the whole city center) and you can use this ticket for multiple people, for a total of 10 rides. If you follow our suggested weekend Barcelona itinerary, you'll probably only need to take a metro a couple of times and this ticket will be more than sufficient.
There are many different Barcelona transport cards available for different durations, but we found that the 10-ride ticket was the most convenient and the cheapest option for a short Barcelona weekend trip.
Airport transfers. You can take a metro to/from Barcelona Airport, but you need a special (more expensive) ticket for it and the ride can be quite long. Barcelona Airport Aerobus is a more convenient option to quickly get to/from the city center.
Taxi. There are many taxis in Barcelona and the prices are very reasonable. This might be a good way to get to places that are further away, like e.g. Park Güell. You may want to know that there Uber in Barcelona works with traditional taxis.
Bike. There are many city bikes that you can use in Barcelona. This seems to be a great way to explore the long waterfront area or places that are further away from the city center. We saw several places that rented bikes as well. Another great way to see more of Barcelona on a short city break is by joining an organized bike tour. I have done it in many big cities in Europe and it always amazes me how much more you can actually see that way.
Hop-on Hop-off bus. If you don't feel like walking and want to see the main sights of Barcelona in 2 days, a hop-on-hop-off bus can also be a good option.
Where to Stay for a Weekend in Barcelona
There are countless options for where to stay in Barcelona. However, if you don't want to walk far and don't want to take the metro every time, I recommend staying in the area close to Plaça de Catalunya. It's a perfect location for a short city break in Barcelona.
We stayed in this area and it was super convenient. As I said, we hardly used the metro (only 4 rides in 5 days, actually). If I were to go back to Barcelona, I wouldn't even think of staying anywhere else.
Below are a couple of hotels that have an excellent locations near Plaça de Catalunya. I selected hotels in all price ranges so that you can easily find the best option for your budget. Take a look!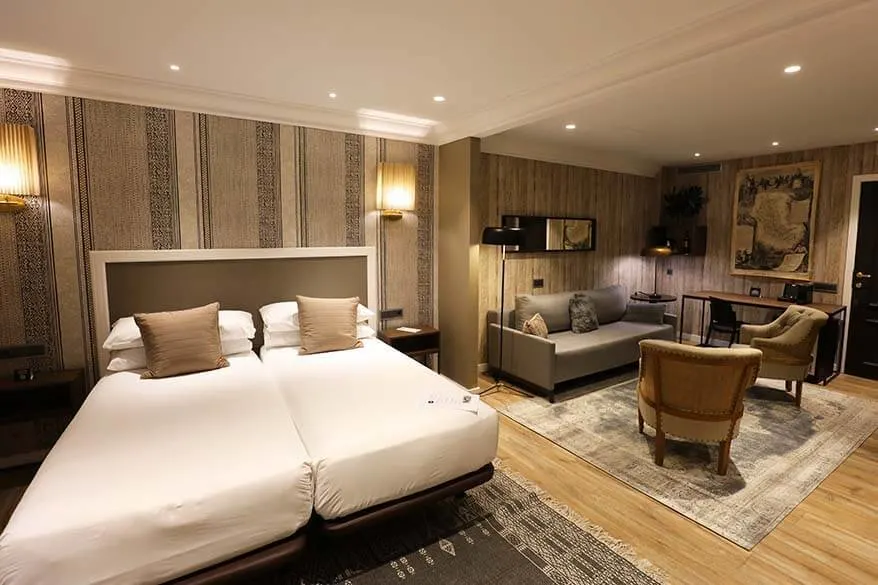 So, this is our guide on how to spend a weekend in Barcelona. Of course, you can use this same itinerary when planning 2 days in Barcelona, no matter whether it's a weekend trip or not.
If you have any questions about visiting Barcelona or any of the places mentioned in this article, don't hesitate to leave a reply below and I'll try to help.
READ ALSO: Barcelona Travel Tips
More guides to Barcelona:
More tips for your trip to Europe:
Credit cards: In Europe, we use credit cards with a pin. If you live in the U.S., we recommend getting one of these great travel credit cards for your trip to Europe.
Other European cities: If you are visiting more European cities and are looking for in-depth information for your trip, take a look at our guides to Madrid, Rome, London, Amsterdam, Brussels, Lisbon, Geneva, Lucerne, Milan, Salzburg, Florence, or Venice to mention just a few. Alternatively, check our destinations page for more travel inspiration and information.
If you found this post helpful, don't forget to bookmark it and share it with your friends. Are you on Pinterest? Pin this image!