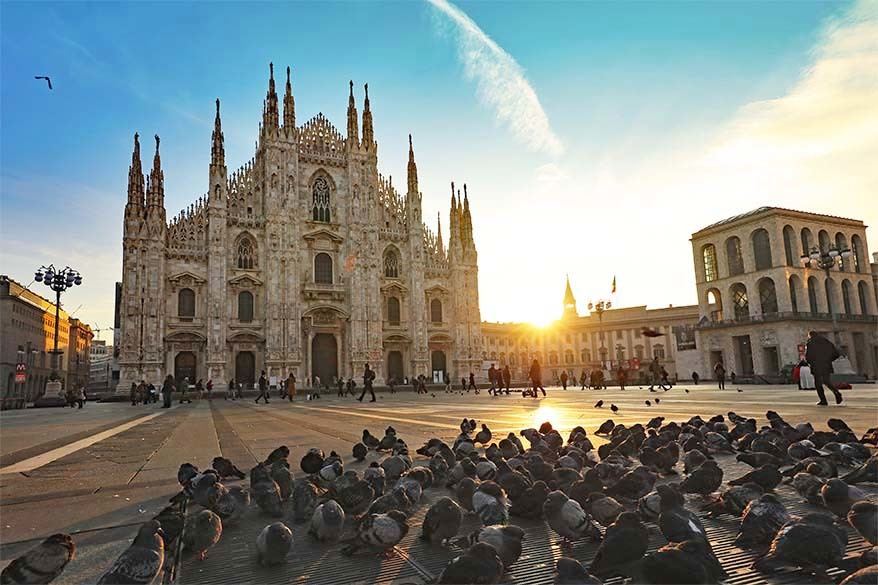 Are you thinking of visiting Milan for a day and wondering if it's worth it and what to see and do in Milan in one day? This guide and suggested 1-day itinerary will help you make the absolute most of your short visit to the city. Find out!
We have been to Italy so many times and visited so many amazing Italian cities. Yet somehow it took me years to finally get to Milan, and it surprised me beyond expectations! Milan is full of some amazing treasures, but you have to make some effort to escape the main tourist routes in order to truly appreciate it…
I have to admit that it wasn't love at first sight, but if you take the time to look deeper, you will discover that Milan has so much more to offer than it looks on the surface!
Just like many first-time visitors, we only had one day in Milan. But because we visited the city by invitation of in LOMBARDIA regional tourism board and went with amazing local guides, we discovered so much more than just the 'must-see' places.
So in this post, I share the best tips and experience-based suggestions on what to see and do in Milan in one day, including all the top sights and tourist attractions, but also a few hidden gems and local areas that will make your visit so much more special. Find out!
Yes, there are many amazing museums in Milan, nice parks to visit, and lots of stores where you can admire all the latest fashion trends… But unless you have more than one day in Milan, you will probably not want to waste half of your time queuing at a museum or shopping at some of the world's most expensive boutiques…
So this is my no-nonsense guide to the best things you can see and do in Milan in one day. It's definitely not a complete guide to Milan – there is no way to see it all in such a short time. However, if it's your first trip and you want to see the best of Milan in a day, then look no further.
This is the most complete guide that will bring you to some of the nicest places in Milan, not just the main landmarks, but also some modern and trendy areas, as well as some quirky hidden gems. Keep in mind that if you want to do everything from this itinerary in one day, it will be a long busy day, but it's definitely doable.
Good to know: At the bottom of the post, you can find an overview of this 1-day itinerary, a map featuring all the places mentioned here, as well as the suggested walking route. We also share some practical tips to help you make the best out of your day in Milan.
TIP: If you are visiting Milan for just a day and want to make the most of your visit, you may want to consider taking a walking tour with a local guide. This is one of the most complete and best-rated city tours that covers the main, must-see attractions in about 3 hours.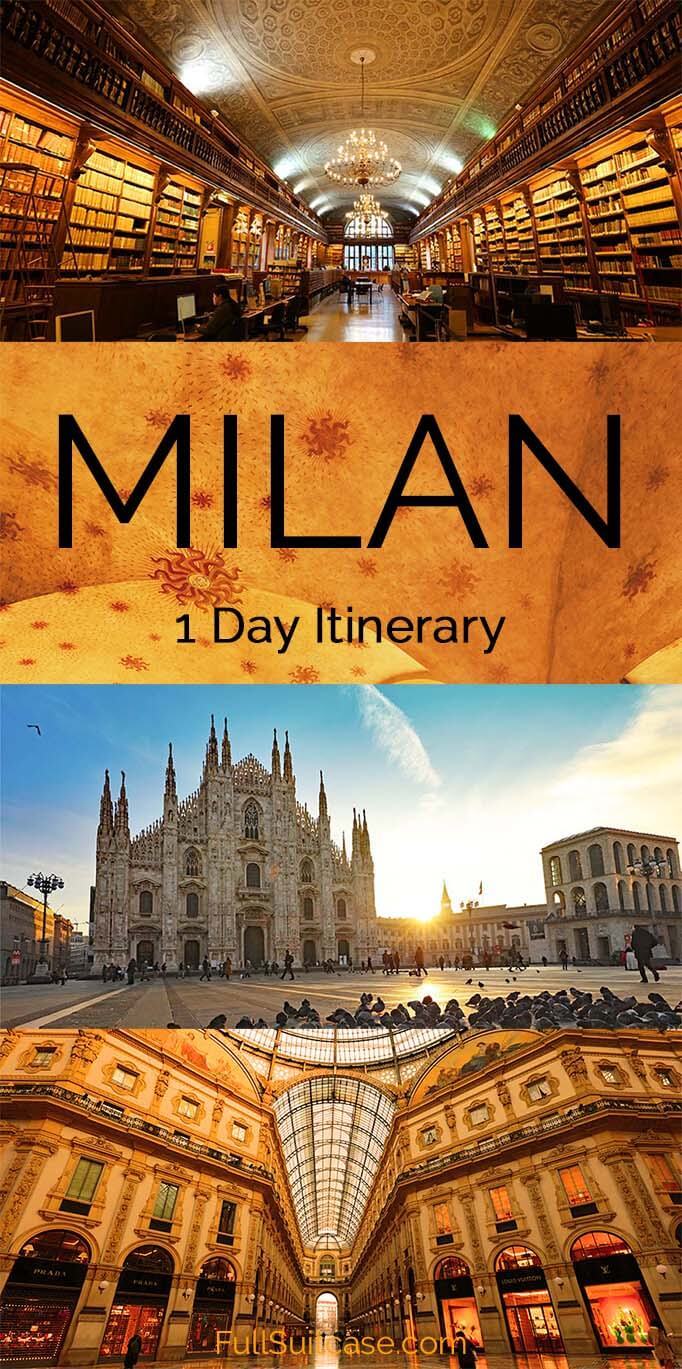 Based on our experience, here's what I recommend to see and do in Milan in one day:
Piazza del Duomo & Duomo Terraces
No trip to Milan would be complete without seeing the Cathedral, Duomo di Milano, an impressive gothic masterpiece that took several centuries to complete. To many, seeing the Duomo is the main and only reason to visit Milan.
As you will see in this post, there is so much more to Milan than just its famous cathedral. But yes, it's the main landmark of the city. So no matter how much (or little) time you have in Milan, Piazza del Duomo is one place you don't want to miss.
If you have just one day in Milan and it's high season, you'll likely spend a lot of time queuing to get inside the cathedral. Its exterior is much more impressive than the interior, so I'll leave it up to you to decide if it's worth going inside if it's busy.
If you want to see both – the cathedral as well as the terraces, then be sure to get your tickets in advance. Alternatively, you can also opt for this highly-rated tour that includes skip-the-line tickets. Yes, it costs a bit more, but if you want to get the most out of your day in Milan, then it's definitely worth it.
Must-see! Whether you visit the cathedral itself or not, make sure not to miss Duomo's Terraces. With its 135 towers and spires and over 2000 decorative marble statues, the rooftops of Duomo are a sight to behold.
The views from the top are amazing: not only do you have piazza del Duomo and the whole of Milan under your feet, but you can even see the mountains in the distance. But the most impressive sight is the close-up of the towers of the cathedral that you can explore via a system of interconnecting stairways on the roof.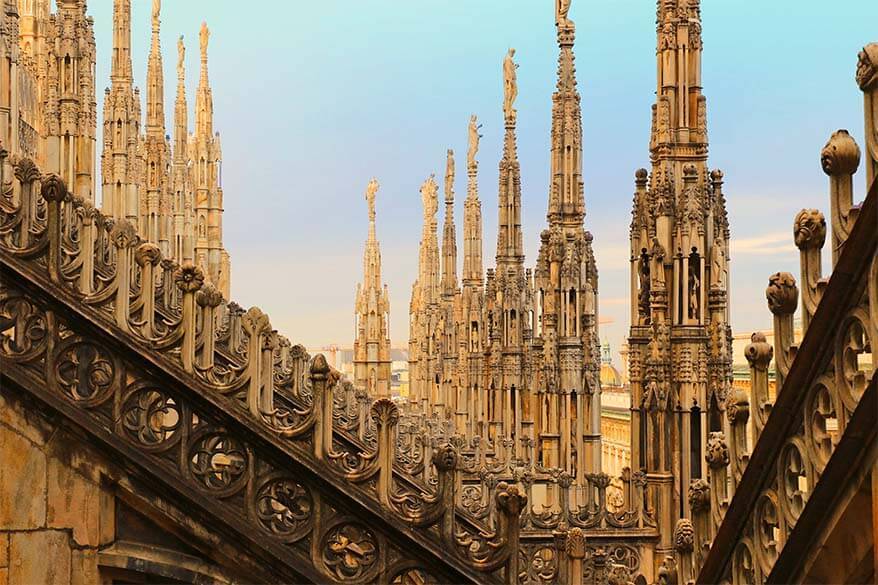 There are two ways to get to the rooftops of Duomo – by staircase or by an elevator. You can get the tickets for either of the two options here. The price difference isn't big and the elevator will save you some time and energy. We took the elevator.
TIP: Beat the crowds and visit Piazza del Duomo first thing in the morning. It's also the only time to get some pictures of the cathedral without the crowds. The terraces are open from 9 AM every day. In November, we could just go in without any queue. However, it is much busier in the high season, so make sure to book your tickets in advance and arrive really early. I'd say no later than 7.30-8 AM so that you also have some time to walk around the Duomo square as well as Galleria Vittorio Emanuele II before the groups flood the place.
Insider tip: One of the nicest views of the Duomo can be found on the 7th floor of La Rinascente shopping center. There are several restaurants and cafes here, and you can enjoy a meal or a quick coffee with Duomo rooftops as the most magnificent backdrop.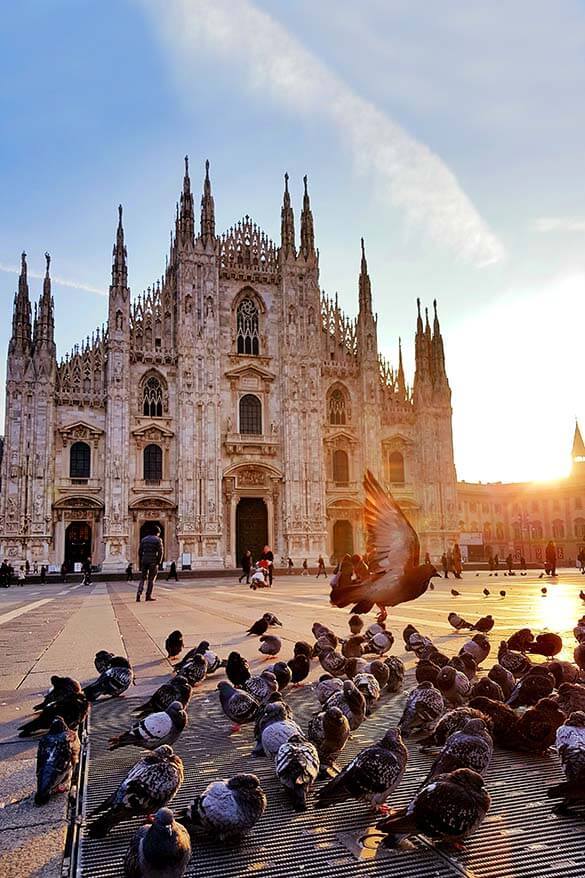 Galleria Vittorio Emanuele II
Galleria Vittorio Emanuele II, Italy's oldest and probably the most exquisite shopping mall, is a major landmark you have to tick off your list when visiting Milan. The impressive 19th-century glass-topped gallery has always been a place to see and to be seen, the meeting point for the Milanese bourgeoisie.
Inside you'll find several cafes and restaurants, some as old as the gallery itself. As you drink your morning coffee at Biffi or Savini, try to let it sink in that these restaurants have been here since 1867 – more than 150 years. Who knows, maybe you're sitting at the same table as Verdi, Puccini, Charlie Chaplin or Frank Sinatra…
Galleria Vittorio Emanuele II is a busy shopping arcade where you'll also find some of the most expensive fashion boutiques of the world. Brands like Louis Vuitton or Prada have their flagship stores here, all with the same elegant black billboards and golden letters – obligatory uniform standard for any business in this gallery.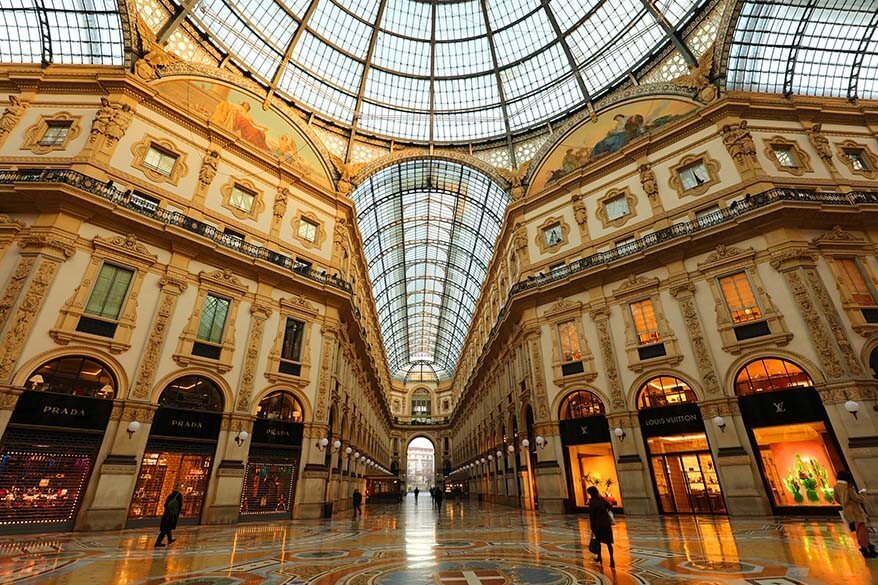 However, unless you just won the lottery, I'd leave the pleasures of shopping for another time. Also, you don't want to waste too much time if you have just a day in Milan. Instead, admire the beautiful building, stunning detailed mosaics on the floors, and maybe have some tea or coffee – just to be able to see one of the historic restaurants.
TIP: Galleria Vittorio Emanuele II is just next to the Duomo and doesn't require more than 5-10min of your time. So if you can try to visit the gallery before you head to the Duomo and the Terraces. In the morning you can have the whole gallery to yourself, whereas during the day you'll have to squeeze your way between the tour guides with their umbrellas, inevitable selfie sticks, and impatient locals trying to make their way through the crowds…
Insider tip: Since recently, it's also possible to visit the rooftops of Galleria Vittorio Emanuelle. However, based on the reviews, I think it's ok to skip it if you only have one day in Milan.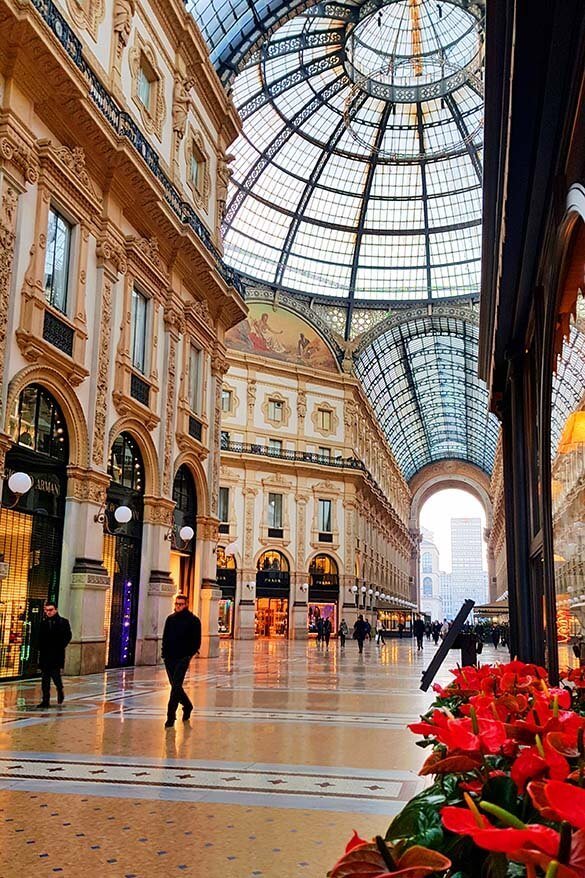 La Scala Opera
As you walk from Piazza del Duomo all the way to the northern end of the Galleria Vittorio Emanuele II, you'll arrive at the smaller town square, Piazza della Scala. This square with the statue of Leonardo da Vinci in the middle is a bit underwhelming, especially compared to the beautiful places you just came from. The main reason to be here is Teatro all Scala.
Dating back to 1778, Teatro alla Scala, aka the 'Temple of Opera', is one of the most famous theatres in the world. It may not look like much on the outside, but its interior is very impressive; its history – even more. Some of the most famous operas and composers are linked to La Scala, including Gioachino Rossini and Giuseppe Verdi to name just a few.
I'm not really sure what to recommend to you in terms of visiting La Scala, especially if you only have a day in Milan. There were rehearsals on the day when we visited, so we could only see a part of the theatre, watch the stage from a small balcony through a glass window, and visit the tiny La Scala museum. Due to rehearsals, no pictures were allowed inside the theatre. It was interesting and another box ticked, but at the same time, it was a bit disappointing not to be able to visit the theatre properly and see it in all its glory.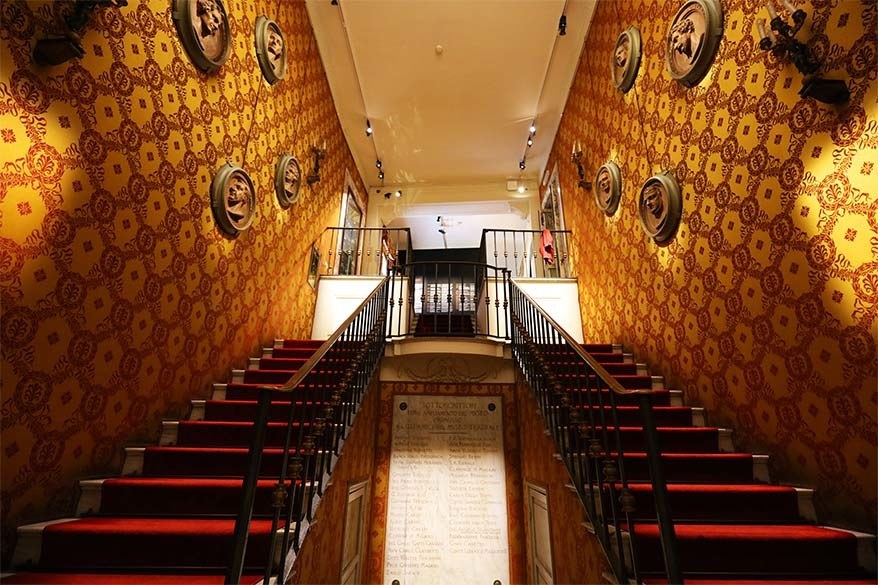 There are official guided tours of the theatre and the museum daily at 4 pm. By that time there are no rehearsals and you can actually admire the theatre. So if La Scala is on your bucket list, you may have to plan your day in Milan differently and make sure you get there at 4 pm (more information and tickets here). In that case, make sure to book in advance as La Scala is one of the most popular places to visit in Milan.
It is also possible to visit La Scala with an organized tour with a local guide: at 1 pm or at 2.30 pm. There are also tours that cover several landmarks, e.g. this tour visits the Duomo and La Scala.
Insider tip: If you have just one day and don't want to adjust your whole Milan itinerary just to be able to see La Scala, I'd probably skip the museum tour. Instead, try to get tickets for the opera itself. Seeing an opera at La Scala must be one of the most amazing experiences you can have in Milan!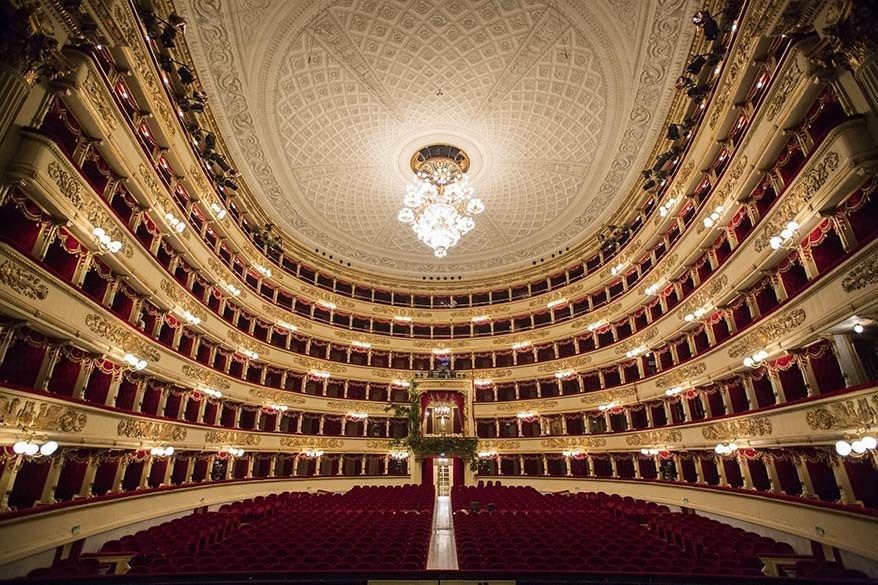 Brera & Braidense National Library
One of the nicest neighborhoods in central Milan, Brera used to be an artsy, bohemian district. Nowadays it's a more upscale part of town with a good mix of history, modern design, fashion, countless shopping, and dining options.
With lively cafes and restaurants, Brera comes to life in the evening. But if you want to see and do everything I recommend in this one day Milan itinerary, you'll likely find yourself in Brera around noon.
With a variety of restaurants, you will have no difficulties finding a good place for lunch in Brera. Alternatively, wait just a bit longer – I have a really nice recommendation for lunch a bit further down the road.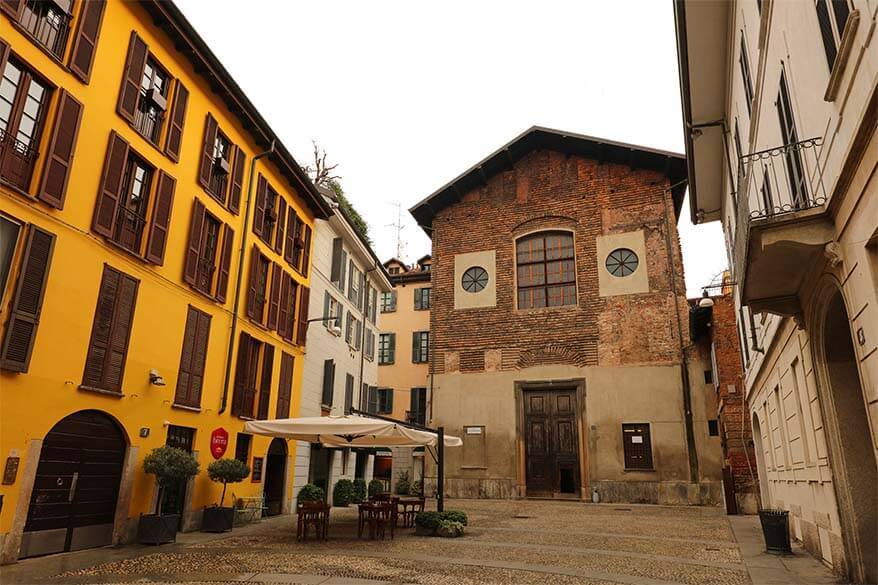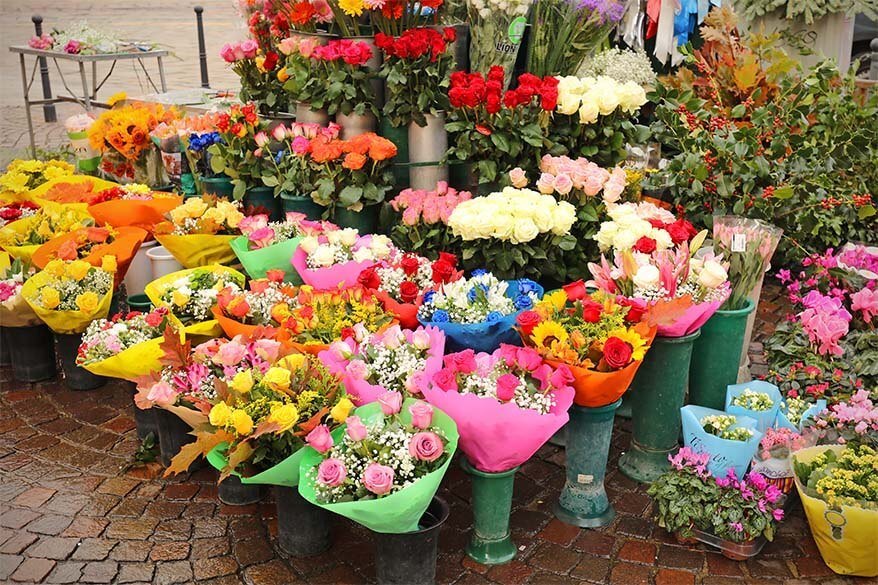 Not to be missed is the Brera Academy that shares the same building with Pinacoteca di Brera, Milan's largest museum of art, astronomical observatory, and Braidense National Library.
Insider tip: If you have just one day in Milan, you won't have much time for the museum, observatory, or the adjacent botanical gardens, however a visit to Braidense library doesn't require more than a few minutes, so don't miss it. This 18th-century library is one of the most beautiful libraries in Italy, a real hidden gem in Milan.
The library is open daily except on Sundays (more info here) and the entrance is free. Keep in mind that as a visitor you can only see the main room and you are not allowed to take close-up pictures of the books.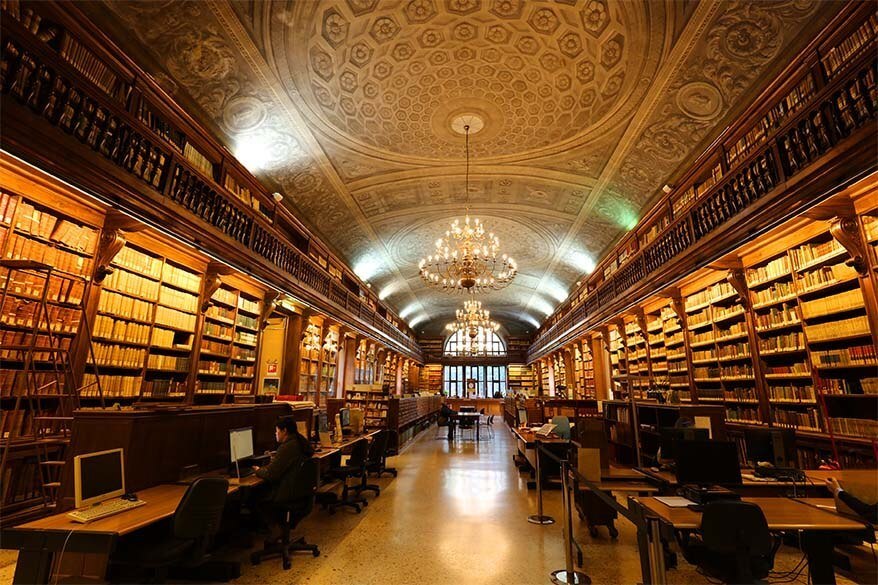 After visiting the library, stroll the streets of Brera in the direction of Sempione Park, your next destination not to be missed in Milan. On the way, pass Piazza Carmine with the 15th century Santa Maria del Carmine Church.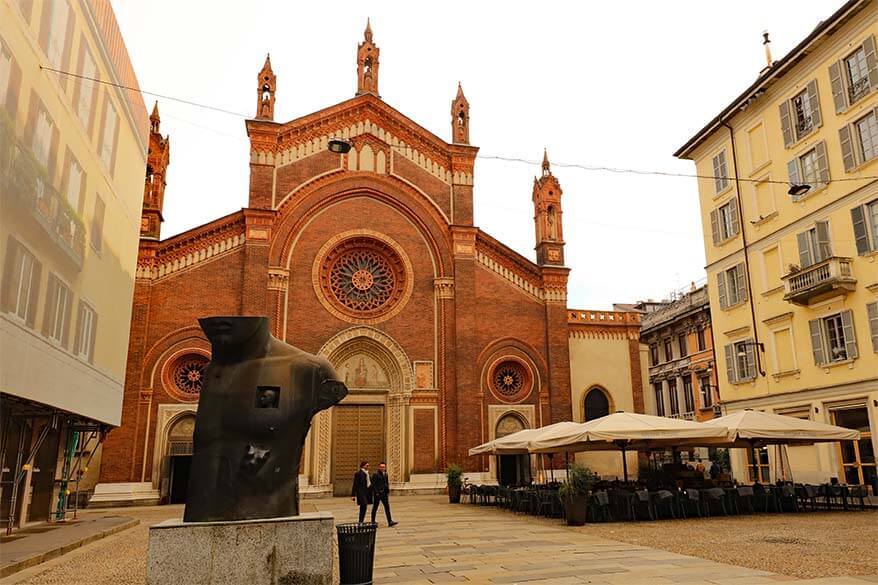 Sforzesco Castle & Sempione Park
Castello Sforzesco is a huge castle built on the remains of a 14th-century fortification. To tell you the truth, I never even heard of this castle before my visit to Milan, yet it's a very impressive citadel, and definitely worth a visit.
Sforzesco castle now houses several art museums and another beautiful library. However, you would need at least half a day to visit even a small part of it.
Still, even if you only have one day in Milan, you can stroll through the grounds of the castle, admire the beautiful fountain, Fontana di Piazza Castello, and maybe even venture to the adjacent Sempione park.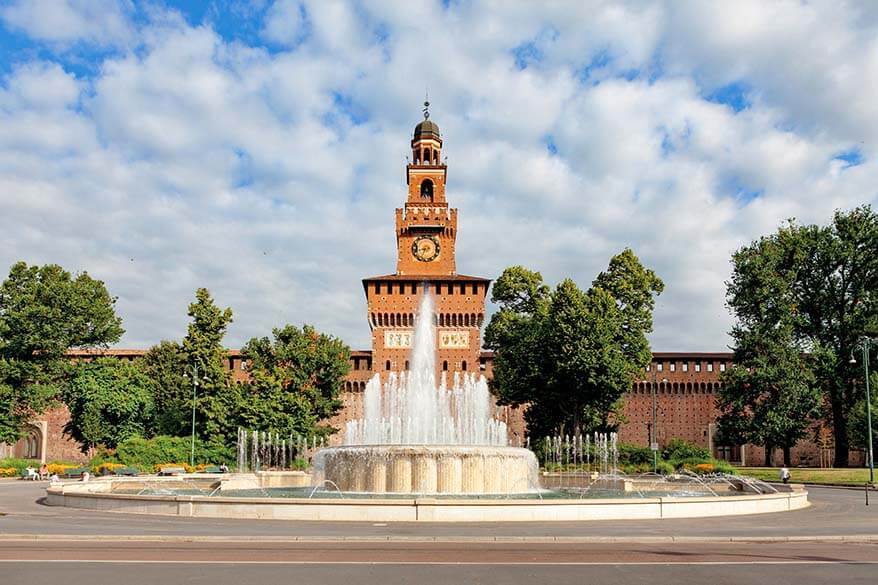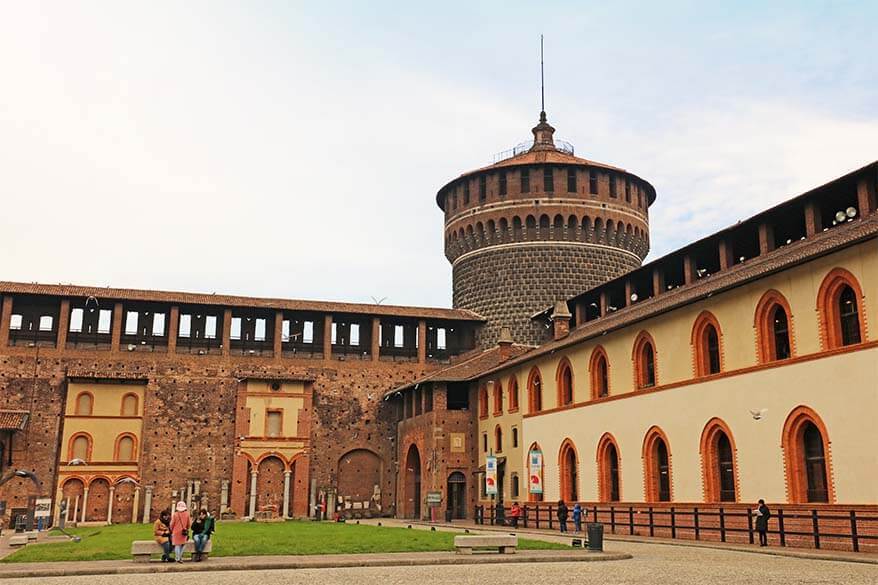 One of the main landmarks of the park is Arco della Pace, Arch of Peace. It looks very much like Arc de Triomphe in Paris. So if you have the time, you can walk to it. Alternatively take your time to explore the grounds of the castle a bit more.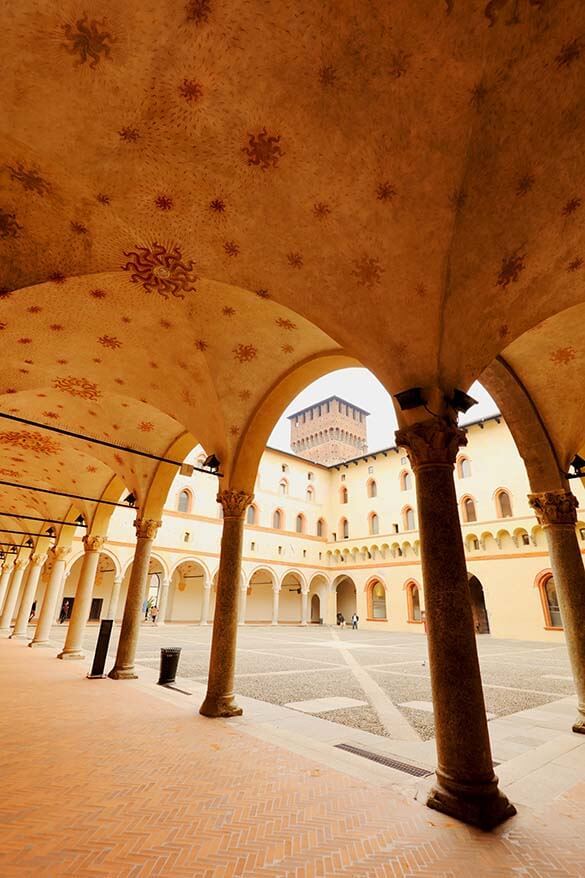 Insider tip: Have lunch with a view at Triennale Design Cafe. It's located at the top floor of the modern Italian design museum La Triennale di Milano. You won't find many tourists here, the food is really good, and the views are well worth a short walk from Castello Sforzesco.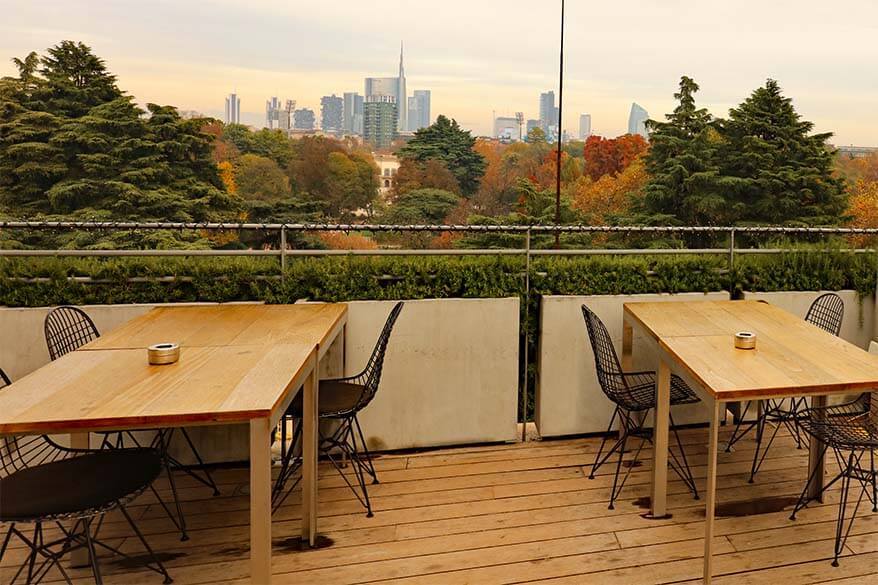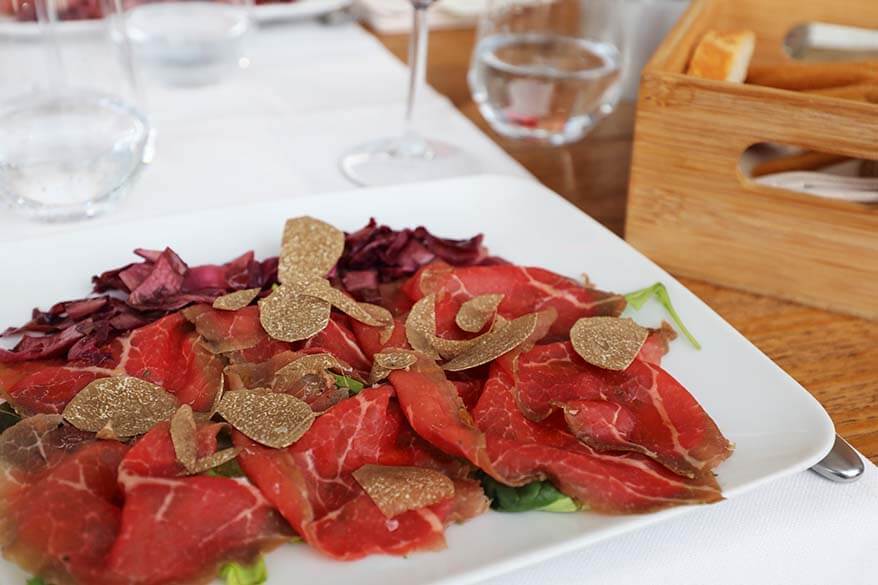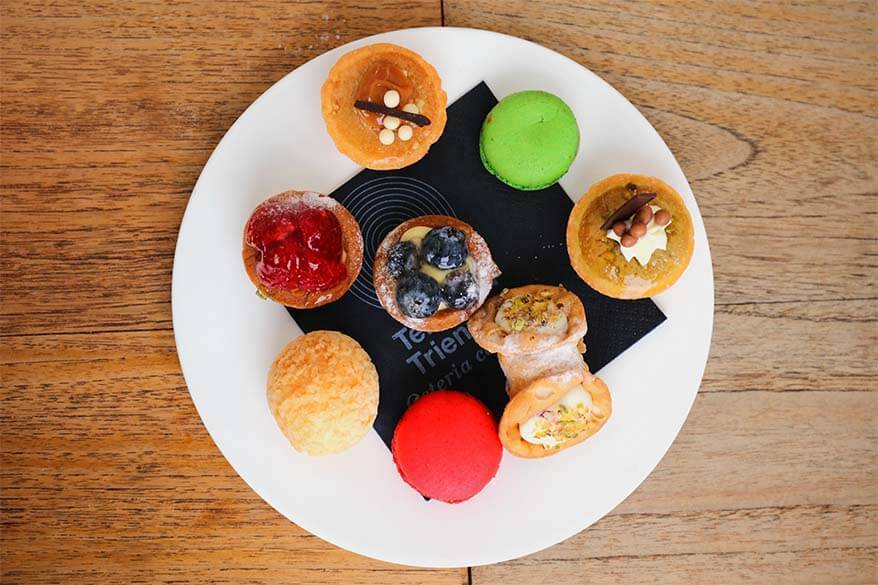 The Last Supper or…
At this point, you have seen the main highlights of the old city, so it's time to decide where you want to spend the remaining half a day in Milan!
If you rather stick to the traditional landmarks of Milan, you could now head to Cenacolo Vinciano, where you can see one of the most famous paintings in the world, The Last Supper by Leonardo da Vinci. However, don't expect to just arrive there and see the painting – the tickets are sold out months and months in advance. You can check availability for your travel dates here.
Alternatively, book one of the guided tours that include skip-the-line tickets for Leonardo's The Last Supper. The organizing companies pre-book tickets in advance and therefore have much more availability even on short notice.
TIP: Take a look if there is any availability for this great and extremely highly-rated 3-hr Milan walking tour with a local. It includes the Duomo Rooftop visit and the Last Supper tickets. If you have just one day in Milan, this tour is a great way to get to learn more about the city with a local guide. We just did one of their tours and they're great!
Afterwards, you can continue with the last step of my suggested Milan one day itinerary and visit Milan Canals (see below). If you still rather stick to the old town, you can visit one more museum (pick one from all the places mentioned above) or visit a really special church.
In that case, I recommend San Bernardino alle Ossa, best known for its bone chapel. In fact, if you want to visit this chapel, you should probably go there right after you visit the Duomo – it's in the same area and will save you quite some walking.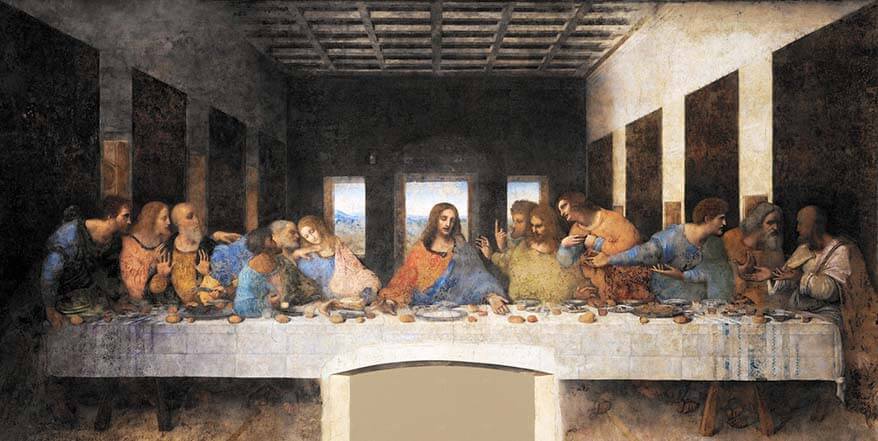 … or Porta Nuova District
If you want to get to know different facets of Milan, I recommend that you spend the afternoon far from the main tourist areas. I loved seeing this other side of Milan! It was such an eye-opening experience that made me realize how little I knew of this fascinating city and how diverse it actually is. There is so much more to Milan than the Duomo and the old town. Read on!
Porta Nuova district is a brand new upcoming area in Milan. If you feel fit enough you can get there on foot, walking via Sempione Park (1,5-2km, 20-30min walk from Sforzesco Castle). Alternatively, take a metro to Garibaldi FS station.
If you walk, you'll pass Porta Garibaldi and walk Corso Como – a nice fashionable area with shops, bars, and restaurants. 10 Corso Como Café is apparently one of the most sought-after restaurants in Milan, but based on the reviews and the prices I wouldn't recommend eating there. However, it's a really nice place, one of those tiny hidden gems of Milan that you would just pass without noticing, so take a look inside the hidden passage leading towards the restaurant.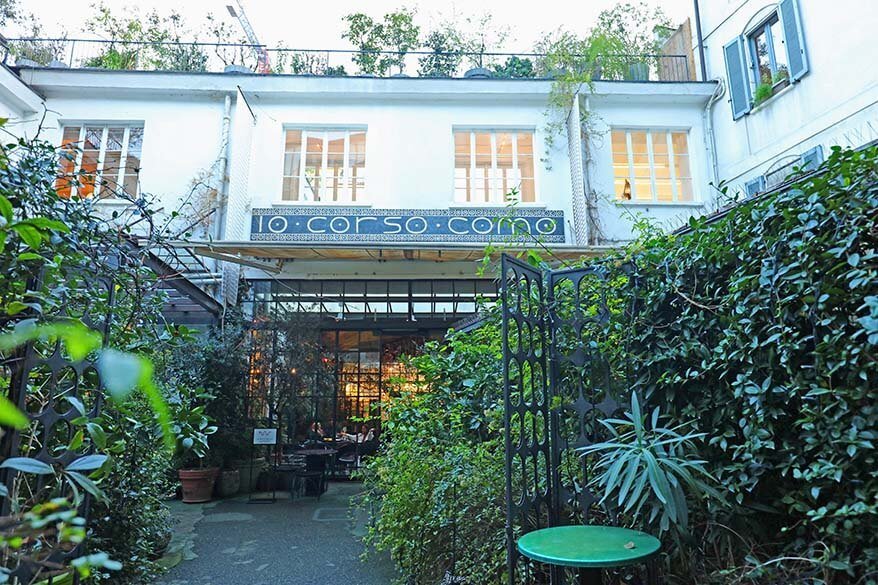 Just a few blocks further you'll come to Piazza Gae Aulenti. It's a new modern area surrounded by glass skyscrapers and some stunning samples of modern architecture.
It's really hard to believe that this is the same Milan you visited just an hour ago! It feels as if you're in some huge city in Asia or in the Middle East… In fact, Milan Unicredit Tower was designed by César Pelli, the same architect who built the famous Petronas Towers in Kuala Lumpur and many other famous skyscrapers all over the world.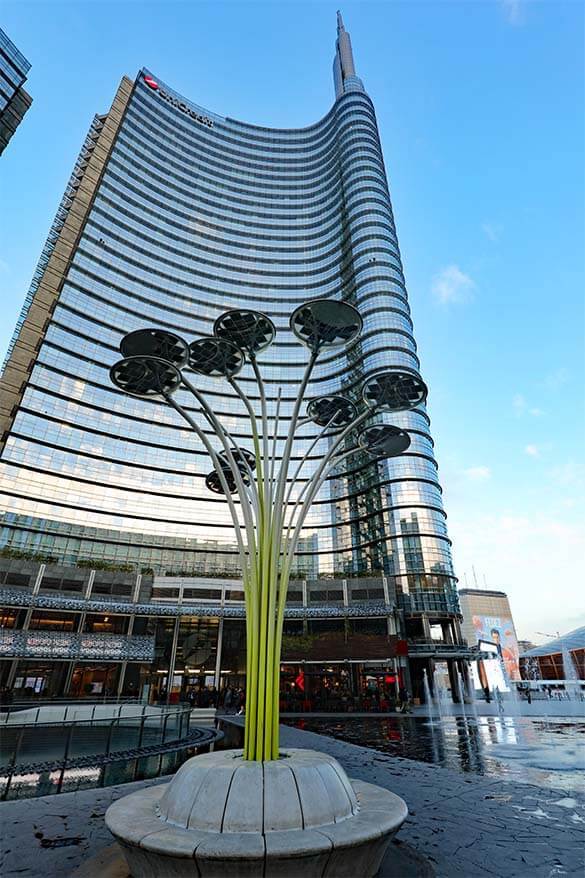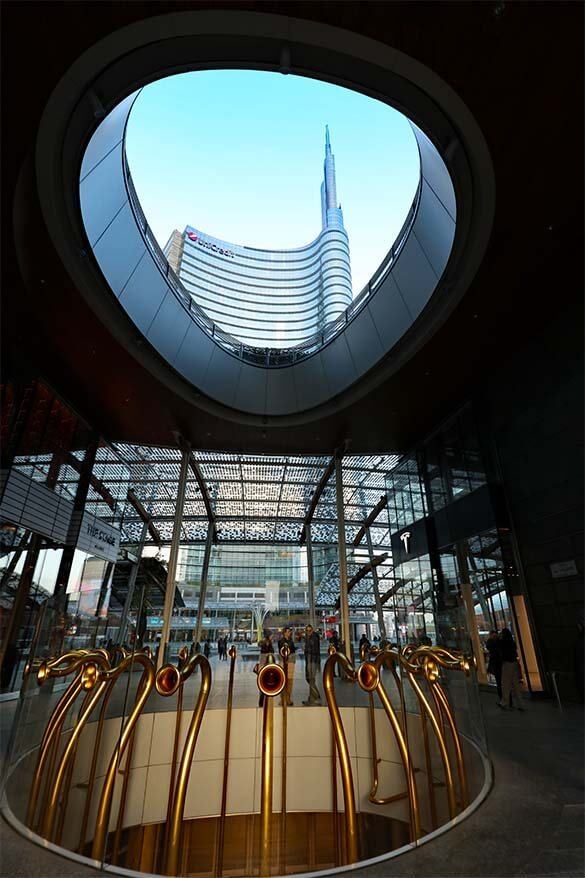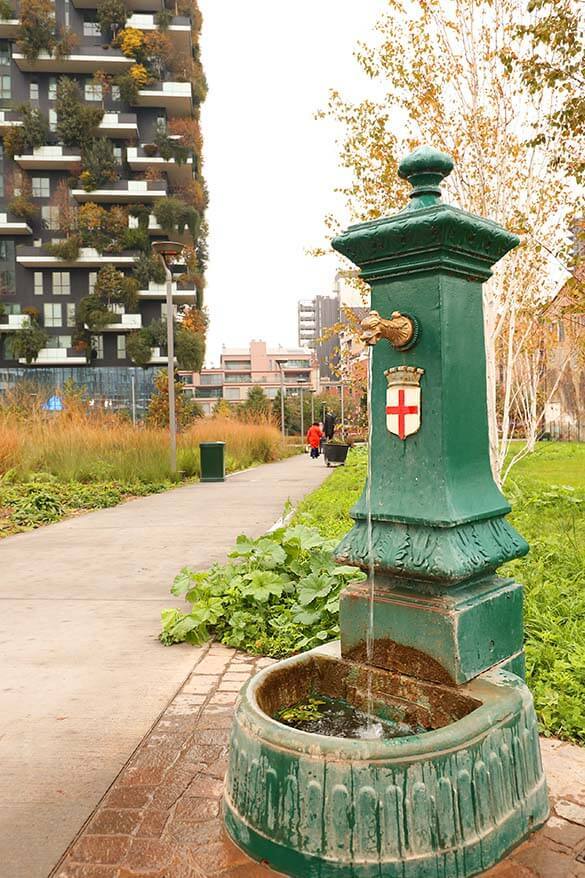 Take a walk through this new modern district of Milan. There are so many fine pieces of modern architecture!
One of the new landmarks of Milan, Stefano Boeri's Bosco Verticale, won several awards including the International Highrise Award (2014) and the Best Tall Building Worldwide (2015). The so-called Vertical Forest is a very innovative type of sustainable residential buildings that will impress even if you know nothing about modern architecture.
The whole Porta Nuova district is really unique and well worth seeing, even if you only have one day in Milan. This is a very different part of the city than the old center. But it gives you a much better image of what Milan is truly about.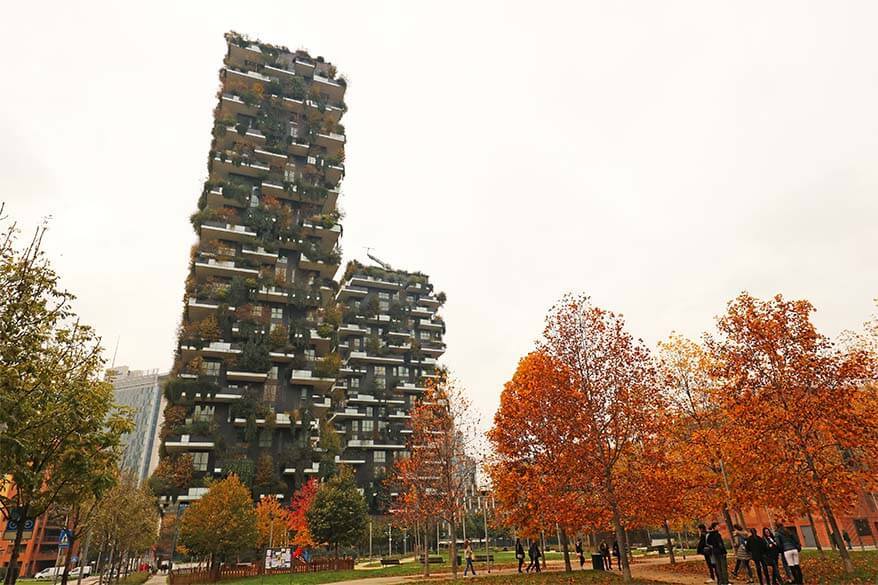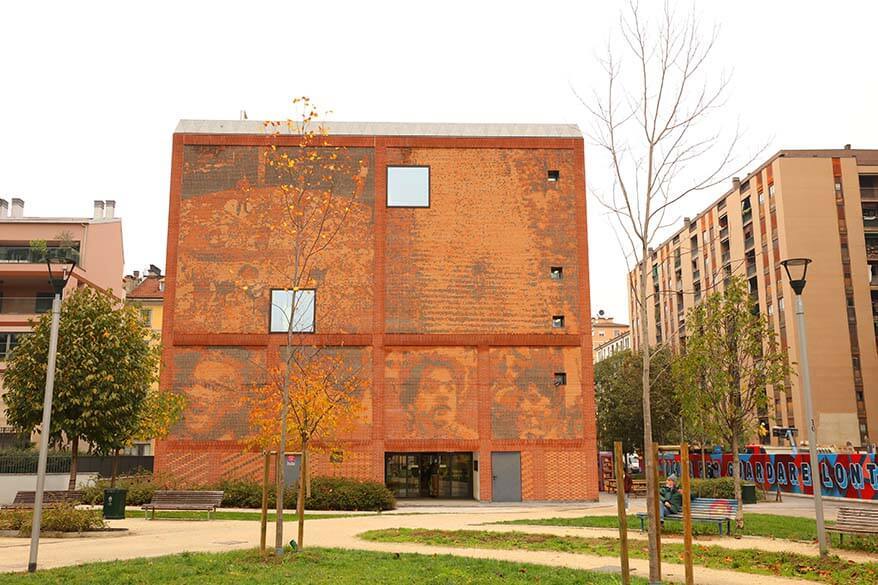 City Life Area
Another brand new place to be in Milan is the City Life residential area. With a new shopping center, cinema, restaurants, kids' playgrounds, and lots of residential buildings this is probably more a place for the locals or those who are staying in Milan for a few days.
We managed to squeeze a short visit here during our day in Milan, but if you are running out of time, you can probably skip this area. On the other hand, it's here that you find local modern Milan at its best…
The main highlight for me was the colorful modern sculpture by Pascale Marthine Tayou. It's called Coloris and is located just near the Tre Torri area. If you like modern art and unusual places, then you may want to check it out.
To get here, you have to take a metro to Tre Torri station.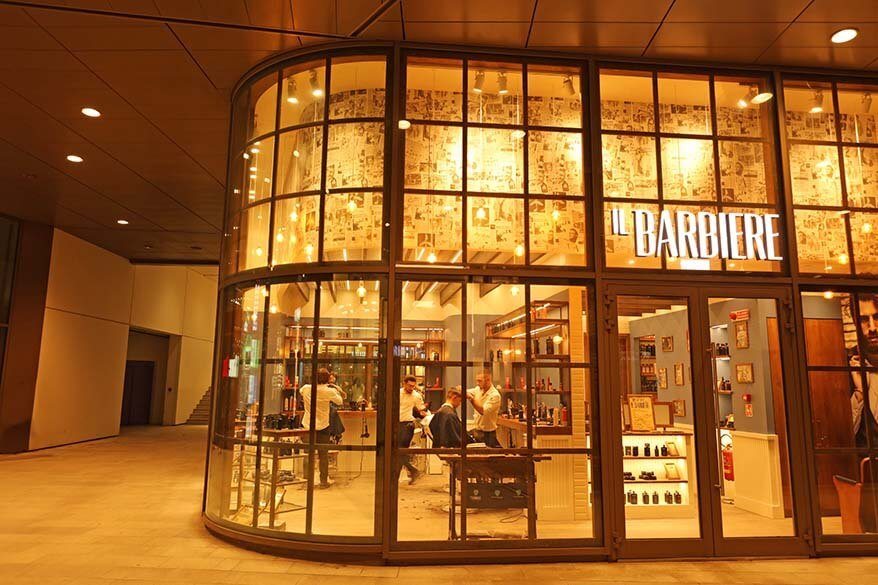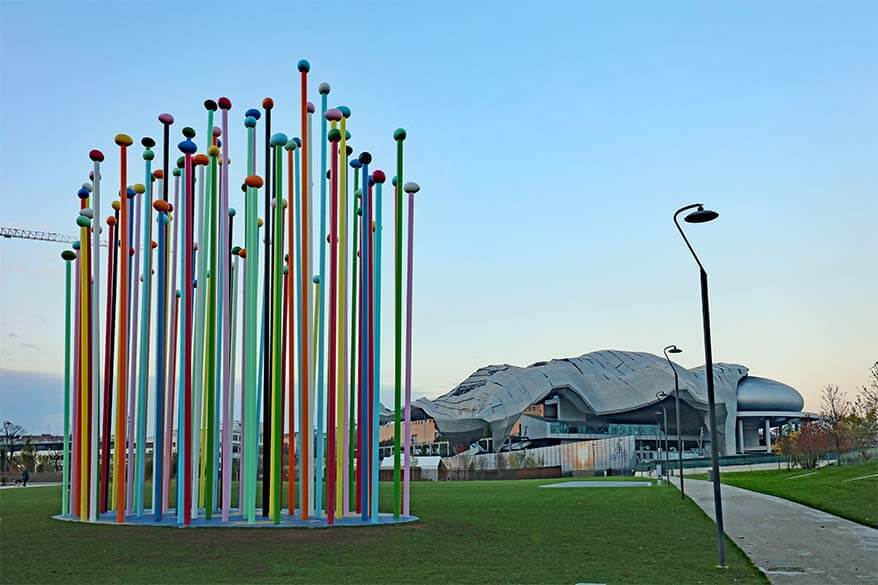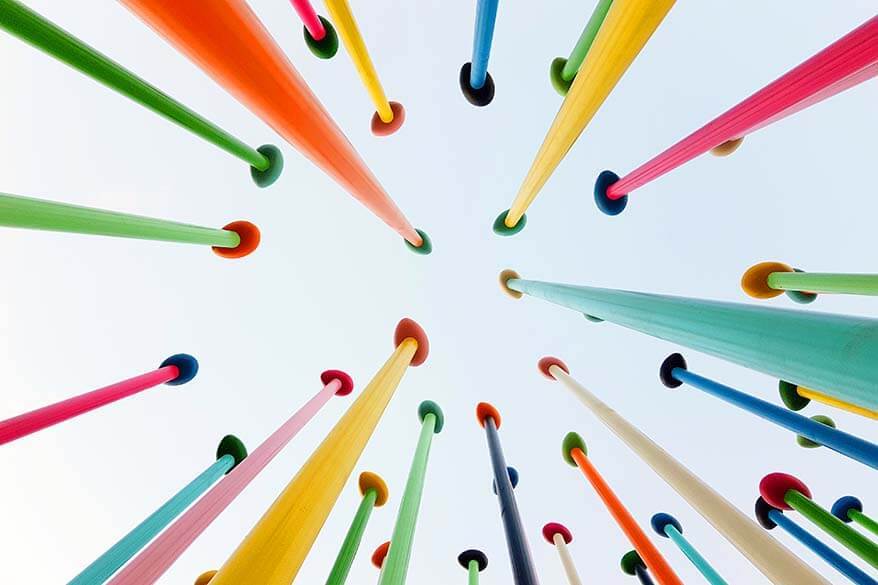 Navigli – Canals of Milan
Did you know that Milan has canals?! I had no idea!
The Navigli neighborhood, famous for the Naviglio Grande and Naviglio Pavese canals is one of the areas you really have to see in Milan, even if visiting for just a day. It has such a nice vibe and is probably my favorite of all the places that we visited in Milan.
We kept the best for last and visited Milan Canals in the evening. With picturesque canals surrounded by colorful buildings, lots of restaurants and bars, as well as small boutiques and art stores, Navigli is bound to become one of the main attractions in Milan. The whole area has a very cozy local feel and it's a great lively place to be no matter the season.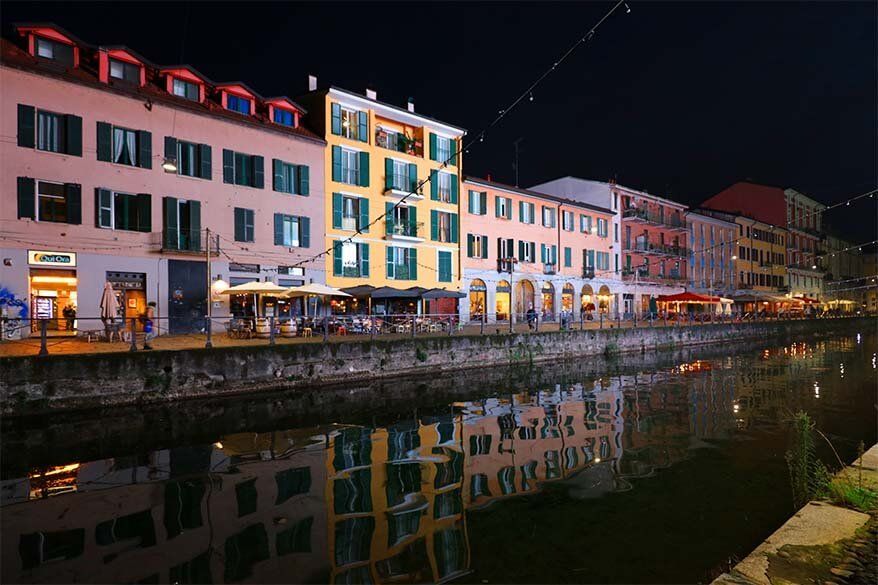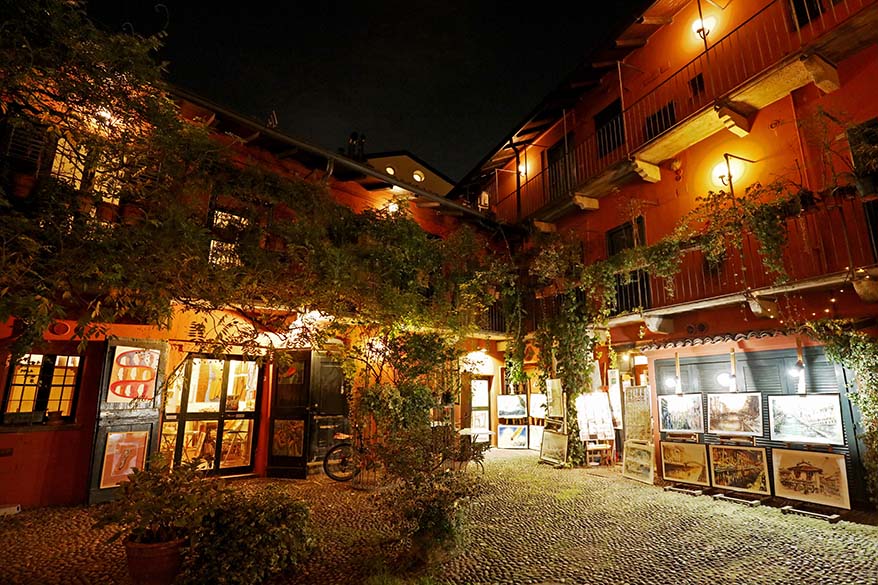 Stroll along the canals, explore them by boat, get a drink at one of the many outdoor terraces, or dinner at one of the local restaurants… Dinner suggestion – try risotto alla Milanese con midollo – traditional local dish in Lombardy region.
Navigli is a wonderful place to end your day in Milan and fall in love with the city. It will leave you wondering why you came to Milan for just one day and planning another trip very soon…
READ ALSO: Traditional Food of Lombardy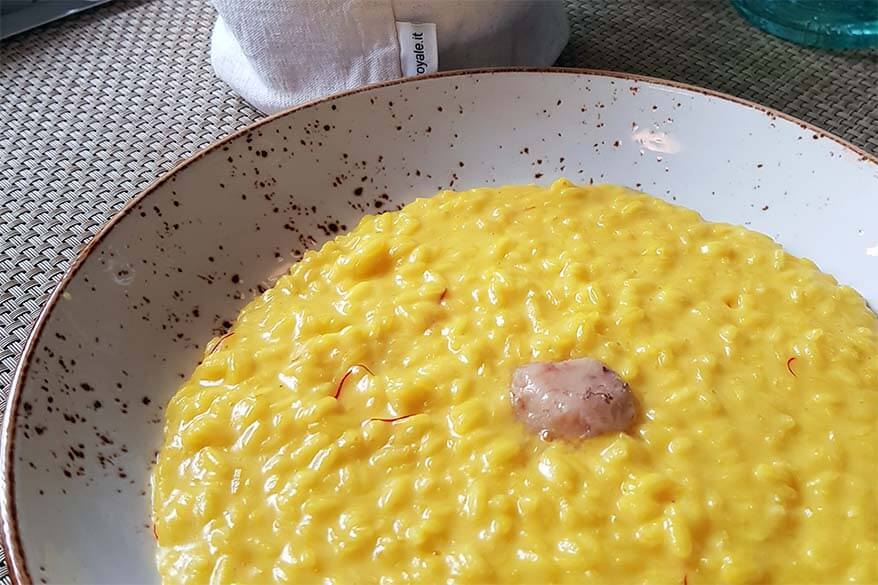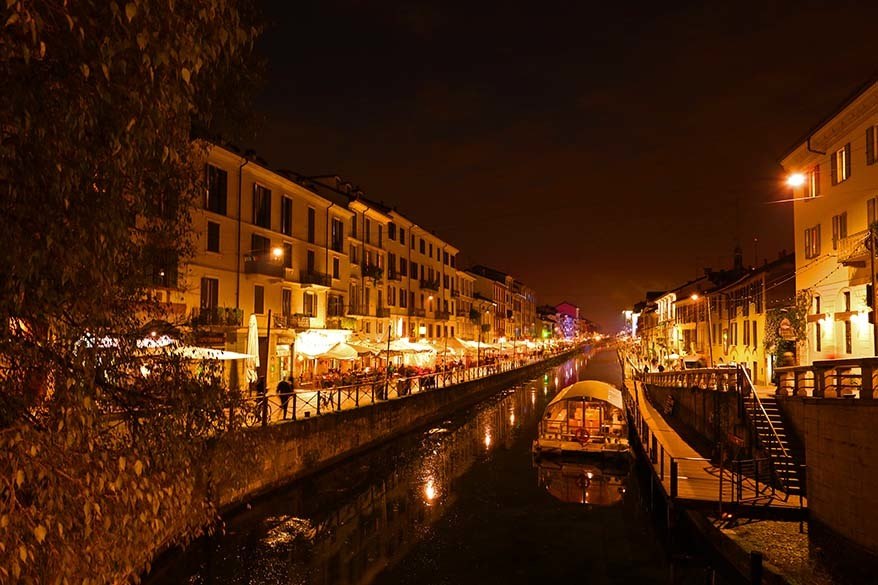 One day in Milan – itinerary
Here is my suggested one day Milan itinerary in a nutshell. The times are just for your reference, based on our experience. We visited in November so it was much less busy than in summer. On the other hand, the days are much longer in summer, so long waiting times are offset by more daylight hours, allowing you to see and do just as much.
Here's our suggested Milan one day itinerary:
7 am. Start with a cup of coffee and a croissant at the Starbucks Reserve Roastery or one of the local cafes in central Milan.
From there it's just a short walk to Plazza del Duomo and Galleria Vittorio Emanuele II – explore both before the crowds come in.
9 am. Visit Duomo Terraces and potentially also the Cathedral itself (get the tickets for the terraces or for the Cathedral + terraces in advance and note that in high season you may need to stand in line well before it opens).
Time for another coffee – try one of the historic cafés in Galleria Vittorio Emanuele II.
10.30 am. Quick visit to La Scala.
Brera & Braidense National Library.
Stroll through the grounds of Sforzesco castle.
12.30 pm. Lunch at Triennale Design Cafe (alternatively have lunch in Brera before heading to Sforzesco castle).
2 pm. Head to Porta Nuova district OR go and see Leonardo's The Last Supper (pre-booking is mandatory!). We took a metro to Porta Nuova, but the walk isn't far either.
City Life area (not a must if you are short on time).
4-5 pm. Navigli – Canals of Milan. You'll need to take a metro to get here. This is a nice area to have dinner as well.
Below, you can find a map of this 1-day Milan itinerary and practical tips for your visit. Read on!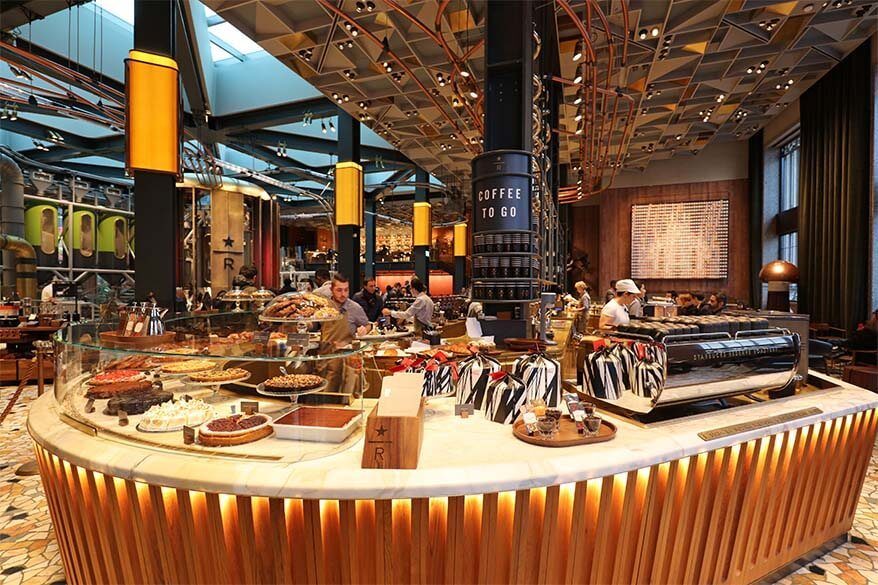 Walking map
The old city center of Milan is not very big, so you can see and do quite a lot in one day. On the other hand, some great neighborhoods are a bit further away, off the beaten tourist tracks.
The good news is that Milan's public transport network is cheap, easy, and efficient, so it makes it possible to venture out a bit outside the main tourist areas and see different facets of the city, even if you only have one day in Milan.
To help you plan your day in Milan, I created this map with a suggested walking route to give you a better idea of where all these places are located and how to best plan your time.
How to Use This Map: Use your computer mouse (or fingers) to zoom in or out. Click on the icons to get more information about each place. Click the arrow on the left top corner for the index. Click the star next to the title of the map to add this map to your Google Maps account. To view the saved map on your smartphone or PC, open Google Maps, click the menu button, and go to 'Your Places'/'Maps'.
Practical tips for visiting Milan
Use public transport. The 24hr ticket cost us just 4,5EUR and made it possible to explore so many different areas of Milan in a day.
Milan is one of the busiest tourist destinations in Italy, so try to book all your tours and tickets in advance. It will save you lots of time and frustration. We recommend Get Your Guide website for all tour bookings because they have the best customer service and the most flexible cancelation policy.
Stay close to the city center, but more importantly close to a metro station. I recommend staying for at least 2 nights, so you have one full day to see the best of Milan. Here you can find the best deals for Milan accommodation. If you want to be close to everything, Room Mate Giulia hotel is a great choice close to the Duomo (our recommendation). Alternatively, take a look at Park Hyatt Milano, if you are looking for a really luxurious option.
If you can, visit Milan in the offseason. It was lovely and not busy at all in November – perfect for sightseeing. Here you can find more information on what it's like to visit Italy in November.
Don't just go to Milan for a day and leave without exploring the nearby lakes – you'd be missing so much. Lake Como is less than an hour by train and is a perfect day trip from Milan. Don't miss Bellagio at Lake Como! Also Lake Garda is less than 2hrs away. The lakes are well worth it to be included in any Italian itinerary; also charming and quiet if traveling offseason.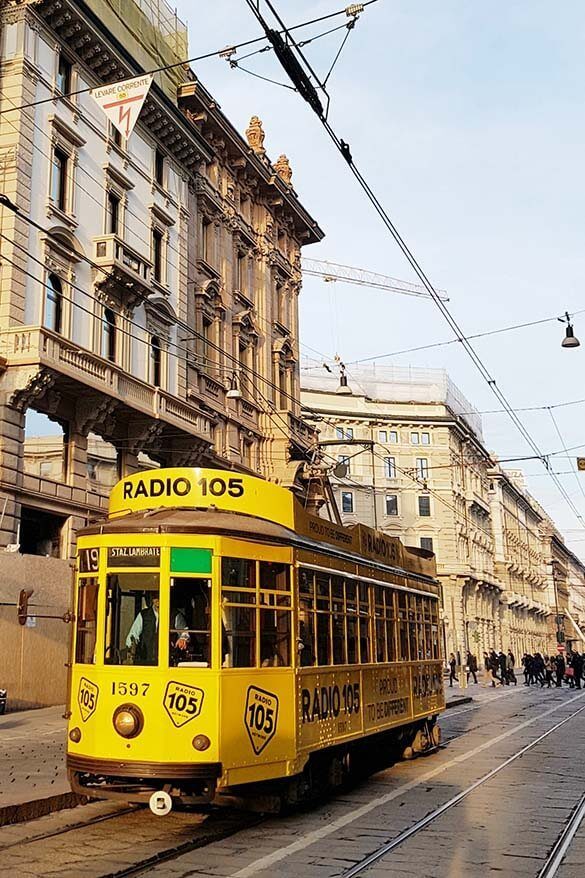 One day in Milan is just enough to scratch the surface and get a taste of the city. I am confident that this suggested itinerary will help you get a good idea of what Milan is all about and will make you want to come back for a longer stay next time. We're definitely going back for more!
Disclosure: I visited Milan with the Lombardy tourism board, but as always all opinions are my own. This is the most complete one day Milano itinerary you can find. It is 100% based on my personal experience visiting all the best places in Milan in one day, following the best recommendations by the locals.
More tips for your trip to Italy:
If you found this post useful, don't forget to bookmark it and share it with your friends. Are you on Pinterest? Pin this image!