Traveling to Lake Como, Italy, for the first time and not sure where to start? Planning a trip to Lake Como might be overwhelming indeed, especially so if this is your first time in this beautiful area.
How much time do you need in Lake Como? When to visit? Where to stay and how to get around Como Lake? Or how to see the best that Lake Como has to offer without the crowds?
To help you plan your first trip to Lago di Como, I selected some of our best tips for visiting Lake Como. This experience-based practical guide will not only help you plan your trip, but will also show you how to make the best of your visit, time, and budget. Find out!
READ ALSO: Best Places to Visit & Things to Do in Lake Como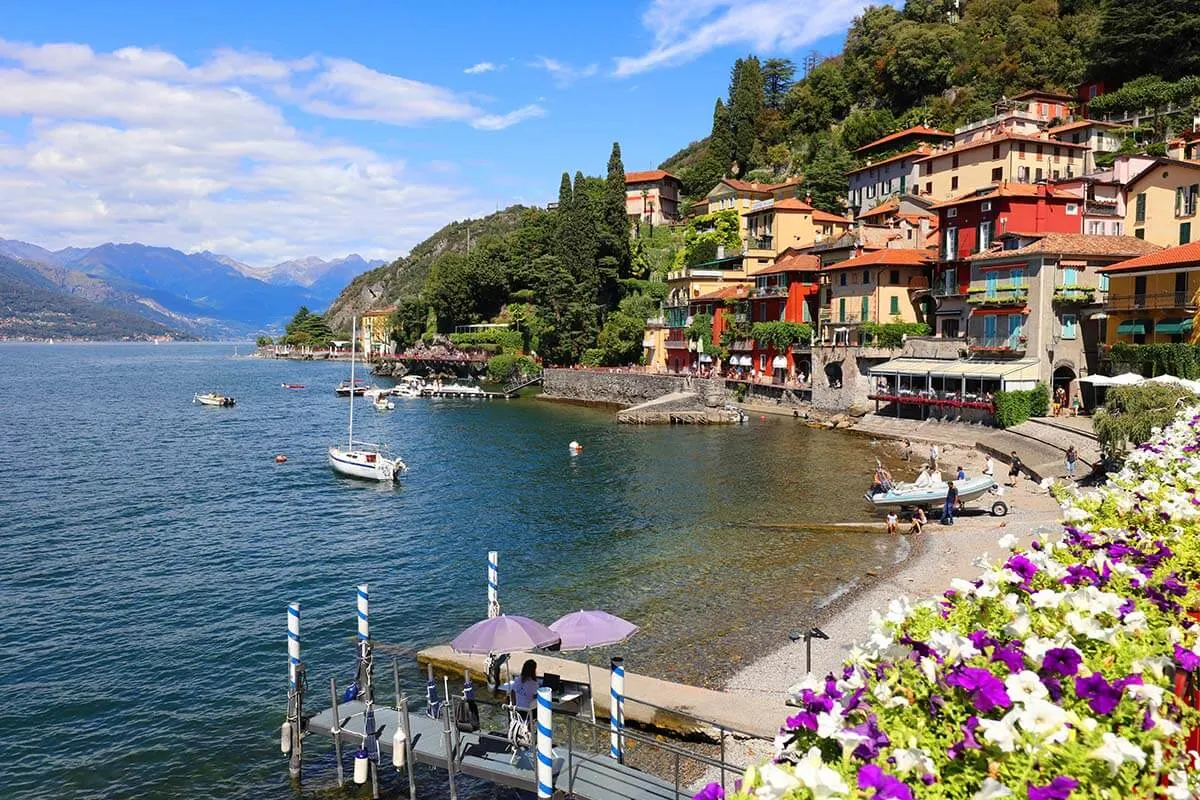 These are our top travel tips for visiting Lake Como:
1. Decide how long you'll stay
Lake Como is one of the largest lakes in Italy. Shaped like an upside-down letter "Y", Lake Como has a 100-mile (160 km) long shoreline that is lined with countless charming towns and picturesque villages.
So visiting Como Lake is not as straightforward as you may think. It's not a place where you just drive to one town, do a boat trip, and can see everything in a few hours. In fact, you could spend weeks traveling around Lake Como and still not see 'everything'.
So before anything else, decide how long you'll stay at Lake Como. Once you know that, it will be much easier to plan the rest of the trip – starting with getting there, getting around, the best area(s) to stay, places to see, things to do, etc.
But don't worry – Lake Como is worth it even if you only have a day or two. And you can see many amazing places in a short time – IF you know what to expect and plan well.
Good to know:
If you have just 1 day for Lake Como and want to see some of the most popular places, do yourself a favor and take an organized tour. Otherwise, you'll lose too much time traveling between places and won't be able to do as much.
We recommend planning at least 2-3 days for your first visit to Lake Como. This will give you enough time to see some of the 'musts' in a more relaxing way. However, if you want to see all the top places, you should really plan at least 4-5 days or it will be very rushed.
If you are traveling in the warm season and like hiking, biking, or want to get a bit off the beaten path and visit some less popular towns and villages, you can easily spend a week or even two in the area.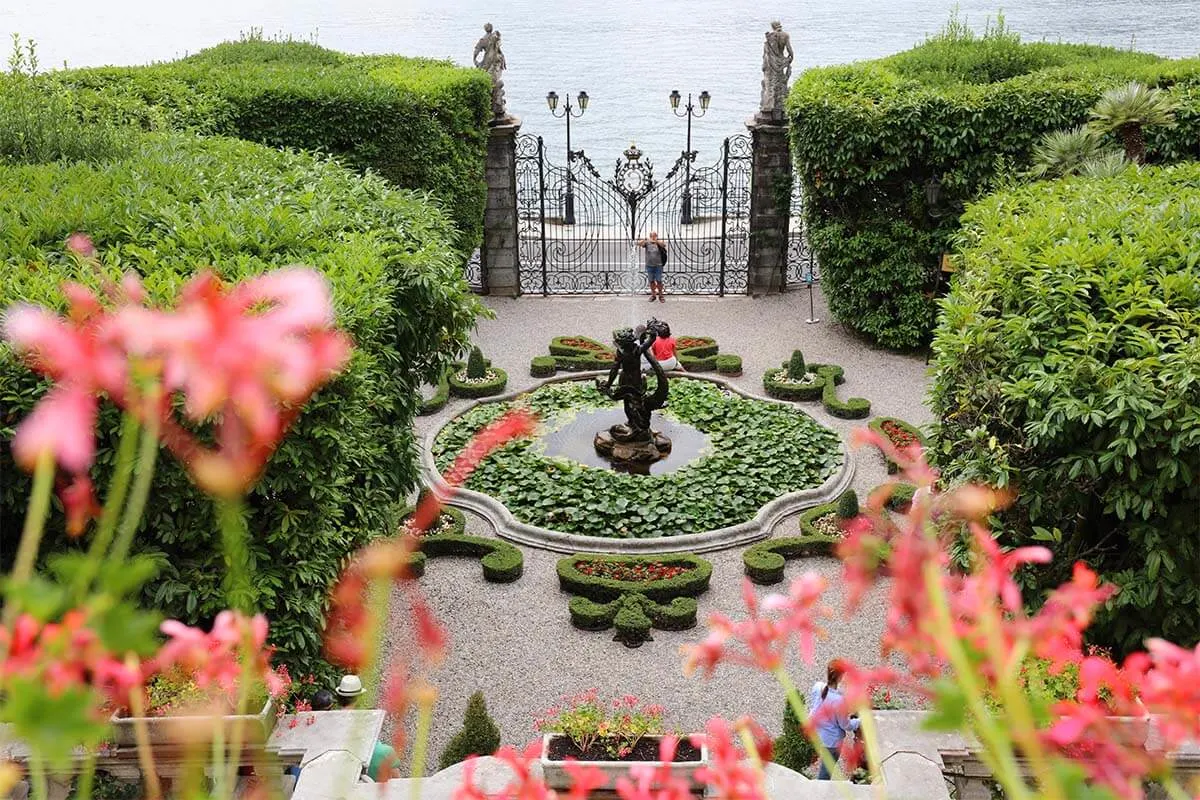 2. Travel in the shoulder season
Being one of the most beautiful destinations in Italy, it will come as no surprise that Lake Como is extremely popular. Furthermore, the main tourist season here is rather short – approximately from March through October, with most tourists visiting in the peak summer months (June – September).
So if you are mostly interested in sightseeing and do not care about swimming etc., see if you can adjust your travel plans and visit Lake Como in the spring or in the fall. It will still be busy, but incomparable to July or August when European countries have their school holidays.
The best months to visit Lake Como are mid-April – May and mid-September to mid-October. That's when everything is open, the weather is mild, and it's not too busy.
TIP: Some of the best places to see at Lake Como are historic Lake Como villas with beautiful gardens. So one of the best times to visit Lake Como is when everything is green and the gardens are in full bloom. The gardens are at their nicest when rhododendrons and azaleas bloom, which – depending on the weather – is around the second half of April.
Of course, visiting Lake Como in summer is amazing too. This is the season when you can enjoy everything that the area has to offer to the fullest. However, traveling in the summer, you'll have to do a bit more advanced planning and prepare to deal with the crowds (especially at the boat harbors of the most popular towns).
Good to know: While the scenery is stunning the whole-year round, traveling to Lake Como in the winter is a very different experience. This is mostly because the weather can get really cold and lots of businesses shut down between November and February. There are also fewer boats and the main attractions are closed too.
We once visited Lake Como in late October and once also in late November. It was still a great experience, but incomparable to the warmer months. If you are looking for solitude and want to discover the more local side of the area, you'll enjoy visiting here in the off-season.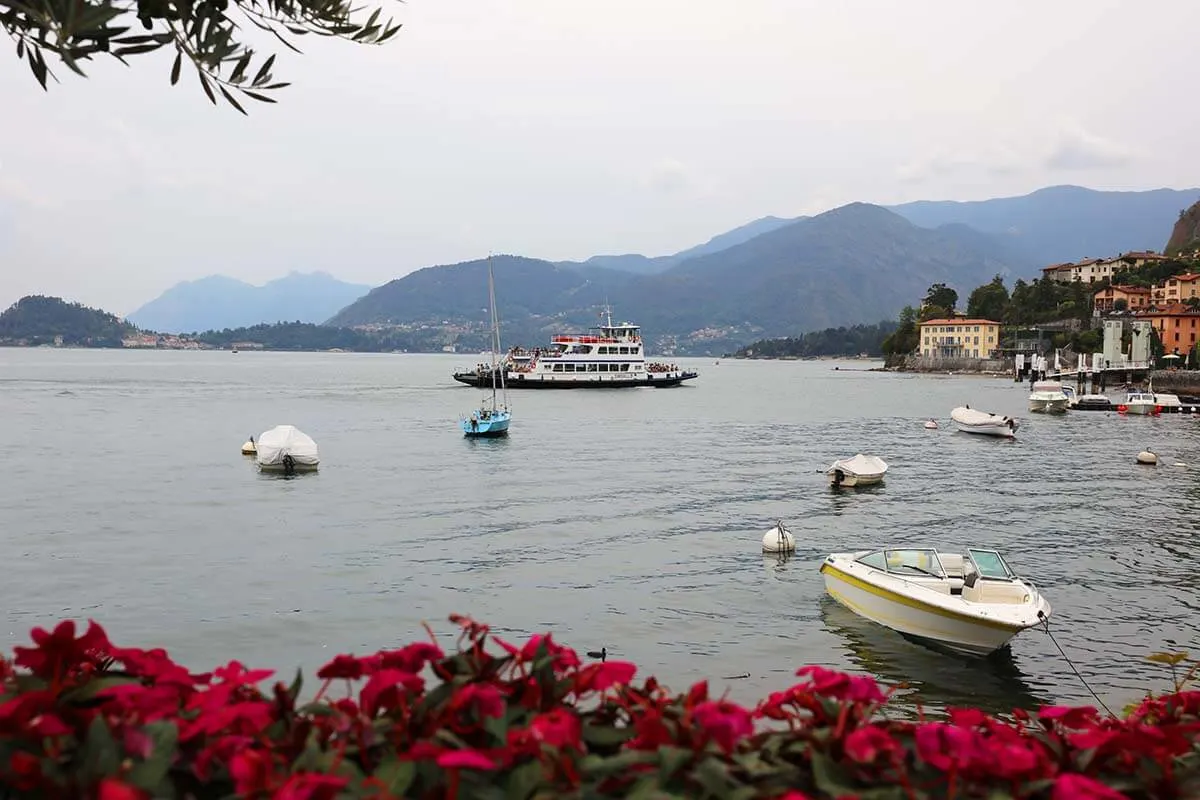 3. Stay in a central location
If you are visiting Lake Como for a few days and are looking for the best 'base' for exploring the area, we recommend staying around the middle of the lake. Bellagio is right in the center of it all, but also Varenna, Menaggio, Griante, Cadenabbia, Tremezzo, and Lenno all are very well located for sightseeing.
Of course, the southern end of the lake (Como, Cernobbio, Lecco…) is worth considering too. But it all comes down to how much time you have and what you want to see and do.
For the first trip and if looking for just one place to stay in order to visit all the top places, I'd stay in the middle.
This is the area where you will find some of the most charming towns and villas of Lake Como. It also has very good boat connections. The ferry journey between all the main places on the eastern and western shores of the lake will take just 10-30 minutes (vs. 1.5-2 hrs from Lecco or Como towns).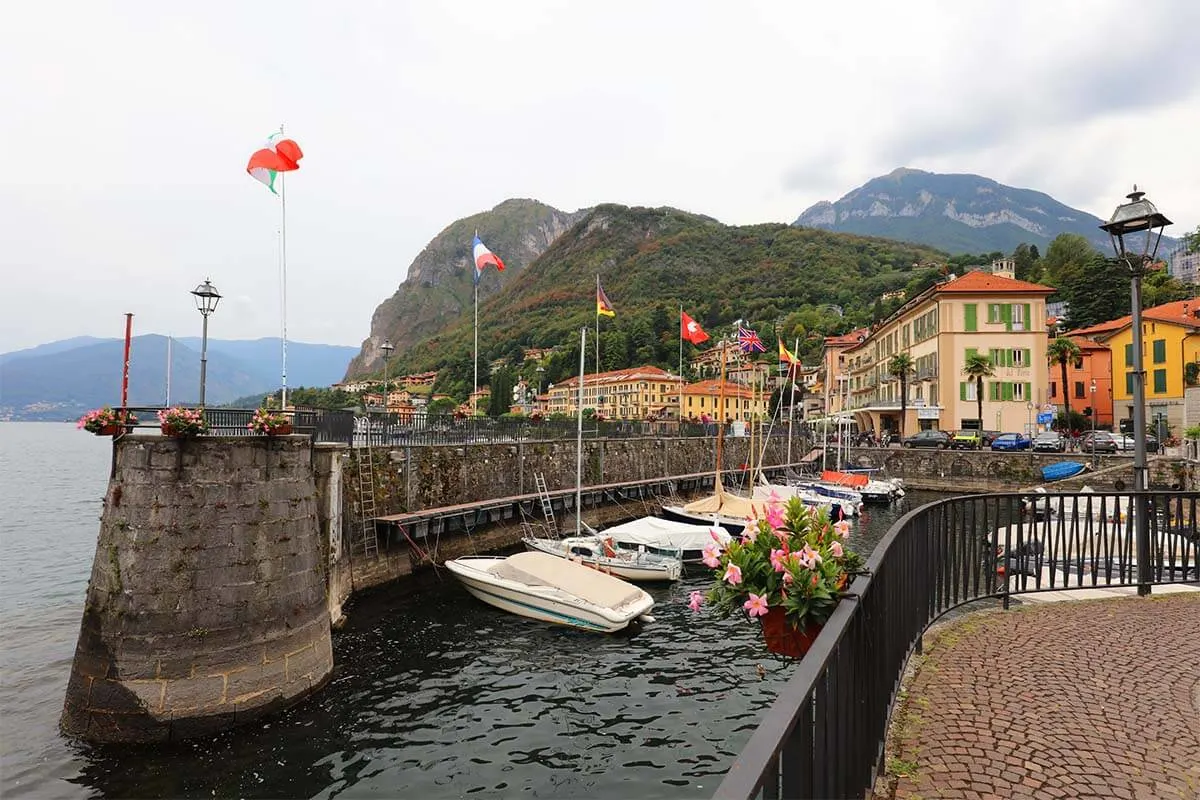 Where to stay
Good to know: Bellagio is the most popular town on Lake Como. This means that it's very busy and accommodations here can be really expensive (even more than in the other areas which aren't cheap either). A quieter alternative is the nearby quaint village of San Giovanni. It also has a ferry stop and can also be reached by a tourist 'train' from Bellagio.
Another very popular town on Lake Como is Varenna. It has a direct train connection to Milan and easy ferry connections to pretty much everywhere on Lake Como.
TIP: If you want to avoid the biggest crowds of day tourists, stay on the western side of the lake in the area between Mennagio and Lenno. You can easily visit everything from here, but this shore is much quieter. From places like Tremezzo or Cadennabia, you can usually take a ferry (and find a seat) without having to arrive half an hour in advance or stand in a huge chaotic line.
Our experience: We've been to Lake Como a few times and stayed in three different areas during those trips (Como, Cernobbio, and Cadenabbia). While each was great for the purpose of that specific trip, we found that staying in the central area of the lake was the most convenient for sightseeing. Furthermore, despite the mixed reviews, we really loved the historic Grand Hotel Cadenabbia. It has unparalleled rooftop views, an amazing pool, and free parking.
For more information as well as the advantages and disadvantages of different towns around the lake, please see our detailed guide via the link below. For more info about the ferries – see further below.
LEARN MORE: Where to Stay at Lake Como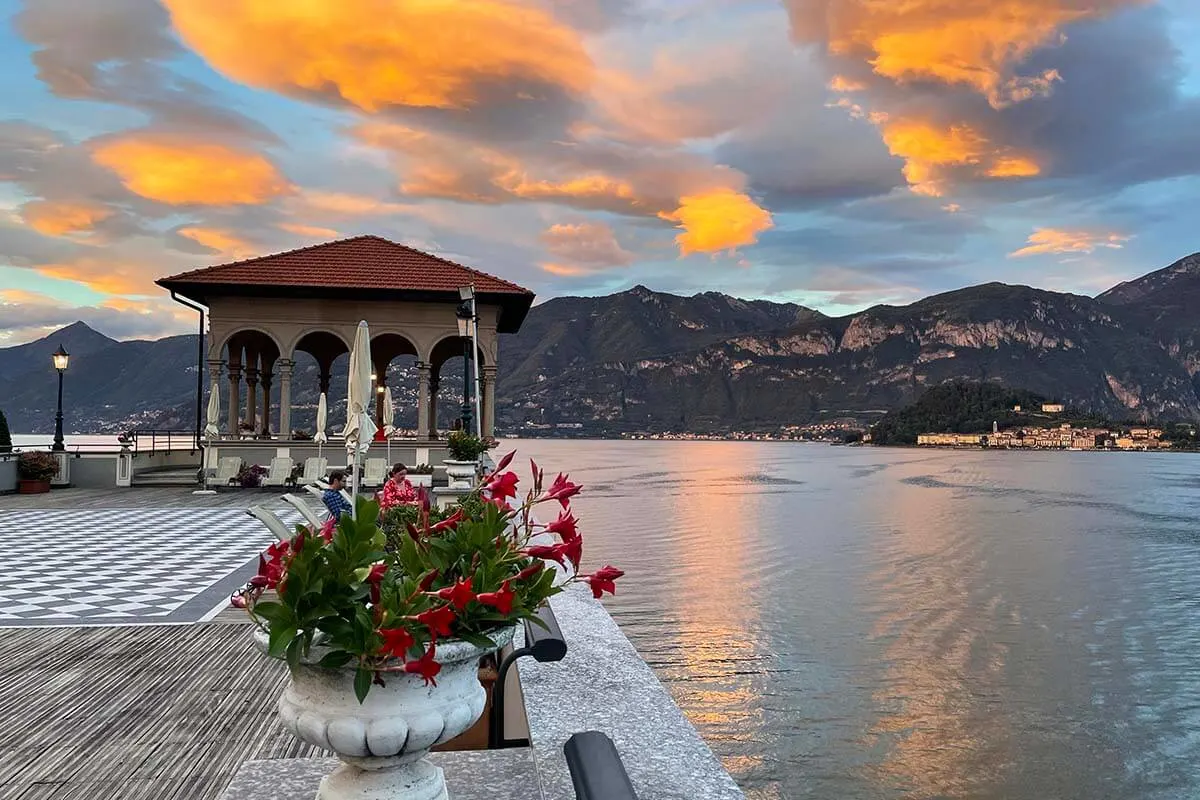 4. Reserve as much as possible in advance
This is really becoming the new reality of traveling to popular destinations – you have to reserve as much as possible in advance. Luckily, it's not yet the case for everything at Lake Como, but it sure helps to do some research before you go.
For example, if you want to visit Villa del Balbianello inside, you really have to book tickets in advance on their website. The visits are guided and the number of people they can take in a day is quite limited. When we traveled to Lake Como in August, the tours of the villa interior were sold out a few weeks in advance.
Most people simply visit the gardens of Villa del Balbianello. Also here, they recommend pre-booking your tickets, but luckily, you can still get in without an advance reservation. Just keep in mind that the queue at the entrance can get quite long, so booking skip-the-line tickets in advance can save you a lot of time.
Villa Carlotta can be visited without an advance reservation, but the queues at the ticket desk can get really long. If you book in advance, you can just walk in via a separate entrance.
TIP: If you plan on visiting several of the nicest Lake Como villas in one day, check out this ferry + villa tickets combo. It includes Villa Monastero, Villa Carlotta, and the gardens of Villa Melzi, plus a 1-day ferry ticket.
Also your accommodation is one of the things you better book well in advance. Staying at Lake Como is not cheap and the earlier you book, the more choices you have, and thus better prices. For example, when we checked the rates at our hotel a week before our trip, we saw that it was about 30% more expensive than what we paid when we booked it a few months upfront.
And if you want to dine at a specific restaurant, you better call them in advance too. For most places, you'll be able to reserve a table just a few hours in advance. But if it's a very popular restaurant and you are visiting on a weekend, you may want to call them a few days upfront. And if you didn't reserve – go early. Italians eat late (around 8 pm or even later), so if you come earlier, you have more chance to find a table. Just be sure to check when the restaurant opens – some only open at 7.30 pm.
Oh, and if you want to take a private boat cruise on the lake, it's also best to book in advance. You can find some of the best options here. When comparing tours, don't forget to check their duration and in which town they start!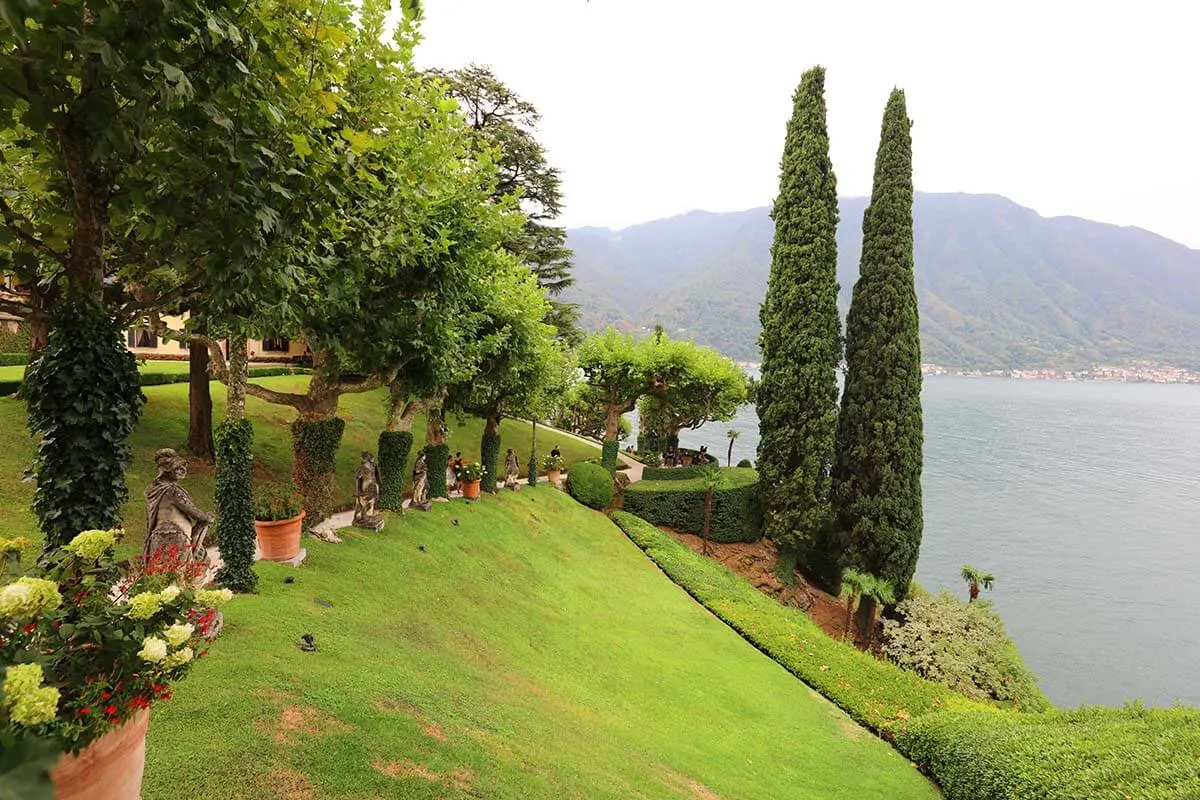 5. Book a hotel with a view and a pool
One of the charms of staying at Lake Como is being able to enjoy the spectacular views of the lake and the surrounding mountains. So when looking for accommodation, see if you can find a nice hotel with a lake view.
You don't absolutely need a room with a lake view (you'll probably hardly spend any time in the room anyway), but it's really nice to be able to enjoy the views at breakfast or from a bar/ restaurant in the evening.
When we stayed at Grand Hotel Cadenabbia, we opted for the garden-view rooms since we read that the lake-view rooms were quite noisy (lakeside is often also the street side, depending on where exactly you are staying). But we could enjoy the most stunning views from our restaurant every morning and from the rooftop terrace the rest of the day. I'd go back to this hotel in a heartbeat, even if just for the views!
Another thing that you may want to look at is that your hotel has a pool. If visiting Lake Como in the summer, you'll be glad to spend the hottest hours of the day by the water. Depending on where you stay, there are also some public beaches at Lake Como, but really just a few. The best one is probably the public beach of Bellagio in San Giovanni.
Our hotel had an amazing pool and also the pool of the nearby luxury Grand Hotel Tremezzo looked great too (theirs is directly on the lake). Hotel Villa Serbelloni in Bellagio also has a beautiful outdoor pool (and one indoors), and direct access to the lake with a separate swimming area. There are many other hotels with swimming pools along Lake Como. We found that it's well worth a splurge, and not just for families with kids.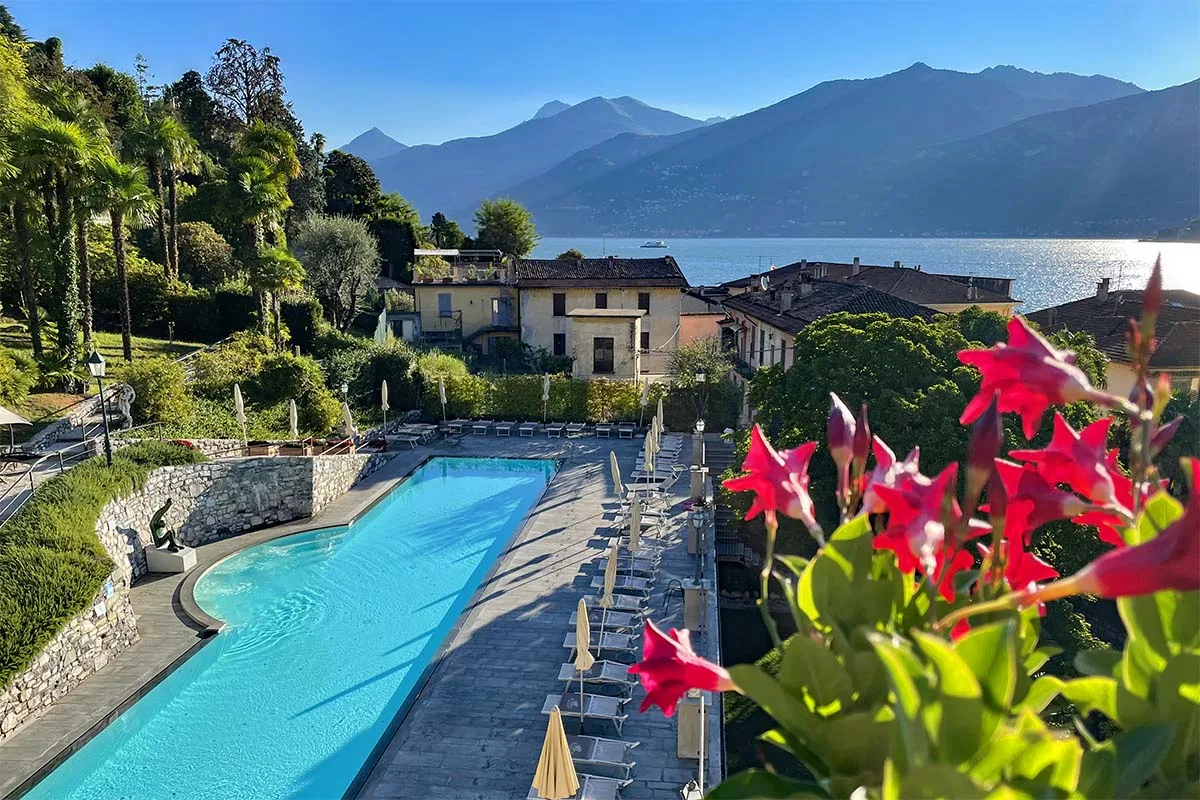 6. Get ferry tickets online or at slow times
Visiting Lake Como will usually involve at least a few ferry journeys. You'll need a ticket for those ferries, which you can get at any harbor or online.
While it won't be a big issue in the quieter months, the ferry ticket offices during the day in the peak season are swamped with people. This is especially the case in places like Bellagio or Varenna, but also Como town. So if you don't want to waste lots of precious time queuing, try to get your ferry tickets in advance.
If you have the patience to try to navigate the official website of Navigazione Laghi, you can book your ferry tickets and day passes online in advance. This is the website where you can get ferry tickets for Lake Como, but also Lake Garda, and Lake Maggiore.
Alternatively, in the morning, get the tickets for all the journeys you are planning to do that day. Or consider a day ticket if you think you'll want to visit multiple towns in a day. And you can also pass the ticket office the evening before (not too late or it will be closed) and see if you can already get your tickets for the next day(s).
TIP: Depending on your plans, the earlier-mentioned ferry + villa tickets combo can be an easy option allowing you to prebook everything at once.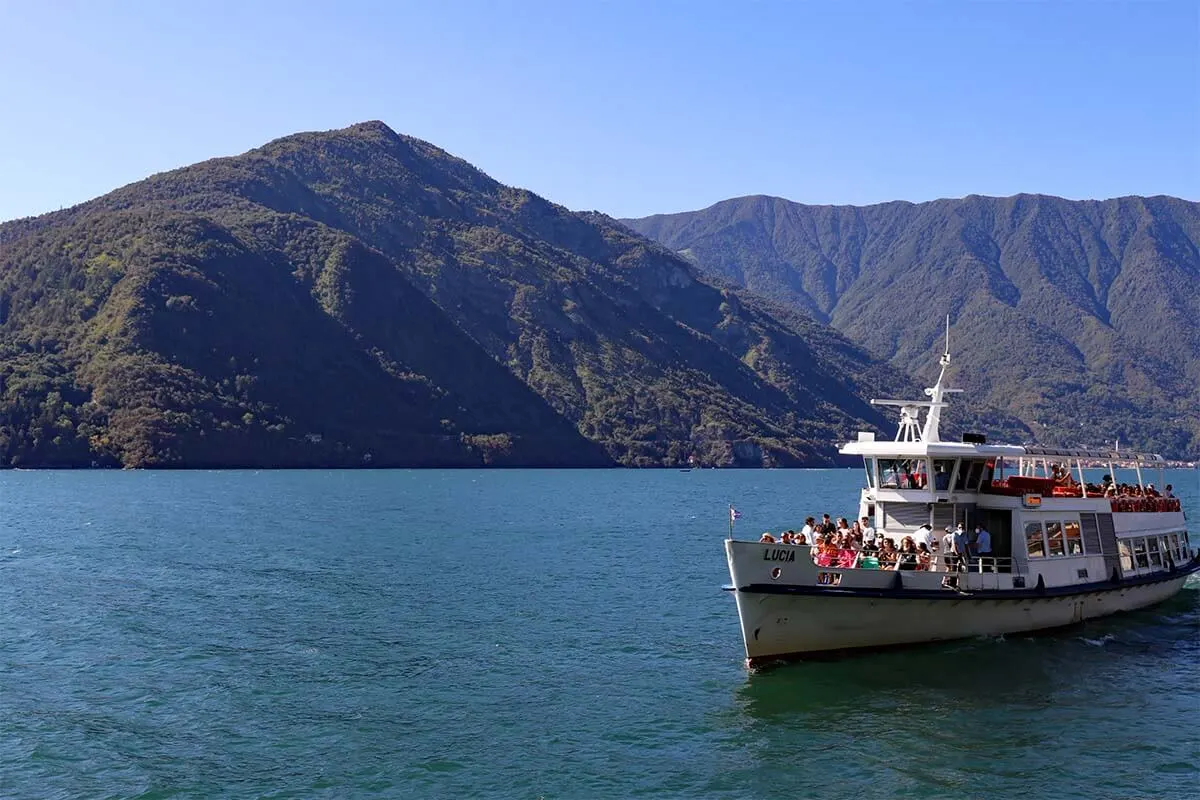 7. Get to the ferry harbor early
You'll find the Lake Como ferry schedule in every harbor around the lake. Generally, the boats are quite punctual, so if you are staying in a quieter town, you can just arrive at the harbor a few minutes before the scheduled time.
However, in the most popular towns and at peak times, the harbor often looks like a beehive. There are often at least a few boats arriving/departing at about the same time, and sometimes things can get a bit chaotic.
So save yourself the stress and get to the harbor at least 10-15 minutes before the scheduled departure time so that you can try to figure out where exactly to be. And if you want to be sure to have a place to sit on the ferry, you may want to arrive even earlier so that you can get on the boat sooner.
Our experience: We took multiple ferries on Lake Como. In the lower season, it wasn't busy and you could rely on the schedule. Also in the summer, departing from smaller harbors was never an issue. But the harbors in Bellagio and Varenna were crazy busy. In addition, many passenger boats arrived (and thus departed) too late. There were also ferries that weren't indicated on the schedule (apparently they sometimes add an extra boat if it gets too busy) adding to the confusion and people trying to get on the wrong boat without realizing where it was going…
If things get crazy, try to stay calm, and don't be afraid to ask the staff where the ferry is going if you aren't sure. You don't want to end up on the other side of the lake if all you need is a 10-minute ferry ride from Varenna to Bellagio or so.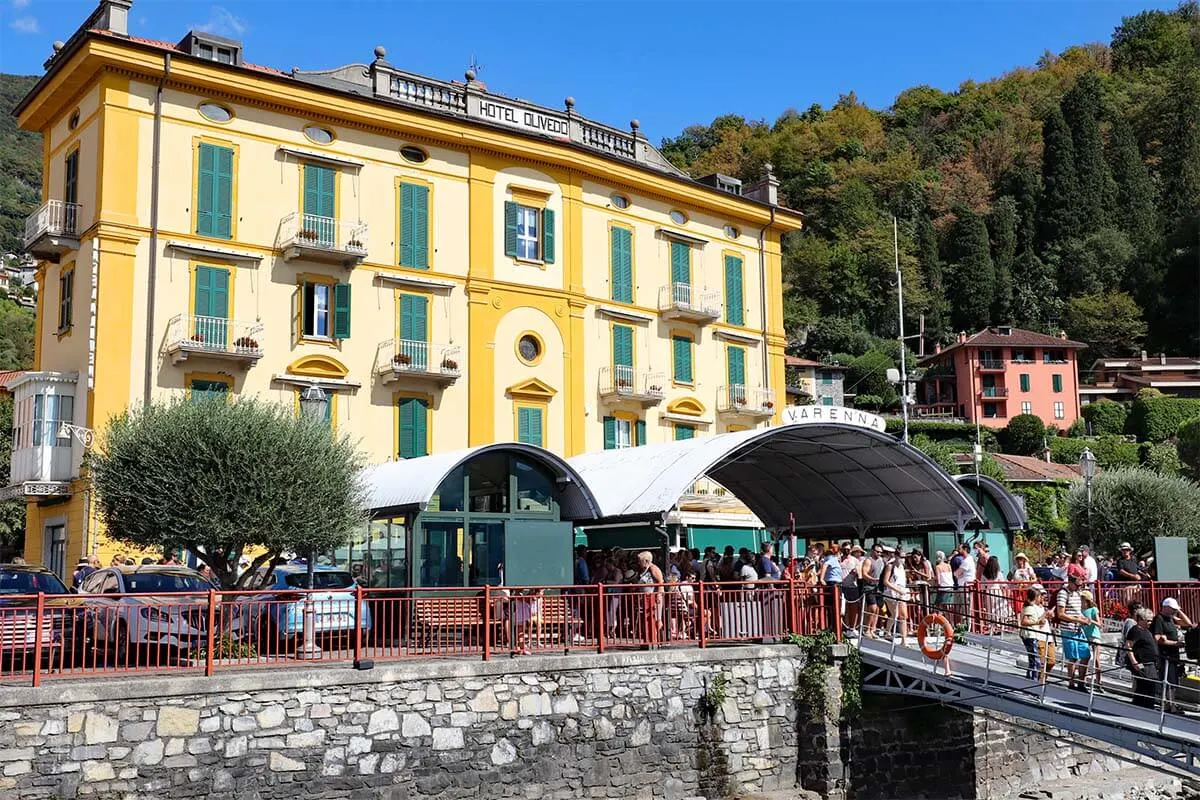 8. Visit the most popular towns in the late afternoon
If you are visiting Lake Como in summer, expect it to be very busy everywhere. One of the best ways to avoid crowds in the most popular towns is to arrive very early (before 10 am) or to visit later in the afternoon (after 3-4 pm). The problem with arriving early is that other day-trippers will be there soon too. Whereas late afternoons are much quieter and it just gets better.
When we first arrived in Lake Como, we started our days like everyone else – after a relaxed breakfast. Big mistake! It was so busy everywhere…
But we quickly realized that most places got much quieter in the afternoon. And by the evening, most of the day tourists are gone, and you can actually enjoy the charming towns of Lake Como rather than feeling annoyed about brushing elbows with strangers all the time.
This will be easier to do if you have at least a few days in Lake Como. But if you do, indeed, why not adjust your schedule and visit the towns in the afternoon rather than in the morning. Ferries run quite late in the evening during the summer, and if you are staying in the middle of the lake as we recommended, you can easily visit all the towns in that area this way.
Often, you only need a few hours in a place anyway. Just be sure to keep an eye on the schedule of the attractions that you want to visit inside so that you don't miss them by arriving too late!
READ ALSO: Most Beautiful Towns & Villages on Lake Como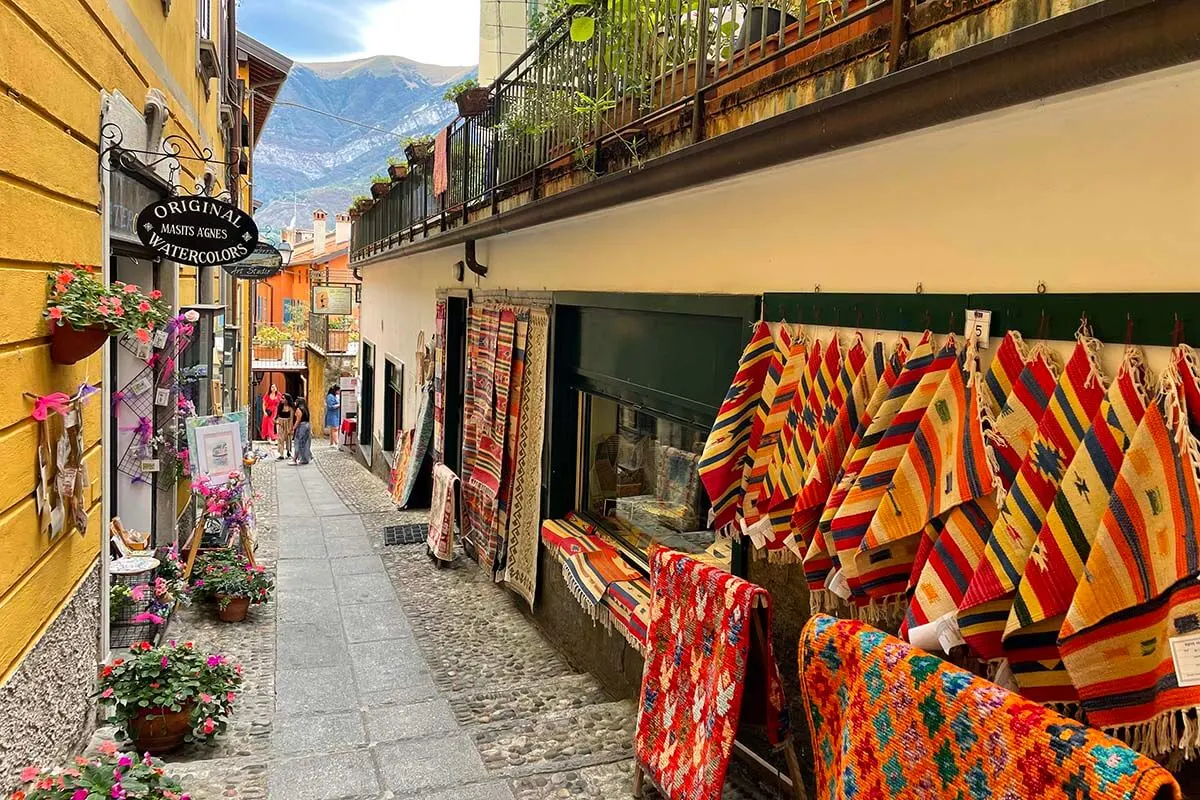 9. Don't count on the ferry schedule 100%
While most ferries on Lake Como run quite punctually, we have experienced quite a few delays during our visit too. Especially on the small passenger ferry which stops in Varenna and Bellagio. One time the ferry was so late and had additional delays waiting to dock in Bellagio that we arrived back at our hotel an hour later than we planned.
Car ferries have a separate dock, so they are usually nicely on time. Whereas passenger ferries have to share the same dock and that's where things go wrong in the busiest towns during peak times. And if you already have a 10-minute delay on a specific line in the morning, it usually gets worse and worse by the end of the day.
So when planning your sightseeing time at Lake Como, be sure to leave some room for delays, sometimes even up to 30-45 minutes. You can't rely on the ferry 100% and that's also what makes it a bit more difficult to visit multiple places in a day in the peak season.
If you just go to one or two towns, it's normally not a big deal. But if you are visiting Lake Como for just a day and are on a tight schedule (or even have to get back somewhere before a certain time), keep in mind that ferries can have serious delays. This brings us to the next point…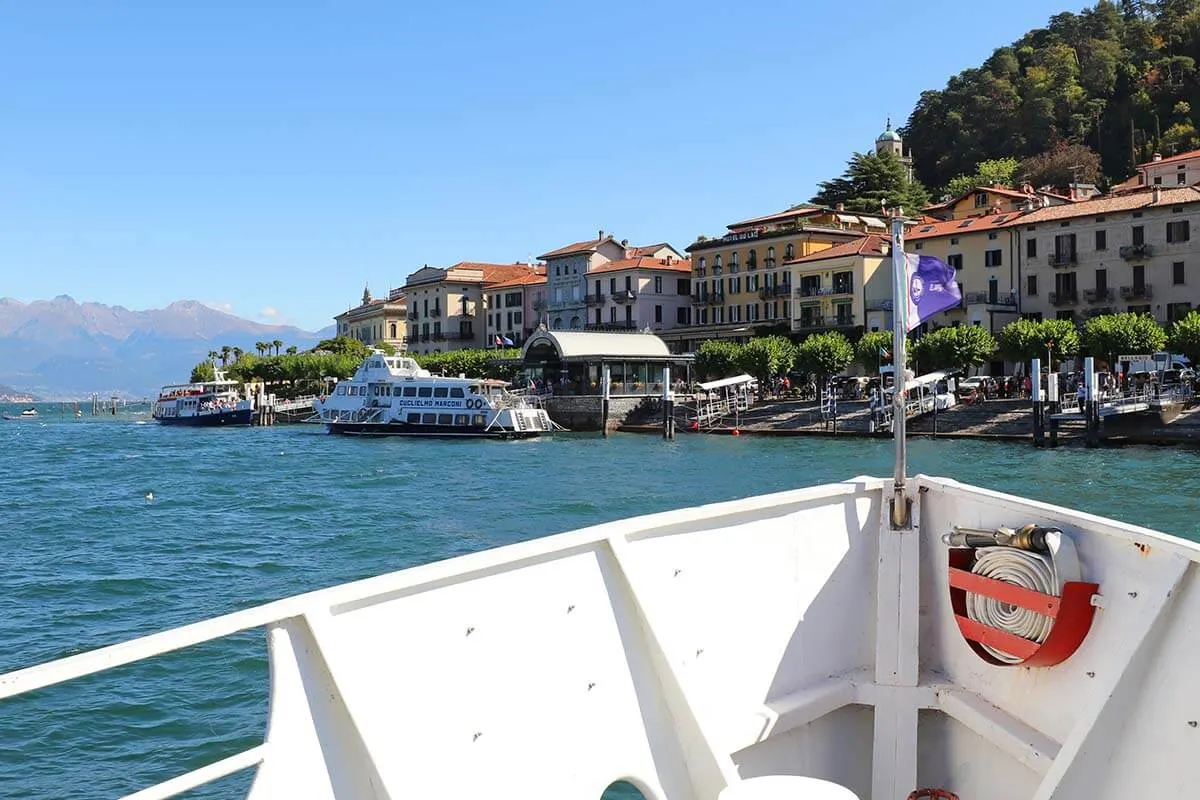 10. Make a plan and don't try to see it 'all'
Lake Como has a lot to offer, but if your time is limited, don't try to pack it all in a day or two. There's no way to see everything in just a few days anyway and you'll be spending more time waiting for ferries and riding them than sightseeing…
I'd recommend focussing on just 1-3 places in a day and exploring a bit deeper. Take your time to actually visit the place, have a drink or a meal at a local restaurant, explore the villas and the gardens, take a private boat trip on the lake, and try to get just a bit off the main tourist streets. Remember that often, less is more.
Ideally, you make somewhat of a plan so that you don't miss any of the musts (such as Como, Bellagio, Varenna, or the most beautiful villas on Lake Como). But try to also leave some free time for unexpected discoveries and to just relax and absorb the atmosphere.
TIP: If you want to pack more in a single day, you should really consider an organized tour. For example, most Lake Como day tours from Milan visit the towns of Como, Bellagio, and Varenna. But they use a bus and private boats for the travel between these towns (= no wait time or delays). If you try to see these three places in a day on your own, you'd have to rush through and have much less time to actually explore them.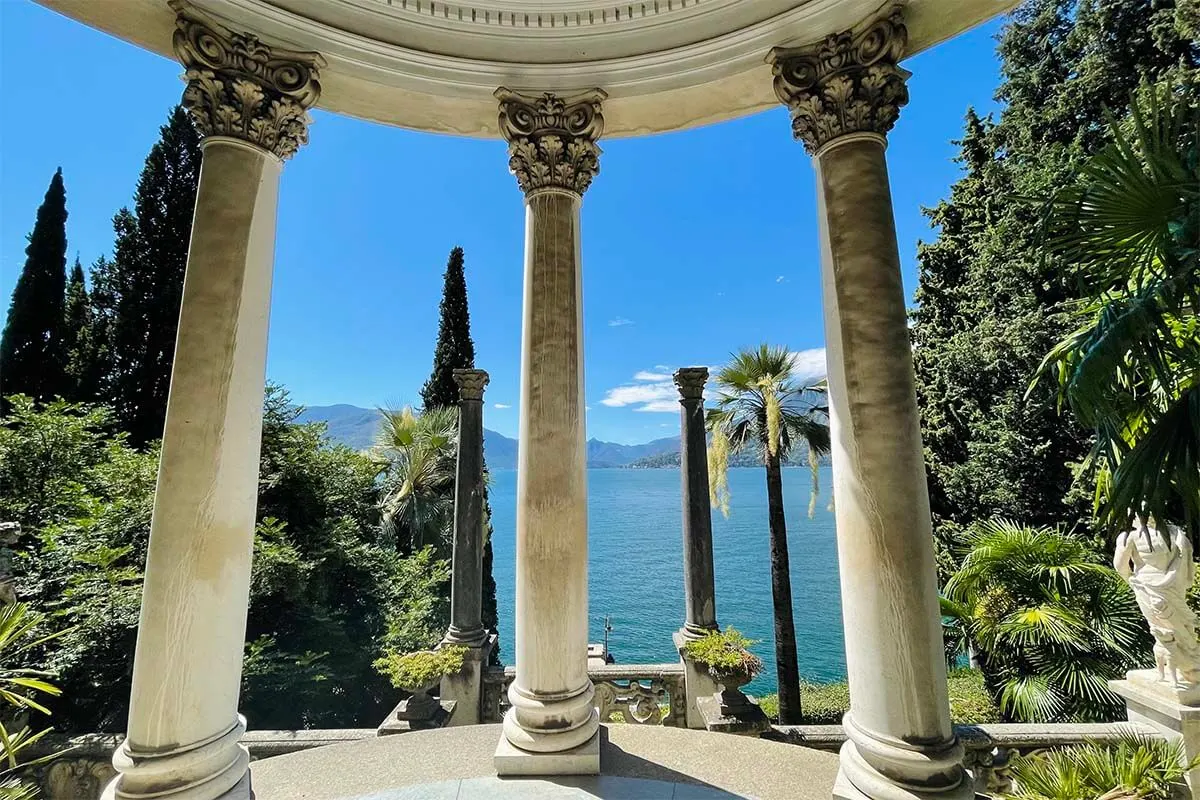 11. Get a bit off the beaten path
Lake Como is busy in the high season. But this is the case at all the bucket-list destinations, isn't it? The good news is that most people just visit a few of the most popular places and never take the time to wander further.
So if you have the time (even if just a few hours), try to explore the area a bit deeper and get off the beaten path. Often, you don't even have to walk far. A few examples:
While Varenna town center is very busy, its castle Castello di Vezio sees just a fraction of the visitors. Granted, it's located high on the hill and you will need to make an effort to walk to it. But it only takes 20-25 minutes and you'll be rewarded with fantastic views of the lake, the town, and its surroundings. Plus, the castle itself is really cool too – especially if you are visiting Lake Como with kids.
The main area close to Bellagio harbor is crowded during the day. The same for the most famous street with the best view in town – Salita Serbelloni. But if you take any of the narrow alleys parallel to this street, the crowds disappear. Not many people even seem to walk to Punta Spartivento, the viewpoint at the very end of the peninsula. And if you take the little tourist train and hop off in Pescallo or San Giovanni, you'll find a totally different atmosphere than in Bellagio itself.
In Lenno (where the famous Villa del Balbianello is located), be sure to also check out the town itself. There's a beautiful church right in the center – Chiesa Santo Stefano – with an impressive underground crypt. While the villa and the gardens were very busy when we visited, there was nobody in the church…
These are just a few examples at the most popular towns on Lake Como. If you visit smaller towns and turn just a bit off the main streets, you will be able to enjoy a more authentic side of Lake Como without the crowds. Plus, there are countless hiking opportunities and on most trails, you'll hardly meet any people at all.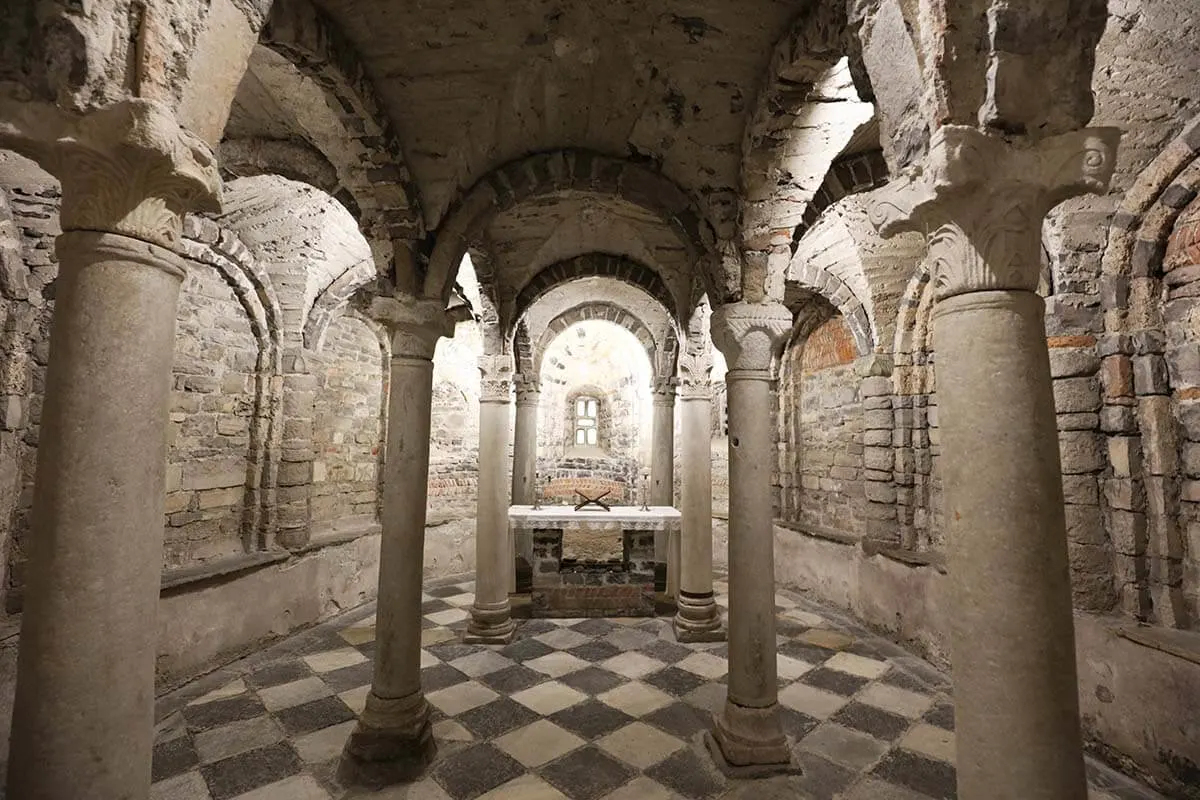 12. Wear comfortable shoes
If you are planning to do any sightseeing in Lake Como beyond just hopping off the ferry and checking out the main streets in every town, be sure to wear comfortable shoes. Because no matter where you go, you'll be walking a lot. Often, a lot more than you anticipate.
As already mentioned, many villas around Como Lake have beautiful gardens. Sometimes, you'll have to negotiate a few steeper trails or gravel paths. Also in towns, there are cobbled streets and often many stairs too…
Sneakers or light walking shoes are ideal. In summer, for most places, sandals with a good sole and comfortable fit will be fine too, but ideally, you avoid flat-bottomed leather sandals or flip-flops. If you are planning to go hiking, you'll definitely need good hiking shoes or – depending on the season – even hiking boots.
Take my word for it, you'll enjoy your visit to Lake Como so much more if you are wearing comfortable shoes!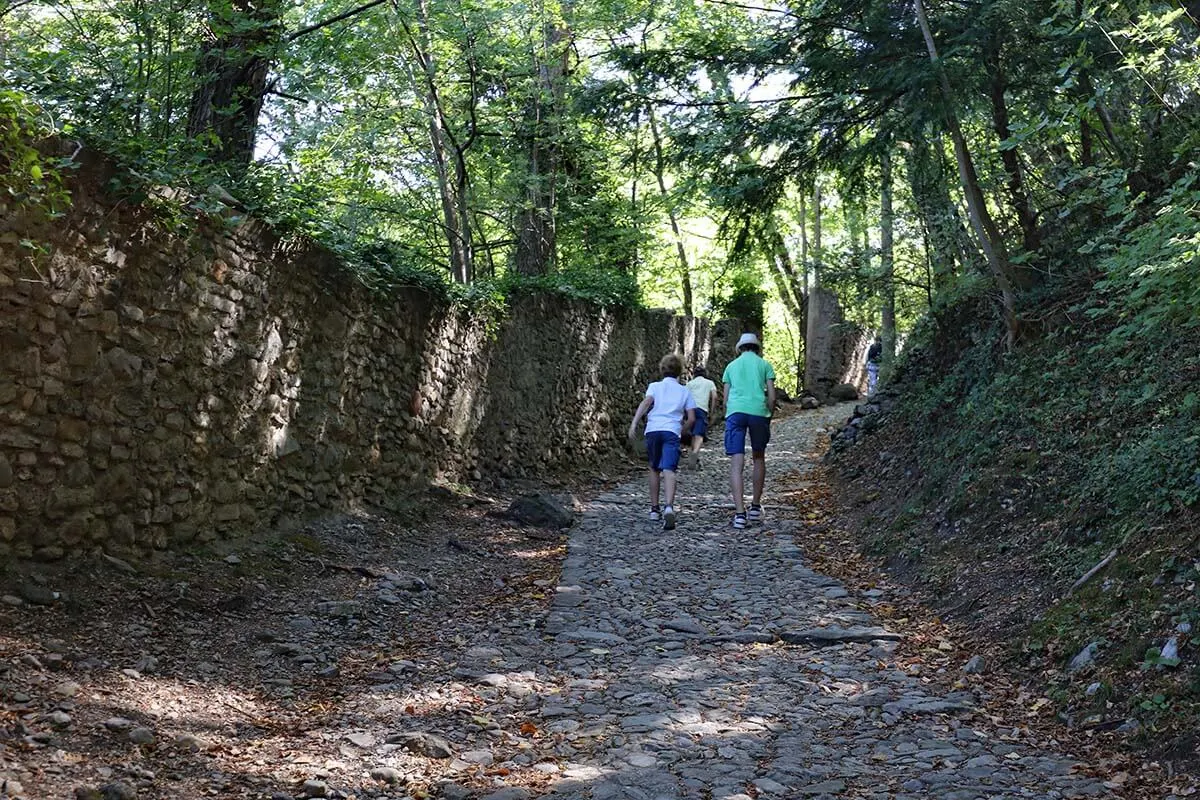 13. Don't visit by car
For all clarity – you can travel to Lake Como by car (we did a few times). But once you get there, park it and don't touch it for the rest of the stay.
The traffic is usually not too bad, although many roads are very narrow and there are people, bikes, and scooters everywhere. If you aren't used to this, it can be a very stressful experience. And if you turn off the main road and get into some very local areas, you can get quite stuck in a narrow street with not much space to turn (back)… We saw a German driver wrecking an entire side of his car by trying to take a turn into a narrow street in Lenno.
In addition, parking can get really problematic around Lake Como in the peak season. If you think it will be faster to just drive to a nearby village by car, reconsider. Often, you'll spend more time looking for parking than getting there.
Plus even if you find a spot, often, there are time restrictions as to how long you can leave your car there. And in most places, you also have to pay for parking.
We saw LOTS of cars with parking tickets during our stay at Lake Como. Usually, because the cars stood somewhere longer than allowed.
There is a big public parking garage in Varenna, but it's usually full in the morning already. So if your plan is to drive to Varenna and visit Lake Como for a day by car, try to get there really early. Once it's full, you won't even be allowed to wait for a spot to open up. Since the cars waiting to get into this parking block the entire street, the police just send everyone away. And there aren't many alternatives.
TIP: I guess it goes without saying, but if you are driving to Lake Como by car, be sure that your hotel/accommodation has parking. This is really a must and you can't just count on being able to find a spot (and leave your car there for as long as you want).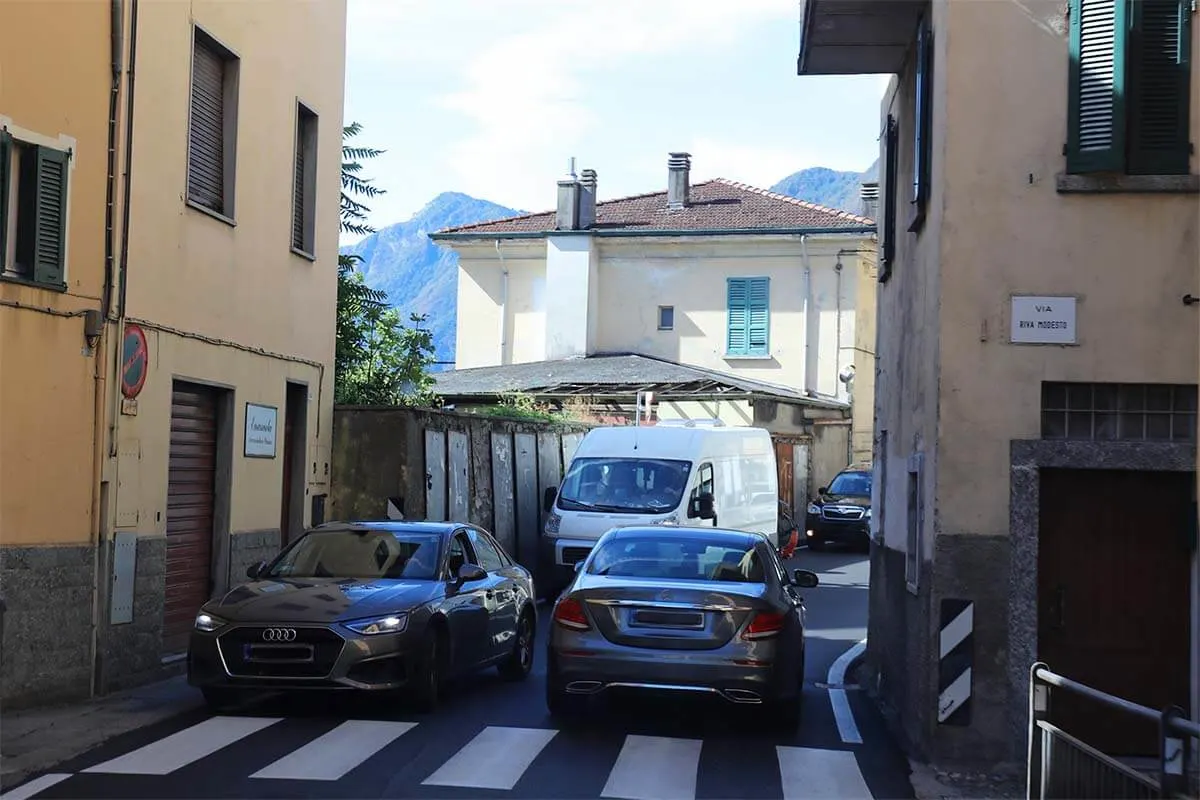 14. Pack a reusable water bottle and sun protection
There's one packing essential that you absolutely need when traveling in Italy and that's a reusable water bottle. There are free drinking fountains everywhere and so you can easily fill them up several times during the day.
Also in Lake Como, we saw many drinking fountains. In the summer, it's a real lifesaver. You'll also be able to buy some bottled drinking water, but it's very expensive. In that case, hold on to that bottle and refill it later.
Another thing that you really need if visiting Lake Como in summer is a good sun hat and sunscreen. And if you didn't pack a hat, you'll find plenty of sun hats for sale everywhere.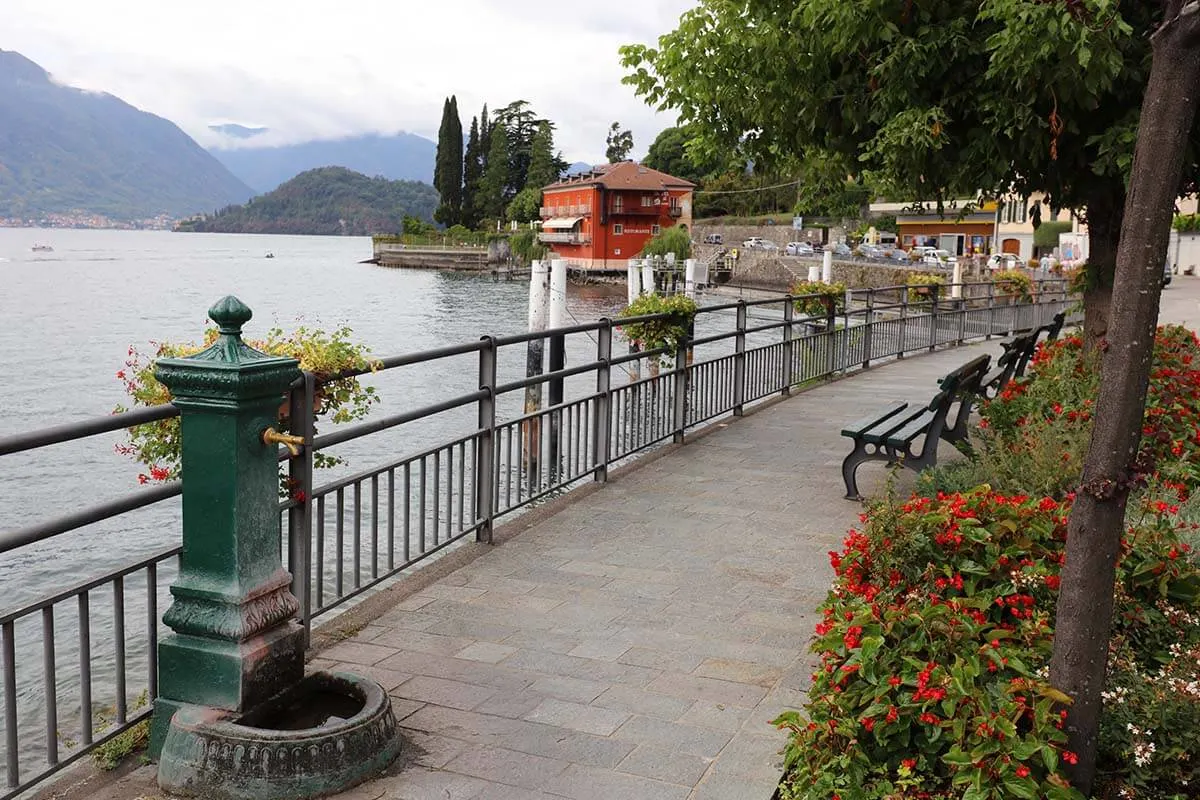 15. Take some cash
While Italy has come a long way in accepting card payments, there are still some places that only take cash. We encountered this on quite a few occasions at Lake Como.
Luckily, most restaurants, shops, and main tourist attractions take credit cards.
So if you need euros, it will likely be for smaller payments. But it sure helps to have some cash, also for tips at the restaurants.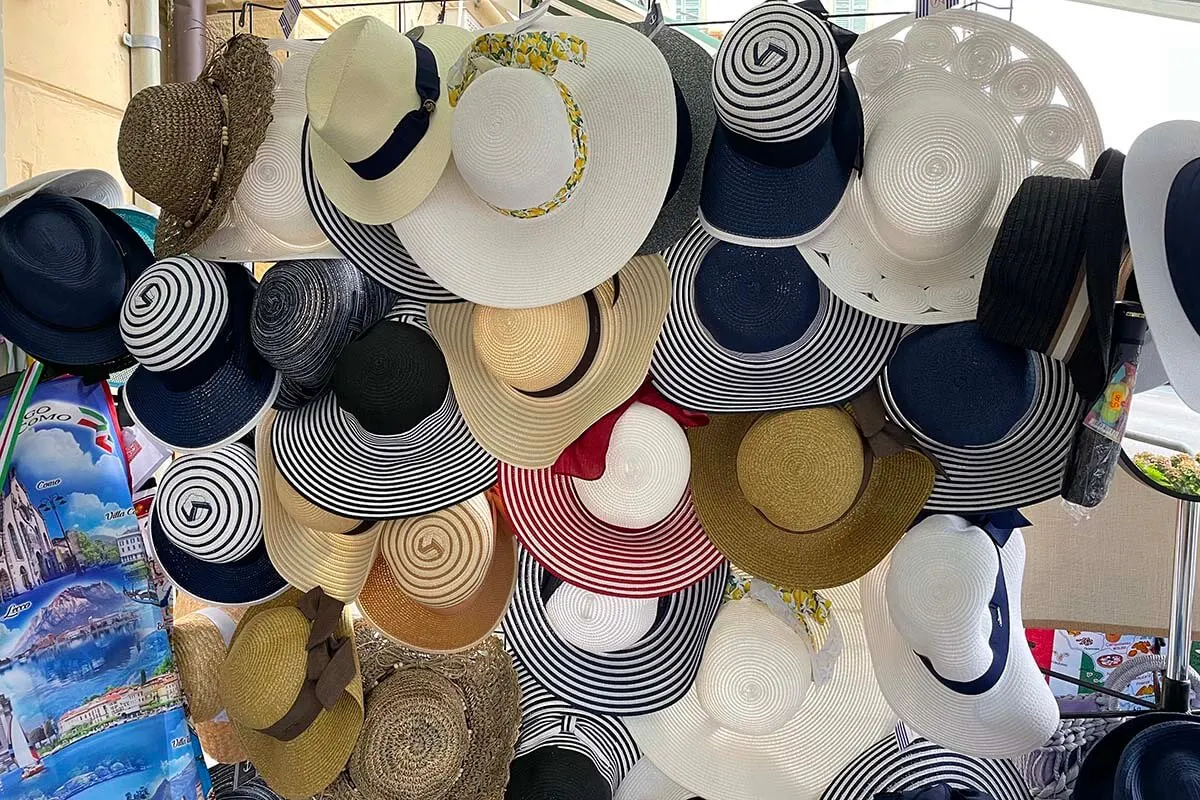 16. Research where and when to eat
There are so many restaurants in the Lake Como area that you will never have to worry about getting hungry. And the good news is that even the restaurants in the most popular areas usually serve really good traditional Italian food.
However, just as anywhere in the world, it's also possible to have a less good meal in Lake Como. So do a bit of research before you sit down. Often, just a quick look at the reviews on Google Maps will already give you a good idea of what to expect.
As a general rule, try to avoid restaurants with food pictures on the menu. Usually, restaurants right next to the busy harbors of the main towns of Lake Como will not offer the best local experience either. But if you walk just a few blocks further or turn into a quieter side alley, you can find some local gems.
Also in the Lake Como area, there are huge differences in prices that you pay, depending on the restaurant. So check this in advance in order to avoid unpleasant surprises. Depending on where you eat, you can have a perfectly good pasta dish for 10 euros or for 20…
One more thing to remember is that most restaurants in Italy are only open for lunch and dinner (+- noon to 3 pm and 7 to 10 pm). So if you try to find a place to eat at 3-5 pm, good luck! And, as already said, it pays to reserve a restaurant for dinner in advance, especially if traveling in Lake Como in summer.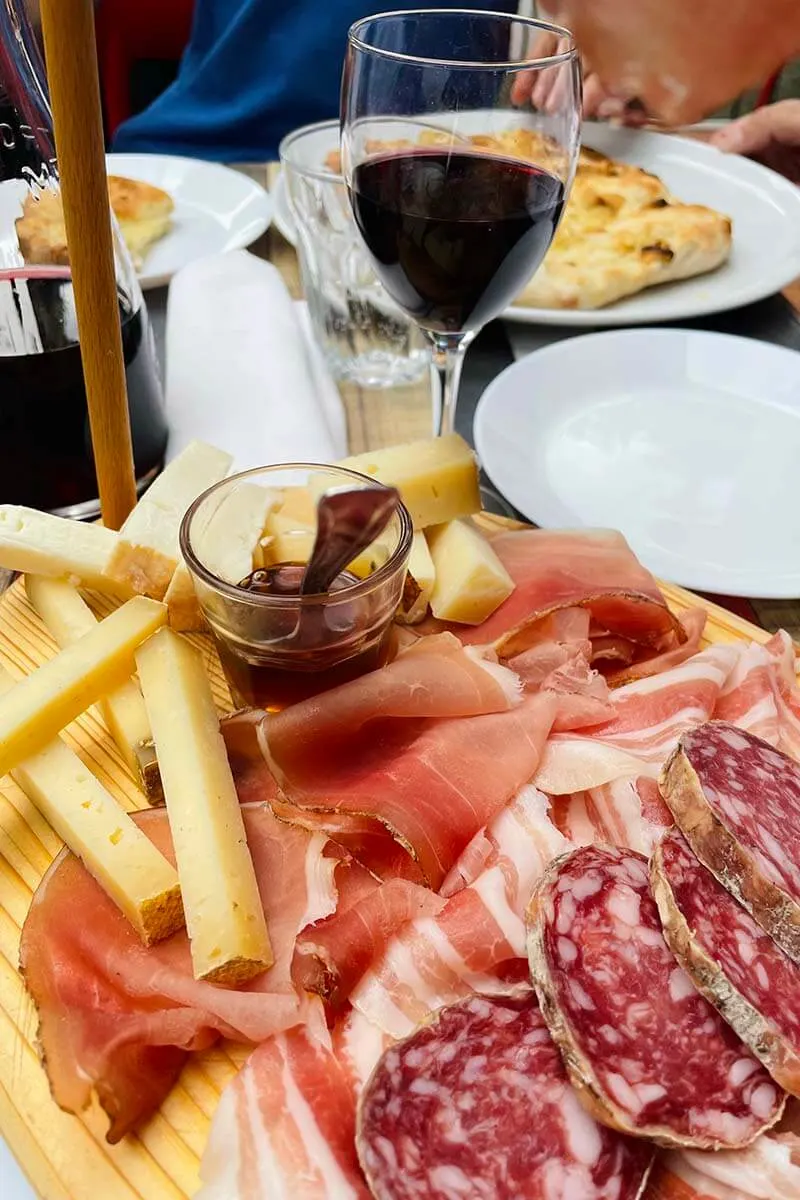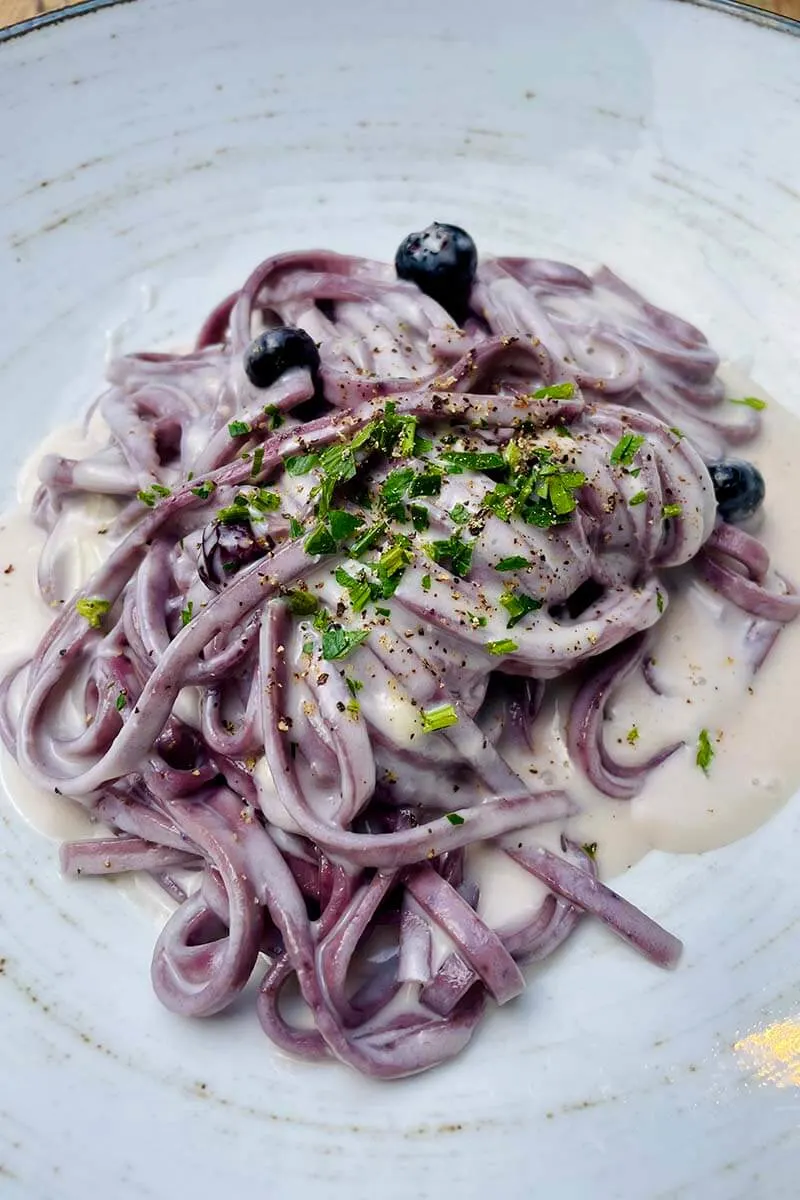 So this is our first-timer's guide with some tips for visiting Lake Como.
I hope that this information will give you a better idea of what to expect, help you make the most out of your trip, and enjoy the best that Como Lake has to offer, no matter how much time you have.
Have a great trip!
READ ALSO:
⭑ Best Things to Do in Lake Como
⭑ Best Things to Do in Bellagio
⭑ Most Beautiful Villas to See in Lake Como
⭑ Best Things to Do in Varenna
⭑ Best Things to Do in Milan
⭑ Milan 1-day Itinerary
If you found this post useful, don't forget to bookmark it and share it with your friends. Are you on Pinterest? Pin this image!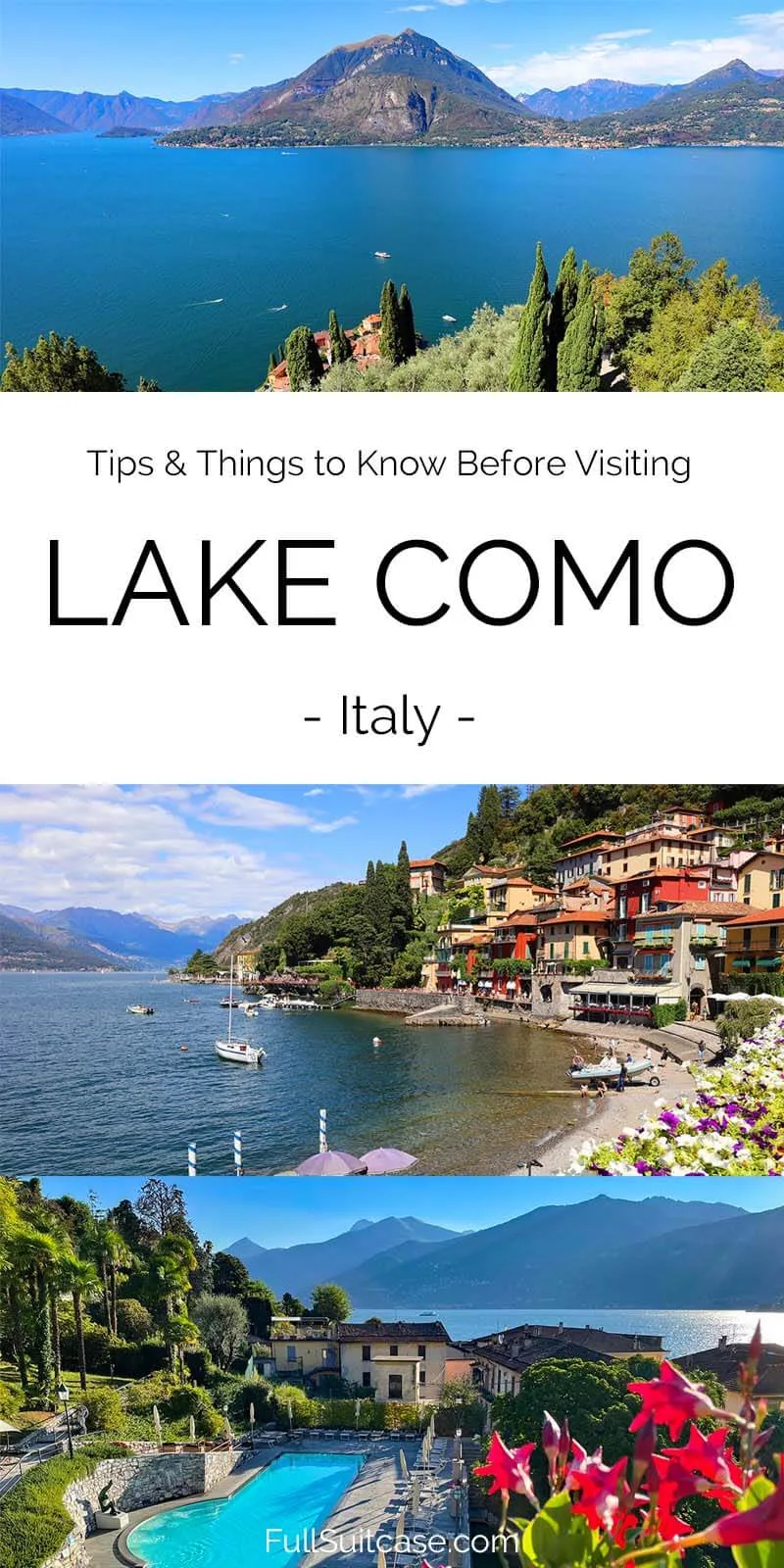 More travel inspiration for Northern Italy: