Planning a trip to the Dolomites in Italy and wondering where to stay? In this guide, we share the VERY BEST areas to stay in the Italian Dolomites.
First, you may want to know that the Dolomites region is quite big, with many towns, villages, lakes, and hiking trails spread out throughout a large area. Plus, the mountain roads here really don't allow fast travel…
On the other hand, most first-time visitors want to see the same top sights in the Dolomites and do the same best hikes in the Dolomites. And for that, you can narrow down your focus to just two main areas.
We have been to the Italian Dolomites several times, staying in different areas for several weeks. Based on our trips and experience, we think that there are just 2 best areas (3 best towns) to base yourself in when traveling to the Dolomites for the first time: Cortina d'Ampezzo in the west and Val Gardena (Selva or Ortisei towns) in the east.
So to save you time on research, in this guide, we only focus on these two areas. Both of these have a very good location to use as a base when visiting the Dolomites – one in the east and one in the west.
Below, you can find all the information about the best places to stay in the Dolomites, what makes them our top choice, how to get there, what to see nearby, and where to stay. In the second part of this article, we also share some useful tips on what to consider when choosing where to stay in the Dolomites. Find out!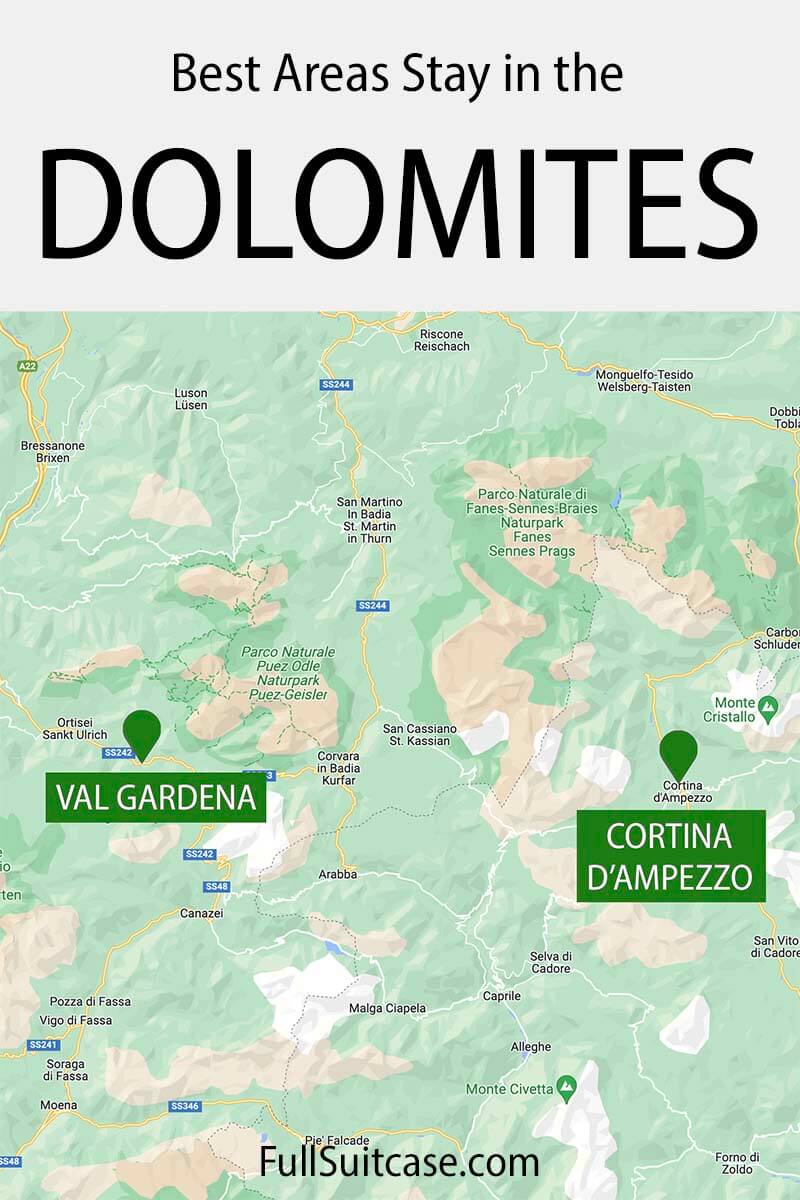 Good to know: On the map, the two areas – Cortina d'Ampezzo and Val Gardena – look rather close to each other. And indeed, the distance between them isn't that big (just about 50 km/30 miles). But – depending on which roads you take – it takes at least 1.5 hours to drive between the two places.
Plus, some of the other places that you will want to visit are located further to the east or to the west. So while it is possible to see everything in the Dolomites from just one of these places, you would be spending so much time in the car that it's really not enjoyable. Also because the roads are very winding and can often leave you feeling nauseous after just a short drive.
Not even to mention that staying closer to the areas that you want to see gives you the possibility to get to the most popular places early in the morning before it gets too busy.
TIP: If you only have 1-2 days in the Dolomites, stay in one of these two areas. With 3-4 days or more, spend a few nights in each.
Why not just stay somewhere in the middle, between the two, you may ask? When you see the roads and the mountain passes there, you will understand. You really don't want to have to negotiate 2-3 mountain passes every single time you are driving to/from your hotel.
READ ALSO: Dolomites Itinerary (suggestions for any trip)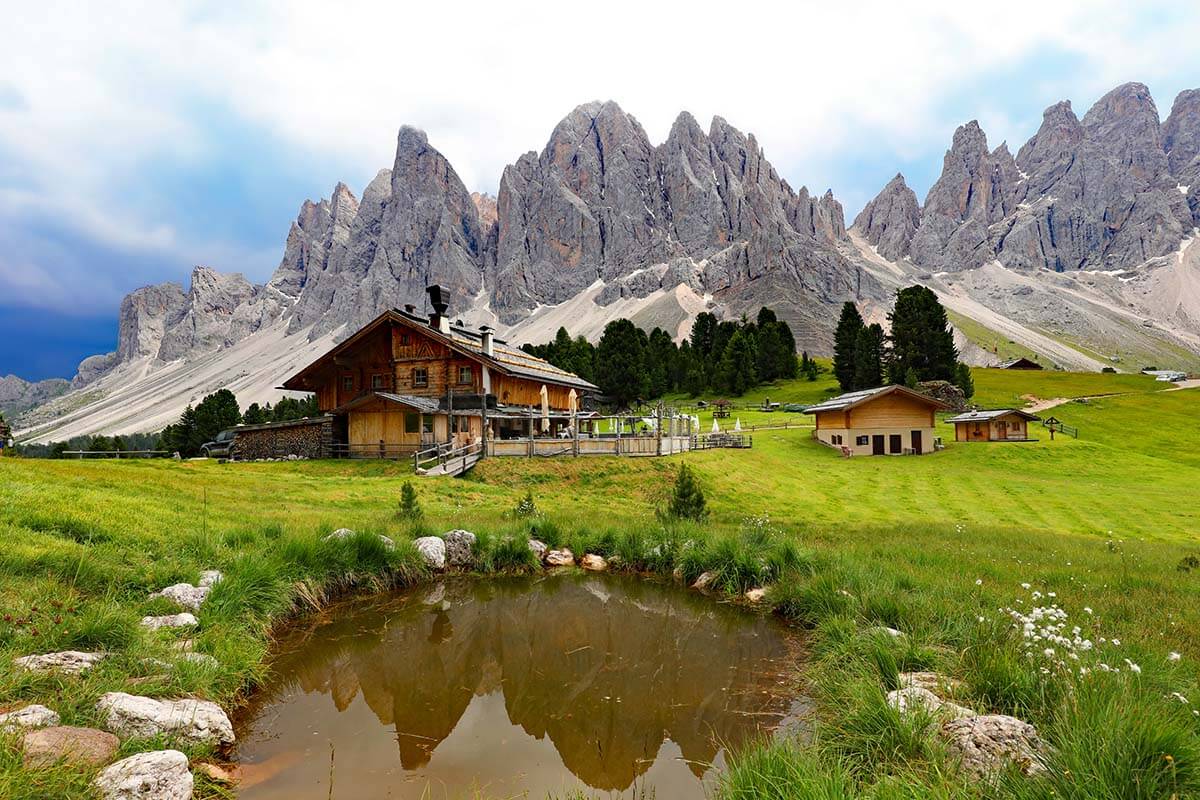 Here are the best areas to stay in the Dolomites:
1. Cortina d'Ampezzo
Good accessibility and a very central location for visiting most of the top places make Cortina one of the best towns to stay in the Dolomites.
Cortina d'Ampezzo is one of the most famous ski resorts in the Dolomites. Surrounded by stunning mountains, it also has the most convenient location for sightseeing and hiking in summer.
This is a small upscale town, with a pedestrianized area where you will find some fashion boutiques and a couple of restaurants.
There are mountain gondolas on the outskirts of town, a fun adventure park (great with kids!), and a few other attractions depending on the season. If you are here for skiing, however, you will need a shuttle or a car to get to most ski lifts. Many hotels offer ski shuttles to their guests too.
If visiting in the summer, you will be glad to know that Cortina is located very centrally for exploring some of the nicest lakes and iconic landmarks in the Dolomites. Quite a few of the most popular hikes in the Dolomites are also located in this area.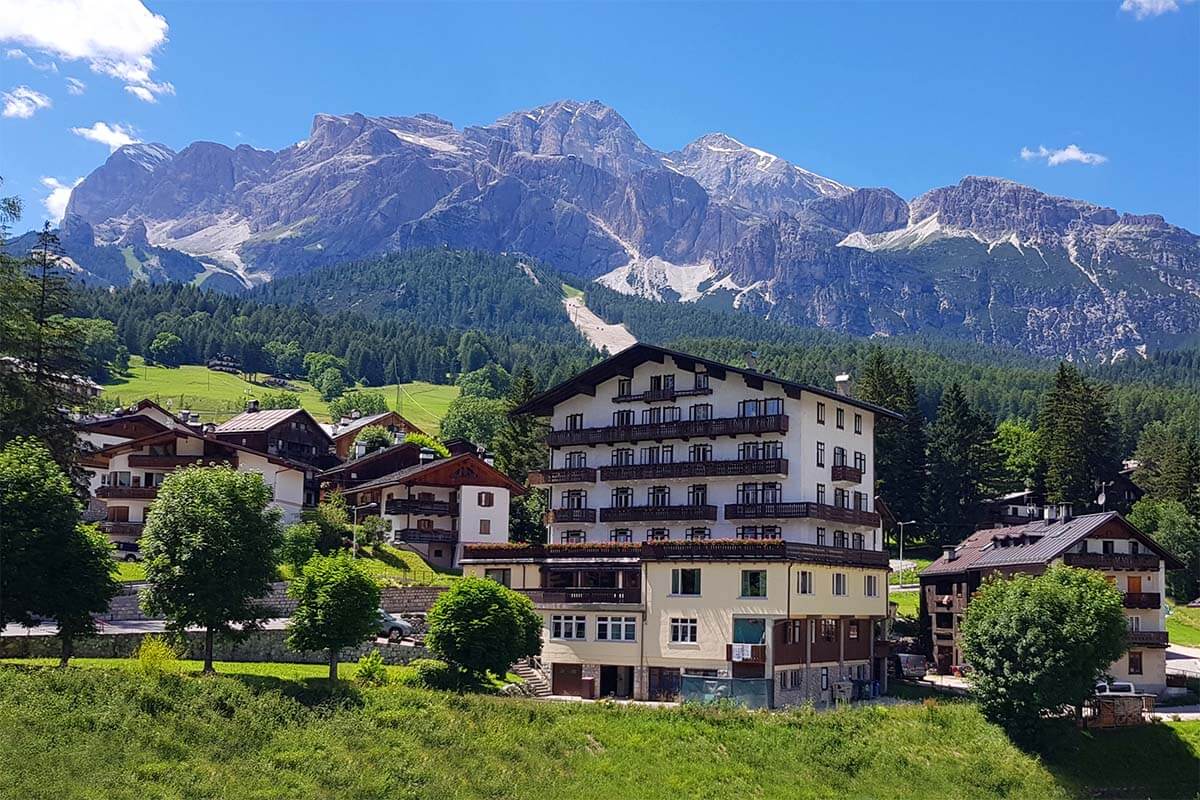 What to see near Cortina
Cortina d'Ampezzo is an excellent location, with many amazing landmarks and hiking trails located within less than 1-hour drive from here.
There is a lot to see in this area and you could spend weeks here. But if this is your first time in the Dolomites, staying in Cortina makes it really easy to visit the following top places:
Passo Falzareggo/ Lagazuoi.
Passo Giau.
Marmolada, the highest mountain peak you can easily visit in the Dolomites, is about 1 hour drive from here.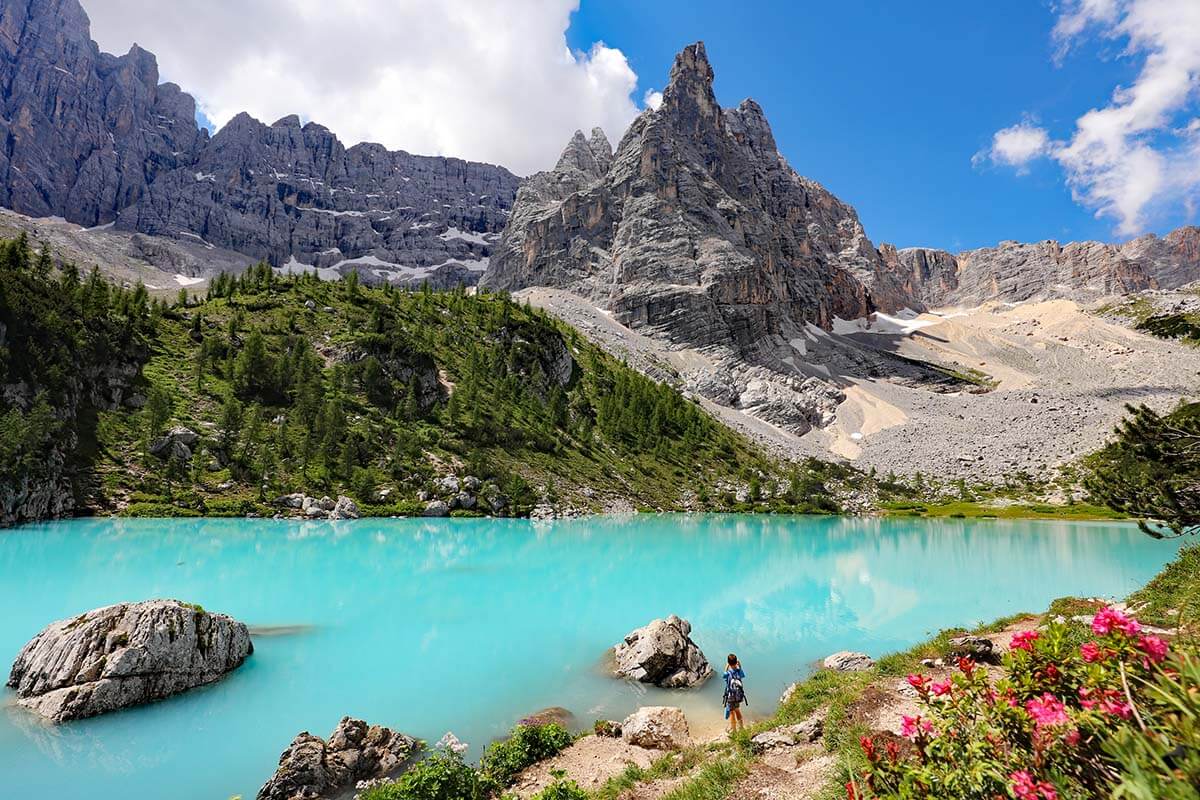 Getting there & nearest airports
Cortina d'Ampezzo is located on the eastern side of the Dolomites, just 2 hours drive from Venice. So if you are flying to Venice airport, this is the easiest part of the Dolomites to get to.
Other bigger airports are in Milan, Bergamo, Innsbruck, and Munich. They are all 3.5-5 hours drive from Cortina.
Good to know: There are direct express buses between Venice airport and Cortina d'Ampezzo. So if you don't want to rent a car, it's possible to see and do a lot just by using public transport. In winter, there are ski shuttles in town. And in the high summer season, there are good bus connections between Cortina and the main places in the nearby mountains.
However, if you are visiting in the summer and want to explore all the best areas in the Dolomites at your own pace, we recommend renting a car. In general, car hire isn't very expensive in Italy, especially if you book well in advance. We use and recommend this website for car rentals.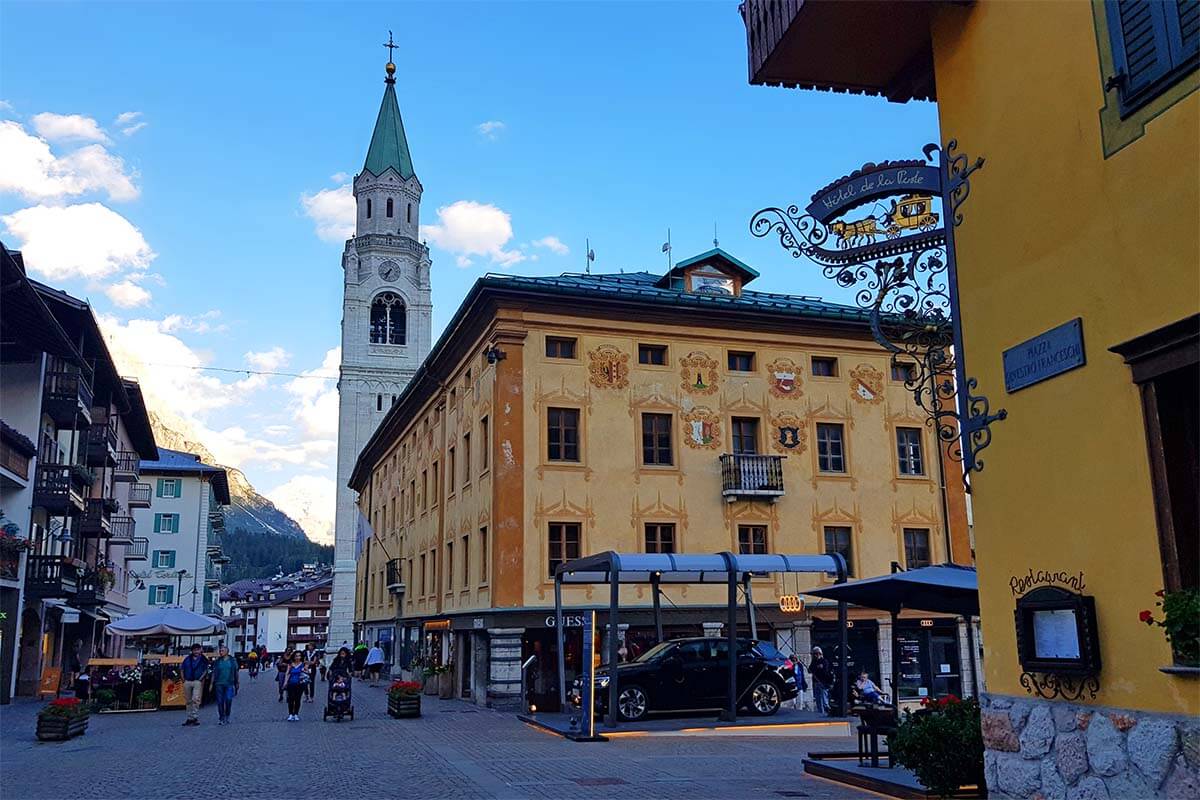 Where to stay in Cortina d'Ampezzo
Below, you can find a few hotel suggestions for Cortina d'Ampezzo for different budgets. But there are so many accommodation choices here (self-catering accommodations too), that it wouldn't make sense to start listing them.
So I simply recommend checking what's still available for your travel dates. After all, it's all about when you travel, group size, and budget.
Anyway, here are some of the best hotels for different budgets in the center of Cortina:
€€€€€ Hotel de LEN
€€€€ Ambra Cortina Luxury&Fashion Hotel
€€€ Radisson Residences Savoia Palace
€€+ Hotel Olimpia
Good to know: If you have a car, be sure that parking is available too as it can be quite problematic, especially in the town center.
TIP: With a car, you can also opt to stay a bit outside the town. You will be driving around exploring different places anyway, so a few kilometers in one or the other direction won't change much. Plus, staying a bit further from the town center is often cheaper (although the entire area is really not cheap to start with).
Here are a few additional hotel suggestions nearby – one very affordable and one very exclusive. On a somewhat lower budget, the recently renovated B&B Hotel Passo Tre Croci has a great location right next to the Lago di Sorapis hike trailhead and offers great value for the area. Or – if you are looking for a really luxurious place, check out Rosapetra SPA Resort (Small Luxury Hotels of the World).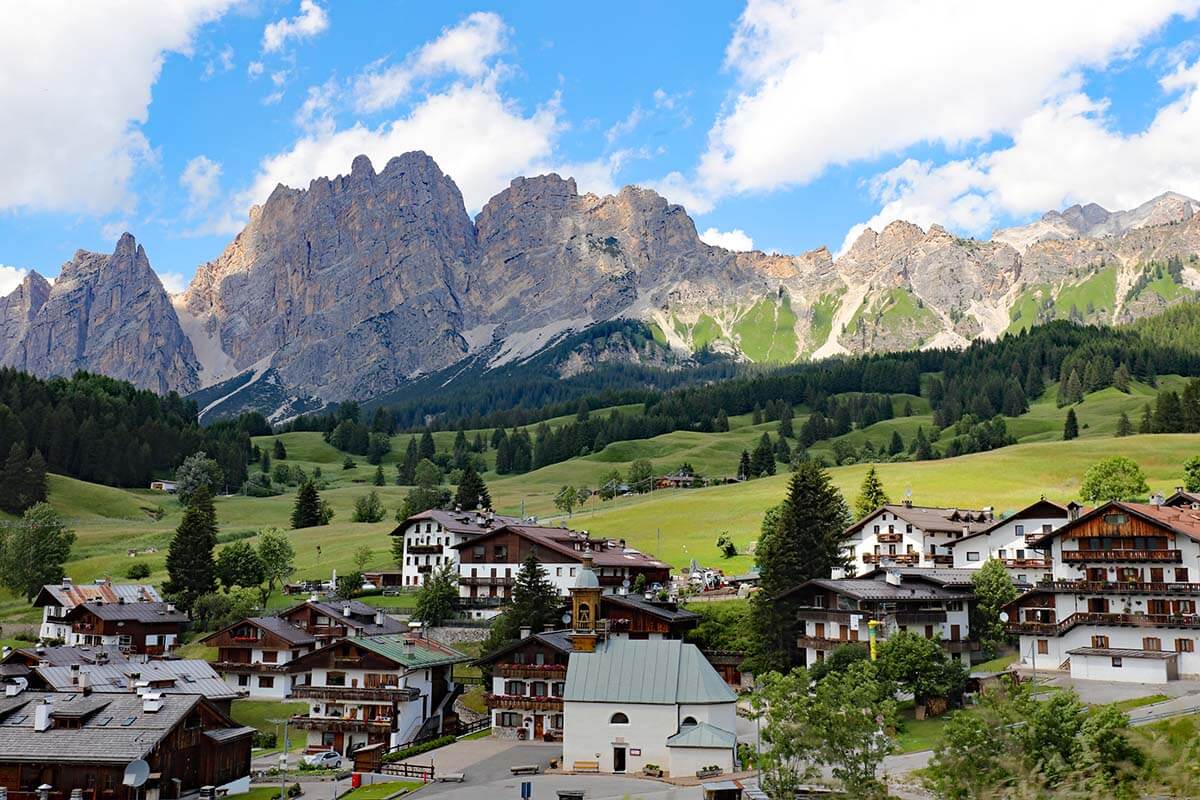 2. Val Gardena
Excellent location for many nice hikes, accessibility, great facilities, and a bigger choice of accommodations for various budgets make Val Gardena one of the best towns to stay in the Dolomites.
Val Gardena comprises several towns: Ortisei, Santa Cristina, and Selva di Val Gardena. This is another top area to stay in the Dolomites and is extremely popular in the winter. In fact, if you are looking for ski-in/ski-out hotels, you will find better options here than in Cortina d'Ampezzo.
In summer, Val Gardena is also an excellent area to stay for hiking in the Dolomites. Some of the most iconic 'postcard' landscapes of the Dolomites can also be found in this area. Plus, there are many great restaurants, hotels, and all other facilities.
The big advantage of staying in Val Gardena is its proximity to the highway and a relatively flat road through the valley. So it's quite easy to get here. Also, there are some nice bigger towns nearby that are worth a visit too (Bolzano and Merano, to mention just a few). So if the weather isn't great in the mountains, you can easily find alternative ideas for sightseeing.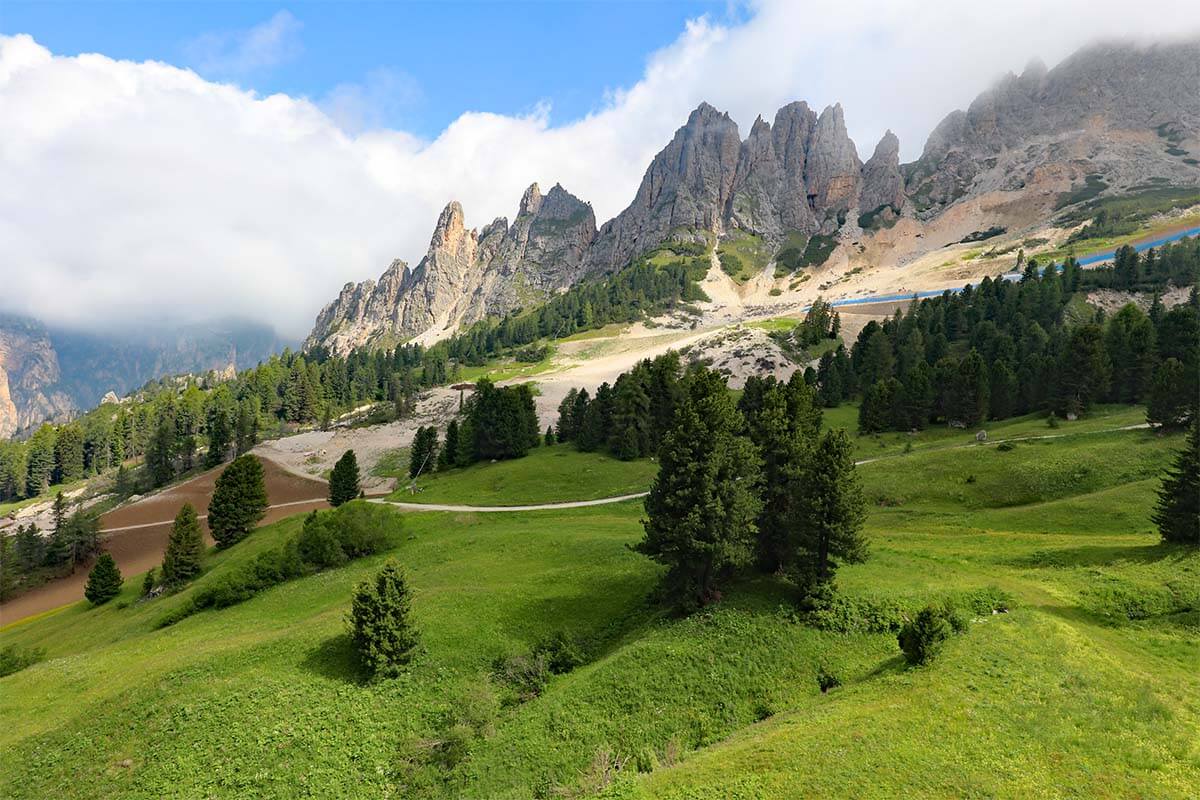 What to see in/near Val Gardena
Just like the Cortina area, Val Gardena has a lot to offer to first-time visitors. Also here, you can easily spend several weeks and find plenty to see and do.
But if it's your first visit, you will want to focus on these top places in/near Val Gardena:
Seceda – Pieralongia area (accessible by cable car from Ortisei).
Funes/Villnöss Valley with St. Magdalena, the most photographed landscape in the Dolomites, and Adolf Munkel Trail to the picture-perfect Geisler Alm.
Alpe di Siusi (Seiser Alm).
Puez-Odle Altopiano area (accessible from Selva).
Passo Pordoi.
Passo Sella.
Passo Gardena.
You can find more information about these places in our guides to the best Dolomites hikes, the best places in the Dolomites, and the best lakes in the Dolomites.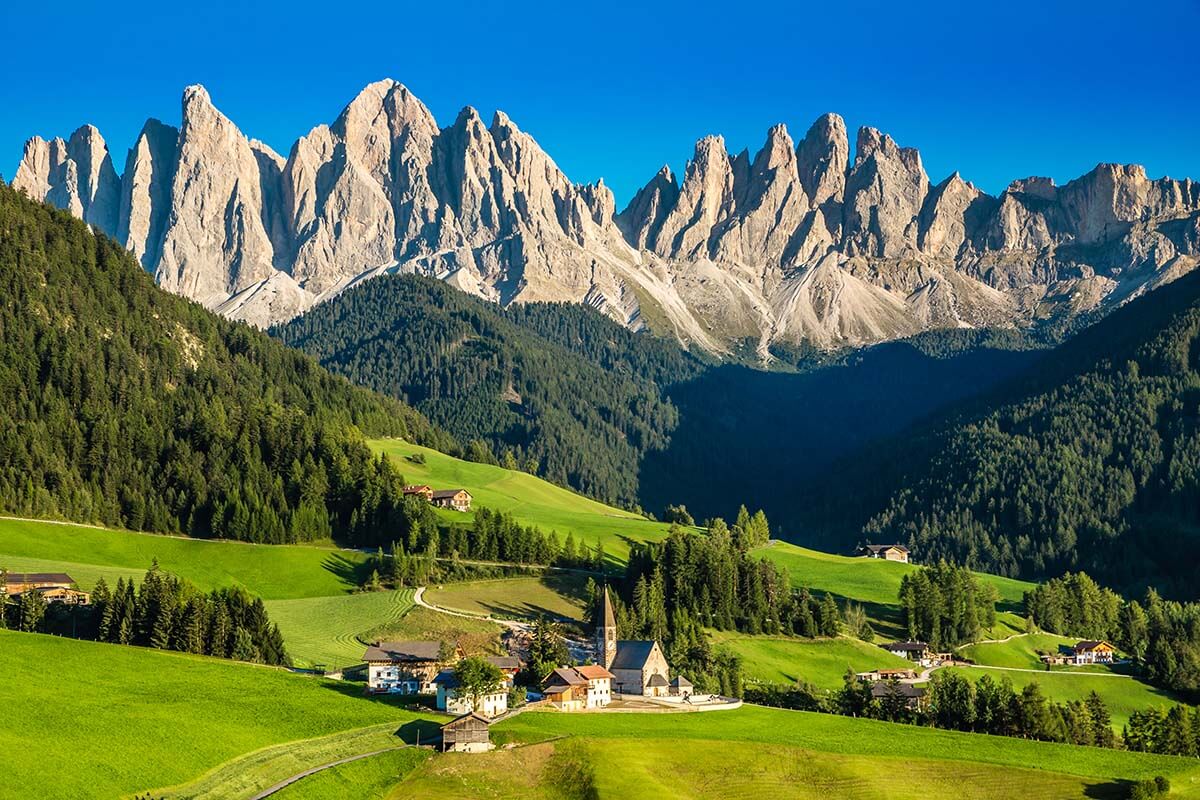 Getting there & nearest airports
The closest airport near Val Gardena is Bolzano, which is less than 1 hour drive from the Val Gardena towns. But this is a rather small airport and so there aren't many flight connections.
Innsbruck airport, just over the border in Austria, is less than 2 hours away and can also be a good option depending on where you are coming from.
The bigger airports in Milan (also Bergamo) or Munich, are all about 3.5-4 hours drive from Val Gardena.
There is public transport between Bolzano and Val Gardena, but also here, renting a car is a much more convenient option. Alternatively, you can also hire a private transfer, but those are really expensive and are mostly used by skiers in the winter.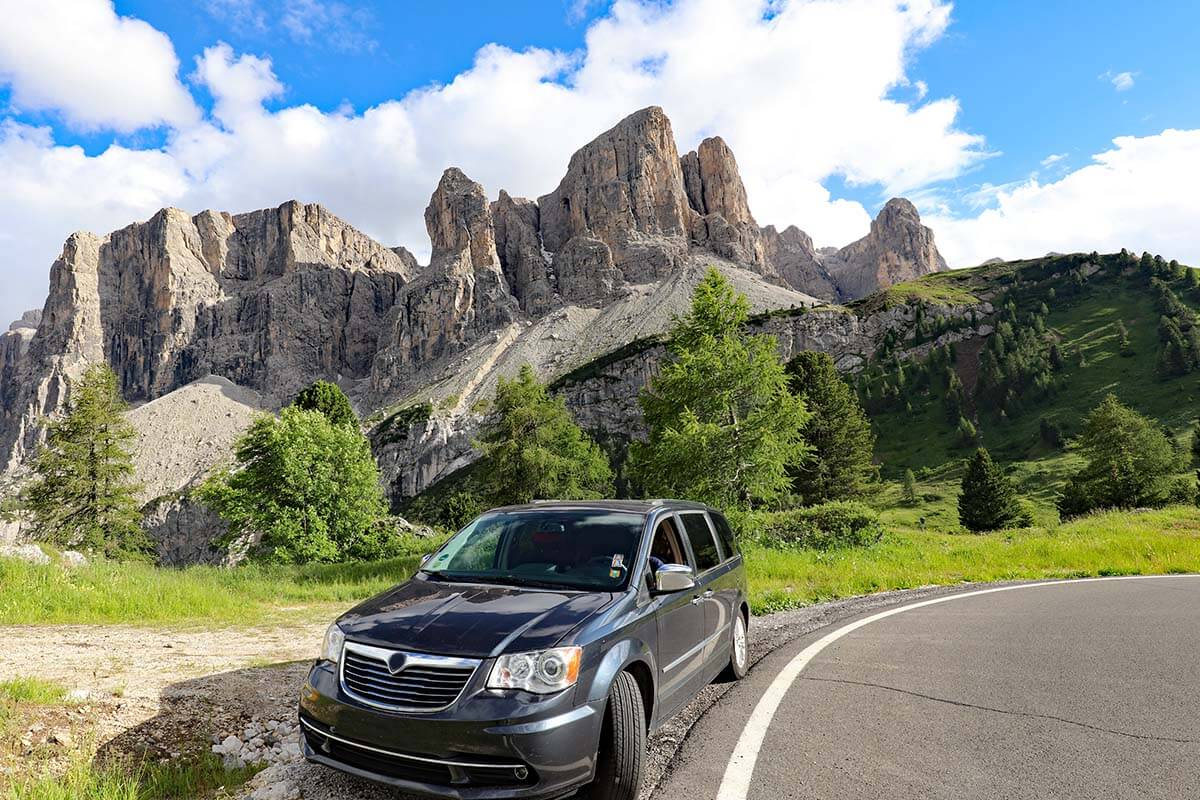 Where to stay in Val Gardena
Of the three main towns of Val Gardena, probably the nicest one to stay is Selva di Val Gardena, followed by Ortisei. We find that Selva has the best atmosphere and it's also quite flat and walkable. There are shops and many restaurants, a tourist info center, bike rentals, etc. You can also do some hiking starting straight from town.
There is also a regional bus (included when staying in most Val Gardena hotels) that can bring you to all the popular places nearby. If you do have a car, make sure that your accommodation provides parking.
There are TONS of hotels and accommodations in Val Gardena. However, many Val Gardena hotels require a minimum stay, which can be 3-4 nights, but often even as long as 7 nights. So if you are just here for a night or two, you will have way fewer options. Still, it's usually not an issue to find a nice place to stay, but in the peak season, it's a good idea to book well in advance.
Because of this, it makes very little sense to recommend a specific hotel in this guide. The best thing I recommend you do is simply check what's available for your exact travel dates. Also here, the places located a bit outside of the main town will often be cheaper.
TIP: We have a very thorough guide to the Val Gardena accommodations (link below), so check it out if you are staying in the region longer and are looking for more specific hotel recommendations (ski hotels, hotels for families, hotels with pools, etc.).
LEARN MORE: Where to Stay in Val Gardena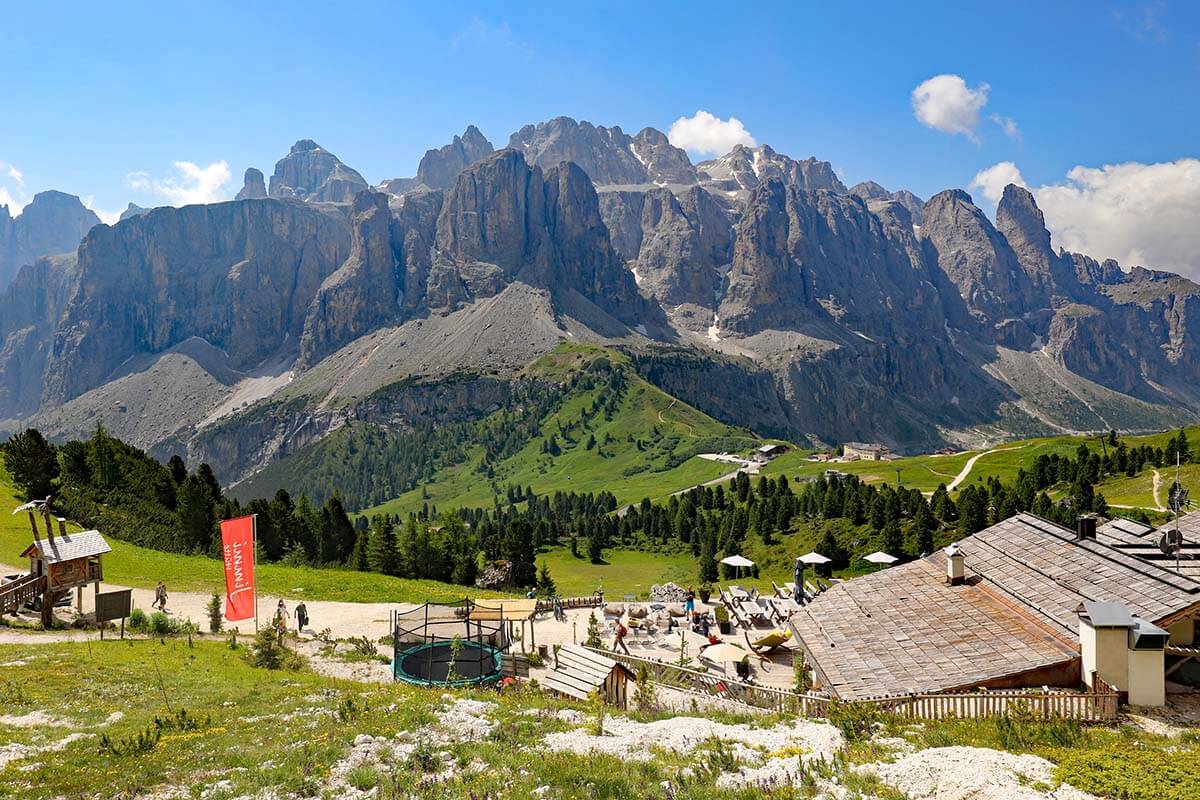 Things to Consider When Deciding Where to Stay in the Dolomites
Now that you know the best areas and towns to stay in the Dolomites, there are a few things that you may want to consider when deciding which one to choose:
The Season
If you are visiting the Dolomites during the winter season, your main focus will probably be skiing. In that case, I would just look for a nice hotel close to the ski slopes and stay there for the entire vacation. For that, Val Gardena is probably the best option. For specific hotel suggestions, take a look at our guide to the best ski hotels in Val Gardena.
If you are visiting the Dolomites in the summer, then you are probably most interested in sightseeing and hiking. For that, both – Cortina and Val Gardena – are equally good. But where to stay and for how long depends on the duration of your visit – see below.
If you are visiting during the shoulder season, first and foremost consider what you will be able to do at that time of the year. While some places can be seen/visited the whole year round, others are only accessible in the summer (or only with skis in winter).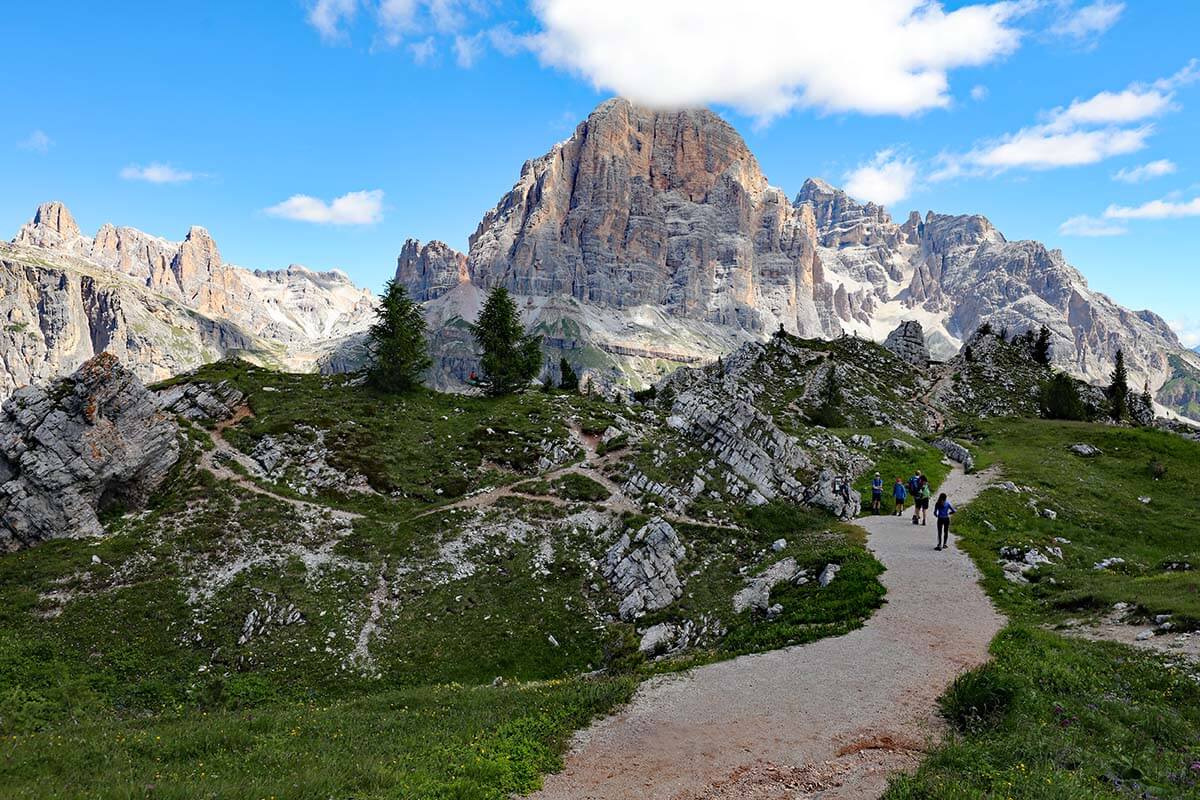 What you want to see & How much time you have
Another important factor when deciding where to stay in the Dolomites is what you want to see and how much time you have.
For 'the musts', ideally, you plan at least 3-5 nights in the mountains and split your stay between these two areas. This will limit driving each day. Staying at each place for at least several nights will also give you more flexibility to adjust your plans in case of bad weather.
For more details – once again – please see our recommendations on how to plan your Dolomites itinerary.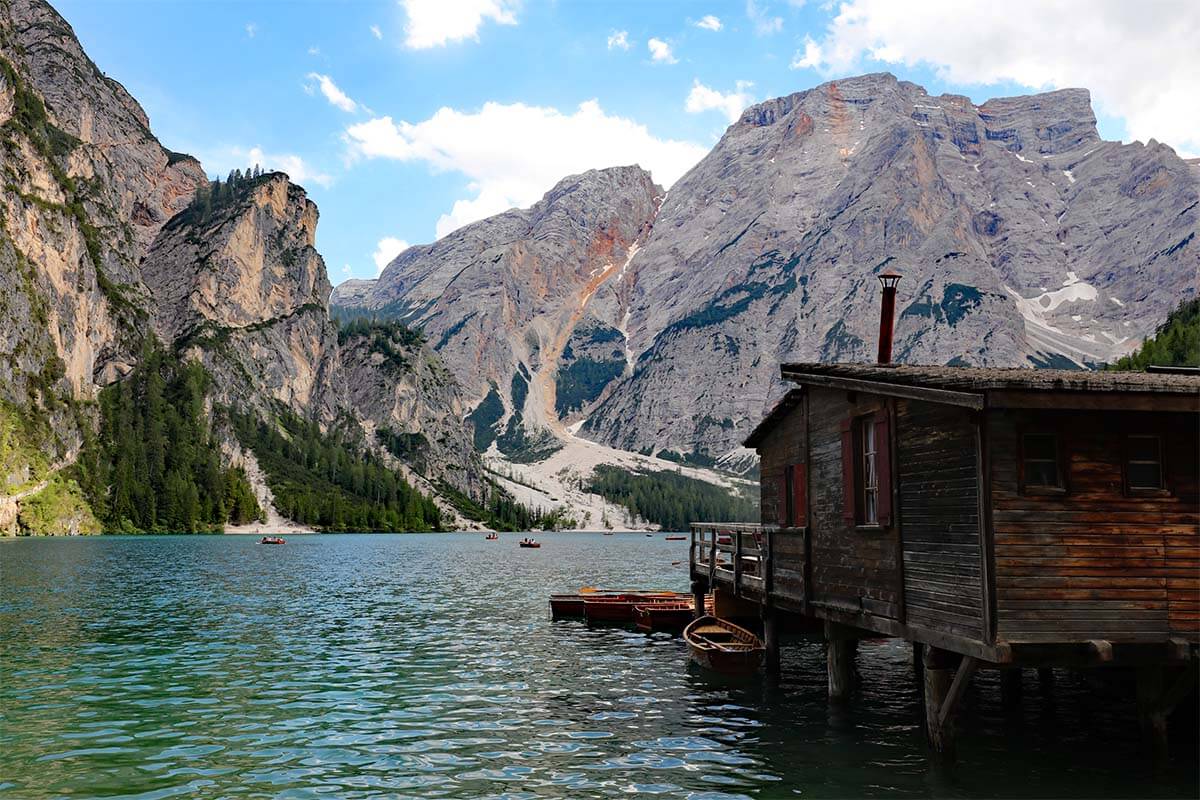 What kind of transportation you will use
This is another very important thing that can determine where to stay in the Dolomites. Without a car, consider how you can best get to the Dolomites to start with. Once there, research which places can be visited by public transport.
Both – Val Gardena and Cortina – have quite some possibilities for places to visit and nice hikes to do simply by taking a bus. But this will require a lot more planning from your side.
I really recommend renting a car for sightseeing in the Dolomites (check this website for the best deals – no matter which airport you are flying to). Just remember that parking is often limited. Starting your days early always pays off, especially when going to the most popular places or world-famous hikes.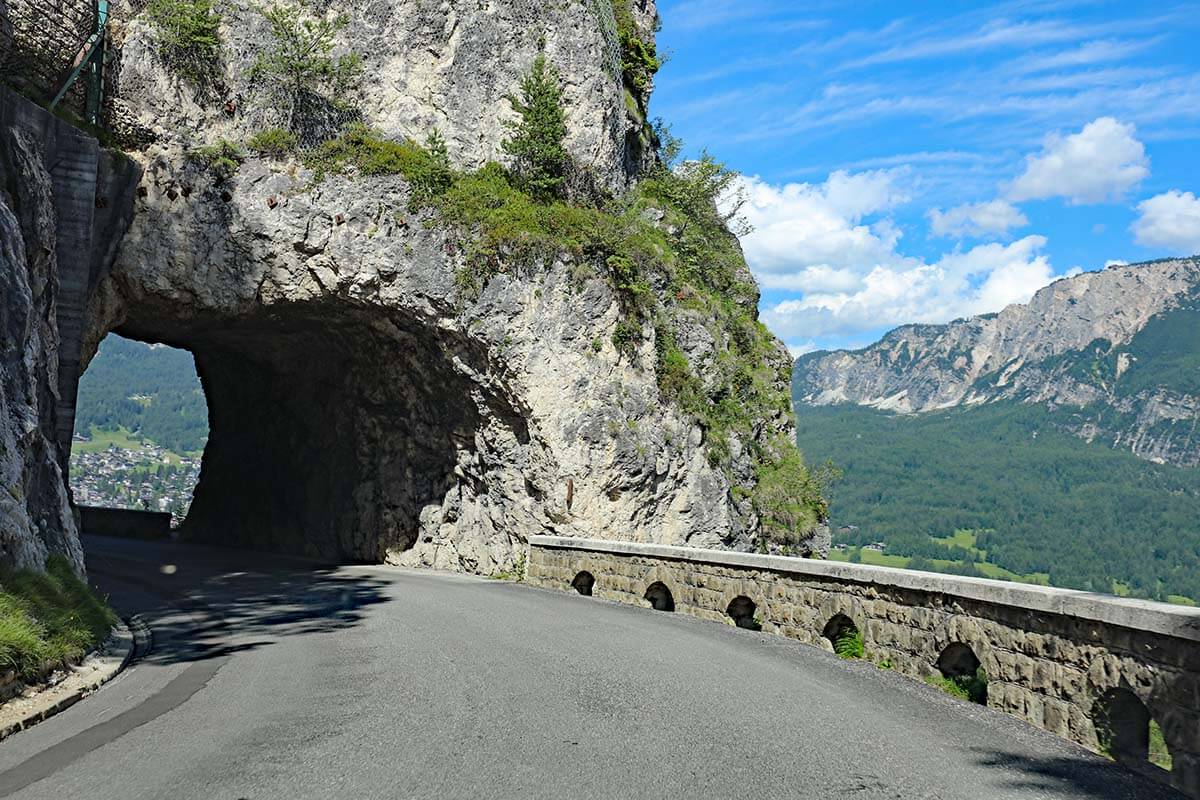 budget
Another thing to consider when looking for a place to stay in the Dolomites is your budget. As already mentioned, this is really not a low-budget destination, especially in the peak summer and winter seasons.
Here are some tips on how to save money on the Dolomites accommodation:
Avoid peak travel times. In winter, it's Christmas and February – March, plus Easter. In the summer, the absolute peak season is between mid-July and the end of August.
Book well in advance! The sooner you book, the more lodging options you have.
Stay just a bit outside of these prime areas. Sometimes, a few kilometers can make a huge difference in price, but not necessarily influence your travel experience.
Stay longer (in one place). Yes, you read that right. Since many accommodations require a minimum stay, you will sometimes be able to find much better deals if staying in the area longer. Also, some places have multi-day passes for gondolas and public transport, which give amazing value if you stay in one region for a longer time.
Compare prices and accommodations. For that, take a look at our handy map below. Simply insert your travel dates, group size, and the approximate location where you want to go, and you will see the best deals available. The map now shows Cortina d'Ampezzo accommodations, but you can use it for any area. Check it out!
When comparing hotels, see what's included in the price (e.g. breakfast, parking, etc.). Also, check if there are restaurants nearby so that you don't always have to dine at your hotel. You may also want to look for self-catering accommodations. However, this is not always a guarantee of a lower price, not even to mention that most self-catering places will often require a longer minimum stay.
Your overall travel plans
And finally, when deciding where to stay in the Dolomites, consider your overall travel plan. If the Dolomites are just part of a bigger trip, you may want to see how it best fits your itinerary.
For example, if you are planning to explore Northern Italy, you could start with a few days in Venice, then head to Cortina d'Ampezzo, followed by the Val Gardena area. Afterward, visit Trento, Verona and Lake Garda, and/or Milan and Lake Como…
If you would like to combine a visit to the Dolomites with a trip to Austria and potentially even Germany, you could start in Munich, visit Neuschwanstein Castle, Innsbruck and/or Stubai Valley, and then head to the Dolomites. Stay in Val Gardena, followed by Cortina d'Ampezzo, and then on to Salzburg in Austria.
These are just a few examples of possible itineraries. There are endless ways to plan a trip to this area!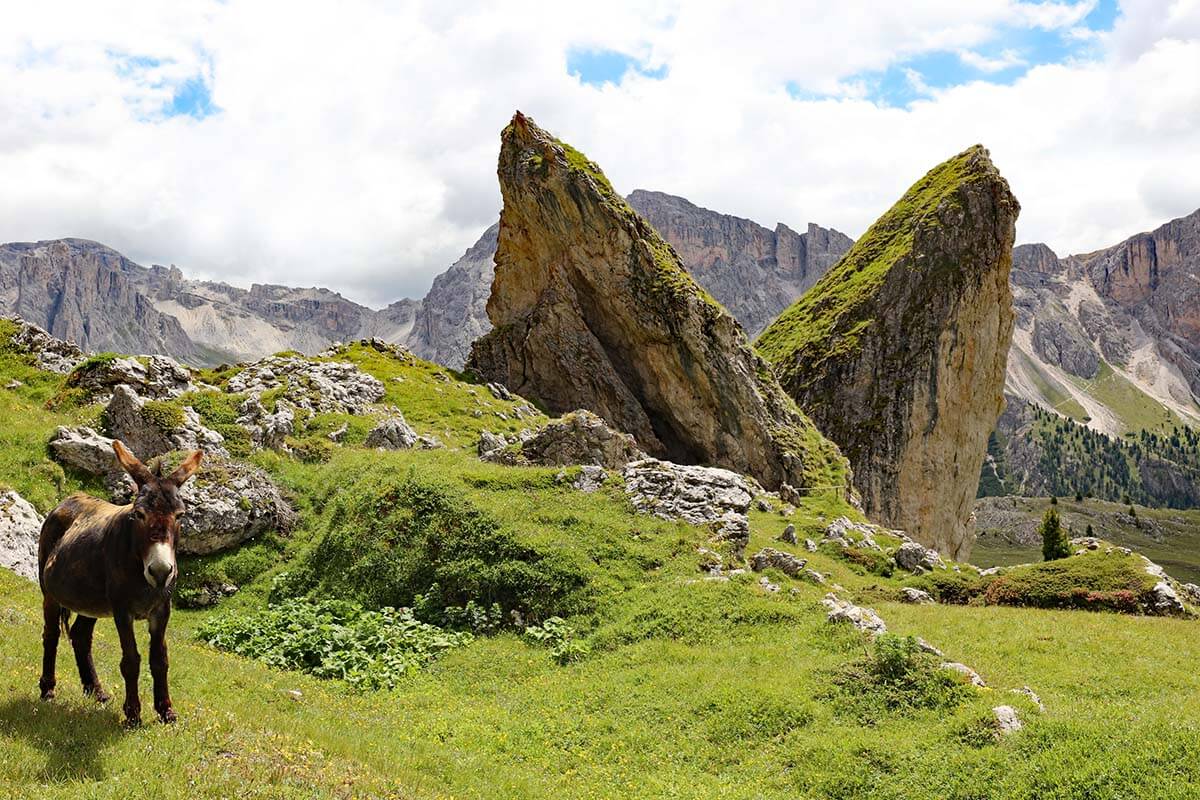 Best areas to stay in the Dolomites – FAQ
What is the best place to stay in the Dolomites?
If you have to pick just one place, Cortina d'Ampezzo is the best area to stay when visiting the Dolomites for the first time. Its central location gives you easy access to many of the best hikes and top attractions in the Dolomites.
What is the best base for sightseeing in the Dolomites?
There are two best areas to use as your base for sightseeing in the Dolomites – Cortina d'Ampezzo for the eastern side and Val Gardena for the western side. Dividing your stay between these two areas will allow you to see the best of the Dolomites without having to spend hours in a car each day.
How much time do you need in the Dolomites?
You can just drive through the area and see some of the nicest places in a day or two, but we highly recommend at least 3-4 days for your first visit. However, if you want to see all the top places and do some hiking, you can easily fill 6-10 days in the Dolomites (and you will want to come back for more).
Do I need a car in the Dolomites?
We highly recommend renting a car as it will give you much more flexibility when exploring the Dolomites. But no, it's not a must, and you can visit the Dolomites using public transport. Without a car, we recommend that you fly to Venice airport, from where you can take an express bus to Cortina d'Ampezzo. Staying in this town, you will be able to see a lot of the area without a car as well.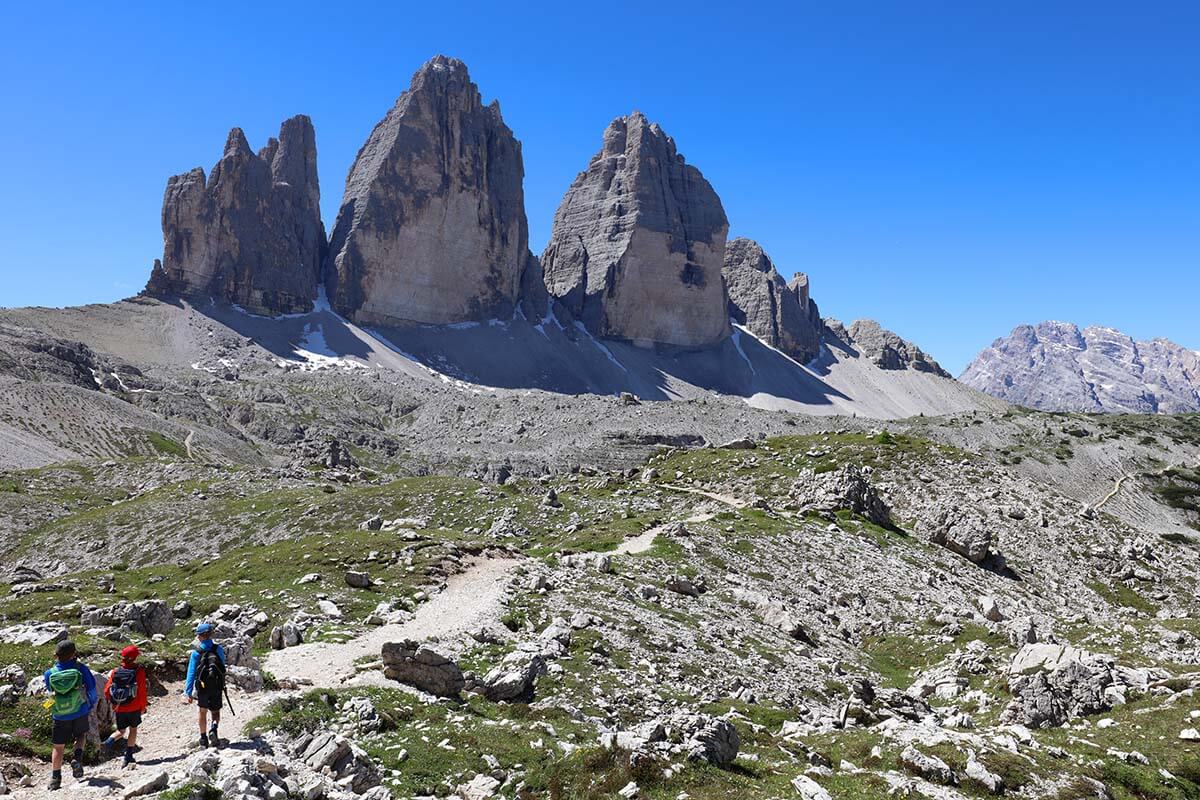 So, this is our guide to the best places to stay in the Dolomites.
Of course, so much depends on your specific plans and the area is huge with thousands of accommodations throughout. So use this just as guidance, but always see what makes the most sense for your specific itinerary, interests, and budget.
Have a great time in the Dolomites!
TIP: Before you go, you may want to check our other guides to the Dolomites. We have TONS of information that will help you plan a truly memorable trip – whether you are hiking or not. Here are just a few articles to start with:
READ ALSO: Best Places to See in Italy
If you found this post helpful, don't forget to bookmark it and share it with your friends. Are you on Pinterest? Pin this image!