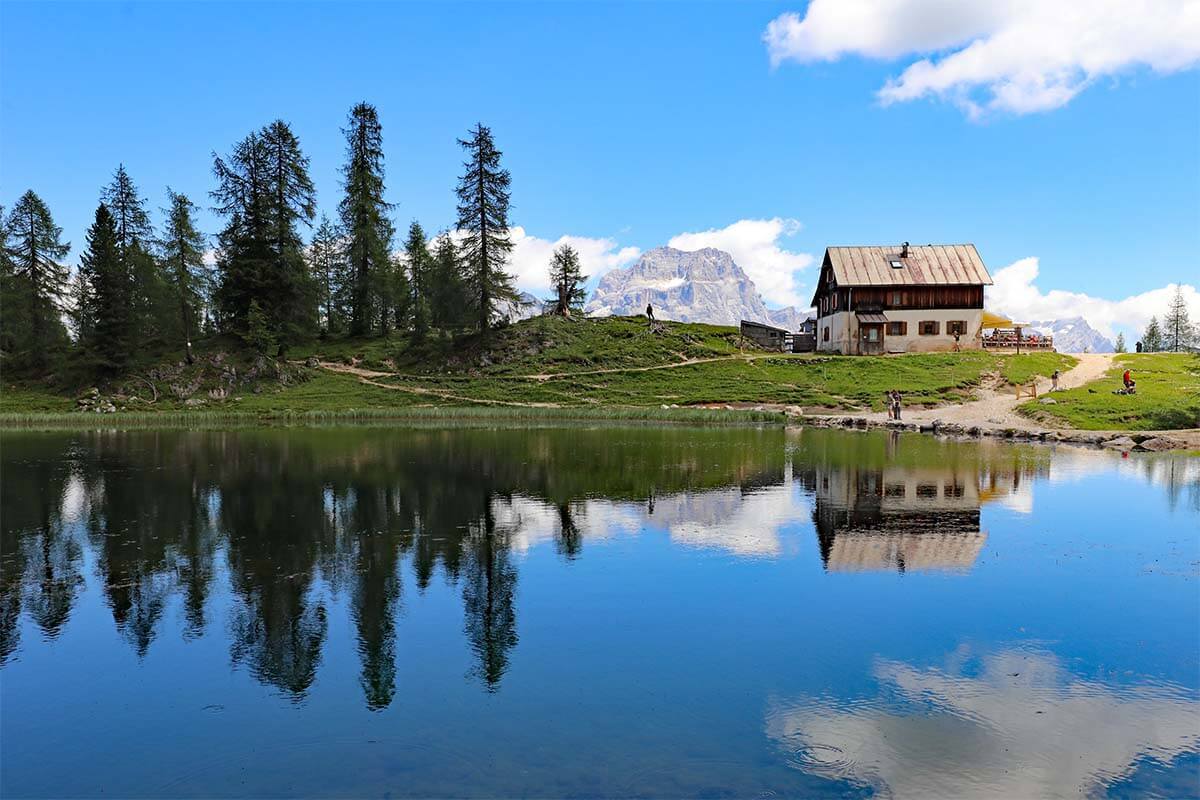 Lago Federa (aka Lago di Fedèra or Lake Federa) is a very picturesque mountain lake in the Italian Dolomites. You'll need to take a hike in order to see it, but, as it often goes, there are so many different hiking trails that it might be overwhelming to choose which way to go.
When researching Lago Federa hikes, we learned that there are many different options. Some trails will get you to the lake faster than others, but they aren't that picturesque. Whereas some others offer stunning scenery but are quite challenging and very long.
In the end, we opted for the Passo Giau – Forcella Ambrizzola – Lago Federa – Ru Curto hike and it was a wonderful choice! The hike wasn't as easy as it looked on the map, but the scenery was absolutely worth it. In fact, we found the scenery along the hike much more spectacular than the lake itself.
In this article, you can find all the details of the Lago di Federa hike exactly as we did it, starting at Passo Giau and ending at Ponte de Ru Curto. We also included a map to help you orient and some alternative suggestions for those of you who prefer a circular hike that starts and ends at the same place. Find out!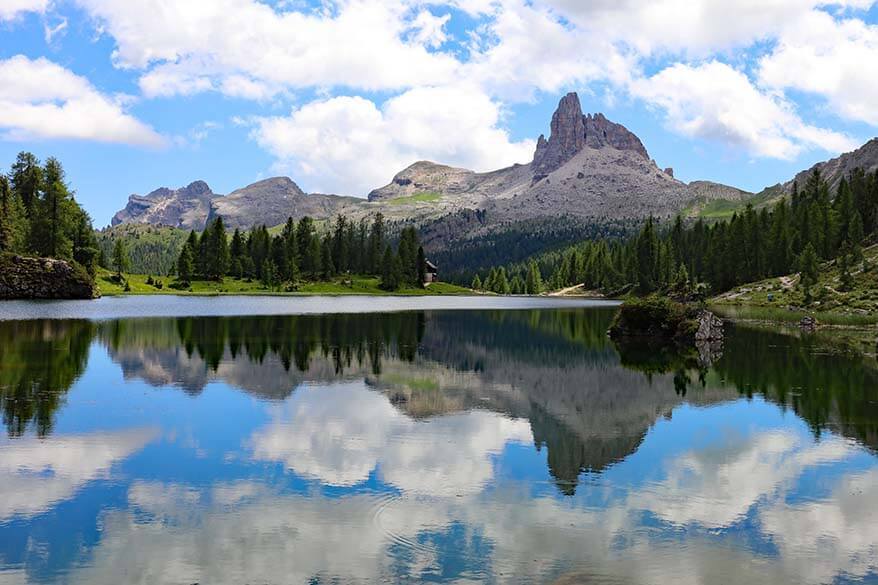 Why hike to Lago Federa from Passo Giau
We have been to the region a few times and have done some of the best hikes in the Dolomites. And while absolutely stunning, most of the trails were quite busy as well. So we were looking for a beautiful lesser-known hike that is not overrun by tourists yet offers some of the best mountain views. That's how we stumbled upon the Lago di Federa hike from Passo Giau via Forcella Ambrizolla.
This beautiful day hike has everything that the Dolomites have to offer in one place! And despite the fact that this hike is also part of the iconic Dolomite High Route 1 (Alta Via 1), it's not nearly as busy as most other hikes with a comparable 'wow factor' in the region.
We chose this hike to Lago Federa because it's so incredibly diverse. It gives you access to the most stunning scenery and iconic views of the 'typical' rocky mountain peaks of the Dolomites, in combination with Alpine landscapes that will remind you of some of the most beautiful places in Switzerland…
Green meadows with millions of colorful wildflowers all around you, mountain streams, a picturesque little lake, rivers, forests, and even an impressive gorge. This hike truly has it all!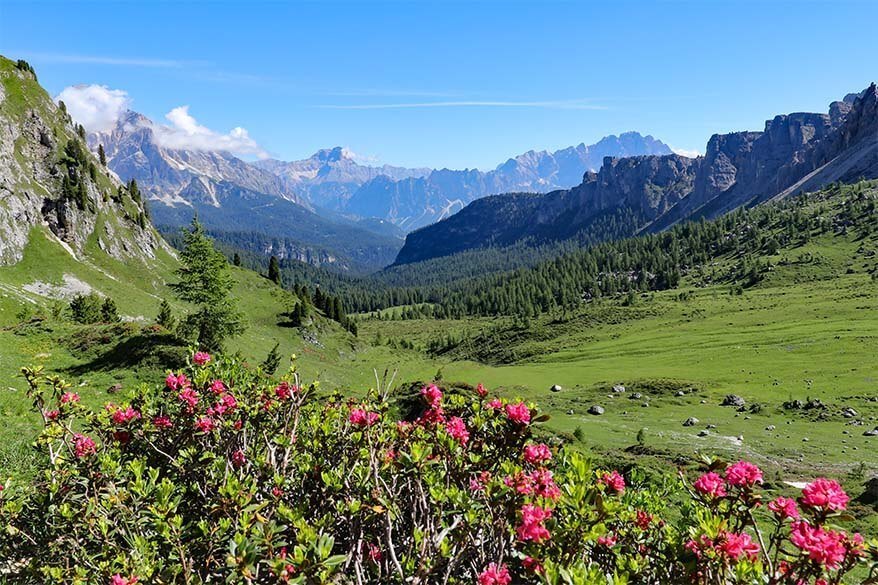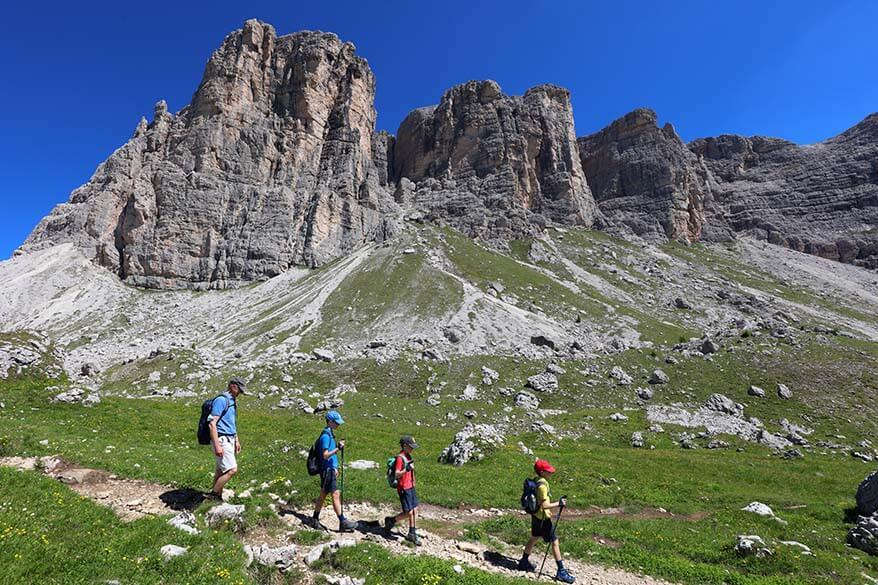 Furthermore, for those who are interested in archaeology or anthropology, there is also an archaeological site of the Mondeval Man whose 7500-year-old remains have been found in this area. It would be a detour to this hike, but if you have the time and interest, might be worth considering.
I have to admit that we did this hike mainly because we wanted to see Lago Federa, but in the end, the lake wasn't the main highlight of the hike for us. The scenery along the way is so incredibly beautiful that by the time you reach the lake, you realize that the hike would have been worth it even without it…
Below, you can find all the practical information and tips for hiking to Lake Federa. Read on!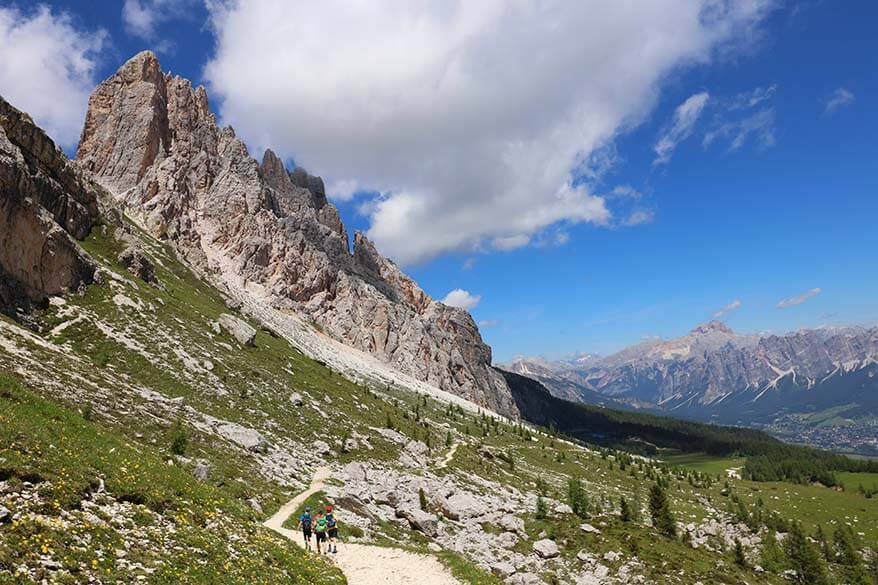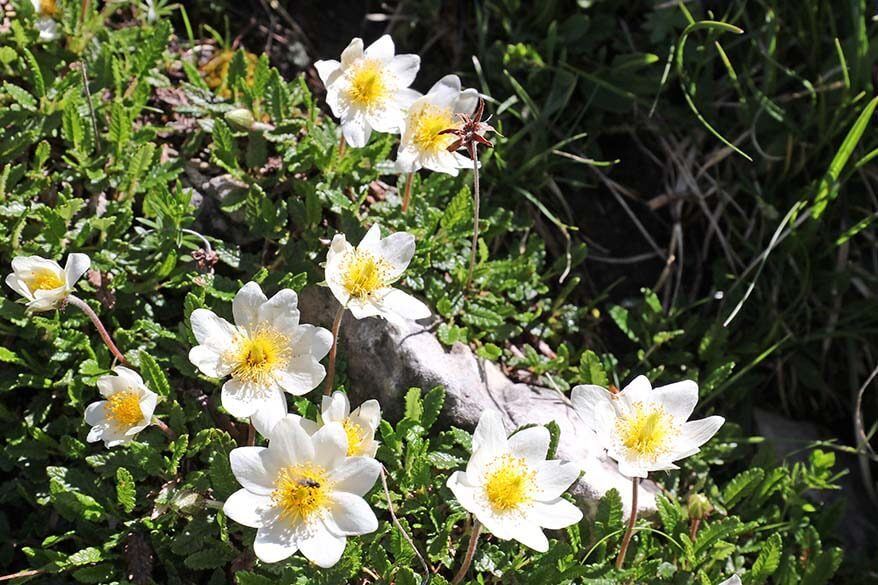 Lago Federa Hike Overview
Distance: 12km (7.45 mi). However, our GPS tracking app showed that we had hiked 13.9 km (8.6 mi).
Difficulty: Moderate.
Time: 4-5 hours.
Elevation gain/loss: 338m/ 953m (1,108ft/ 3,126 ft).
Hiking season: June – September.
Starting point: Passo di Giau (2,236 m) (see map).
End point: Ru Curto (aka Ponte de Rucurto or Pain del Pantan) (1,695m) – a car parking area along the road SP638, about 6 km from Passo Giau in the direction of Cortina d'Ampezzo (see map).
Trails to follow: Trail 436 from Passo Giau (2,236 m) to Forcella Giau (2,360 m) and on to Forcella Ambrizzola (2,277 m). Trail 434 from Forcella Ambrizolla to Lago Federa (2,046 m) and further down until it splits off to trail 437 to Ponte de Rucurto (1,695 m).
Facilities: There are limited facilities on this hike – mountain huts at Passo Giau and at Lago Federa. So be sure to pack water and some snacks.
Gear: Good hiking boots are a must. Hiking poles recommended. Don't forget a rain jacket and sun protection.
Below, you can see a picture of the hiking map of this area. In indicated the hike described in this article in red.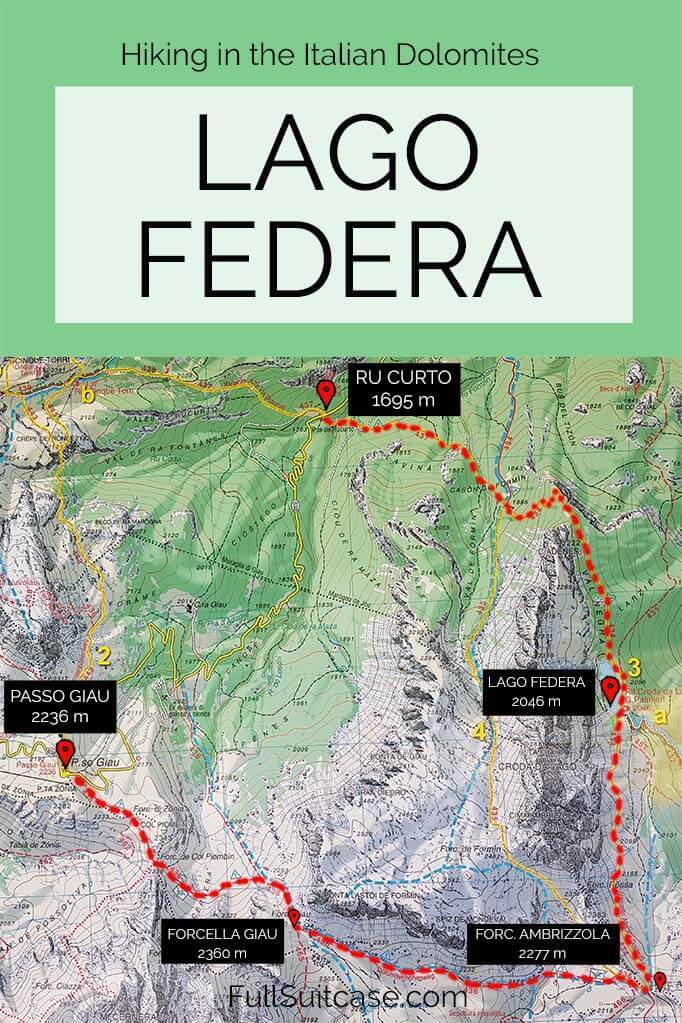 Getting There & Back
As you can see, this hike starts and ends at different places. They're just 6 km from each other via road, but that means that you'll need to arrange transportation to the start/ end of the hike. In high season, there is a bus that goes from Cortina d' Ampezzo via Passo Giau to Pescul and it also stops at Ru Curto. So you can do this hike using public transportation.
You can leave your car at Passo Giau where you start the hike or at Ru Curto where you'll get back at the end of the hike. It's more relaxing to have your car waiting for you at the end, so, ideally, you leave your car at Ru Curto and take a bus to Passo Giau, where you start the hike. This gives you more flexibility as you don't have to worry about getting back in time for the bus. This is what we did (or planned to do – see below for how it worked out).
However, as we found out, the bus doesn't always run as scheduled and the website of Dolomite Bus isn't very reliable, especially if you are here just outside the peak season. Alternatively, you could use a taxi or hitchhike between the two places.
Alternative: Many people choose to hike to Lago Federa as a circular trail starting and ending at Ru Curto. It's a shorter hike, but you have a much tougher climb. Furthermore, the trail goes through a forest and you miss the most beautiful scenery between Passo Giau and Forcella Ambrizzola. So if you can somehow arrange transportation between the two places, I strongly suggest that you do this hike as it is described below.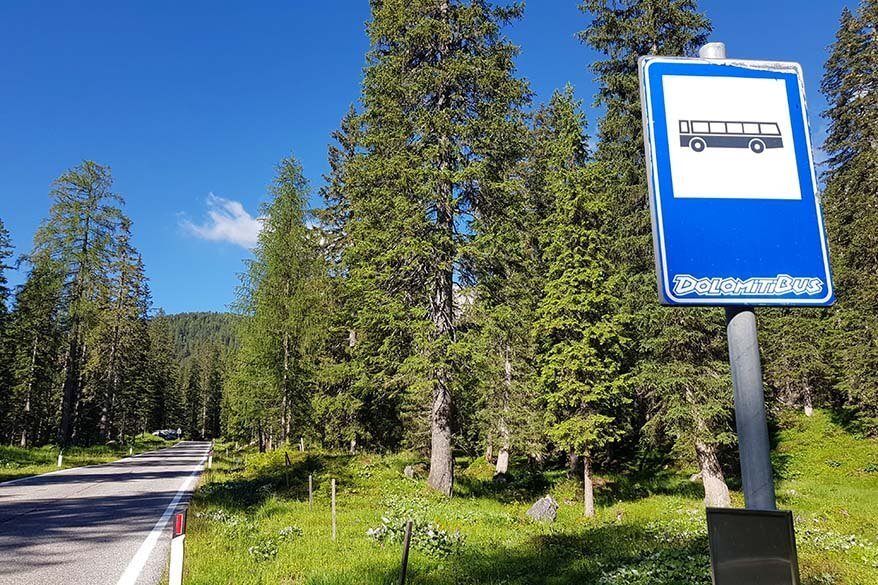 Park at Ru Curto & Take a Bus to Passo Giau
In the morning, drive to Ru Curto – Pain del Pantan, park your car, and take a bus to Passo Giau. Normally, Dolomiti Bus runs from Cortina d'Ampezzo via Passo Giau to Pescul several times a day. We checked the schedule and decided to catch the bus at Ru Curto at 9.05 AM.
We arrived at Ru Curto well before 9 AM, parked the car, located the bus stop, and waited. And waited. And waited a bit more. But the bus never came… After some time, we realized that the bus would never come and decided to head back to our car, drive to Passo Giau, and hike just part of the trail and back the same way.
Just as we were back at the car, a taxi arrived and dropped off some people at Ru Curto. This was our chance! We ran to the taxi and asked the driver if he would drop us off at Passo Giau. After some negotiation about the price, we agreed on 20 EUR for a 6 km ride for our family of 5 and 10 minutes later we were standing at Passo Giau. We could finally start our hike as planned.
Once we got to Passo Giau, we saw a note at the bus stop saying that bus service was 'temporarily suspended until further notice'… This was not indicated on their website or at any of the bus stops along the way…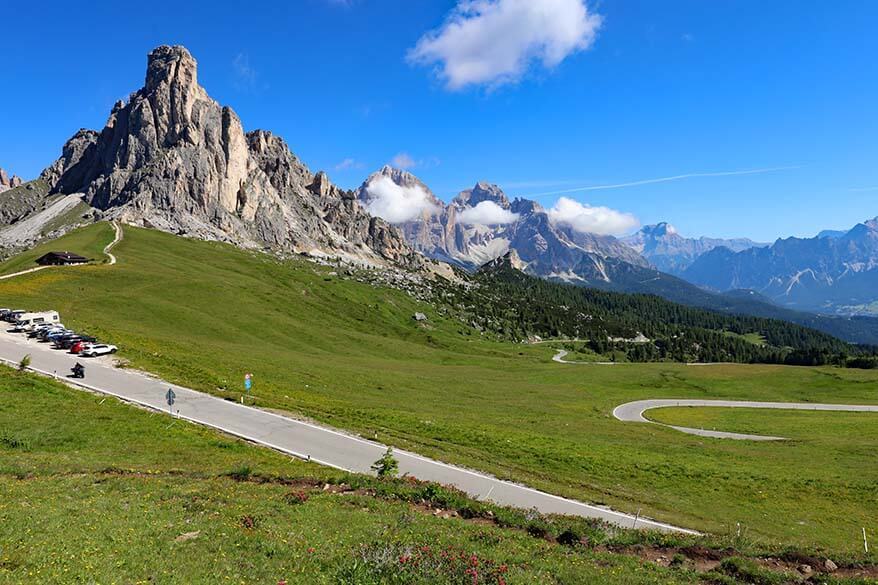 The hike to Lake Federa starts at the southern side of the road at Passo Giau.
You'll see a small wooden chapel – Chiesa di San Giovanni Gualberto – and once you locate it, there will be signs indicating where to go. You need to look for the hiking trail no. 436 in the direction of Forcella Giau.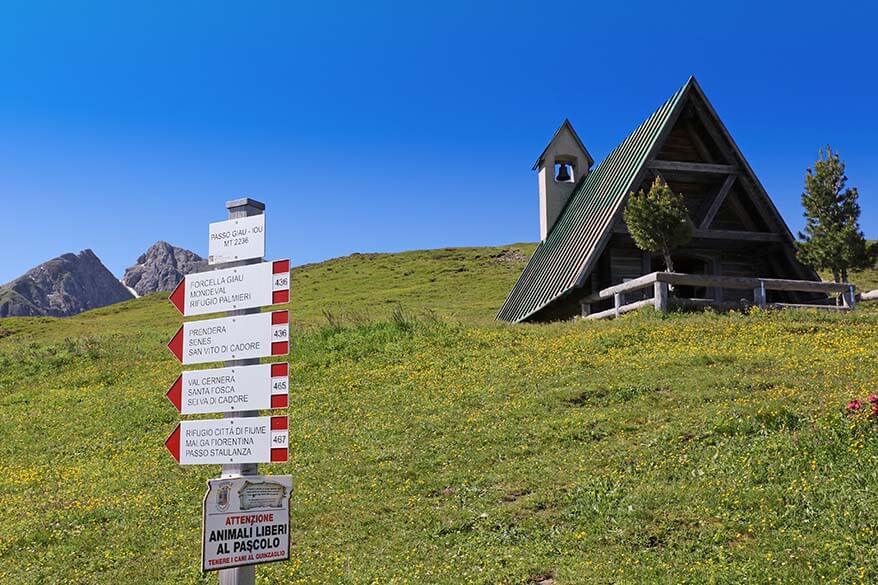 TIP: Before you set off, walk a small part of the hike from Passo Giau in the direction of Cinque Torri (it's on the opposite side of the road from where you need to be). There is a picturesque mountain hut here with the most beautiful mountain backdrop that you'll want to take a picture of!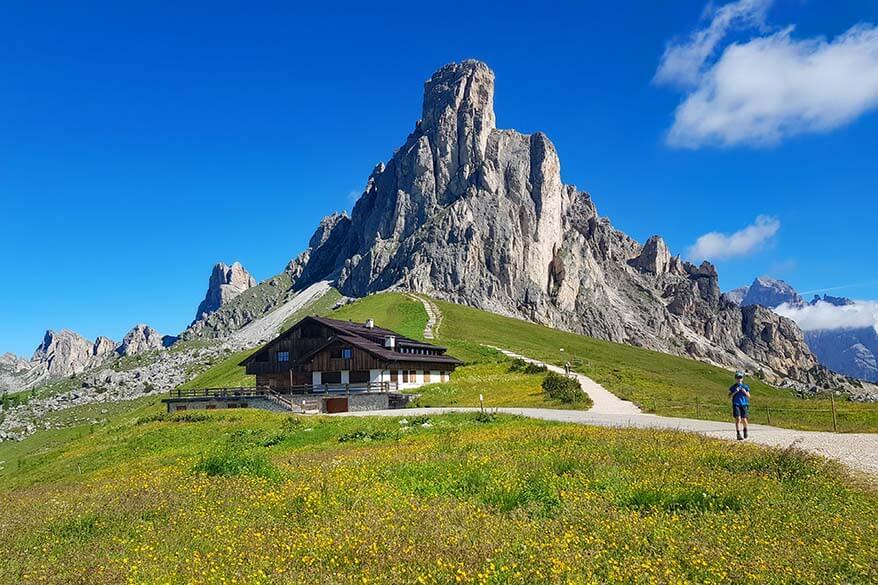 Passo Giau to Forcella Giau
The trail no. 436 starts off with the most beautiful scenery right from the beginning. It's also quite easy at first, giving you plenty of opportunities to enjoy the beautiful surroundings.
However, soon after passing Forcella de Col Piombin, the trail starts to climb. This is not something we expected taking into account how high we started and how low the end point of the hike is. But yes, this hike involves quite some climbing and this first vertical climb of about 150 meters elevation to Forcella Giau is quite tough.
The good thing is that the views are absolutely amazing! We hiked here in the beginning of July and this area was covered with the most beautiful alpine flowers which made the beautiful scenery even more impressive.
Good to know: At a certain point, the trail 436 will split into two parts, you need to follow the trail to the right, in the direction of Forcella Giau/ Forcella Ambrizzola.
* This part of the hike – from Passo Giau to Forcella Giau – took us about 1 hour.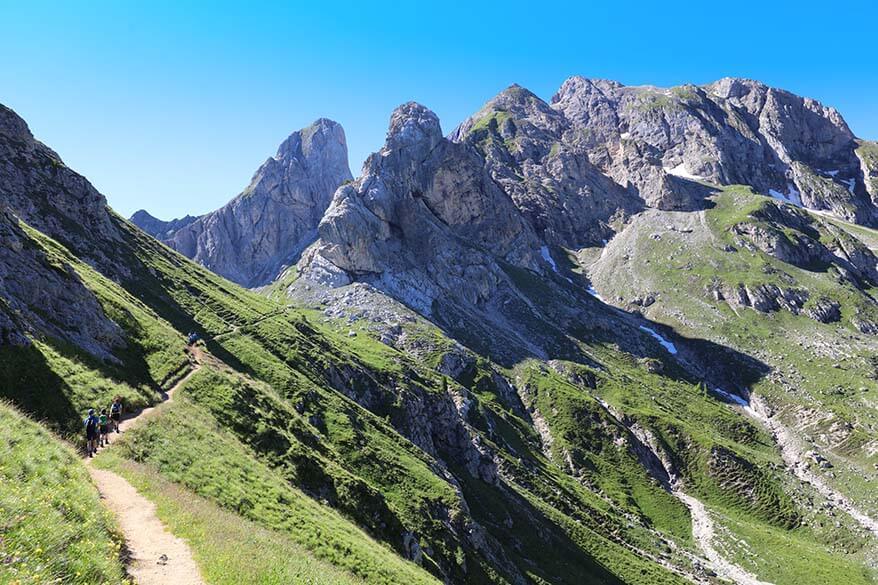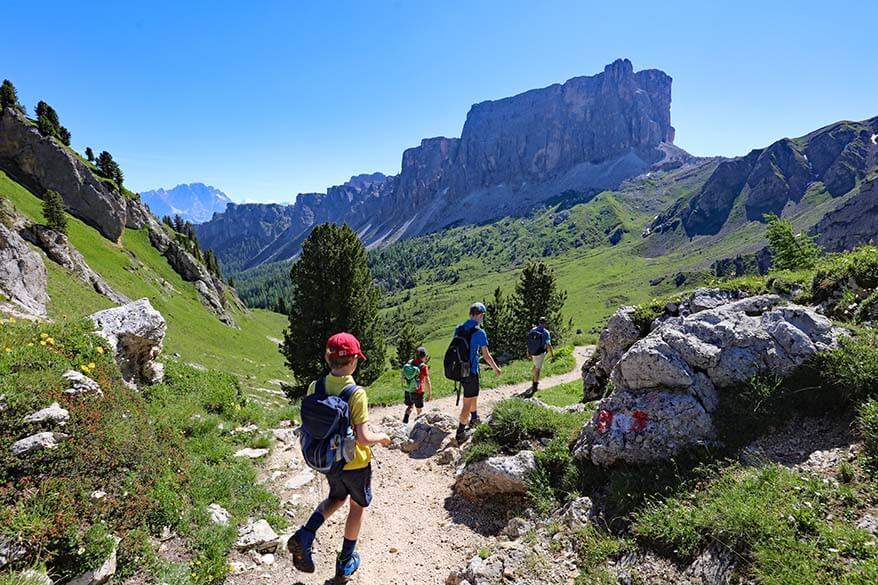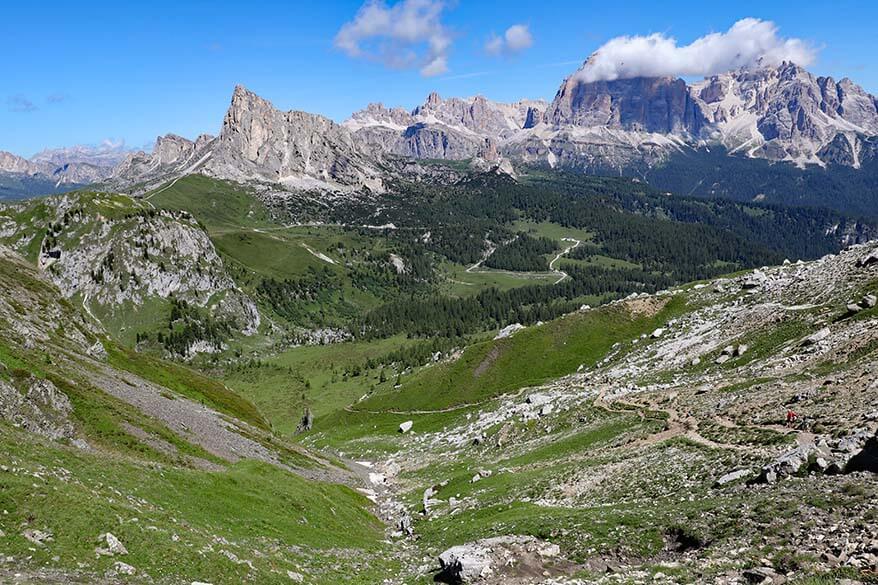 Forcella Giau to Forcella Ambrizzola
Once you reach Forcella Giau, you can catch your breath again. The toughest climb of this hike is now behind you and the scenery just keeps on getting better and better.
At the top, the trail splits again. Turn left and continue along trail no. 436 in the direction of Forcella Ambrizolla. Here, you'll be walking in between big rocks and it feels like a giant maze. Soon after that, you reach a more open area, Mondeval Plateau, with a relatively flat trail through the most beautiful Alpine meadows.
After a while, you'll see signs pointing to the Mesolithic burial site of the famous Mondeval Man whose remains have been found here. We didn't take this detour as there was no indication as to how far it was or how long it takes. But if you have time and energy, you may want to check it out.
Interesting to know: The hike between Passo di Giau and Forcella Ambrizolla is part of the famous 150km long Dolomite High Route 1 (Alta Via 1 – Dolomiten Höhenweg 1). So while hiking 150km is not for everyone, you can enjoy the stunning scenery of this iconic hike by doing parts of it.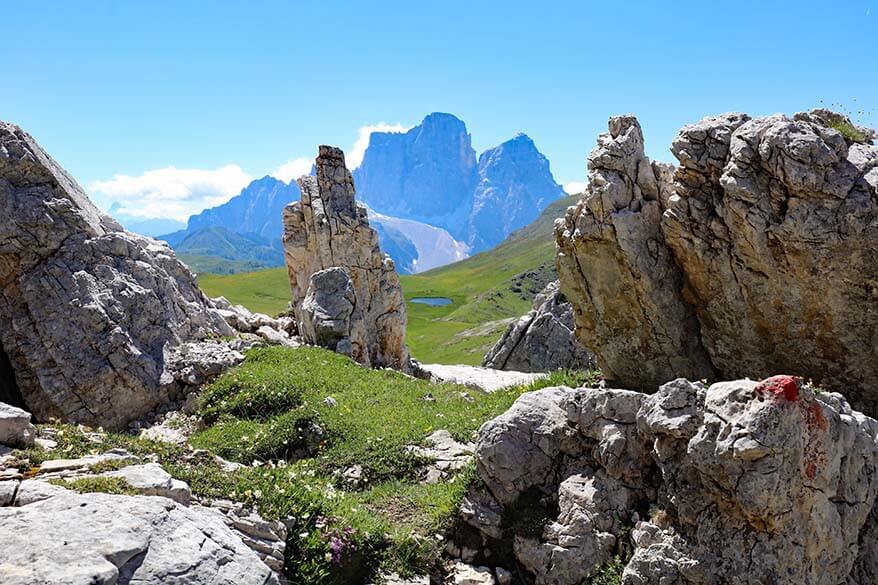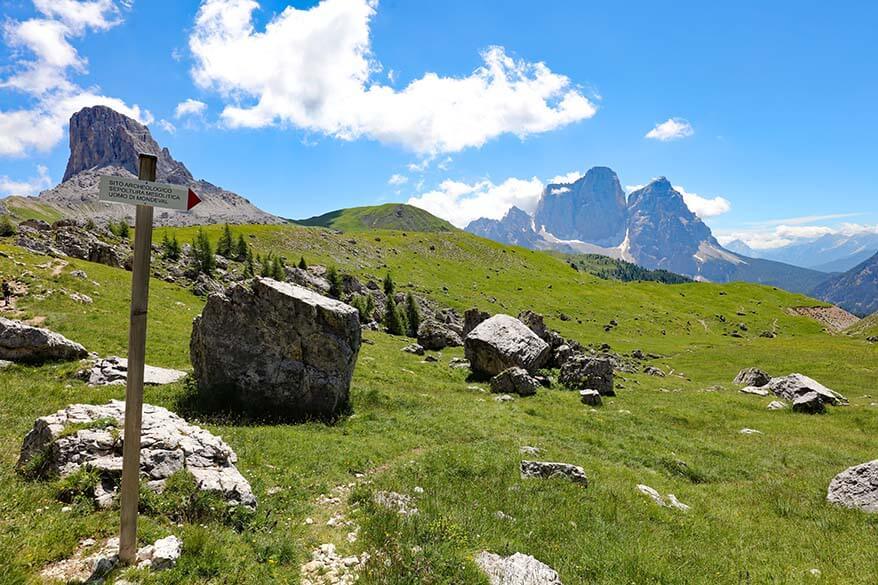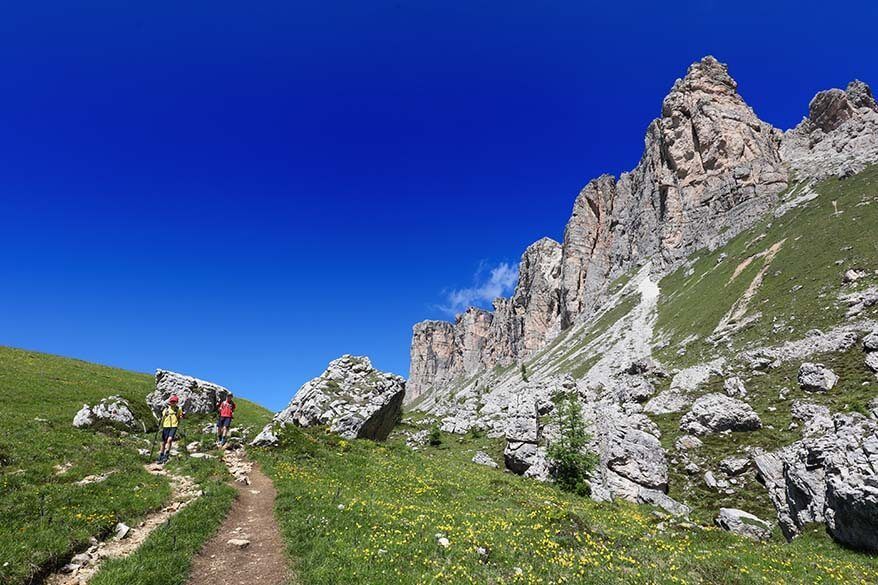 Trail 436 continues further and after a while you find yourself hiking along a small river. It's so beautiful here! After we crossed the river, we couldn't resist and took a long break here for picnic. This place is so picturesque that you'll never want to leave…
Soon after that, the trail starts climbing again. It's not as steep or as tough as the first climb, but when you finally reach Forcella Ambrizzola, you definitely feel like you conquered yet another milestone. The good news is that from here on, the hike gets much easier and you hike downhill pretty much the entire time.
* This part of the hike from Forcella Giau to Forcella Ambrizzola took us about 1.5 hours, including a long picnic and lots of photo stops.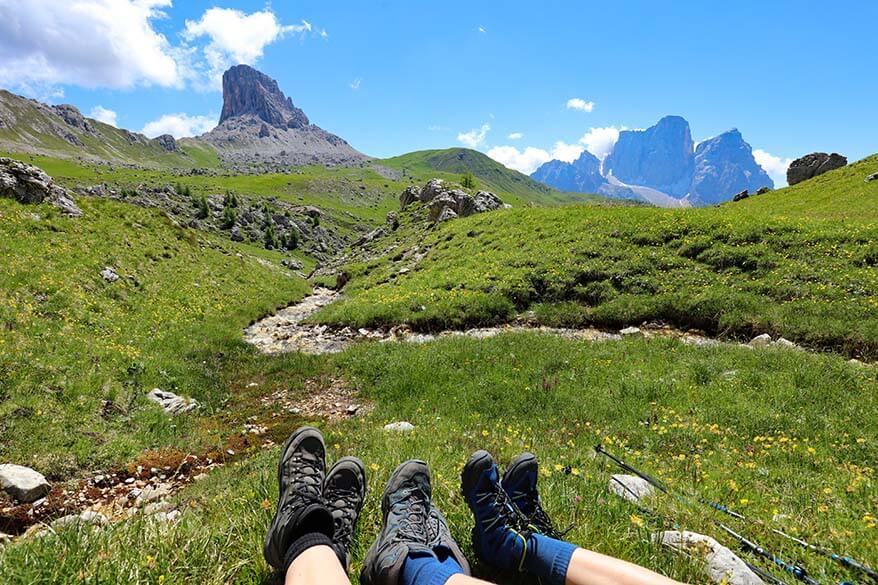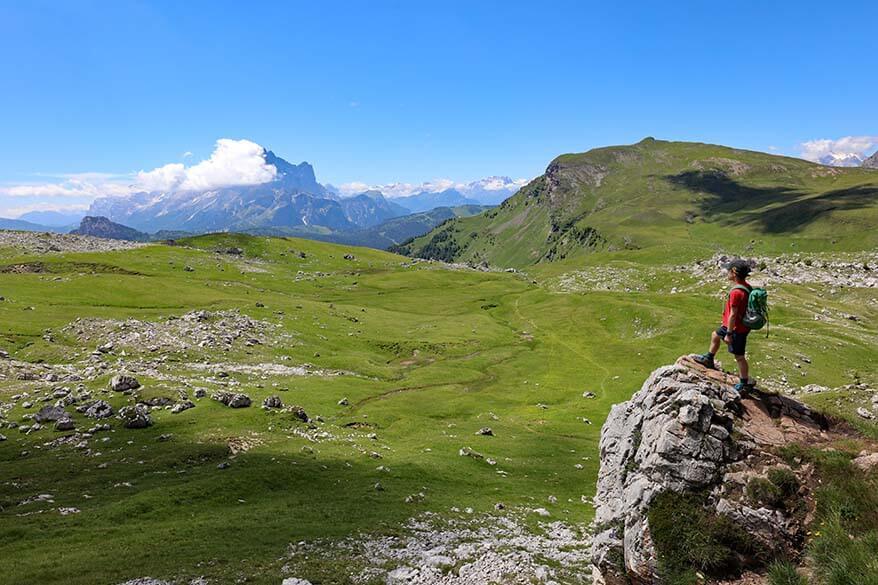 Forecella Ambrizzola to Lago Federa
At the top of Forcella Ambrizolla, the trail splits again. Take the downhill trail no. 434 in the direction of Rifugio Croda da Lago, also known as Rifugio Palmieri at Lake Federa.
Soon, you'll see the mountain hut and the lake in the distance. It looks quite far, but you'll be there before you know it.
Just don't rush and take the time to look around and absorb the incredible views all around you! In the distance, you can see the entire town of Cortina d'Ampezzo and the mountains surrounding it. Also, don't forget to look back once in a while too – the view of Monte Formin is stunning.
* This part of the hike from Forecella Ambrizzola to Lago Federa took us a bit less than half an hour.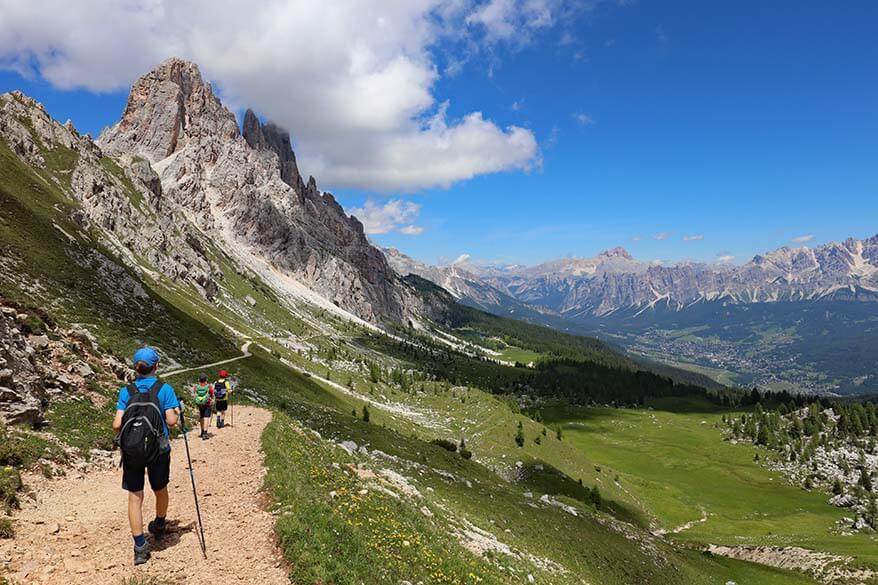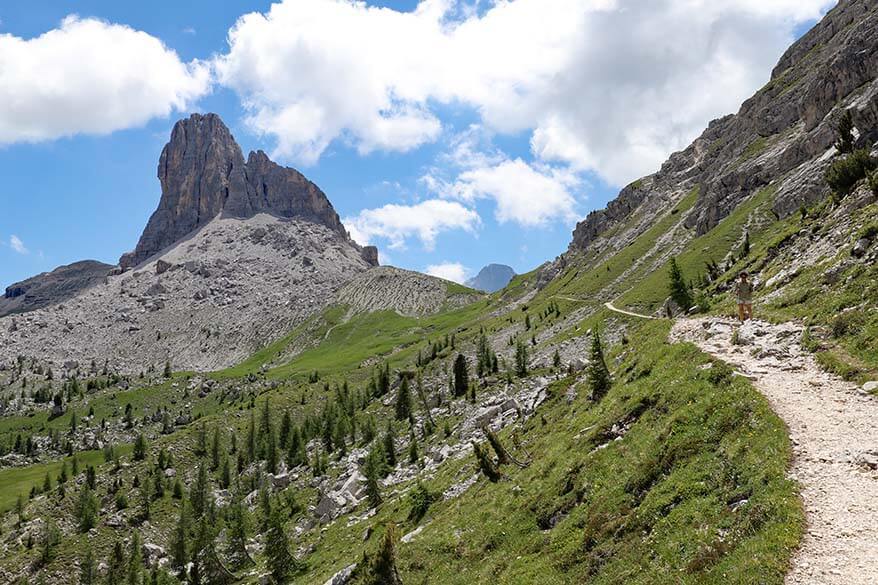 Lago Federa
Lago Federa is a small and picturesque mountain lake. To many people, it's the main reason to hike in this area. The chances are high that you saw some pictures of the lake and they convinced you to visit. But while the lake is definitely nice, I have to say that it's not nearly as beautiful in reality as we expected it to be based on the images we saw…
If we would have hiked here from Ru Curto and not experienced the stunning scenery between Passo Giau and Forecella Ambrizzola, I think we would have been really disappointed. This is, of course, very subjective and you may feel differently. But having seen Lago di Braies, Lago di Sorapis, Lago di Dobbiaco, and even the tiny Lago di Limides, we found that Lago di Federa couldn't compete with any of them…
TIP: If you want to find the same beautiful angles as in the majority of the pictures, you'll have to walk to the other side of the lake. Luckily, the lake isn't big and even though the path isn't always easy, you can walk around Lake Federa in 15-20 minutes.
If you are here for photography, ideally, you have a tripod and a good tele lens with you… If you are lucky and there is no wind and the skies are blue, you might be able to photograph some beautiful reflections on the lake that you see in all the pictures.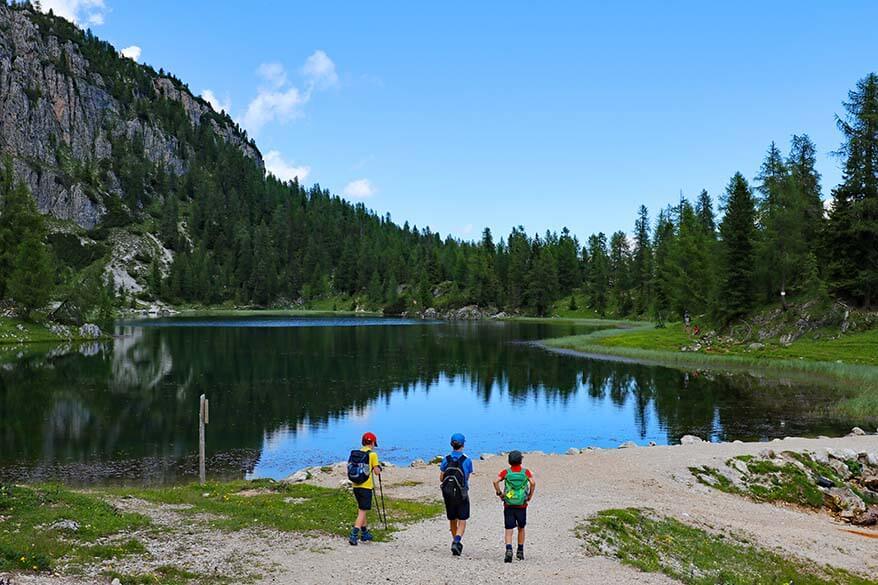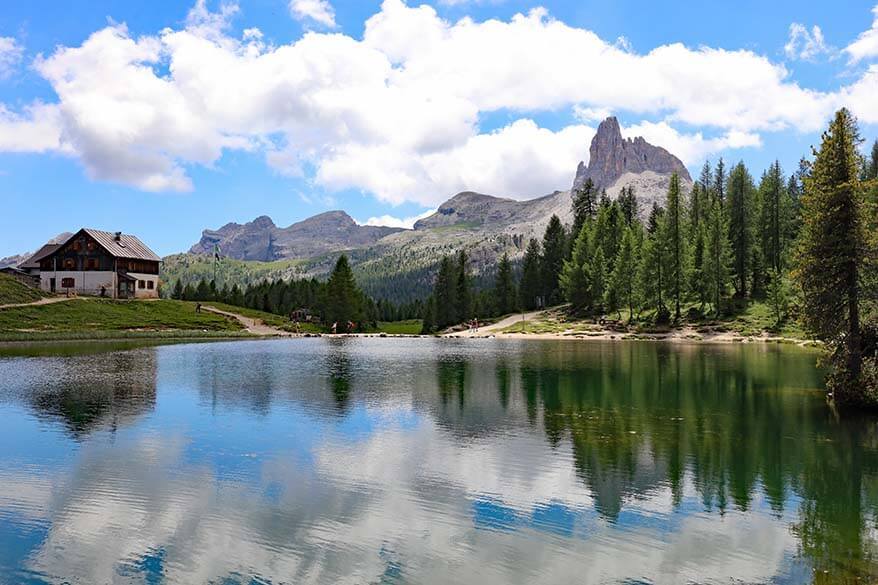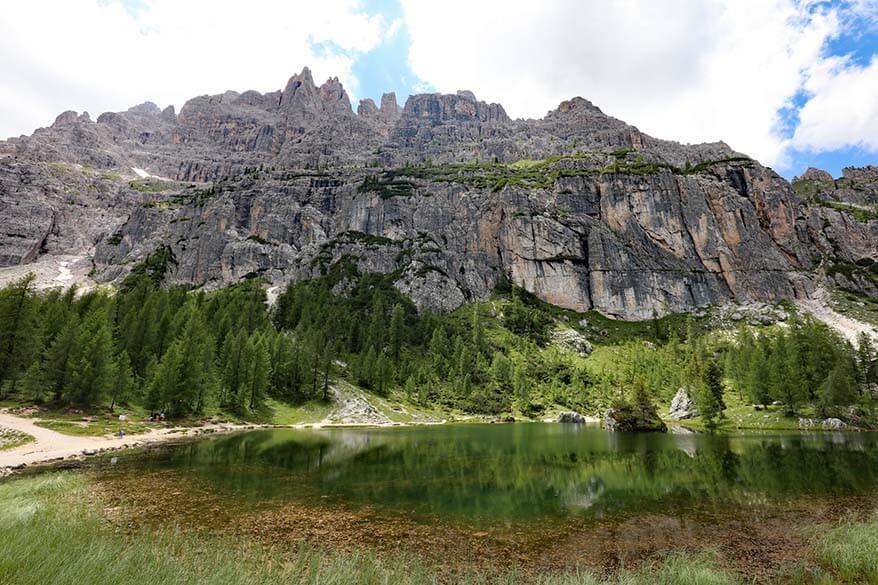 Rifugio Croda da Lago (Palmieri Mountain Hut)
At the southeastern side of Lago Federa, there is a mountain hut Rifugio Croda da Lago, also known as Rifugio Palmieri. It's a popular place for many hikers to have lunch, get a drink, or use the bathroom.
Many people just take the shortest route from Ru Curto to Lago Federa, have a long lunch at Rifugio Croda da Lago, and walk back. Furthermore, many hiking trails in the area pass here as well. So it can get quite busy at this mountain hut, especially at around lunchtime.
We were here in the early afternoon and we had a picnic lunch before, but we couldn't resist taking a break at the mountain hut as well. Even though you can't see the lake, the scenery and the views from their outdoor terrace are beautiful, and there is always a good time for some delicious apple strudel that this region is famous for…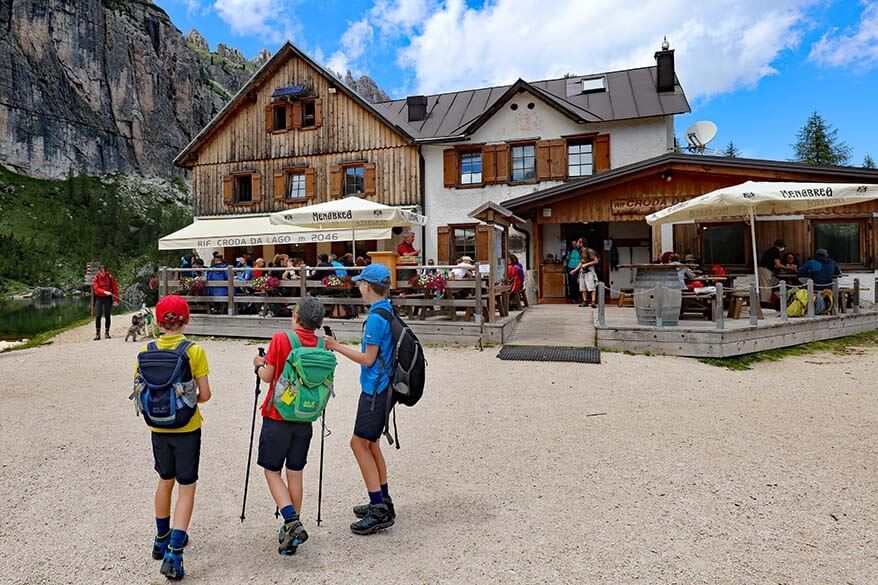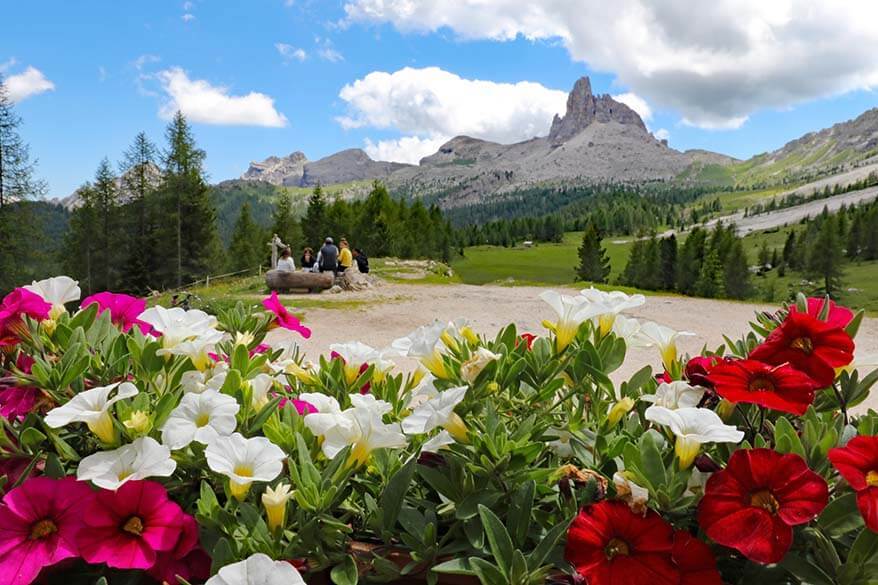 Lago Federa to Ru Curto (Pain del Pantan)
The hike from Lago Federa to Ru Curto where we left the car in the morning is a downhill hike and it gets really steep at the end. The trail starts between the lake at the mountain hut – look for sings to trail no. 434 to Ponte de Ru Curto. Towards the end, the trail will split once more; you'll need to take trail no. 437 Ru Curto – it's well indicated.
At first, you walk through the forest. Then the views open up a bit and the scenery is really nice. Don't forget to stop at the viewpoint Val Negra at 2,048 m – the scenery you see here is absolutely breathtaking!
However, soon enough you start a very steep descent and from then on, it's mostly gravel under your feet and trees around you. I highly recommend hiking poles for this part of the hike!
Once you walk next to a river gorge, you know that you are almost back at Ru Curto. Just another 20 minutes or so and you'll be back at Ru Curto, at the main road between Cortina and Passo Giau. Since we left our car here in the morning, for us, this was the end of our hike.
* The downhill hike from Lago Federa to Ru Curto took us about 1 hour and 15 minutes.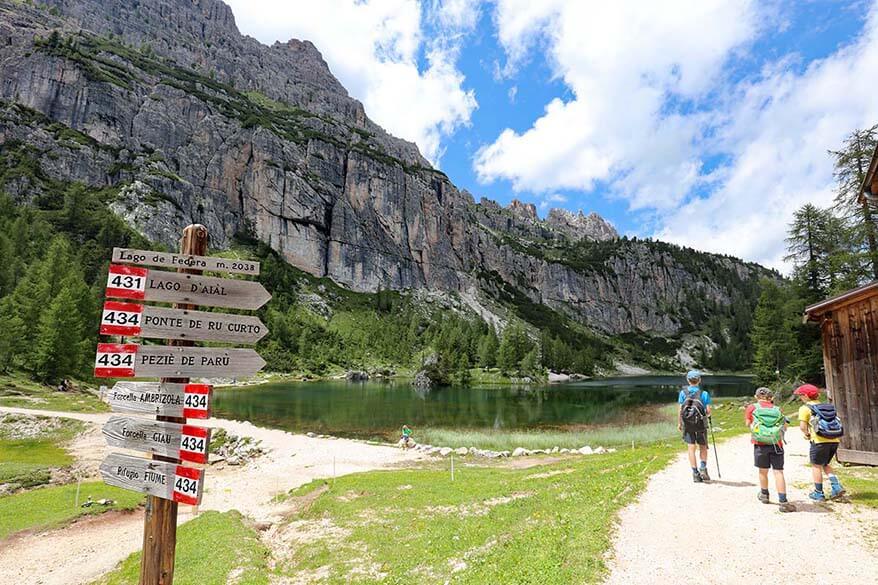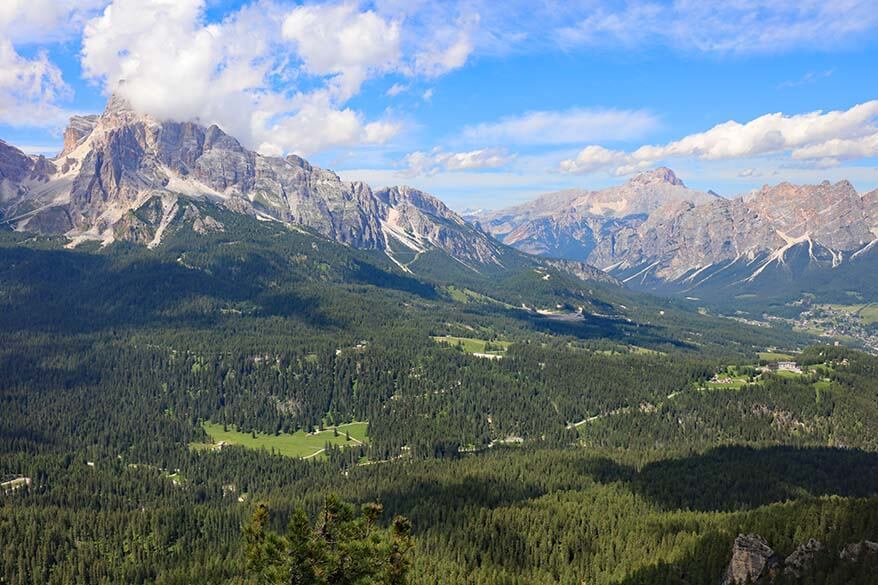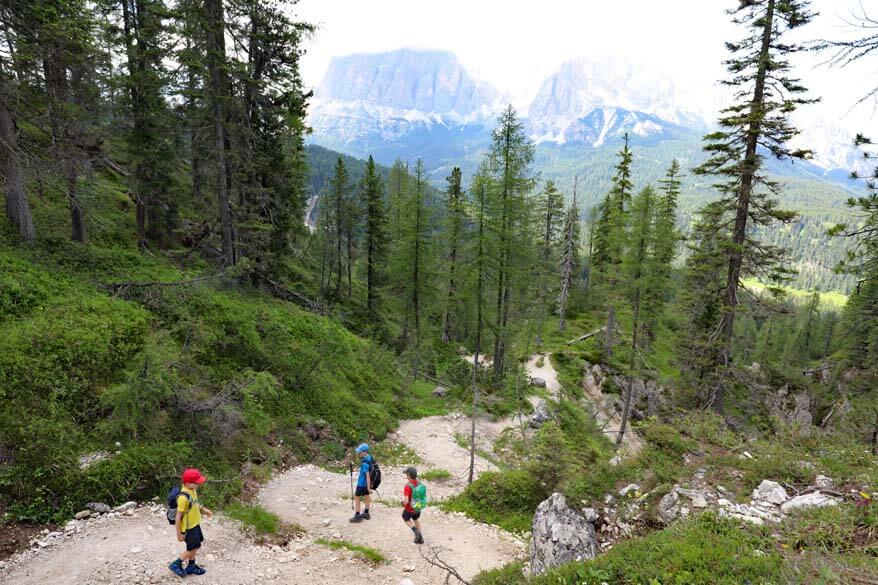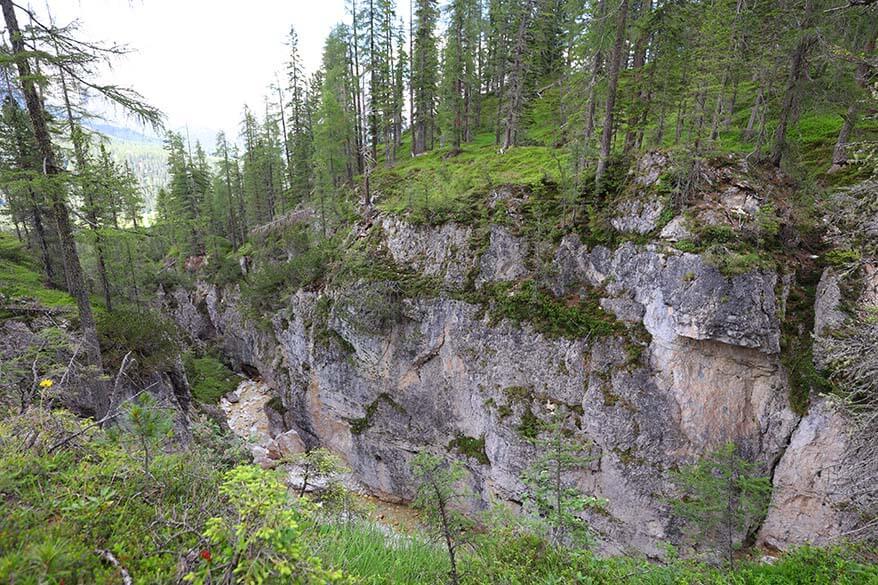 Hike Duration
The entire hike from Passo Giau to Lake Federa and to Ru Curto took us 5 hours and 40 minutes. This includes photo stops, rest stops, picnic lunch, time for drinks and desserts at Rifugio Croda da Lago, and a walk around the entire lake. We are recreational hikers, so we don't hike fast.
If you only count the hiking time, you could do this hike in about 3.5 – 4 hours. Just don't forget to enjoy the scenery!
Also, take into account that this doesn't include the time we wasted waiting for a bus that never came, the taxi to Passo Giau, and the time we spent at Passo Giau before we started the hike.
I recommend planning an entire day for this hike. We arrived at Ru Curto before 9 AM, but because of the bus that didn't show up, we only got to Passo Giau at 10 AM, and only started the hike at 10.30 AM (it was too beautiful at Passo Giau to leave without exploring a bit). We were back at the car at 4.10 PM.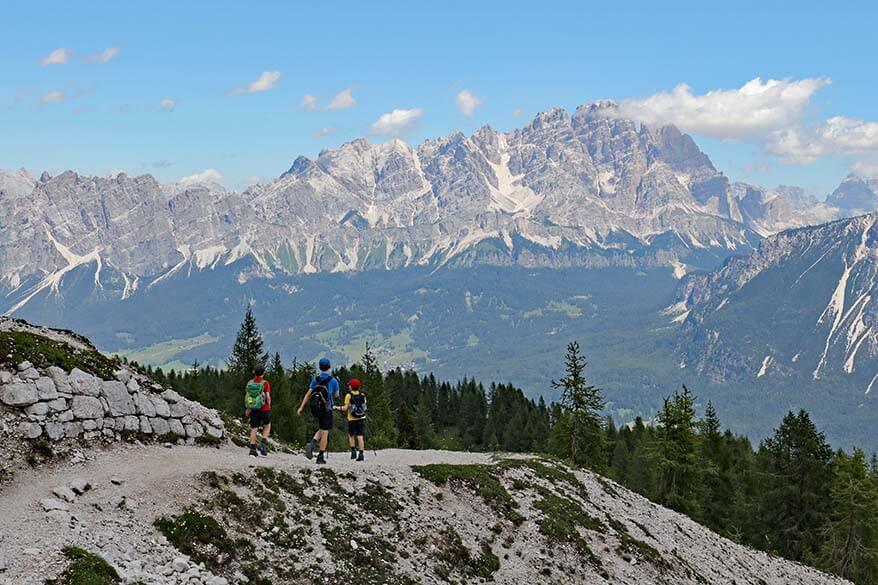 Passo Giau to Lago Federa Hike with Kids
We did this hike from Passo Giau to Lago Federa with our three kids, age 9, 9, and 11 at that time. While the steeper climbs in the beginning were a bit challenging for all of us, the kids managed the hike just fine. We also saw a few other families on this hike, also with a bit younger kids. I think you could attempt this hike with kids from about 6-7 years old (if they have hiked before).
We met a family doing this hike with two kids in the opposite direction. They started at Ru Curto just as we got into a taxi and we met them as we were walking down to Lago Federa from Forcella Ambrizolla. They looked quite exhausted already, whereas for us it was all downhill from then on.
If you start at Passo Giau, you'll be climbing just 338 m (1,108ft) and walking downhill for the majority of the hike (953 m (3,126 ft) elevation loss). The other way around, you'd have a much more strenuous climb. So I wouldn't recommend doing this hike in the other direction, definitely not with young children.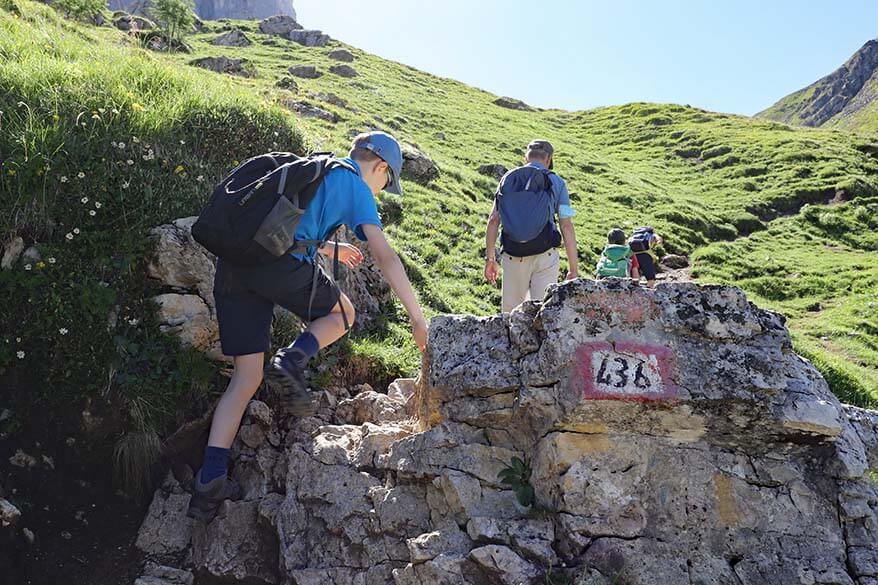 TIP: If you just want to visit Lago Federa with kids, then you should probably start at Ru Curto and take the shortest hiking trail to the lake and then back the same way.
It's indicated as trail no. 437 to Rifugio Croda da Lago, followed by trail 434 afterwards. It will still be a steep climb to get to the lake, but it's nothing compared to walking all the way to Passo Giau from Lago Federa.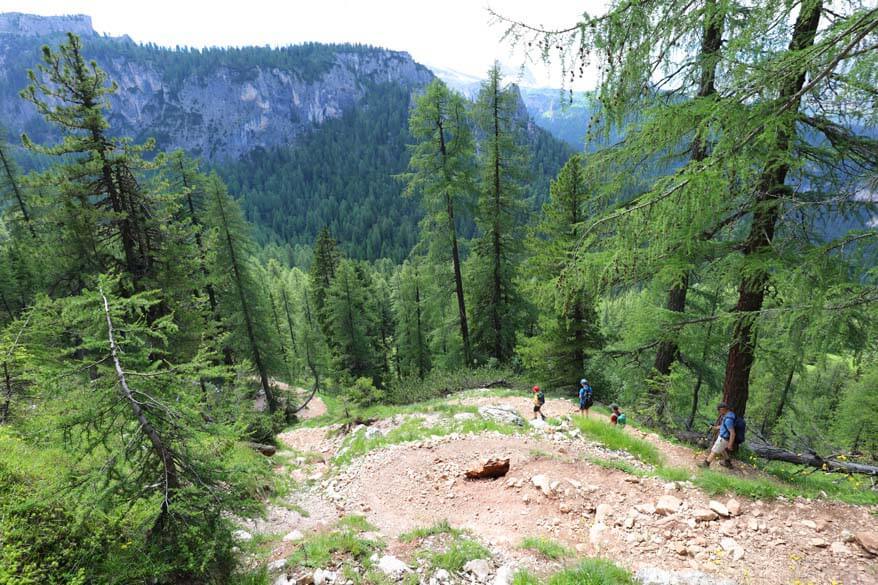 Is Lake Federa Worth It?
While the lake is quite nice and the reflections make it quite picturesque, we found that Lago Federa doesn't live up to its hype. The scenery at Passo Giau, Forcella Giau, and Forcella Ambrizzola, on the other hand, is absolutely spectacular.
So if you do the entire hike from Passo Giau to Lago Federa, then yes, it's definitely worth it!
If, however, you just take the shortest route and hike to Lago Federa from Ru Curto, you'll miss most of the best views and will have to tackle the steepest climb. Many people do this and still find that the hike is worth it for the lake alone, so I'll leave it up to you to decide.
There are also many other possibilities how to get to this lake, some of them even include a rather long uphill hike from Cortina d'Ampezzo.
TIP: If you can arrange transportation, I highly recommend that you hike to Lago Federa as we did it – starting at Passo Giau and ending at Ru Curto/ Pain del Pantan. It was recommended to us by the local tourism office as one of the most spectacular hikes in the area and it definitely didn't disappoint!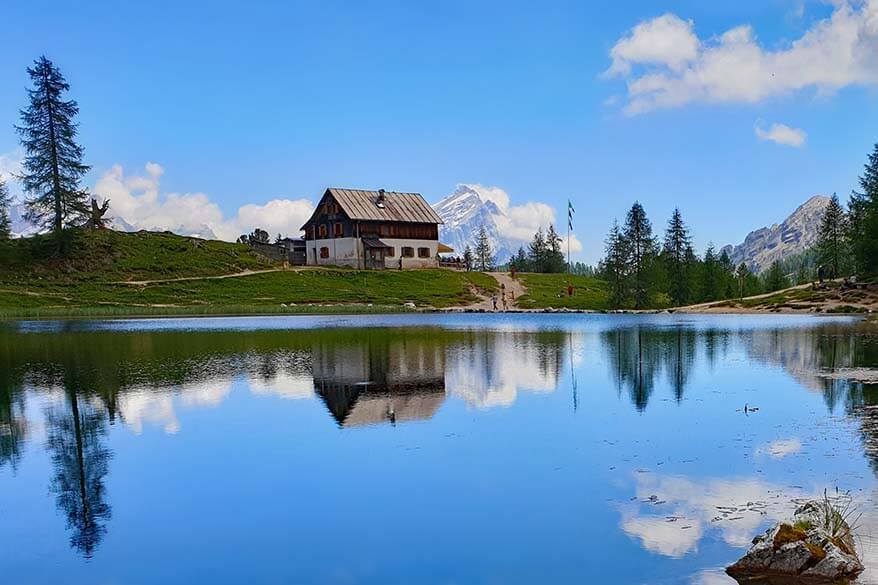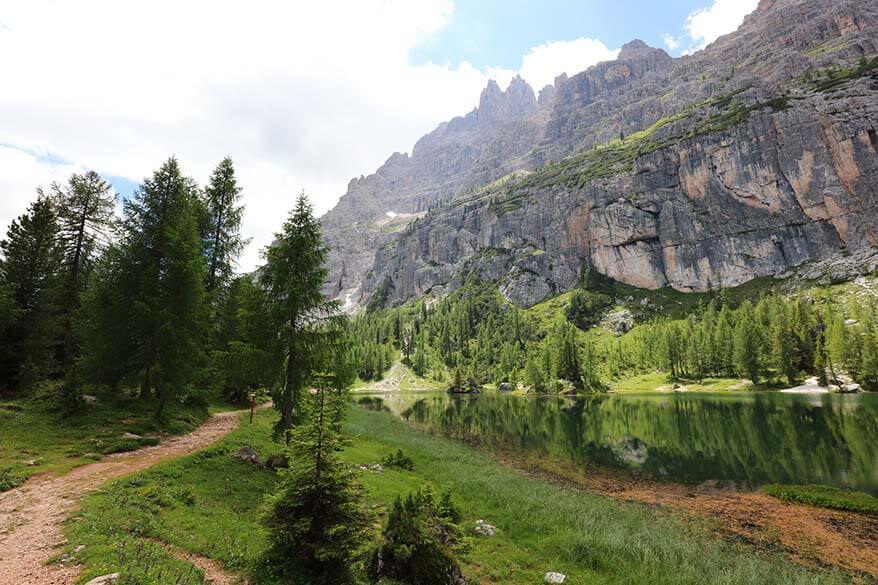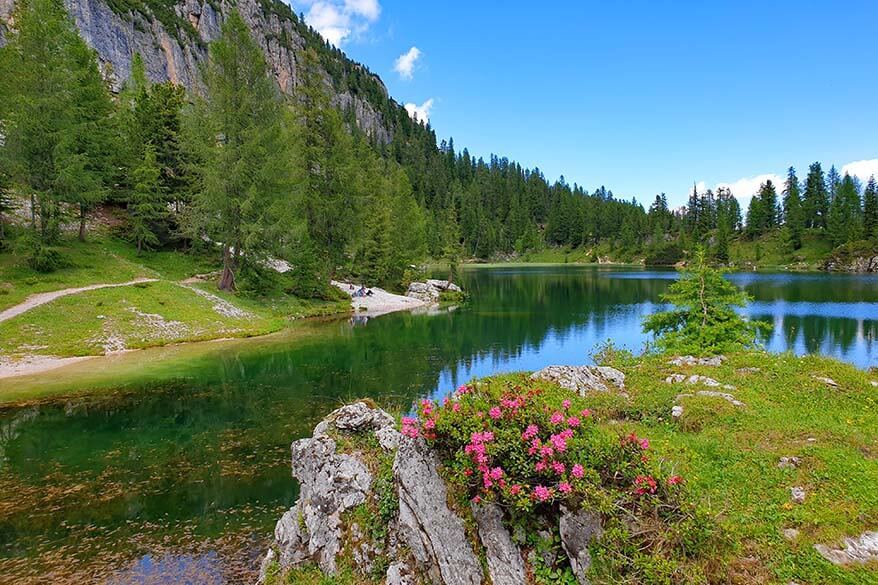 So, this is our guide to hiking to Lake Federa in the Italian Dolomites. If you have any questions, feel free to leave a reply below and we'll try to help.
READ ALSO:
Best Hikes in the Italian Dolomites
Best Places to Visit in the Dolomites
Most Beautiful Mountain Lakes in the Dolomites
TIP: Via the links below, you can read about some of our favorite places in the Italian Dolomites. Most of them are much easier to visit than Lake Federa.
If you found this post useful, don't forget to bookmark it and share it with your friends. Are you on Pinterest? Pin this image!