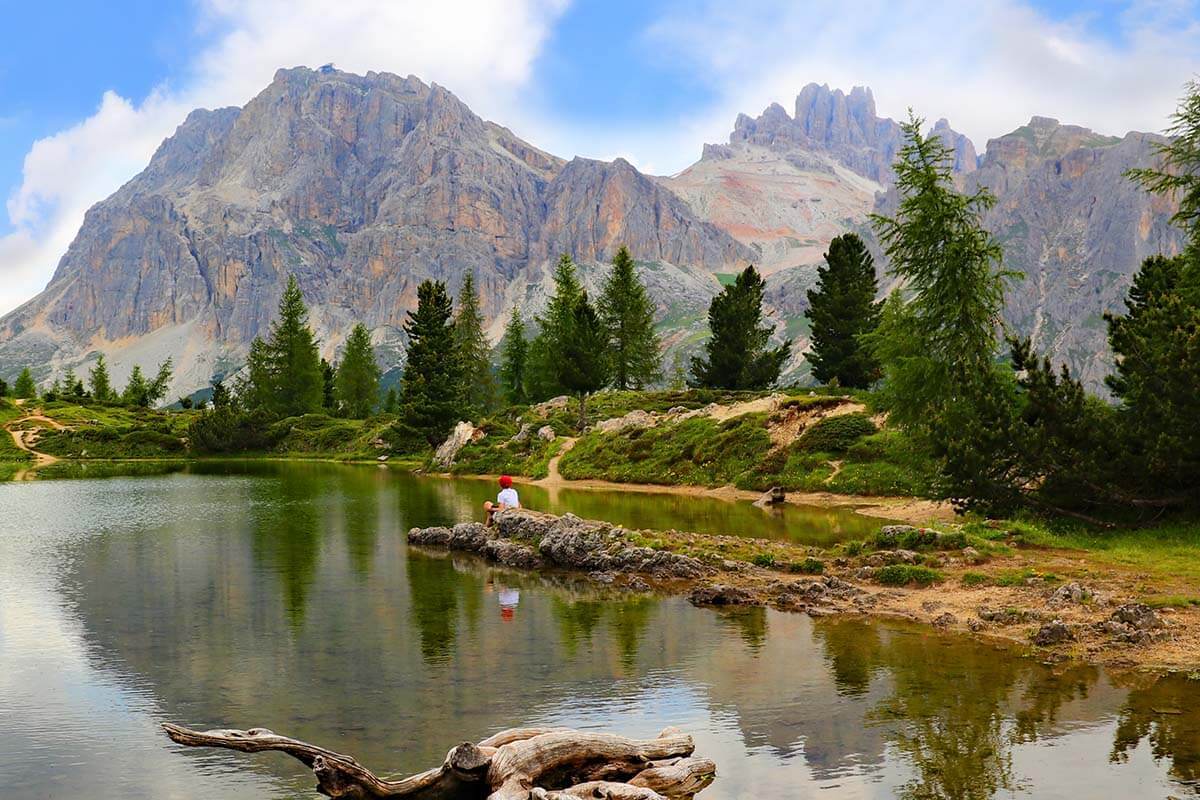 Lago di Limides – Lake Limides is a very picturesque mountain lake in the Dolomites, Italy. Surrounded by some of the most beautiful scenery near Falzarego Pass, this tiny lake is furthermore very easy to visit and doesn't require much time!
The hike to Lago Limides is also the easiest of all the best hikes we did and recommend in the Dolomites. If you are looking for beautiful scenery and a short family-friendly hike that truly has it all, then definitely consider visiting Lago Limides!
TIP: Lago Limides is a great short stop to stretch your legs when driving between Val Gardena and Cortina d'Ampezzo. You can also easily combine this short hike with one of the longer day hikes at the Falzarego Pass or stop here when you visit Cinque Torri.
In this guide, you can find all the information for the short but very picturesque hike to Lake Limides. Find out!
Lago Limides Hike
This is an overview of the shortest hike to Lago Limides, based on our GPS tracking app:
Distance: 1 km one way (2 km (1.25 miles) round trip)
Time: 20-25 min one way. Count at least 1 hour for a visit, lots of photo stops included. Or pack a picnic and stay here longer.
Elevation gain/ loss: 120 m (393 ft).
Start/ end point: Car parking at Rifugio Col Gallina, 1 km east from Falzarego Pass (see map).
Getting there: The best way to get here is by car. In high season, you can take a bus that goes between Cortina and Falzarego Pass. There's a bus stop right at Col Gallina.
Hiking equipment: Hiking shoes are recommended. If you are hiking here when it's wet, you may want to take hiking poles as well. The track is very slippery when it rains.
Why visit
Lake Limides is a very picturesque mountain lake that offers amazing views of the surrounding areas in the heart of the Dolomite mountains. It's very pretty and is extremely easy to visit = perfect combination!
This small lake is every photographer's dream as it has the most spectacular reflections of the surrounding mountains. You can see the peaks of Lagazuoi, Tofana di Rozes, Sasso di Stria, and Averau reflected in its calm waters.
Furthermore, if you visit in early summer, you'll find the most colorful mountain flowers along the shores of the lake. It's truly picture-perfect.
We stopped here on a rainy afternoon when the sky was grey (and it even started to rain). Despite mostly grey skies, the lake was very beautiful and the reflections were amazing. I can just try to imagine how it looks like on a sunny day when the sky is blue!
Hiking to Lake Limides
The hike to Lake Limedes starts at the car parking area near Rifugio Col Gallina. Park your car on the right side of the road with Falzarego Pass behind you and walk to the far end of the car parking area. Rifugio Col Gaillna will be on your right side, but you don't have to pass it.
At the end of the car parking, you'll find signs for several hikes. Follow trail no. 419 in the direction of Forcella Averau. A bit later, Lake Limides is indicated as well.
The hike goes through a forest and starts climbing pretty much from the start. You'll be walking uphill all the time.
Based on my GPS tracking app, this climb is about 120 meters (393 ft). But that also means that you'll be walking downhill the whole time on your way back.
Along the way, you pass several interesting caves that you can check out. In front of you, is the Mt. Croda Negra area. Behind, you can see Lagazuoi Mountain and stunning mountain scenery. We hiked here at the beginning of July and there were so many flowers along this trail. So beautiful!
Before you know it, you'll see a little mountain lake in front of you – Lago di Limides. We were surprised at how quickly we reached this lake – it's really a very short walk.
Good to know: Before our hike, we found conflicting information about how long the hike to Limides Lake was. Most websites seemed to say that you should count 40 to 50 minutes one way. However, we were there in 23 minutes (17 minutes walking time according to my app). And we don't walk that fast.
Lago di Limides
Lake Limides is a glacial mountain lake that is fed by melting snow and rainwater. We read that this lake tends to dry out by the end of the summer and that the best time to visit it is in June – when there is no snow on the hiking path and still plenty of water in the lake.
However, we were here in July and the lake had plenty of water and looked absolutely stunning.
TIP: Once you reach the lake, take your time to walk along its shores and enjoy the views from the other side as well. I found that the views and the reflections were even better at the south-eastern side of the lake.
Because of its beauty and easy accessibility, this lake is a very popular destination in the Dolomites. So if you come here on a sunny weekend in summer, you may not find a parking spot nearby. However, on a grey afternoon on a Friday in July, we had the whole lake all to ourselves. Magical!
After visiting Lake Limides, take the same trail (no. 419) back to Rifugio Col Gallina.
Best Time to Visit
The best time to visit Lake Limides is in early summer (June – early July) or in September when the water level is usually high. In the middle of the summer, the lake is often completely dry. And in winter, the whole area is covered with snow.
Avoid sunny weekends during summer school holidays and try to visit either in the morning or late in the afternoon.
TIP: If you are staying nearby, you may want to visit Lake Limides in the evening, around sunset. The hike back to the car is so short and easy that you can easily see the magical light at the lake at sunset and get back to your car long before it gets dark.
Lake Limides with Kids
Since this is such a short and picturesque hike, Lake Limides is a perfect excursion for families with kids.
Despite the fact that the trail goes uphill, it's really not a challenging hike. I think that most kids from about 3-4 years old should be able to complete this hike on their own.
Our kids (age 9-11 when we visited) were at the lake long before we got there. They just couldn't believe that the hike was so easy and short.
TIP: Pack a picnic and you can make a really nice half-day trip visiting Lake Limides with children. But do arrive early as the parking area fills up very quickly, especially on the weekends during summer holidays.
More Hikes Nearby
There are so many hiking trails near Lake Limides that you can easily combine a visit to this lake with any of the longer hikes in this area. In that case, you may want to buy this Tabacco hiking map of the Cortina d'Ampezzo area and find a hike that interests you.
Falzarego Pass is just nearby and there are lots of great hikes and interesting war sites there. Or you can hike to Averau or Croda Negra from Lake Limides. The famous Cinque Torri is also very close-by and has a perfect mix of stunning scenery and interesting war sites that are well worth visiting.
TIP: If you are not bound to a car, you could start your hike at Falzarego Pass, walk to Lake Limides, and continue to Rifugio Averau. From there, you can either walk down in the direction of Cinque Torri or to Passo Giau, on the other side of the mountains.
Both – Passo Giau and Cinque Torri – are stunning areas and well worth visiting! Just make sure that buses are running or look-up some phone numbers of local taxi companies so that they can pick you up after the hike. Or you can do as we did and visit all these areas separately.
So, this is our short guide to visiting Lago Limides. If you are looking for more beautiful mountain lakes that you can easily visit in this part of the Dolomites, check out Lago di Braies and Lago di Dobbiaco.
Also Lago Missurina on the way to the famous Tre Cime di Lavaredo peaks is a beautiful lake that's just next to the road. Don't miss!
If you don't mind a bigger challenge and a longer hike, Lago di Sorapis is not to be missed in the Dolomites! Also Lago di Federa is a nice little mountain lake with phenomenal scenery on your way there!
READ ALSO: Best Lakes of the Italian Dolomites
More travel inspiration for the Dolomites:
If you found this post useful, don't forget to bookmark it and share it with your friends. Are you on Pinterest? Pin these images!