Visiting Albufeira in the Algarve region in Portugal and wondering what there is to see and do here? In this guide, we cover the best places to see and things to do in Albufeira, coupled with some useful tips and advice for your visit. Find out!
Located on the beautiful coast of the Algarve region, Albufeira is known as one of the most popular seaside resorts in Portugal. So it will come as no surprise that the main attractions in Albufeira are related to the sea, beaches, and water activities. But there's more to Albufeira than it might look at first sight and you'll quickly see why it's such a popular vacation destination!
However, your experience in Albufeira will highly depend on when you visit and which parts of town. This is mainly due to the fact that during the summer the town population increases tenfold. Plus, several streets in Albufeira can be very busy with partying people during summer nights.
The good thing is that the town is big and it's lively during the entire year. So there is a lot to see and do in Albufeira (not even to mention the surrounding areas) no matter when you visit. And there is plenty to explore and enjoy for all types of travelers.
In this guide, we cover some of the very best things to do in Albufeira. From its historic old town to stunning beaches and fun activities, there's truly something here for everyone. In addition, there are many other amazing places to see near Albufeira, but covering all that would require a few extra articles. So in this guide, we only focus on the town and its immediate surroundings, plus the best excursion possibilities starting from Albufeira.
Top 3 Experiences in Albufeira: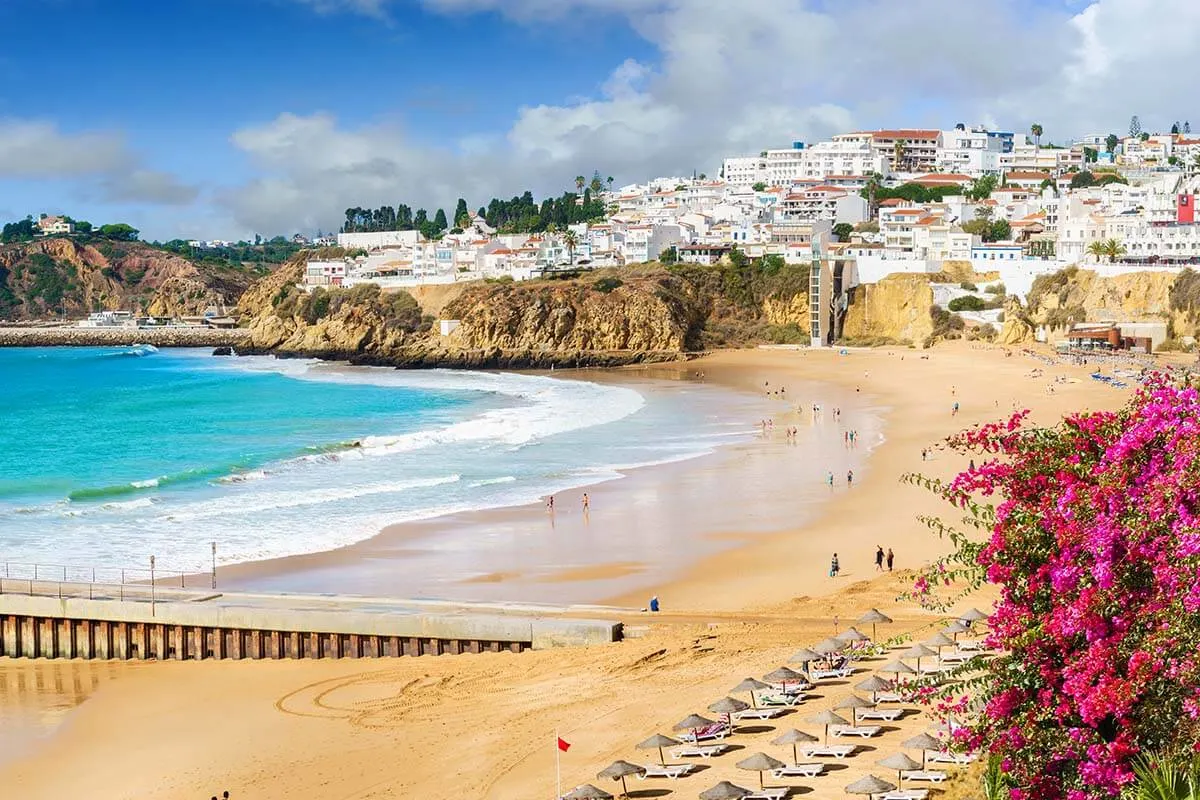 To help you plan your time, we also created a map indicating all the best places to see in Albufeira. You can find it at the bottom of this article.
In addition, you can find our recommendations for some of the best sightseeing tours, hotels, and useful tips for first-time visitors.
TIP: An introductory sightseeing tour by tuk-tuk is one of the best things to do in Albufeira when you just arrive in town for the first time. Yes, it's a bit touristy, but it's also fun. Plus, it gives you a good overview of the town layout and a quick introduction to everything that there is to see and do in the area. You can find more information about it further below as well.
Here are some additional recommendations for our personal favorite activities in Albufeira: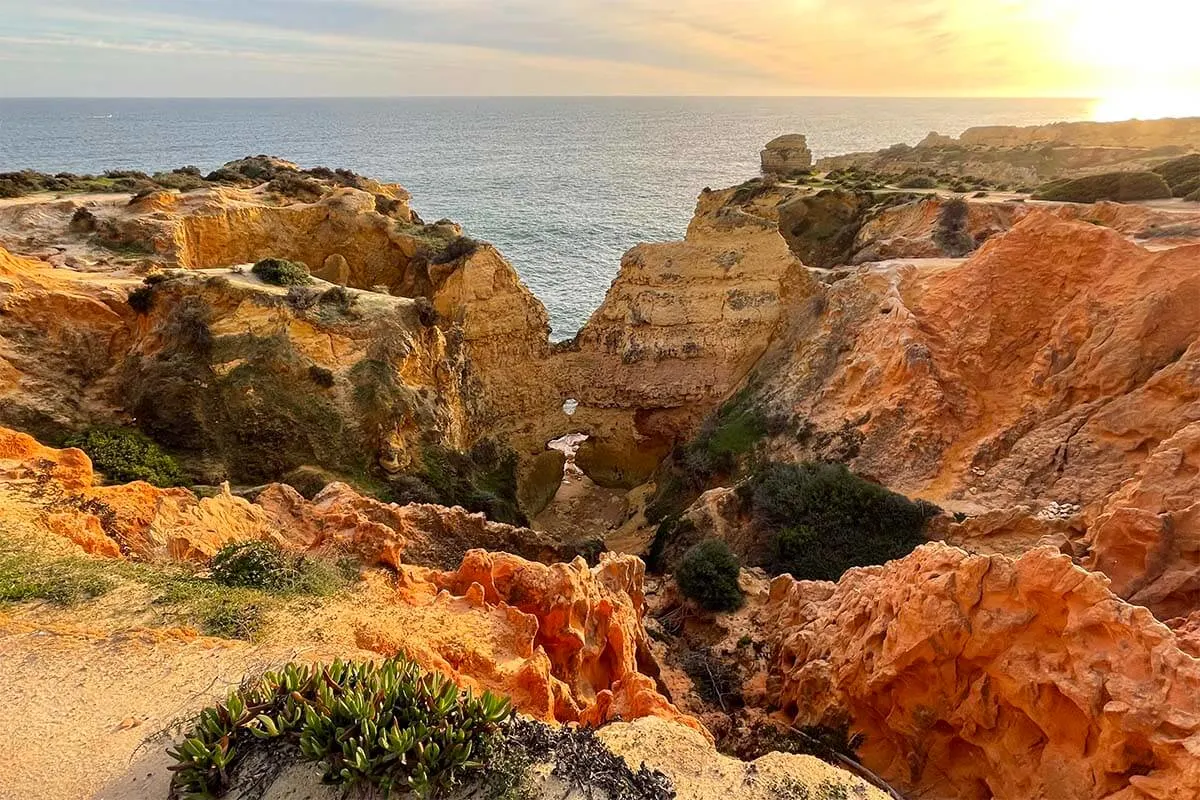 These are some of the best things to do in Albufeira:
1. Albufeira Old Town
With its fascinating history and Moorish-inspired architecture, Albufeira has more to offer than you might expect at first sight. And one of the best places to start your visit is the Old Town of Albufeira.
Some of the highlights here are SantAnna Church and the Bell Tower. Most of the time, it's just a quick photo stop to see these landmarks from the outside. But if the church would be miraculously open, be sure to take a look inside as well.
The liveliest part and the heart of Albufeira's old town is the square called Largo Engenheiro Duarte Pacheco and the streets around it. This is where you'll find lots of restaurants, cafes, bars, and souvenir stores. This is also where many events and celebrations take place (e.g. during Halloween, Carnival, New Year's Eve, Easter, etc.).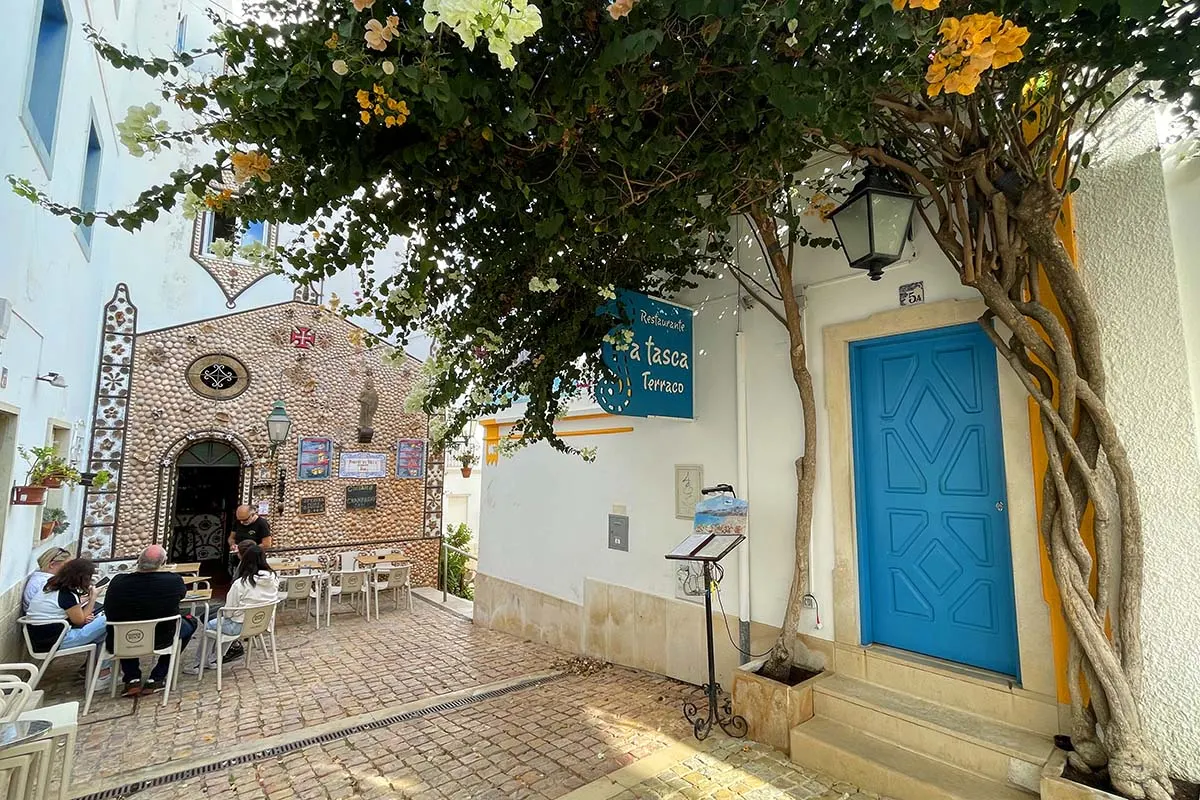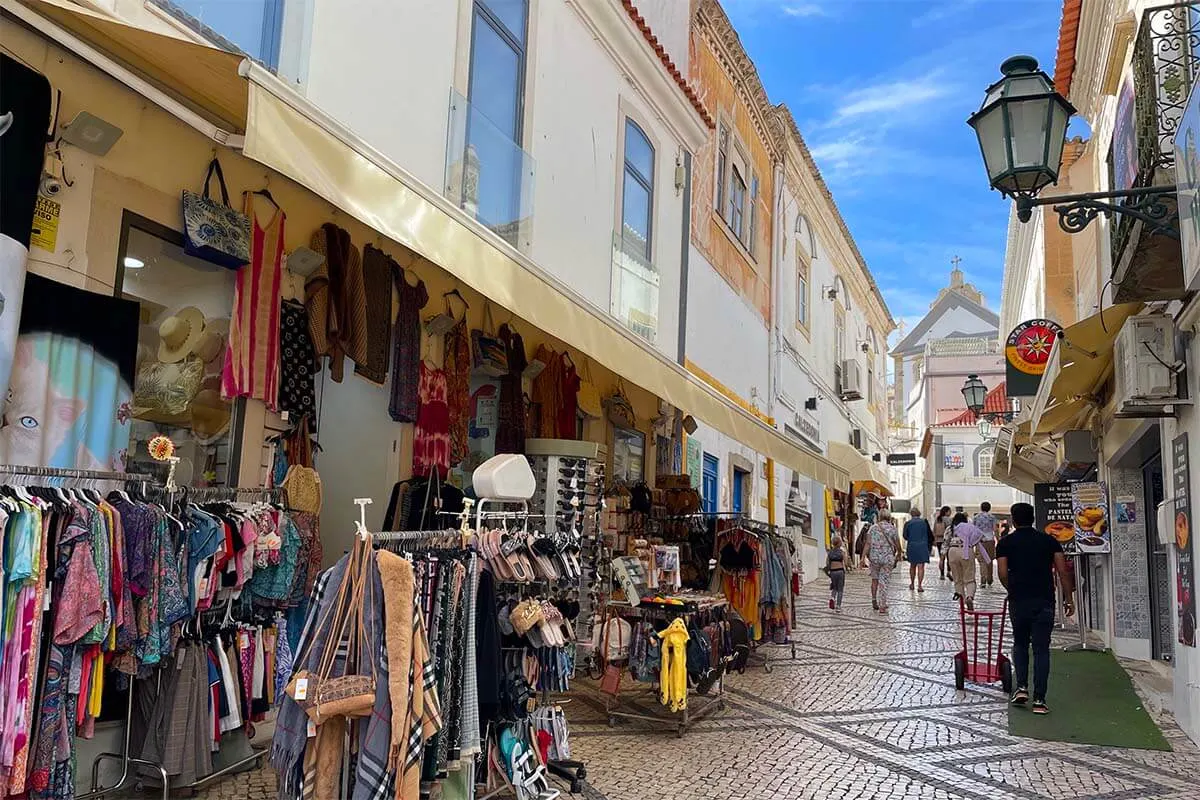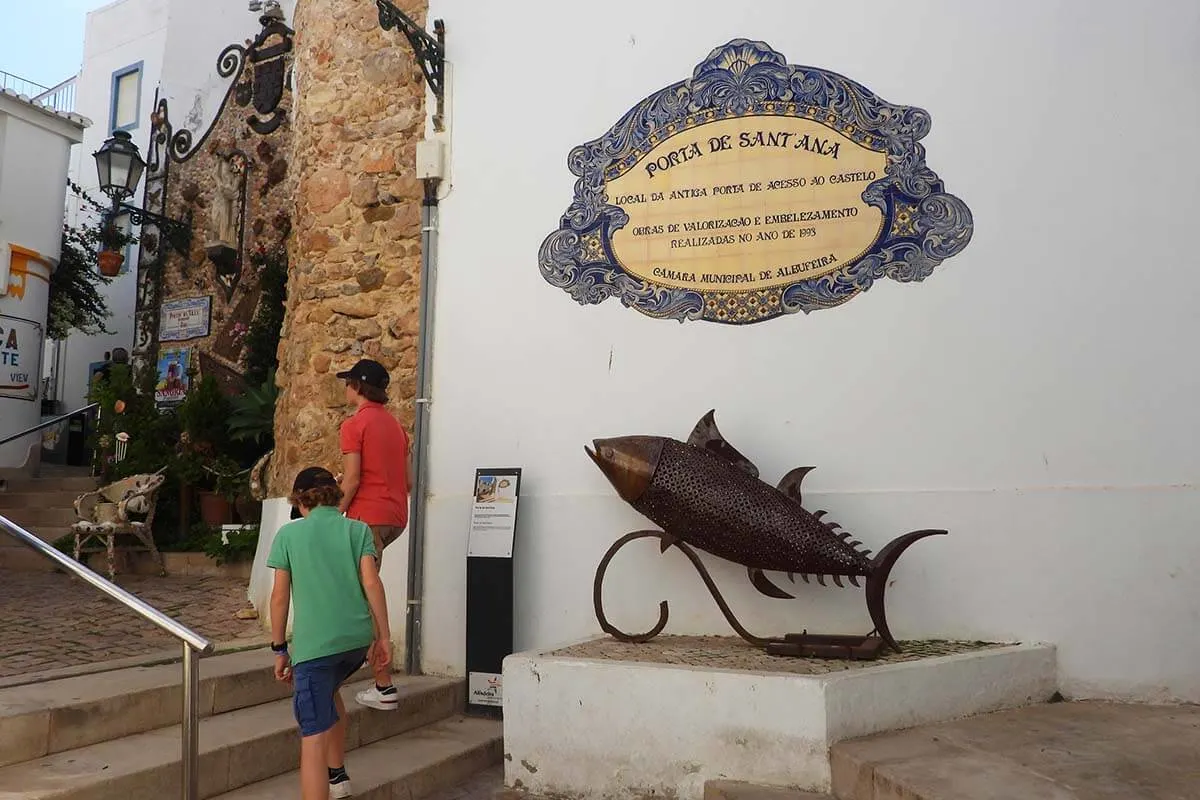 2. Albufeira Tunnel
The famous Albufeira Tunnel is really not such a big attraction in itself, but everyone in town will tell you to go see it. It's really one of the musts in Albufeira.
This is a pedestrian tunnel that connects the old town center to the main beach of Albufeira – Praia do Tunel.
When you walk through it (no matter which direction you go), you enter a totally different world. From the cobbled old town streets right into a big sandy beach and the wide ocean in front of you, or the other way around.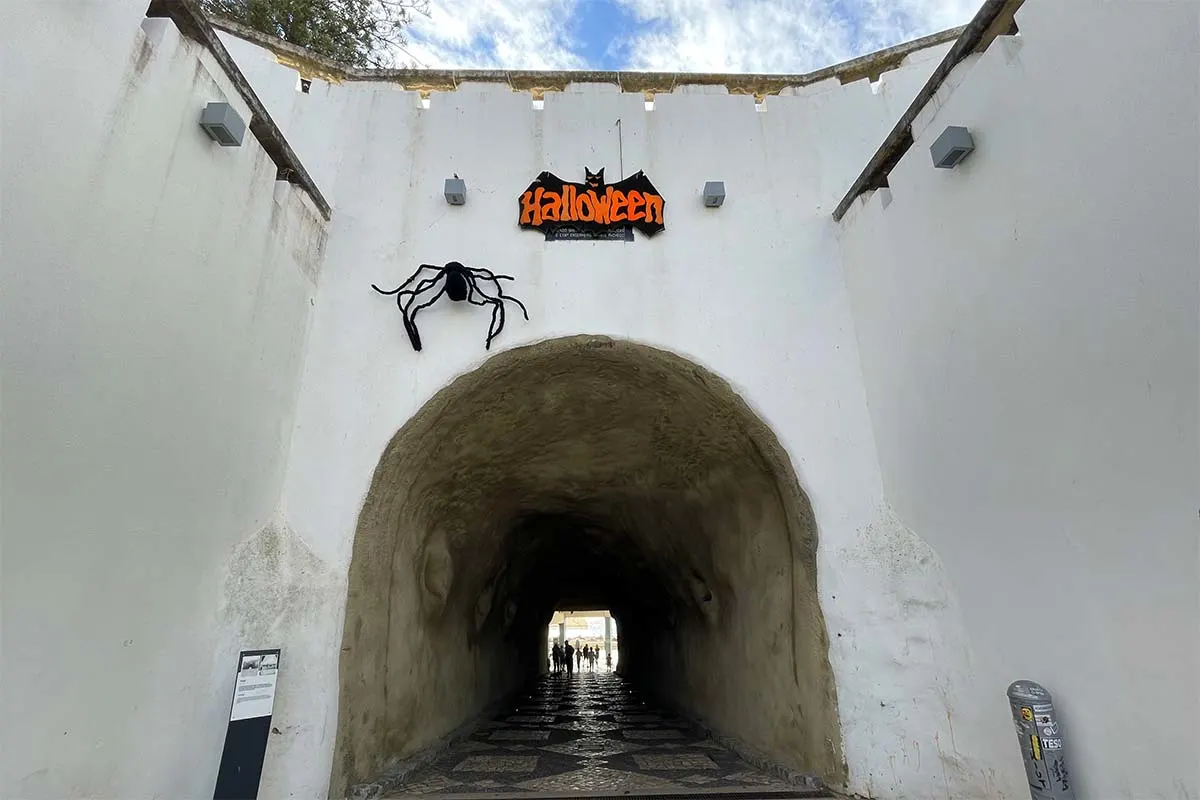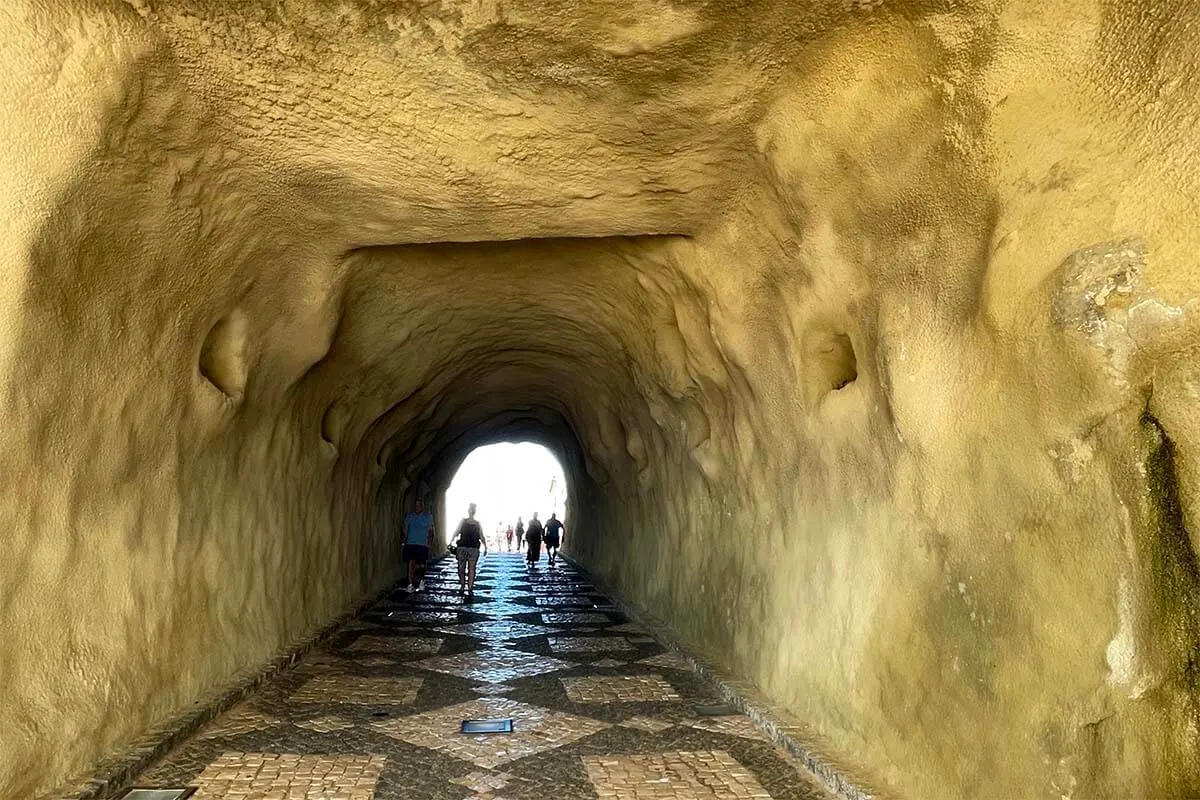 3. Beaches in Albufeira Town Center
Most people come to Algarve for the weather and the stunning beaches. Albufeira has no shortage of really nice beaches, and several of them are located right in the town center.
Praia do Tunel, Praia do Peneco, Praia Pescadores, or Praia dos Alemães, etc. might have different names, but these beaches are all connected and it's hard to say where one ends and the other one starts. They form one giant beach that's often referred to as the main beach of Albufeira, Praia de Albufeira.
This is a very long white-sand beach that is ideal for swimming and long walks by the sea. In the warmest months, you will find all the facilities here.
In the past, you could find traditional fishing boats on Fishermen's Beach. Nowadays, fishing boats depart from a dedicated area in Albufeira Marina. If you want to see traditional fishermen's boats, you have more chances at Praia Olhos de Água a few kilometers east of Albufeira. But also there, it's not the same as it used to be, and the beach gets very busy with sun-seekers in the high season.
Good to know: The main beaches of Albufeira are located much lower than many of the surrounding areas which are built on tall cliffs. But there are several easy ways to get here, such as the earlier-mentioned pedestrian tunnel, but also an elevator and stairs from the western part of the beach, and escalators connecting the beach to the old fishermen's district.
TIP: If you want to get from one part of Albufeira town to the other, it's often much quicker to walk via the beach. For example, it can take you 10 minutes to drive from the old town area to the old fishermen's neighborhood (not even to mention the time for parking, etc.), whereas you can walk between the two areas in 5-8 minutes. However, this is not the case for places located further away from the town center, because the beach is 'cut off' by rocks that can be hard to impossible to pass, depending on the tide.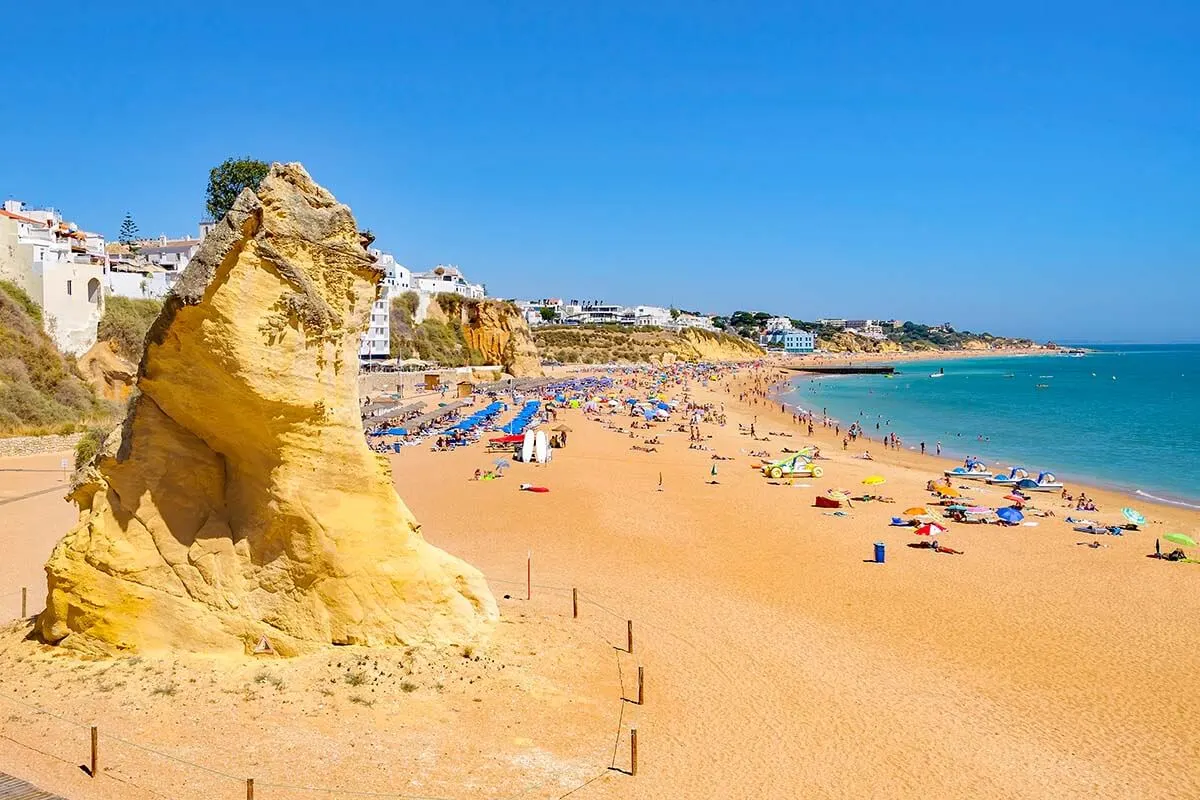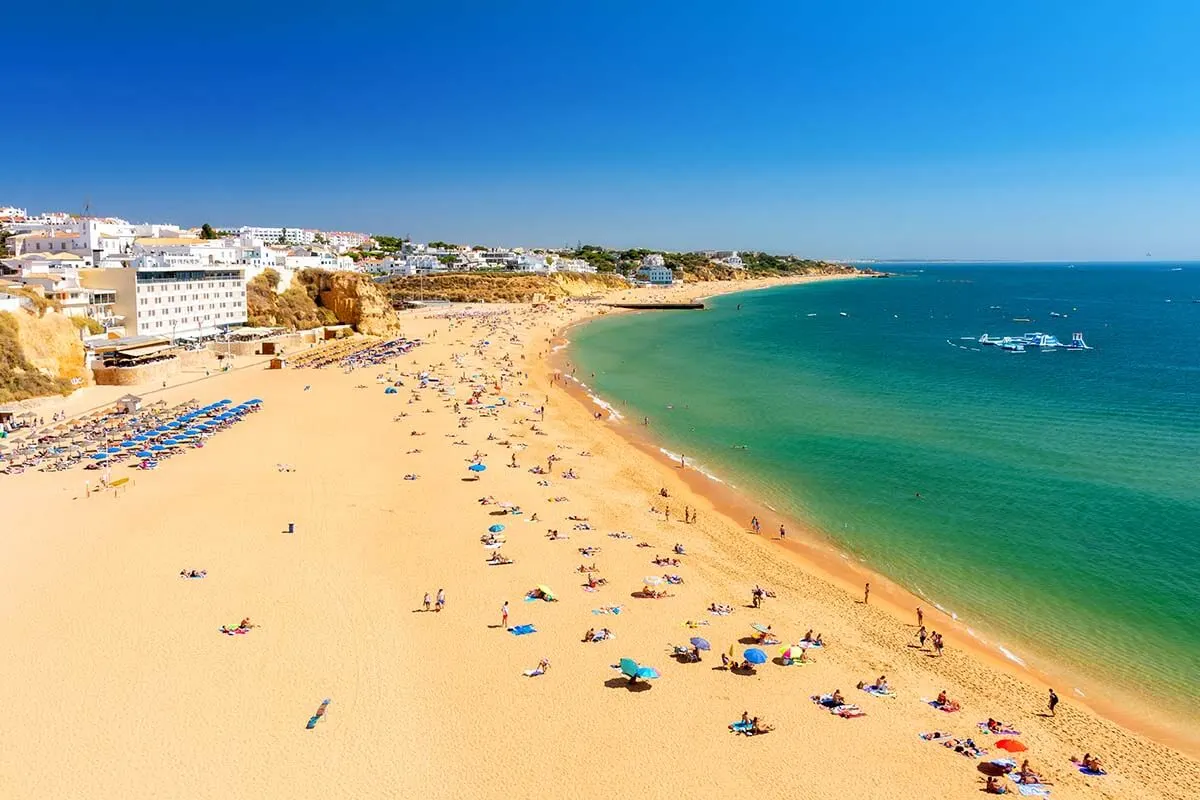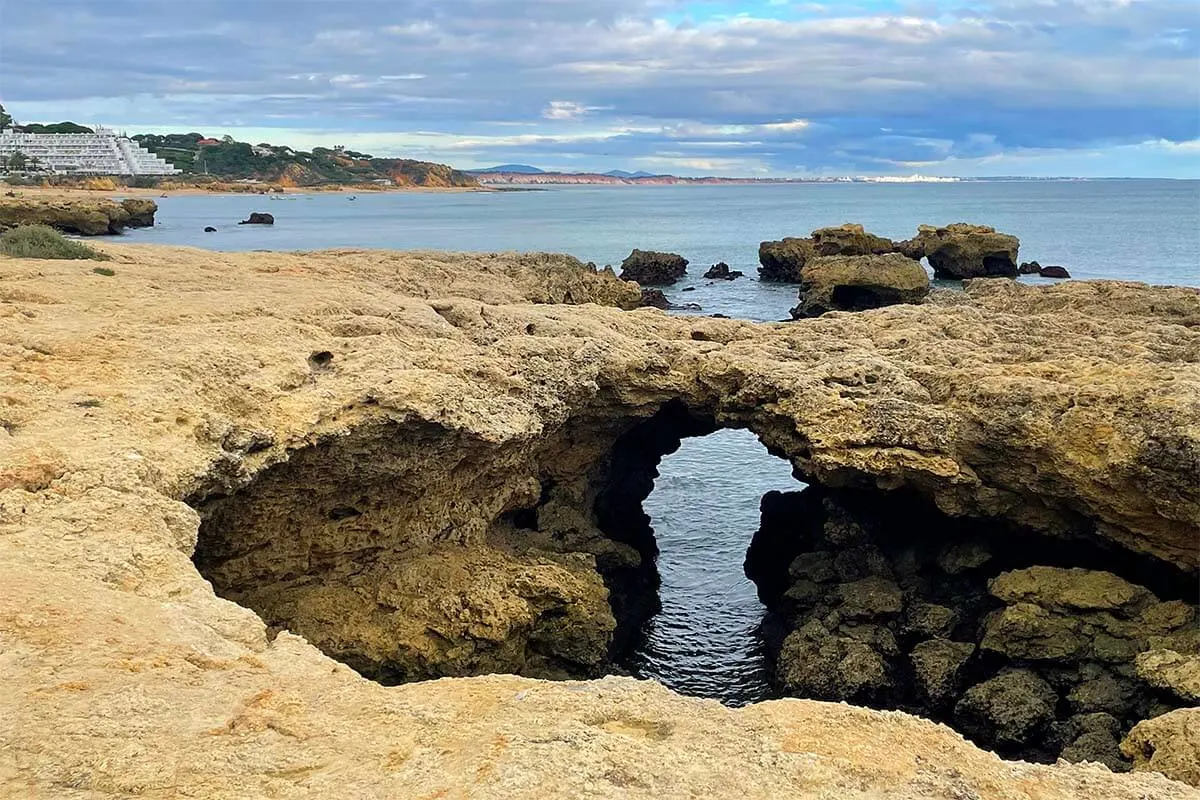 4. Old Fishermen's Area
Sitting high on the cliffs overlooking the sea and Praia Pescadores, you can find the old fishermen's neighborhood of Albufeira. In the past, this was the place where fishermen lived. Nowadays, their whitewashed little houses are used as tourist apartments, etc. And the fishing boats now depart from the dedicated area in the recently-built Albufeira Marina.
On the Rotunda dos Pescadores (the Fishermen's Roundabout) you can see an interesting piece of art, a tribute to the fishermen. And by the beach, you can find Monumento ao Pescador, a small monument dedicated to the fishermen of the region.
TIP: At the top of the cliff, next to DiVini Italian restaurant, there's a viewing platform – Miradouro do Pau da Bandeira – offering great views of Albufeira beach. The restaurant/gelateria is also quite nice and is one of the best places to watch the sunset in Albufeira.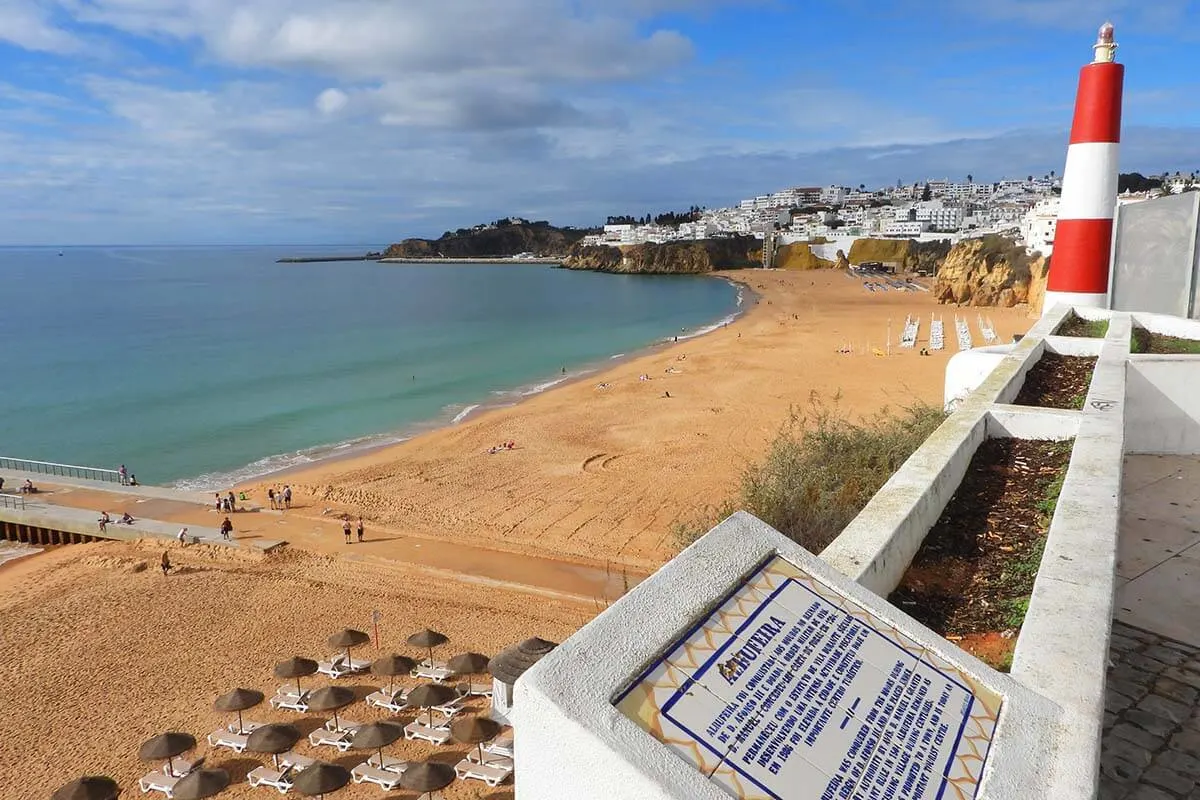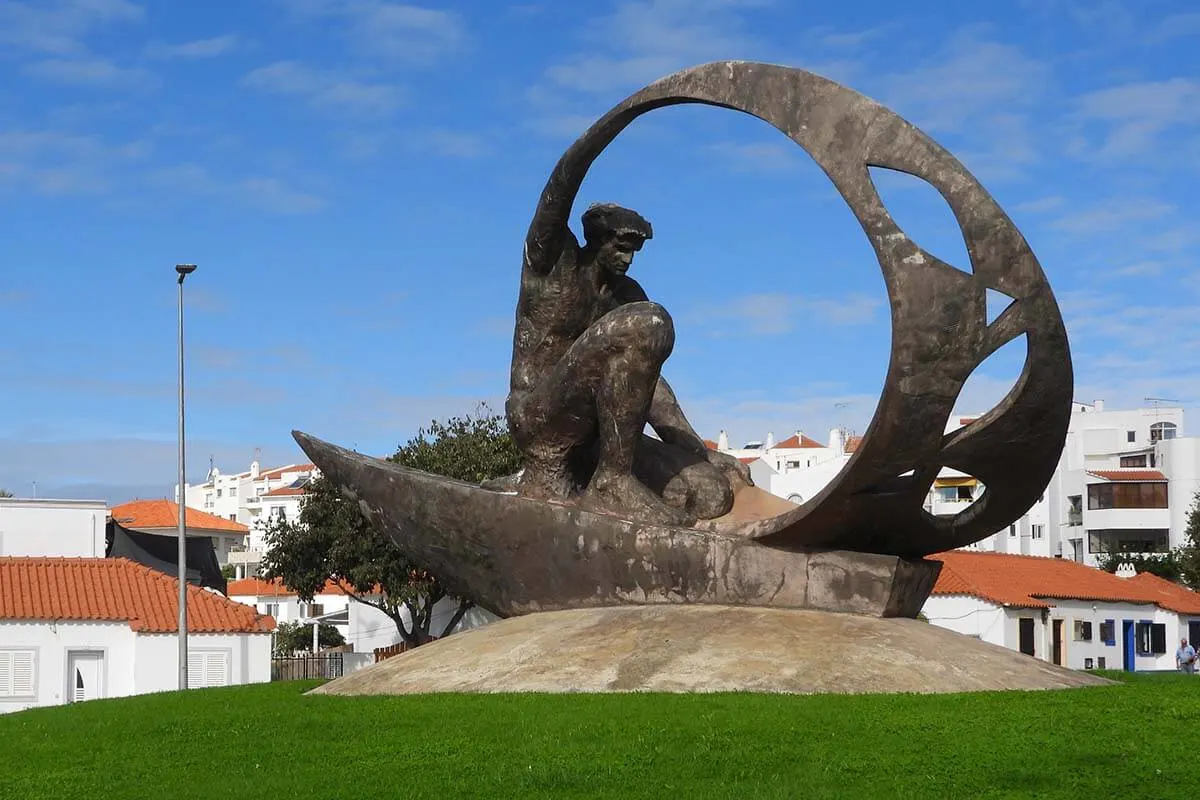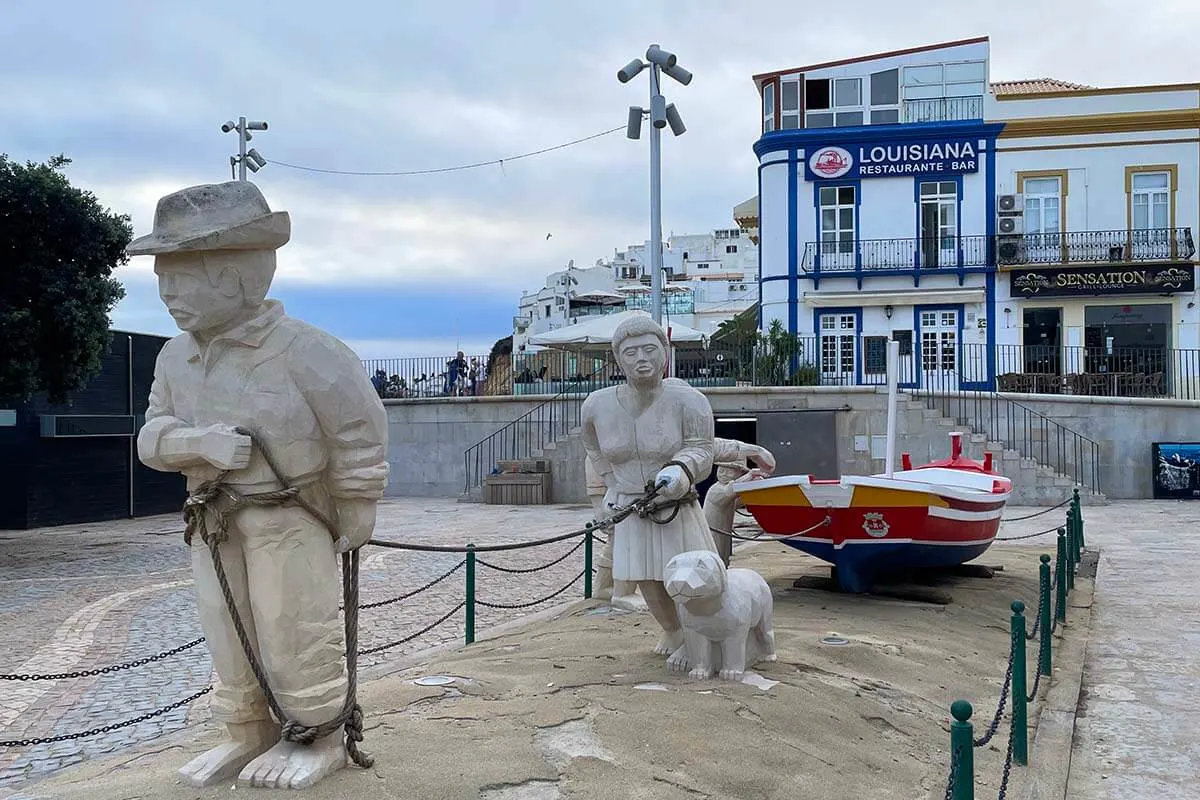 5. Peneco Beach & Peneco Elevator
Praia do Peneco is located on the westernmost side of the main beach in Albufeira. This beach is connected to the old town via steep stairs and an impressive glass elevator Elevador do Peneco.
On the farthest side of Peneco Beach itself, you can walk to the rock which is sticking out into the sea. You cannot walk all the way around it, but it's nice anyway, just be careful with the waves. If you want to get further to the west (toward Albufeira Marina), you will first have to take the elevator (or stairs) to the top.
At the top, there is a pedestrian walkway – Esplanada Dr. Frutuoso da Silva – from where you can enjoy nice views of the beaches below. There are also a couple of viewing platforms with benches offering nice views of the city and the sea.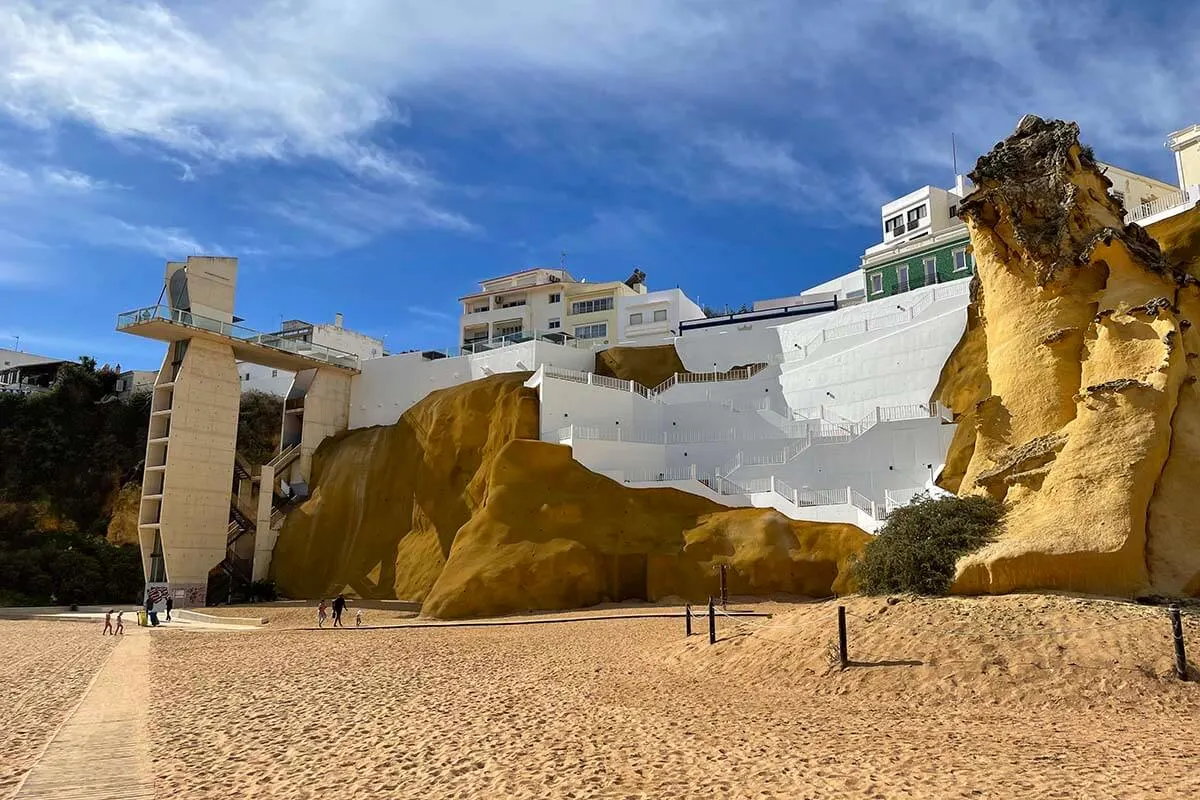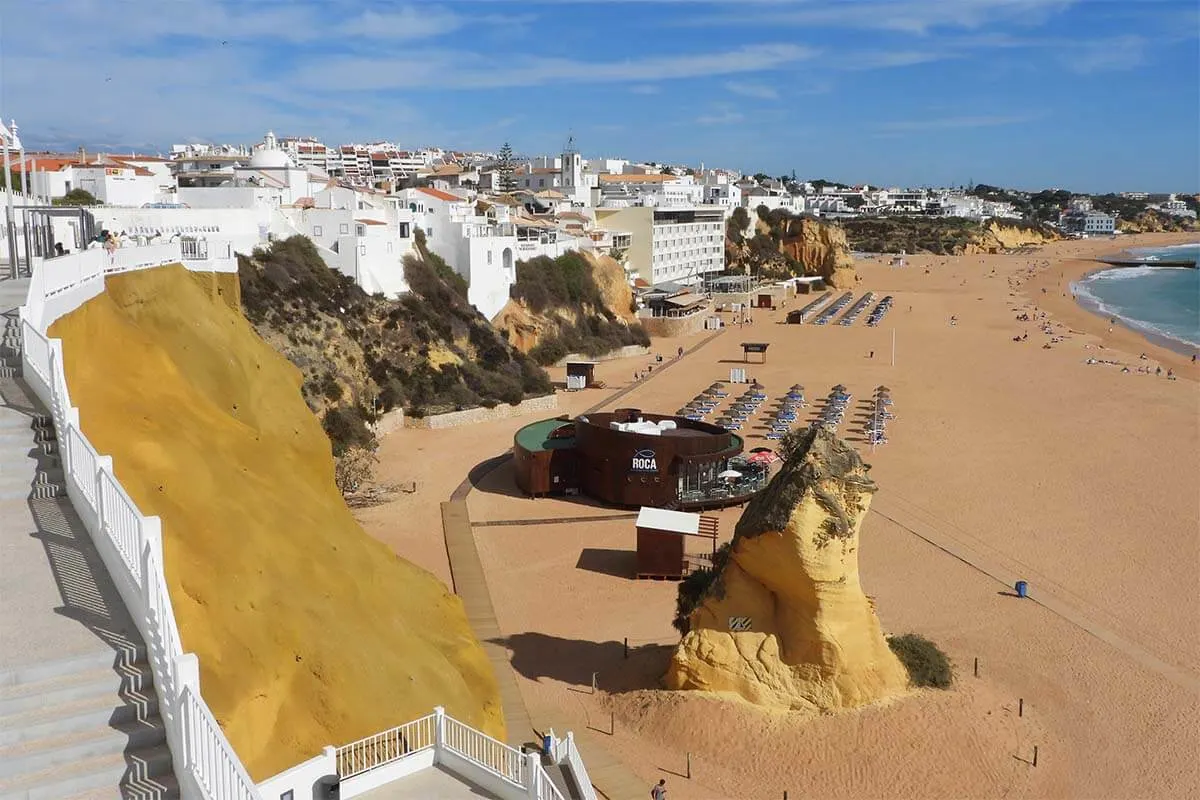 6. Albufeira Marina
The colorful Marina of Albufeira is a rather recent addition to the expanding town. As already mentioned, part of it is used by the fishermen, but the main area of the marina is filled with boats and luxury yachts.
Albufeira Marina is a very touristy and lively place with cafes and restaurants, but also a small bowling, indoor carting, game arcades, a big variety of activities for children, etc. There is also a diving center here.
But even if you are not interested in any of the entertainment or activities, it's nice to come here for the special architecture. The colorful buildings of the Marina look a bit like Lego-brick houses – quite unique.
Good to know: Albufeira Marina is located outside the city center. While you can walk to the Marina from the old town in about 20 minutes, depending on where your hotel is located, you may want to take a car or a taxi. There are several big underground garages here, and the main waterfront area can be reached via the stairs from the car parking.
TIP: Many boat tours also depart from Albufeira Marina. You really have to do at least one boat trip when visiting the Algarve, and Albufeira is a great place for that. You can find more info about the best boat tours and activities below.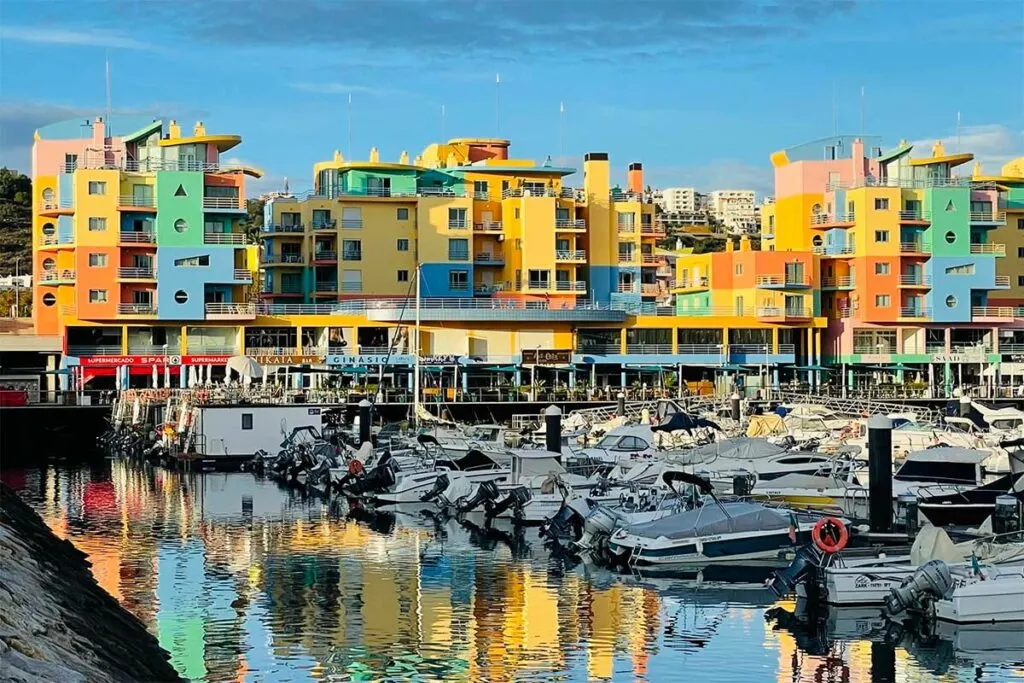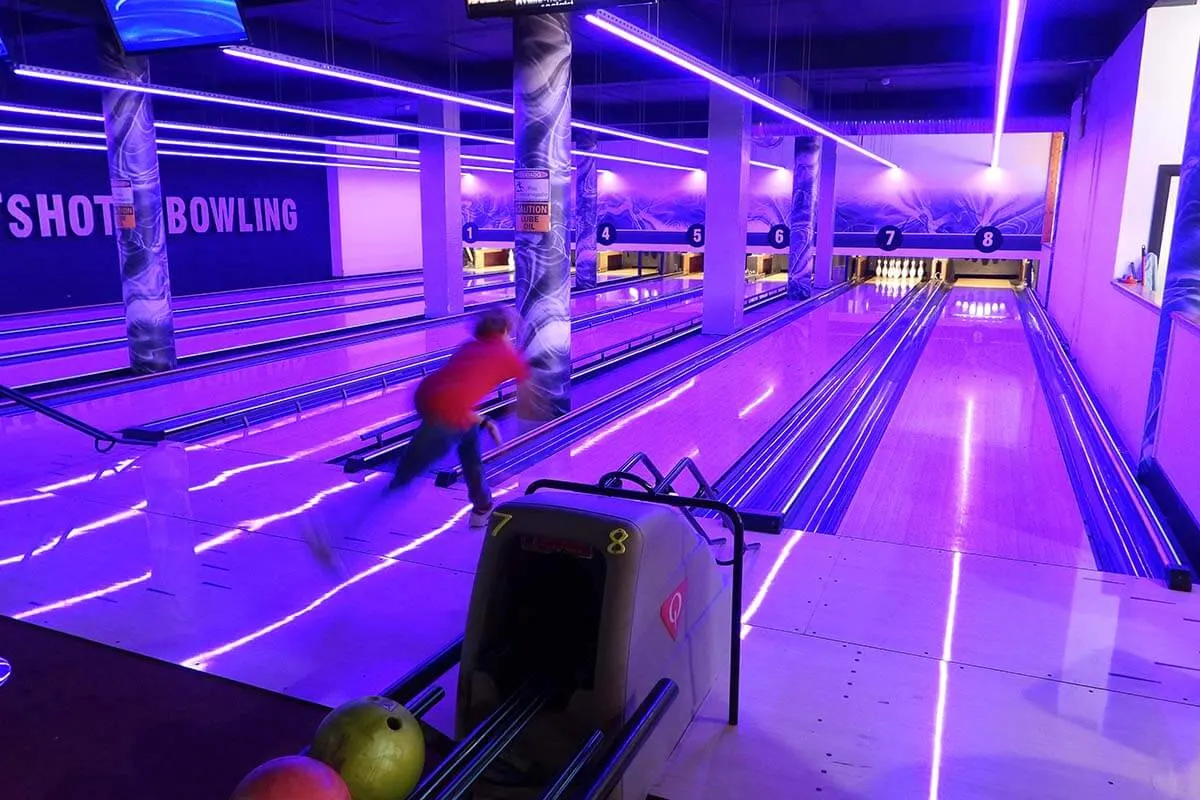 7. Boat Tours: Scenic Coastlines, Dolphin Watching, Parasailing & More
No list of the best things to do in Albufeira would be complete without mentioning the big variety of boat tours that you can choose from.
The most popular are sightseeing boat tours to see the stunning coastal cliffs and caves of the Algarve. Weather permitting, these tours run throughout the year.
All the sightseeing boat tours focus on the coastline between Albufeira and Carvoeiro, with the famous Benagil Cave as the absolute highlight. Keep in mind that entrance inside this and any other sea caves will always depend on sea conditions and cannot be guaranteed. But you get to see such gorgeous coastal scenery that this boat trip is always worth it!
In addition to the incredible landscapes, you can also expect to see dolphins. In the summer, some boat tours also stop for a short swim.
As already said, not all boat tours are focused on sightseeing. In the warmer months, you can also opt for more adventurous tours and watersports like parasailing and jet-ski experiences, but also kayaking or paddle-boarding through sea caves, paragliding above the coast, etc.
It's especially nice to do if visiting Albufeira in the warmest months of the year. But when we visited in November, we saw that parasailing trips were running at the beginning of the month as well. We recently visited Algarve in April and all the water activities and tours were running like it was a high season. So as long as the weather is nice, there are so many activities that you can choose from in Albufeira!
Good to know: Weather permitting, boat tours run the whole year round. Of course, there are many more options and scheduled departures in the high season, but it's something nice to do in Albufeira at any time of the year.
TIP: We highly recommend booking these activities in advance. That way, you know exactly what's possible for your travel dates and can just arrive for the scheduled departure without having to waste time looking for the best/available options when you get there.
READ ALSO: How to Visit Benagil Cave & Best Kayak Tours in Algarve
8. Praia da Falésia
Praia da Falésia is one of the most beautiful beaches in the world and a definite must-see in the Algarve. This is a very long beach (+- 6km) stretching from Olhos de Água in the west all the way to Vilamoura in the east. Technically, it's located within the limits of Albufeira municipality, so it definitely deserves a place on this list of places to visit in Albufeira.
Falesia Beach is characterized by unique red cliffs that tower above the beach providing it with a stunning backdrop. The colors of these cliffs change depending on the light, making it a wonderful place to visit at any time of the day and particularly at sunset.
Whether you go down to the beach or walk on the trails on top of the cliffs, the scenery here is truly fascinating.
TIP: This is a nice beach for swimming, long walks, and also one of the best places to go surfing in the area. You can also book very affordable surfing lessons at Praia da Falesia. There is also a place where you can rent kayaks on Falesia Beach; it's located a bit further east toward Vilamoura.
Good to know: You won't be able to easily walk to Falésia beach from Albufeira (unless it's low tide and you are a bit adventurous). But you can get there by car or by taxi. Alternatively, this tuk-tuk tour also includes a visit to Falesia Beach in its Albufeira sightseeing itinerary.
You can also easily reach this beach from some hotels in Olhos de Água. I recently stayed at PortoBay Falesia Hotel which has access to the westernmost point of Falesia Beach. The views from the gardens of the hotel are breathtaking (see the featured image at the top of this article).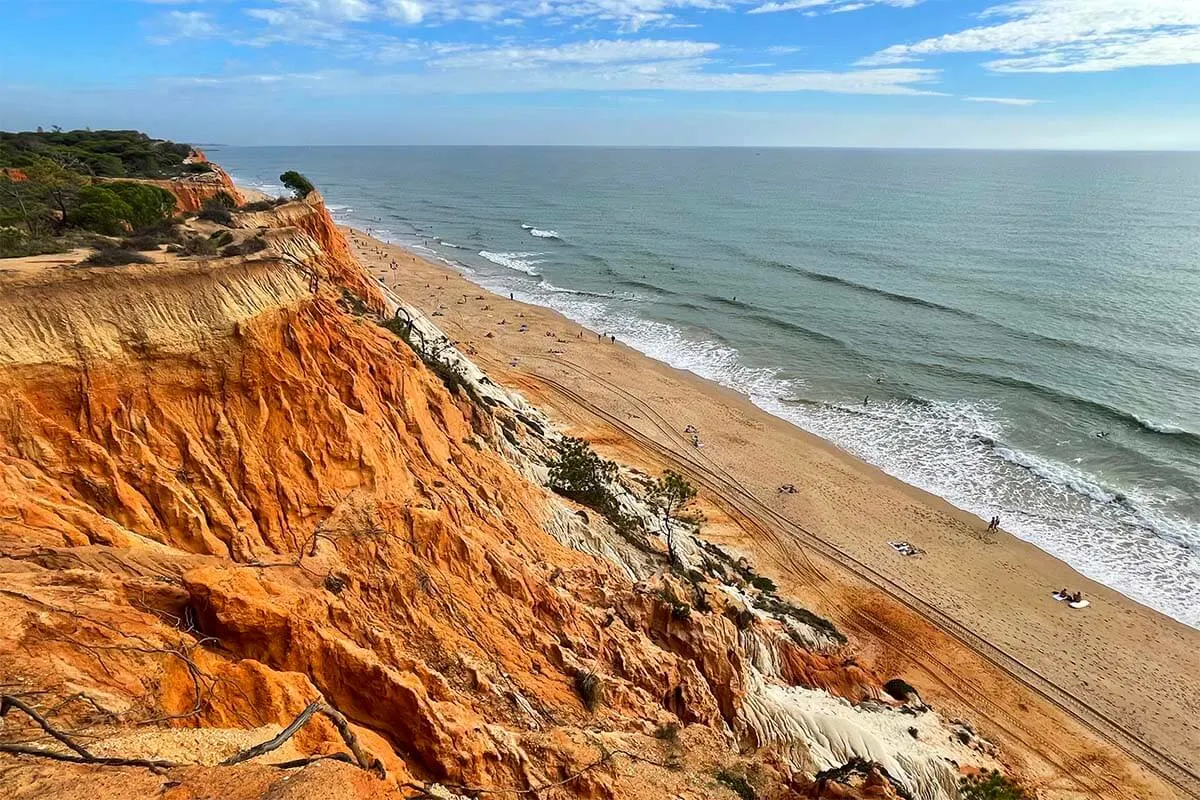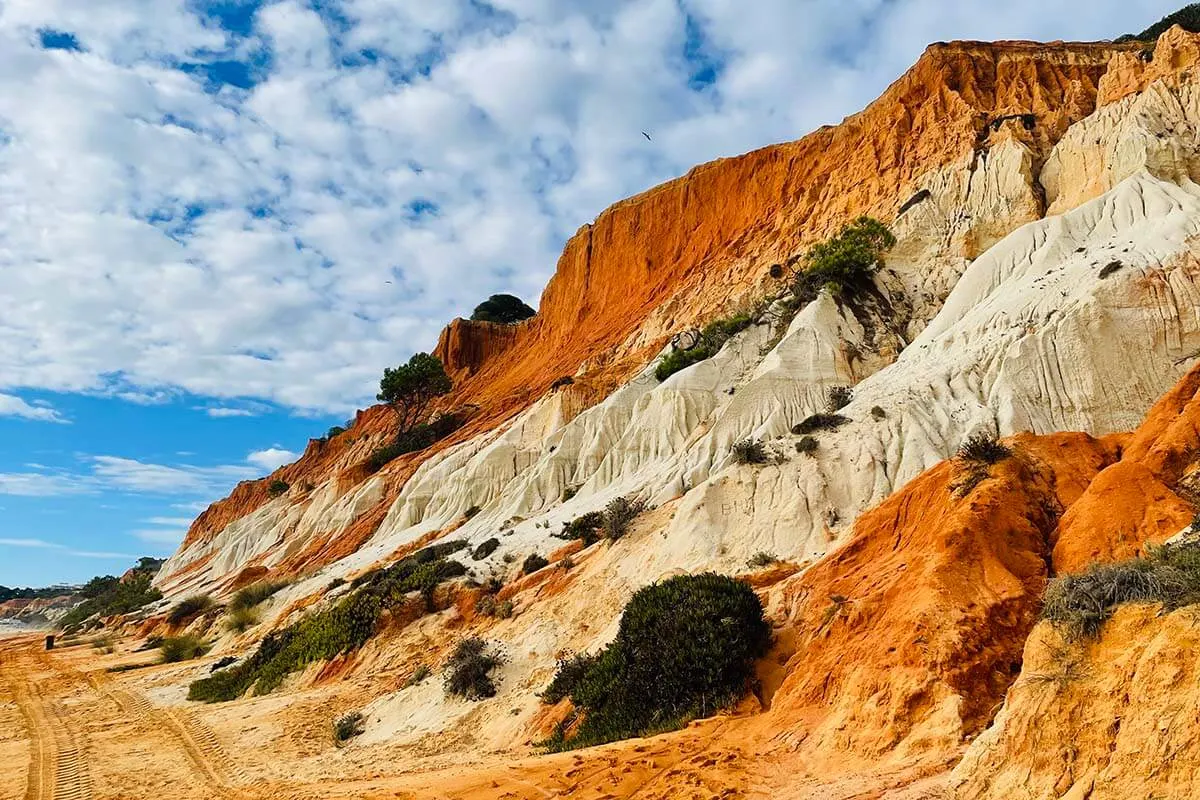 9. The Strip
Quiet during the day and lively at night, The Strip of Albufeira is a street lined with restaurants, bars, and several nightclubs that stay open until the early hours. Some of these places have bright neon boards that might remind you of Las Vegas, thus the name. Just don't expect skyscrapers or huge casinos here – just as in the rest of Albufeira, the street is lined with low-rise buildings (luckily!).
Good to know: While you will hear everyone talk about 'The Strip', you won't find it on the map. In reality, this street is called Avenida Sá Carneiro. Locals also call it Rua da Oura because the street leads to Praia da Oura beach (more about it further below).
If you are looking for nightlife or a lively bar to spend an evening in Albufeira, then you really can't miss The Strip. In the summer, it's one big outdoor party. We personally prefer it in the quiet season when it's not nearly as busy.
Good to know: The Strip might have a reputation for being a place full of partying young people. But you can visit here with the whole family (we go here with our kids all the time, but have never visited at night in the summer which might be a bit too overwhelming for children).
Also, there are quite a few really nice (and fancier) restaurants in this area. We have never had a bad meal here, but do read some reviews before you go. In fact, some of the very best restaurants in Albufeira are located in this area.
READ ALSO: Best Restaurants in Albufeira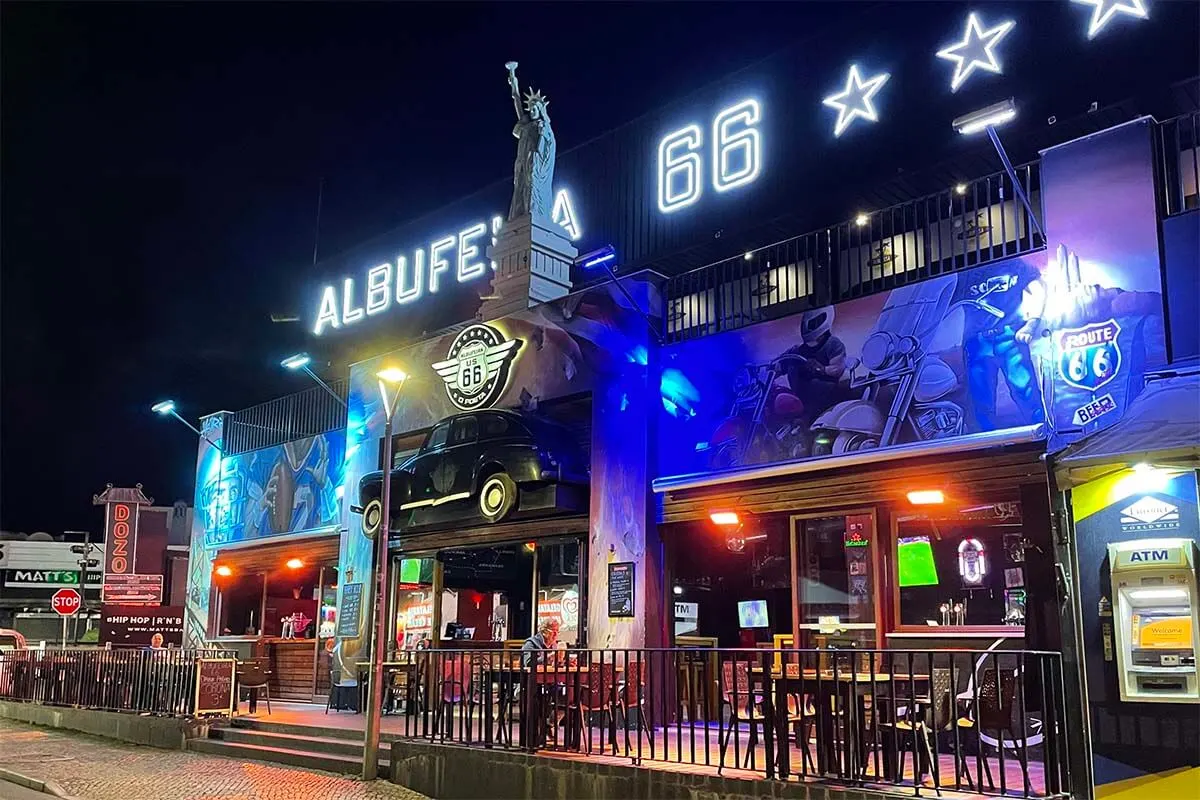 10. Estrada de Santa Eulália
In addition to The Strip, you may also hear people talking about the 'New Strip' of Albufeira.
This street is actually called Estrada de Santa Eulália and is located a bit more eastward from the Strip (+- 10 minutes walking distance).
Some locals also refer to it as 'The Restaurant Street', and indeed, there are lots of restaurants and cafes here. Whether you are looking for a traditional Portuguese meal or Italian, Mexican, or Indian cuisine, you will find a big array of options in this area.
Good to know: This part of Albufeira remains lively the whole year round. So if you are visiting in the low season, you'll always find plenty of restaurants open in the new town.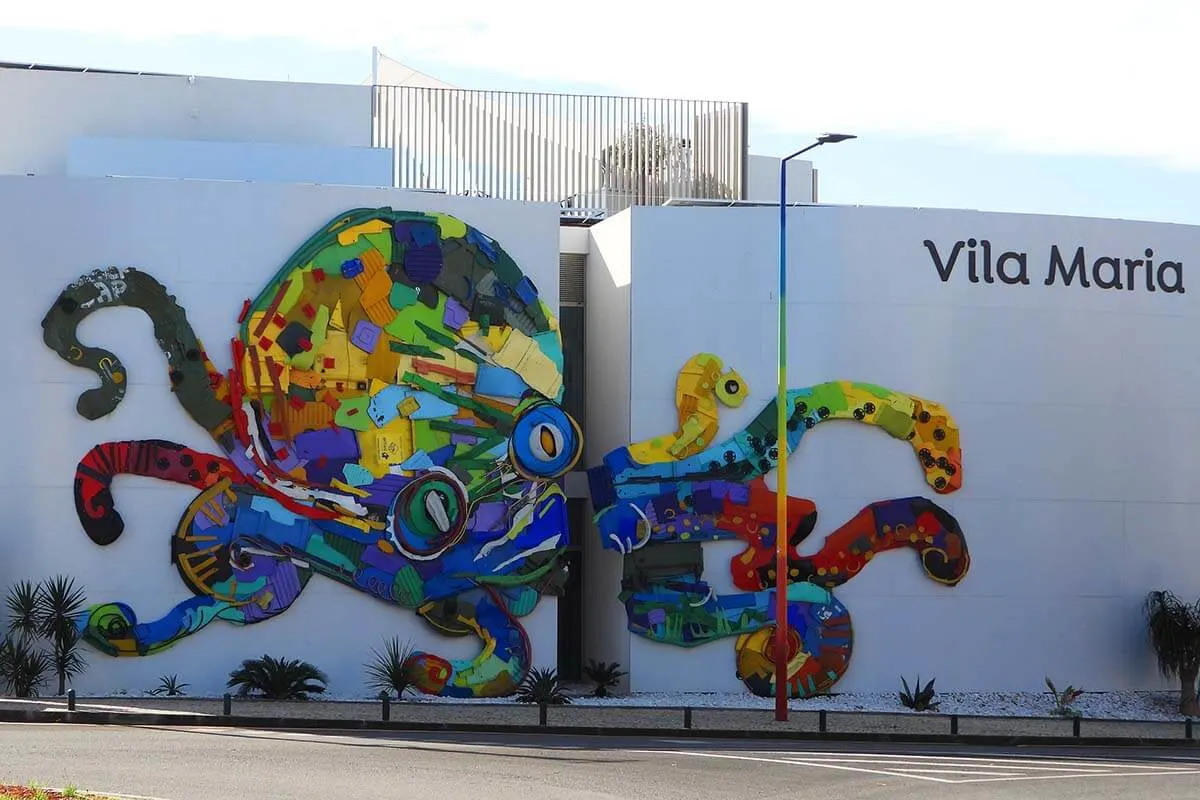 11. Praia da Oura
Praia da Oura (The Golden Beach), is another really nice beach in Albufeira town center. It's a flat sandy beach surrounded by some low rocks at the edges.
It's not as big as the main beach in Albufeira town center, but it has everything you want for a perfect beach day: a long wide stretch of golden sand, nice scenery, good facilities, and several restaurants and bars, etc.
In the summer season, you can hire pedal boats here and also do all kinds of water sports (parasailing, jet-ski, banana boat and other fun water rides, etc.).
READ ALSO: Best Beaches Not To Miss in Albufeira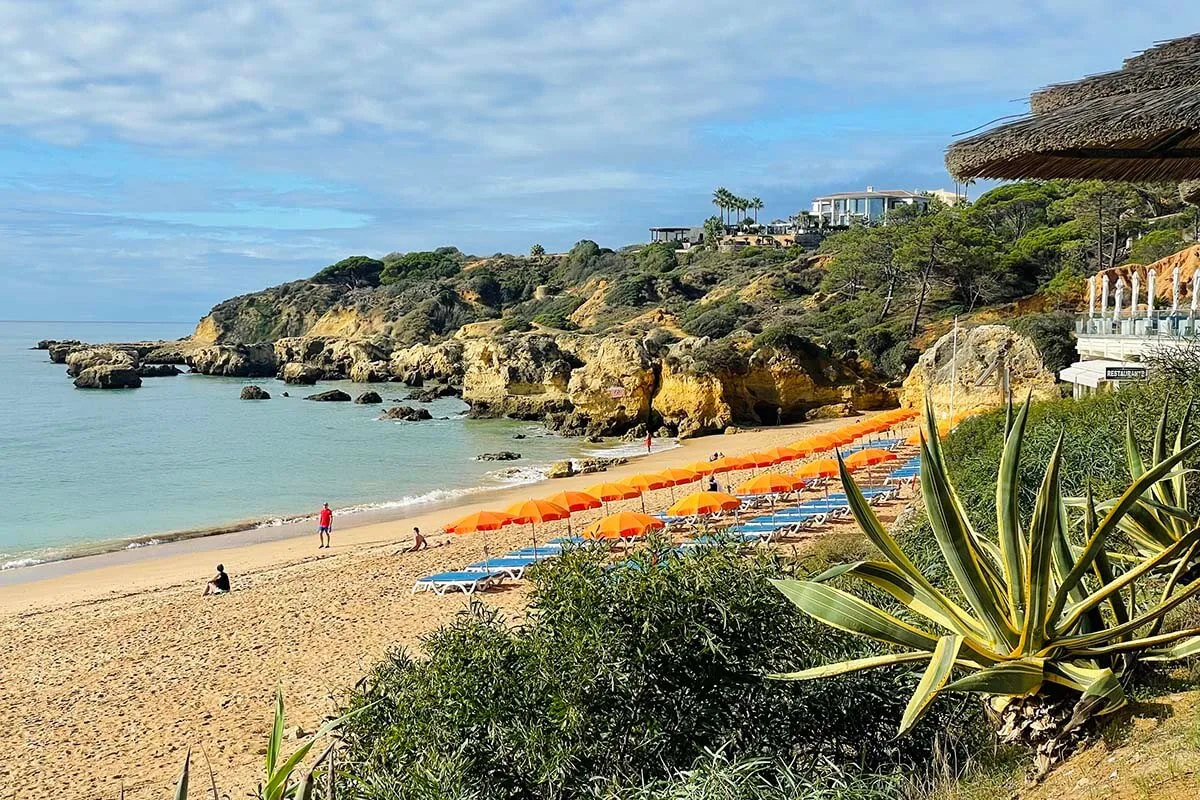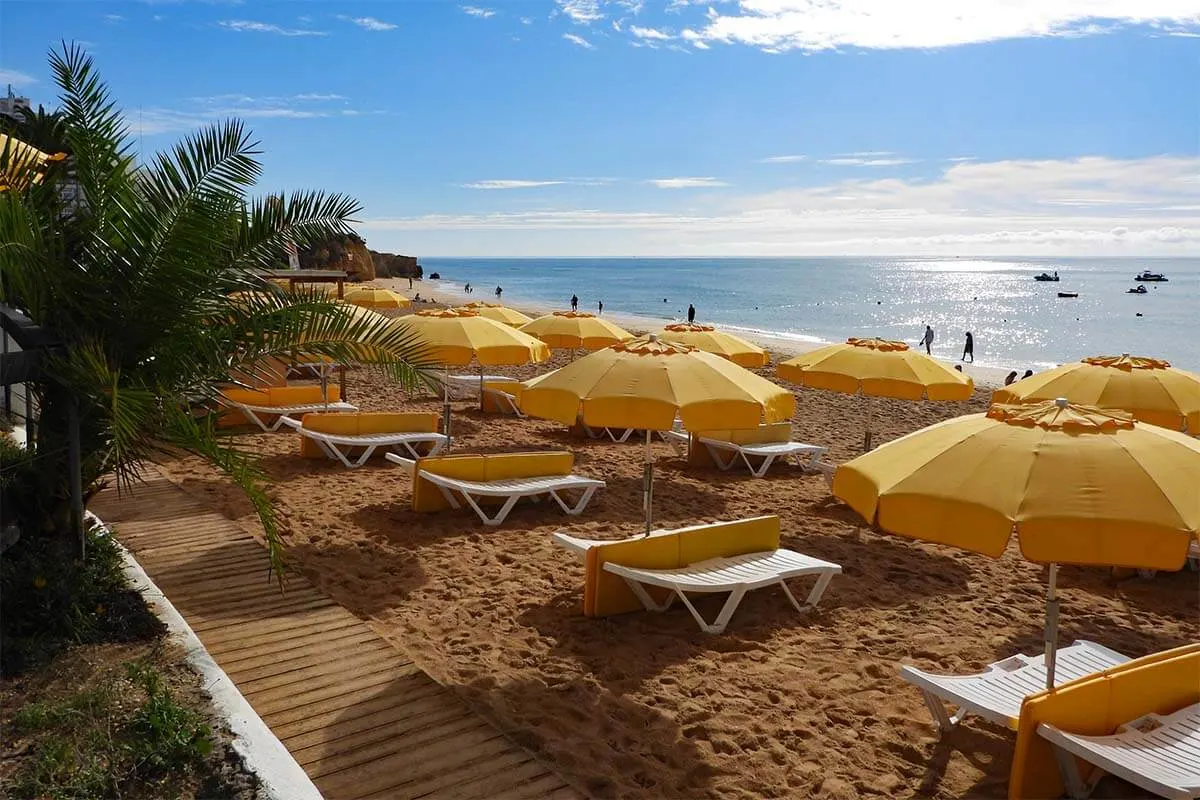 12. Praia de São Rafael & Praia dos Arrifes
Praia de São Rafael and Praia dos Arrifes are small beaches on the western side of Albufeira, a short drive from the Marina. These two beaches are located very close to each other and both are very scenic. In fact, they are both among the most beautiful beaches of the Algarve.
Both beaches are surrounded by tall cliffs and are much smaller than the beaches in Albufeira's town center. If you are looking for the most beautiful Algarve coastal scenery, then this part of Albufeira is probably one of the nicest places to be. The rocky coastline is also perfect to watch sunsets or make longer coastal walks on the cliffs.
There are seasonal restaurants on both beaches and in the summer, you can also do amazing kayak tours starting from Sao Rafael Beach.
Good to know: If you are staying in Albufeira town center, you will need a car or a taxi to get here. Some tuk-tuk tours also include a brief visit here (more info below).
But there are also a few hotels in this area. If you are looking for a somewhat quieter beach vacation in Albufeira with amazing scenery, then consider staying at São Rafael Atlântico. You can walk to both of these beaches straight from the hotel, and you can take a taxi if you want to get to Albufeira Marina or go to the town center.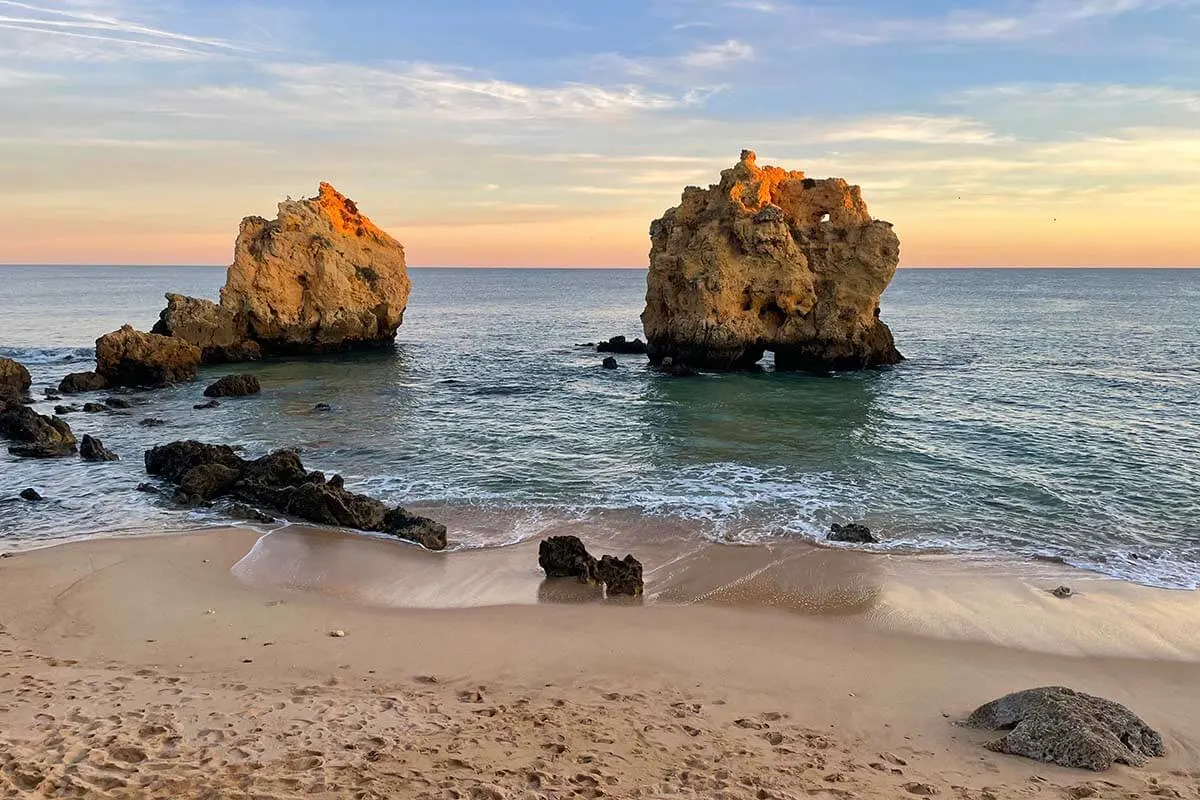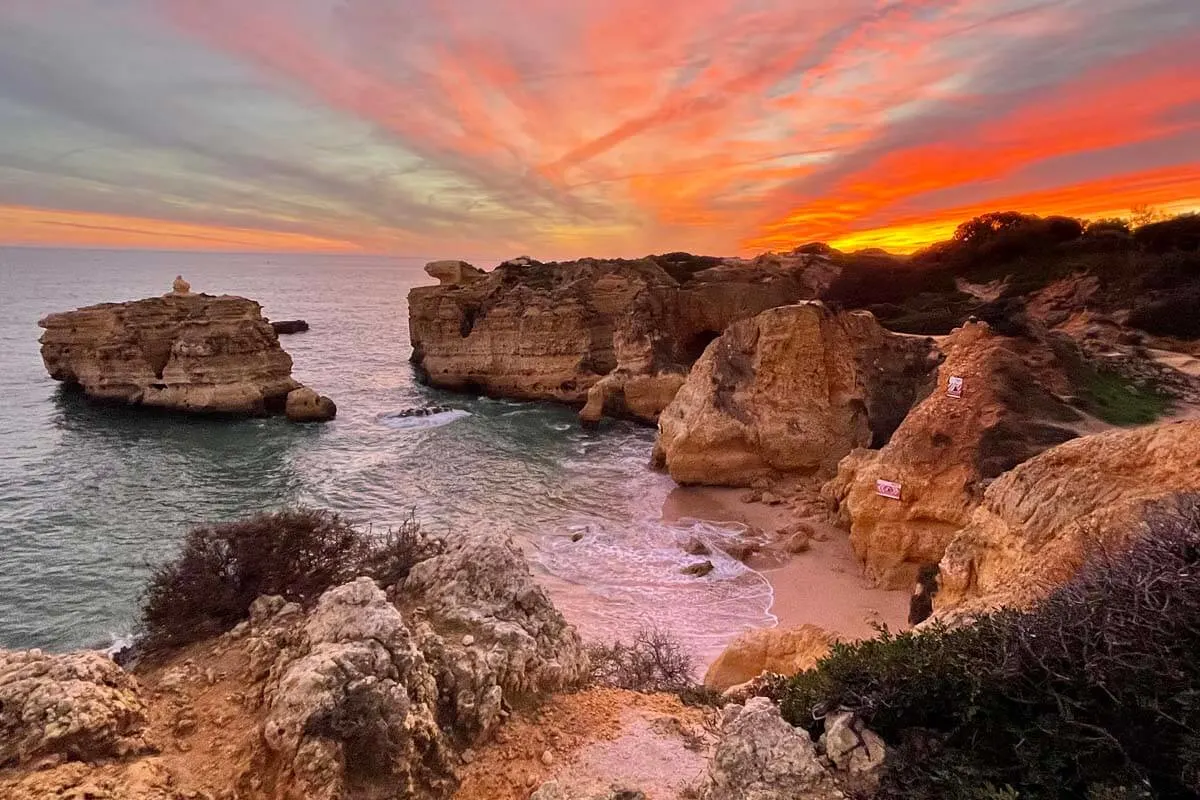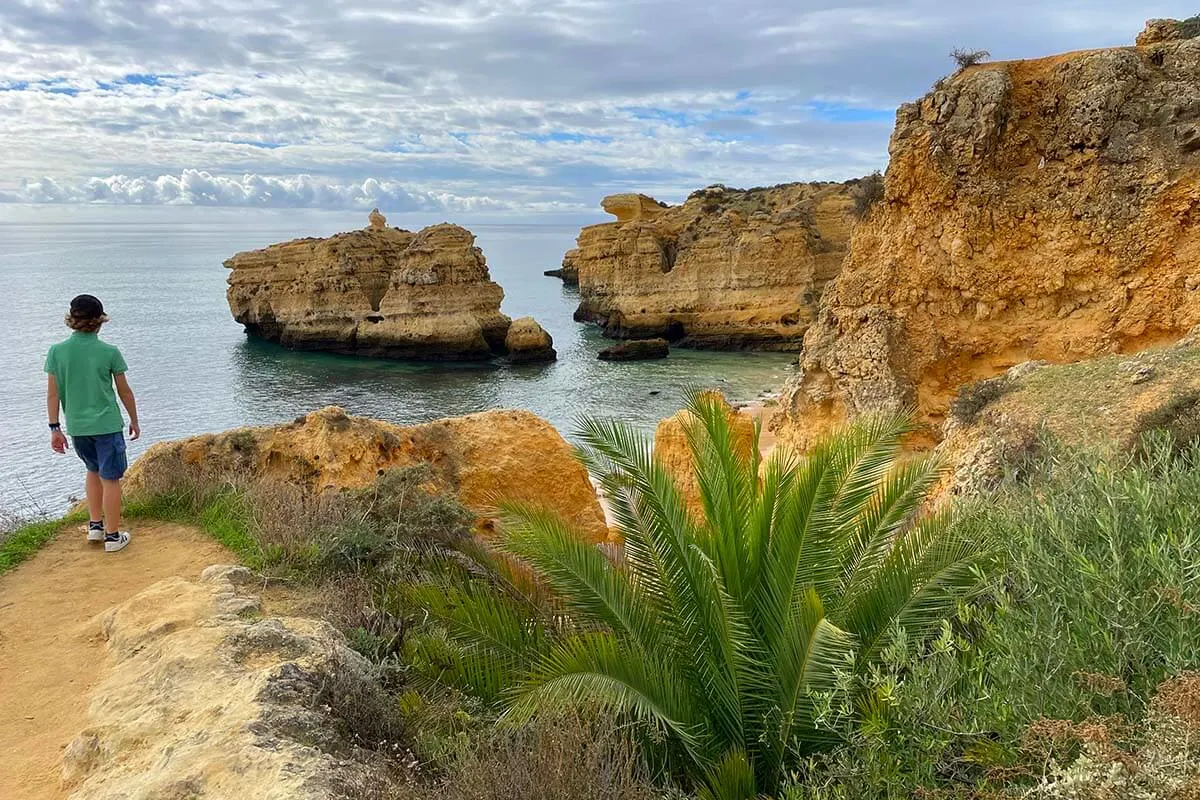 13. Ponta da Baleeira
Ponta da Baleeira is a nice viewpoint overlooking Albufeira and the coast. There is a small lighthouse here to guide the boats arriving at the Marina.
This is a residential area outside of Albufeira town center with some luxury villas overlooking the sea. Ponta da Balleira looks like the only public peace of land here. It's nice that they have preserved it for everyone to enjoy. The views are quite nice giving you a good overview of the surroundings.
Good to know: This viewpoint is located on the western side of town, within a walking distance from Albufeira Marina. The earlier-mentioned beaches of Arrifes and St Rafael are also located in the vicinity. However, ideally, you have some kind of transportation to visit here since the area is hilly, the distances are bigger than it looks on the map, and there isn't much shade.
TIP: The tuk-tuk tour that we did included a stop here (and the best beaches nearby). You can find more information about this tour below.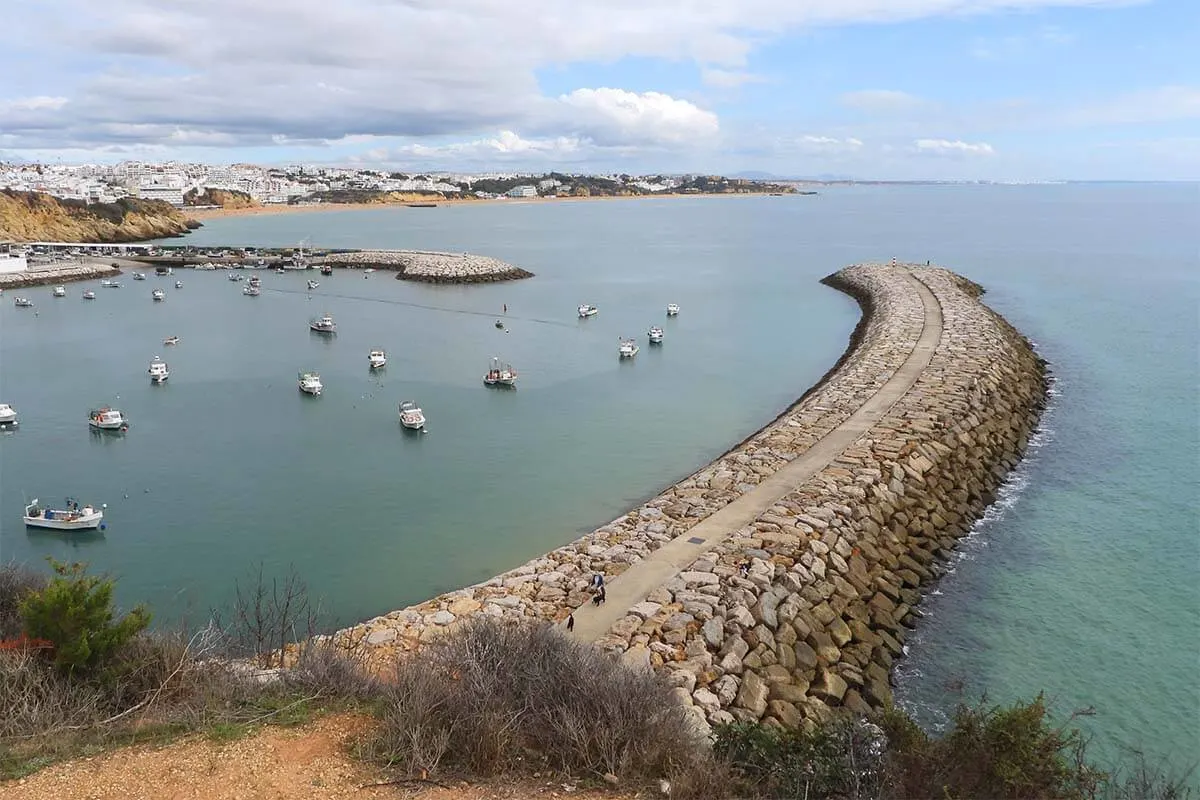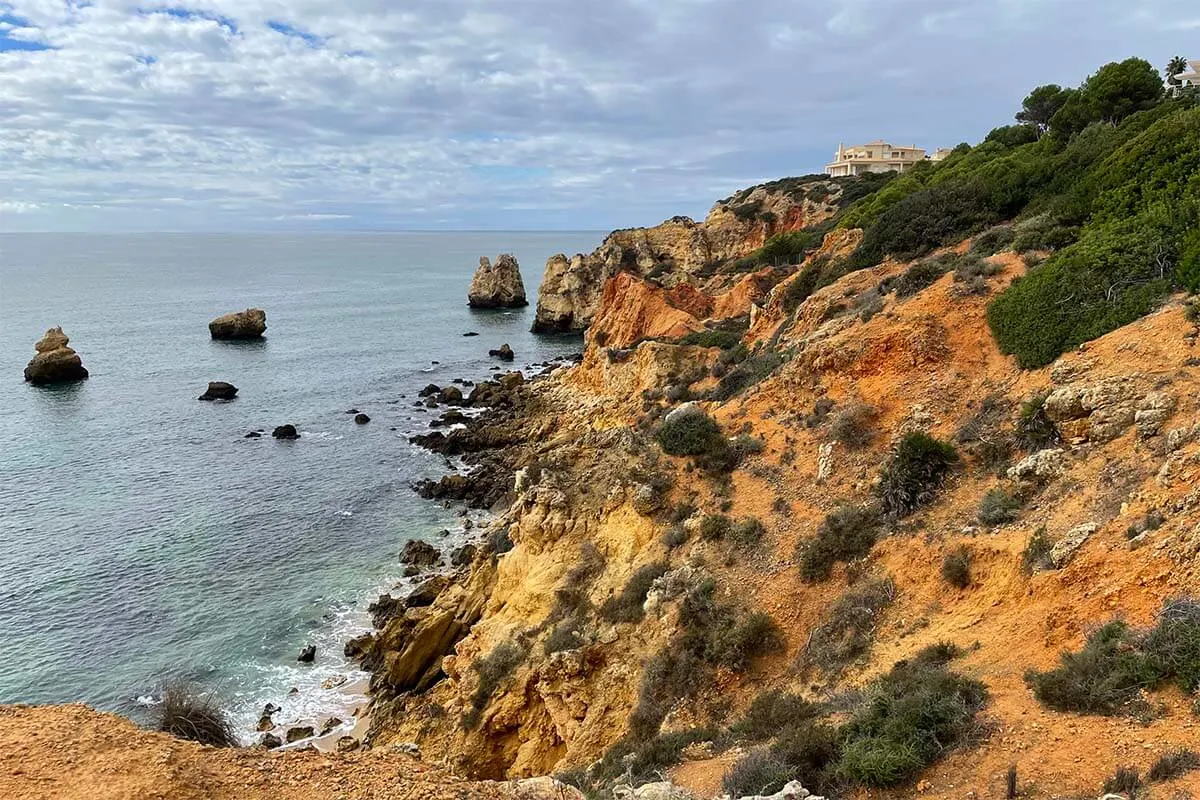 14. Tuk-tuk Tours
If you want to see all the best places of Albufeira in a short time, then we highly recommend a tuk-tuk sightseeing tour. There is a variety of excellent tours. Most of them take about 2-3 hours and bring you to all the top spots in Albufeira as well as the nicest beaches and viewpoints nearby.
Yes, it's quite a touristy thing to do, but it's fun. And if you are visiting Albufeira for the first time, it's really the best way to get to know the area. The tuk-tuks are small and can easily bring you to many places in a short time without you having to worry about driving or parking…
Our experience: We took this tuk-tuk tour on our first visit to Albufeira and were really glad that we did. Not only did we get to see all the musts in a short time, but it also gave us a better understanding of the layout of this unique town. Plus, it was nice to have a local guide to give us some tips and recommendations for the rest of the stay.
Good to know: Albufeira is a rather big town that stretches along the coast for several kilometers. Plus, it's a hilly town with both – very flat and very steep sections almost anywhere you go. So if this is your first time in Albufeira, it really helps to get an overview of the surroundings. These sightseeing tours will also show you many different facets of the area and give you a better understanding of how diverse Albufeira actually is.
TIP: Ideally, you do an introductory tour like this at the very beginning of your vacation. That way, you have a good overview of all the best places to see in Albufeira. You can then decide which areas you want to explore deeper and return for a longer visit on your own.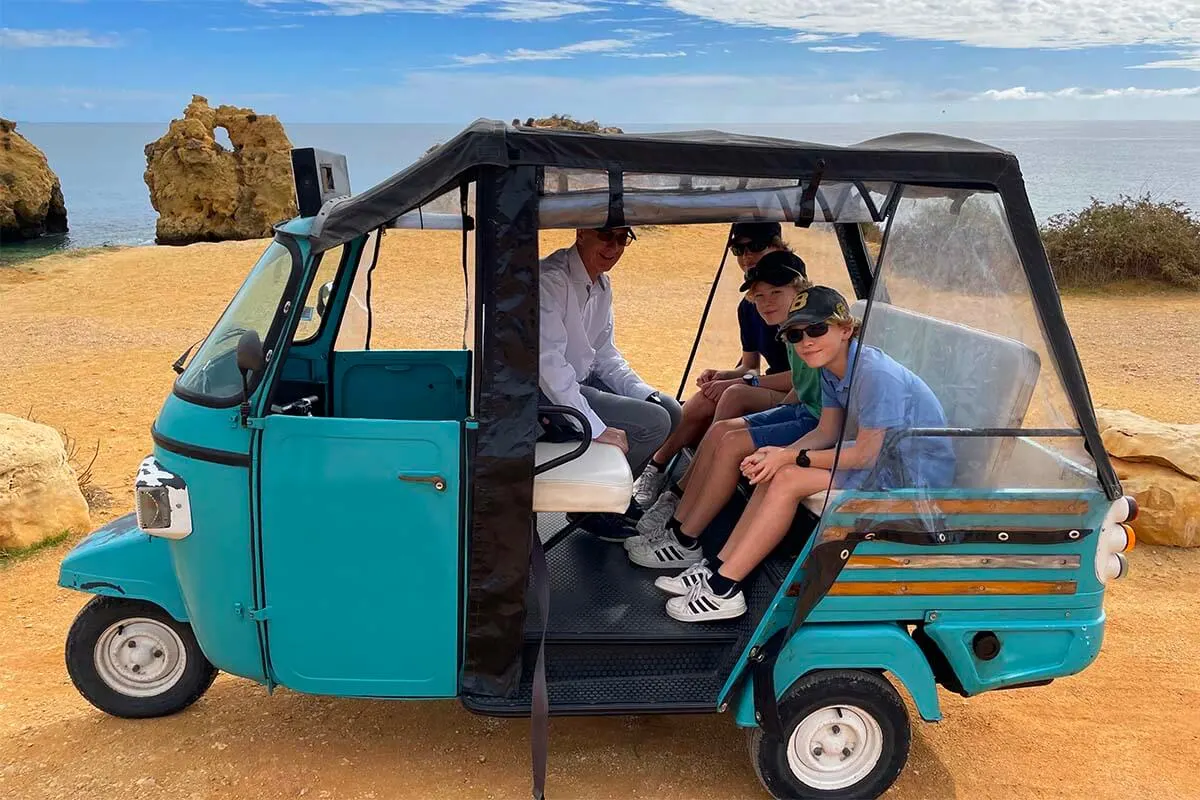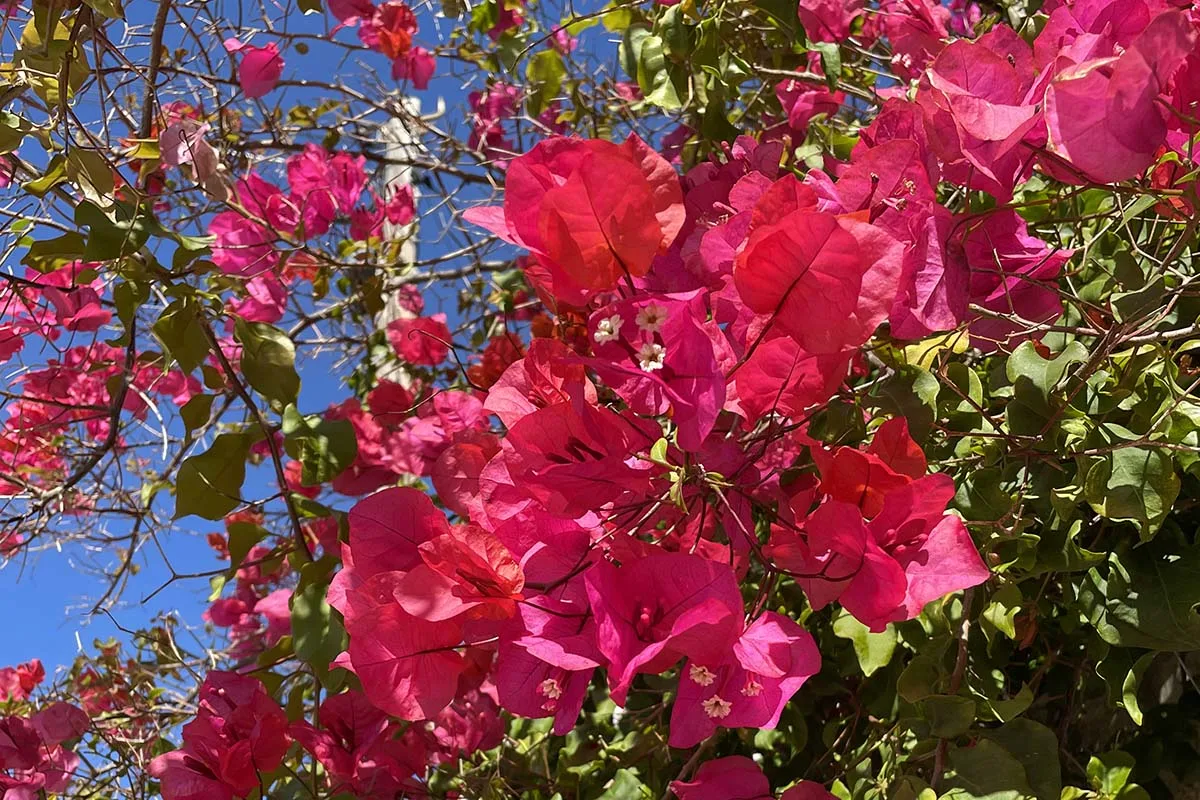 15. All Kinds of Fun Activities
If you are here on a longer holiday and are looking for fun things to do in Albufeira, you will not be disappointed. There is so much on offer that you can find different things to do every single day.
We already mentioned all kinds of boat tours that you can do in Albufeira. You can go surfing, kayaking, rent paddleboards or water bikes, go parasailing or jet-skiing, etc. There are so many types of water sports and activities to enjoy that I don't even know the names to describe them all. Especially in the peak summer season. You can find an overview of popular water activities here.
In addition, there are many other fun things to do in Albufeira that can be enjoyed the whole year round. For example, mini-golf, adventure parks, thrill rides (such as scad dive), etc.
One of the best adventure parks in the area is Parque Aventura, located on the eastern side of town just across the street from Santa Eulalia Resort. They have paintball and high-rope courses. There are several easy trails for young kids, but also some really challenging courses for teens and adults, and lots of zip lines on all courses.
For a fun day with friends and family, head to the Mini-Golf Adventure Park. It tends to get quite busy though, so we recommend going early in the morning, just as it opens, or at lunchtime.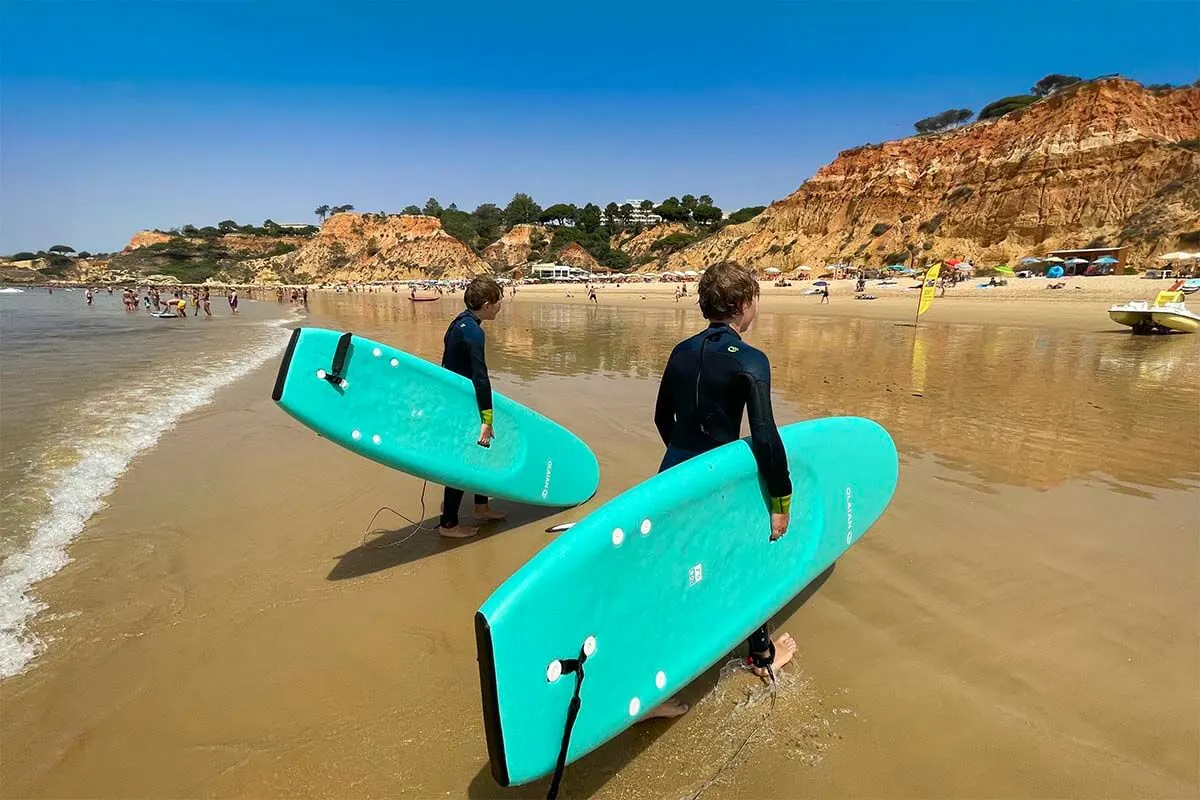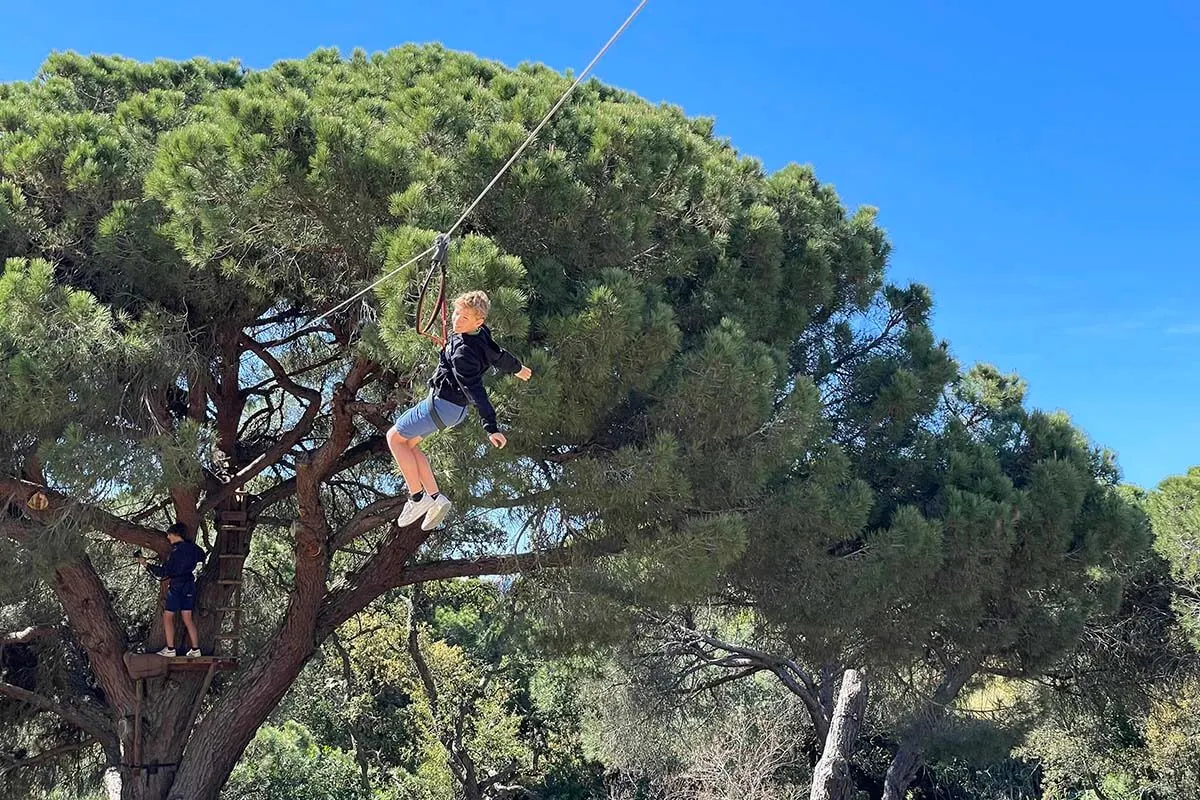 16. Zoomarine
If you are looking for something fun to do in Albufeira with kids or teens, you may want to check out the water parks. There are quite a few amazing water parks in the Algarve. The best one close to Albufeira is Zoomarine.
Technically, Zoomarine is not in Albufeira, but in Guia, but it's just nearby, 15-20 minute drive from the old town.
Zoomarine is a marine park/waterpark offering a very nice combination of activities for the whole family. They have seal-, dolphin-, and birds of prey shows, as well as dolphin encounters (think twice whether it's a good idea to do this).
There are also rides for kids and a sandy beach with pools and waterslides, etc. There is so much to see and do here that you can easily spend two days (bring your swimsuits, water shoes, and quick-dry towels!).
Good to know: Zoomarine is open from March to November. In the summer, it's open daily, in the shoulder season, opening dates vary a bit depending on the month. Booking tickets in advance is usually quite a lot cheaper than at the entrance. Plus, you don't have to queue.
TIP: We booked our Zoomarine tickets via GetYourGuide. They usually have a very good deal for a 2-day ticket (valid over a period of 10 days, so you don't necessarily have to go two days in a row). For 1-day tickets and combination tickets with other attractions, you can also find good deals here.
If you are not interested in animal shows and are just looking for a nice water park, check out Slide & Splash in Lagoa or Aquashow in Quarteira; both are about half an hour's drive from Albufeira.
READ ALSO: Tips & Useful Info for Visiting Zoomarine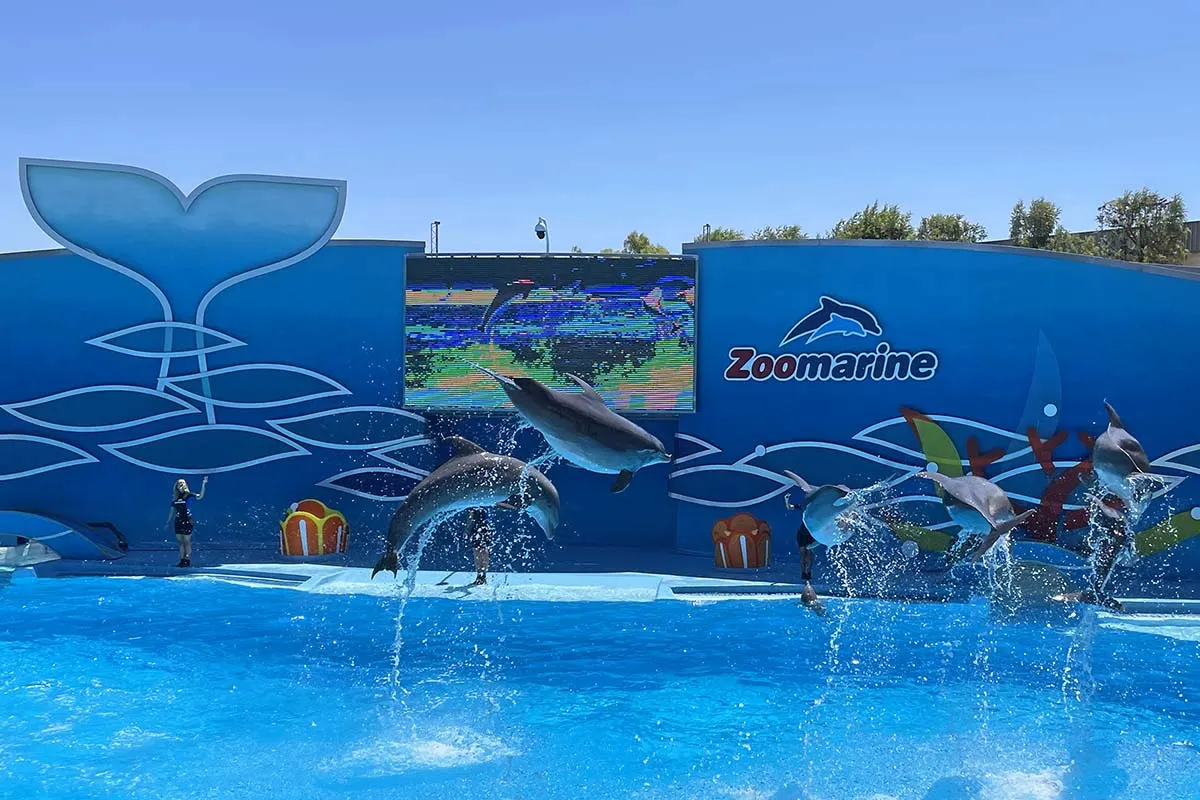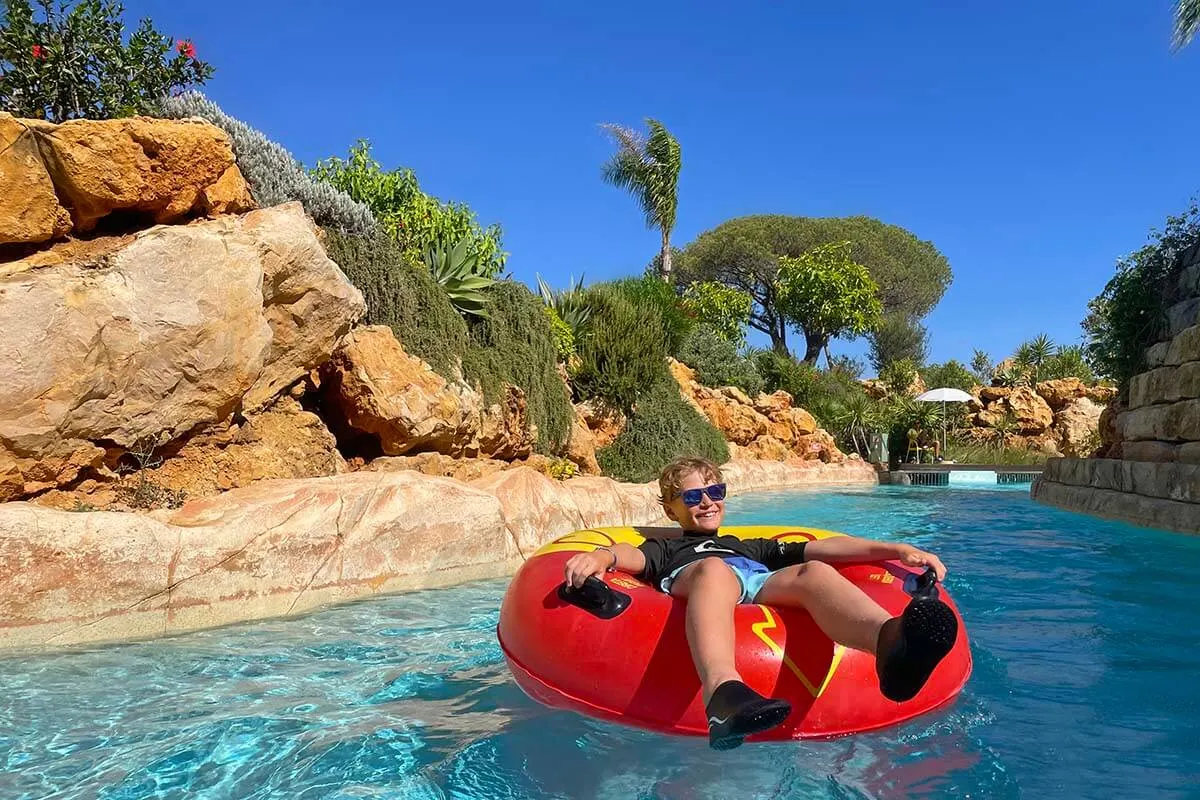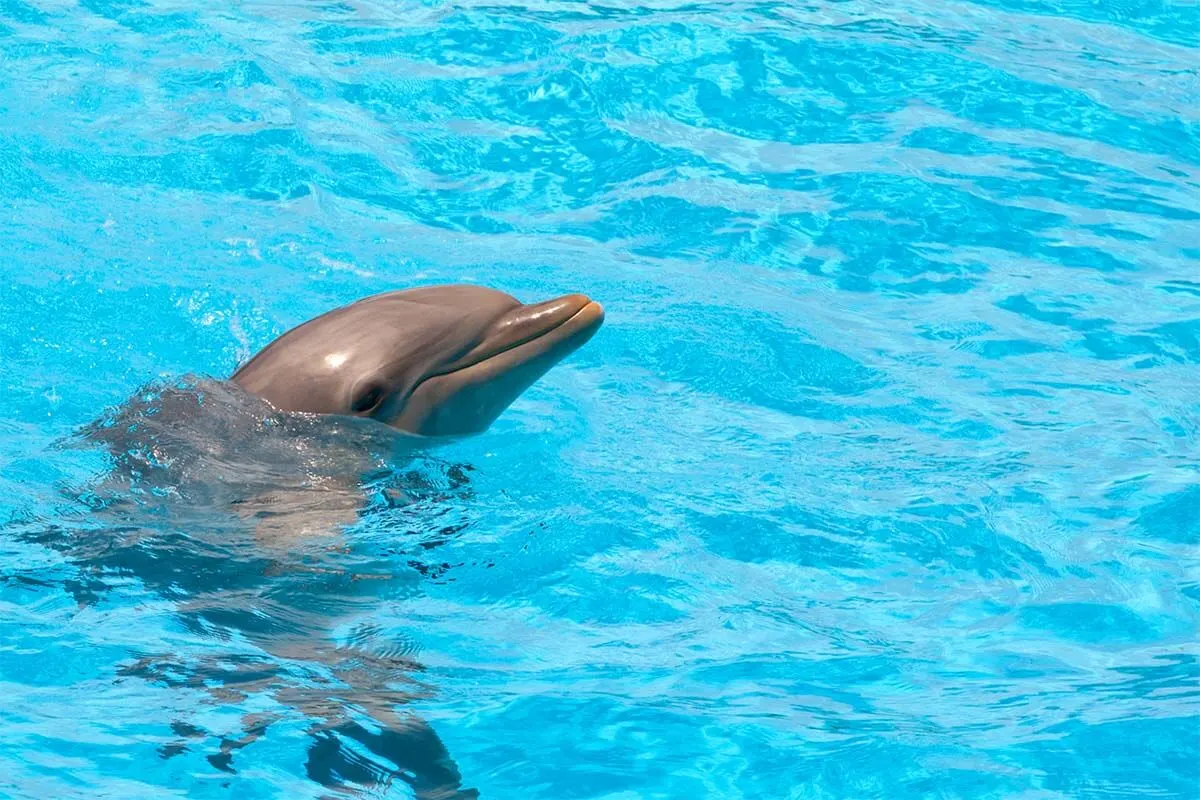 17. Tours & Excursions near Albufeira
If you are looking for even more ideas for things to do in and near Albufeira, you may want to explore more of the Algarve region. A popular way to do this is by taking a (4×4) tour of the Algarve interior.
Depending on your interests, there are quite a few options. You can find the biggest selection of Albufeira tours on Get YourGuide. It's our favorite website for all tour bookings worldwide, also because of the flexible payment- and cancelation options, plus excellent customer service.
Here is our hand-picked selection of some of the most popular (half-)day excursions from Albufeira:
Half-day Jeep Safari. This is the most popular jeep tour from Albufeira. You see orange groves and pass picturesque small villages, visit a local farm, and – in season – can also go for a swim at a small waterfall in a river.
Silves & Winery Tour. This half-day tour is an excellent option for those who love history, culture, and wine. You get to explore the historic town of Silves and also visit a local winery (wine tastings are included, of course).
Off-road Quad Tour. If you are looking for a more thrilling experience, then quad tours can be really fun. In addition, they also include a bit of sightseeing, although that's usually not the focus of quad tours. Please note that you need a driver's license. You can opt for a 1 or 2-people quad, and your passengers cannot be younger than 7 years old.
Lagos and Carvoeiro. This is a really nice day trip if you want to see some of the most beautiful coastal scenery of the Algarve, including the famous Ponta da Piedade. Plus, you get some free time to explore Lagos on your own.
Historical Algarve. This is a full-day tour that brings you to Silves, Monchique, Lagos, and Sagres. Quite frankly, this is a lot for one day, but if you want to get a quick overview of some of the best places in the Algarve, this is a good way to see a lot in just a day.
READ ALSO: Seven Hanging Valleys Trail (the best hike in the Algarve!)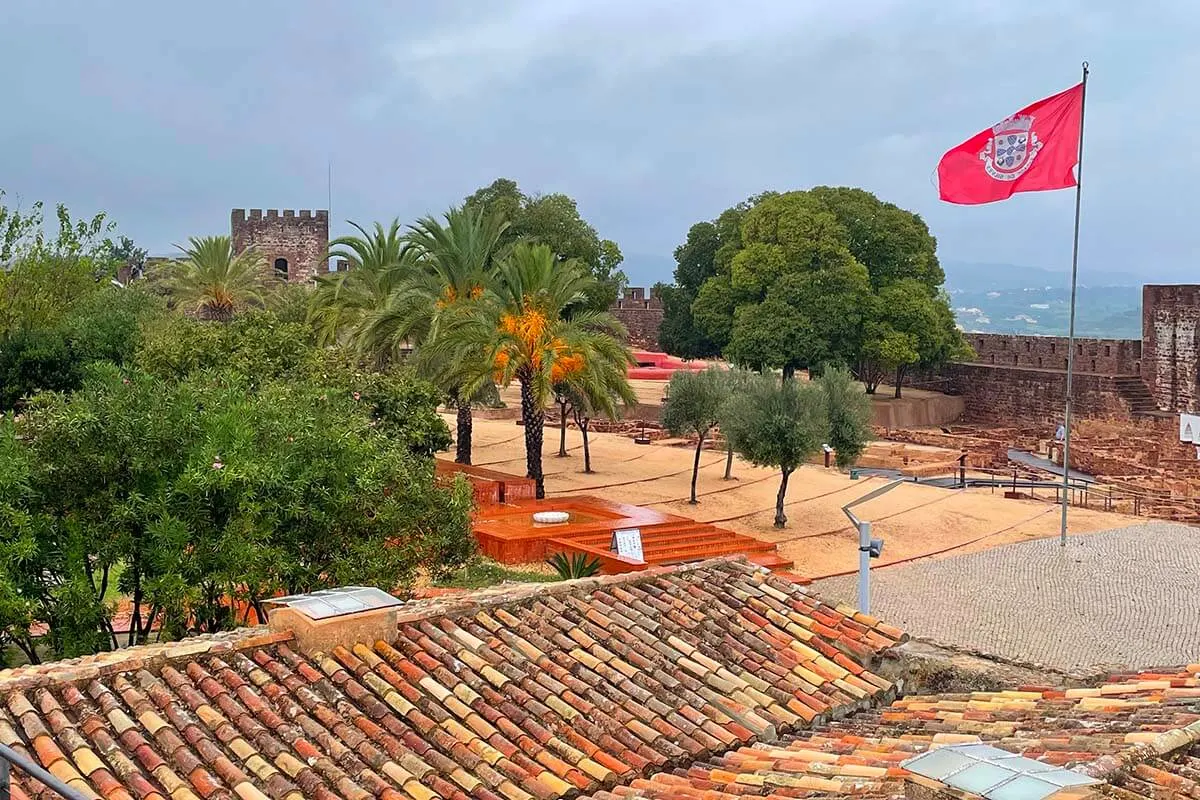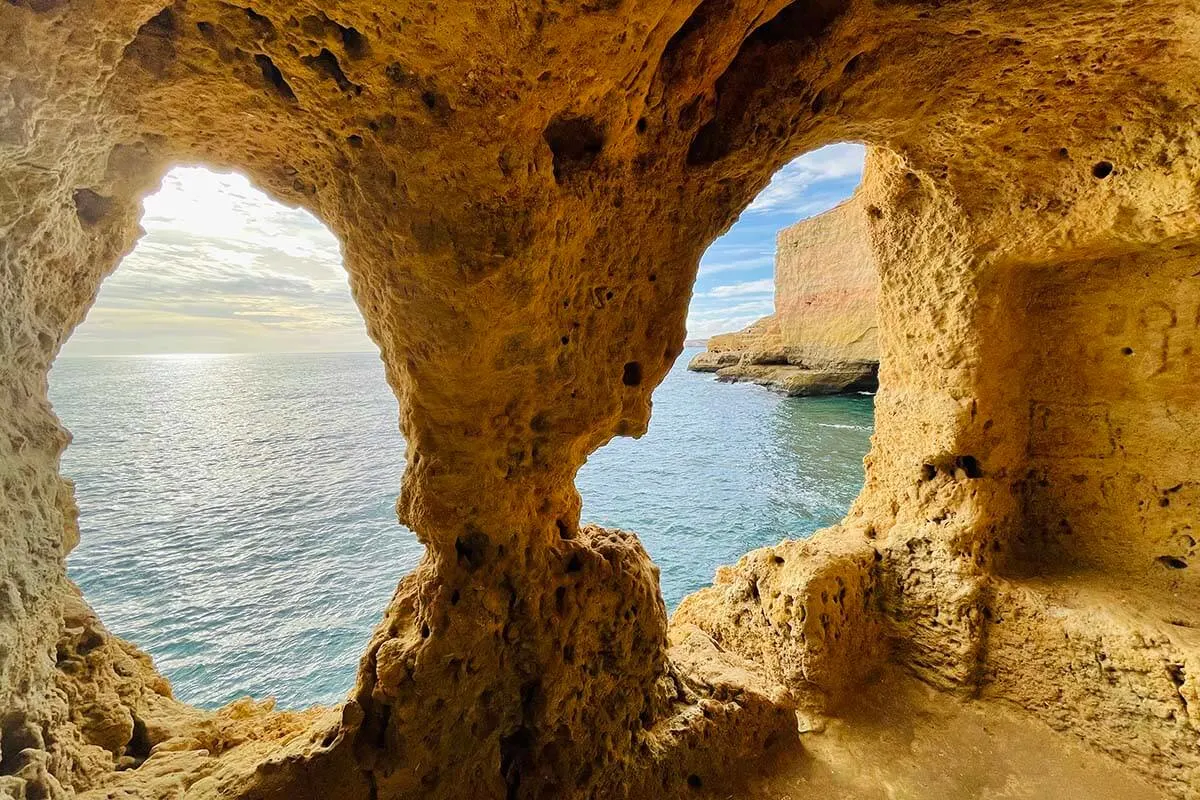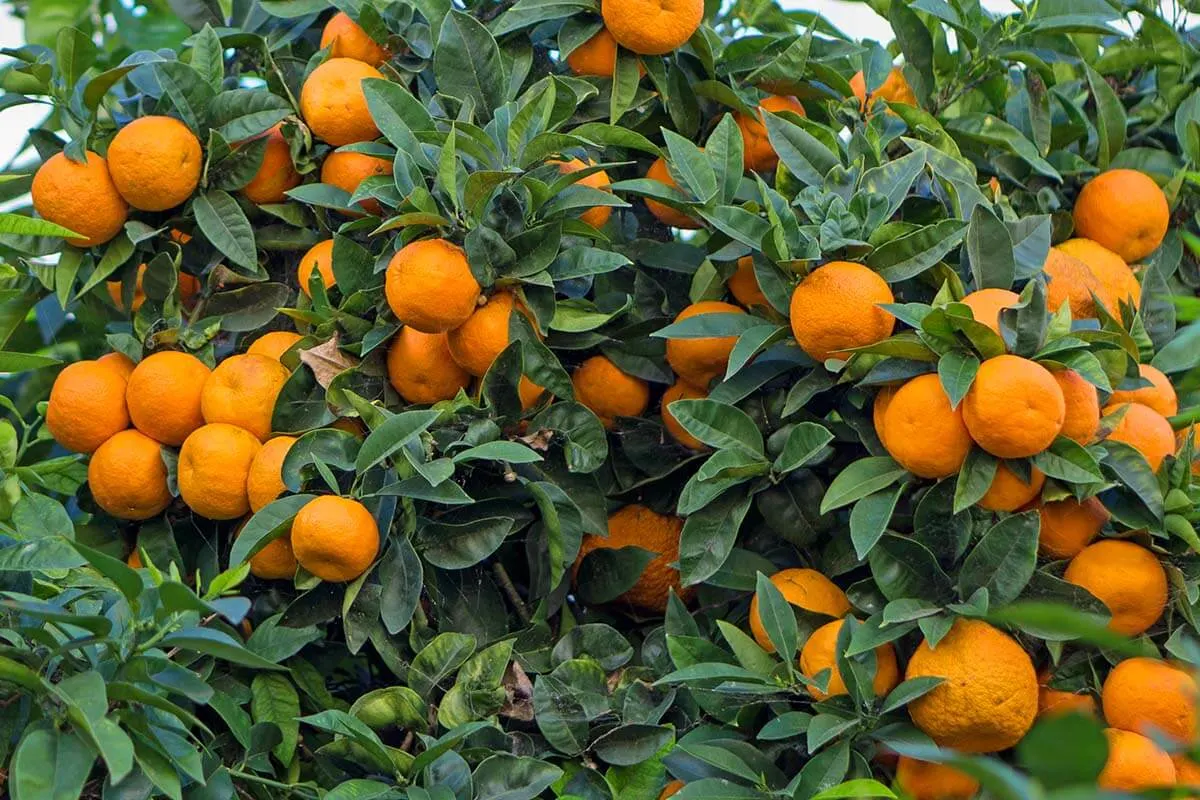 18. Dining
Since Albufeira is mostly a vacation resort, no guide to the area would be complete without mentioning shopping and dining.
While many hotels in the area offer half-board or even all-in packages, having all your meals at a hotel is probably not the best way to get to know a place. So we highly recommend that you go out for lunch/dinner whenever you can. There are so many nice eateries to suit all tastes in Albufeira. Plus, you support small local restaurants as well.
There are too many restaurants in Albufeira to even start to mention a small part of them here. I recommend simply checking Google Maps for restaurants near your accommodation. You will definitely find something nice nearby.
If you want to try local specialties, you'll be spoiled with the choice of fresh fish and seafood. If you prefer something different (or the same as at home), you'll find it all in Albufeira.
From well-known fast-food chains, Portuguese, Italian, English, Irish, Indian, or Mexican restaurants to some of the most renowned gourmet restaurants in the world like Vila Joya, named by San Pellegrino as one of the 'World´s 50 Best Restaurants' (where you have to book months in advance and be prepared to pay a few hundred euros for a set menu)… Albufeira truly has it all.
You could go to a different restaurant in Albufeira every day for a year and still not visit them all. The good thing is that most restaurants are very affordable and offer truly great service and quality.
READ ALSO: Where to Eat in Albufeira (all our personal favorite restaurants)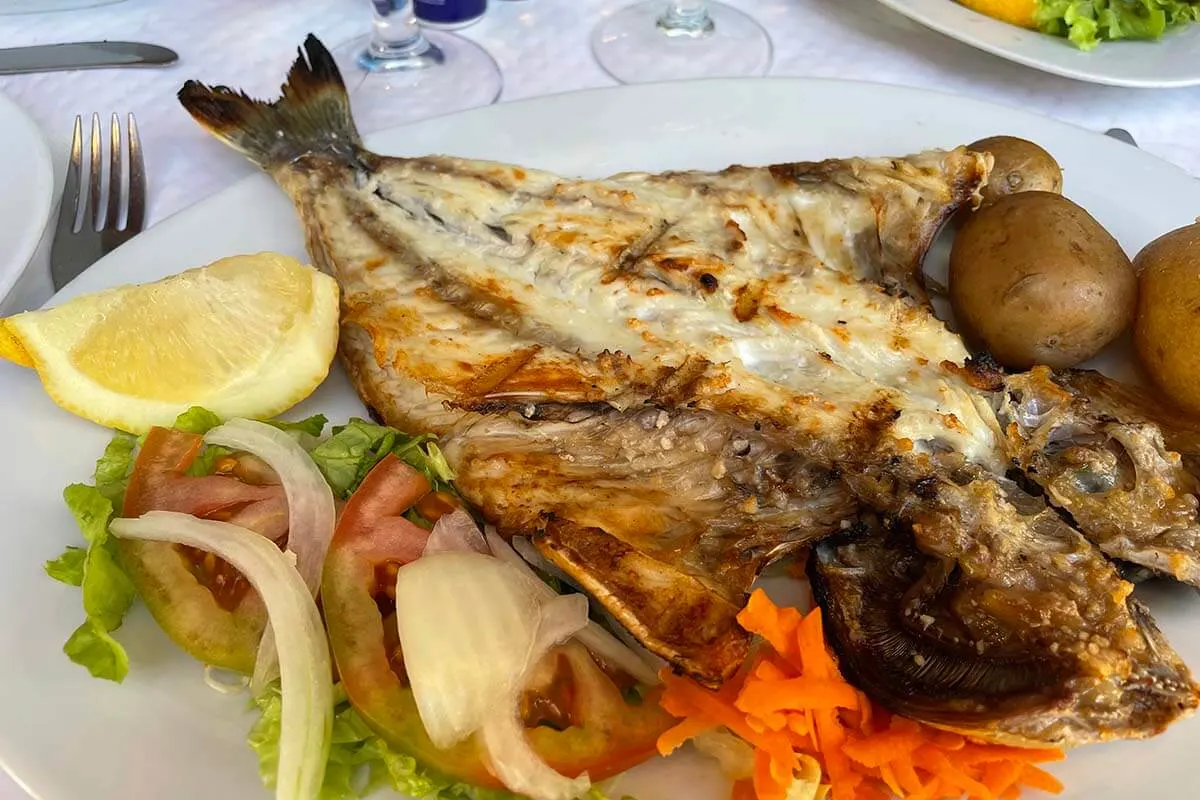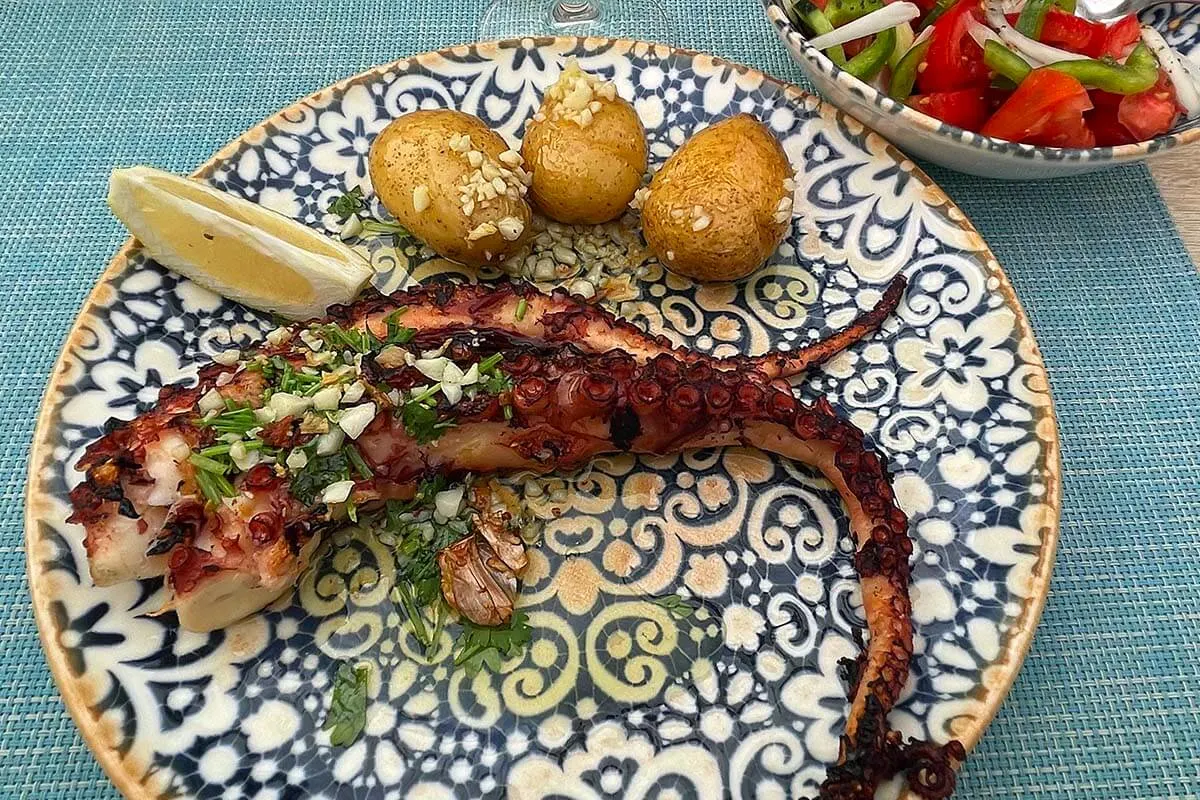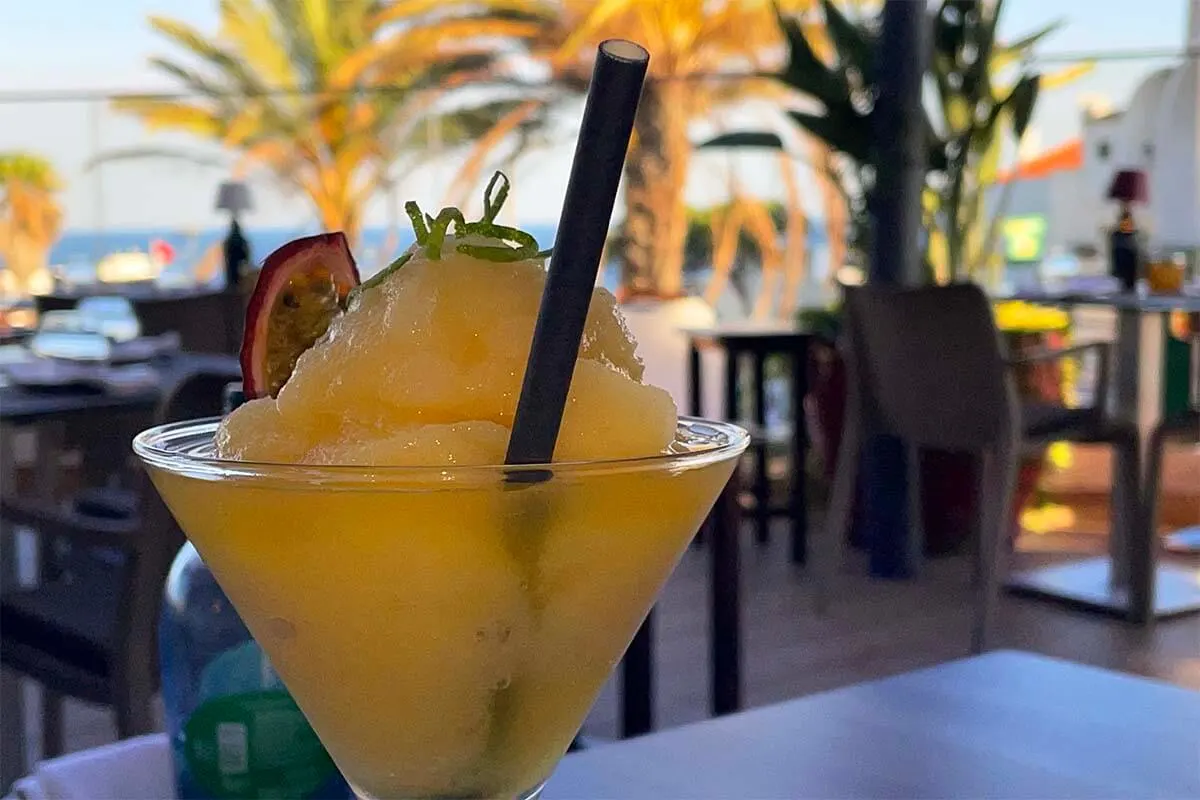 19. Shopping
Many people also like to go shopping when on vacation in Albufeira.
You will find some souvenir stores in the old town where you can buy traditional Portuguese cork products, etc. If you are looking for clothing stores and similar, head to the mall called Algarve Shopping in Guia, about 10-15 minutes drive from Albufeira town center. You can simply take a taxi/Uber/Bolt to get there – it's very affordable.
For the best shopping experience in the Algarve region, you may also want to consider MAR Shopping Algarve. It's located close to Faro, about half an hour's drive from Albufeira. You will also find designer outlets at the same location.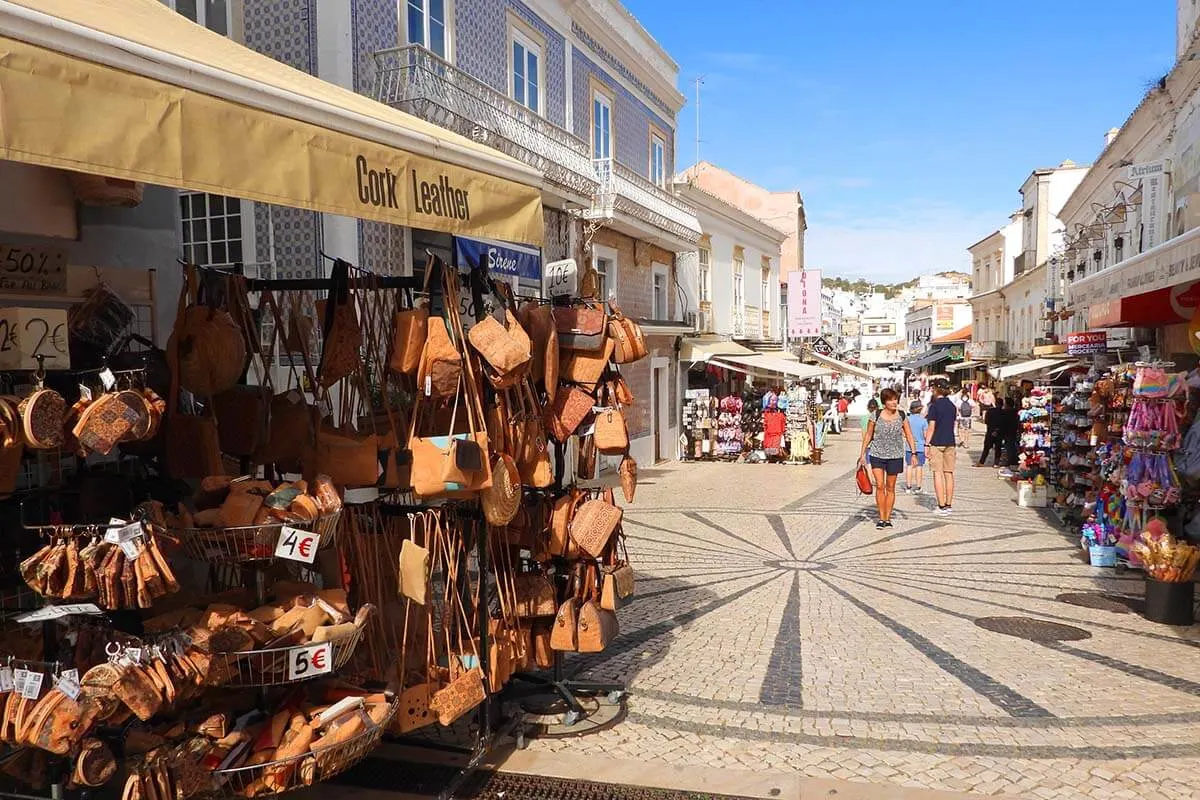 Where to Stay in Albufeira
There are tons of accommodation options in Albufeira. From self-catering apartments to 5-star resorts, there is something for everyone.
However, if you are traveling in the high season (May-October), try to book as soon as you know your travel dates. The prices soar in the peak season and the best price/quality accommodations book up very fast.
Also, there are a few things you may want to consider when looking for a place to stay. Albufeira town is quite spread out and hilly, so walking somewhere might take much longer than you think when looking at the map. Also, some hotels/resorts are sitting on the cliffs while the beach is down below and you might have to do (lots of) stairs in order to reach it. And finally, if you are renting a car, make sure that your hotel has parking.
For the ultimate Albufeira vacation experience, we highly recommend staying at a beachside/sea view property. Below are some of our hand-picked recommendations. We actually stayed at most of these, except the ones for adults only.
Here are a few of our favorite seafront hotels/resorts in Albufeira:
€€€€€ NAU Sao Rafael Atlantico. This is a very nice 5* resort on the western side of Albufeira, right next to Sao Rafael Beach. You will need a car/taxi to get to the town center, but you have direct access to some of the most beautiful beaches. There are some stairs to get to the beach, but in general, it's not very steep. The rooms in this hotel have open-plan bathrooms, so it might not be ideal for families with older kids/teens.
€€€€+ Hotel Sol E Mar. This

adults-only

hotel sits on the main beach in Albufeira, right above the Albufeira Tunnel. Excellent beachfront location in the heart of the old town and with easy beach access, especially if you want to be in the center of all the action.
€€€€ PortoBay Falesia Hotel is a 4* resort in Olhos D'àgua, on the eastern side of Albufeira. This hotel sits on the cliffs overlooking the beautiful Falesia Beach. It's a typical vacation hotel with indoor and outdoor pools and several restaurants including a big buffet restaurant. You'll need a car/taxi/bus in order to get to Albufeira town center from here, but there are plenty of restaurants in Olhos D'àgua itself if you decide not to opt for their half-bard or all-in packages and rather dine locally.
€€€€ Auramar Beach Resort. This is a great-value mid-budget beachfront resort right in the town center, yet quiet. It's very centrally located and you can easily walk to the old town (20-30 minutes via the beach) or to the Strip (10 minutes).
€€€+ Alfagar Aparthotel and Alfagar Village. This is a big resort that has different types of accommodations – hotel rooms (Alfagar Aparthotel) and apartments that are

great for families

(Alfagar Village). It's located just next to Santa Eulalia, about 15-20 minutes walk from the New Strip. The hotel sits on the cliff and the beach is much lower, so you will have to negotiate quite some stairs to get there. But the views from the top make up for it.
€€€ Grande Real Santa Eulalia Resort. This is a very nice 5* resort on the eastern side of Albufeira, about 15-20 minutes walk from the New Strip (it's a bit hilly though). A big plus point is that the hotel itself is located very close to the beach, so you won't have to do many stairs here. Depending on the season, you can get great value for your money.
LEARN MORE: Where to Stay in Albufeira: Best Areas & Hotels
Map of the Best Places to See in Albufeira
To help you plan your trip, we created a map indicating all the main sights in Albufeira mentioned in this guide.
As you can see, the town is quite spread out so you will need some kind of transportation if you want to visit all these places. But no worries if you are not renting a car because taxi/Uber/Bolt is not too expensive in Algarve.
How to use this map: Use your computer mouse (or fingers) to zoom in or out. Click on the icons to get more information about each place. Click the arrow on the top left corner for the index. Click the star next to the map's title to add it to your Google Maps account. To view the saved map on your smartphone or PC, open Google Maps, click the menu and go to 'Your Places'/'Maps'. If you want to print the map or see it in a bigger window, click on 'View larger map' in the top right corner.
So, this is our guide to some of the best things to do in Albufeira. I hope that it gives you a better idea of what to expect and also gives you some new ideas for all kinds of activities to try and places to see in Albufeira.
In addition, you may want to visit Lagos or Tavira, some of the most beautiful towns in the Algarve. For more information and ideas for what to see and do, see our detailed guide via the link below!
Have a great trip!
READ ALSO: Best Things to Do in Algarve (All the must-sees)
More travel guides for the Algarve region:
If you found this post helpful, don't forget to bookmark it and share it with your friends. Are you on Pinterest? Pin this image!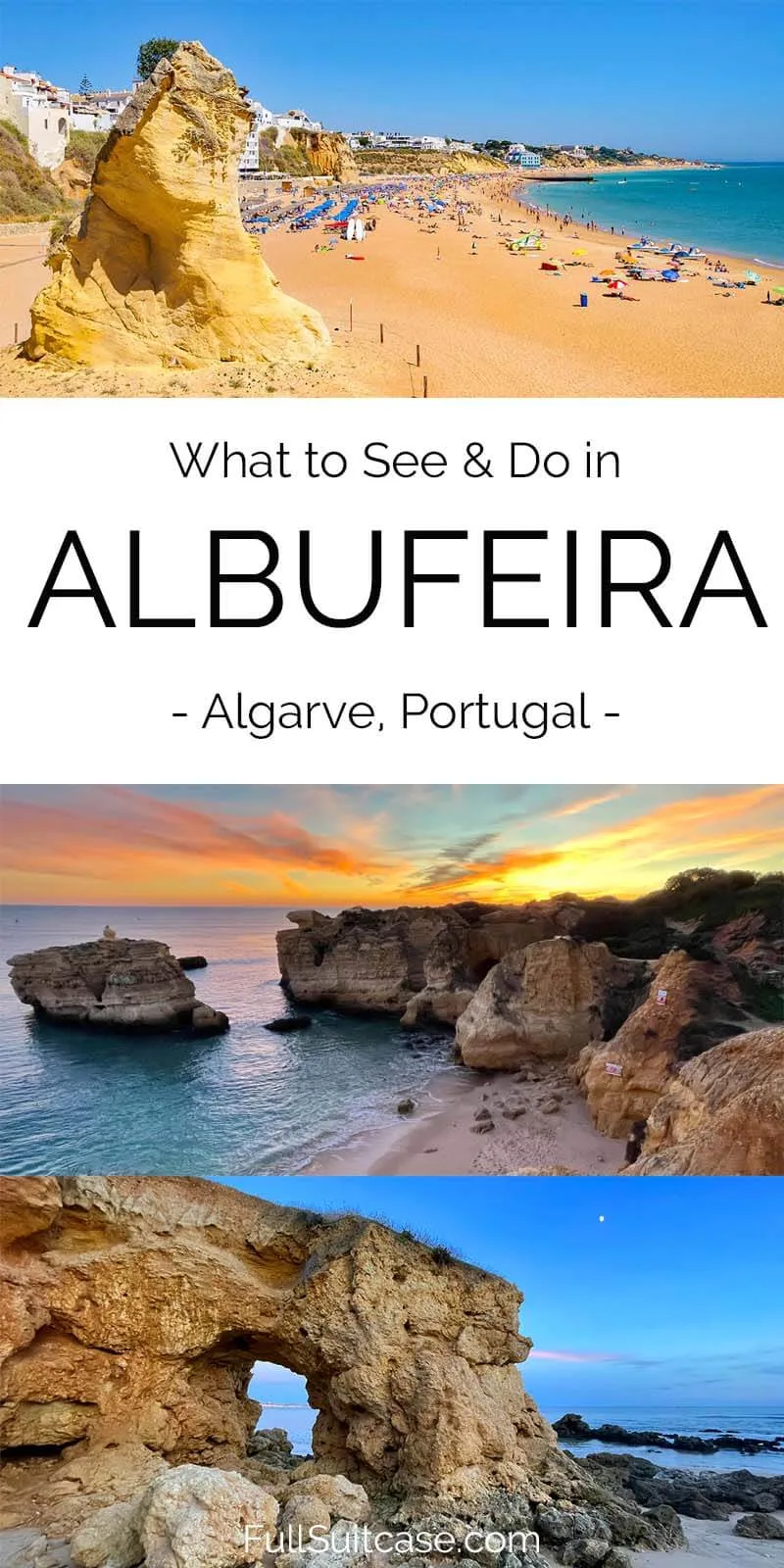 More travel inspiration for your trip to Portugal: