Looking for the best places to go kayaking in the Algarve region in southern Portugal? In this guide, you can read about the most scenic kayaking locations on the Algarve coast. For each place, we also include recommendations for the best kayak (or stand-up paddleboarding (SUP)) tours or rental options, as well as some practical tips and useful info. Find out!
With its dramatic scenery, colorful sandstone cliffs, hidden caves, and crystal-clear waters, the Algarve coast is absolutely spectacular. While there are many ways to enjoy the scenery and gorgeous views, there is no better way to appreciate the beauty of the Algarve coast than by seeing it from the water. Indeed, no visit to the Algarve would be complete without taking at least one boat trip…
If you want to explore the stunning coastal landscapes from close by, there is simply no better way to do that than kayaking or standup paddleboarding. And the good news is that Algarve offers an ideal playground for both seasoned kayakers and beginners alike.
But where exactly to go and what to expect? Should you book a tour or simply rent a kayak or a SUP? What to wear, what to take with you, and what to leave behind? When is the best time to go kayaking? Can everyone do it?…
In this article, we share the best (and our favorite) kayaking spots in the Algarve, coupled with practical tips and recommendations to help you plan an unforgettable experience of your own. We also include suggestions for the best Algarve SUP- and kayak tours. At the bottom of this article, you will find answers to all the frequently asked questions about kayaking in Algarve.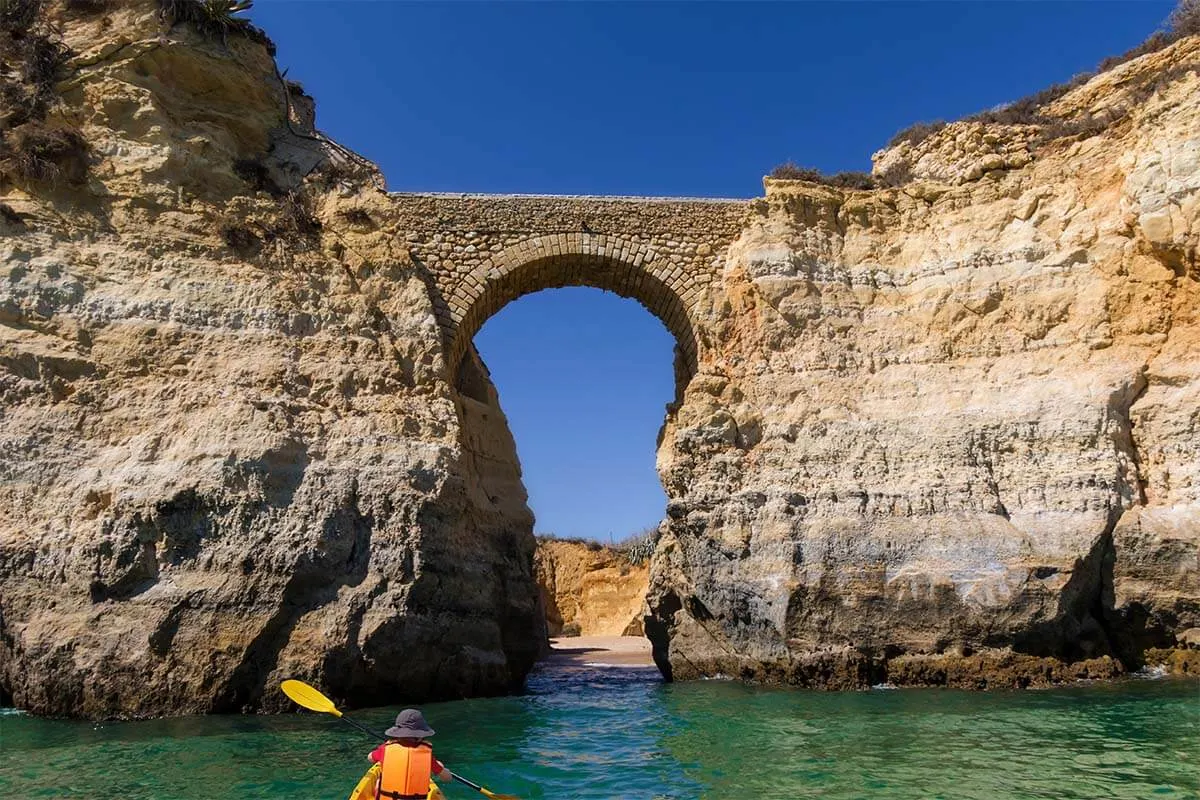 Important: Be sure to also read our practical tips at the bottom of this article when considering whether to rent a kayak or join a guided kayaking tour in Algarve.
Kayaking in the ocean – and especially entering sea caves – is much safer when done with local guides who have experience in these specific conditions. Even a seemingly simple thing like coming back to shore can be tricky in certain conditions.
But first, let's dive in and take a look at the best spots to discover by kayak or SUP! For each place, we also include some useful information, practical tips, and our hand-picked selection of the best kayaking tours in that specific area.
These are the most beautiful places to go kayaking in Algarve:
1. Benagil Cave
Benagil Cave probably needs no introduction. If you have done any research for your trip, then you already know that this majestic natural wonder is the most popular place to see on the Algarve coast. It would be unthinkable to visit the region without seeing this impressive sea cave and the stunning coastline around it.
So it will come as no surprise that Benagil Cave is also the first place that comes to mind when people think of kayaking in the Algarve. As you will see further below, there are so many other amazing locations to discover by kayak, but Benagil Cave is certainly the best-known and most popular of them all.
Recognized as one of the most impressive sea caves in Europe, its sight will take your breath away. The moment you enter through the natural archway, you'll be greeted by the grandeur of this cathedral-like cave hiding a tiny beach inside. What makes it even more special is the way the sunbeams light up the cave through a big hole in the ceiling.
It's a magical place! However, since it's extremely popular and boats go in and out all the time, it's often difficult to appreciate just how special it is. Visiting Benagil Cave by kayak or SUP is definitely a more unique experience than by boat and you can admire the stunning interior from a more intimate perspective.
Good to know: The best kayaking tours in this area include much more than just Benagil Cave! They also continue further east, in the direction of Praia da Marinha, one of the most beautiful beaches in Algarve. More about it further below.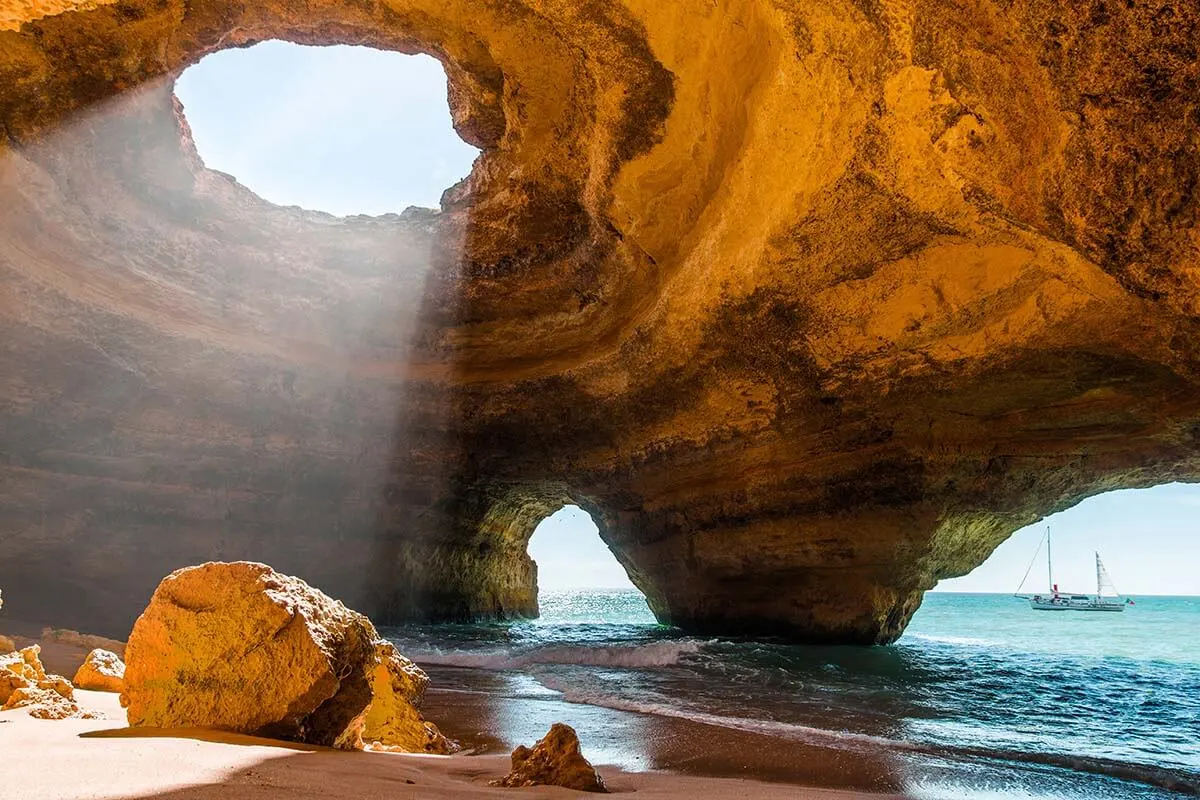 Practical Info & Best Kayak Tours at Benagil Cave
While you can just rent a kayak at the nearby Benagil Beach, we highly recommend going with a guided kayak/SUP tour. Local guides have experience and know the area, and it will be safer. Plus, most tours here explore more of the spectacular coastline bringing you to the nicest sea caves nearby as well.
Whatever you decide – renting a kayak/SUP or going on a tour, be sure to book at least a few days in advance! Benagil Cave tours are extremely popular and tend to sell out, not just in the peak season.
Important update for the fall – winter 2023: At the moment, there are certain restrictions for visiting Benagil Cave and it's not allowed to disembark or swim inside the cave. Boat tours run as normal. There are also plenty of kayak tours in the area. For more information, please see our page "Is Benagil Cave Closed?".
Here are some of the best options for visiting the area around Benagil Cave by kayak or SUP:
Good to know: Because Benagil Cave is so popular, it's best to visit here as early in the morning as possible before too many boats arrive in the area. The sea is usually quieter, not even to mention that it will be safer to enter the cave. Alternatively, consider a late afternoon kayak tour. The sea might be a bit rougher, but it's incomparably quieter than during the day.
TIP: If you are staying not too far in the area, consider sunrise or sunset kayak tours and visit outside the busiest hours. As I said, Benagil Cave is the most popular excursion in the area. It's difficult to imagine how busy a natural site can get unless you have experienced it.
READ ALSO: How to Visit Benagil Cave
2. Ponta da Piedade, Lagos
Located just near one of the most beautiful towns in Algarve – Lagos, Ponta da Piedade is renowned for its breathtaking scenery. The coastline here is stunning, with towering cliffs and magnificent rock formations that adorn the shoreline.
If you are looking for the most beautiful places for kayaking in Algarve, Ponta da Piedade will not disappoint. This is our personal favorite spot to kayak in the region.
One of the highlights of kayaking at Ponta da Piedade is the opportunity to get really close to one of the most remarkable places on the Algarve coast and see its hidden caves and grottoes. With narrow passageways and impressive sea arches, kayaking is one of the best ways to explore this mesmerizing labyrinth created by the power of the ocean.
Kayaking here is more special than at Benagil Cave. At Ponta da Piedade, you can enter many more really impressive sea caves and the scenery here is more impressive. Plus, if you can avoid peak times – it's not nearly as busy as kayaking at Benagil Cave.
READ ALSO: Complete Guide to Visiting Ponta da Piedade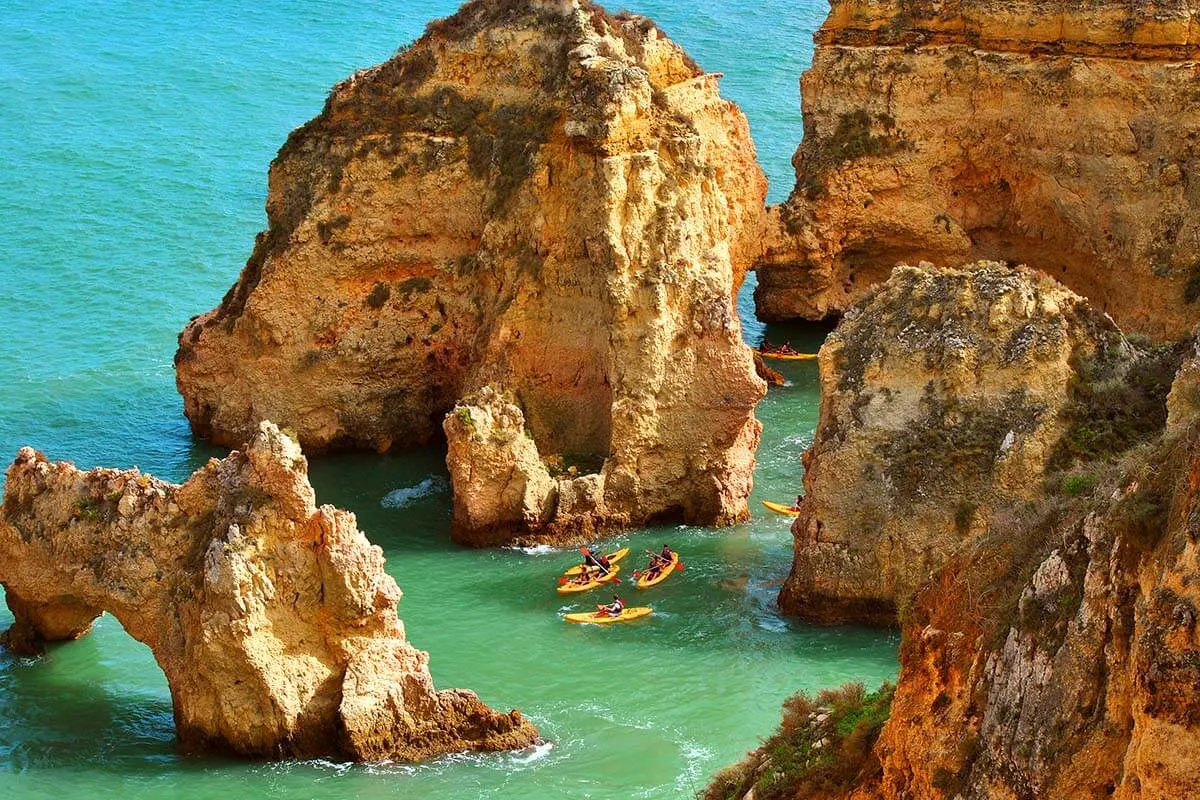 Practical Info & Best Kayak Tours at Ponta da Piedade
While Ponta da Piedade is not far from Lagos town center by car, it's quite a distance if you have to paddle all the way there. So there are two types of kayak tours to Ponta da Piedade: by kayak from one of the nearby beaches or by boat from Lagos Marina, followed by kayaking at Ponta da Piedade. The latter is less tiring.
Good to know: While not as popular as Benagil Cave, Ponta da Piedade is one of the top places to visit in Algarve, so expect it to be busy, especially in the summer. Also here, if you want to take a kayak tour, be sure to reserve in advance!
TIP: Also here, we highly recommend going first thing in the morning. Not only is the ocean usually calmer, but it's also incomparably quieter. We recently did this amazing kayak tour starting at 8.45 am in July and there were just a few boats and kayaks at first. By 10-10.30 am, it got really busy already, and we saw even more boats heading toward Ponta da Piedade on our way back to Lagos. The guides told us that 10 am – 2 pm is the busiest time.
Alternatively, you may want to go late in the afternoon – starting at 4-5 pm. Just keep in mind that the wind is usually much stronger in the afternoon.
Here are some of the best kayak tours to Ponta da Piedade from Lagos:
LEARN MORE: Kayaking at Ponta da Piedade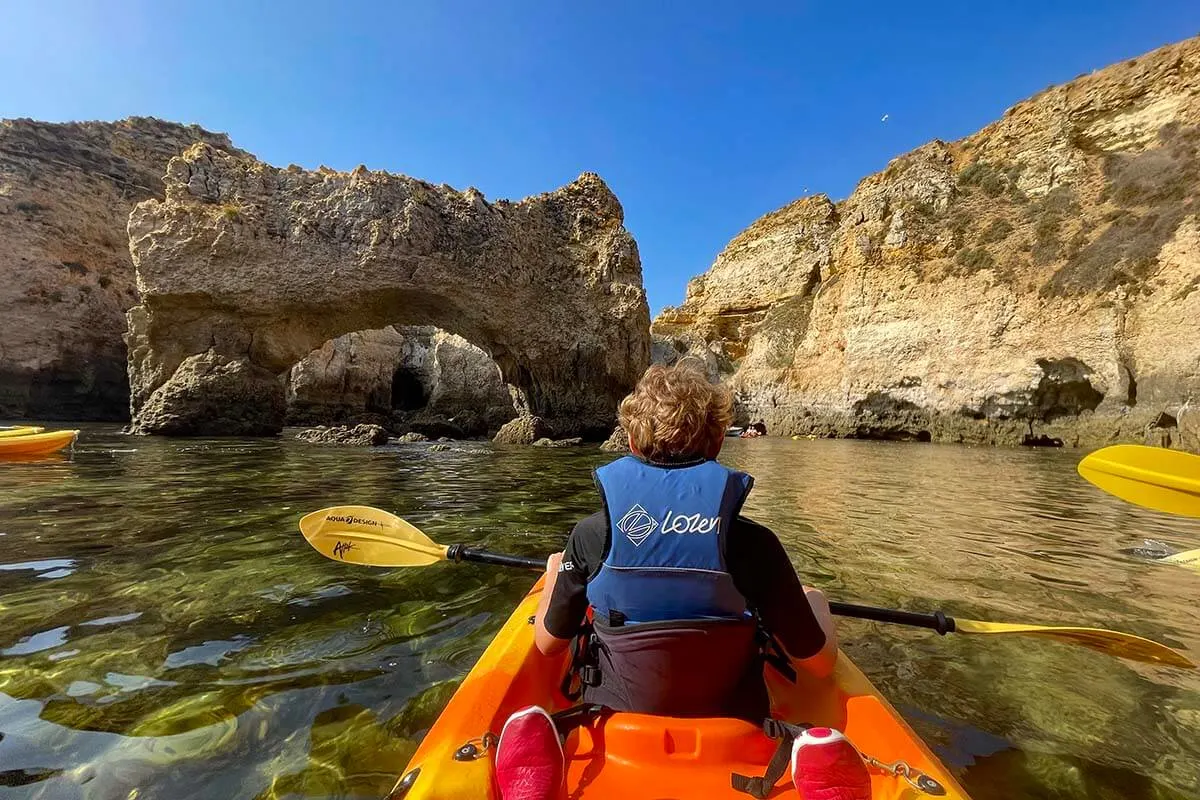 3. Praia da Marinha
Praia da Marinha is a beautiful beach located very close to Benagil Cave. But because some kayak tours that visit Benagil Cave don't go much further than that, it's worth mentioning it separately.
The coastline east of Praia da Benagil and west of Praia da Marinha is absolutely stunning! With towering sandstone cliffs, impressive rock formations, and hidden coves, kayaking here will leave you in awe at every stroke of your paddle.
This is definitely one of the nicest places to go kayaking in Algarve. If you ask me, I think it's worth a visit just as much – if not more – as Benagil Cave itself.
So if you already plan on exploring this part of Algarve by kayak, we highly recommend booking a longer tour that brings you toward Praia da Marinha, and not just to Benagil Cave.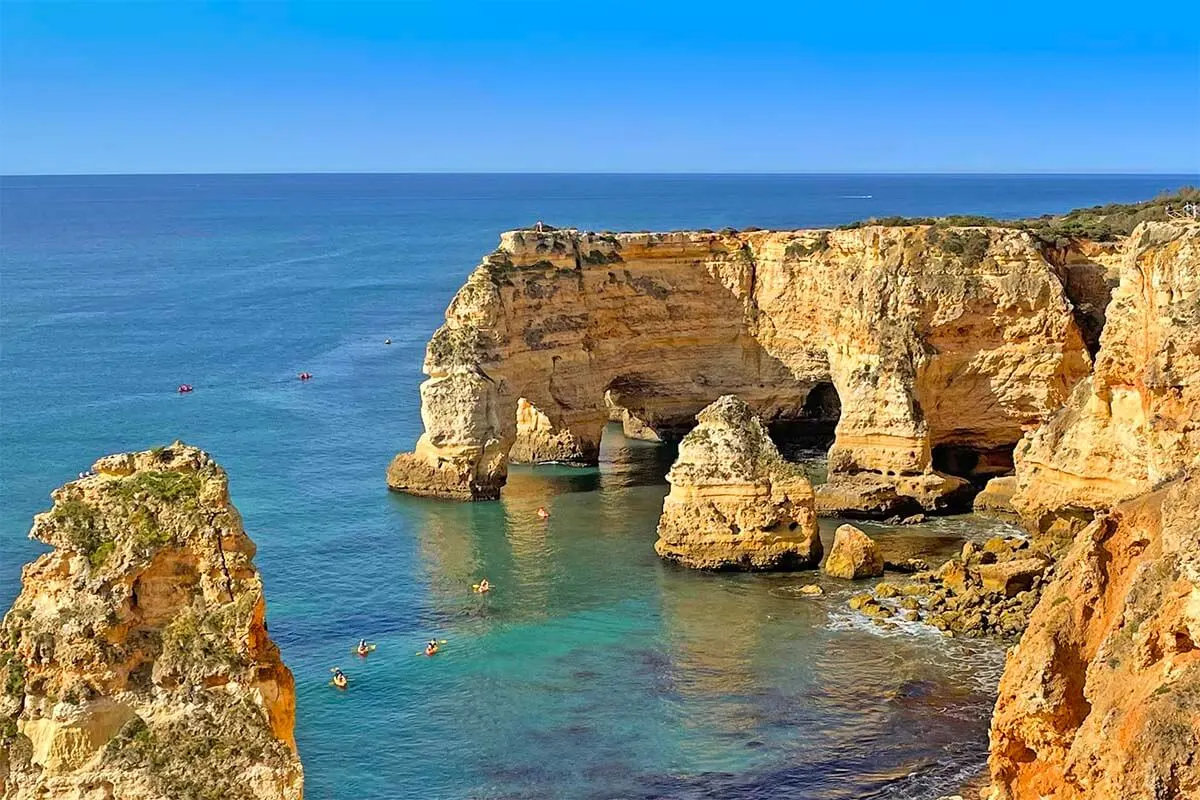 Practical Info & Best Kayak Tours near Praia da Marinha
As already mentioned, Praia da Marinha is located in the same area as Benagil Cave. So most kayak tours visiting the Cave will bring you to this area as well. However, it's not always the case, especially for shorter tours, SUP tours, or tours that start further away.
So if you want to combine a visit to Benagil Cave with kayaking along this stunning coastline near Marinha Beach, be sure to read the tour description before you book. While it's well possible that tours include a visit here too without mentioning it, if it's not in the description, you can never be guaranteed.
Here are some of the best kayak tours to explore the coastline near Praia da Marinha + Benagil Cave:
4. Albufeira: Coastline Between Praia de São Rafael & Praia do Castelo
Praia de São Rafael and Praia do Castelo are among the most beautiful beaches in Albufeira, in the central Algarve. The scenery here is stunning, with limestone cliffs, sea caves, hidden coves, and lovely little beaches dotting the coastline.
This area is not as well known as the most popular kayaking locations in Algarve mentioned above. To us, that's part of its charm. There are just a few companies renting kayaks/organizing kayak tours here, so it feels like a much more authentic kayaking experience compared to the ones listed above.
The pristine beauty and tranquil atmosphere create the perfect backdrop for a leisurely paddle along the coast. There are no big famous landmarks here, so there is not one place that you absolutely 'have to' see.
It's more about the experience itself, kayaking along one of the most scenic coastlines in the world. If the sea conditions allow it, you can also enter a couple of sea caves.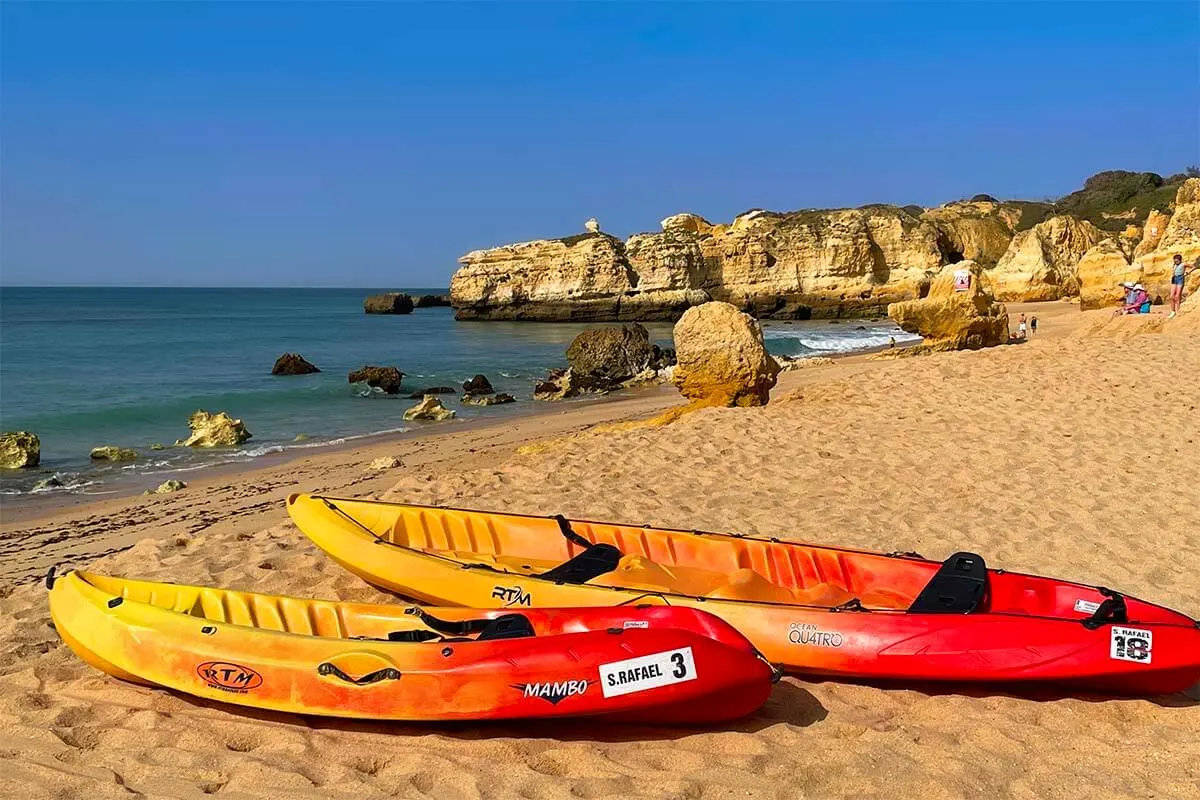 Practical Info & Kayaking in Albufeira
The nicest stretch of coastline to explore by kayak in Albufeira is located between the beaches of Sao Rafael and Castelo, west of the city and past the Marina.
São Rafael Beach is located 5 km west of Albufeira town center, about 10 minutes drive by car. Castelo Beach is a bit further west, about the same driving time. Unless you take a tour directly from Albufeira, you will need a car, or taxi/Uber/Bolt to get to these beaches.
Good to know: There are several places where you can rent a kayak or join a kayak tour here. One option is to start directly at either Sao Rafael Beach or Castelo Beach. The second option is to come with a boat + kayak tour from Albufeira Marina. In that case, you cover the bigger distance by boat and then switch to kayaks when you get to the most scenic part of the coast.
Whatever you decide, be sure to book in advance. Albufeira is a very popular place and everyone is looking for nice things to do nearby, so kayak tours often sell out as well.
Here are the best kayak tours in Albufeira:
Good to know: No matter which of the above options you choose, you'll be kayaking in the same area.
5. Ria Formosa
Ria Formosa is a nature reserve located in the eastern Algarve. Stretching for over 60 kilometers (40 miles), Ria Formosa Nature Park is made up of several barrier islands and peninsulas, with an extensive network of lagoons, channels, and marshes. The wetlands of Ria Formosa are also home to a rich variety of flora and fauna, best known for a big variety of birdlife.
One of the main highlights of kayaking in Ria Formosa Lagoon is the incredible birdwatching opportunities. Depending on the season, you might be able to see flamingos here too. Just keep in mind that flamingos tend to be around in the colder months when kayaking may not be the best idea.
The scenery in this part of the Algarve coast is totally different than the best kayaking spots mentioned earlier. The waters here are somewhat more protected from the ocean, so the kayaking itself is quite different.
Good to know: Kayaking at Ria Formosa is more about the adventure than the scenery. While absolutely nice, it doesn't have the wow effect that you have when kayaking next to the famous Algarve coastal cliffs.
This is more something fun to do if you are looking for a less touristy experience or a nice relaxing day out with the family. Depending on how much time you have, you can kayak to Faro Beach, where you can also go for a swim or have lunch, etc.
READ ALSO: Best Things to Do in Faro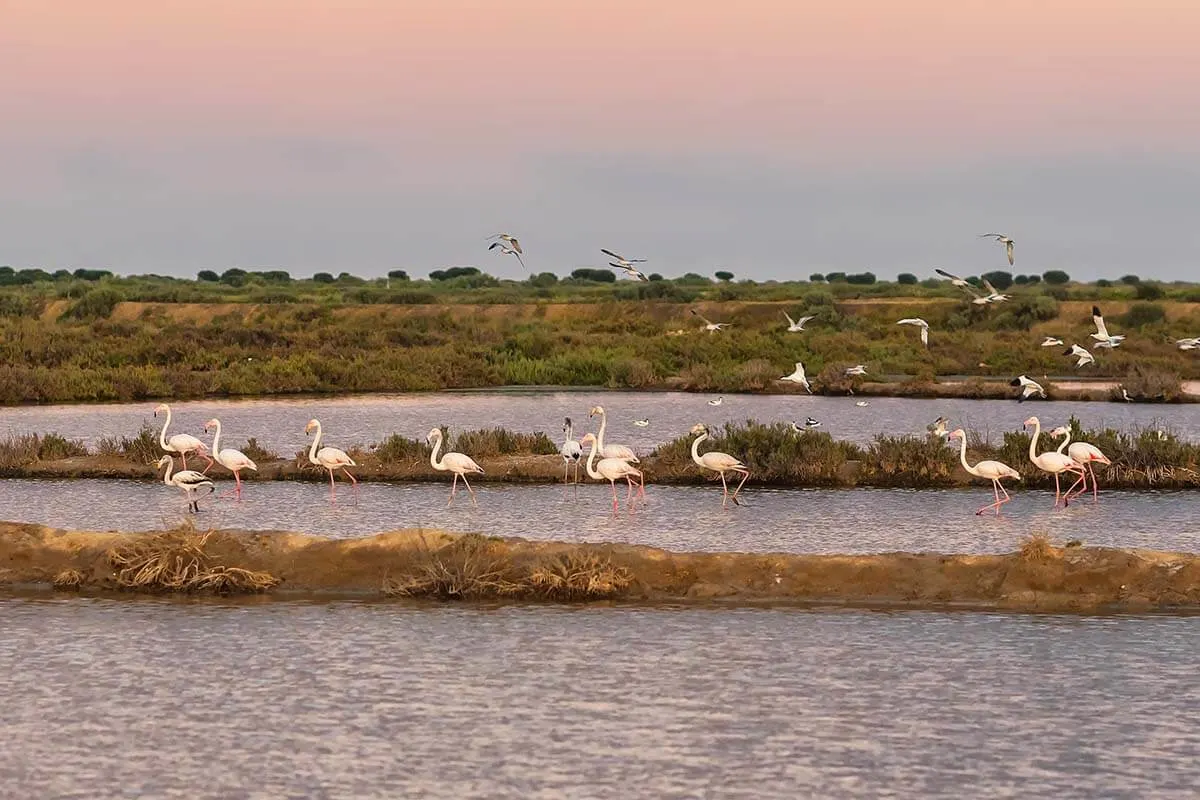 Practical Info & Kayaking in Ria Formosa
As already mentioned, Ria Formosa Nature Park covers a huge area. Most people visit here by boat, or just take a ferry to one of the islands and spend time at the beach. The best place where you can rent a kayak or join a guided kayak tour of Ria Formosa is Faro, more precisely Faro Marina.
Because kayaking here is easier than in central Algarve, you can also opt to just rent a kayak and explore on your own. But there is also a guided tour available if you rather go with a local guide who knows the area well.
Either way, keep in mind that the ecosystem here is fragile, so avoid disturbing wildlife and leave no trace behind.
Here are the best options for kayaking in Ria Formosa:
Map of the best kayaking spots in the Algarve
To give you a better idea of where all these places are located, we created a map indicating all the kayaking locations mentioned in this guide.
Keep in mind that you always have to double-check the exact location of your kayak/SUP tour or rental!
How to use this map: Use your computer mouse (or fingers) to zoom in or out. Click on the icons to get more information about each place. Click the arrow on the top left corner for the index. Click the star next to the map's title to add it to your Google Maps account. To view the saved map on your smartphone or PC, open Google Maps, click the menu and go to 'Your Places'/'Maps'. If you want to print the map or see it in a bigger window, click on 'View larger map' in the top right corner.
Info & Tips for Kayaking in Algarve
As already said, there are some things you may want to know before booking a kayak tour or renting a kayak or a SUP in Algarve. Below are some of our experience-based tips and information that you may find useful.
Should you book a tour or just rent a kayak?
Consider your skill level, location, and sea conditions when deciding whether or not to go kayaking in Algarve, and if you rather do it on your own or with a local guide.
Sea conditions permitting, kayaking in Algarve is generally suitable for all levels including complete beginners. However, there are some elements that can make it potentially dangerous, even if you have kayaked before. For example, even if the sea is seemingly calm, it can be unsafe to enter (certain) sea caves or grottos, or even to disembark at the beach without external help.
If in doubt, we recommend booking a tour. It's hardly more expensive than kayak hire and you will be more at ease. Experienced local guides know the area, can provide valuable insights, and can better estimate how safe it is to enter the caves or stop at certain beaches, etc. Plus, the guides can take you to hidden gems that you might not discover on your own.
Good to know: When kayaking, be sure to take some breaks and just enjoy the scenery. Going on a kayaking tour, we were actually surprised at how relaxing it was; we never felt rushed.
Can everyone go kayaking in Algarve, also as a complete beginner?
First and foremost – if you have never kayaked before, we highly recommend that you go with a local guide!
For the rest, pretty much everyone in good physical shape can join a kayak tour in Algarve. However, there are a couple of things to consider.
First, you have to be able to swim. Second, you have to be able to get in and out of a kayak. Furthermore, sitting in a kayak for a longer time isn't very comfortable so it can be tough for people who have back issues. They also don't recommend kayaking to sea caves to people with claustrophobia.
Finally, there are maximum weight limits, usually 100-110 kg (220-243 lbs). If you are heavier than the weight limit provided by the company that rents a kayak or organizes kayak tours, do yourself a favor and respect that. If you are too heavy, you risk tipping over, and getting back into the kayak won't be easy. Not even to mention that you may hit the rocks and hurt yourself.
TIP: If you are not sure about kayaking, but want to see the beautiful scenery and explore the famous sea saves in Algarve, there are plenty of small-boat tours that can also bring you inside some of the caves.
When is the best time to go kayaking in Algarve?
In principle – sea conditions permitting – you can go kayaking in the Algarve almost the whole year. That being said, most kayak rentals and tours don't run in the coldest winter months.
Most kayak tours run between April – October, some from March to November.
The best time of the day is generally in the morning. That's when the sea is usually calmer and conditions are better for kayaking. However, in the summer, the ocean is often as calm as a lake and you can go kayaking pretty much any time.
That being said, if you go kayaking at the most popular locations like Benagil Cave or Ponta da Piedade, you may want to avoid the busiest hours (10 am – 2 pm) as it can get crazy busy with hundreds of kayaks and boats trying to navigate inside the sea caves.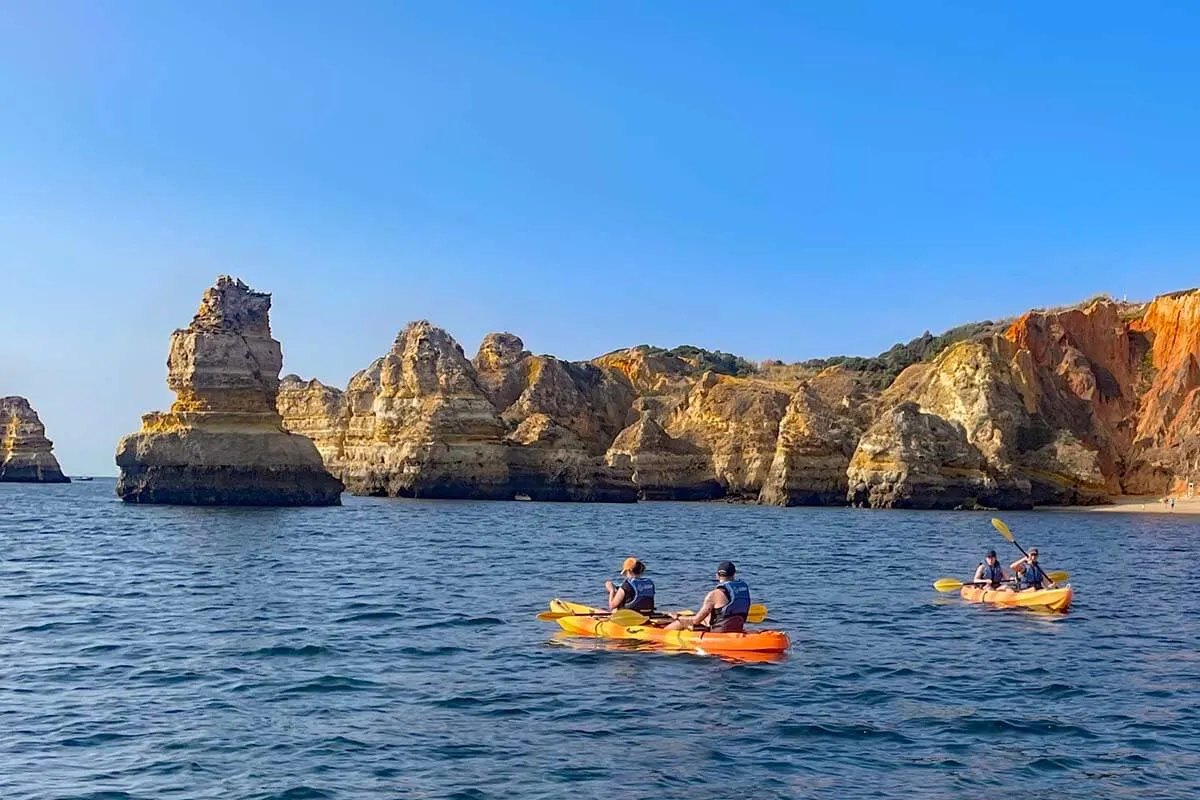 Kayaking in Algarve with kids
Yes, you can go kayaking in Algarve with kids. There are certain age limits, depending on the place and tour company. In most cases, kids under 5-6 years are not allowed. But some tours allow kids from 3-4 years as well.
You may want to know that most companies offer single and double kayaks. Double kayaks also have a small third seat in the middle, where – theoretically – a child could sit. While not the most comfortable solution, it could be done with 3 people in a kayak.
However, when we went kayaking with our three kids (so 5 of us in total), the guides advised us to take two double kayaks and a single kayak. This worked well for us as our oldest son could go on his own and we each took one of the younger kids with us. But I would be hesitant to let a kid younger than +-12 go on their own, mainly because kayaking for an hour or two in the ocean can get quite tiring if you have no one to help you paddle.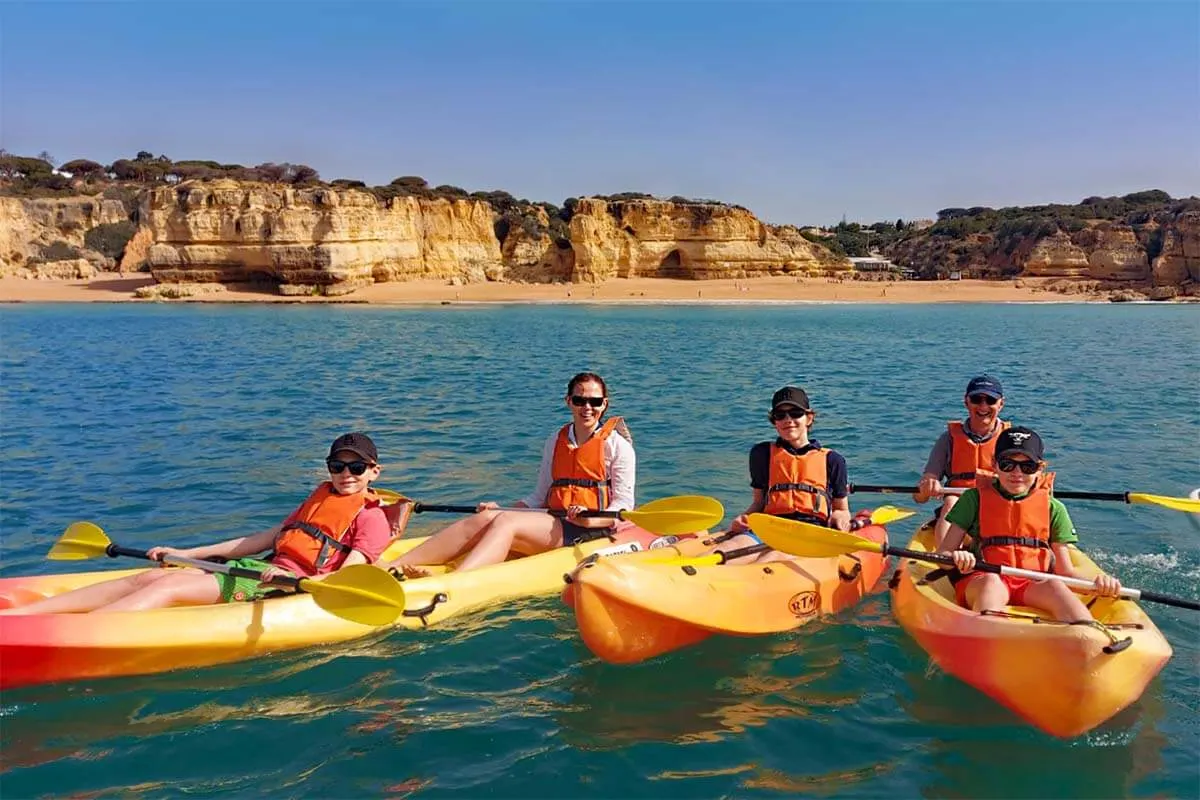 What to wear and what to pack for kayaking
Normally, all you need for kayaking in Algarve is (swim) shorts and a T-shirt. In the colder months, some companies will provide wetsuits. You should always wear a life jacket as well (life jackets should be provided when you rent a kayak or take a tour).
In summer, a sun hat can be a good idea as well, just make sure that it sits tight and cannot blow away with the wind. Make sure to apply plenty of sunscreen lotion before you go kayaking – even if it doesn't feel too warm.
Most people go kayaking without any footwear. Shoes would get wet and flip-flops could get lost, so the only footwear that is suitable is water shoes.
I personally always prefer to wear water shoes since you never know what you might step on, but it's not a must.
For the rest, you will be asked to leave everything behind. Most companies usually have a place where you can safely store your belongings while you are kayaking. But ideally, you don't bring anything that you don't absolutely need.
If you really have to take something with you, make sure that you have a small waterproof bag. Some places might offer to borrow or rent them, but our experience in Algarve is that they simply ask you not to take anything.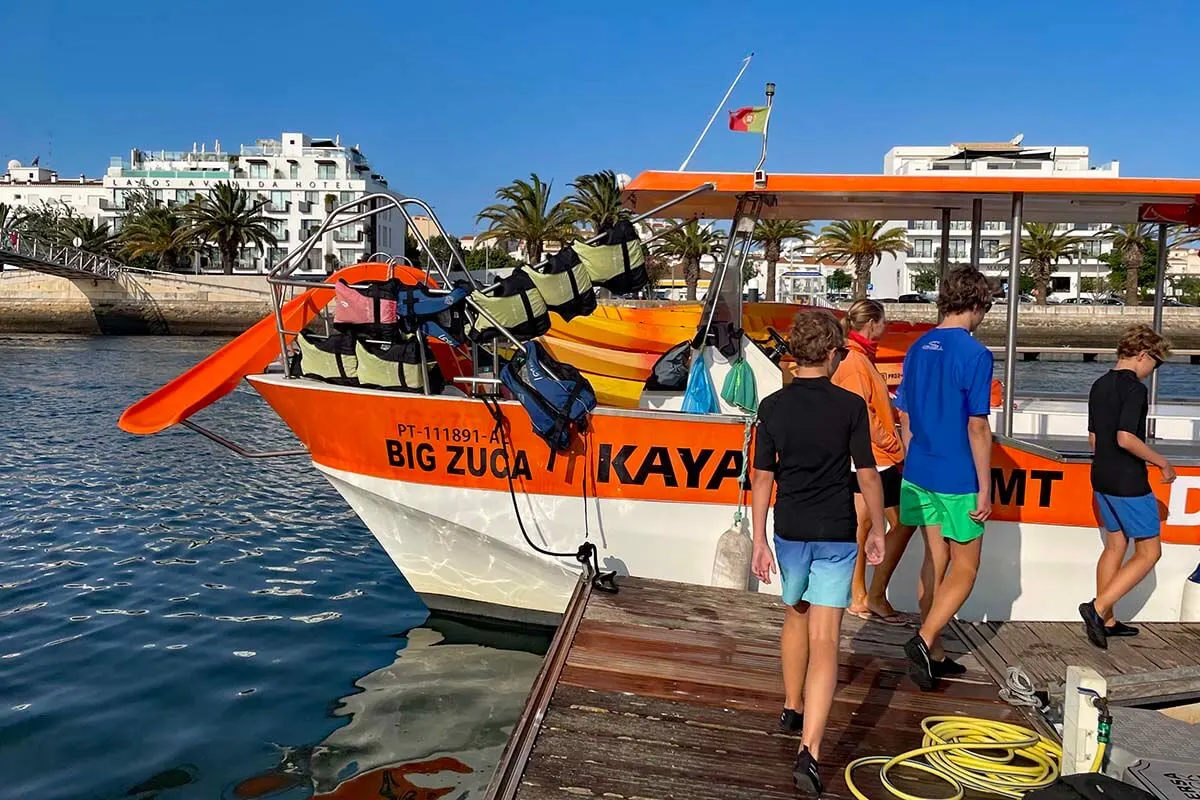 Can you take your camera with you?
This really depends. If you have a waterproof camera like a GoPro or a very good waterproof phone bag for your smartphone, normally, you should be able to take it with you. Most guides will tell you that – even with all precautions – too many accidents happen when people's phones/cameras get damaged by seawater. But if you have a waterproof bag for your smartphone and can hang it over your neck, then normally, you can take it.
Just know that even if kayaking itself goes really smoothly, the landing on the beach can be quite rough, and you (and your phone) risk getting wet.
This is normally not an issue if you are going on a tour where you launch directly from a bigger boat and not from the coast. For example, this boat + kayak tour from Albufeira to Benagil Caves or this Ponta da Piedade kayak tour from Lagos. Still, there is always a risk that a phone/camera will get wet on a kayak.
If you just want a few pictures to remember the moment, forget the camera and ask the guides to take some pictures of you. Most guides will offer to do that and they afterward send the pictures via WhatsApp or e-mail.
Without a camera, you can really just be there and enjoy the experience without looking for a perfect shot. But if you absolutely want to take your own pictures, then make sure that your phone/camera can handle seawater and/or is very well protected so that it can't get wet or lost.
So, this is our guide to kayaking in the Algarve.
As you can see, the Algarve region offers plenty of amazing kayaking opportunities. From hidden caves and dramatic cliffs to pristine beaches and even wetlands, there is no shortage of natural wonders waiting to be discovered. Happy paddling!
TIP: On our blog, you can find lots of guides for the Algarve region. See some of the highlighted articles via the links below. For more destinations all over the country including Portuguese islands, please check our Portugal travel guide.
More travel inspiration for the Algarve region:
If you found this post helpful, don't forget to bookmark it and share it with your friends. Are you on Pinterest? Pin this image!