Looking for the best beaches in Albufeira, Portugal, and wondering what to expect or where to go? In this guide, we highlight some of the nicest beaches in and near Albufeira town, including pictures and information to give you a better idea of the beauty and diversity of the Albufeira coastline.
Whether you are looking for a family-friendly beach, fun water activities, a picturesque shore surrounded by the famous Algarve coastal cliffs, or a most beautiful beach for a romantic walk at sunset, this article will give you plenty of ideas for some of the best beaches in Albufeira. Take a look!
Albufeira is one of the most popular destinations for a summer getaway in the Algarve in Portugal. Stretching for miles and miles, the coastline around Albufeira is dotted with beaches. From secluded coves to lively strips with beach bars, there's something for everyone.
Just out of curiosity, I counted all the beaches listed on the local maps of the Albufeira municipality. It turns out that – officially – Albufeira has 25 beaches. However, often the beach is so long that it has several different names for different sections, so it all depends on how you count. Still, as you can imagine, there is a lot to choose from…
But what to expect and which Albufeira beaches to visit when you are vacationing in the region?
In this blog post, we share our top picks for the best beaches in Albufeira, what makes them special, what to expect, and some useful tips for making the most of your time there. We also include a map indicating the exact location of each beach and some practical tips for your beach vacation in Albufeira. Find out!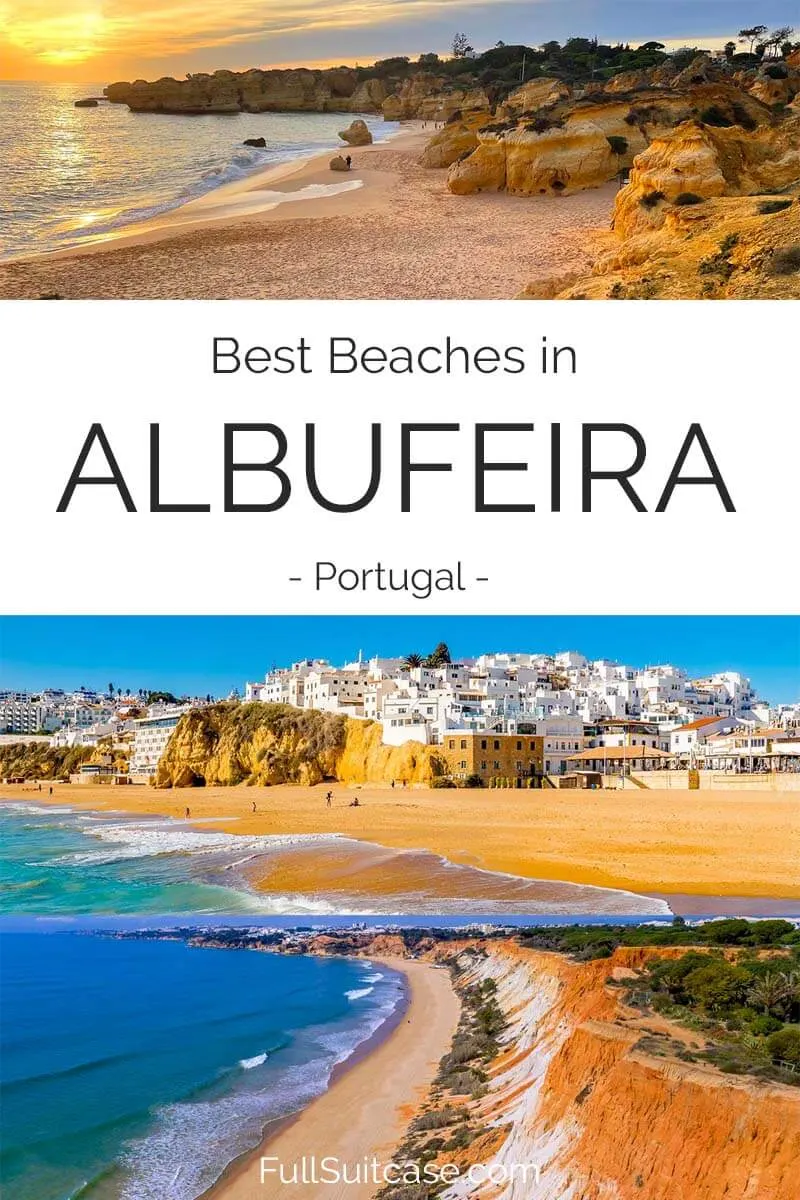 Here are some of the best and most beautiful beaches in Albufeira:
1. Praia de São Rafael
Let's start with my personal favorite of all Albufeira beaches – Praia de São Rafael. Located a short drive from the town center, this is one of the most picturesque beaches in the Algarve.
The scenic cove is framed by impressive rock formations, creating a stunning backdrop for your beach day. St Rafael Beach is relatively small, but it has everything for a perfect beach day! There is plenty of space to sunbathe and relax, you can rent beach chairs, and the water is perfect for swimming. We heard that there are also some excellent snorkeling spots nearby, but we haven't tried snorkeling here yet.
There's a seasonal beach bar and restaurant directly on the beach, where you can enjoy a refreshing cocktail or a delicious meal while taking in the breathtaking views. However, since this is the only restaurant here, the prices are really high.
Good to know: Praia de São Rafael is also very nice in the low season. The views from the cliffs above the beach are amazing and you can make a nice long walk here. Especially recommended at sunset!
Where to stay: If you would like to stay close to this beach, the best option is Hotel NAU Sao Rafael Atlantico. It has direct access to Praia de São Rafael via the stairs at the back of the hotel garden. There are several other hotels and accommodations nearby too.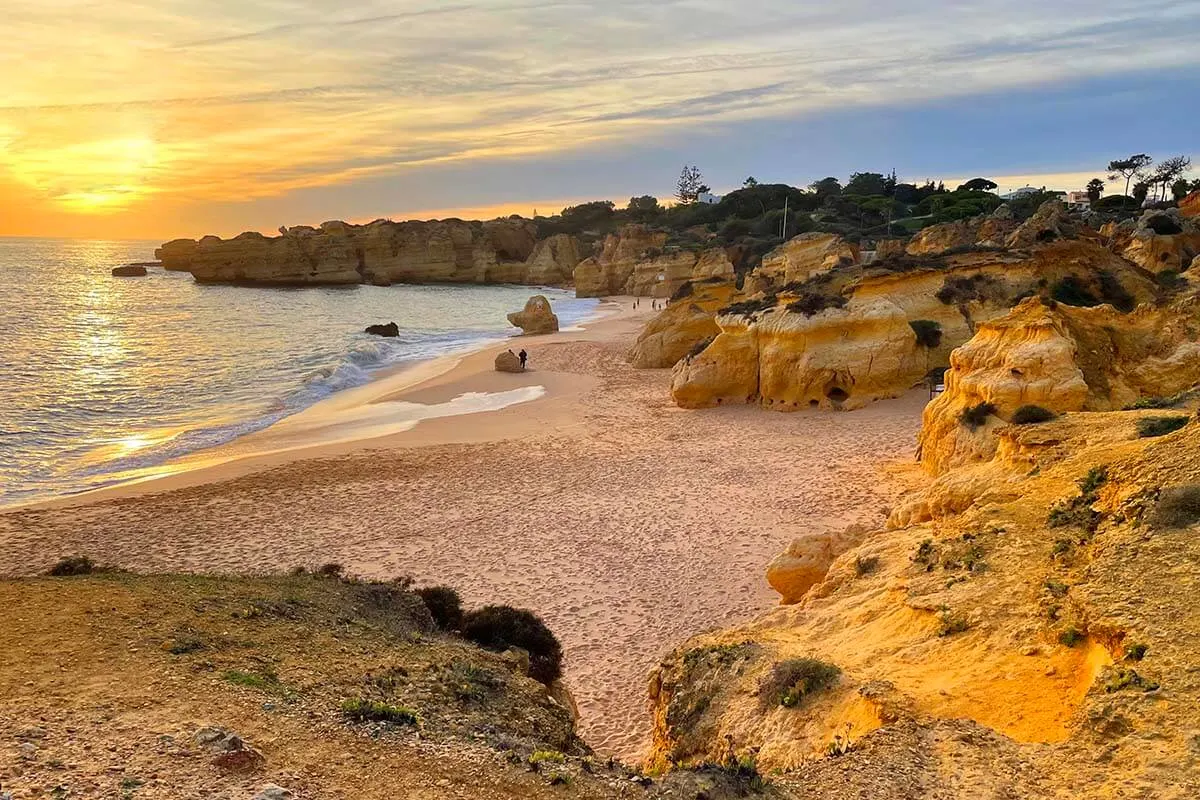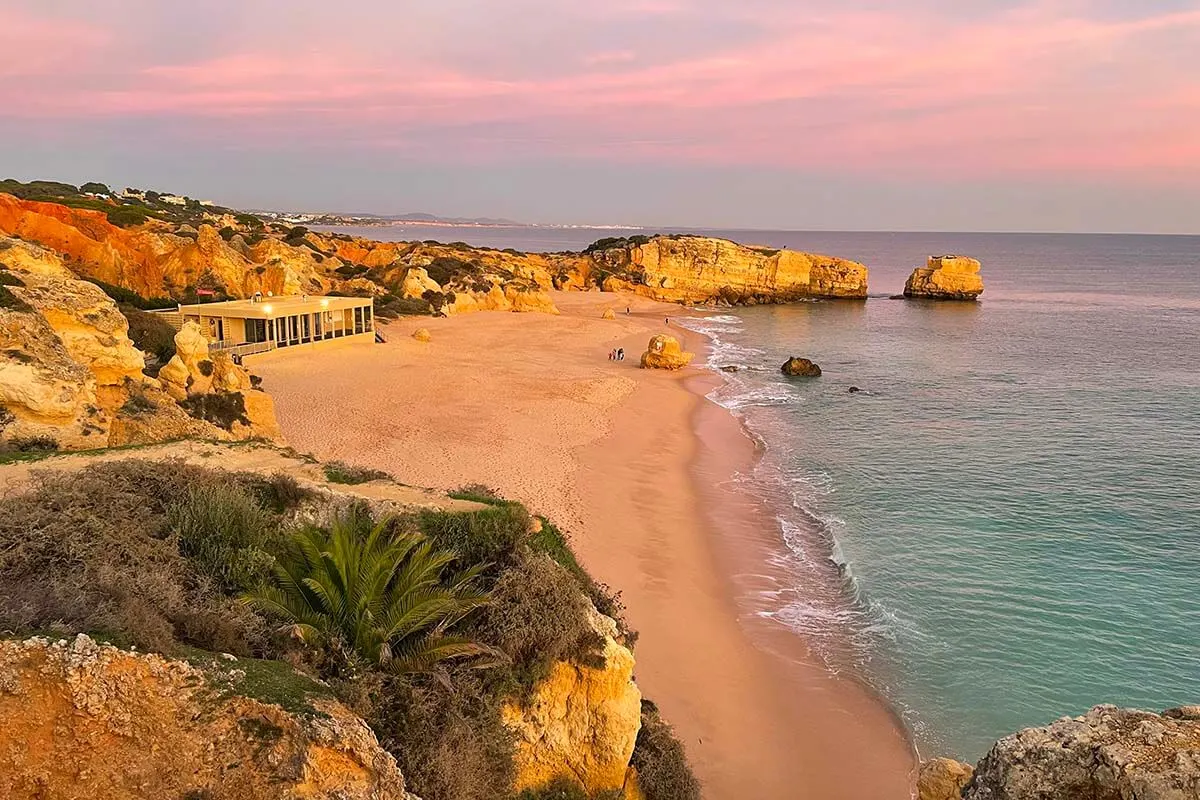 TIP: You can rent kayaks, join a kayak tour to explore the stunning coastline, and even go cliff-jumping at St. Rafael Beach
We recently did this kayak tour starting at Praia de Sao Rafael, and I can highly recommend it.
The scenery is absolutely amazing and it's not nearly as busy as kayaking around the famous Benagil Cave where you are surrounded by countless boats, SUPs, and kayaks all the time.
READ ALSO: Best Places for Kayaking in Algarve (+Useful Tips)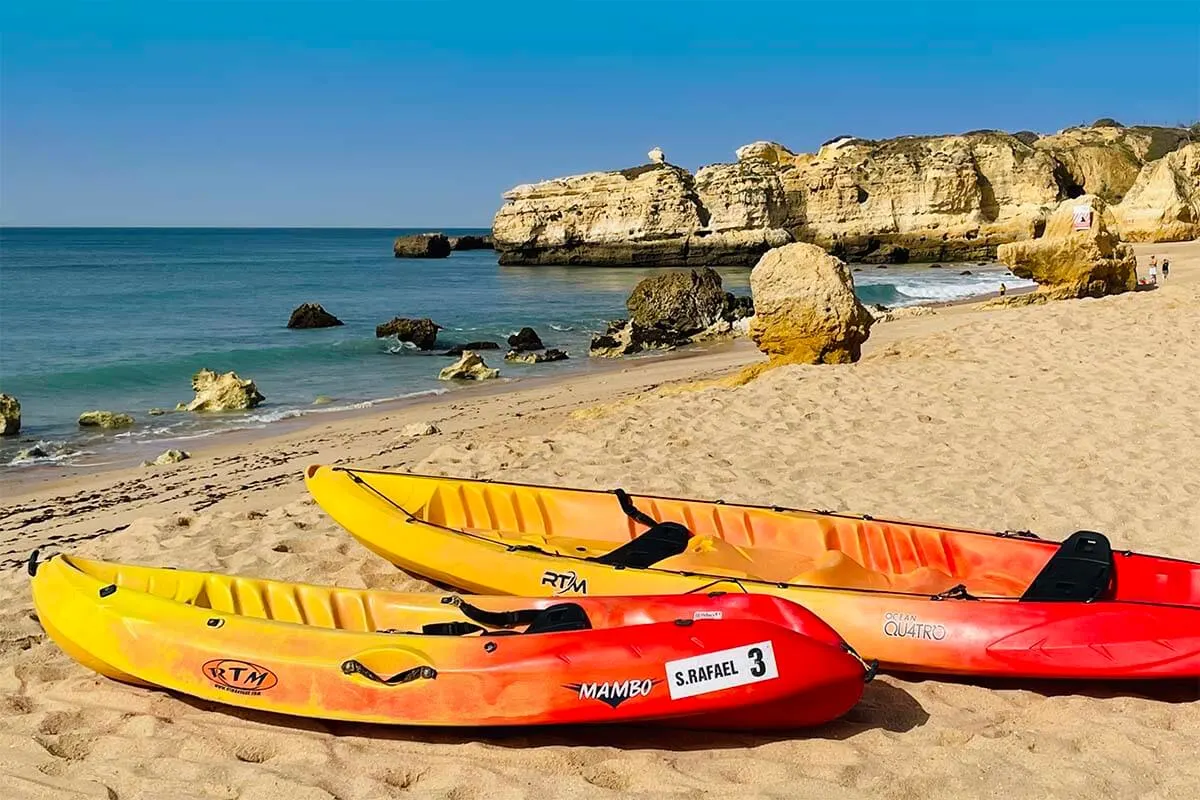 2. Praia da Oura
Located in the heart of the new town, Praia da Oura is one of the most popular beaches in Albufeira. It's known for its lively atmosphere and golden sands (thus the name which literally means 'Golden Beach'). This is one of the best Albufeira beaches that truly has it all.
Oura Beach is a great spot for swimming and sunbathing. There are also plenty of water sports activities available, such as jet-skiing, banana boat rides, or parasailing, to mention just a few. There are quite a few restaurants and beach bars here too, and because there is a lot of competition, the prices are quite reasonable.
If you walk to the far west side of the beach, you can even find some very picturesque sea cliffs and secluded coves (yes, right in the middle of the busy town!). And if you walk east, toward Praia da Oura (Leste), you'll also find another picturesque beach with stunning sandstone cliffs.
Good to know: Keep in mind that this beach is located in the heart of the city, so it can get crowded during peak season. Be sure to arrive early to secure a spot in the summer! Also, due to its proximity to the Albufeira Strip and the abundance of restaurants and bars in this area, Oura Beach can be quite lively/noisy at night during the peak season.
Where to stay: There are lots of hotels and accommodations in this area. Muthu Clube Praia da Oura is right on the beach but it's one of those huge impersonal all-in resorts. If you are looking for something on a smaller scale, check out Borda d`Água, also right at the beach.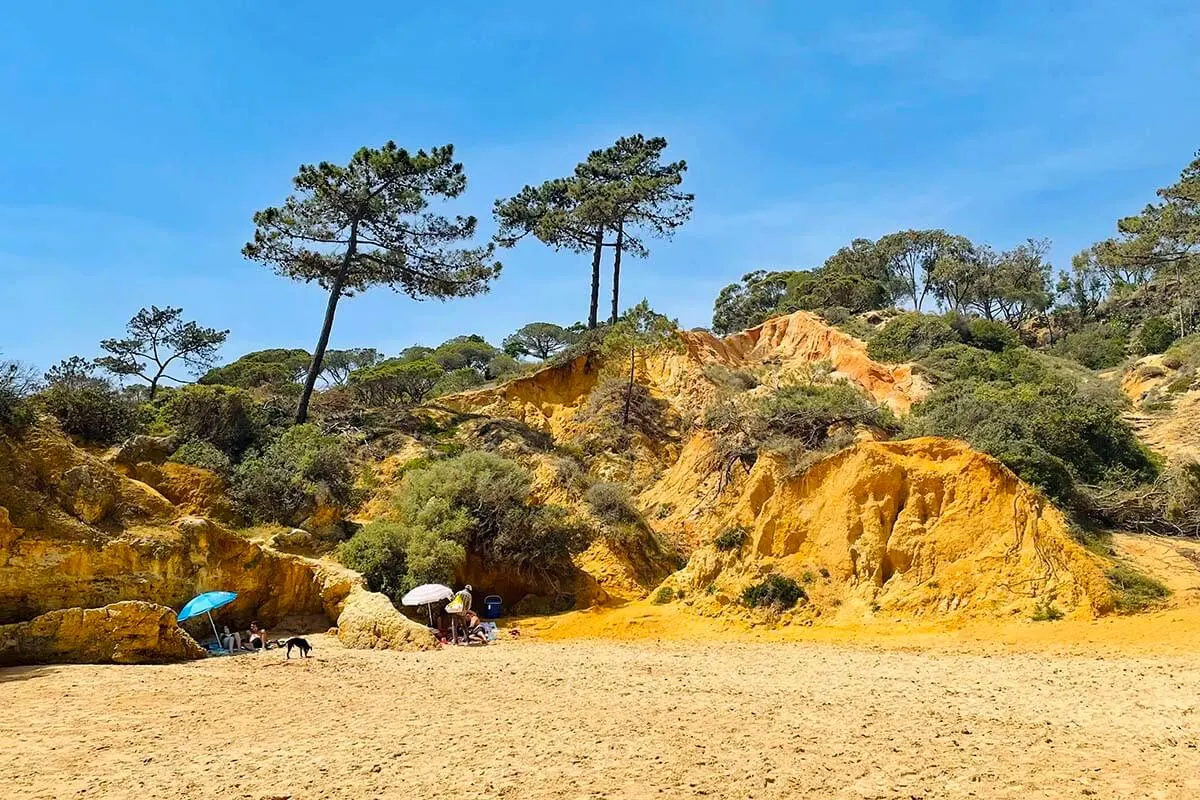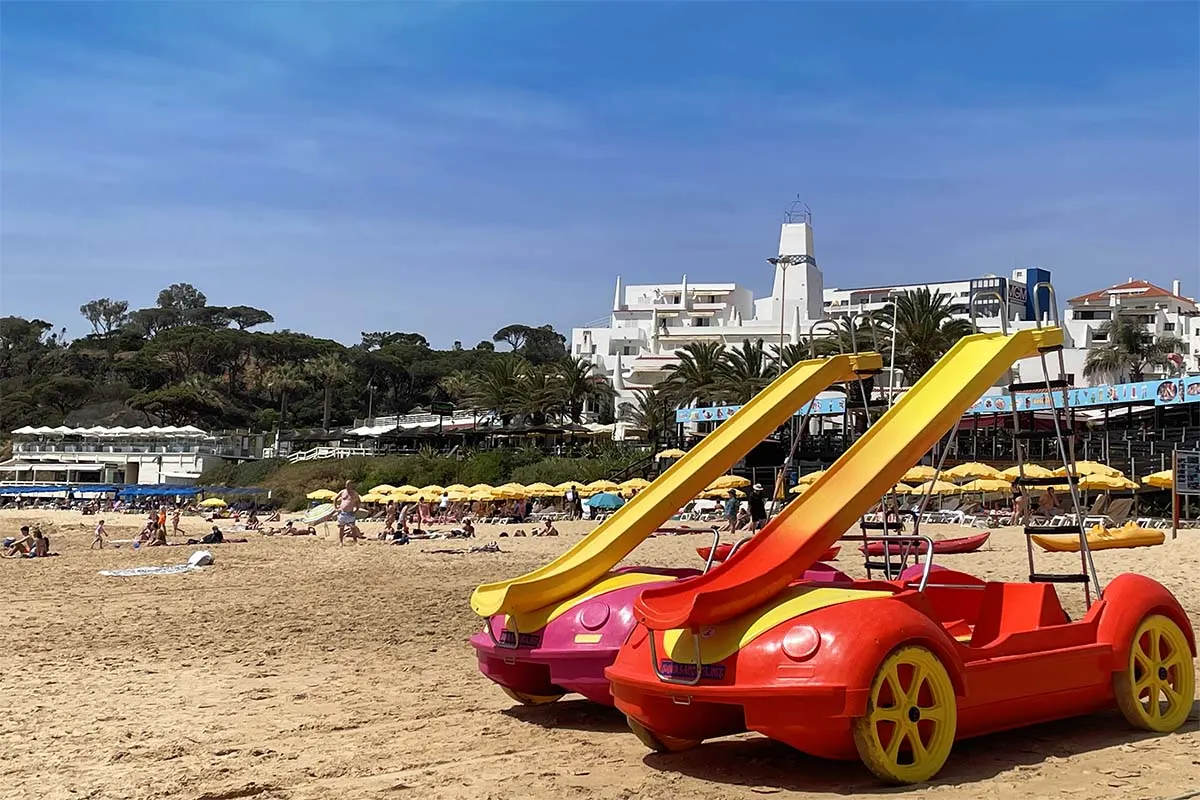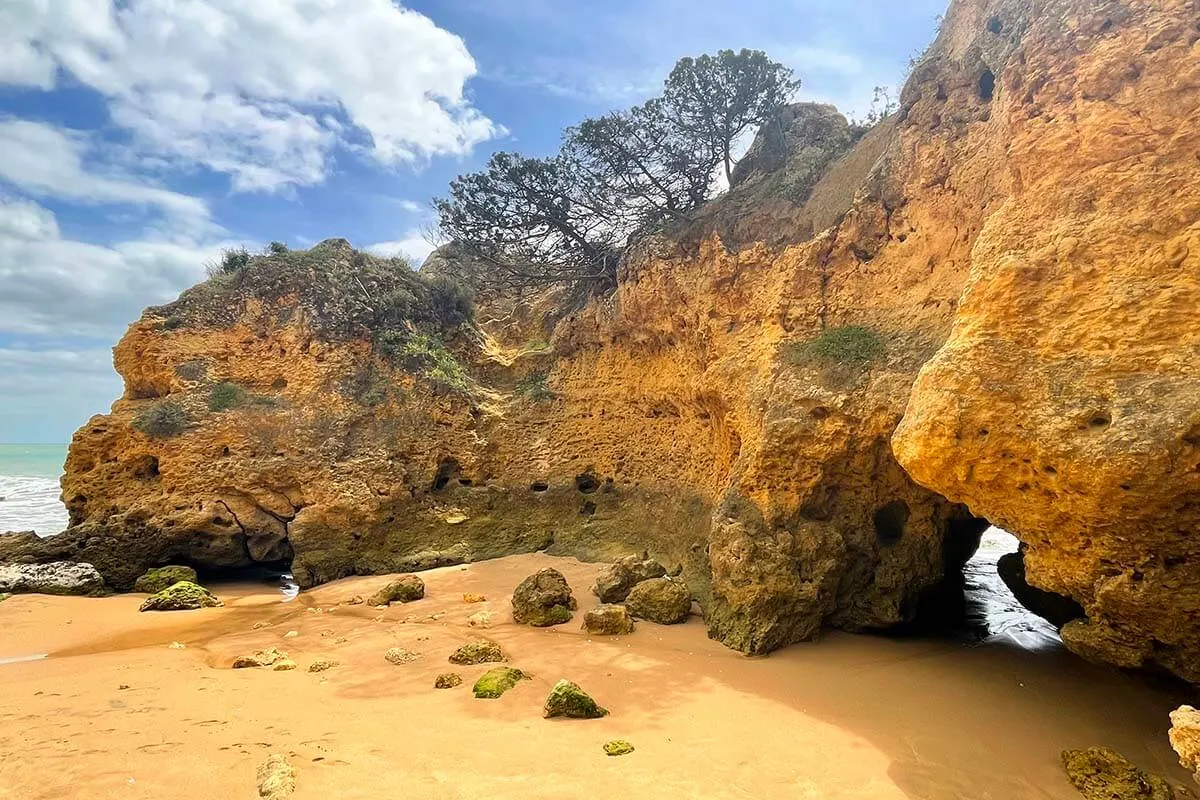 Next, let's take a look at the most popular beaches in Albufeira town center. Praia de Albufeira (Albufeira Beach) is an unofficial name for a very long stretch of flat sandy beaches in the town center. It comprises several beaches with different names – Praia dos Pescadores, Praia Peneco, Praia Inatel & Praia Alemães – and it's difficult to say where exactly one beach ends and the other begins.
For description purposes, it makes sense to group a few of them together rather than describe each separately. See the following two sections.
3. Praia dos Pescadores & Praia Peneco
Praia dos Pescadores, or Fisherman's Beach, is probably the most popular in Albufeira. This beach is located right in the historic old town.
Praia Peneco, also known as Praia do Túnel, is just nearby and is easily accessible via a pedestrian tunnel that leads you directly from the old town to the beach. You can also get to this beach from the higher part of the old town via an elevator or steep stairs.
These two beaches are interconnected and both are very similar in terms of location and facilities. They are wide, sandy, and perfect for swimming. They are also the busiest of all Albufeira beaches, with rows and rows of beach chairs and parasols. There are restaurants nearby, ice cream shops, and lots of stores with all kinds of beach gear and souvenirs.
Where to stay: Hotel Sol e Mar Albufeira is located right on the beach in the old town. This (and many other hotels in this area) are for adults only.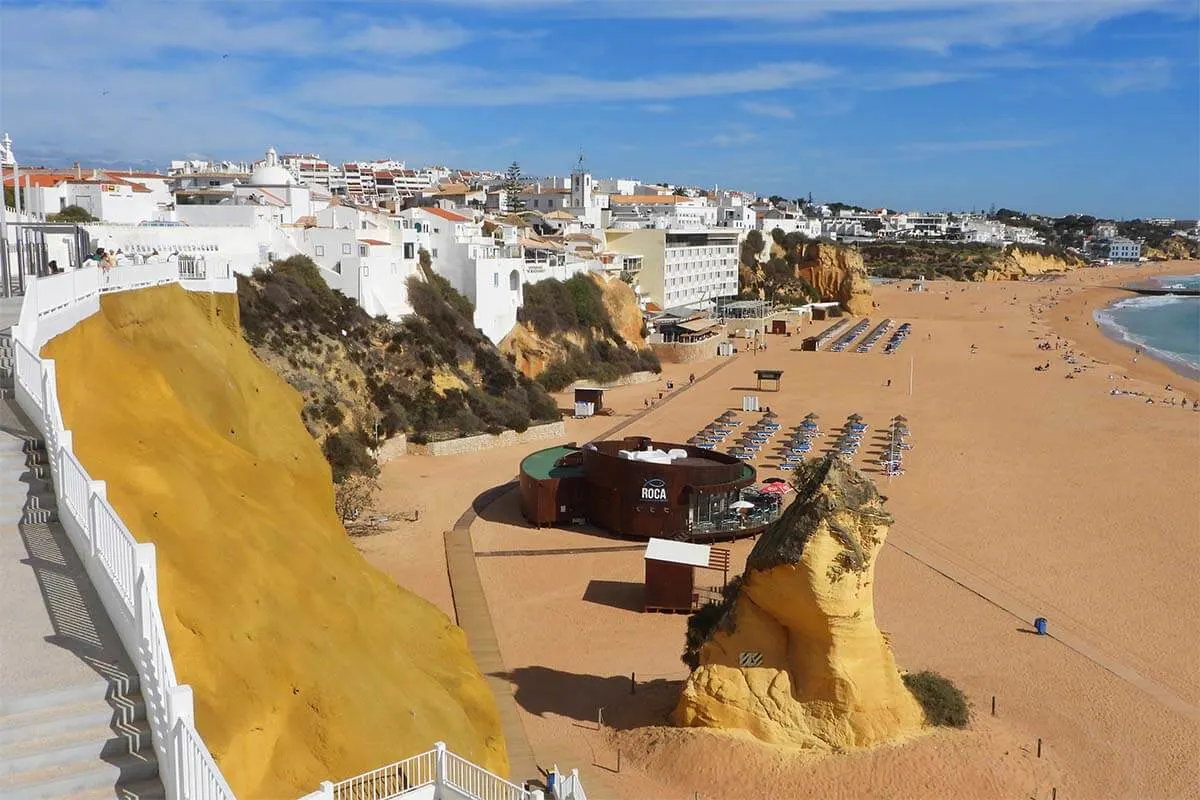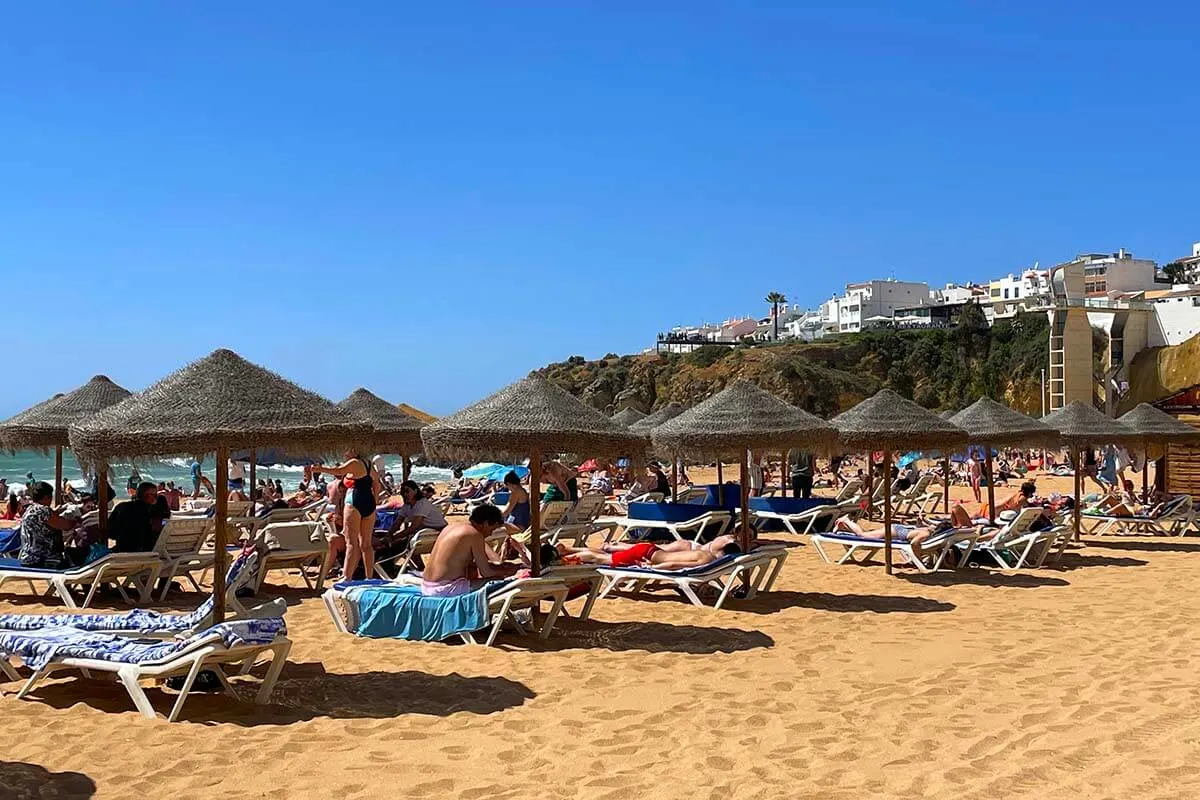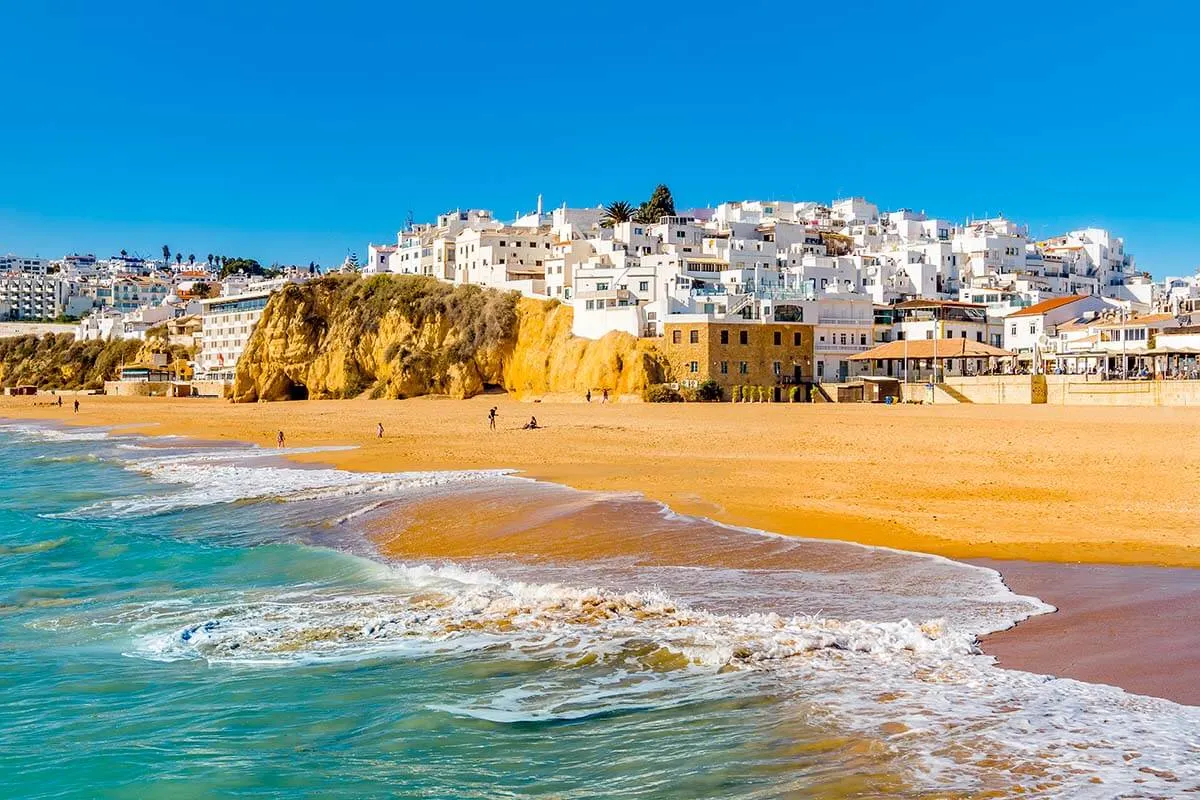 4. Praia Inatel & Praia Alemães
Located a bit further east (and connected to the above-mentioned Fishermen's Beach), Praia Inatel is much quieter than the beaches directly in the old town of Albufeira. Praia Alemães is yet further away from the hustle and the bustle.
Both of these beaches are really nice if you want to be close to everything, but not in the middle of all the action. There are a couple of nice beach bars/restaurants here too, but the prices are quite high for Albufeira norms. You will also find a few places where you can rent beach chairs, but on a much smaller scale than in the old town.
Good to know: Stretching for several kilometers from Praia Peneco all the way to Praia Alemães, Albufeira Beach is a perfect place for long walks.
If you don't mind a bit of an adventurous path over the cliffs and along the rocky coastline, you can easily walk to Praia da Oura from here, passing a beautiful little Praia dos Aveiros beach along the way. You'll need sensible shoes for this walk, but it's doable, also with kids, just hold onto their hands. Also, stay closer to the sea rather than scrambling over the rocks.
Where to stay: INATEL is one of the best lower-budget options directly on the beach. Just nearby, Hotel Alisios has a great location and offers better value. Our personal favorite hotel in this part of Albufeira is Auramar Beach Resort in an amazing clifftop location at the quietest end of this long beach.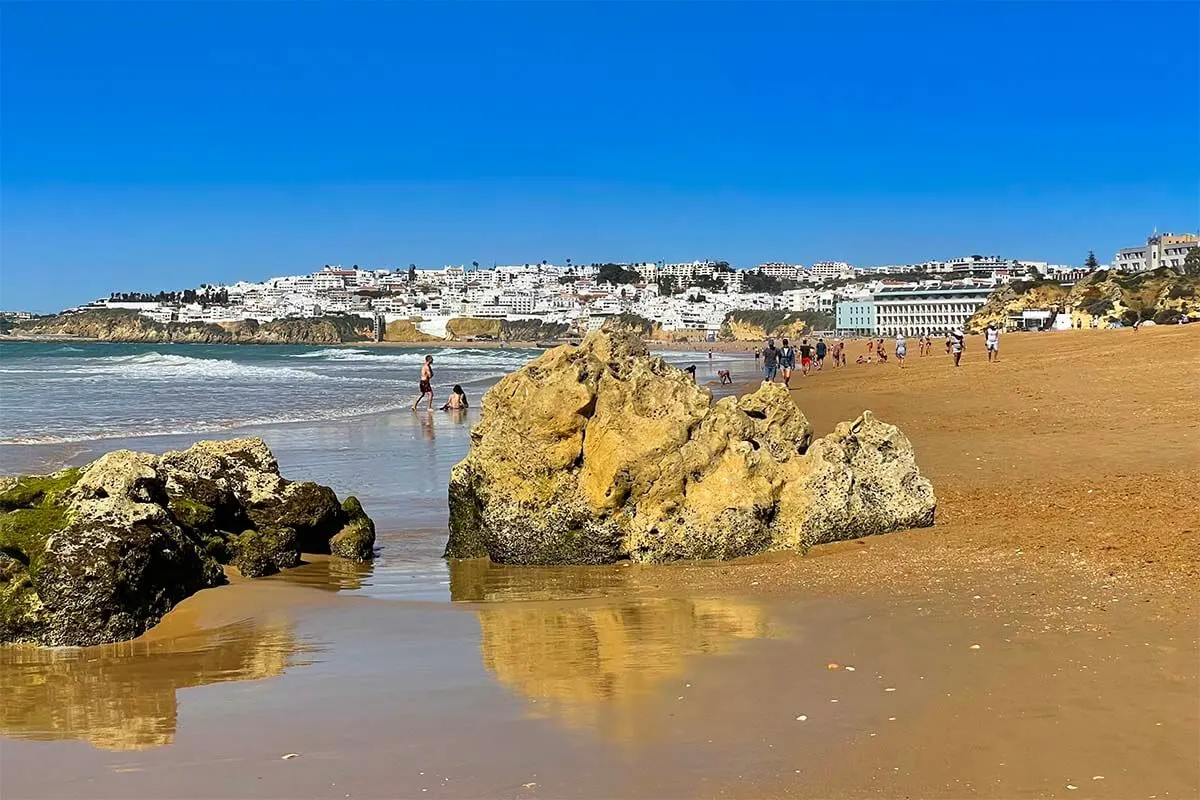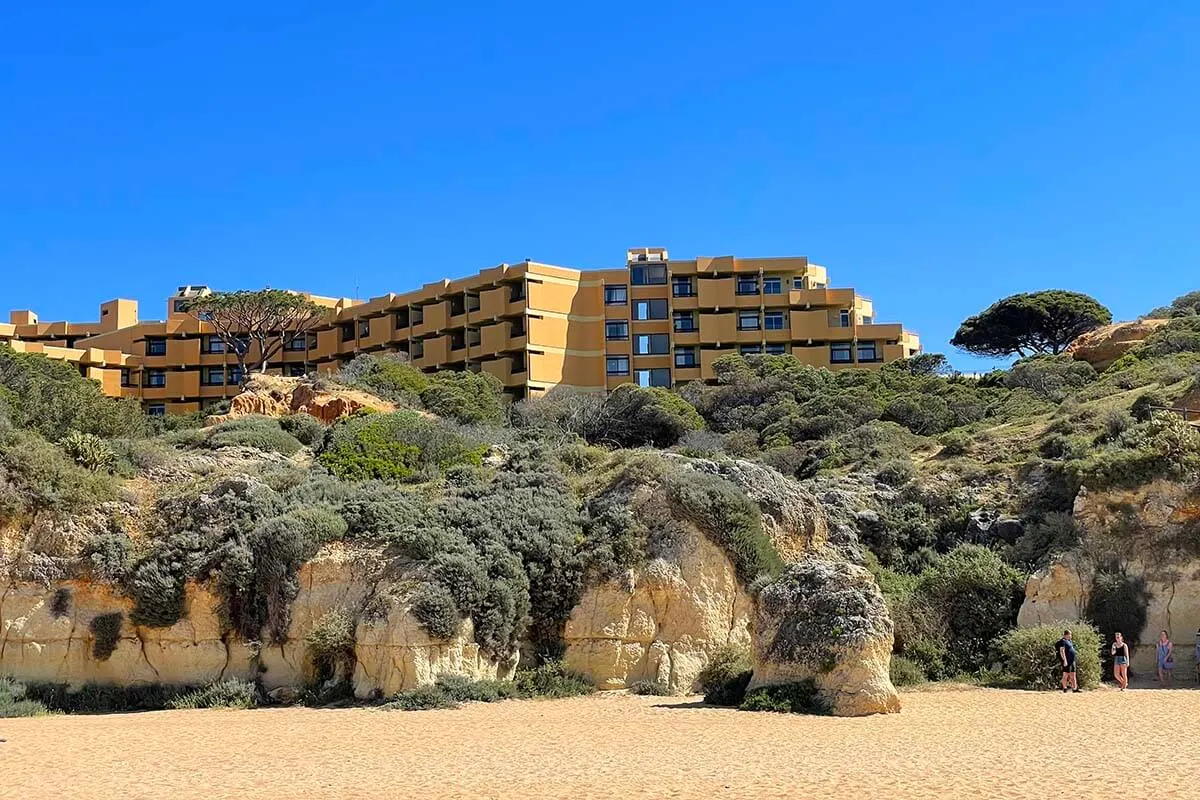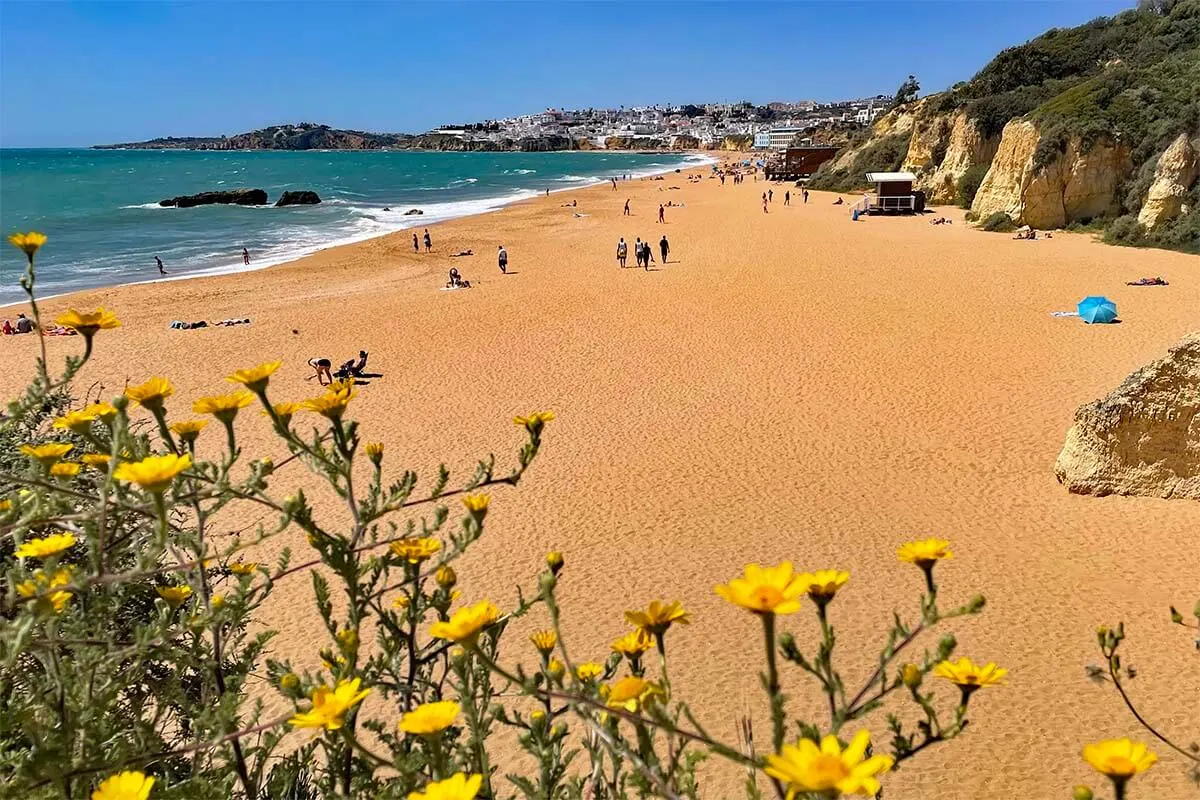 5. Praia de Santa Eulália
Praia St Eulalia is a very scenic beach located a few kilometers east of Albufeira center, in the Santa Eulalia area. The beach is easily accessible by car/taxi and has convenient parking.
In the high season, you will find all kinds of water sports here. You can also rent umbrellas and beach chairs. Because of its accessibility and excellent facilities, Eulalia Beach is quite popular with families. It's also a lovely beach to come to for a romantic walk at sunset, especially in the lower season when there is hardly anyone around.
This beach is not as big as the ones in the city center but big enough not to have to worry about finding a spot. However, there are several large hotels nearby so it can get very busy on weekends and during summer holidays. In the summer, the parking fills up very quickly and the beach chairs and umbrellas get booked up too. So arrive early!
There are several restaurants/beach bars, serving everything from cocktails and light snacks to full meals, including fresh seafood. Also here, the prices are really high for the area; you pay for the location and the views.
TIP: On the far ends of the beach (in both directions), you can find some very scenic spots and beautiful rock formations. The adjacent beach of Praia da Balaia is also stunning (it's basically the same beach, a bit separated by rocks; it's just yet another name).
Where to stay: Grande Real Santa Eulalia Resort & Hotel Spa is located right by the beach and is an excellent hotel for a summer vacation in Albufeira. We once stayed at the very family-friendly Alfagar Village just nearby, which has direct access to this beach as well, but via a steep staircase. The smaller beaches close to the hotel are also very nice and there is a tiny secluded section at the far east end of the beach. It can be accessed via the stairs or on foot at low tide.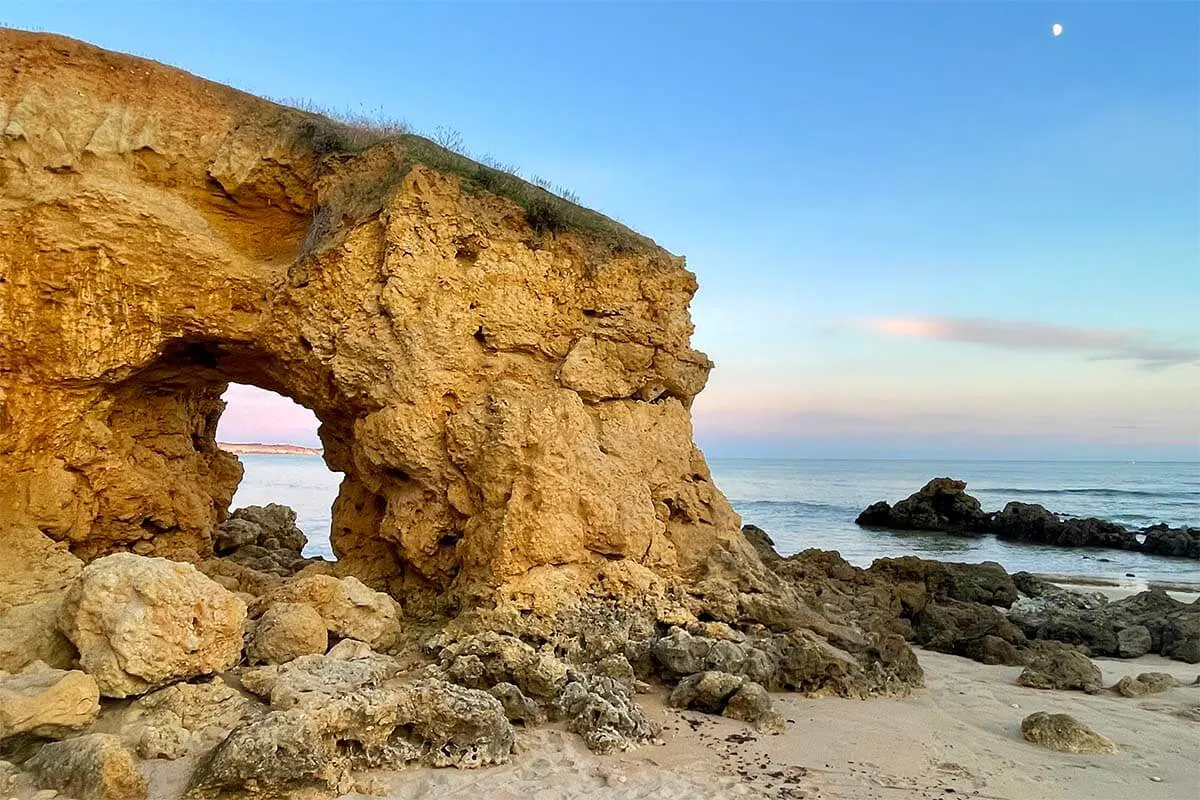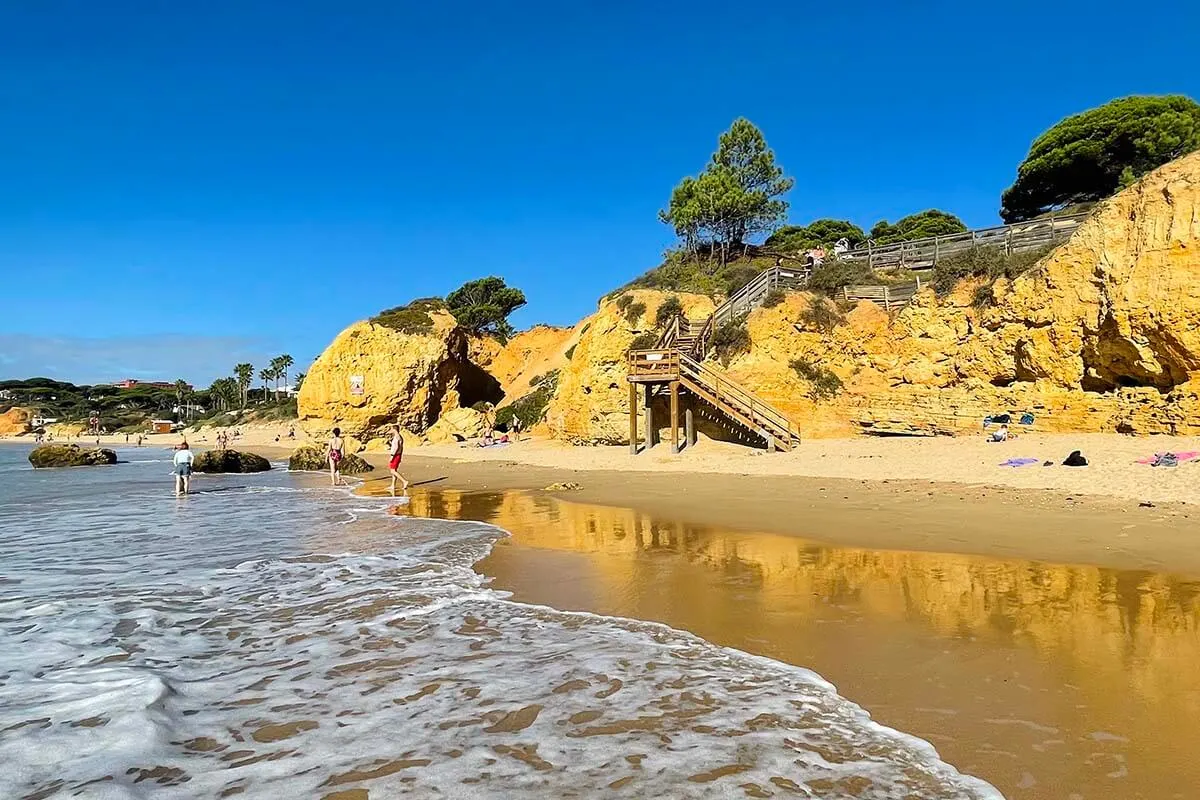 6. Praia da Falésia
Praia da Falésia is perhaps the most beautiful of all Albufeira beaches. Best known for its impressive red cliffs, Falésia Beach is located east of Albufeira and stretches for over 6 kilometers, all the way from Olhos de Agua to Vilamoura.
The beach is flat and spacious, perfect for a long walk or a day of sunbathing. Because it's located outside the town center and is so long, there are lots of really quiet stretches. So if you are willing to walk a bit further, you should be able to find a tranquil spot even in the high season.
There are several restaurants and beach bars along the beach, but they are few and far apart from each other. The facilities overall are quite limited, unless closer to the main access points.
TIP: If you're looking for some adventure, you can also try some water sports. This is also one of the best beaches in Albufeira for surfing, with surf lessons available too.
Good to know: The car parking at the main access point of Praia da Falésia is tiny and is usually full even in the lower season. So you may want to take a taxi/Uber to come here. It's also possible to walk to the beach, ideally from Olhos de Agua (on the Albufeira side) or – further to the nicest stretch – from Vilamoura.
Where to stay: Pine Cliffs Hotel is by far the nicest accommodation here, directly above Falésia Beach. On a more-affordable budget, check out PortoBay Falésia in Olhos de Agua.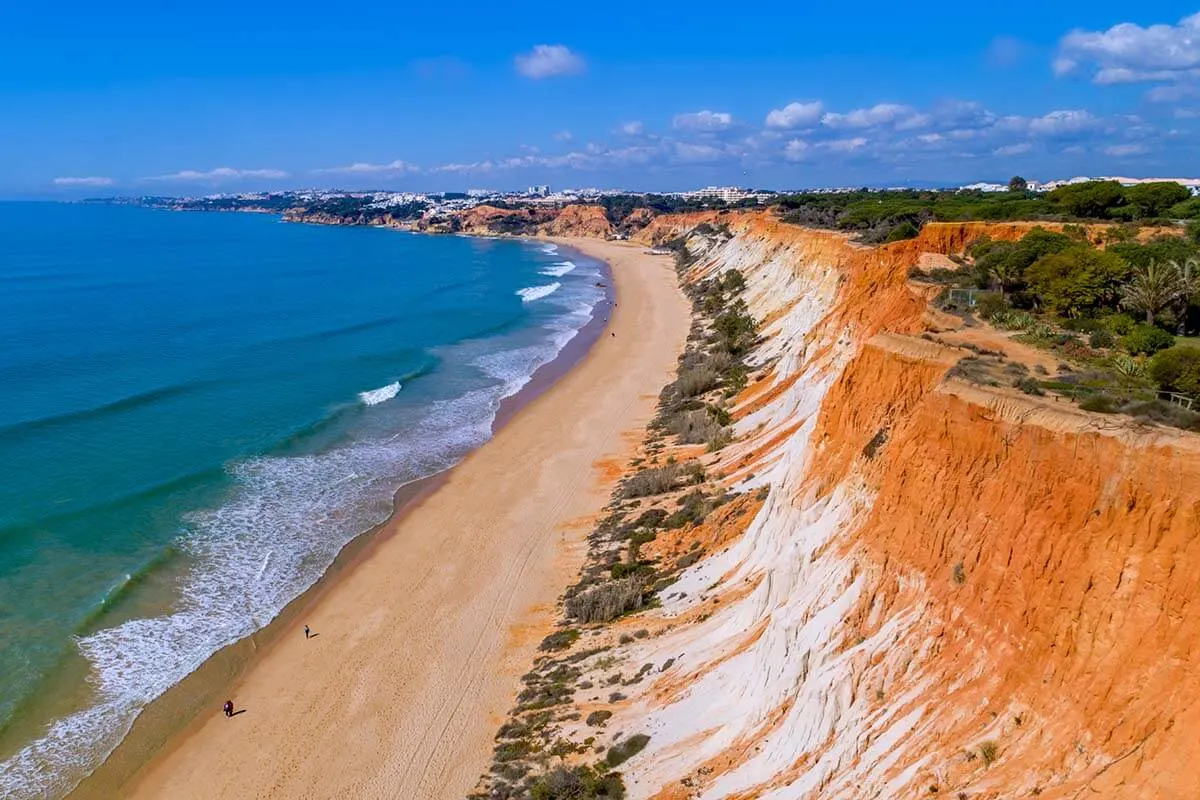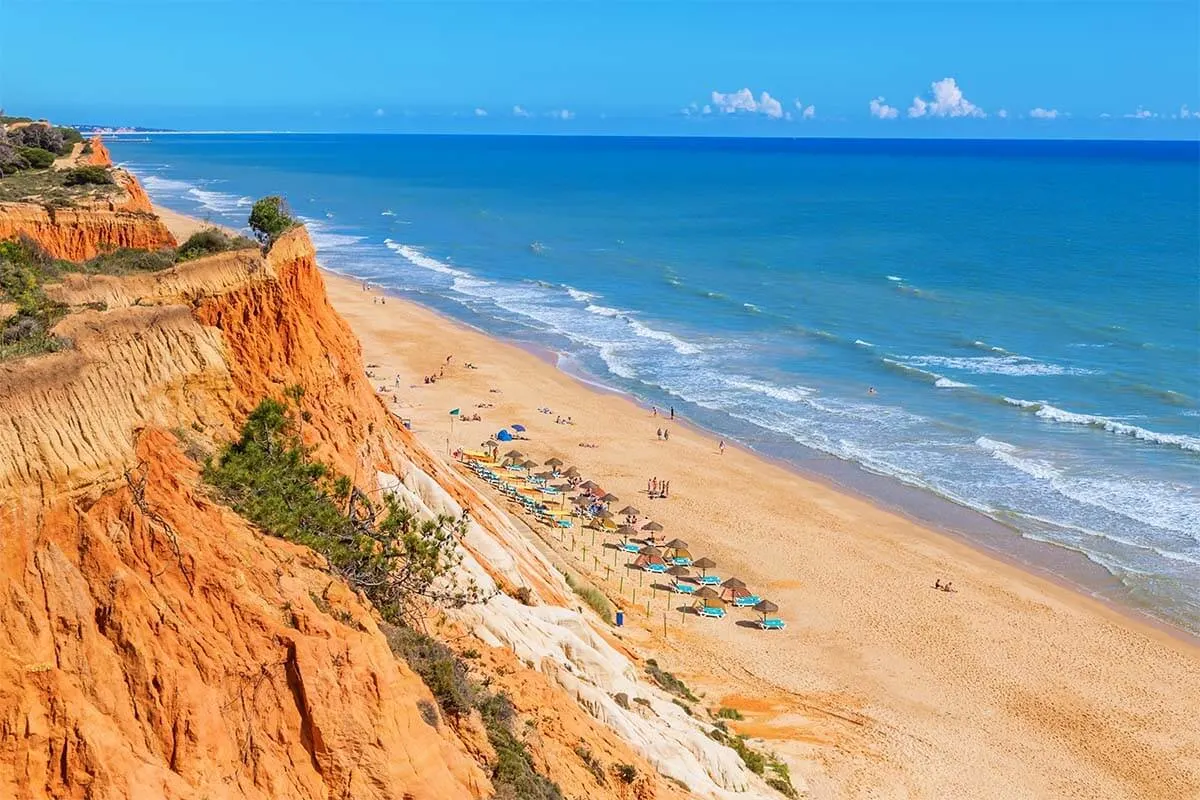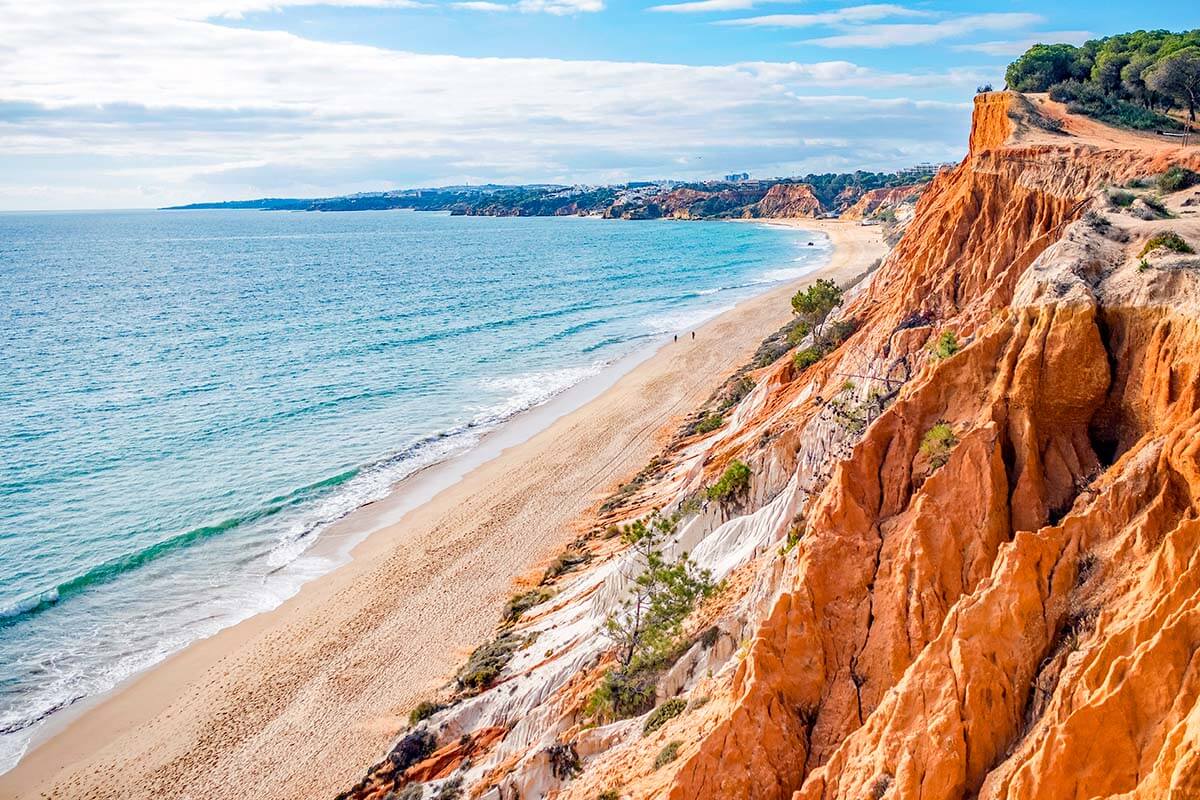 7. Praia dos Arrifes
Praia dos Arrifes is a small and charming beach located just west of Praia de São Rafael. If you are visiting one, you really should see them both. If you take a path on top of the cliffs, it's just a 5-10 minutes walk between these two beaches. Via the road, it's a bit further.
Arrifes Beach is much smaller than any other beaches in Albufeira mentioned in this selection. But it's also very scenic, with impressive rock formations and stunning clifftop views. It can get crowded here during peak season, but it's worth a visit for the spectacular views alone.
There is a good seasonal restaurant directly on the beach – A Sardinha – where you can enjoy some fresh seafood while taking in the beautiful surroundings.
TIP: Visit here in the low season or before sunset (when it's not too hot), and take a walk over the cliffs starting from Praia dos Arrifes, past Sao Rafael, and – if you feel energetic – even further. The coastline is really beautiful here and the views are stunning.
Where to stay: NAU Sao Rafael Atlantico has the best location for both, Praia dos Arrifes and Praia Sao Rafael.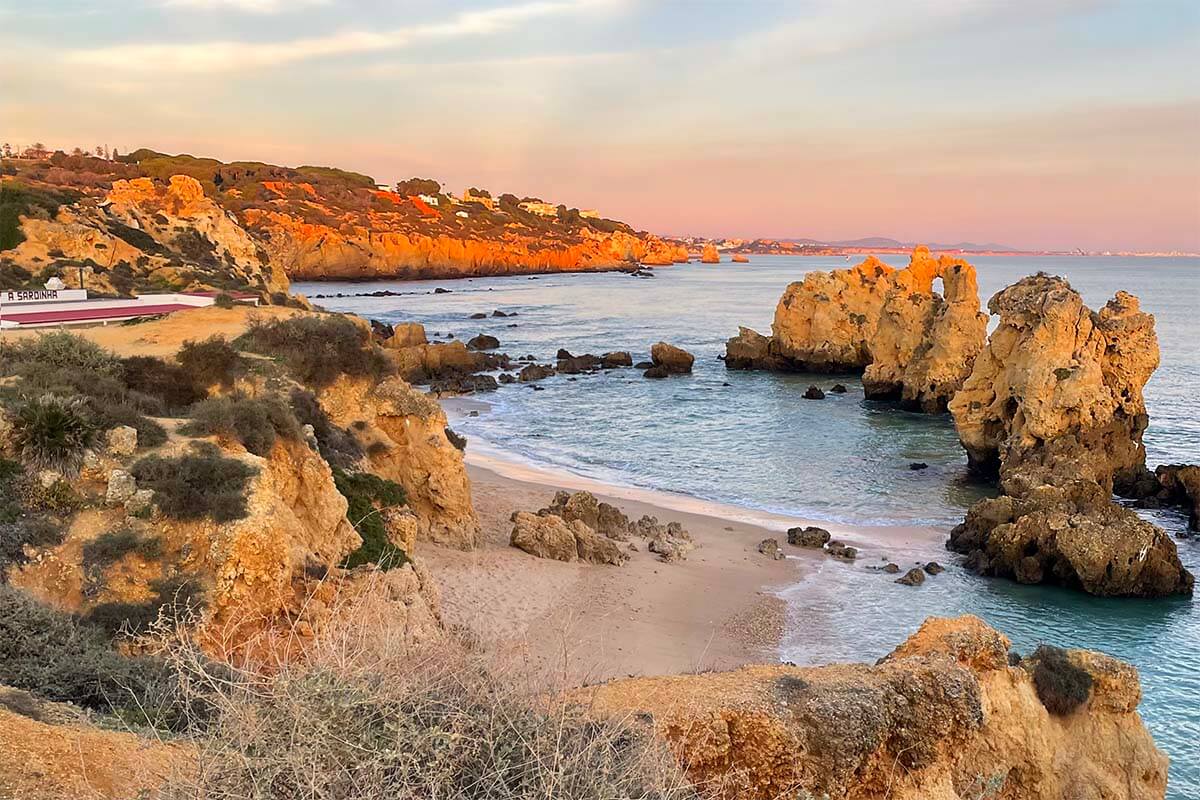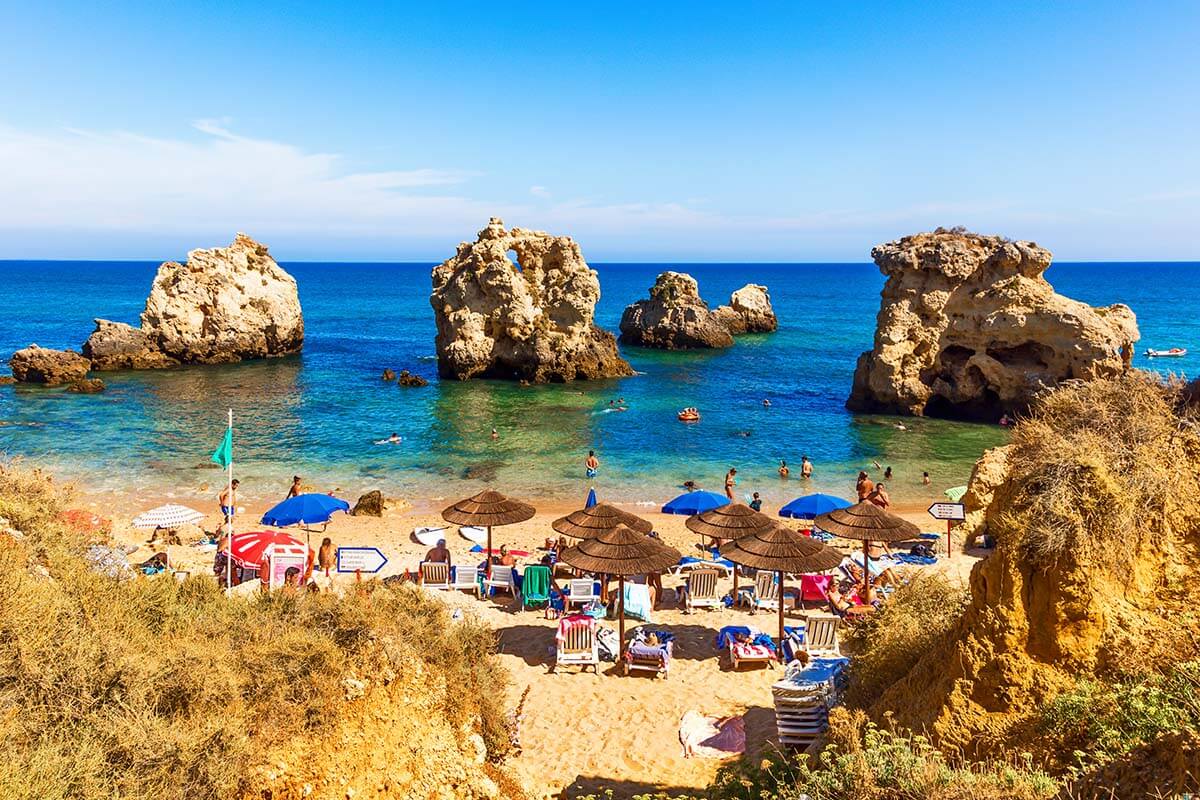 8. Praia Olhos de Água
Praia dos Olhos de Água is a picturesque little beach located just a short drive from Albufeira. Olhos de Água is almost like a separate village within the municipality of Albufeira, with its own little center where you will find quite many restaurants and hotels. It's much more 'seasonal' than Albufeira – extremely busy in the summer and very quiet in the low season.
Located right in the center of Olhos de Água, the beach is not big but charming, with a small waterfront promenade and colorful fishermen's boats. This is one of the very few beaches in the Algarve (and the only one in Albufeira) where you can still see fishing boats right on the beach.
You will find all the facilities you need here, including beach chair rentals, public bathrooms, and plenty of restaurants.
However, in the peak summer season, it can get absolutely crowded here, especially at high tide when the beach 'shrinks'. This has also to do with the fact that there are many hotels and vacation accommodations just nearby.
If you're looking for a quieter beach experience away from the crowds, Praia de Olhos de Água is not the best place in the summer. But if you visit here in the lower season, the beach is very charming.
Where to stay: TUI BLUE Falesia (adults-only) or PortoBay Falésia are both excellent options here. You can also walk to the earlier mentioned Falésia Beach from these hotels.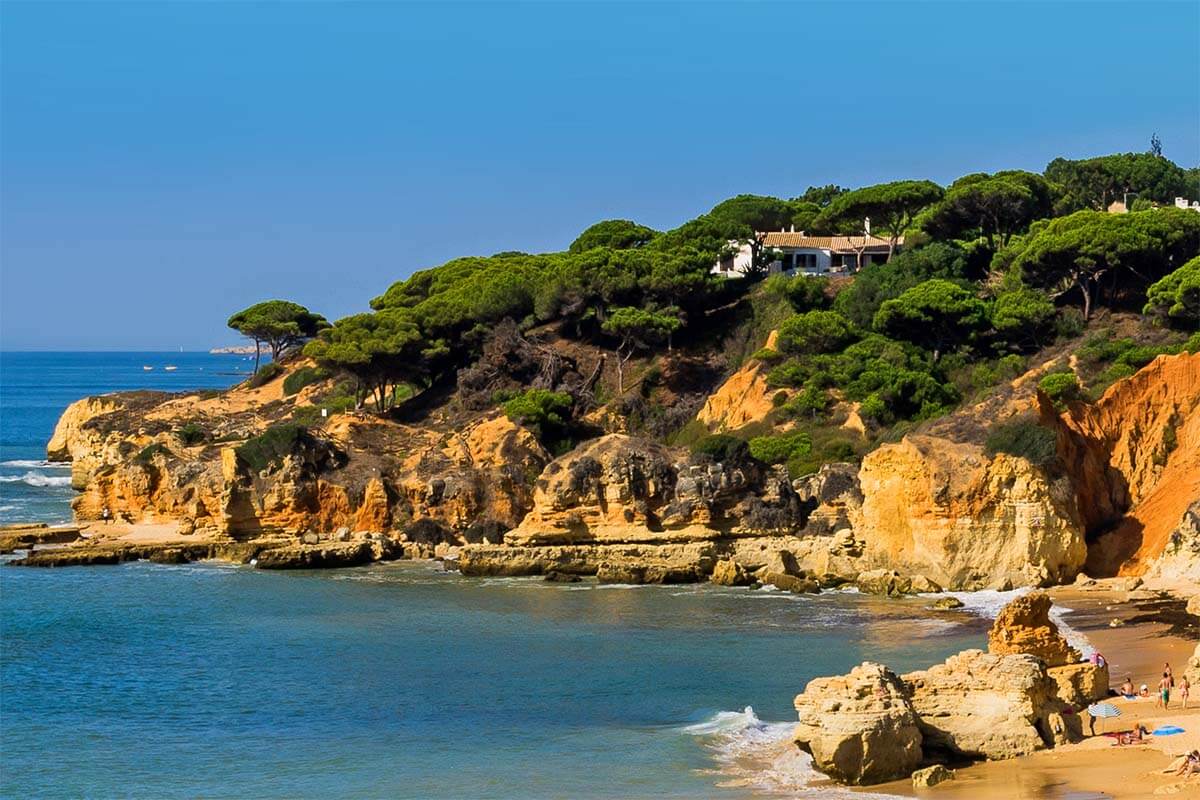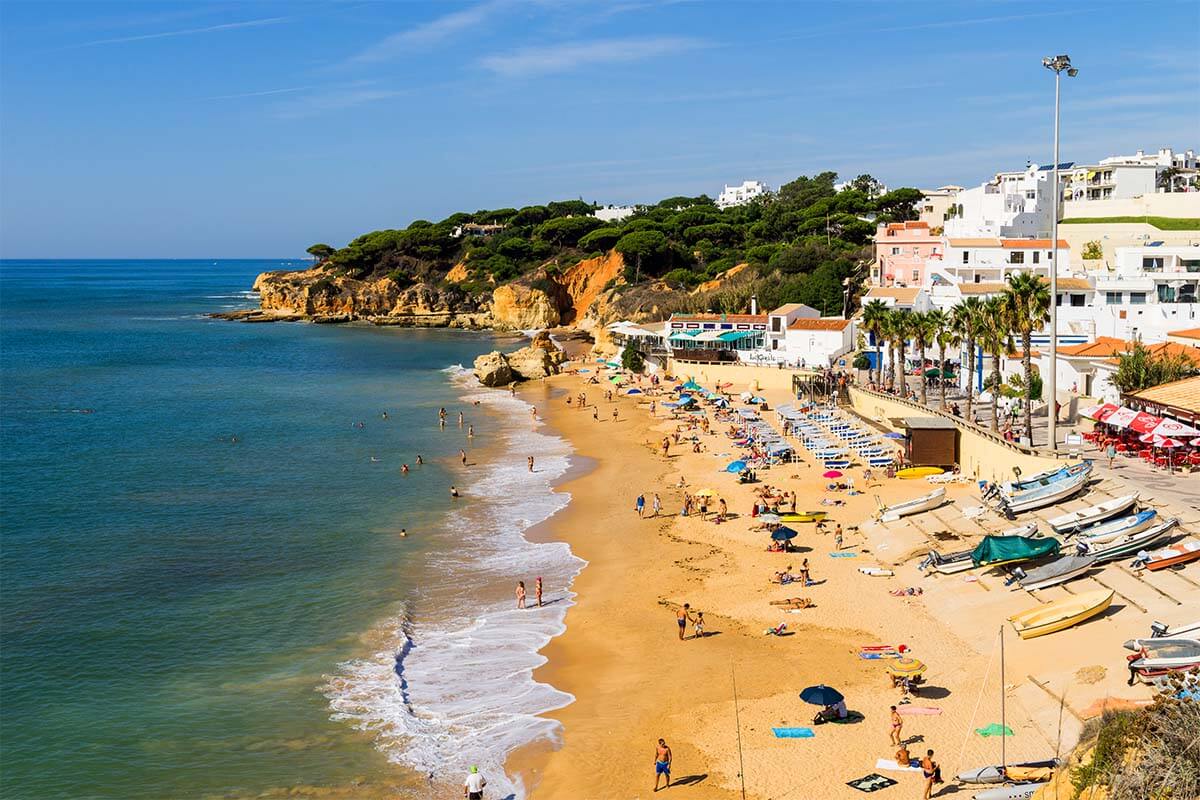 9. Praia do Castelo
Praia do Castelo is a bit of a hidden gem located about 6 kilometers west of Albufeira. This secluded beach is surrounded by steep cliffs and offers breathtaking views of the Atlantic Ocean. It's truly very beautiful.
However, just like everywhere in the Algarve, there is a huge difference between the low season and the summer… Still, because it's located further away from town, the beach is nowhere as busy as the ones closer to the center.
If you're feeling a bit more adventurous, you can explore the nearby rock formations and caves. There are nice pathways on top of the cliffs, and you can easily walk to the nearby beaches such as Praia do Evaristo to the west or Praia da Coelha to the east.
This beach is easy to reach by car and there is free car parking (it quickly fills up in the summer). The beach also has a seasonal restaurant and – in summer – you can rent beach chairs here.
TIP: Also here, you can book a kayaking tour. The coastal scenery in this part of Albufeira is really nice, and it's a great way to see it and explore some sea caves nearby.
Where to stay: Hapimag Resort Albufeira is the closest hotel to Praia do Castelo, just 5 minutes walk to the beach.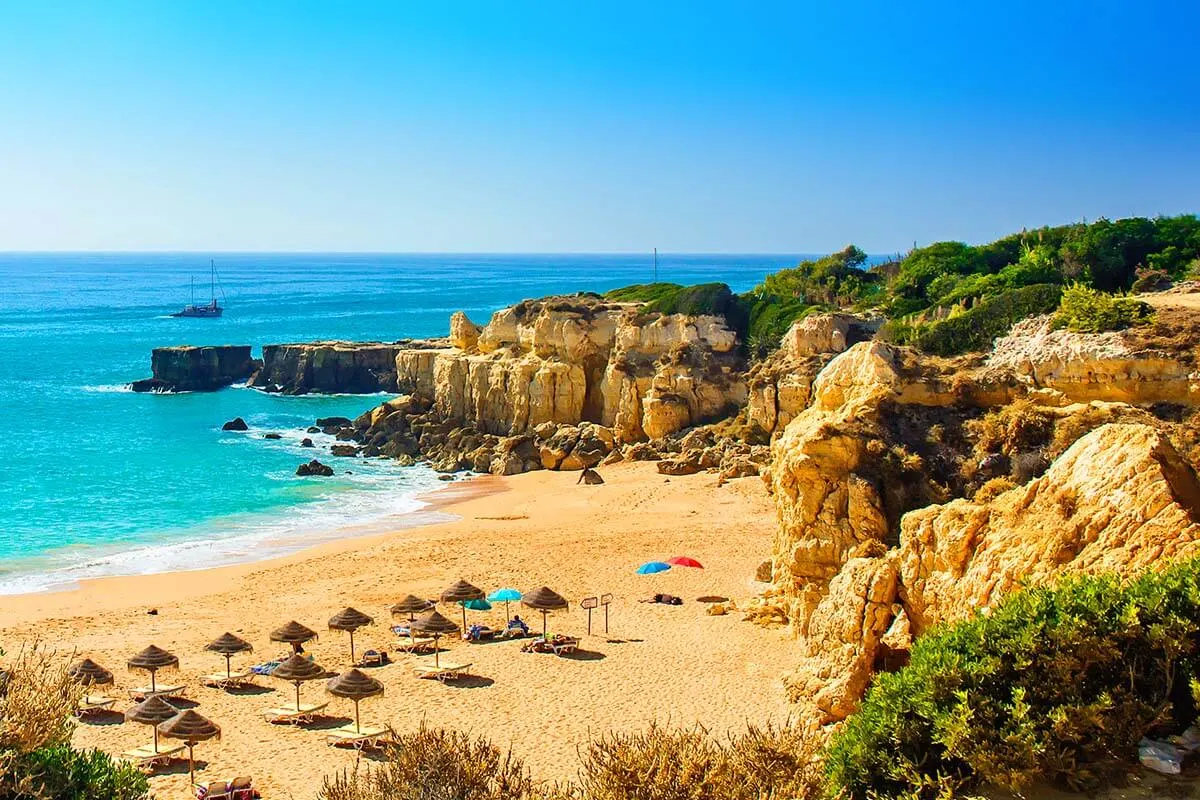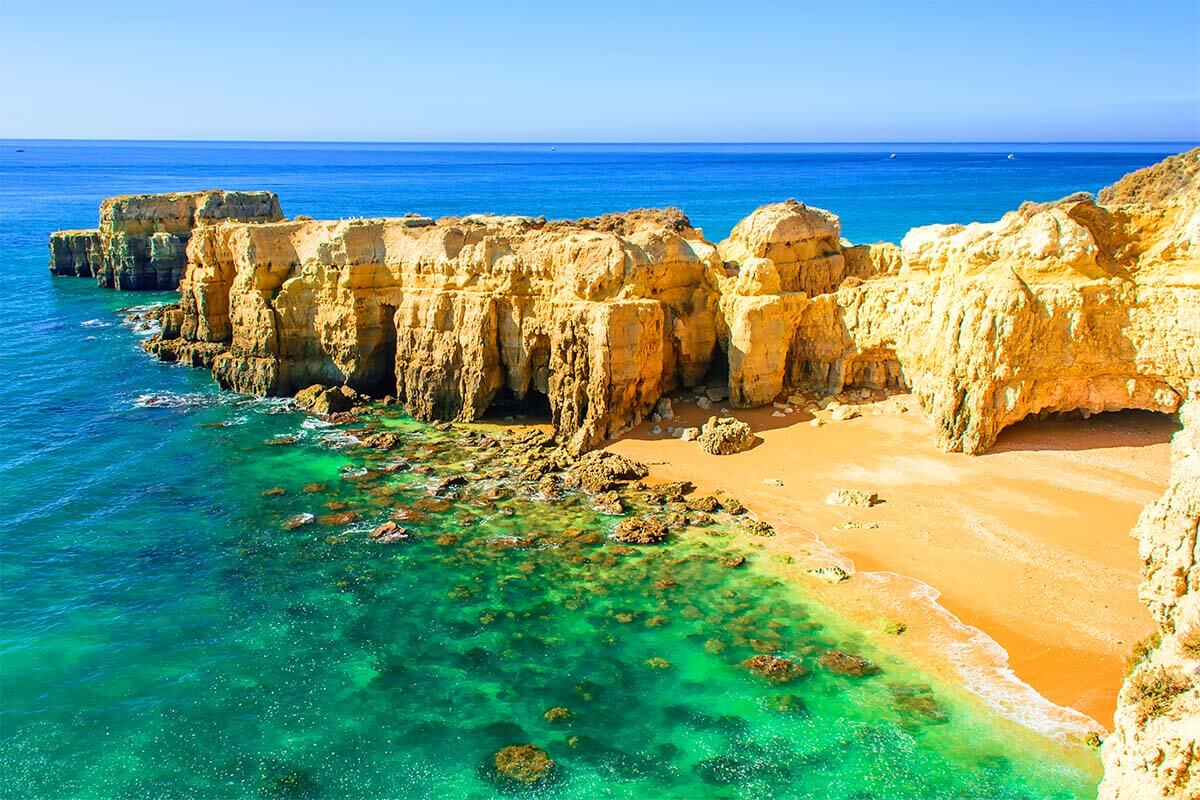 Map
To help you get a better idea of where everything is located, we created this map indicating all the nicest beaches of Albufeira mentioned in this guide.
Further below, you can find some useful tips for your vacation. Read on!
How to use this map: Use your computer mouse (or fingers) to zoom in or out. Click on the icons to get more information about each place. Click the arrow on the top left corner for the index. Click the star next to the map's title to add it to your Google Maps account. To view the saved map on your smartphone or PC, open Google Maps, click the menu and go to 'Your Places'/'Maps'. If you want to print the map or see it in a bigger window, click on 'View larger map' in the top right corner.
Tips for Albufeira Beaches
Here are some useful tips for visiting the best beaches in and near Albufeira:
If you're visiting during peak season, arrive early to secure a good spot on the beach, especially if you are planning to rent beach chairs/umbrellas.
Most beaches have very limited parking, so consider taking a taxi or public transport. Uber/Bolt is very popular and very affordable.
Don't forget to bring sunscreen, a hat, and sunglasses. The sun in the Algarve is harsh and every time, we see people underestimating how quickly you can get burned here. So don't make that mistake and apply plenty of sunscreen lotion, at least every 2-3 hours.
Check the tide times before you go, as some beaches can be difficult to access at high tide. This is especially important if you are planning on installing yourself inside a hidden cove that can get cut off from the main beach when the tide comes up.
Bring plenty of water and some snacks if you are planning to spend a day at the beach. While there are restaurants at most beaches, the prices are usually very high, plus, it can be difficult to find a table during peak times.
If you absolutely want to have lunch or dinner at one of the beach restaurants, try to reserve in advance. Also, keep in mind that many beach restaurants at the smaller beaches are seasonal and are only open more or less between April and October. Plus, some of them close in the evening, before dinner.
Bring some cash. While cards are widely accepted in the Algarve, many places will tell you that they don't take them, or that the payment system is down. While you can usually pay by card after insisting that you have no cash (the machines get fixed miraculously), it's always useful to have some, just in case.
Bring beach towels with you. Many hotels charge a fee for beach/pool towels, plus a security deposit. It's often simpler and cheaper to bring your own. We always pack microfiber travel towels. They are light to pack, the sand doesn't stick to them, and they dry quickly.
If you are planning to do some hiking between different beaches in Albufeira, wear sensible shoes. Flip-flops and sandals are really not ideal for the rocky pathways between the cliffs!
If you are vacationing in Albufeira, pick one nice beach that appeals the most to you and see if you can find a nice hotel nearby. That way, you don't have to drive or worry about parking or taxis every day. But don't forget to visit at least a few other beaches in Albufeira too – they are all a bit different and all worth seeing.
READ ALSO: Best Areas to Stay in Albufeira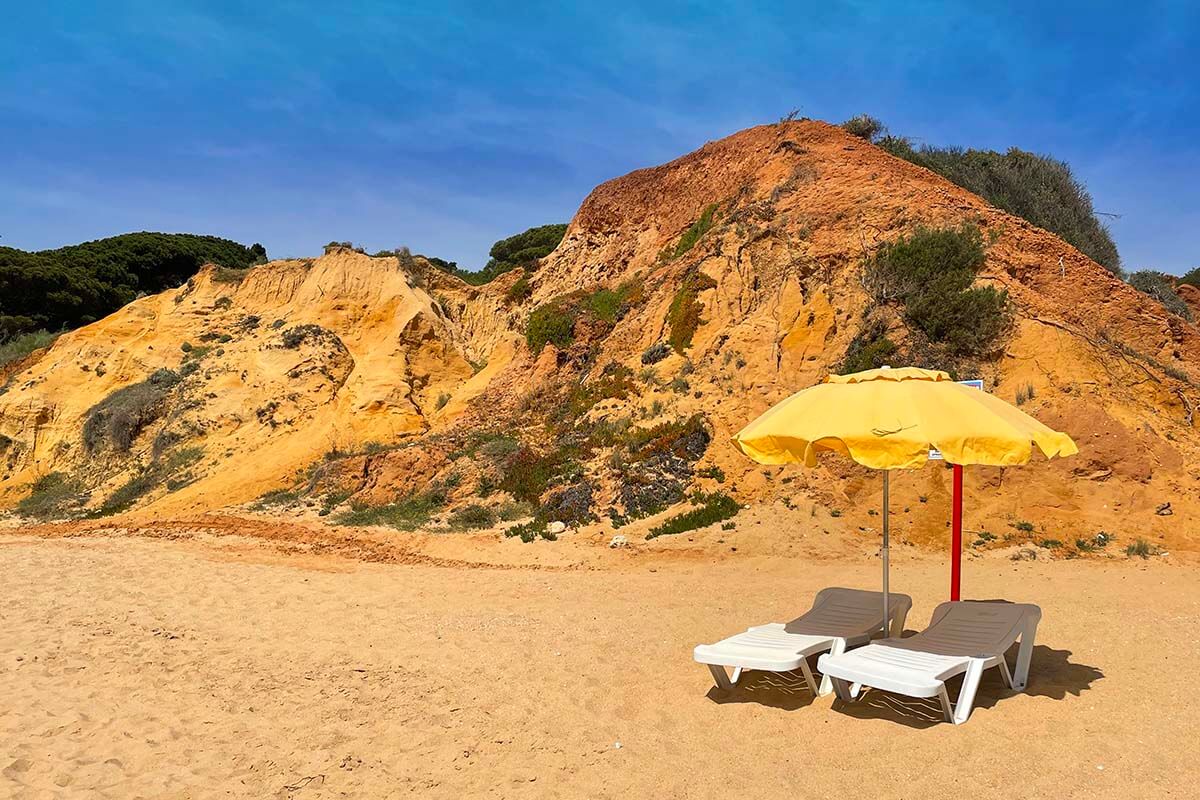 So this is our guide to some of the best beaches in Albufeira.
As you can see, there is plenty of choice (and we only listed some of the best beaches in this article – there are many, many more). Albufeira is truly a beach lover's paradise, with some of the most beautiful beaches in Europe.
I hope that this guide has given you some inspiration for your next beach vacation in the Algarve. If you want to explore some other beaches in the region, be sure to check our guide to the most beautiful beaches in Algarve.
Remember that all these beaches are really scenic and so are worth a visit even if you are not interested in sunbathing and swimming. In fact, the low season between November and March is our favorite time to explore the best beaches of Albufeira. You could walk here for hours enjoying the breathtaking coastal scenery in and near Albufeira…
READ ALSO: Best Things to Do in Albufeira (there's so much more to see than the beaches!)
More travel inspiration for the Algarve region:
If you found this post helpful, don't forget to bookmark it and share it with your friends. Are you on Pinterest? Pin this image!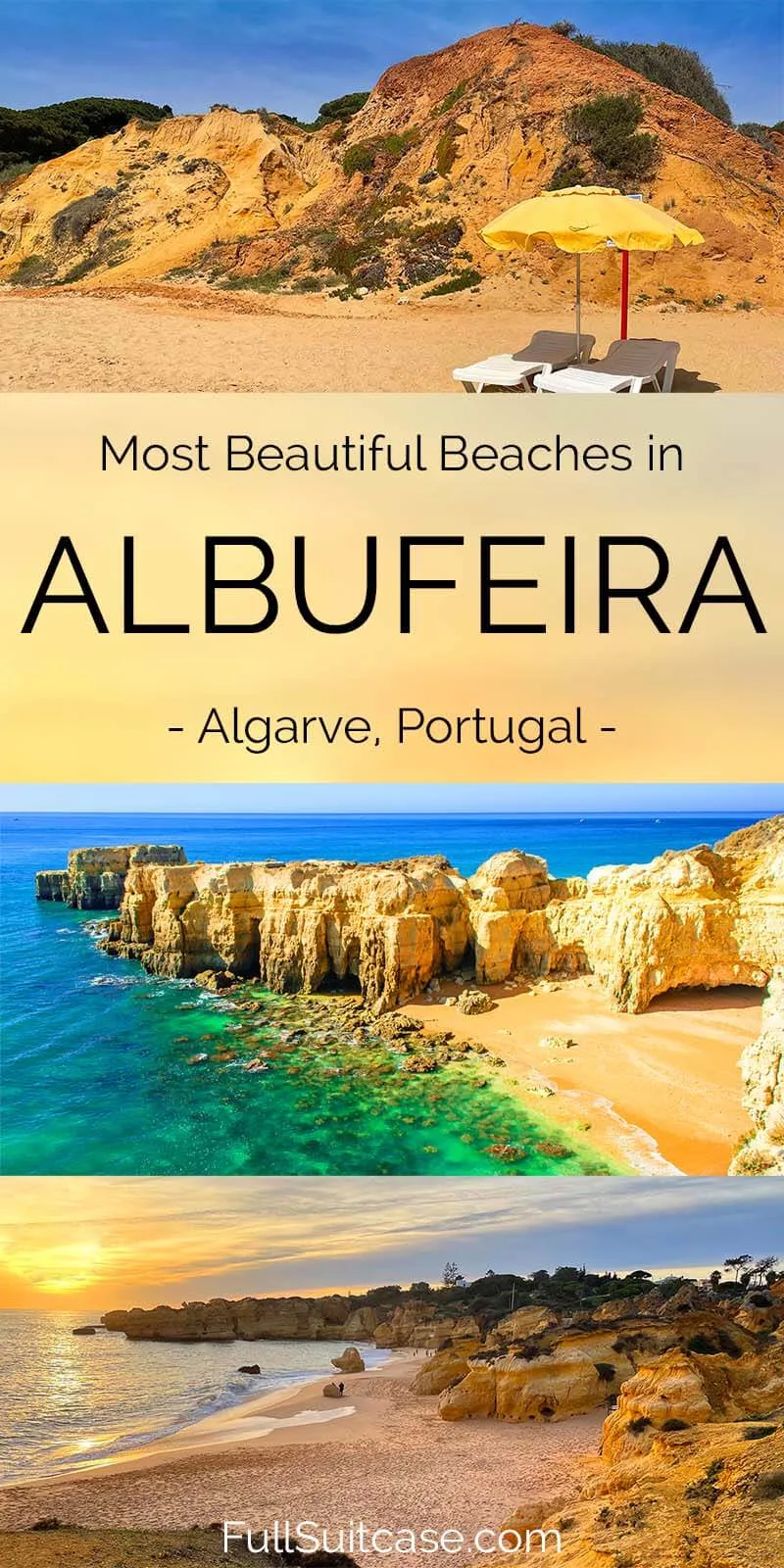 Images: personal collection and Depositphotos.com.
More travel inspiration for your trip to Portugal:
Lisbon:
Sintra:
Portuguese islands:
… for many more destinations, please see our Portugal guide.