Fairytale-like Sintra is a popular day trip from Lisbon, but there is so much to see and do in Sintra that you can easily spend a week in the area. In this post, we share our best suggestions for what to see in Sintra and Sintra itinerary for one, two, or three days. We also include practical tips to help you plan your trip to one of the most visited places in Portugal.
We spent two days in Sintra during our 10 day road trip in Portugal, and could have easily spent one more. On the other hand, two days was enough time to see the main landmarks of Sintra.
If you want to visit the very best places of Sintra, one day is really short. I advise to come for two or three days and spend one or two nights in Sintra. But don't despair if you have just one day in Sintra. You can still see a lot. Find out!
Sintra itinerary – OVERVIEW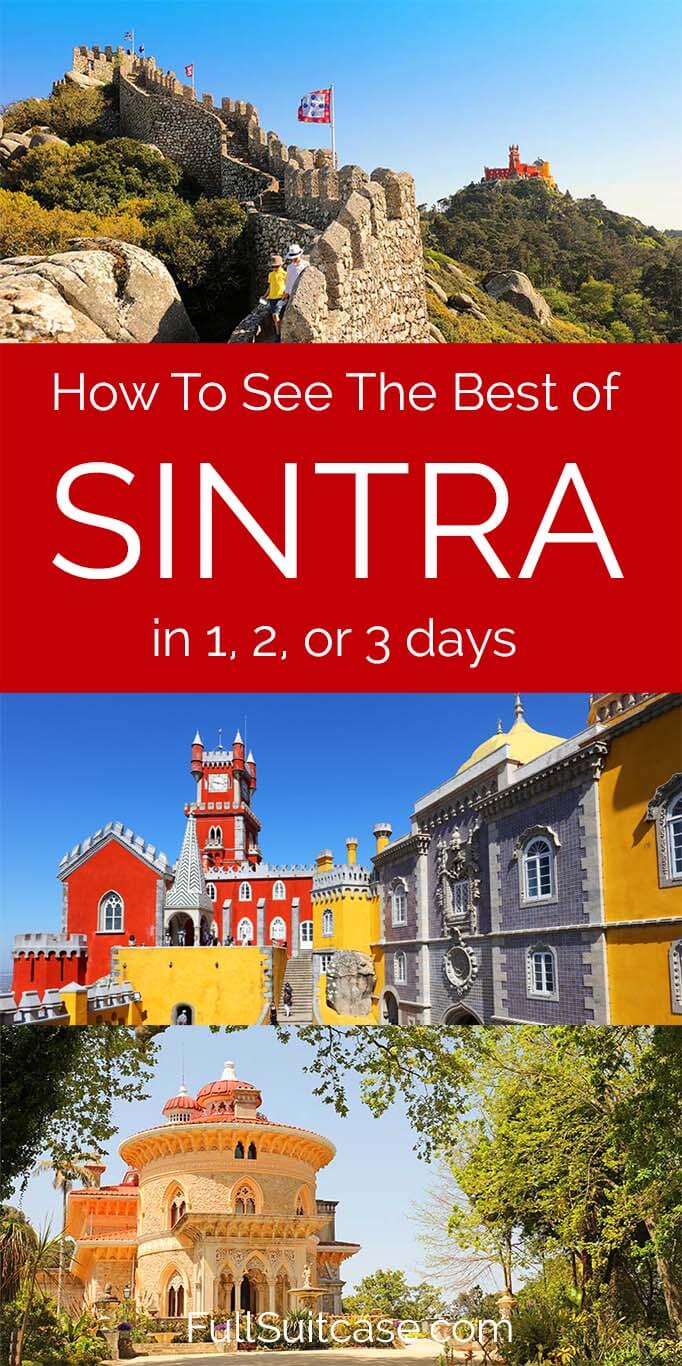 How to See the Best of Sintra in One Day
Visiting Sintra is one of the must-do things in Lisbon! So most people only come here for a day. If you only have one day to visit Sintra, the best way to do it is by taking a day trip from Lisbon. There are many organized day trips. Alternatively, you can take a train and visit the main Sintra landmarks individually.
You can find more practical information for visiting Sintra below. But first – what to see and do in Sintra in one, two, or three days.
What to see and do in Sintra in one day
If you have one day in Sintra, visit the Pena Palace and the Pena Park, the Moorish Castle, and either Palace of Sintra (Palacio Nacional de Sintra) or Quinta da Regaleira. Leave some time to explore the old town of Sintra and have a nice dinner at a local restaurant (avoid touristy places!).
I think that Pena Palace and Park, Moorish Castle, and Quinta da Regaleira and its gardens are the three absolute musts in Sintra! However, depending on how many hours you have and how long the castles stay open, you may only have the time to visit two of them in one day.
The most popular Sintra itinerary for one day includes the visit to Pena Palace with Pena Park and the Moorish Castle. Sometimes also Palacio Nacional de Sintra (in the old town, not to be confused with Palacio da Pena on top of the hill).
In my opinion, however, Sintra Palace is not as impressive as Quinta da Regaleira. If you have to choose between the Palace of Sintra and Quinta da Regaleira, go for the latter. On the other hand, you need more time to see Quinta, so it really depends on your schedule.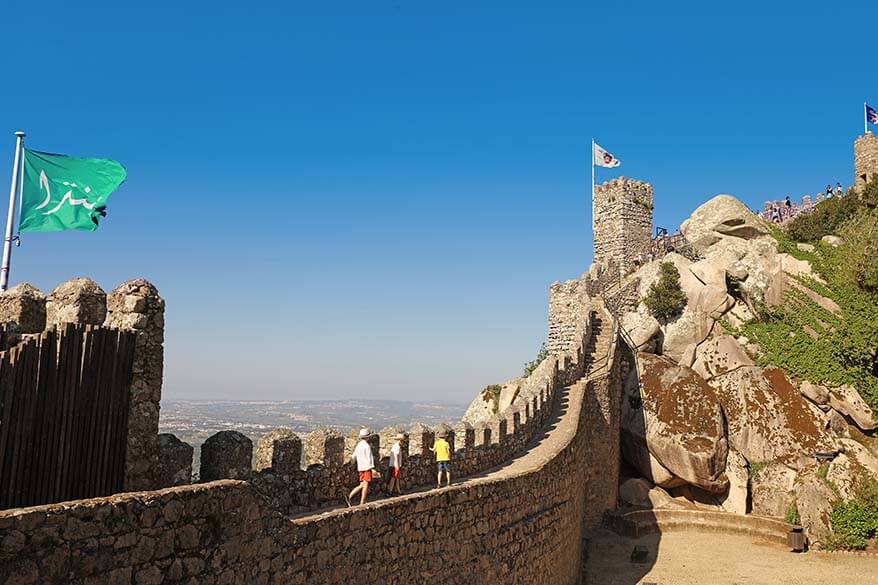 Sintra in one day – suggested itinerary
I advise to start your day in Sintra with a taxi ride to Pena Palace. This colorful castle is located on top of the hill, so it's best to start here and walk your way downwards towards the town center. After visiting the romantic Pena Palace, you can walk through the beautiful Pena gardens to the lower entrance of the park. Pena Park is huge and you could easily spend half a day here, but even if you don't have much time, try to at least do this short walk.
TIP: Queues can be very long here, so it's best to buy your skip-the-line tickets in advance or at one of the ticket machines at the entrance. If you are visiting more than one castle, you can get a combination ticket as well, but the price difference compared to two separate tickets is very minimal.
From the lower entrance of the Pena Park, it's just a couple of minutes walking back up the hill to the entrance of the Moorish Castle. However, the actual castle is located pretty far from the main road, so it's another 10-15 minutes walk before you get there. Also for the Moorish Castle, you can get your tickets online in advance and skip the lines.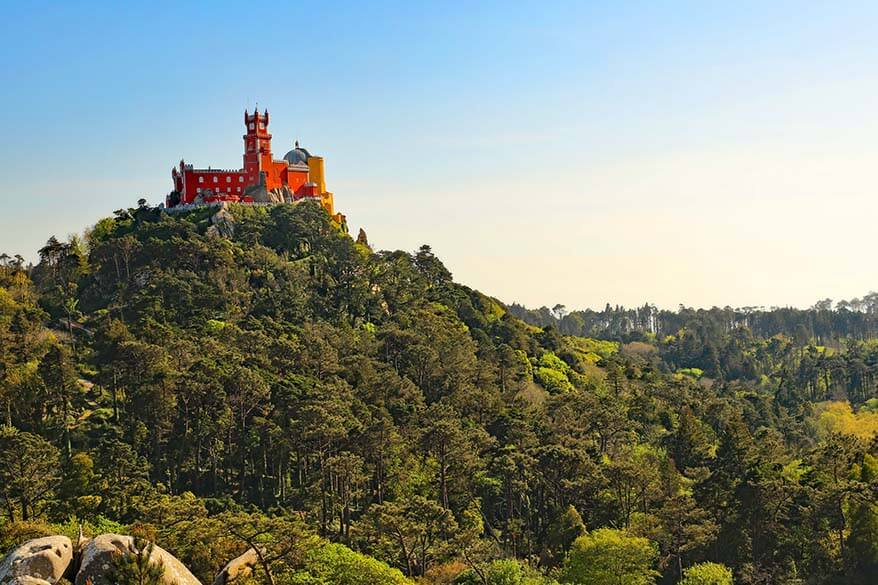 When you exit the Moorish Castle after your visit, you will see signs for Sintra historical town center. The walk is well sign-posted, easy to do, and it's a nice relaxing way to end your day in Sintra. Alternatively, walk back to the main road where you came from, and take a taxi, a bus, or a tuk-tuk.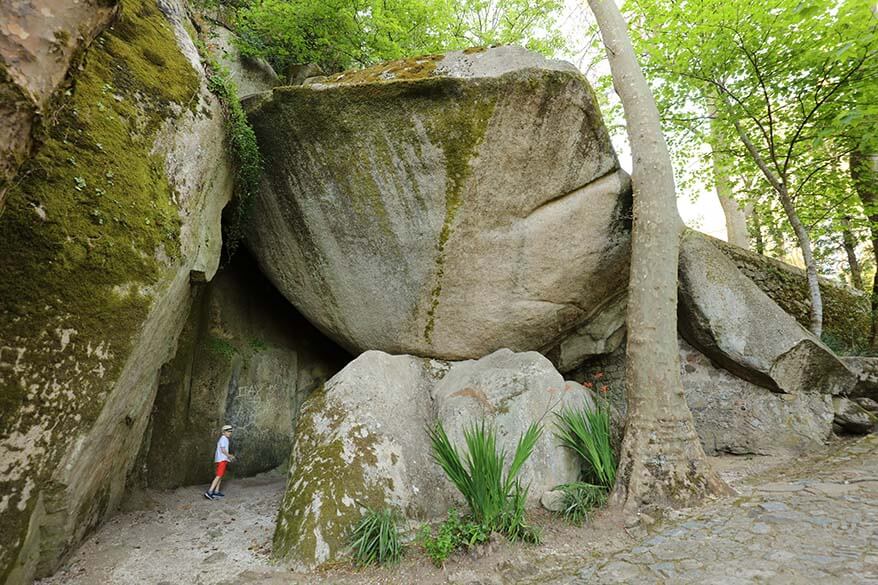 The above was our Sintra itinerary for the first day. Keep in mind that we arrived rather late since we were driving from Porto that day, and also got stuck in the traffic in Sintra for more than an hour. After checking in at our hotel, we only started sightseeing at around 1.30PM.
We visited the Pena Palace and Pena Park (however only shortly). After that we headed to the Moorish Castle, and took the stairs down to the center of Sintra.
We asked our hotel for dinner recommendations and had a really good meal at Restaurante Tulhas, just a bit outside of the main tourist routes.
If we would have had 2-3 hours more, we could have easily added one more castle to our itinerary or spent more time in the gardens of Pena.
TIP: Pack a picnic and spend the whole day on the mountain. Count at least 3 hours for Pena Palace and Pena Park and another 2 hours for the Moorish Castle. It will take you at least half an hour to walk back down to the old town of Sintra. You might still have the time to visit Palacio Nacional in the late afternoon. If you decide to visit Quinta da Regaleira on the same day, make sure that you have at least 2-3 hours for it.
If you want to see more than two major castles of Sintra in one day, make sure to arrive very early and plan to stay till the closing time in the evening.
TIP: The best way to visit Sintra in just a day is by taking an organized tour from Lisbon. Half-day tours focus on just the main highlights of Sintra – usually two castles. The most popular day tours include not just Sintra, but also Cabo da Roca and Cascais. You can also opt for a private tour from Lisbon.
READ ALSO: How to see the best of Lisbon in one day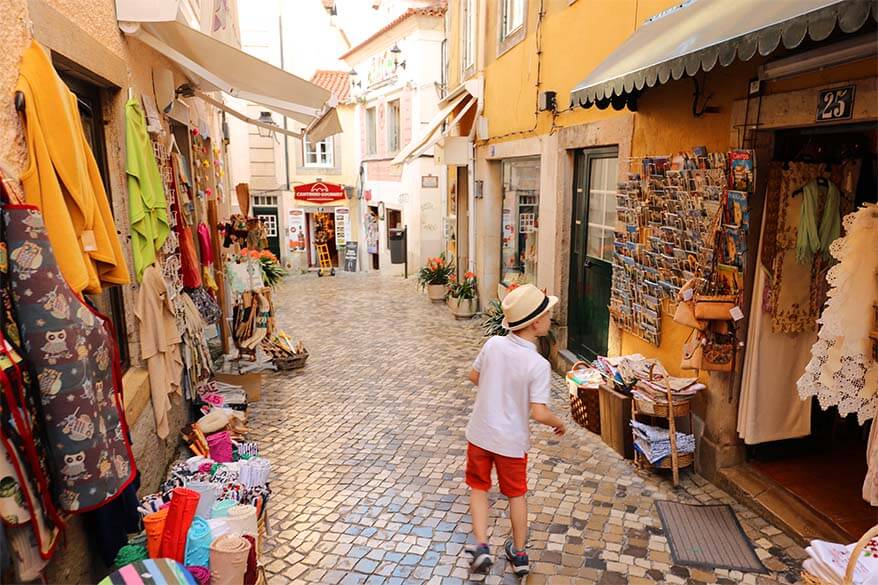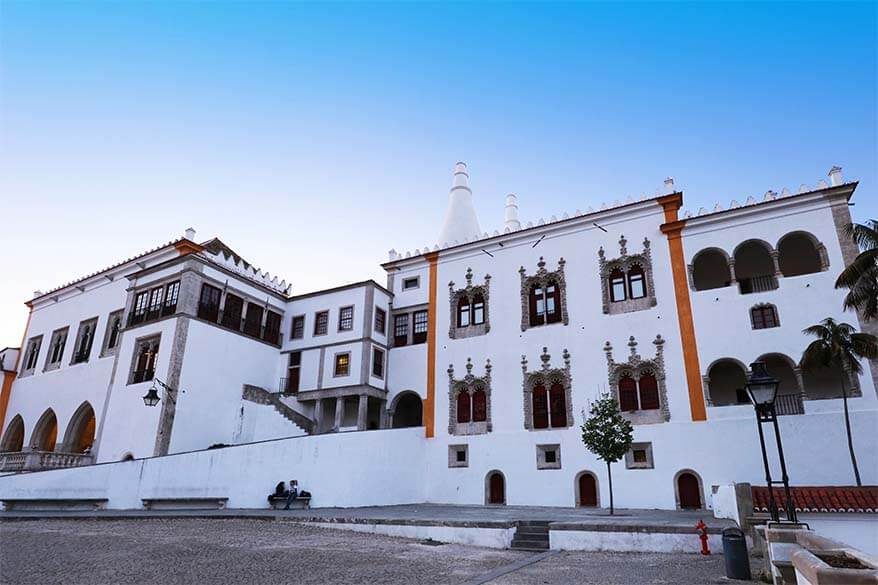 Sintra Two Day Itinerary
If you have two days in Sintra, in addition to Pena Palace, Pena Park, and the Moorish Castle, you should visit Quinta da Regaleira, Monserrate Palace, and Palace of Sintra.
Don't rush and take your time to discover the beautiful gardens of Pena, Quinta da Regaleira, and Palacio de Monserrate (our personal favorite!).
You don't need a car to visit any of these places. Only Palacio de Monserrate is a bit further from Sintra, but you can get there by bus or taxi as well.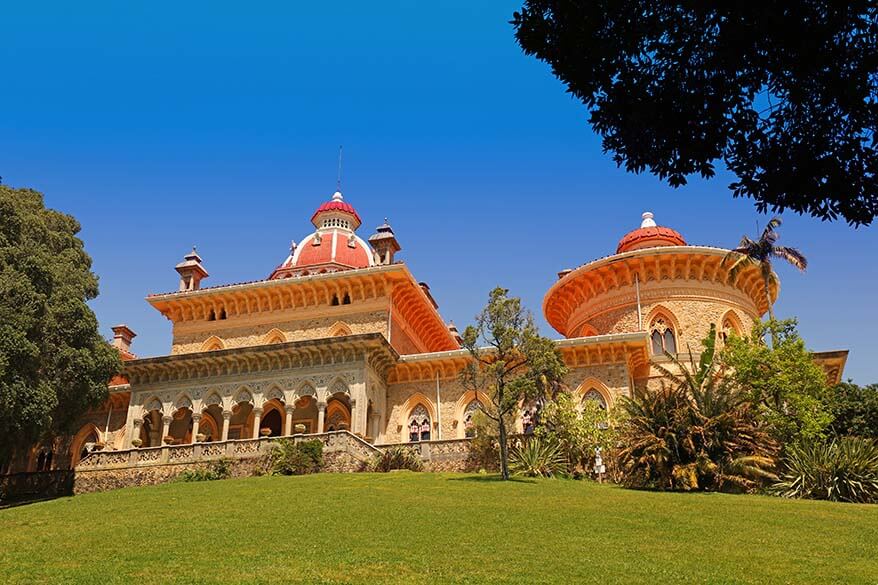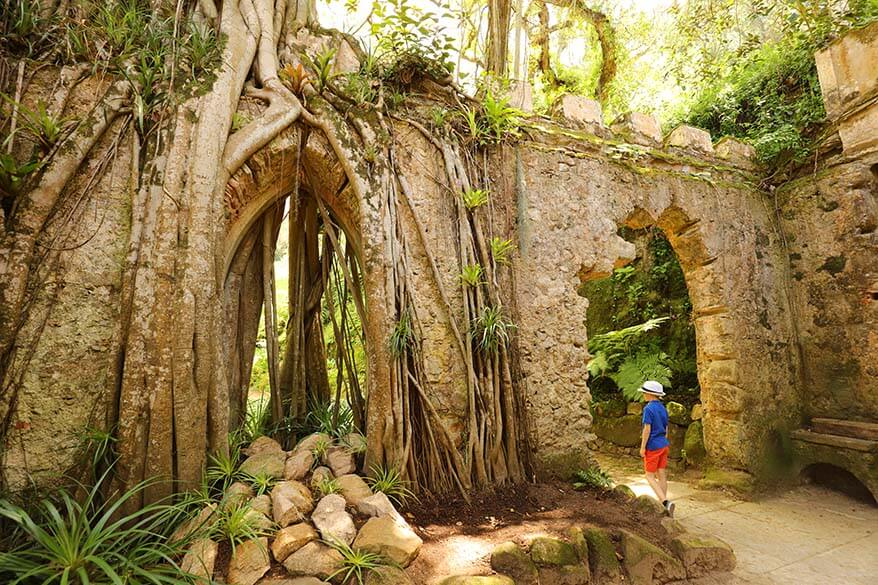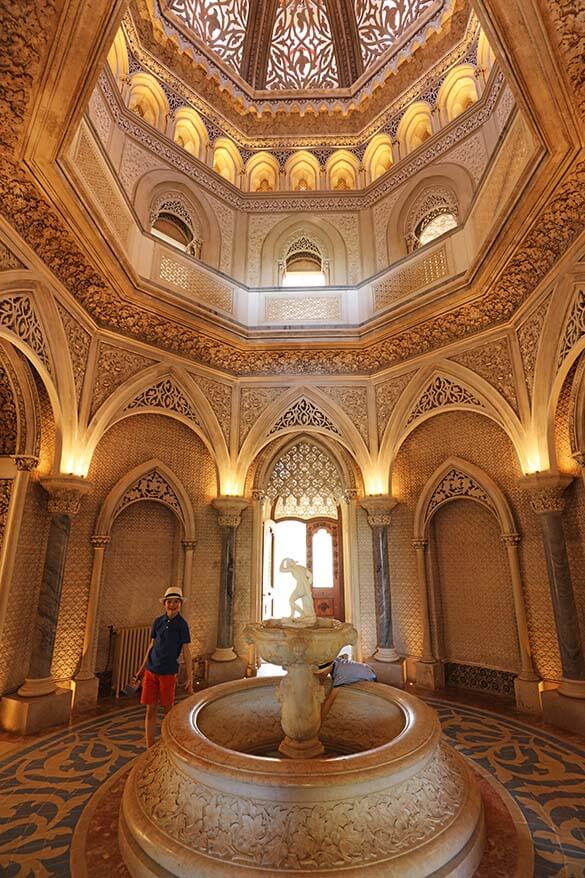 Three Days in Sintra
If you have three days in Sintra and you have a car, you can visit several more places nearby.
Some suggestions include Convento dos Capuchos, Palacio de Seteais (it's also a wonderful hotel, so budget permitting, why not stay in this beautiful castle), Vila Sassetti, Santuario da Peninha, and the beautiful coast with Cabo da Roca, Praia da Adraga, etc.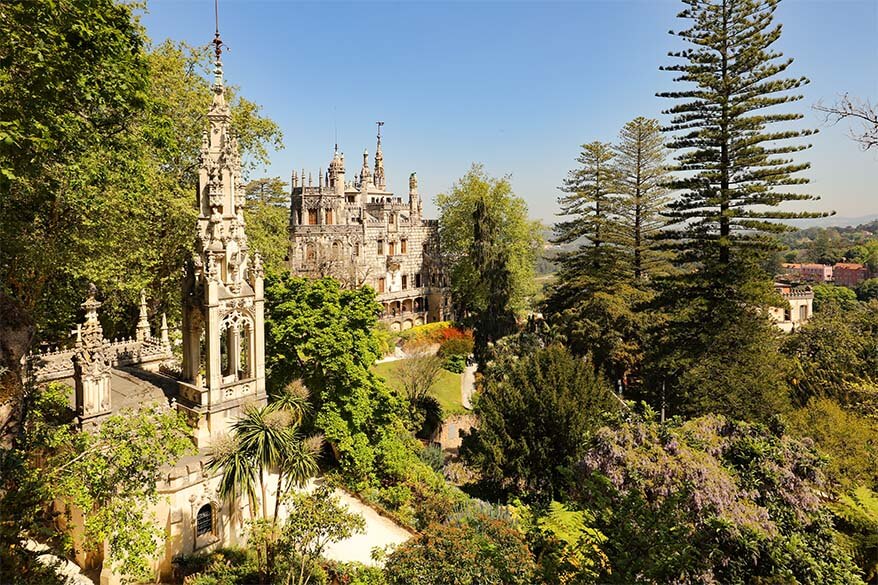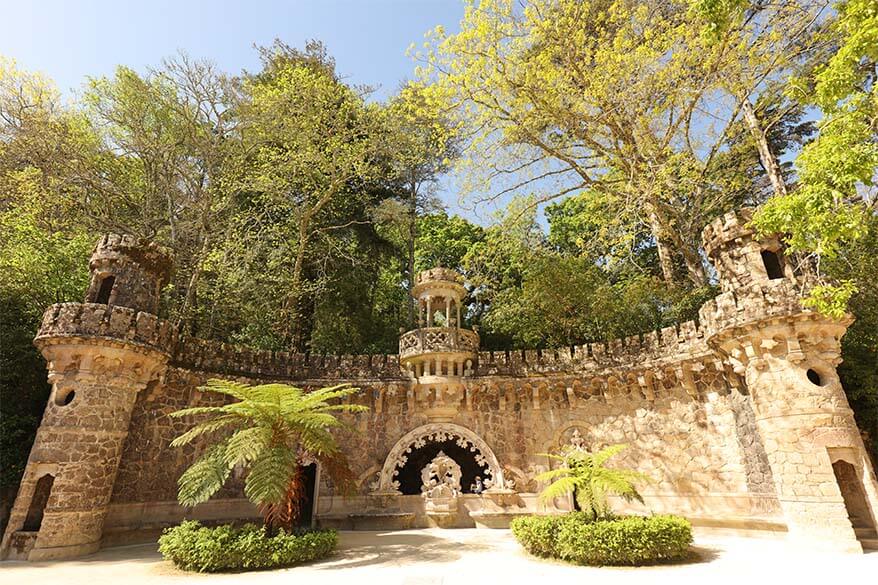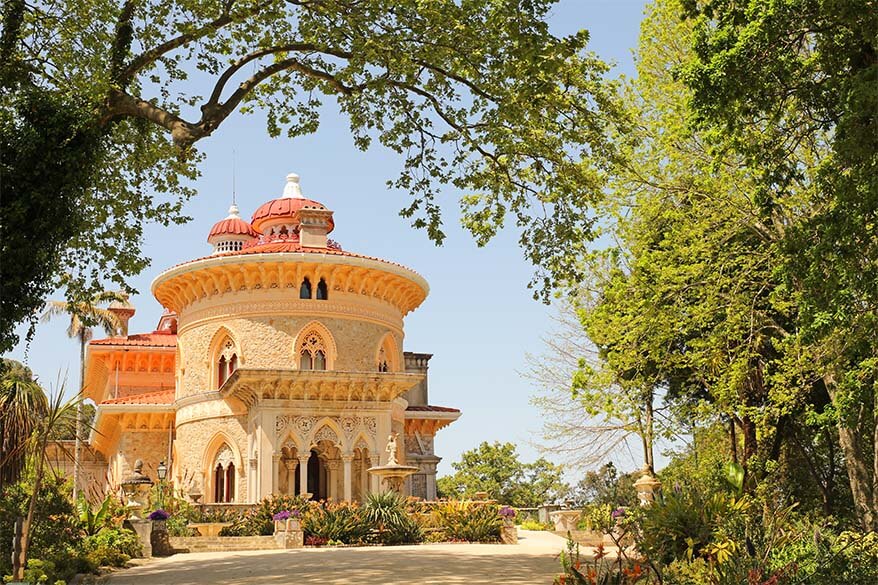 Practical Information for Visiting Sintra
1. Organized half-day and day trips to Sintra from Lisbon
Organized Sintra day trips have several advantages: you can see more in less time, you don't have to queue for the tickets (you can avoid this by buying your tickets online in advance too), and you don't have to worry about getting from one place to another in Sintra itself.
Entrance tickets to the castles are included in your day trip rate. It's the best option for those who are short on time or just want to take it easy.
On top of that, many of the organized tours also visit the beautiful coast and Cabo da Roca, and some even Cascais, e.g. this highly-rated popular tour.
2. Sintra day trip from Lisbon by train
If you rather visit Sintra individually, it's not advisable to come by car. Traffic in and around Sintra is the worst we saw during our 10-day trip in Portugal. You will lose hours in the traffic!
Instead, take a train from Rossio station in Lisbon and you will be in Sintra in less than an hour. Make sure you leave early in the morning so that you have enough time to see at least two main castles of Sintra. Trains run every 10 minutes (in summer) and cost less than 5 EUR return.
Note that the Sintra train station is located far from all the castles and from the old town. You can either take a bus (5 EUR), a tuk-tuk (5-10 EUR/pp depending on the distance), or a taxi. In my opinion, taxi is by far the best option. It's cheap, it has airco, and it's quick.
Tuk-tuk is fun to do if you are visiting Portugal with kids, but with a family, it's quite an expensive option since they charge per person. On top of that tuk-tuk is really slow going up the mountain and is extremely noisy. We took a tuk-tuk for a short ride from Sintra old town to the upper entrance of Quinta da Regaleira. The kids loved it, so it was worth it for the experience, not so much for being the most practical solution…
3. Avoid summer weekends
Sintra is popular with Portuguese as well, so try to avoid visiting on weekends and public holidays.
The best time to visit Sintra is on a workday in the shoulder season, such as March-April or October-November. We visited Portugal in April and while it was quite lively at the Pena Palace and Quinta, it wasn't busy at the other places in Sintra.
4. Getting around in Sintra
Although Sintra can easily be reached by train from Lisbon, the main attractions of Sintra are located pretty far from each other. So you will need to use public transport to get around.
The Palace of Sintra is the only castle that is located in town itself, and even then it's about 20min walk from the station. Pena Palace is located high on the hill (it's a steep climb – I wouldn't advise doing it on foot), and the Moorish Castle is half-way on the same road as Pena Palace.
Quinta de Regaleira is not that far from the old town, and you can walk there (10-15 min), as is Villa Sasetti. Palacio de Monserrate, Convento dos Capuchos, Santuario de Peninha, are all located further away, and are best reached by car or public transport.
Pena Palace can be reached by car, and there is some limited parking nearby, on the side of the road. We were in Sintra by car as part of our Portuguese road trip, but after all the traffic chaos in town, we gladly left the car at our hotel.
We took a taxi to Pena Palace, and for the 5 of us, the cost was just over 5 EUR. It's really not worth all the hassle to try and drive up the hill in your own car. On top of that, if you don't have a car, you can better explore the area without having to return to the spot where you parked it (which is high on the hill, if you start at Pena Palace).
TIP: Since recently, there is also a new way to discover Sintra – a tiny 2-person e-car that's easy to get around on the narrow roads in Sintra and should be easy enough to park. Please note that this is just a car rental, so you still have to get tickets to the castles.
5. Entrance tickets for the castles of Sintra
Sintra is probably the most expensive place you will visit in Portugal. Having said that, the entrance tickets for each castle individually are not that expensive, but it quickly adds up if you visit three or four castles with a big family.
Some of the castles belong to the same foundation and you can buy combination tickets (e.g. Pena Palace, Palacio Nacional, Moorish Castle, Palacio de Monserrate..). Combination tickets save you just a couple of euros, but you need to decide which places to visit before you buy the ticket. Quinta da Regaleira is not part of the same group and requires a separate ticket.
TIP: As already said before, if you want to avoid long queues, buy your tickets online in advance. However, families with children are better off buying family tickets at the entrance (at the time of our visit these were not available nor mentioned online). Family tickets will save you a lot of money, especially for bigger families, but be prepared to queue.
For more practical information on opening times and ticket prices check these websites: Parques de Sintra and Quinta da Regaleira.
6. What to pack for Sintra
No matter the season, sensible shoes are a must in Sintra. Cobbled streets, steep walkways, and the gardens of the palaces require sturdy footwear. I would suggest carrying a day backpack with a picnic lunch and a reusable water bottle. If you are visiting Sintra in summer, don't forget sun protection.
7. Where to stay in Sintra
Sintra is an extremely popular destination and has limited accommodation options, so it is advisable to book well in advance. There isn't really a good or a bad area to stay. If you have lots of luggage, you may want to stay close to the railway station. We stayed in the old town and found this location excellent for sightseeing.
There are no really big hotels in Sintra, rather smaller hotels, B&B's, and guest houses. There are also several nicer hotels a bit outside of town though. You can find accommodation in all price ranges, just make sure to book in advance. Sintra is one of the most popular places in Portugal, no matter the season.
If you want to stay in the town center and be able to walk to most places, check out the Tivoli Sintra Hotel or Sintra Boutique Hotel. For more options in all budgets, see our selection below.
If you are coming by car, parking might be tricky, so it's best to check if your accommodation has private parking (and it's probably better to stay a bit outside of town. Our accommodation didn't have parking and we were lucky to find one free spot nearby, but we saw many people driving around looking for a parking place. Sintra is really not the best place to visit by car.
Here are some really nice accommodation options in Sintra:
Here are some more affordable highly-rated accommodation options close to Sintra center:
If you are coming by car (or don't mind taking a taxi a bit more) and want to stay outside the busy tourist areas check these options:
Visiting Sintra FAQ
Is Sintra worth visiting?
Sintra is one of the most beautiful and most unique places in Portugal and is absolutely worth a visit. With fairytale-like castles and the most enchanting gardens, a visit to Sintra is worth your time even if you are coming from the other side of the world!
How far is Lisbon to Sintra?
Sintra is just 28km from Lisbon city center. In theory, it takes about 30 minutes to drive to Sintra, but usually, traffic is so busy that you can lose more than an hour just in order to get into Sintra town. Coming by train, it takes a bit less than an hour and costs about 5 EUR per person.
How much time do you need in Sintra?
While you can see the main highlights of Sintra in one day, we recommend at least two days in Sintra. This will allow you to see the most popular castles such as Pena Palace, the Moorish Castle, or Quinta de Regaleira, but also explore the area deeper and visit some lesser-known gems such as Monserrate Palace.
Is one day enough in Sintra?
One day is enough to see the most famous castles in Sintra. If you plan well and go fast, you can see Pena Palace, the Moorish Castle, and either Palacio Nacional de Sintra or Quinta da Regaleira on the same day. We recommend the latter.
Can you do Sintra in half a day?
If you only have half a day in Sintra, you can visit one or maximum two castles. Pena Palace is a must. In addition, we recommend to also visit Quinta da Regaleira, and especially its beautiful gardens.
How do you travel around Sintra?
Sintra is a hilly town and since some palaces and castles are located a bit far away from each other, it's not always possible to walk everywhere. For bigger distances, you can use local buses, tuk-tuks, and taxis. It's not advisable to drive around Sintra town in your own car because traffic is very bad and parking is hard to find.
READ ALSO: Best Towns in Portugal
If you found this post useful, don't forget to bookmark it and share it with your friends. Are you on Pinterest? Pin these images!