Tucked in the gorgeous Azores archipelago of Portugal is its biggest island – São Miguel. This stunning island is known for its pristine nature, volcanic scenery, beaches, rich marine life, waterfalls, and beautiful flowers…
São Miguel's natural beauty is a major attraction that draws tourists from across the world. The verdant terrain earns the island the nickname of Ilha Verde or Green Island. The pictorial scenery here also boasts dramatic Atlantic coastline and quaint towns. Ponta Delgada, the capital of the island, oozes urban European charm from its balconied mansions and city squares. Apart from its stunning landscape, the island is also famous for its eclectic gastronomy and adrenaline-pumping activities.
If you are wondering what there is to see and do in Sao Miguel, this article will give you a good overview of the very best activities and places to see on the island. From the most spectacular scenery, jaw-dropping viewpoints, to charming little towns, best hikes, hot springs, and more – Sao Miguel has something to offer for every type of traveler.
To put it simply, there are lots of really nice things to do in São Miguel. So whether you are hoping to enjoy a relaxing seaside vacation, go on an adventurous expedition, or both, you'll find plenty of options. Read on!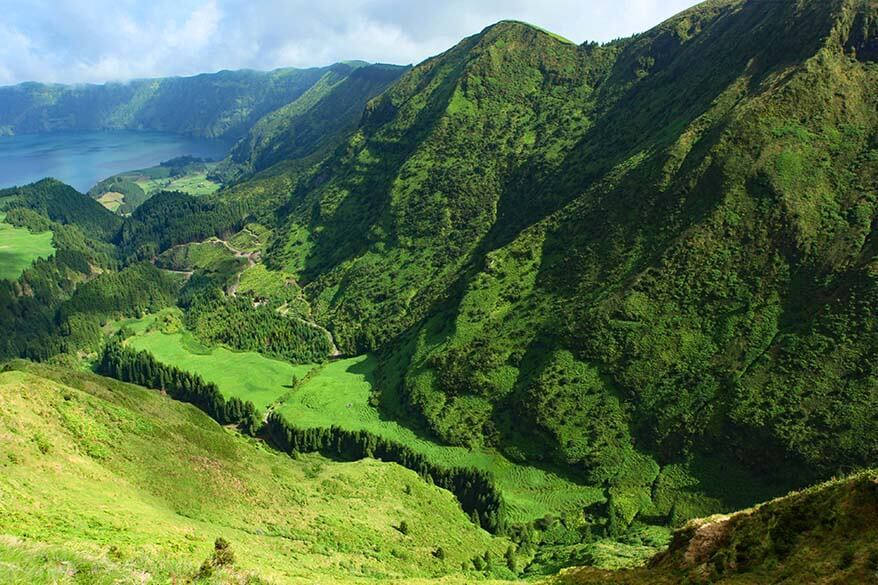 TIP: While still relatively small, Sao Miguel is the only Azores Island where it might make sense to stay at two different locations for sightseeing – east and west. But you can also choose one central location and explore the island from there. Unless you stay in the capital city (Ponta Delgada) and take organized tours everywhere, you'll also need to rent a car. Here you can find the best deals for car rental. You can find more practical tips at the bottom of this article.
To help you plan your trip and get a better idea of where everything is, we also included a map of the best things to do in Sao Miguel. Find out!
Good to know: Because our first trip to the Azores dates was quite a few years ago, this post was written with the help of my friends Sylvia and Kris from WapitiTravel who recently visited the Azores Islands and agreed to share their best tips with our readers. In the meantime, we have re-visited the Azores and spent 2 weeks on Sao Miguel Island and have updated this article with even more up-to-date tips and our personal experiences as well.
How to Use This Map: Use your computer mouse (or fingers) to zoom in or out. Click on the icons to get more information about each place. Click the arrow on the left top corner for the index. Click the star next to the title of the map to add this map to your Google Maps account. To view the saved map on your smartphone or PC, open Google Maps, click the menu button, and go to 'Your Places'/'Maps'.
These are the best things to Do in São Miguel:
1. Sete Cidades Lakes
Lagoa das Sete Cidades in the Western part of the island is one of the must-see places in São Miguel. It is known for the legendary Blue and Green lakes (Lagoa Azul and Lagoa Verde), two of the 7 Natural Wonders of Portugal.
There are several breathtaking viewpoints on Sete Cidades to enjoy the unforgettable views of the twin lakes. We recommend that you check out at least two of them, Miradouro da Boca do Inferno and Miradouro da Vista Do Rei. More information below.
In addition, there are several really nice hikes in this area, but most of them require about 2-3 hours. If you have the time, we recommend the Sete Cidades Crater hike – one of the best experiences in this area! You can find more information about this hike further down in this article, together with some other nice hikes in Sao Miguel.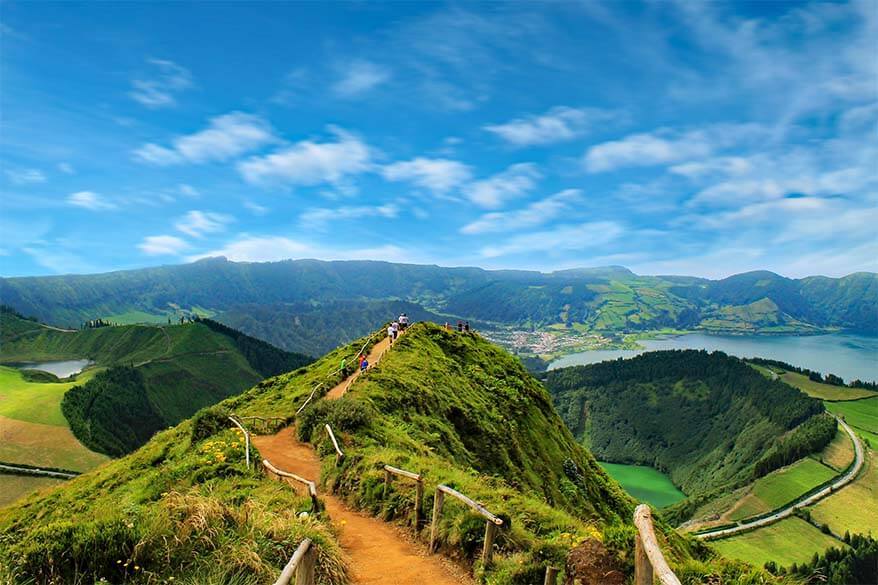 Miradouro da Boca do Inferno
Boca do Inferno (Hell's Mouth) is one of the best viewpoints at Sete Cidades. Perched 1000m above the sea level, it offers a breathtaking view of the two lakes. This is also the only viewpoint that's not located directly along the road, so you'll need to make a (small) effort to get there.
The hike to Miradouro Boca do Inferno starts at the small parking area at Miradouro da Lagoa do Canário, about 5-minute drive east from the junction on Route EN9-1A (see map).
There are signposts for Lagoa do Canario and an iron gate to walk through. Reaching the scenic viewpoint takes only 15 minutes from here. Absolutely worth the short hike.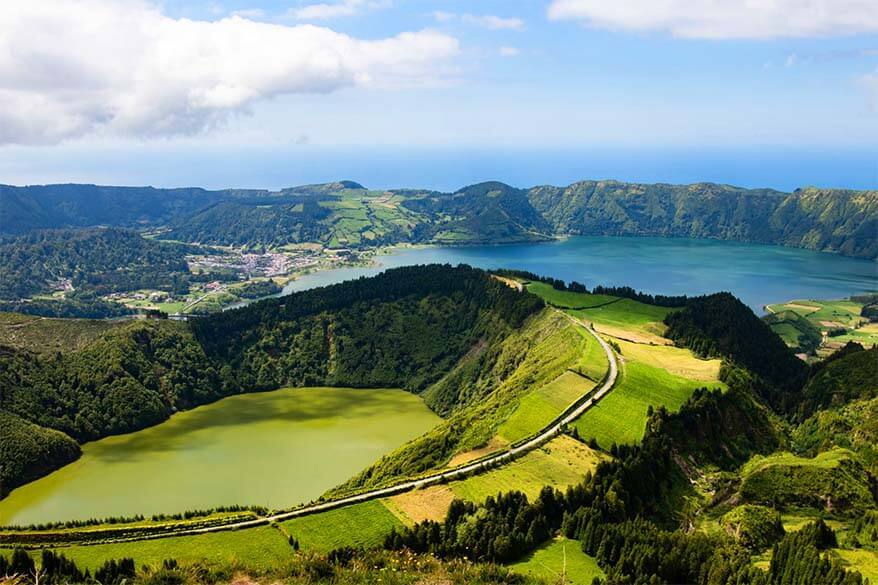 Miradouro da Vista Do Rei
Another popular viewpoint that tourists root for is Vista Do Rei (see the featured image on top of this article). It is conveniently located just a few steps from an abandoned Monte Palace Hotel. Vista Do Rei is also the easiest São Miguel attraction to reach without having to walk much. You can drive all the way to the top.
Note that on busy days, parking can be hard to find here. In high season, the best way to avoid parking problems is to arrive before 9 AM. But because they now only allow 20-minutes parking at the viewpoint, the wait isn't that long (if any). For those who want to spend more time in this area, there's another 'long term parking' a bit further down the road.
Lagoa de Santiago & more
In addition, Miradouro do Cerrado das Freiras offers great views of the two lakes. The nearby Miradouro da Lagoa de Santiago is also not to be missed. And even though the scenery of the green Santiago Lake is not comparable to the view over the twin lakes, it's well worth a quick stop.
LEARN MORE: Best Things to Do in Sete Cidades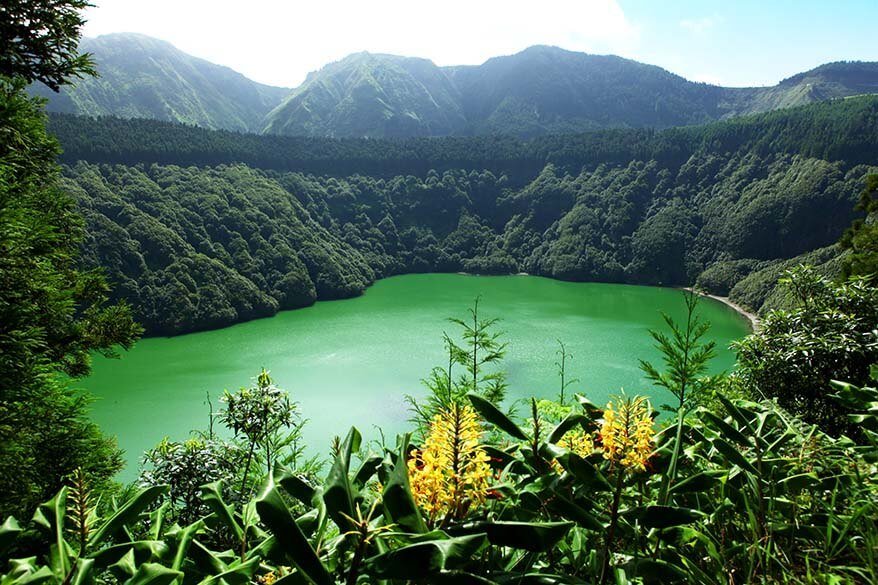 2. Ponta Delgada
Ponta Delgada is the capital city of the Azores and is not to be missed when visiting São Miguel Island. You don't need much time for the city and can easily stroll through the center and have dinner in town in the evening after visiting the natural attractions of Sao Miguel during the day. On the other hand, if you want to see most of the sights, count at least half a day.
Former fishing village, Ponta Delgada grew in the 17-18th centuries. That's also when most of its convents and churches were built. It is now quite a bustling city with a nice atmosphere.
Don't miss Portas da Cidade (the City Gates) and some of its churches (Igreja de São Sebastião, the Igreja de São Pedro, Igreja São José, and the Convent and Chapel of Nossa Senhora da Esperança). A visit to the old fortress Forte de São Brás, now a Military Museum, is also one of the 'musts', just as a walk on the waterfront promenade in the city center.
If you want to buy some local fruit or souvenirs, check out Mercado da Graça, a farmers market in the city center, and also the Azorean Pineapple Plantation (a bit outside of the center).
If you are looking to escape the hustle and the bustle of the old town, check out Jose do Canto Garden, a botanical garden with very impressive huge trees. The adjacent Palace of Sant'Ana and its gardens are well worth a quick visit as well. Also an underground cave Gruta do Carvão is well worth a visit (more info about this lava cave further below).
LEARN MORE: Best Things to Do in Ponta Delgada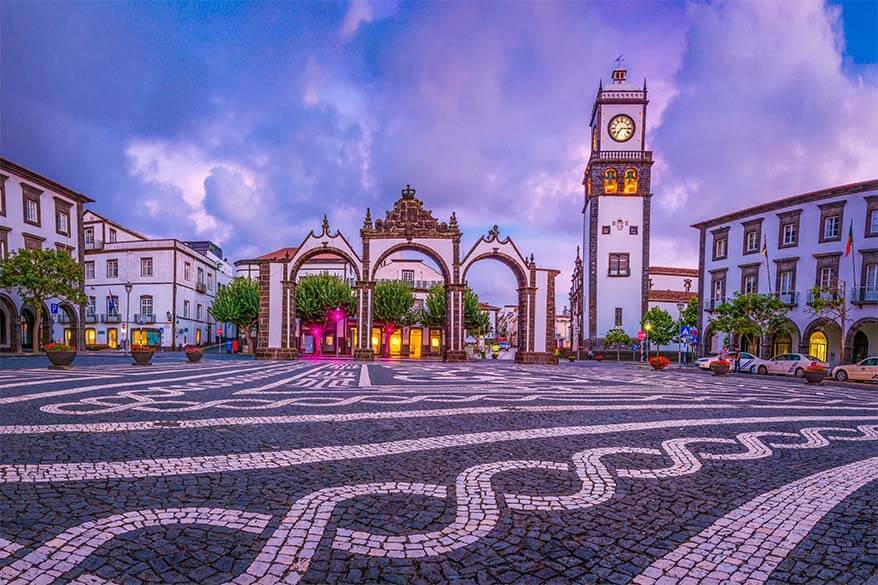 3. Furnas
Furnas is one of the main towns of Sao Miguel and one of the most popular areas to visit with an organized day tour from Ponta Delgada. It's just about 45 km/ 40 minutes drive east from the capital city.
This 200-year old tourist destination is home to some of the best places to visit in São Miguel. Here is a link to a complete guide to visiting Furnas and below, you can find a short overview of some of the best things to do in Furnas:
Terra Nostra Garden
Located in Furnas Valley, Parque Terra Nostra is a Romantic-style historic garden dating from 1775. Today, the site is home to the historic Terra Nostra Garden Hotel (built in 1935 and recently renovated), botanical gardens, and an inviting thermal spa. Further below, you can find more information about the Terra Nostra Hot Springs. But first, more information about the park.
The park is set in an incredible location, a dormant volcanic crater. The park also boasts its very own microclimate. The temperature here remains mild the whole year round: 10-16°C in winter and 20-25°C in summer.
There are two zones to saunter across: the upper zone with footpaths through dense woods, and the lower zone wedged between the Amarela stream and the Serpentina Lake. The highlights of this historic European garden are the avenues of palm trees and the many thematic gardens.
For several centuries, exploring the Terra Nostra Gardens and swimming in its hot pools has been considered one of the very best things to do in São Miguel. This place is not to be missed when visiting the Azores!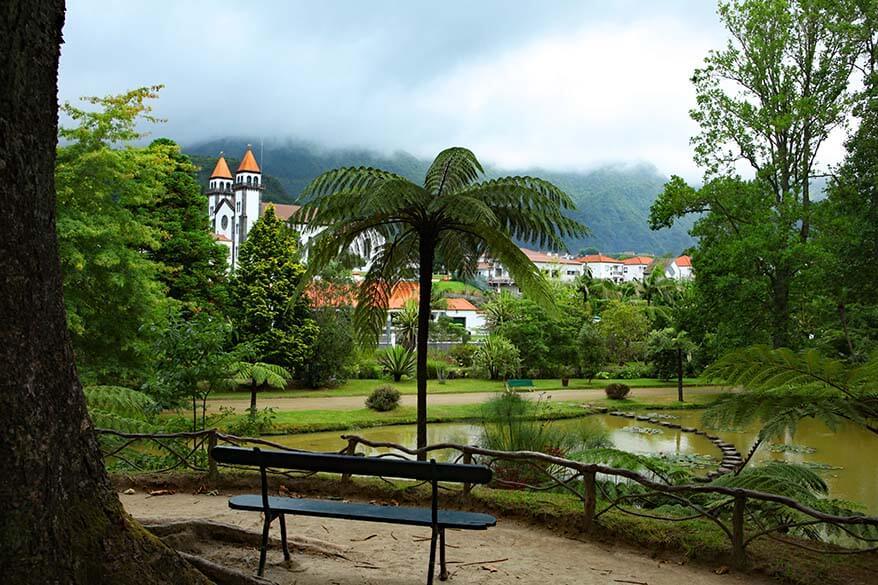 Lagoa das Furnas
Lagoa das Furnas is one of the three main lakes of São Miguel. It is famous for its hot sand found near the lakeside hot springs and for the Cozido stew. This local dish is slow-cooked in pots in underground ovens.
Lake Furnas may lack the dramatic views of the lakes of Sete Cidades, but it oozes tranquility. There are walking paths and you can also hike all around the lake (an easy flat hike of about 2 hours). You may get lucky and see locals cooking Cozido in the geysers next to the lake.
Caldeiras das Furnas & Fumaroles
Caldeiras das Furnas, aka Caldeiras Vulcânicas are hot springs and mud springs in the same volcanic complex as Furnas lake. They are located closer to the town center.
The Fumaroles are the volcanic holes that were created underground to make the traditional Portuguese stew. You can taste it in the restaurants dotting the village.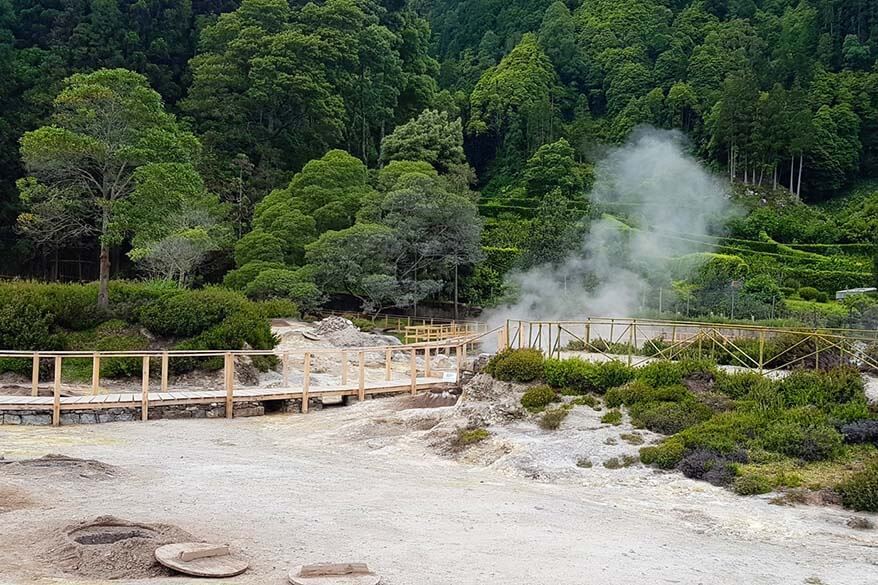 Cozido das Furnas
The Cozido das Furnas is a unique local dish in the Furnas area. It's cooked for about 5 hours on the hot springs or steaming Fumaroles of Furnas village. You really have to try it when visiting Sao Miguel!
Cozido stew is already quite unique because it's prepared underground, but it also has a very distinctive taste due to the liquid used to cook it (juices from a mix of ingredients like meat, carrots, kale, Chouriço, and pork).
The best restaurant to try Cozido in Furnas is Restaurante Tonys. Be sure to make advance reservations and mention that you will be having the Cozido.
Capela de Nossa Senhora das Vitórias
Situated on Furnas Lake's south shore, Capela de Nossa Senhora das Vitórias is a 19th-century church. It's is a beautiful example of neo-Gothic architecture.
Inside the fairytale facade, it boasts wooden décor and Fauve stained-glass windows. Built by José do Canto, botany and literary enthusiast, this little church is all about storybook charm and pictorial setting. There is a small garden and a nice waterfall here as well.
Good to know: You can see the church from the road. It doesn't require much time to visit it, so make sure to stop when passing by. If you want to take a closer look, there is an entrance fee of 3 EUR. It includes a visit to the gardens and you can also walk to the most beautiful waterfall – a true hidden gem of Furnas.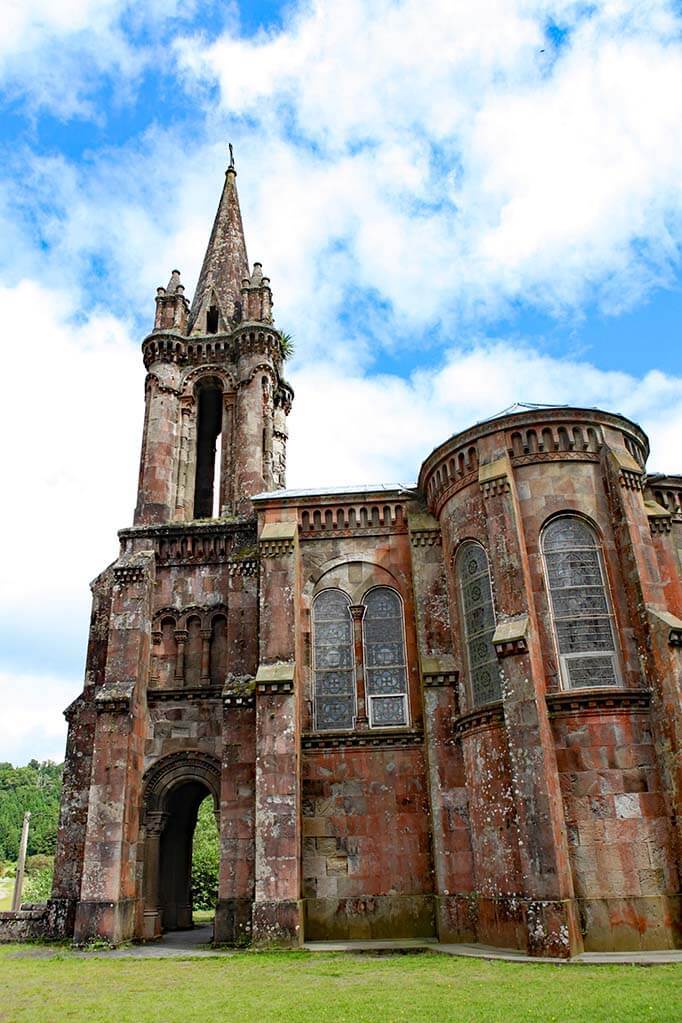 4. Lagoa do Fogo
Located in the heart of the island, Lagoa do Fogo is among the most picturesque lakes in São Miguel. Set within the Água de Pau Massif stratovolcano, it's a jaw-dropping natural wonder.
This lake is a vivid mixture of bright-green pasture-ringed mountains and sapphire waters set against the backdrop of the Atlantic Ocean in the distance. This nature reserve is also a hub for various endemic plants and a variety of birds. The cliffs are ringed with hiking trails, allowing wayfarers to wander through the area's dense foliage.
You can enjoy the Atlantic-reaching views from the 700 meters-high viewpoint, Miradouro da Lagoa do Fogo. From here you can also descend to the lake; it takes about 15-20 minutes one way. Hikers can also venture down via the Praia – Lagoa do Fogo trail to the southern shore of this crater lake.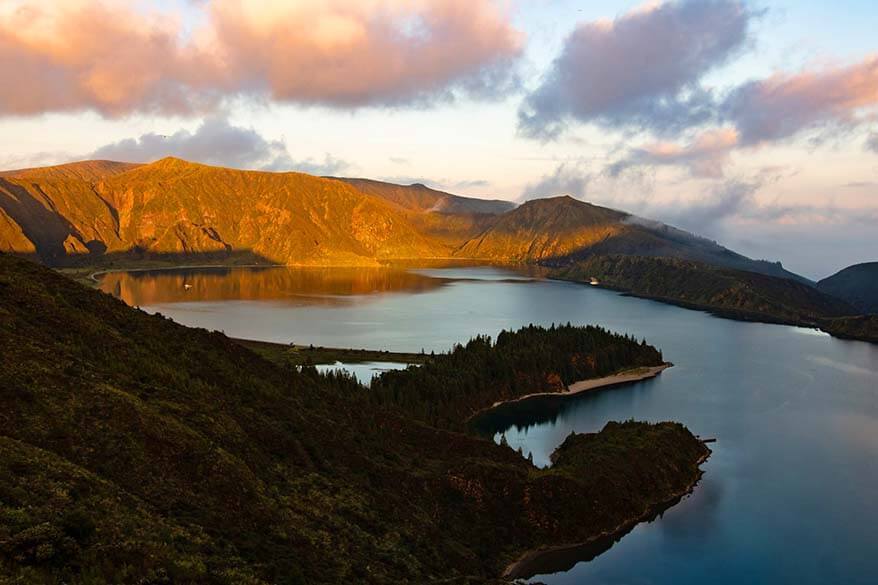 5. Hot Springs of São Miguel
In addition to being a paradise of grass-covered cliffs, floral meadows, and coves, São Miguel is also home to many thermal swimming pools. No trip to Sao Miguel would be complete without going for a swim or a relaxing dip in its hot springs!
Below, you can find more information about the 4 most popular hot springs in Sao Miguel. They are located in three different locations around the island, so you can easily visit a couple of them on different days, in combination with sightseeing in the area. Not to be missed!
TIP: Make sure to pack your swimwear and a quick-drying travel towel when driving around Sao Miguel. That way, you can easily visit a few of the hot pools during your trip without having to plan much in advance.
Terra Nostra Hot Springs
Terra Nostra Hot Springs is located in Furnas (see above). This place is a dream of every bon vivant – relaxing thermal waters surrounded by an exotic garden.
As already mentioned above, the site comprises the historic Terra Nostra Garden Hotel, botanical gardens, and several hot pools. You can soak in the main thermal pool or two smaller secondary pools.
The main pool was built in the 1700s and expanded in 1935. It is filled with unclean-looking brownish water. However, this color has nothing to do with its cleanliness; it is just because of large iron and mineral deposits.
Both pools offer tepid water straggling between 35-40°C (95-105°F). Soaking in the warm water in a tropical setting will soothe your muscles and re-energize your body. The pool is so big that it's easy to swim around and relax without worrying about the crowds.
TIP: The water here will color your skin and swimwear, so be sure to wear the oldest darkest swimsuit you have, and don't bring light towels with you! Be sure to take a very good shower as soon as you can afterwards!
Good to know: The garden is open daily, but only during the day (+-10 to 6 PM maximum, depending on the season). The entry fee is 8 EUR; half the price for kids under 10. Facilities like towels and lockers are available for rent at an extra cost.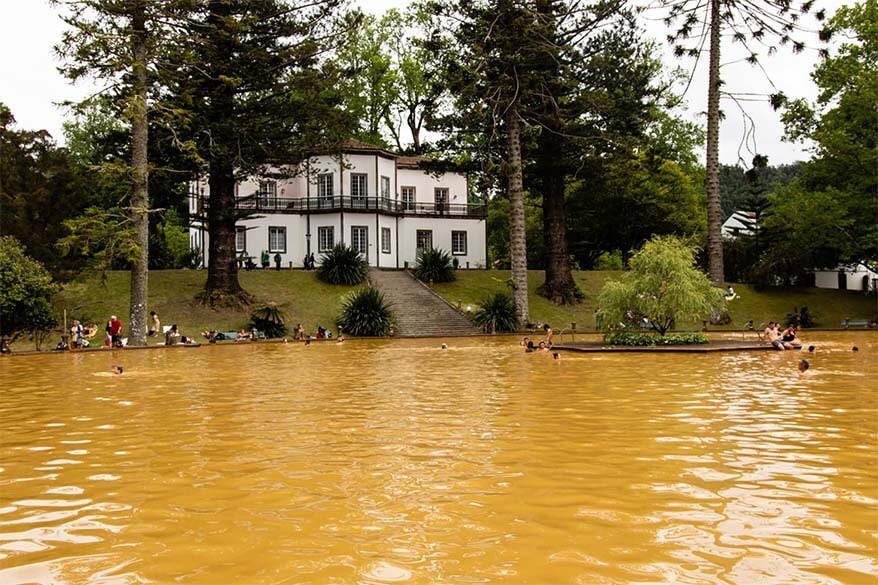 Poça da Dona Beija
Located a little outside the center of the charming town of Furnas, Poca da Dona Beija is a set of five thermal pools. They all have different water temperatures ranging between 25-39°C (77-102 °F). So no matter your preference, you'll always find a nice pool perfect for a relaxing soak.
Furthermore, these pools sit in a jungle-like setting. You will completely forget that you're still within the outskirts of Furnas, making the whole experience even more refreshing.
However, due to its beautiful and quiet location, the pool remains crowded almost all year round. Of all the hot springs of São Miguel, this is among the most popular choices for tourists and locals alike. It's especially busy during the summer season.
Good to know: Poca da Dona Beija is open daily from 7 AM to 11 PM. The entry for adults is 6 EUR and for children is 4 EUR. Towels and lockers are available at extra cost.
TIP: For the most special experience, come here when it's colder outside! It's a great place to visit on a late summer evening (the pools are nicely lit) or in the colder season.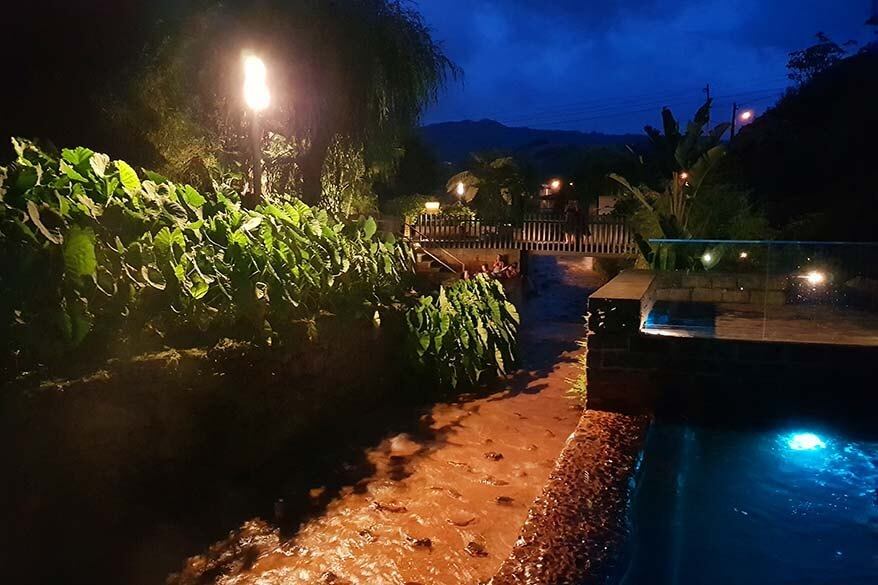 Caldeira Velha
Located in the Fogo Volcanic Complex in the center of the island, Caldeira Velha hot springs boast a picturesque setting with a waterfall in the backdrop.
Entering the Caldeira Velha Park is like entering a wild, Jurassic jungle. Its untamed natural beauty elevates the experience of bathing in a natural hot spring. All the thermal pools in the park are stone-walled with dense foliage.
While there are several smaller pools with water temperatures of 37-39°C (98-102°F), the highlight of the area remains the waterfall pool at the end of the park. This big hot spring stays at a much cooler, but still comfortable temperature of 20-25°C (68-77°F). It is also deeper but less crowded than the hotter and shallower pools.
Good to know: Caldeira Velha is open from around 9-9.30 AM and hours vary depending on the season. The entry costs 8 EUR. Parking here is often congested and they strictly enforce maximum capacity, so you often have to wait a long time to get in.
TIP: If you want to avoid having to wait (1.5-2 hours waiting time is common), you may want to arrive very early in the morning before they even open. Visiting during weekdays is a bit quieter because the place is very popular with locals and even more busy on the weekends.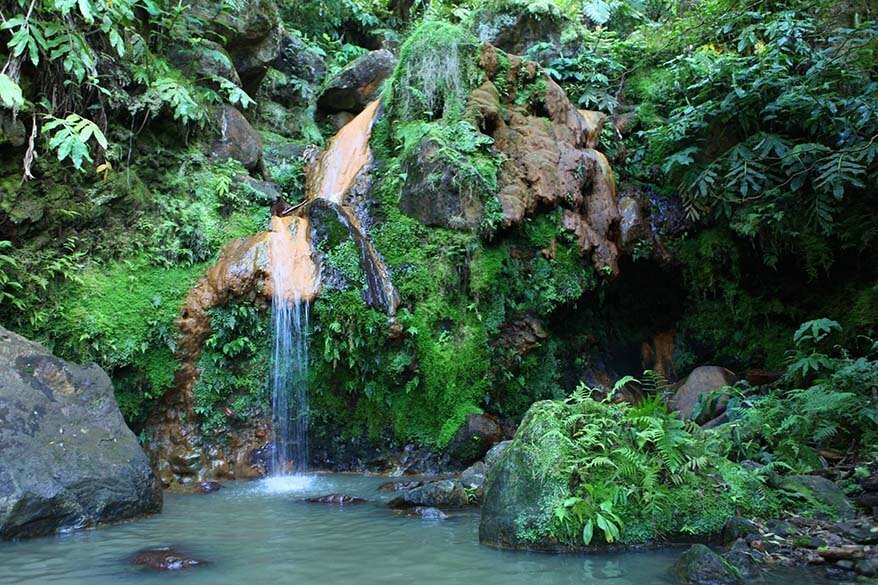 Ponta da Ferraria
Ponta Da Ferraria natural swimming pool is a small cove tucked on the western tip of the island. Located right at the beach, this is the most natural hot pool experience in Sao Miguel. This is also the only hot spring in the Sete Cidades volcanic complex.
The water in this thermal pool is heated by the surrounding lava rock cliffs and the geothermal natural spring beneath. It is important to be cautious at low tide since certain spots can get super-hot when not mixed with cold water from the sea. The water temperature here typically ranges between a chilly 18°C (64°F) and a more enjoyable 30°C (86°F).
Entry to the ocean is free, making it an excellent option for nature lovers and shoestring travelers. In high season, there's a lifeguard on duty.
Good to know: Ponta da Ferraria also has a swimming pool with a spa and a restaurant – Termas da Ferraria. While you can swim for free anytime in the ocean, the spa is open from 11 AM to 7 PM from Tuesday to Sunday and there's a charge for it. The pool was closed when we visited in the summer of 2021.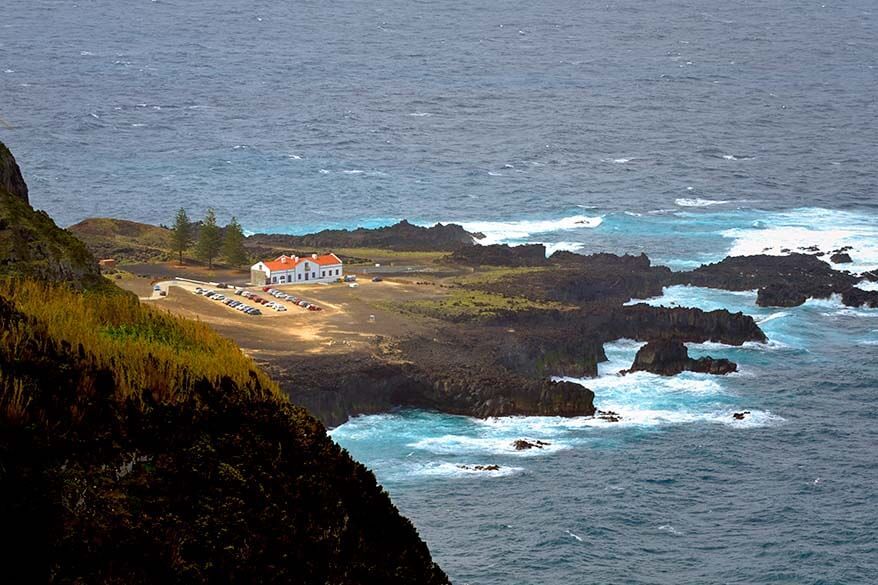 6. Whale Watching
The Azores is a great place to see whales! Whale watching is, therefore, a very popular activity in São Miguel. Several tour companies arrange boat tours to the Atlantic Ocean to help you get closer to the wild, marine life.
When you are surrounded by whales, dolphins, and/or turtles all around you, it is easy to understand why whale-watching excursions are among the most popular things to do in São Miguel. On some tours, you can even swim with the dolphins! Whether you are a nature lover or an intrepid adventurer, this Azores attraction will never disappoint.
Good to know: Whale watching tours leave from various locations on the island and typically last about 3 hours. It's worth remembering that there is no guarantee that you will spot a whale. But don't let that stop you from hopping on the boat. Often, you'll see dolphins and other marine animals as well.
TIP: On our most recent trip to Sao Miguel, we took this whale-watching tour by speedboat and it was great. In addition to doing their best to spot whales and dolphins (we saw dozens of them!), this tour also circles around the Princess Ring Islet of Vila Franca do Campo, which is one of the most unique places to see in the Azores!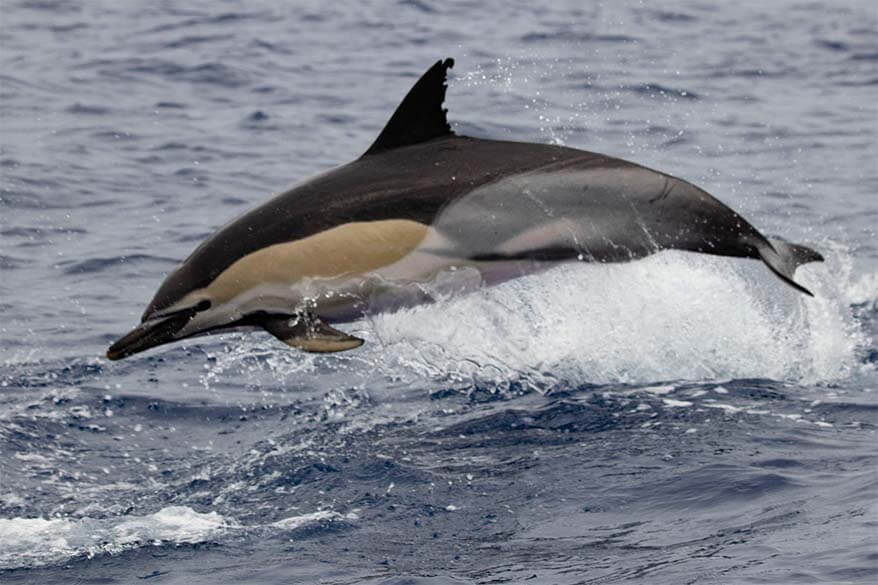 7. Farol do Arnel
The oldest lighthouse in São Miguel, Farol Ponta do Arnel, is also the oldest lighthouse in the Azores. Arnel Lighthouse started operating in 1876. Today, it stands erect as a symbol of modernization in the county.
Pegged on the Nordeste coastline on the East coast of Sao Miguel, this cliff-hugging landmark is reachable via a steep road known for its beautiful views. This strategic location makes it a brilliant vantage point to enjoy far-reaching views of the ocean, the sunrise, and the sunset.
TIP: Just below the lighthouse is a small port with a small creek behind it. Follow the stream of the waterfall to reach the shore. Lined with small fish boats, it is a serene place to watch the rough surf crash against the rocky cliff. On the way back to the lighthouse, you will get a glimpse of the east coast and yet another brook that runs directly into the ocean.
Good to know: The road down to the lighthouse is extremely steep and has several very narrow hairpin turns. It's really not a good idea to drive down this road unless you have a very short and powerful car. Instead, you can leave your car at the designated parking at the top and walk down to the lighthouse. On the other hand, the walk back up is really tiring (especially when it's hot), and quite frankly – the best views are from the top and not at the lighthouse itself. So you can just stop to admire the views from one of the two viewpoints on top – Miradouro da Ponta do Arnel and Miradouro da Vista dos Barcos.
TIP: The best view – as in the picture below – can be seen from Miradouro da Vista dos Barcos (Boats Viewpoint).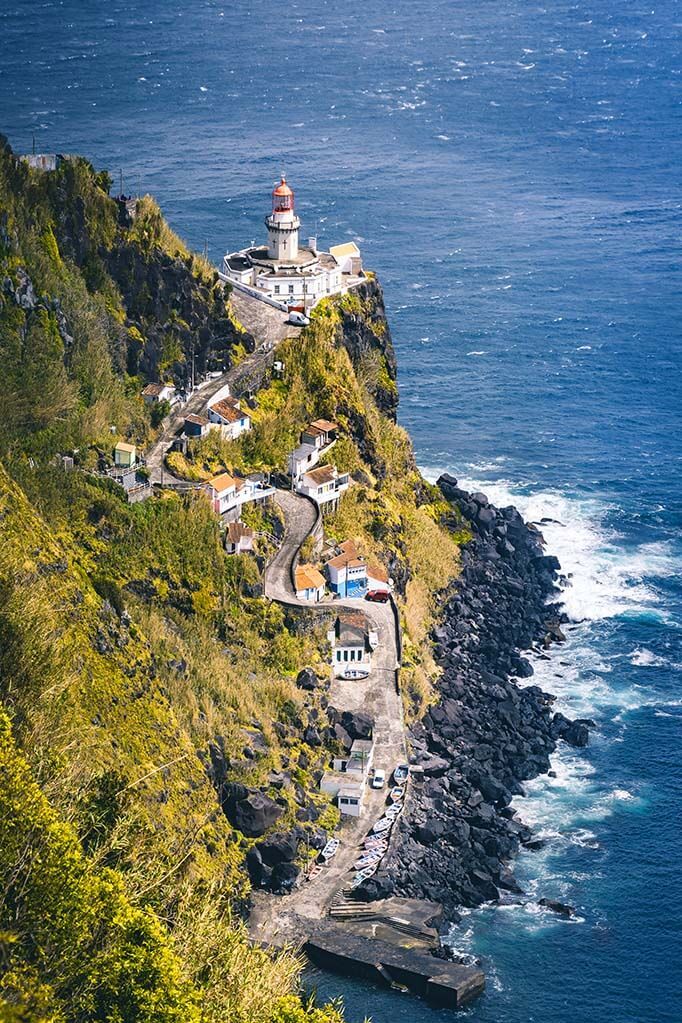 8. Ponta do Sossego Viewpoint and Gardens
Spanned across 13,000m2 in a quiet valley of Nordeste, Ponta Do Sossego is a stunning lookout point along the Eastern coast of Sao Miguel. This is a great place to enjoy unhindered views of the ocean. You can admire the scenery from three different views. But there is more to Ponta do Sossego than just the views; there is also a beautiful garden here.
The expansive green terrain of this cliff-top garden is distributed in terraces perched at different heights. Carefully manicured gardens, well-trimmed shrubs, and mossy grounds look even more beautiful in combination with unfettered panoramas of the Atlantic.
This paradisiac site includes a variety of beautiful flowers like hydrangeas, adorable cats, pleasant picnic spots, and laybys with views. Come early in the morning to hear the chirping of the birds.
Ponta Do Sossego is a locals' favorite and a popular bbq spot. So it can get busy during weekends. However, the parking area is quite large, so there should be no problem securing a place for your car.
9. Ponta da Madrugada Viewpoint
Located just a 5-minute drive from Ponta Do Sossego, on the eastern tip of the island, Ponta da Madrugada is yet another jaw-dropping viewpoint.
While most tourists and locals go to the above-mentioned Ponta do Sossego for better views and more beautiful gardens, the Viewpoint of Ponta da Madrugada offers similar views and fewer crowds. Furthermore, there are bathroom facilities here and also picnic tables made of volcanic rock.
Compared to the well-trimmed grasslands of the Sossego, Madrugada has more forest feeling with wild trees, untrimmed shrubs, and rugged landscape. Both places are home to many laid-back feral cats who may want to share your picnic…
Also known as the Day-Break Side of the island, this is also a great lookout to watch the sunrise in Sao Miguel. Keen photographers would want to come back during dusk to shoot sunset as well.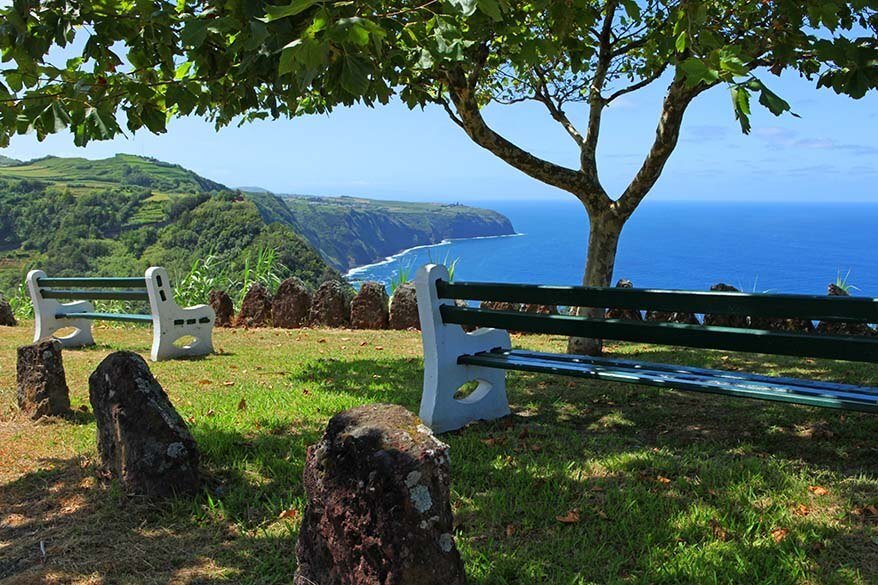 10. Nossa Senhora da Paz Chapel
Nossa Senhora da Paz (Our Lady of Peace Chapel) is a mix of impressive, glorious architecture and a strategic location offering a great vantage point over Vila Franca do Campo town and the Atlantic Ocean. This legendary landmark of São Miguel is pegged on a steep slope of the southern coast of the island.
According to folklore, the church was built in 1764 when a group of shepherds saw an image of the Virgin Mary in the cave where the edifice is now located.
The unique whitewashed facade sets it apart from all historic European churches on the island. Colorful hydrangeas line this pristine architecture to create an even lovelier picture.
However, there's more to the church than what's inside of it. Nestled on a ridge that lords the town and set in a verdant scenery of rolling hills, this São Miguel point of interest also offers dumbfounding views of the countryside.
Good to know: You can drive all the way up here from Vila Franca do Campo, but the road is very 'local' and quite narrow. The views from the parking lot at the foot of the chapel are amazing and you can see the Islet of Vila Franca from here as well.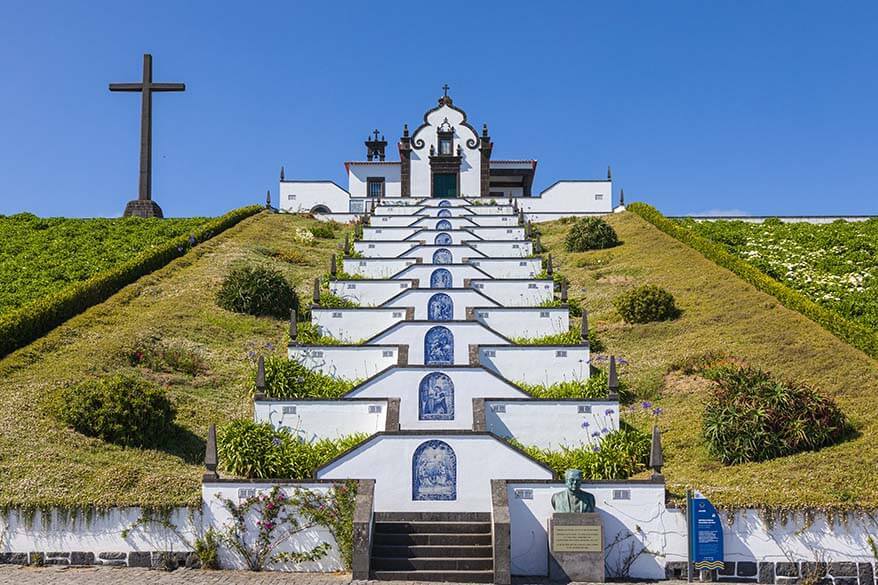 11. Gorreana Tea Plantation
There is no shortage of natural attractions in São Miguel. One such green retreat on the island is the family-run, 19th-century Plantacoes de Cha Gorreana. It's located about 25 km from Lagoa do Fogo, in the Ribeira Grande municipality. Gorreana Tea Plantation is the oldest and currently one of only a handful of tea plantations remaining in Europe.
Sauntering in the estate is a serene experience and a great thing to do along the north coast of São Miguel. Teetotalers and greenery-lovers will love to ramble around in the green tea fields. Self-guided factory tours help visitors learn about the routine of processing the tea. The workers are very friendly and even try to make time to answer questions of curious travelers.
Good to know: There's a café on-site where you can enjoy freshly-brewed tea. There is also a gift shop where you can buy tea and souvenirs. The factory is open daily, from 9 AM to 6 PM. More information on their website.
TIP: For the best experience, visit during weekdays when the factory is operating – that way you get to see how everything works.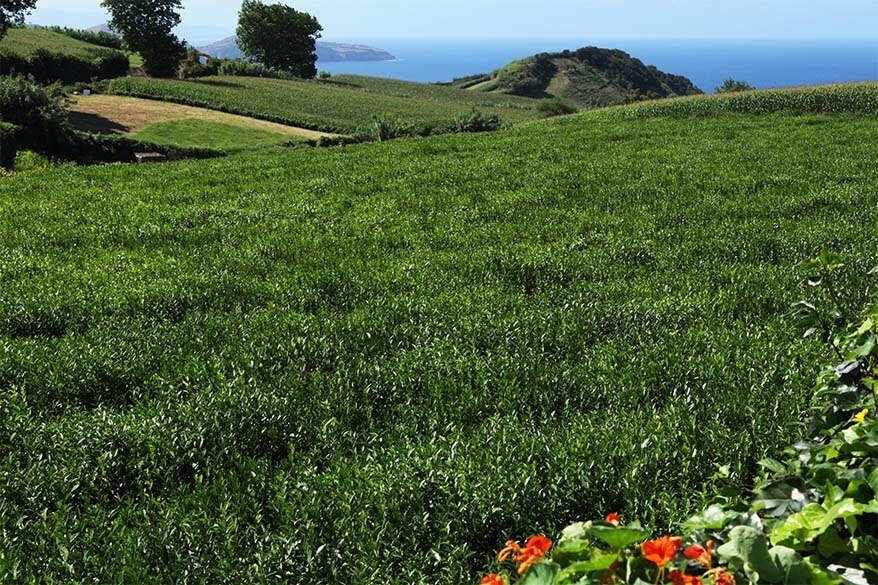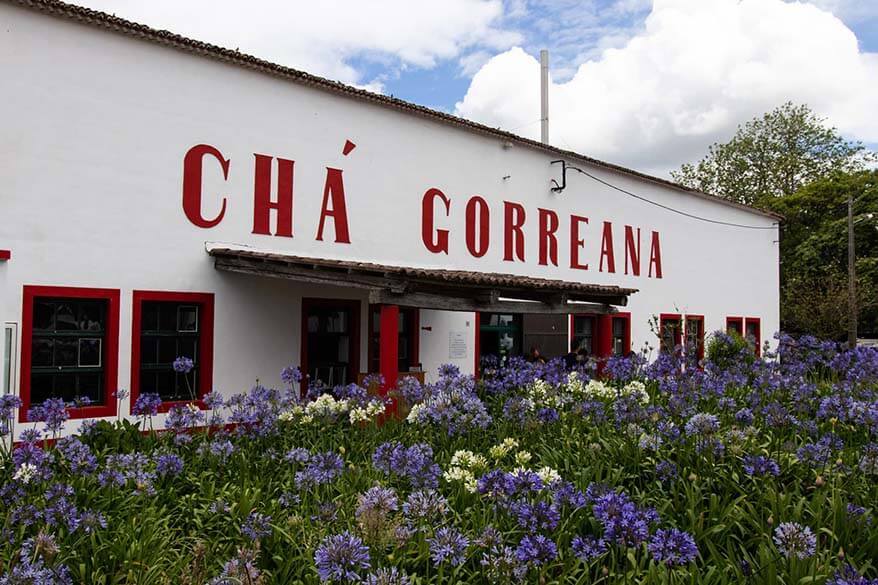 12. Pineapple Plantations
Sao Miguel has always been known for its exotic fruit. Nowadays, one of the most popular fruit that grows on the island is pineapple. You'll be able to taste Azorean pineapple everywhere on the island – from the breakfast buffet at your hotel restaurant to shops and markets, and also as dessert at the local restaurants.
In addition, you can also visit several pineapple plantations in Sao Miguel, where you can see how the fruit is grown and learn more about it.
There are several pineapple plantations that are open to visitors, most in Ponta Delgada. The Azorean Pineapple Plantation (Plantação de Ananás dos Açores) is one of the biggest ones and it's closest to the city center. Alternatively, check out Plantação Ananases A Arruda, a historic pineapple plantation just at the outskirts of Ponta Delgada. And there are several others…
The entrance to these pineapple plantations is usually free of charge, and you also get to taste some pineapple jam or pineapple liqueur. And, of course, you can buy pineapple and all kinds of souvenirs to take home with you.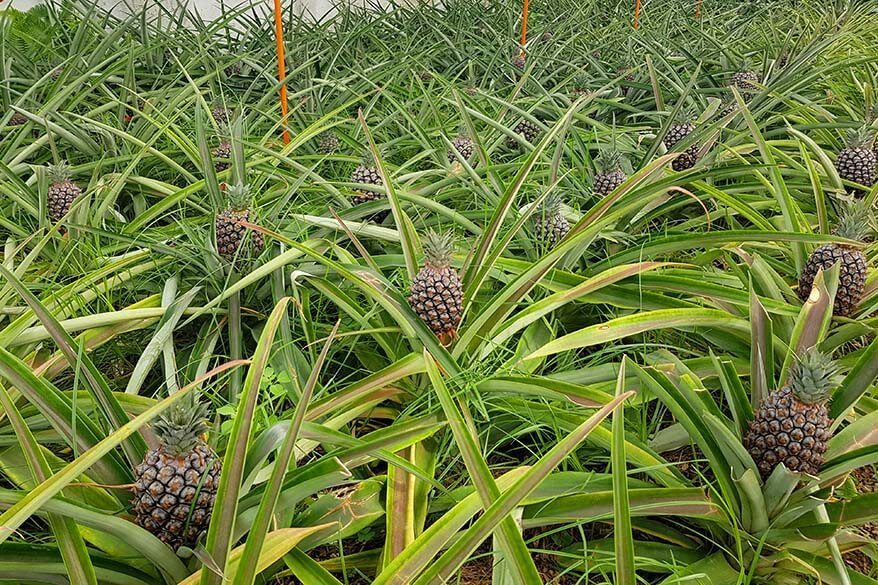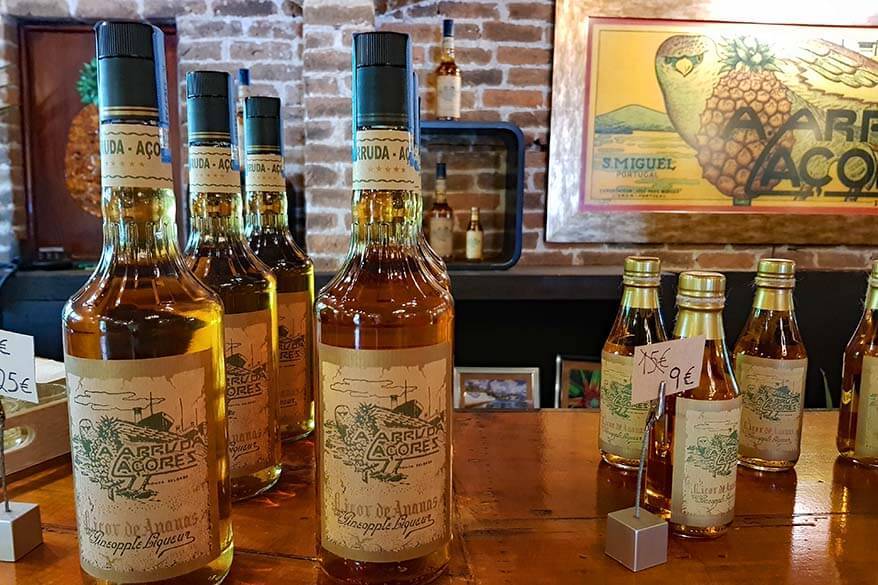 13. Gruta do Carvão
Gruta do Carvão or Grotto of Coal is a lava cave complex. This is one of the most unusual sights and a very popular place to visit in Ponta Delgado. Since it's indoors, it's also a good choice when looking for things to do in Sao Miguel when it rains.
The Gruta is located on the outskirts of Ponta Delgada. It is the largest lava tube on the lush island that extends for 1,650 meters. Older documents and fieldwork suggest that the tunnel could originally have been as long as 5 km. According to the studies, streams and rivers of lava once flowed through this underground grotto.
This great geographical aspect of São Miguel also boasts unique structures such as the gas bubbles and dramatic stalactites, some with solidified lava drops.
Practical information: Gruta do Carvão lava caves can only be visited with a guide. They run several short tours a day, but it's best to book in advance. If you have more time and want to explore deeper, there are longer tours available as well (these must be booked upfront). More information on their website.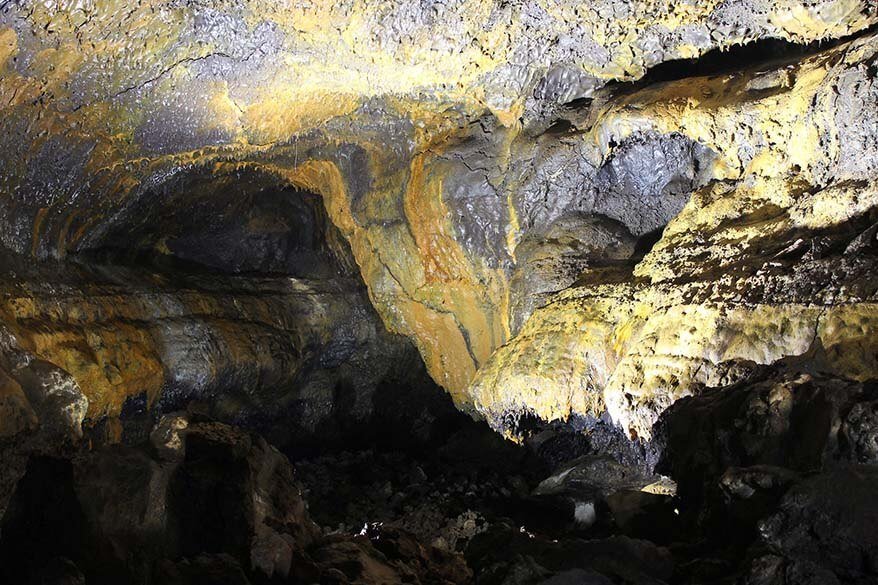 14. Best Beaches in São Miguel
No list of the best things to do in Sao Miguel would be complete without mentioning its beaches. They typically span along the north and south coasts.
The north coast experiences a powerful swell and is ideal for surfing and bodyboarding. Being milder, the south coast is perfect for gentle swims and is more loved by families.
São Miguel is a cluster of more than 20 volcanic, black sand beaches of different sizes. Of those 20, we selected 4 best beaches in São Miguel that are worth visiting the most. Take a look!
Praia dos Mosteiros
Perhaps, there is no better sunset beach on the island than Mosteiros Beach, located in the small Mosteiros town, about a 45-minute drive northwest of Ponta Delgada.
Praia dos Mosteiros is very picturesque, with dramatic rock formations that emerge from the ocean. Apart from its unhindered views of the sunset and the ocean, the beach is also famous for its super-dark black volcanic sand. The stunning landscape here is a great backdrop for photographs!
Praia do Areal de Santa Bárbara
The beaches of Azores differ greatly from being very mild to mighty. Praia de Santa Barbara falls in the latter category. With its enormous surfs, this is a great Sao Miguel beach for surfers and bodyboarders. At the beach, there is a surf school where you can rent equipment or get surfing lessons.
Praia de Santa Barbara is also among the best beaches of São Miguel where you can go for a long walk, enjoy the scenery, or simply grab a bite at its Tuká Tulá café. There's also a beach bar and an Asian restaurant.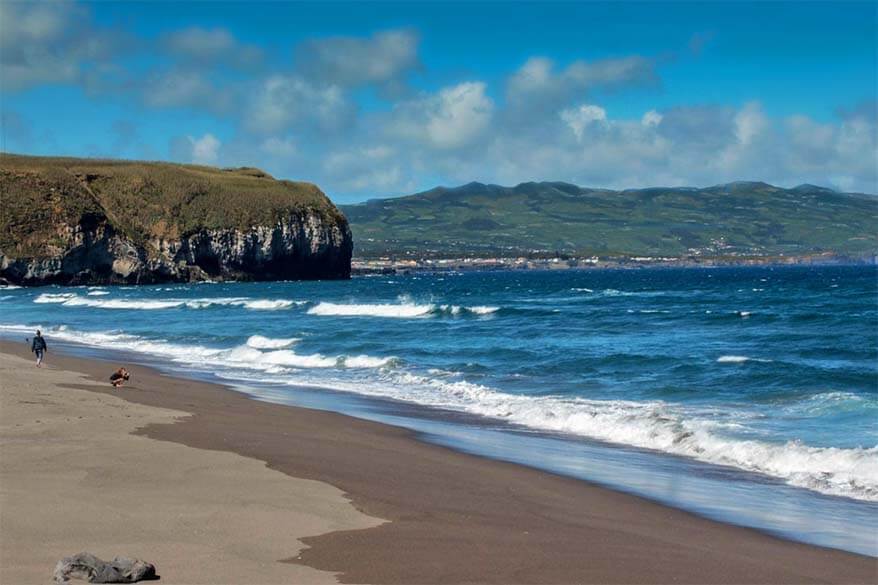 Praia de Água D'Alto
Água D'Alto Beach is also brimming with gastronomical options, including a popular beach café with a surf-n-turf menu. It is also among the best family-friendly beaches in the Azores with facilities like showers, toilets, and a big car parking.
Being a spacious stretch of sand, Praia de Agua D'alto is a great beach for families with young children. Plenty of space to run around and build sandcastles.
Enclosed by high rocky cliffs, the water here stays calm and is perfect for swimming. However, note that the beach tends to get busy during the summer, resulting in limited vacant places in the parking lot.
Praia do Fogo
Fogo Beach is located 7 km south of Furnas village. Wrapped in tree-cloaked mountains, this beautiful beach boasts a serene setting perfect for picnicking or spending a leisurely day. If you are hoping to go on long swims, deep diving, or tanning, then look no further than Praia do Fogo.
Travelers with kids will love this beach too. With calm and shallow waters, this is among the most kid-safe beaches in the Azores. Plus, the water here is lukewarm because of the underground hot springs.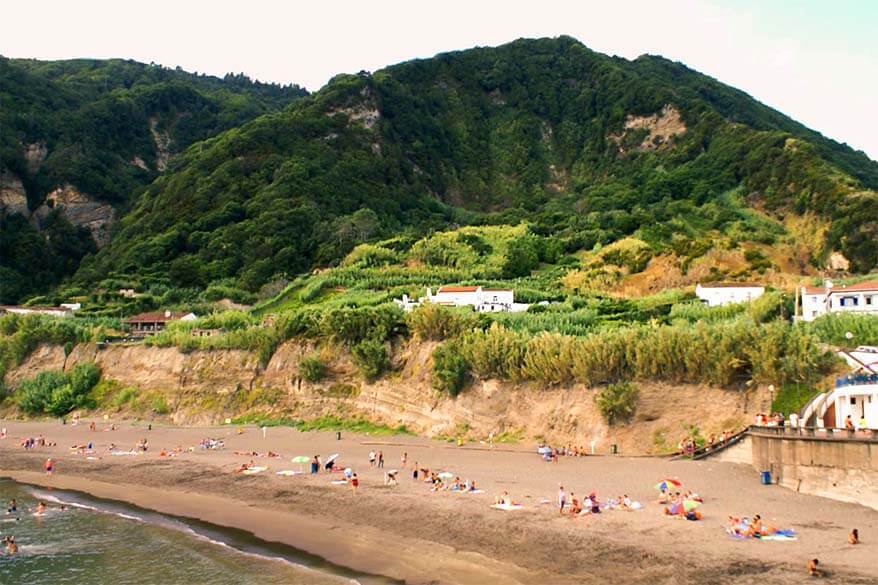 15. Islet of Vila Franca do Campo
If you are looking for a more unique beach experience and want to see some jaw-dropping scenery, you may want to visit the Islet of Vila Franca do Campo. Located just off the south shore of Sao Miguel, it is like no other beach in the Azores! That's also why we listed it separately – because it's well worth a visit even if you're not a beach lover.
Created by a volcanic eruption of an old underwater volcano, the Islet of Vila Franca do Campo is a very unique place, one-of-a-kind landscape. The islet is set in a perfectly circular crater, surrounded by dramatic cliffs and sapphire water of the ocean.
In addition to its unique landscape, Vila Franca Islet is also known for its variety of bird species, rich marine life, and towering cliffs with thick endemic vegetation. Amid these cliffs is calm water perfect for leisurely swimming, cliff diving, and recreational snorkeling.
The islet was made popular when the Red Bull Cliff Diving World Championship was held here. Today, it is a bustling bolthole that is busy all year round, especially popular with locals.
TIP: You can visit this beautiful beach in combination with this whale watching tour from Ponta Delgada. Or you can just take a boat to the islet from Vila Franca do Campo harbor, spend some time on the island, and return when you had enough. Boats run regularly and cost 8 EUR round-trip (kids free of charge).
Good to know: If you are not interested in swimming or snorkeling, there's actually not that much to do on the islet… There's a walking path towards the top, but it's usually closed due to nesting birds, and the amazing aerial view is much more special in all the drone pictures than what you see on the island itself. You can walk around a bit, watch the waves and the birds, and take the next boat back. It's something nice to do if you have an hour or two to spare, but don't feel like you absolutely have to go to the island itself.
TIP: The islet is actually nicer when seen from a distance (e.g. from the viewpoint at Nossa Senhora da Paz Chapel) or from the boat. We took this whale watching tour that also circles this islet and it was much more impressive than visiting the islet itself.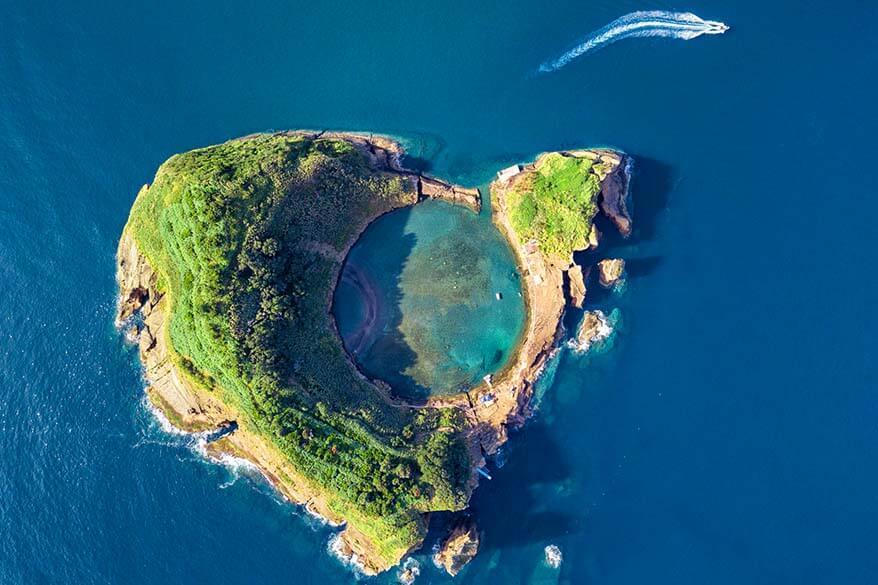 16. Hiking in São Miguel
Sao Miguel is called the 'Green Island' because of its lush mountainous landscape. Hiking is, therefore, one of the best outdoor activities in São Miguel.
Every trail flaunts patches of trees, patchwork fields, valleys of streams, and/or occasional waterfalls. Make your hiking adventure unforgettable by taking at least one of the hiking trails. Below are just a few of our favorites, but there are so many more amazing hikes in Sao Miguel!
Sete Cidades Caldera Hike
Difficulty: Medium
Duration: 3 hours
Distance: 11.8 km
The Sete Cidades Caldera hike (PRC04 SMI) is one of the most beautiful hikes in Sao Miguel! It takes you along the caldera of the famous Sete Cidades with jaw-dropping views of the lakes and the sea during the entire hike.
Good to know: This hike is a one-way hike that can be done as a loop, but that would make it about twice as long. The best way to do this is by leaving your car at the start of the hike at the parking of Aqueduto Muro das Nove Janeas, and then take a taxi from the Sete Cidades village back.
TIP: If you don't feel like arranging the transportation by yourself, you can also do this hike with this organized tour from Ponta Delgada. They take care of transportation, lunch, and even provide a hiking pole. The tour also includes a stop at the natural hot pool by the ocean in Ferraria (mentioned higher above), so pack your swimwear and a towel.
Another option is to rent an electric mountain bike and explore this same route by bike. Going by e-bike, you can easily do an entire loop (and see other amazing places in the area) in just a few hours. They also provide a GPS with a recorded audio tour covering all the best sights, so you don't have to worry about losing your way. We couldn't do this because our youngest kids were too small for the bikes, but otherwise, it's one of the best ways to explore the Sete Cidades area.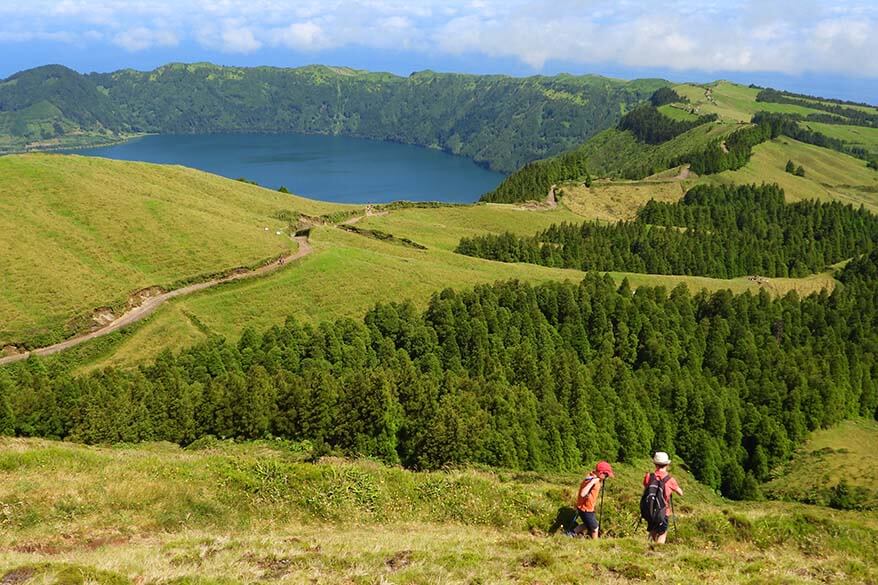 Praia – Lagoa do Fogo Hike
Difficulty: Medium
Duration: 4 hours
Distance: 11 km
The Lagoa do Fogo, or Lake of Fire, trail (PRC2SMI) is an 11km linear roundtrip trail that takes you to the shore of the eponymous crater lake.
Good to know: Lagoa do Fogo is located in the center of the island, but the trailhead of this hike can be found along the south coast. We indicated it on our map at the top of the article.
The trail begins on a dirt road. It then winds through farming lands, pastures, ruins of an ancient fiber-producing factory, and traverses a dam to enter the valley of Ribeira da Praia.
TIP: You can also do this hike with this tour. So it's possible even if you don't have a car or don't feel like navigating the map yourself (although all the trails in the Azores are really well indicated). Or – if you just want to see the lake from above – drive to one of the viewpoints on top and potentially hike down to the lake from Miradouro da Lagoa do Fogo.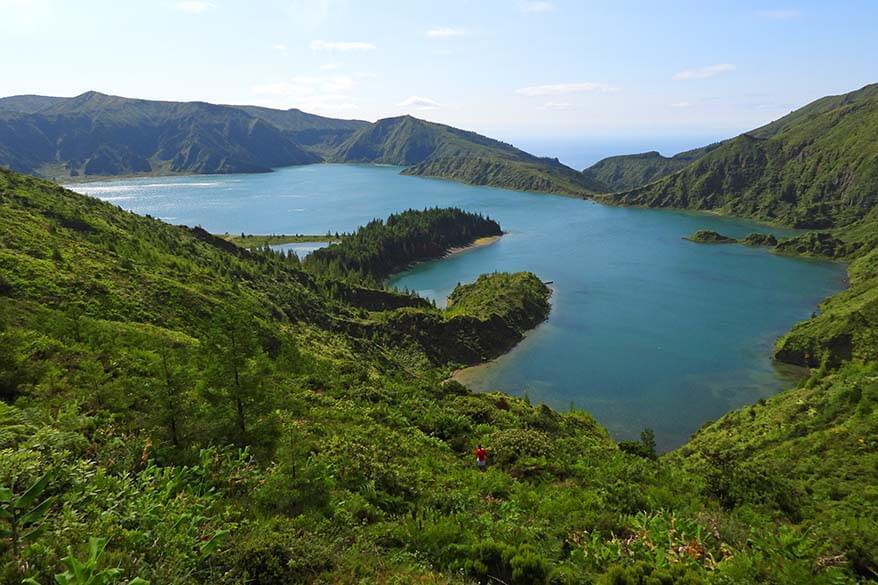 Faial da Terra – Salto do Prego
Difficulty: Medium
Duration: 2 hours
Distance: 4.5 km
The Salto do Prego (PRC9SMI) is a 4.5km circular hiking trail that starts near the bus stop of Faial da Terra, located on the far southeastern side of the island.
Along the trail, you will come across beautiful orchards, thick rainforest vegetation, small family farms, and a bridge over a stream that takes you to the base of the Salto do Prego waterfall (more info below).
This hike also passes an old village of Sanguinho. Previously abandoned, now under restoration, a visit to this village gives you a unique perspective into what life is like in this remote part of the island.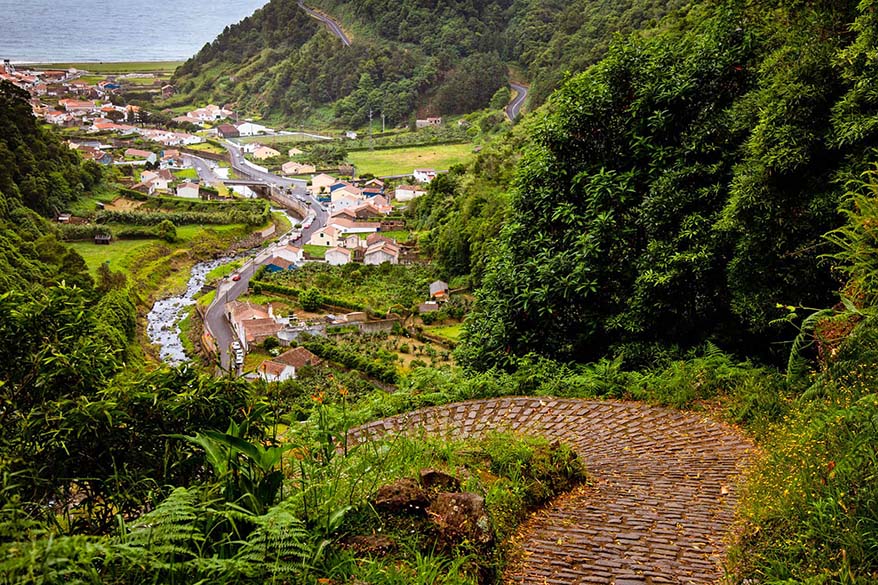 17. Waterfalls
If you love waterfalls, São Miguel will not disappoint. Here are some of the most beautiful waterfalls to check out on the island:
Salto do Cabrito Waterfall
Streaming in Ribeira Grande, 20km northwest from Ponta Delgada, Salto do Cabrito embellishes the hiking trail PRC29SMI. But also if you are not interested in hiking, you can simply drive down almost all the way to this waterfall. The road is a bit bumpy at first and very steep afterwards, but the steep part is in very good condition, and so easily doable in a regular car.
Next to the waterfall, there are stairs leading to a metal path on a water pipe. This bridge can feel scary for those with a fear of heights but too tempting for thrill-seekers.
TIP: In summer, you can go swimming here. The water isn't very warm, but also not that cold that you couldn't enjoy it. It's a perfect place to cool off after all the exploring and hiking!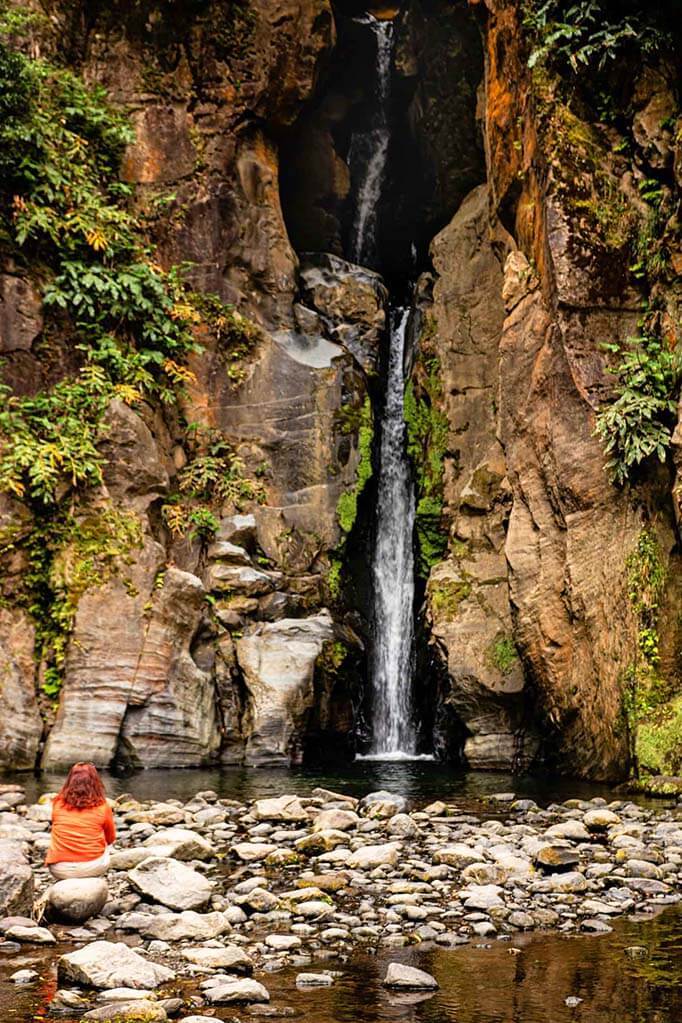 Salto do Prego Waterfall
Salto do Prego is found on the Faial da Terra – Salto do Prego hiking trail (mentioned higher above). The trail to the waterfall is steep but not too difficult. It's a pleasant hike of 45-60 min one way and full of stunning views.
The waterfall itself is one of the most beautiful on the island. It boasts eye-popping hues of turquoise, green, and blue.
You can plunge in its cold water – and yes, it's very cold here, even in summer. So if you are planning to go swimming here, be sure to wear your swimming clothes as you hike and jump in as soon as you arrive – you'll be warm after all the uphill hiking when you get here, but you'll soon cool off in the shadow of the forest at the falls and won't feel like swimming anymore…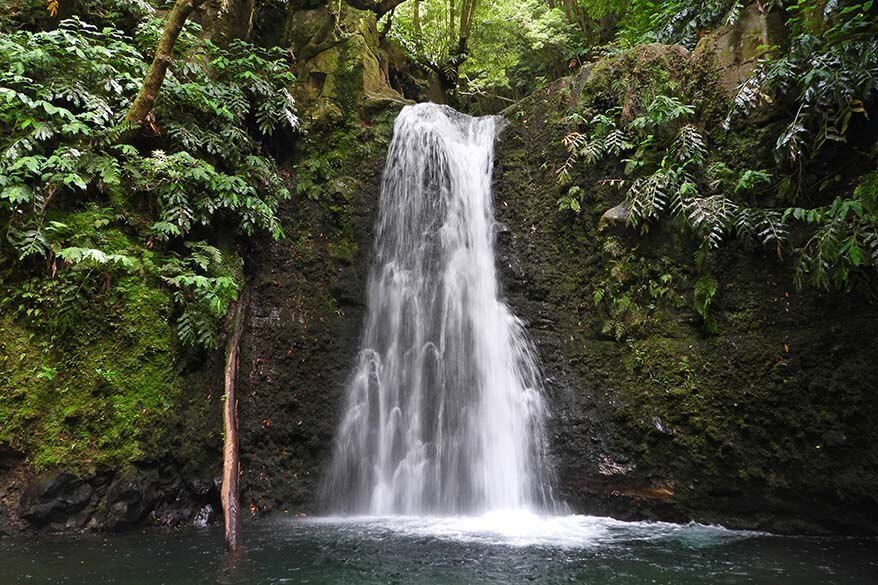 Waterfalls in Parque Natural dos Caldeirões
Located on the north coast, Parque Natural da Ribeira dos Caldeirões is a small beautifully maintained park that is home to several old water mills and two magnificent waterfalls. The falls are just 600 m apart and easy to reach via well-kept walking paths.
The first waterfall is the main attraction that gushes its way down from a tree-clung cliff. The second one is housed in a meadow-like setting, that is different but equally picturesque.
The park is free to visit. There are a little gift shop, bathroom facilities, and a small café here as well.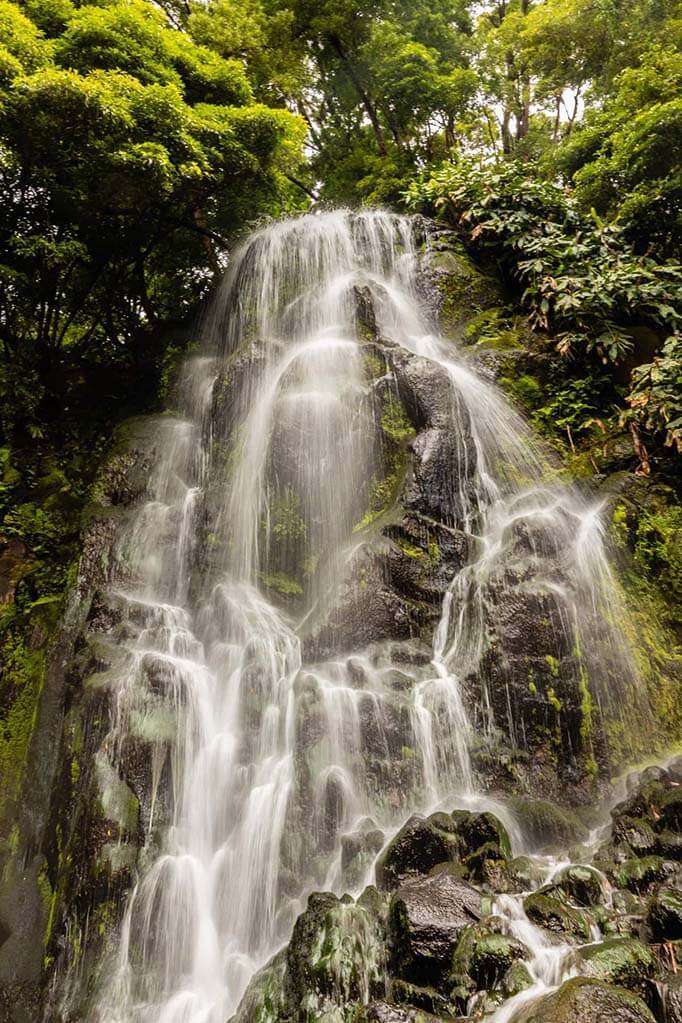 18. Adventure Tours & Fun Outdoor Activities
When looking for the best things to do in Sao Miguel, check out the big variety of fun outdoor activities and adventurous tours on the island. From e-biking, kayaking, quad tours, to canyoning and rappelling, you'll find plenty to do in the Azores!
Most of these activities are quite easy and could be classified as soft-adventure. Most tours are family-friendly and we even saw a group of 75+'s in their canyoning gear. So there truly is something for everyone!
Here are some of the best outdoor experiences in Sao Miguel: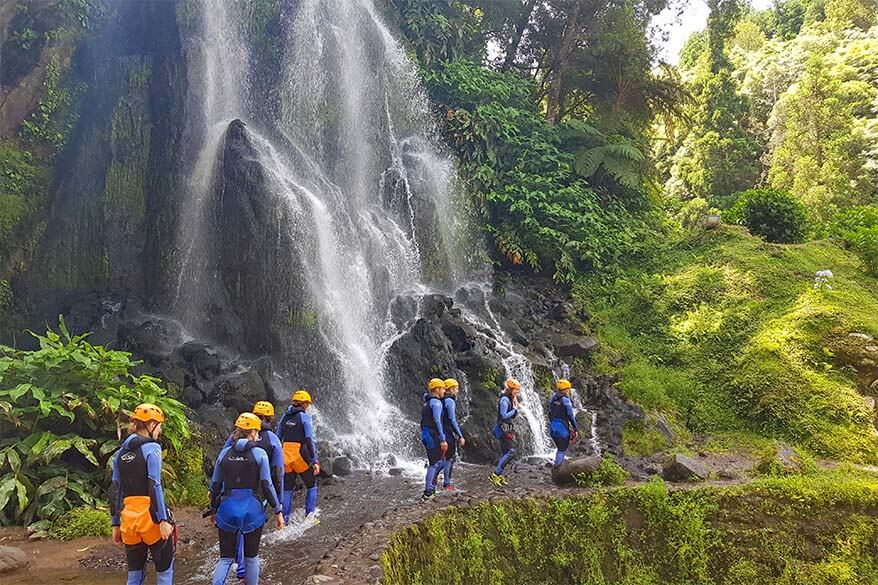 Practical Tips for Visiting São Miguel
How much time do you need?
São Miguel is the biggest island in the Azores with a long list of really nice places to visit. With so many extraordinary things to do in São Miguel, it is best to plan enough time on the island. As a minimum, you need 3-4 days in Sao Miguel. That will give you just enough time to see all the 'musts'.
However, we suggest staying for at least a week in Sao Miguel to explore both, Eastern as well as Western sides of the island. That way, you will have 3 days to spread equally about both sides of the island and still be left with one day to ensure laid-back arrival and relaxed departure.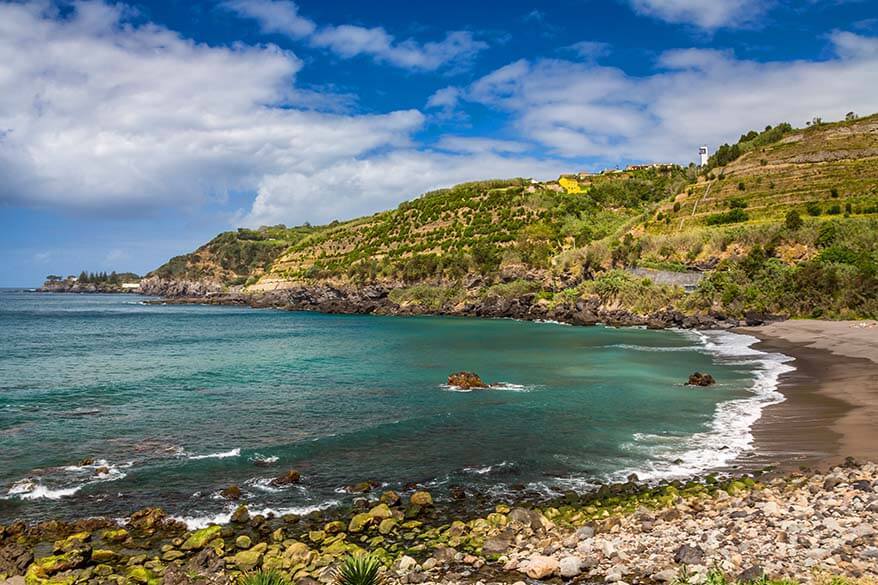 Where to stay
Where to stay in São Miguel depends on how much time you have, whether you are planning to rent a car, and if you prefer to stay in one place or choose two different bases for exploring the island.
With great bus facilities, taxis, tours, and rental cars on the island, you can easily stay in one place and make day trips from there. It will result in some extra travel time (getting across the island takes approximately one hour), but it will save you from having to pack and relocate.
Good to know: If you have a car, you can choose any centrally located accommodation in the middle of the southern or northern coast. Just make sure that your accommodation has easy parking – it's really a must! If you are not renting a car or want to take many tours, then Ponta Delgada is the best place to be.
If you have about a week and prefer to stay in two different locations, we suggest spending 3-4 days in the east, and 3-4 days in the west. For the eastern side, we recommend Furnas (Terra Nostra Garden Hotel is a great choice there). Whereas Ponta Delgada town or the Ribeira Grande area is a good base for the western part.
Recommendation based on our personal experience: For a longer vacation in Sao Miguel, stay at one of the beautiful seaside resorts with a good central location. On the northern coast, we once spent more than a week at Pedras do Mar Resort & Spa. On another trip, we stayed for 5 nights in Caloura Hotel Resort on the southern coast.
Both are excellent places to stay, with amazing sea views, easy parking, great facilities, and a very good central location for sightseeing. Another really nice and highly-rated resort on the south coast is Pestana Bahia Praia Nature & Beach Resort.
For more information and hotel suggestions, please check our complete guide to Sao Miguel accommodations via the link below!
LEARN MORE: Where to Stay in Sao Miguel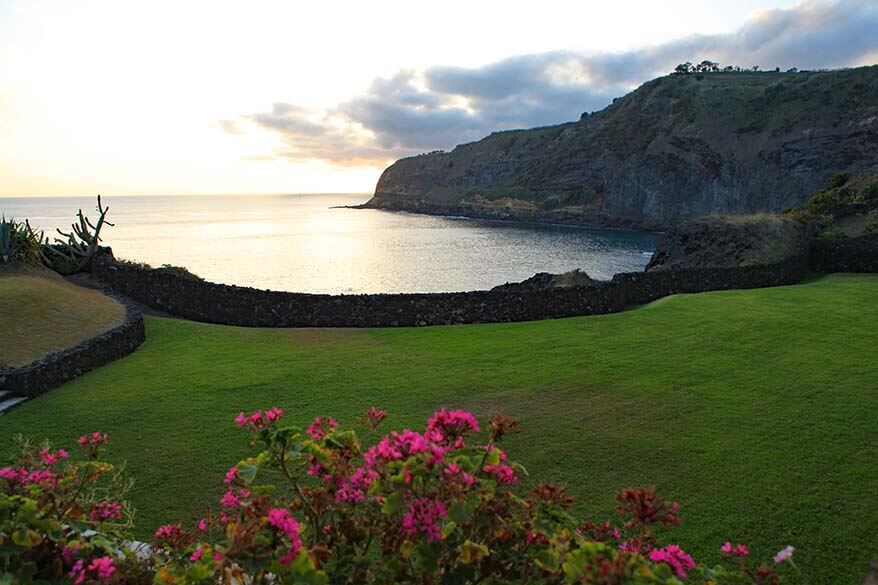 Is São Miguel worth it?
São Miguel is one of the most beautiful islands to visit in the Azores and yes, it's absolutely worth a trip! It has a great mix of adventurous activities like hiking and whale watching, relaxing beaches, thermal pools, and stunning pristine nature. Dotted with specialty local eateries, one-of-a-kind European charm, and centuries-old landmarks, this stunning island offers a lot to see and do.
Besides the natural essence, São Miguel also boasts modern facilities like treatment-laden spas, picnic facilities and public bathrooms at viewpoints, housed baths on beaches, and beautiful resorts in romantic-style gardens.
In a nutshell, this Atlantic-locked paradise is a lovely vacation spot for all kinds of travelers. Its unique ability to turn from romantic to adventurous and vice versa makes Sao Miguel a perfect vacation spot for honeymooners, thrill-chasers, backpackers, and holidaymakers alike. You'll find plenty of great things to do in São Miguel and only wish you had stayed longer…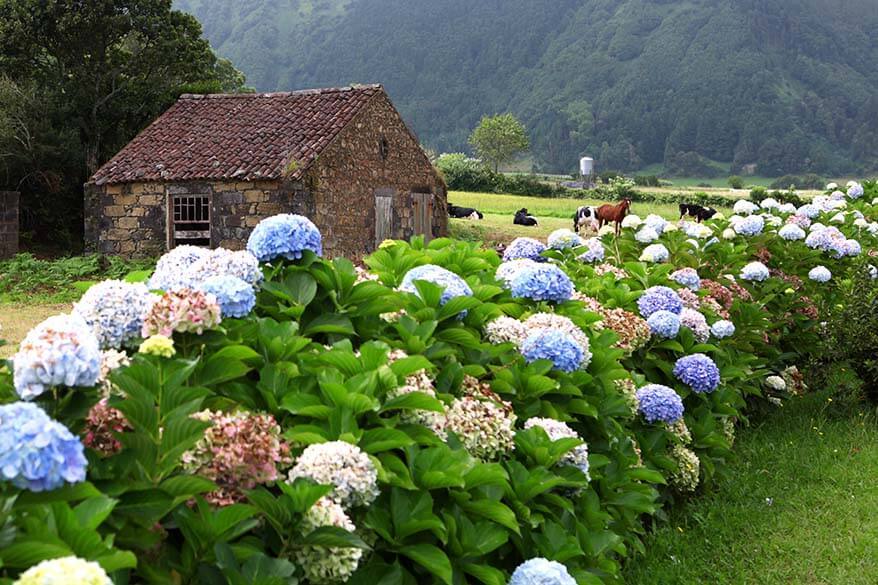 Best Time to Visit
The best time to visit Sao Miguel and other Azores Islands is in summer, between June and August. These are the driest months of the year. But this is also the most popular time and flights and accommodations are really expensive.
May and September – October are a bit of the shoulder months and can also be really nice, with fewer crowds and better deals. In any case, you should always pack layers and be prepared for changeable weather.
Because of the rather mild weather, the Azores can be visited the whole year round. If you don't mind somewhat more unpredictable weather and are looking for fewer crowds, you can easily visit the islands in the lower season as well. Even in winter, the temperatures are comfortable, with an average of 12-19°C (54-66°F).
Getting There
Sao Miguel is the main island of the Azores with direct flights to many international destinations, especially in the high summer season. You can fly to Sao Miguel directly from many European countries, from Madeira, but also from the USA. There are direct flights from Boston and United just announced a new route from NY Newark Airport as well. And if you don't find a direct flight, you can always get here via Lisbon as well.
So, this is our guide to the very best things to do in Sao Miguel. Just compiling this article and going through the pictures of our first trip, I felt very tempted to go back and explore deeper, and we actually did. As I'm updating this article, we have just returned from a two-week vacation in Sao Miguel, and it was just as great as the first time.
So I hope that you feel the same way and that we inspired you to visit this gem of the Atlantic! I also hope that our tips will help you to have a truly memorable trip to Sao Miguel in the Azores.
TIP: If you are also planning to visit other places in Portugal during this trip, check out our Portugal travel guide. Alternatively, take a look at the small selection of articles highlighted below.
More tips for your trip to mainland Portugal:
Travel inspiration for Madeira island, Portugal:
If you found this post useful, don't forget to bookmark it and share it with your friends. Are you on Pinterest? Pin these images!