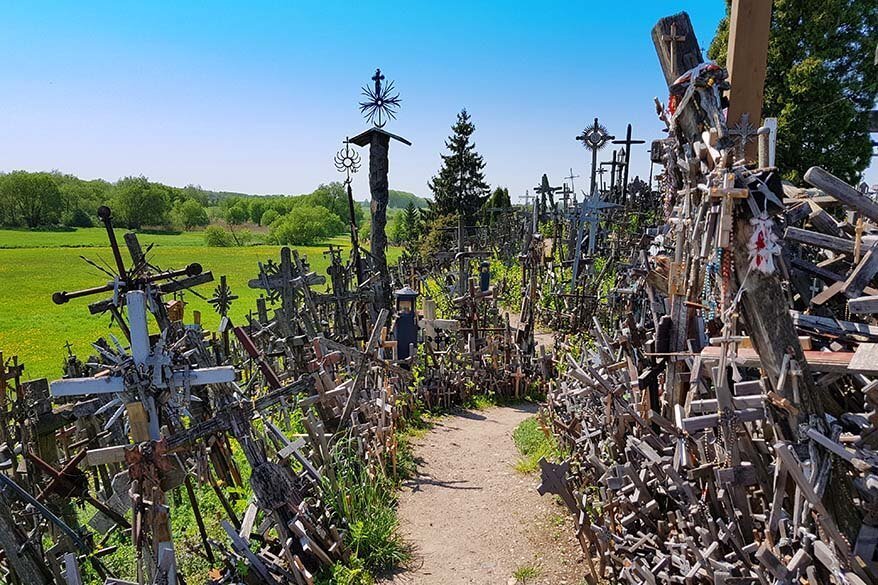 Hill of Crosses, Kryžių kalnas, is one of the most special places you can visit in Lithuania. Just as the name suggests, it's a hill covered with crosses. Hundreds of thousands of crosses.
This sacred hill is one of a kind and is often mentioned among the most unique places in the world. So if you are wondering whether it's worth a visit, yes, it absolutely is.
However, because of its rather remote location, not many people visiting Lithuania actually take the time to travel to the Hill of Crosses. Growing up in Lithuania, I have been to this peculiar place countless times (and it still feels special every time), and I really want to inspire more people to discover it.
So in this guide, you can read all about the Hill of Crosses, how to visit it, what to expect, and what to know when planning your day trip. At the bottom of this article, I also include a selection of the best Hill of Crosses tours. Find out!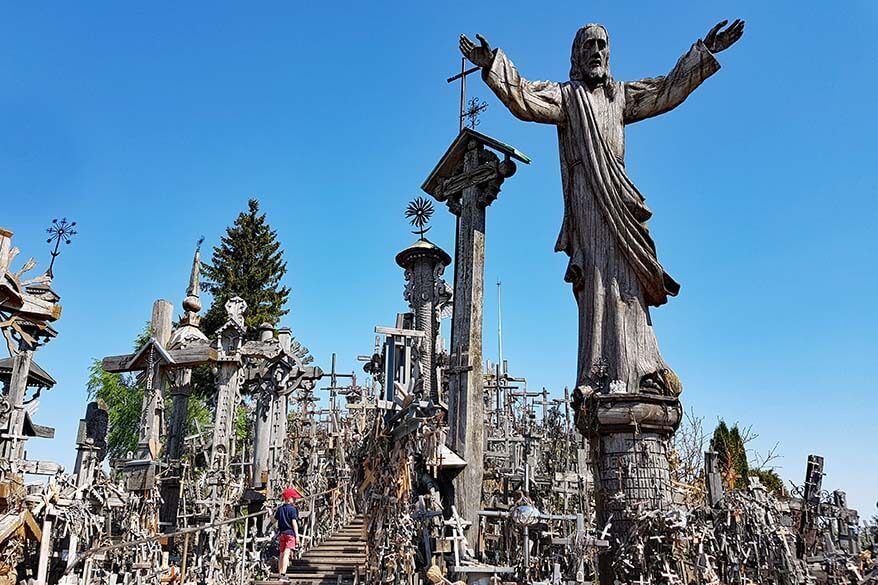 Hill of Crosses – Some History
While the exact origins of the Hill of Crosses aren't certain, its history dates back to the beginning of the 19th century. Lithuania was ruled by the Russian Empire at that time and there were constant uprisings against the Russian Tsar. Many people died and their families built crosses to commemorate them. Obviously, this was not appreciated by the authorities.
It was forbidden to place crosses and they were regularly torn down. This didn't stop the people, however; they just looked for more remote locations to build the crosses for their loved ones. It is believed that this is how the Hill of Crosses on the Domantai Hill Fortress near the town of Šiauliai was born.
Despite the political oppression, the Hill of Crosses continued to grow. It quickly became a symbol of the hope and strength of the Lithuanian people. In the interwar period, when Lithuania was independent, it has become a very popular place for all kinds of religious celebrations and a pilgrimage site.
After WWII, when Lithuania was occupied by the Soviets, it was strictly forbidden to place crosses or even come to pray at the Hill of Crosses. The Soviets have tried everything in order to destroy this place. Time and again, they tore the place down with bulldozers. They took away all the crosses, closed the roads leading to it, and once even tried to flood the area… But the harder they tried, the stronger was the will of the Lithuanian people to preserve it.
People would come here in the middle of the night, bringing new crosses again and again. The Hill of Crosses has become the symbol of heroic resistance to the suppression of religious freedom.
Ever since Lithuania regained independence after the fall of the USSR, the Hill of Crosses has gained more significance. Its importance was crowned by the visit of Pope John Paul II in 1993. Nowadays, it's a popular pilgrimage site and one of the most special places to see in Lithuania.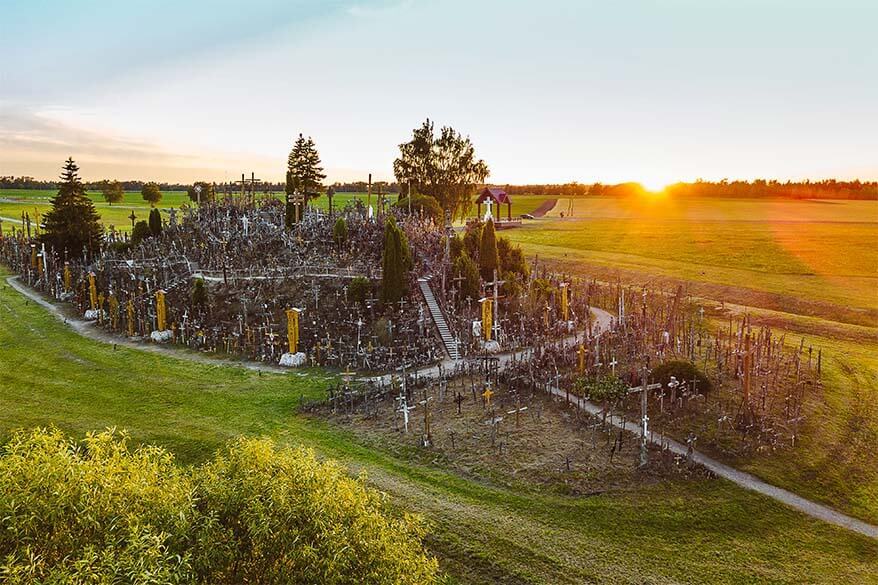 What to Expect
Hill of Crosses is just a small hill in the middle of flat fields, about 10km north of the town of Šiauliai in northern Lithuania. While many sources say that it contains 100,000 crosses, it's constantly growing, and it is believed that there are 200,000 – 300,000 crosses on the Hill of Crosses at the moment.
There is no plan or any particular structure as to how or where the crosses are built. Some of them are made of wood, others of metal. Some crosses are several meters high, while the majority of them are rather small and are hung or placed on top of the big ones. Some of the crosses are over 100 years old, while many others are brand new, as people keep on bringing new crosses here every day.
Add to this statues and pictures of saints as well as thousands of rosaries dangling in the wind… and you get this unique chaos that somehow makes up the whole. It's a truly fascinating place and you can spend hours just walking around, reading the inscriptions on the crosses, and looking for a perfect place to leave your own cross.
And you definitely should! It's a custom to bring a cross when you visit the Hill of Crosses. As kids, we would just make crosses out of little stones and leave them on the ground… If you want to, you can also bring a little cross from your home country or you can buy one from the local sellers nearby. The prices are very reasonable and most small crosses will not cost more than a euro or two.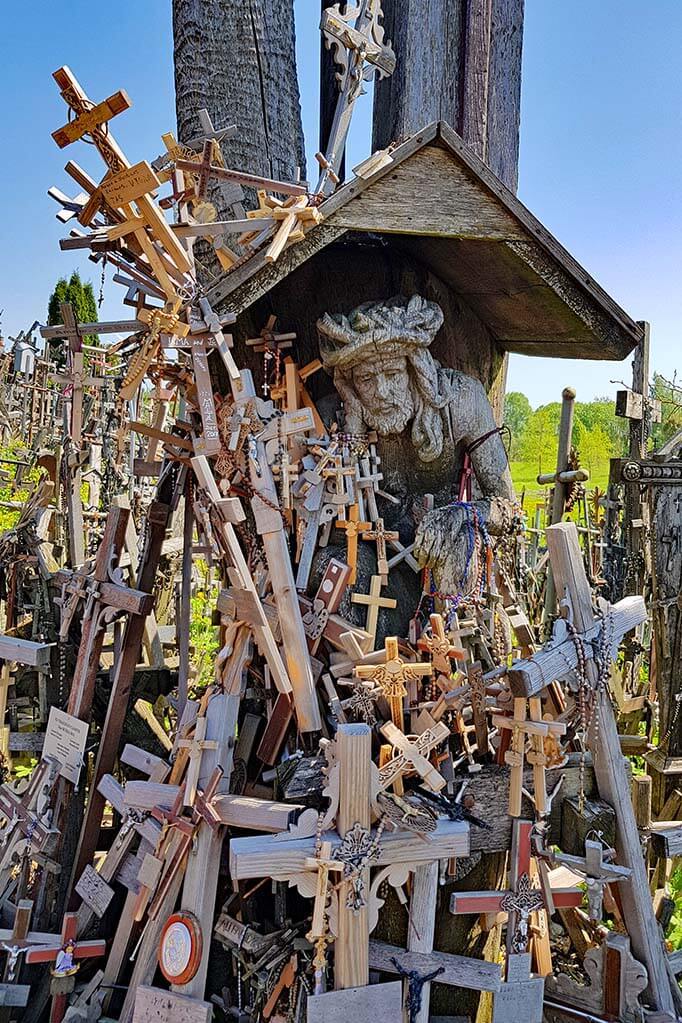 Is Hill of Crosses Worth It?
As I said before, Hill of Crosses is a very unique place, the only in its kind in the world, so yes, I think it's definitely worth it.
However, reading reviews on the internet, I realize that not everyone feels the same… While the biggest majority of people say that it was absolutely worth a trip, I also found a couple of opinions of people who say it wasn't anything special…
Some people say it's magical, others – that it's spooky… Some say that they spend several hours here and had the site all to themselves, while others encountered groups of tourists and found it too busy to enjoy and left after just half an hour…
I think that no two experiences will ever be the same. Hill of Crosses is what you make of it. All I can say is that I have been here numerous times, in different seasons, alone and surrounded by groups, and it always gives me goosebumps and feels really special to me. I love wandering around between the crosses, reading the inscriptions, stories, and prayers…
You don't have to be religious to appreciate this place, but it sure helps if you come here with an open mind and take your time to explore deeper and feel how special this place actually is.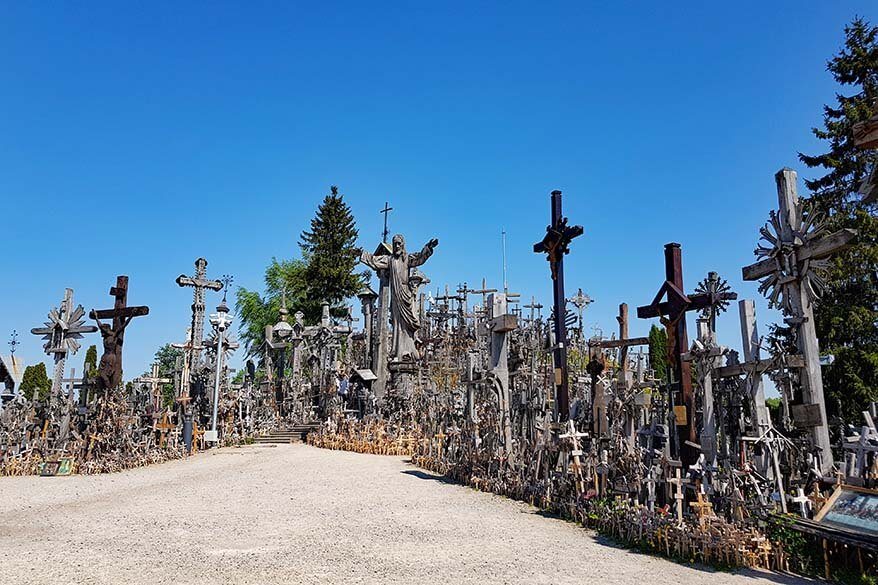 Practical Information
Location. Hill of Crosses is located in Jurgaičiai, 12 km north of Šiauliai town in northern Lithuania. It's just off the road A12/E77 leading to Riga in Lavia and is well-signposted. Here you can see its precise location on the map.
Opening times. Since the Hill of Crosses is an open-air landmark with no fences or doors, there are no opening hours and you are free to visit any time you want.
Entrance fee. There is no entrance fee and the Hill of Crosses is free to visit for everyone.
Facilities. Since recently, there is a new car parking area with a small visitor center, several souvenir shops, and bathrooms.
Accessibility. While you can't get on the hill itself in a wheelchair or with a stroller, the path leading to it is flat, well-maintained, and wheelchair accessible. You can see plenty of crosses without going on the hill itself.
Visiting with kids. Yes, you can visit Hill of Crosses with kids. It's not a spooky place and it's not a burial ground. In fact, our kids really enjoyed visiting the Hill of Crosses and it's one of the few places that left a lasting impression on them.
Where to stay. Most people visit Hill of Crosses as a day trip from somewhere else or on their way between two places. If, however, you are looking for a place to stay nearby, the nearest town is Šiauliai.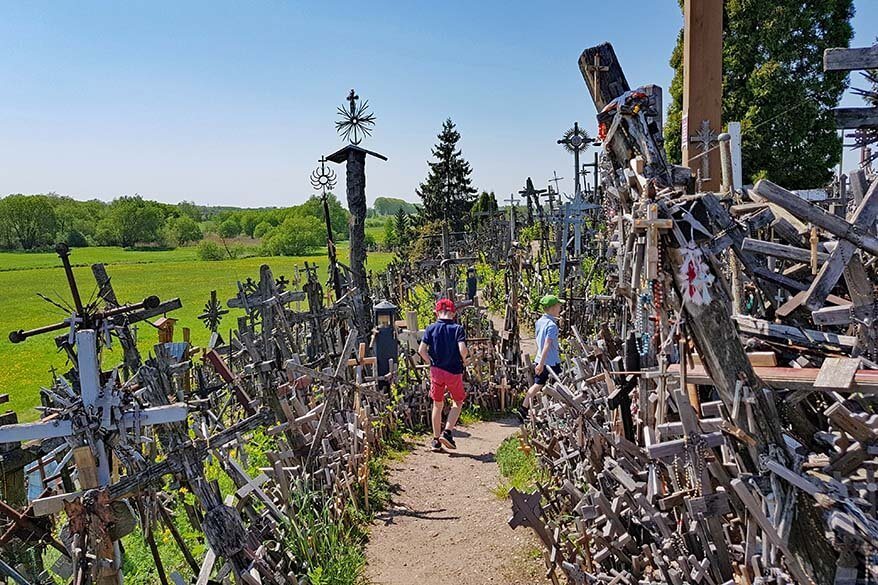 How to Get to the Hill of Crosses
As already mentioned, Hill of Crosses is located quite far away from any major cities and other tourist attractions in Lithuania. It's about 2,5 hours drive from the capital city Vilnius. Kaunas and Klaipėda (2nd and 3rd largest cities in Lithuania) are about 2 hours drive from here, as is Riga, the capital of the neighboring country, Latvia.
The easiest way to plan your Hill of Crosses day trip is by driving there by car. If you want to explore more of Lithuania (and you certainly should!), renting a car is by far the best way to do so.
No matter where you are coming from, visiting Hill of Crosses will be a day trip in itself. Ideally, you should plan to make a stop here on your way to or from the seaside. If you are touring the Baltic States, Hill of Crosses is an excellent stop when driving between Vilnius and Riga.
While it is possible to visit the Hill of Crosses by public transport, I don't recommend it because it will take you forever. Car rental is not expensive in Lithuania (you can find the best deals for car rental here) and tour prices are very reasonable too (see further). If you don't have a car, the best way to visit Hill of Crosses is by taking an organized tour. Below, are some of the best options.
Good to know: While a bit in the middle of nowhere, Hill of Crosses is also about halfway between Latvia's capital city Riga and some of the biggest towns in Lithuania, so it can easily be included in any Baltics itinerary.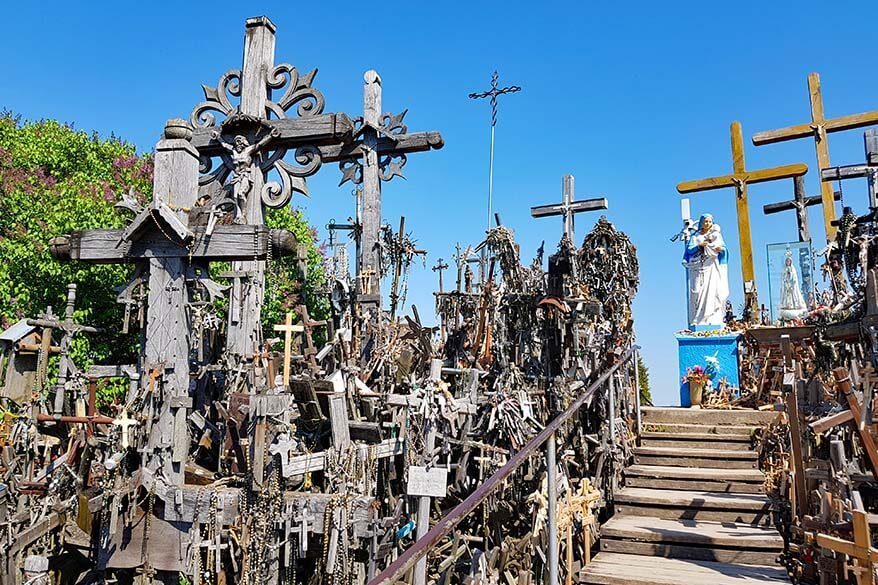 Best Hill of Crosses Tours
Despite a long drive from any bigger towns in Lithuania, it's possible to visit Hill of Crosses as a day trip. In fact, there are quite some tours doing just that. Here are the best tours that have good customer reviews:
2-hr private tour from Šiauliai. This is an excellent option for those who travel to Šiauliai by public transport, as it helps you to easily bridge the last distance. It's also really good to have a local guide who knows the place well and can share some stories and local insights that will make your visit more special.
Tour from Vilnius to Riga or from Riga to Vilnius. These tours are great for those who are looking for a transfer between Vilnius and Riga. It lets you make the most of the long drive and see some of the landmarks you wouldn't see if you just took a regular bus transfer between these two Baltic capital cities. No matter in which direction you travel, both these tours make a stop at the Hill of Crosses in Lithuania and also visit Rundale Palace and Bauska Castle in Latvia.
Planning to visit the Hill of Crosses and have questions that haven't been covered in this guide? Leave a reply below and we'll try to help.
READ ALSO: Best Things to Do in Lithuania
If you found this post useful, don't forget to bookmark it and share it with your friends. Are you on Pinterest? Pin this image!