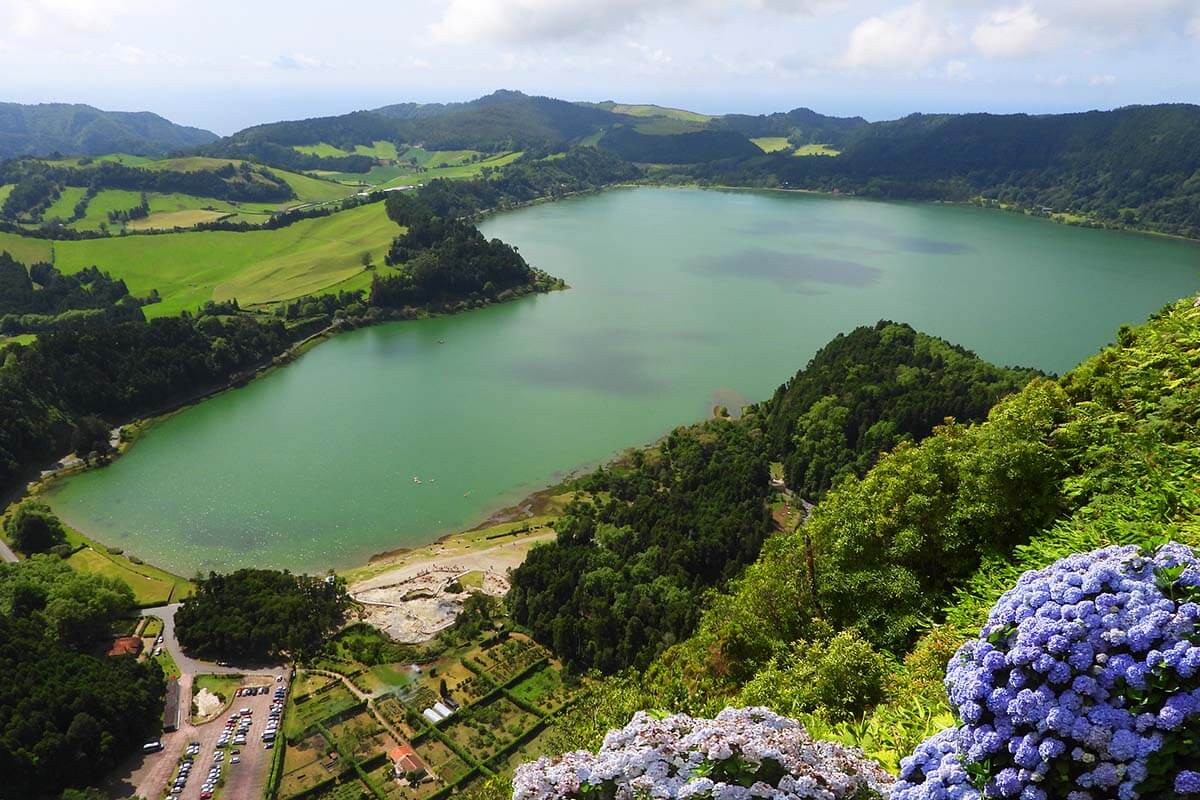 Planning a trip to Sao Miguel island in the Azores and wondering what there's to see and do in Furnas? In this guide, we share top things to do in Furnas and practical tips for your visit. Find out!
Furnas is best-known for its geothermal activity and is one of the must-see places in the Azores. The literal translation of the name Furnas means 'caves' and refers to all the caves with geothermal springs and sprouting mud geysers in the area. Thanks to all the warmth and humidity, the area also has rich vegetation, with lots of greenery in Furnas Valley.
And while the town of Furnas is best-known for its geothermal activity, hot pools, and traditional stew slow-cooked under the ground, there is more to this area than it looks at first sight. Find out!
Good to know: To help you plan your visit to Furnas, we also include a map indicating all the main sights and attractions in and near Furnas. Further below, you can also find some practical information and useful tips, recommendations for places to stay, and the best Furnas tours if you are only visiting for a day. Read on!
Best things to do in Furnas, Azores:
1. Caldeiras Vulcânicas
The town of Furnas is best known for its geothermal activity and one of the best areas to see the simmering sulfurous water and boiling mud pools is the Caldeiras Vulcânicas (Caldeiras das Furnas). Here, you'll find bubbling volcanic hot springs and small geysers, all easily accessible via walkways.
One of the must-do's at the caldera of the Furnas Volcano is trying a local delicacy, steam-cooked sweet corn. It's slow-cooked in the warm geothermal ground in this area, and you'll see locals selling sweet corn close to the car parking area.
We were a bit skeptical to try it, but then we saw that local people were buying and eating the corn as they walked on the streets as well, so we decided to give it a try. It's absolutely delicious – the best sweet corn we've ever had! Before we left the area after sightseeing, we bought some more. It was a great snack before heading to the hot pools in Furnas!
Good to know: This area is located in town and you can just walk here from some other attractions in Furnas. There's also a big car parking. When we visited, there was no fee for a visit and also no fee to park. Sweet corn was 1 EUR per piece.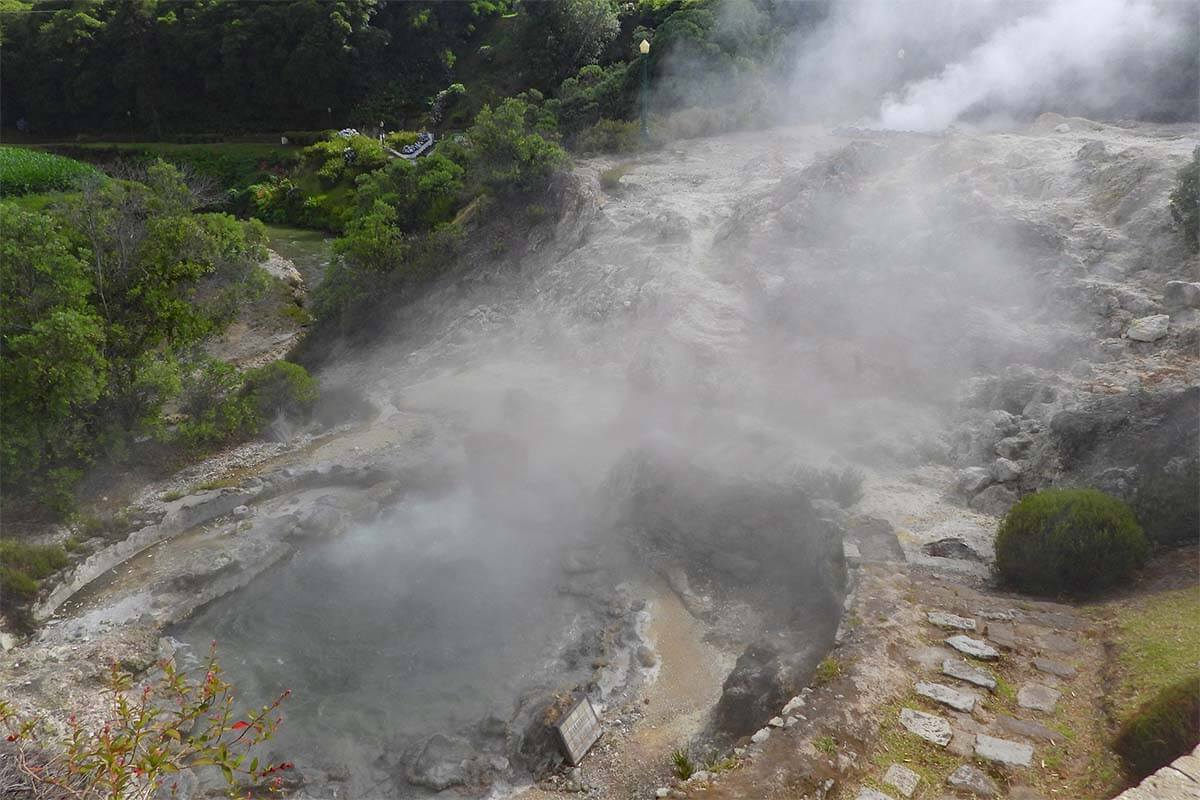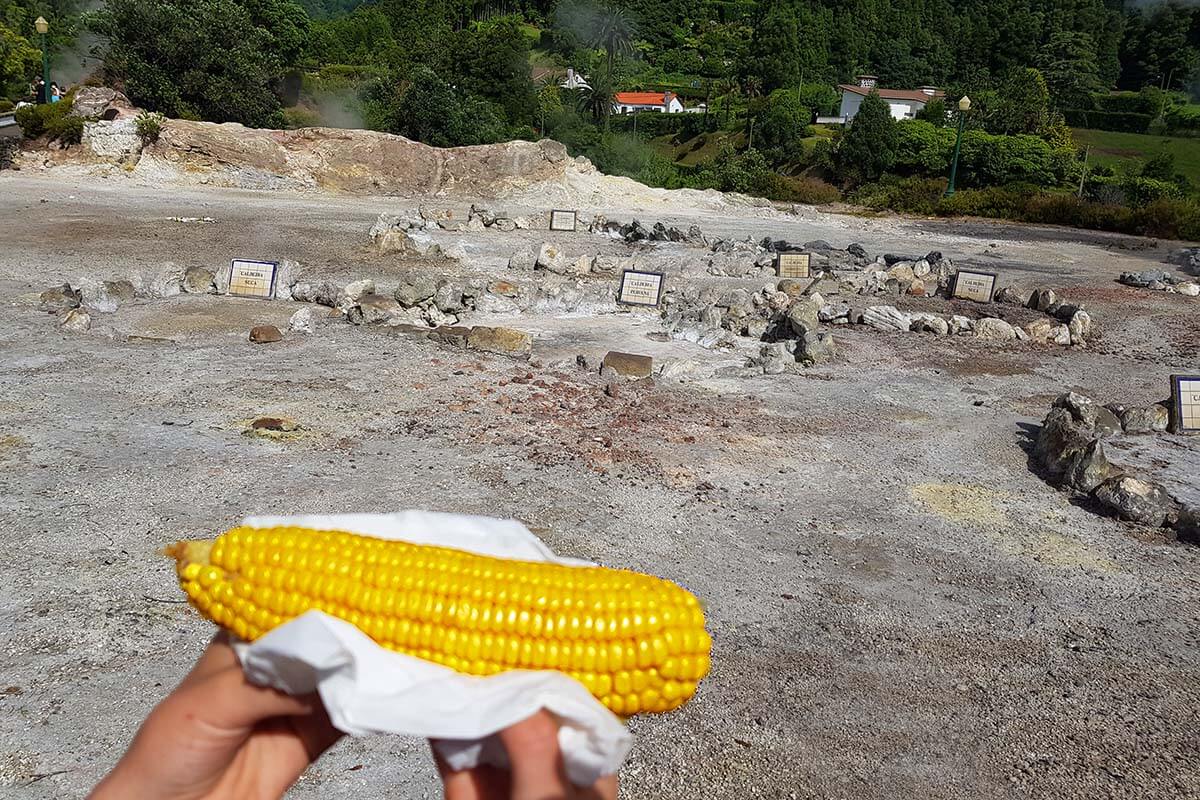 2. Terra Nostra Garden & Pool
Terra Nostra Garden (Parque Terra Nostra) is not just one of the absolute best places to see in Furnas, it's considered one of the must-sees in the Azores! This 18th-century botanical garden was initially planted by Thomas Hickling, a wealthy American merchant from Boston, who had a summer house here. Started in 1775, the park was expanded later on and acquired its current form in 1935.
The park has a big selection of plants from all over the world. From the local Azorean plants to trees from North and South America, Australia, New Zealand, and Japan – the botanical collection is truly impressive.
One of the main highlights of the Terra Nostra Park is the large geothermal hot pool, with yellow iron-rich water. Next to it, there are a few smaller pools, kind of natural jacuzzi's. The water temperature here is about 39°C (102F), and so it's most pleasant on a grey rainy day or in the colder season.
Good to know: Pack the darkest, oldest swimwear you have if planning to go for a swim here because the water leaves stains. Ideally, also your towel is black (a quick-drying travel towel is a good idea for Sao Migue island since there are so many opportunities to go swimming, just get the darkest color you can find)!
From what I read, they seem to have showers (but they were closed when we visited), so ask for them if you go swimming! Either way, be sure not to dive so that your hair and face stay clean, and dry yourself as thoroughly as you possibly can before dressing again. Head straight to the shower afterwards and rinse your swimwear as soon as you can as well.
INFO: The Park has quite short opening hours, usually from 10 AM to 6 PM, but it was even shorter (10.30-4.30 PM) when we visited. The entrance fee is 8 EUR for adults and half the price for the children. On their website, you can find up-to-date information on opening hours and ticket prices.
TIP: If you are staying at the Terra Nostra Garden Hotel, entrance to the park is included in your stay, and hotel guests can explore the park and swim in the pools after hours when day-trippers leave.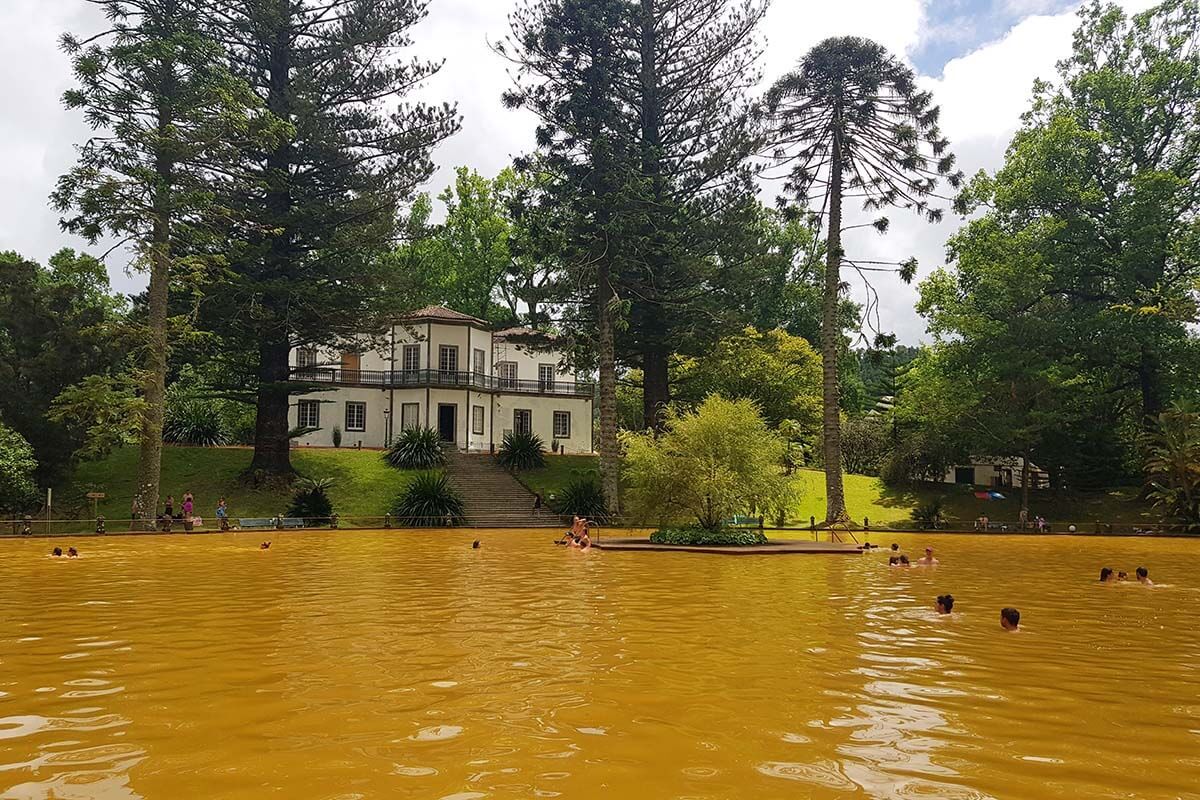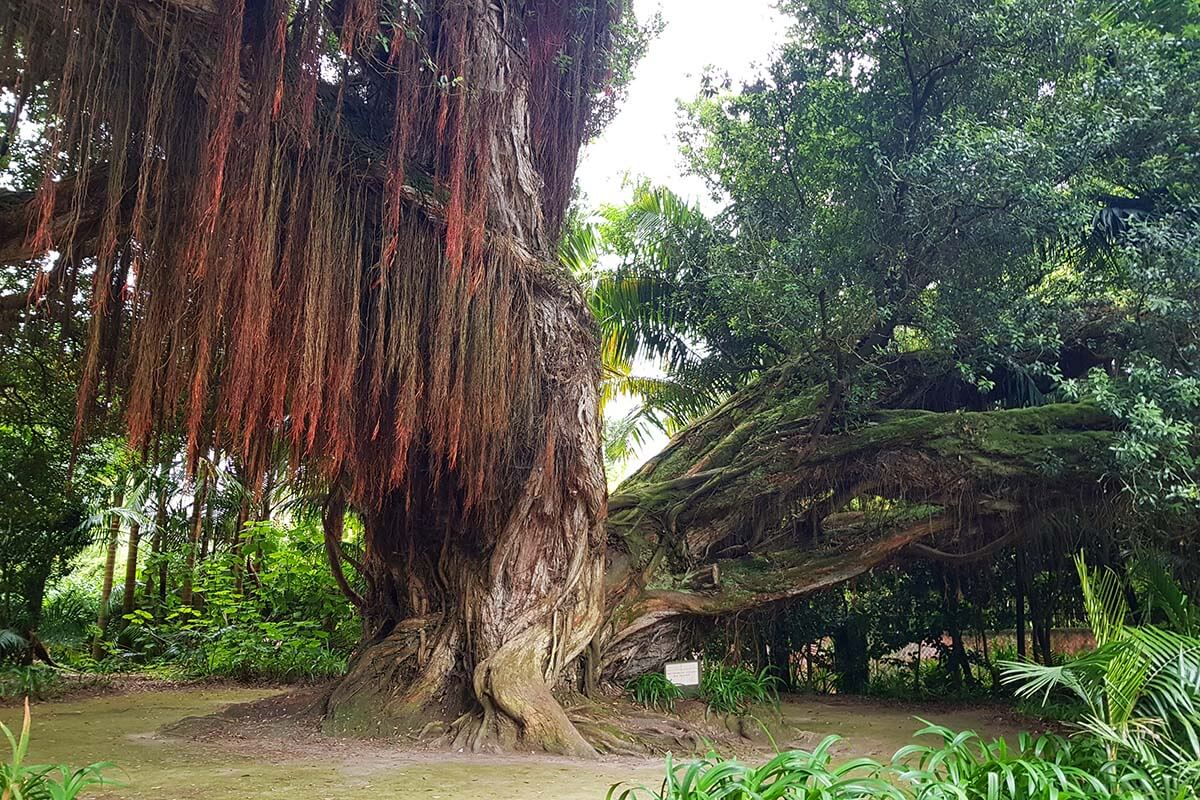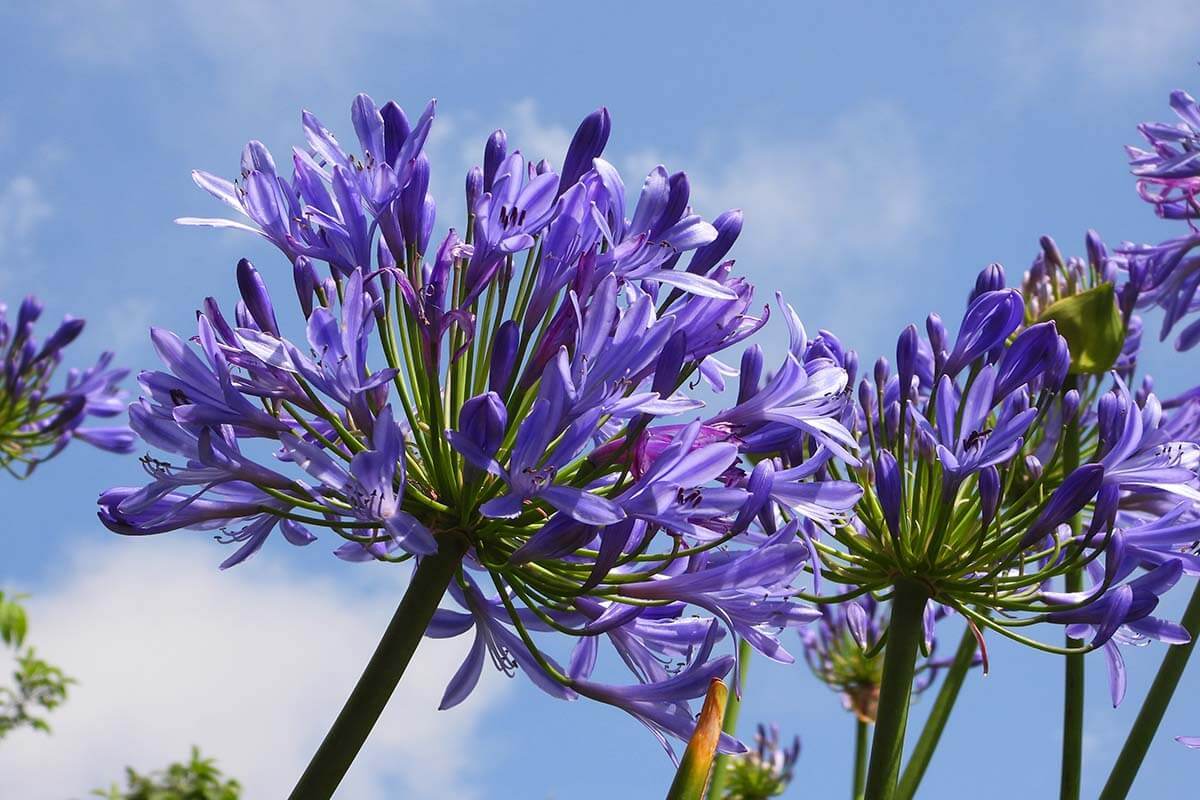 3. Furnas Lake & Caldeiras
Furnas Lake (Lagoa das Furnas) is one of the best places to see in Furnas! This is Sao Miguel's second-largest lake and it was created after an eruption of a gigantic volcano. Lake Furnas is now surrounded by green slopes and looks quite picturesque.
There are several attractions at the lake and the best way to see everything is by taking a circular Lake Furnas Hike (more info below). But you can also easily visit some of the main areas without having to walk far.
The one place that all tourists visit at Furnas Lake is the geothermal area Caldeiras da Lagoa das Furnas. Located on the northern end of the lake, this place is very similar to Caldeiras Vulcânicas mentioned at the top of this list. Here, you can also see little geysers spouting hot water, steam, and boiling mud.
This is also a place where the famous Cozido nas Caldeiras stew is being cooked under the ground (more info further below). Local restaurants bring their stew here and anyone can bring their own pot with the ingredients and leave it to be slow-cooked for a small fee. Please note that you can only see where the Cozido is cooked, but you cannot taste it at the lake.
Close to the geothermal area, there are a couple of places selling souvenirs and local delicacies. Here, you can also rent kayaks and pedalos and explore the lake from the water.
Good to know: There are two main car parking areas at Furnas Lake – one at the north end and one at the south end of the lake. You have to pay for the parking, but if you visit on foot, there's no charge to see the lake or the caldeiras.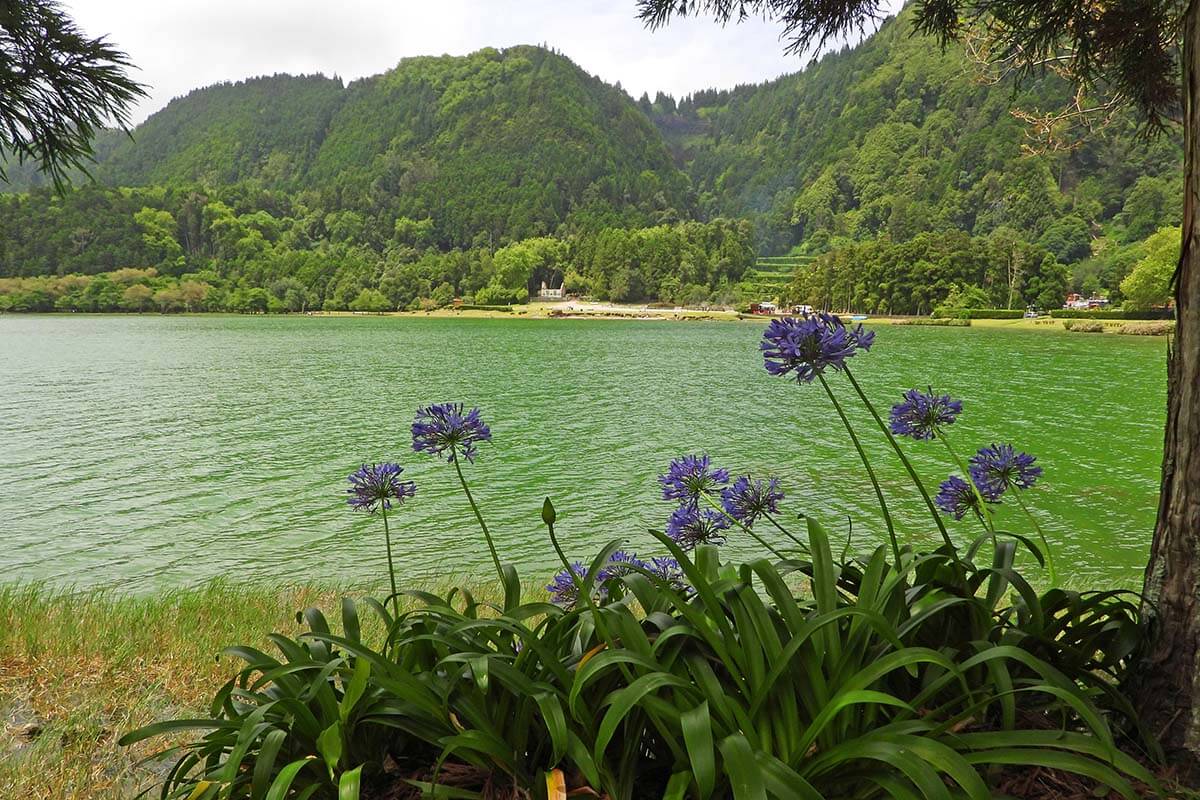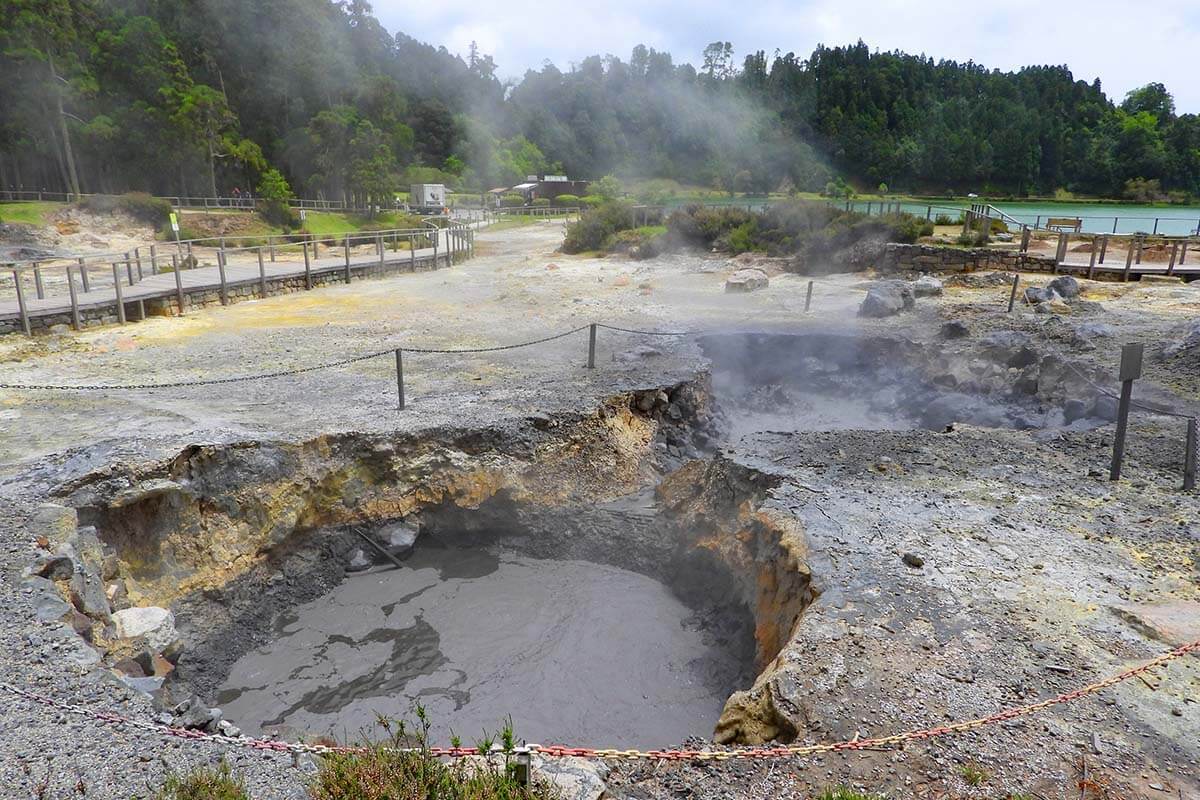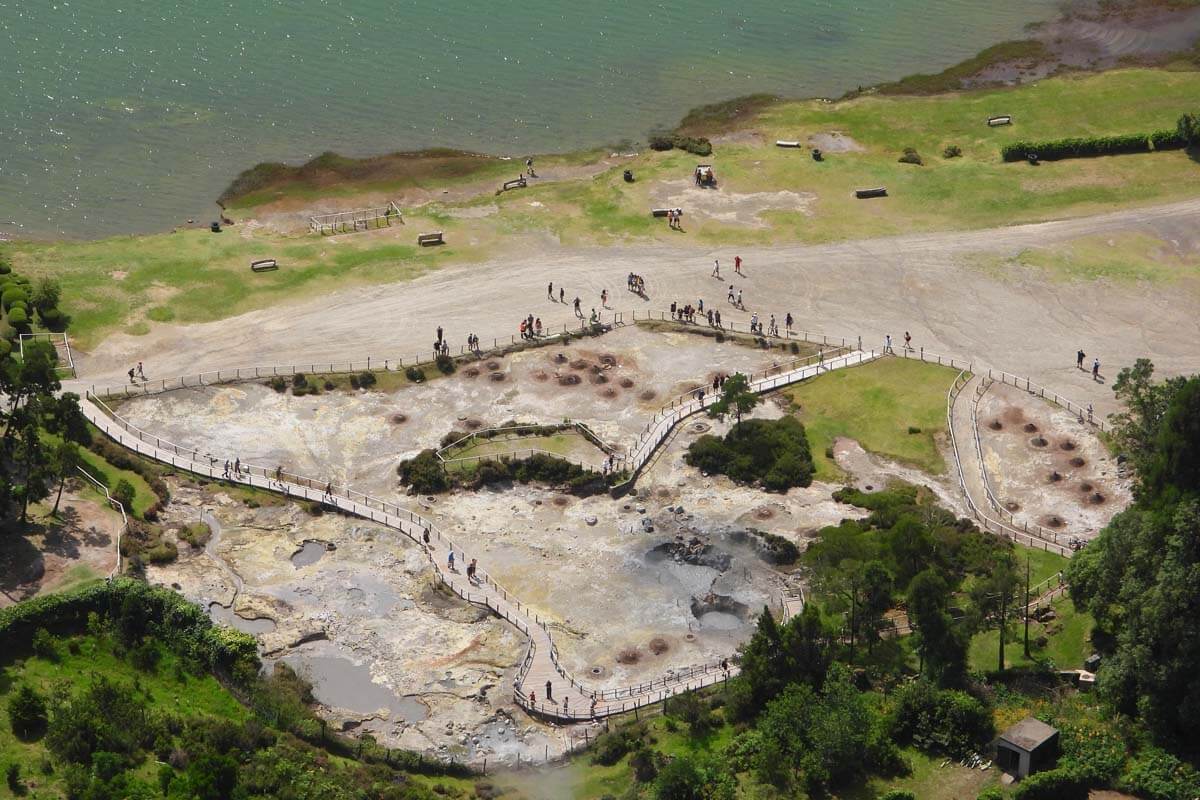 4. Cozido – Furnas Stew
Cozido nas Caldeiras is a traditional Portuguese stew from Furnas Valley. If you try just one local dish in Sao Miguel, make it this one!
The literal translation of Cozido nas Caldeiras means 'cooked in the boiler'. A pot filled with different kinds of meat and vegetables (mostly cabbage and potatoes) is placed in a hole under the hot geothermal ground in Furnas, and then slow-cooked to perfection.
It takes about 5-7 hours to cook the stew in the volcanic soil. You can see how it's cooked at Furnas Lake and you can taste the cozido at several restaurants in Furnas town. Traditionally, Tony's Restaurant was the place to be for cozido, but there are now several other restaurants serving this dish.
We only tried the one at Tony's, so I can't comment on others, but it was quite good indeed. The portions are huge, though, and it's a heavy dish, so keep this in mind. Tony's Restaurant is located in the town center, across the street from the main church of Furnas, Igreja De Nossa Senhora da Alegria, and is very popular.
Good to know: If you want to be sure to taste the cozido, you have to reserve a table for lunch (this is the case for all the places in town, especially if you're visiting in the high season). In the evening, you can only try cozido it if there's some left, but they don't guarantee that it will be available. We went to Tony's for dinner and they still had cozido available, but also in the evening, you have to reserve a table at least a few hours in advance since the place is crowded. We simply called them the day itself using the phone number we found on Google Maps.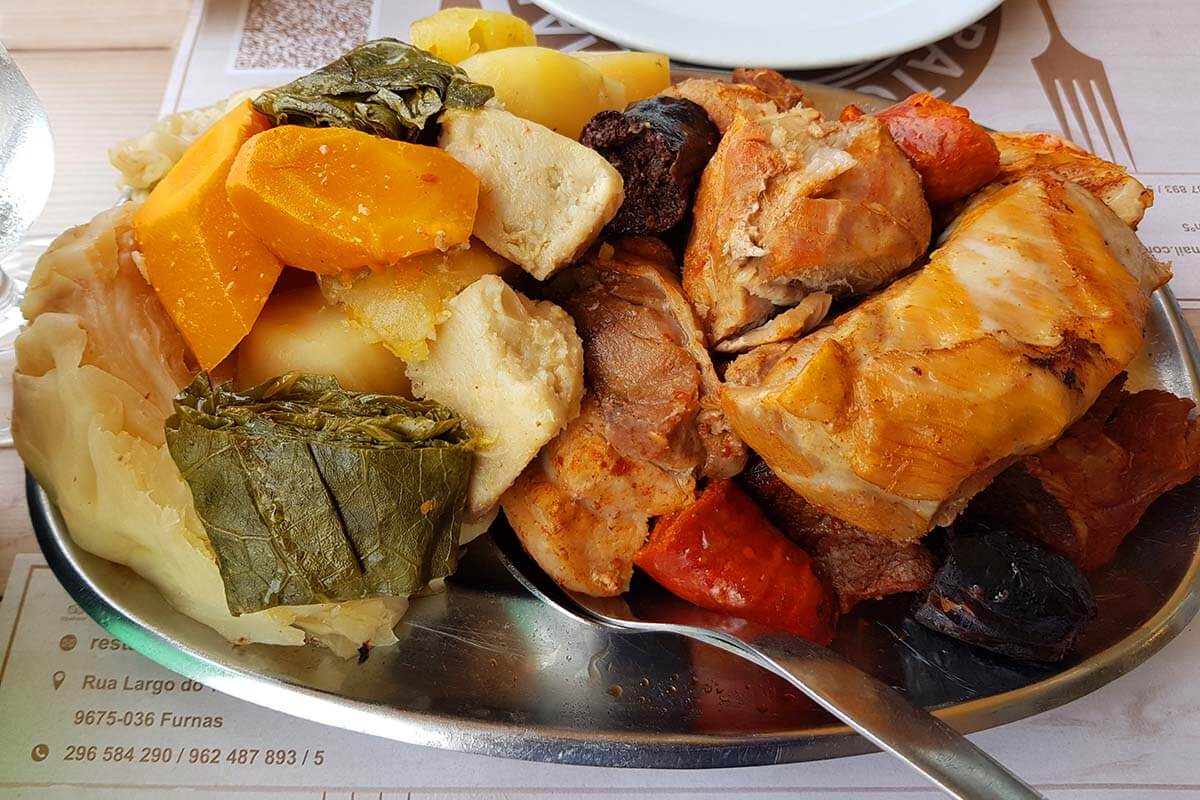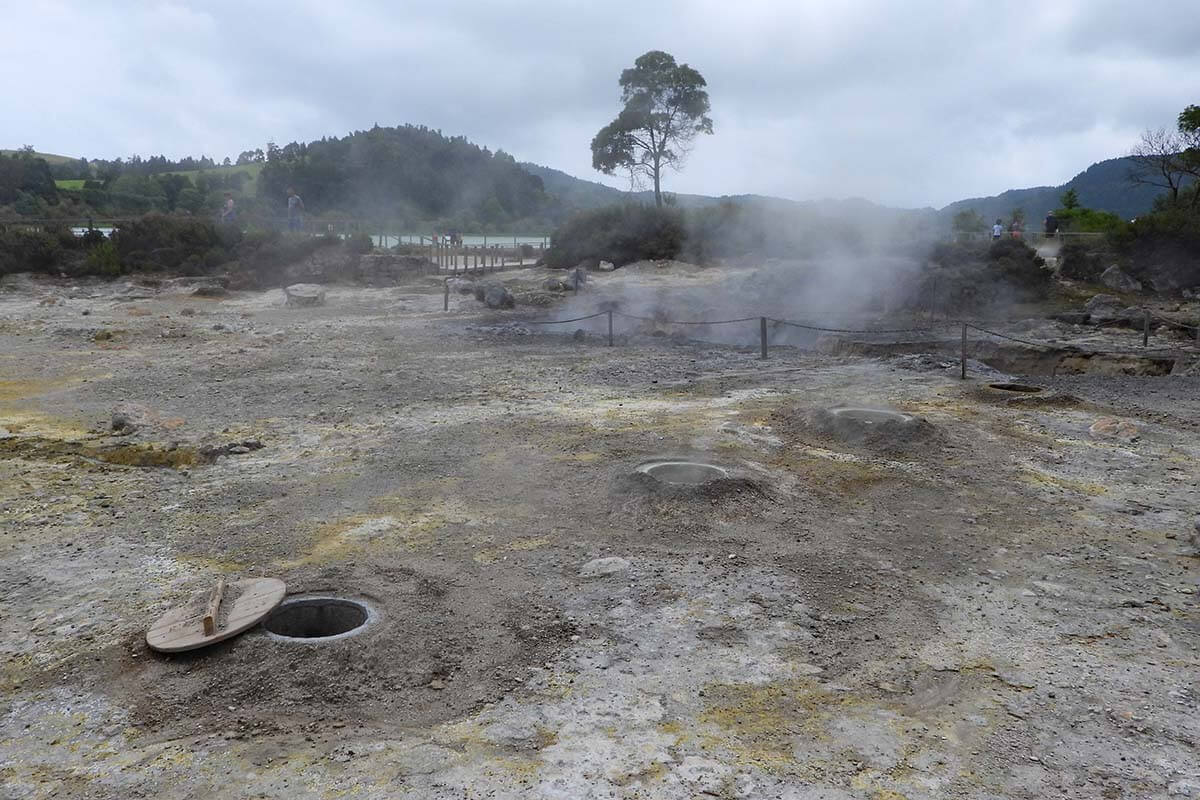 5. Our Lady of Victories Chapel & José do Canto Garden
Our Lady of Victories Chapel (Capela de Nossa Senhora das Vitórias) is a small pseudo-gothic church on the southern side of Furnas Lake. It's surrounded by the beautiful gardens, Mata-Jardim José do Canto.
The chapel and the gardens were commissioned in the mid-19th century by José do Canto, an Azorean landowner and intellectual, whose beautiful botanical gardens you can also find in Ponta Delgada.
The gardens are private property, still belonging to the same family today. They are open to the public and you can visit during the opening hours for a small fee. Please note that José do Canto and his wife are both buried in the chapel, so you cannot go inside the chapel. But you can see its beautiful interior through the metal gate at the entrance.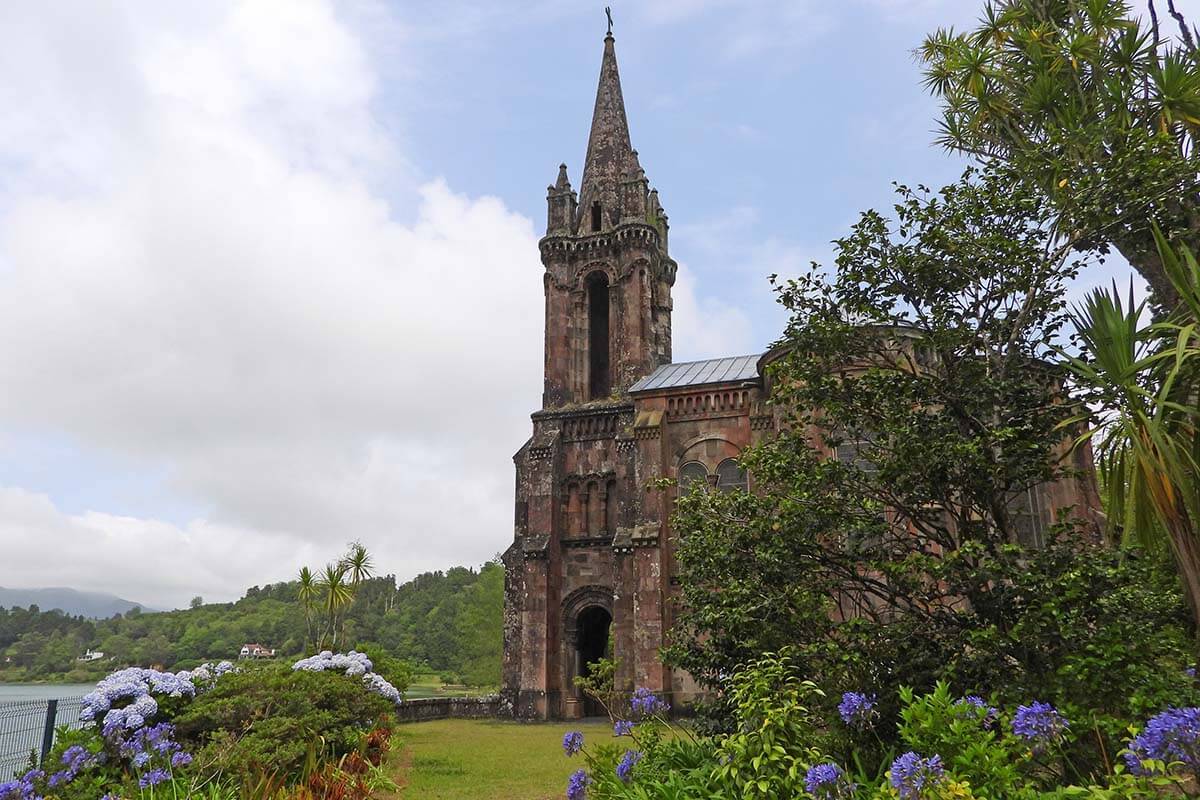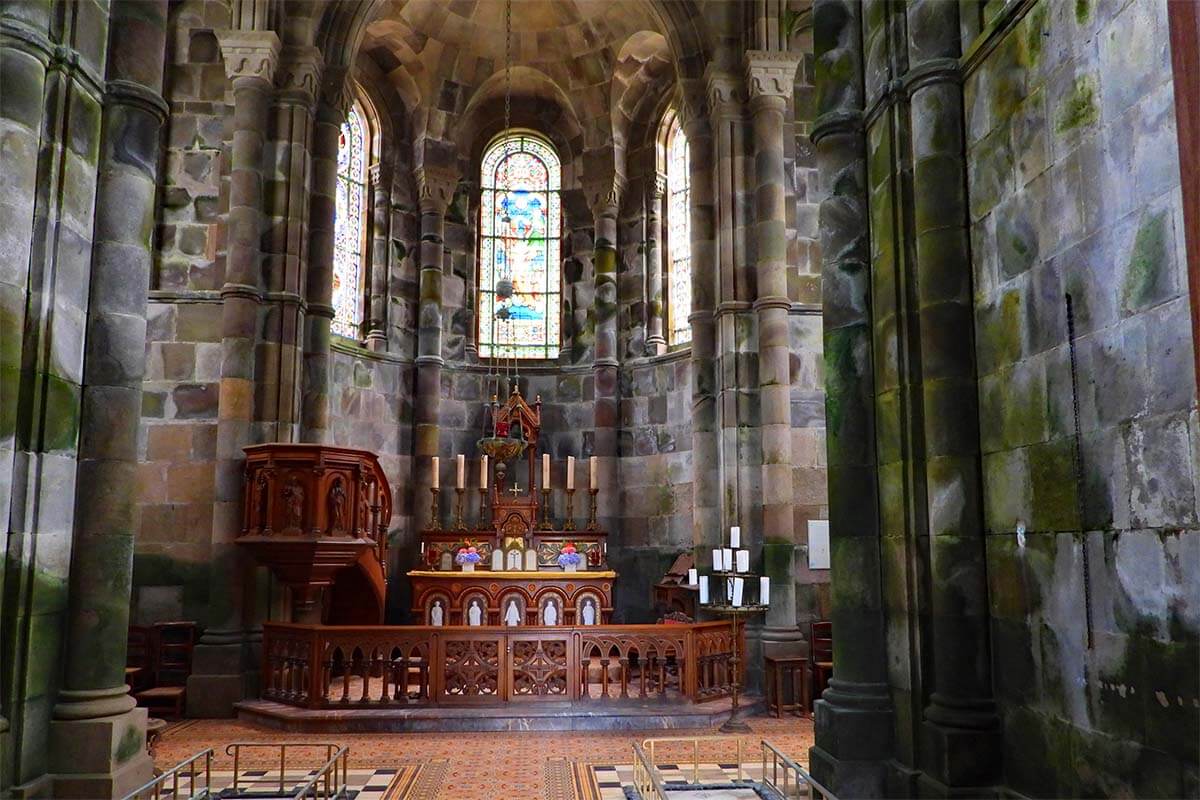 If you visit the gardens in February-March, this is a great place to see camellias, some of them several centuries old. In spring, there are nice azaleas, and in summer, the gardens are filled with blooming hydrangeas and various other flowers. In addition to the chapel and the beautiful gardens around it, this private property also includes a big park with several walking trails. Don't miss the huge Sequoia tree and the beautiful secluded waterfall, Salto do Rosal.
Salto do Rosal is a beautiful waterfall, hidden deep inside the rain forest. It's a real hidden gem and one of the most special places we visited in Furnas. It's about half an hour walk to get there from the chapel (plus half an hour to walk back), but it's absolutely worth it. We saw many nice waterfalls in the Azores, and this one was our favorite.
We hiked around the entire Furnas Lake and visited all attractions in Furnas Valley, and we all agreed that a visit to the José do Canto Garden that gives access to this waterfall was one of the nicest things to do in the entire area. If you are physically capable to do an easy hike of about an hour in total and have some extra time in Furnas, don't miss it!
Good to know: The gardens are open daily in summer and every day except Monday in winter. See their website for the opening hours and more information.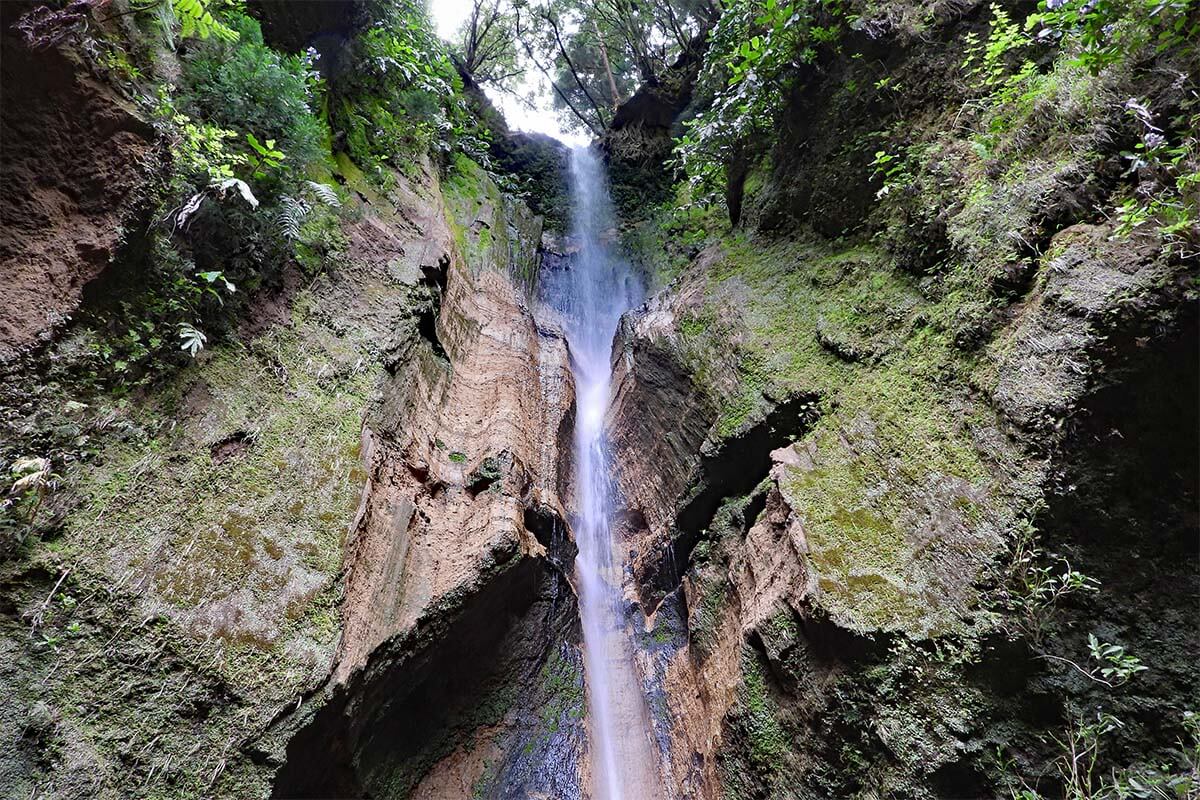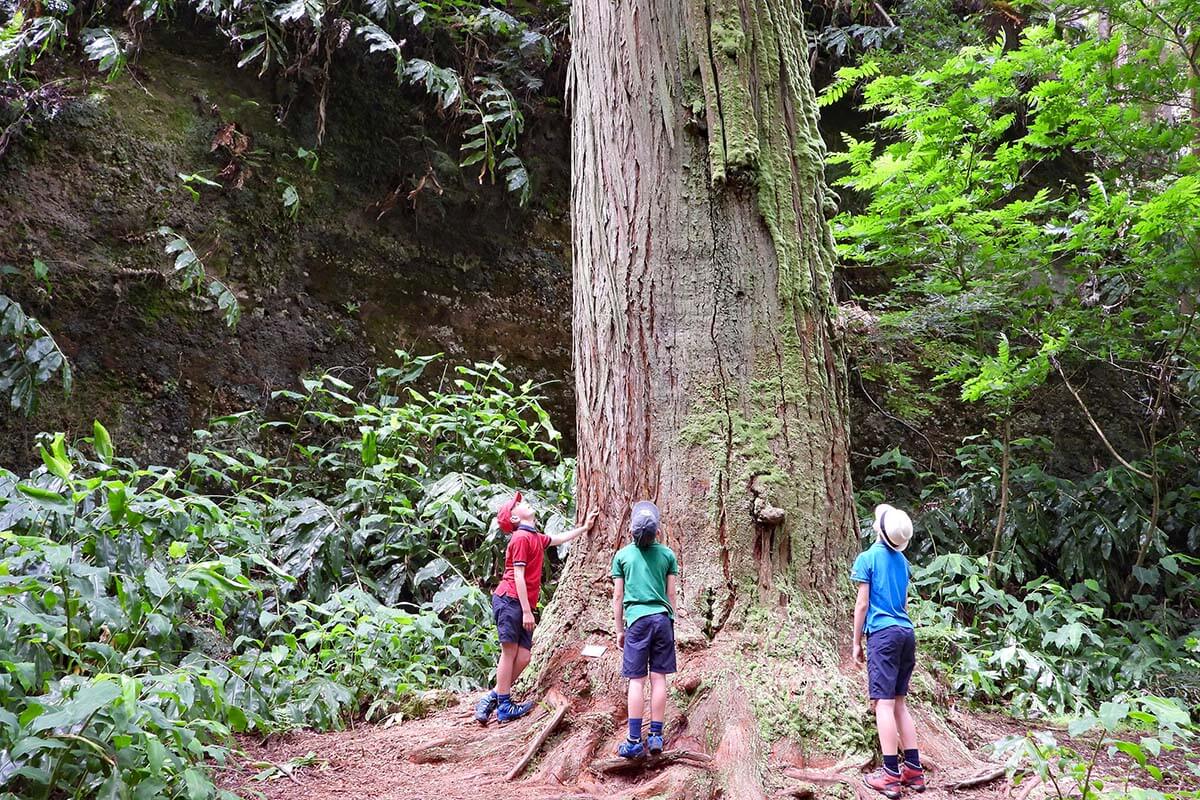 6. Miradouro do Picco Ferro
When you visit the Azores, you'll see the signs for 'miradouros' (viewpoints) everywhere. And even though Furnas is not by the coast, there are some amazing viewpoints that you really have to see when visiting the area! Miradouro do Picco Ferro is the best viewpoint in Furnas and is absolutely not to be missed!
This viewpoint offers an incredible elevated view of the entire Furnas Valley, with Furnas Lake and Furnas town at your feet. In the distance, you can also see the ocean. Standing here, try to think that this was once a crater of a gigantic volcano…
Miradouro do Picco Ferro is one of the most popular places to visit in Furnas and all the tours seem to stop here as well. There is a big car parking somewhat lower than the viewpoint itself, so you'll have to climb a small hill for the view. Even this short walk to the viewpoint is extremely scenic, with blooming hydrangeas all over the place.
Good to know: Miradouro do Picco Ferro is located a bit outside of town, about 5 km (3.3 miles) drive. It's just a small detour off the road EN2 that connects Furnas to the northern coast of Sao Miguel island and it's well indicated. See also our map above for the exact location. It's also possible to hike to this viewpoint from town, but it's a very steep hike and you need good hiking shoes.
TIP: If you are staying in the area, visit the viewpoint early in the morning or in the afternoon. Most tour groups seem to come here in the morning or right before noon, before going to Furnas for cozido lunch.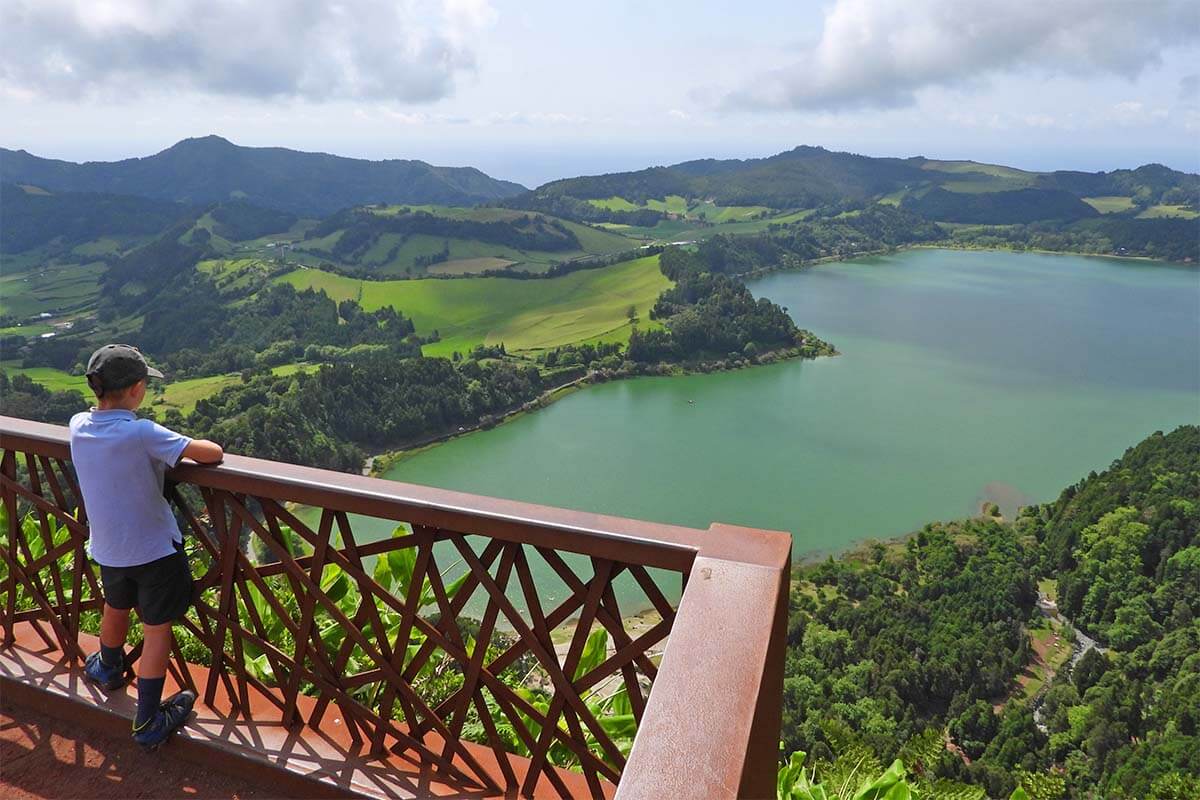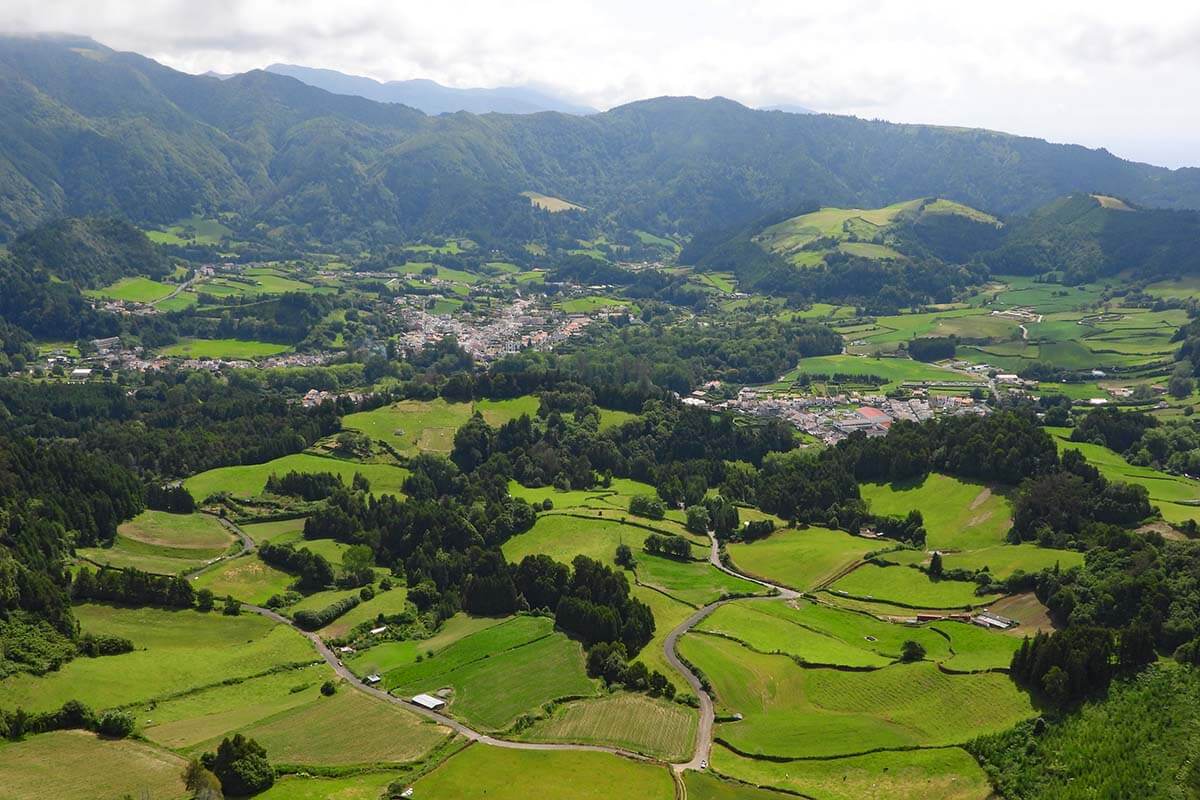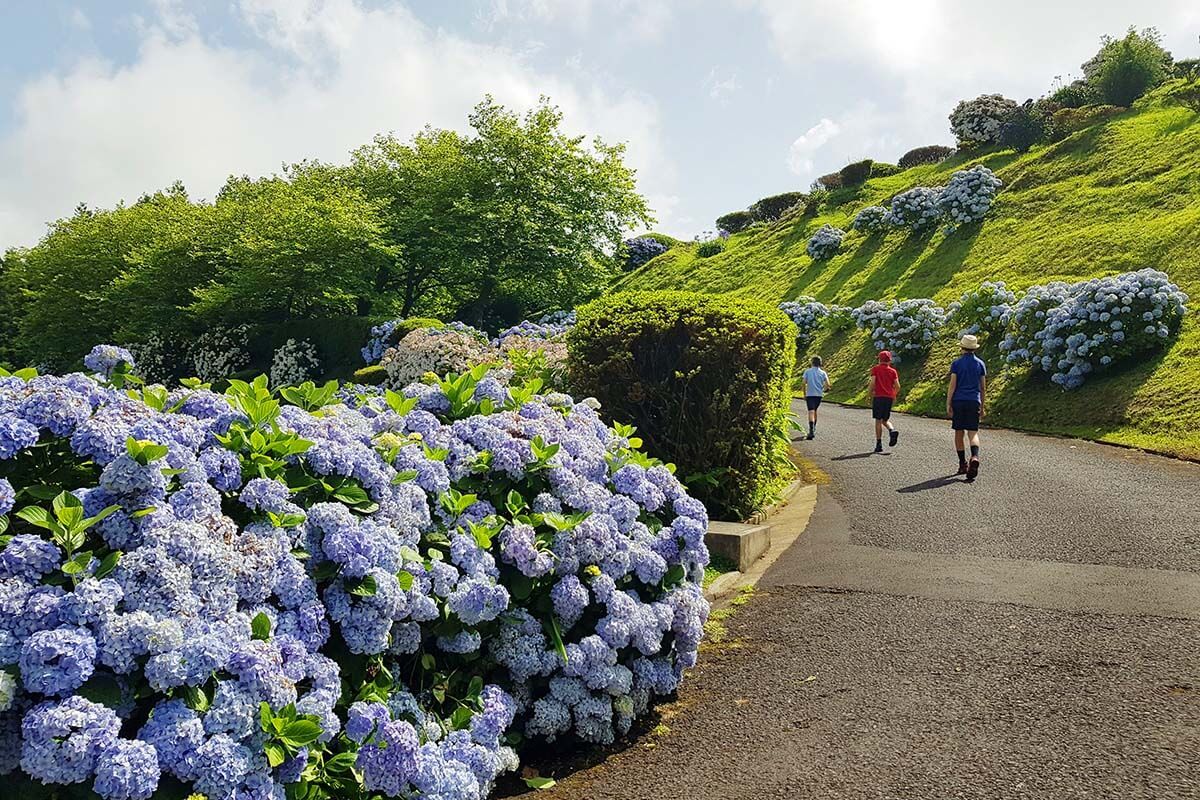 7. Miradouro do Salto do Cavalo
Not as well-known and much less popular because of its more remote location is another amazing viewpoint, Miradouro do Salto Cavalo. The views here are very different than at Miradouro do Picco Ferro, but it's more than worth a detour!
This is one of the absolute best viewpoints in Sao Miguel, and that should say it all. The only reason why it's not as widely known is because it's located a bit out of the way, along a smaller road that is not used by tours or day-trippers visiting Furnas from Ponta Delgada.
TIP: Miradouro do Salto Cavalo is also one of the best places to see a sunset over the mountains in Sao Miguel!
Good to know: Miradouro do Salto Cavalo is located about 10 km (6 miles) from Furnas, on a small secondary road north of Furnas. The road is paved and as good as any smaller roads in Sao Miguel, and there's a small car parking at the viewpoint. It's just a few minutes drive from Miradouro do Picco Ferro, so if you are visiting Furnas by car, don't miss it!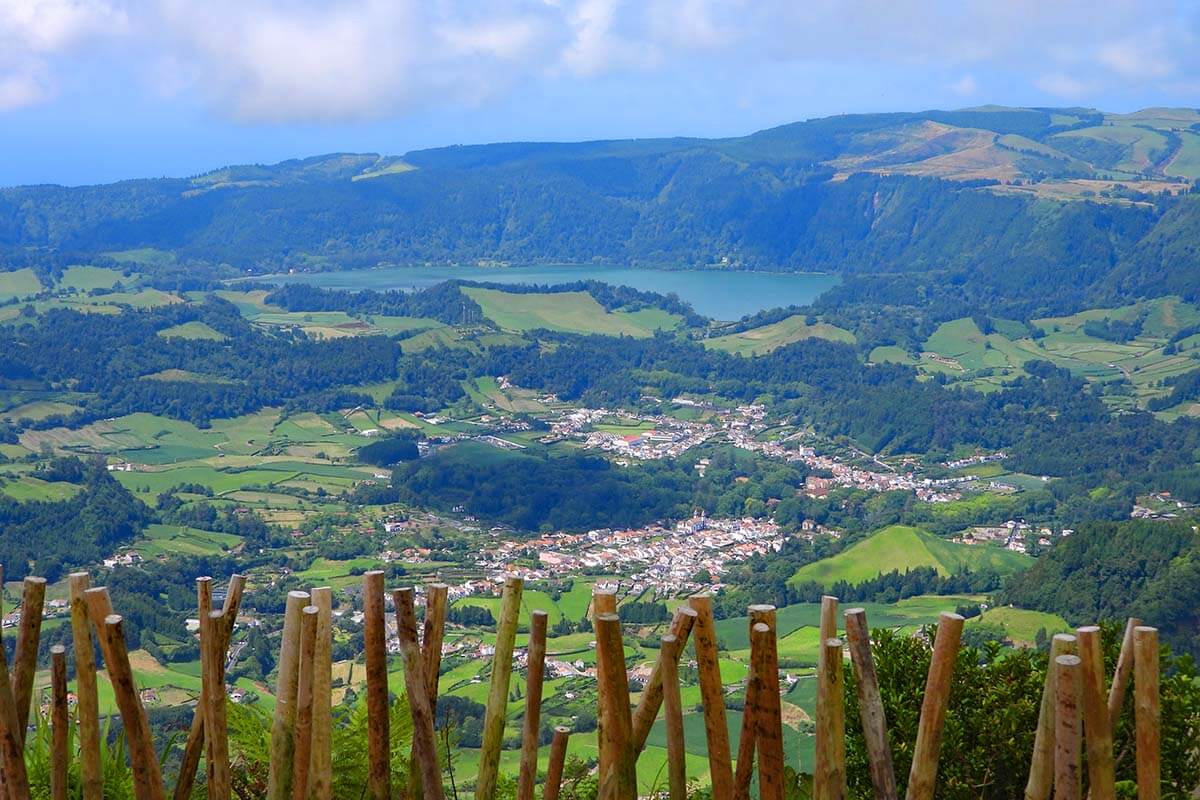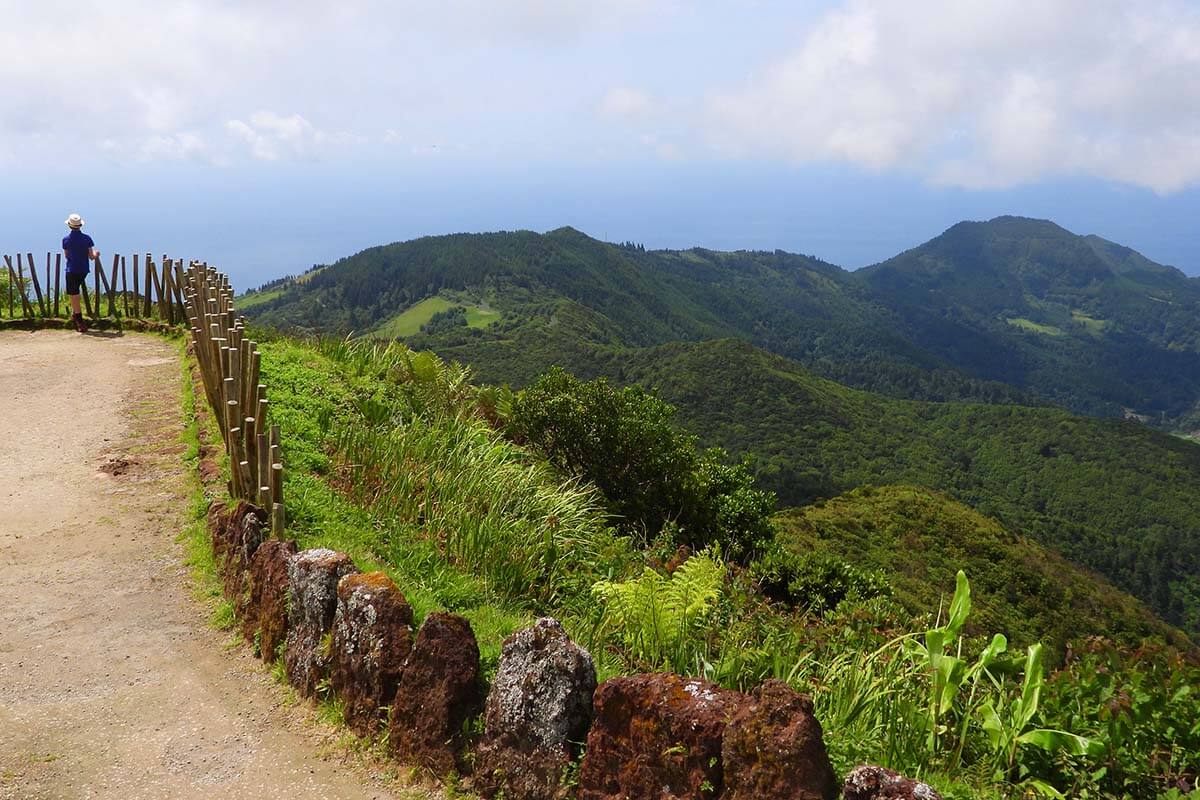 8. Poça da Dona Beija
In addition to the famous pool at Terra Nostra Garden, there is one more really nice place to go for a warm soak in Furnas – the thermal baths of Poça da Dona Beija. The water here is also very warm, but it's not as iron-rich as the one at Terra Nostra, so you and your swimwear don't look yellow after a swim. Furthermore, they have showers where you can rinse off afterwards.
Poça da Dona Beija has five small pools, some of them are a bit warmer or colder than the others. The majority of pools here have a water temperature of about 37-39°C (98-102°F), but there is also a cooler pool with water temperatures of about 25-28°C (77-82°F). So no matter your preference or when you visit, you'll always find a nice pool perfect for a relaxing soak.
The pools of D. Beija are located just a bit outside the town center, surrounded by the greenery of a rainforest. It's a more relaxing and more intimate experience than the huge pool at Terra Nostra. However, the pool is very popular with the locals and tourists alike and it's usually very busy.
TIP: For the most special experience, visit when it's colder – in the evening or on a rainy day. The pools are nicely lit at night and it's a great way to end a day of sightseeing in Furnas.
Good to know: Poca da Dona Beija pools are open daily from 7 AM to 11 PM. Tickets cost 6 EUR for adults and 4 EUR for kids. There are changing rooms and they also have towels and lockers are available at extra cost. For more information, please see their website.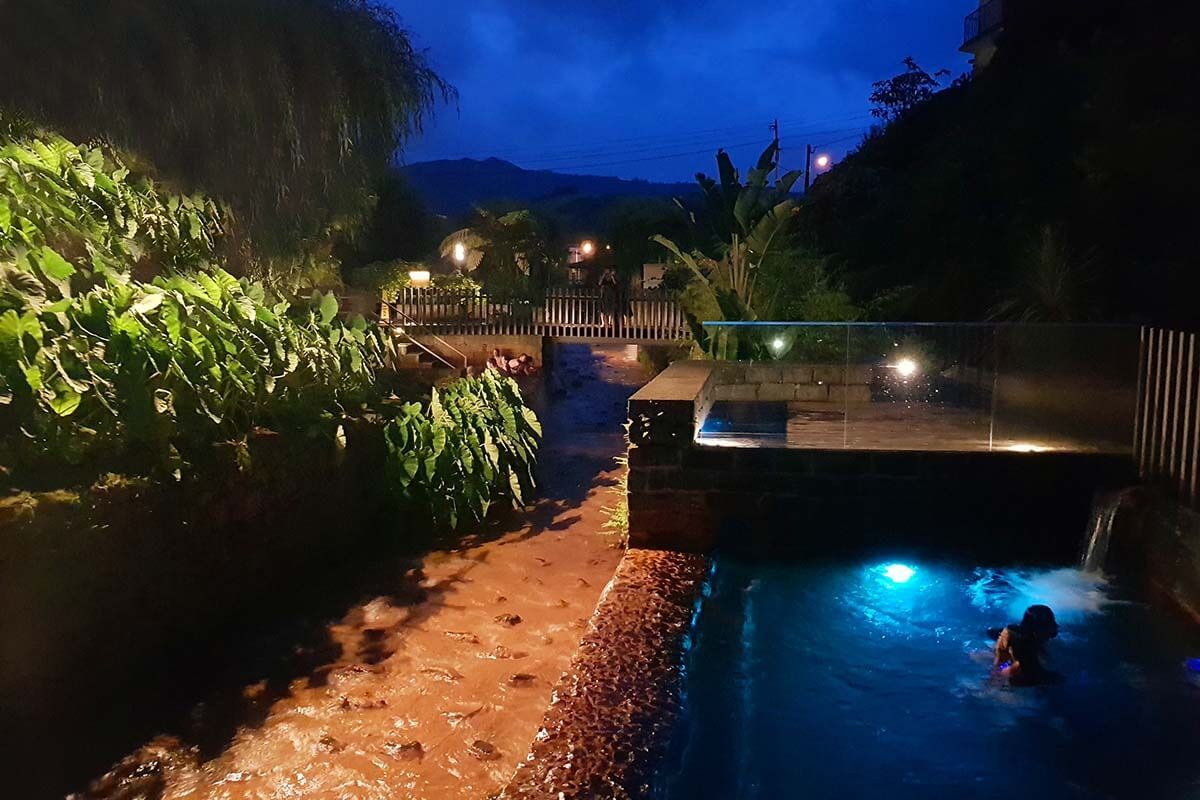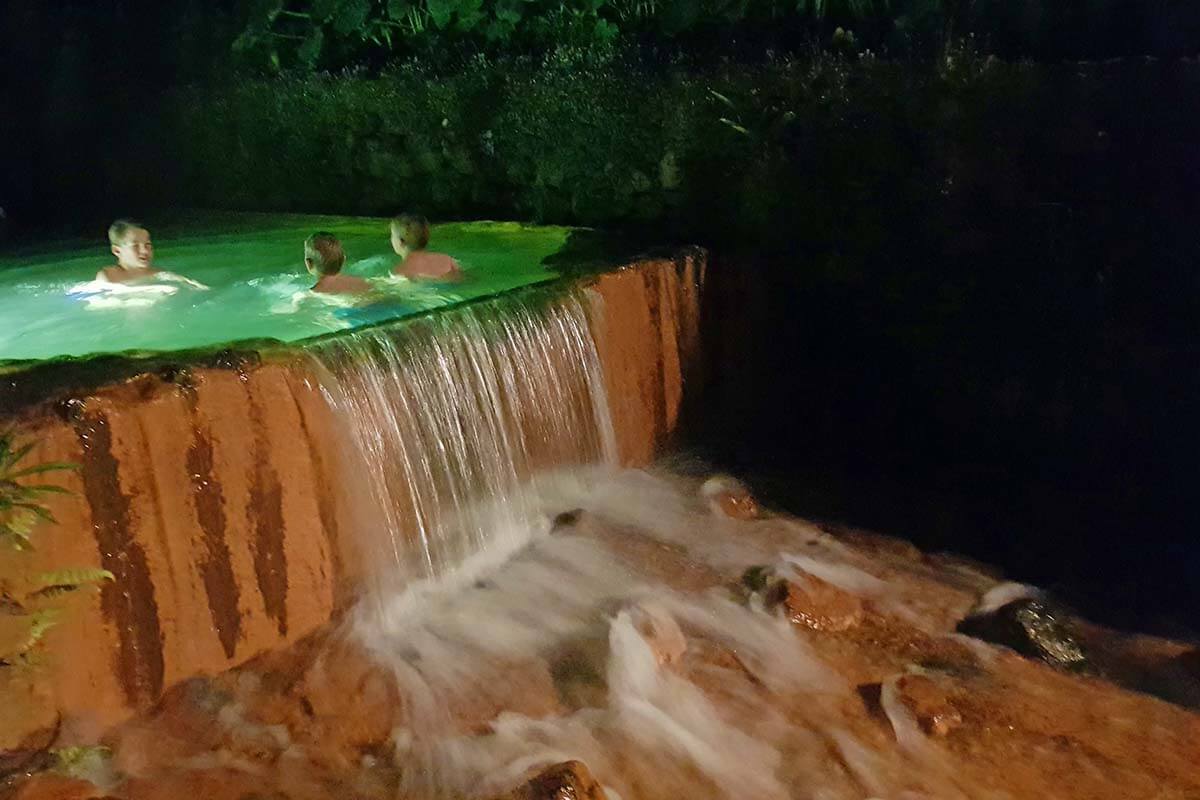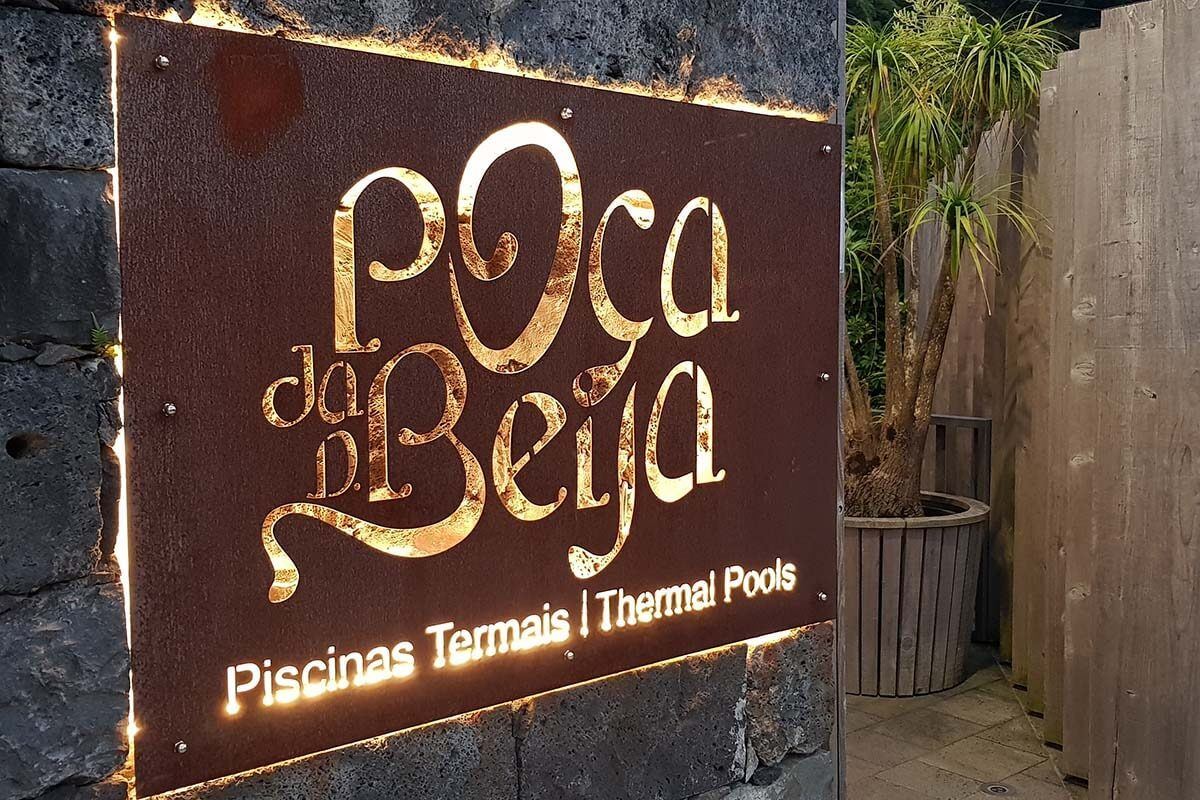 10. Monitoring and Research Center of Furnas
Located on the western side of Furnas Lake, the Monitoring and Research Center of Furnas (Centro de Monitorização e Investigação das Furnas) is a somewhat lesser-known place that's also worth a visit in Furnas.
If you walk all around the lake, you'll come across the strangely-looking grey building. At first, it looks like some kind of a bunker and you wouldn't even think of visiting it. But if you walk around it and approach the building from the lakeside, you'll realize that there's more to it than it looks at first sight.
Inside, there's a museum where you can watch a short film and see an exhibition where you can learn more about the history of Furnas Valley, the crater lakes in Sao Miguel, and the conservation efforts to prevent eutrophication and make the ecosystem of the lakes healthier.
There's also a small café and a gift shop here and even if you don't visit the museum, you can just stop here for a drink. Around the building (and on the entire western side of the lake), you'll see many wooden sculptures, and also a few really cool swings. It's a nice place to visit in Furnas for families with children as well.
Good to know: The Monitoring and Research Center of Furnas is located next to a gravel road on the southwestern side of Furnas Lake and only people who live/ work in the area can drive here by car. Visitors can only visit on foot or by bike. If you do the circular hike around the lake, you'll pass here, and otherwise, leave your car at the southern car parking and walk here on foot. On the way, you'll also be able to visit the chapel and the gardens described above.
In the summer season (April -October), the center is open daily from 10 AM to 6 PM, in winter – every day from 10 AM to 5 PM, except on Mondays and some public holidays. Here you can find opening times and other practical information for your visit.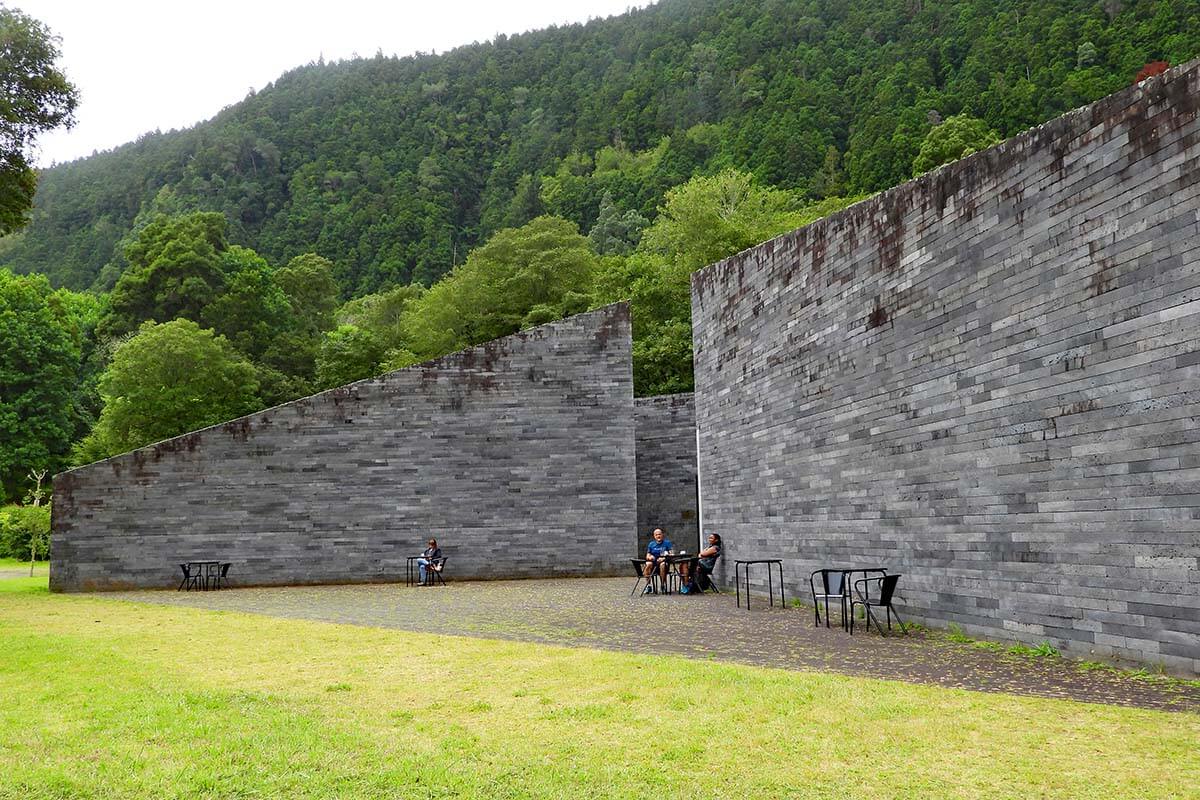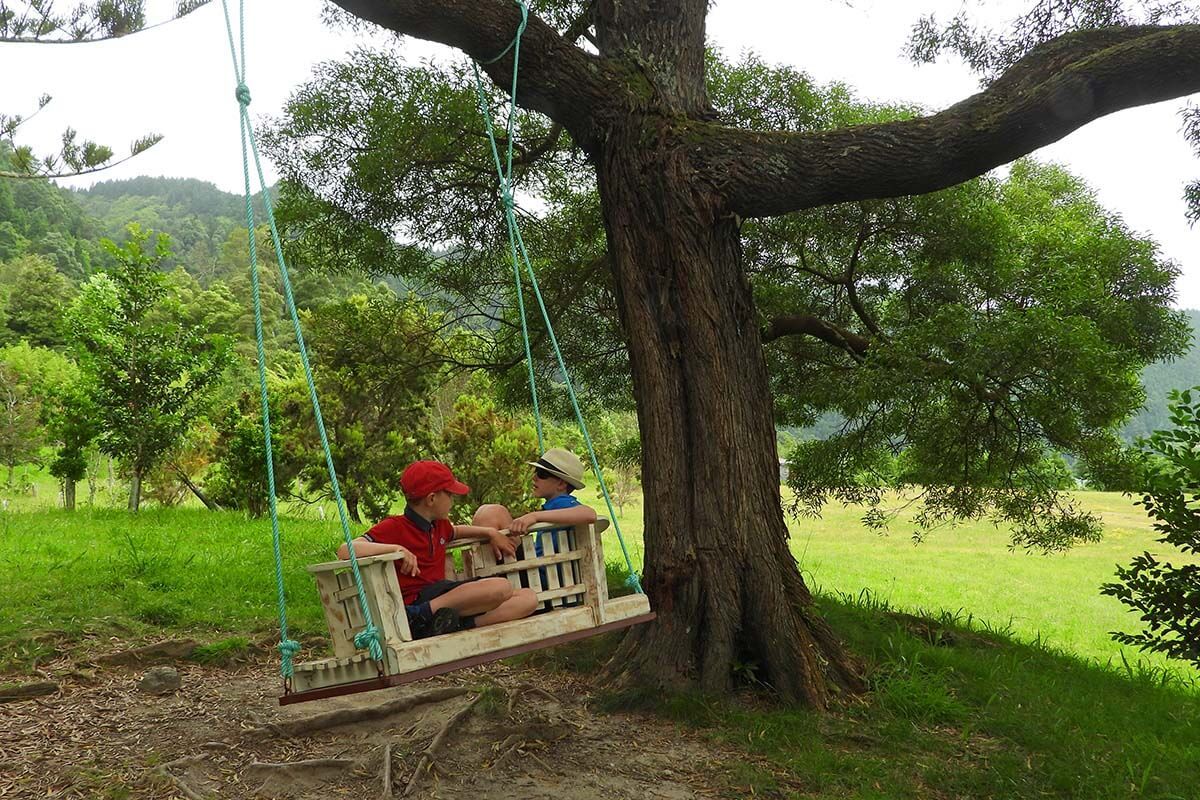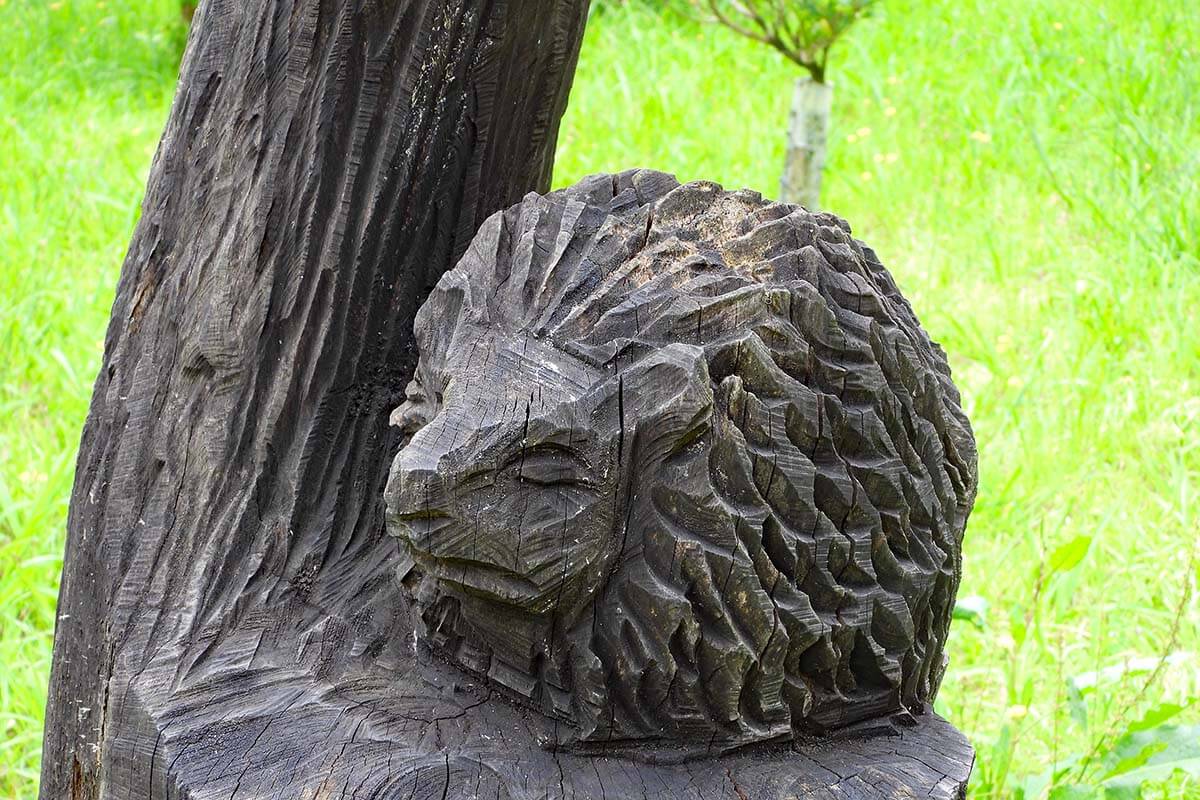 11. Lake Furnas Hike
Lagoa das Furnas hike (PRC6SMI) is a circular hike around Furnas Lake and one of the best things ways to experience the area. Doing this hike enables you to see a lot of Furnas attractions without having to plan much – you just pass them along the trail.
It's an easy flat hike and everyone in a reasonable physical shape could do it. It's also possible to do this trail by bike. You could also do the hike with a stroller (with big sturdy wheels), but there's one minor stream crossing where we had to walk over a stone path, with openings between the stones (see pictures below). By bike, you could just drive over water, but with a stroller, you might have to carry it for a few meters. The rest of the trail is pretty simple, mostly gravel, and also regular roads.
Officially, the trail starts and ends in Furnas town. It's about 9.5 km (6 miles) long and takes 3 hours (this is hiking time only, without visiting any of the attractions along the lake). If you do this entire trail, there will be some steeper sections following the roads that are used by cars. I'd classify a few parts of the hike as medium-difficulty, especially the climb to Miradouro do Lombo dos Milhos and a few steeper sections at the outskirts of Furnas town (see below).
Good to know: You can also start the hike at one of the parking areas at Furnas Lake. In that case, the hike is much easier (completely flat) and the entire loop is just about 6 km (3.7 miles) long.
Hiking all around Furnas Lake is nice if you have some time to spare, but it's not an absolute must. The scenery is ok, but nothing you wouldn't see from the road or by taking a short walk from the areas that can be reached by car.
So instead of walking all around the lake, you can also just visit the Caldeiras geothermal area (and potentially Grena Park) at the northern end of the lake and then drive to the southern part where you can walk to the Nossa Senhora das Vitórias Chapel and José do Canto Garden. This will cost you a bit more (you'll have to pay for parking twice), but if you are short on time, it's a quicker way to see the main highlights around Furnas Lake.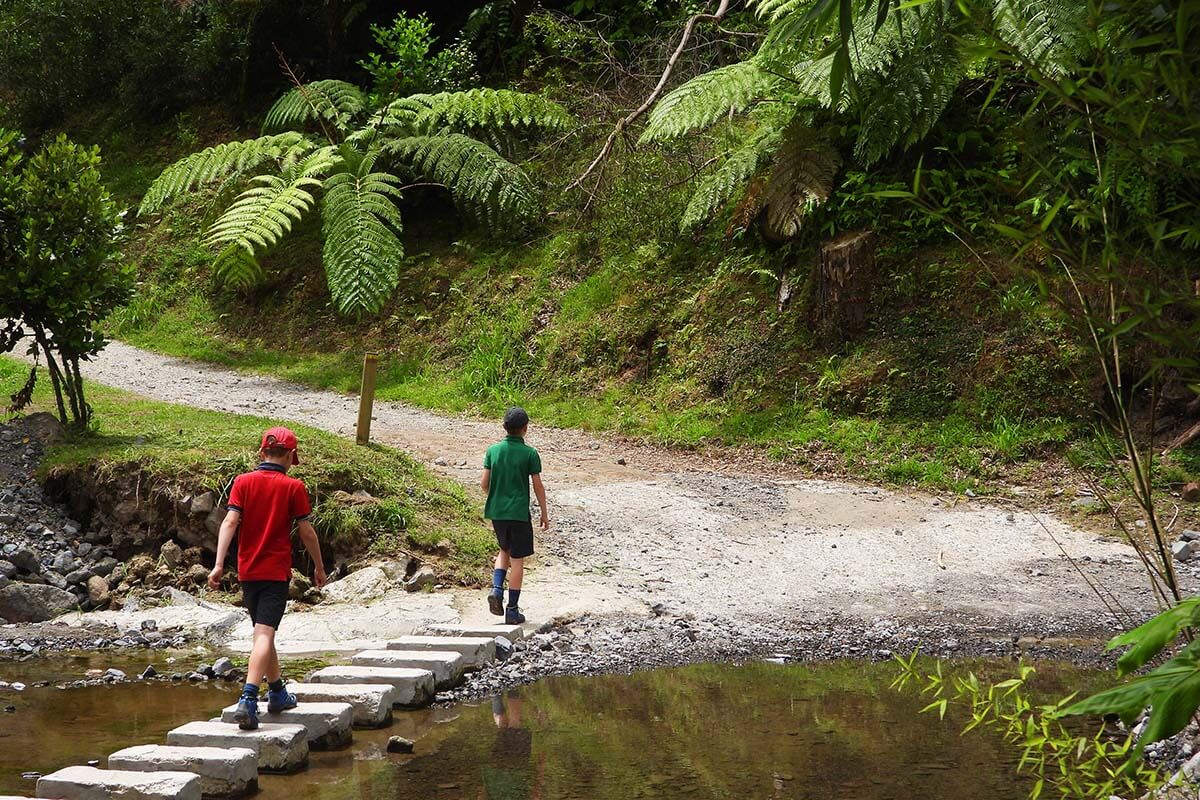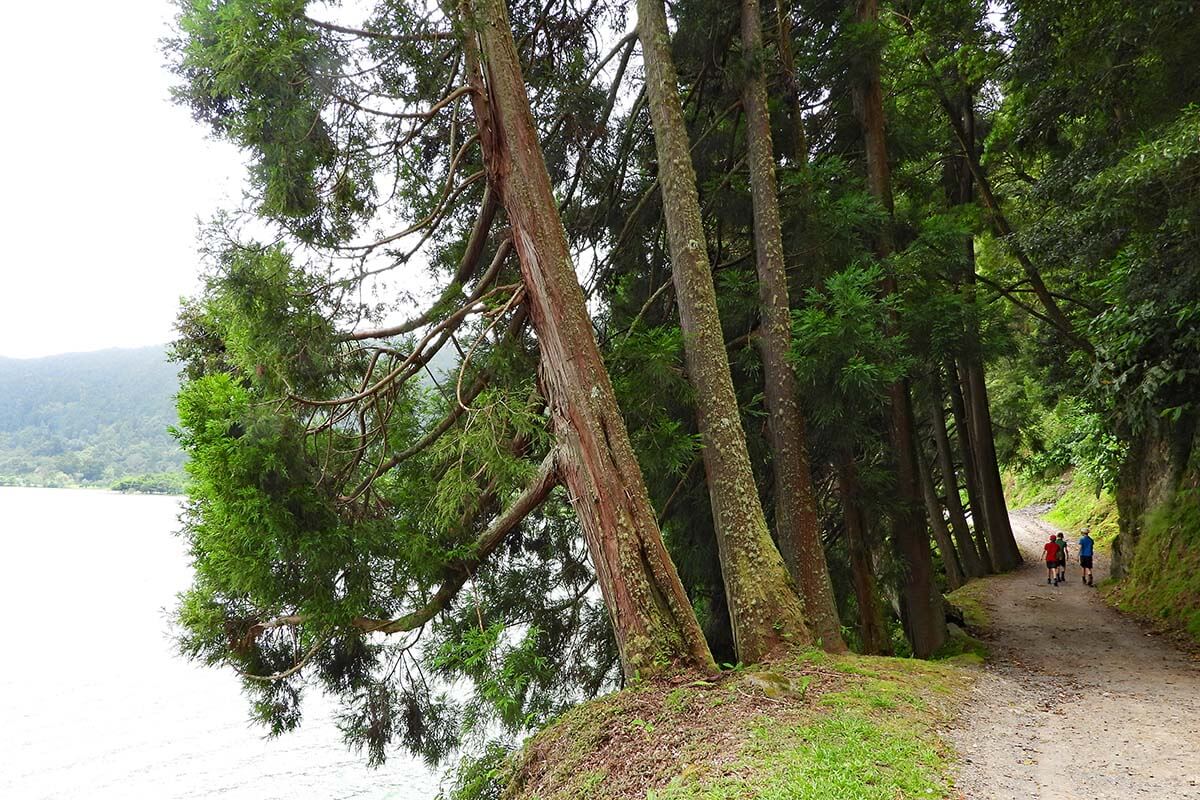 12. Grená Park
Grená Park (Parque da Grená) on the northern side of the lake is the newest addition to the list of Furnas attractions. This is a huge park located right next to the Calderas geothermal area, with approximately 5 km (3 miles) of walking paths through a rain forest, waterfalls, and a viewpoint Miradouro do Poco do Salto da Inglesa.
This is one of the few Furnas attractions where you have to pay a pretty steep entrance fee (10 EUR for adults and also for kids from the age of 6), and in all honesty, I'm not sure if it's worth it. It's basically a path through a nice forest with some streams and one bigger waterfall. There are so many hiking paths all over Sao Miguel where you get to see similar or even more impressive scenery, free of charge. So I'll leave it up to you to decide.
We personally found that the José do Canto Gardens and especially the beautiful Rosal Waterfall is worth your time more. Rosal waterfall is also much more special. But if you have enough time and want to see everything that Furnas Valley has to offer, then Grena Park is definitely a nice place to visit. Be sure to foresee at least 2 hours to enjoy everything that Grena Park has to offer!
Good to know: When we visited, there were rental bikes available at Grena Park, and an entrance ticket to the park was included with bike rental. So before or after visiting the park, you could take a bike and drive around the entire lake. This would make the high entrance price more justifiable. However, they only have a few bikes and only for adults, so it's not an option for families, and there will probably not be enough bikes at peak times. Also, on their website, it says that bike rental is 20 EUR (it was 10 EUR when we were there), so unless you rent it for the entire day, it seems really expensive…
You can find more practical information and opening times on their website. At the moment of writing, the park is open daily except for Mondays and Tuesdays, from 9.30 AM to 5 PM. Count 1.5-2 hours for a visit.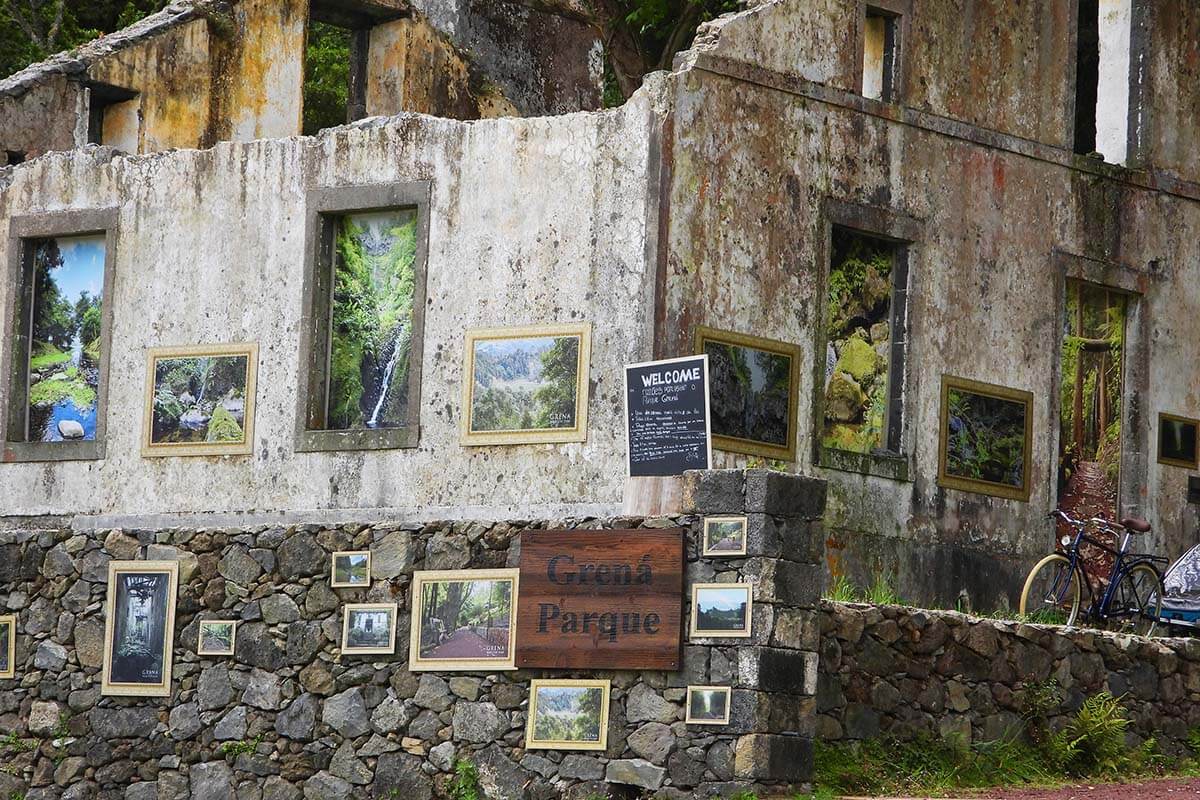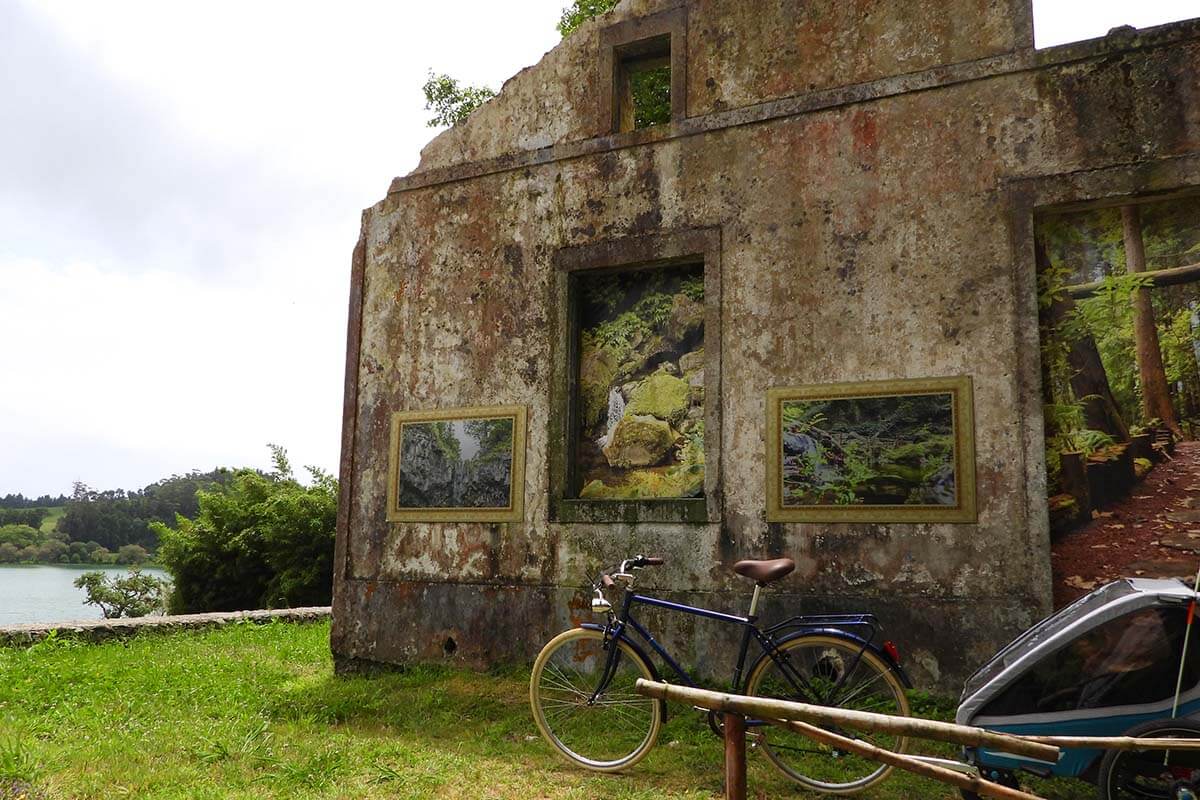 13. Miradouro do Lombo dos Milhos
In addition to the previously mentioned viewpoints around Furnas, there's one more viewpoint even closer to town – Miradouro do Lombo dos Milhos. It's located between the lake and the town and offers a nice view of the entire town and the valley around it.
This viewpoint is not widely known and the road to get here from the lake (and back down to town) is really steep. We stumbled upon this viewpoint while doing the Lagoa das Furnas hike and we were all alone here.
It's a nice viewpoint, but not an absolute must. If you hike the official Lagoa das Furnas hike (see below), you'll pass here, and you could also simply drive up here by car, but it's not something I'd go out of my way to see. The other viewpoints mentioned higher above are worth it much more.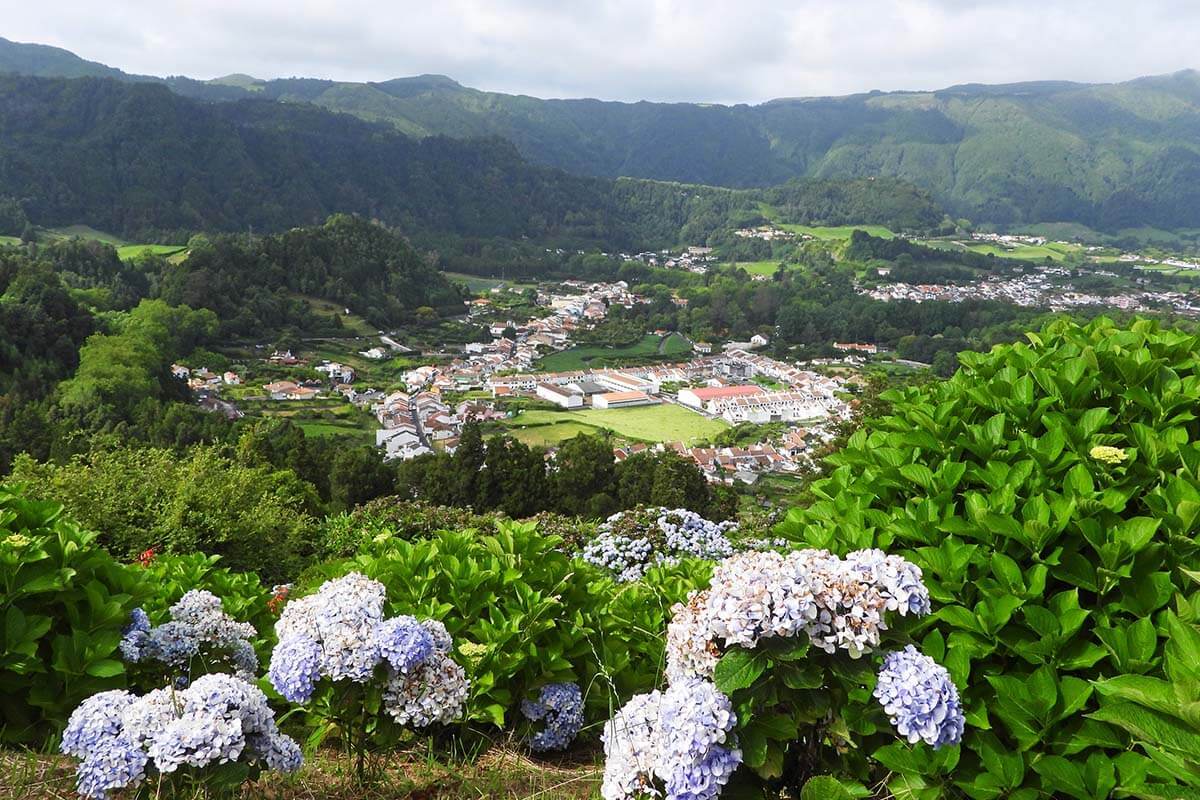 14. Cascata e Aquário das Furnas
Cascata e Aquário das Furnas is a small, but well-maintained public garden. Its main features include a man-made waterfall/cascade and a big aquarium where you can see some local fish sorts.
There's also a small geothermal pool here, Poça da Tia Silvina. It's really too hot to swim in (water temperature is about 45°C (113°F), but many people like to put their feet in the warm water and then immediately in the nearby cold stream. They say it's relaxing… We didn't try it.
This park is located in Furnas town itself, a short walk from the main church or from the geothermal area Caldeiras Vulcânicas. It's is just a simple, low-key place to walk around a bit and enjoy the beautifully laid out garden. It's not one of the highlights in Furnas, but if you are in town for a longer visit and are looking for nice things to do, it's a nice place to check out.
If I recall well, there is also a small playground nearby for younger children.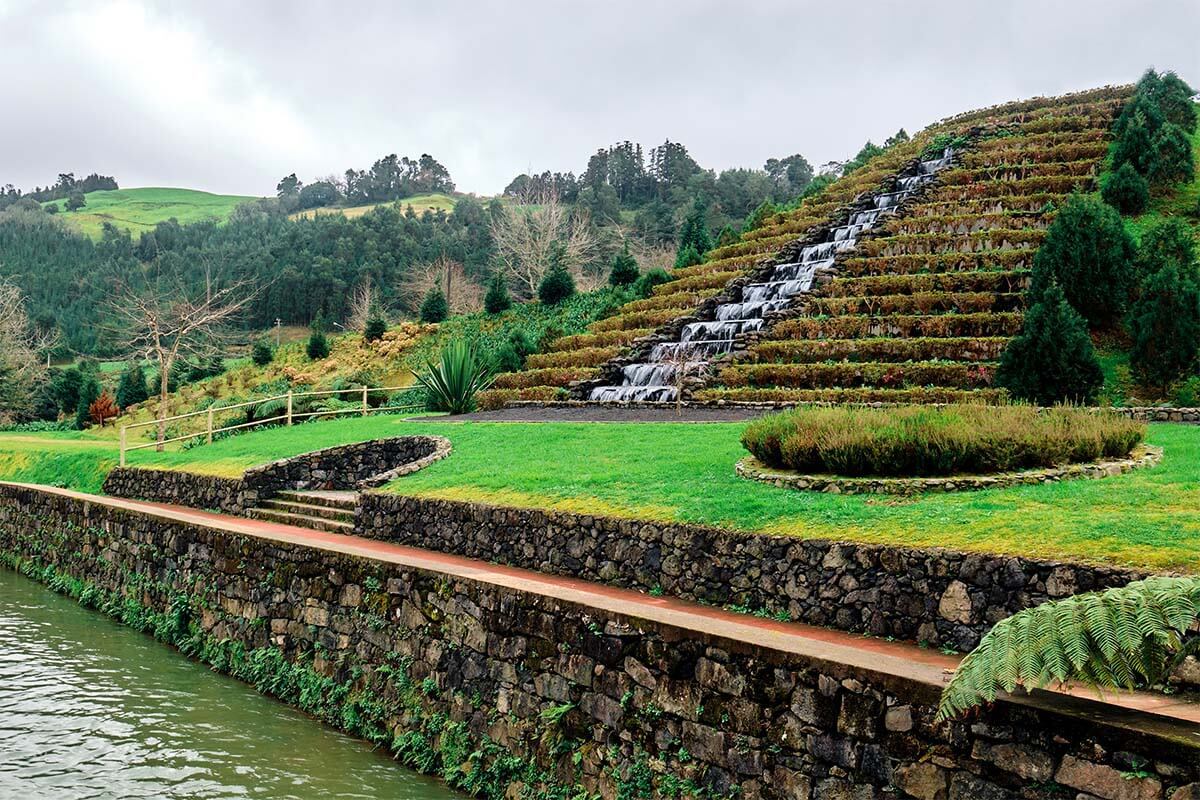 Now that we covered all the best places to see and things to do in Furnas, below, you can find some practical information for your visit. How to get to Furnas, the best tours, how much time you need, where to stay (if you decide to stay in Furnas), and also some food/restaurant recommendations. Take a look!
Getting to Furnas
The easiest way to visit Furnas and the beautiful viewpoints around the area is by car. The driving distance from Ponta Delgada to Furnas is just 45 km (28 miles) and it takes about 45 minutes. If you are staying in Sao Miguel for a few days, renting a car is the best way to explore the island. Here you can find the best deals for car rental in Ponta Delgada airport.
TIP: Don't rent the biggest car because many roads in the Azores are very narrow and parking is often not easy. This is not a problem if you just take the main roads between Ponta Delgada and Furnas, but in towns and more rural areas, driving can be really 'fun'.
It's also possible to get to Furnas from Ponta Delgada by bus. In general, public transport is not ideal for sightseeing in Sao Miguel, mostly because of infrequent buses. But if you are planning to stay in Furnas for at least one night or more, you could just come by bus and walk or take a taxi to most of the attractions around town. However, you won't be easily able to visit the viewpoints outside of town if you don't have a car (or take a tour).
Another nice way to visit Furnas is by taking a tour – see below.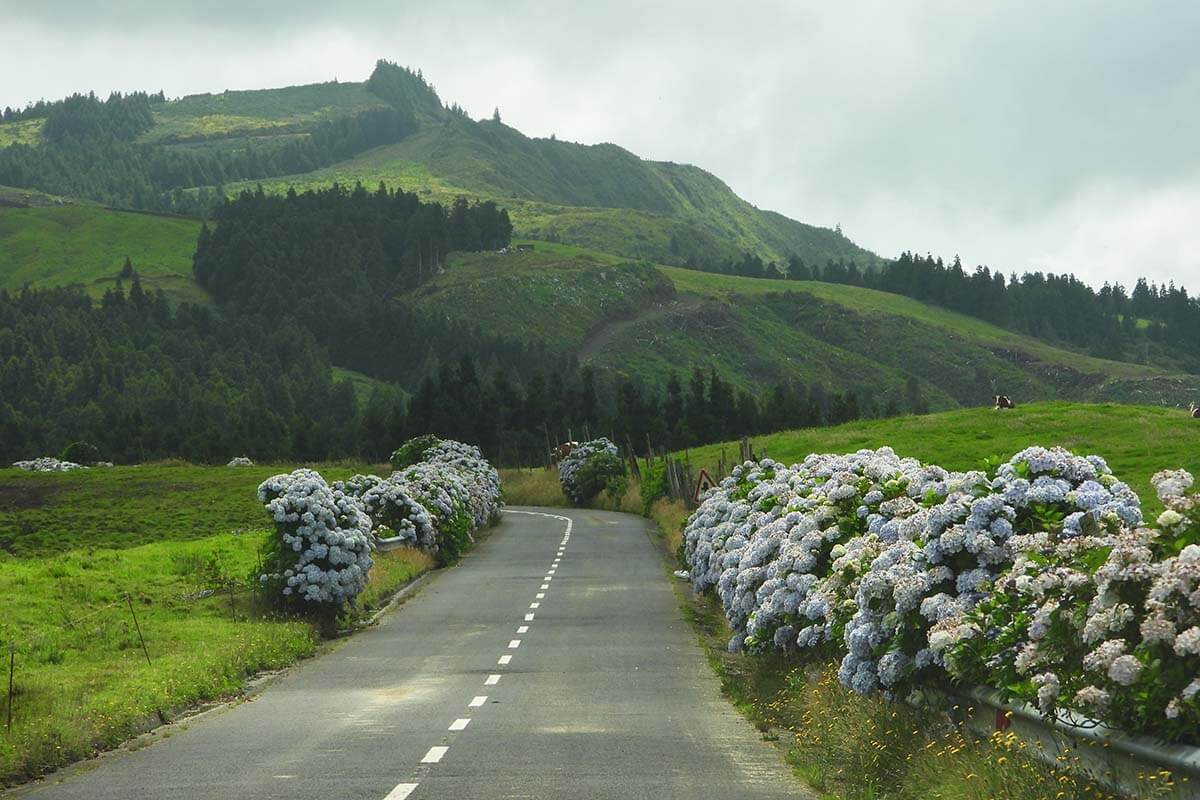 Best Furnas Tours
Furnas is one of the most popular places on Sao Miguel island, so there are lots of tours that can bring you to Furnas Valley from the capital city Ponta Delgada.
But while there is, indeed, a big number of tours to Furnas, they are all pretty similar in terms of the itinerary they offer and what's included. So we only selected the best-rated options (see below), and you can find a complete selection of all tours here.
Here are the best Furnas tours: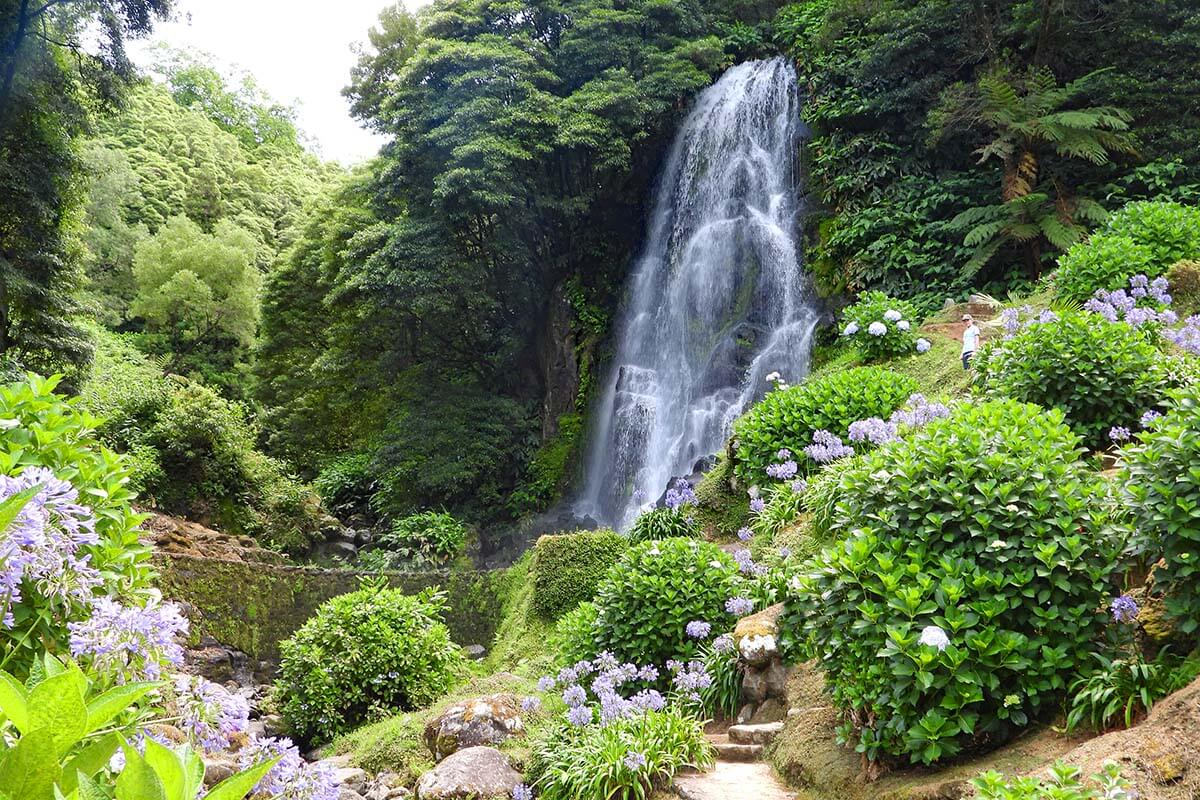 How Much Time Do You Need in Furnas
You can see all the main points of interest in Furnas in half a day, but ideally, you plan at least one full day for a visit to Furnas. If you start early and end late, you can easily cover all the main Furnas attractions listed above in a day, including the best viewpoints, the hike around the lake plus a visit to at least one garden next to the lake, Terra Nostra Garden, and even a soak in the warm waters at the Poça da Dona Beija thermal pool.
We stayed in Furnas for 3 nights, which gave us plenty of time to explore Furnas town and the area around the lake, visit all the pools, take a day trip to the northeastern coast and Parque dos Caldeirões, do some hiking on the eastern side of the island (Salto do Prego waterfall hike is quite nice), visit a few beaches nearby (Ribeira Quente is one of the best beaches), try some of the best local restaurants, and just wind-down and enjoy a relaxing vacation.
Good to know: You can easily visit all these places in and around Furnas from any other area on the Sao Miguel island, so staying in Furnas is not a must. In addition, many tours visit Furnas and the northeast coast in just a day. However, staying in Furnas for at least one night allows you to explore all the main sights at a more relaxed pace.
In addition, you can enjoy the hot pools in the evening when it's not as warm outside (and not as busy). And you can taste some local food and wine at the many good restaurants in town knowing that you won't have to drive on the winding roads afterwards.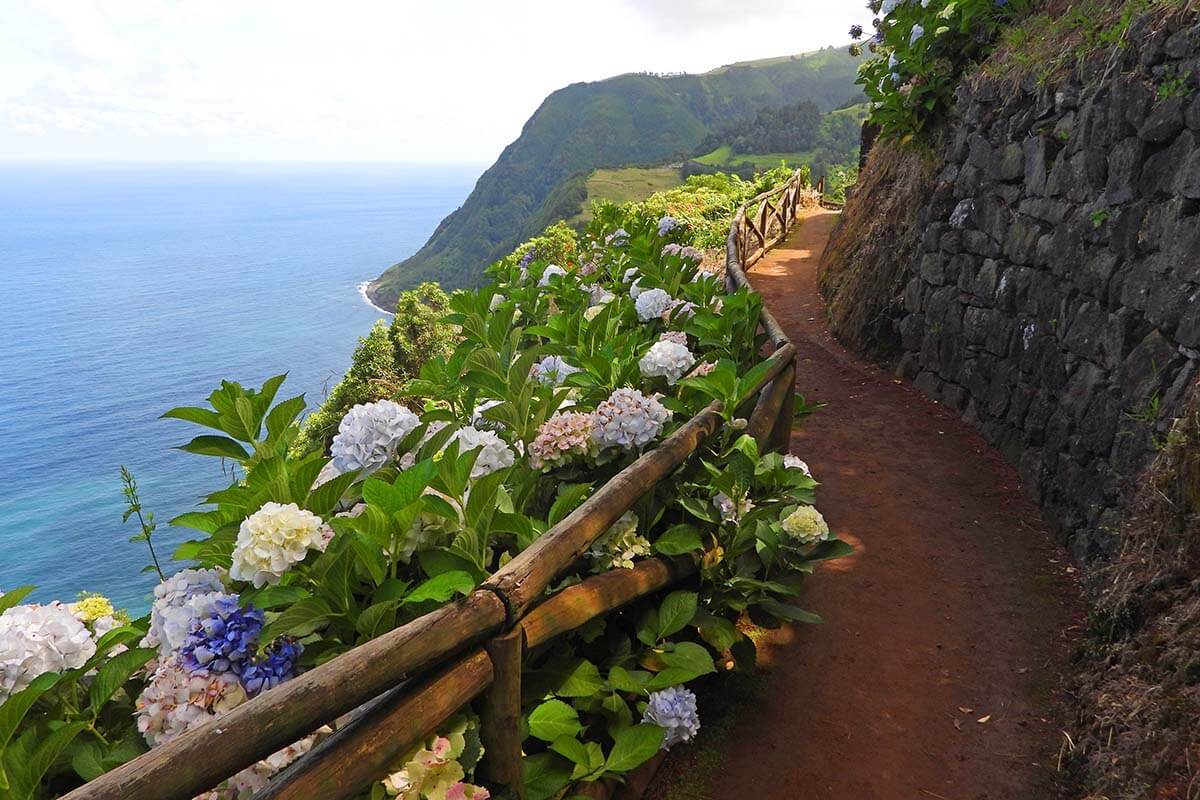 Where to Stay in Furnas
There are just a couple of hotels in Furnas, most accommodations in town are private, short-term rentals.
The best-known hotel in Furnas is Terra Nostra Garden Hotel. This historic luxury hotel offers direct access to Terra Nostra Park and its hot pools, and hotel guests also have access to the park and the pools when they're not open to the public.
Furnas Boutique Hotel – Thermal & Spa is another really nice luxury hotel in Furnas. Price/quality wise, it's probably a better option than the Terra Nostra Garden Hotel, and it also has its own geothermal outdoor pools and a very good restaurant.
Our experience: We visited Sao Miguel in summer (high season), booked the trip last-minute, and none of these hotels had anything suitable for our family of 5. So we opted for a short-term rental and stayed at the beautiful house InSide Furnas. It has a great location, within walking distance to everything, and – very important in Furnas – there's a big public parking just next door.
READ ALSO: Where to Stay in Sao Miguel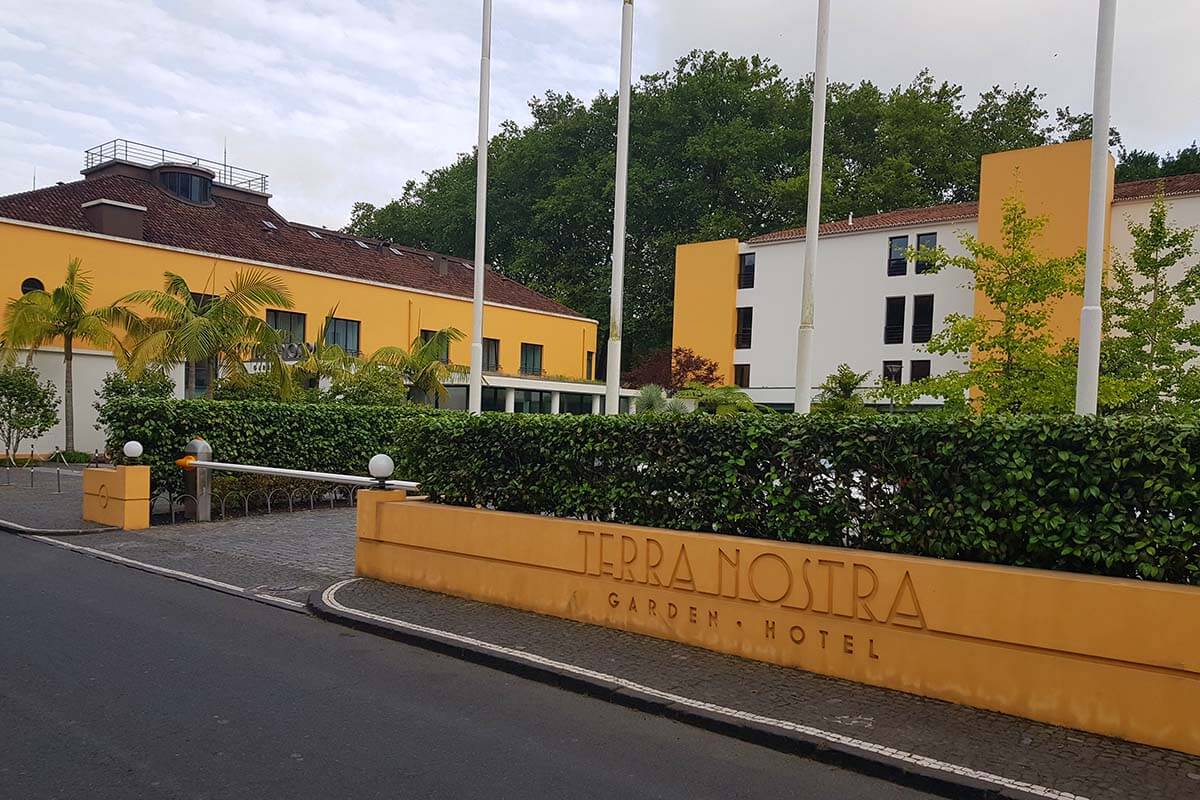 Where & What to Eat
In addition to the earlier mentioned sweet corn and Cozido stew, there's one more dish that you have to try in Furnas – Bolos Lêvedos. Bolo Levedo is a sort of a sweet bread/bagel that originates in Furnas. You can buy them at the supermarkets in the Azores as well, but local bakeries and cafes serve the better version, of course.
Another local delicacy is Queijadas de Inhame das Furnas, a sort of a custard-cake, baked in Furnas using locally produced taro root paste, or cocoyam, as its base. It looks a bit like a muffin or 'pastel de natas' custard cake that you find in mainland Portugal. You can buy it at the bar/kiosk at the geothermal area of Furnas Lake or taste it at Caldeiras e Vulcões Restaurant in Furnas. This restaurant also has cozido stew on the menu (but like in most places, you have to reserve it in advance).
We also really enjoyed tasting all kinds of local cheeses and jams. Hands-down, the best place for this is a small shop/restaurant called Queijaria Furnense (Furnas cheese shop). It's located just a few minutes walk from the entrance to the Terra Nostra Garden (see our map above) and is one of the best places in town for a quick lunch or dinner.
The food at Queijaria Furnense is very good and the staff – extremely friendly and they also speak excellent English. We loved it so much that we went here twice during our stay in Furnas. The cheese platters are absolutely delicious and so are the chicken wings. They also have some really good wine from the Azores. The prices here are also very correct and not adapted to tourists as in many other places in Furnas. Highly recommended!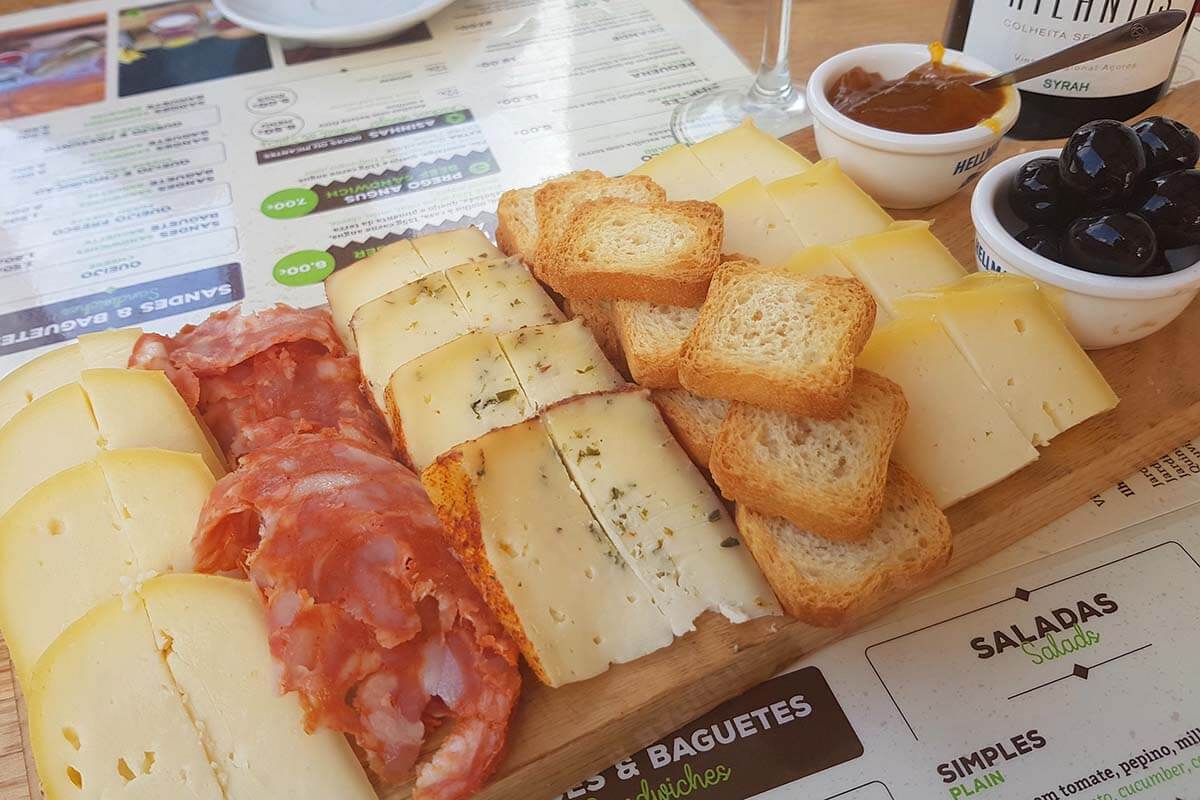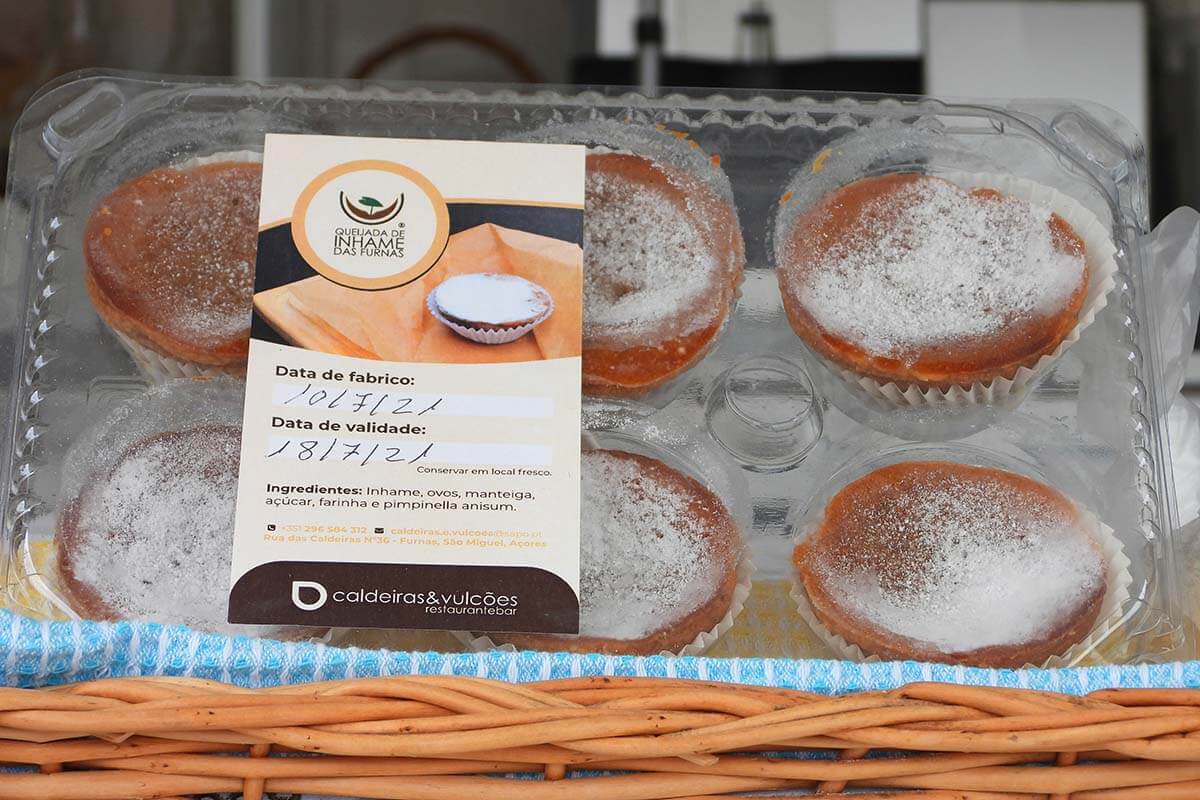 So, this is our guide to visiting Furnas in the Azores. I hope that it gives you a better idea of what to expect and helps you plan your time.
If you have any questions about things to do in Furnas, feel free to leave a reply below and I'll try to help.
Have a great trip!
More tips & destination guides for your trip to the Azores:
More tips for your trip to Portugal:
Travel inspiration for Madeira Island, Portugal:
If you found this post useful, don't forget to bookmark it and share it with your friends. Are you on Pinterest? Pin these images!