Nestled at the southwestern tip of Portugal and known as the "End of the World" during the Age of Discovery, Sagres is one of the most unique destinations to visit in Algarve. No matter how much time you have in the region, Sagres should definitely be on your itinerary.
But what to expect and what is there to see and do in Sagres?
In this guide, we cover all the best things to do in Sagres for first-time visitors.
Good to know: Sagres itself is a small sleepy village. However, the surrounding area has several impressive historic and natural landmarks that make it a very unique destination. In this guide, we cover all the top places to see in and near Sagres, including some of our favorite spots that are located in the vicinity and will make your visit so much more special.
To help you plan your visit and get a better idea of where everything is located, we also created a map of the best places to see in Sagres. You can find this map at the end of this post, together with some practical information and useful tips.
But first – top sights and best things to do in Sagres. Find out!
Top 4 Tours to Visit Sagres: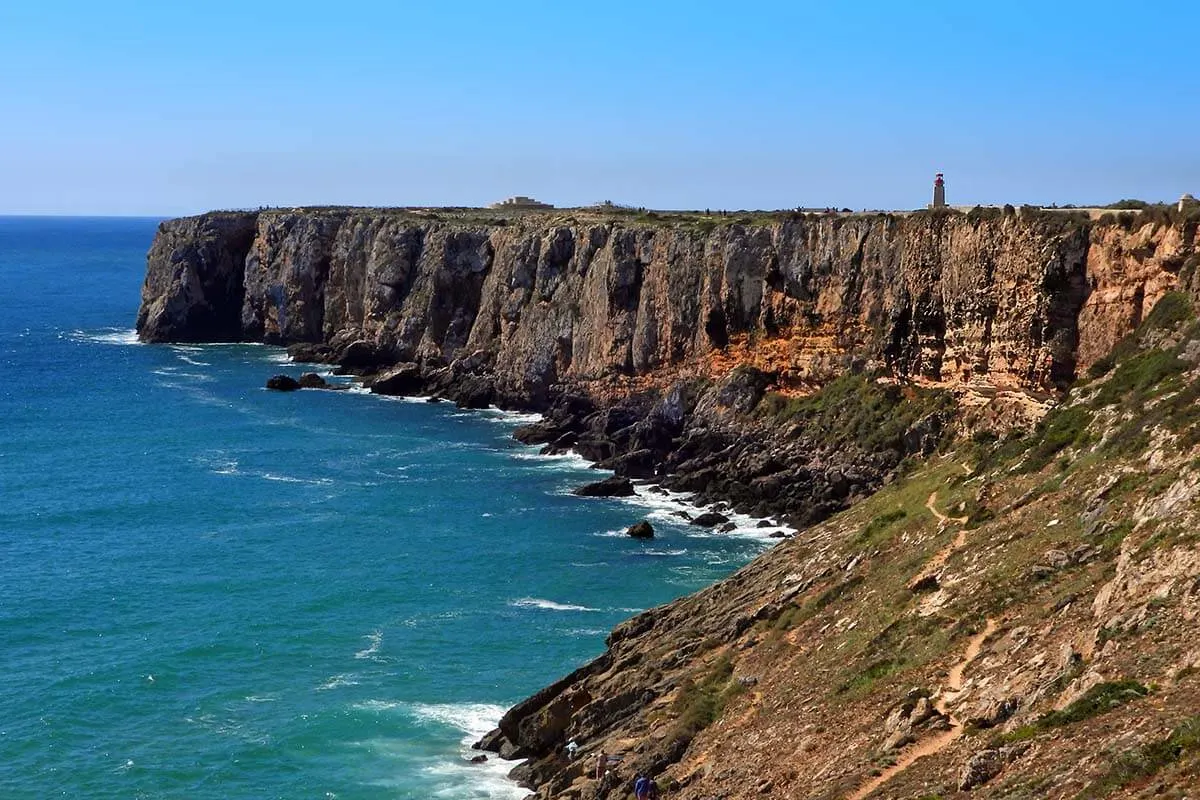 How to use this guide: Please note that this list of the nicest places to see in Sagres is sorted taking into account the location of the places and not how 'interesting' or 'worthy' they are.
We start with the 2 absolute must-sees in Sagres at the top – you really don't want to miss them. But after that, it's more or less based on the location, and we indicated our 'rating' of each place to help you decide where to spend your time (we indicated places as 'MUST SEE', 'HIGHLY RECOMMENDED', and 'NICE TO SEE').
Of course, this rating is completely based on our personal observations and is only meant to give you an idea of what's worth your time the most. You may feel differently about it, and a lot also depends on how much time you have in the area.
Either way, I really encourage you to go through the entire list because some of our favorite places around Sagres are located a bit further away from the town. They are, therefore, listed toward the end of this article. But all these sites are close enough to each other that you can visit everything on this list on the same day.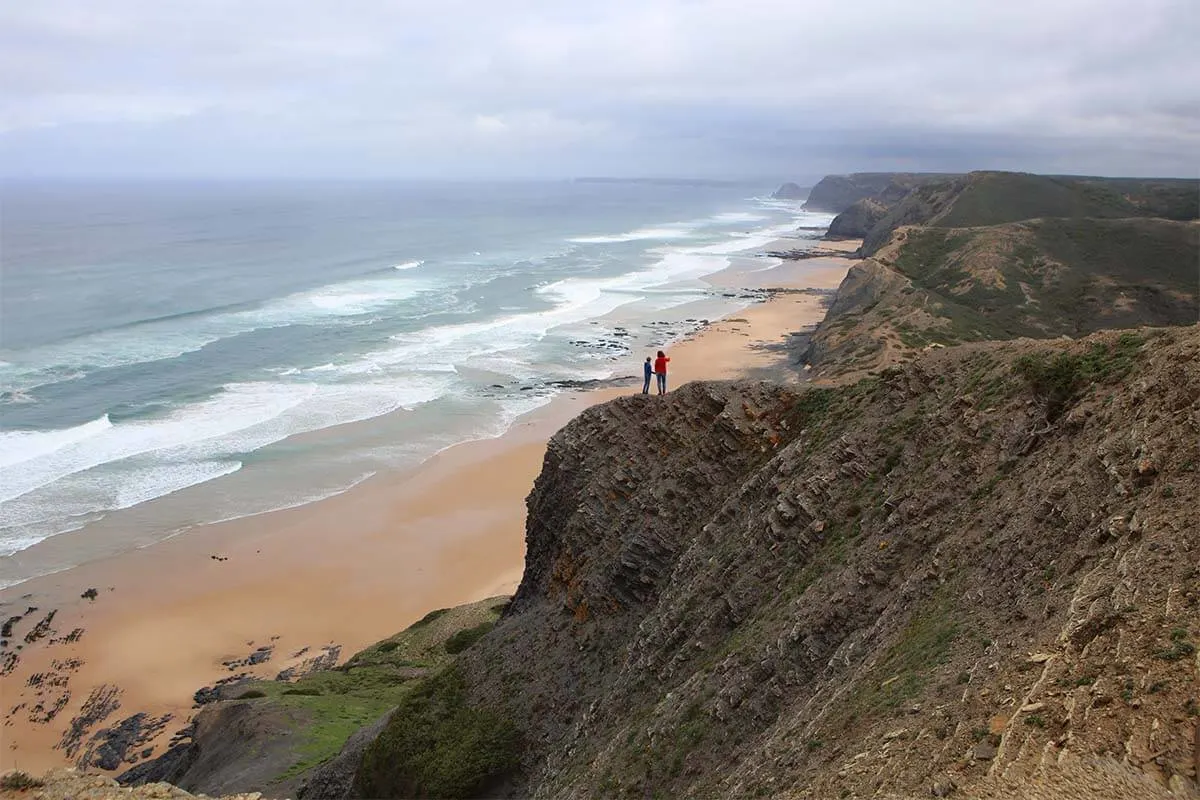 Here are the best things to do in Sagres:
1. Sagres Fortress & Ponta de Sagres
MUST-SEE
Sagres Fortress (Fortaleza de Sagres) is the main attraction in Sagres that is located in the town itself. This massive historic site is perched on the clifftop of Ponta de Sagres and is surrounded by the ocean on three sides.
Built in the 15th century, this fortress played a crucial role in the Age of Exploration, housing Prince Henry the Navigator's famous Navigation School. Back in those days, Sagres was where the known world ended and nobody knew what they would find once they set sail and left Europe behind…
It was indeed "The End of The World", aka Promontorium Sacrum. Nowadays, they say this is where Europe starts. I guess it all comes down to how you look at it…
Either way, Ponta de Sagres is a remarkable site at a unique location and a must-see in Sagres.
The historic site has several points of interest. You can explore the well-preserved walls of the fortress and admire the scenery around you. Be sure to climb on the walls, as it gives you a very nice elevated view of the surroundings. From here, you can also see a 43-meter-wide compass rose located on the grounds of the fort.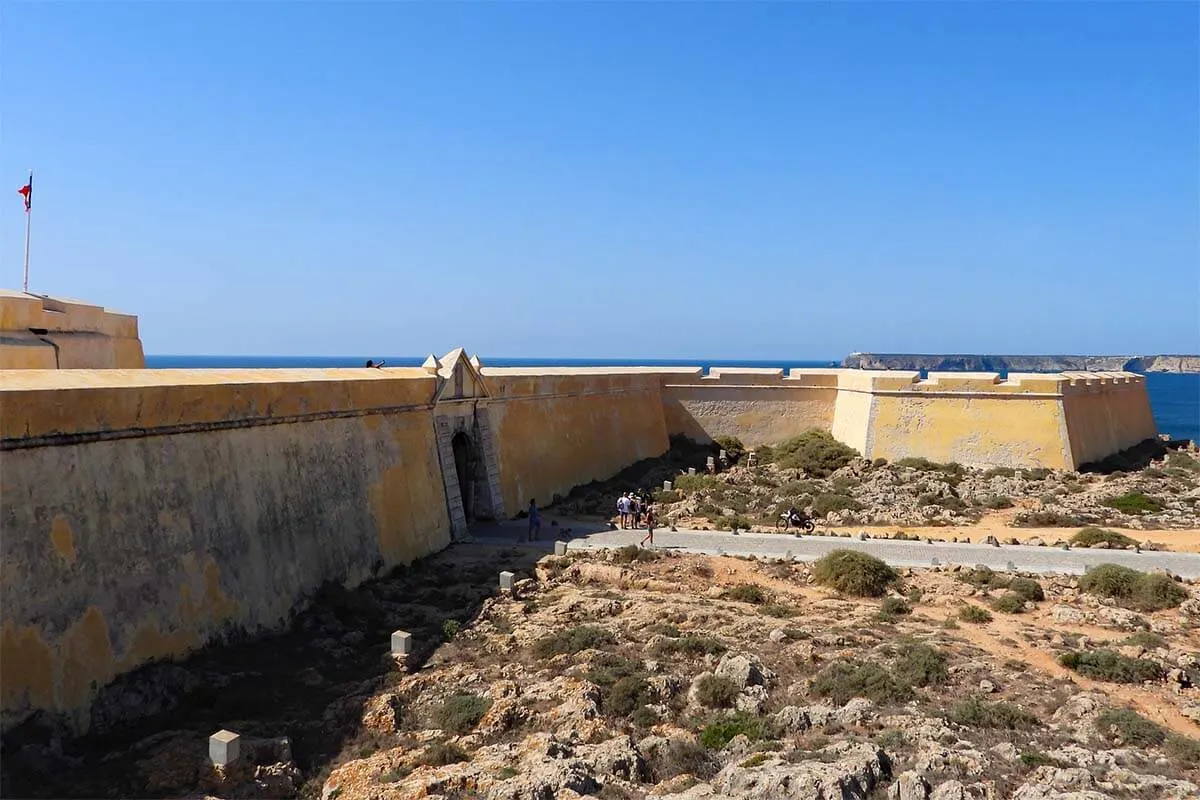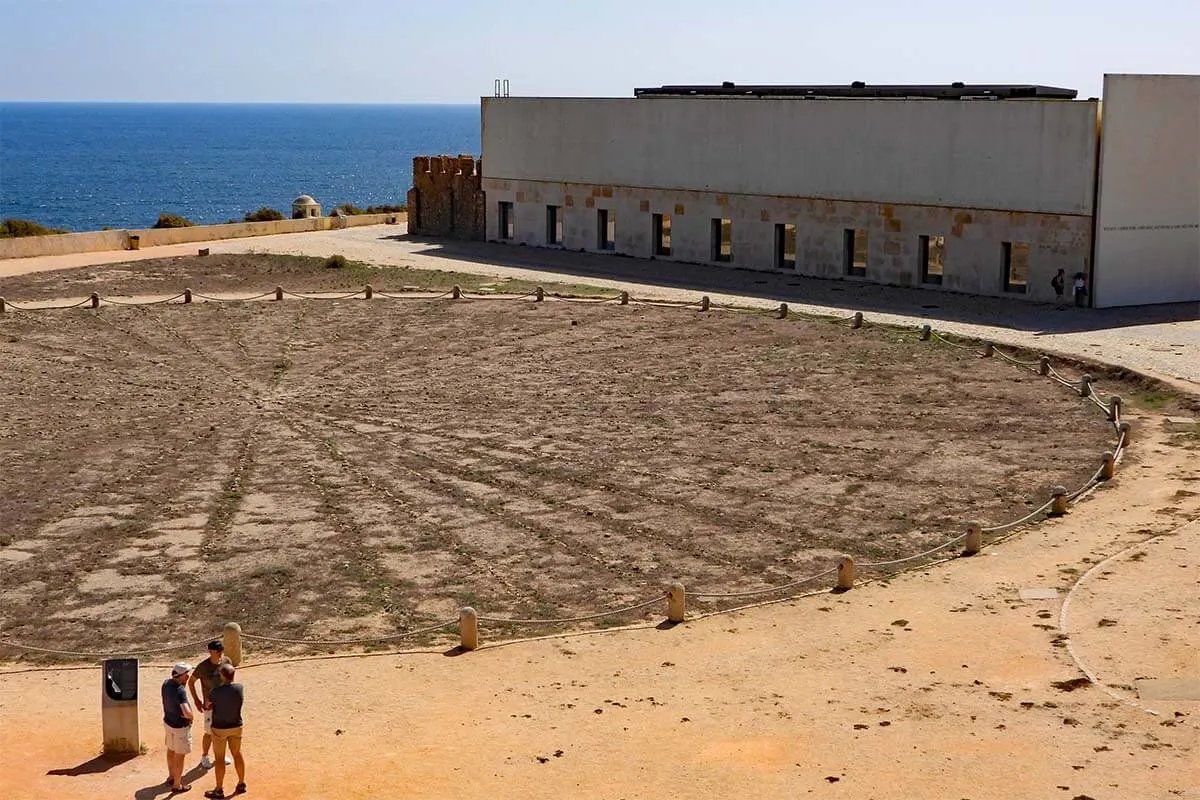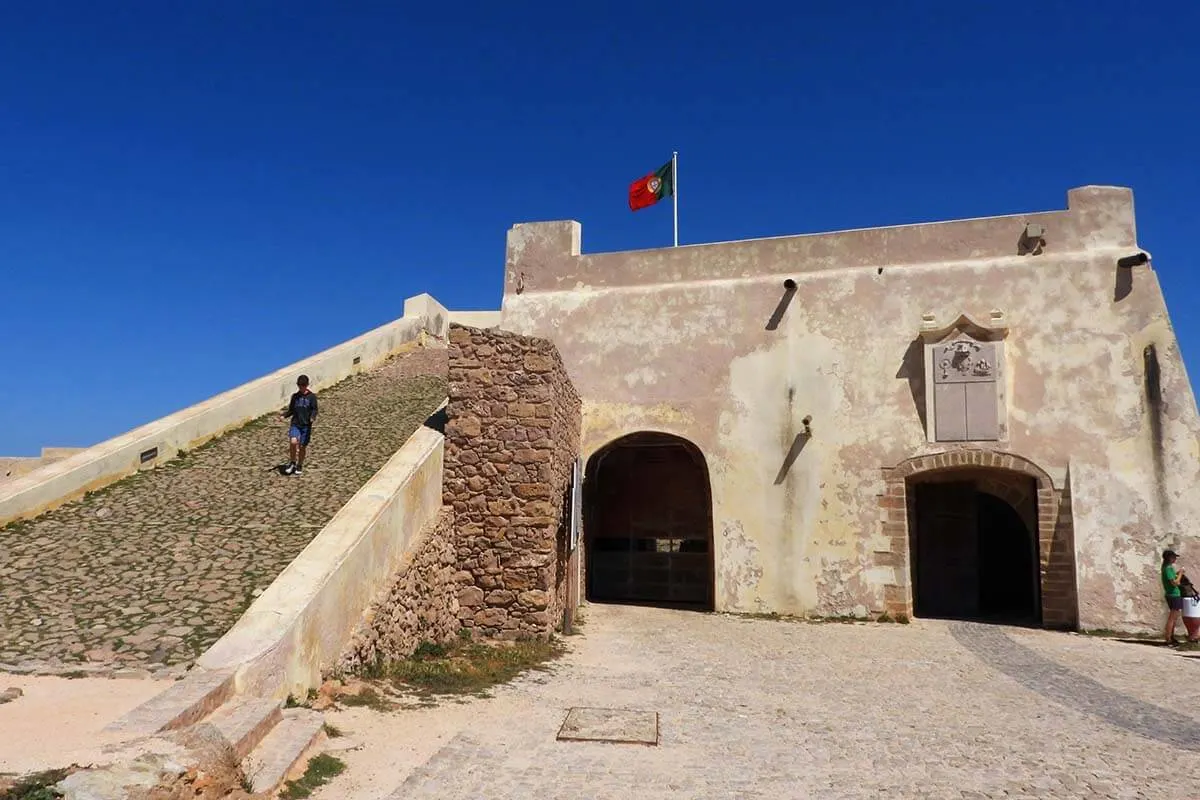 Don't miss the Fortaleza de Sagres Exhibition Center. It's a small museum dedicated to the area and its significance during the Age of Discoveries.
A visit here gives you a better understanding of the importance of this area.
The exposition is nicely done and is quite diverse with a mix of historic artifacts, multimedia exhibits, a short movie, etc. It's entertaining for all ages.
TIP: Be sure to check out the Globe which shows the world as it was known before Europeans arrived in America. This is an enlarged replica of a 1490-1492 globe Erdapfel (Earth apple) which was produced by a German merchant and cartographer Martin Behaim who served the King of Portugal and participated in one of the discovery voyages.
The original globe is the oldest surviving terrestrial globe and can be found in the German National Museum in Nuremberg.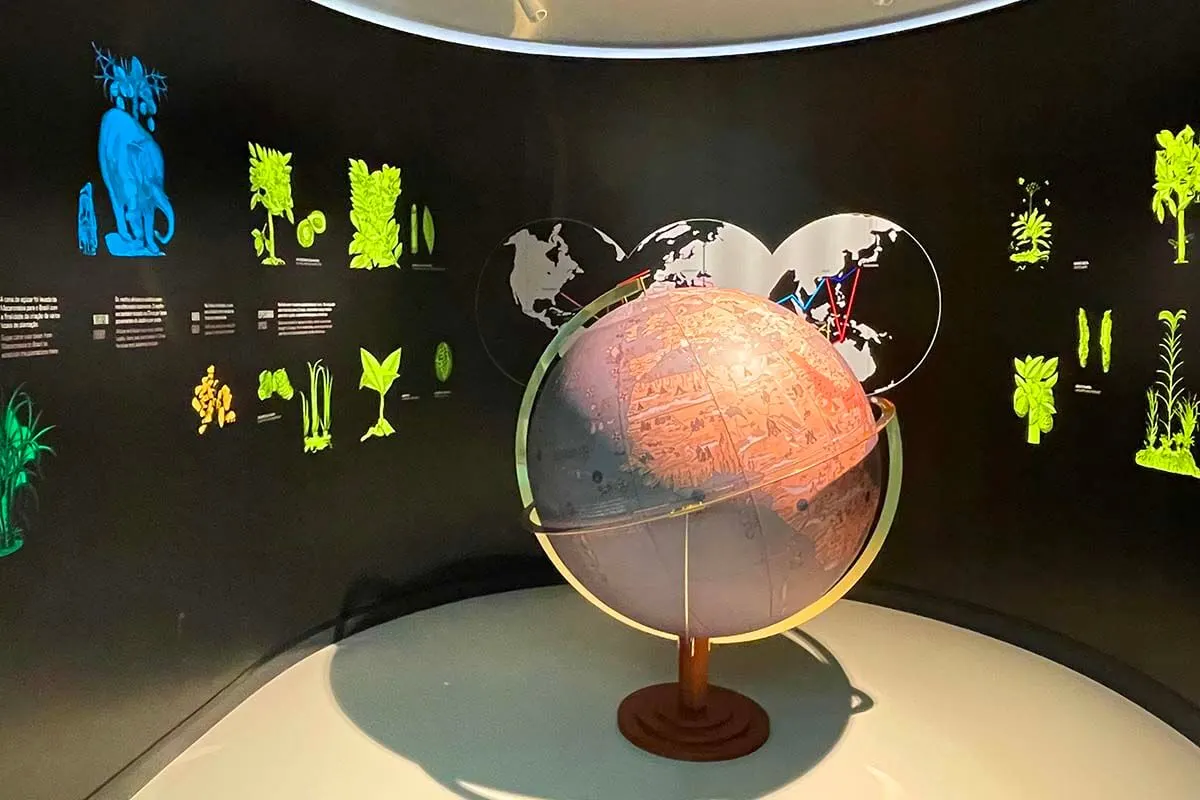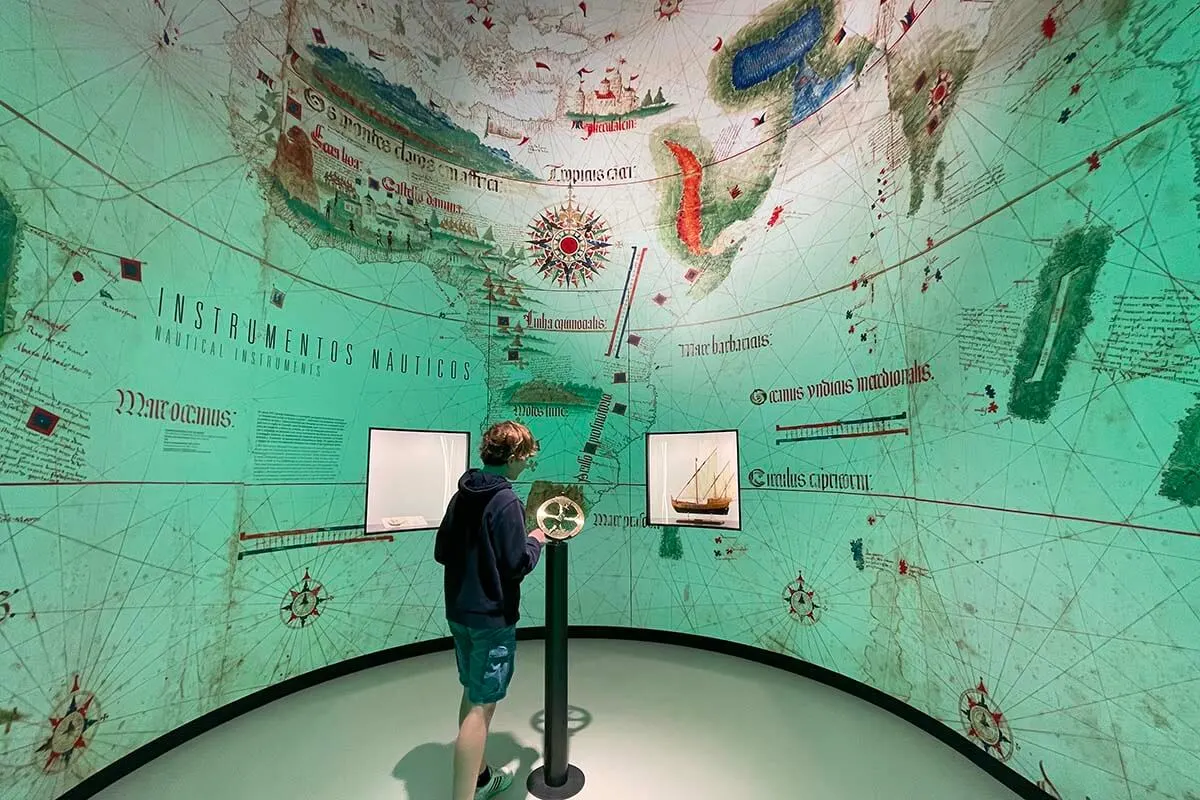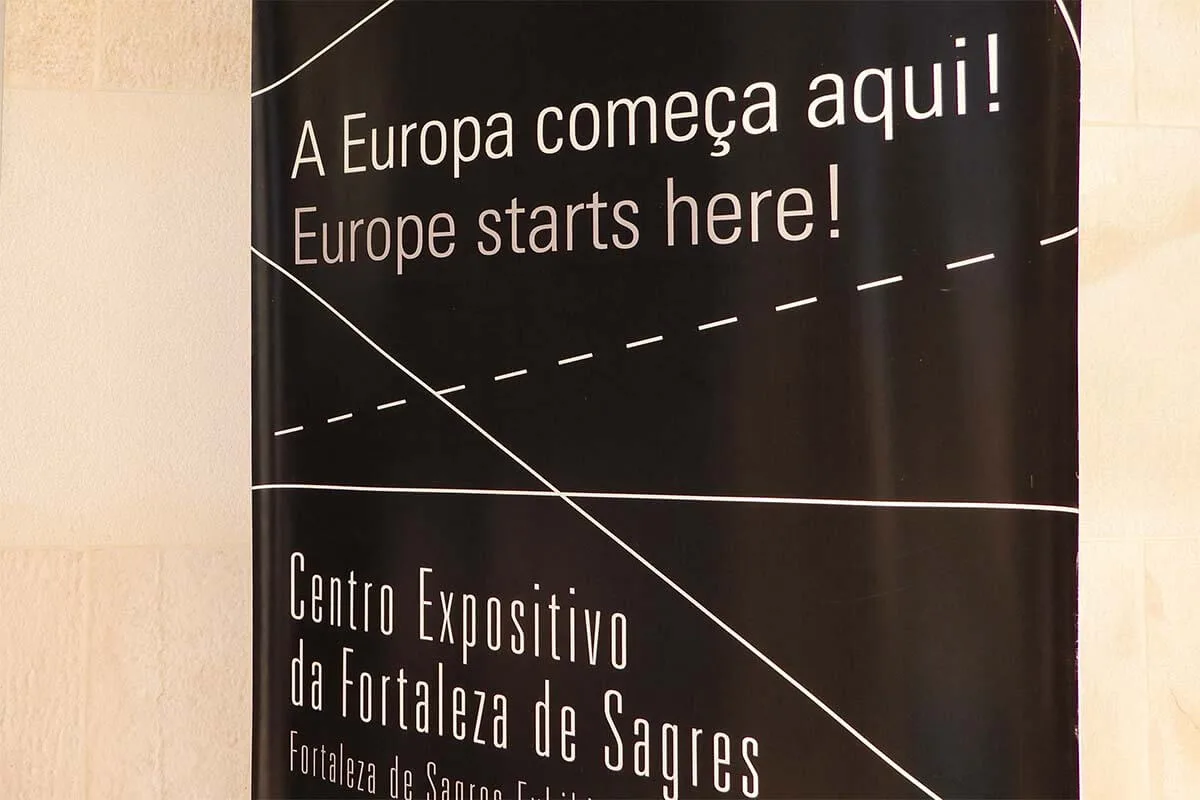 Next, visit an old little church – Igreja de Nossa Senhora da Graça and if you have time, be sure to walk all around the Ponta de Sagres toward the lighthouse (Farol de Sagres). You'll likely see local fishermen sitting on the cliffs here and surfers in the wild ocean below.
You can't visit the lighthouse itself, but there are a few other sites that you can see here. One of them is the Chamber of Sound, where – depending on the wind and the tides – you can hear all kinds of sounds coming from the ocean deep under the cliffs.
Ponta's Battery had a strategic defensive position and you can see some remains of the fortifications where artillery was stored in the past.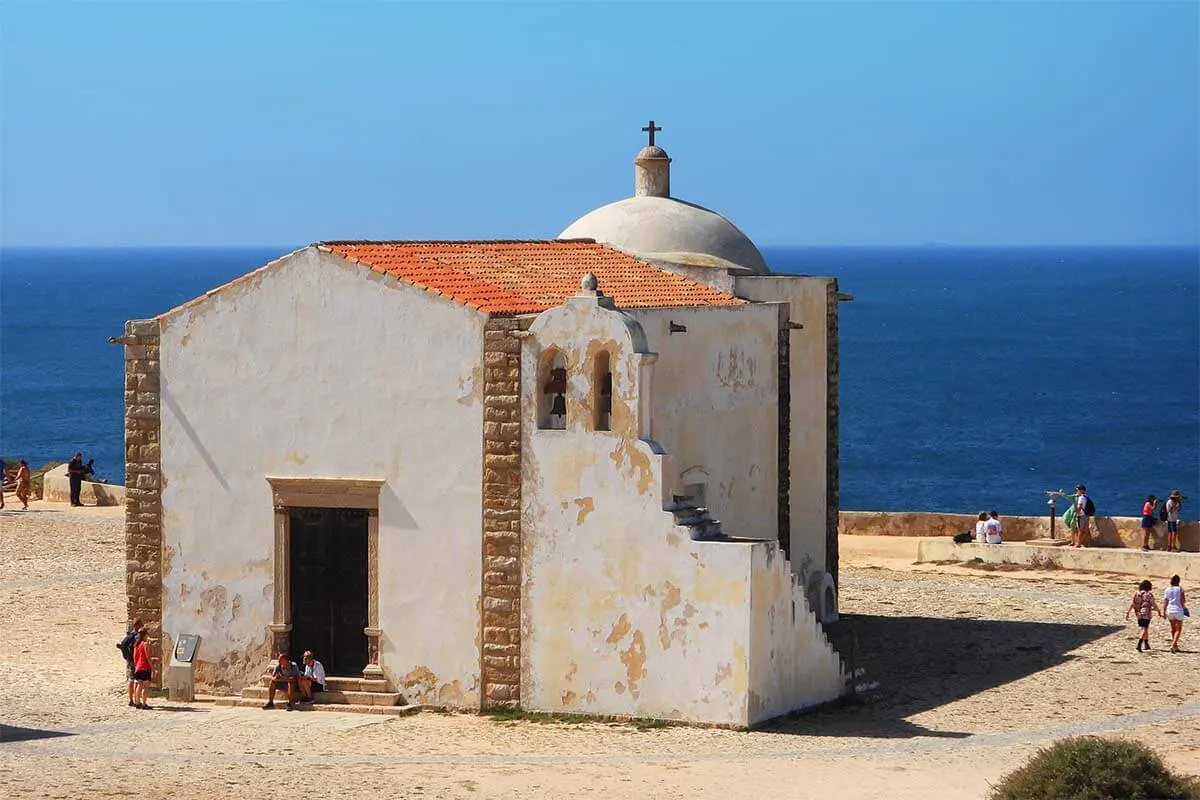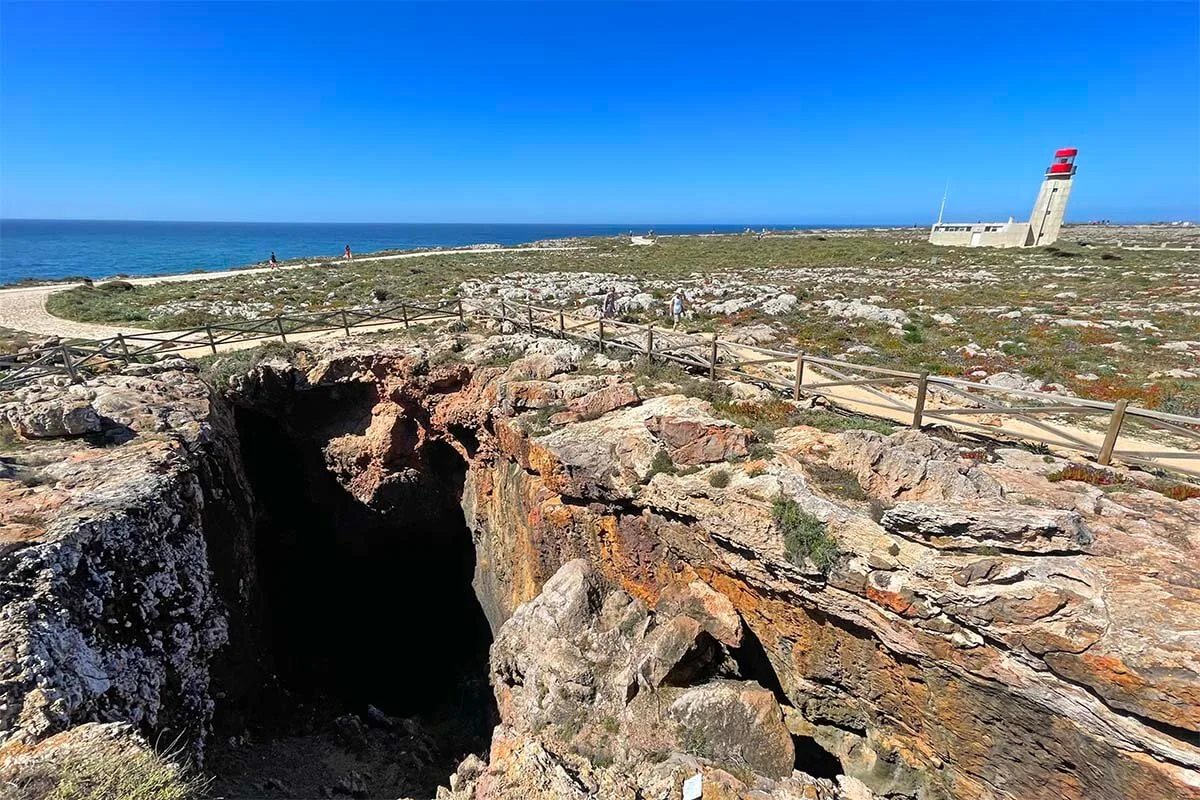 Practical information: You can only see the walls of the Sagres Fortress from the outside, so if you want to visit the site itself, be sure to come here during the opening hours. The site is open daily the whole year round except for a few public holidays. In the summer season (May – September) it's open from 9.30 AM to 8 PM, the rest of the year – from 9.30 AM to 5.30 PM.
There is a small entry fee to visit the site and you can pay by card or cash. There are bathroom facilities on site and most places are accessible with a wheelchair or a stroller (it's a bit bumpy though). You'll have to leave your car at one of the big parking areas, about 3-5 minutes walk from the entrance.
How much time do you need: You can quickly see the fort walls and the museum in about half an hour. But if you want to explore the entire site and walk all the way around it, count at least 1 – 1.5 hours for a visit. In addition, you can also walk around the cliffs in front of the fort – the views are spectacular everywhere here.
Good to know: It's always very windy here, so – depending on the season – you may want to take a sweater or a jacket with you. The wind just adds to the mood and the feeling of being at the end of the world, indeed. We have been to Sagres many times and while it's very nice when the sun is shining and the skies are blue, I find that it's even more special in the winter season when the seas are wild and the wind blows you off your feet…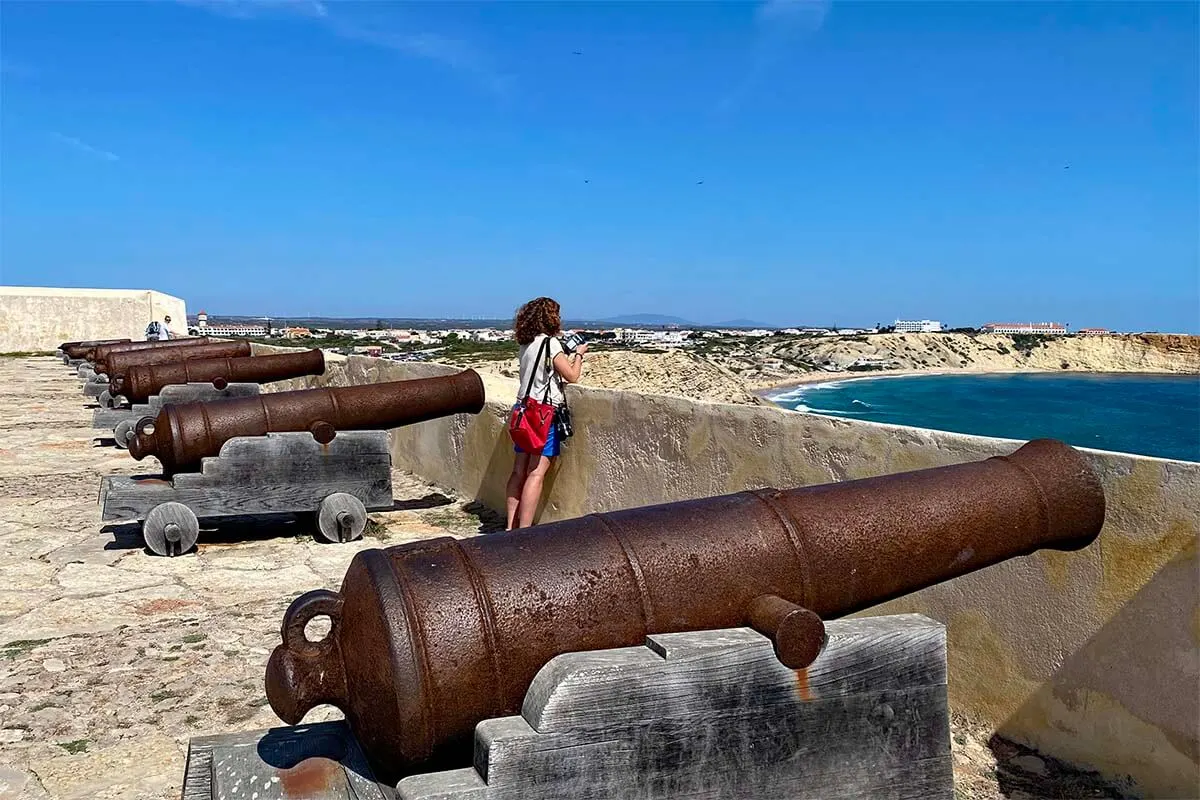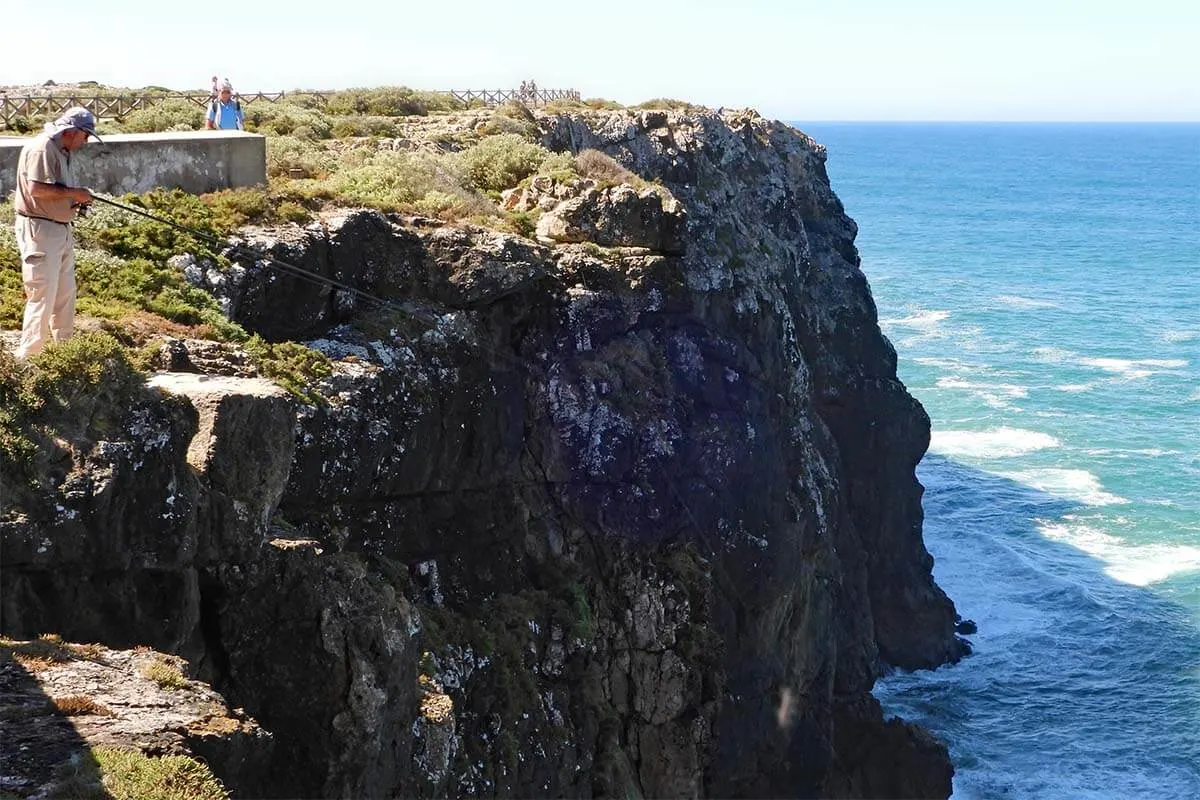 2. Cape St. Vincent
MUST-SEE
The Cape of St. Vincent (Cabo de São Vicente) is another must-see in Sagres.
This rugged headland is the southwesternmost point of mainland Europe and – together with the Fortress – is the most popular attraction in Sagres. In fact, many tourists come to the Algarve just to visit this spot.
Cape of St Vincent is located a few kilometers outside of Sagres town and is also sitting high on the cliffs, encircled by the deep waters of the Atlantic Ocean.
There is a lighthouse here – Farol do Cabo de São Vicente. It's very picturesque but cannot be visited inside. Around the lighthouse, there is a small site that has a souvenir shop, a cafe, and some sculptures. Apart from that, there's not that much to see here since everything is surrounded by stone walls. The views from further away are much more impressive! So don't worry if the lighthouse site is closed when you visit – you aren't missing that much.
TIP: Walk around the headland enjoying the stunning views of Cape St Vincent and the coastline. For the best view of the lighthouse, head south from the main road. If you want to enjoy the views of the wild 'Atlantic' coastline of western Algarve, be sure to also look around the cliffs north of the road/parking. Just be careful and keep a safe distance from the edges!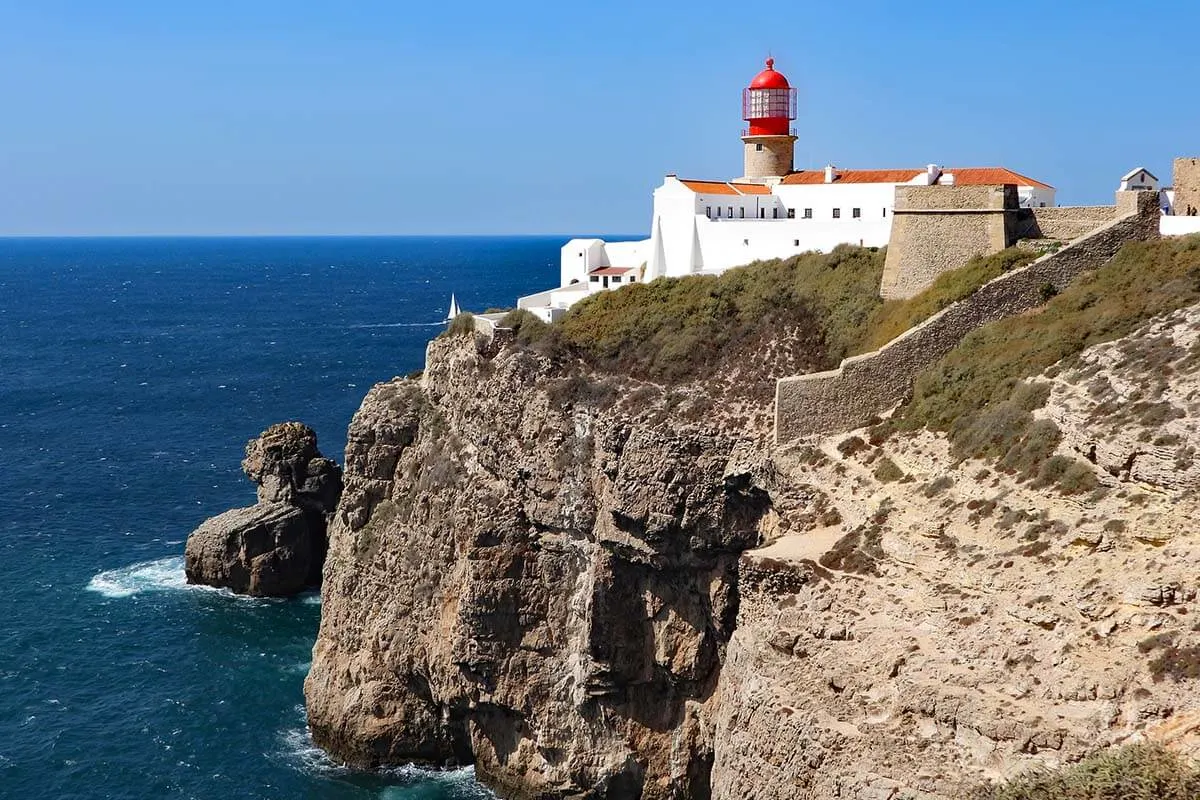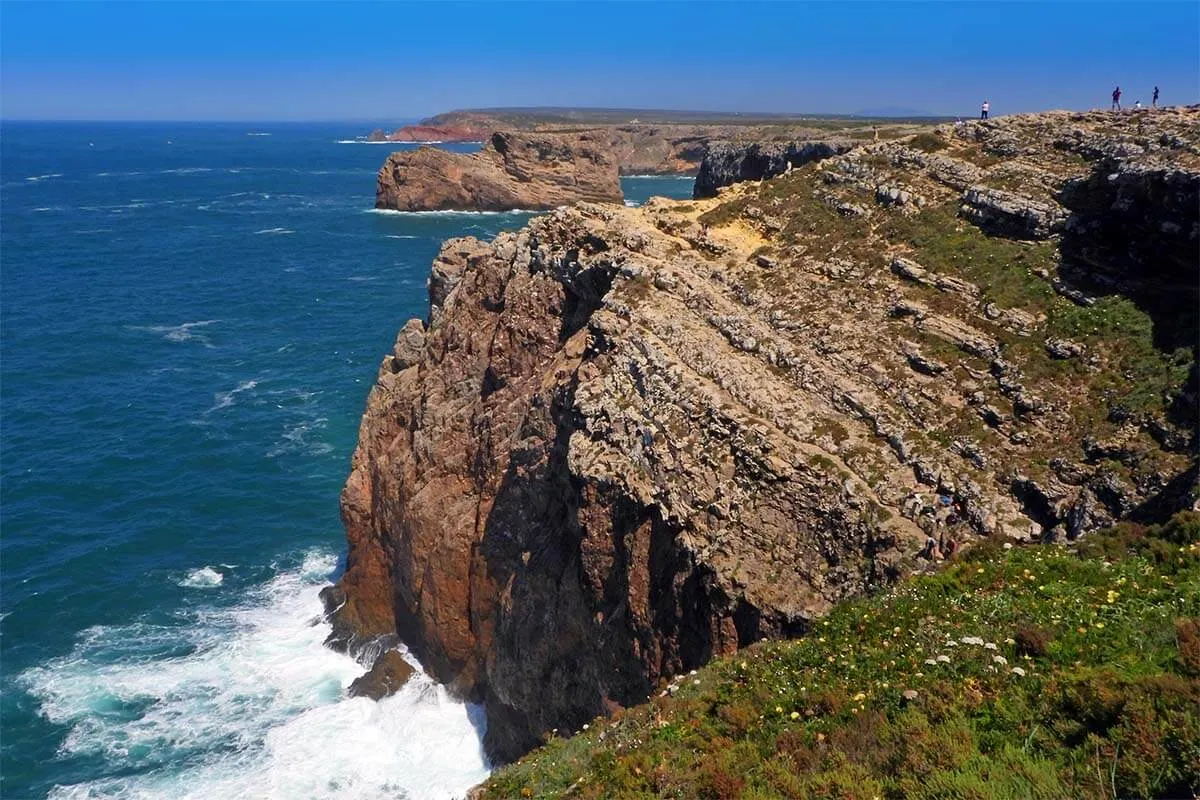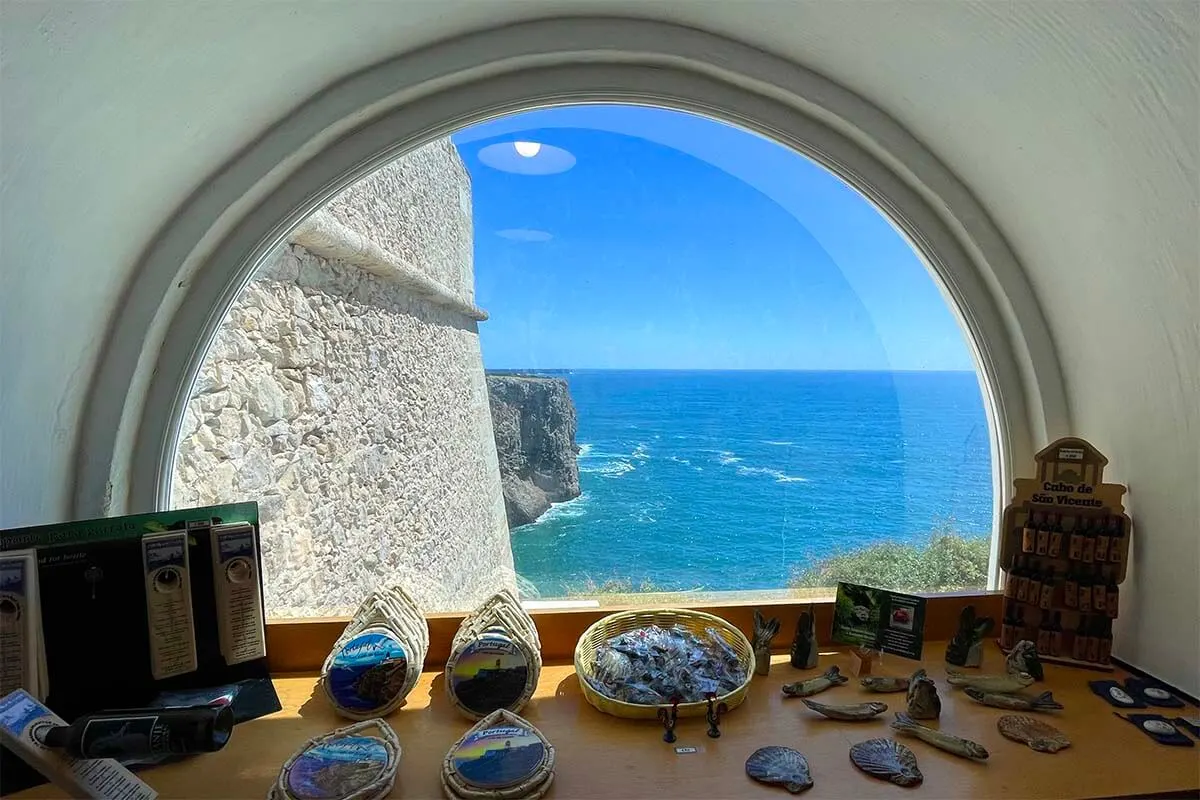 Practical information: You can drive all the way to Cape St. Vincent by car and there's usually plenty of parking close to the lighthouse. Many people, however, don't get that far and just park next to the road.
The lighthouse site is open daily except on Mondays, in the high season from 10 AM to 6.30 PM. The entry is free, but once again – there's not much to do here apart from buying some souvenirs, getting a quick meal, or using the bathroom.
There are also several food trucks and souvenir stands in the parking area. Here, you can find 'the last bratwurst before America' and indeed, the sausage comes with a certificate. They have been there for many years and their unique marketing does the trick – there's always a queue of people while the food stalls just nearby are practically empty… And yes, we also tried it on several of our visits to Sagres (and it's quite good).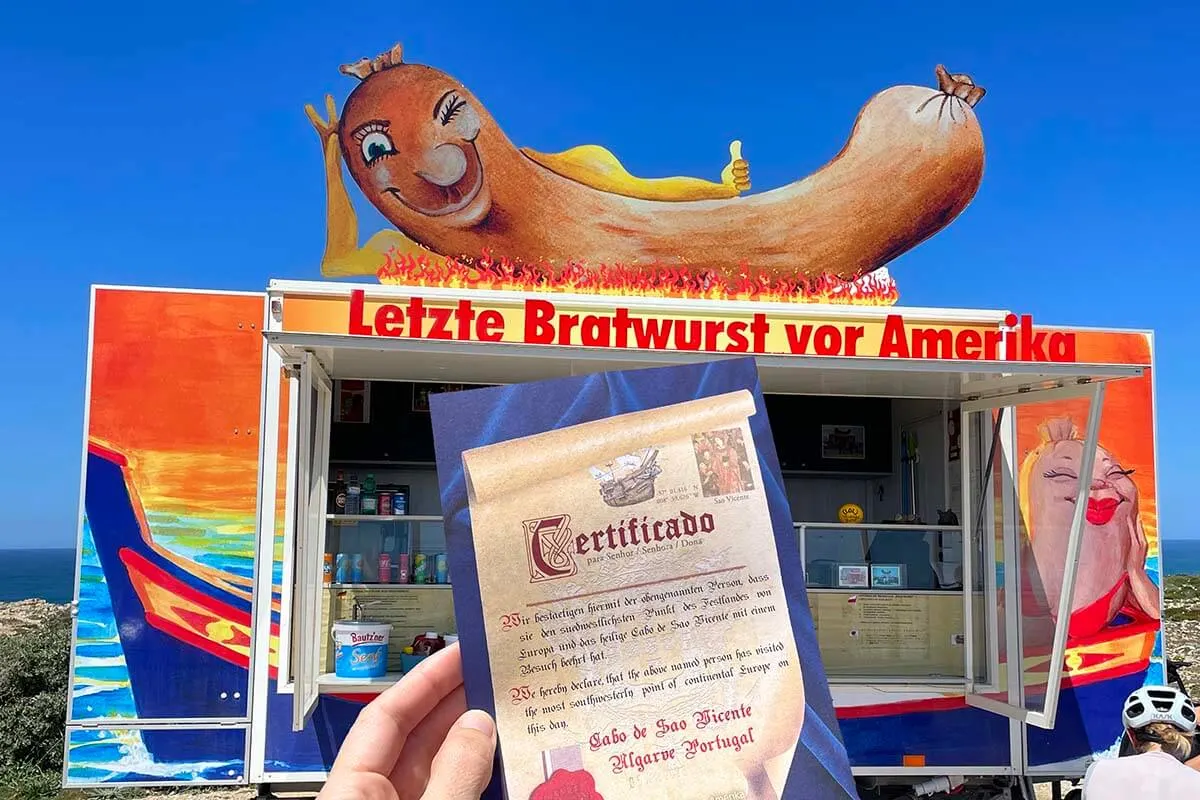 How much time do you need: You can just see the lighthouse and take a few pictures in 15-20 minutes, or you can walk along the cliffs and easily spend 1-2 hours here. In general, I'd say count about half an hour for a visit.
Good to know: If you want to explore the area deeper, we highly recommend wearing sensible shoes. The terrain is very rocky and sandals aren't ideal; walking around here in flip-flops could even be dangerous. Depending on the season, you may want to take a sweater and/or a jacket with you.
TIP: Cape St. Vincent is a wonderful sunset location. If you are staying nearby, be sure to come (back) here around sunset!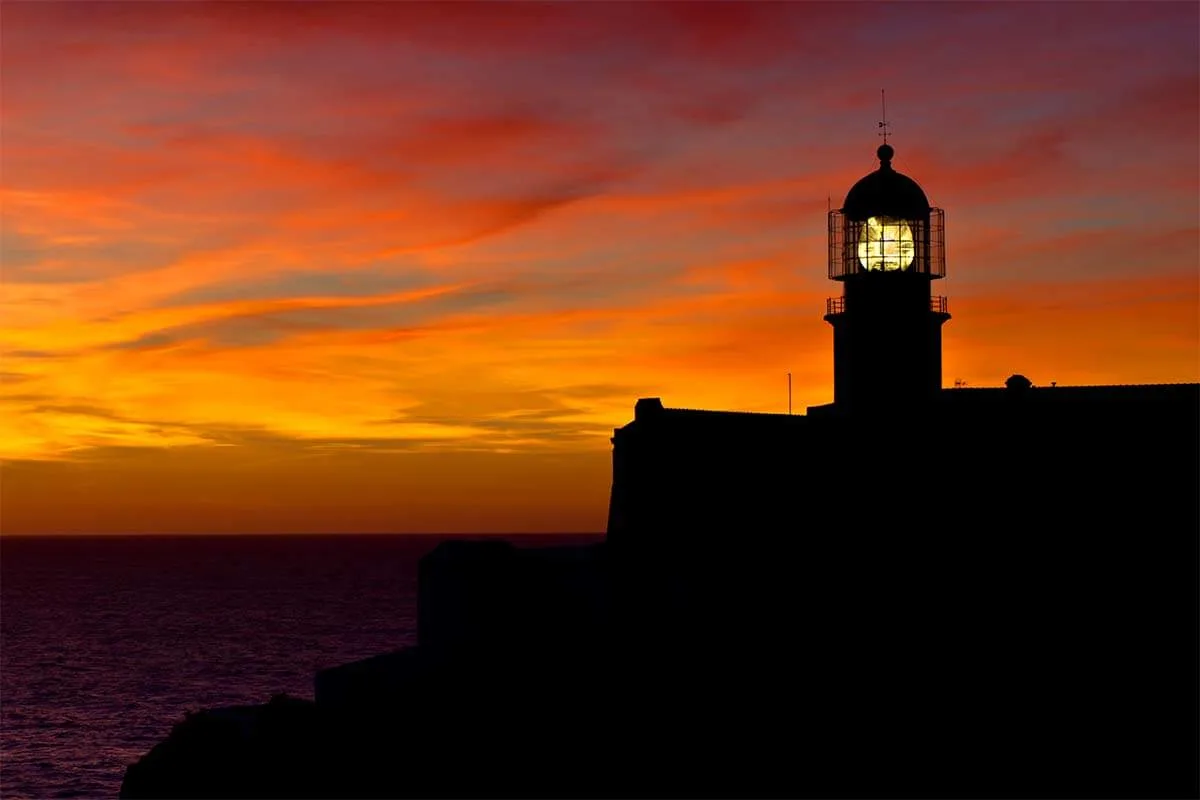 3. Fortress of Beliche
HIGHLY RECOMMENDED
Fort of Santo António de Belixe (Fortaleza do Beliche) or simply Fortress of Beliche is another historic landmark that's well worth a stop when sightseeing in Sagres. Built in the 16th century, this old fort looks quite picturesque, plus, you have good views of the coastline from here.
You can't go inside the fort itself – it's deemed too dangerous due to erosion and is closed to the public. But you can walk around the area and take in views of the coast.
If you are feeling adventurous, you can walk closer to the walls and even go a bit down toward the sea. We once did it, but the paths aren't in the best condition. So nowadays, we usually just stop for a few pictures at the top.
Good to know: Beliche Fort is located next to the road to Cape St. Vincent, on the left side about 1.5 km before you reach the lighthouse. Don't worry – you can't really miss it in the otherwise barren landscape. We usually stop here after visiting Cape St. Vincent, but you can do it on your way there too.
How much time do you need: You only need 5-10 minutes for a quick photo stop here. If you decide to explore deeper, you can probably fill 30-45 minutes (just be careful where you walk!).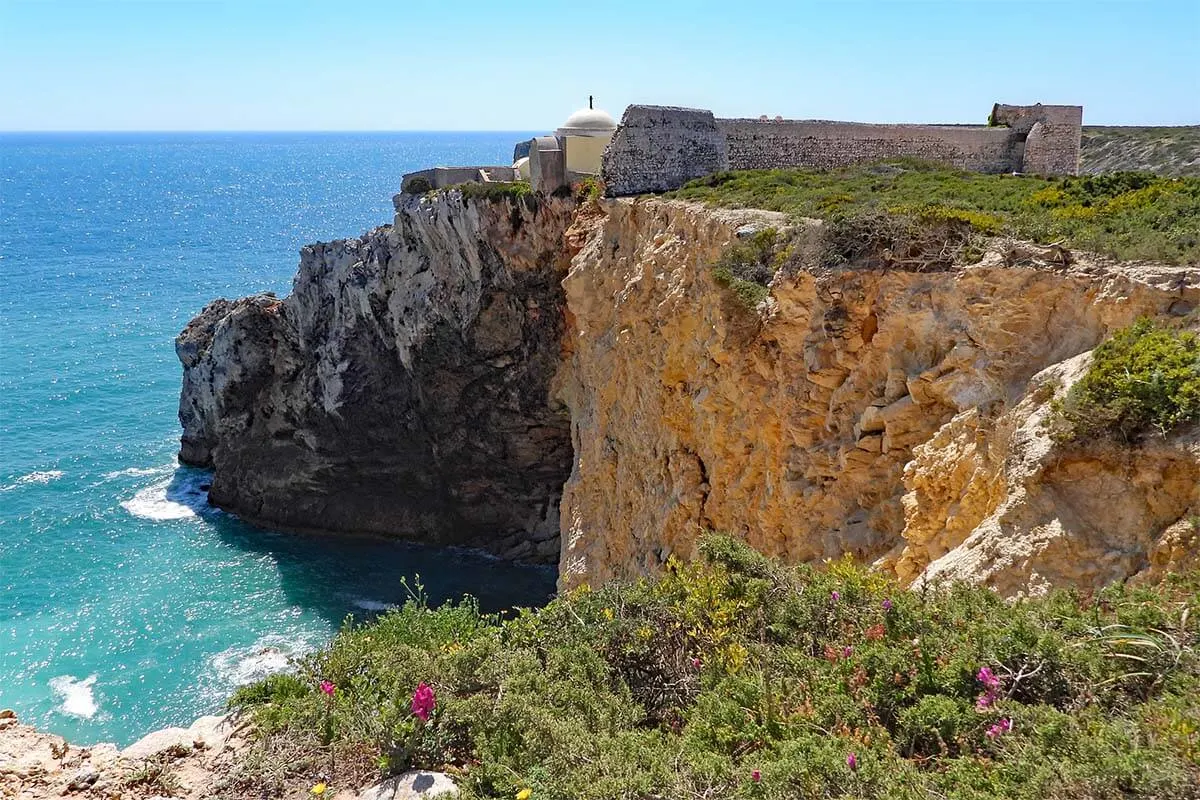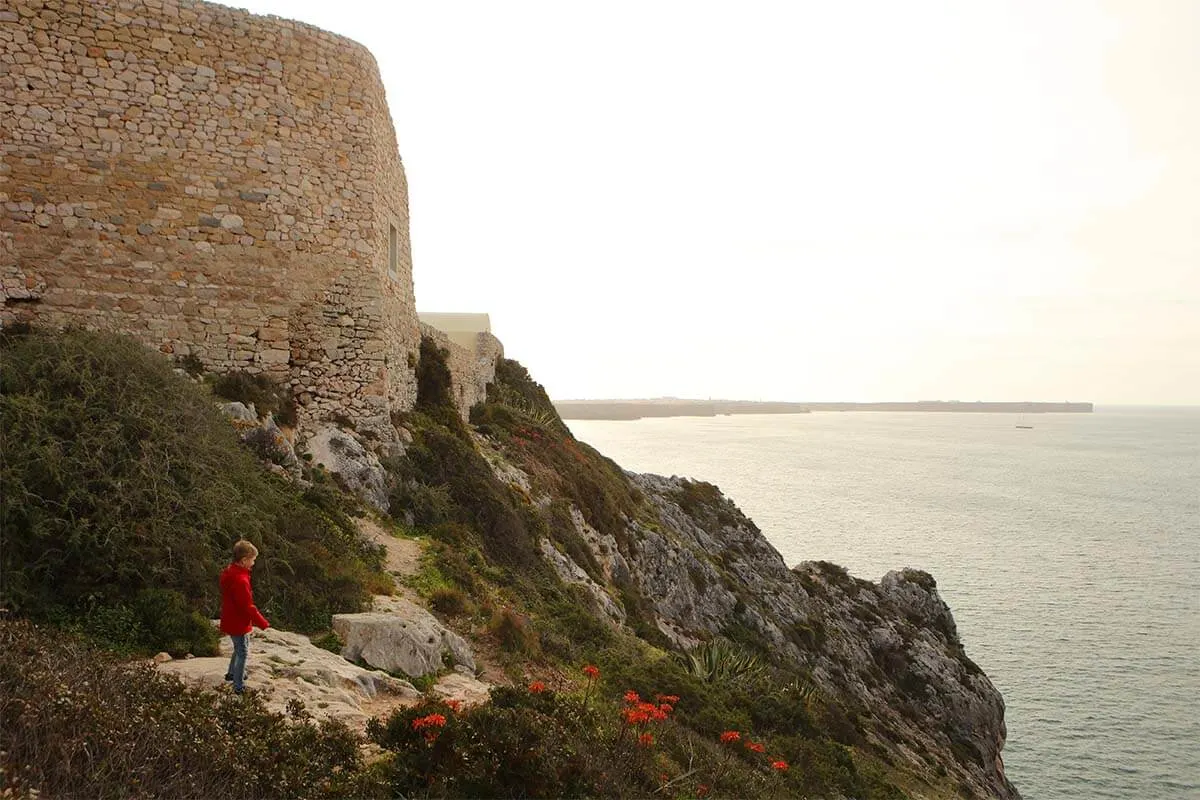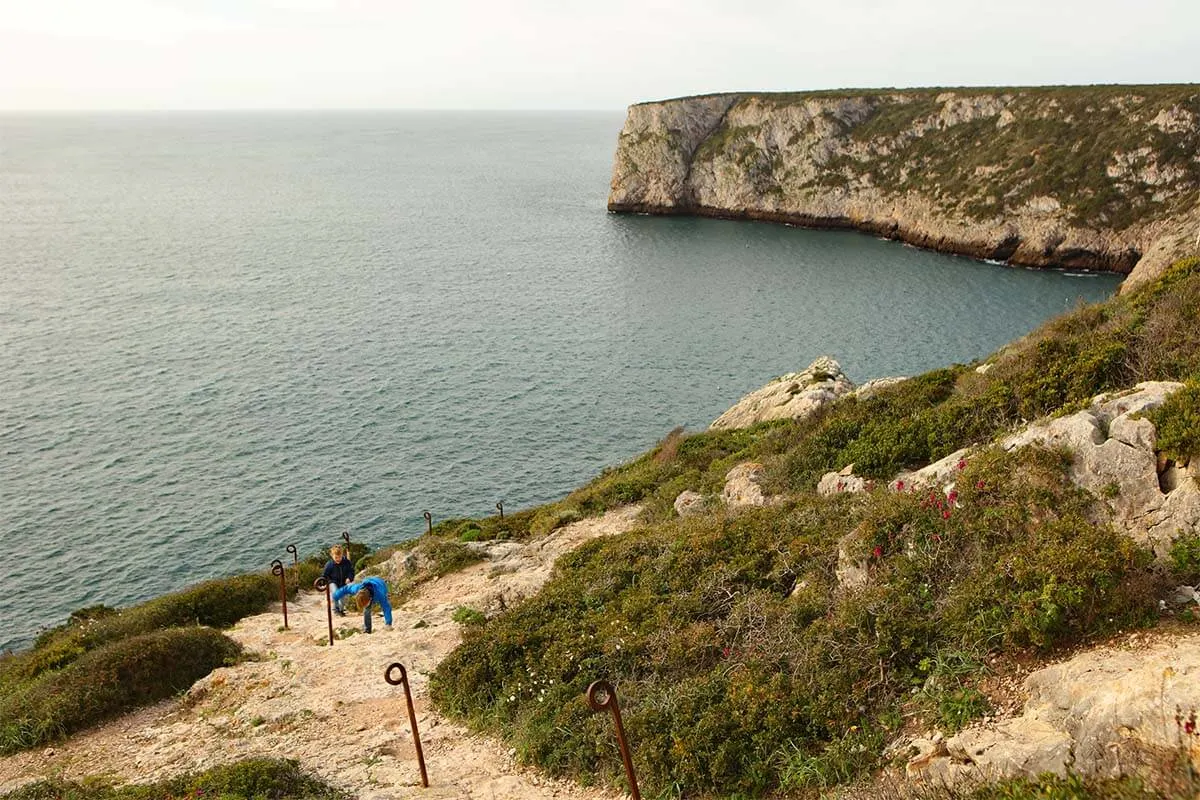 4. Praia do Beliche
NICE TO SEE
Praia do Beliche is one of the most picturesque beaches in Sagres. This sandy cove is tucked between towering cliffs and is also a beloved surfers' paradise.
In the summer, you'll find lots of people enjoying the sunshine, the (cold) ocean, and the scenery here. In the windier months, this beach is often completely taken over by surfers who arrive from all over the world in search of the perfect waves that Sagres is famous for.
We love stopping here when in Sagres. The kids love watching the surfers, and we can enjoy the coastal views.
Good to know: Praia do Beliche is located just next to the road between the town of Sagres and Cape of St. Vincent. There is a rather big parking here (often full), and you can reach the beach via a steep wooden staircase. Going down is easy but remember that you'll have to get back up to the car which can leave you breathless, especially if it's warm.
How much time do you need: This depends on so many factors. If you just stop for a picture (and parking is easy), a few minutes will be enough. If you go all the way down to the beach, count about half an hour for a visit. Obviously, you can also spend hours and hours at the beach or surfing here too.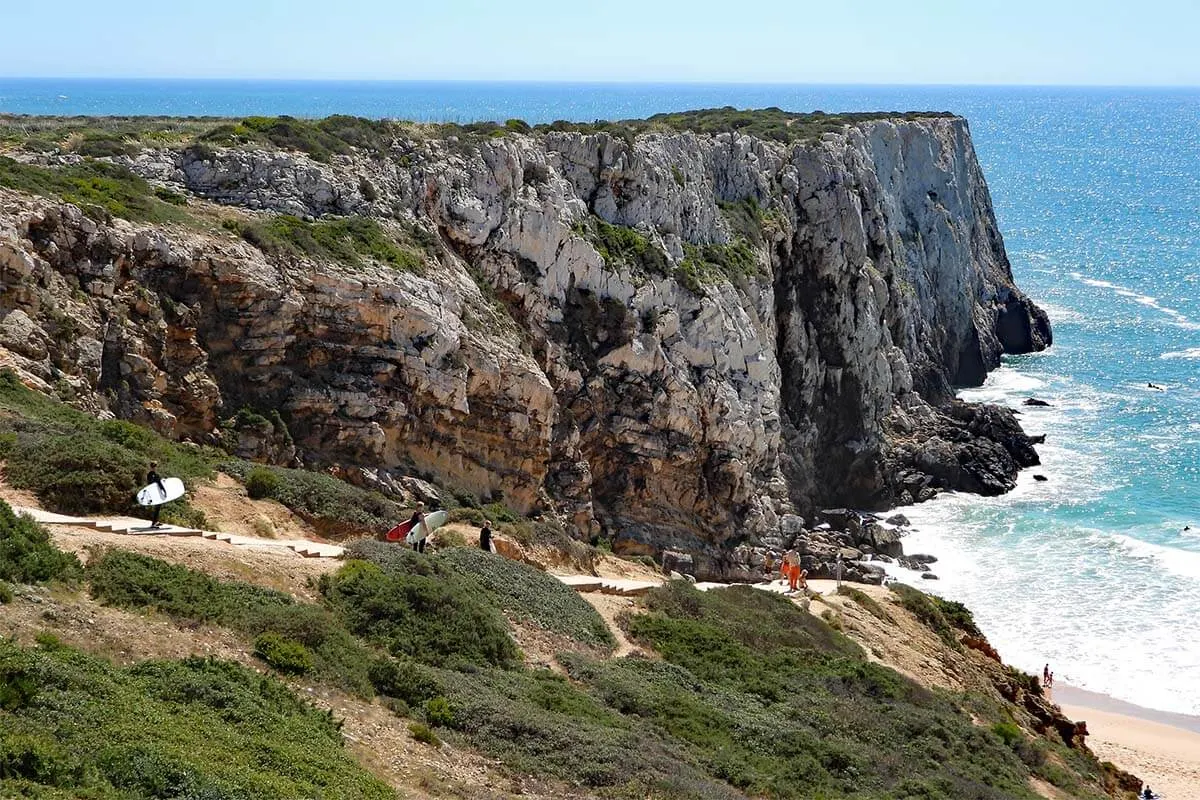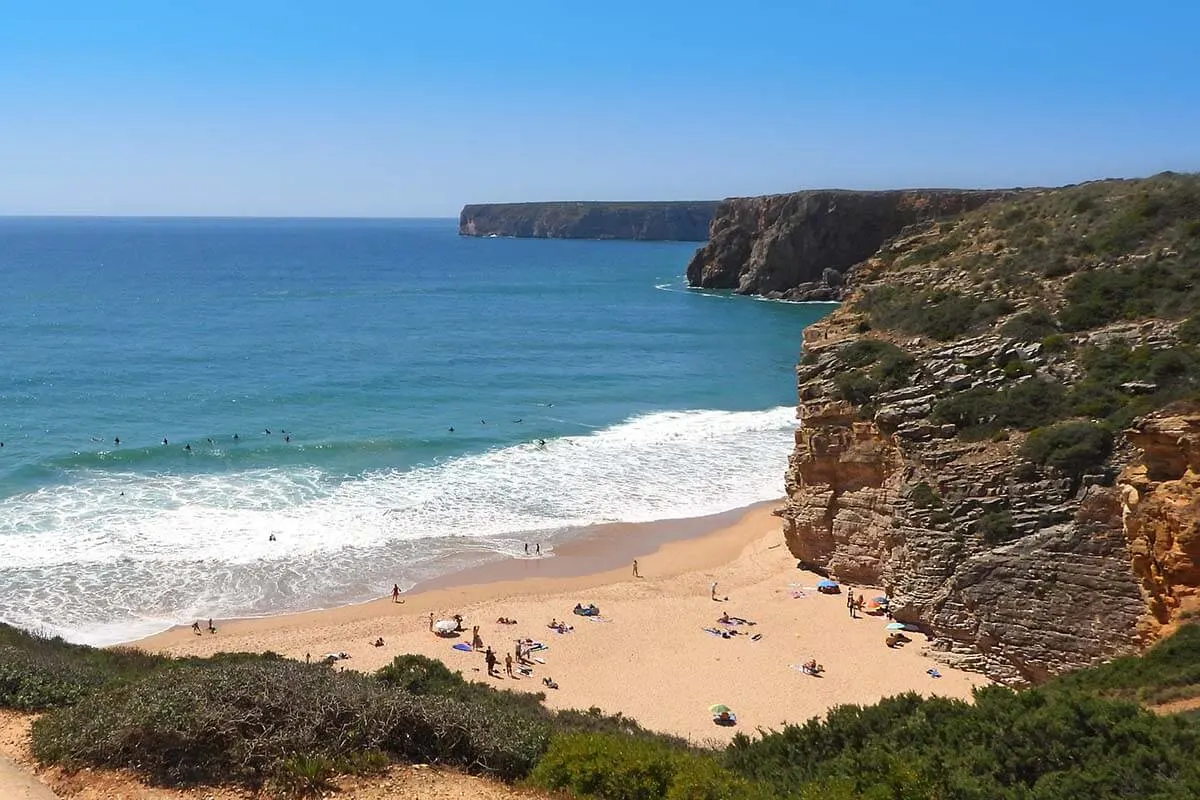 5. Artesanato a Mó
NICE TO SEE
Artesanato a Mó is a ceramics store in Sagres. It's also located next to the same road as the places mentioned above. So you'll pass here on your way to the Cape of St Vincent.
The reason I mention this shop on this list is its unique exterior – with colorful ceramic plates fixed to the walls of the building. It's really picturesque and worth a quick stop, even if just for a few pictures.
The shop itself is quite nice too, especially if you are looking for some local souvenirs. They have a lot more than ceramics; you can find all kinds of crafts, souvenirs, decoration items, and even (a very strange collection of) books. It's a quirky shop where we usually spend way too much time looking around…
How much time do you need: 5 minutes for a quick photo stop, or 10-15 minutes if you also visit the store.
Good to know: There is one more colorful shop that looks very much like this one in the Sagres area. It's called Ceramica Paraiso and is located in Raposera, next to the main road N125, on the left when driving from Lagos to Sagres. So if you just can't get enough of the quirky colorful plates on the exterior, you may want to check it out as well. I indicated it on our map so that you know exactly where it's located.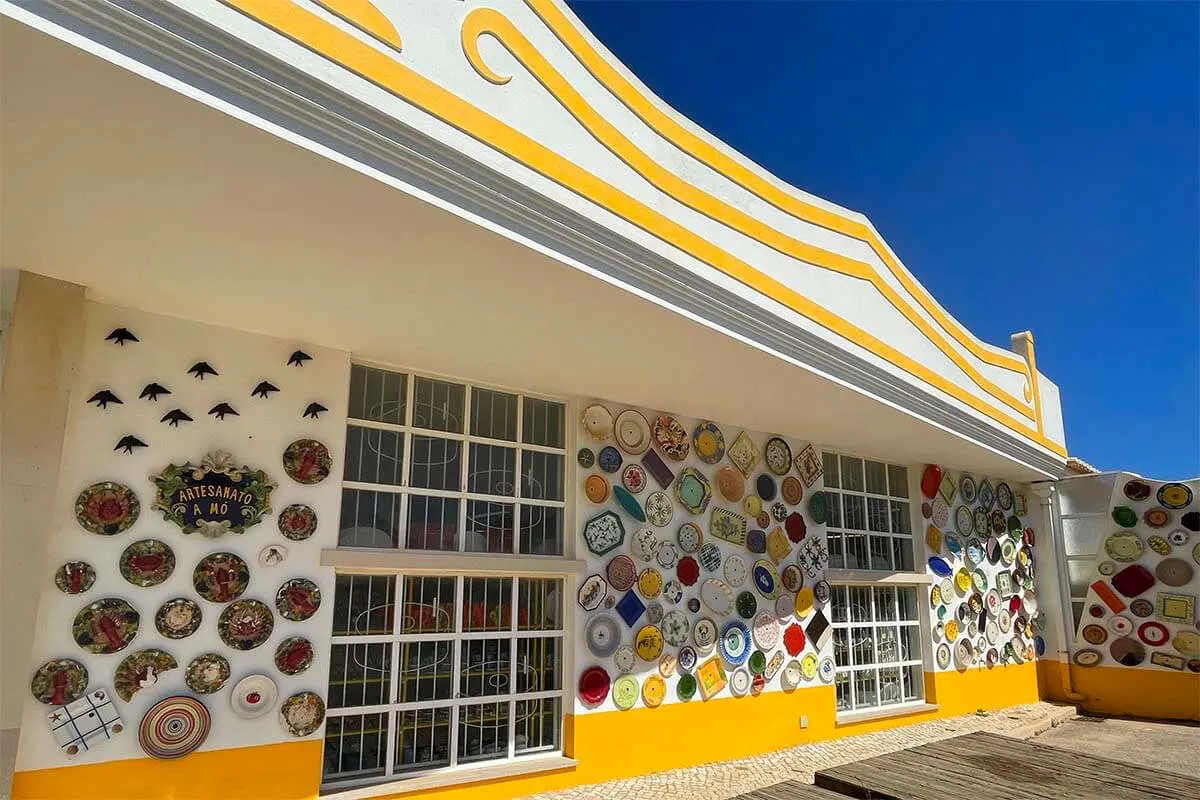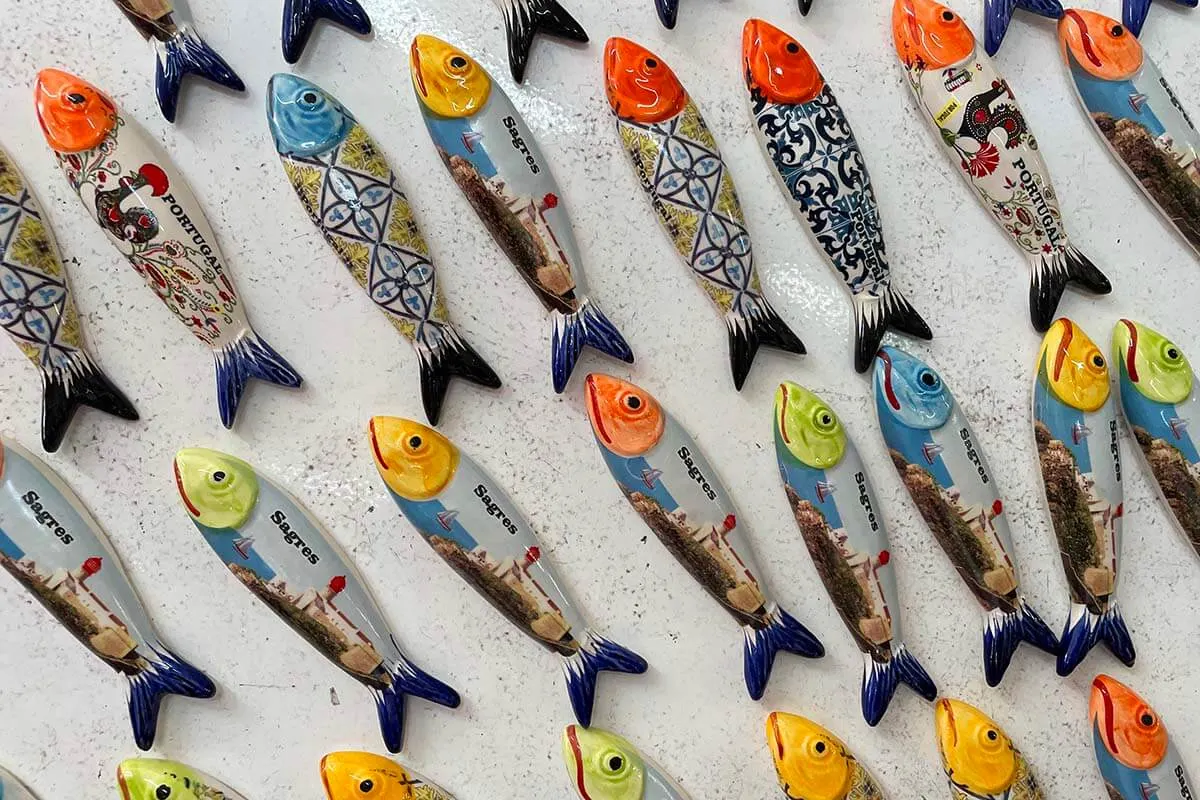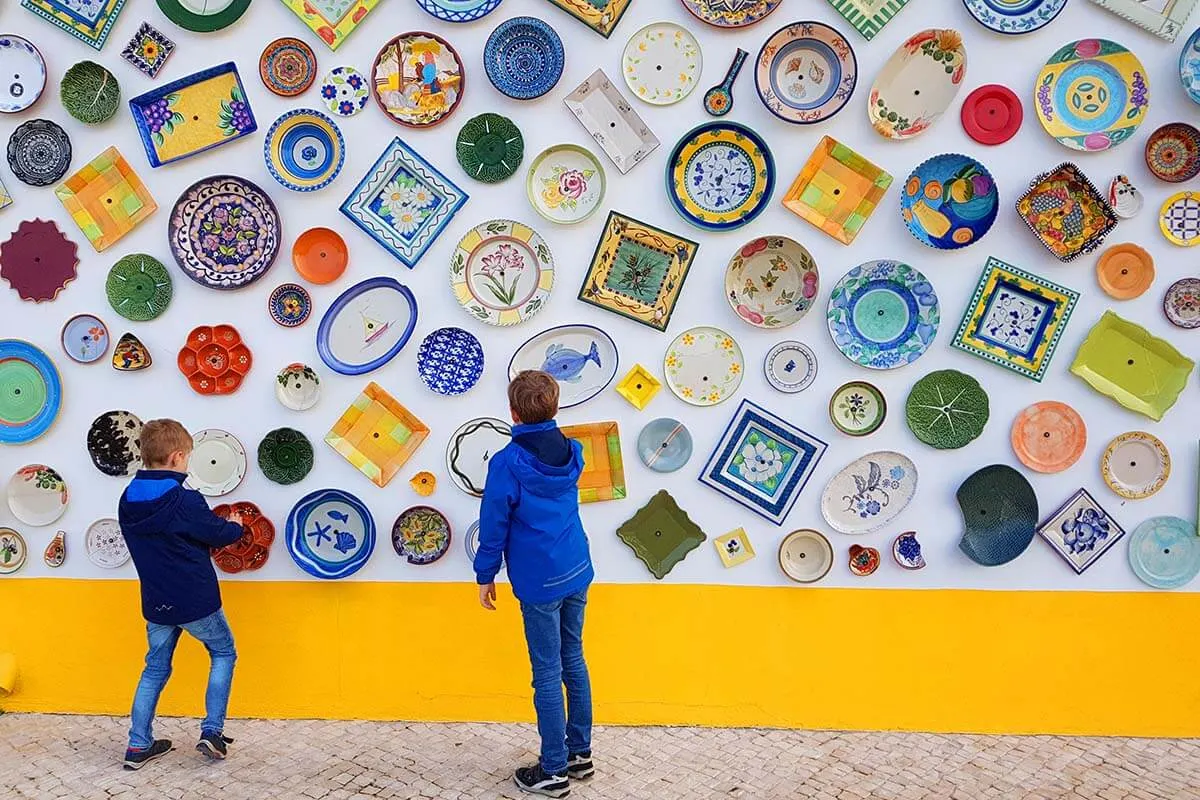 6. The Beaches in Sagres Town
NICE TO SEE
There are several other beaches in Sagres that you may want to see if you have some extra time in the area. Here are the best ones in town itself:
Praia do Tonel is located very close to Sagres Fortress and you can just walk there from the same parking. It's a scenic beach, but windy and the water is usually very cold even in summer. Just like Praia do Beliche, this beach is very popular among surfers.
Praia da Mareta is located in the center of Sagres and is more protected from the ocean and the wind. If you are looking for a place to swim, it's a much better choice since the waters are calmer and warmer. Plus, there are better facilities here and in the summer, you can also rent beach chairs and umbrellas.
Praia do Martinhal is located in the more residential part of Sagres, where you will also find Martinhal Sagres Beach Resort, one of the nicest hotels for a longer stay in the area. This beach has all the facilities including a bar, a restaurant, and water sports rentals. The beach itself is quite special too – it's a combination of a big flat stretch of white sand on one side and a rocky coastline on the other side.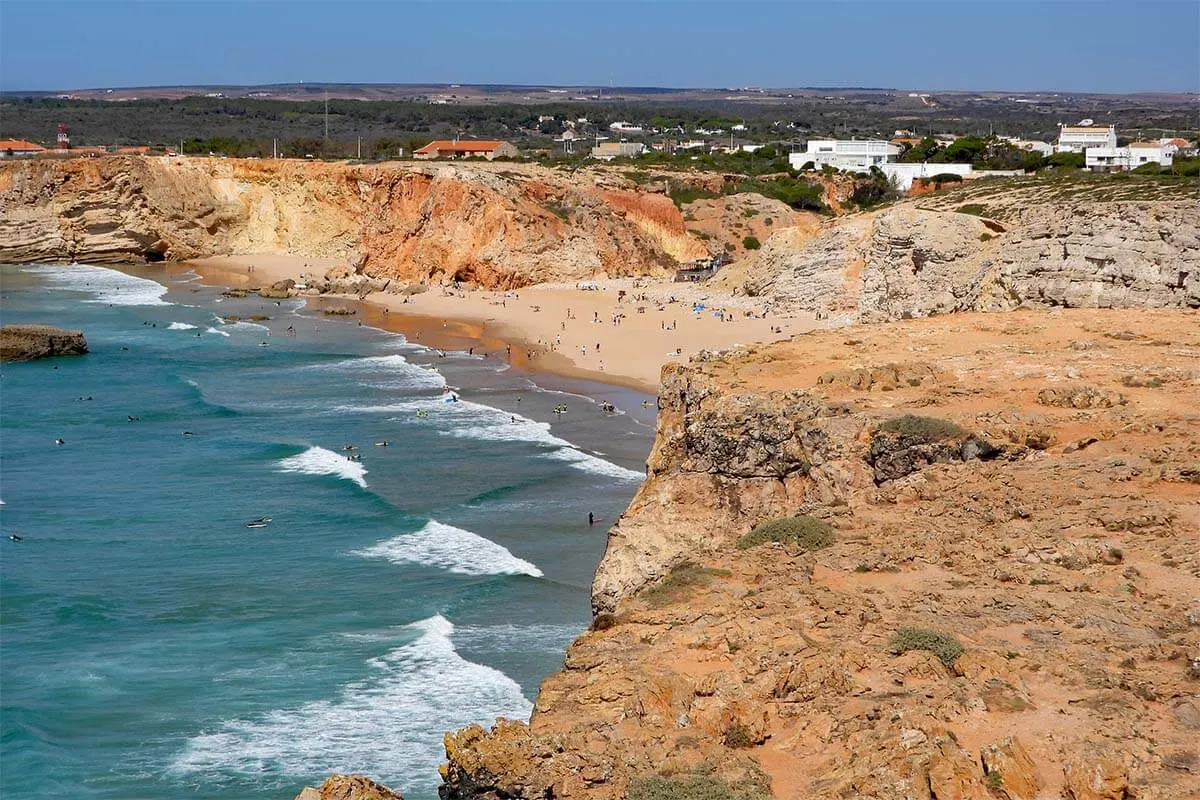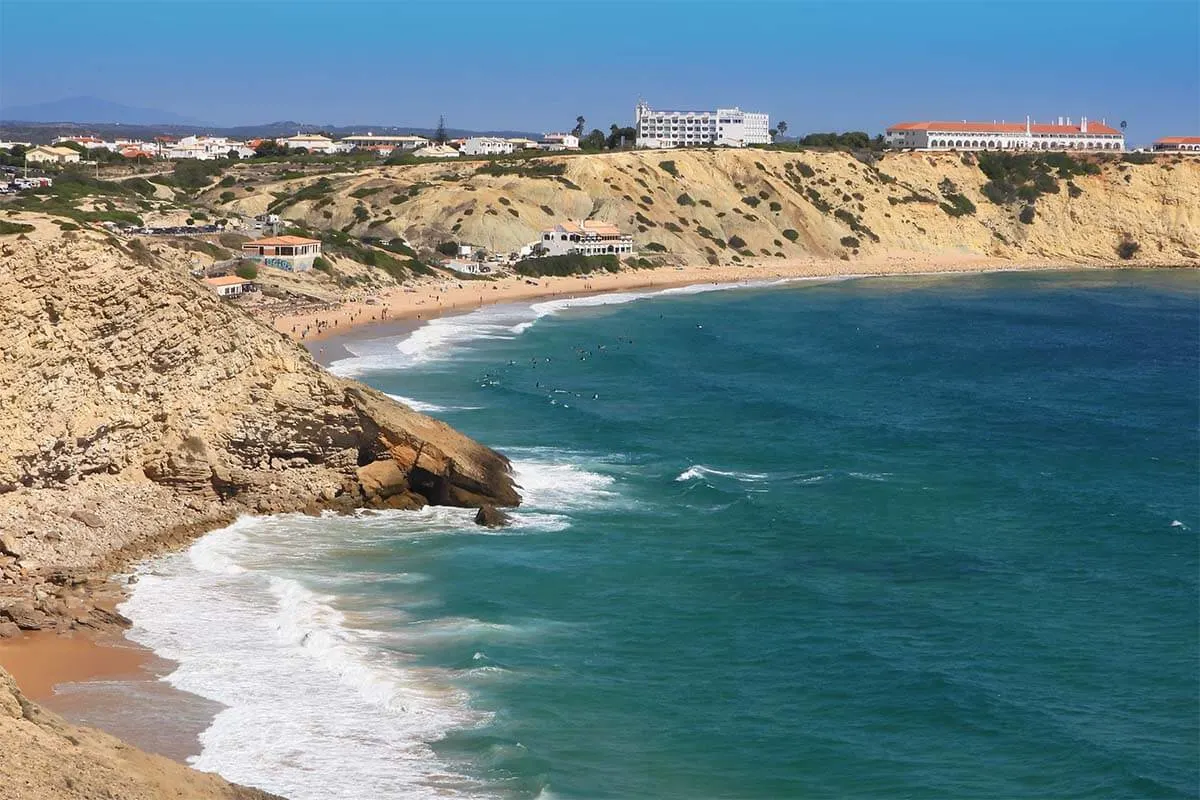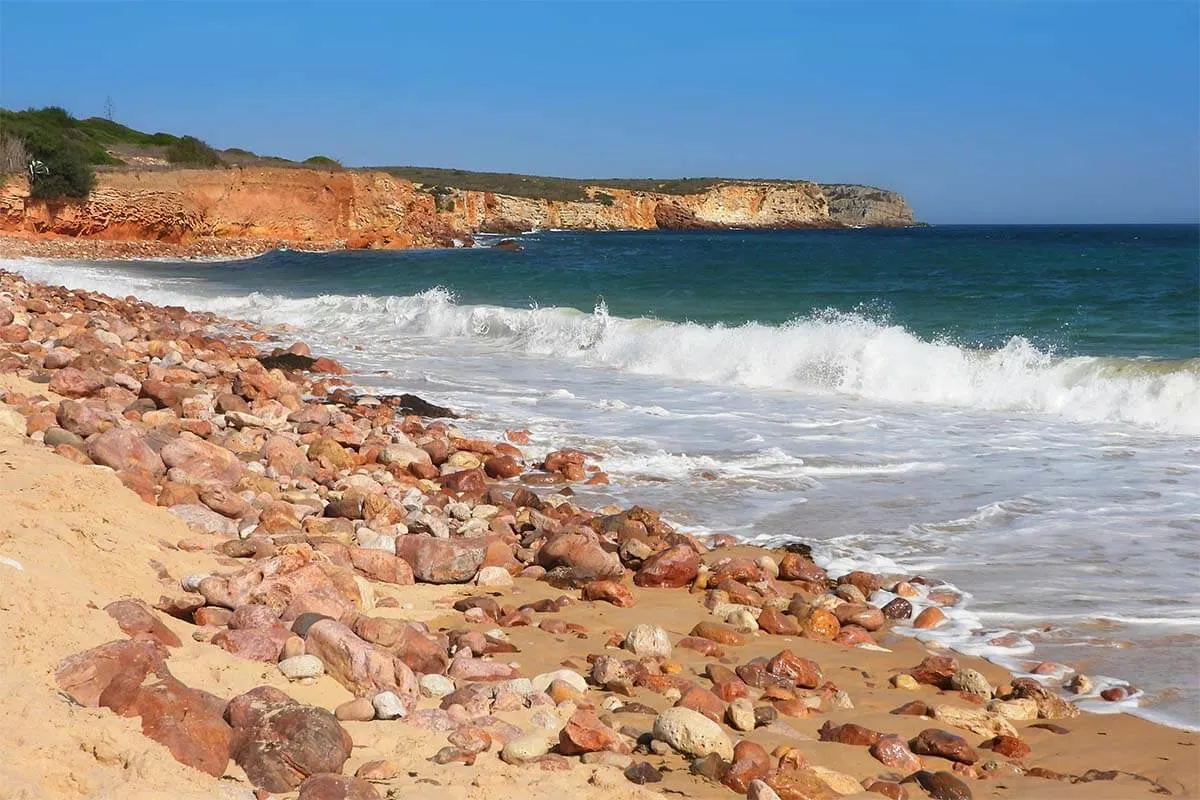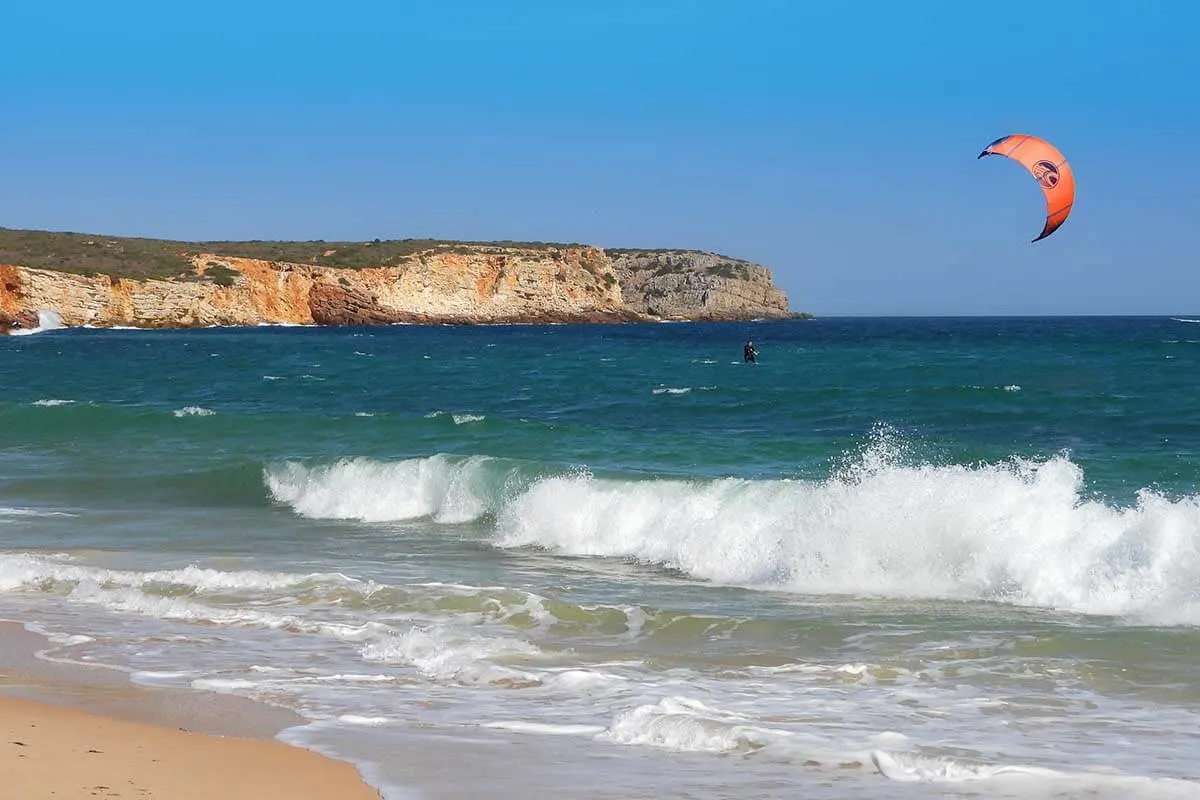 7. Sagres Town Center
NICE TO SEE
Sagres is such a small town that you can pass its center without even realizing it. But if you are looking for the 'town center', it's the area around the small roundabout next to Jardim de Sagres.
Jardim de Sagres is a town square where you can find the Tourist Office, a skate park, and a statue of Infante D. Henrique – Prince Henry the Navigator – which is pretty much a must in any town in the Algarve.
In this area, you'll also find several cafes, bars, and restaurants. You can also walk down to the earlier-mentioned Praia da Mareta beach – it's right in the center.
There is also an outdoor fitness space where you can exercise while enjoying the sea views.
Good to know: If you would like to stay in the center of Sagres for a night or two, Pousada de Sagres is very central and offers amazing views.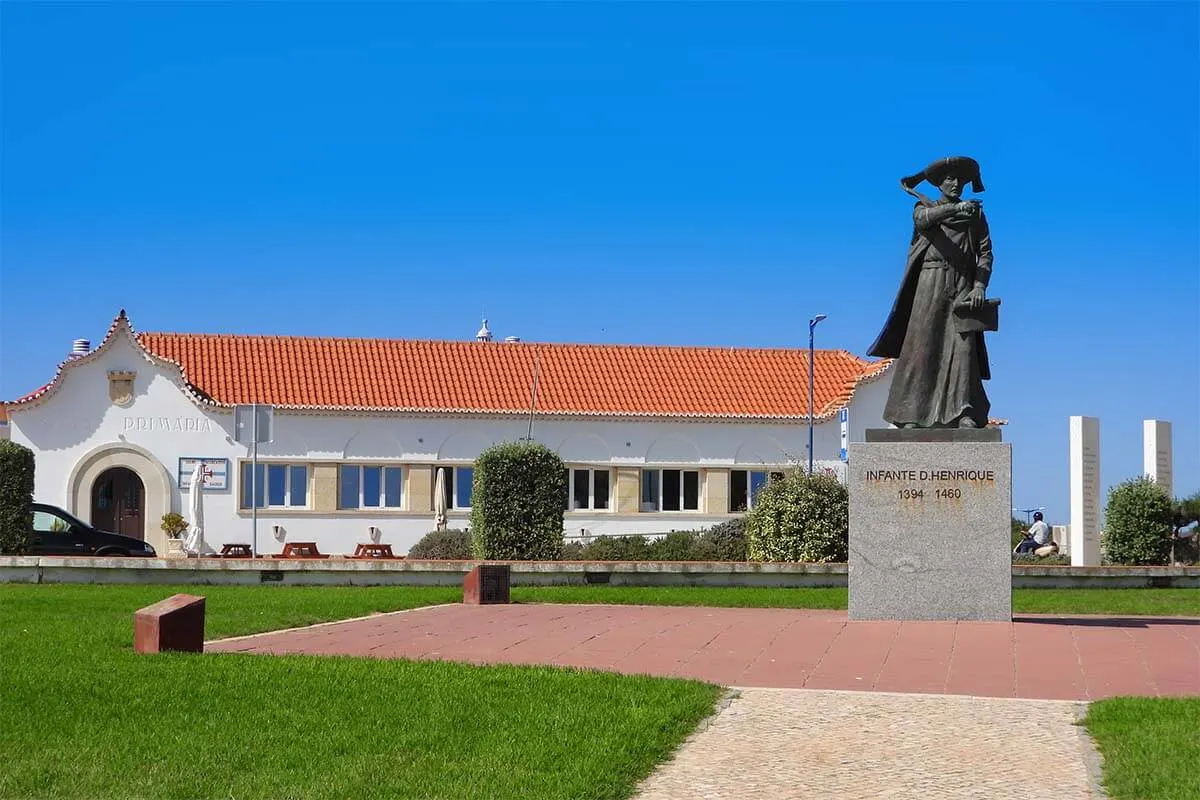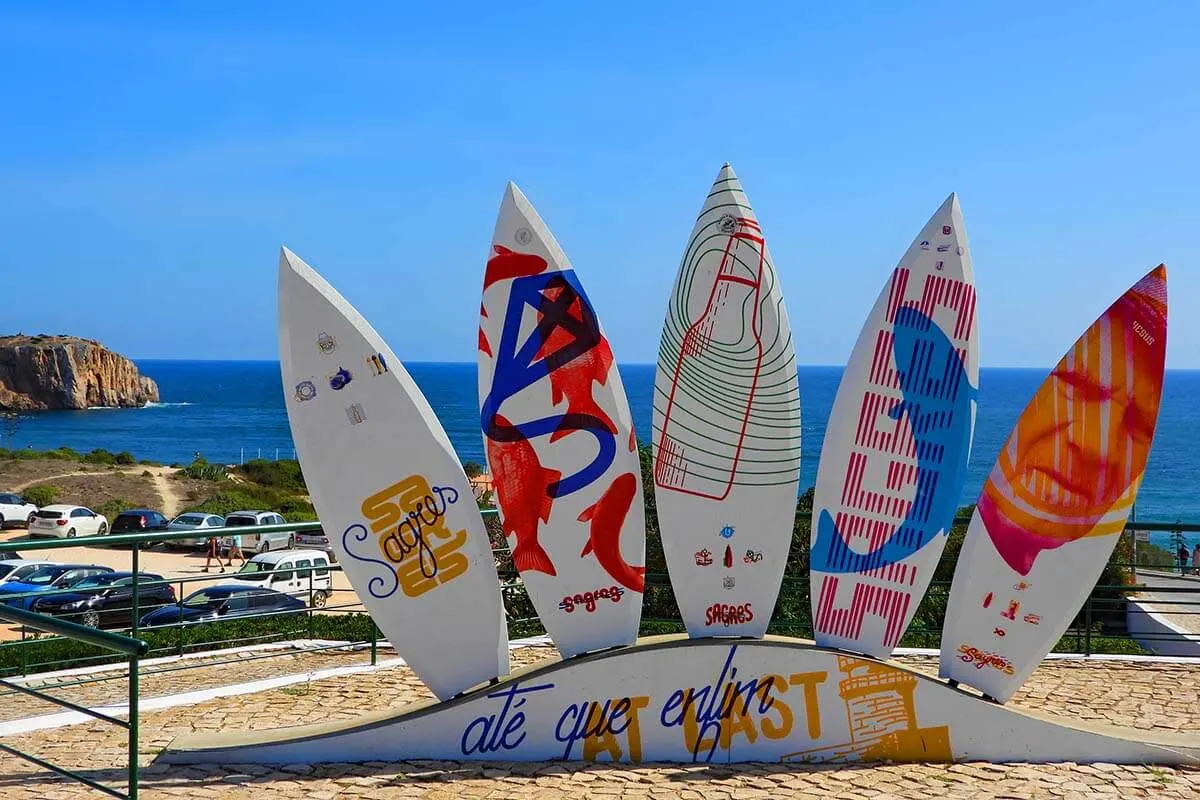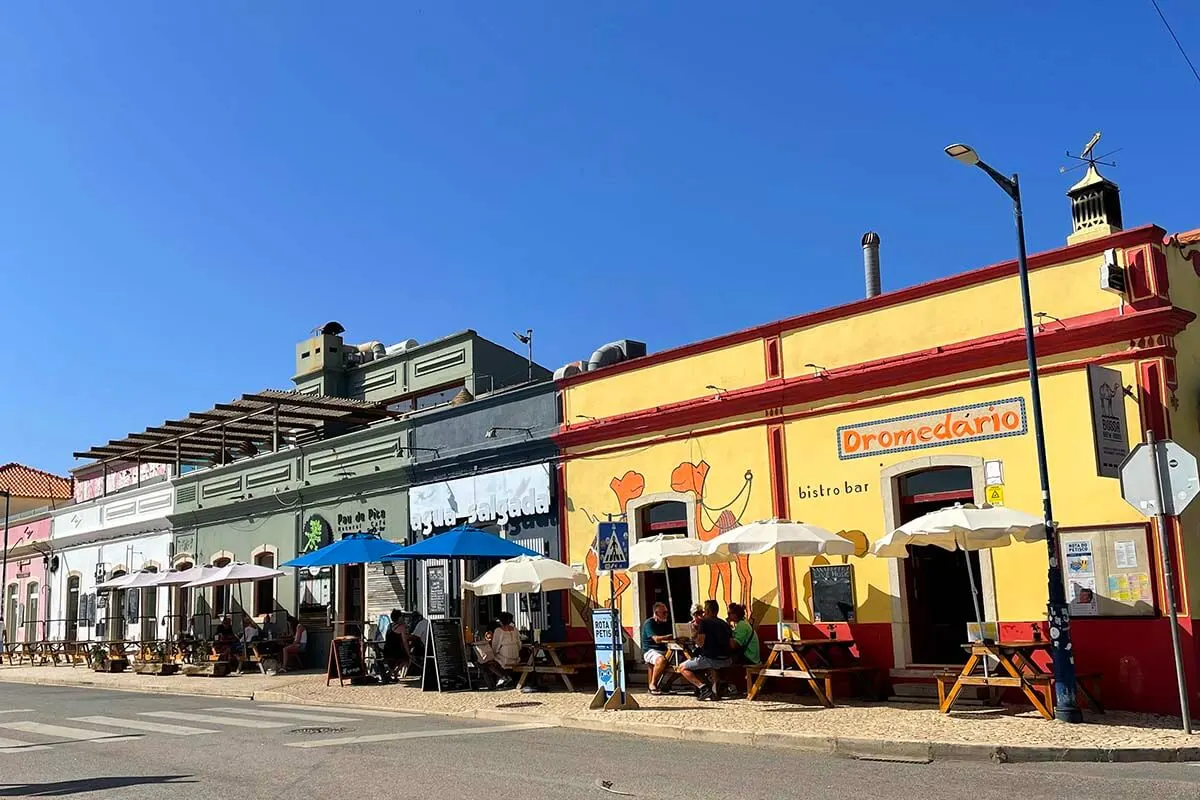 8. Sagres Harbor & Boat Tours
NICE TO SEE
If you are looking for more things to do in Sagres, you may want to drive all the way down to the harbor and see if there are any boat tours available. Alternatively, ask at the tourist office in town. The harbor itself is quite small and industrial – no other reason to visit unless for a boat tour or to go to a restaurant down there (which is actually pretty nice).
We personally never took a boat tour from Sagres so I cannot comment on how worthy it is. But every time we visit Sagres in the summer, we see one or two boats around the Cape of St. Vincent. We also saw signs in town advertising dolphin-watching tours (you can see dolphins in other areas in Algarve too).
If you consider a boat tour in Sagres, keep in mind that the waters here are quite rough – not comparable to Algarve's most popular boat excursions around Ponta da Piedade or Benagil Cave further east.
TIP: If you are looking for something unique to do in Sagres and want to plan your time in advance, take a look at this highly-rated kayak tour at Praia Da Ingrina. This beach is located east of Sagres, in a more secluded coastal area where the waters are much calmer. This tour is suitable for beginners too.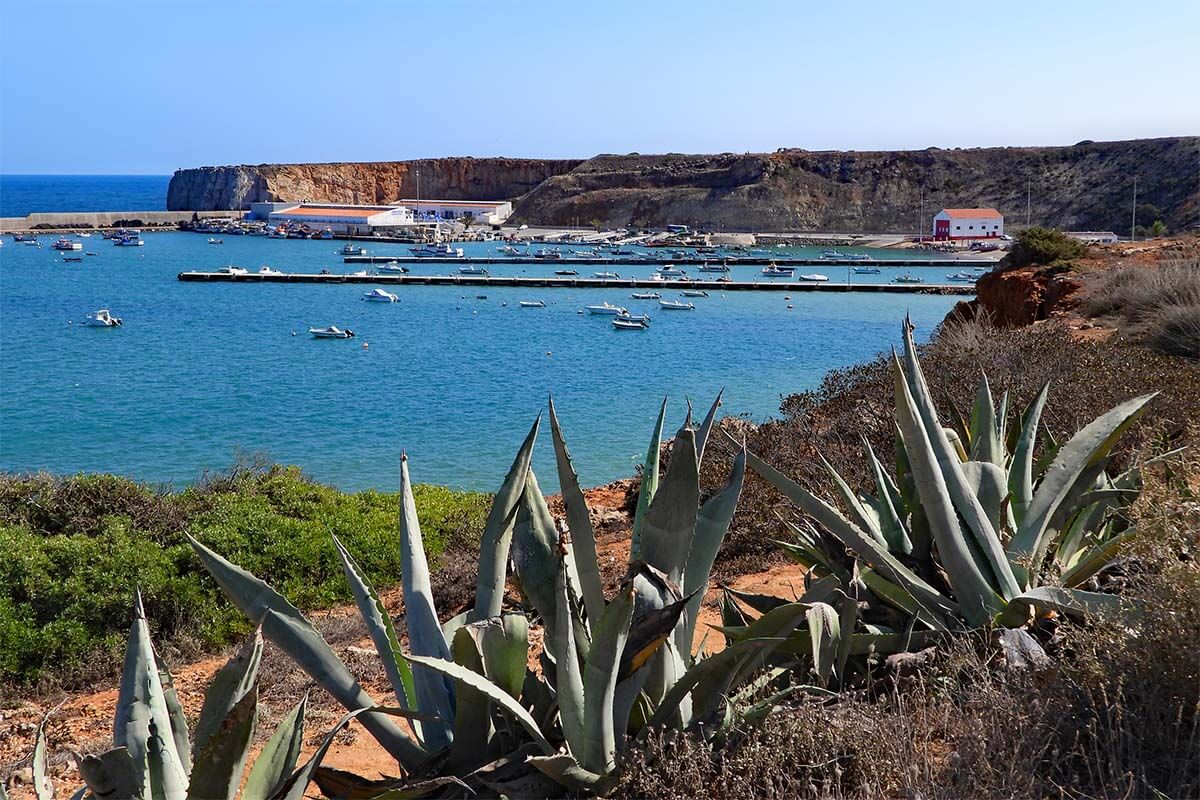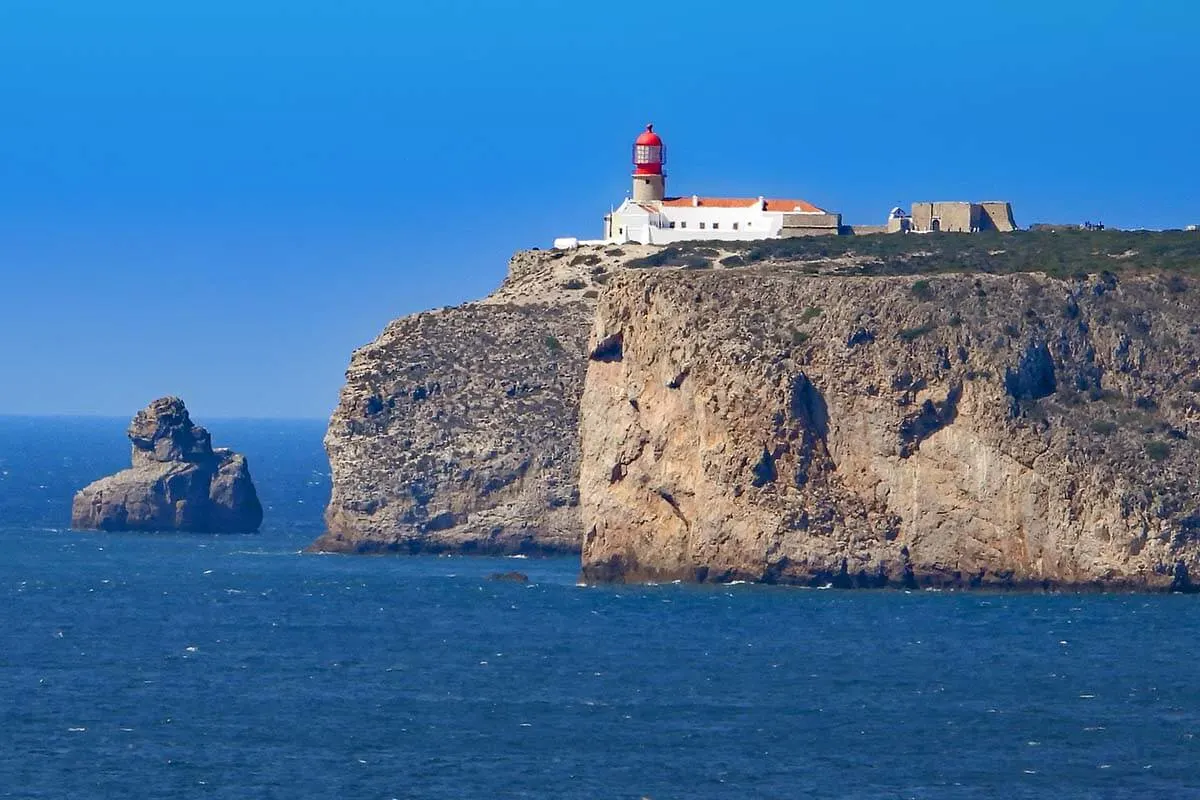 No visit to Sagres would be complete without seeing some of the stunning scenery of the Algarve's West Atlantic Coast, aka Costa Vicentina. The coastline here is completely different than anywhere else in the Algarve: it's wild, rough, and truly majestic.
There are countless little beaches here, one more impressive than the other. However, there is also very little infrastructure and some roads are not in the best condition either. Furthermore, it would be difficult to visit many of them on the same day as the main landmarks of Sagres.
So in this guide, we only list a few of our absolute favorite beaches and viewpoints on Costa Vicentina that you could visit when sightseeing in Sagres. Take a look below!
9. Praia da Cordoama
HIGHLY RECOMMENDED
Praia da Cordoama is one of the nicest beaches in this part of the Vicentine Coast that you can easily visit near Sagres. The scenery here is nothing short of magnificent!
Cordoama Beach is a wide long white-sand beach that is surrounded by steep cliffs. There is a small restaurant here (cash only) and – in season – you can rent beach chairs and umbrellas.
Most people come here for surfing, but it's well worth visiting this beach for the scenery too. Be sure to take a walk on the beach – even if just for 10-15 minutes – it's spectacular.
Good to know: Praia da Cordoama is located less than 5 km (less than 10 minutes drive) from Vila do Bispo, a small town that you will pass on your way to/from Sagres. Just make sure that you take the road M1265 since the alternative road a bit further north is gravel.
How much time do you need: We recommend at least half an hour for a visit here. But you can easily spend more time if you decide to go for a longer walk on the beach, or get a drink at a cafe and watch the surfers.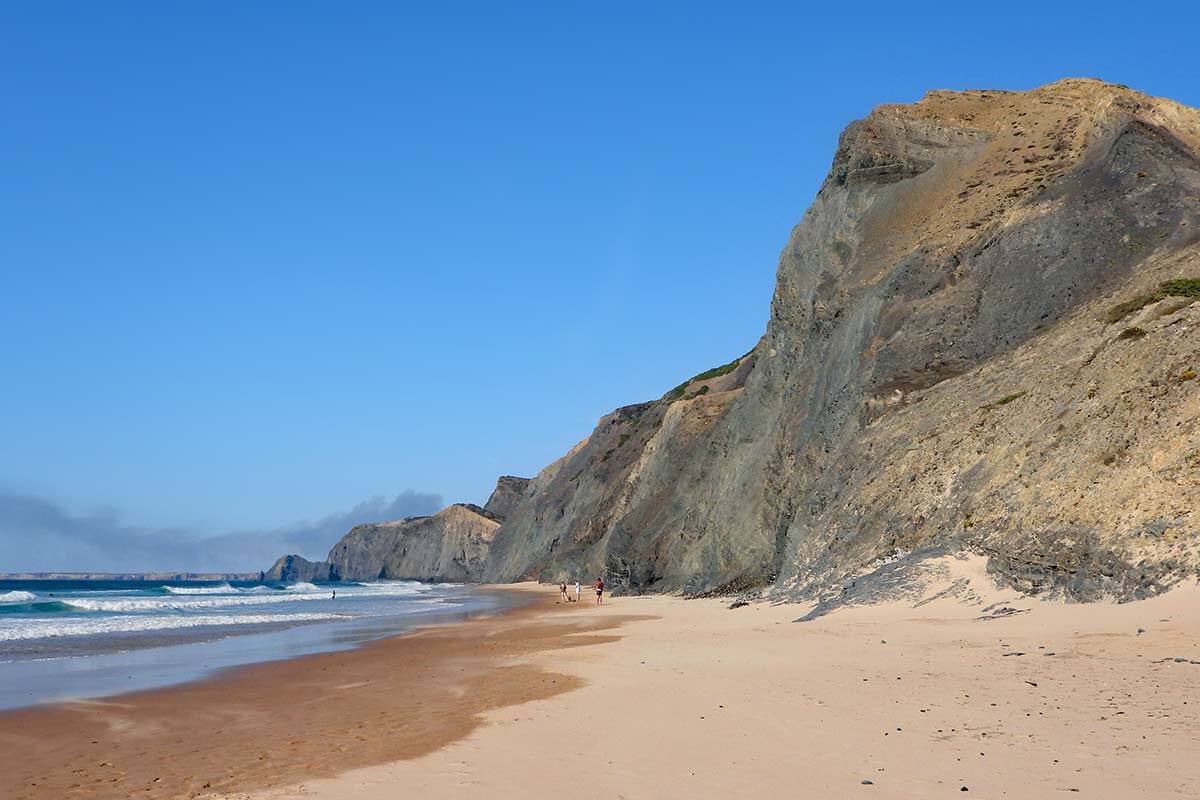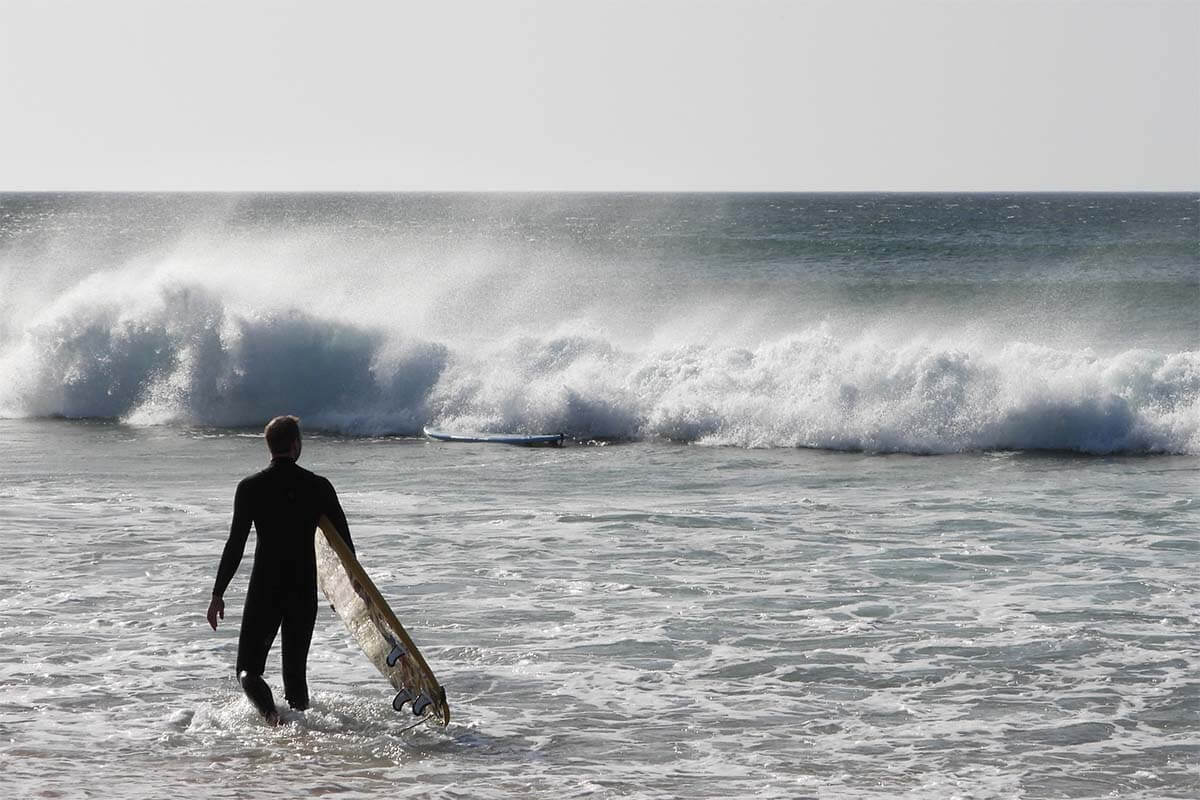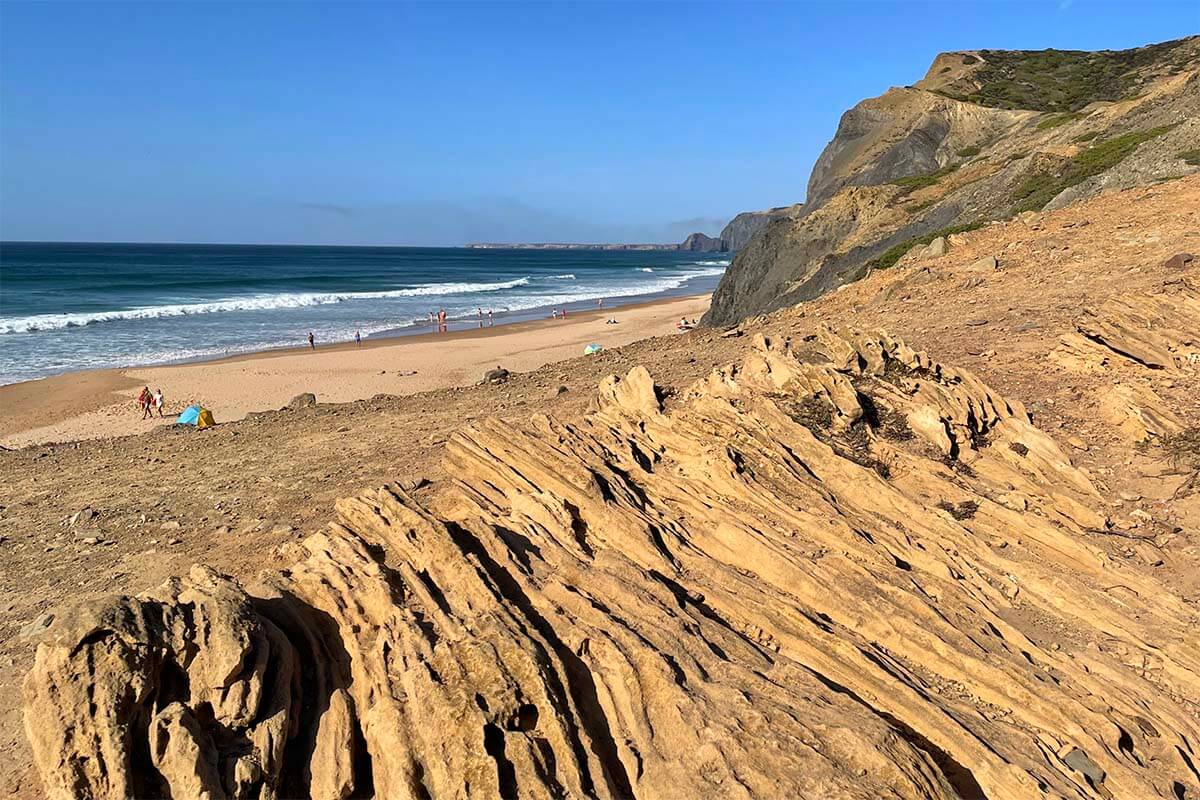 10. Miradouro da Cordoama
HIGHLY RECOMMENDED
On your way to Cordoama Beach, you will see a sign to the left and a gravel road leading to a viewpoint, Miradouro da Cordoama.
This gravel road is usually in good condition and it's less than a 1km drive making this one of the easiest-accessible elevated viewpoints on this part of the coast.
From the Cordoama Viewpoint, you can see the beach below and a good stretch of the Atlantic Coast. The scenery is simply breathtaking! Just be careful if it's very windy and don't go close to the edges.
How much time do you need: If you just drive to the viewpoint for a few pictures, count 10-15 minutes for this photo stop.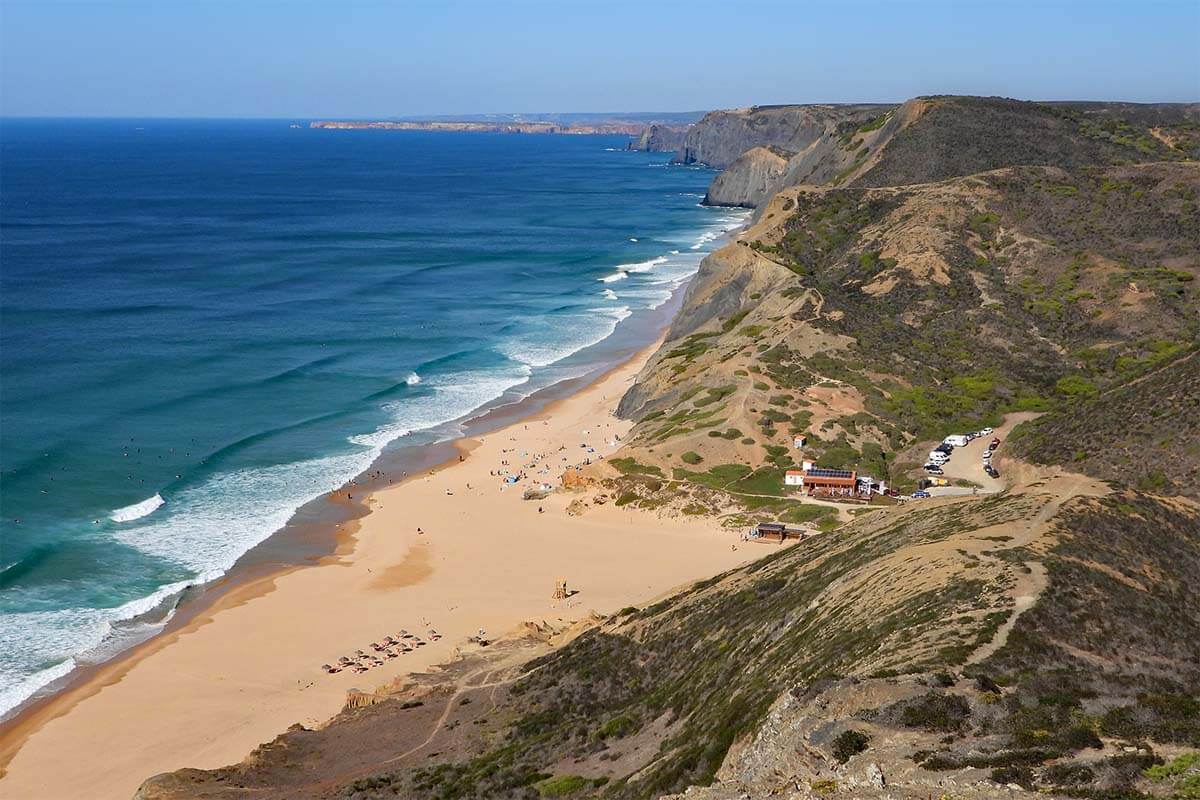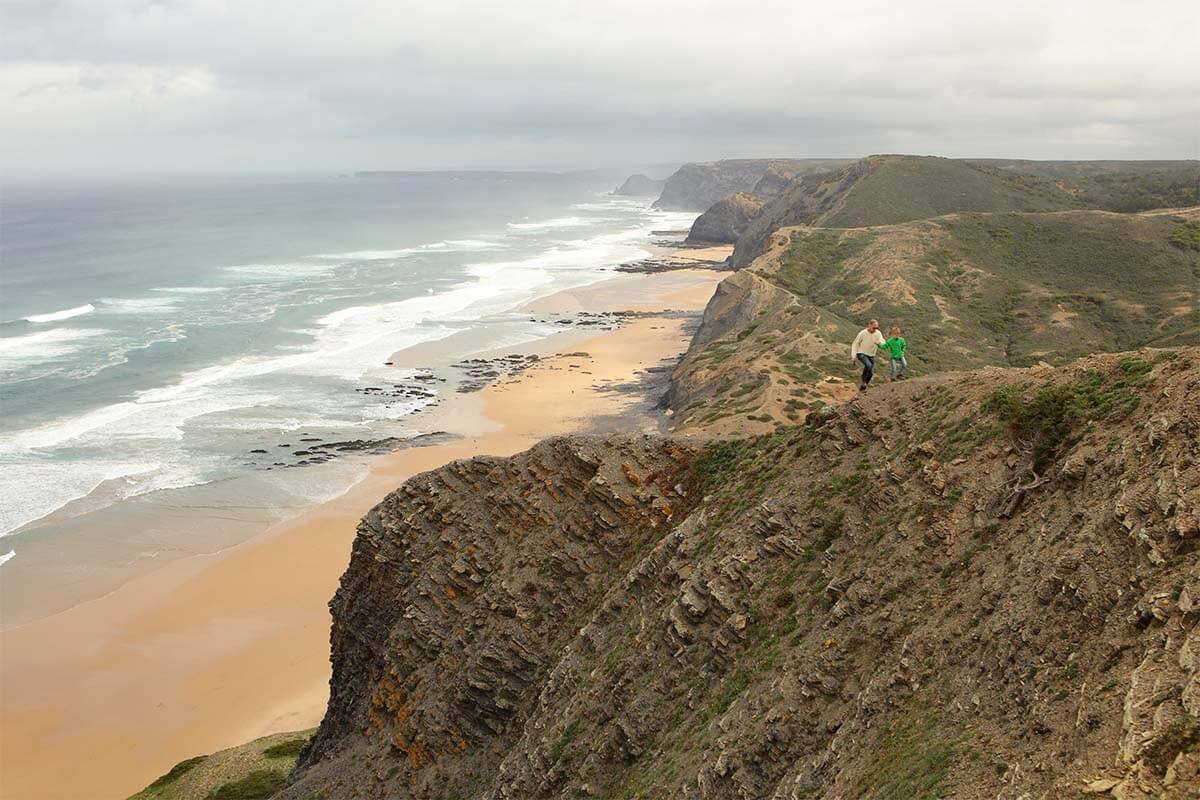 TIP: There is a walking path that leads from this viewpoint to the beach below, so if you feel like hiking, you could take this scenic walk down. Ideally, you have a dedicated driver to pick you up at the beach so that you don't have to hike back up though.
In fact, this hike is just a small part of a much longer coastal walk between Cape St. Vincent and Carrapateira (VB1 – VB2 – VB3) or even further (VB12) to Bordeira Beach (see the map below). This trek could be an incredible experience for hiking enthusiasts!
The path is well-indicated and the scenery looks amazing. However, I wasn't able to find any information on how long it is or how much time you'd need (likely at least a very long day, and depending on which parts you choose to do). It's also a one-way hike, so would require some additional arrangements for transportation.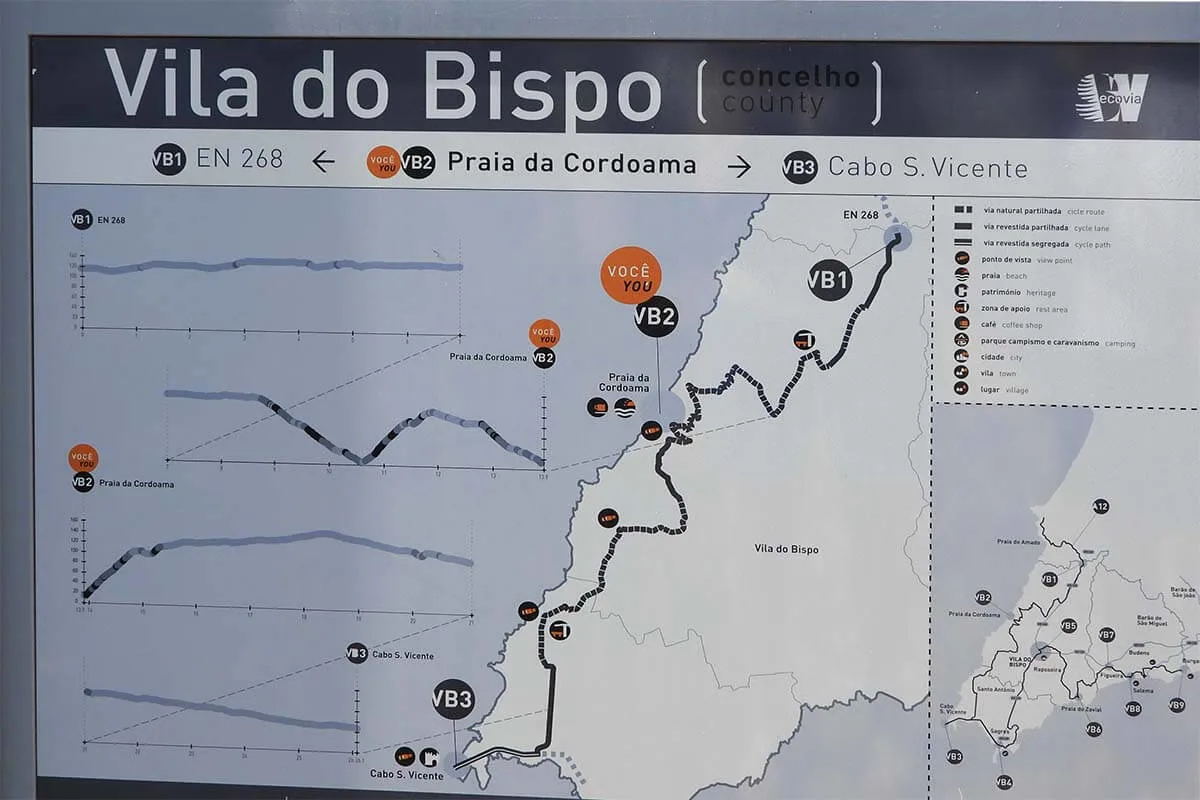 11. Torre de Aspa
VERY NICE TO SEE
Torre de Aspa is a hidden gem of Algarve and probably the most beautiful viewpoint on the Vicentina Coast. It's also located in the same area as Cordoama Beach and Viewpoint, less than 5 km drive from Vila do Bispo.
The only reason why I indicated this viewpoint as 'nice to see' and not as 'highly recommended' is that it's not as easy to get to as the other places mentioned in this article. If you want to drive here, you should know that there is a pretty rough and bumpy stretch of gravel road of about 3 km (each way). So I'll leave it up to you to decide whether it's something you want to do…
If you decide to brave this road, you will be rewarded with the most dazzling views!
Also here, be careful where you walk, especially if it's windy. The wind can sometimes be very hard – difficult to imagine if you haven't experienced it, but it could definitely blow you over. So don't walk too close to the edges!
Good to know: The 'Torre de Aspa' location indicated on Google Maps brings you to an abandoned building that is full of graffiti and you might be wondering if you are in the right place. You are, but for the best views, you'll have to continue on the same road a bit further toward the coast, pretty much until the road ends at a somewhat wider 'parking' area.
How much time do you need: You'll need at least half an hour to visit this viewpoint from Vila do Bispo: about 10 minutes to drive there (plus the same time to get back), and at least 10 minutes to enjoy the surroundings.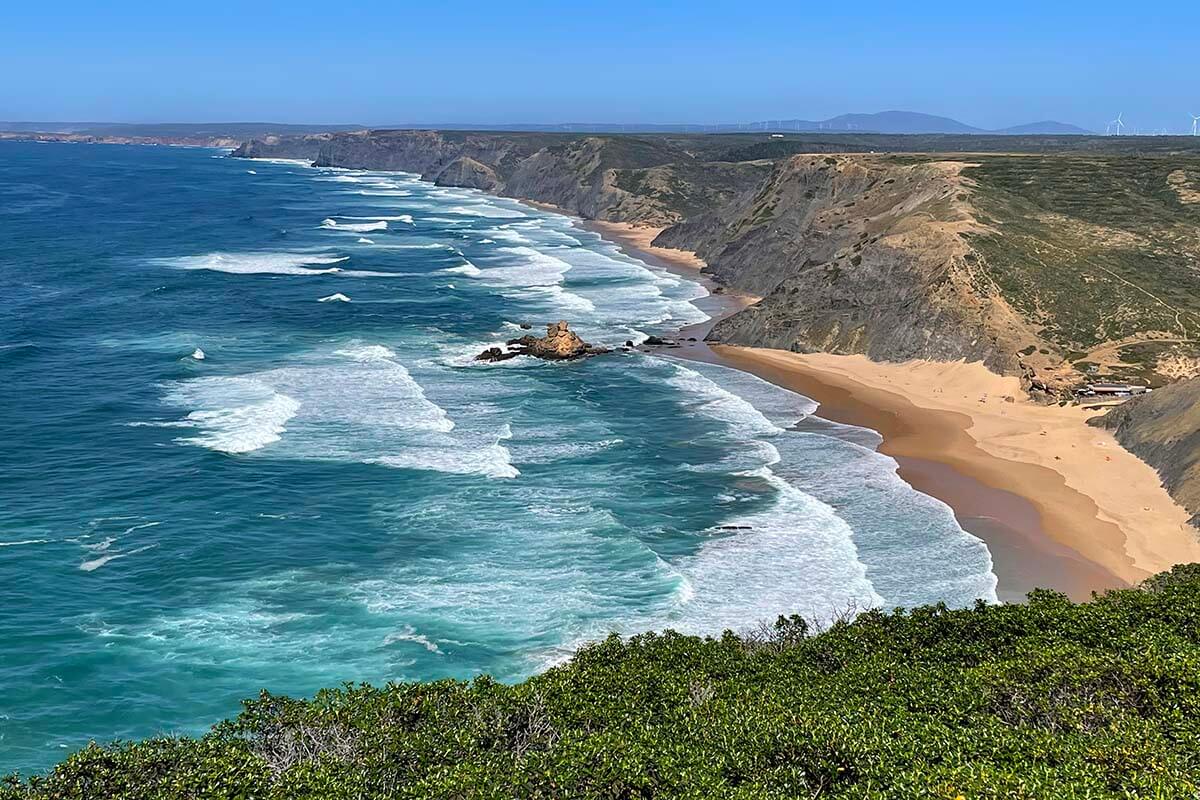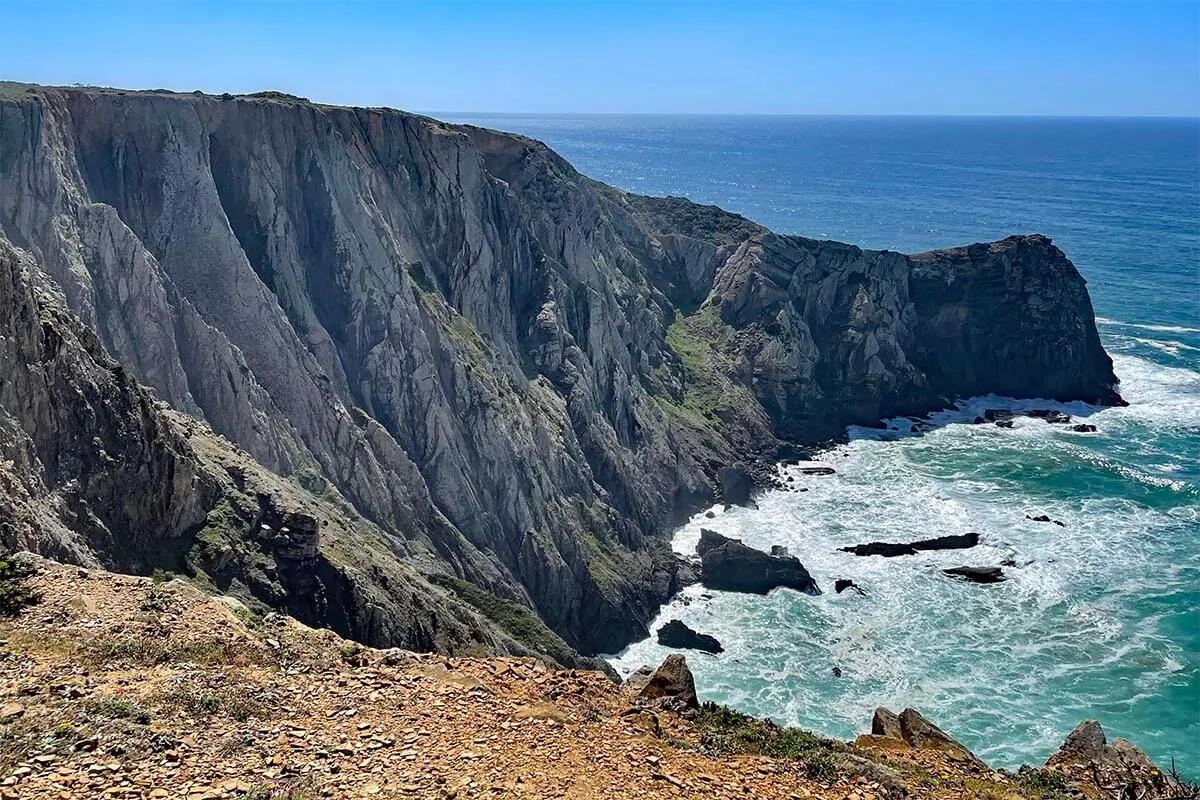 12. Praia do Amado & Islamic Settlement of Ponta do Castelo
NICE TO SEE
Praia do Amado is another very scenic beach that we really enjoyed visiting on the Atlantic Coast. It never ceased to amaze me how all these beaches and coastlines that are located rather close to each other can be so different…
Armado Beach can be reached via a series of wooden boardwalks and staircases and is a very nice beach to simply walk around and explore, especially at low tide. We once visited here in April and were here almost all alone. The kids loved watching the waves, playing with colorful rocks, looking for fossils, and exploring tidal pools.
In the high season, there are two snack bars open and the beach has a lifeguard. Of course, there's also a surf school, just like on pretty much any bigger beach in this area.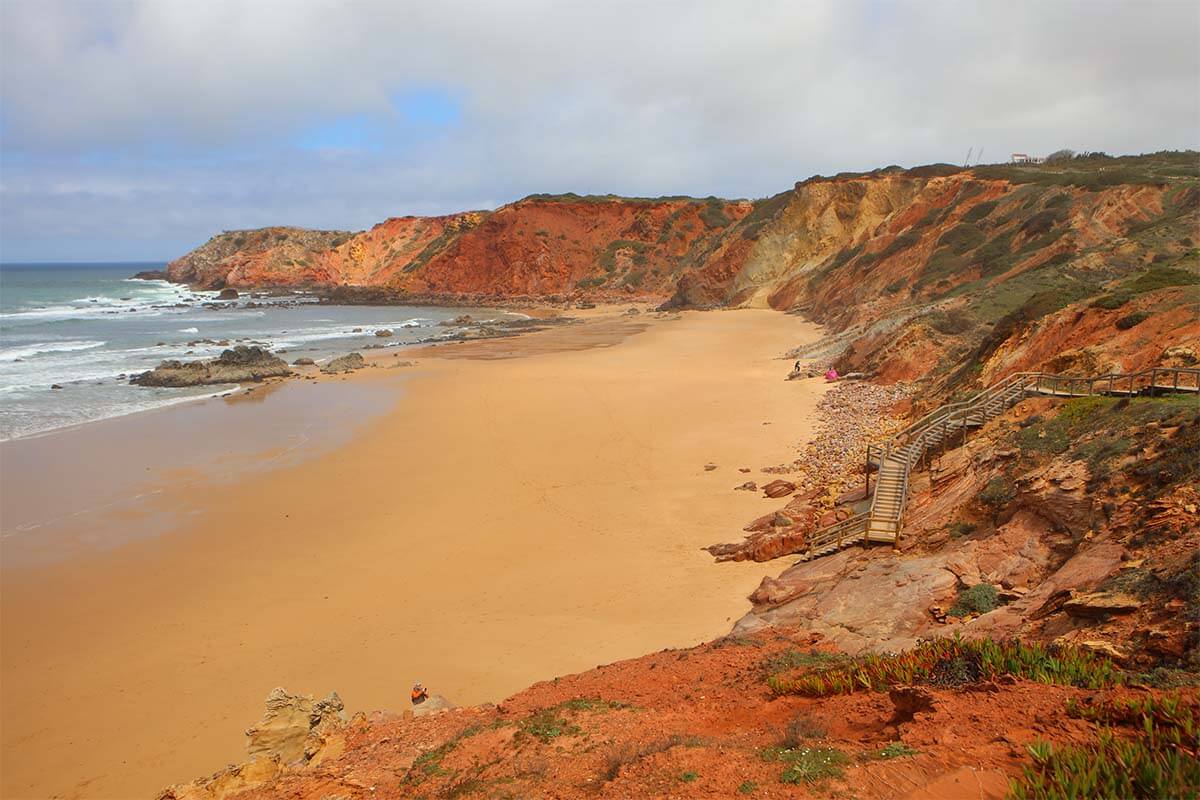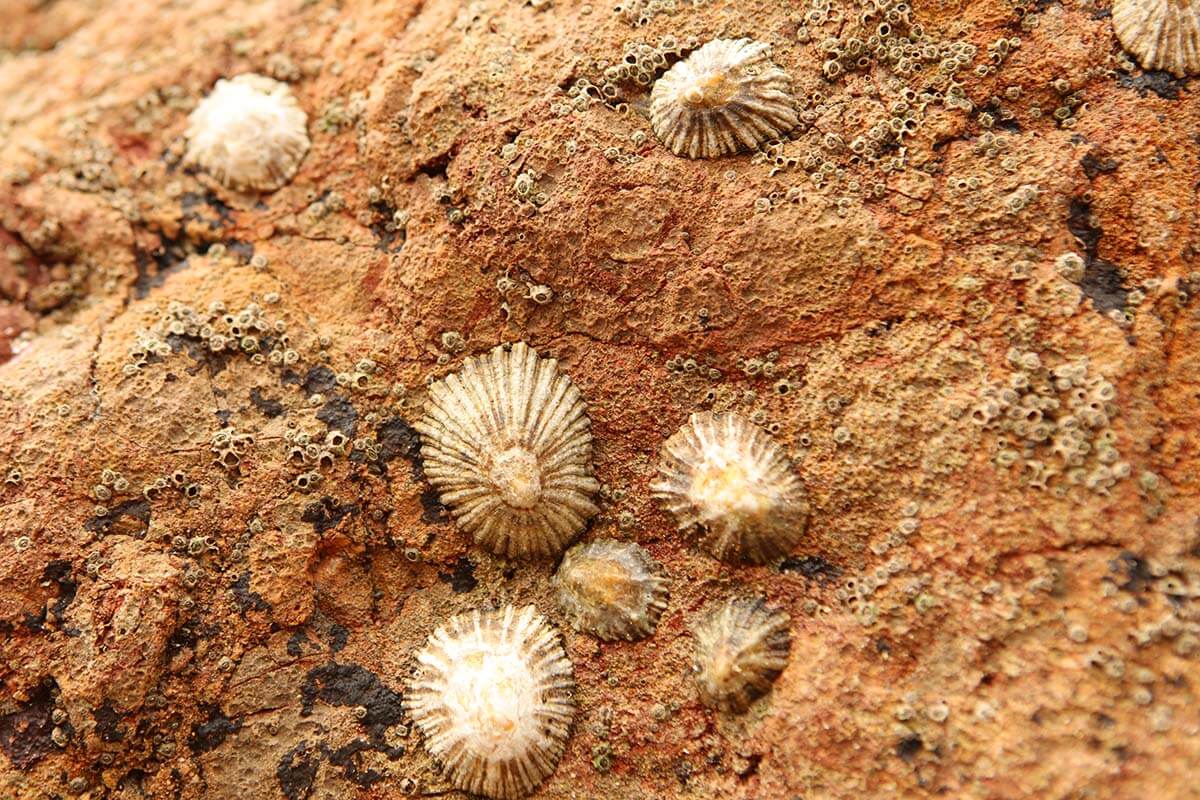 If you continue a bit further north along the coast, you can also visit the archeological site called the Islamic Settlement of Ponta do Castelo. Here you can see the ruins of a 12-13th century seasonal fishermen's village.
The coastline in this area is stunning, so if you have some time to spare, we recommend stopping for a quick look.
How much time do you need: If you just stop for a few pictures, count about half an hour for both places together – the beach and the archeological site. But you can easily spend an hour or even longer here.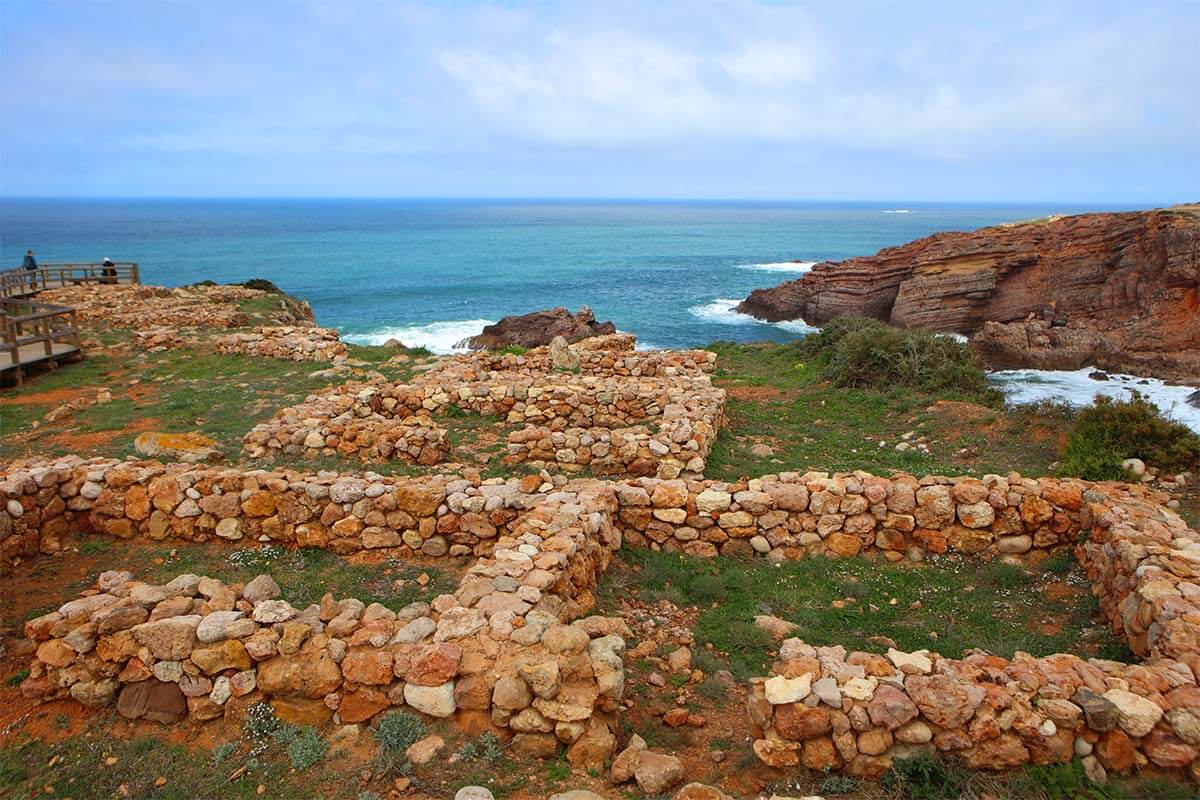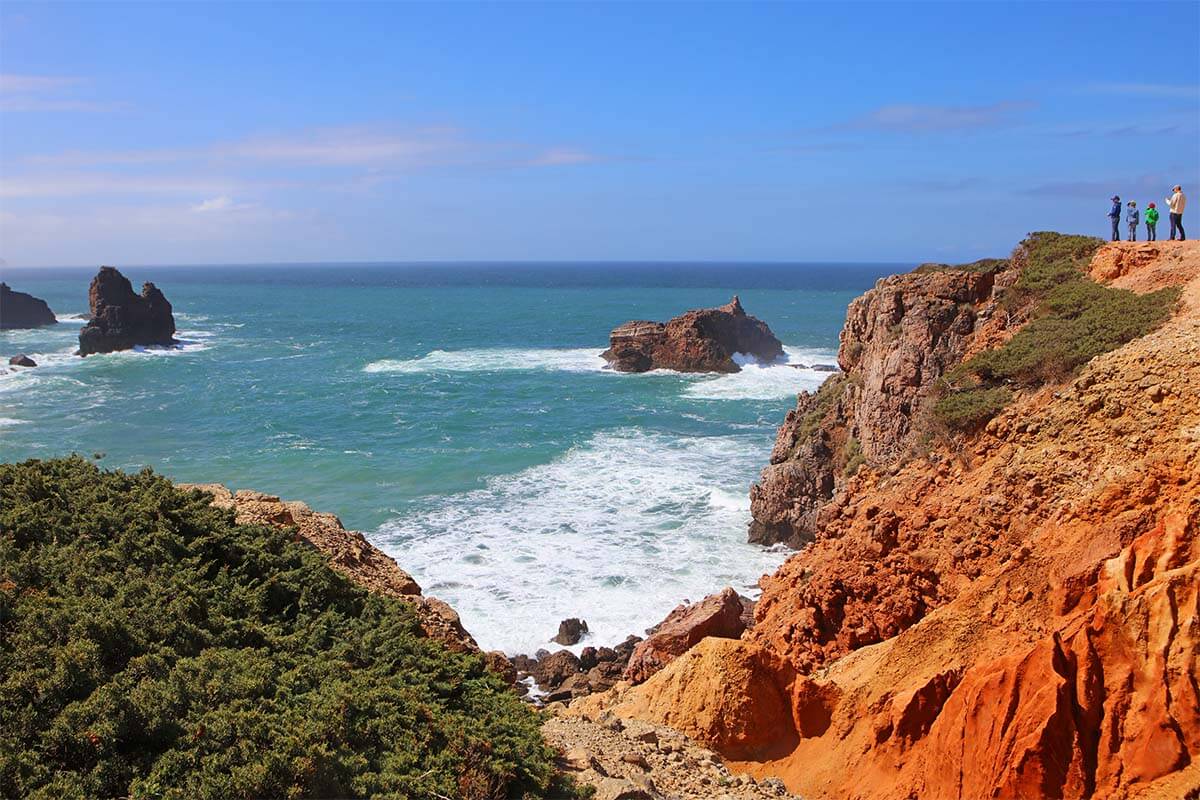 13. Praia da Bordeira
HIGHLY RECOMMENDED
Praia da Bordeira is the biggest and most famous beach on the Vicentina Coast. It's located a bit further north, about 20 km/ 20 minutes drive from Sagres or 15 minutes drive from Vila do Bispo.
Bodeira Beach is a big wide white-sand beach that is perched between the ocean and the river delta of Ribeira da Carrapateira. Just like most other beaches in this part of Portugal, it's mostly popular among surfers. In fact, there are no facilities on this beach, apart from a small surf school/ surf rentals.
Good to know: If you follow your GPS to Bordeira Beach, you will likely arrive at a big parking area with direct access to… the river. Most people who are coming for a day at the beach, leave their cars here, take off their shoes, and walk over the – luckily not so deep – water to reach the seaside.
TIP: If you are mostly interested in sightseeing, drive past this parking. The nicest place to be is actually a bit further west, following the same road toward Pontal da Carrapateira. As you drive up the hill, you will soon see a smaller car parking area with access to wooden boardwalks to your right. This is where you'll find the most beautiful views of Praia da Bordeira. To make it easier for you, I indicated the exact location of this parking on our map at the bottom of this article.
How much time do you need: If you are not going to the beach and simply want to enjoy the nicest views of Praia da Bordeira, count about 20-30 minutes for a visit.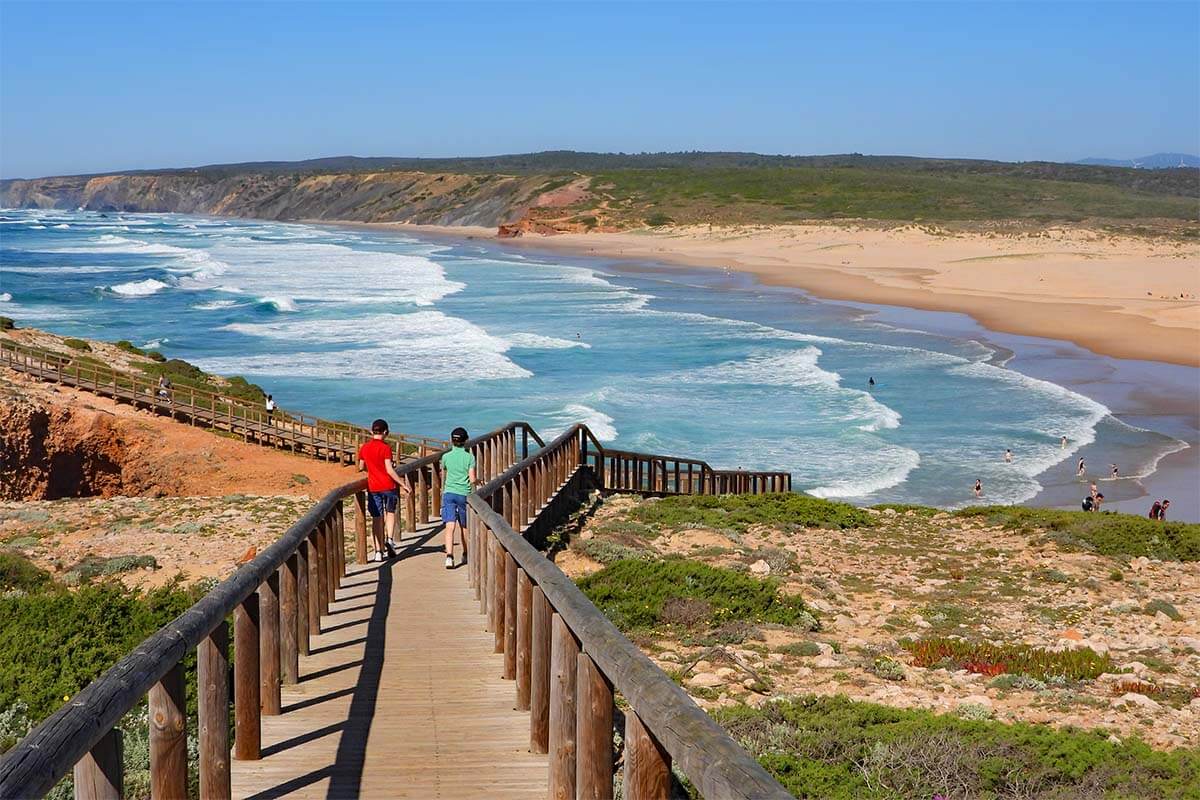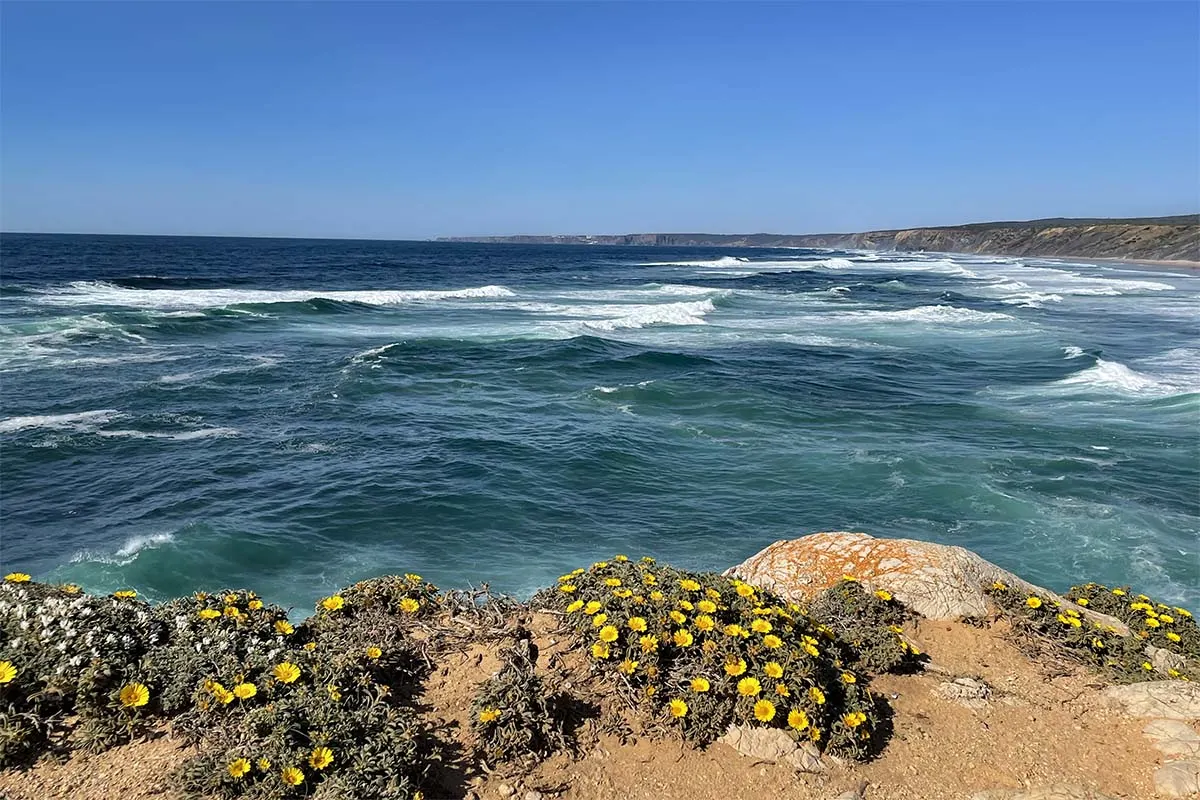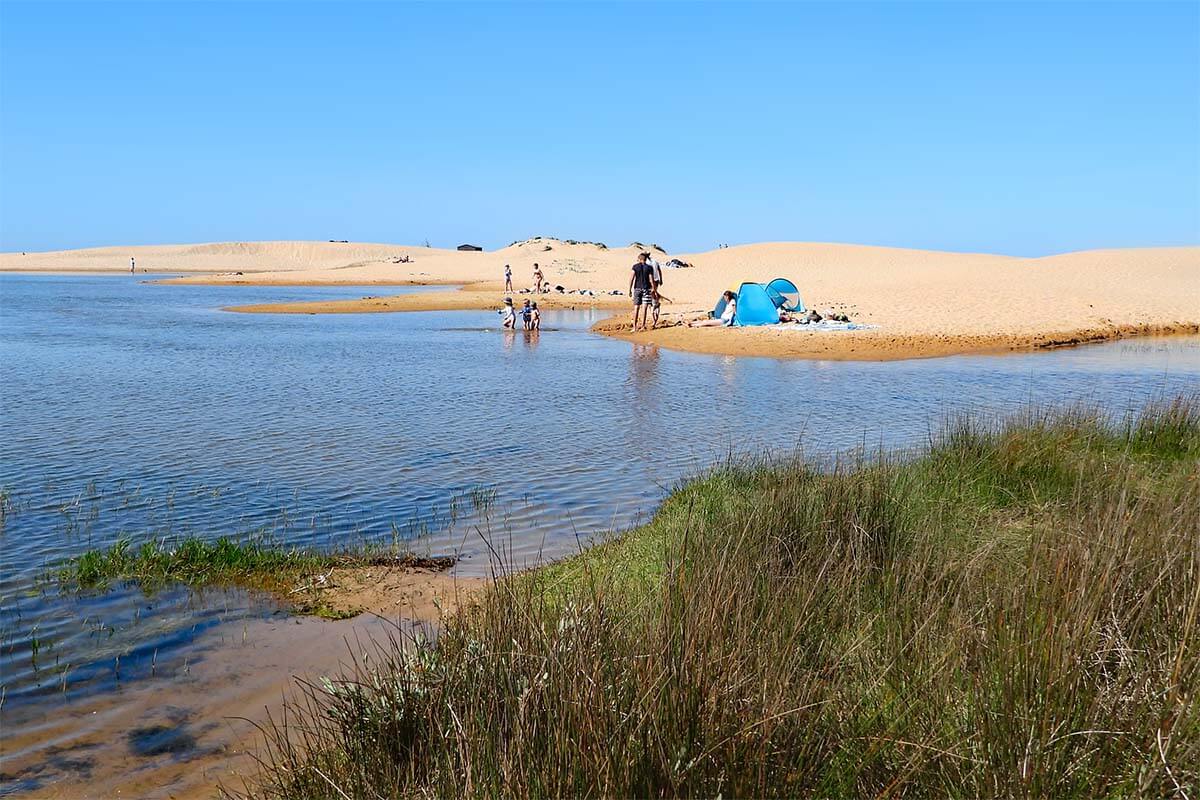 More Things to Do In & Near Sagres
In addition to our top recommendations mentioned above, there are a few more things that you could do in Sagres. There are also some very nice lesser-known places that you could visit nearby. Here are some additional suggestions:
Surfing. With its consistent Atlantic swells and favorable wind conditions, Sagres is a top destination for surfers. You'll see surf shops, rentals, and surf schools all over the town and the area. From what I understood from the locals, it's not the best place for complete beginners (the waves can be really wild), but if you already know what you are doing, you'll love it. You can also go windsurfing or kitesurfing, etc.
Yoga, biking, hiking. Sagres is also known for its yoga retreats, biking, and hiking possibilities. If you are staying in the area for a longer time, you may want to do some research based on your interests.
Coasteering and cliff jumping. When doing research for our visit to Sagres, I stumbled upon this highly-rated coasteering and cliff-jumping experience near Sagres. It's still on our list of things to do next time we go to Sagres, but it looks great (and I'm sure our kids would love it). I think this tour takes you to the same beach as the earlier-mentioned kayaking tour.
Souvenir shopping and dining. Sagres might be a small town, but it has several quirky souvenir stores and quite a few restaurants. Just keep in mind that many restaurants and cafes are seasonal and it's VERY quiet here between November and March.
More beaches and villages to visit near Sagres. There are a couple more places that I want to mention for those who have more time and are looking for additional ideas for what to see near Sagres. The small coastal towns of Burgau and Salema are quite nice and are just a short drive from Sagres. Also the following beaches on the West Coast are well worth checking out: Praia do Castelejo and Praia da Amoreira. I indicated all these places on our map below.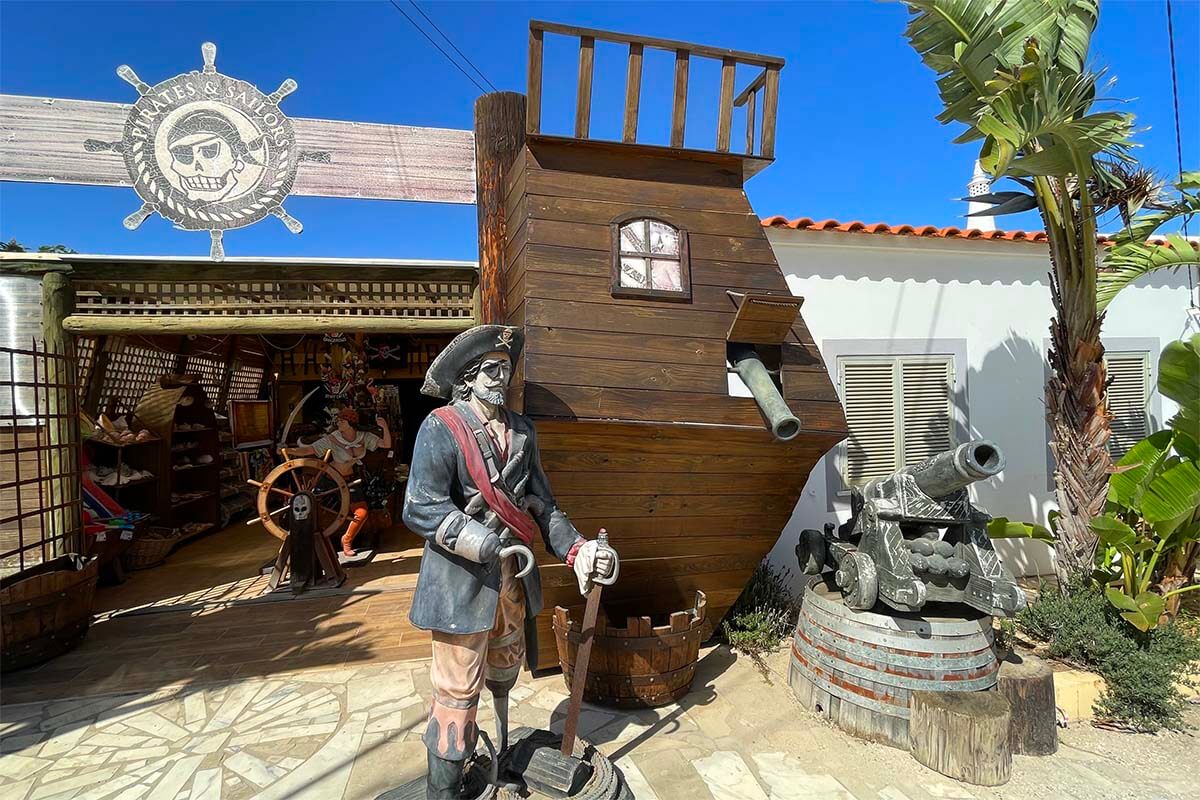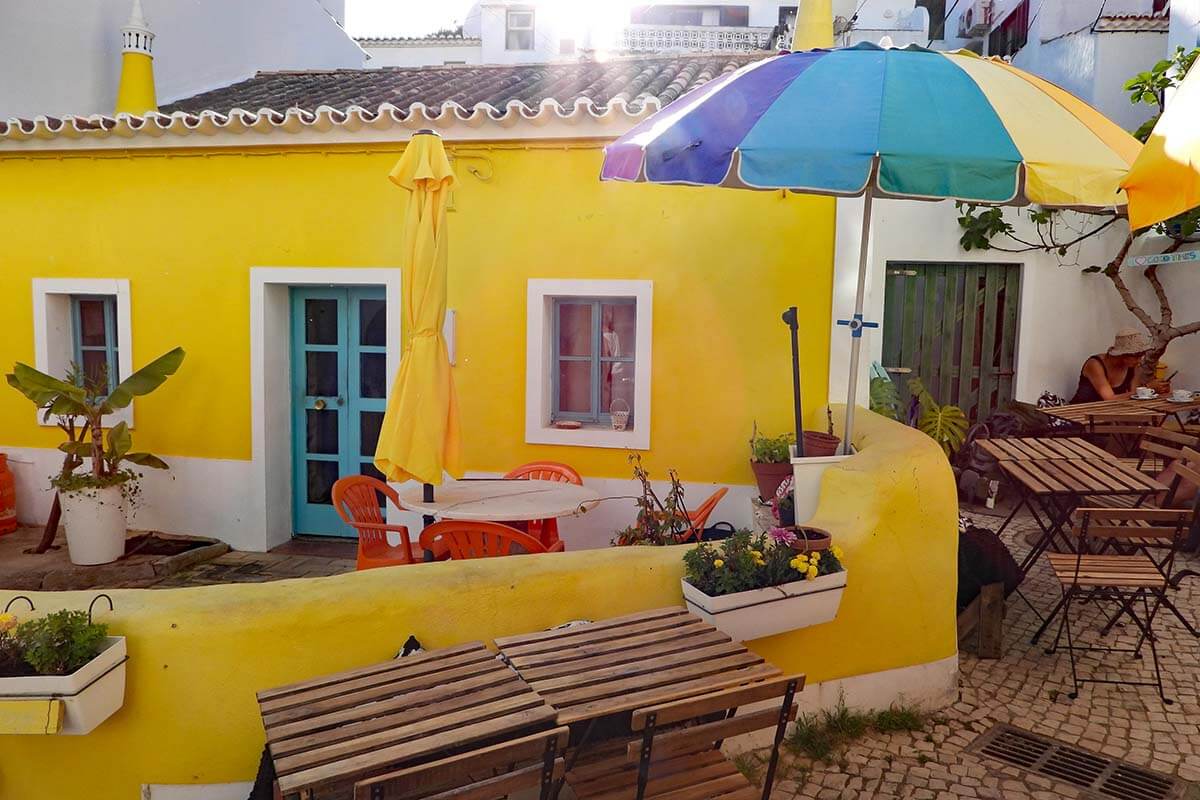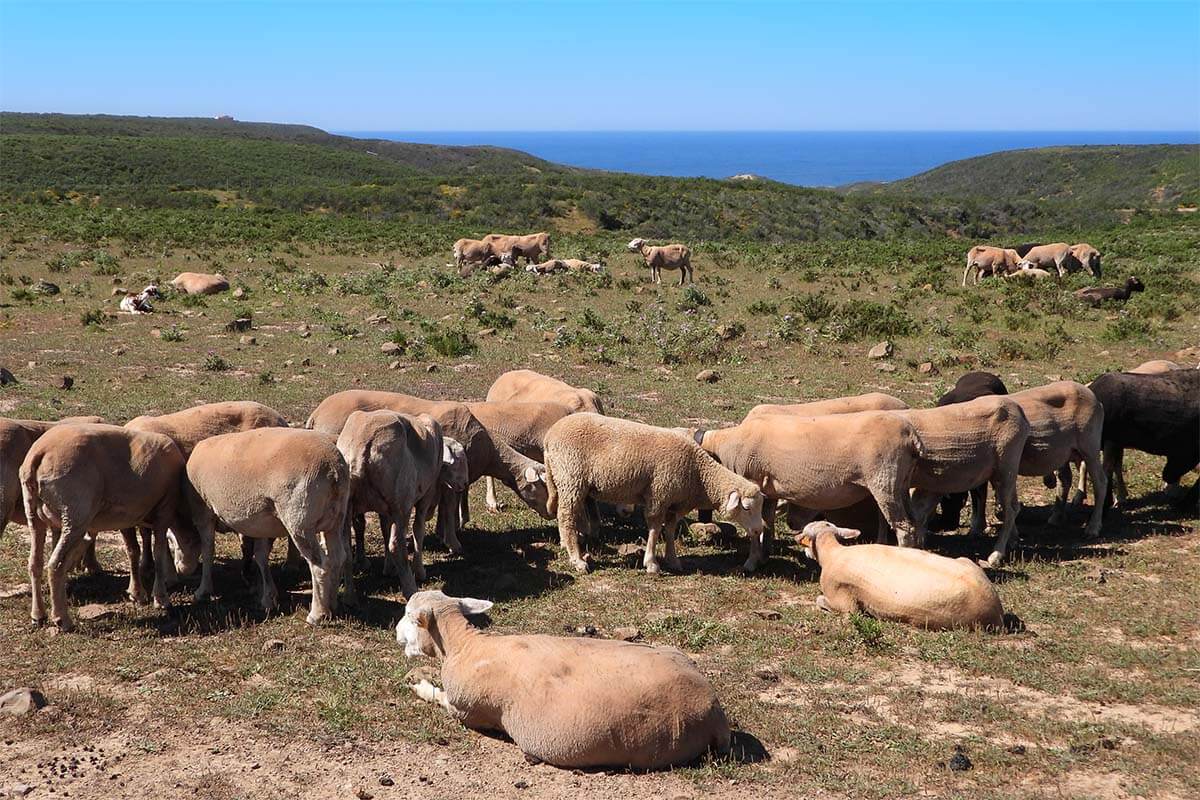 Map of the Best Places to See in Sagres
To give you a better idea of where everything is located and to make it easier to plan your time, I created this map indicating all the main sights in Sagres and the surrounding area.
As you can see, many sights around Sagres are rather spread out. So unless you visit with a tour or you are an avid biker, you'll need a car to explore the area. We always rent a car when visiting the Algarve – it's the best way to explore this beautiful region.
TIP: We personally always use the Rental Cars website for all our car hire. It makes it very simple to quickly compare prices between different companies and choose the best car for our trip. We also always take their 'full insurance' option – when you see some of the narrow roads in Algarve, you'll understand why.
How to use this map: Use your computer mouse (or fingers) to zoom in or out. Click on the icons to get more information about each place. Click the arrow on the top left corner for the index. Click the star next to the map's title to add it to your Google Maps account. To view the saved map on your smartphone or PC, open Google Maps, click the menu and go to 'Your Places'/'Maps'. If you want to print the map or see it in a bigger window, click on 'View larger map' in the top right corner.
Where to Stay in Sagres
While you don't have to stay in Sagres in order to see the main highlights, it's actually a very nice place to spend a longer vacation in Algarve. It's also a good place to spend a night or two when road-tripping in southern Portugal.
There are several beautiful resorts in Sagres and a few hotels, but the majority of accommodations in the surrounding areas are B&Bs, guesthouses, etc.
Here are the best hotels in Sagres:
€€€€€ Martinhal Sagres Beach Resort – a luxury, family resort close to one of the nicest beaches in Sagres.
€€€€ Pousada de Sagres – in the town center, nice views.
€€€ Memmo Baleeira – a very nice design hotel, the most popular hotel in Sagres.
€€ Mareta Beach – one of the best-rated B&Bs in town.
TIP: Using the map below, you can also search for the best deals for accommodations in and near Sagres. Simply insert your travel dates and group size and you can see what's available. Check it out!
READ ALSO: Best Towns to Stay in Algarve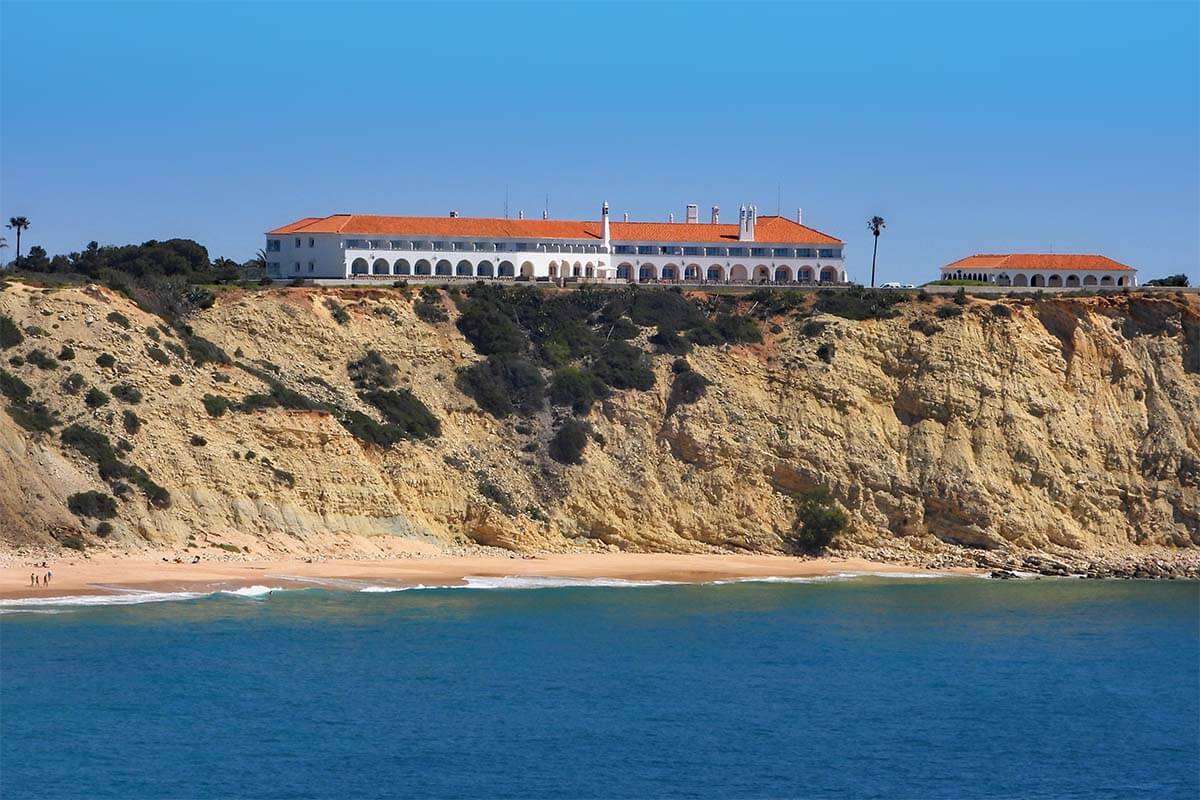 So, this is our guide to some of the best places to see and things to do in Sagres.
I hope that this gives you a better idea of what to expect and make the most of your visit to this wild and rugged corner of Algarve. Have a great trip!
READ ALSO: Best Places to See in Algarve (the musts)
More inspiration and tips for your trip to Algarve:
Alte (one of the nicest villages in Algarve)
Seasonal guides:
Fun activities:
If you found this post helpful, don't forget to bookmark it and share it with your friends. Are you on Pinterest? Pin this image!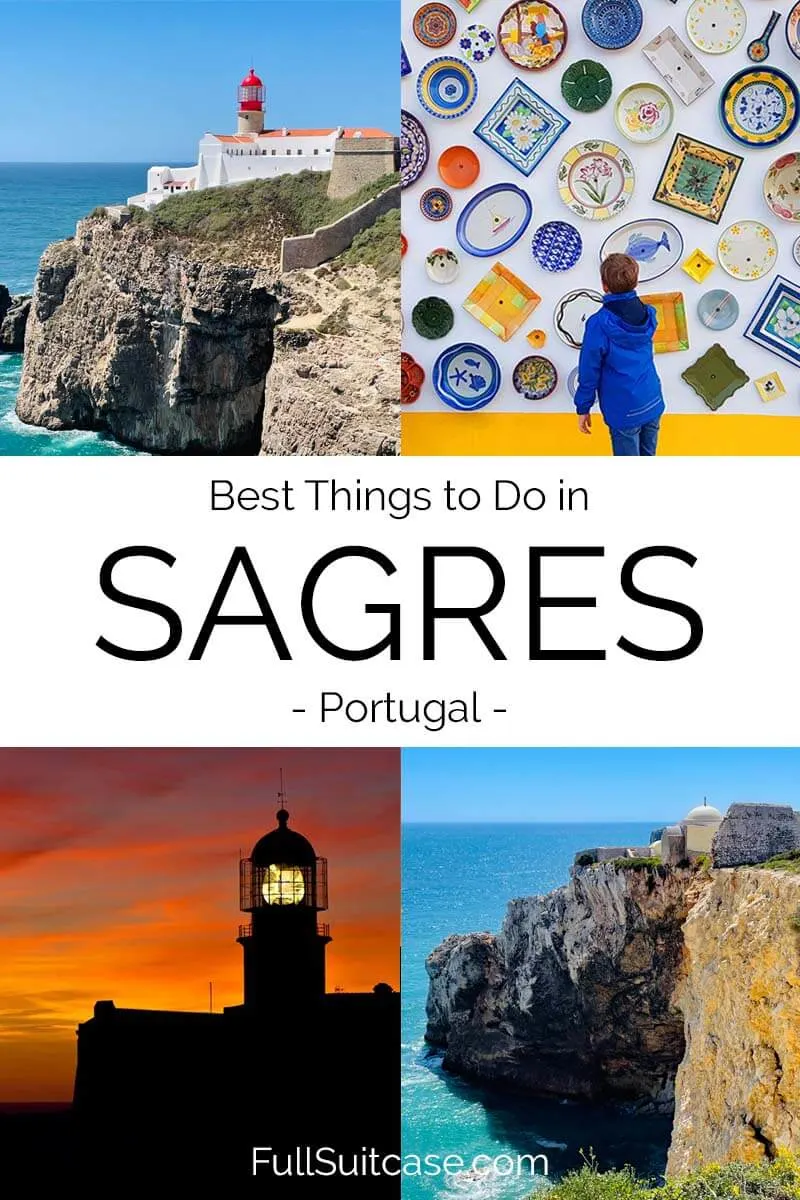 Looking for more travel inspiration for other parts of Portugal? Check out these guides on our blog: